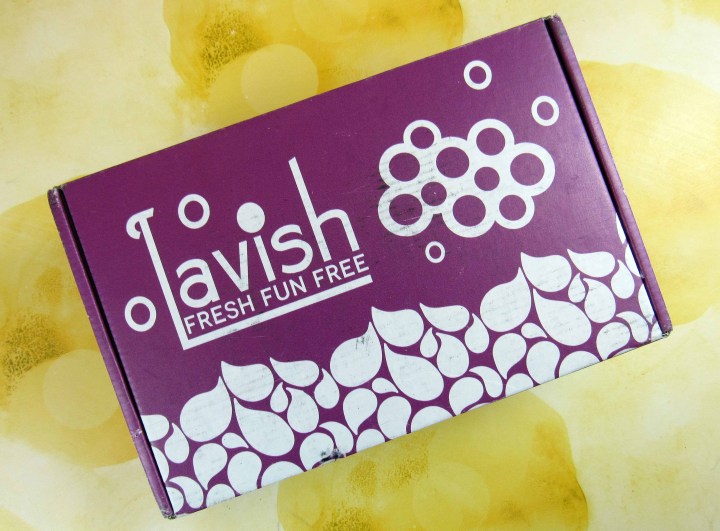 Lavish Bath Box is a monthly cruelty-free and vegan-friendly bath box. Each box may include a variety of bath bombs, soaps, salts, bubble bars, salts, scrubs, and other items to create that lavish bath. The artisan-made items are either a deluxe size or full size.
We are thrilled to see Halloween colors!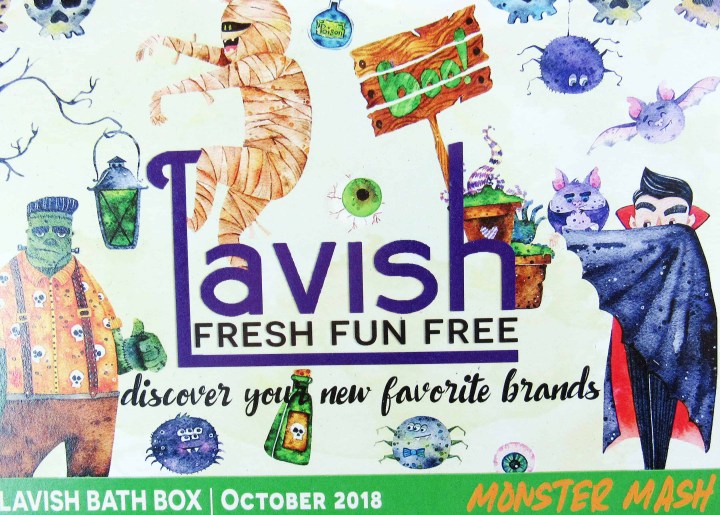 The October Theme is 'Monster Mash.' This theme is my kind of Halloween fun.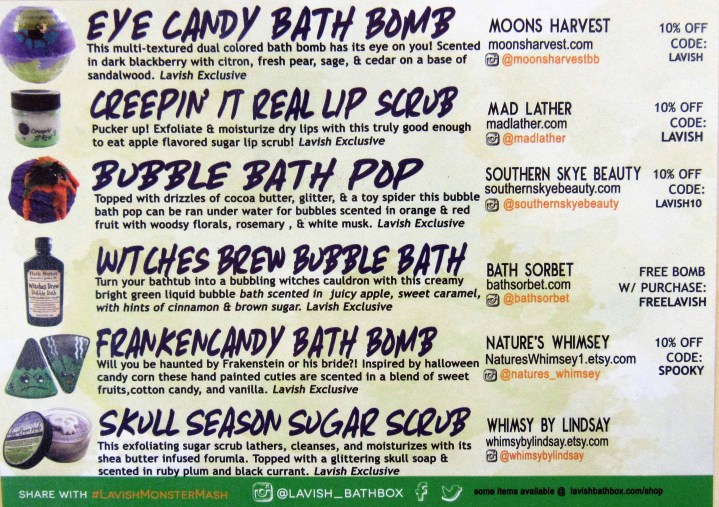 The information card lists the products, descriptions, websites, and coupon codes.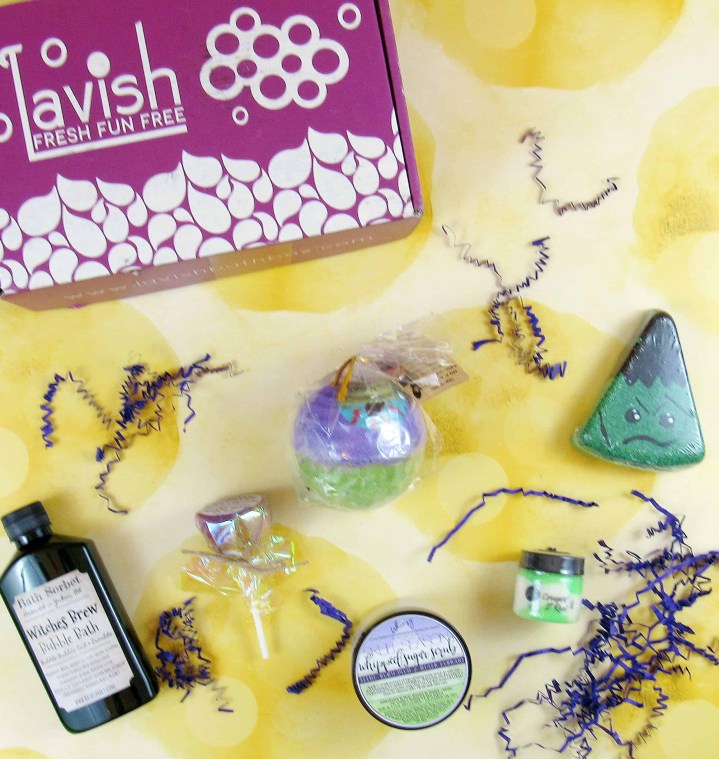 Here are the items in the October Lavish Bath Box. I can't wait to take a closer look at everything.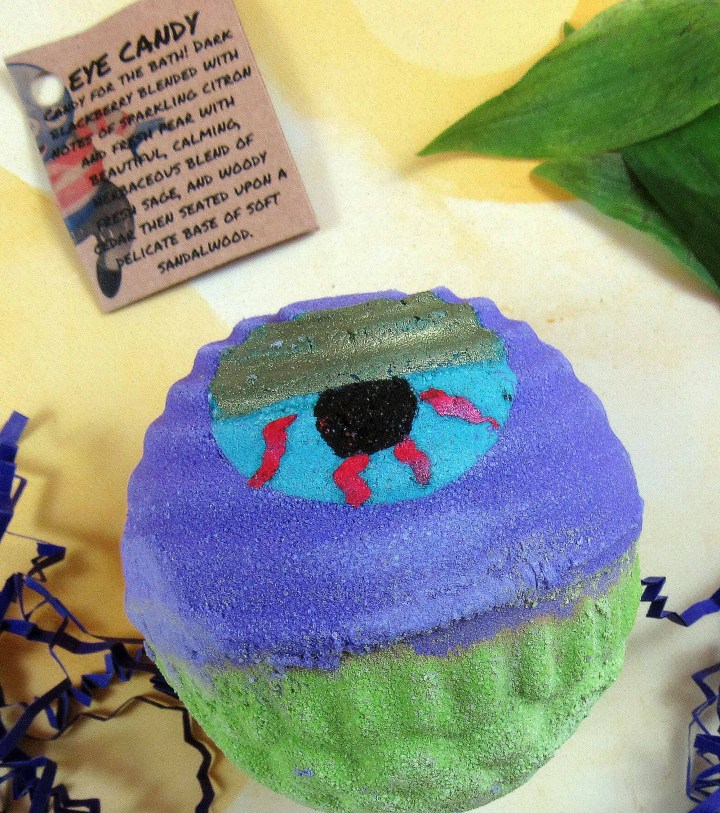 The Lavish Bath Exclusive Eye Candy Bath Bomb by Moon Harvest (appx. $5.99) Is huge and weighs approximately 10-11 ounces. The handmade bath bomb is a wonderfully scented blend of blackberry, citron, fresh pear, sage and cedar with a base of sandalwood. I love the balance of woodsy and fruity scents although the fruity scent was stronger to me.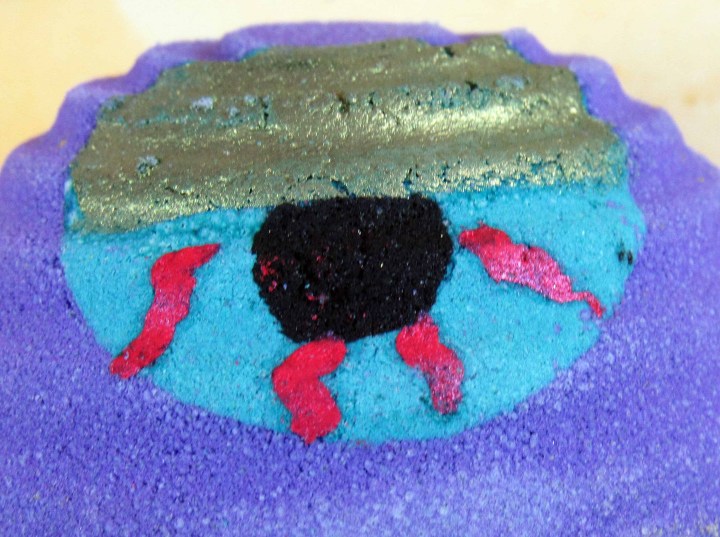 Moon Harvest has been in business since 2003 which shows in its artwork. The made in the USA bath bomb provides for a foamy, relaxing bath filled with moisturizing oils.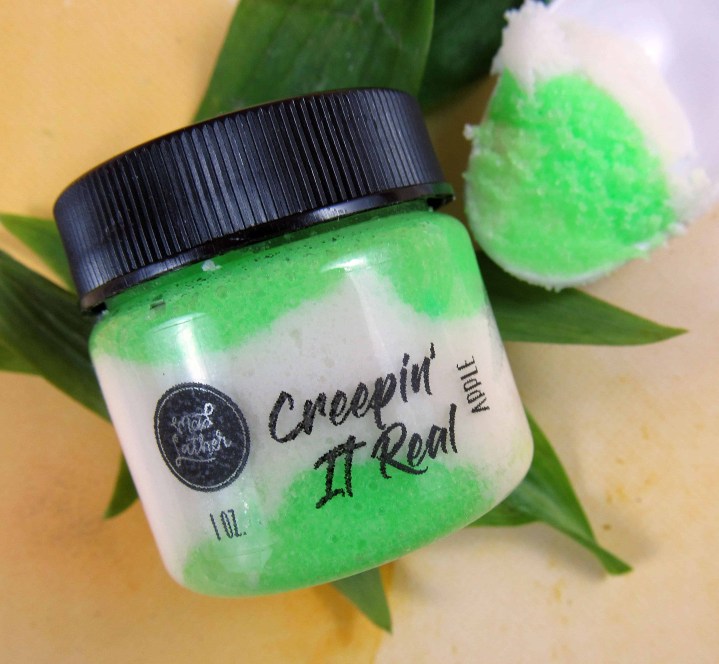 The Creepin' It Real Apple Lip Scrub by Mad Lather (1 oz, $5.00) has an amazing crisp apple scent to it. The play on words is perfect for the 'Monster Mash' theme. The Lavish Bath Box exclusive scrub is what I need to exfoliate and scrub my lips as it is windy in the fall. It softened and moisturized my lips.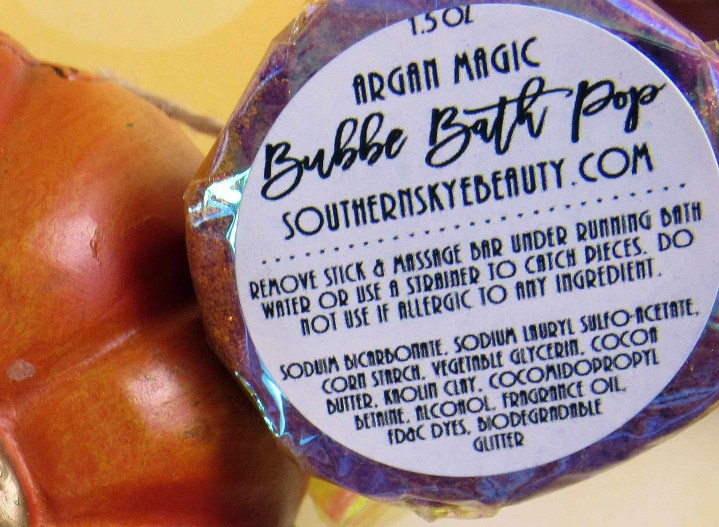 Sometimes our ten-year-old son claims items for himself. As soon as I saw the Southern Sky Beauty Argan Magic Bubble Bath Pop (1.5 oz, appx $7.50), I knew he would claim it.
The handmade, spooky looking pop has a toy spider on it. I was a bit sad to give up the made in the USA bubble bath pop because it has cocoa butter in it.
The glittery bath pop is scented with orange and red fruit with woody florals, rosemary, and white musk. It was a big hit with him.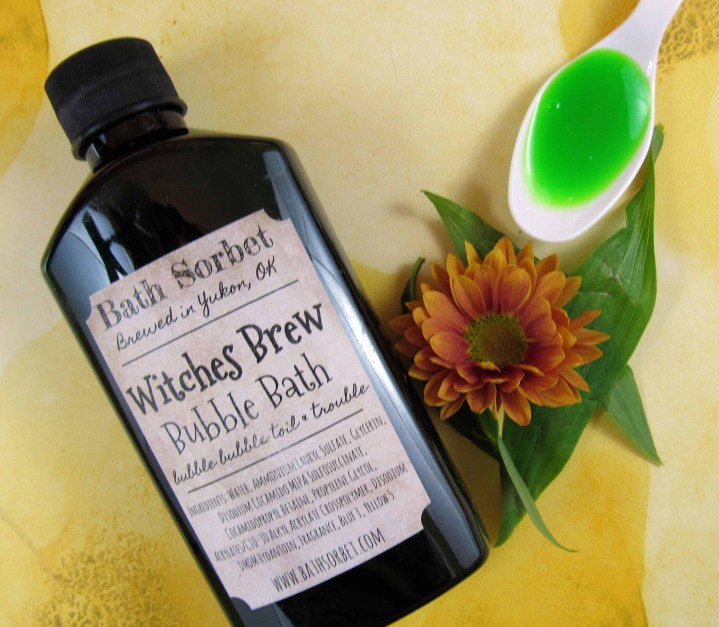 How bad is it of me that I thought of my sister when I saw the Bath Sorbet Witches Brew Bubble Bath? The Lavish Bath exclusive is brewed in Yukon, Oklahoma which is also home to Bath Sorbet's physical store. I liked the bubble bath more for the delicious scent of cinnamon, brown sugar,  and caramel rather than for the small number of bubbles it created.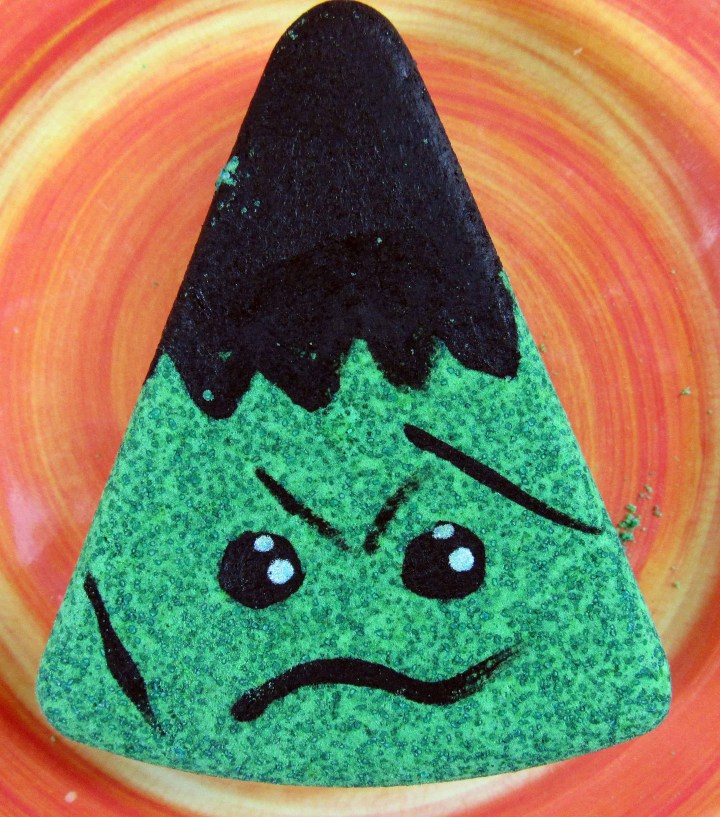 J, our ten-year-old son, was also a fan of the adorable Frankencandy Bath Bomb by Nature's Whimsey (appx 6 oz, appx $6.00). The hand-painted Lavish Exclusive bath bomb had a sweet scent of vanilla and cotton candy.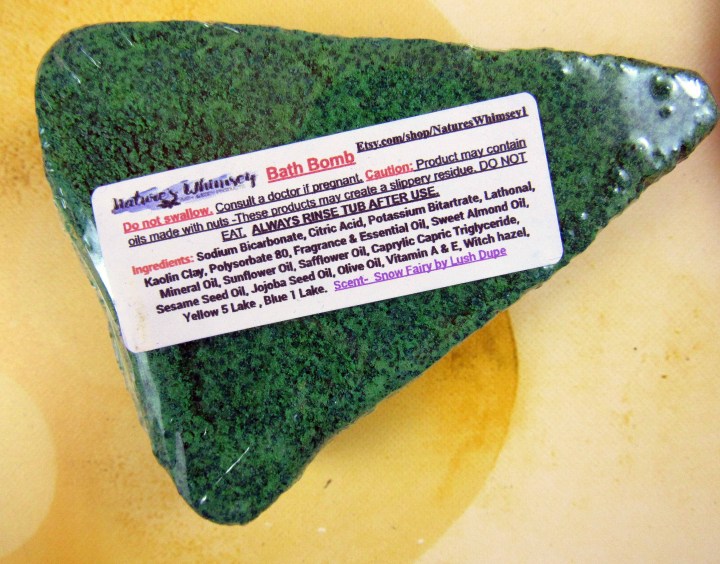 The exact scent is snow fairy by Lush Dupe for those that are looking for scents that are a reminiscence of Lush.
Our Monster Mash would not be complete without a skull. The Made in Canada Whimsy by Lindsay Skull Season Sugar Scrub ( 5 oz,) is a creamy, whipped sugar scrub. The Lavish Exclusive scrub has a light ruby plum and blackcurrant scent.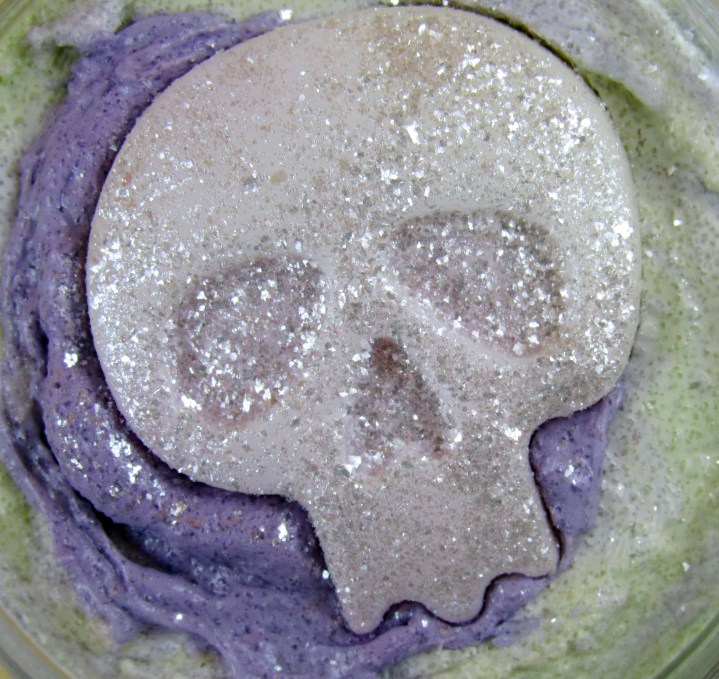 The skull is a shea butter soap that cleanses the skin. What a pleasant surprise!
My family loved the October Lavish Bath 'Monster Bash' Box. The items always make us smile! We can always count on Lavish Bath Box to find quality items from small artisans. It is an excellent box for those that want a beautifully curated themed natural bath box.
Did you like this month's box as much as we did? Let us know in the comments!