Gramma in a Box is a monthly subscription for kids (from a real Grandma!) that sends homemade cookies with frosting and sprinkles along with two easy candy crafts to make at least 15-20 edible treats.

DEAL:  Get $10 off when you signup for a 3-month plan! Use coupon code 10off.

The kit shows up bundled neatly together under some cute tissue.

The items came in separate plastic containers.

Also included is a card for $10 off coupon code, so you can share the fun with a friend.

A little welcome note from Gramma is included in the box. This month's box is all about Thanksgiving Theme Treats.

Flip the card and you'll find a list of all the items in the box, as well as items you will need from your home.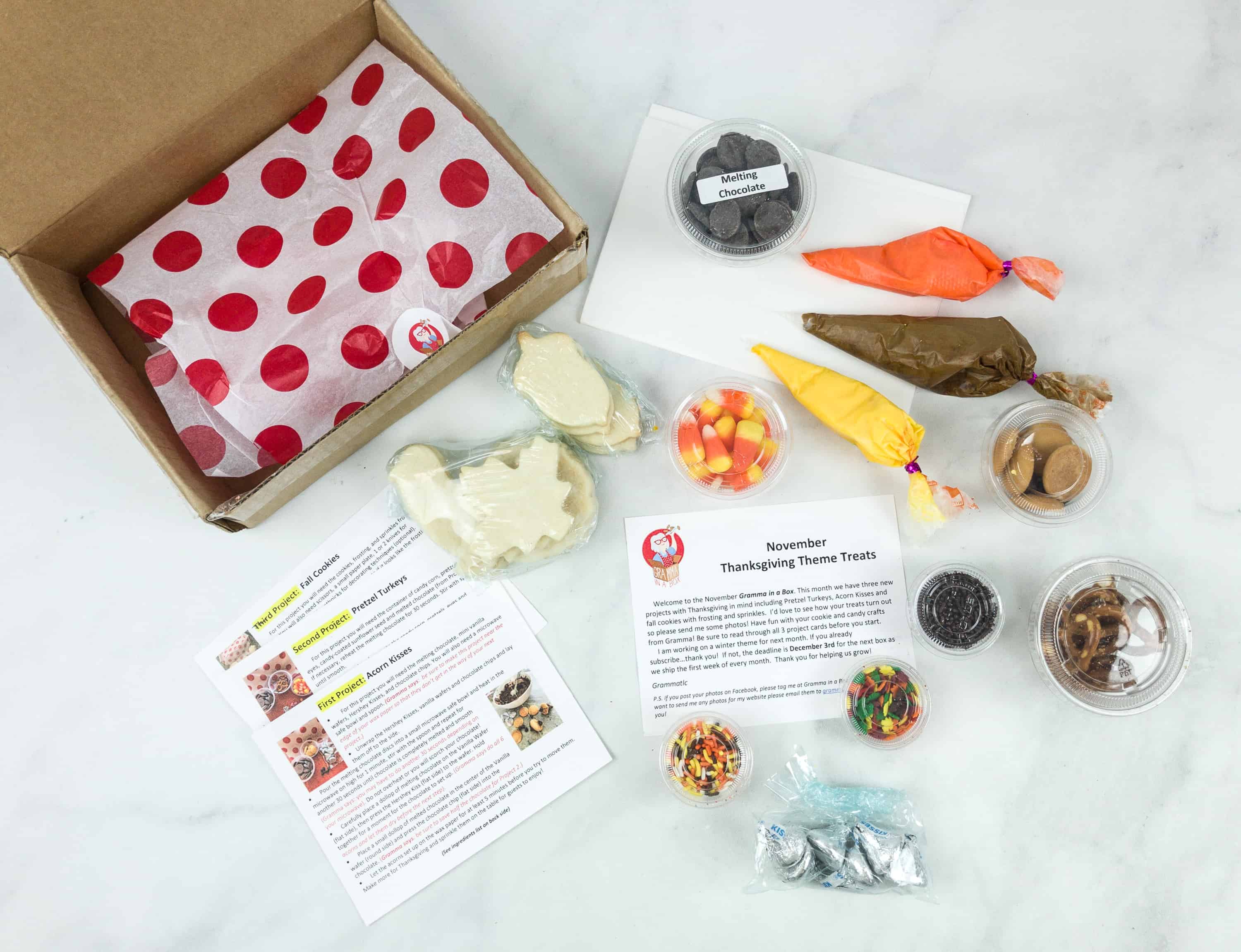 This is the box upon opening! You just have to remember — no snacking on the craft supplies!

The box has 3 projects. We are going to do Acorn Kisses, Pretzel Turkeys, and Fall Cookies. Each of the cards has step by step instructions with a few images.

All the ingredients are indicated on the back of each card, including potential allergens.

Everything in my November 2018 box!

Acorn Kisses. For this project, we'll be needing the melting chocolate, mini vanilla, wafers, Hershey kisses, and chocolate chips.
We melted the chocolate using the microwave for a full minute and carefully placed it on the flat side of the vanilla wafer. On the other side, we place a small dollop of melted chocolate in the center to form an acorn-shaped chocolate treat. They look yummy!
Turkey Pretzel. For our second project we will be using a candy corn, pretzels, eyes, candy-coated sunflower seed, and melted chocolate.

The second treat is easier to do. All you need to have is a creative mind and attention to details. Just put the melted chocolate on top of the pretzels, put 3 corn candies on top (to make it look like a turkey's snood), a pair of eyes, and of course the chocolate-coated sunflower seed as the beak.

Fall Cookies. For our third project, we will be using the cookies, frosting, and sprinkles.
This last project is quite a messy one so better prepare more tissues to cover the table.

The key to a more precise designing is on the frosting bag. You should snip a small piece off the tip of the bag and gently squeeze all the air out of the bag until the frosting starts to flow.
Put the frosting above each cookie, let your kids make their own designs, and don't forget the colorful sprinkles for an extra twist!

The frosting turned plain cookies into a visual feast!
We had so much extra chocolate that we spread some on graham crackers and decorated those too!

Everything has been plated and ready for serving!
Are you wondering is this box worth it? This is from a local business and showed up in my facebook feed – well worth the cost to to have the entire kit compared to commercial cookie decorating opportunities – $5 per cookie!
Gramma in a Box always gives us our family a fun bonding time! They've been consistent in delivering fun and exciting treat-making activities. It's also great that after doing everything, we can enjoy munching on the goodies too! It's definitely an ideal subscription to help kids unleash their creativity and for them to learn how to follow instructions. We can't wait for the next box!
What do you think about Gramma In A Box?