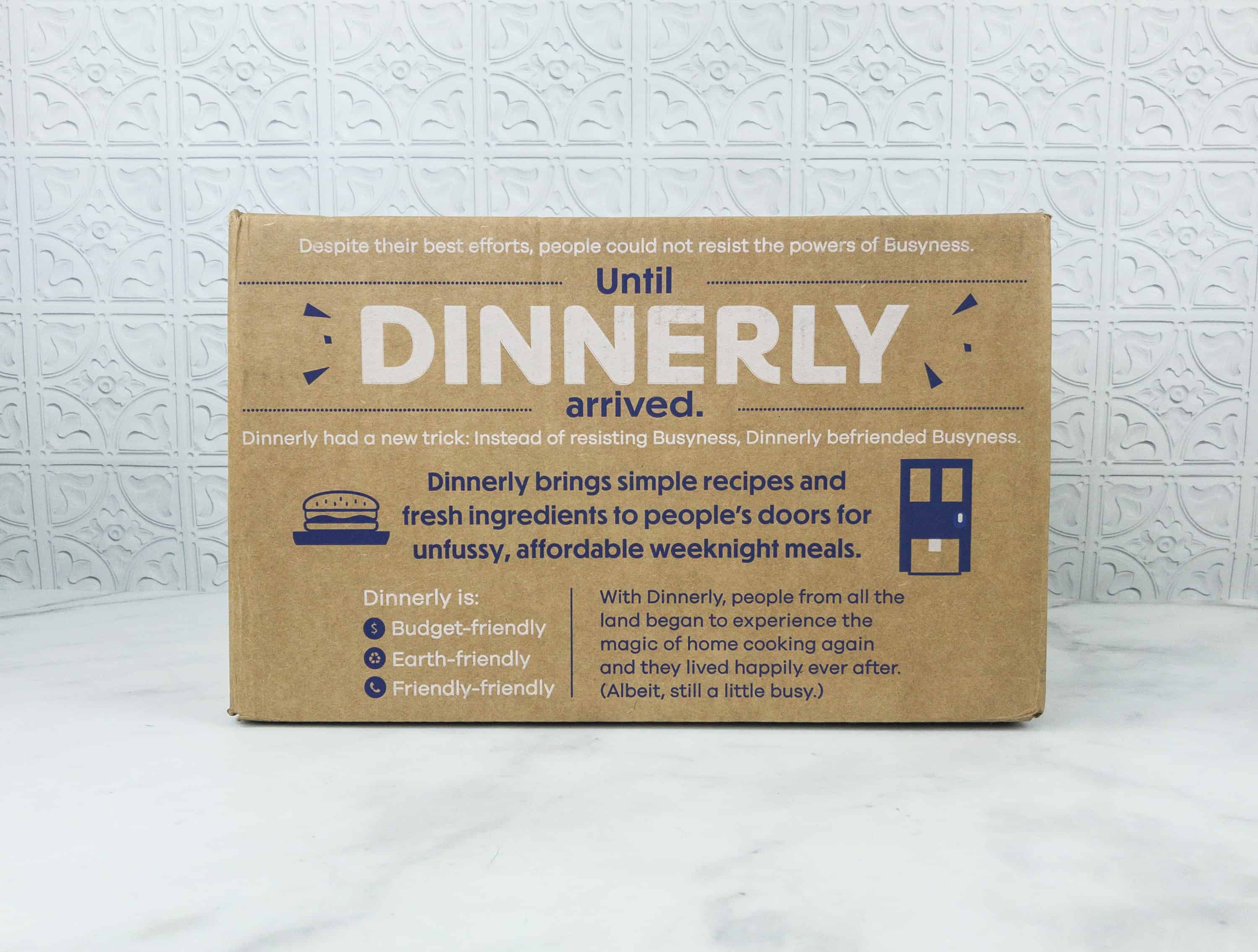 Dinnerly is a dinner meal kit subscription that is meant to be simpler to make and more affordable than rival kits. They do this in part by using digital recipe cards instead of printed, and they avoid hassle and confusion by using fewer ingredients per dish. Dinnerly allows subscribers to pick the delivery day and their preferred recipes. Subscribers can also skip any week that doesn't work for them and change the number of portions they'd like to receive. Boxes start at $30 per week + $8.99 shipping. You can also get a family plan for $60, and switch out your recipes between 3 meat-based recipes and 3 vegetarian recipes.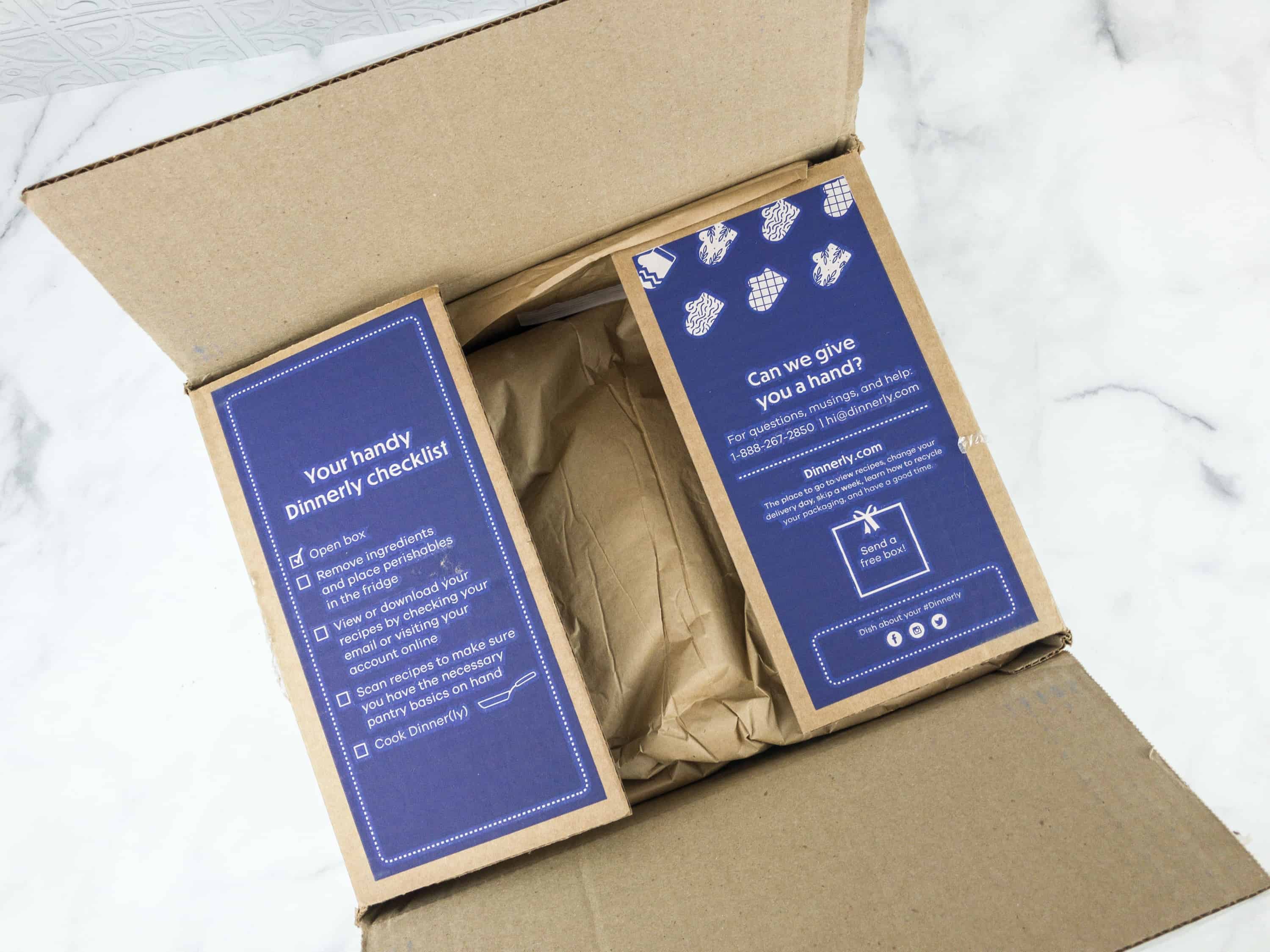 DEAL: Free shipping on your first box! Use coupon code AW18DINFREE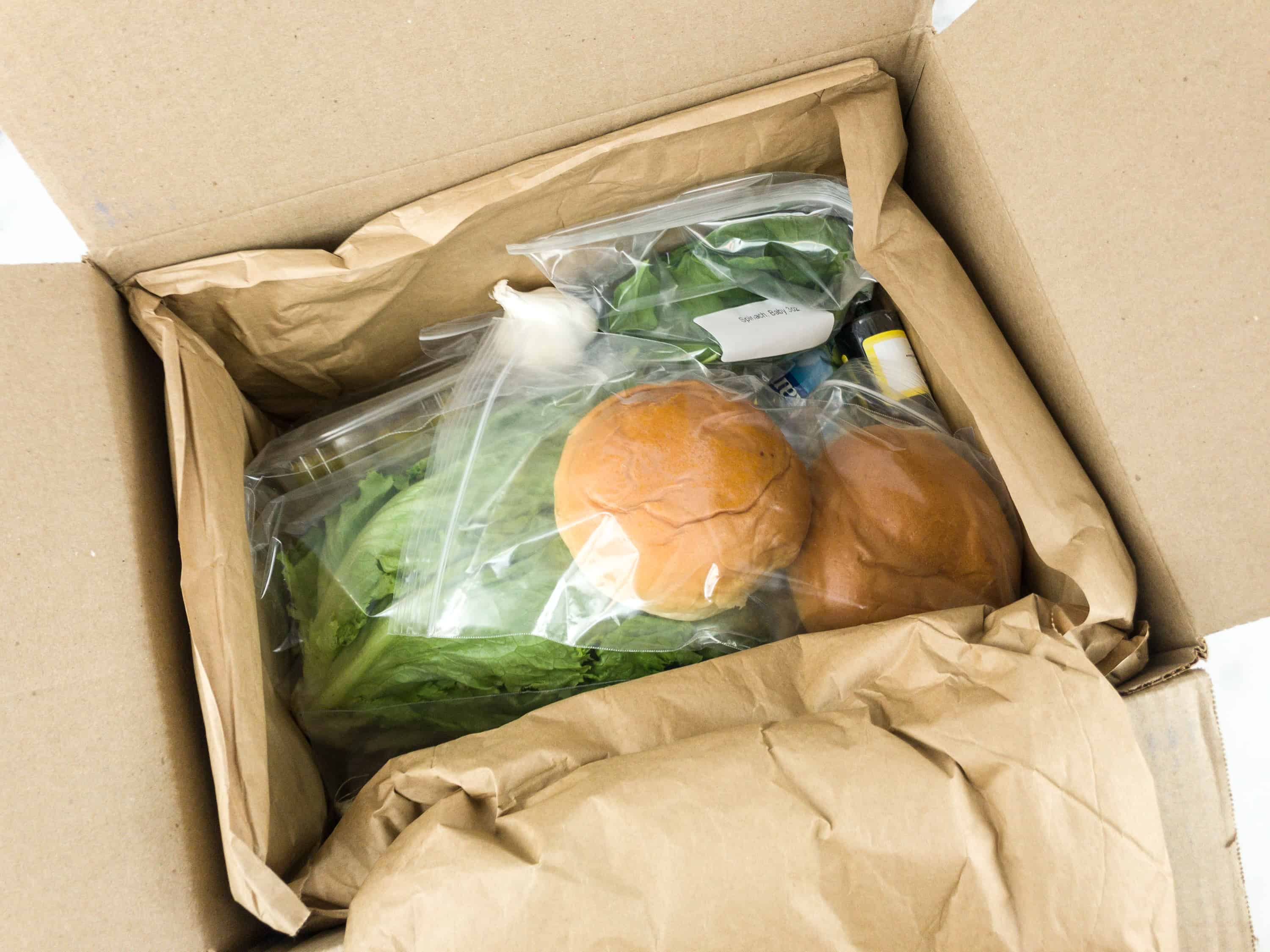 The cushioned insert both insulates and protects the food from external damage, but you have to hope your delivery person keeps the box upright, or your bread may get flattened. That is one of the few downsides we've found with this box — everything arrives jumbled together instead of being bagged or sorted by recipe, so you have to sift through your box carefully to make sure you've gotten everything out. Meats are kept on ice at the bottom.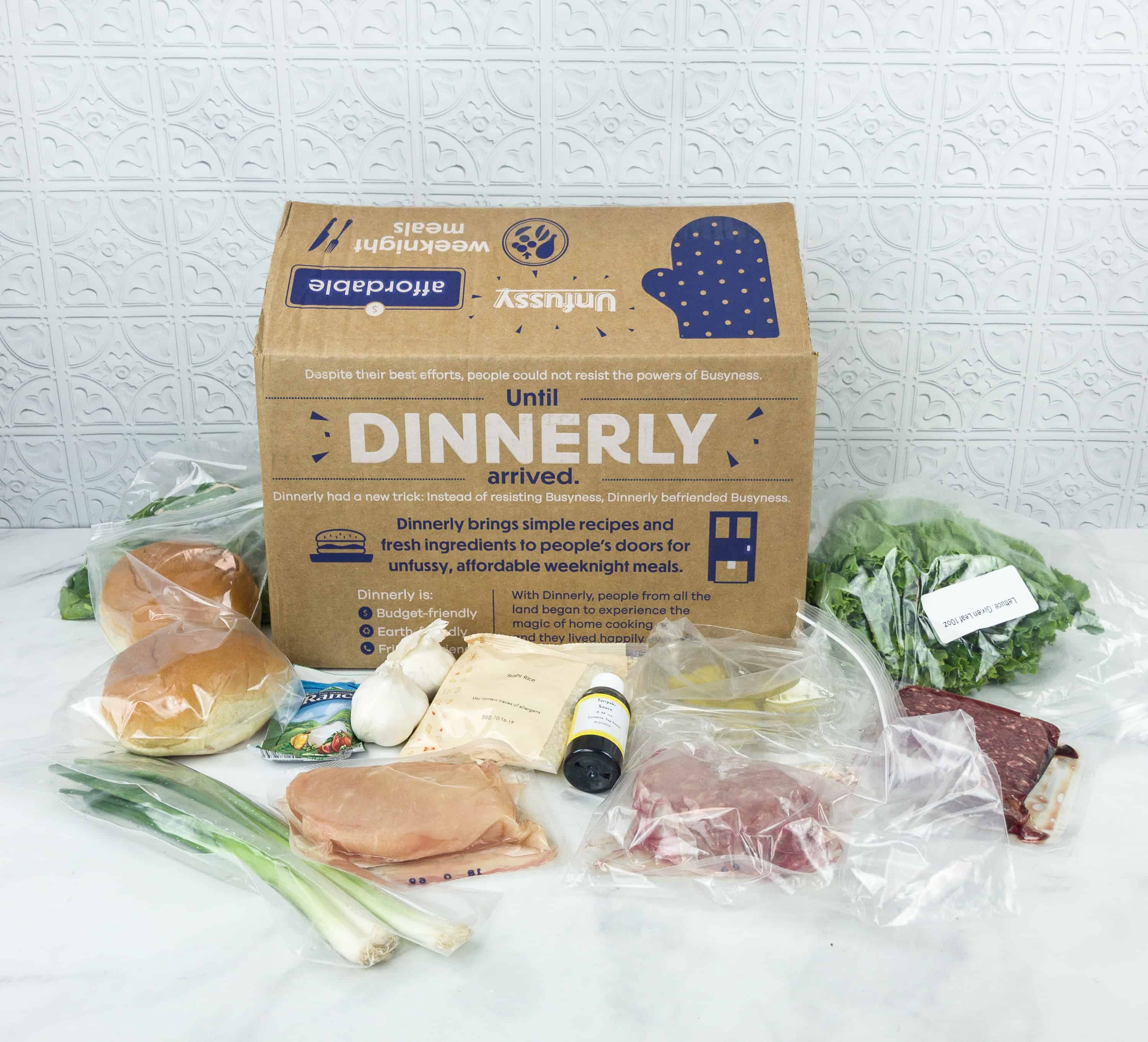 Everything in my box!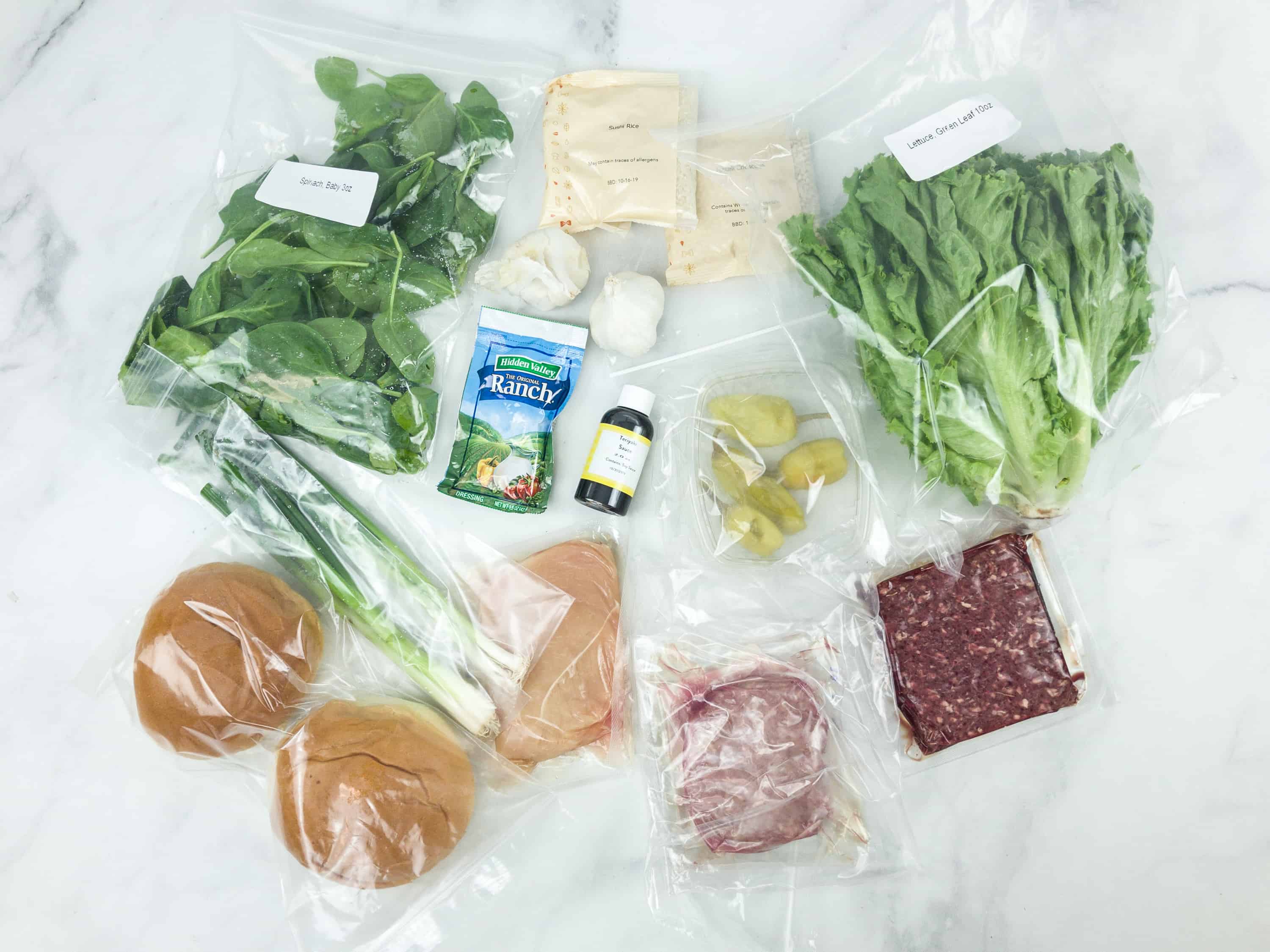 All the ingredients are individually wrapped, but they are not separated into individual meals. You'll definitely want to look up the information cards to print out or view on your phone, so you'll know what to grab when it's time to cook. On the upside, the limited number of ingredients makes that task pretty easy.
Recipe cards don't ship with the box, but you can check out the color PDFs on the website and print them out. You can print them in color, if you really want to.
It includes a picture of the dish, preparation time, and the number of servings per recipe.
The instructions are easy to follow, regardless of your cooking skill level. Its step-by-step procedure is very detailed with some of the words printed in bold letters for an easier recognition. They even provide suggestions on leveling up your meal if you want to add some extra touches from your pantry.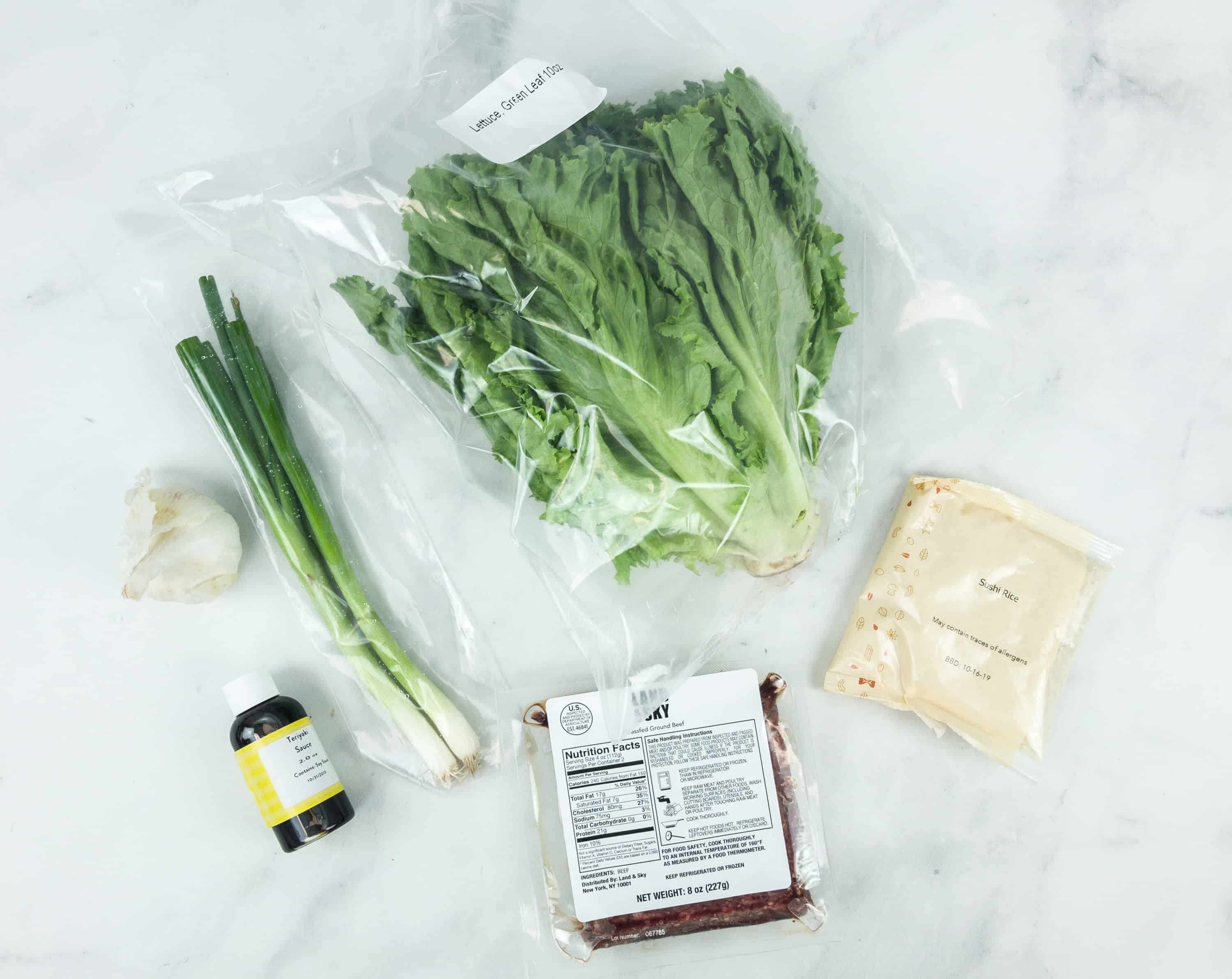 Stir-Fried Beef Lettuce Wraps with Ginger Teriyaki Sauce & Rice – 20 minutes, Easy, 562 calories per serving
You can enhance the dish's spiciness by simply adding Sambal oelek, Sriracha, or a good ol' Tabasco.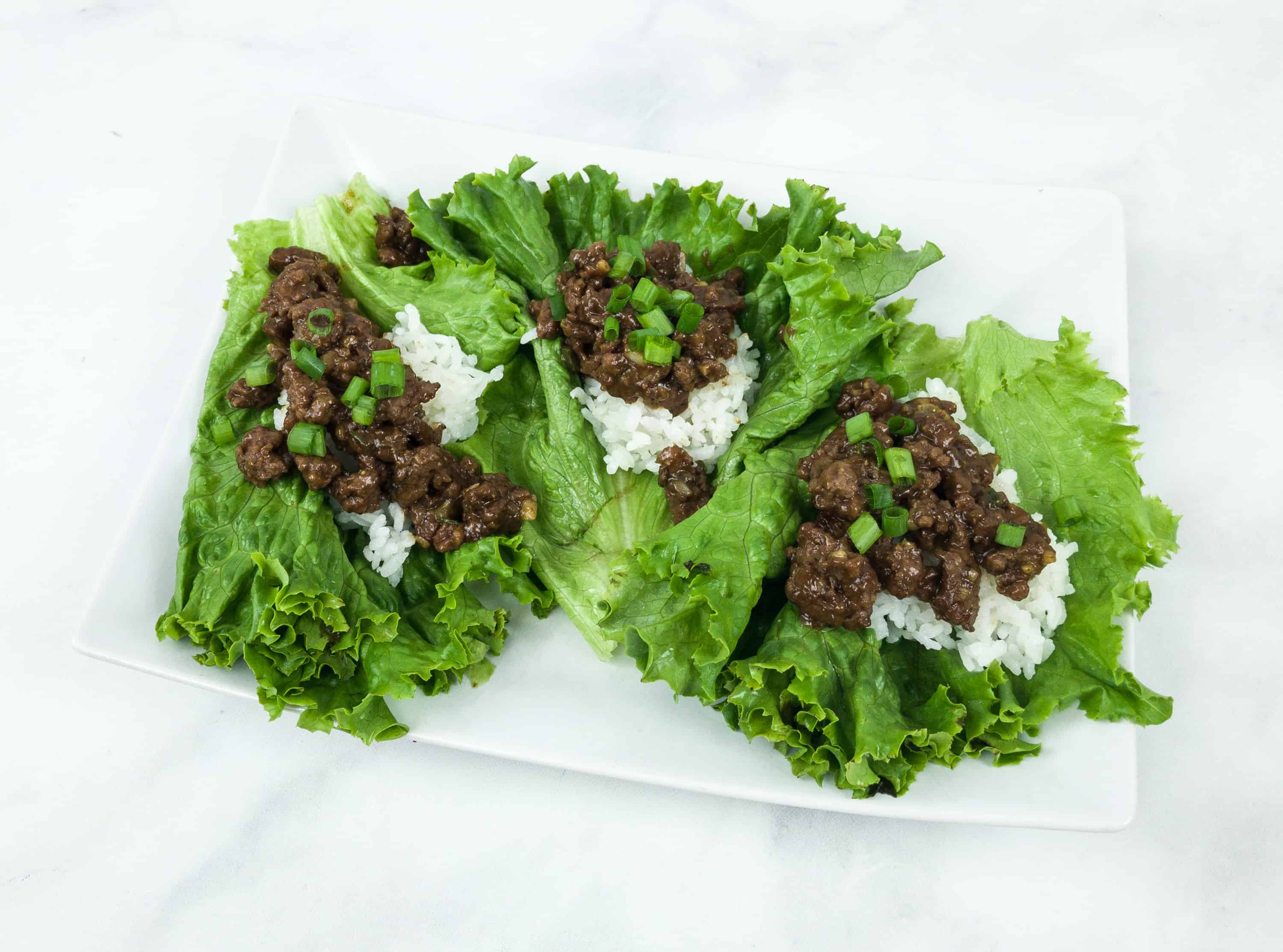 This delicious dish features a mixture of sweet teriyaki sauce and meaty ground beef paired perfectly with Jasmine rice and wrapped inside the crunchy lettuce. It's so juicy, every bite is oozing with yummy teriyaki flavors and I couldn't wish for more! Unfortunately, our box was missing the fresh ginger, but our filling still turned out nice. This was easier to make than the lettuce wraps we've seen in other boxes, since the sauce and veggie content was combined with the meat.
Southwest Turkey Burgers with Ranch & Charred Green Beans – 30 minutes, Easy, 525 calories per serving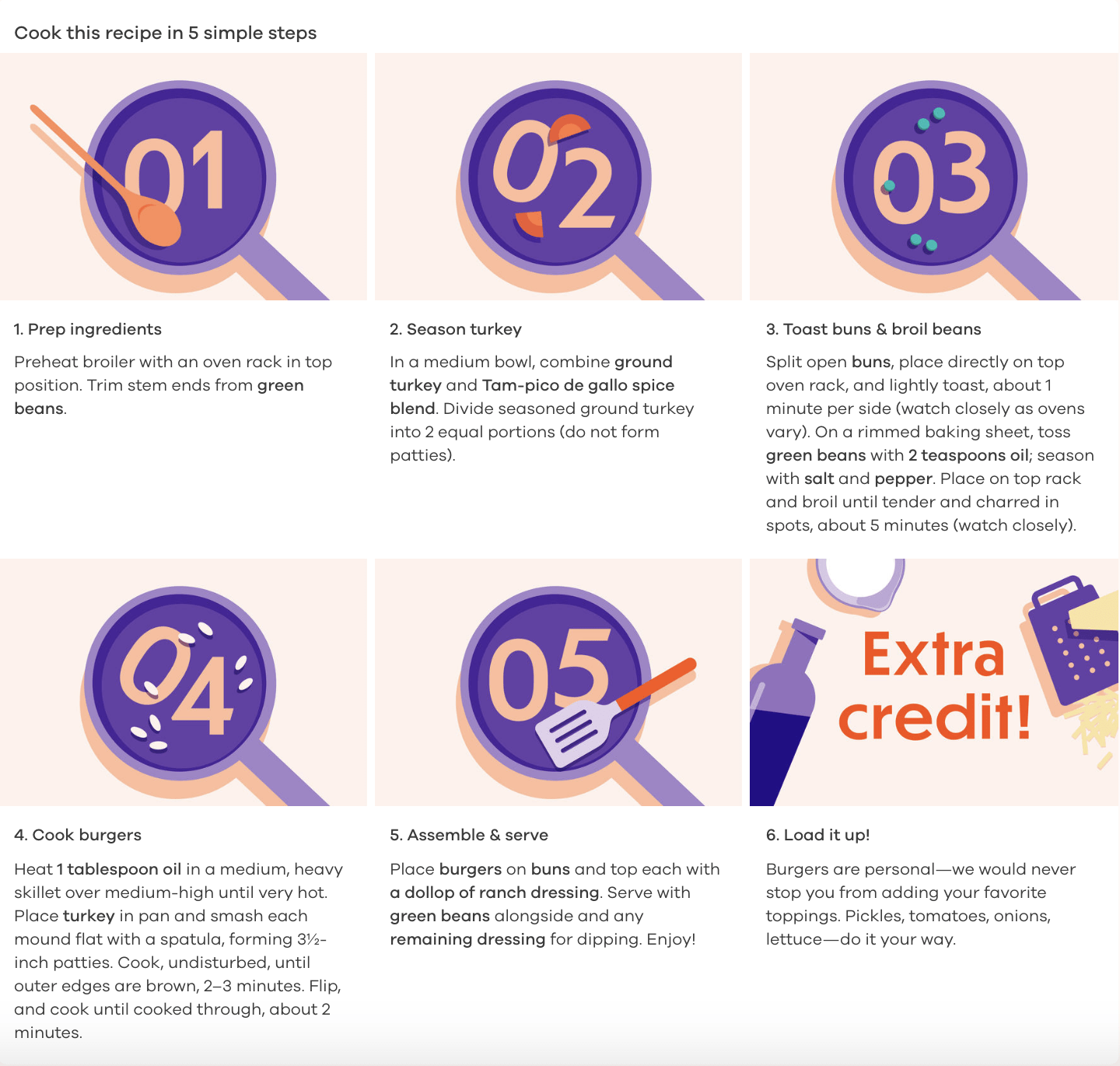 According to Dinnerly, you can make the burger more personalized by adding your favorite toppings like pickles, tomatoes, onions, or lettuce.
The second dish is a classic burger meal made from fresh ground turkey and a dollop of ranch sauce sided with charred green beans. This recipe was missing the green beans and the seasoning for the burger, so I had to sub in some of our own. The bun and turkey was good quality, and this is a simple and satisfying dinner.
Chicken & Pepperoncini Relish with Pearled Couscous & Spinach Pilaf – 30 minutes, Easy, 538 calories per serving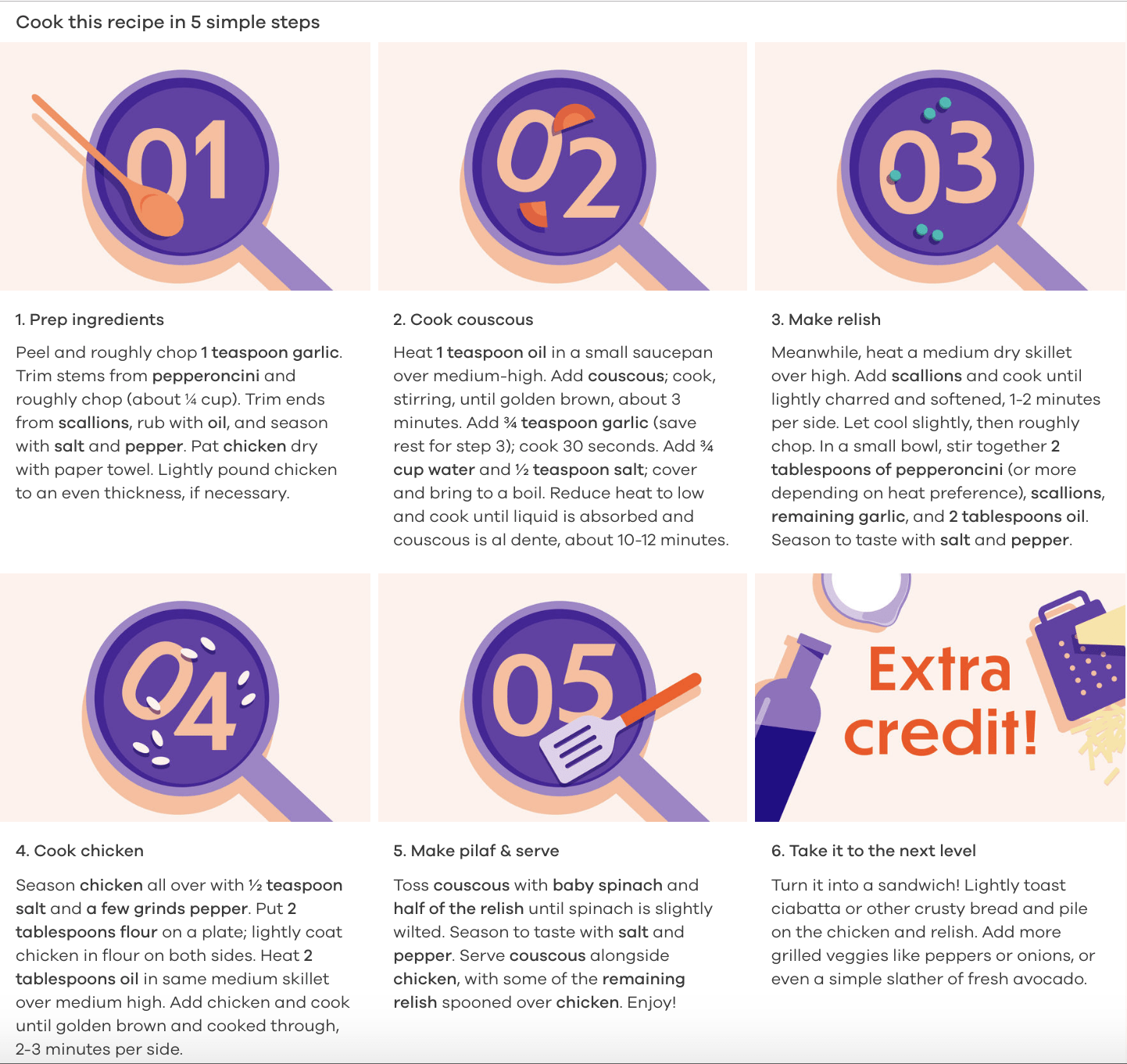 As stated in the recipe, you can take this dish to the next level by turning it into a sandwich. Simply bring it together with a lightly toasted ciabatta, chicken, and veggies.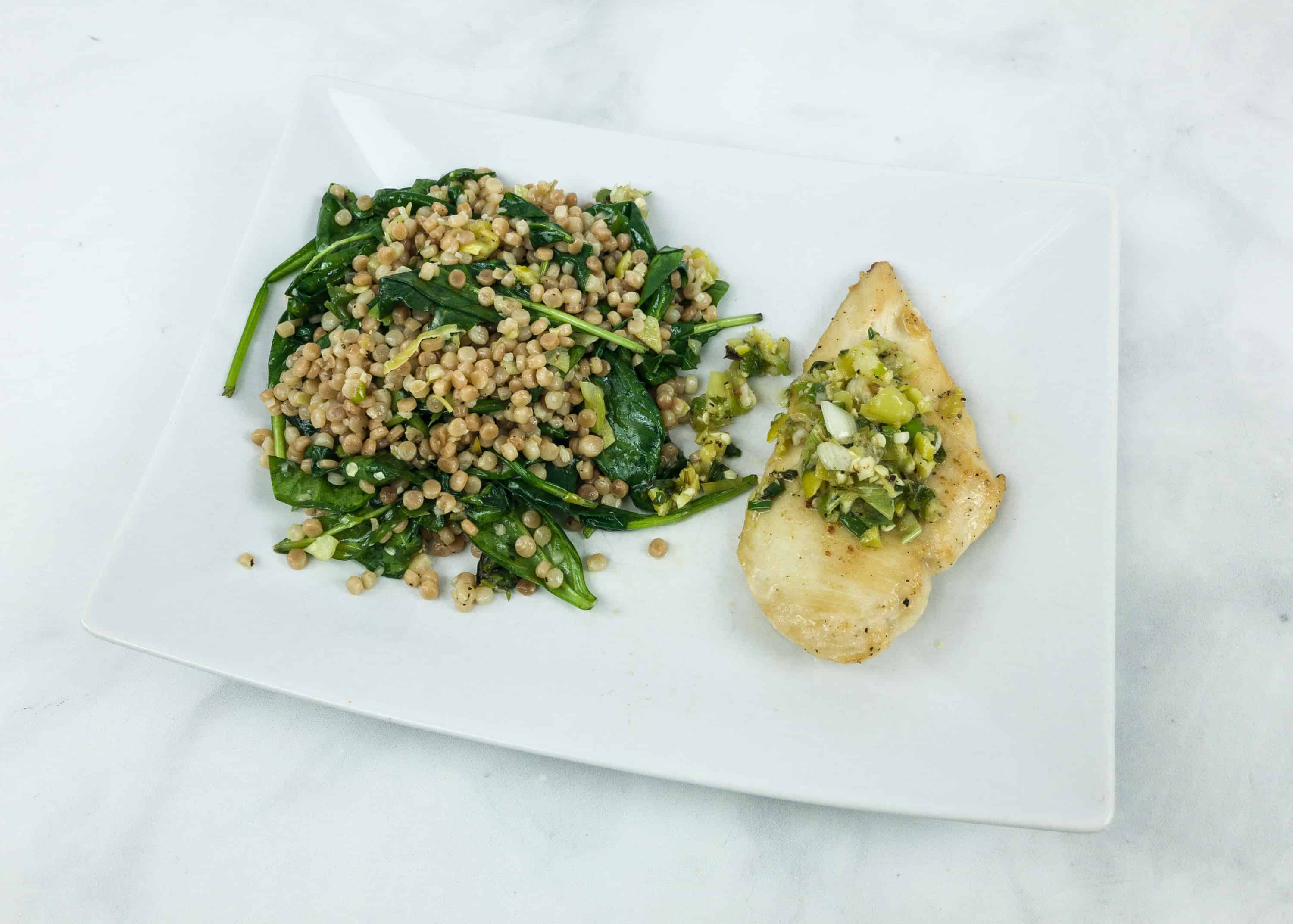 This scrumptious dish is so easy to make! They recommend pounding the chicken for quicker, even cooking, but ours was flat enough to skip that step. The scallion, garlic, and pepperoncini preparation made a supremely flavorful topping for our chicken and doubled as a flavor booster for our couscous and spinach.
This week's featured dishes were very nice two-element dishes. The simplicity of Dinnerly recipes is one of its big selling points — it keeps both the cost and the prep time to a minimum. Also along these lines, there are no recipe cards in the box, but the step-by-step procedure is just easy to access because they are readily available on their website. Unfortunately, their execution seems to suffer a bit, as we've had missing ingredients more than once. They don't, however, seem to cut any corners with the quality of the food, and the ingredients have always arrived in great condition and have been of good quality. The stir-fried beef lettuce wrap and chicken relish dish is definitely on our list of favorites. Also, nothing beats a turkey burger when you want a lighter version of that classic American meal. Dinnerly is indeed a great meal kit subscription for anyone who loves cooking but doesn't have a lot of time or money to waste!
What do you think of Dinnerly?