CatLadyBox is a monthly subscription box for us cat ladies and our cats! Each month you will receive cat-themed items for you and your cat (Crazy CatLadyBox), or you can order a box just for you (CatLadyBox). Each box could contain cat-themed shirts, jewelry, home decor, accessories, art, and more – all delivered in a box your cat can keep.
CatLadyBox is unlike any other cat subscription box out there. Each month, you'll receive a meowvelous selection of high-quality cat-themed items only available through us. From super-soft shirts and beautiful jewelry to inspired home decor and quirky cat toys, we pride ourselves in creating and delivering the ultimate ways show off your cat lady pride!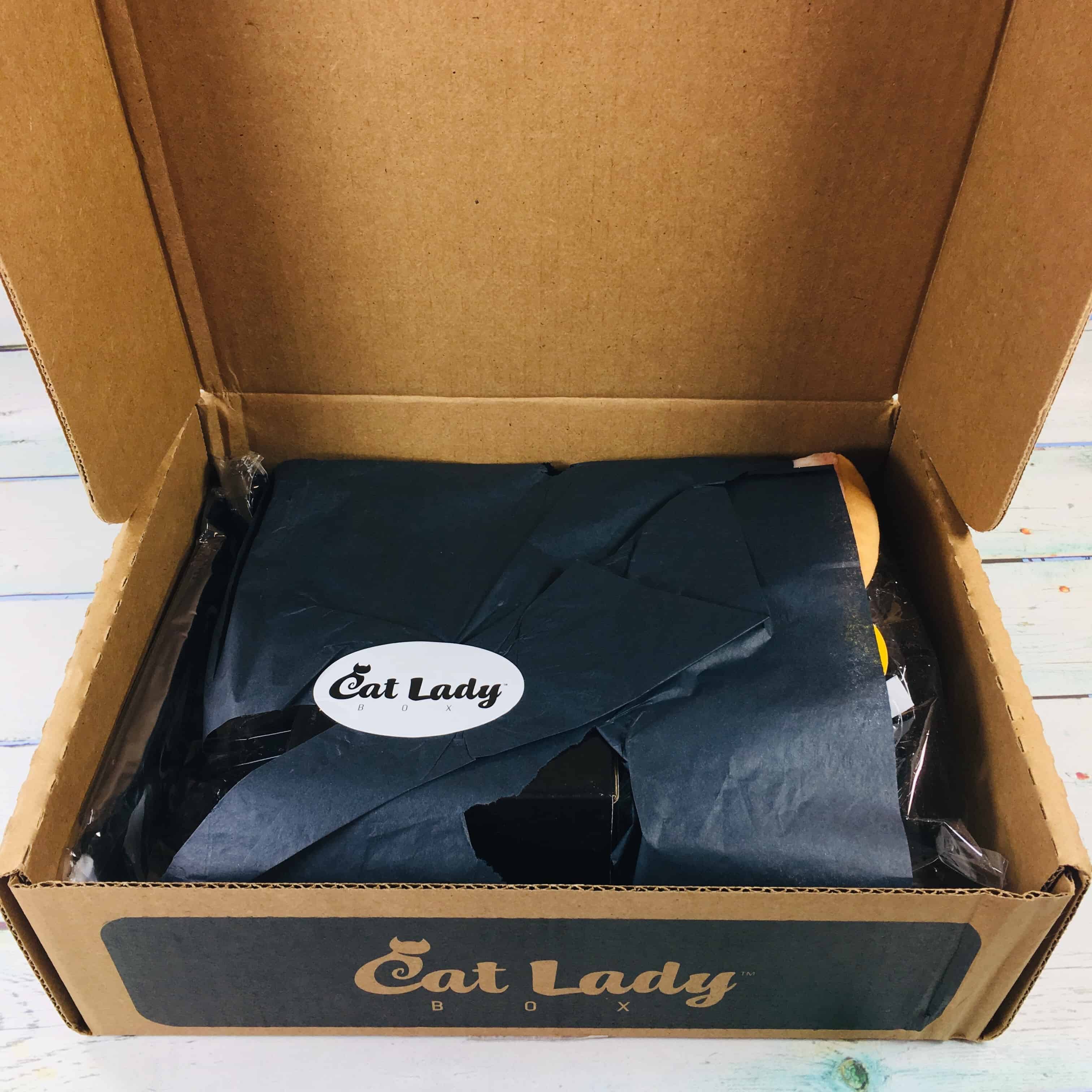 DEAL: For a limited time, save 20% off your first box with coupon code BLACKCAT2018! Valid on Crazy Cat Lady Box only!
Coupon code BLACKCAT2018 good for 20% off your first CatLadybox. Valid on "Crazy" CatLadyBox regular and gift subscriptions. Offer expires September 22nd at 8 p.m EST. Subscriptions auto-renew at regular price and can be canceled at any time. New subscribers only, please.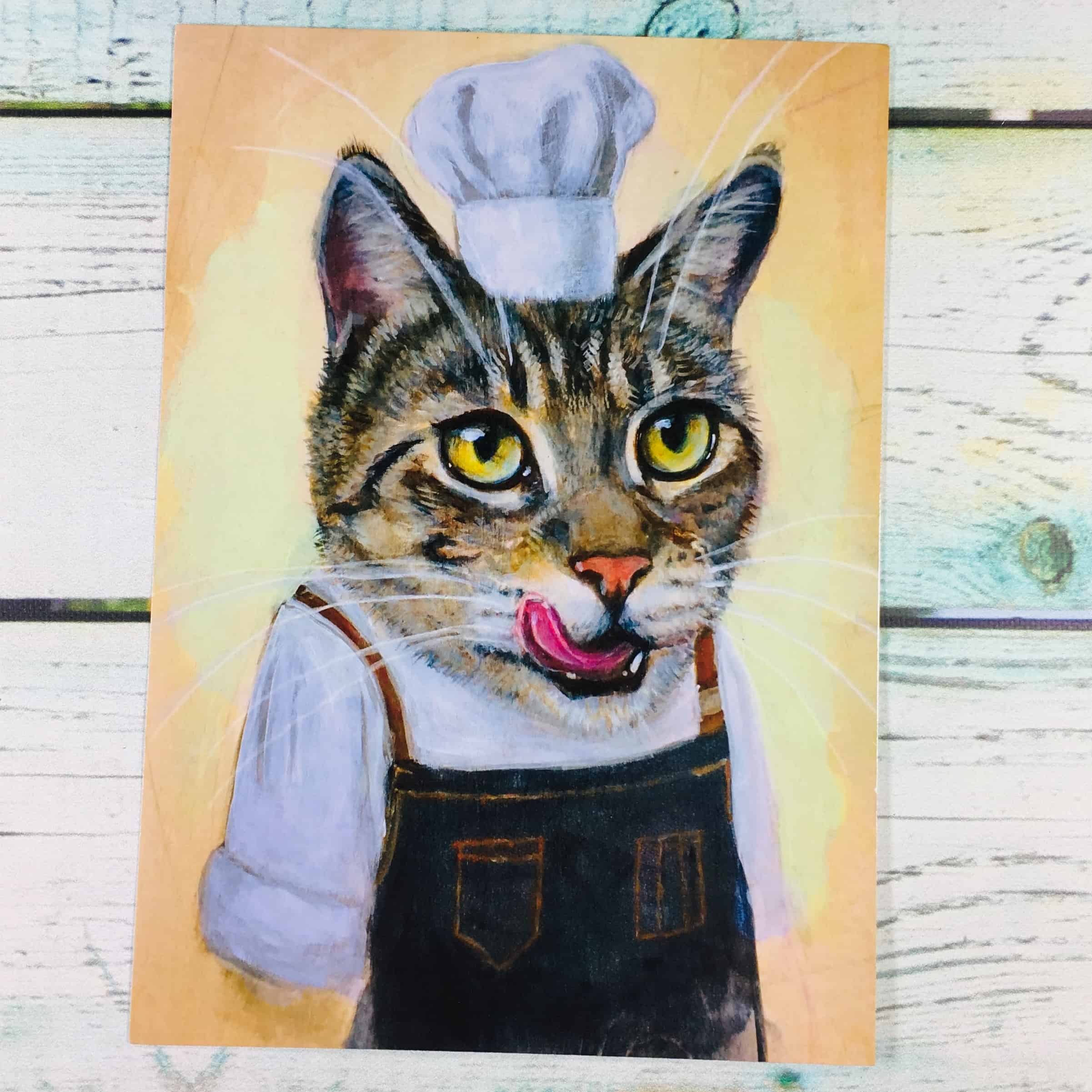 I received a card in my Crazy CatLadyBox with a kitty on the front.
TIP: Looking for a coupon code? Subscribe to notifications for CatLadyBox in the directory to get an email when the next one is released!
The back of the card lists all of the items in the box and their suggested retail price. Keep in mind that CatLadyBox sells their own line of products so the prices are from their online store.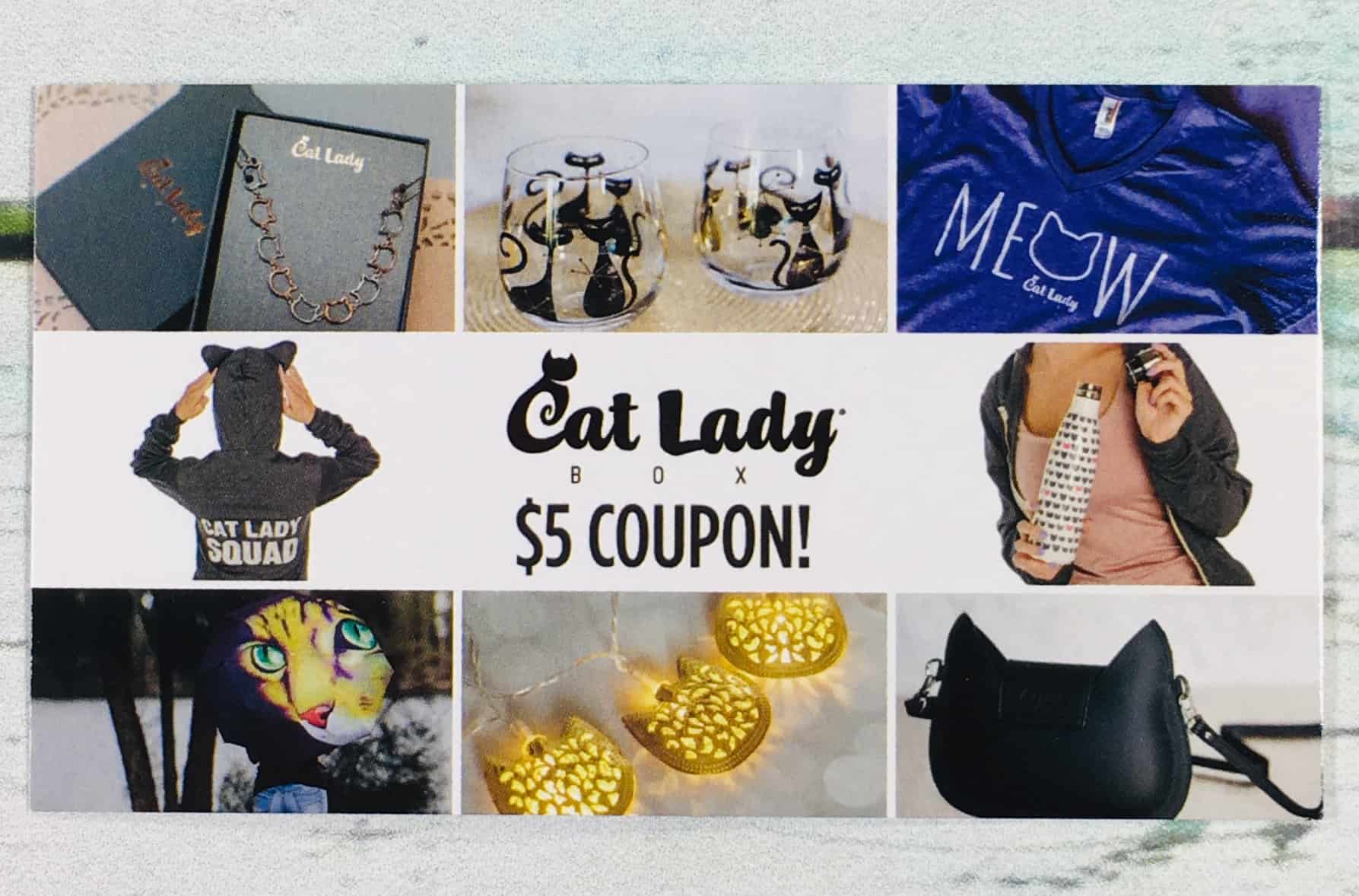 There was a coupon code to save $5 off of the price of your first box, but check out the code shown above since it's a better deal.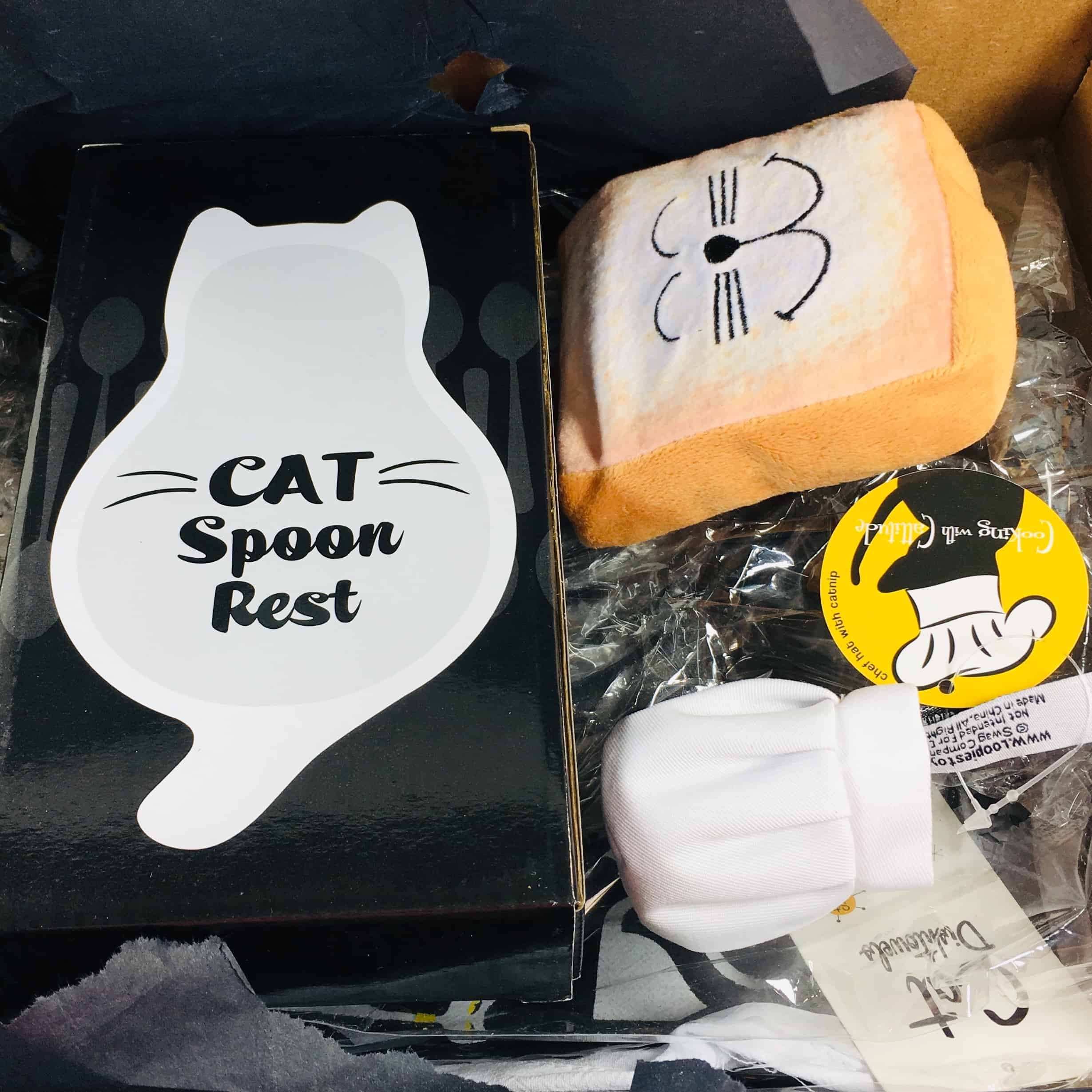 Some of my items were wrapped in plastic, others were in boxes.
Everything in my box!
Cat Spoon Rest ($9.99) Oohh, I really needed a spoon rest so this is perfect!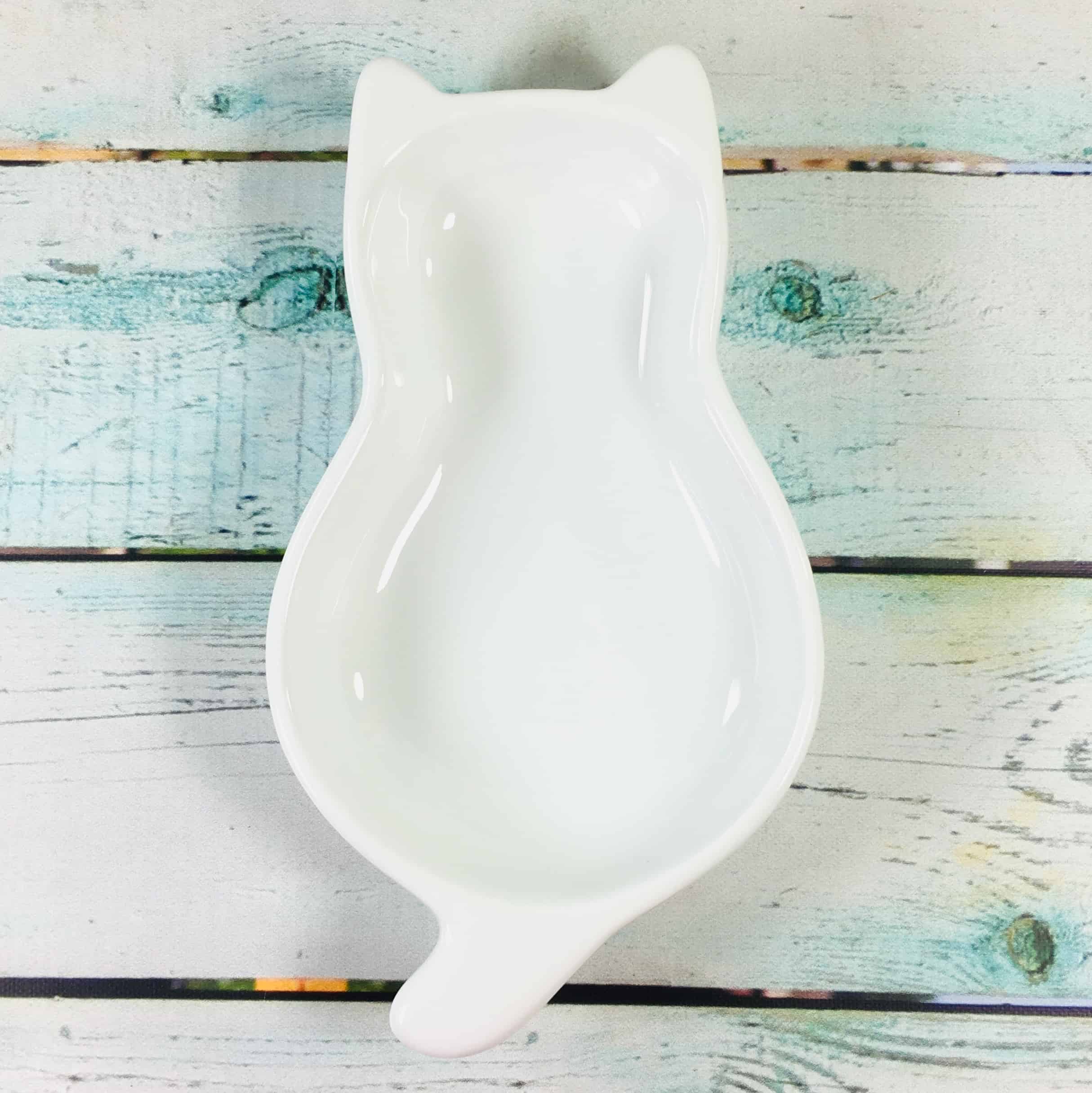 It's a glazed ceramic dish that is shaped like a cat and you rest your spoon on it while cooking at the stove. You could also use it as a holder for change, rings, crystals, office supplies, etc. I love it!
Cat Kitchen Utensils Set ($14.99) are made of a non-scratch material so these should be safe to use on non-stick pans.
The set includes a ladle, spoon, slotted spoon, spaghetti spoon, and spatula. The handles have kitty heads and tails.
Mod Cats Dish Towel Set ($9.99) I love the retro look of these hand towels. They would even work well in a guest bathroom.
One of the towels is mostly black with white cats and the occasional yellow cat.
The other towel is predominately white with black and yellow cats and stars. I think they are adorable and love the thin material so they will dry quickly.
Bread Slice Catnip Toy ($4.99) and Chef's Hat Catnip Toy ($4.99) My kitties want to get in on the fun too! They are always hanging out in the kitchen while I'm cooking so now they have their own kitchen accessories! Both toys have crinkly material inside.
Sunny cautiously approached the box.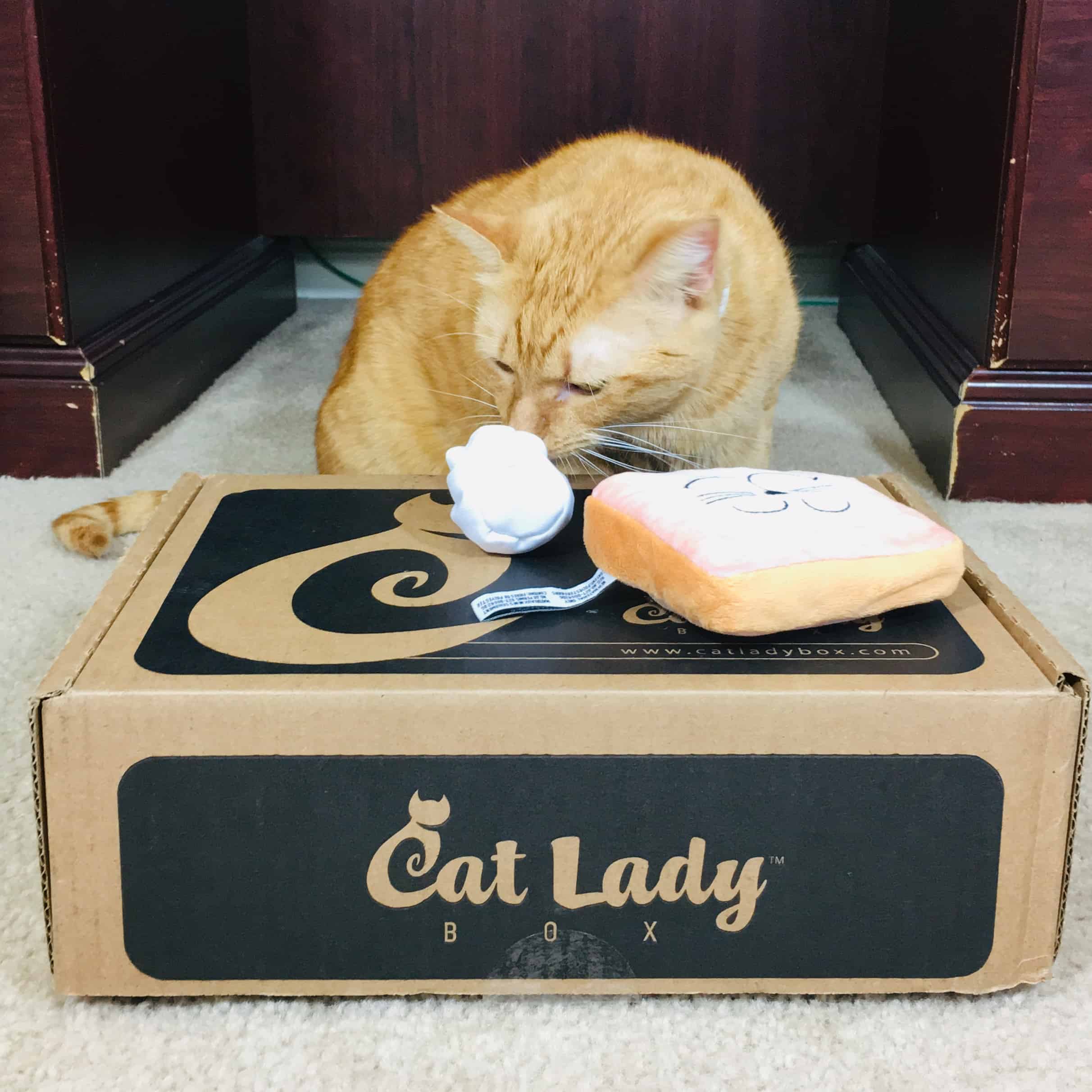 She sniffed the toys.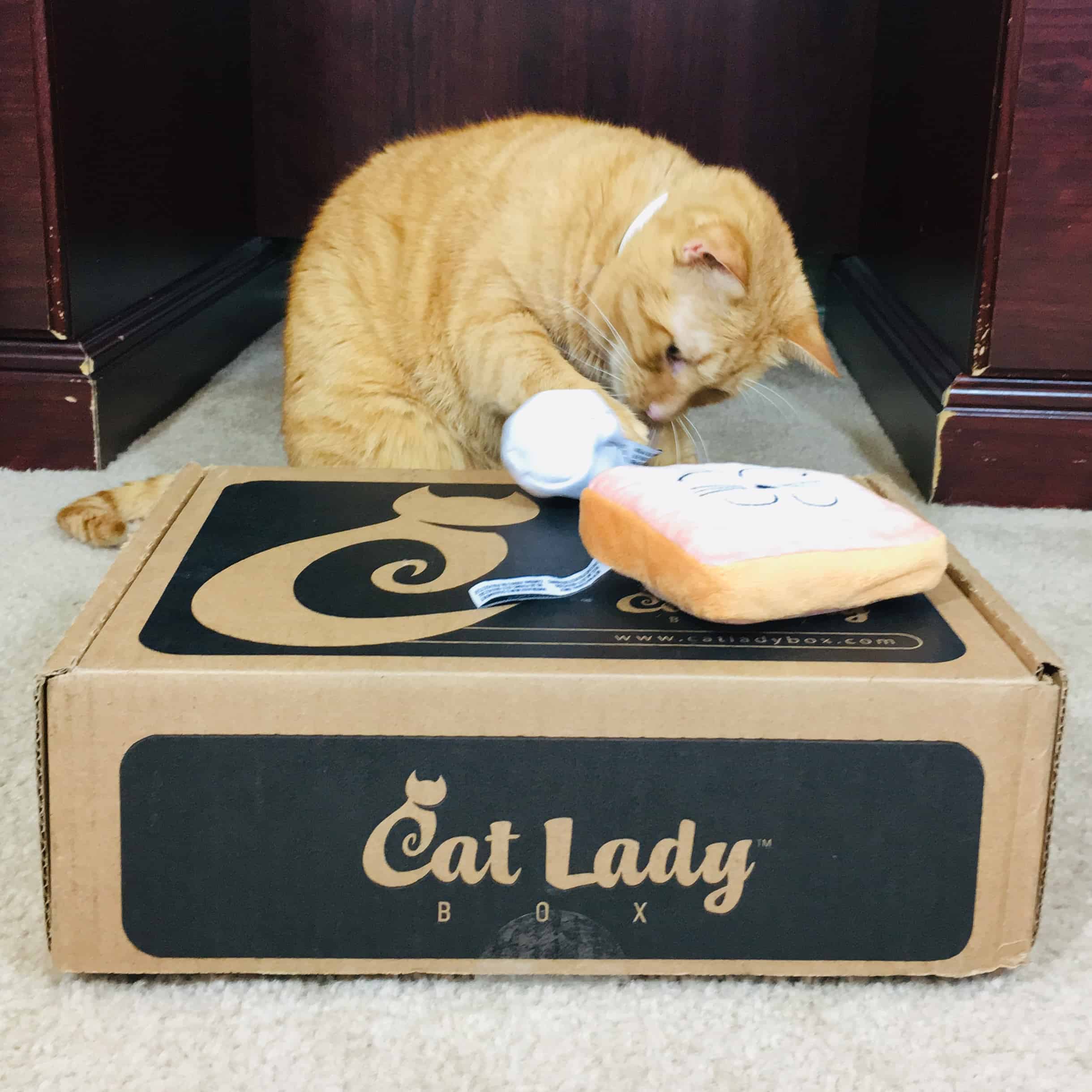 She played with the hat.
She posed for a picture. I think the bread was too hard to play with, it was kind of large, but the hat was not bad. It was good for batting around.
What a cute theme! I liked the items sent but was especially happy with my new spoon rest, it was something I've been meaning to buy and I like it much better than the ones I found at the store. The cooking utensils will come in handy and the towels are helpful. My cats have a couple of new toys to play with too!
What do you think of this month's box? Does your cat give 2 paws up?