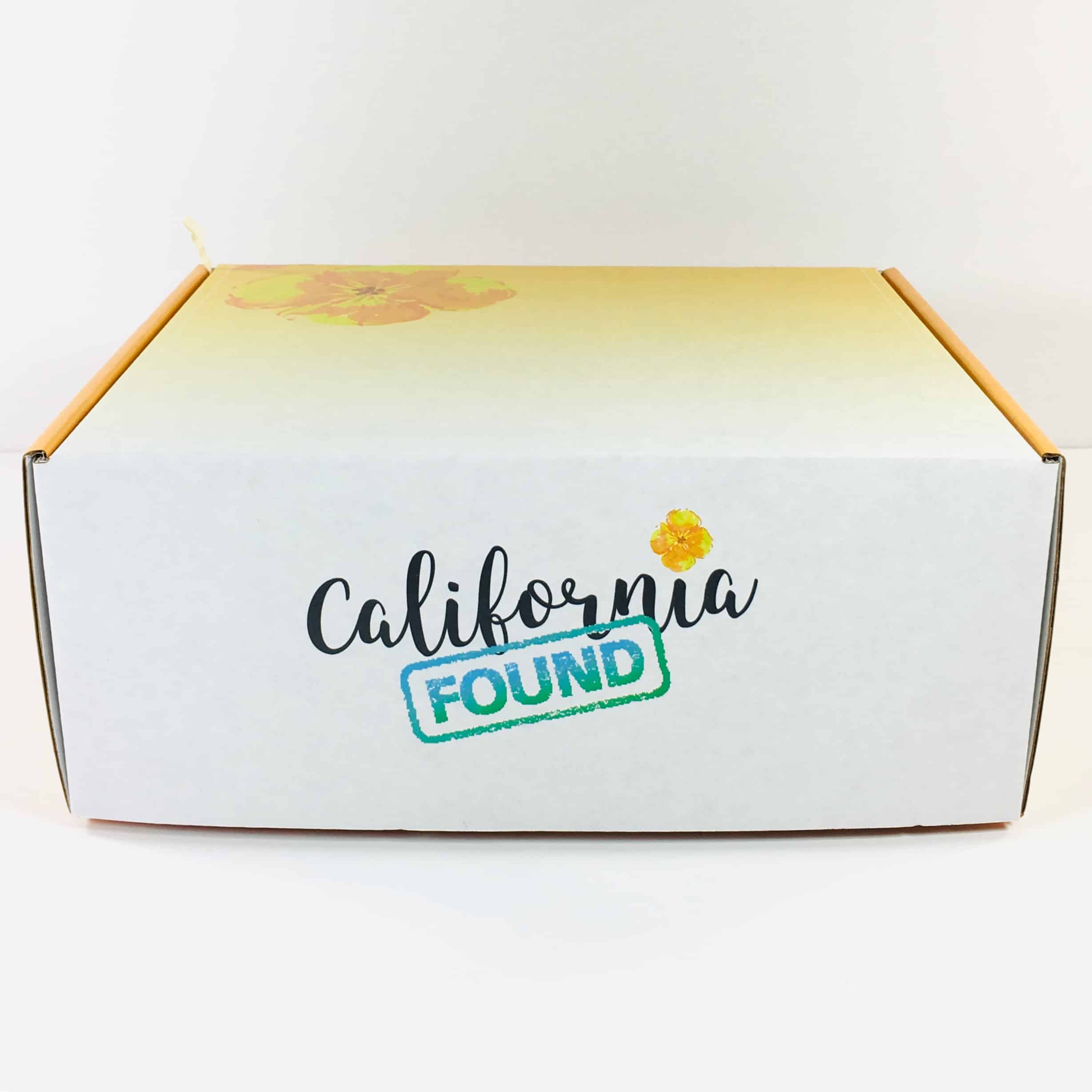 California Found is an awesome monthly subscription box that delivers the best of The Golden State, directly to your mailbox! Each box is $49, but has a value of $90+! What will you find in your box?
Once a month, our subscribers experience the California lifestyle through a box filled to the brim with natural spa & beauty products, locally sourced gourmet treats, beautifully crafted home goods, and infinitely wearable jewelry. Each box tells the story of five to seven California makers through their products and an individual notecard dedicated to each one. Every beautifully packaged delivery reflects the laid back, stylish, uniquely chic attitude that is California.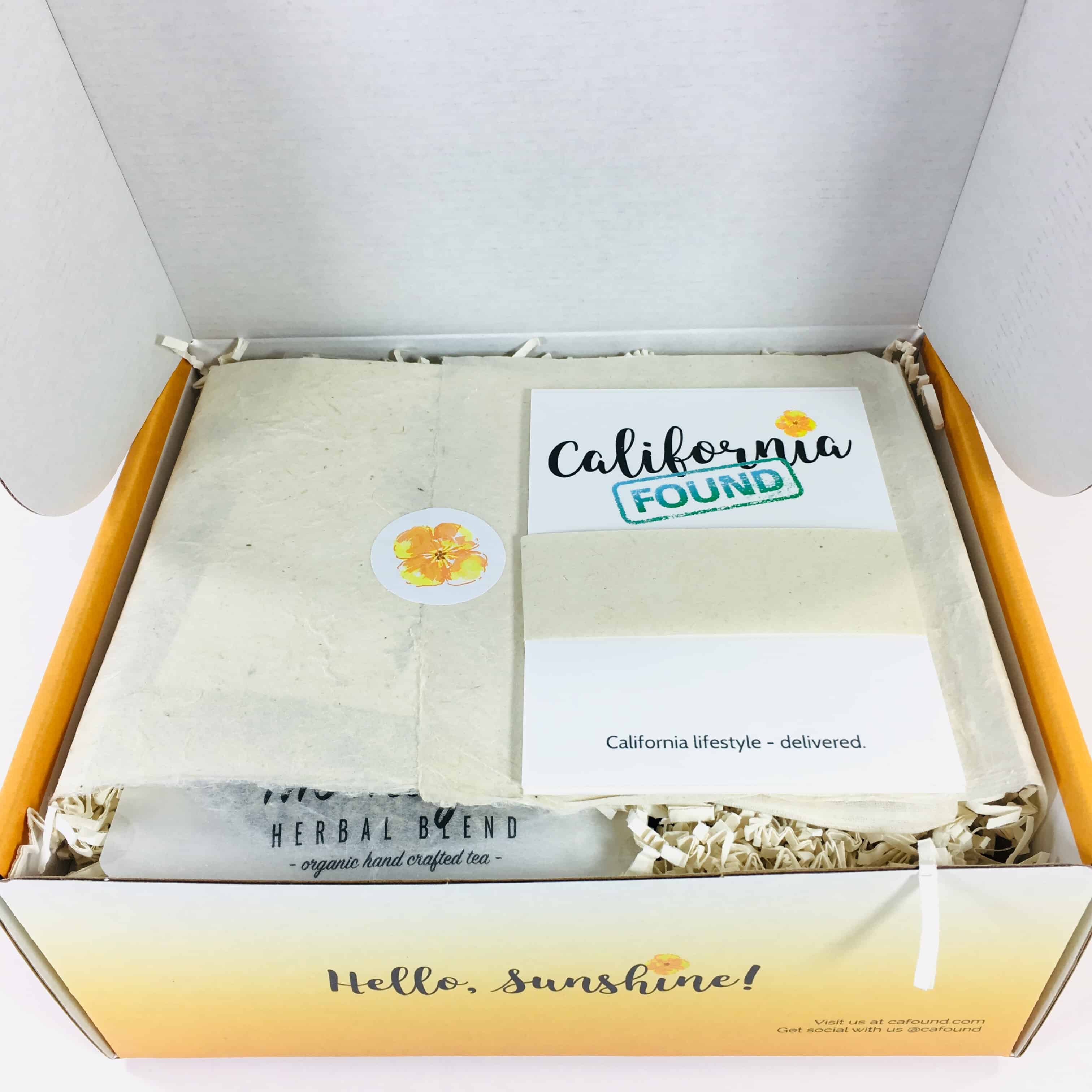 Hello, sunshine! 
The presentation is always on point with this box and this paper is embedded with wildflower seeds! I found a set of cards – one with an introduction to the current box, and one for each of the vendors featured in this month's box. The bundle was secured with more seeded paper.
DEAL:Get free shipping on your first box of a monthly or 3-month subscription! Use coupon code HSFREESHIP. Valid for new members only.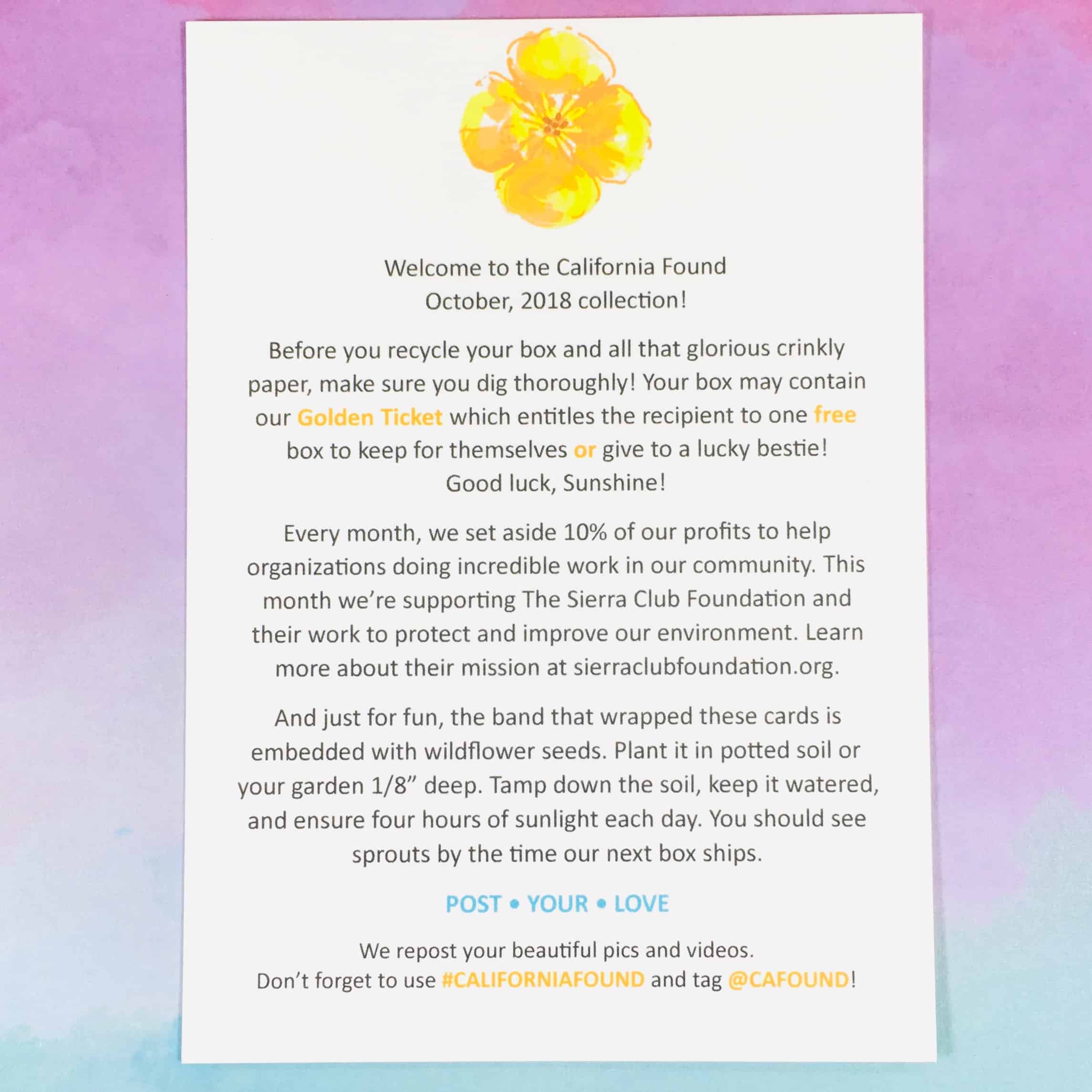 California Found recently introduced The Golden Ticket, which seems appropriate for a box coming from The Golden State! One box each month will contain a special ticket that will entitle the subscriber to a free box for themselves or for a friend. Also, California Found gives 10% of their profits to charitable organizations and this month the chosen charity is The Sierra Club Foundation.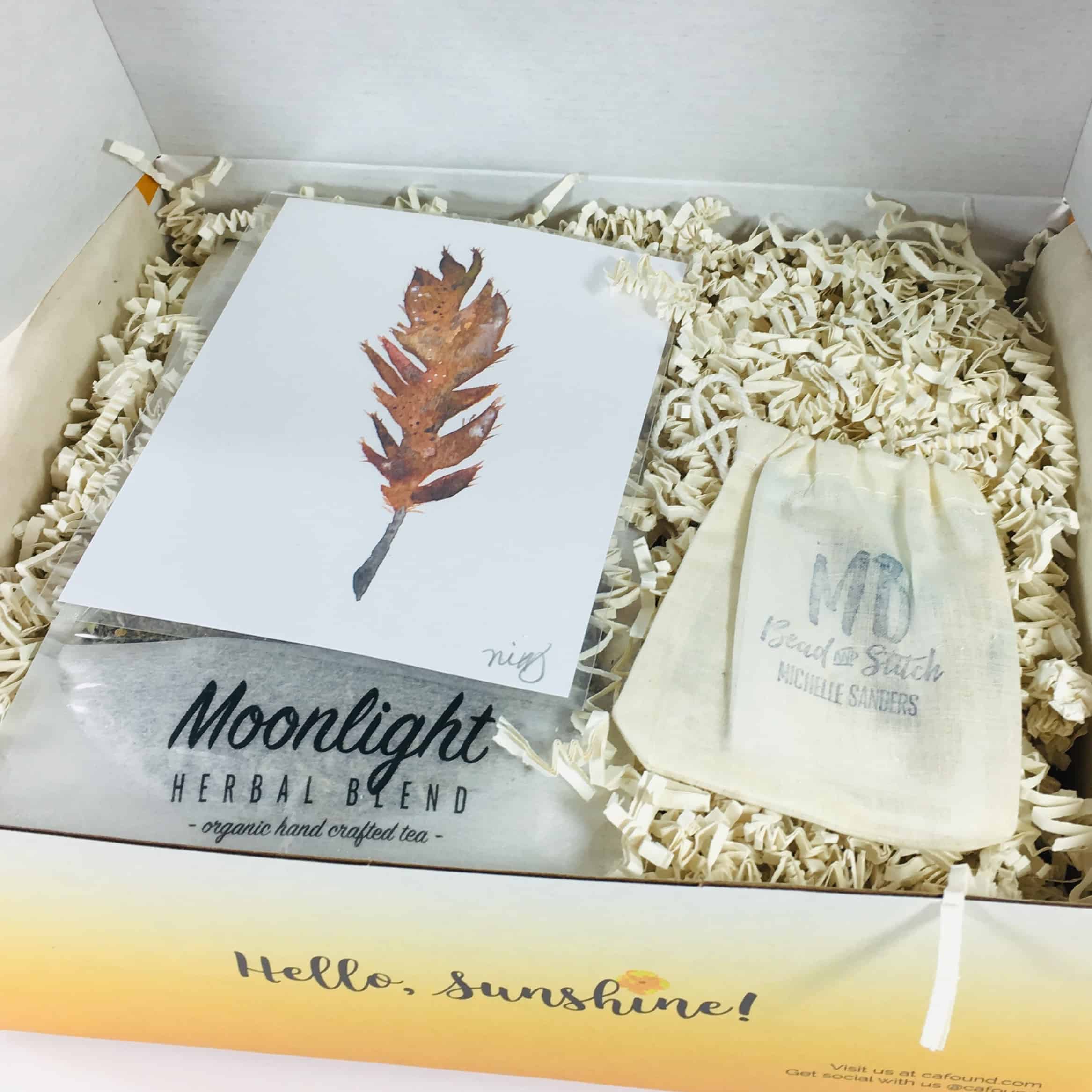 My items were snuggled into paper squiggles and were kept safe on their journey. One item was wrapped in bubble wrap to keep safe.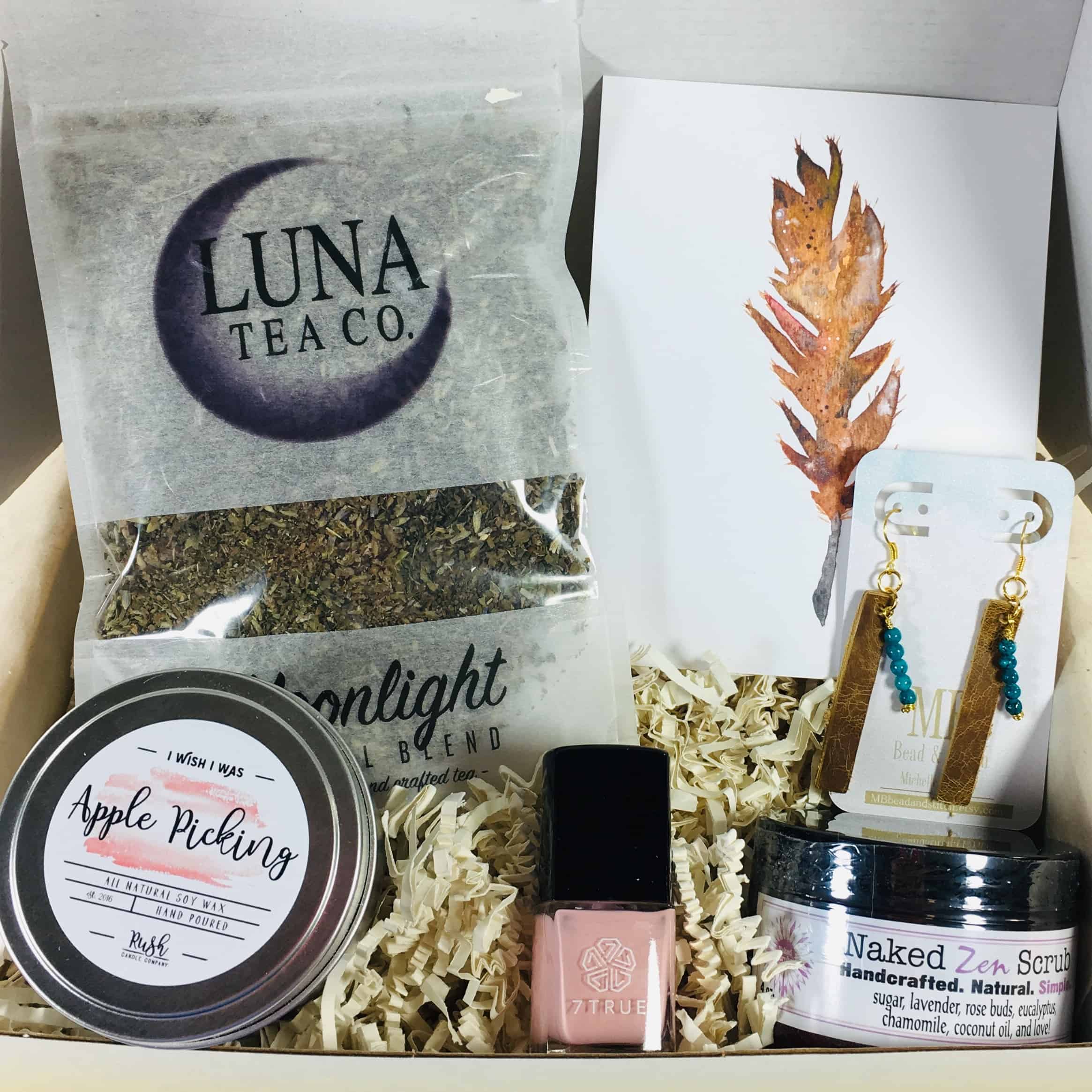 Everything in my October 2018 California Found box!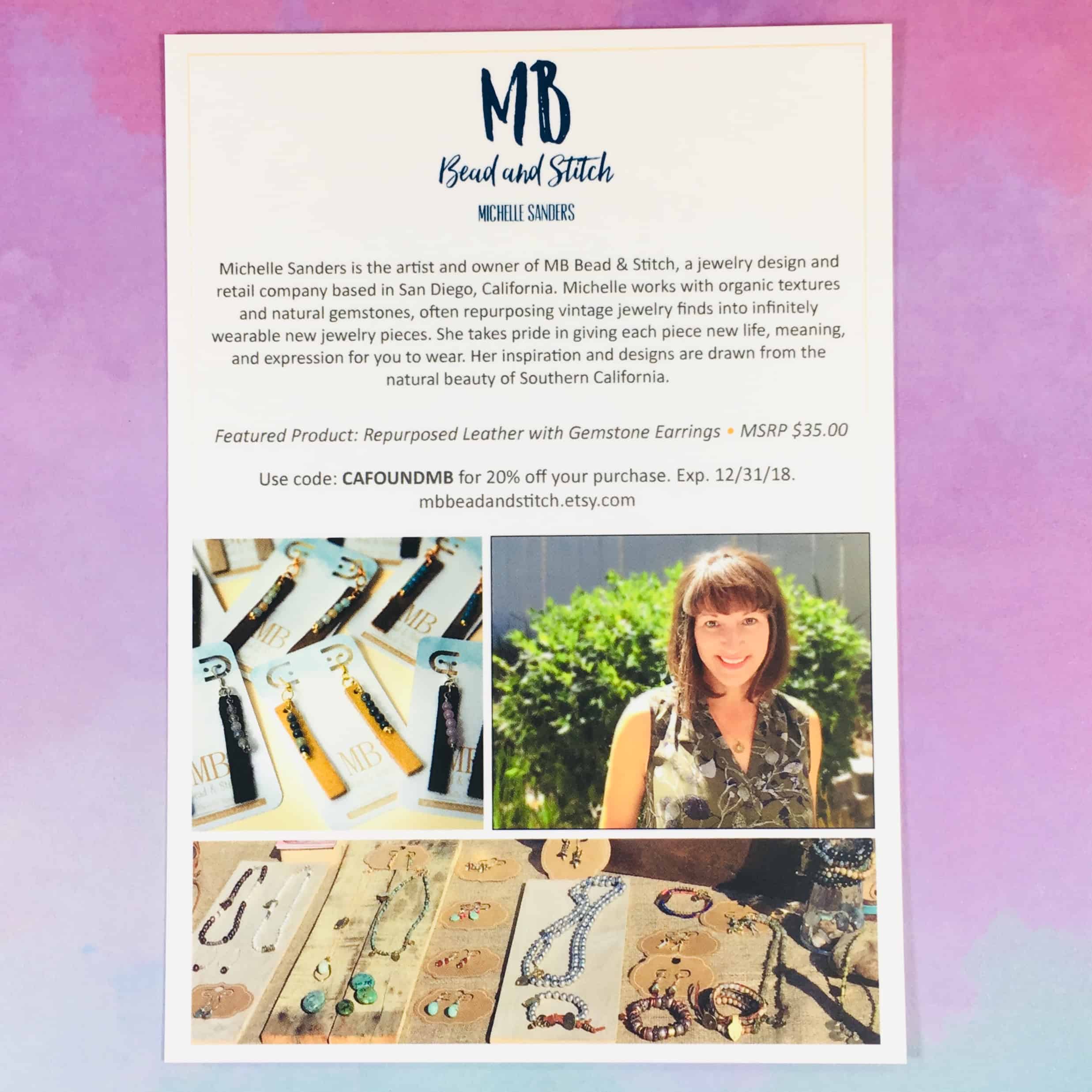 Bead and Stitch by Michelle Sanders Earrings – SIMILAR ($35) I couldn't find these adorable boho earrings on the Etsy site so I linked to something similar. Have a look around, there are several cute sets to choose from. Each set is unique and the artist says items are "sisters not twins" and I get that.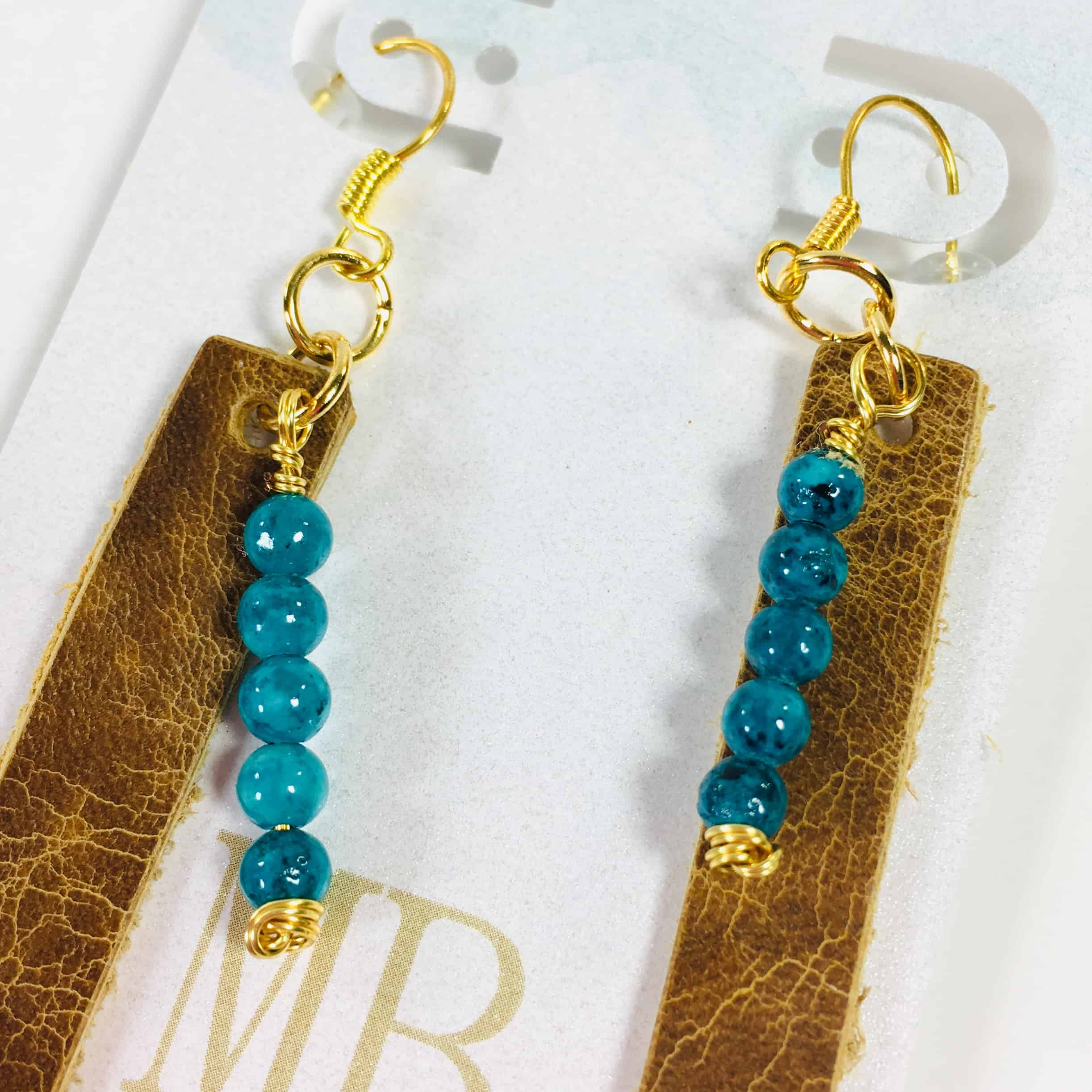 These earrings are made with repurposed leather and gemstones and makes me wish my ears were still pierced. My loss but my daughter will love them.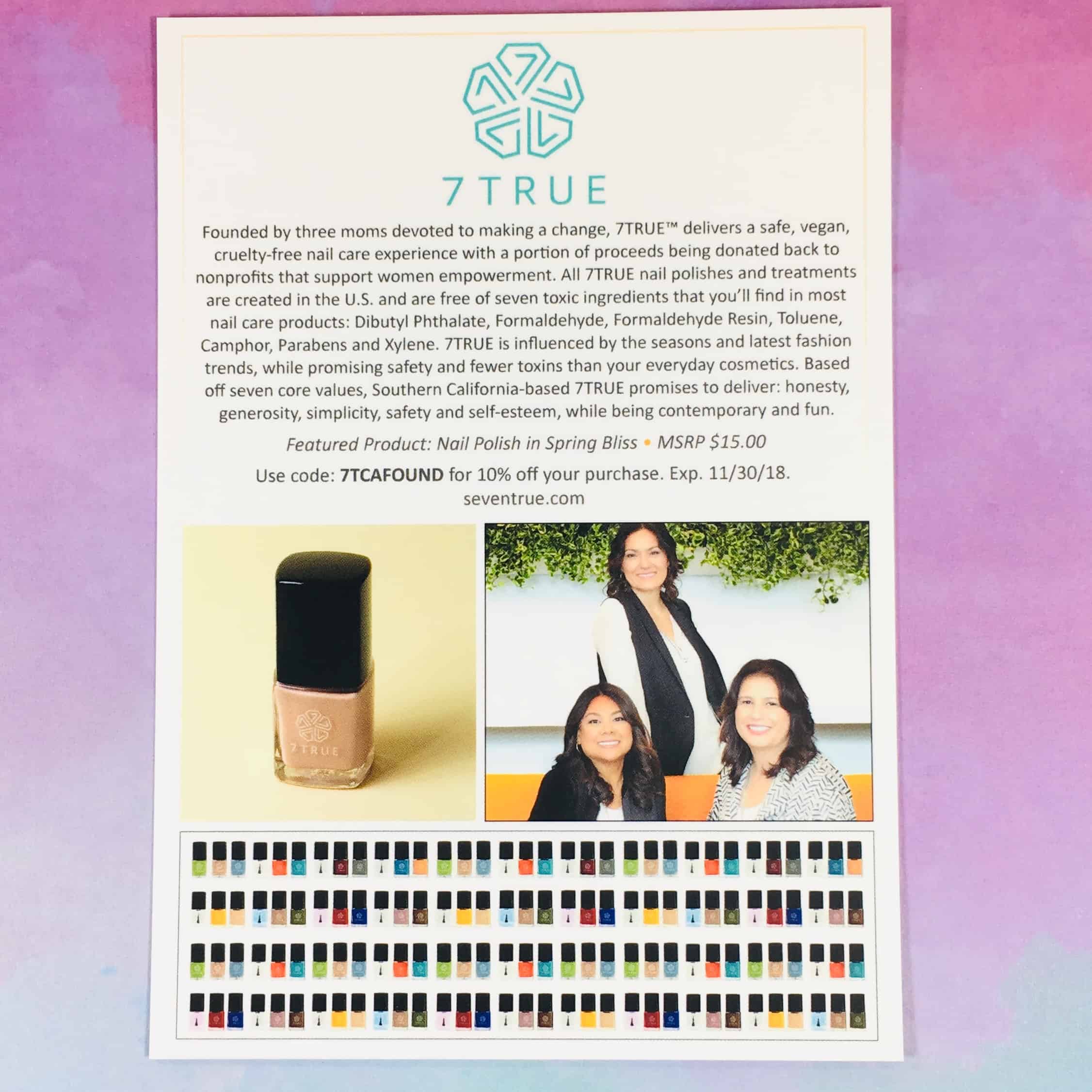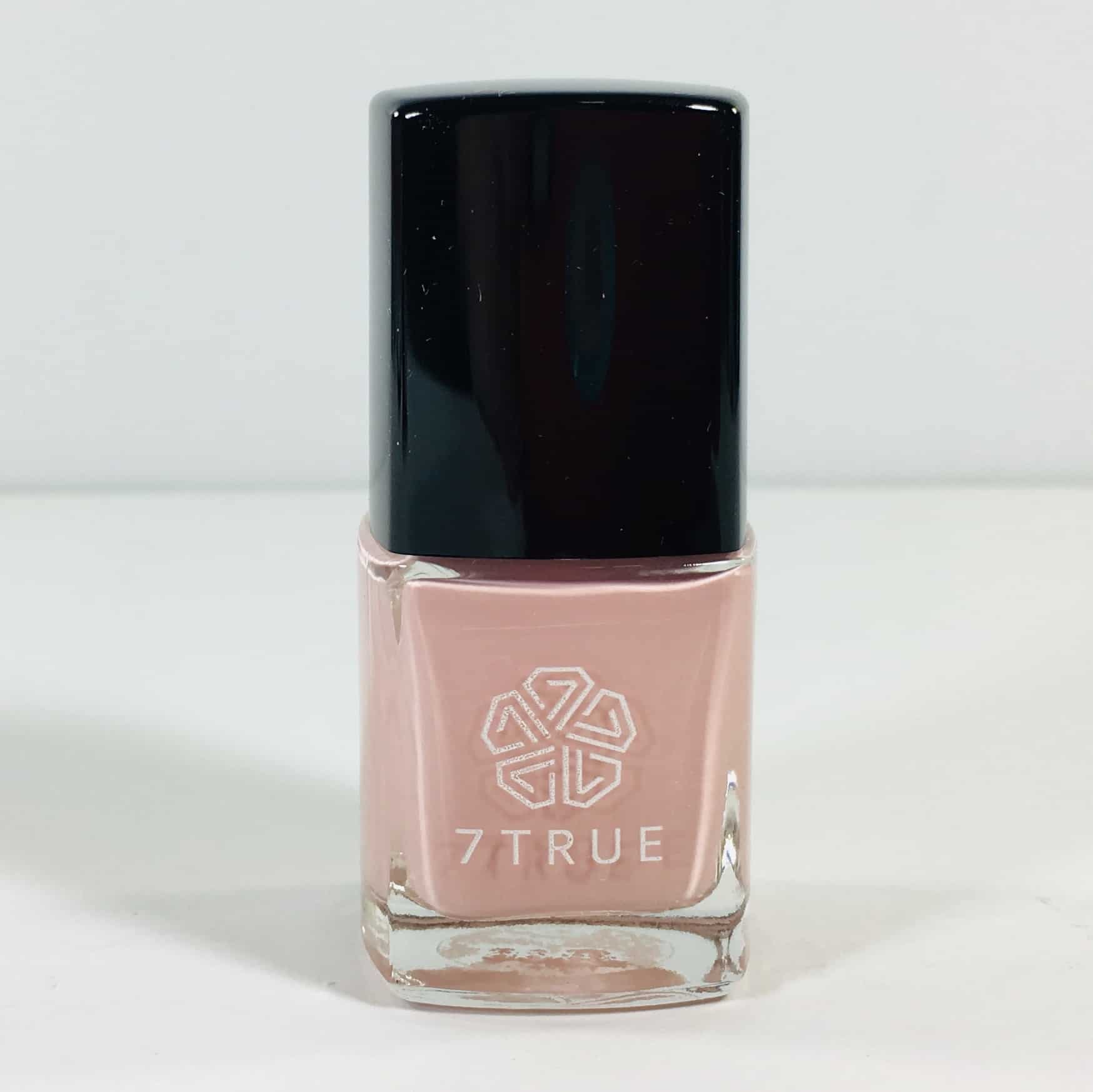 7 True Nail Polish in Spring Bliss ($15) 7 True polishes are 7 free – that means they are missing 7 toxic ingredients that you may find in other nail polishes.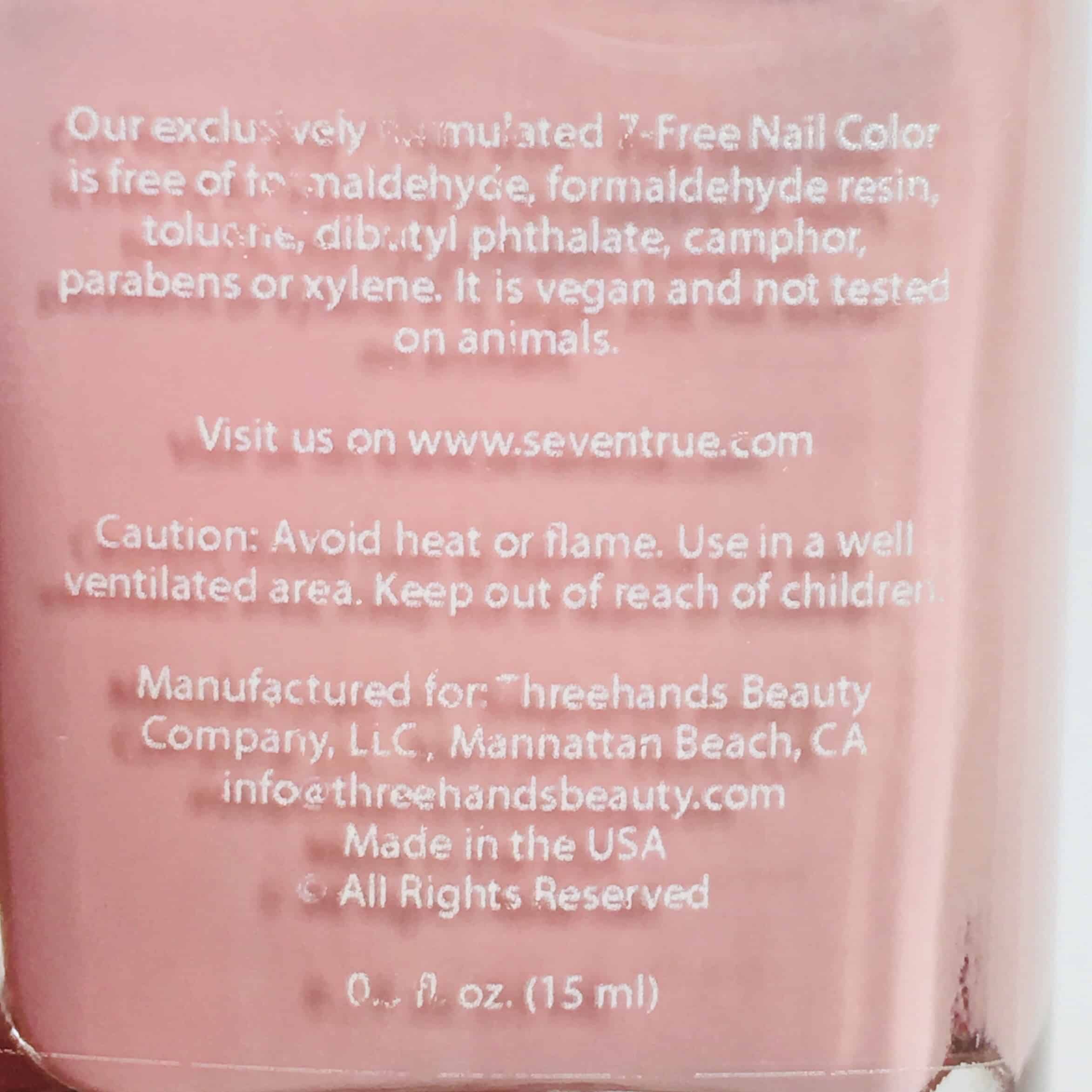 You can see the 7 missing ingredients on the back of the bottle. The polish is also vegan, cruelty-free, and made in the USA. Ingredients can be found under the FAQs section of the 7 True website.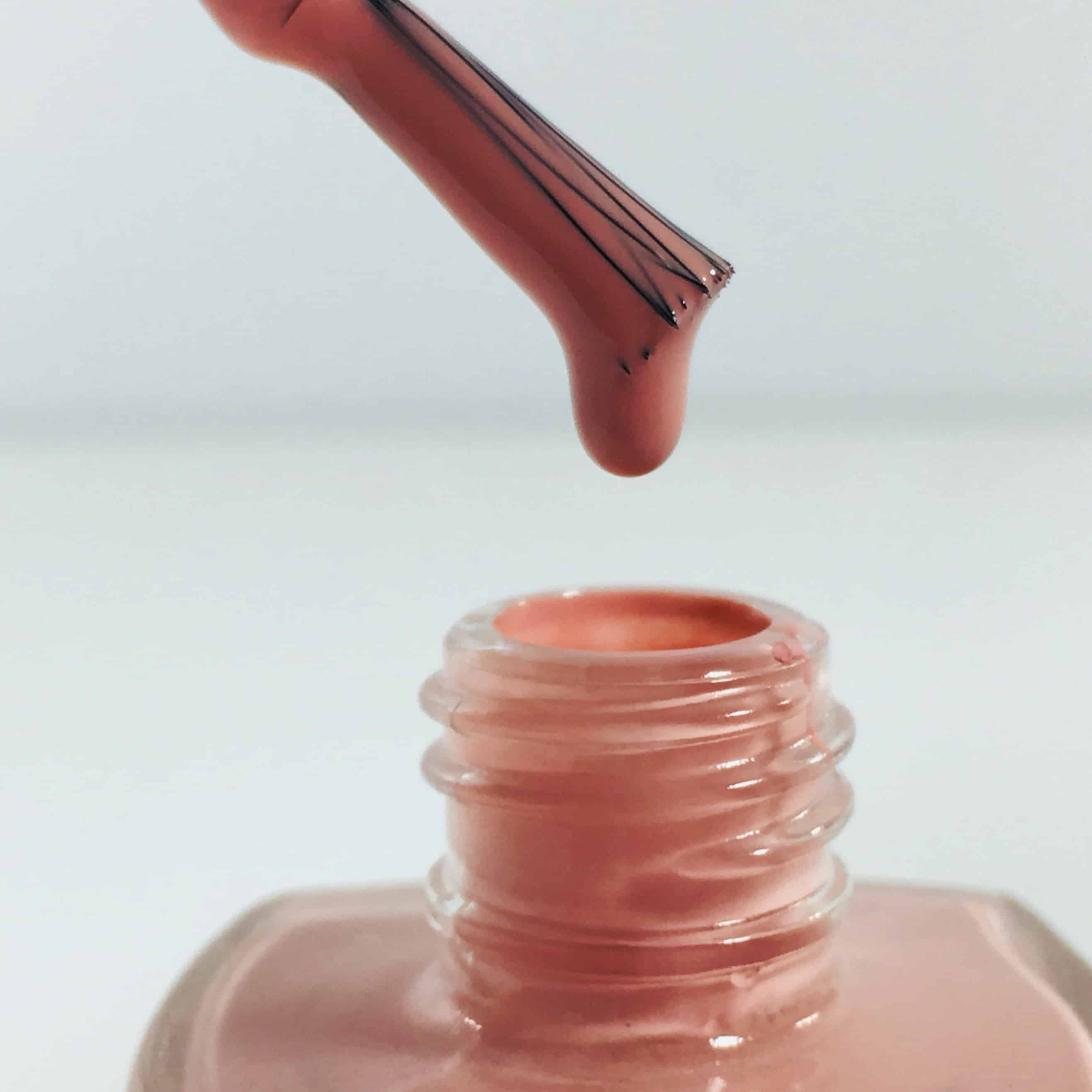 The shade Spring Bliss is "a delicate pink, inspired by the budding flowers of the season". I think it is a good color choice any time of the year, especially if you live in a sunnier climate.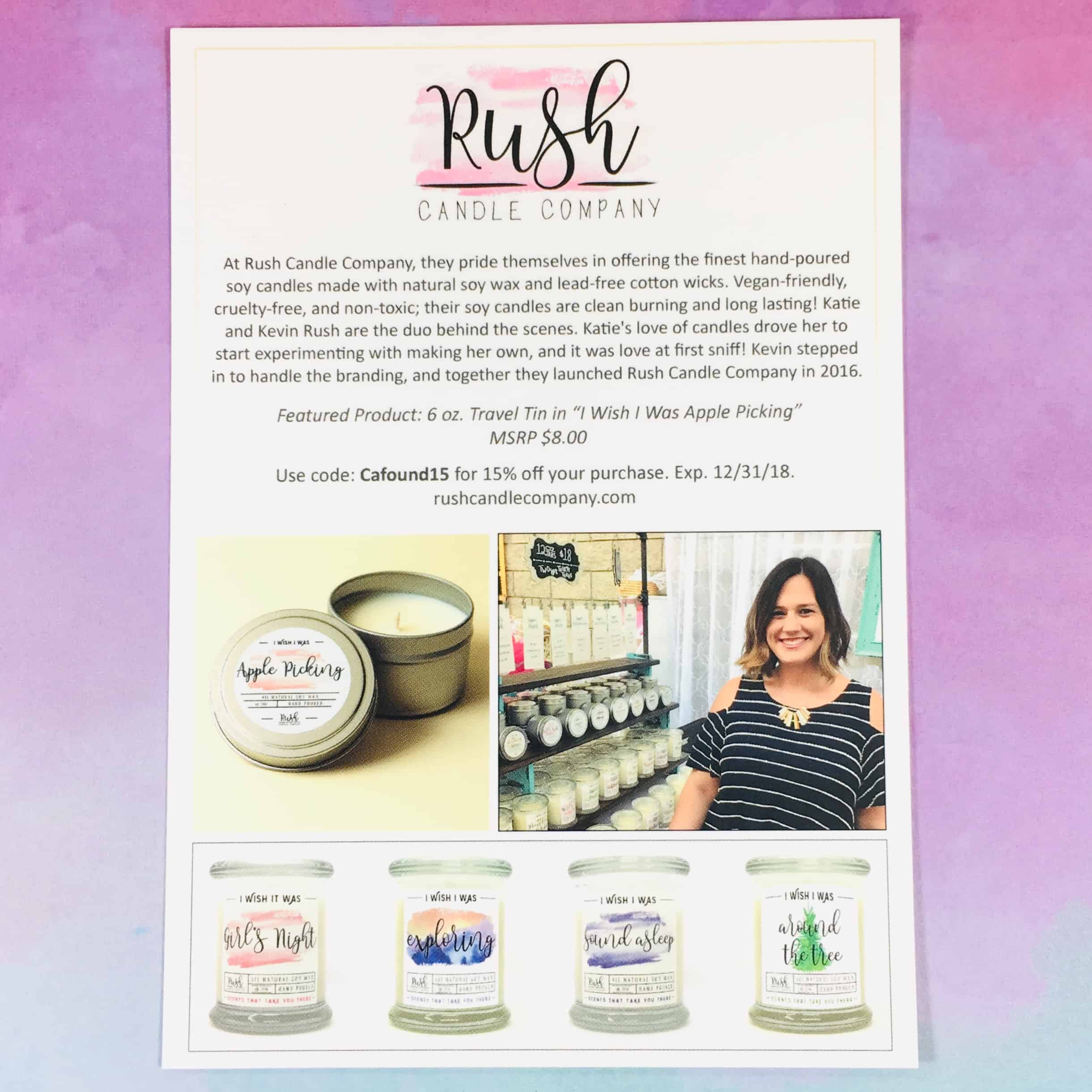 Rush Candle Company Travel Tin ($8) is a bit smaller than the one offered on the Etsy site, but not by much.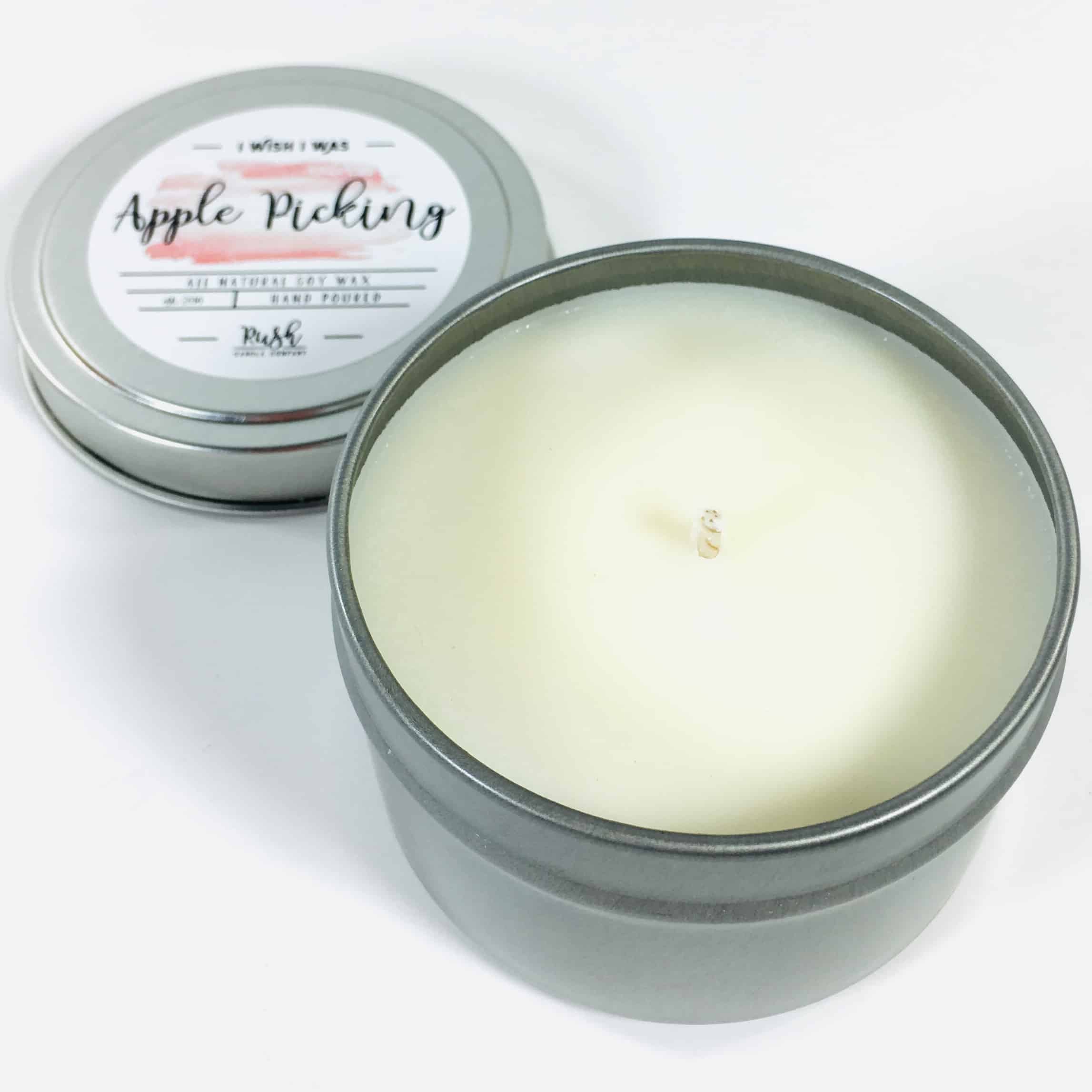 Rush candles are made with soy wax and are hand poured in small batches. The fragrance used is phthalate-free. The scent notes on this cozy candle fragrance are apple, vanilla, cinnamon, and caramelized sugar. It smells amazing, like apple pie!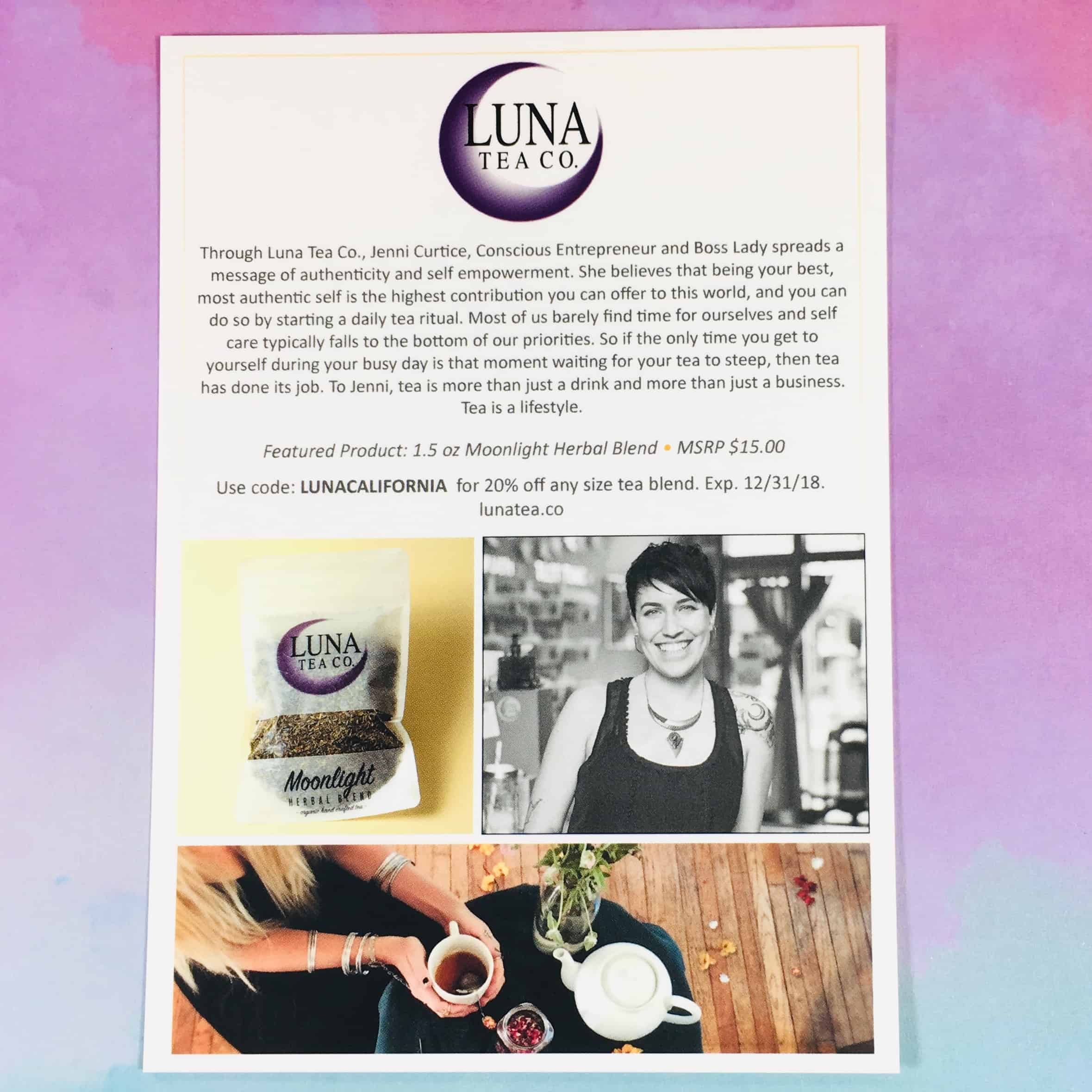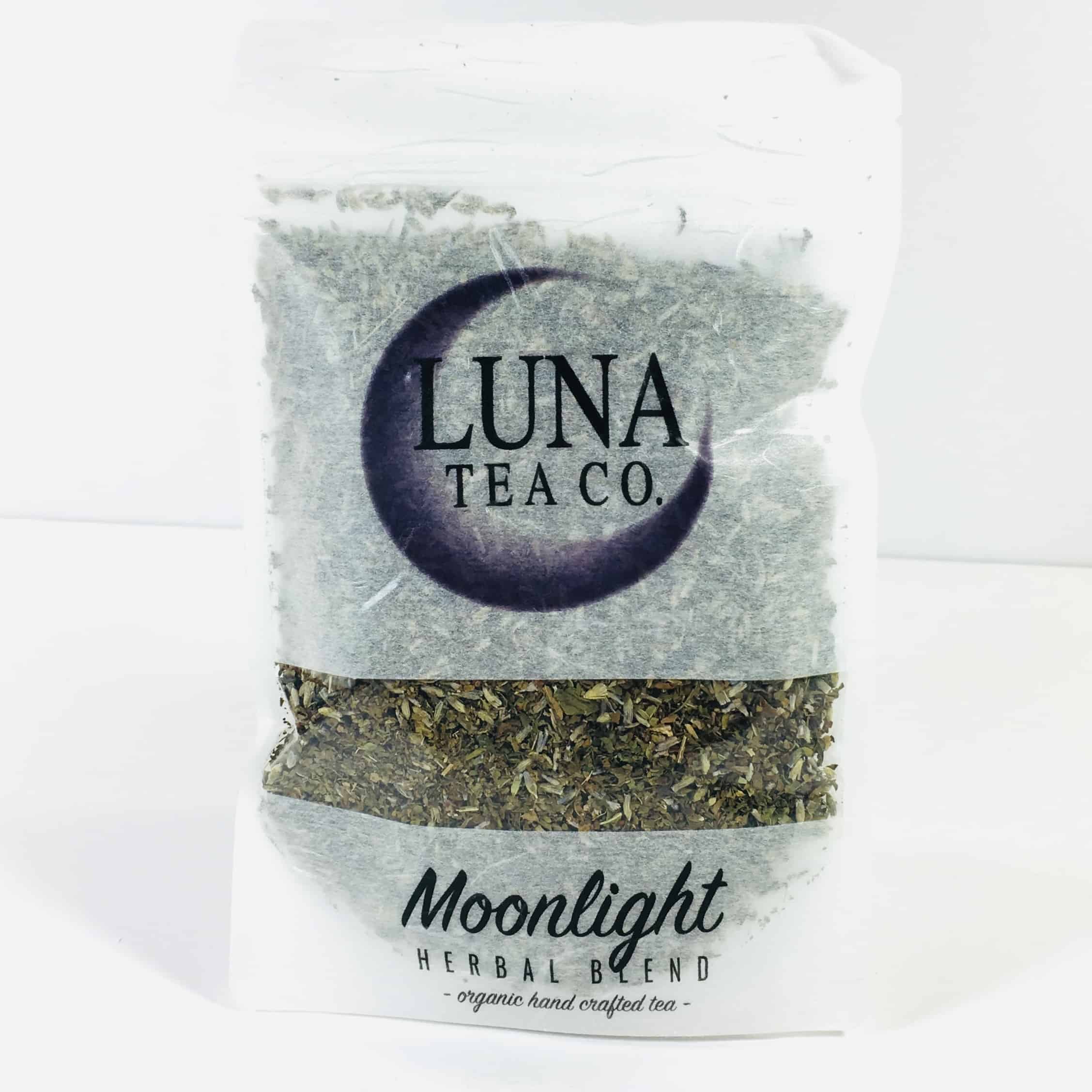 Luna Tea Co. Moonlight Herbal Blend ($15) Tea is my drink of choice and while I have to start the day with a cup of black tea, I enjoy ending the day with a lovely herbal tea.
I like the reminder on the bag to use tea making time to take a true break for myself and be present during the preparation ritual.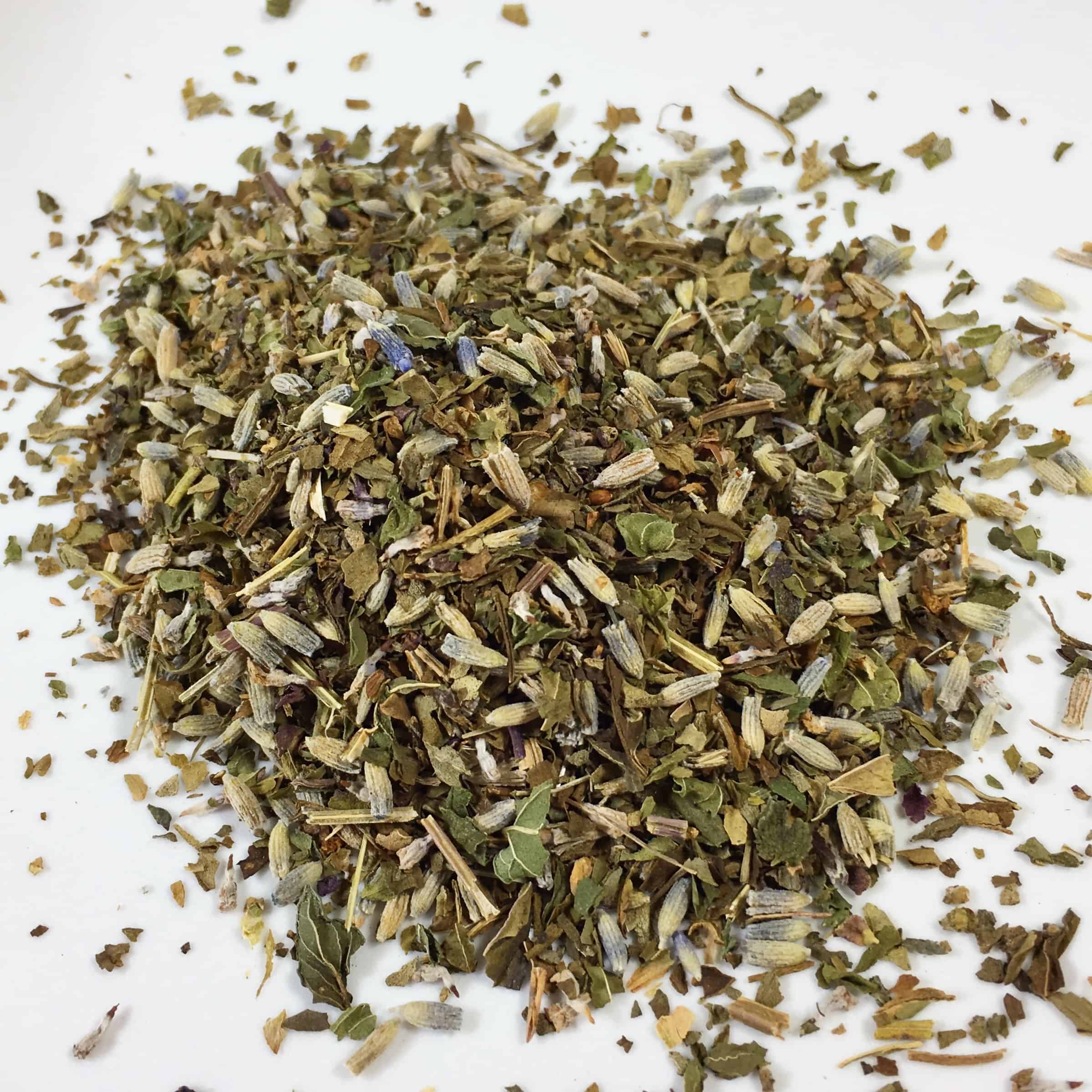 Peppermint, lavender, and basil are the only ingredients, and they are all organic. I was worried this would taste like spaghetti sauce but nope, it was pepperminty, a bit floral, and a bit earthy. Very nice for sipping on a cool evening.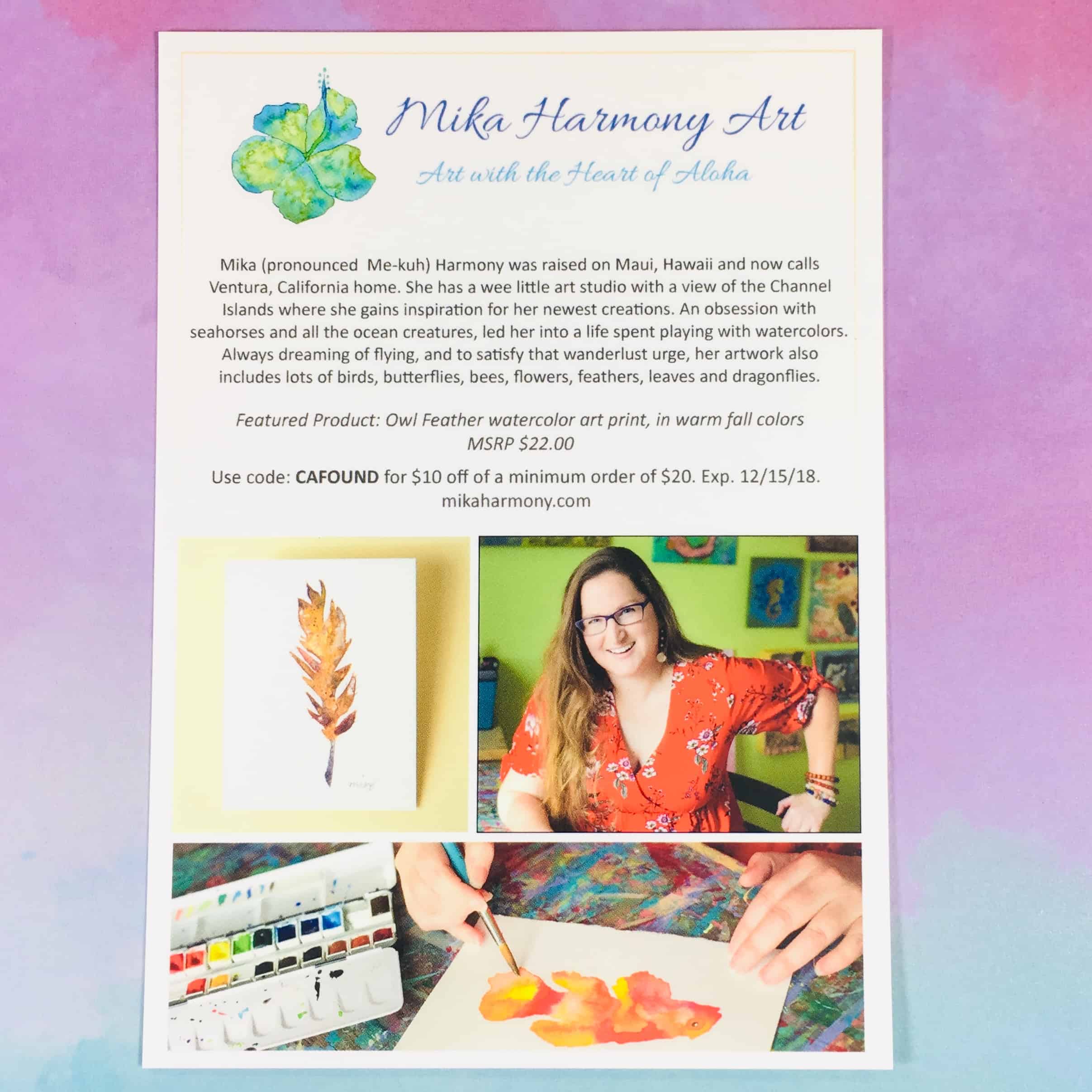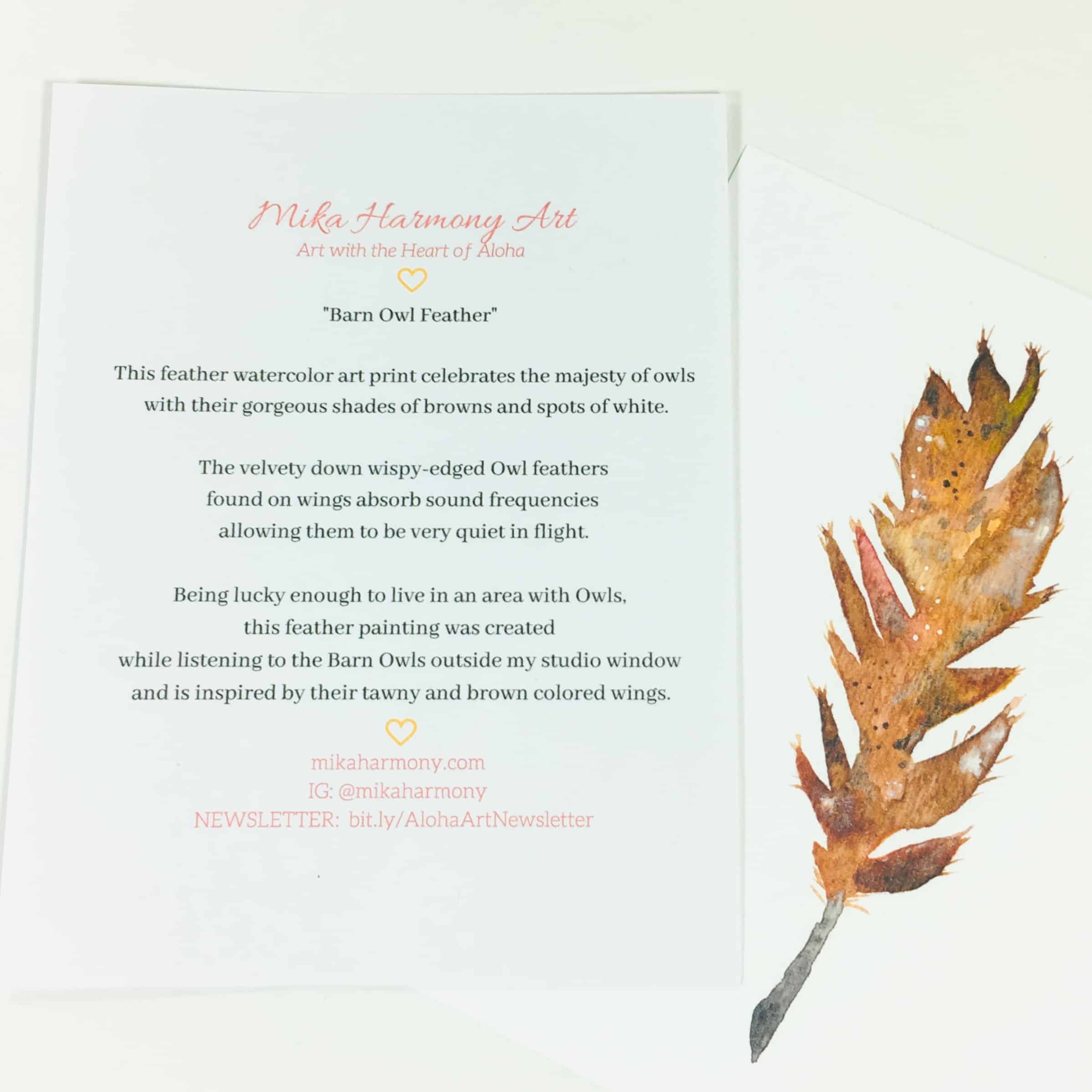 Mika Harmony Art Owl Feather Watercolor Art Print ($22) Usually I find greeting cards in my California Found subscription box but it looks like they decided to change it up this month! There was a description of the print sent.
The watercolor owl feather print is about 4″ x 6″, or roughly the size of the cards that introduce each vendor in this box. It is also signed by the artist.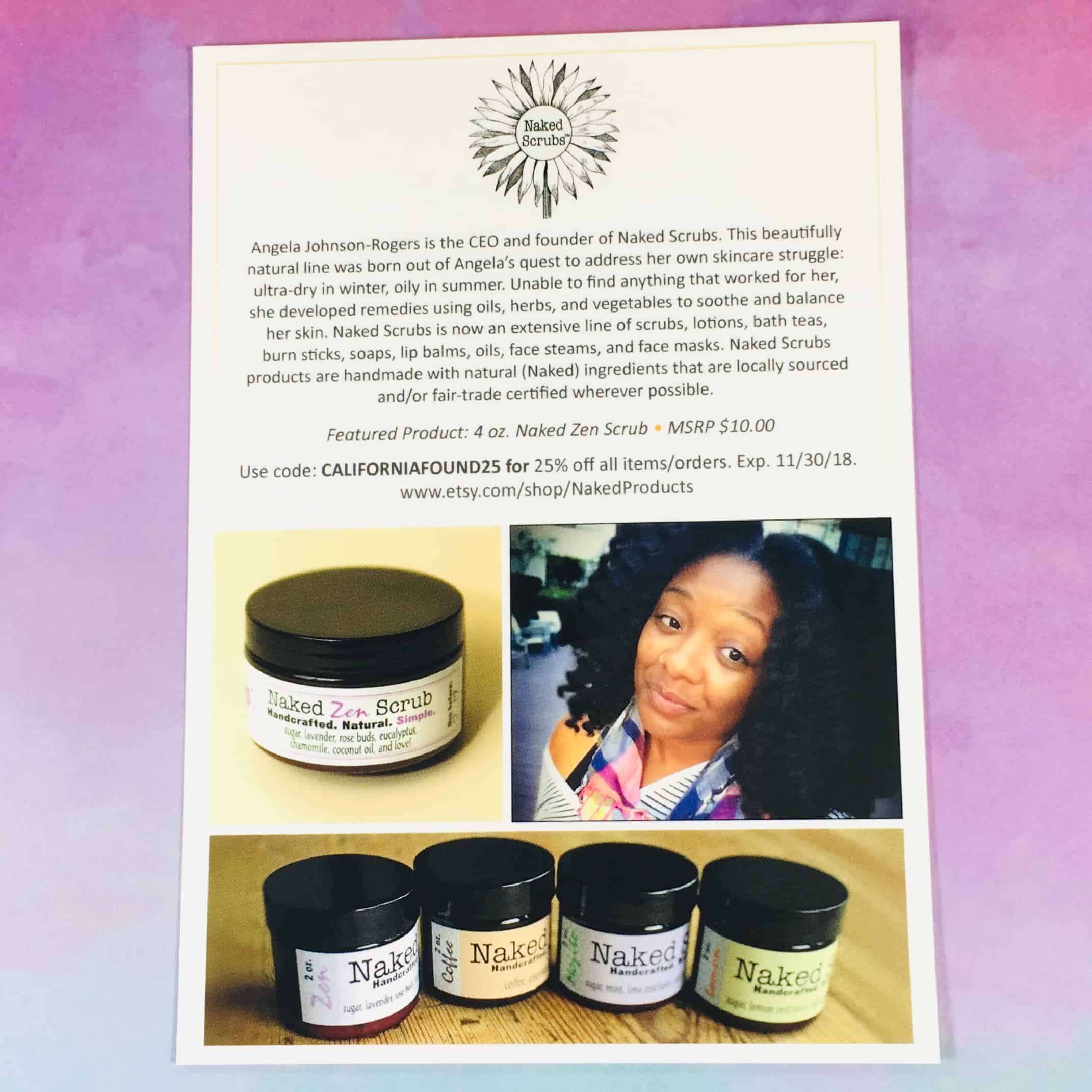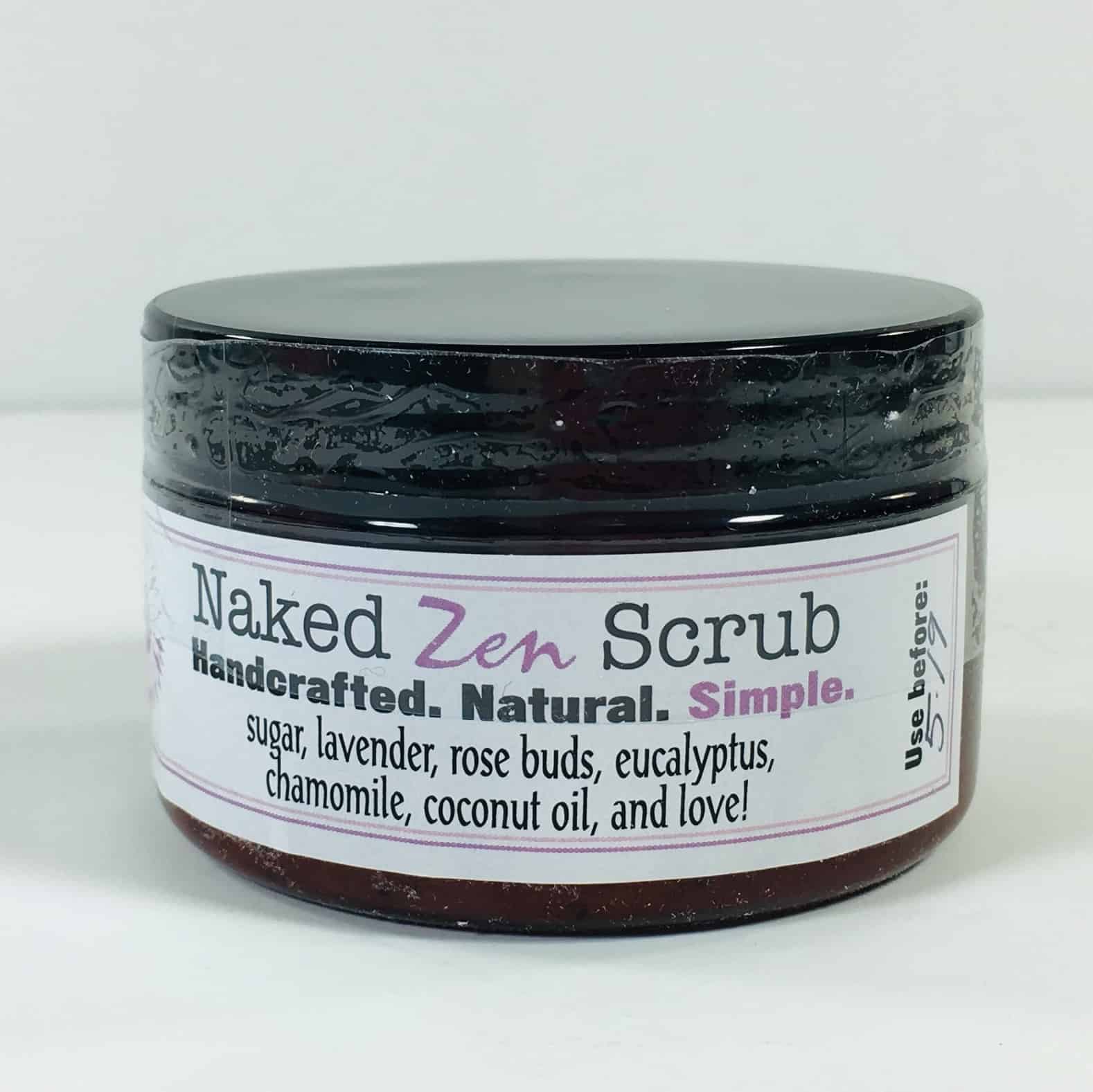 Naked Scrubs Naked Zen Scrub ($10) I try to use an exfoliating scrub every few days, and this one smells really good.
Sugar, lavender, rose buds, eucalyptus, chamomile, and coconut oil are the all-natural ingredients in this handmade scrub.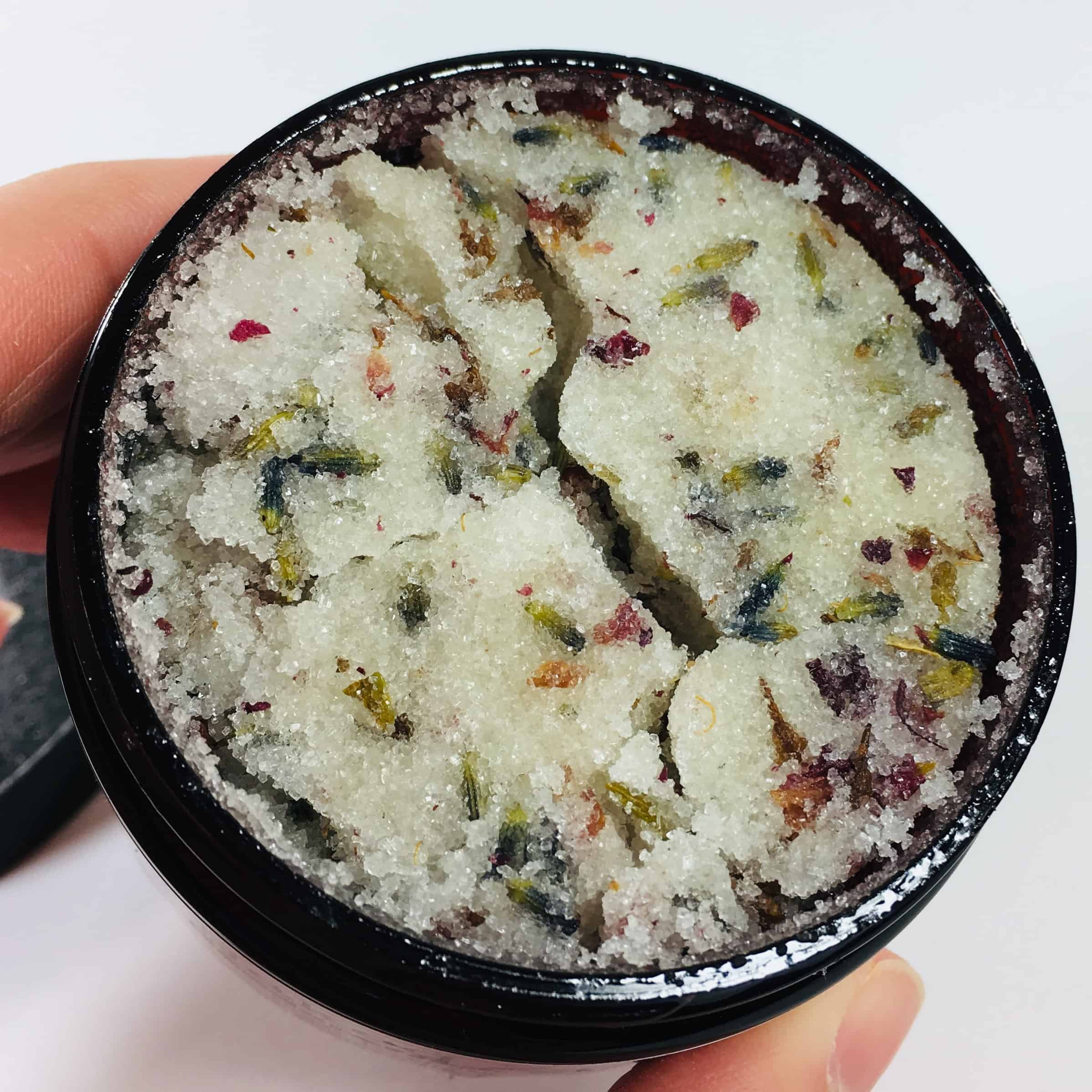 It looks so pretty and smells pretty amazing. It worked well to get the dead skin off of my limbs, and had a bracing scent that put some pep into my morning. Make sure to take a container of some sort into the shower so you can fill it with water and rinse off the walls and floors since the flower pieces can get a bit messy.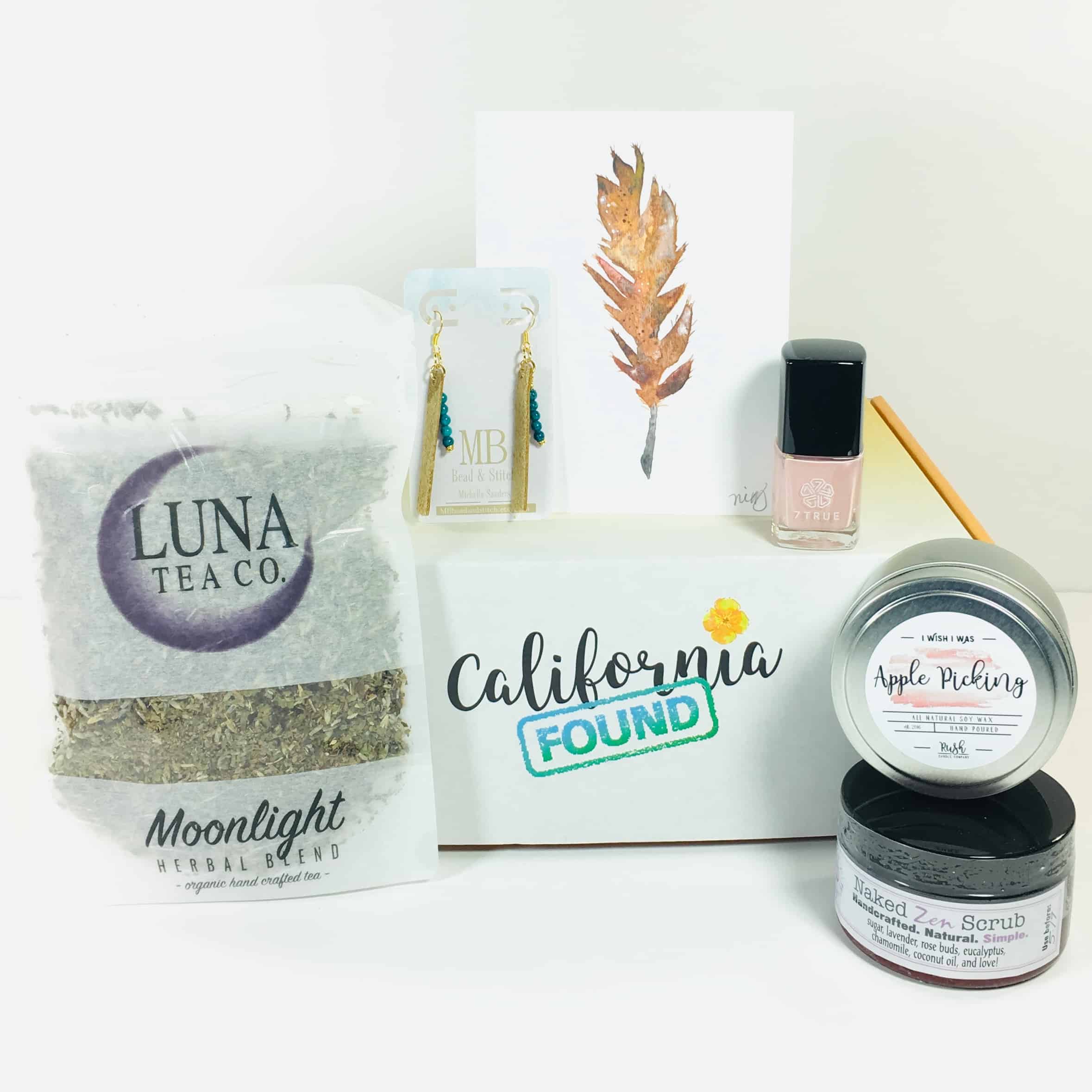 California Found never fails to disappoint! They send high-quality items from some amazing makers and I enjoy learning about those artisans with the info cards. It's wonderful to receive a box of products from my home state, but even better is that each item can be put to use, this isn't a box of cheap filler items. The value for the October box was around $105!
What do you think of California Found? Let me know in the comments!