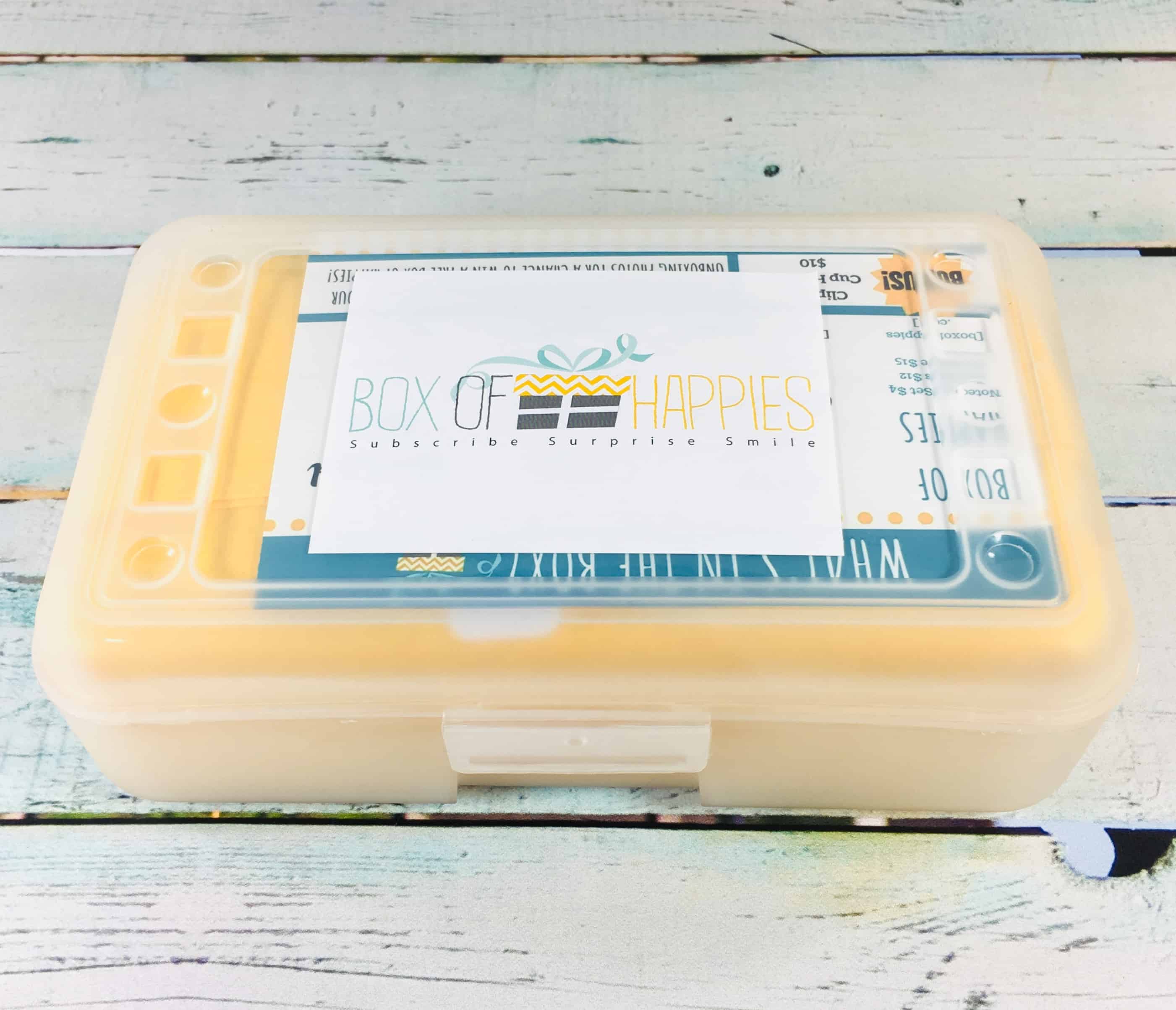 Box of Happies sends a box of handmade products from different artists throughout the US. The contents vary every month but may include handmade jewelry, accessories, candles, soaps, home decor, bath & body, or more!
Discover new artists each month
Retail value ALWAYS surpasses the price you paid for your Box of Happies
At least 1 or more signature handmade jewelry pieces each month
Uniquely curated in a reusable craft box
Guaranteed to put a smile on your face!
There are two levels to choose from: The Box of Happies Mini includes 2-3 items and is $17.99 a month. The Box of Happies includes 4-6 items and is $29.99 a month. I am reviewing the original Box of Happies and it was wrapped really well in bubble wrap!
Each box contains an information card with prices and vendors for each item.
One thing I noticed is that there are no recurring subscription charges. You pay in full, whether that's for 1 box or 12.
Unlike other subscription boxes, Box of Happies comes in a plastic reusable crafts box and all the items are wrapped in cheery tissue paper and sealed with a sticker. Four to six items are included in each box, but you can also customize and add another bar of soap, candle, or piece of jewelry. Or, you can treat yourself to a little grab bag for just $15!
DEAL: Receive a free handmade necklace with your first Box of Happies purchase. Use coupon code HAPPIES.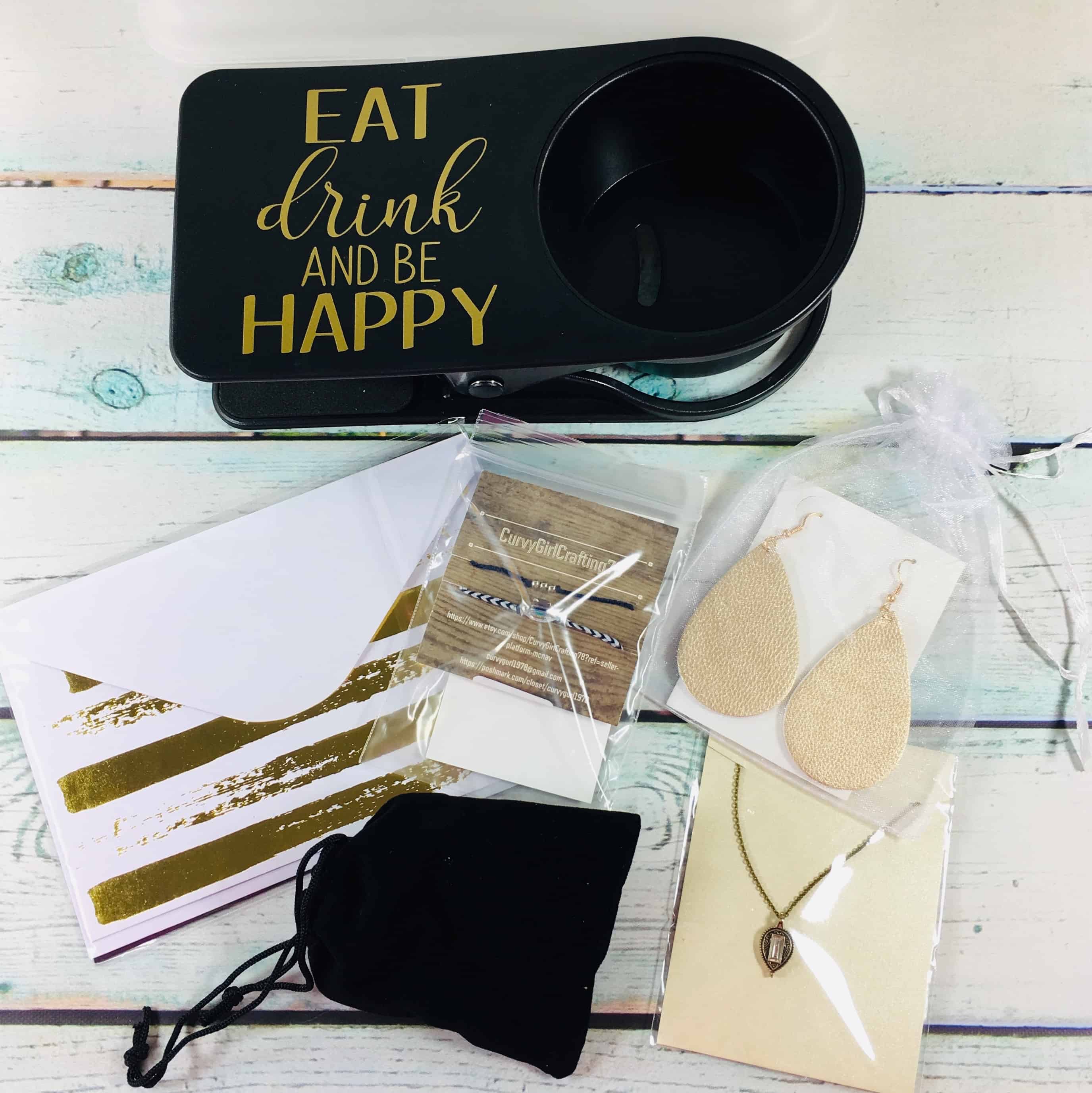 Everything in my Box of Happies!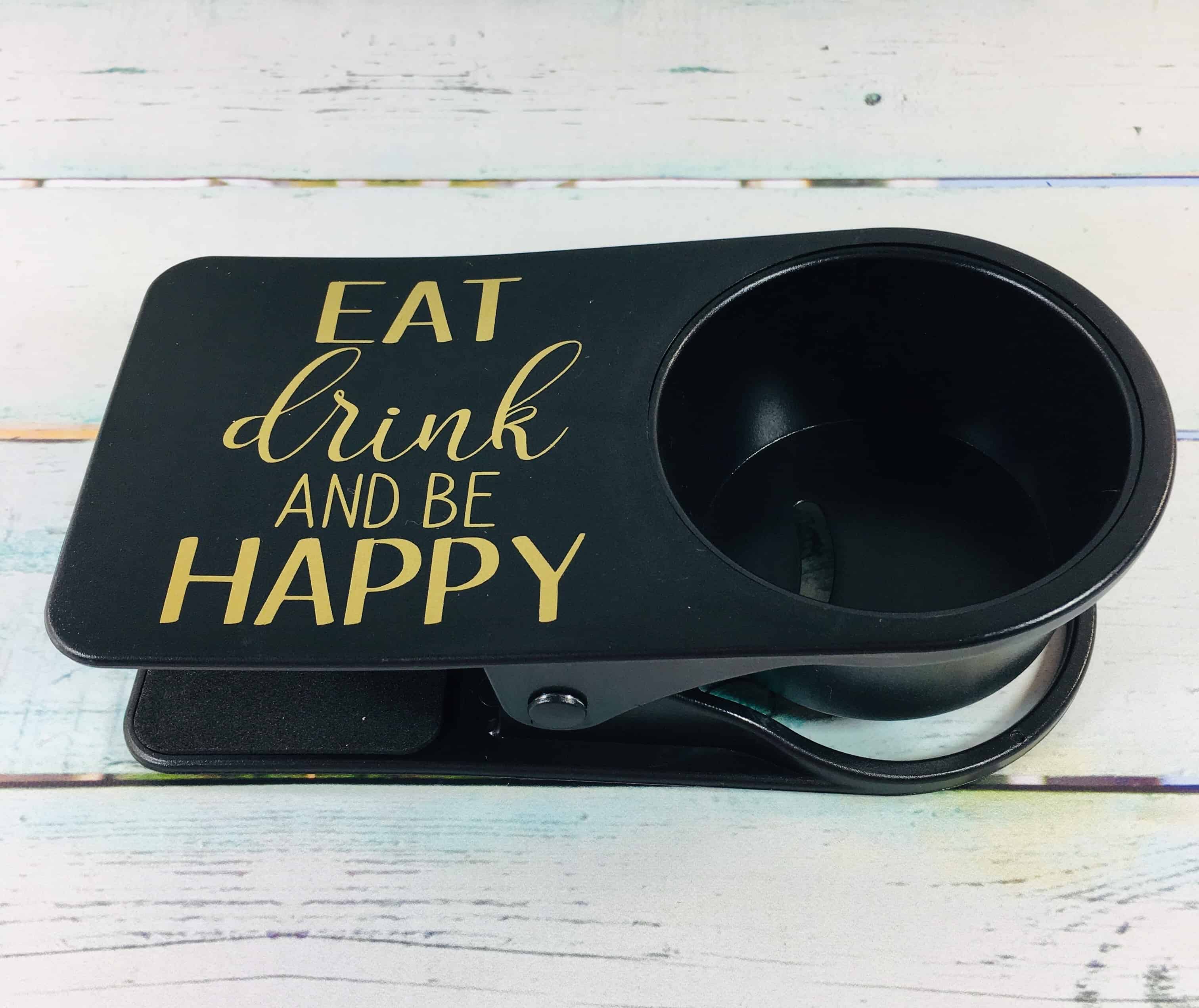 Hoot And Hook Vinyl Decal ($4) and Bonus Cup Holder ($9.99) The info card mentioned a vinyl decal and I didn't see it in the box, so I guess they placed it on the bonus cup holder!
The cup holder can go on a table or desk and should be able to hold a can or bottle or glass. It won't work with cups with handles, like mugs. It seems pretty sturdy.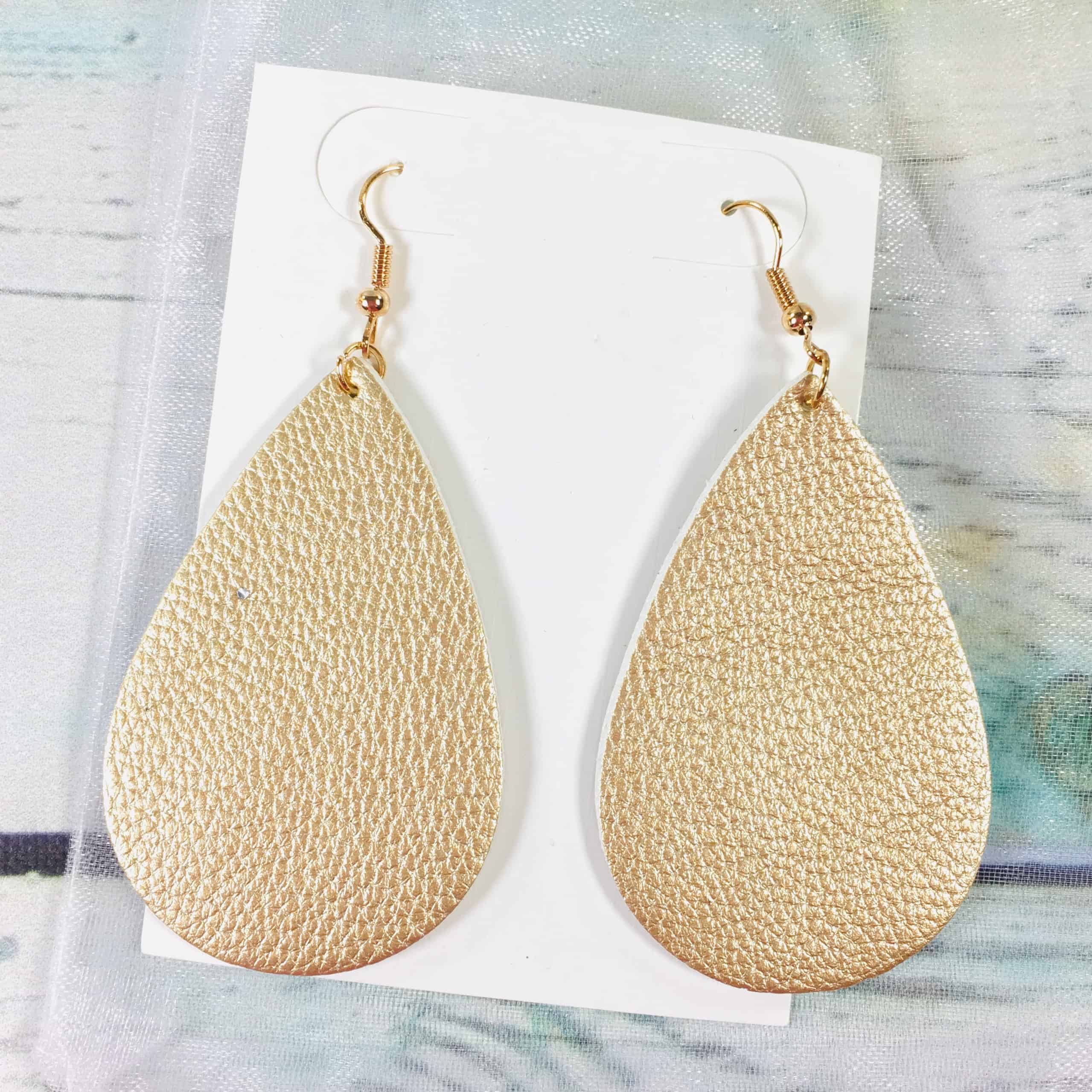 Box Of Happies Earrings ($12, find similar item here for $5) I was expecting these earrings to feel heavy but they are soft and lightweight. They have a leather look and are metallic gold. The teardrops measure 2 1/4″ from top to bottom.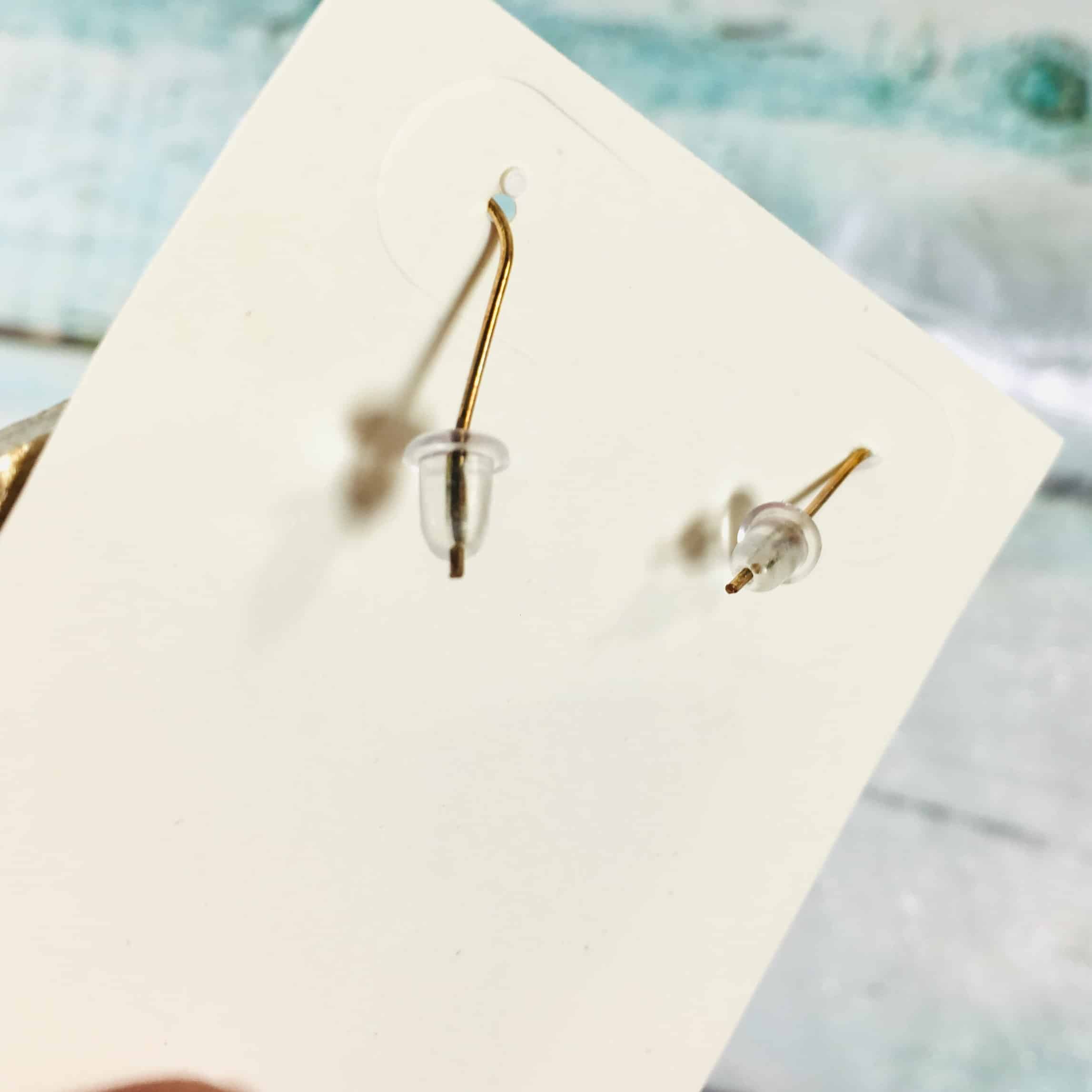 Hooks in the back should keep them secure. I will pass these along since I don't have pierced ears but they are cute and very bold.
Box Of Happies Notecards Set ($4) I looked on the back of the cards to see if there was a brand but they are not marked. They seem well made but you will need a special pen to write on the black card since blue or black ink won't show up. The accents are gold foil and I think I'm seeing a theme with this box. You might be able to find some similar cards at Michaels.
Wine Cork Key Ring ($4.99) I usually give the products in this box to my daughters (ages 20 and 15) but they are not old enough for a wine cork key ring so I guess this one is mine.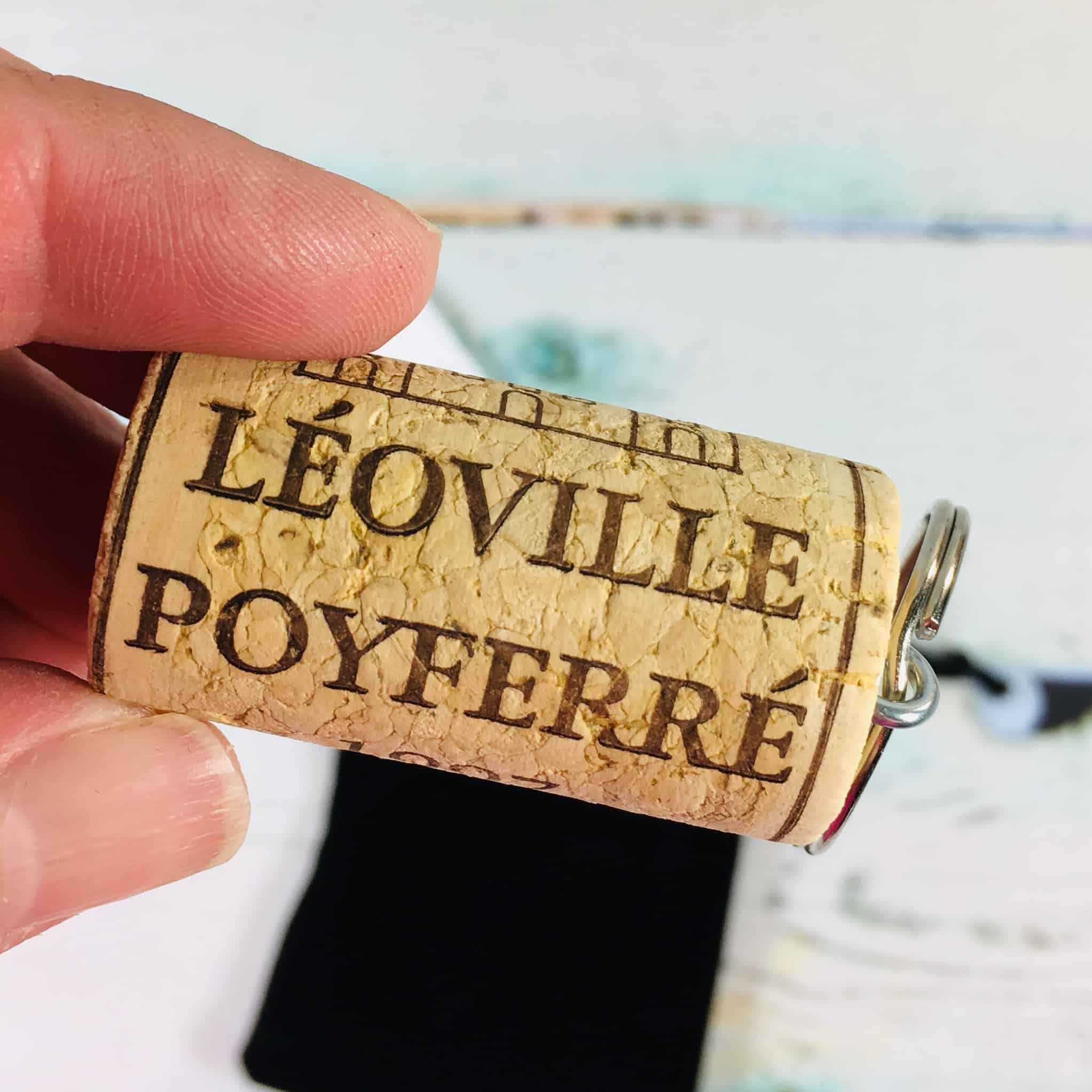 It's a pretty cork – one side has the vintner while the other side has a chateau. Supposedly they would float if they fell in water but I'm not going to try it out.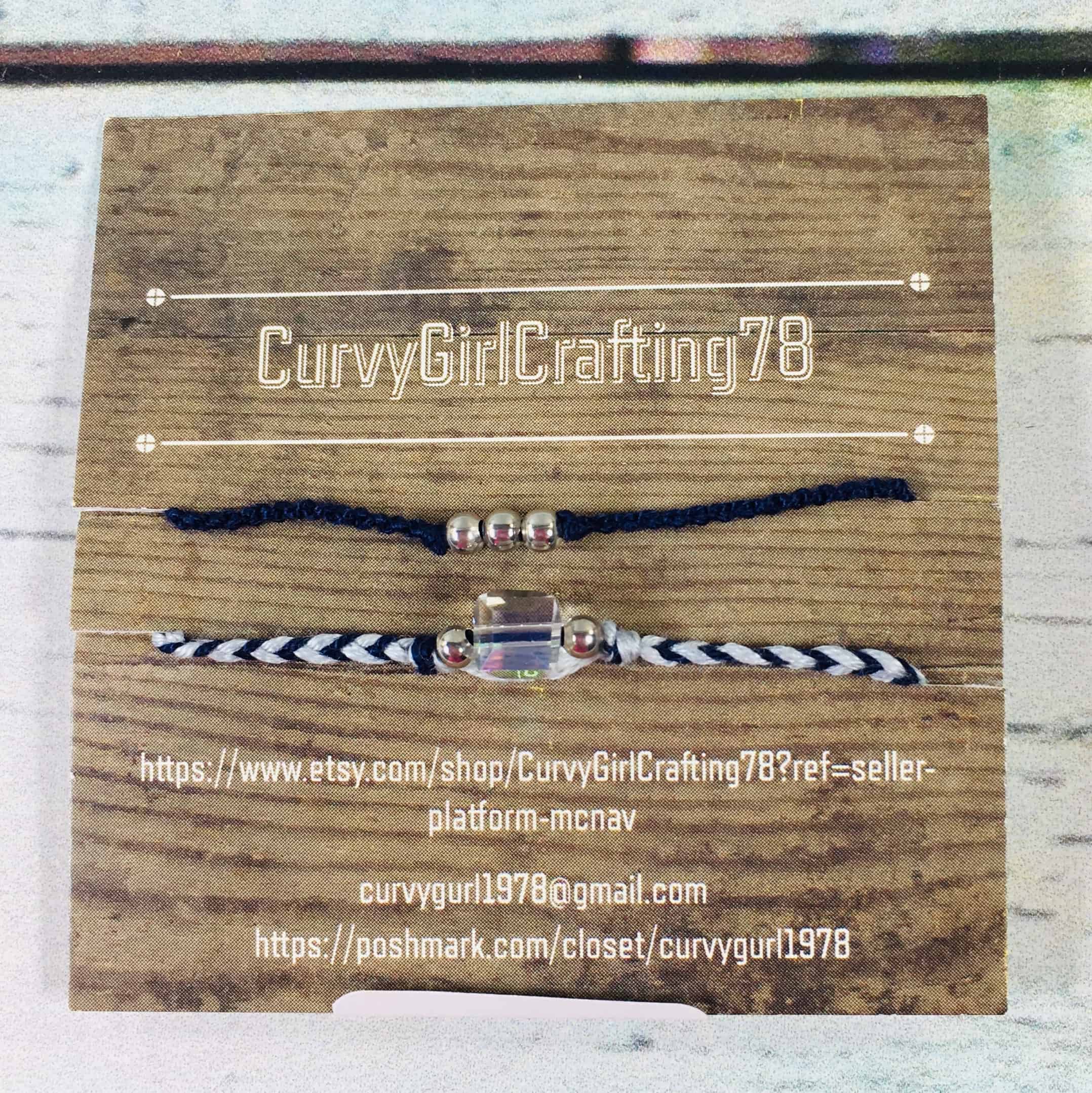 Curvy Girl Crafting 78 Bracelet Set ($10) While I couldn't find this particular set on the Etsy website you can find similar bracelets there. These are hand woven and look like wish bracelets – you make a wish as you tie it on, then when it falls off your wish comes true!
The solid blue bracelet is about 10 inches long while the blue and white one is about 12 inches long.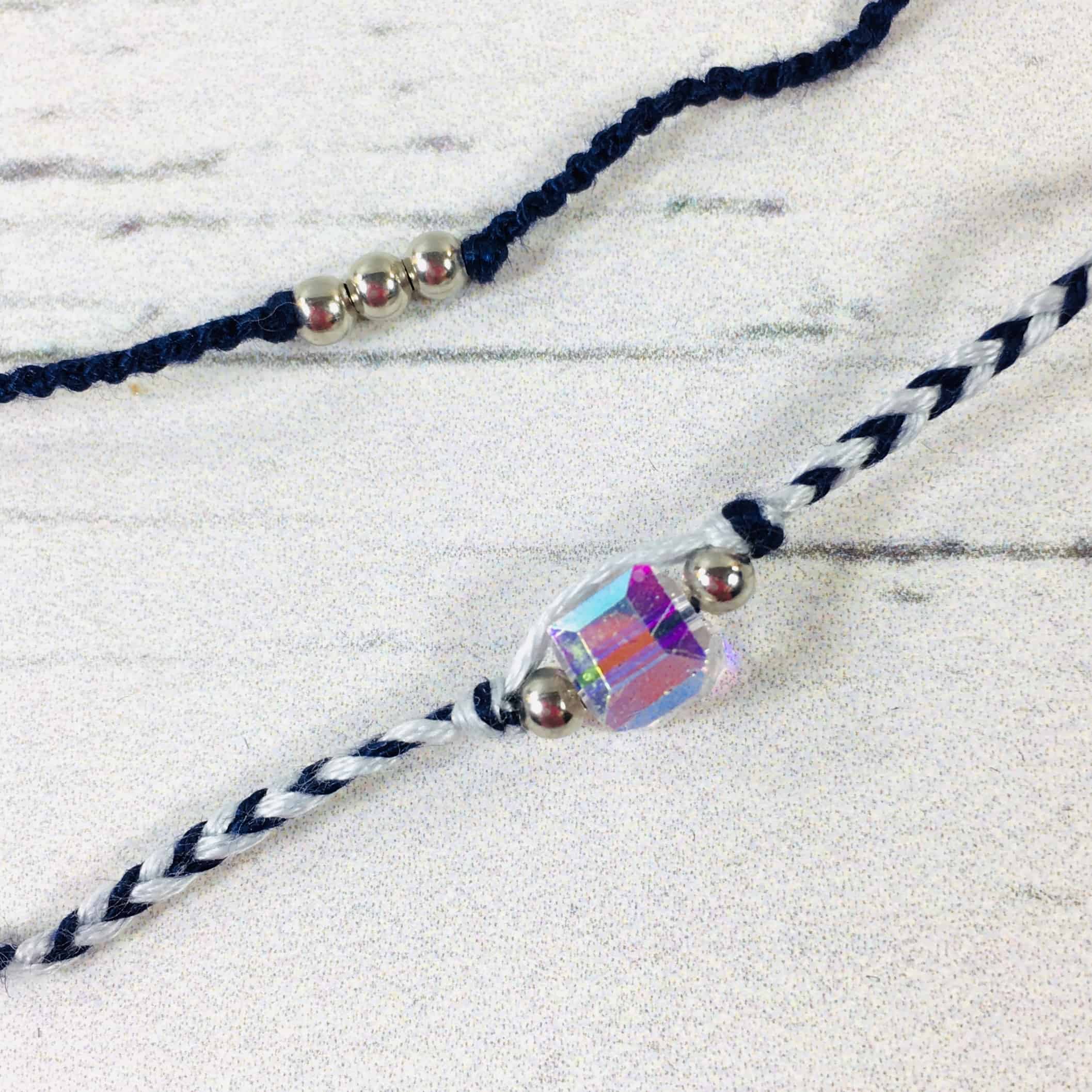 These should fit most wrists and each one has beads in the middle. I am really happy with the colors I received as they are my daughter's high school colors!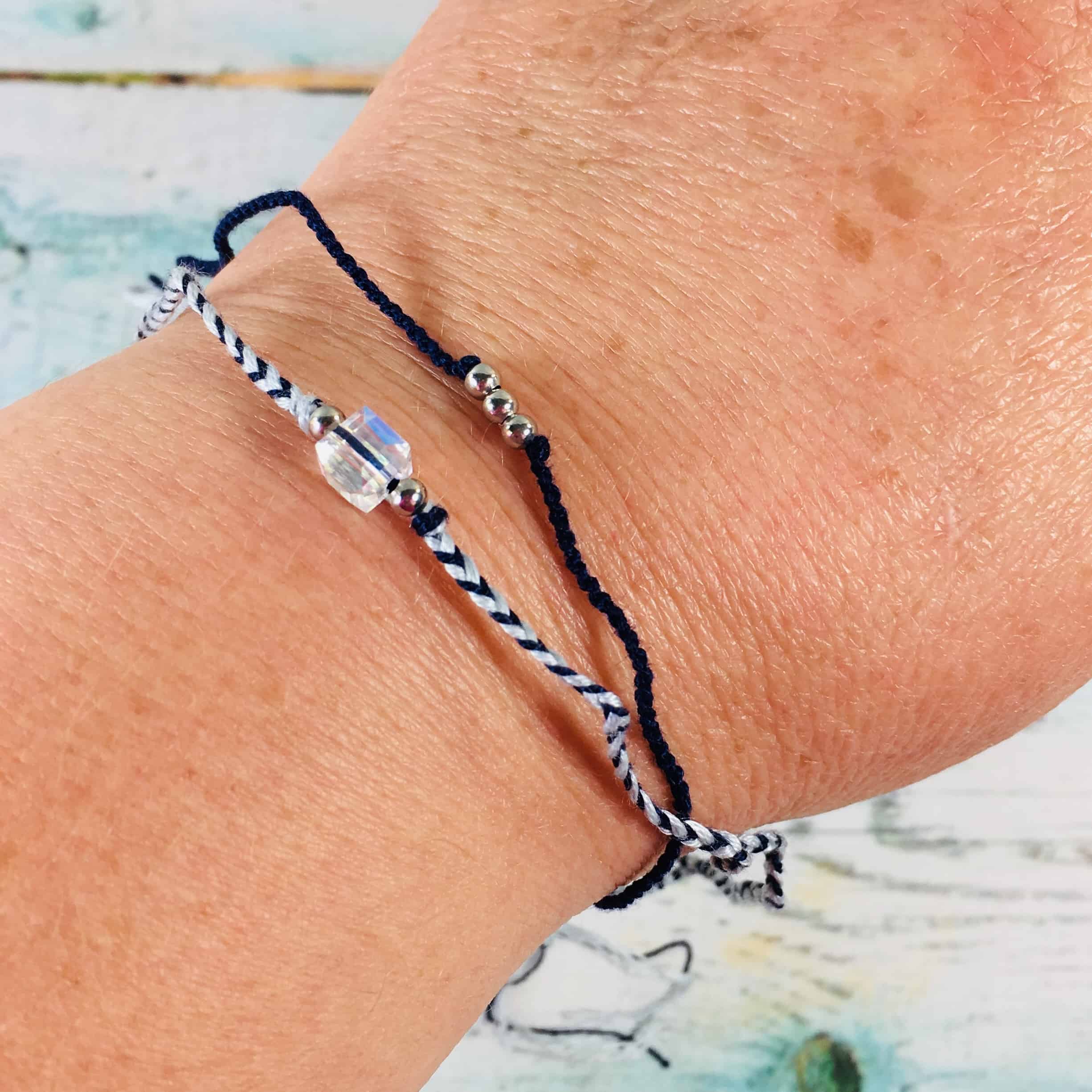 I have full sized wrists and these fit with no problems. They are adjustable too.
Box Of Happies Necklace ($15) I'm not sure where to find a similar necklace, I'm not really sure how to describe it even!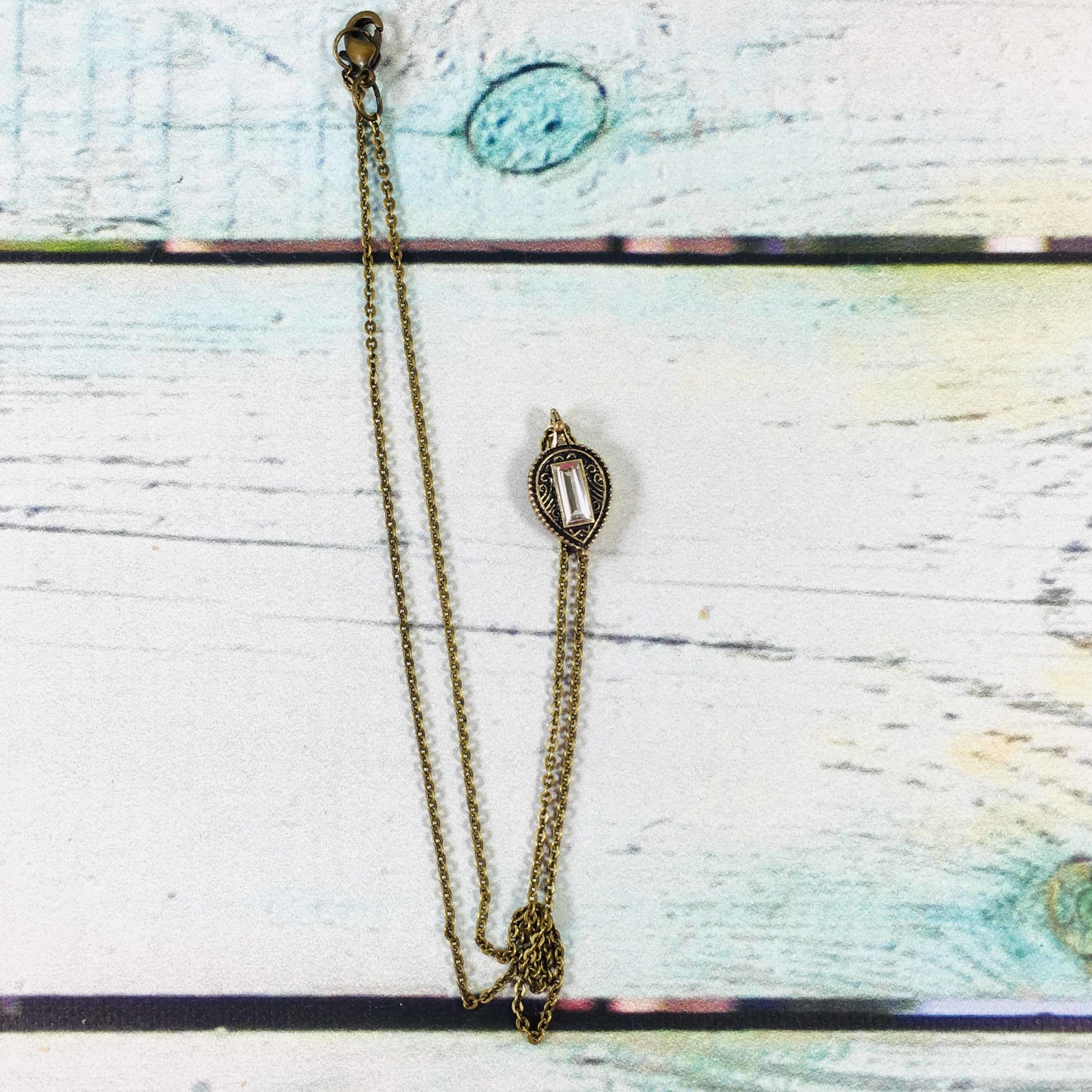 "Filigree reverse teardrop necklace with emerald-cut rhinestone" did not return results that I wanted, nor did any of the variations I changed it to.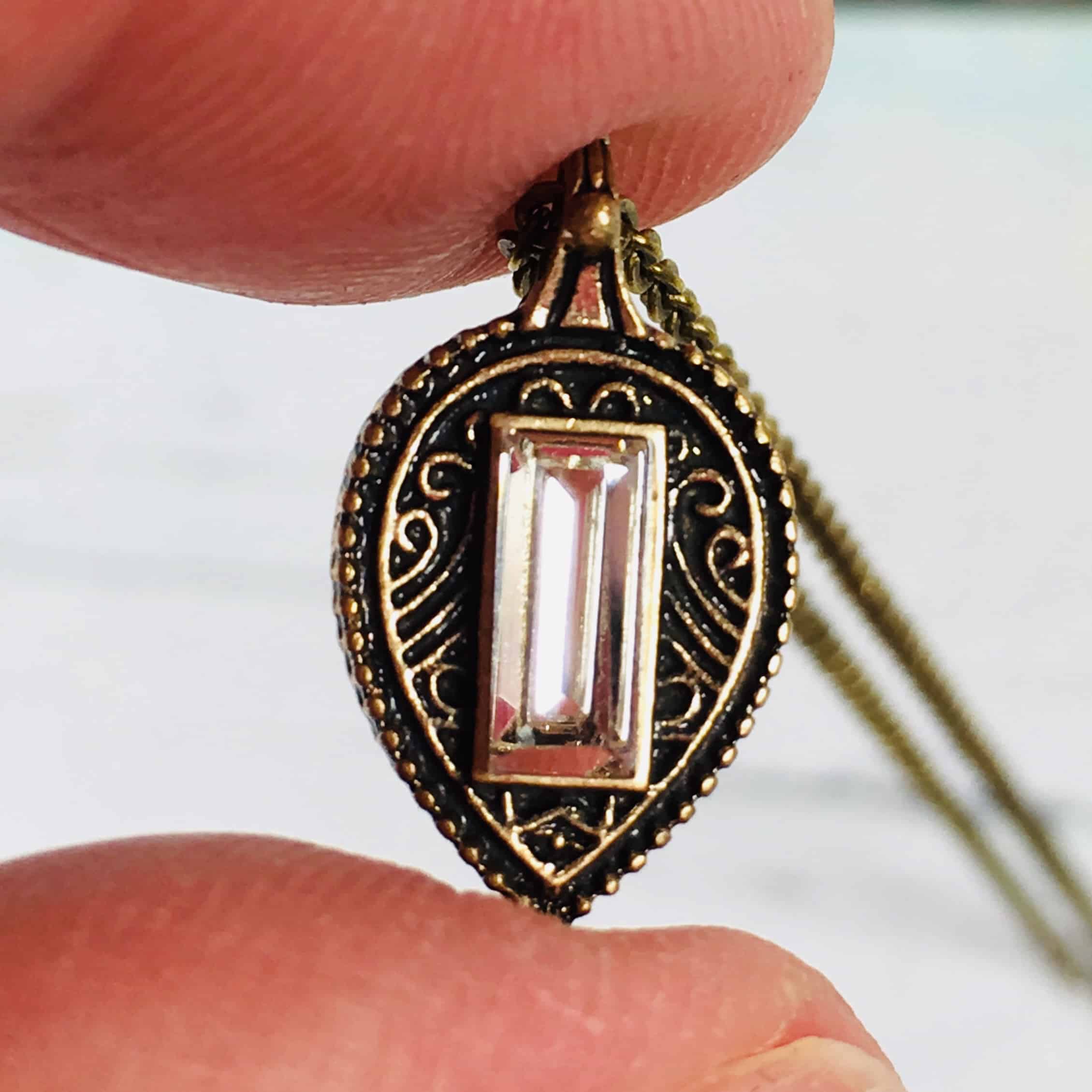 This side has the rhinestone in front.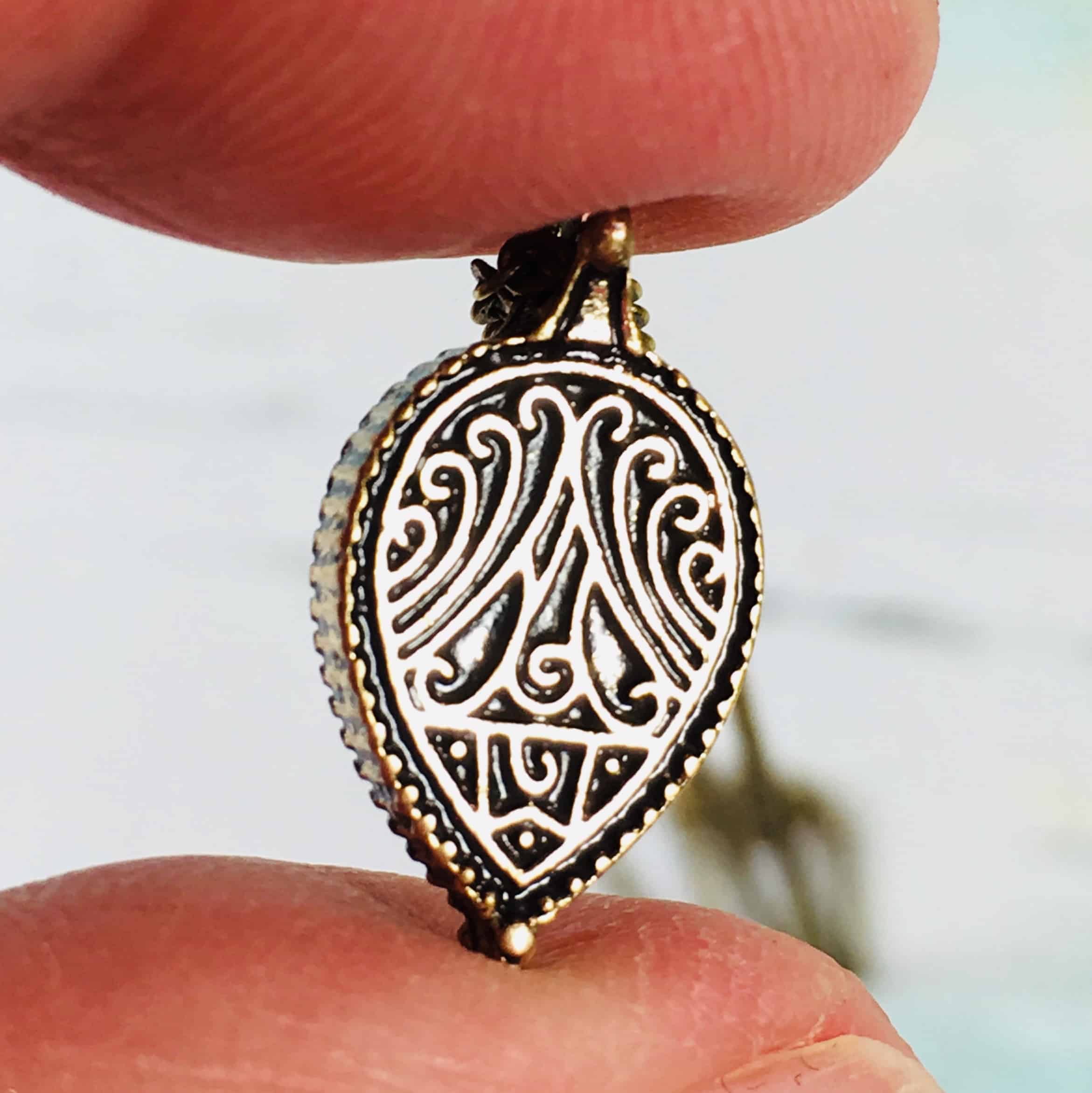 Even the back of the necklace looks pretty with its filigree. I liked the vintage look of this necklace, which is about 16 inches long.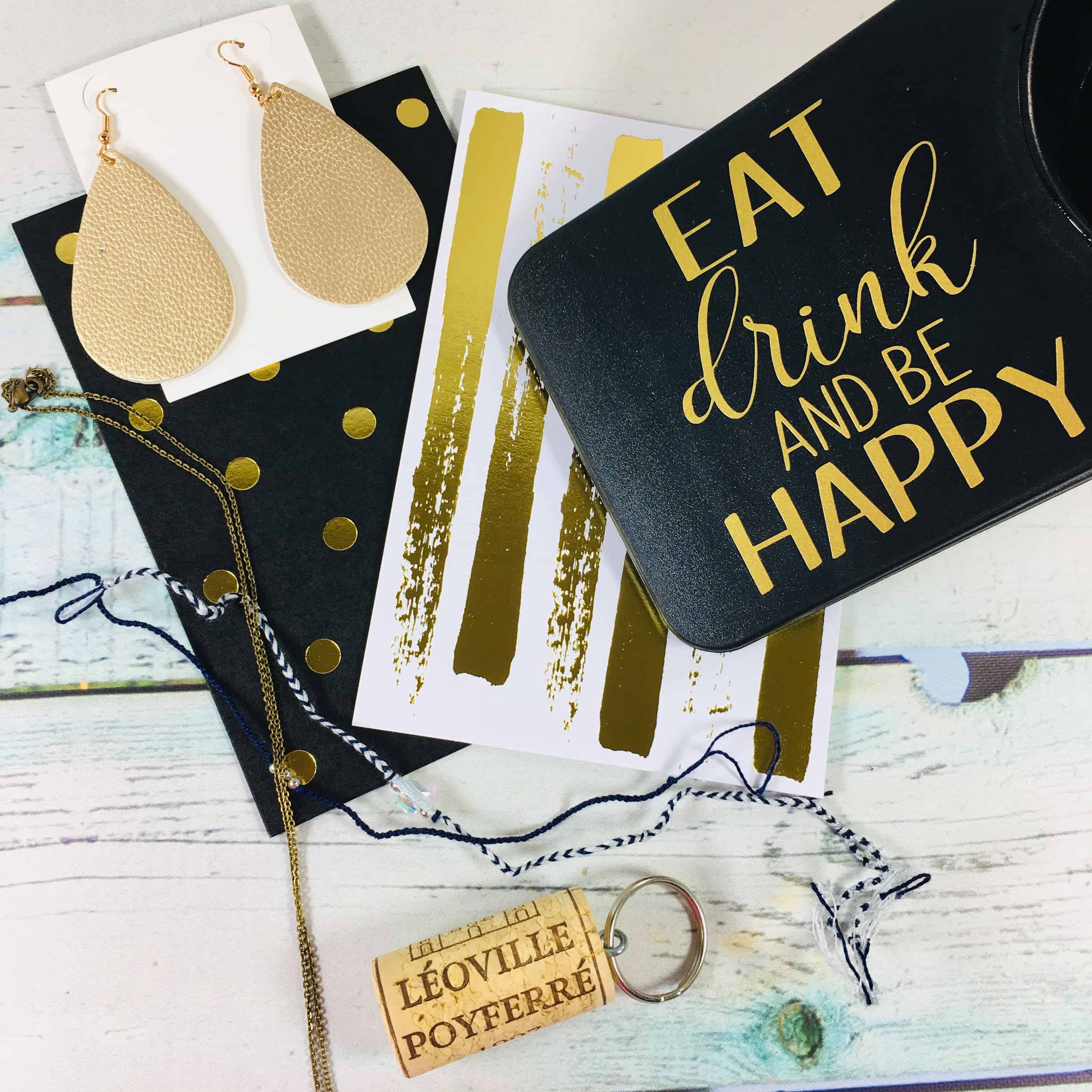 Box of Happies is a good box for those who are young and like jewelry, since you get about 2-3 pieces in each box. Some of the items are from Etsy vendors, who also included discount codes for purchases in their online stores. I thought the vintage necklace was cute and the other items will get used by my daughters. A lot of the items are individually packed so you can give a piece to a friend if you're not feeling it.
What do you think of this month's Box of Happies?