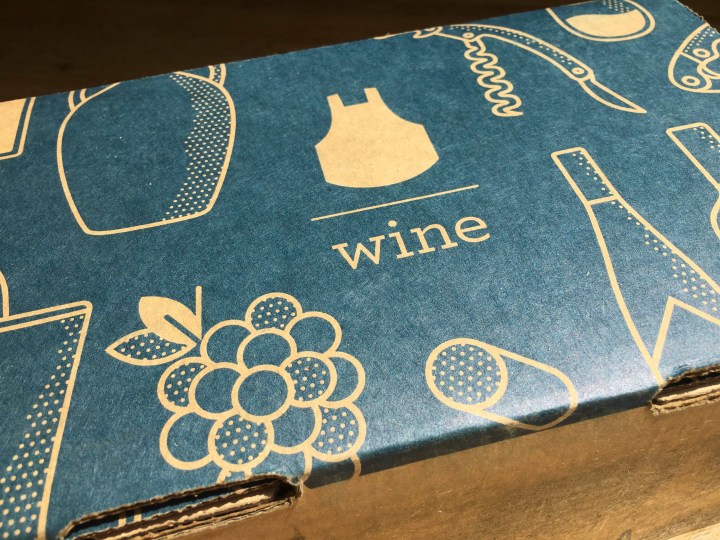 Blue Apron Wine is a subscription for people who love trying new wines as much as they love great food. You may be familiar with the Blue Apron Meal Delivery Kit subscription, which sends boxes of fresh ingredients to make exciting meals at home. The wine subscription is separate from the meal subscription, but it's designed to complement it.
Here's how it works: every month, for about $11 per bottle ($65.99/month, including shipping and tax), Blue Apron sends you 6 bottles of wine, plus tasting notes and pairing recommendations. The wines are selected to pair perfectly with the meals in the Blue Apron kits. The bottles are 500 ml, or 2/3 the size of a standard bottle, which, in addition to being adorable, means that you and your dining partner can enjoy your entire bottle with your meal without regretting that additional glass needed to finish a standard-sized bottle.
Blue Apron pairs with wineries around the world to bring a wide range of new and interesting wines to you each month. I love wine, and I love food, and I love everything about the idea of this subscription.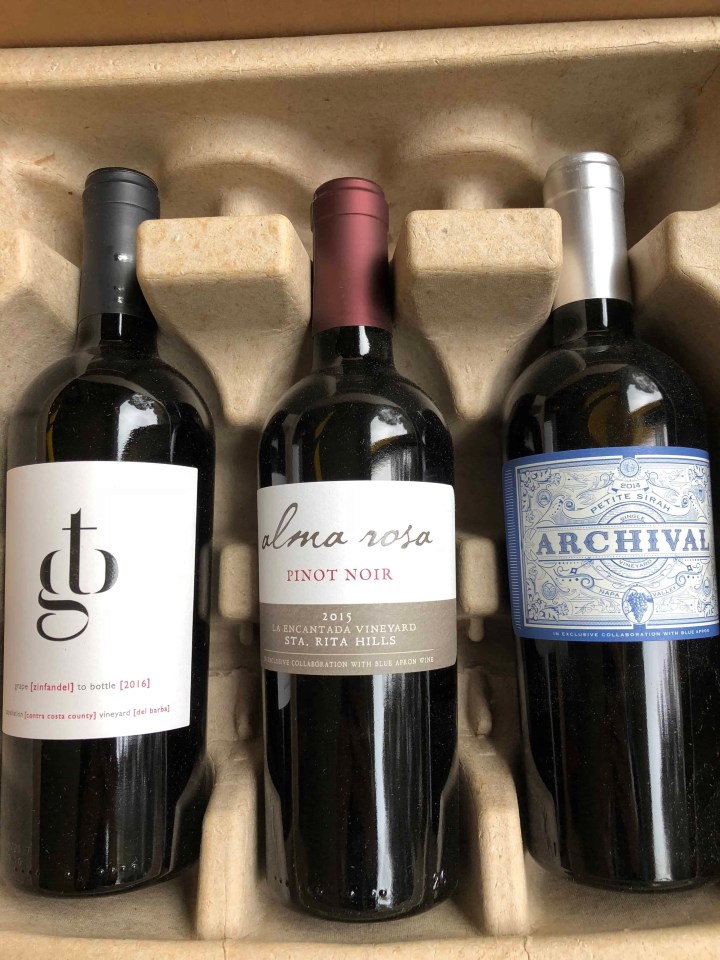 The packaging is great and keeps everything snug and secure. Keep in mind that someone 21+ will need to sign for it. Everything is in great shape when it arrives, and the packaging is, happily, recyclable cardboard.
Blue Apron Wine allows you to select your wines–you can go all white, red, or mix it up. There are lots of choices, and it's easy to change it up.
DEAL: You can try out your first box of Blue Apron dinners for $30 off with this link.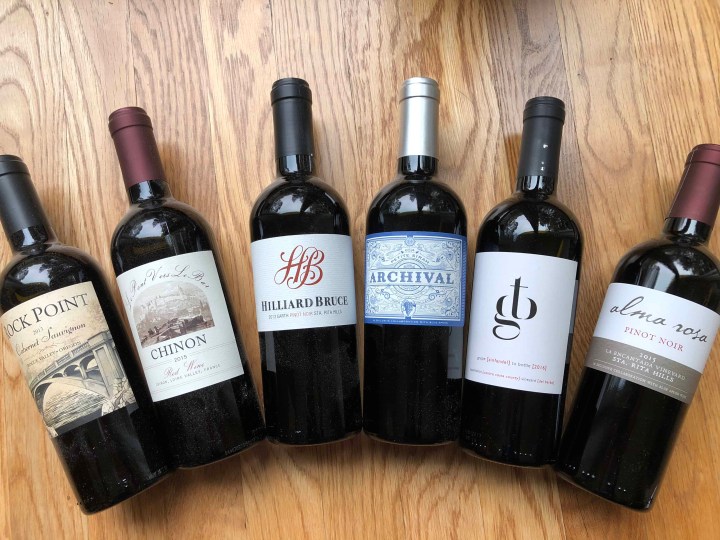 If you're wondering what a 2/3-sized bottle looks like, here is one of the bottles with a standard-sized bottle next to it. You'll get about 3 1/2 standard glasses in a bottle, or a generous pour plus a top-off each if you're with a partner.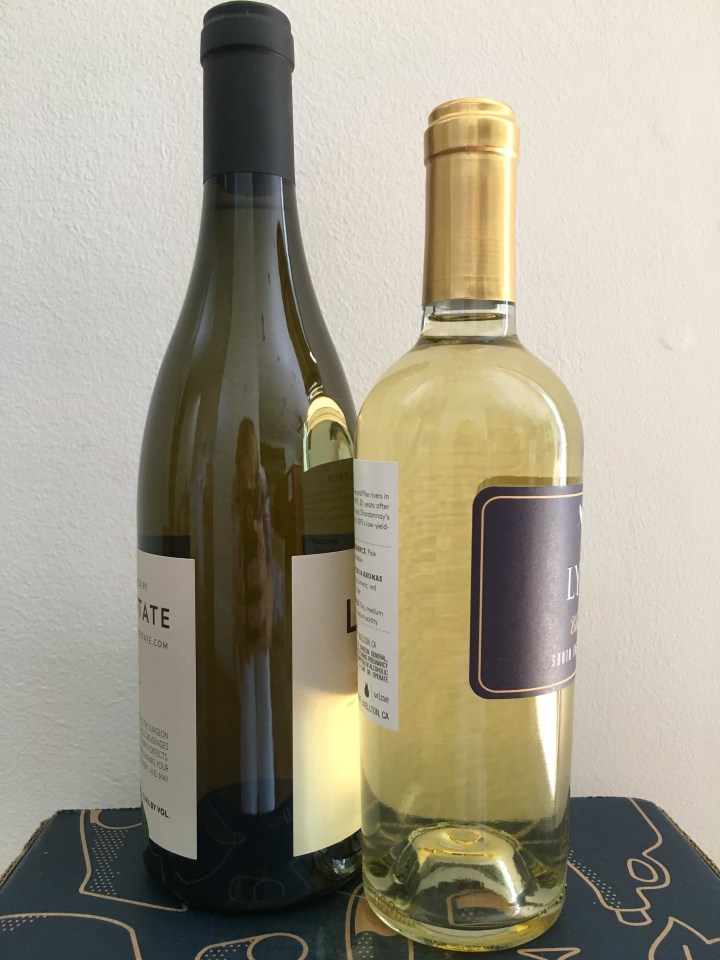 Each box comes with a great collection of tasting notes. Blue Apron tells you a little bit about the winery and how the bottle was made, plus the region at large. Because come on, you didn't REALLY know where the Central Coast was, did you? The info details the color, body, and structure of the wine, and also gives some thoughtful food pairings for each bottle. The info is terrific – wine is not scary, and tasting it should be fun and informative. Data is your friend.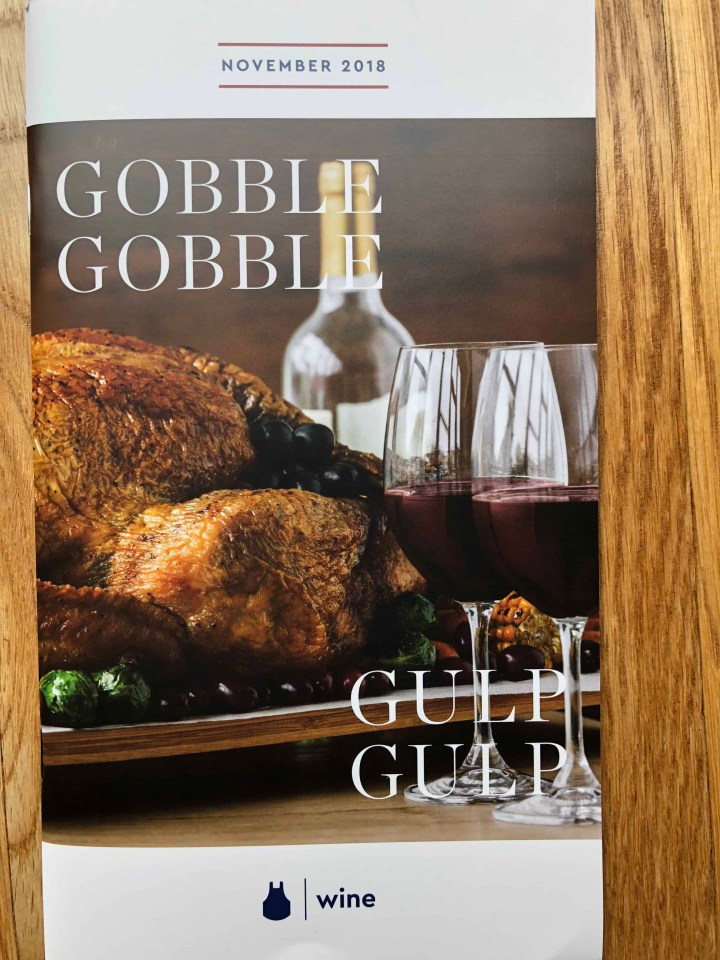 It's November! And that might be the month rabbits hate most, but in the South, the leaves are changing, football is good, and the mosquitoes have finally gone wherever they go in the winter! Time to think about Thanksgiving, which is the earliest day it can be this year, and for me, that means red wine. So I ordered all the different red varietals available this month to see what we might want to drink at the big dinner. Are you going to drink a 2/3 size bottle at Thanksgiving? No, obviously, but this is a fun way to try a bunch of reds and decide what you might want to serve. Let's do it.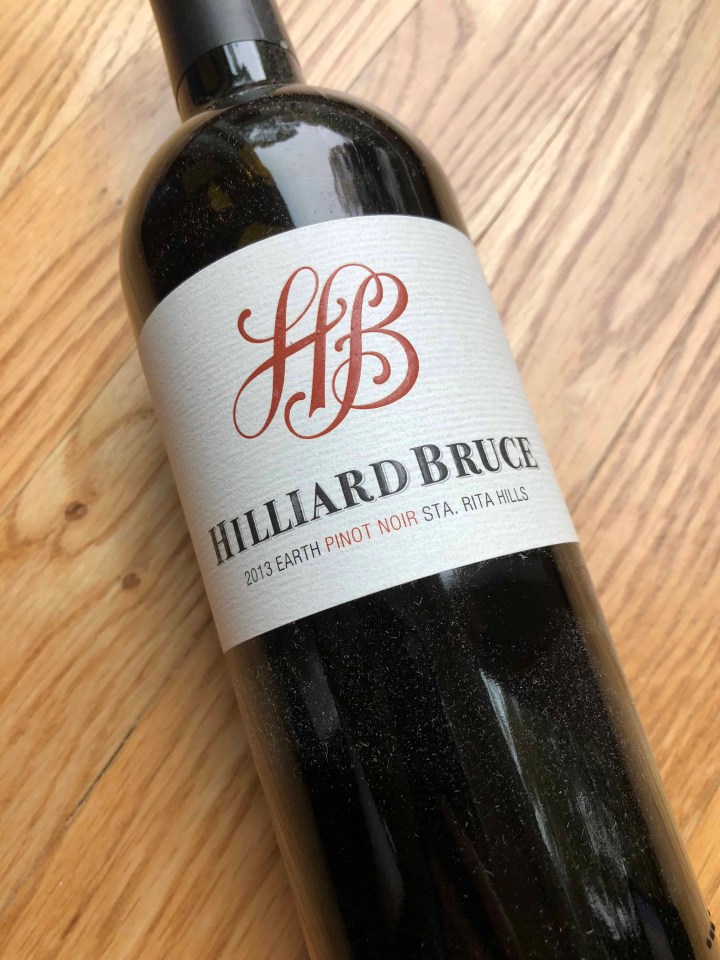 First up we have two Pinot Noirs from the same region, the Sta. Rita Hills near Santa Barbara. These are very different wines, though both are well-received and average $40 for a full-sized bottle. I'm pumped to drink them side by side.  First up, the heavier hitter, the 2013 Hilliard Bruce Earth Pinot Noir.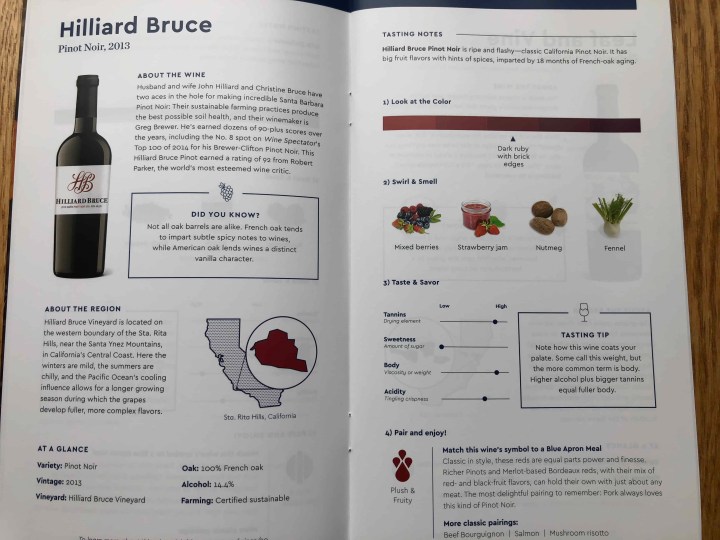 The Hilliard Bruce Pinot Noir is in the typical California style–big and fruity with a fairly high ABV (14.4%). It has a huge nose of macerated fruit and a dark red color. The wine has a medium/heavy body with that velvety texture only Pinot Noir has. The Hilliard Bruce leads with dark berry jam flavors but brings in some herbal spice toward finish. It has giant tannins that are balanced by the zip of medium acidity. This wine is not subtle, but it is balanced and very delicious. The tannins mellow as the wine sits out in the glass, so this will probably age with some interest if you stick it on a shelf for a couple of years. We really liked this wine!  It's probably too big and heavy to serve with a big and heavy meal like Thanksgiving, though. I'd drink this one with a nice roast, or even an oily fish, like salmon.  Loved it!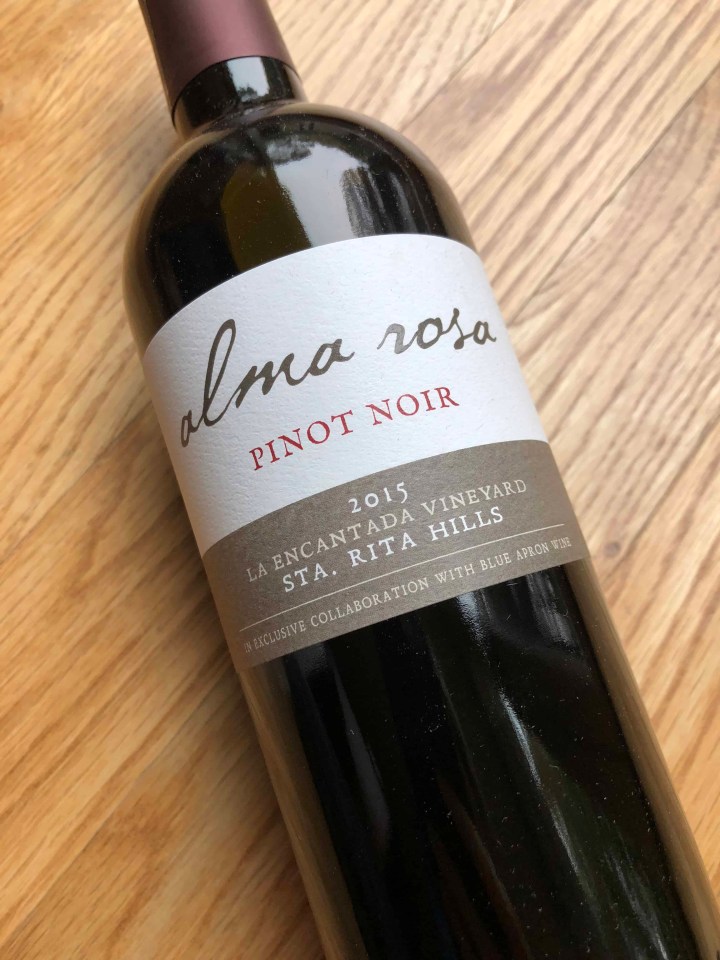 Our second Pinot Noir is the 2015 Alma Rosa La Encantada Vineyard. Alma Rosa makes several Pinot Noirs in different styles, and the La Encantada is the lightest of its offerings. So, even though this wine is made in the same location and aged in French Oak like the Hilliard Bruce, it's a very different wine. You can tell right when you pour it that it's lighter on its feet, with a brighter red color and less body. The nose is dark fruit, but not jammy like the Hilliard Bruce was. The smoothness of Pinot Noir is still there, but it zips by more quickly and finishes faster. The Alma Rosa has less tannins than the Hilliard Bruce but similar acidity, so it feels less serious and more easy-going. This wine would pair better with a Thanksgiving meal for sure.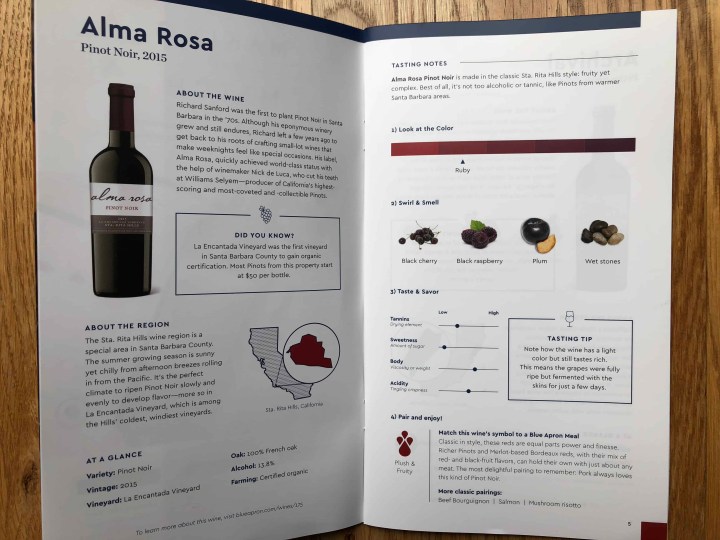 For our next wine, we head to Northern California and change varietals. This one is the 2014 Archival Petite Sirah. (Not Arch-Rival, as I keep reading it).
I love Petite Sirah for its gorgeous dark color and high tannins. Petite Sirah can punch you in the mouth, or it can be a little more refined, emphasizing fruit and balance instead of giant everything. The Archival is another proper bottle of wine that is well-reviewed by people in the know. It's a lighter Petite Sirah, so you can drink it with more foods. This is still a big wine, to be sure, with over 14% ABV and that lovely dark purple color and high body. This one has a beautiful nose of berry and spice, and those flavors carry through to the very long, moderately tannic finish. There is definitely a little funk underscoring that fruit and keeping everything from getting out of hand.  Kind of like the Hilliard Bruce, I think this one might be a bit much for Thanksgiving dinner. But it would be super with a leftovers sandwich! Cool room temperature here, and try it after it's sat out for a couple of hours to see how it's changed–the tannins smooth out and the baking spice flavor comes through more.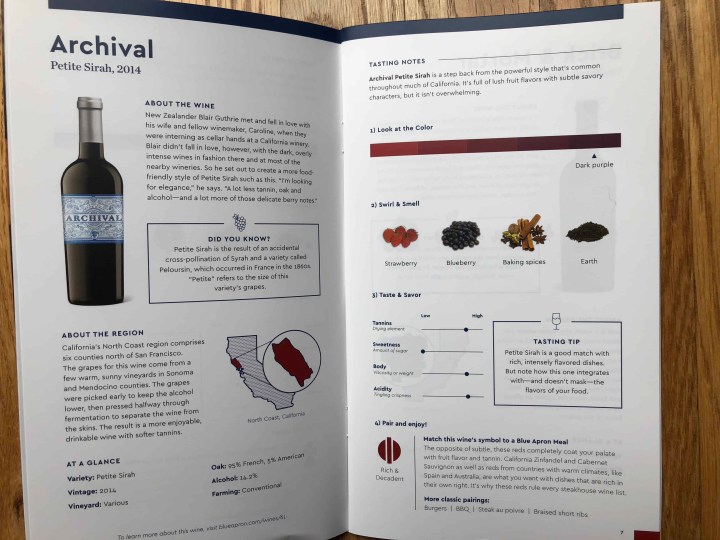 We go down the California coast just a bit to Contra Costa County for our next wine, the 2016 GTB Zinfandel. This is one of those mysterious Blue Apron "exclusive collaborations," so I don't know anything about the winemakers.  Zinfandels in general hit above their weight with strong flavors and high ABV. This one is halfway to a fortified wine with an ABV of 16.3%.
The GTB is a bright ruby color with a slightly higher body than typical for a Zinfandel. It has a muted nose of fresh berries and alcohol. The texture is fairly smooth, almost like a Pinot Noir, but the finish is spicy and alcoholic, with light tannins and medium acidity. I thought this was a bit unbalanced. With the heavier body and high ABV, I wouldn't recommend this for Thanksgiving, but it might be good to try with dessert. Or there's always that hot chocolate/red wine fad from a couple of years ago.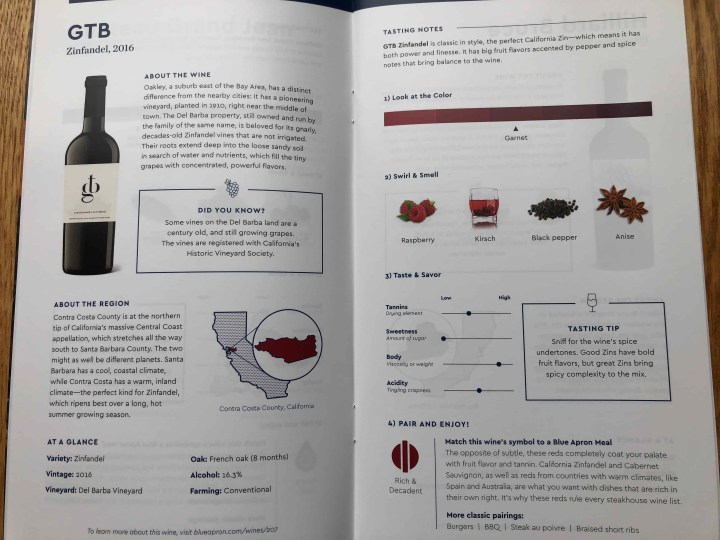 Our last American red is from our Oregonian friends, the 2013 Rock Point Cabernet Sauvignon. Cab has an image problem, or maybe its a production problem. Good Cab is so very good–lean, smoky, spicy, and even a little mushroom/funky. Good Cab, however, is usually quite expensive. Bad Cab, of which there is a lot, is not so expensive but often tastes like an Oak Slushie.  (Chardonnay can have the same problem). Rock Point is an established winery in Oregon's Rogue Valley, but they don't seem to normally make a Cab. So maybe this is a test run or a small batch?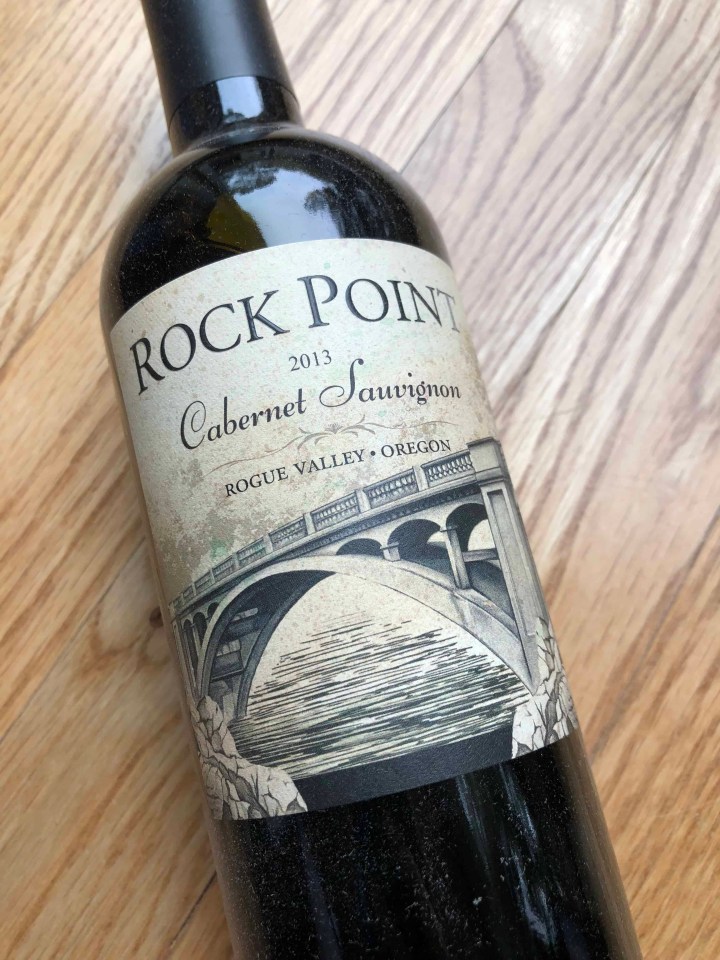 The Rock Point is red-violet in the glass, with a medium body and a lot of smoke on the nose. The smoke defintely carries through, along with some earthiness and fruit, kind of like walking into a barbecue joint. The flavor finishes quickly with light tannins and acidity, and a bit more smoke/oak on the tail. This is pretty decent for a mystery Cab–nothing that you're jumping out of your chair about, but it's not plonk, for sure. It's a little smoky for Thanksgiving, but this would be so very good with that barbecue it reminds me of.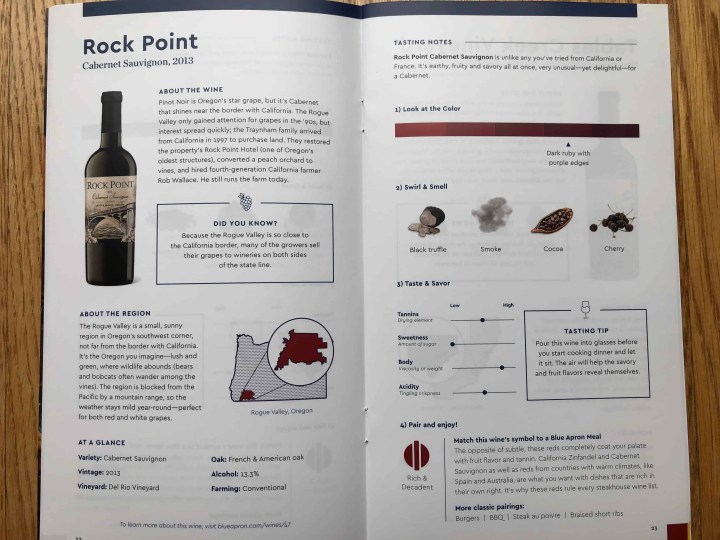 Our last wine this month is our only non-American wine, the 2015 Le Pont Vers Le Bar Chinon. Chinon is a region in the Loire Valley of France, and Chinon wines are made from Cabernet Franc. Cab Franc is a terrific food wine, but they do vary a lot by wine maker.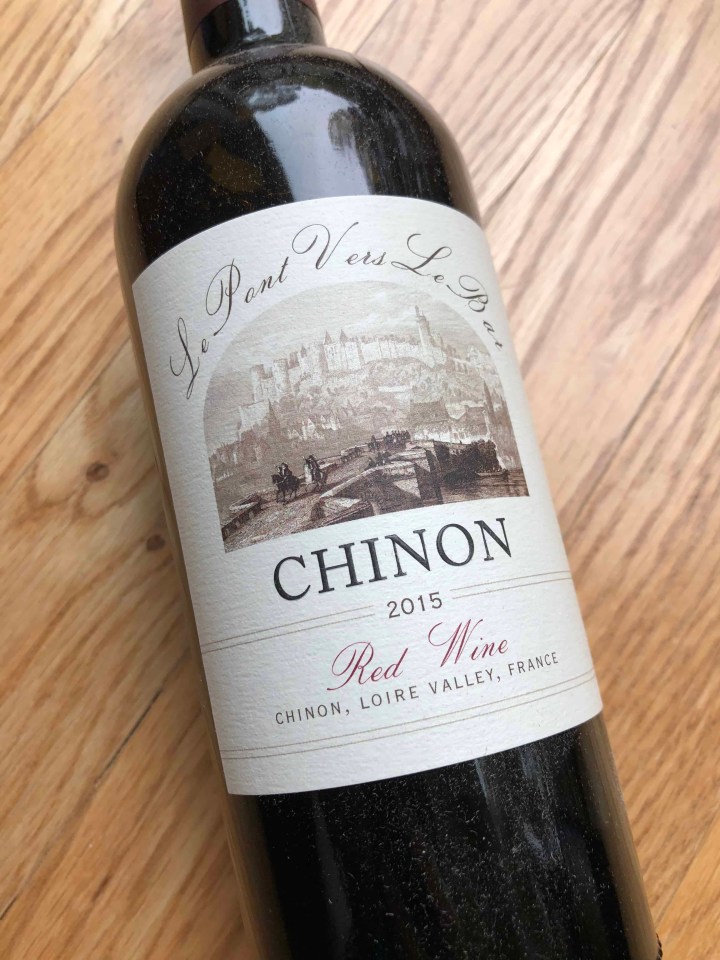 This one is medium red and medium bodied, with a nice nose of dark fruit. I didn't detect any green pepper until I tasted it, but it's definitely in the mix; green pepper is one of the defining flavors of Cab Franc. This wine is light, with low tannins and a medium acidity. This wine, with its mild taste profile and low ABV (only 12.6%) would be super wine for Thanksgiving. Drink it cool and pour liberally.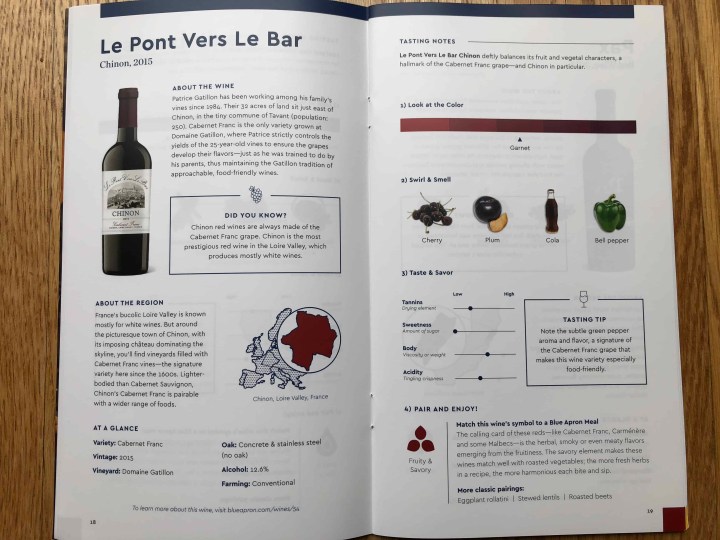 And that is our November! We got to try a bunch of nice wines this month, and hopefully got a few ideas for what to serve at Thanksgiving. (Cab Franc for me, with a dry sparkling white to sip on while we're finishing up the cooking).  Blue Apron has some more ideas for you below: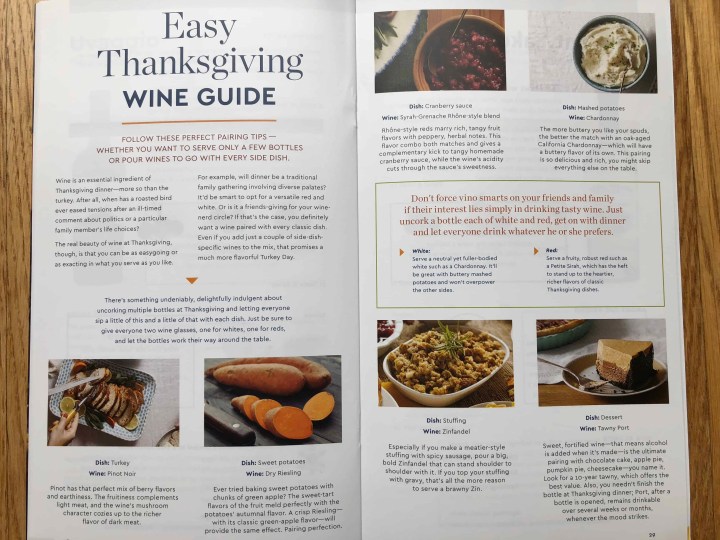 By the way, Blue Apron has an easy system for pairing its wines and its food subscriptions, somewhat like you might have seen in nicer grocery stores — the wines are categorized by type (crisp & minerally, plush & fruity, etc.) and then that symbol shows up on the food recipes. Pair any wine of the recommended type to the food, and voila — you have a great meal!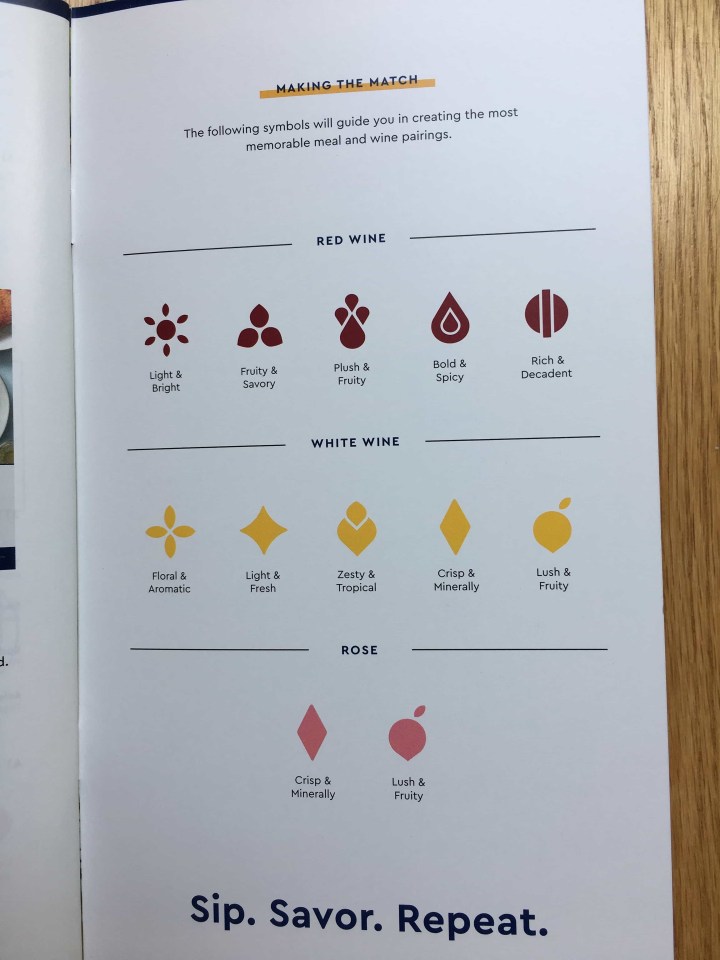 Have you tried Blue Apron Wine? What are you serving at Thanksgiving? Tell us in the comments below!