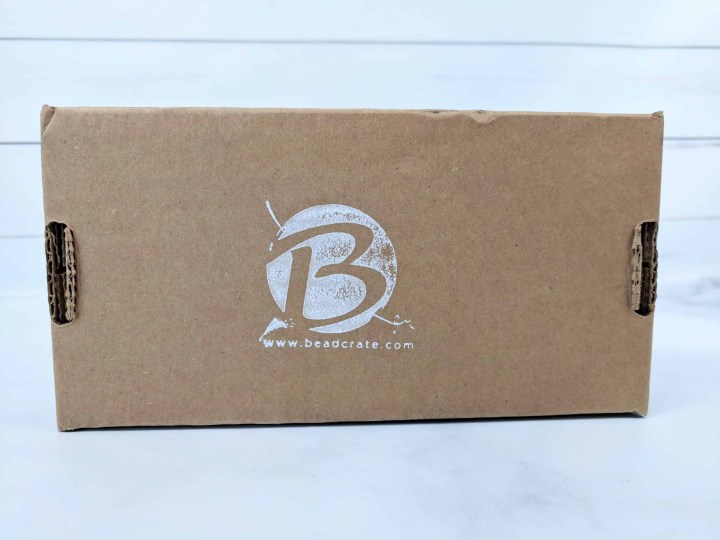 BeadCrate is a monthly subscription box for bead enthusiasts. Every month, you'll receive a curated collection of beads, findings, and other goodies to enhance your beading creations! There are two box sizes – Enthusiast ($18.99 + $5 Shipping) and Collector ($35 with free shipping) to choose from.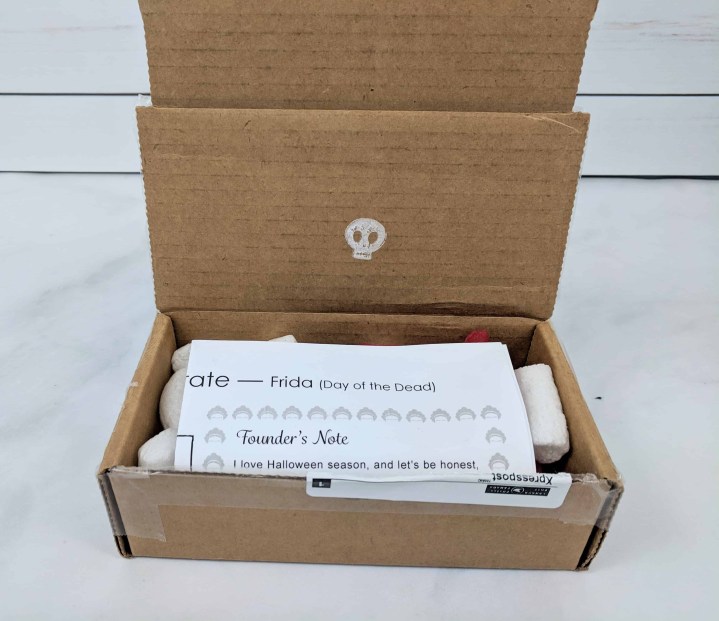 This is the Enthusiast Crate!
We also have a curator's note explaining the theme. This month's theme is Frida! You can share your creation on their social media (Instagram or Facebook, don't forget to tag them!)
The crate comes with a chart that tells you exactly what you're getting.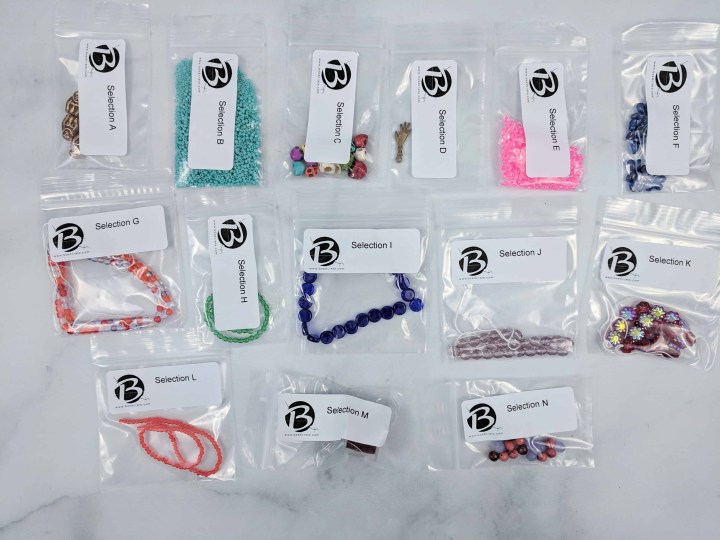 The beads always come neatly packaged inside individual well-labelled plastic bags inside a cute organza bag.
11/0 Toho Opaque turquoise. Every month, BeadCrate will send us a variety of seed beads. They are so versatile as they can be used as a little accent on a head pin, or in weaved design. These seed beads are TINY! I actually used them for a bracelet as they are easy to thread and make something chunky with multiple threads.
4x6mm Halo Cerulean Blue Lily Petals. These cute little beads would make an amasing fringe design, or tassels, especially with thread. I'll probably make some earrings with them and silver findings.
3mm Firepolished Green Emerald. Firepolished beads are another type of beads that we get often in our BeadCrate. I like them to add a bit of spark without it being too much, and they are small enough to fit with seed beads, but they look amazing as an accent on a metal design, on top of a round bead with a bead cap.
14mm Gold Inlay Milky Caramel Monkeys. They are so cute! I'm thinking earrings with a pendant. They would look really nice simply with bronze findings.
Magnesite Skulls assorted sizes and colors. I fell in love with these skulls. They are perfect to bring some smiles around all the witches, ghosts, ghouls and spiders that we see around Halloween.
Brass Hand charm. A cute little charm, perfect size for a bracelet.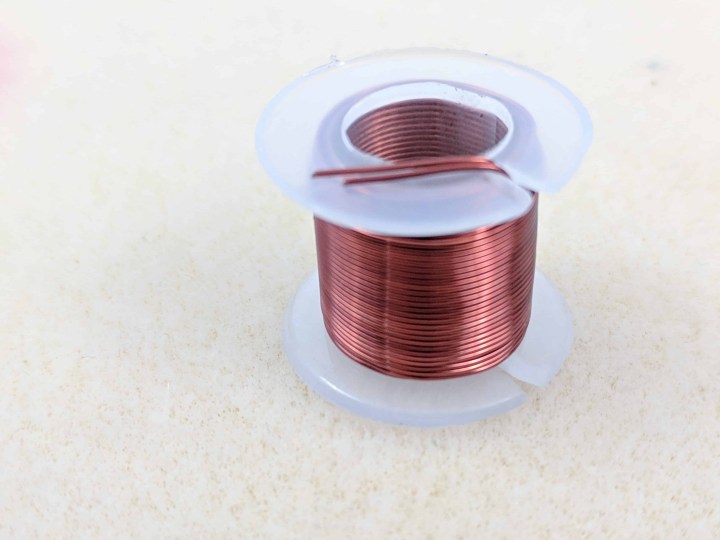 24ga or 26ga Assorted Colors Copper Wire. I've received a 26ga in red copper. I love this size to wire wraps designs, like a tree of life. This size is also great to make links with smaller beads.
8x3mm Cobalt Dime Beads. These simple flat beads have a very nice deep blue shade. I really like the color, but I wasn't sure how to mix them with the rest of the box.
6mm Firepolished Light amethyst. These firepolished beads are nice with bead caps and I sometimes add this size in a wrap bracelet with matte gemstones round beads to add some interesting bling.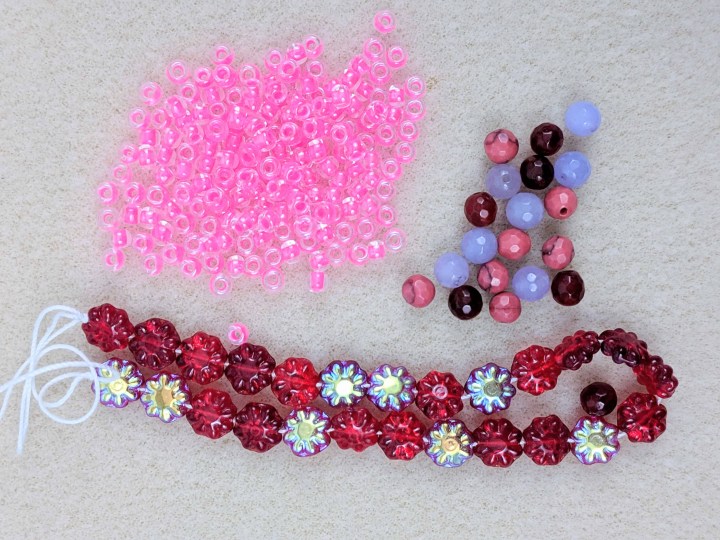 6/0 Toho Luminous Neon Pink. They are brighter in real life than on the picture! Only the inside part is colored, the outside is clear and translucent. They would make an interesting pattern in a loom pattern.
9mm Siam Ruby AB Daisy Disks. Flowers and skulls! Such a nice addition to this box! One side is AB coated, the other is translucent. I wish they would have been smaller, or that I would have gotten a bigger skull to dangle a bunch of the flowers underneath a skull pendant.
6mm Faceted Agates (peach, lavender, carnelian). I love gemstones! Gemstones are my weakness! I was so happy to get them, and the colors are lovely. I need to find more faceted agates to make a fun and bright elastic gemstone bracelet. Maybe with matching earrings, because I love earrings!

4mm Mellonberry Mix Rounds. Most of the month, we get a mix of round glass beads such as these. I like them to add colors and they are small enough to fit with the seed beads.
2mm Hyacinth round Beads. Like for the toho turquoise beads, these are tiny! I would use them in a multi-row design with other beads of the same size.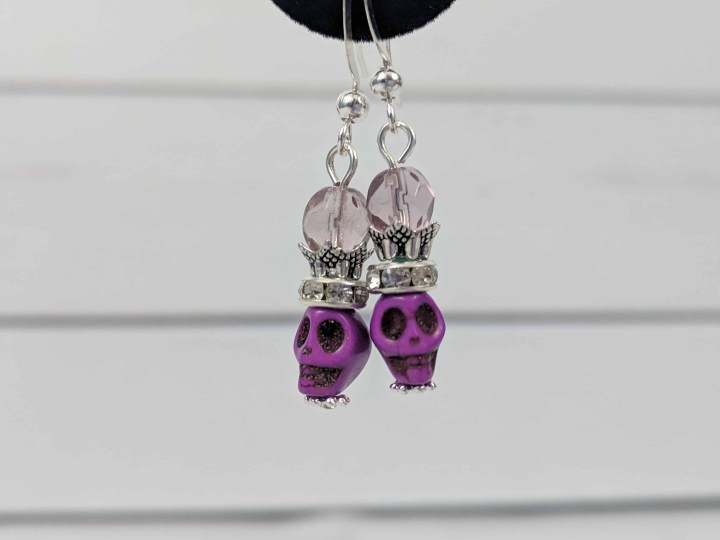 This month, I really wanted to do something with the Skulls! Seeing that I had two purple ones, I gave them a crown!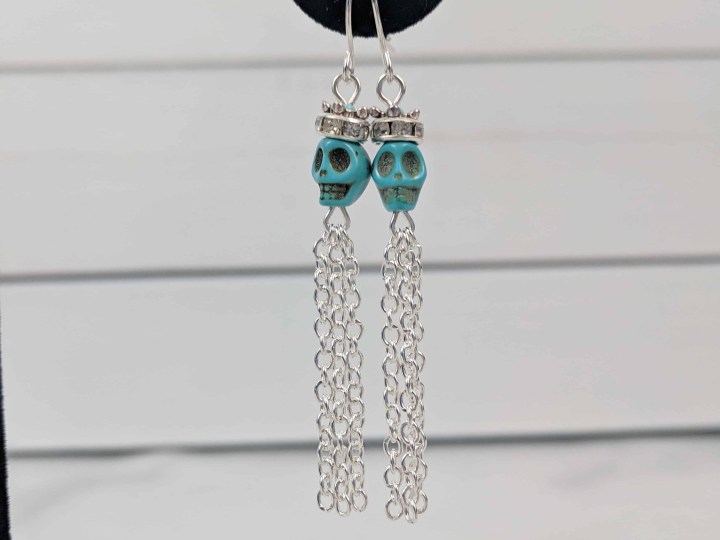 And I also had two turquoise ones. Here goes the second pair of earrings!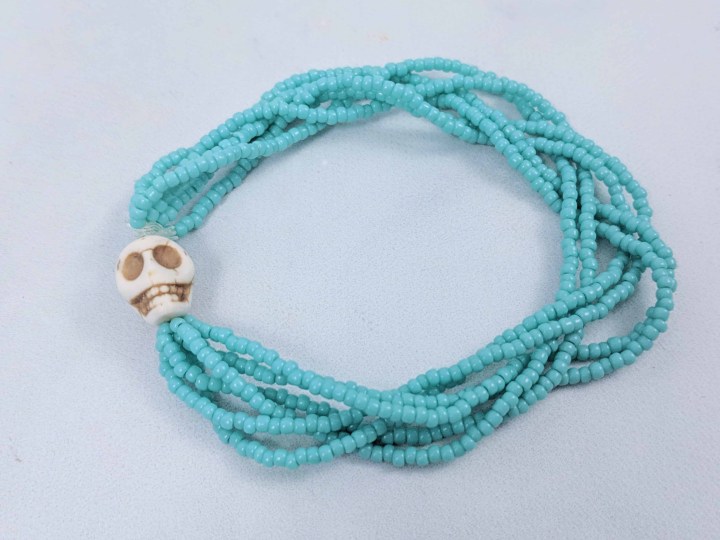 And then I did an elastic bracelet with the bigger white skulls and the Toho Opaque Turquoise seed beads!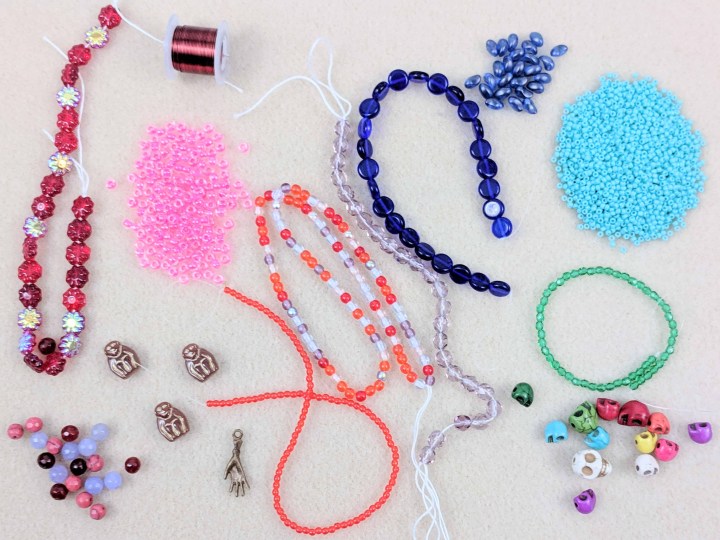 This month's BeadCrate was fun and perfect for Halloween and Dia de los Muertos. I like this take on a Halloween box with lots of colors. I really enjoyed working with the cute little skulls without turning them into something goulish or dark! This was a really fun box!
What do you think of this month's BeadCrate box?