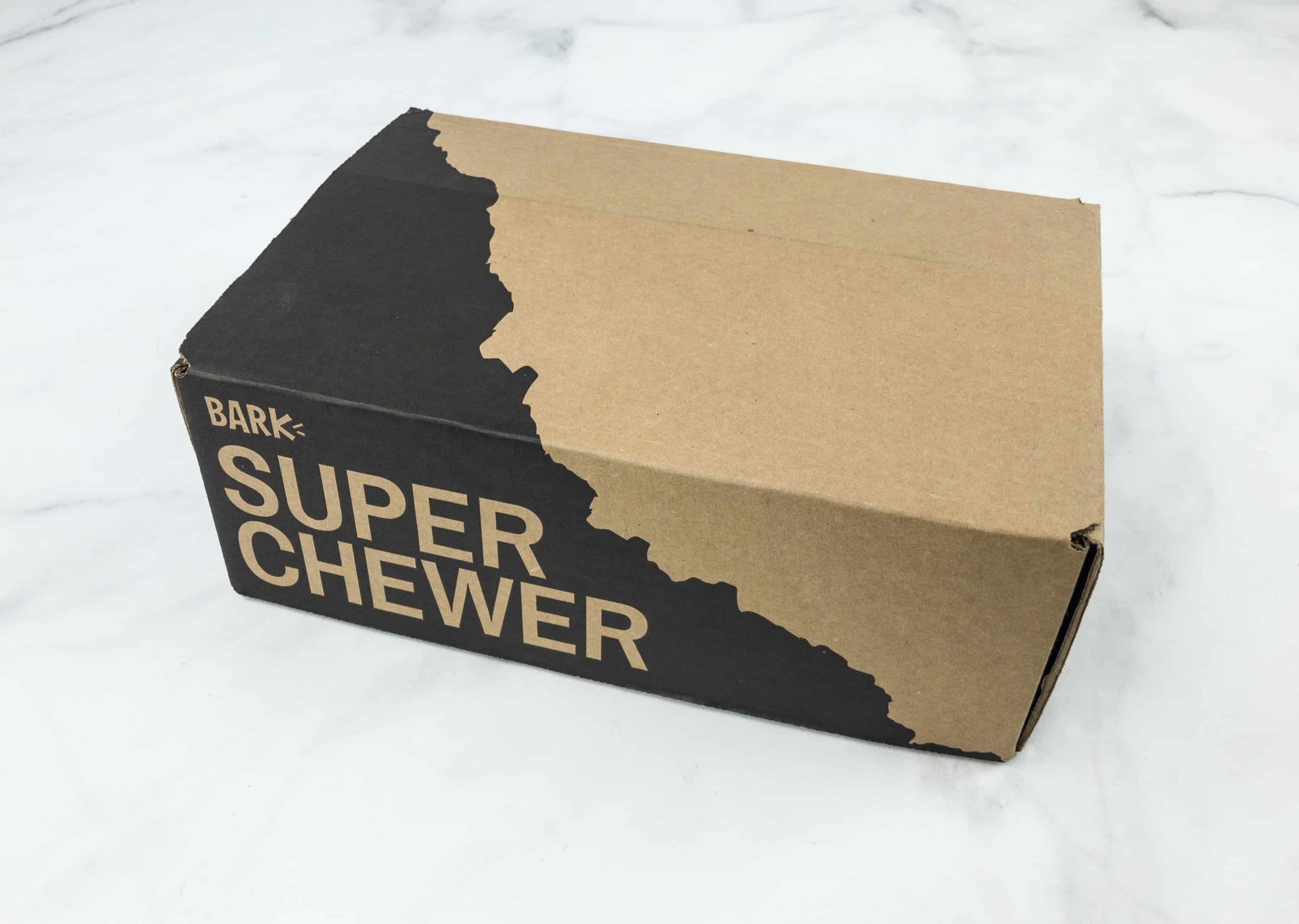 Super Chewer is a monthly subscription box for dogs who demand a challenge! Each box has 4-6 dog products made for dogs that really chew and is customized to the size of your pup, plus it has a cute theme. All natural treats, tough toys, and challenging chews are included in the monthly box.
BarkBox will replace a toy for free if your dog defeats it!!!
Barkbox has a new deal when you subscribe to a 6- or 12-month SUPER CHEWER plan (we always recommend 6 or 12 months for the best value)! Use this link to get FREE double deluxe box for your first month of BarkBox SUPER CHEWER when you purchase a 6- or 12-month subscription!  That's FOUR Grinchy toys, FOUR treats, and FOUR chews!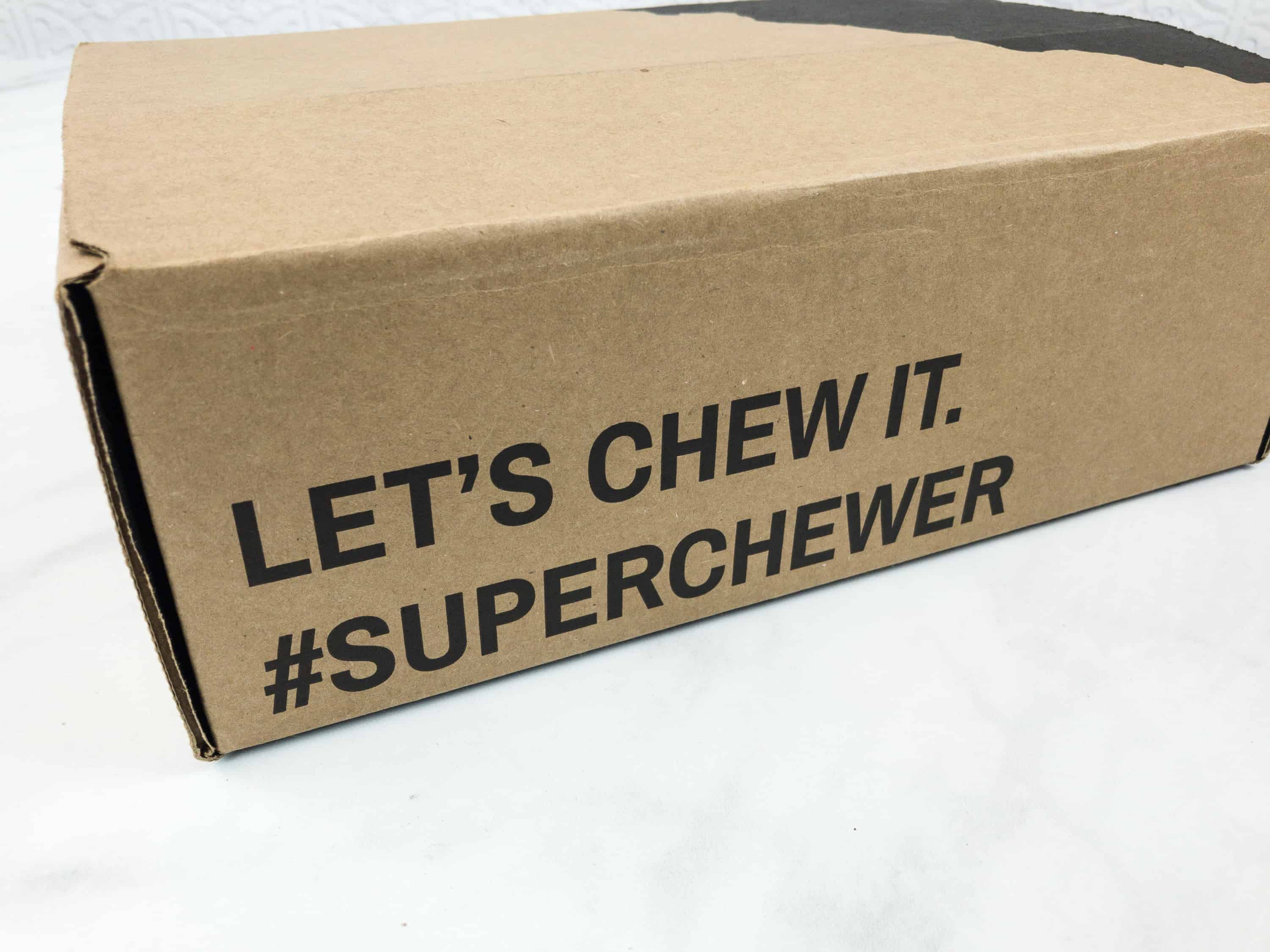 Let's Chew It.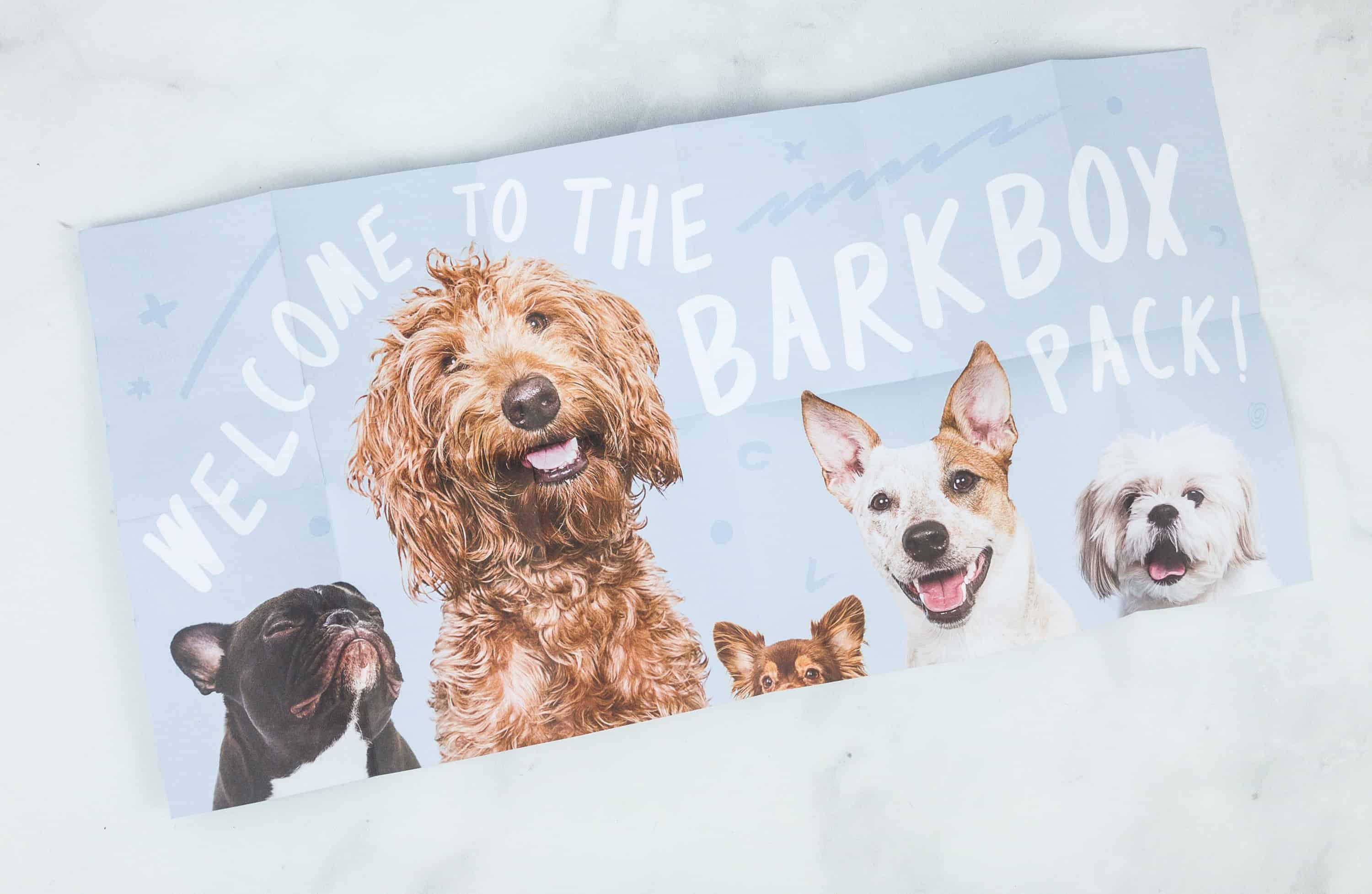 If it's your first box, you'll get the complete rundown of how Barkbox subscriptions work.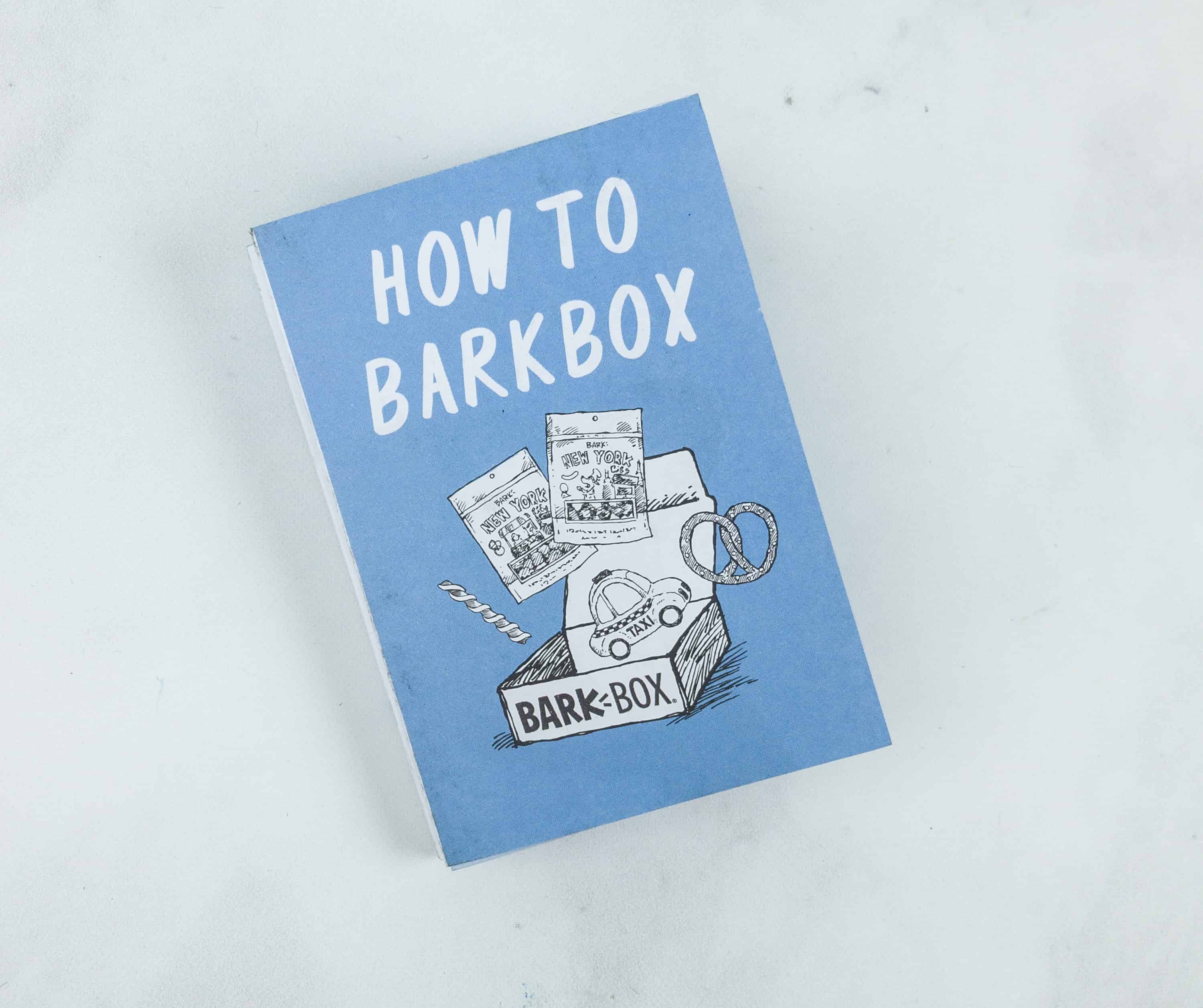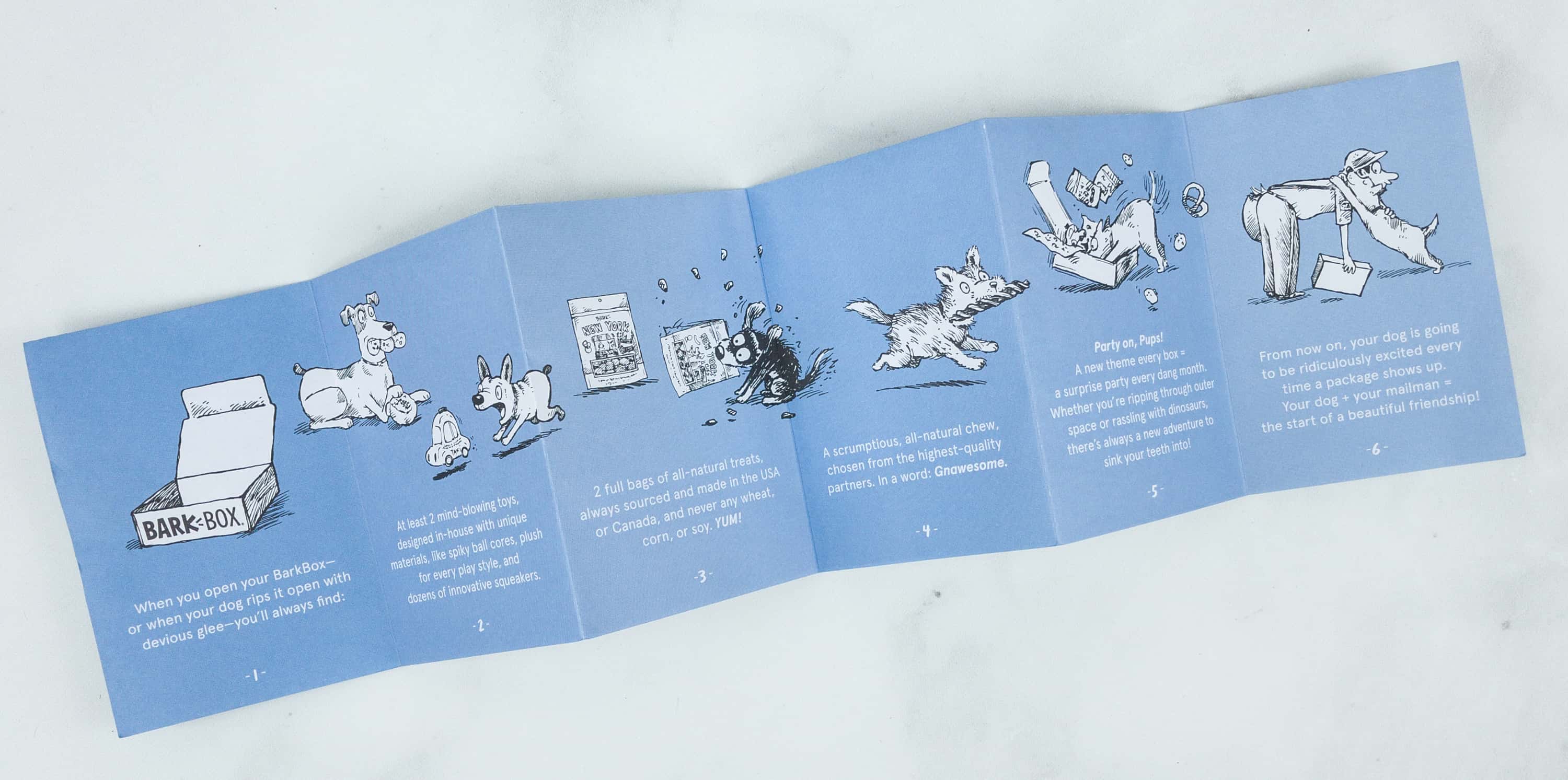 The November 2018 theme is The Grinch.
The info booklet comes with details on how you can show off your cute fluff online. Plus, you can get updates on what your next box will be about. You can also check out the previous Barkboxes too if you missed out on all the fun goodies!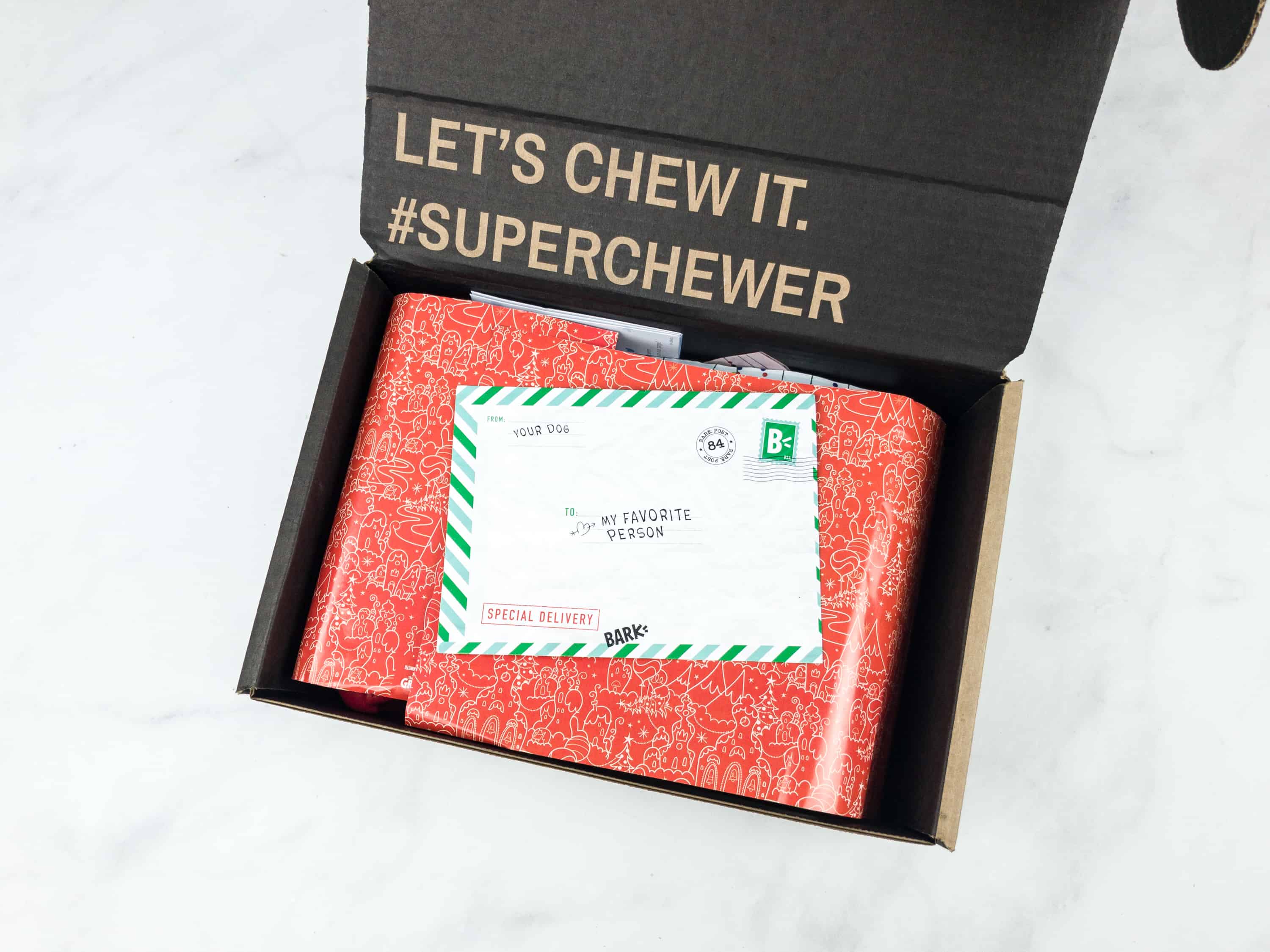 This box is a special delivery for sure! Let's see the rest!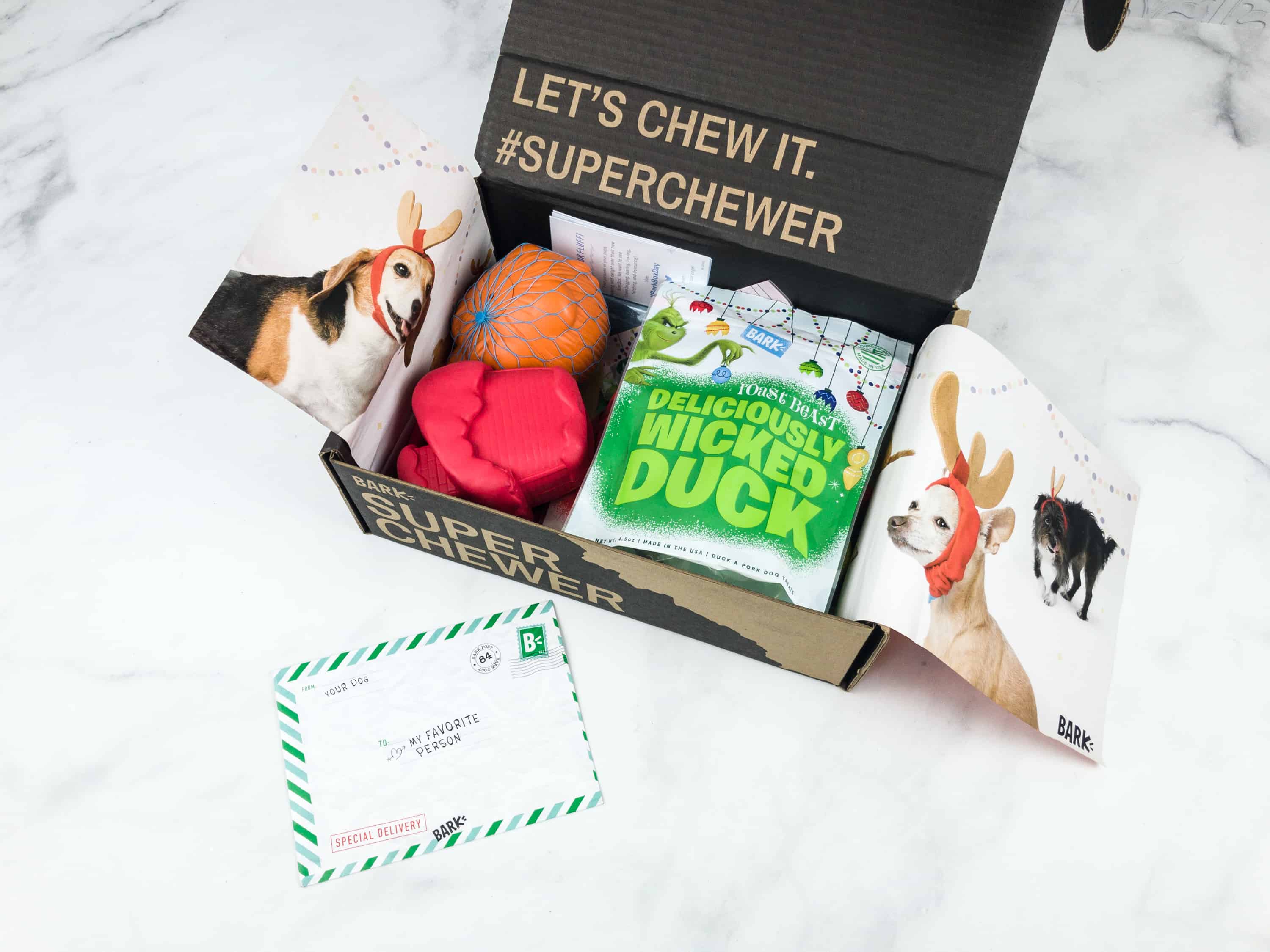 It looks like the box is full to the brim and it's GRINCH themed for November! You can still get the Grinch box – it's definitely their most popular box EVER!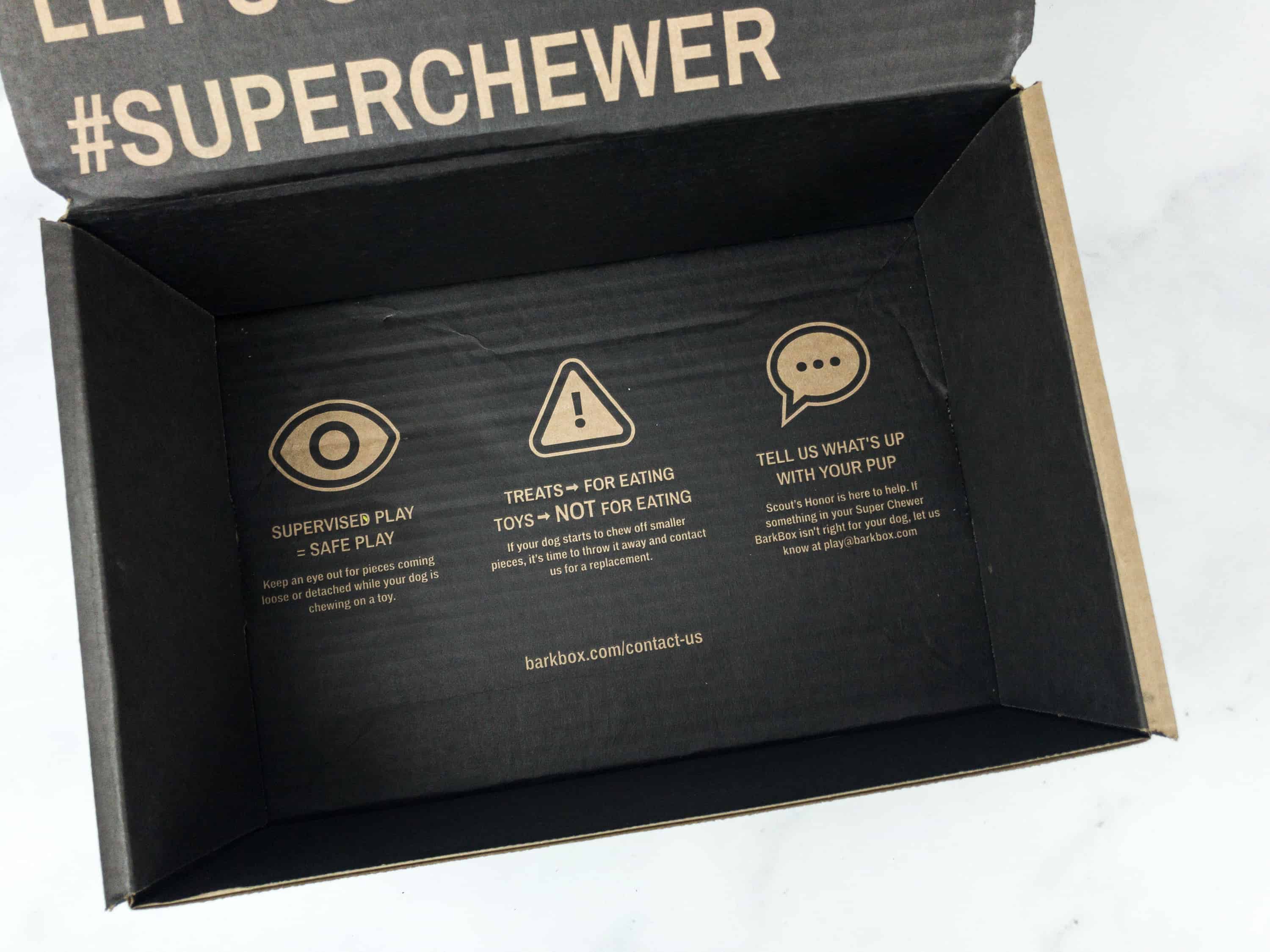 I like that the box has a friendly reminder to pet owners. Even though chew toys serve as toys for your dog, they shouldn't be left alone because they may choke on when the toy is already broken.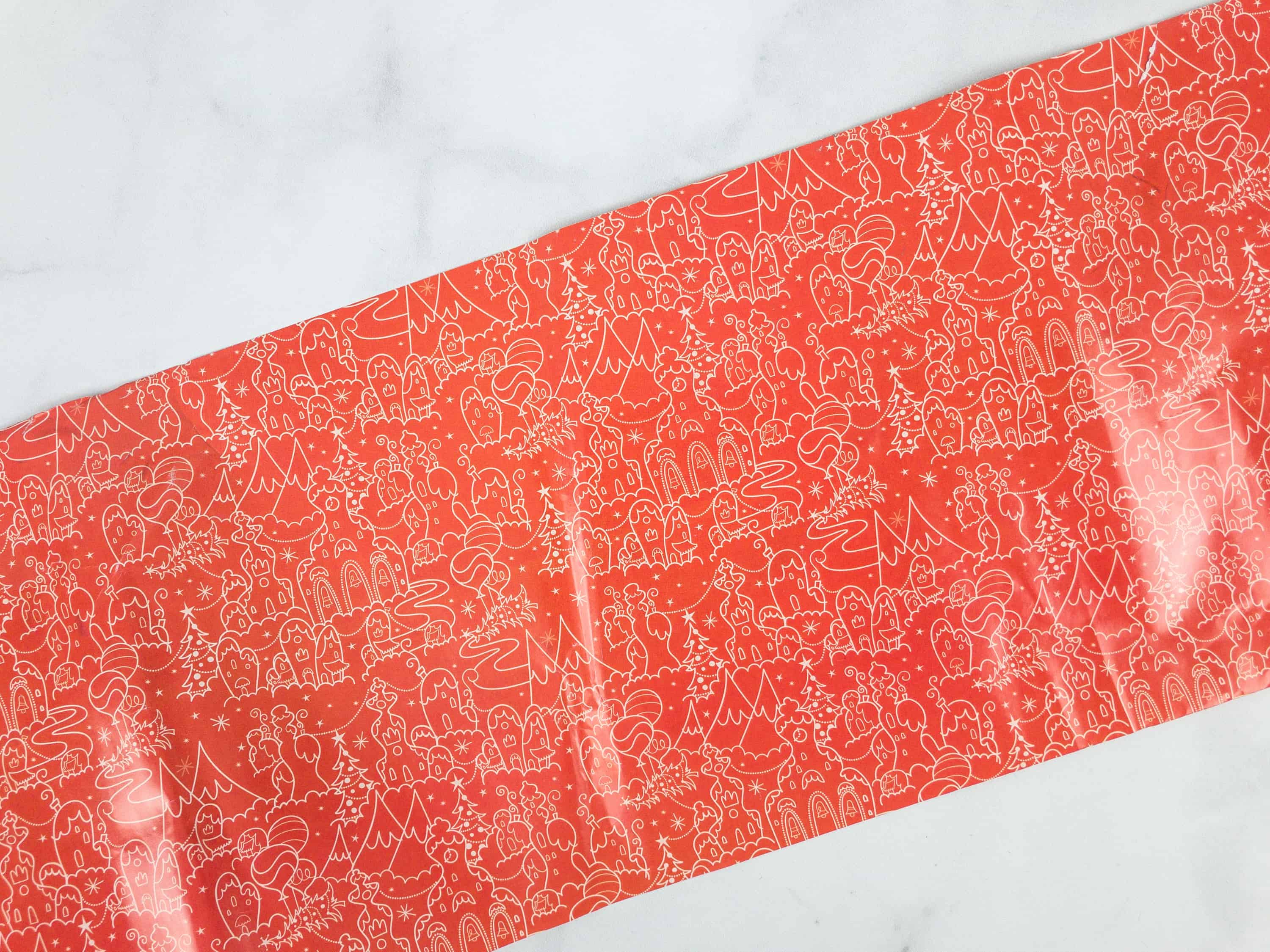 I like the red wrapper that covers the treats in this box as it also has doodles on it. From trees to mountains and everything in between, it's totally Seussical!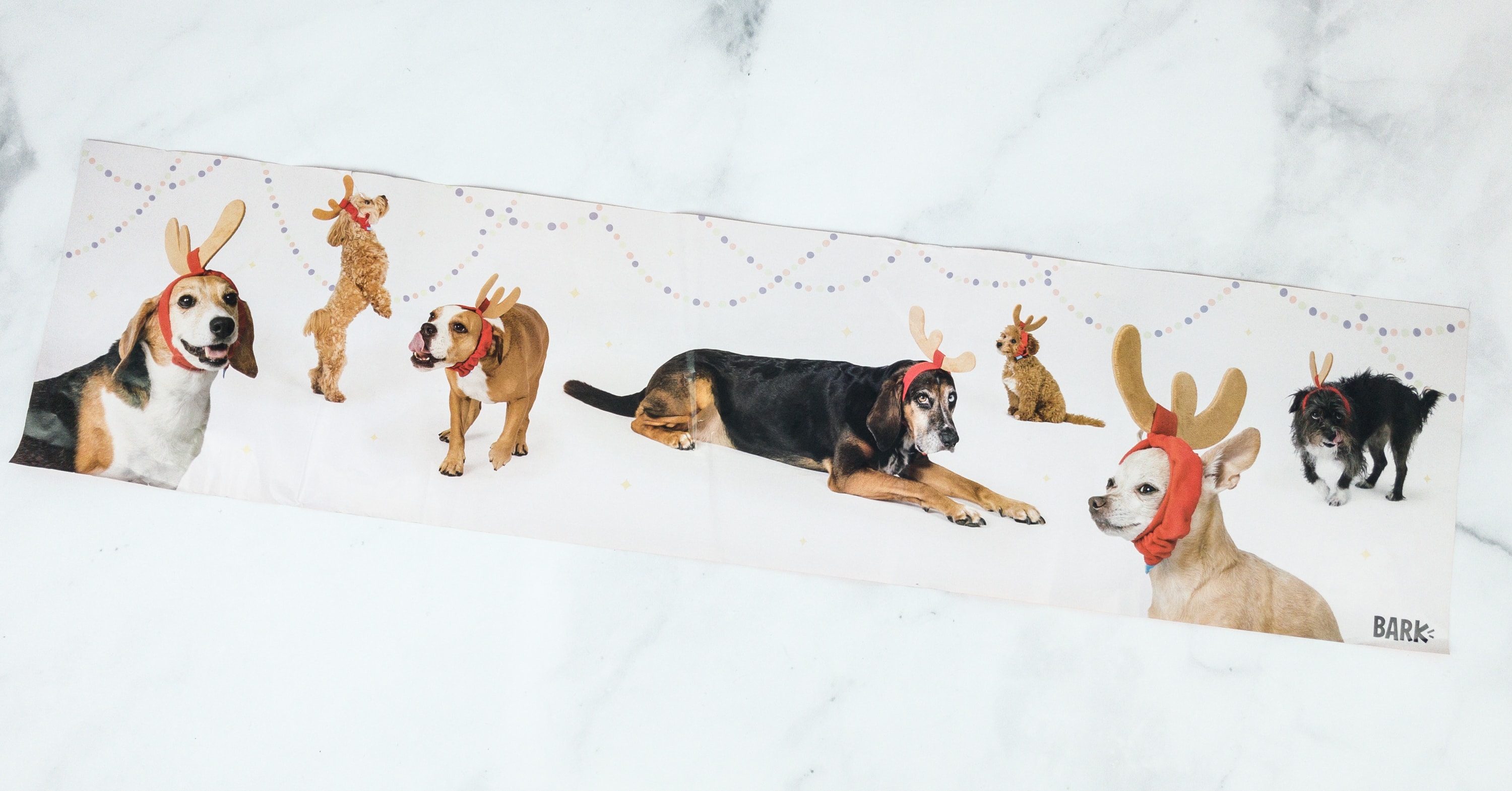 The surprise is found at the back which features these adorable dogs with a special reindeer antler! You know your dog is going to look GREAT!
"If I can't find a Reindeer, I'll make one instead!"  So he called his dog, Max. Then he took some red thread and he tied a big horn on the top of his head."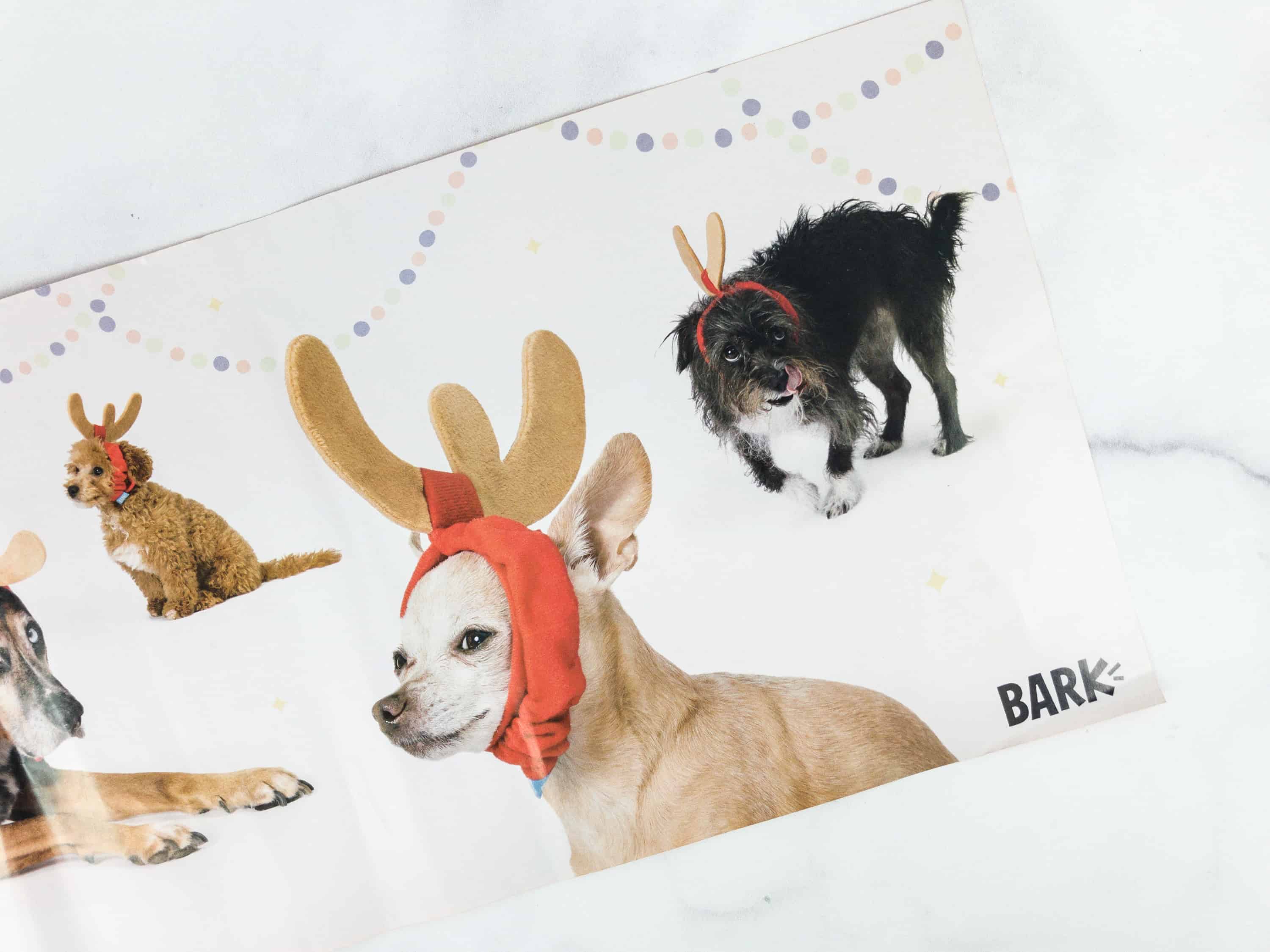 I like the faces that these dogs have when wearing the reindeer headdress. Some look happy with them while others appear frozen on the spot. Either way, they look adorable!
SPOILER ALERT – our dog Dean is the frozen kind! ?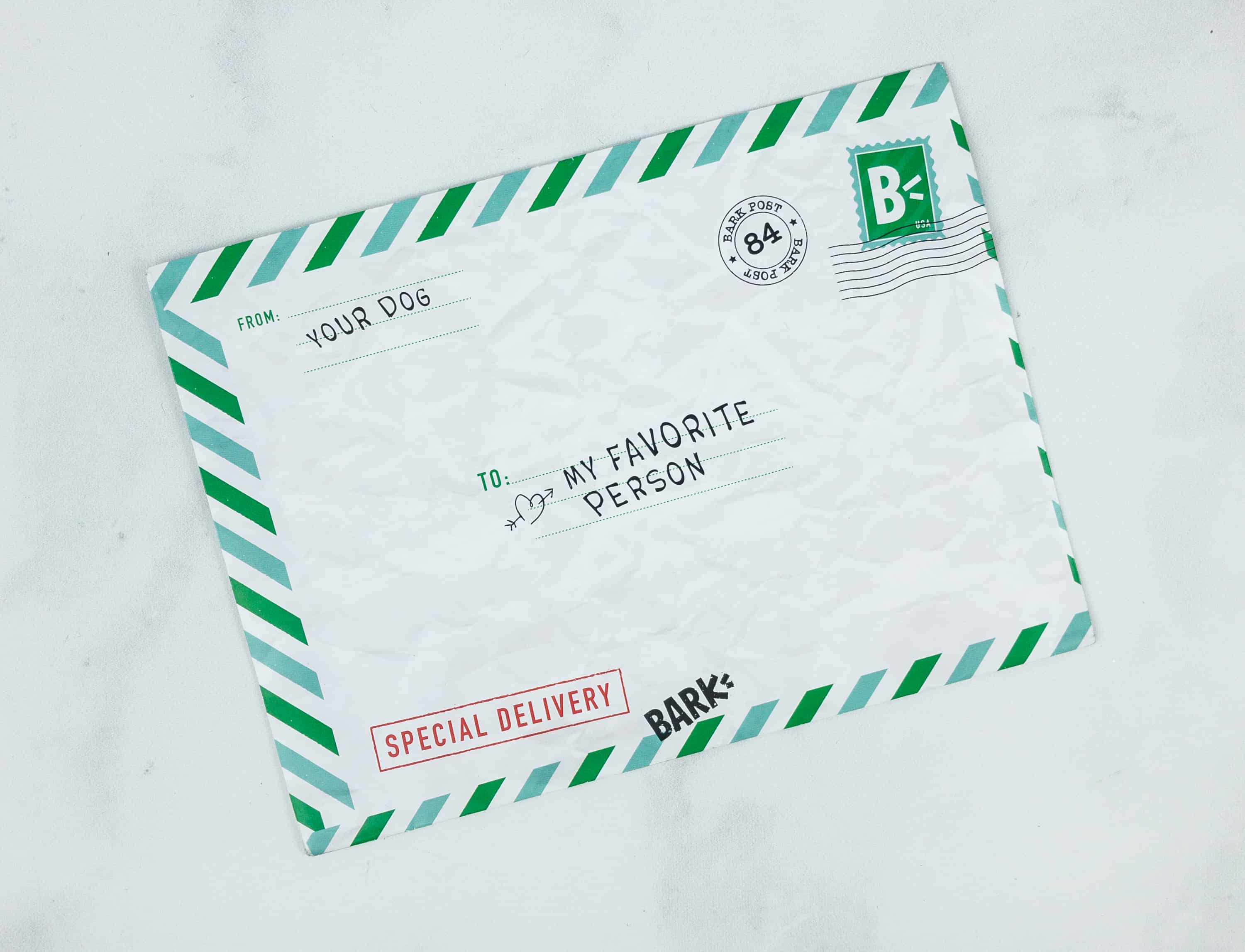 What could my pup say in this letter?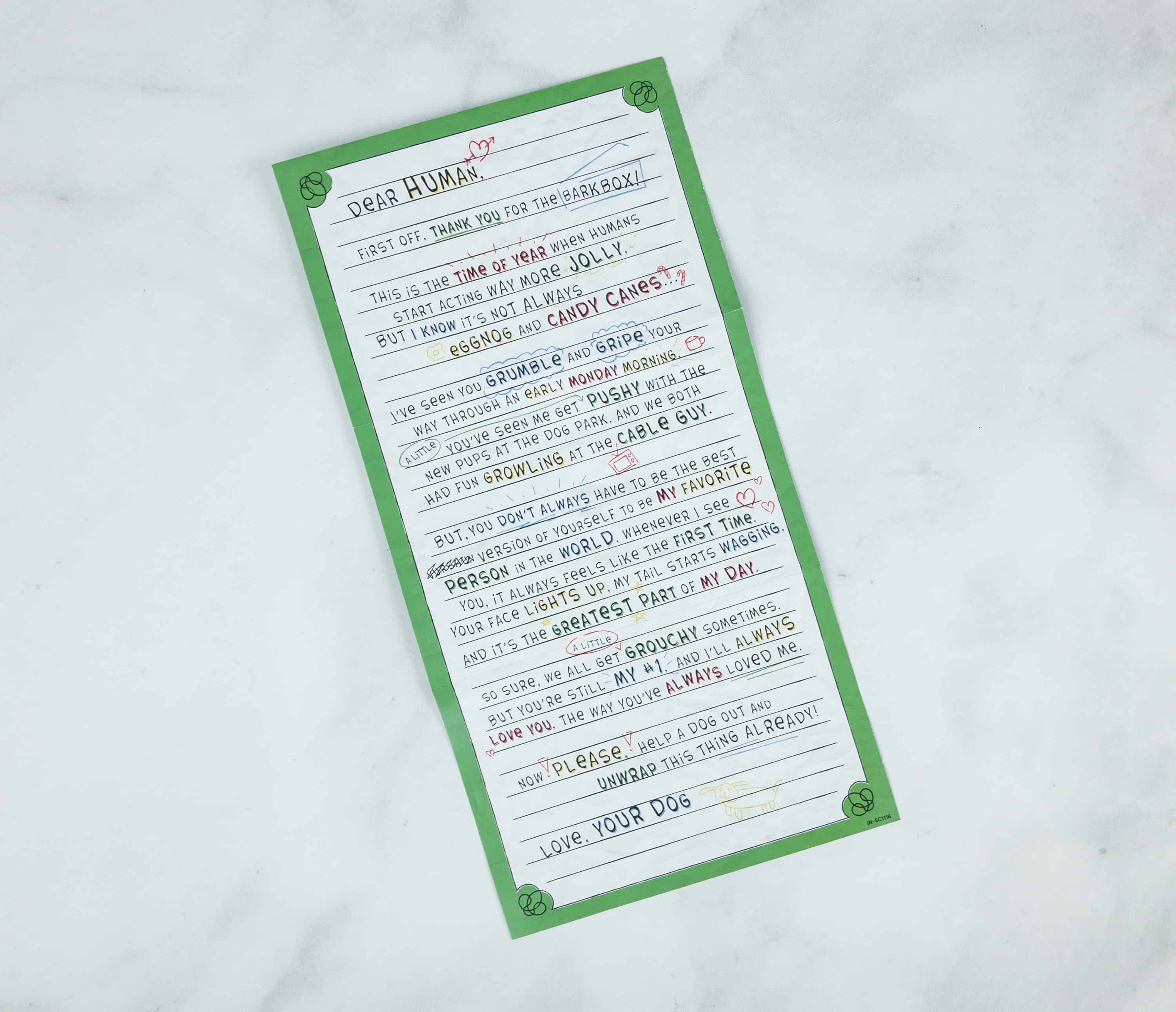 And the letter inside is spot on! I think all dog owners will relate to this letter. We're so busy grumbling all the time that we are missing out on the fun of having dogs around us. And yes, time to check out the items!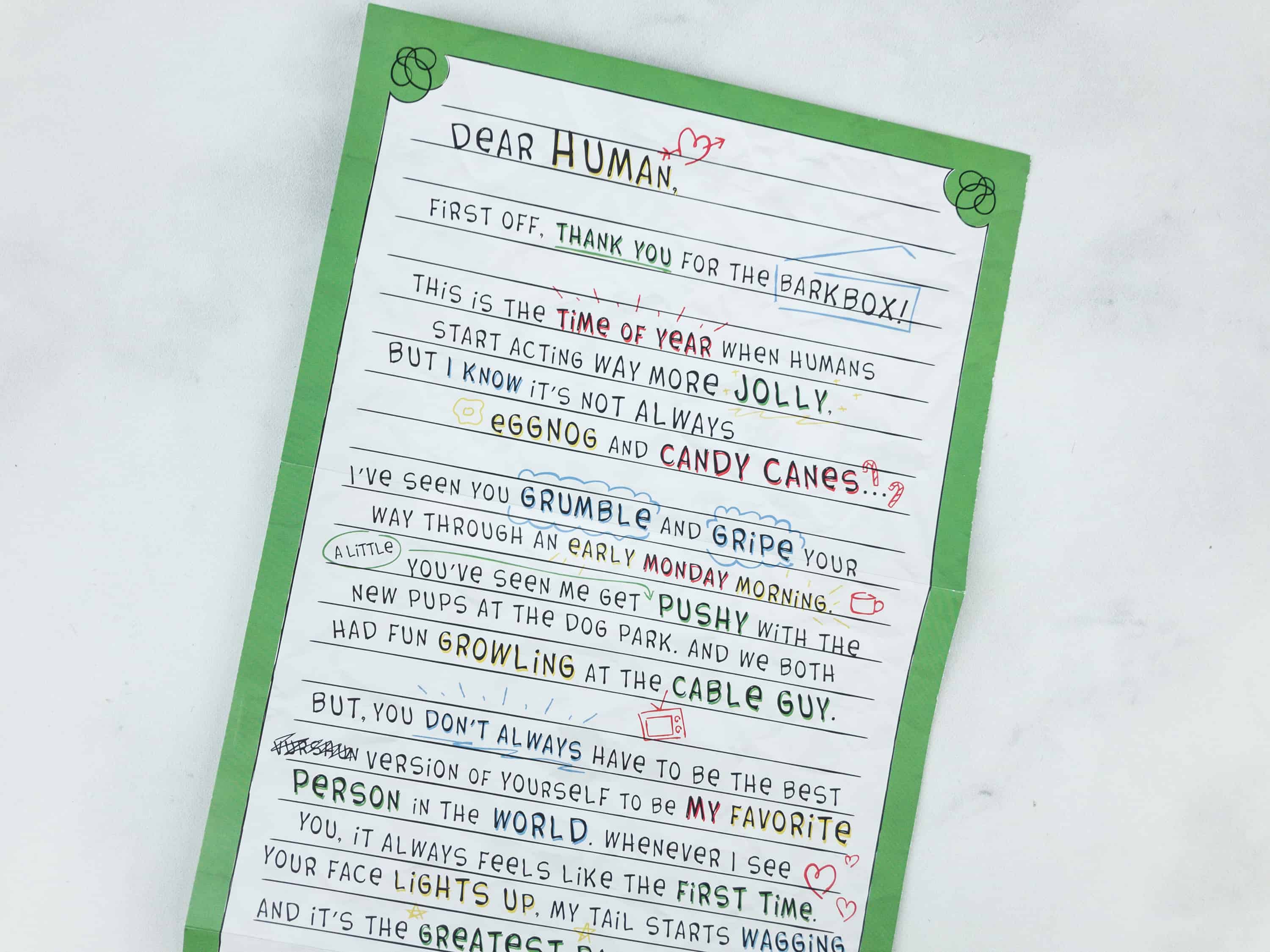 I love how this letter was penned because it shows how dogs really see us. No matter what version we are, they still give us unconditional love. I guess I'll be giving my dog an extra hug later!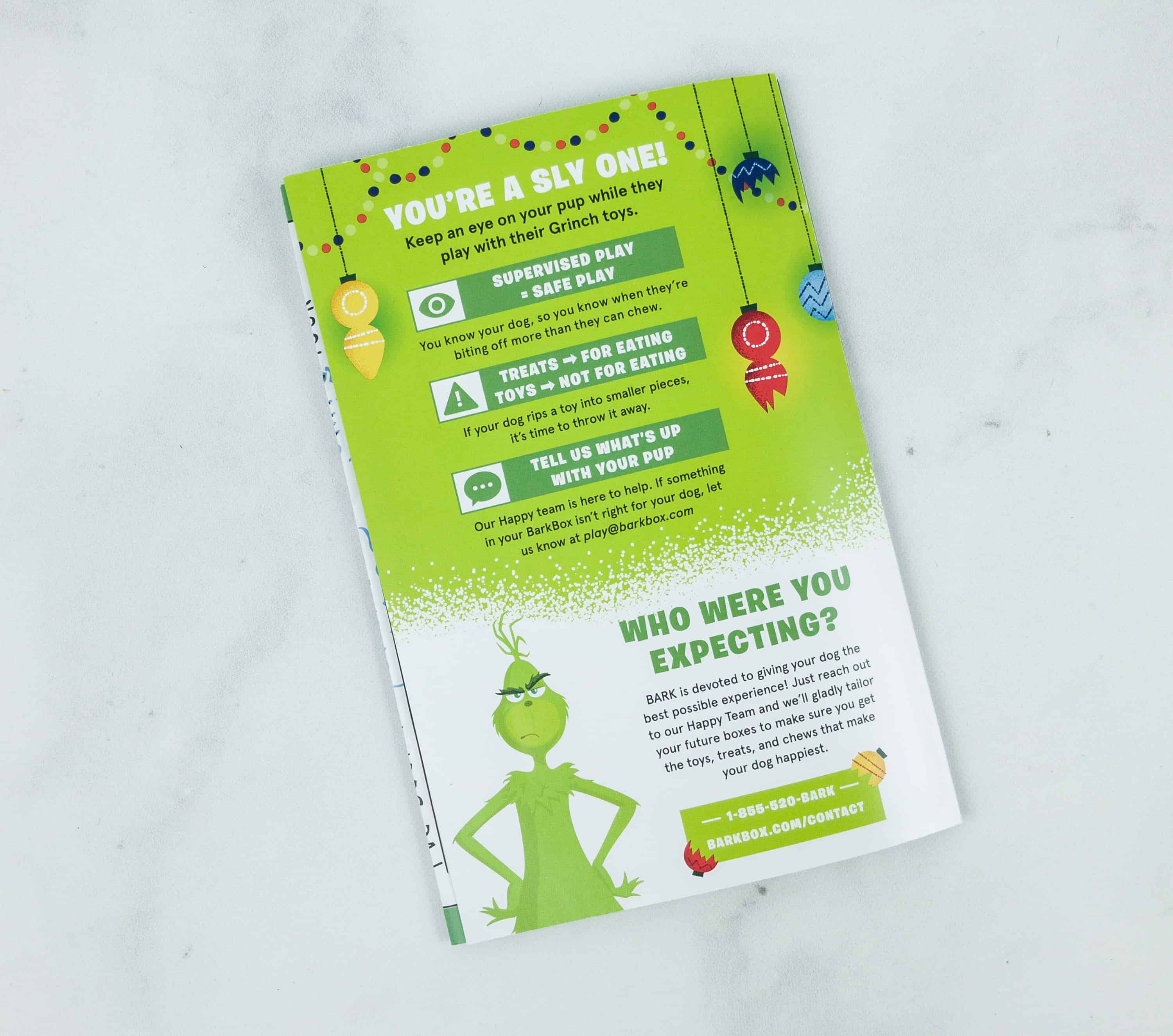 Puppies can be sly as they try to get one over you, which is why you need to be vigilant especially when it comes to toys. Again, some friendly reminders from the Bark Box team are included in the booklet.
This month's theme is around the Grinch. The Grinch may be naughty at times but what Bark Box likes about him is that he is friendly to dogs and that's what makes him worth celebrating this month. And it seems that the treats and toys here are just in line with the theme!
And if you need a refresher, Max is the dog that The Grinch transforms into that reindeer – and he's loyal and loving to The Grinch no matter what!
Everything in my November 2018 box! This box shows the extra free toy you'll get when you sign up with the extra toys promo!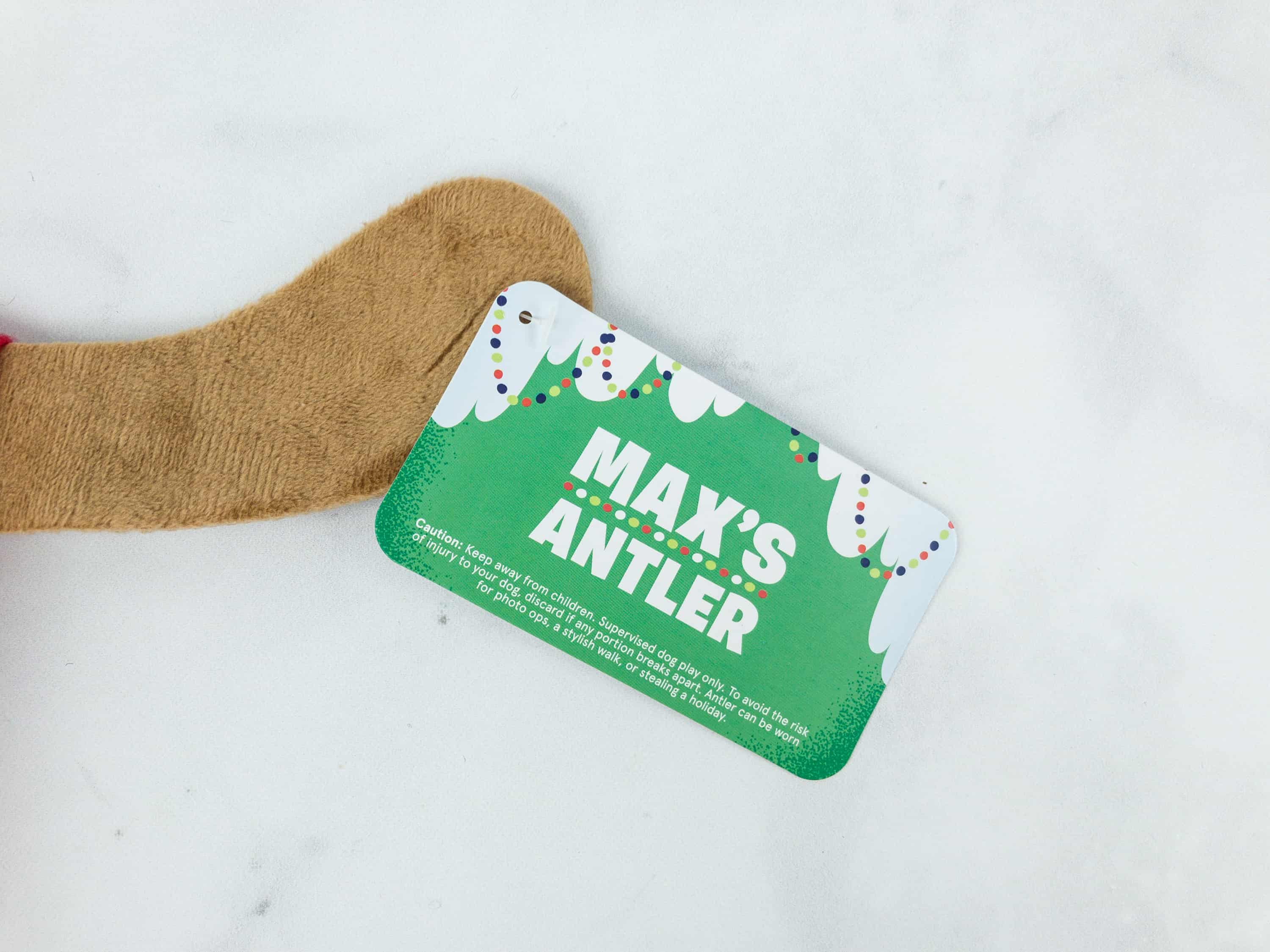 Barkbox Max's Antler.
We got Max's antler in this box which is perfect for photo ops or going out for walks in time for the holidays, which will be hilarious!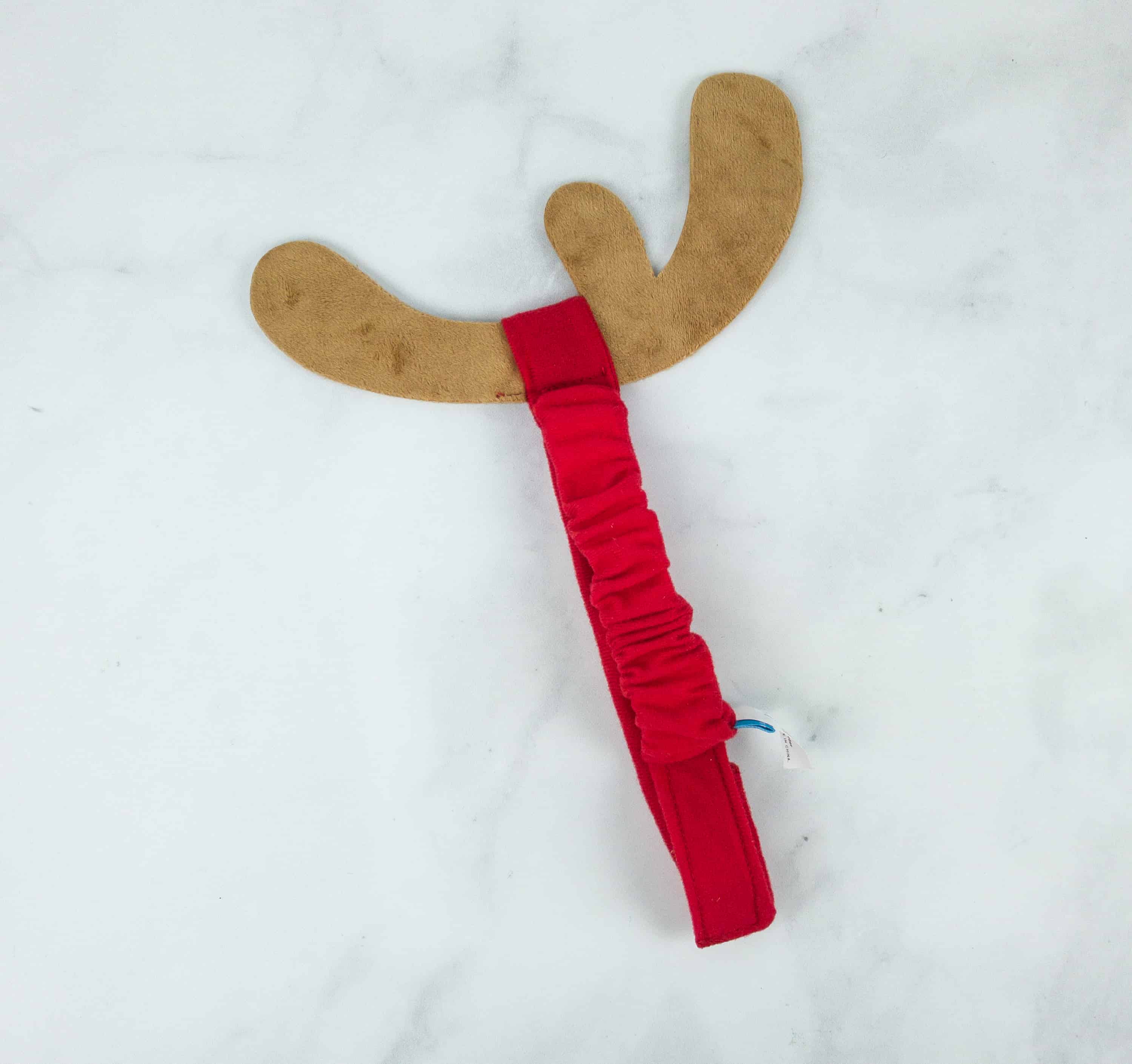 You can adjust the antler costume to fit your dog's head because of the Velcro.  Now, I think we're ready to test it out! Unfortunately our plans to attach this to a larger dog's head went awry due to snow, but Dean dog made it happen: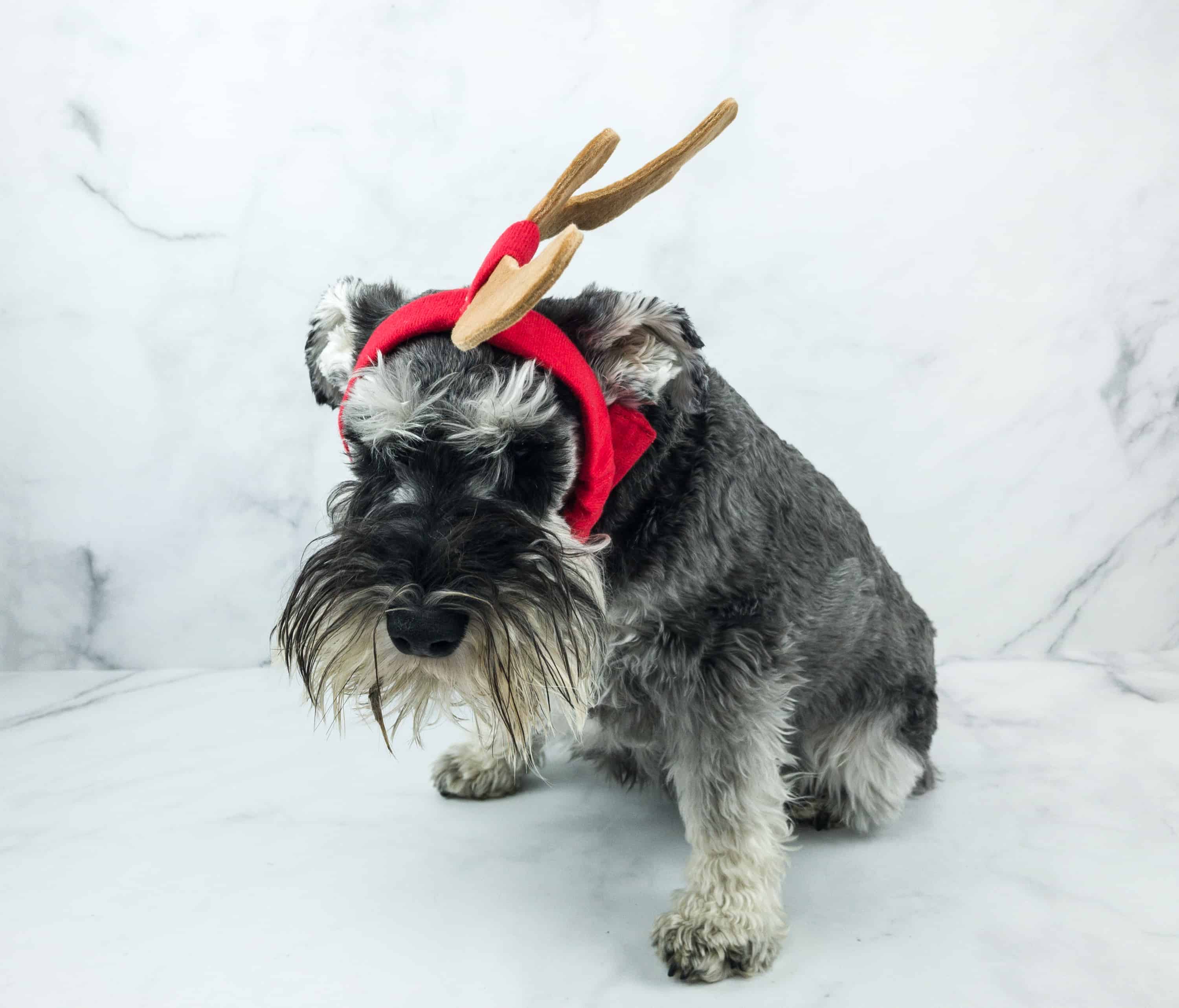 Not so different than the story!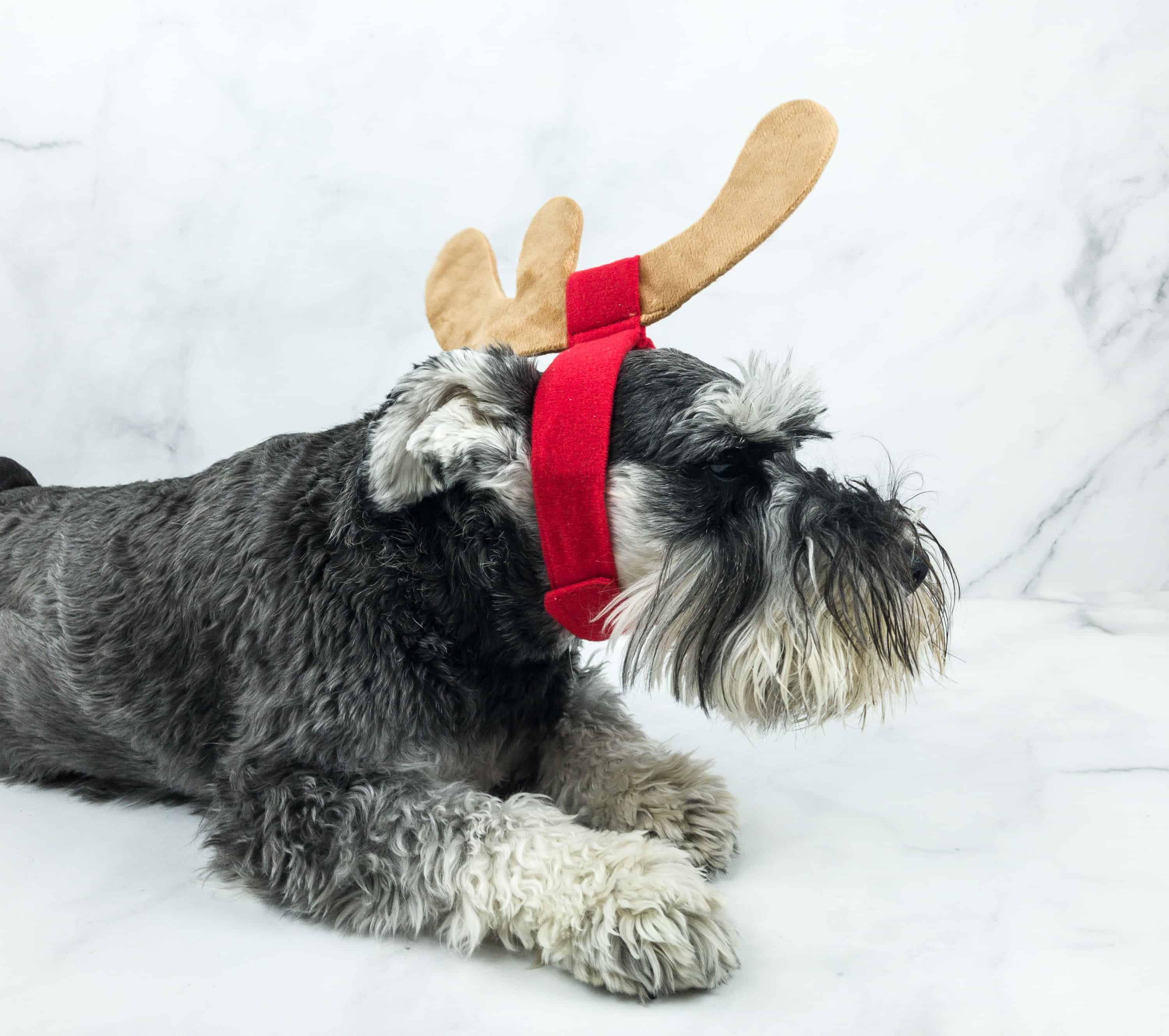 Nearly majestic!
Here it is on our pal Charlie!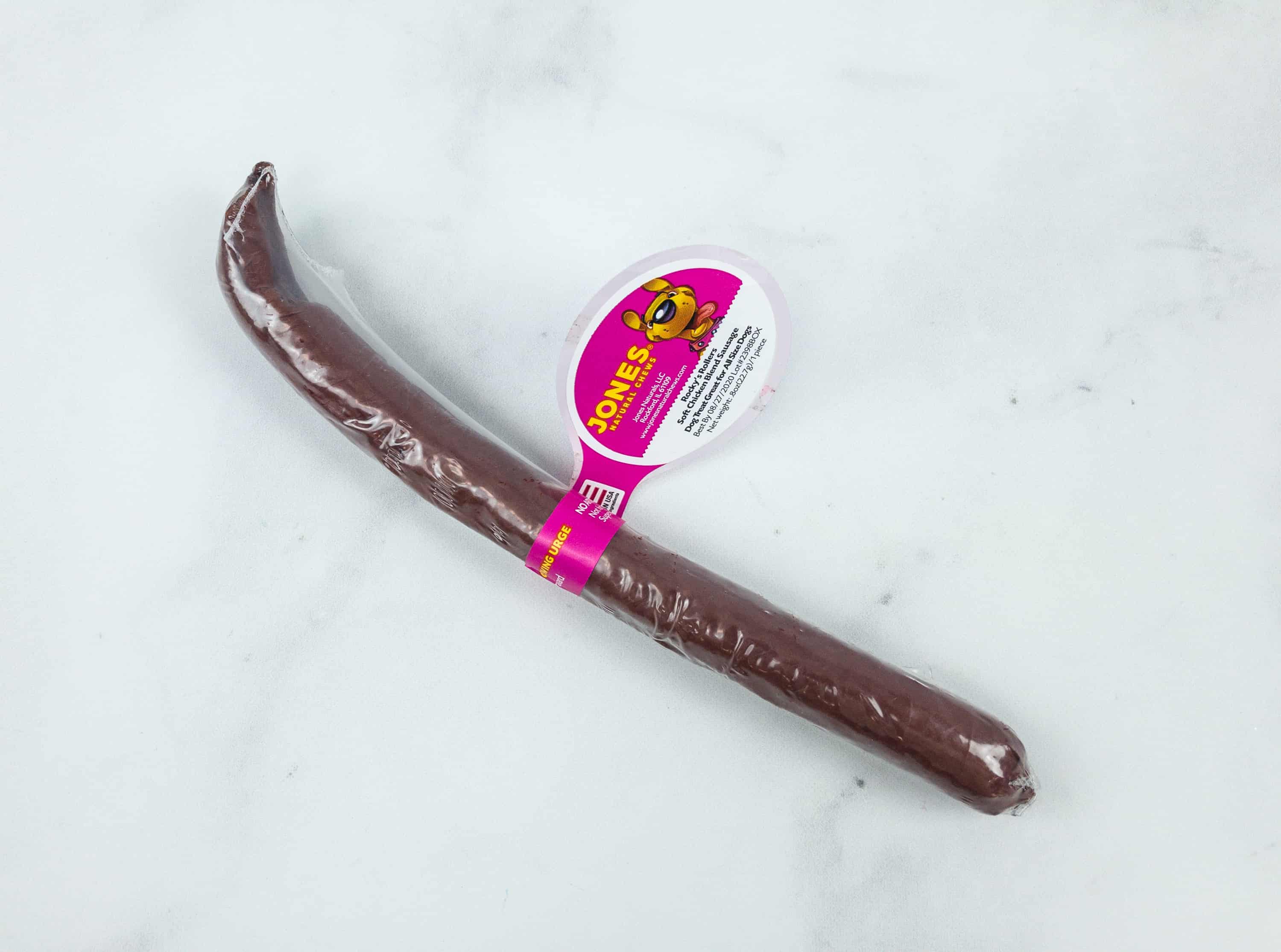 Jone's Natural Chews Soft Chicken Blend Sausage. They also included a soft chicken blend sausage in the mix which you can use as a treat when training your pup. It's made from soft and flexible chicken and it doesn't have any artificial ingredients in it either. Yum!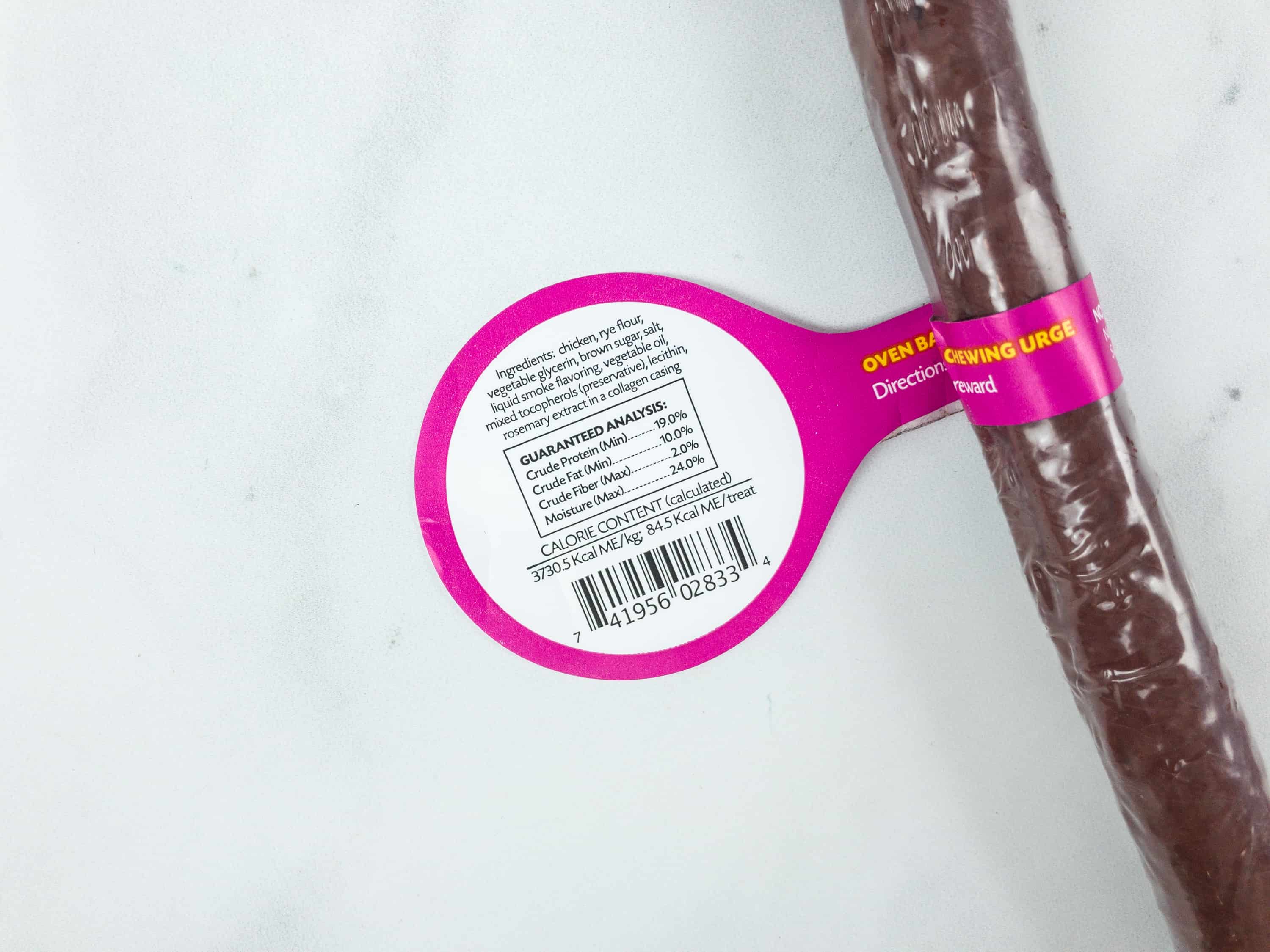 You can check the list of ingredients in the tag which is composed of chicken, rye flour, vegetable glycerin, brown sugar, salt, liquid smoke flavoring, vegetable oil, and others. They even included an analysis of the treat as well.
Koha Turkey Chew. If your puppy loves the challenge of chewing, this turkey chew is the perfect treat for them. This chew toy is made from rich and sustainable turkey meat that is full of flavor that will leave your puppy happy. Another thing that I love about this treat is that it is good for our dogs' dental health!
You can find the ingredients on the turkey chew at the back of the pack which includes turkey liver, brown rice flour, tapioca syrup, and more. There are no artificial ingredients here which means that this dog treat is safe to offer to your furry friend.
Even though Dean was our antler model, these toys went to a bigger dog! We asked for a box for large dogs to entertain our next door neighbor's beasts. All reports are that they are tough, durable, and well-loved!
Barkbox Fred The Reindeer ($14) Fred the reindeer is our bonus toy! This squeaky toy comes in a bright orange color which is hard to miss for pet owners. FYI – this comes in two sizes for small and large chewers!
Barkbox takes pride in their choice of toys to ensure that their squeaky toys will not break easily. In this case, this chew toy has a squeaker in the middle which is surrounded by natural rubber which is great for chewing and gnawing.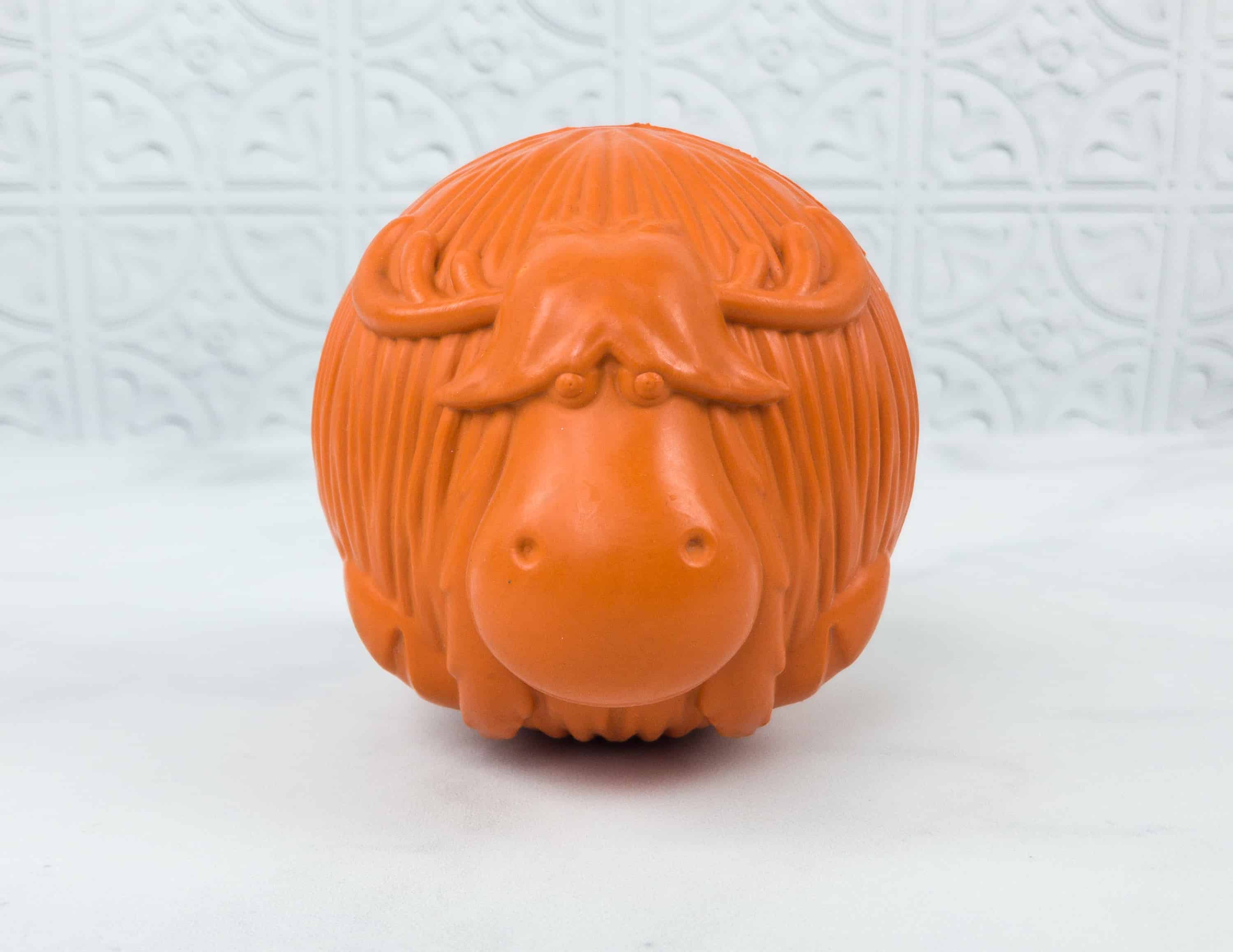 Look at how adorable Fred the reindeer looks! His huge frame makes it an ideal chew toy for dogs!
I like how Barkbox added their mark on this chew toy with the word, "Bark!", on Fred's rump.  Of course, you can throw this to playing catch and your dog can be rewarded with the squeaker!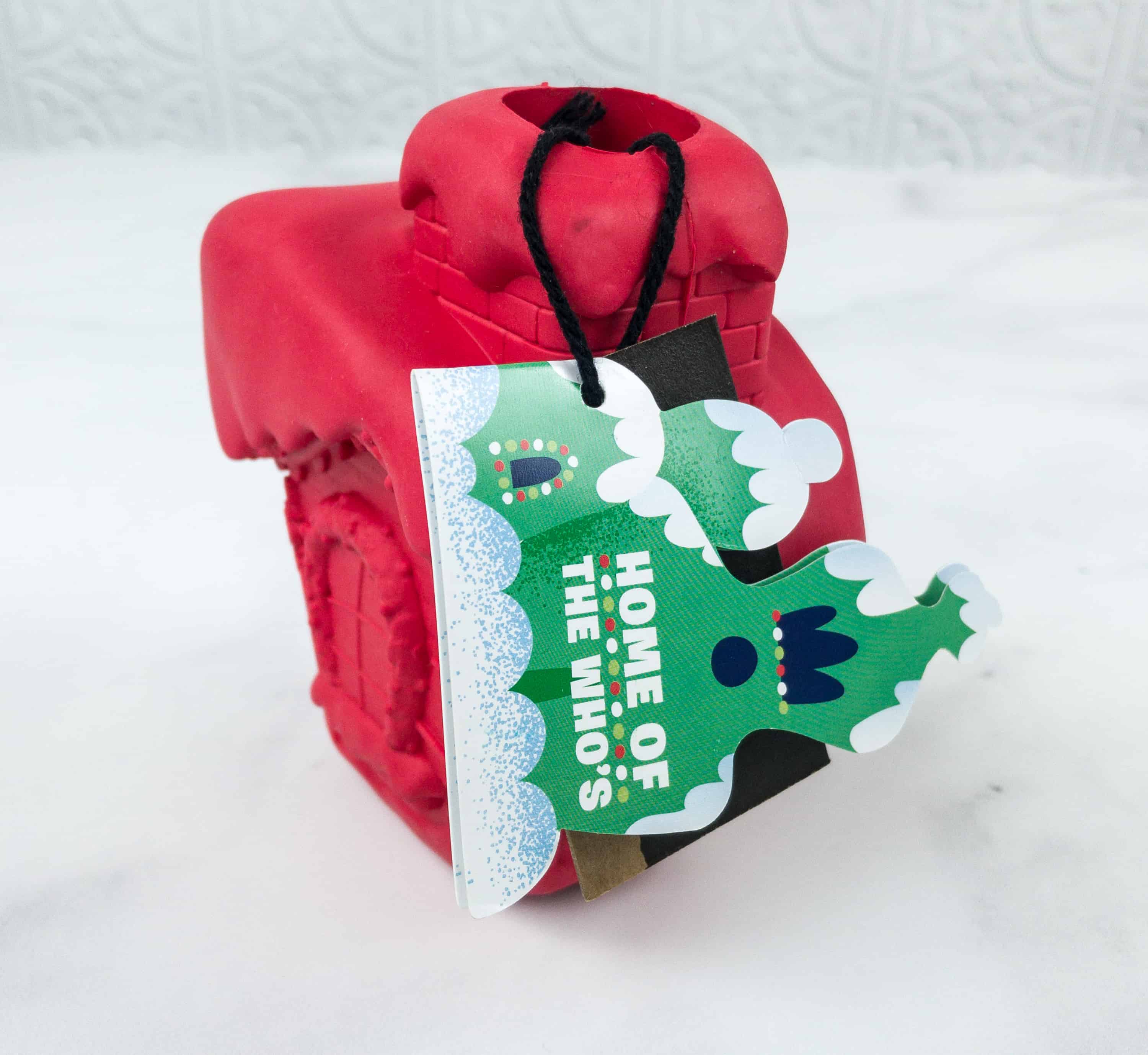 Barkbox Home Of The Who's ($14) What an adorable treat dispensing toy for your puppy! It's designed to be a chew toy and treat dispenser in one which will keep dogs entertained for hours!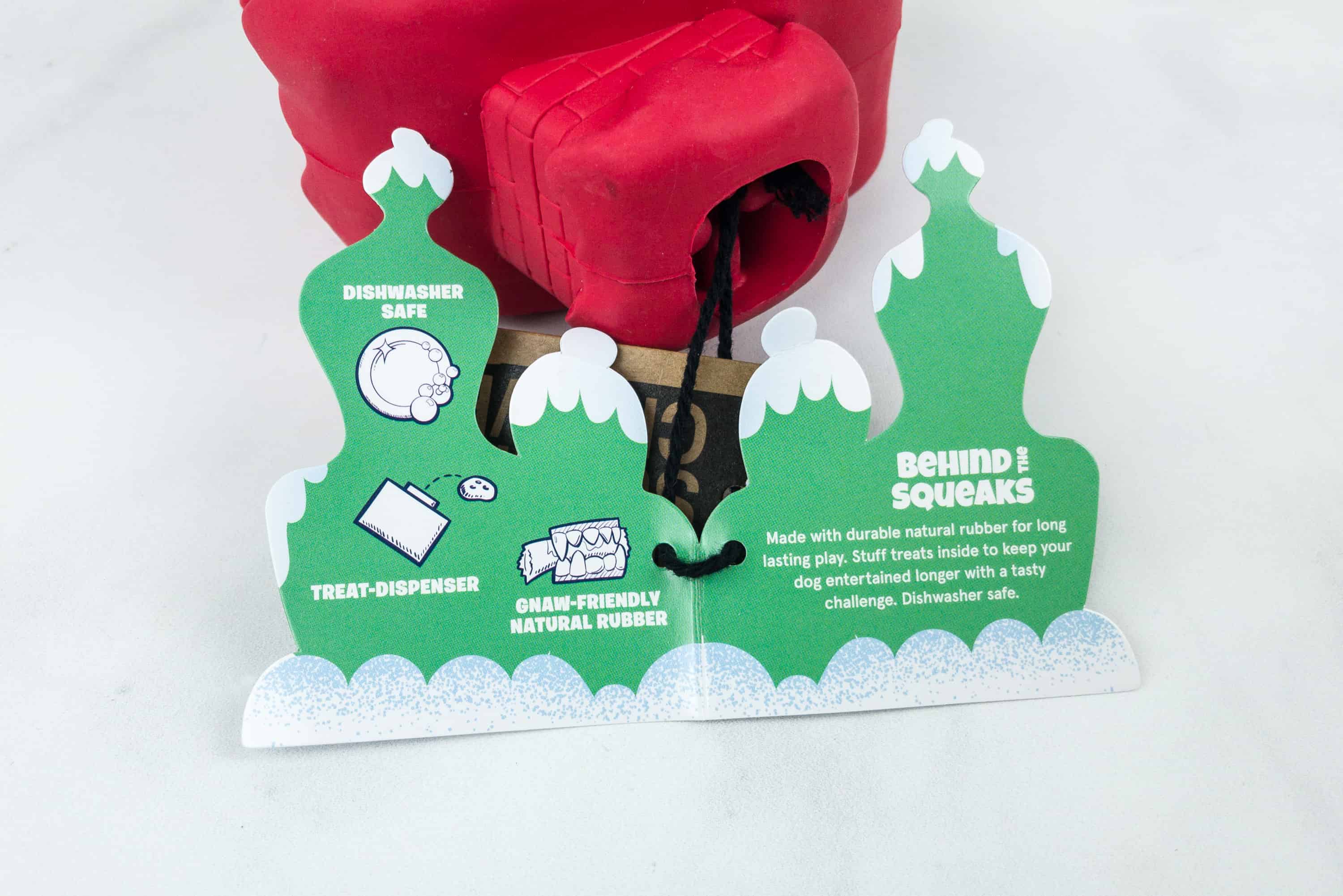 It's nice that the tag comes with a brief description of the components from the squeaker, treat dispenser and natural rubber that can be gnawed upon. And it's dishwasher safe!
The details are spot on for this house, complete with the Grinch on the side. From the chimney to the windows, and Christmas lights, everything is just perfect.
Even the back includes details for the snow-covered roof. I think that this toy is not just for the pets but for dog parents too – we all love this story!
The chimney is where you'll find the opening for the treats when your dog bites into it. This is the challenging part of the toy, but when your dog sniffs the treat, they will do their best to get to it.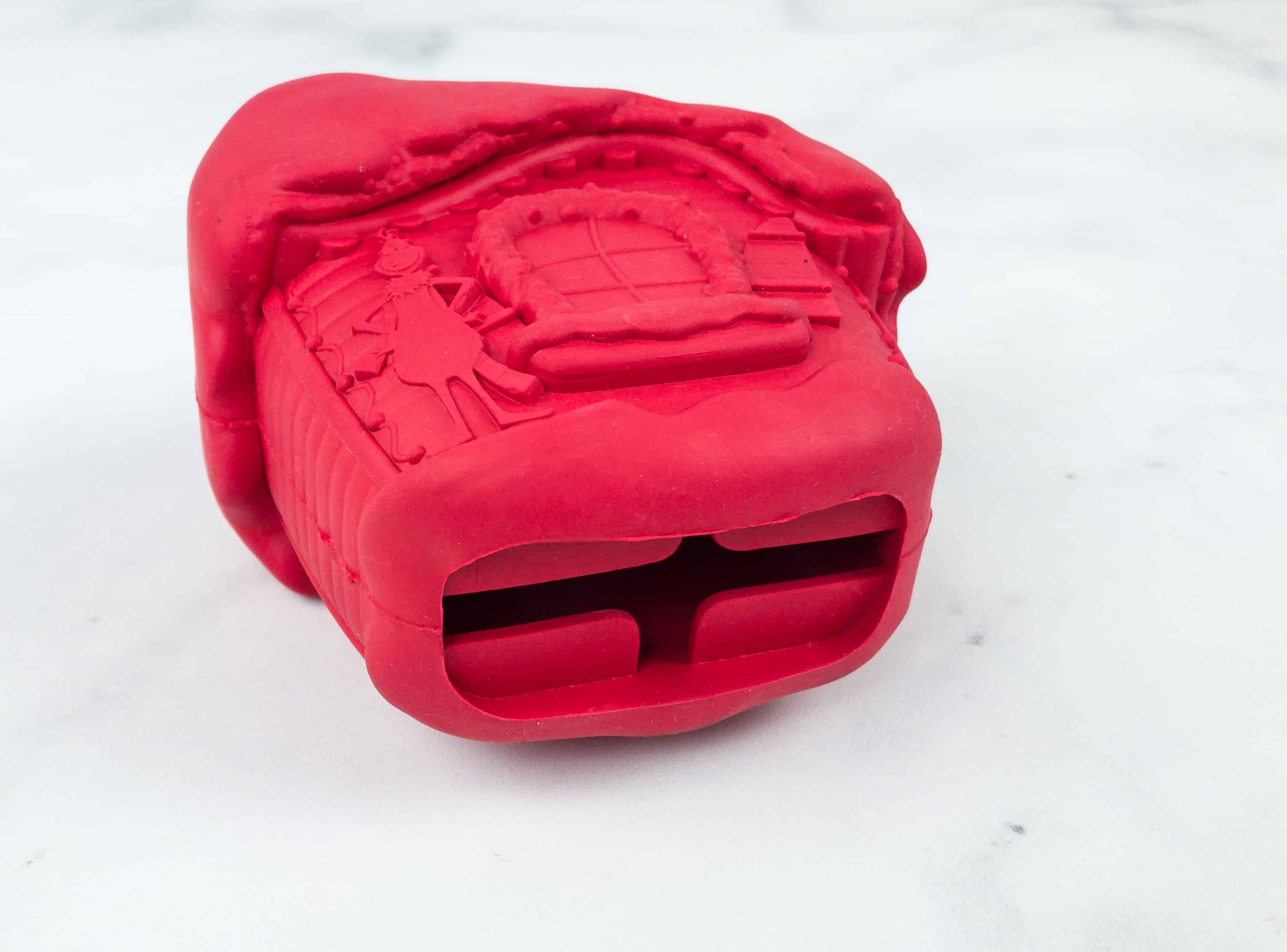 You can slip the treats at the bottom of the house, so you can fill it up as needed. I like that this toy has a dual purpose because not only will the dogs be entertained, but they will get some treats too if they're lucky.
Barkbox Grinch's Sleigh ($14) This Grinch's sleigh looks like another promising game for a best friend!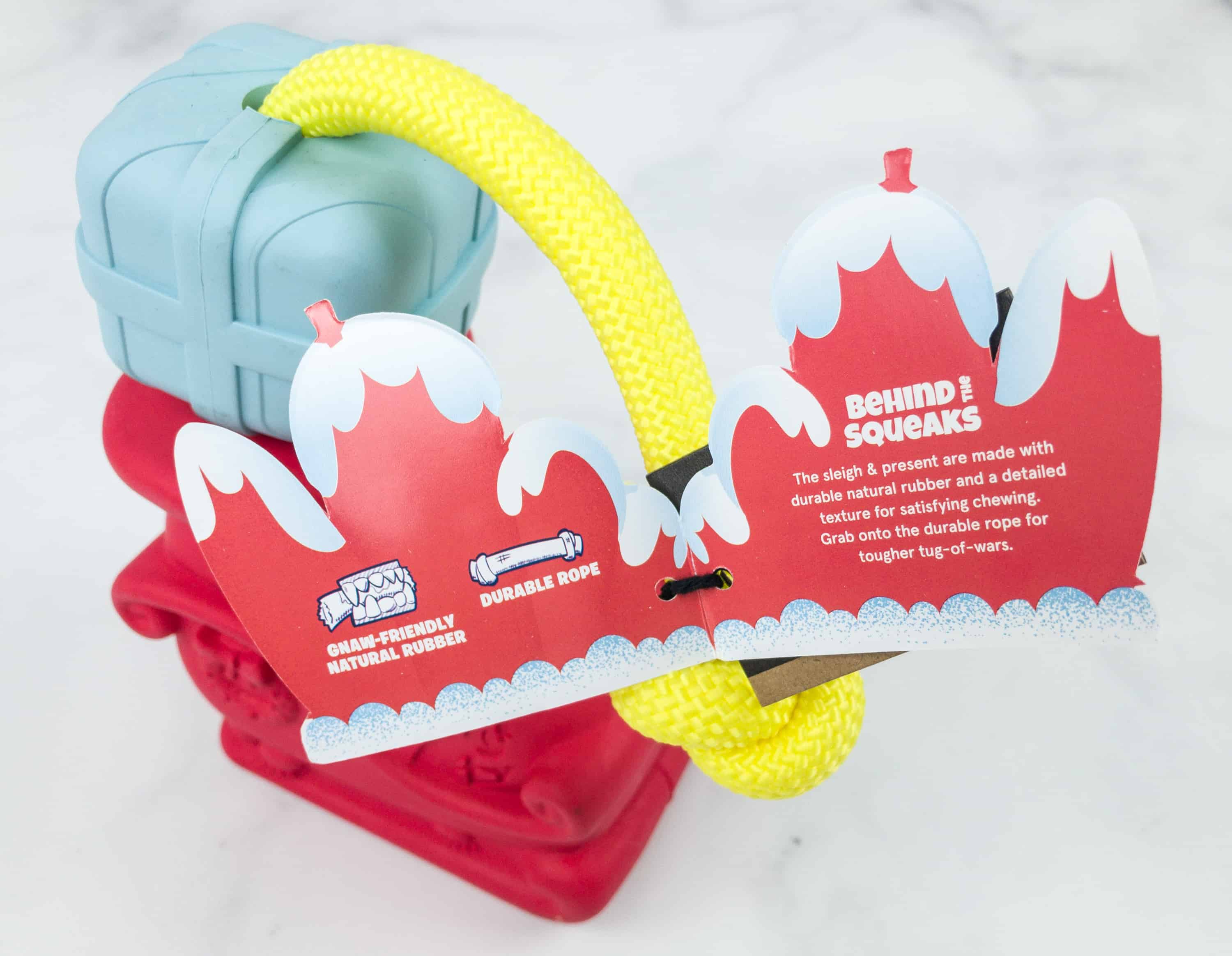 This sleigh is made from a durable rope for a bit of tug-of-war while the sleigh is made from gnawable natural rubber which will not hurt dogs' teeth and gums.
I like the design of the sleigh where the gift box can be moved near the sleigh or at the other end of the rope. You can even see the Grinch on the sleigh too with his signature smirk! This toy can be used to strengthen your pup's teeth and jaws with the pulling action.
It's nice that they added some details on the sleigh with the wreath and the Grinch too. Compared to other chew toys, this one is made to delight the senses too.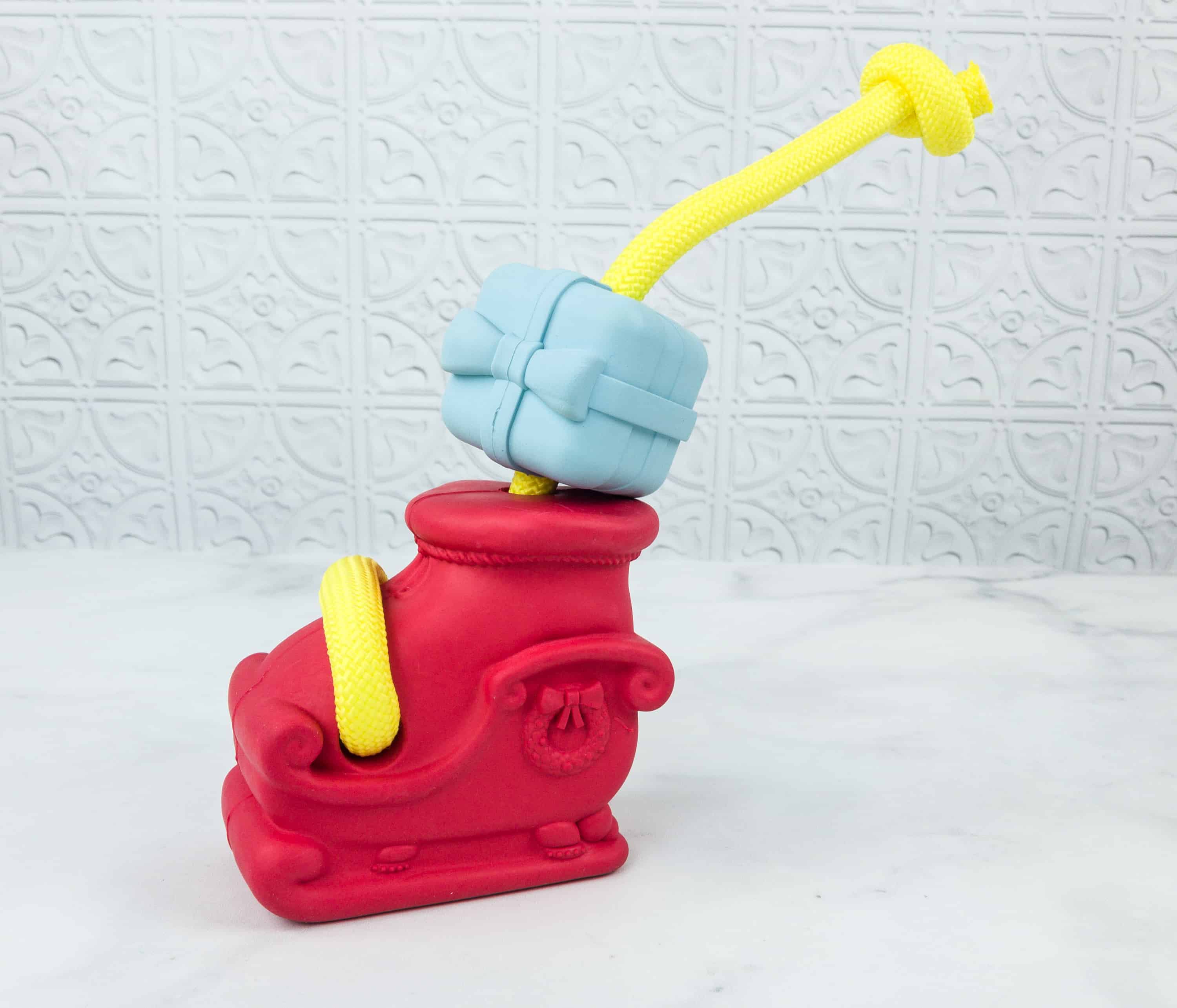 The Grinch's sale is definitely an enjoyable toy for pups and adult dogs because of the colors and durable rope and gnawable rubber. As a pet owner, I love getting toys that are both useful and aesthetically pleasing and this one fits the bill!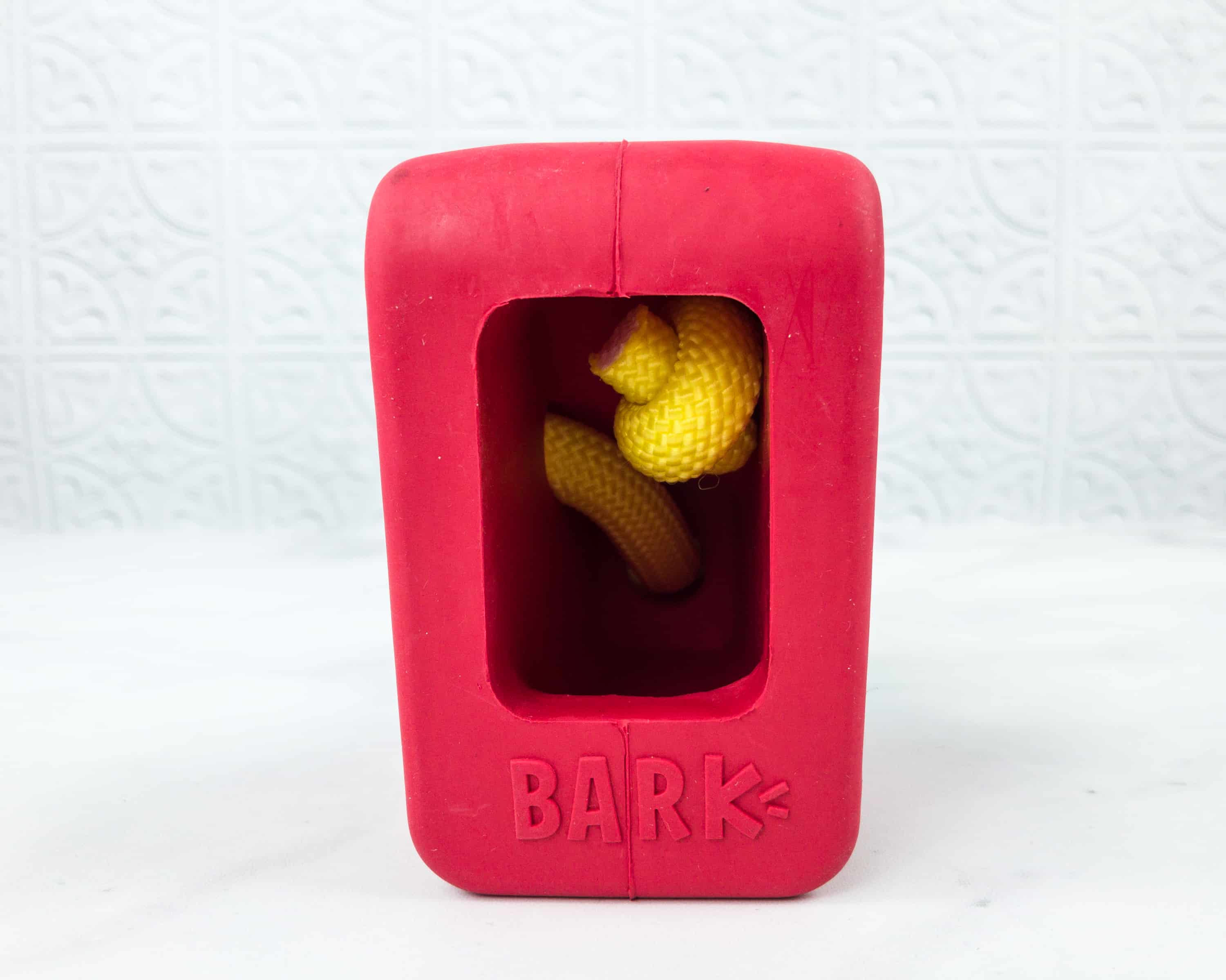 Barkbox made sure that the rope is secured on the sleigh itself, so the parts will not come apart easily. Great attention to detail!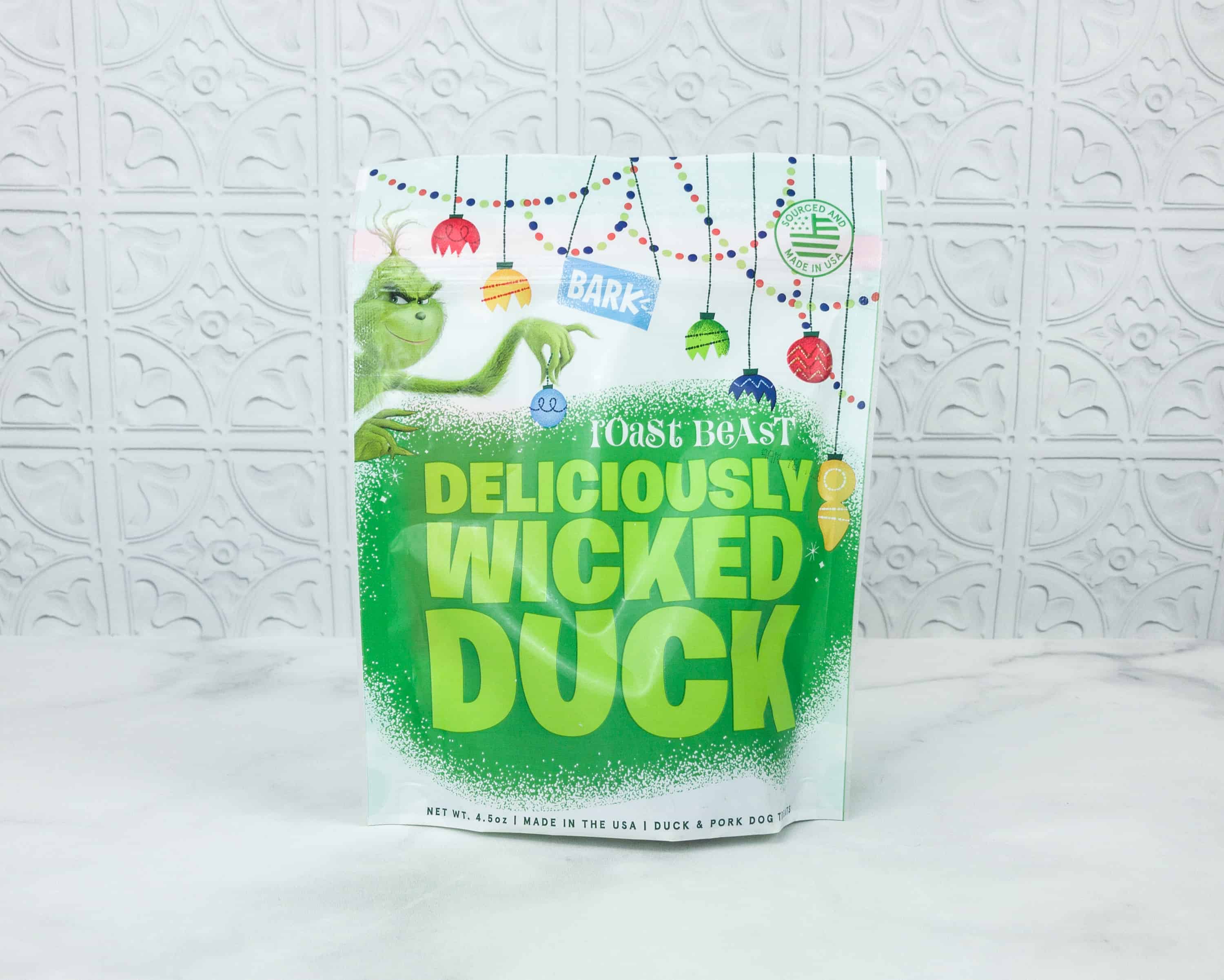 Bark Roast Beast Deliciously Wicked Duck. Well, the packaging is catchy already with the Grinch on it but Roast Beast? I cackled! This definitely puts me in the holiday spirit!
If you check the back of the pack you will see that this treat is soy, wheat, grain, and corn free which means that it will be good for dogs who have sensitive stomachs. I find this a healthy treat to offer my puppy and the flavor looks good too by the way the dogs made them disappear.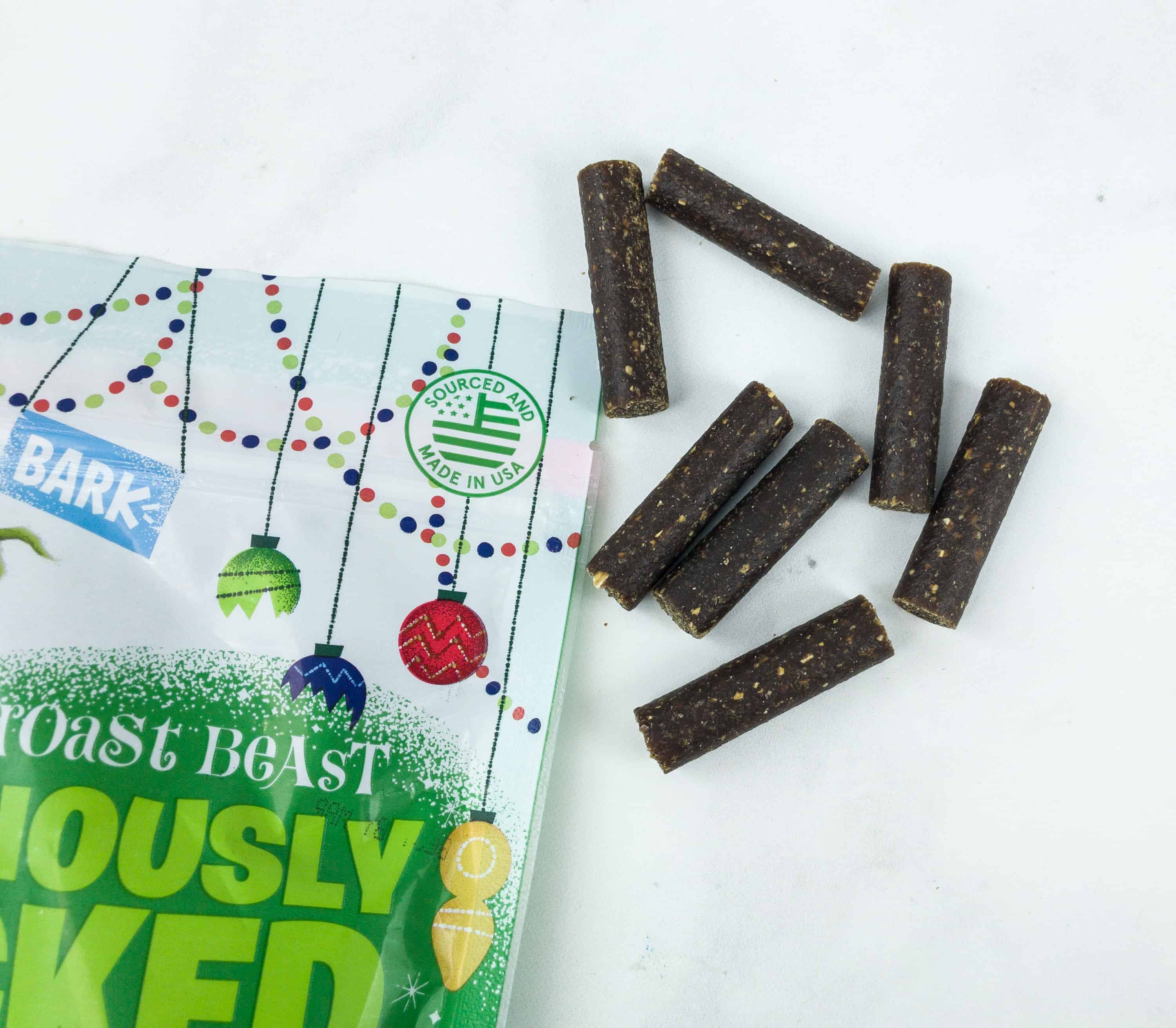 You'll get some chew sticks to offer your pet pup or adult dog.
Bark Roast Beast Chew On This Pork. Another flavored treat that we received is the Chew on this pork. I am happy with the choice of treats in this box because they come in different flavors. You won't mistake this with the duck flavor because of the red colored packaging – but it's still the hilarious roast beast!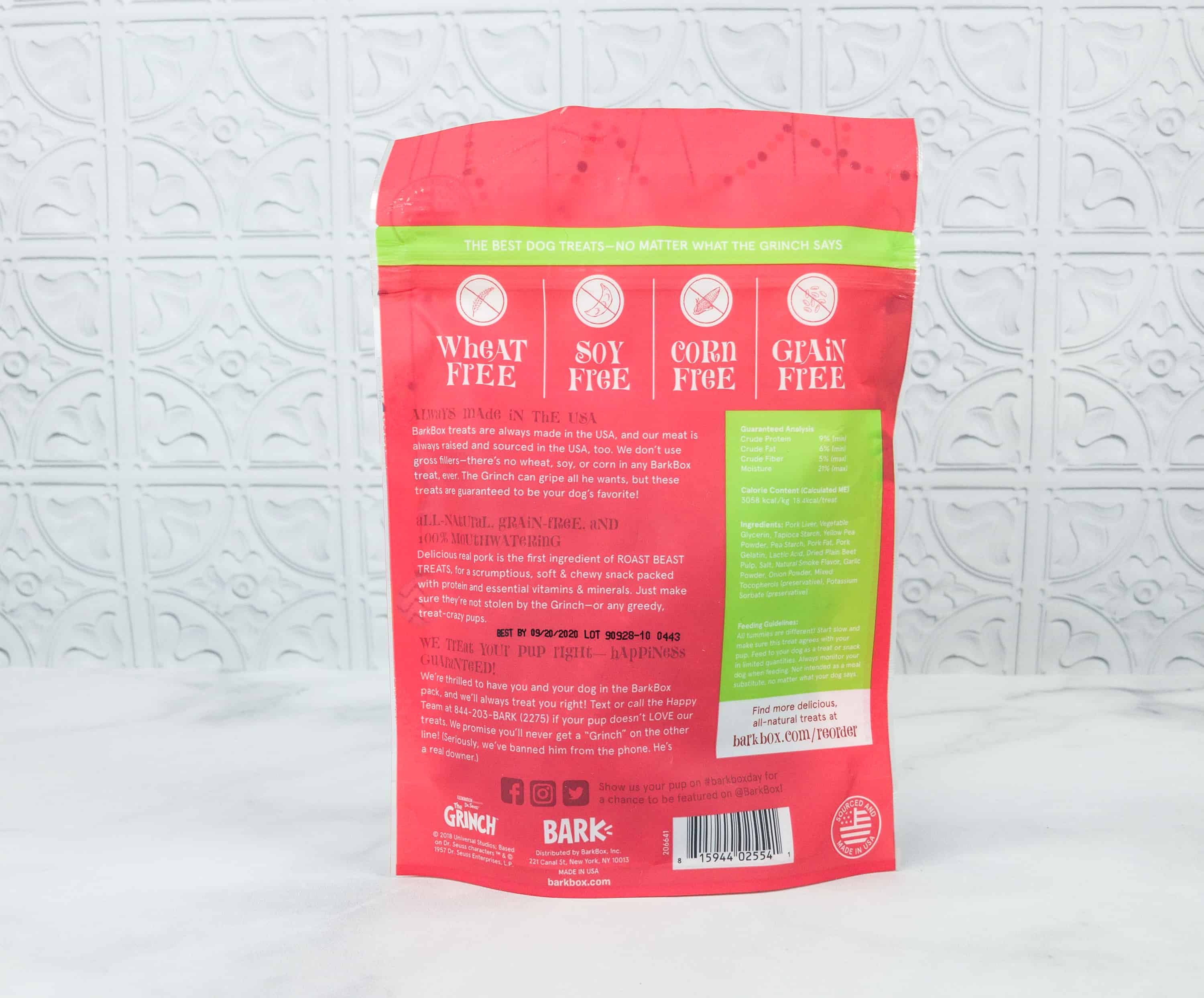 Just like the previous pack, this treat is free from wheat, soy, grain, and corn. It's a healthy treat for dogs no matter their age!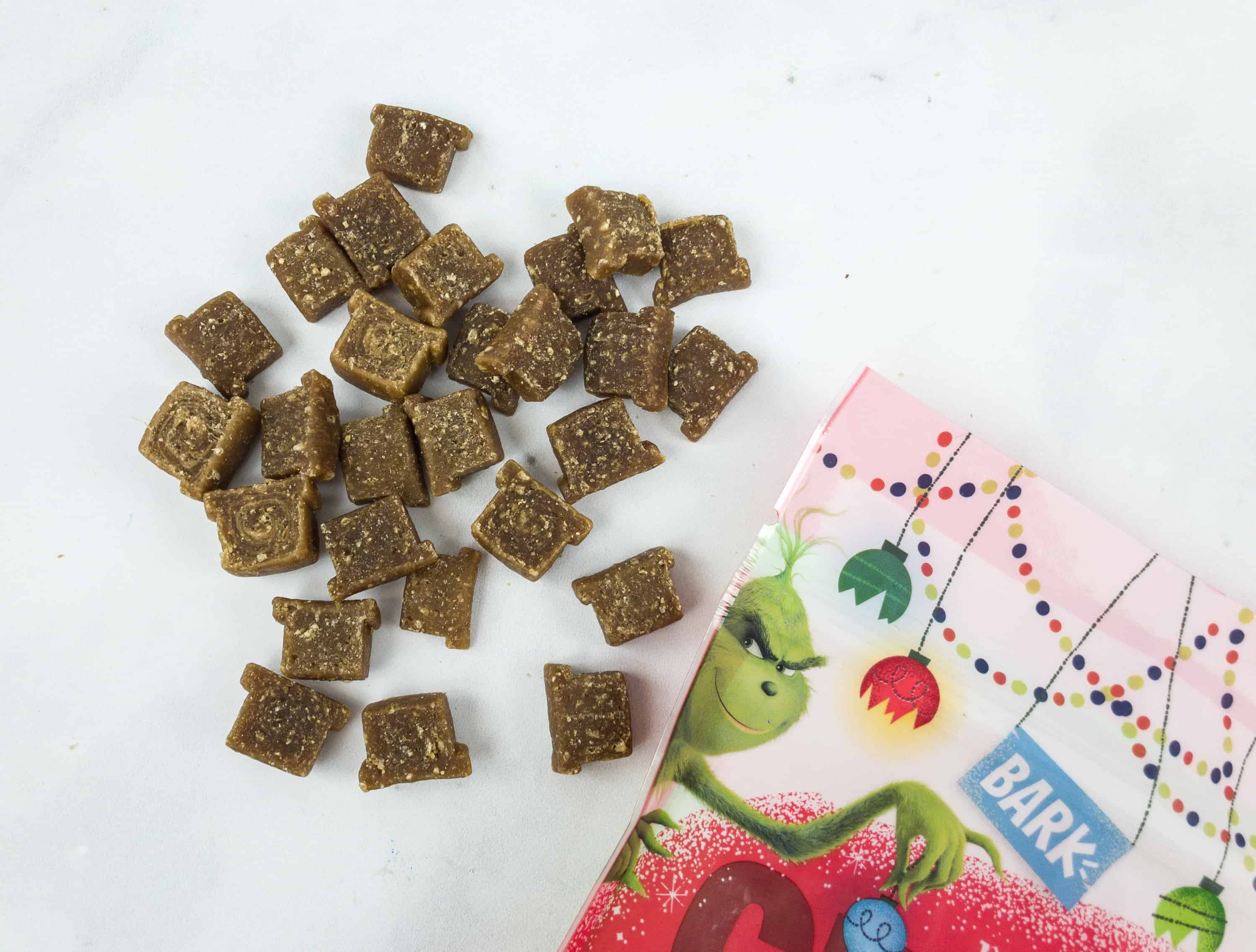 Instead of sticks, the treats are gift shaped (I think!) and easy to chew on for small pups. I can't decide which one is going to be our dogs' favorite because both disappeared quickly!
What a box!!! Super Chewer has lived up to its name of offering toys and treats that will keep dogs busy chewing and gnawing. We got a healthy mixture of natural treats that are good for training while the toys are designed to keep tough-chewing dogs entertained. The House of the Who's is going to keep your pup busy figuring out how to get the treat from the inside which is why it's my favorite – besides the antler!! Barkbox is known for their themes – but this one was just amazing. Pretty sure my heart grew three sizes! ?
You can still get The Grinch box for November – and even better, you can get your first box DOUBLED when you sign up with a 6-month subscription, only while supplies last! Just use this link, no coupon code required! It's an awesome gift to put under the tree!
What do you think of this month's Super Chewer Barkbox?