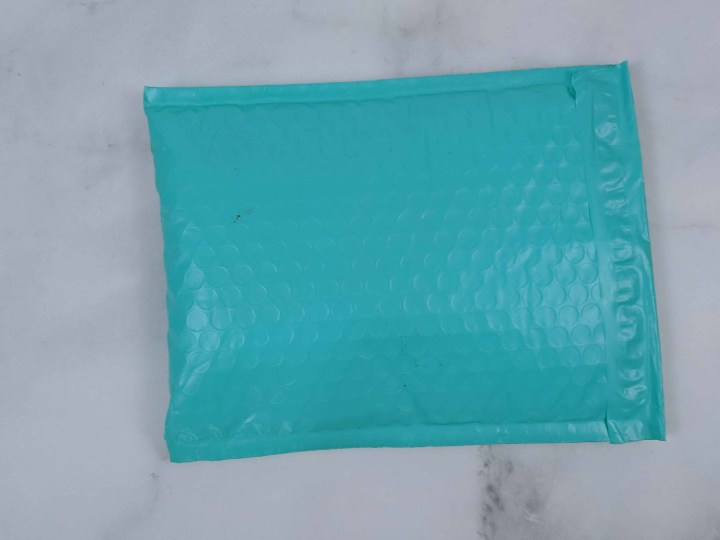 Bargain Bead Box is a monthly bead subscription service. Each month, you'll receive over $40 worth of top-quality jewelry supplies. It can be a mix of loose beads, bead strings, findings, and pendants. You can share your creation on their social media for a chance to win a $25 gift certificate for their sister store Bead Box Bargain. Boxes are $15.95 per month. Shipping is free in the US and $7.50 to Canada. Even if it's technically a subscription box, it comes in a mailer, which is less expensive than a box so they can send more beads! And more beads is more fun!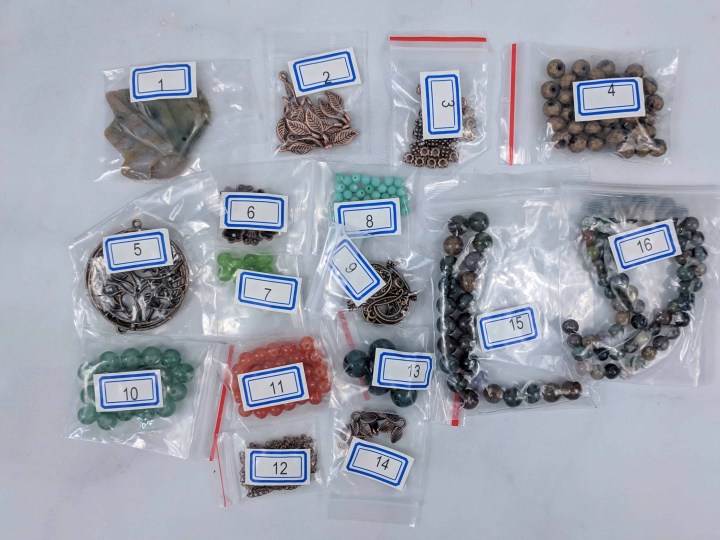 All the beads are packed in well-labeled plastic bags and tucked inside an organza bag. On the reverse of the introduction letter, we get a description of all the items in this month's box!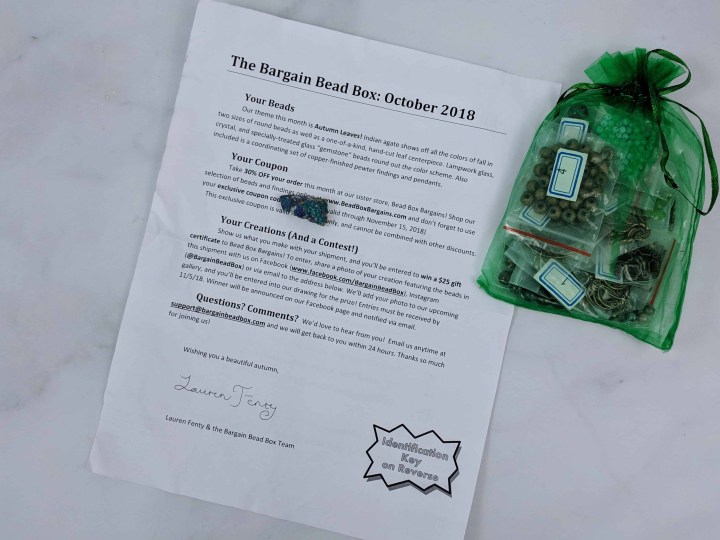 Each month is curated around a different theme and all the beads and findings are coordinated. This month's theme is Autumn Leaves with copper-finished pewter findings and pendants. Oh, and once again we get some lovely gemstones!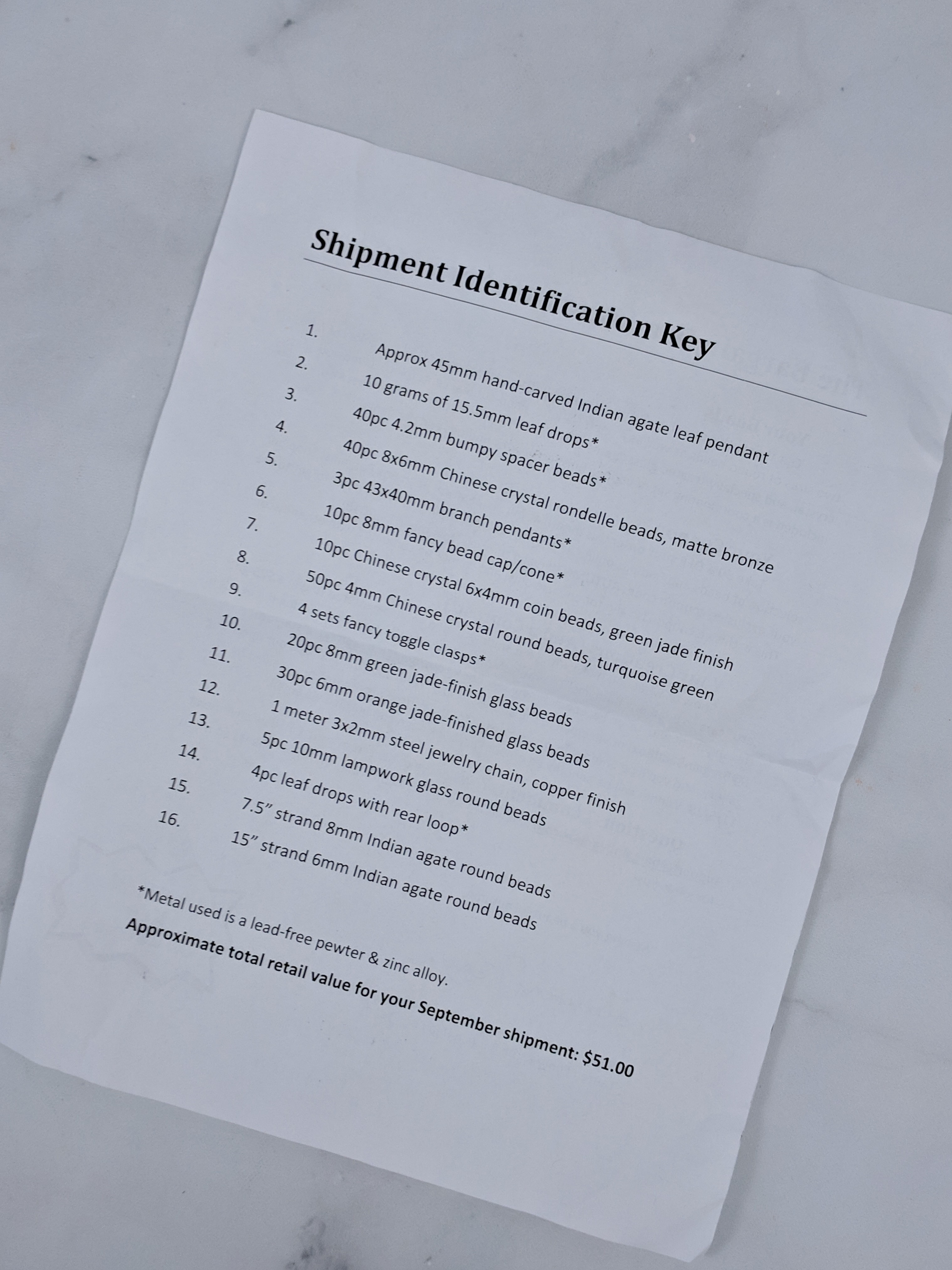 We also have a Shipment Identification Key.
Indian Agate Round Beads, 6 and 8mm. I love that we get gemstones almost every month in this box. I like to mix them for elastic bracelets that are easy to make and easy to wear! This month's gemstones have a nice range of colors, from lavender to deep green and yellow browns.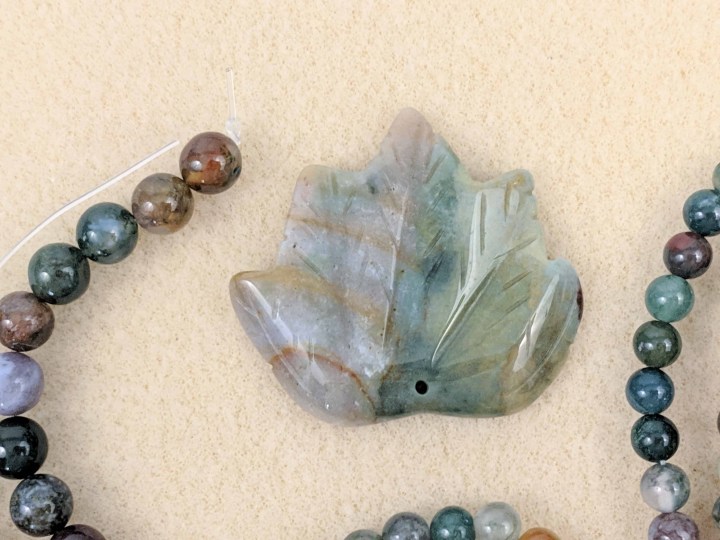 45mm hand-carved Indian Agate Leaf pendant. The back of this pendant is flat and the front has a 3D texture with carved details. I'm showing it with the hole at the bottom because it looks better this way on my mat, but it'll be lovely "upside-down" on a long beaded necklace (with the agate beads and faceted beads) or on a chain.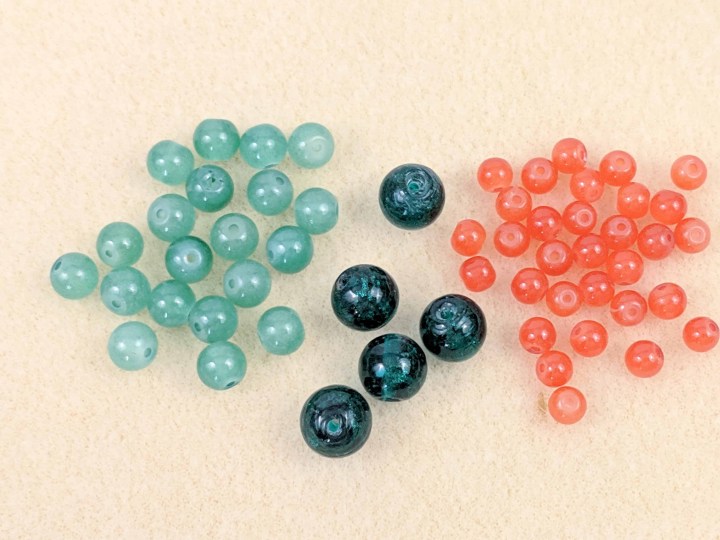 8mm green jade-finish and 6mm orange jade-finish glass beads. I love the color of both, especially the orange among all the greens from this box.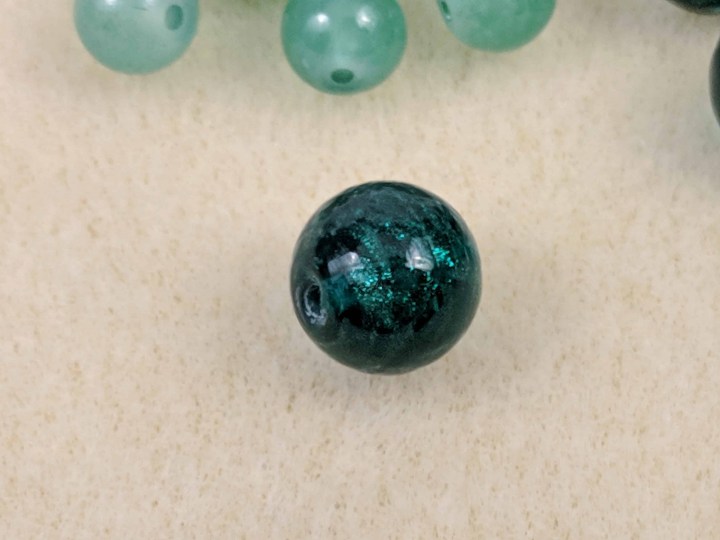 10mm lampwork glass round beads. They are a nice emerald green with metal specks in it. It is otherwise matte and lovely!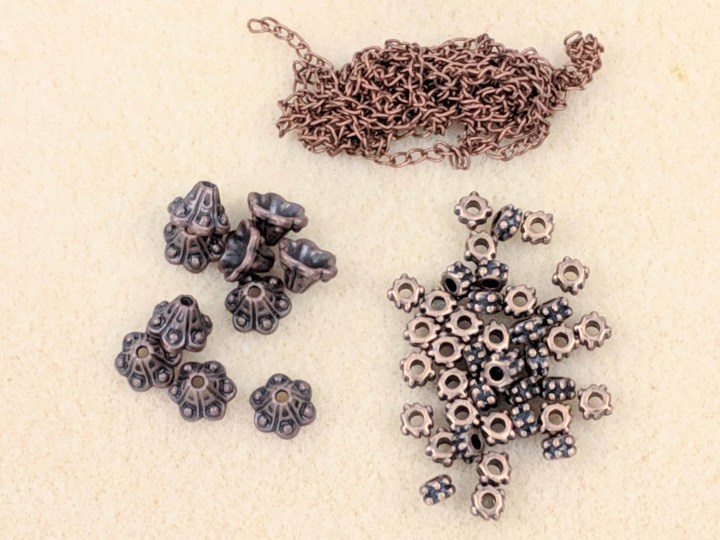 4.2mm bumpy spacer beads. Every month, we received a couple of staples in the metal color of the month, such as spacer beads. They are great to add texture to a beaded design.
8mm fancy bead cap/cone. Bead caps are another staple of this box. I like cones because I like making chain tassels and bead cones can hide the top part quite nicely.
1metre steel jewelry chain. Another staple! Even with a beaded design, chains are always nice to have around to make an extender chain on a bracelet or necklace. I like to mix different type of chains together for a more chunky look.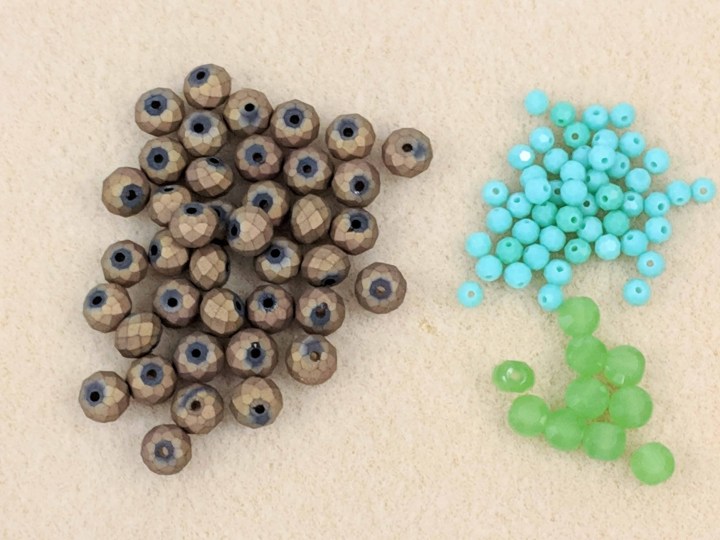 8x6mm Chinese crystal rondelle beads, matte bronze. I like when we receive a glass bead in the monthly metal color, just to help tie together the beads and the findings. Rondelles are perfect for a wrap bracelet as they sit nicely between the two leather/wax cotton cords. I also like to pair them with bead caps to give them a rounder look.
6x4mm Chinese crystal coin beads, green jade finish. They have two flat surfaces and the sides are faceted.
4mm Chinese crystal round beads, turquoise green. Super cute tiny round beads! I like that they are faceted, it gives some sparks to a matte color. I've seen some people using them for wire wrapping the tree pendants that we also received in this box.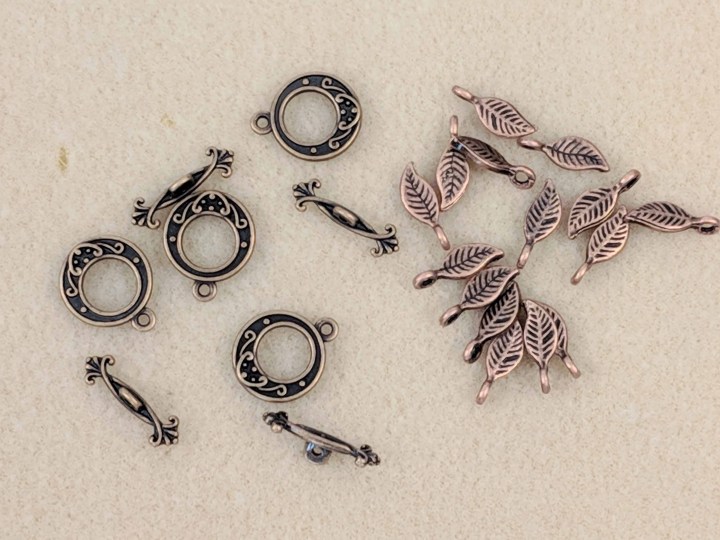 15.5mm leaf drops. Lovely little leaf charms, they are quite lightweight and would be great on a bracelet, anklet or earrings.
Fancy Toggle Clasps. A staple in this box, but they look more bronze than copper. Clasps are a great way to finish up a design, but these ones are so pretty that I could see myself turning the round part into a central component of a necklace and the bar part as a removable tassel to give a necklace two looks!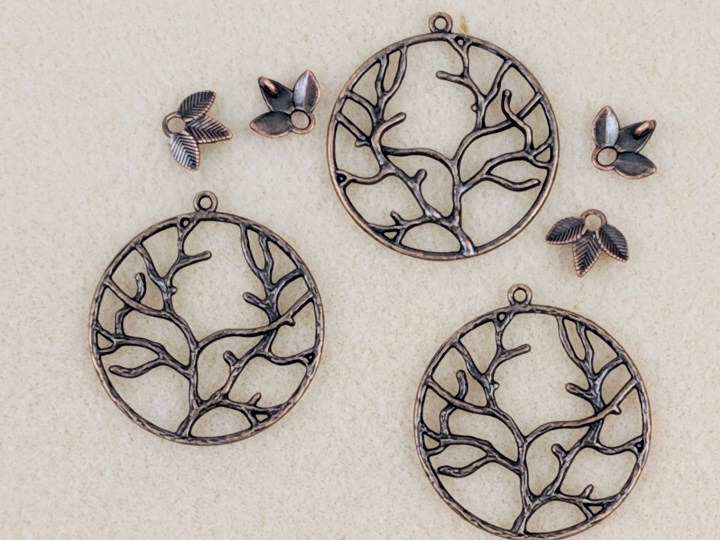 43x40mm branch pendants. I've seen people wire wrappings small beads through the branches and it looks amazing!
Leaf Drops with rear loops. They are really cute, but they are special! They look like normal charms with a top loop with three leaves. But then on the underside, there's that extra loop. You could hang dangles, chains, more leaf charms from them, or use them as a link for a necklace.
At this time of the year, I love making simple earrings to go with all my different sweaters! I also love clusters so I went for leaves and green glass beads earrings.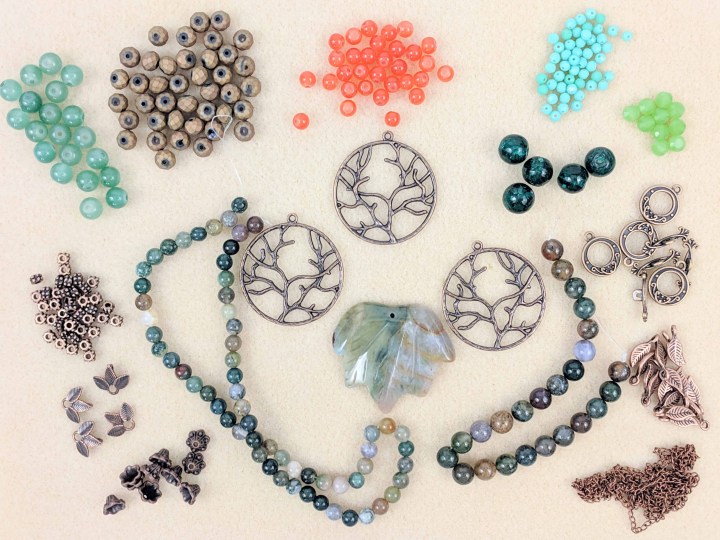 Once again, I really enjoyed the variety of beads, and the colors in this month's box. I liked the mix of greens and copper/bronze. I like that even when we don't like a certain type of beads, there is enough variety to make it worth it. And knowing that my stash of findings in the monthly color will be refilled is a nice bonus!
What did you think of this month's Bargain Bead Box?