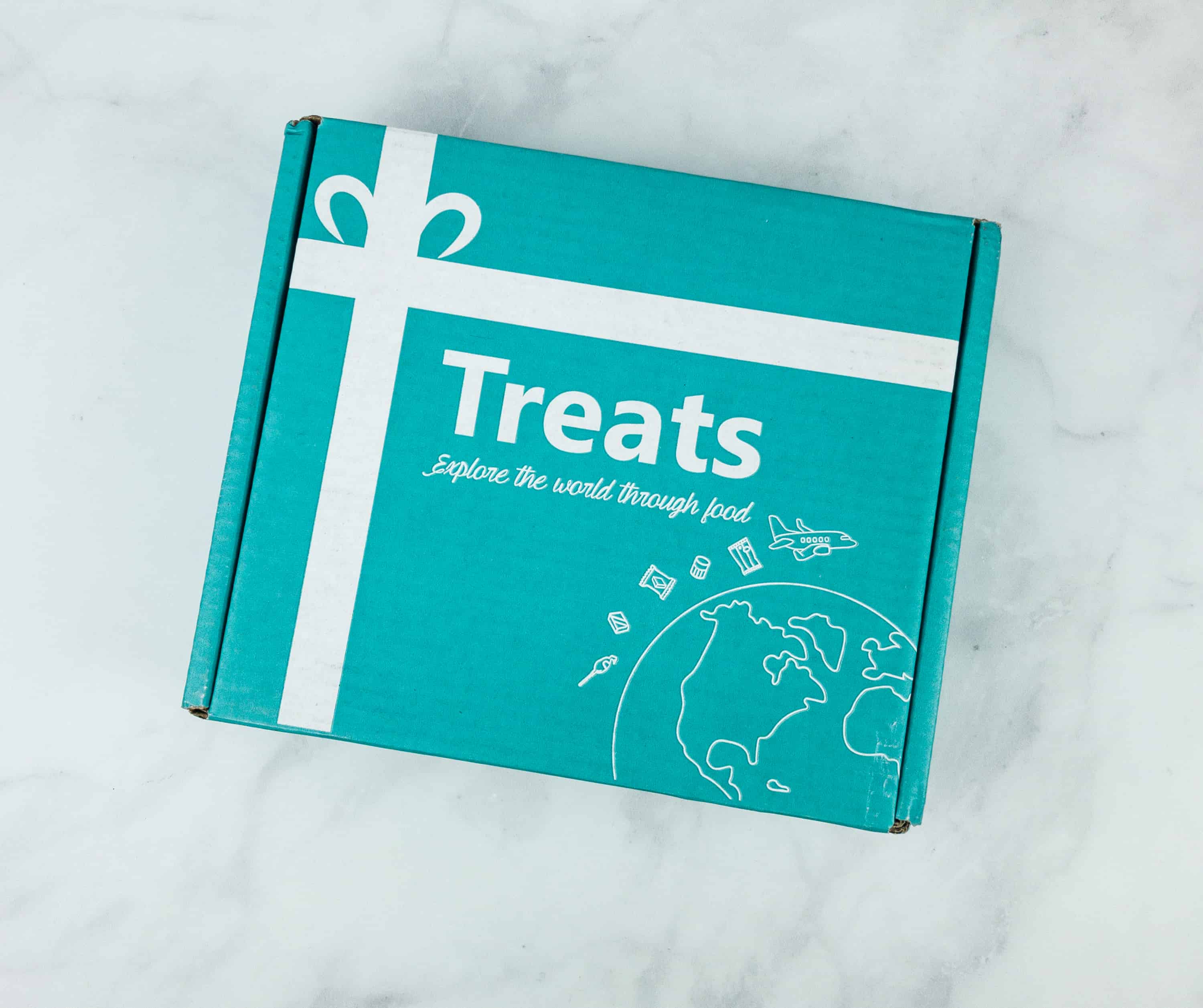 Treats is a monthly snack subscription full of snacks from around the world. You can expect to receive eclectic and interesting snacks that you've never sampled before (unless, of course, you've lived in the featured country recently)! The Standard Pack offers 4-5 snacks, while the Premium box offers 8-10. It's quick to enroll, and you'll get your first box within a few days of when you subscribe.
This is a review of the premium pack – $25.95 per month.
This month's Treats destination is Brazil! The packaging is simple and elegant, and you are always greeted with the flag of the featured country when you open the box. Tissue paper keeps the contents a secret until you are ready to dive in.
DEAL: You can save 15% on your first month with coupon code HELLO15.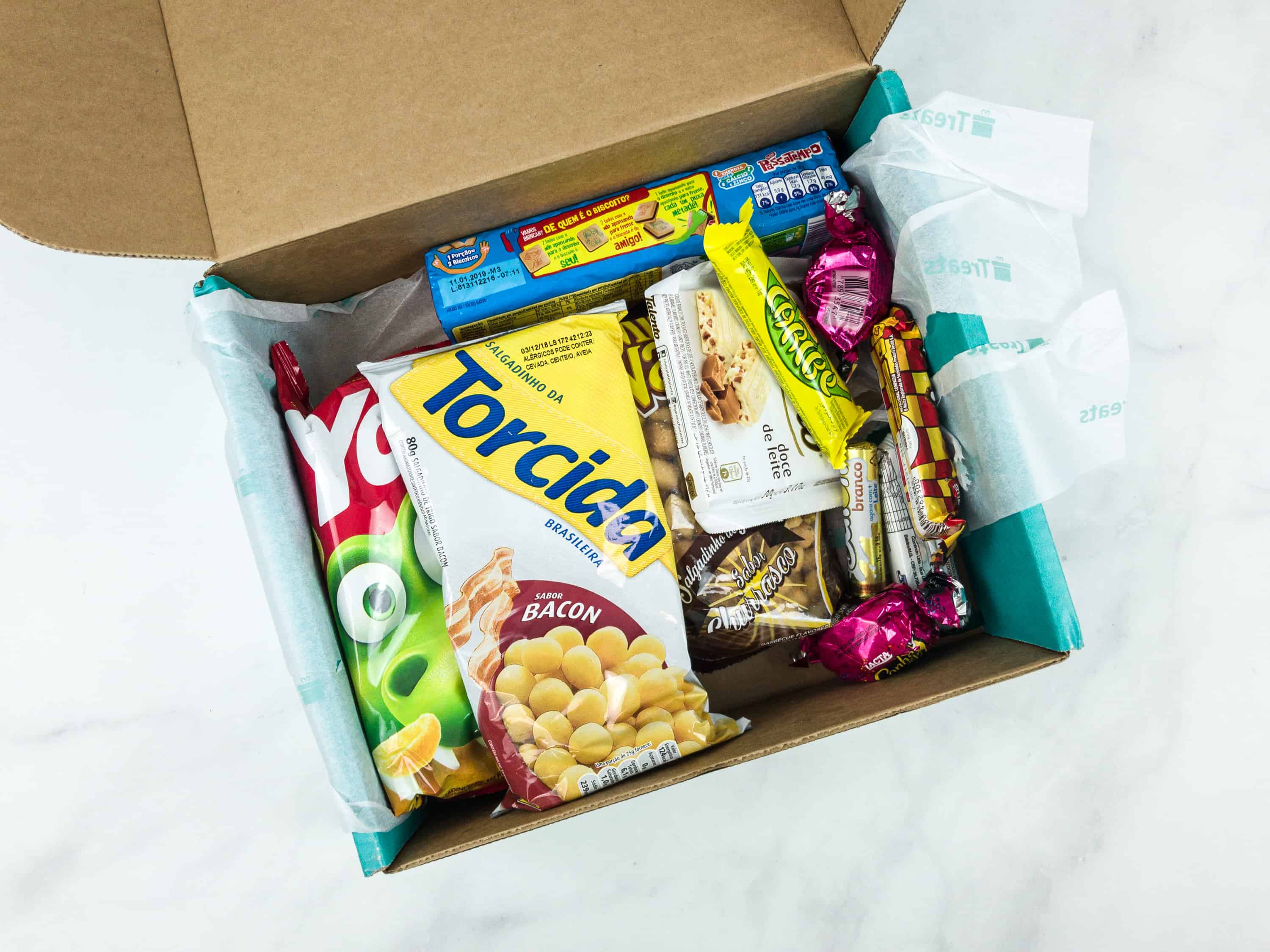 The box is filled to the top with goodies! Everything comes in its original packaging, often solely in the language of the featured country – sometimes it's just as much fun to see the unique package styling as it is to try the snacks! The box is always so full, that they don't need to use any extra packing material.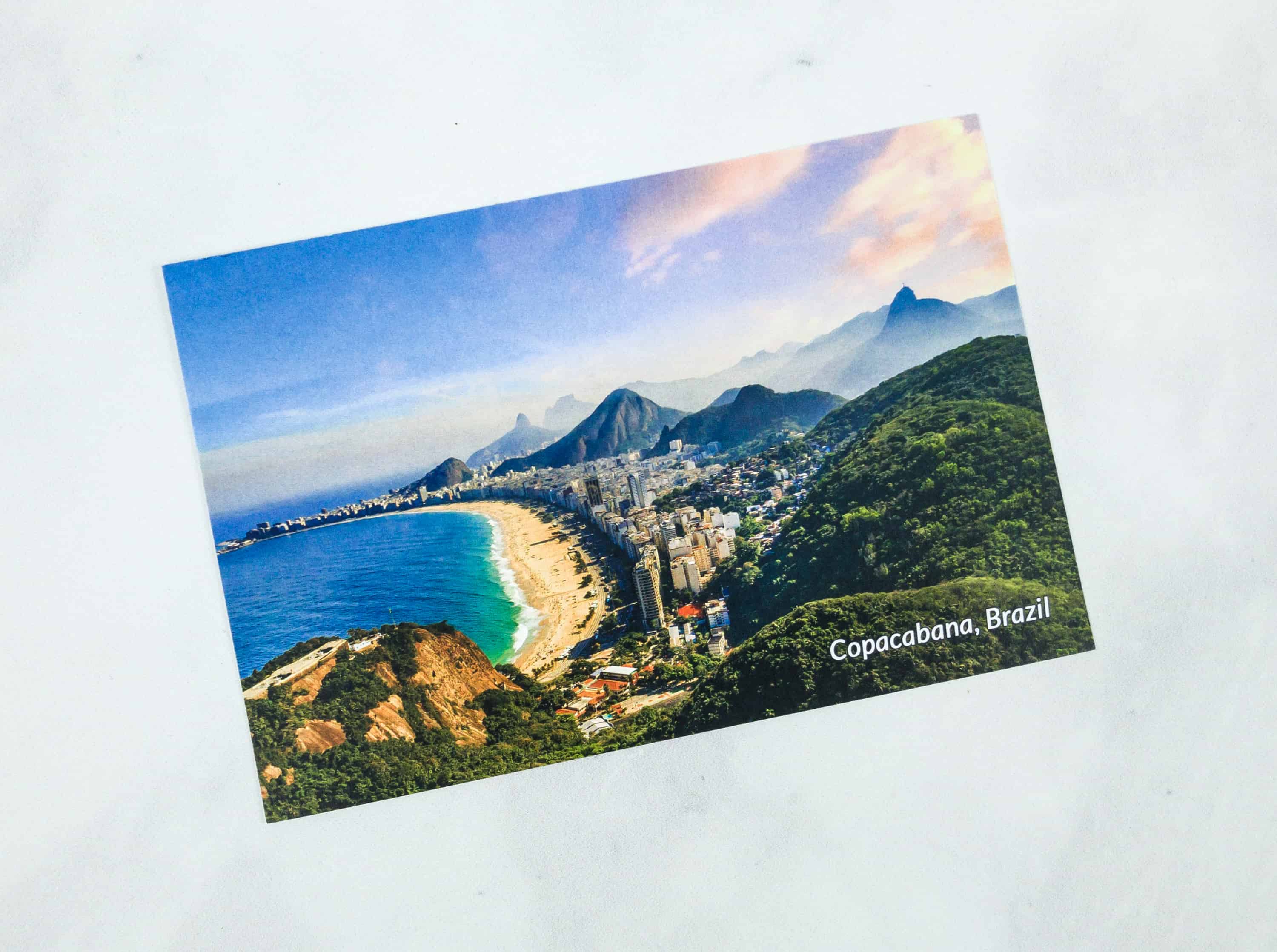 The box always includes a beautiful postcard welcoming us to this month's Treats destination. Usually, it is a shot of one of the most iconic landmarks of the country. This month, it's Copacabana, Brazil!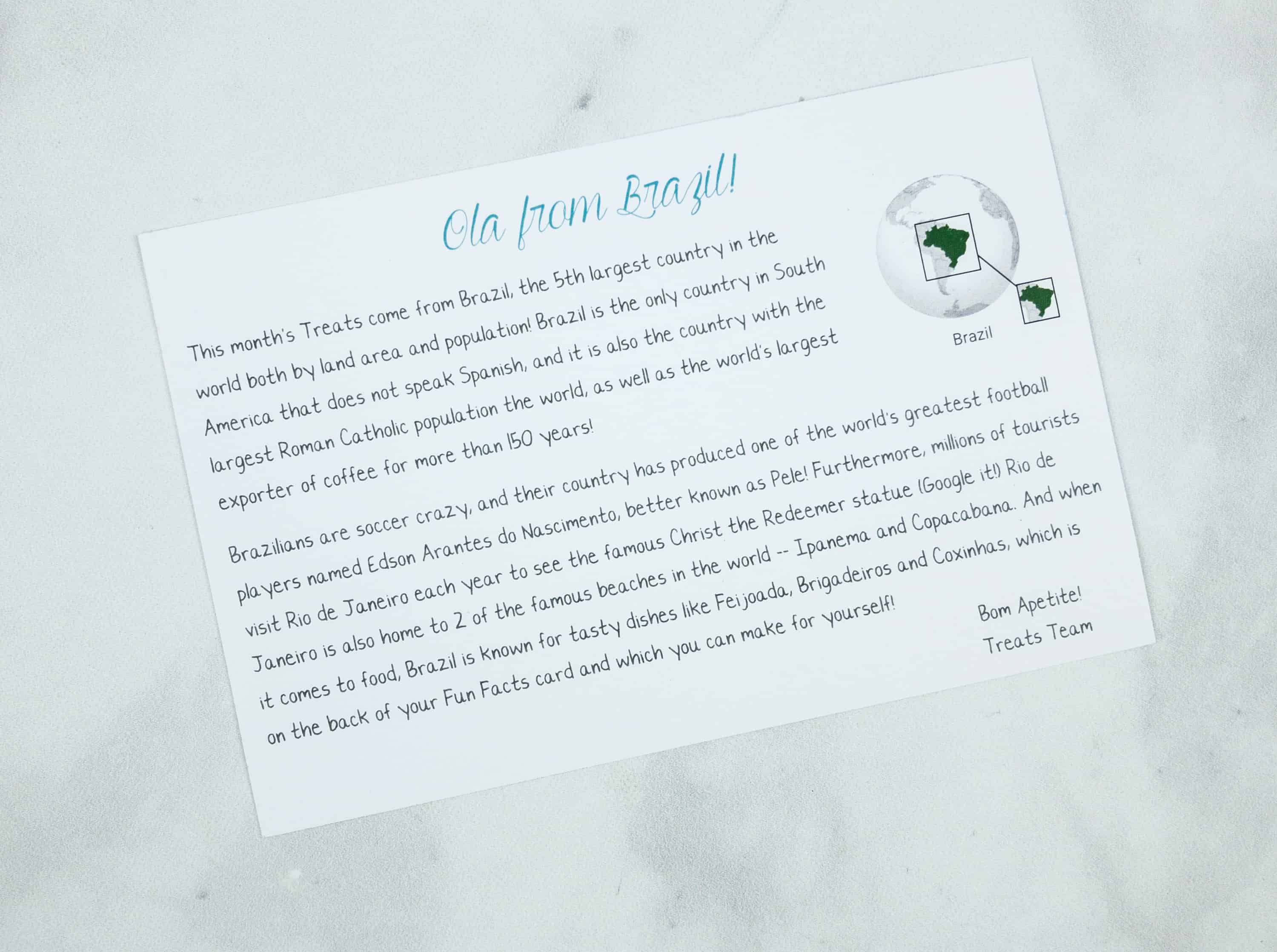 The introduction card tells a little about the snack culture and points out some of the flavors or snack styles that are popular or unique to the destination.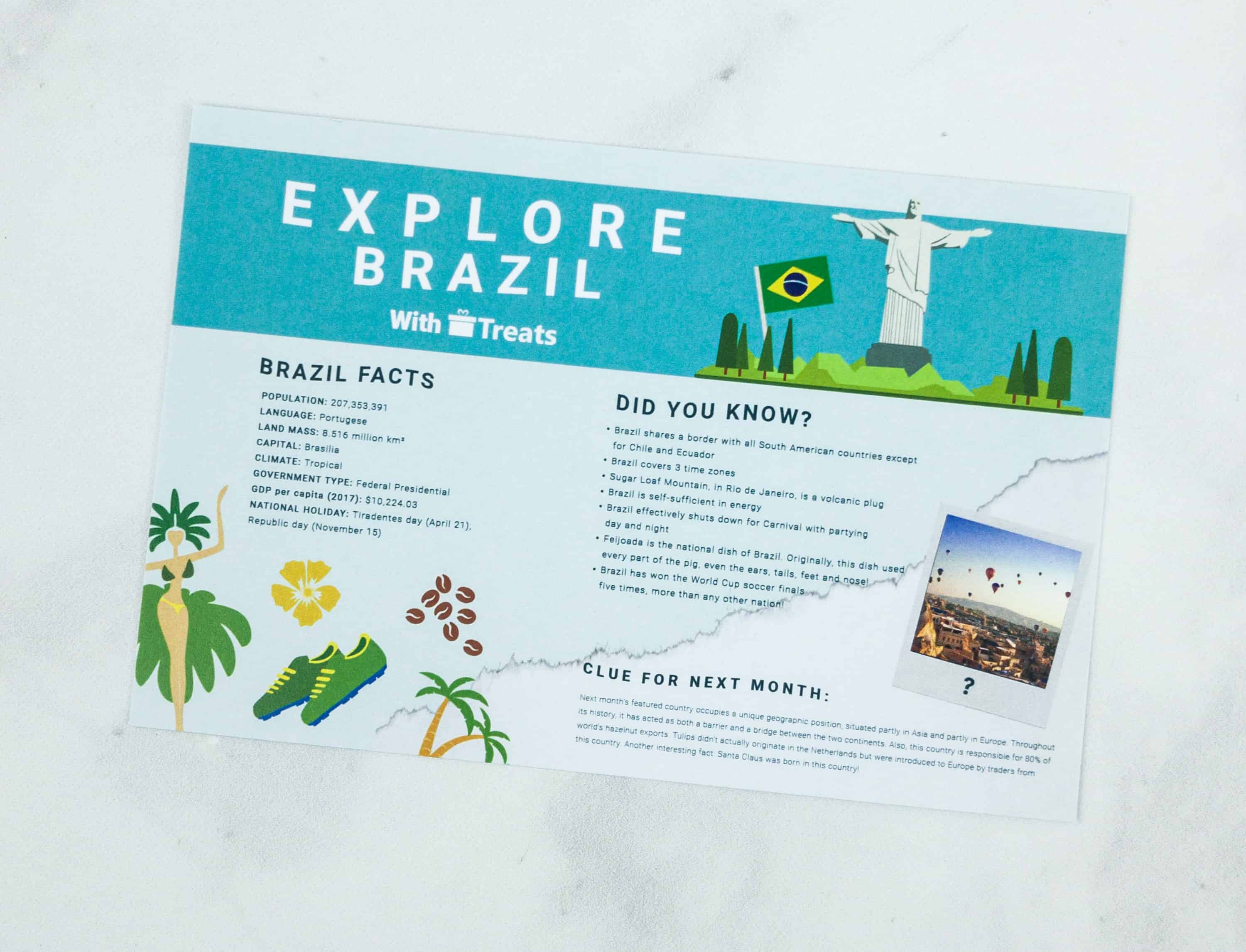 Another card features facts about Brazil, plus a clue for next month's box.
This month's featured recipe is Coxinhas Brazilian Chicken Croquettes.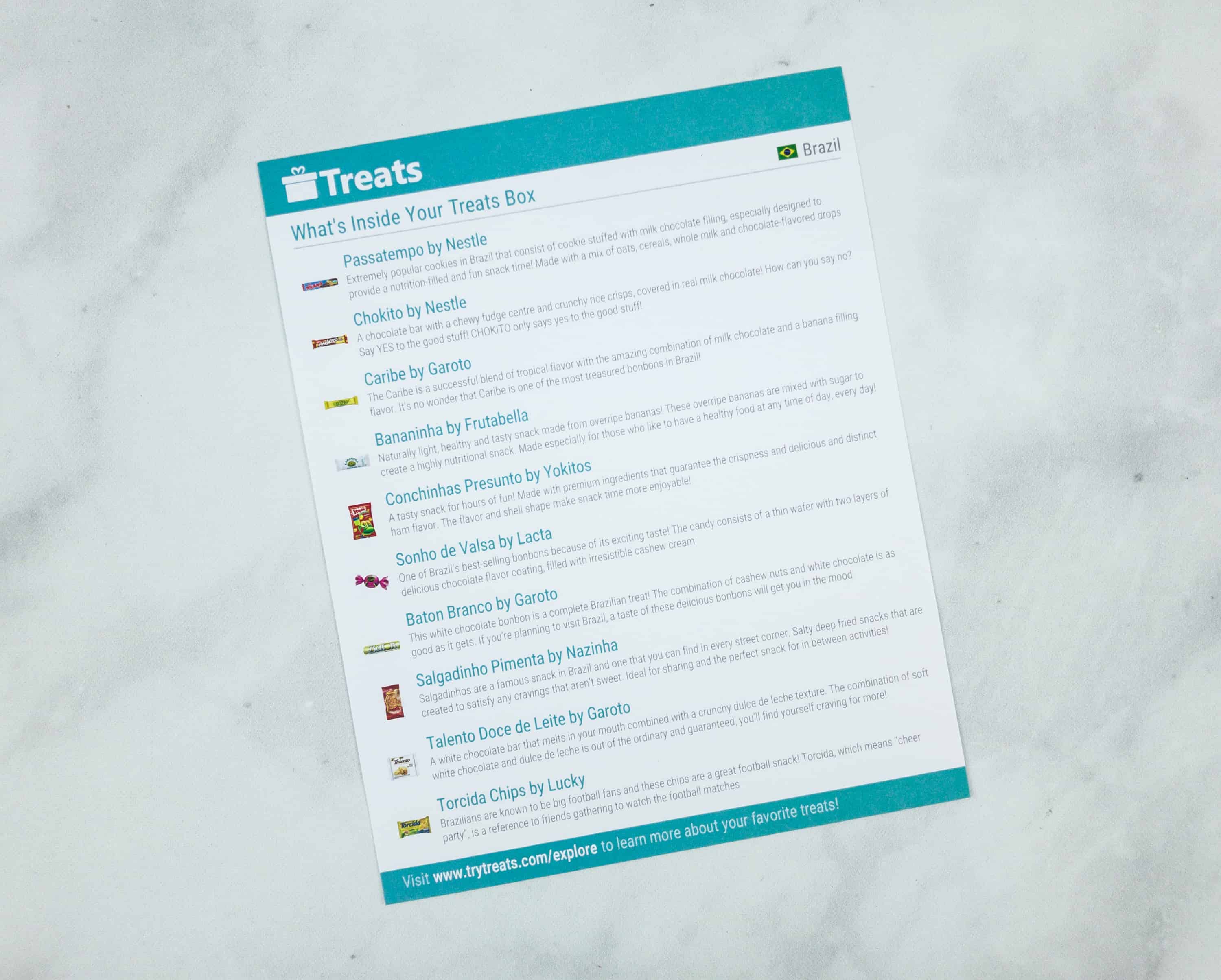 There is also a handy info card that gives the name and maker of each treat, as well as a short description of each. The blurbs give you a sense of what to expect, but you'll have to check each treat's label (and possibly hire a translator) for more detailed info on ingredients and nutrition. Even with the card, the only way to truly appreciate everything is to taste it!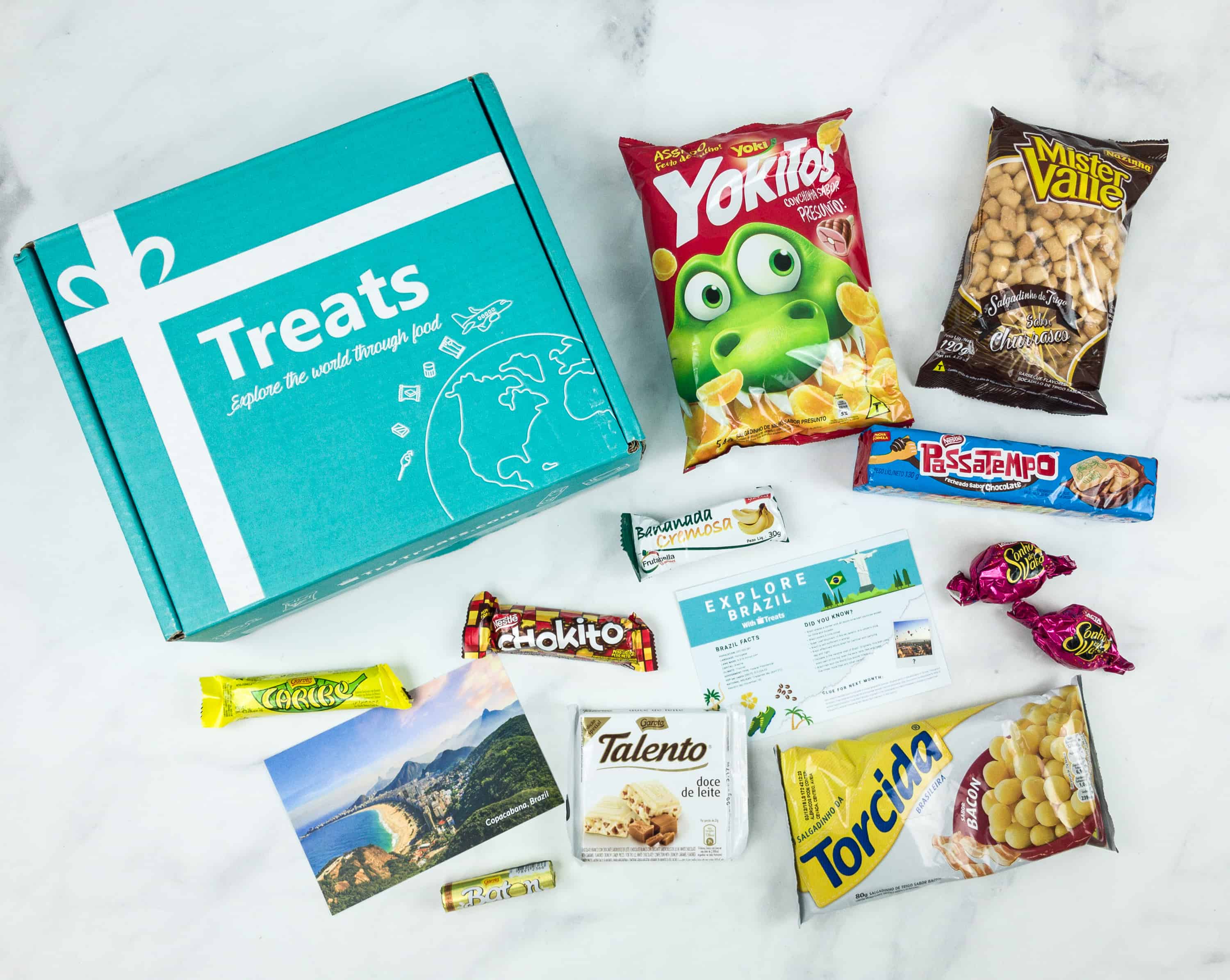 Everything in the box. The composition of each Treats collection depends on the local snacking culture, but there is usually a good mix of sweet and savory and individual and family packs.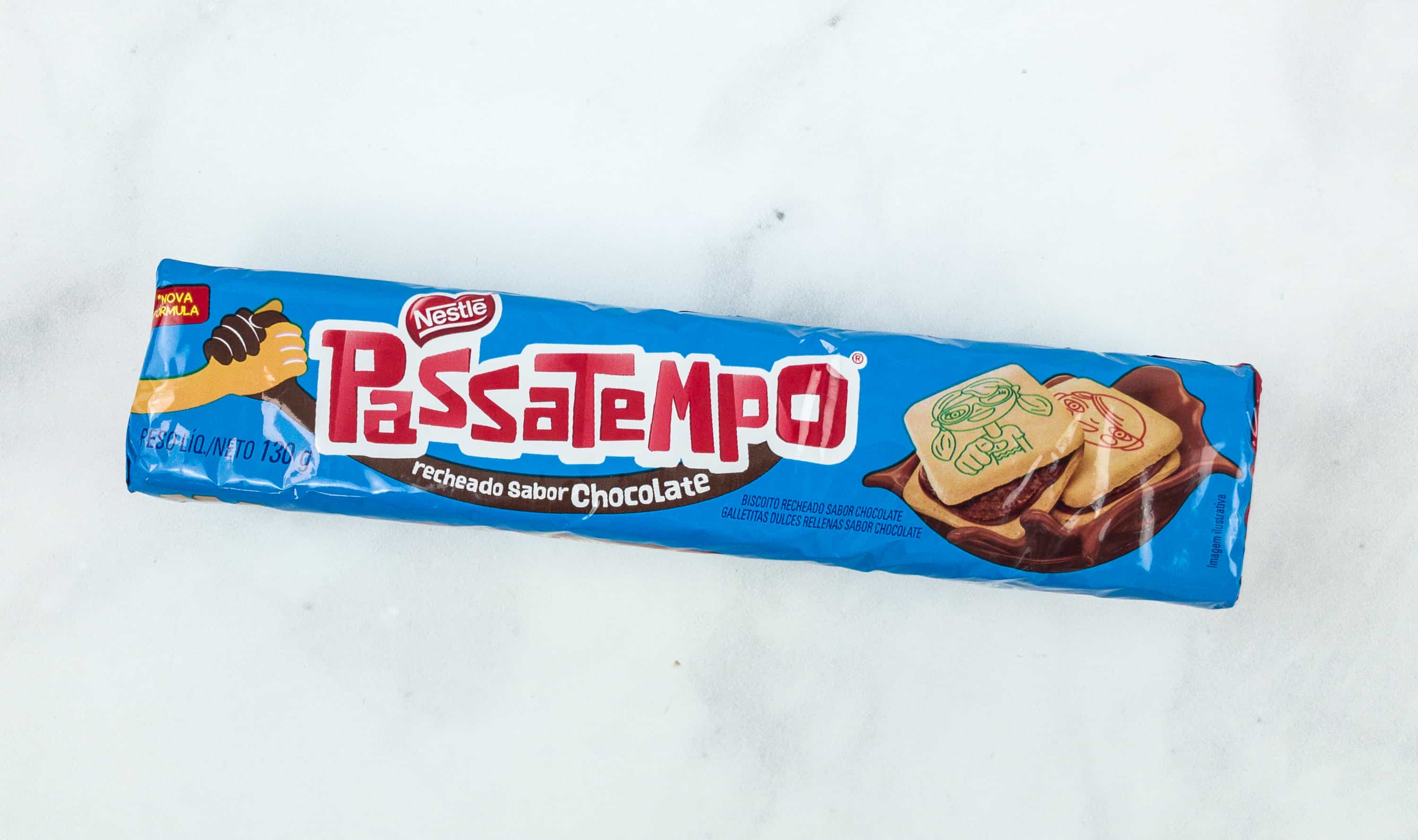 Nestle Passatempo ($6.49) The box started with a high note by giving us one of Brazil's most popular cookie sandwich. The rich and creamy chocolate filling is sandwiched between cookies made from oats, cereals, whole milk, and chocolate-flavored drops. Yum!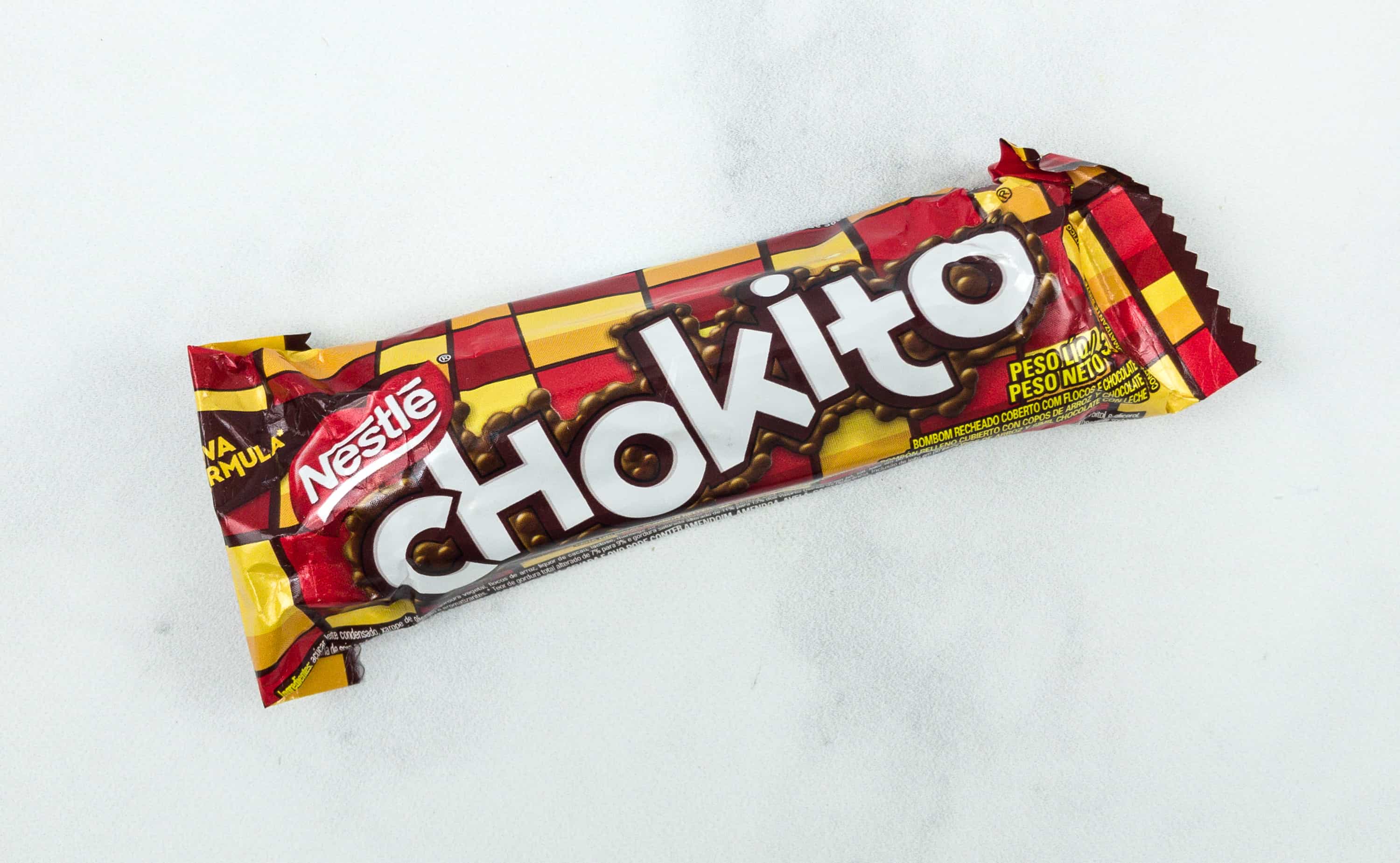 Nestle Chokito ($1.99) Another chocolate treat from this box is this luscious bar made with crunchy rice crispies, with a chewy fudge center, covered in rich milk chocolate. This tastes like heaven!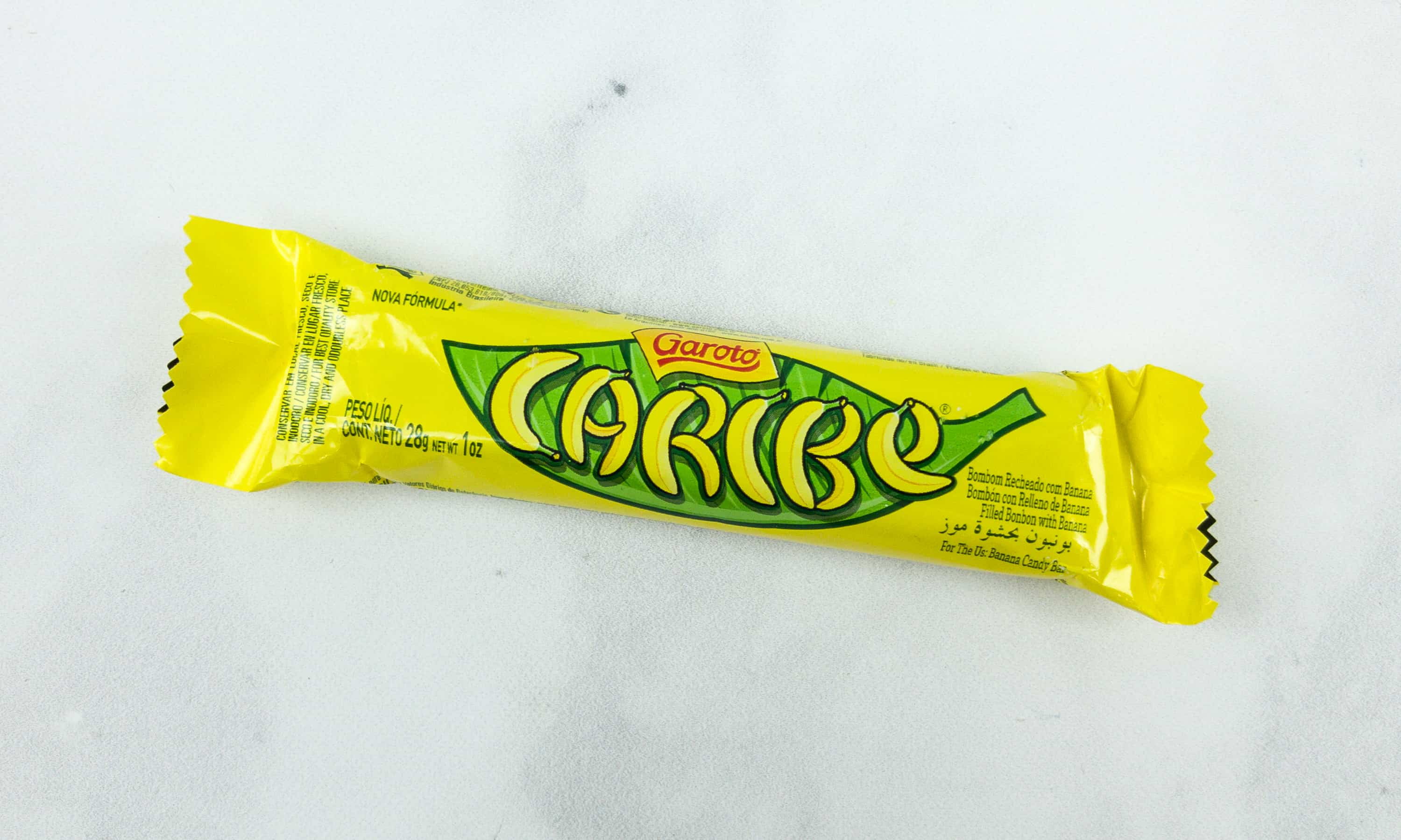 Garoto Caribe This milk chocolate bonbon has a yummy banana filling. Just the right amount of sweetness and fruitiness in one delicious treat!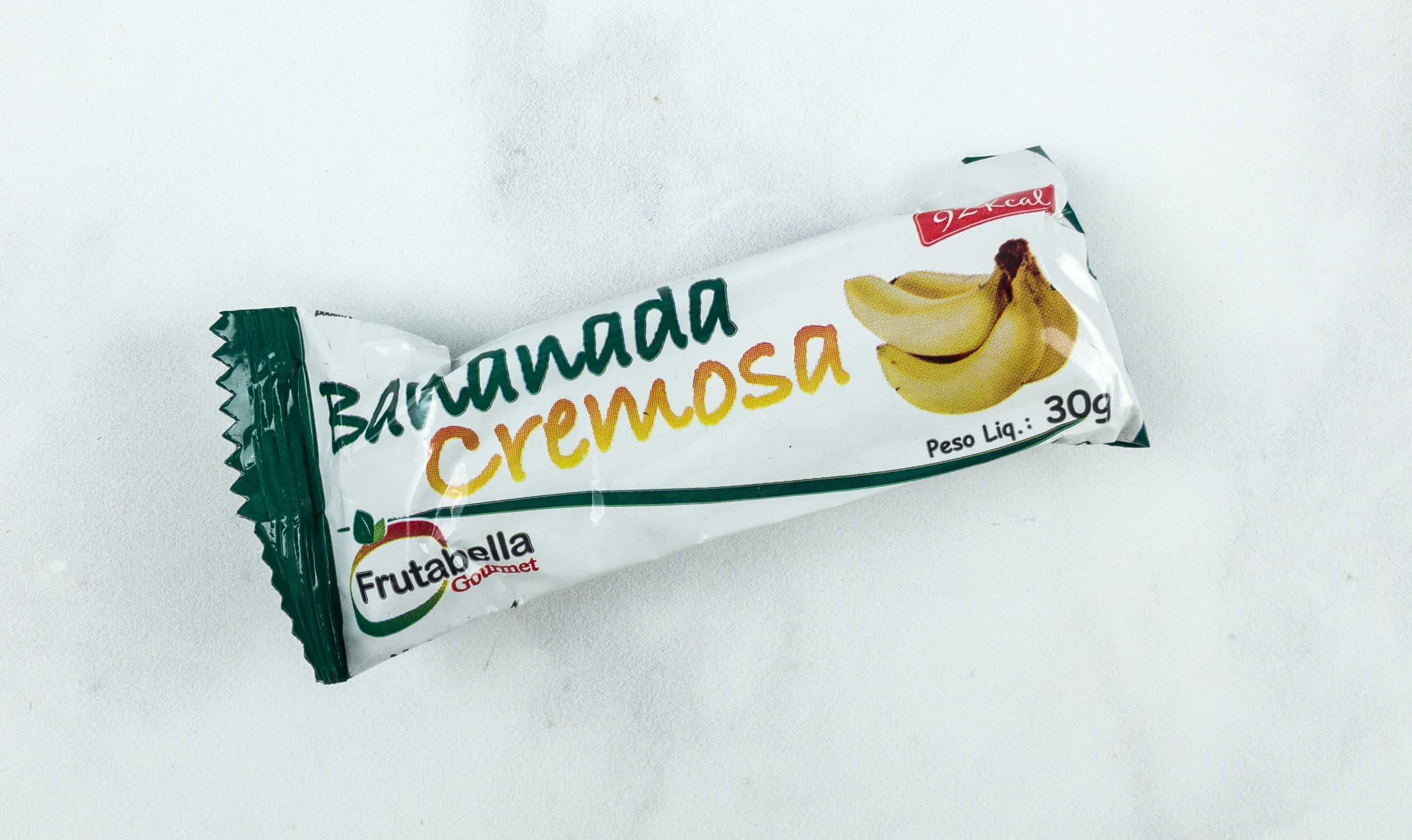 Frutabella Bananinha ($0.97) It's another banana-based snack. This is made with overripe bananas, and it's light, healthy, and super tasty. It's also good to know that overripe bananas don't just go to waste.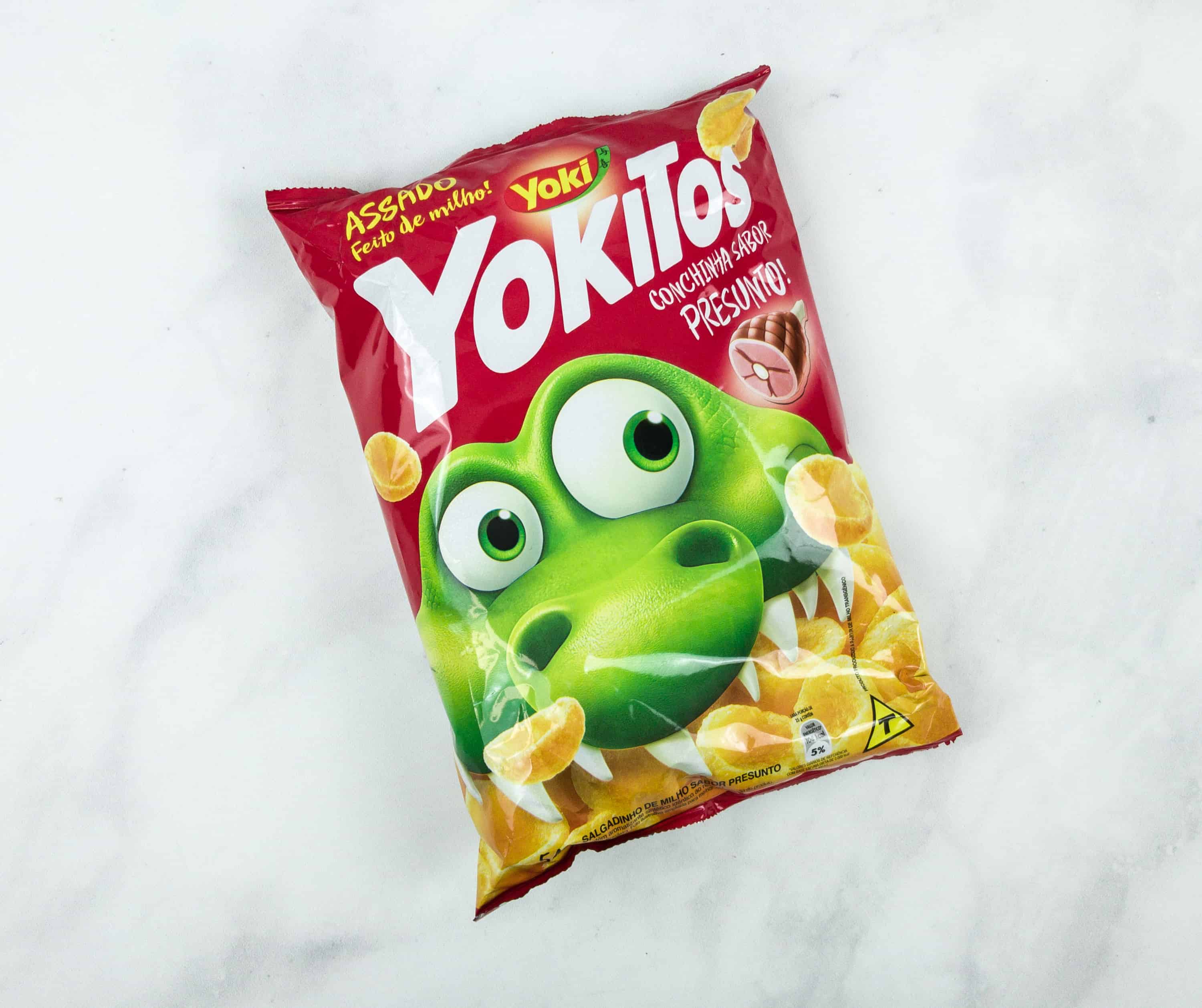 Yokitos Conchinhas Presunto ($6.25) The first savory snack from this bunch, Yokitos Conchinhas Presunto, has taken a fun shape. They're molded into these crunchy corn chip shells smothered with ham flavor goodness. I was looking for something salty inside the box and this is the one! HAMazing, right?
Lacta Sonho de Valsa ($0.89 per oz.) Another bonbon is from Lacta. The Sonho de Valsa is made into thin wafer balls with 2 layers of chocolate-flavored coating, with a creamy cashew cream center. We love it! These went fast!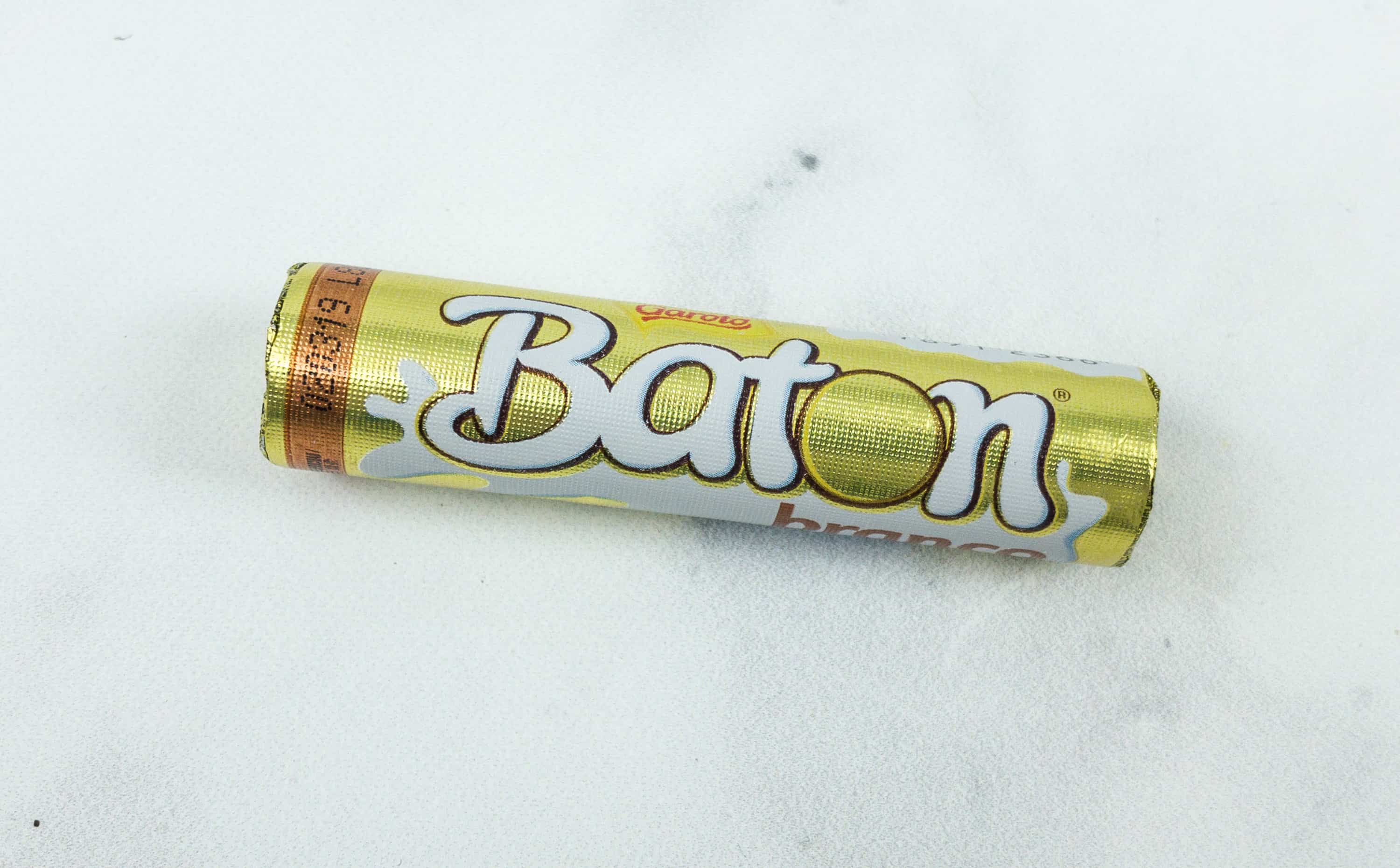 Garoto Baton Branco ($0.76) Garoto also had these white chocolate bonbons with cashew nuts, with just the right nut-choco combination for white choco fans out there! (That's my husband!)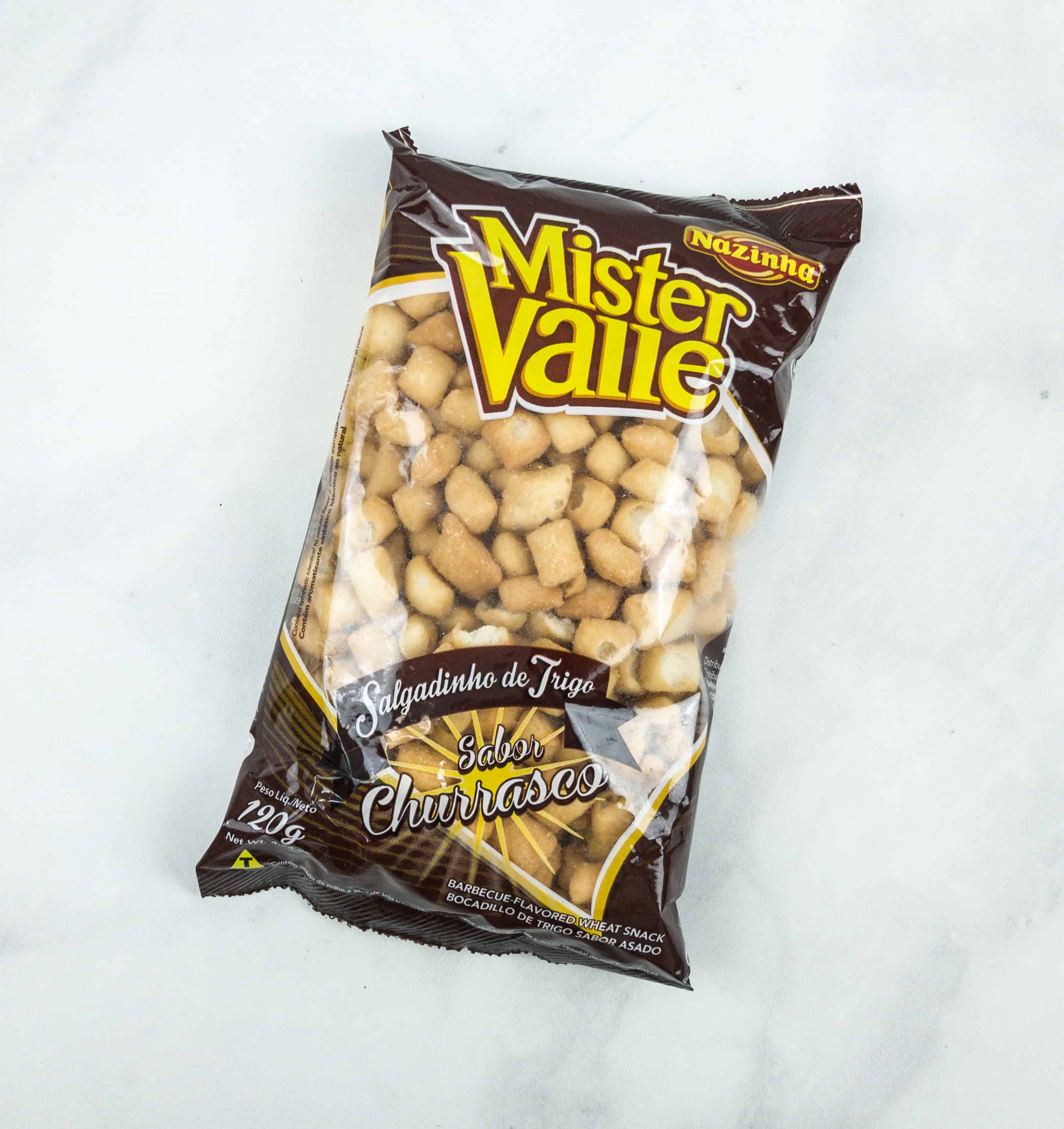 Nazinha Salgadinho Pimenta ($2.83) This is definitely a snack worthy to share! The salty, deep-fried snacks are really famous in Brazil, and you can actually find it in every corner of the streets! The wheat snacks are rolled and flavored with savory barbecue spices… Enough with the talking, I'm actually salivating!
Garoto Talento Doce de Leite ($3.99) White chocolate lovers will be really happy with this one! It's a white choco bar coupled with crunchy dulce de leche texture. The soft white chocolate is just perfect with the lovely dulce de leche, it even melts in your mouth. Tom took most of this one – he's just in love with the flavor.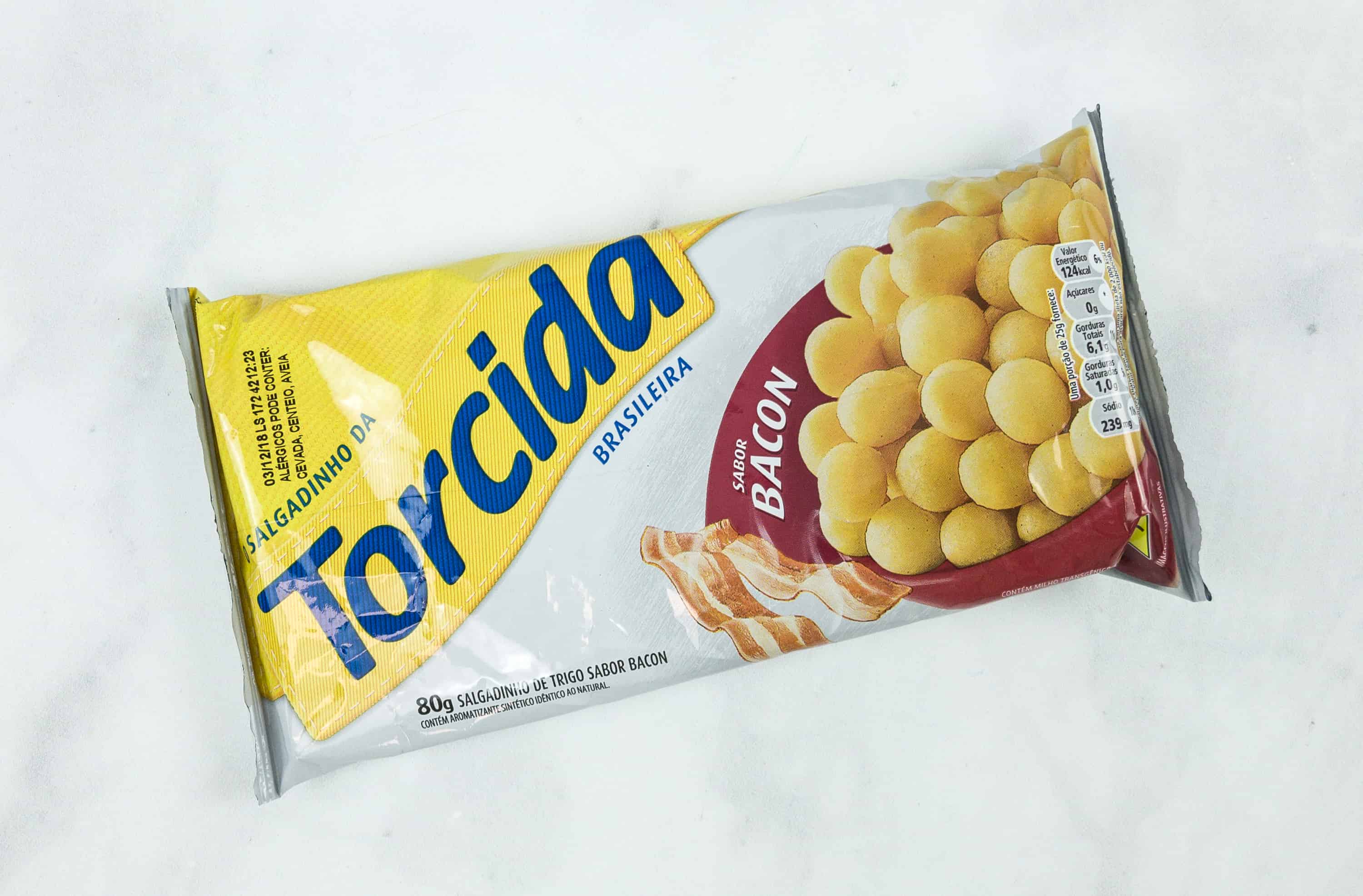 Lucky Torcida Chips. Torcida means "cheer party", and these bite-sized snacks are great during football games, which most Brazilians love!  The bacon-flavored balls are perfect while cheering along with beers and friends, or when you just want to lie around your couch on a lazy day!
Treats Box is the perfect box for adventurous snackers, and Brazil just nailed the snack department! They got the perfect sweet and savory snacks all gathered in one box, and we just can't help ourselves! We opened and devoured the contents of each pack. I definitely love the bonbons, and they really satisfied my sweet cravings. When I tried to look for something savory, they got it as well! I don't think the snacks will be stocked in our pantry, I don't think they'll all last long! We love snacks and this box is definitely a treat for everyone!
Have you tried Treats yet? What did you think of the box?