Every month, Swimfluence ships a box containing 6 to 8  pieces of gear and products curated for competitive swimmers. The subscription aims to foster healthy habits while introducing swimmers to helpful products they never knew existed.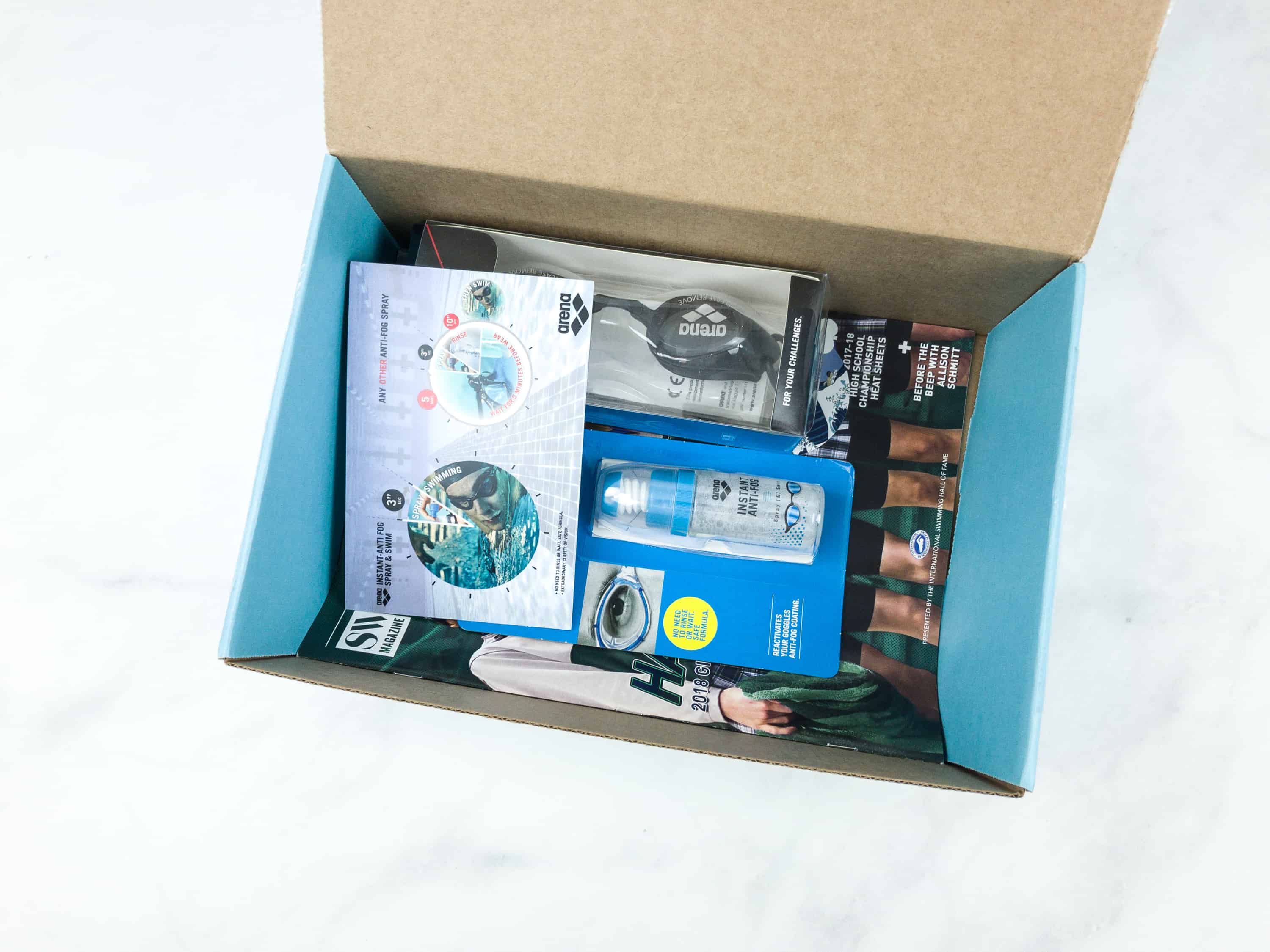 There's no extra packaging. Just the items and a magazine at the bottom.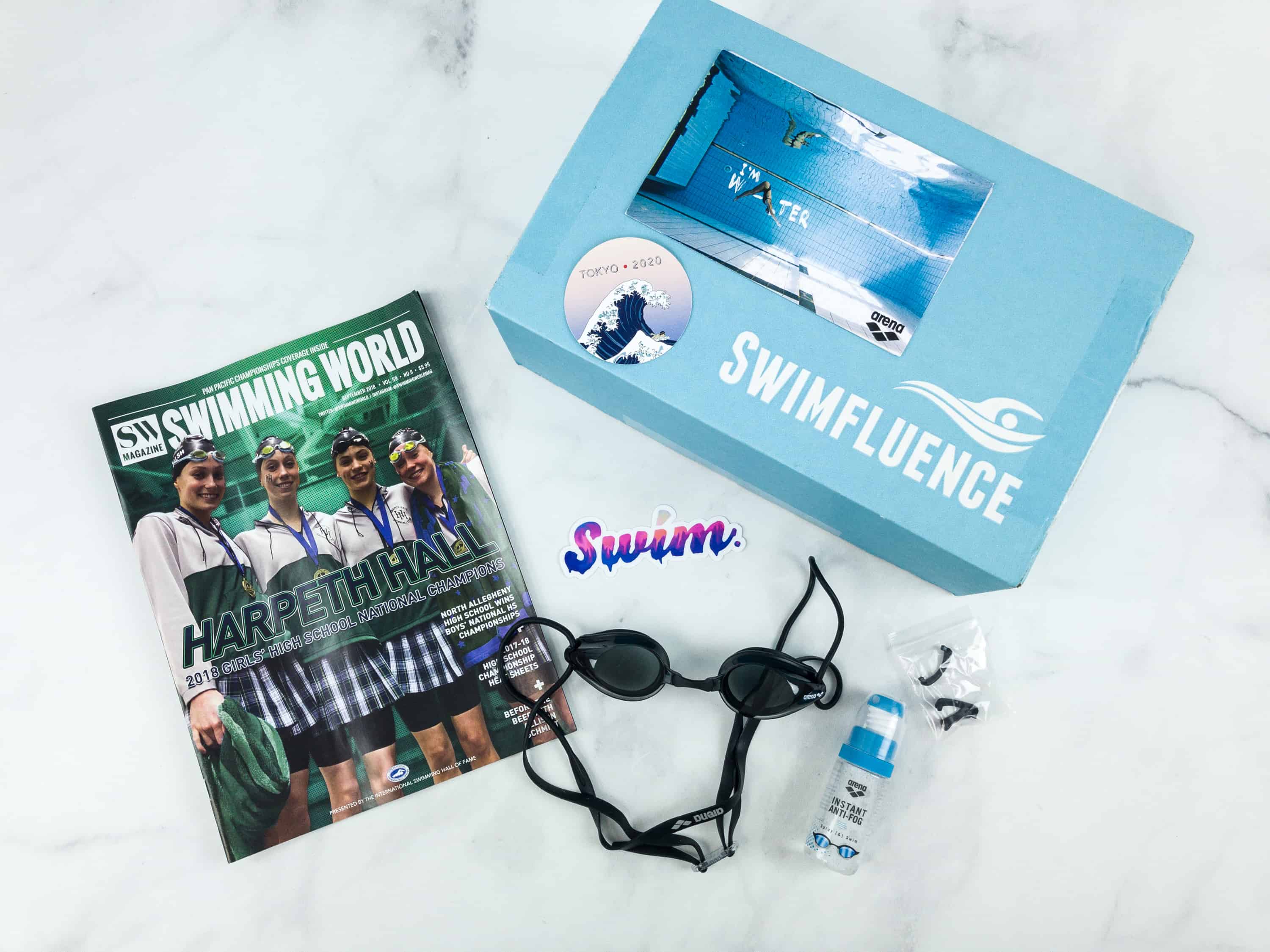 Everything in this month's box!
Stickers. Every month, Swimfluence includes either a sticker, poster or both that is related to swimming. This month we received two exclusive stickers. One is all about Tokyo 2020 Summer Olympics and the other is a text sticker with cute colors.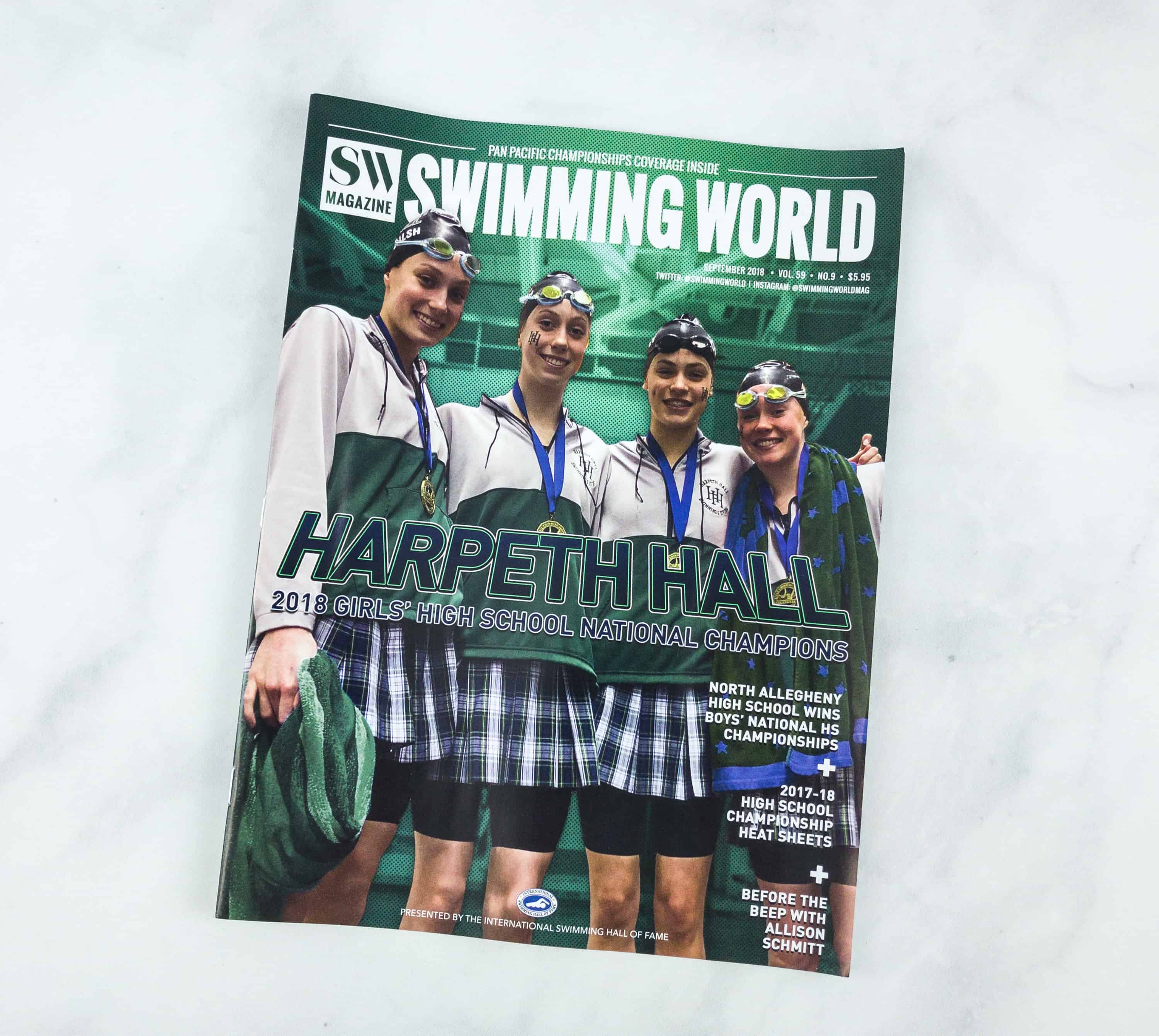 Swimming World Magazine September 2018 Edition ($5.95) Every Swimfluence box also includes a monthly edition of Swimming World Magazine, made specifically for swimming enthusiasts!
Featured on the cover of the magazine are the girls from Harpeth Hall 2018 Girls' High School National Champions who broke the overall national high school record set in 2015.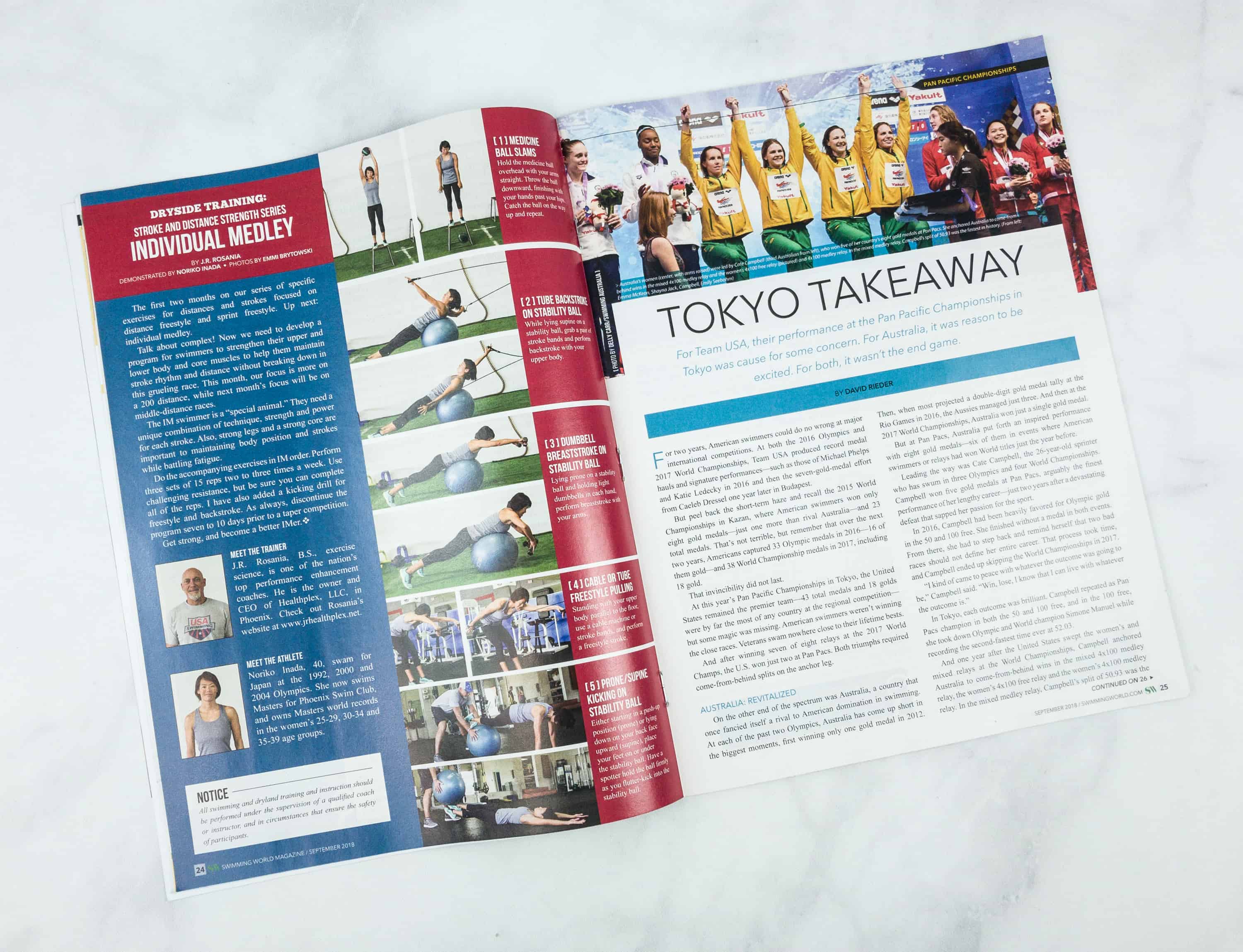 You can strengthen your inner core and muscles, and improve your swimming strokes without getting wet using this Dryside training made by coach J.R. Rosania and Noriko Inada, a Japan Olympics participant.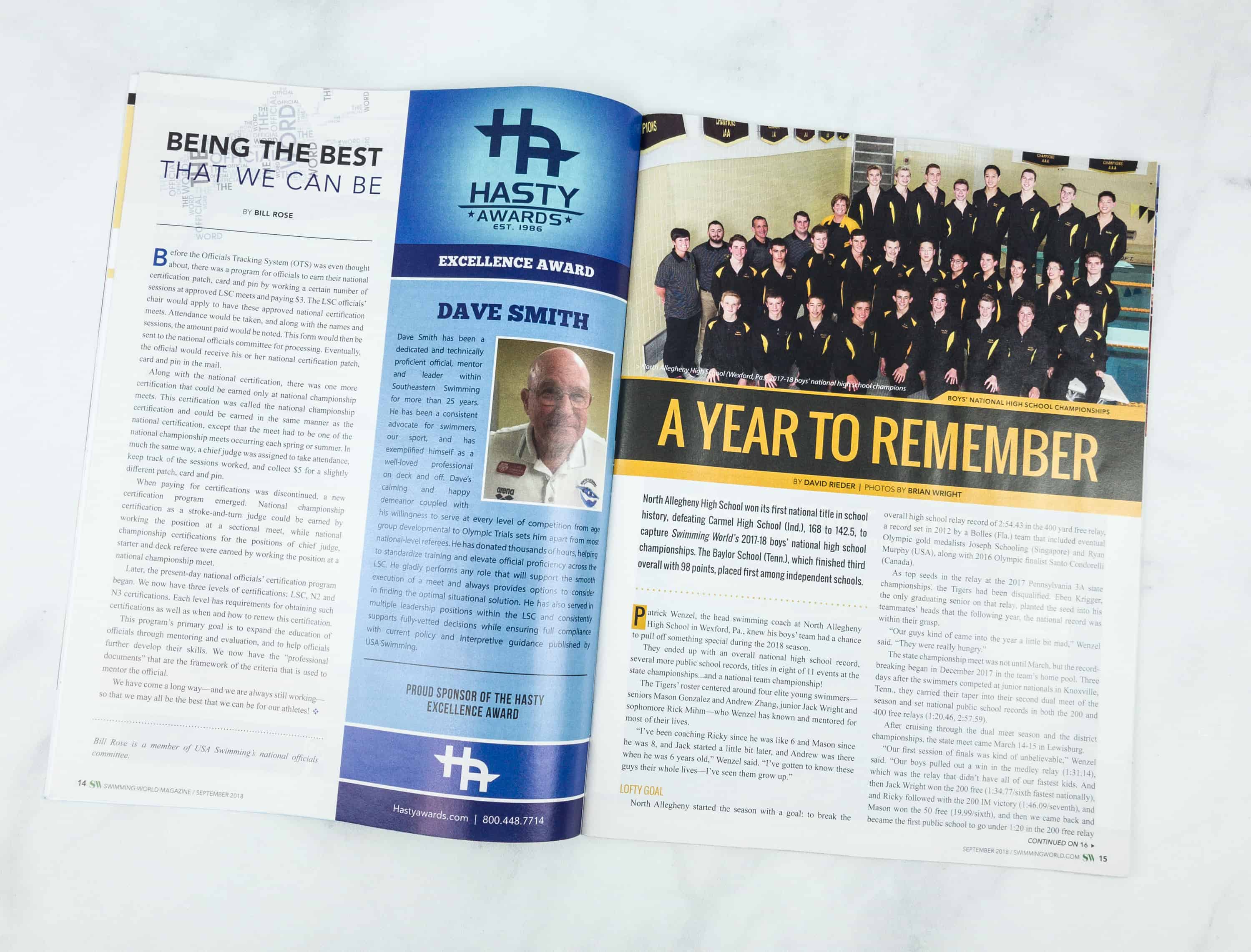 There's a section in the magazine that features different swimming events and awards. Check out this month's Hasty Excellence Awardee Dave Smith and this year's Boy's National High School Champions!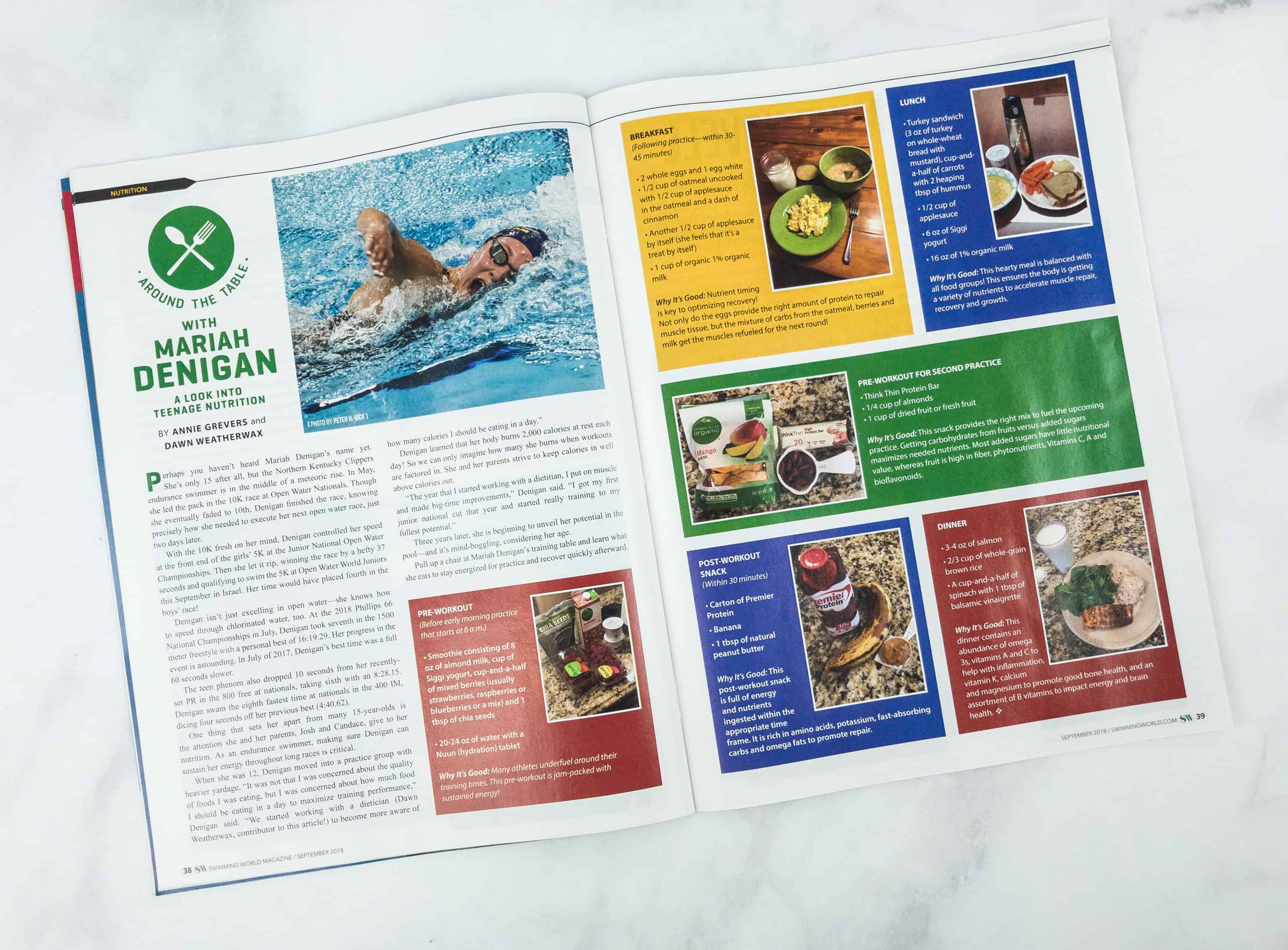 A great athlete is not only built with talent, training, and extreme dedication, they also have a strict diet to follow. Here's a variety of suggested meals you can try-on for your breakfast, lunch, and dinner. They even included a pre- and post-workout snack idea!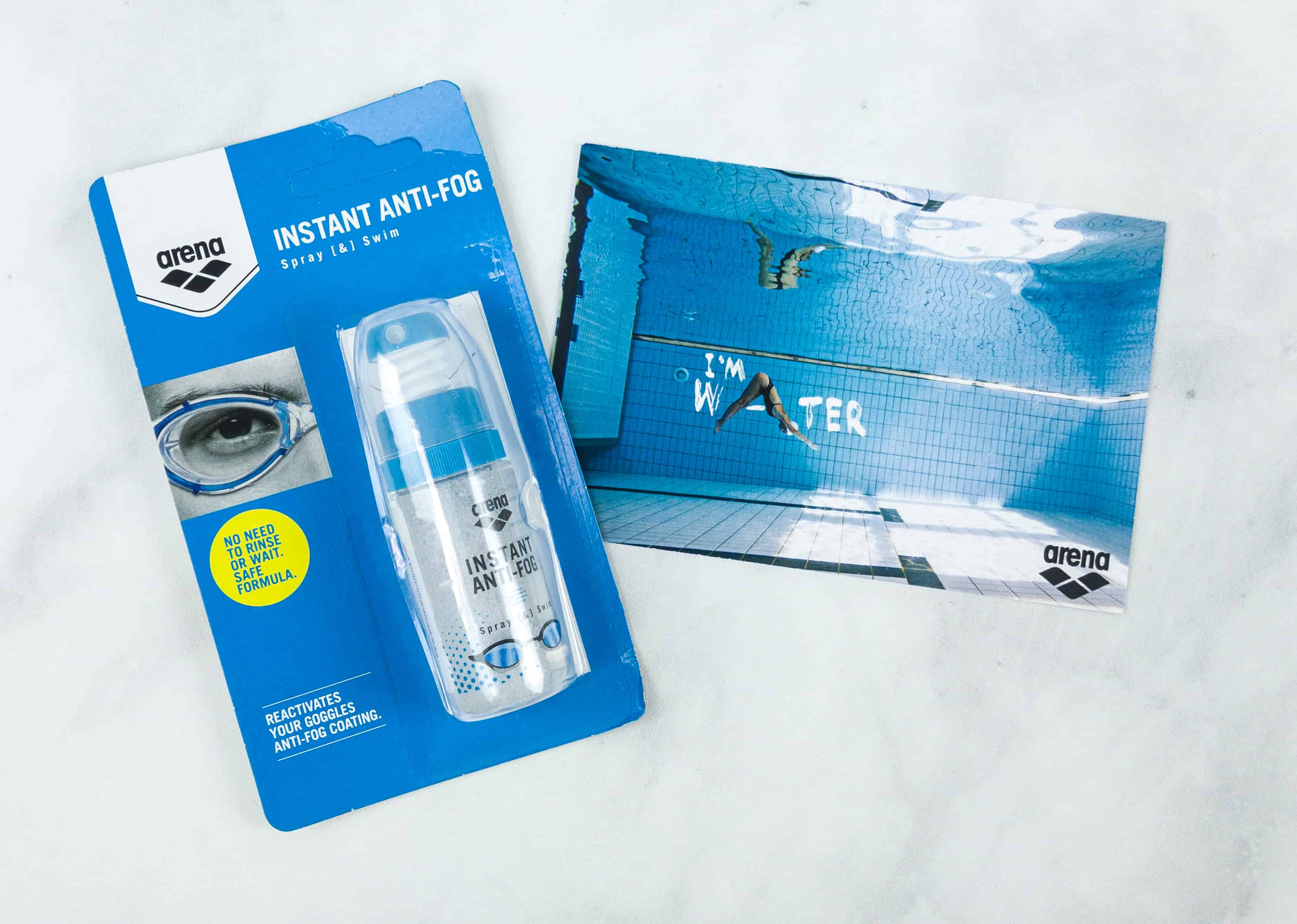 Arena Instant Anti-Fog Spray & Swim ($13.99) This anti-fog spray can be used on your goggles so you can get clearer vision over and under water.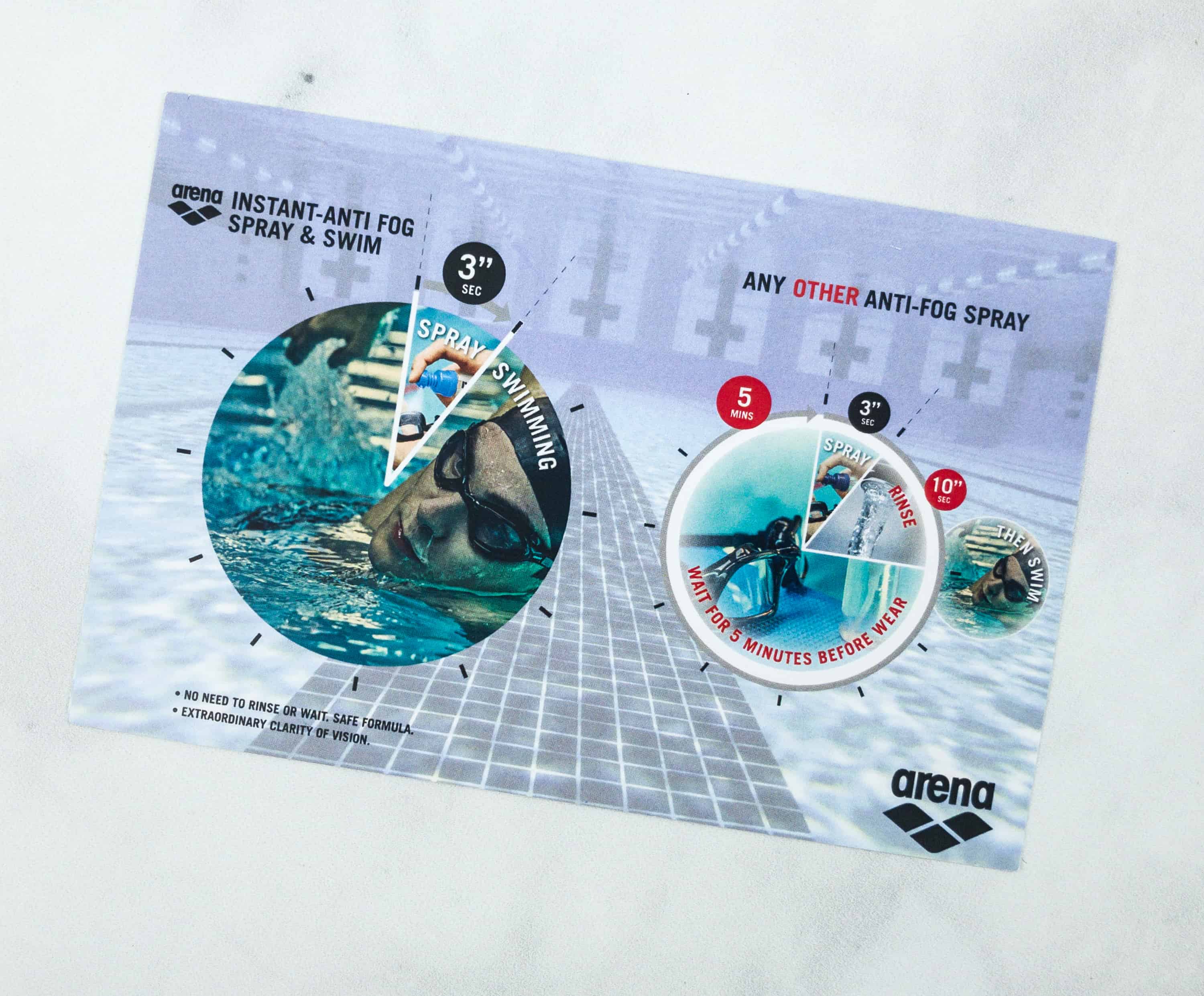 This spray includes an instruction card showing a detailed comparison of how fast it works versus other anti-fog sprays.
This is so easy to use, just spray the formula to your goggles' lens from approximately 20 cm away.
Printed at the back of the package is some essential information about the product, instructions for use, and social media apps where you can share your experience with the product using #waterinstinct.
No need to rinse either. As the packaging says, you can just spray and swim!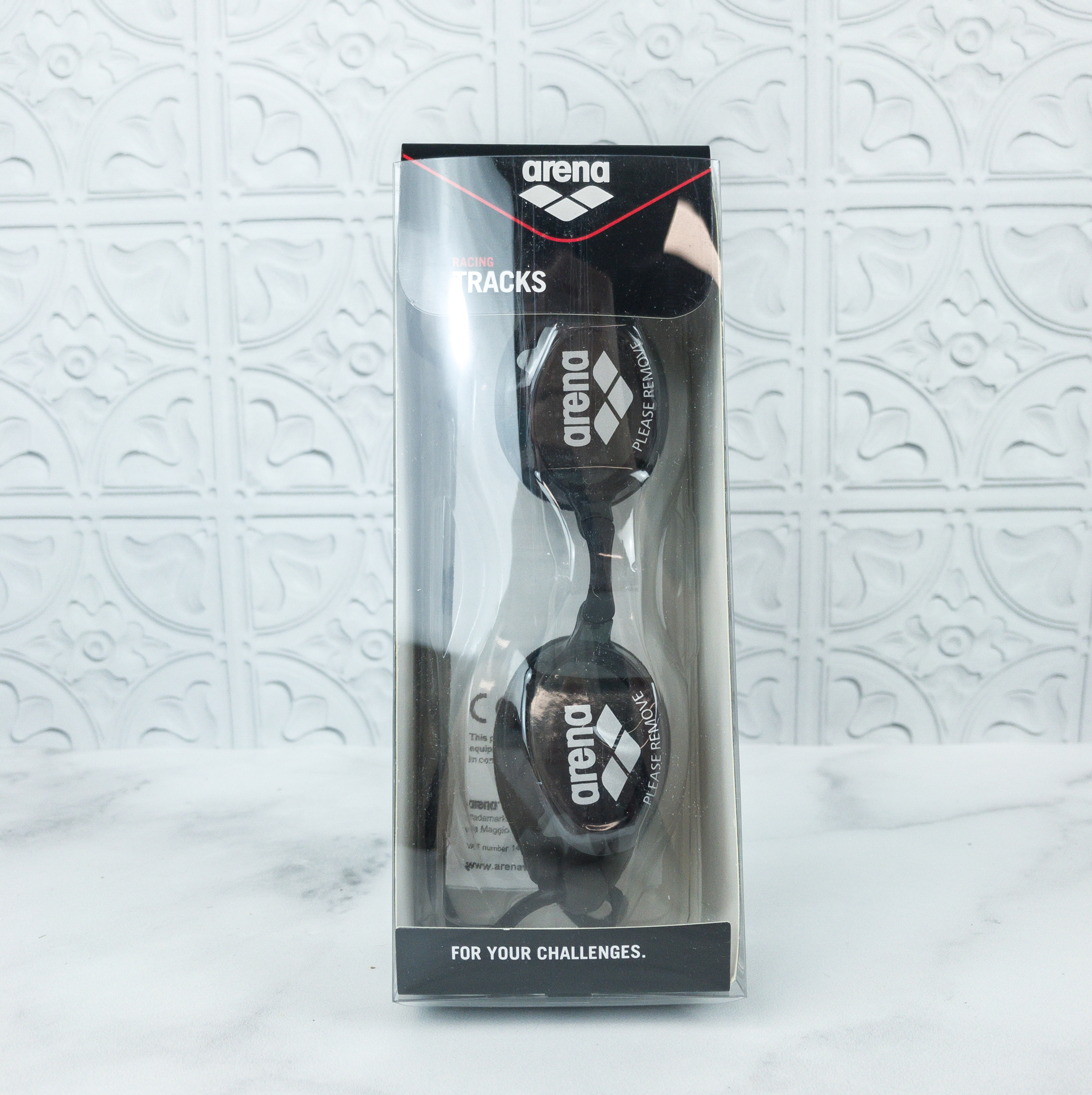 Arena Racing Tracks Goggles ($14.45) Speaking of goggles, they also sent us a pair this mont!. It is made with polycarbonate lenses and silicone seal and strap.
It features anti-fog lenses with UV protection formula, making sure that you'll have a clearer vision underwater while protecting your eyes from harmful rays that may damage your eyes. The little nose pieces are for adjusting and customizing the bridge length!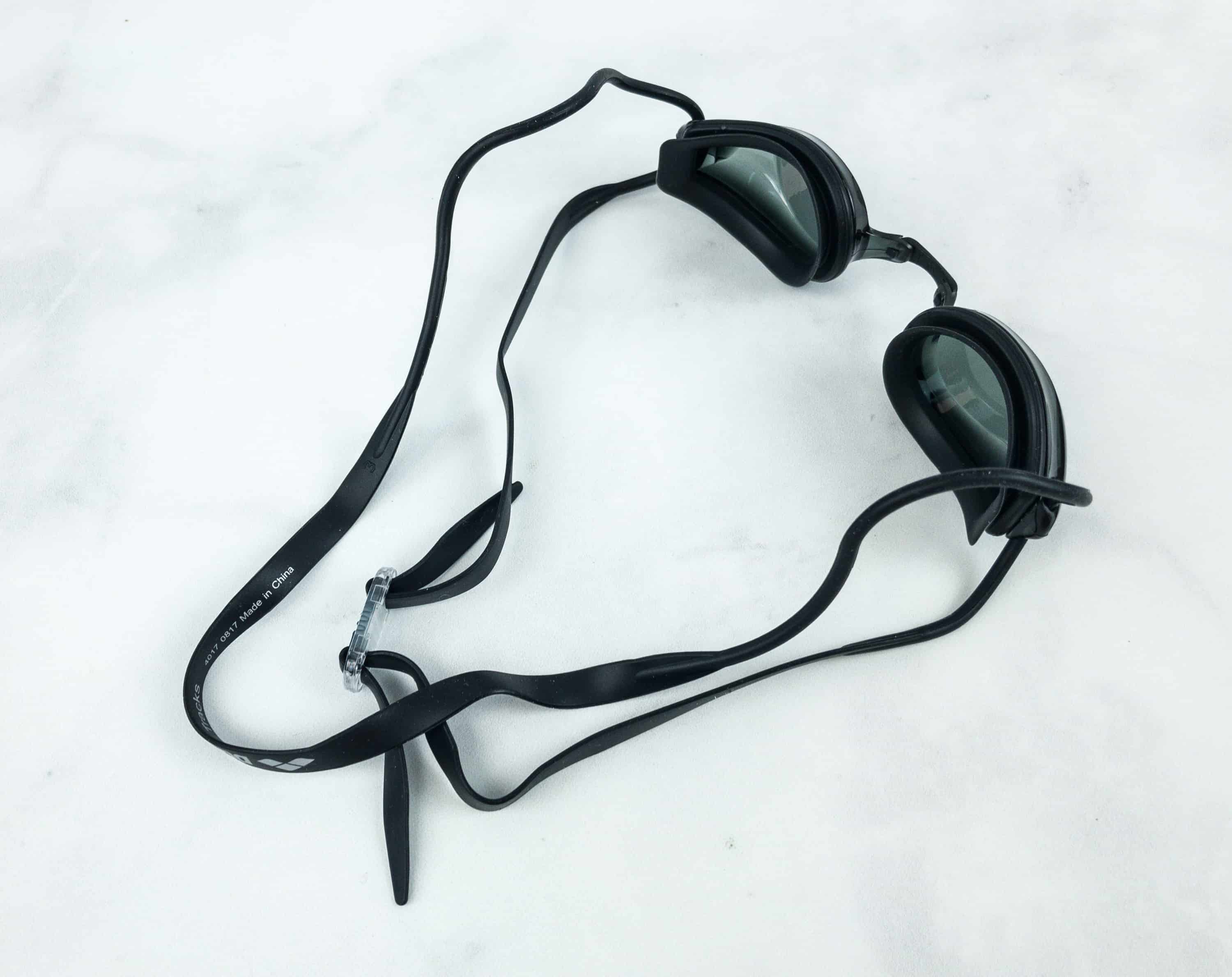 This goggles also features a dual strap made from silicone with a plastic adjuster at the back for an easier adjustment.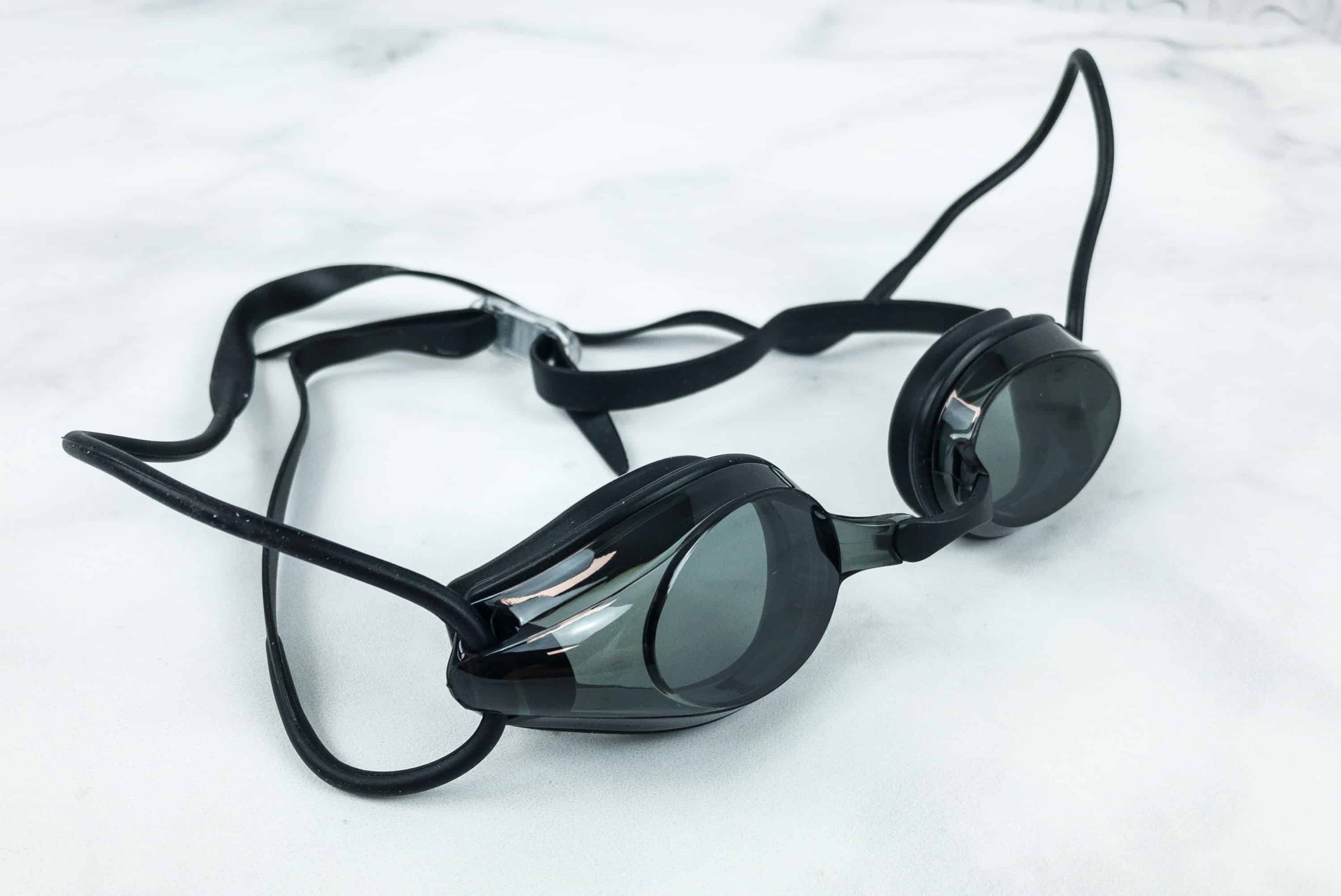 The lenses are held by a soft silicone gasket providing extreme comfort and secure fitting to the face. Basically, it's the ideal goggles to wear for training or in any competition.
This month's Swimfluence focused more on swim gear rather than fan collectibles. I think the goggles are great, and highly adjustable, and the defogging spray is a must-have! The magazine and stickers are fan staples!
Any thoughts about the Swimfluence box?