Snack Crate is a monthly subscription that provides the most interesting snacks and features new and exciting places from around the globe. They offer three sizes of the box: the $14 mini with 5 snacks, the $26 original box with 10-12 snacks, and the $49 premium box with 18-20 snacks.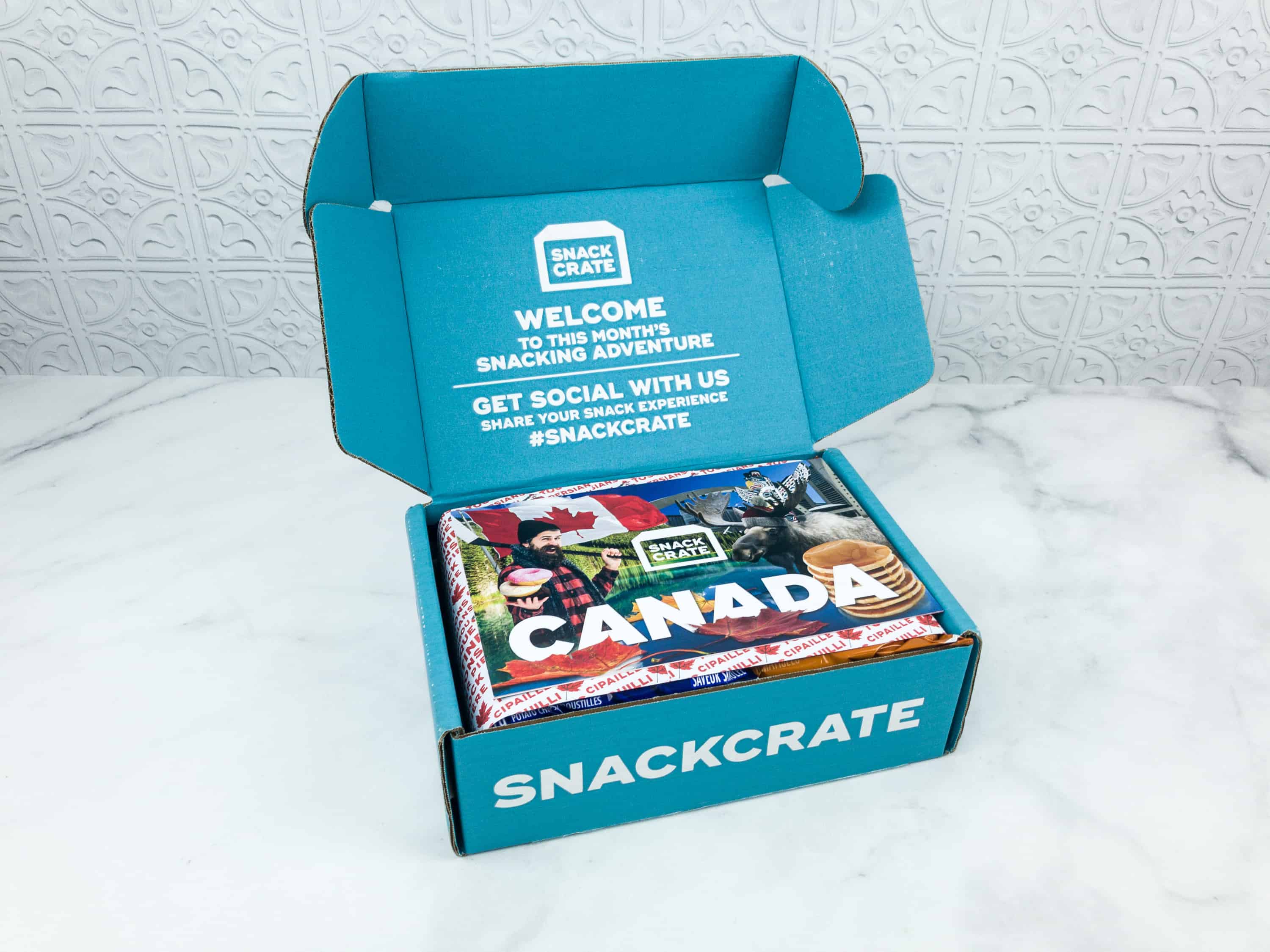 We switched our box from the crazy gigantic premium box to the original box. I admit we are still having some FOMO about it!
When you sign up, your first box will be from a country of your choice. You have the option of adding a drink for $6, which I think is a pretty pricey option, and I passed.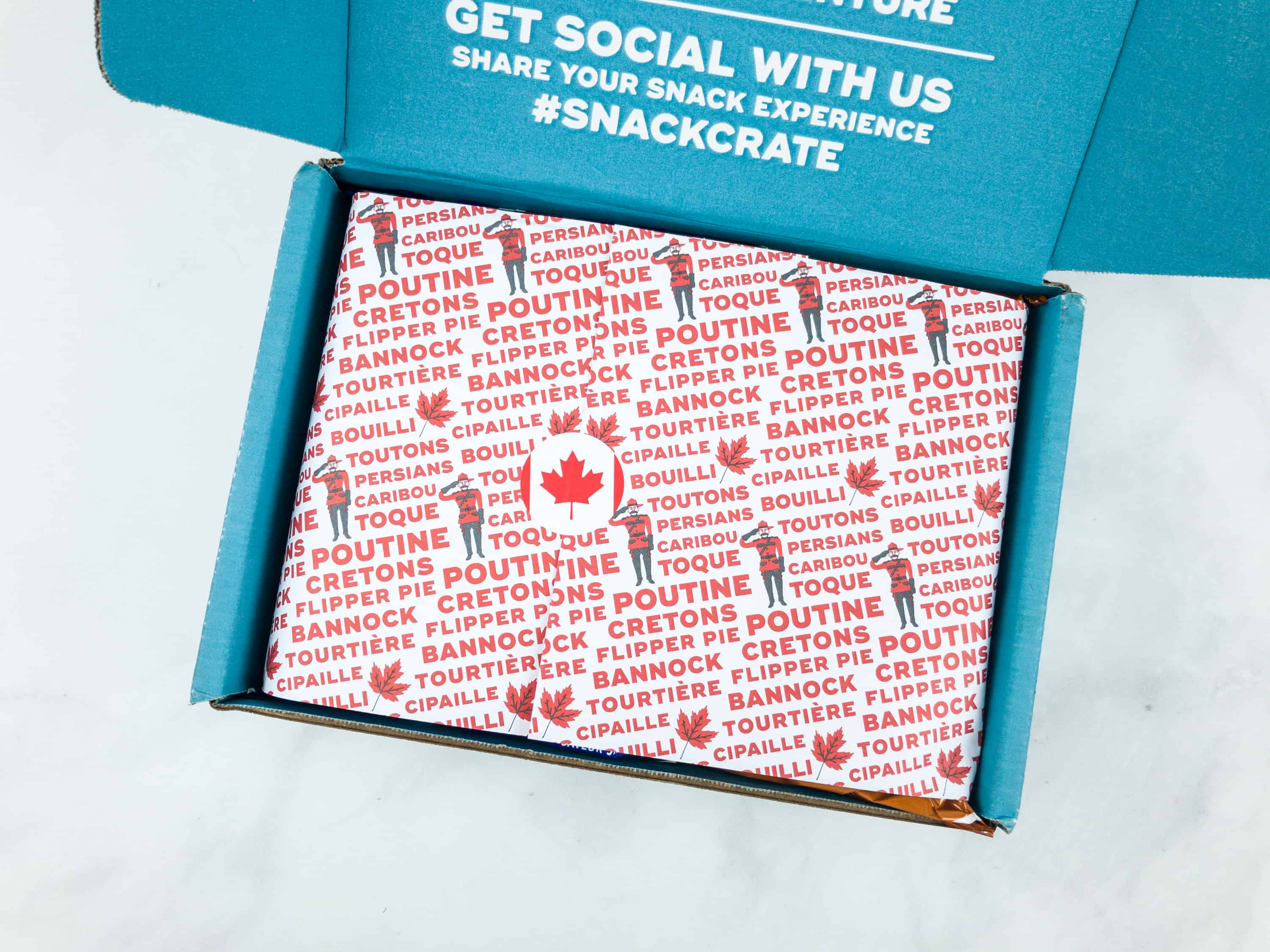 The treats are covered by a printed paper sealed with Canadian flag logo.
The box is full of treats!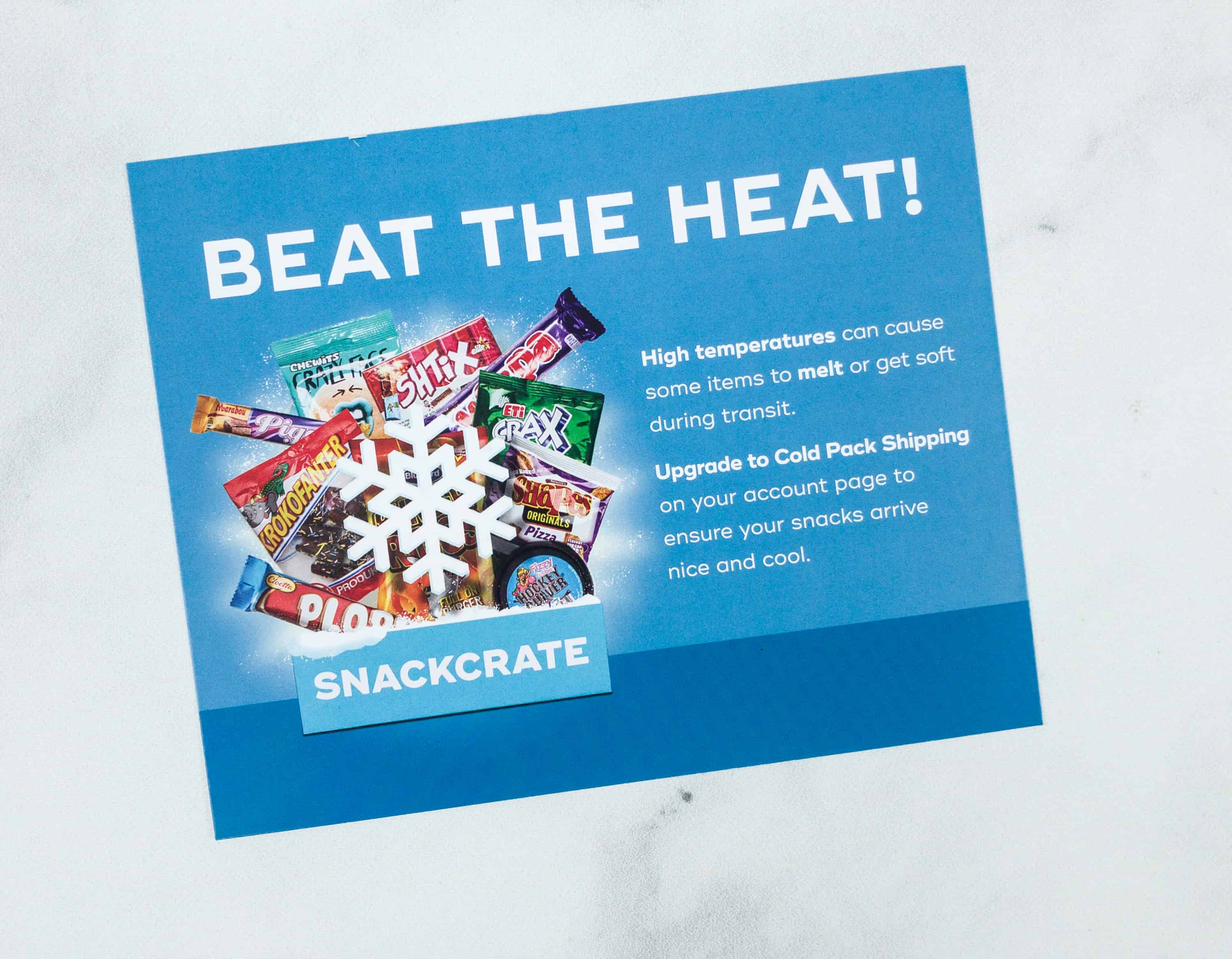 They also included a note about how you can enjoy the contents of the box better. Since heat can affect the condition of the items, make sure that you place the contents in the fridge for 3 to 4 hours before you start enjoying them.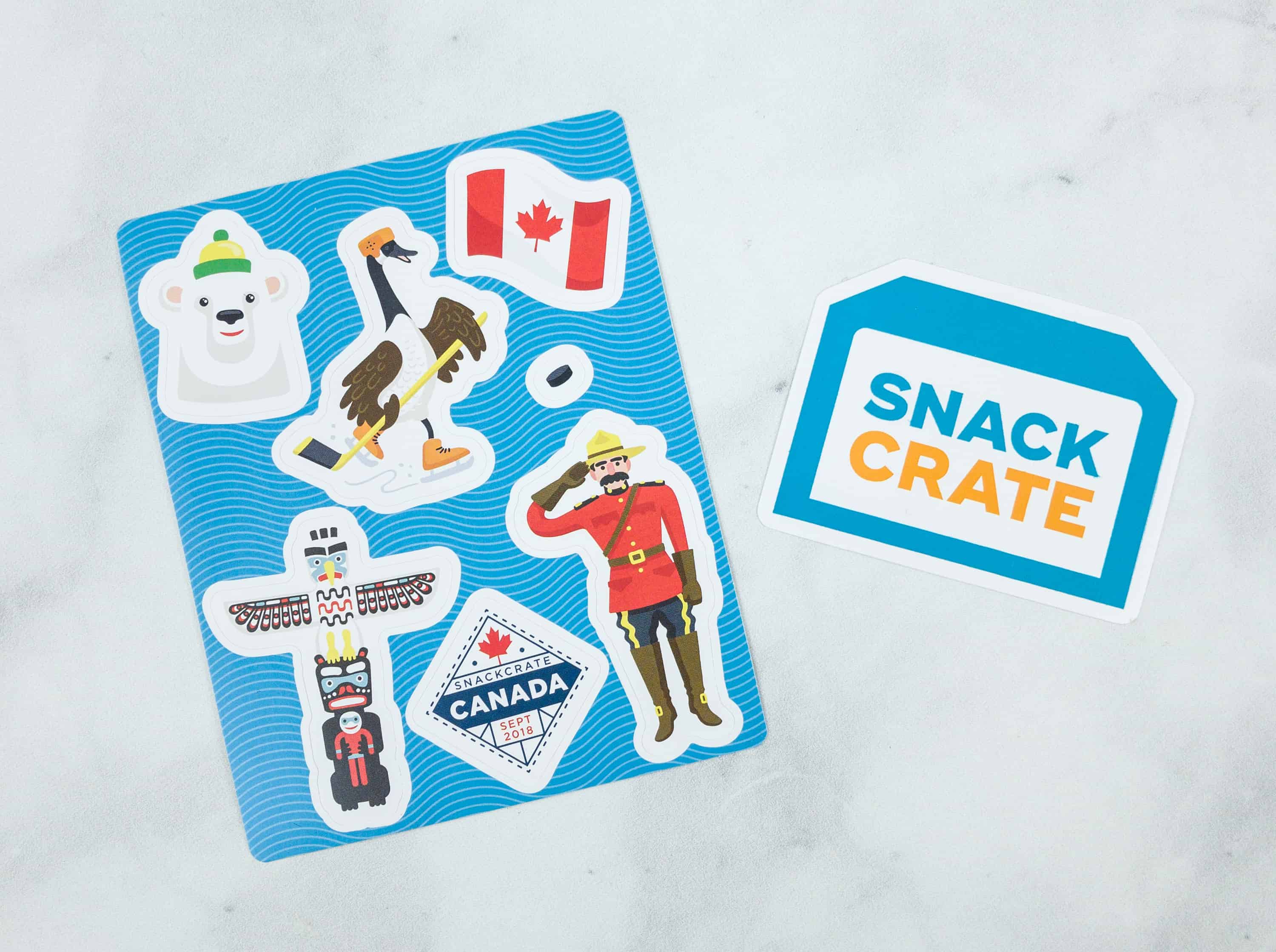 Each month, there are also stickers that represent the featured country. No beaver :/
For September 2018, we got snacks from Canada!
The information leaflet features fun facts about Canada.
It lists all the snack items inside the box, which are grouped into different box levels: Mini, Original, and Premium.
Aside from Premium, you'll also see some drink upgrades printed on the leaflet.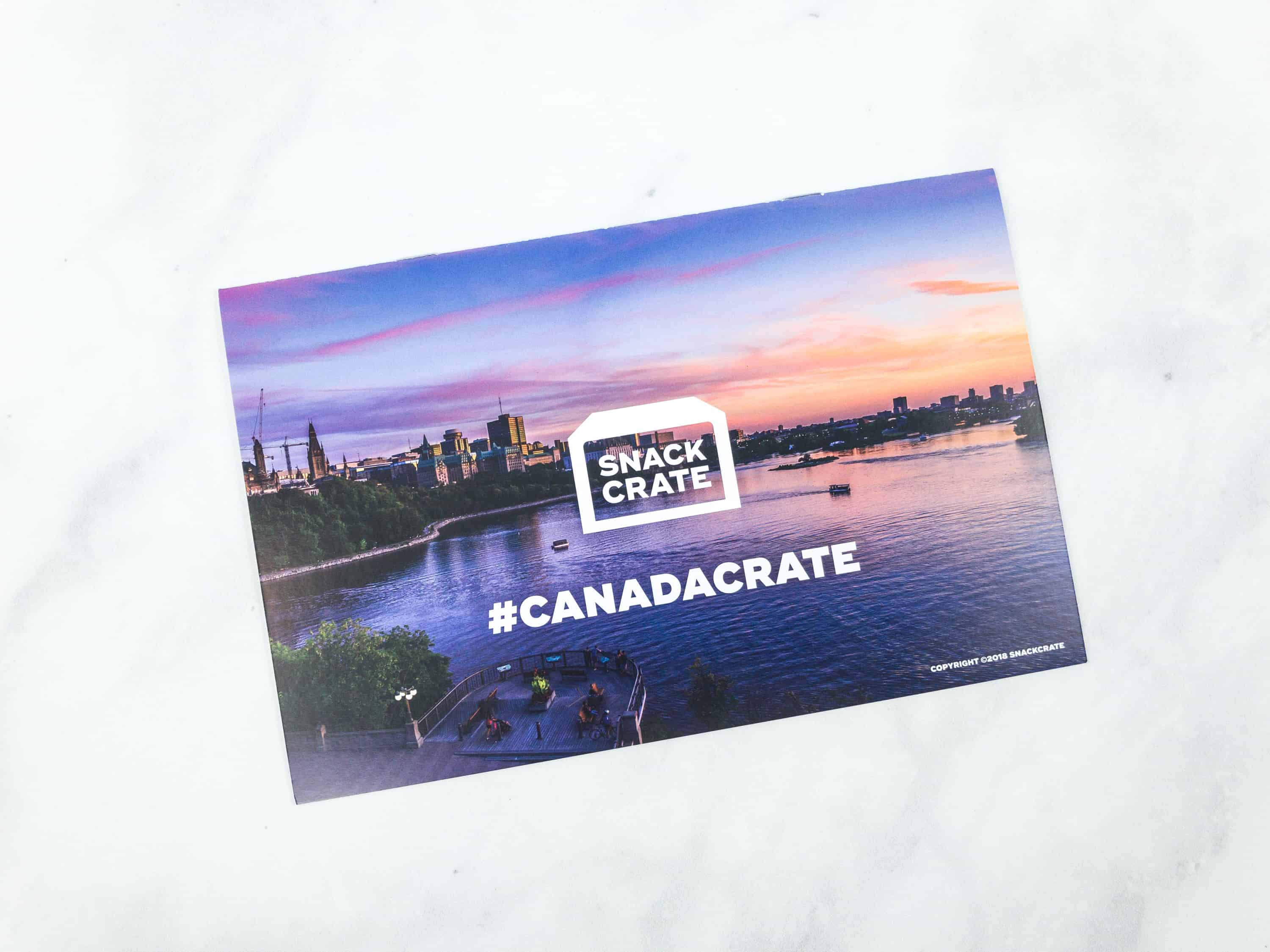 The postcard features very beautiful scenery.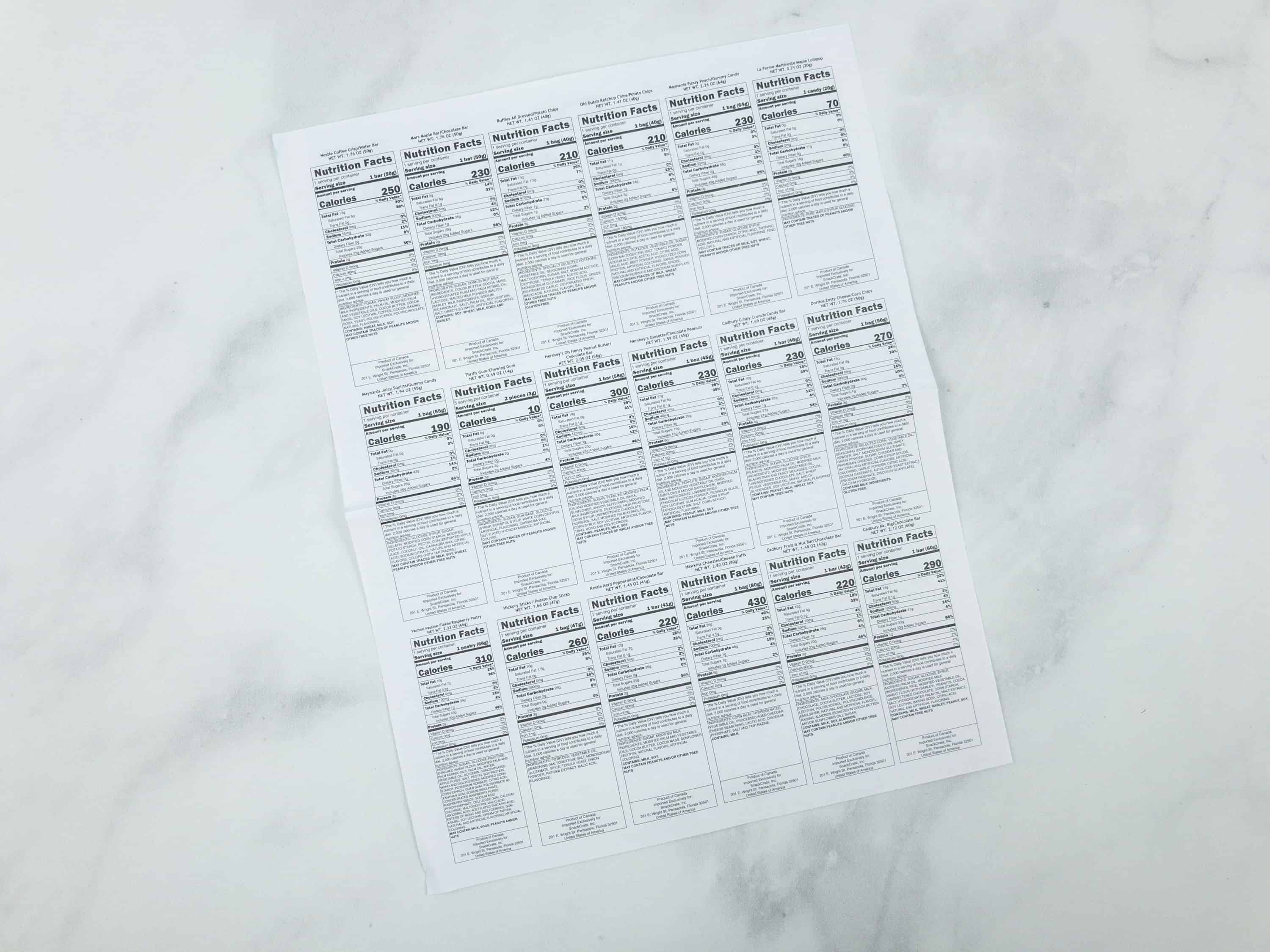 The leaflet is so detailed, providing necessary information every consumer should need to know about the treats.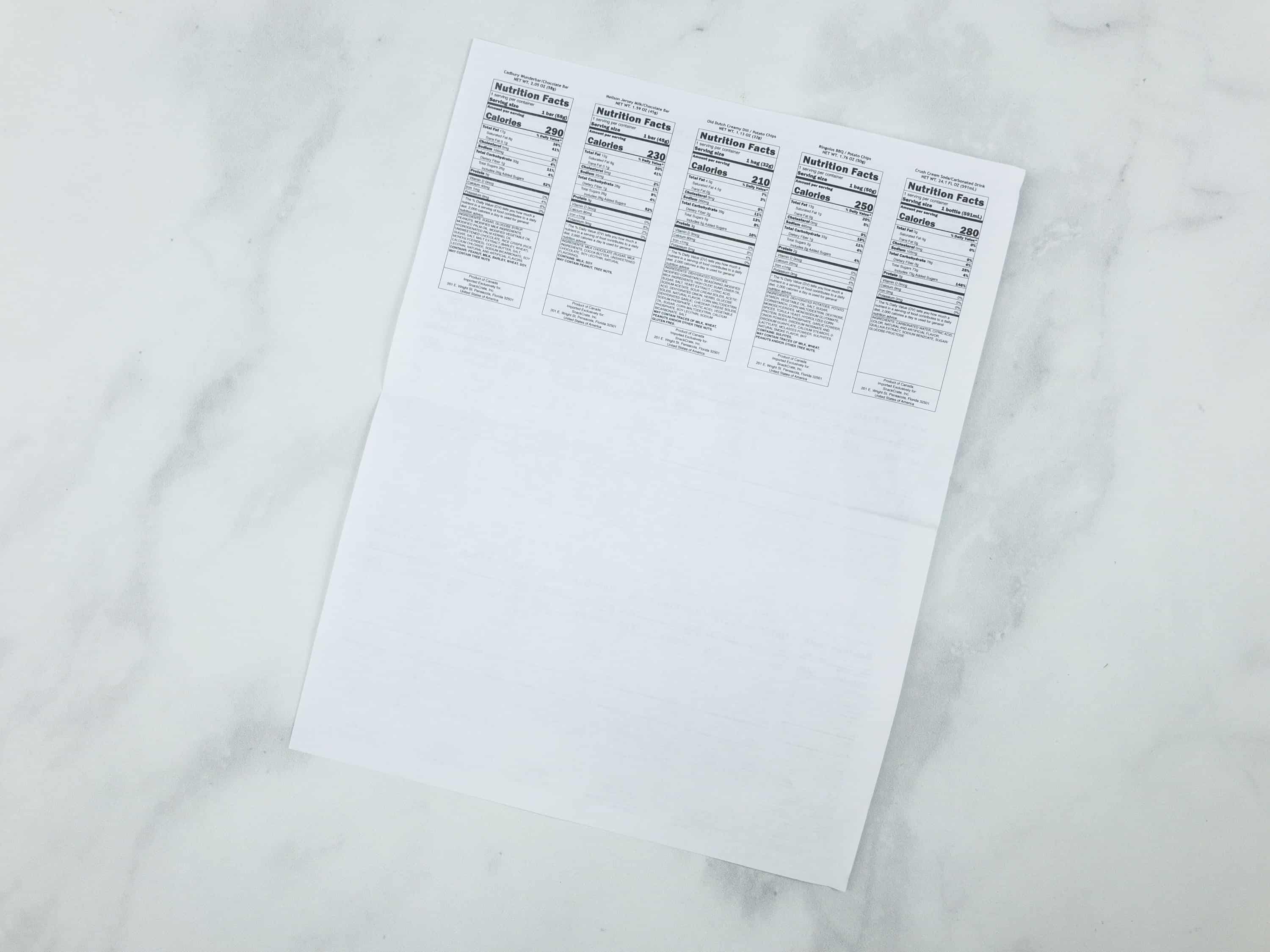 All the nutritional content of each item is shown at the back of the leaflet.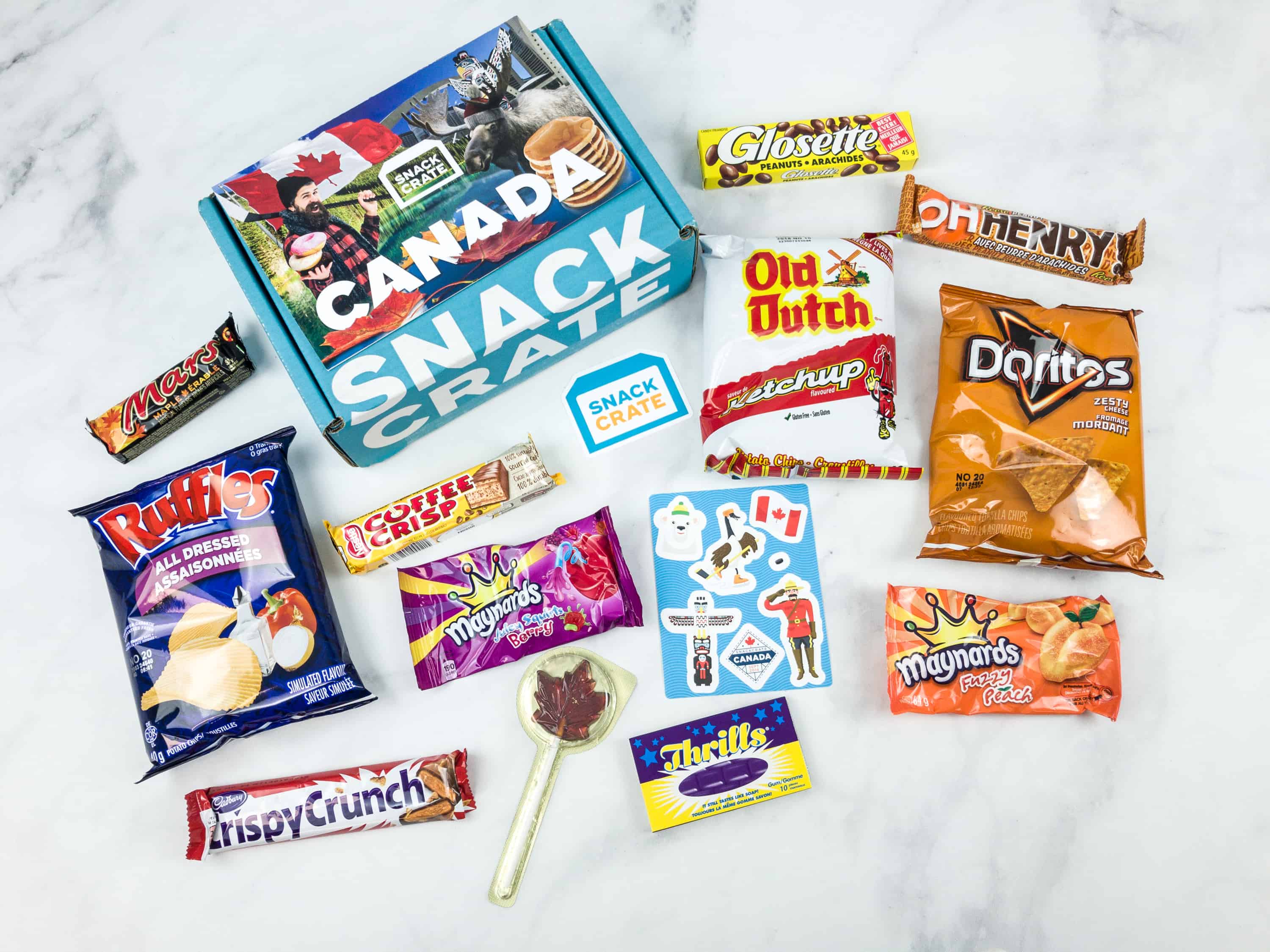 Everything in this month's box!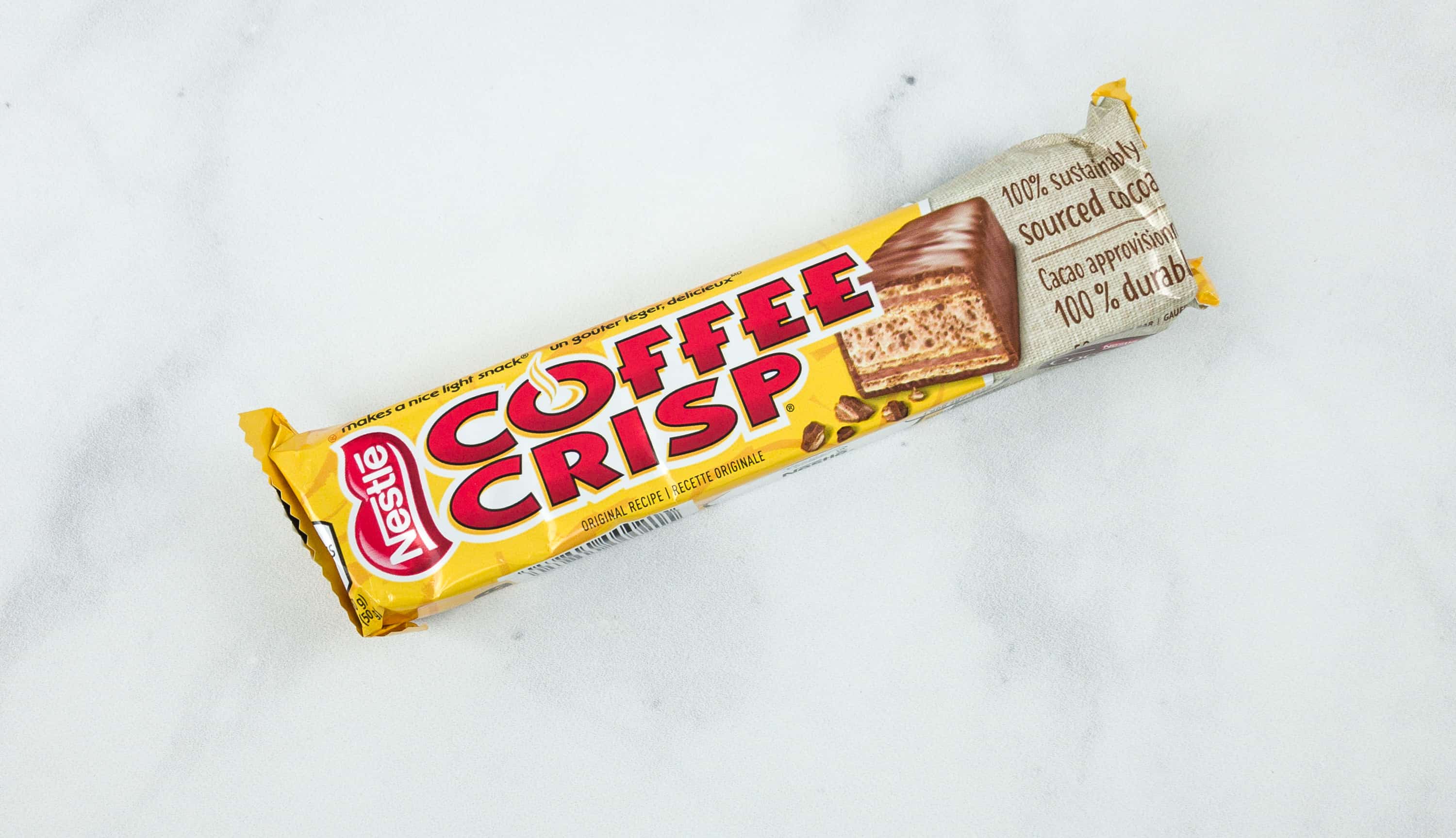 Coffee Crisp. This scrumptious snack from Nestle is made from crispy vanilla wafer and coffee flavored creme assembled alternately, coated with sweet milk chocolate. So sweet and truly mouthwatering!
Mars Maple. A limited edition Mars chocolate bar made from chewy nougat and coated in creamy milk chocolate with sweet Maple-flavored caramel fillings. This is definitely the closest chocolate bar to symbolize a country.
Ruffles All Dressed. This delicious chips is primarily made from high-quality potatoes, vegetables oil, all dressed seasonings, paprika, and a secret blend of spices. It's so good that is is considered to be one of the most popular chip in Canada! After a trip to Canada this spring and a Costco sized bag of All Dressed… we let the kids scarf these. Canadian chips are quite tangy and we're still recovering!
Ketchup Chips. Another famous snack in Canada! This gluten-free chips from Old Dutch features a balance mix of savory and salty flavors, with a hint of sweetness. It also has a low saturated fat, trans fat-free, and certified kosher OU. It's so delicious, you'll find very hard to resist. Also super tangy, but we did our duty and ate every bite.
Fuzzy Peach. It's a great tasting candy made from Canada that contains real fruit juices and yummy peach flavor. The ideal candy to chew on to satisfy your cravings for sweets. This candy is so hard to find, as they are mostly available in Canada and UK stores only. It's also the favorite candy of Steph Curry, just in case you want to know!
Maple Lollipop. There's no candy that would symbolize Canada more than this Maple-shaped lollipop made out of 100% pure Maple syrup.
This lollipop is made from 100% genuine maple syrup molded into a sweet, soothing candy suckerswhich dissolves slowly. Yummy!
Juicy Squirts Berry. A sweet gummy candy that features a tasty real fruit juices inside. This chewy candy is available in four different fruity flavor such as strawberry-kiwi, grape berry, peach raspberry, and wild cherry-berry. It's so yummy and so juicy, you'll feel the splash of fruit flavor in every bite!
Thrills Gum. At first I was kind of afraid to taste this one out because according to the box, this chewing gum tastes like soap and… it kinda does!. If you want to know its taste, then have the courage to try one!
Oh Henry Peanut Butter. This snack bar features a soft Reese's peanut butter center with creamy caramel, wrapped in peanuts, and coated with chocolate. It was really fantastic and a huge bar!
Glosette Peanuts. This snack is a movie theater staple in Canada. It's just crunchy peanuts coated with glossy chocolate shell. Glosette pieces are also available in raisins and almond. They are really high quality and the chocolate coating isn't fakey or sweet.
Crispy Crunch. A truly mouthwatering chocolate bar made from crispy peanut flake interior and covered with delicious original Cadbury chocolate. It's so appetizing that you can easily get hooked on it!
Doritos Zesty Cheese. As the sayingsgoes, You'll never go wrong with Doritos! This flavorful chips features a blend of Parmesan and cheddar cheese with a little kick of tanginess. The chips you can't really resist!
Snack Crate brought another powerhouse curation of delicious and tasty snacks, this time from Canada! There were a lot of chocolates and sweets included in this month's box. Aside from the chocolates, they also contain snacks for sharing like the Doritos, Ruffles, Old Dutch Ketchup as well as the Maynards peach and squirts berry. What makes this subscription special is the inclusion of snacks that are hard to find in stores. It's the ideal subscription for snackers who want a great variety of treats every month!
Are you getting this month's Snack Crate?