Scribbler is a monthly subscription box for novelists, created by authors, for authors. Scribbler is committed to helping writers improve their craft and reach their publishing goals, month after month.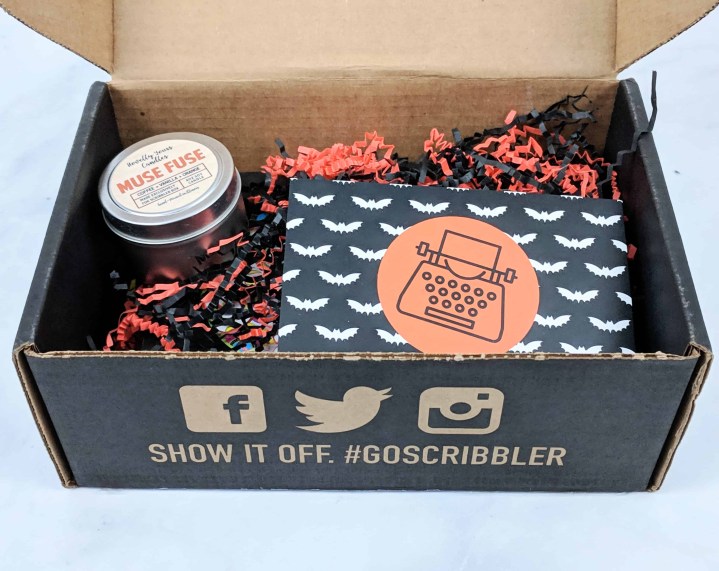 For $29.99 a month, you'll get a newly released fiction, a "Writing Passport" from the featured author to help you master the monthly theme, curated writerly gifts, and an invitation to communicate with a publishing professional.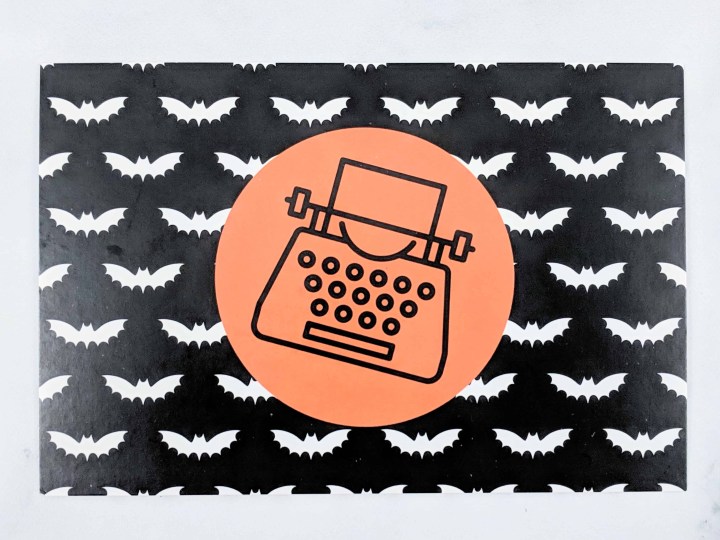 There is no information card about the content inside the box, but this Halloween Inspired PostCard is a lovely welcoming sight!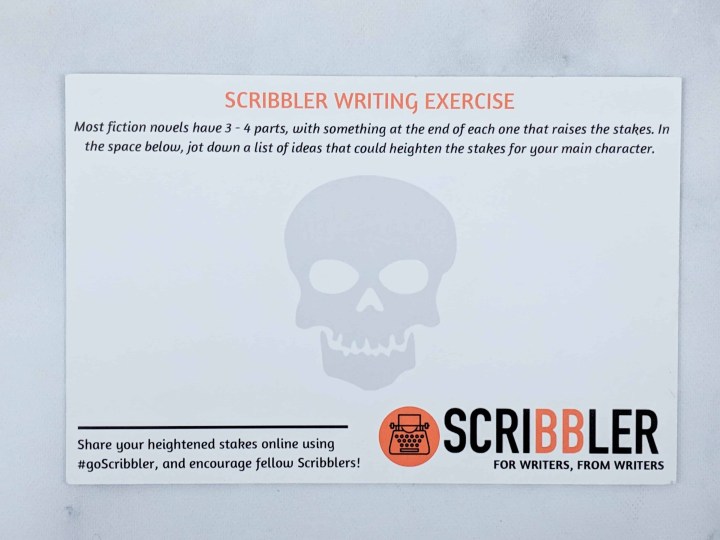 On the back there's a little writing challenge and you can share it on social media using #goScribbler to find a community of like-minded writer!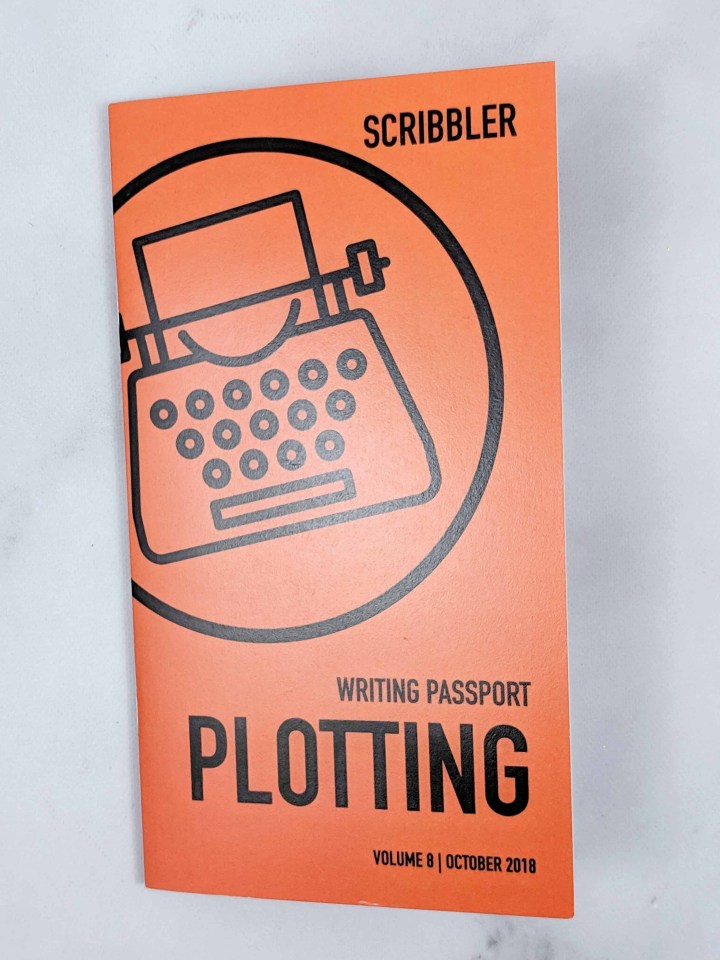 This month's theme is Plotting.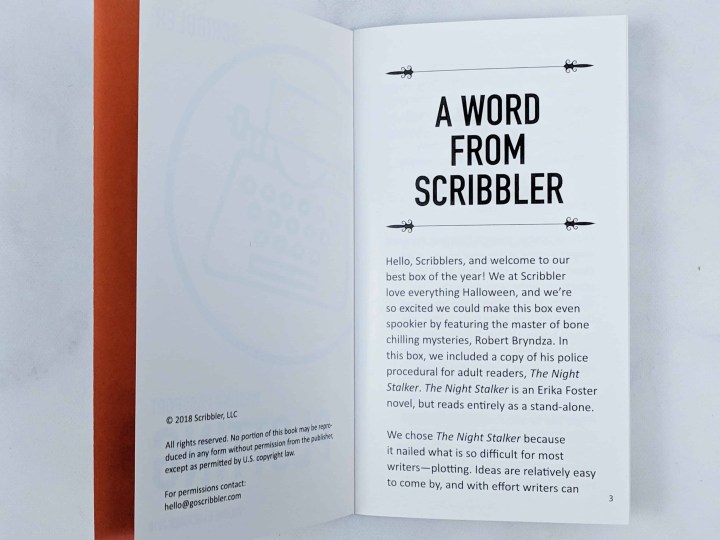 There's a quick introduction in the booklet about why the featured book was chosen.
There are no exercises in the booklet to improve our skills, it's more about the theory behind Plotting, from this month's author viewpoint. I prefer that way as I like to play with my own story and characters instead of doing an exercise that has nothing to do with what I'm doing.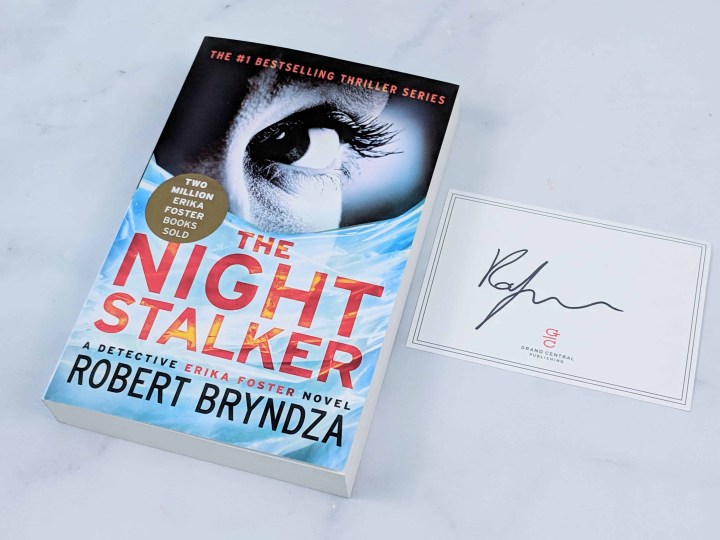 The book this month is The Night Stalker by Robert Bryndza. From Amazon:
If the Night Stalker is watching, you're already dead…

In the dead of a swelteringly hot summer's night, Detective Erika Foster is called to a murder scene. The victim, a doctor, is found suffocated in bed. His wrists are bound and his eyes bulging through a clear plastic bag tied tight over his head.

A few days later, another victim is found dead, in exactly the same circumstances. As Erika and her team start digging deeper, they discover a calculated serial killer – stalking their victims before choosing the right moment to strike.

The victims are all single men, with very private lives. Why are their pasts shrouded in secrecy? And what links them to the killer?

As a heat wave descends upon London, Erika will do everything to stop the Night Stalker before the body count rises, even if it means risking her job. But the victims might not be the only ones being watched… Erika's own life could be on the line.
This is the second book of a series, but I don't feel like it's going to prevent me from liking it! It sounds like a nice thriller, perfect for Halloween Night!
Every month, we receive a Publishing Process Inside Look. For October, we get a look at Copy Edits from The Night Stalker.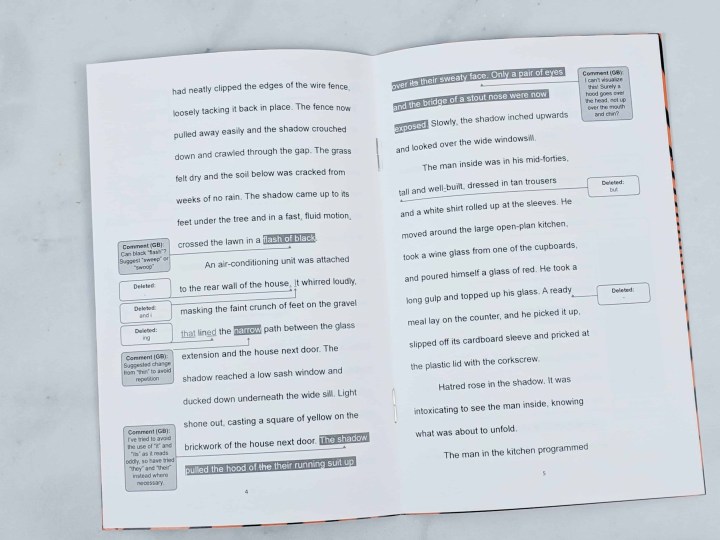 The sample shows us all the work that goes into writing a book, beyond the writing part!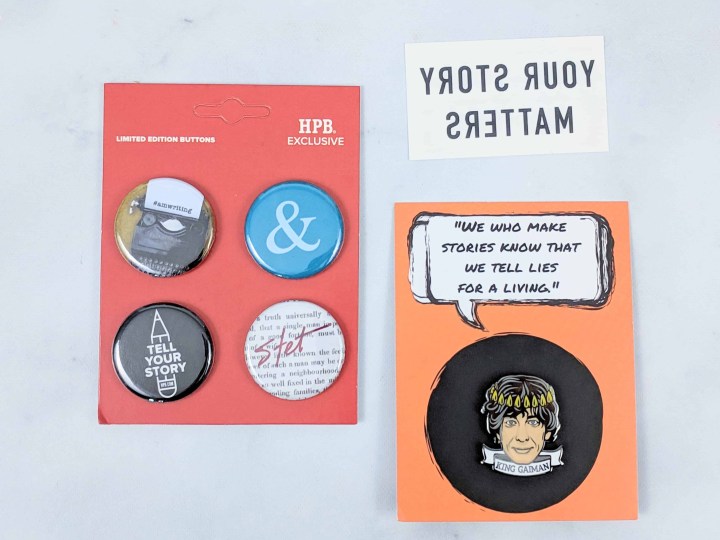 Goodies!!! This month, we received a Temporary Tattoo (Your Story Matters), Writers Mantra 4 Buttons Set (My favorite is the typewriter!) that you can add to your backpack, purse, computer bag, etc. And an enamel pin of King Gaiman! This is such a cute pin, especially with the quote (which is sadly not part of the pin).
Sugar Skull Notebook. I love this notebook, it's adorable and feels right for late night writing! When you are a writer, you need notebooks. A lot of them. Jolting down ideas, making up an quick, or long, outline, writing down all your character's names so you don't get lost 30 chapters in, short scenes, what to fix later on, etc. I always keep a notebook by my side as a "brain dump" for my To-Do lists, grocery lists, ideas, etc.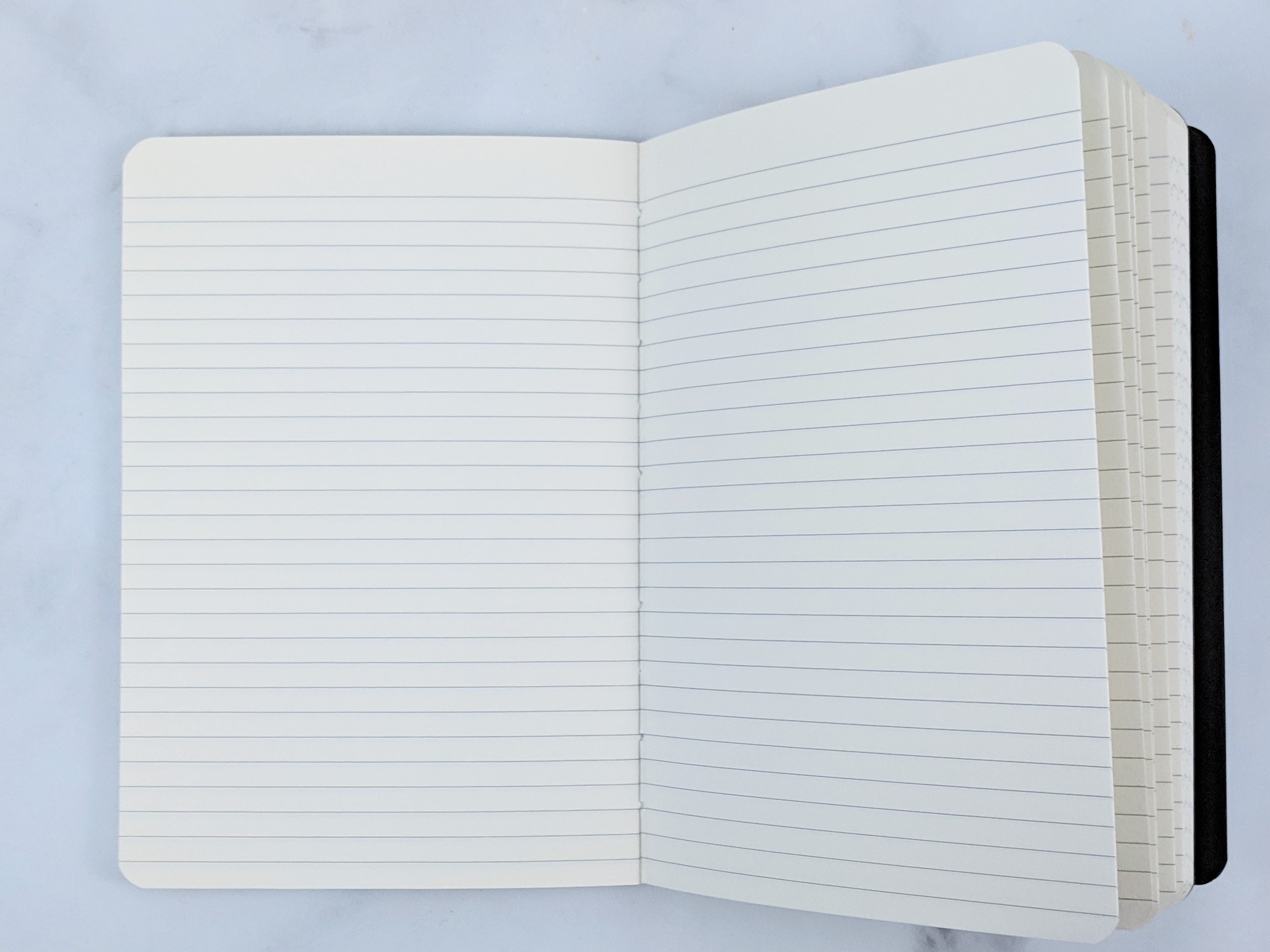 It's lined and held by thread so it can lay flat without the paper coming undone from the spine.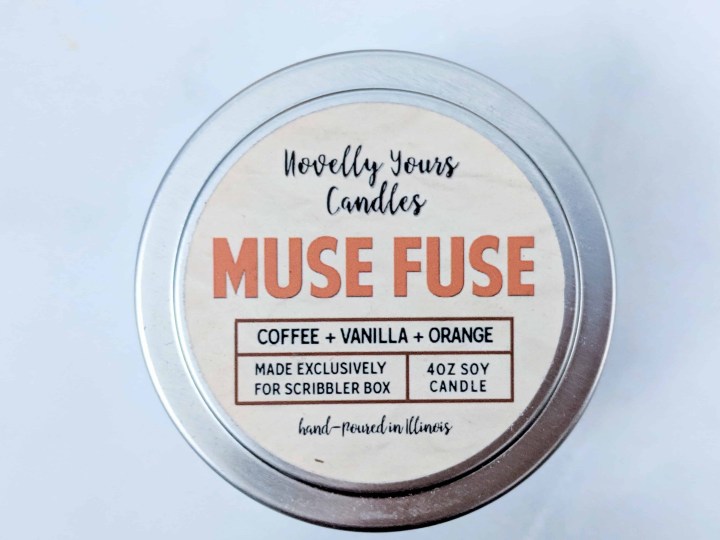 Novelly Yours Candles – Muse Fuse. A soy candle that smells exactly like what it's supposed to : Coffee – Vanilla – Orange! It's sweet, but strong. It's made exclusively for Scribbler Box and I really love this mix of scents.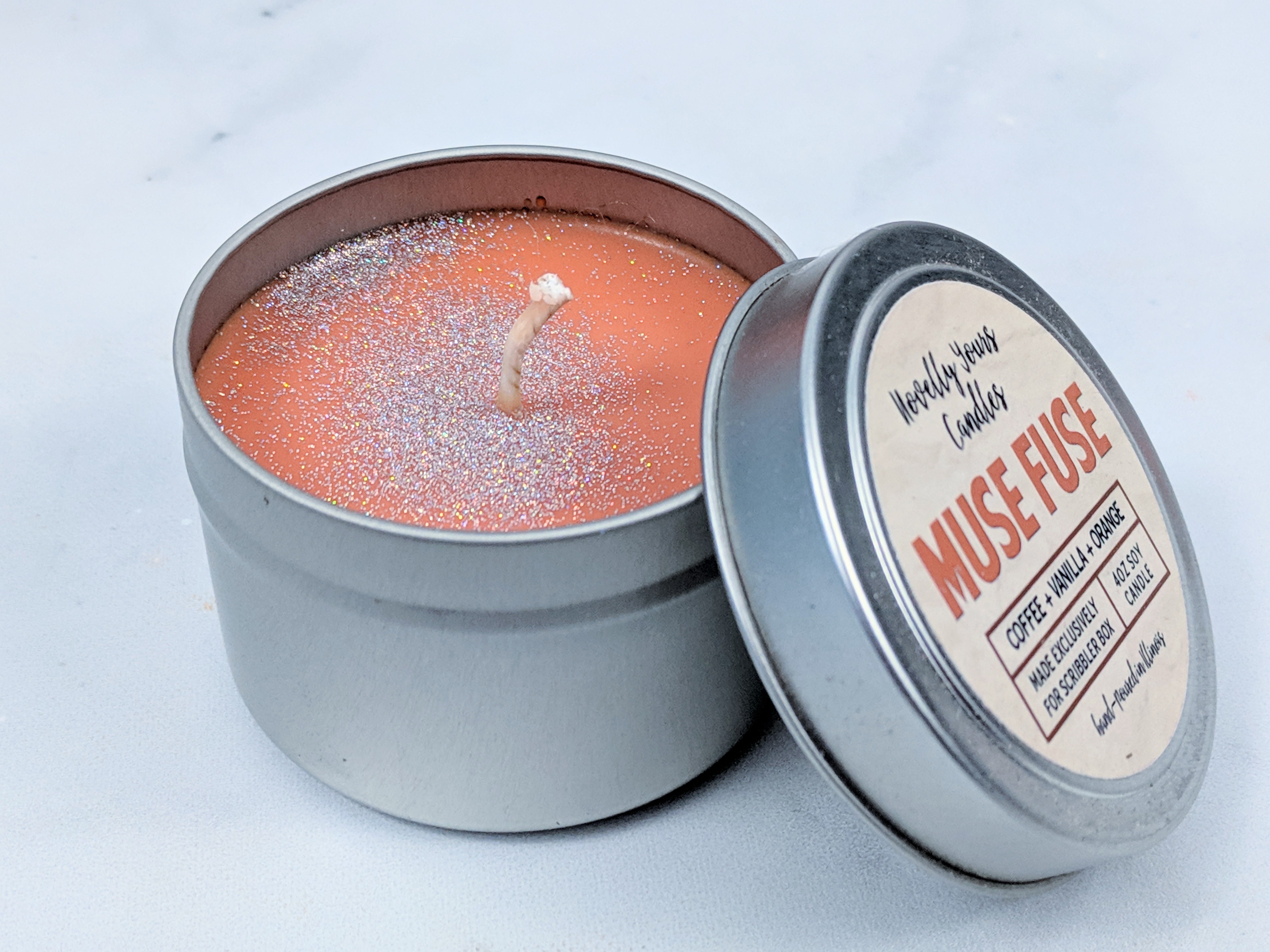 It has glitters!!! A perfect candle for Halloween, but the scent reminds me of Christmas. A lovely candle!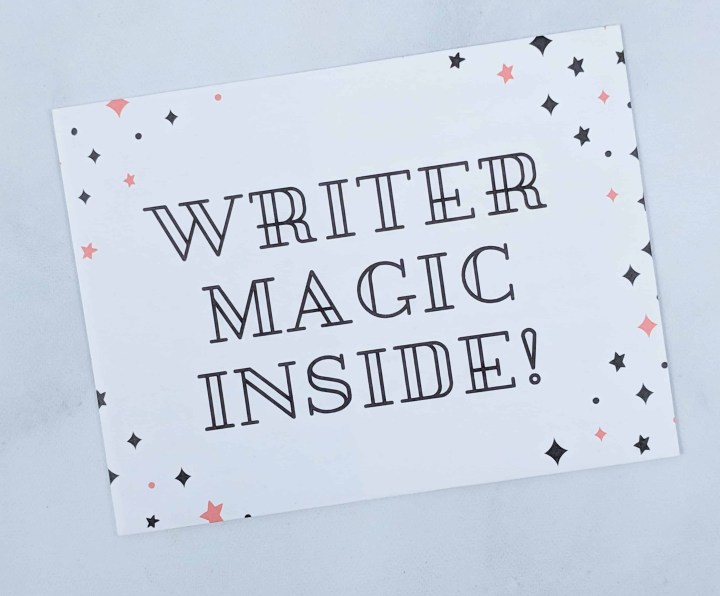 Writer Magic Inside!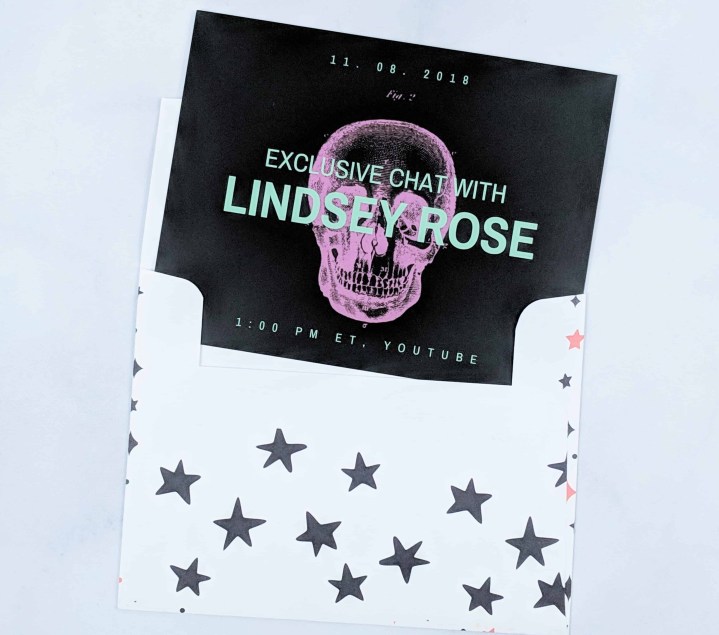 This is an invitation to an exclusive chat with Lindsey Rose, a Senior Editor at Grand Central Publishing, happening on November 8, 2018. Knowing that this is the October box and that I live in Canada (so I get my box quite late), I still had plenty of time to get ready for this event! I really appreciate how far ahead of the event we get the box! Good job!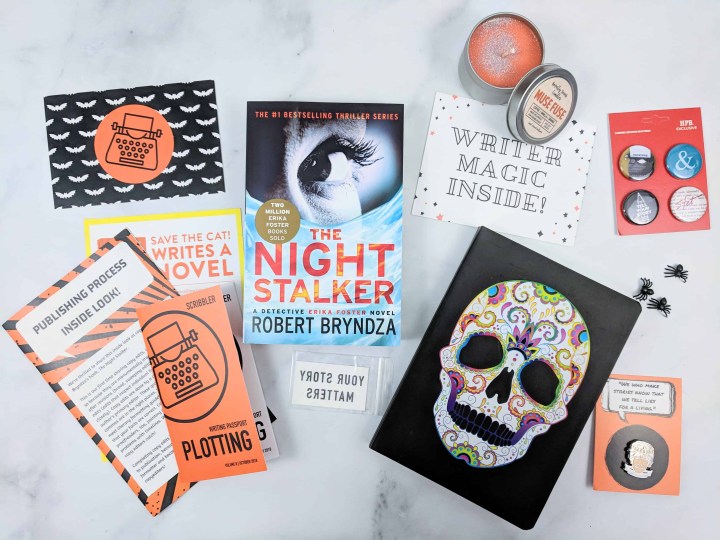 I really enjoy my Scribbler box! I'm looking forward to read my new thriller, and the notebook is a lovely addition to this Writer's box by writers! I really like the goodies as they are not tied to a specific book or genre, they are great for writers of any age and interest. The booklet is always a nice read to remind us of different aspect of writing a book, making use more mindful when we write. It's also amazing to have the opportunity to connect with people in the industry and have insights from published authors!
What do you think of this month's box?