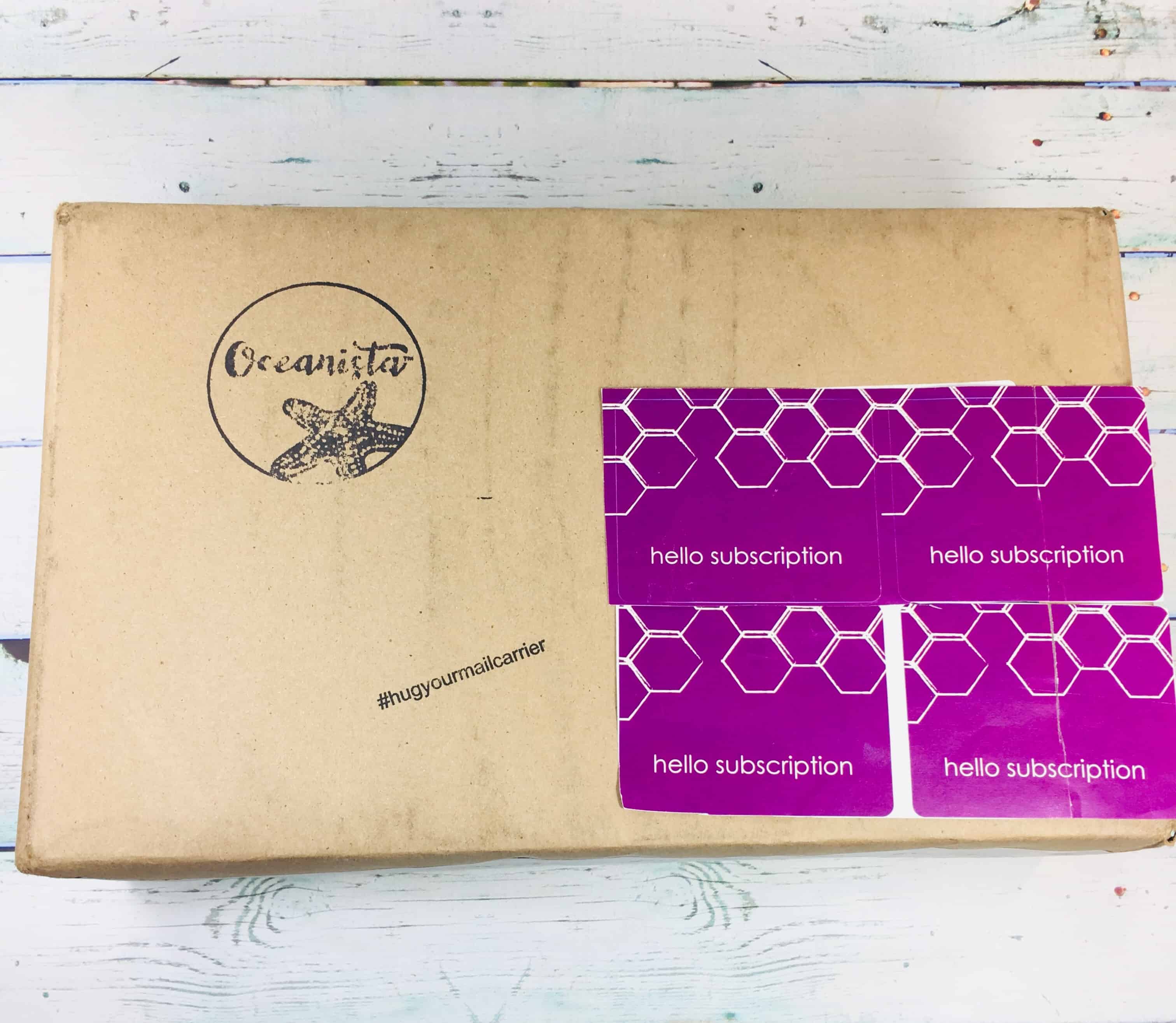 Oceanista is a quarterly subscription box for all of the beach lovers out there, or even the landlocked who are all about that lifestyle. Expect to receive jewelry, beauty, art, clothing, and more! Boxes start at $79.99 a quarter, with prices dropping for a prepaid annual subscription. You can also send this as a one-time or annual gift to the Oceanista of your choice.
Get ready to experience the excitement of receiving our signature beach lifestyle box delivered to your door every season and uncovering the hidden treasures that await you inside. Everything is handpicked by our team of Oceanista™ specialists and includes over $175 of beach boutique products from around the world that you can use on land or sea! Most of our items are exclusive to Oceanista and we curate your box in themes with the ocean-lover and beach vacationer in mind! Featured artisan pieces, surprises and the chance to win a free gift guarantees our box will be one you look forward to again and again!
DEAL: Get $10 off your first box or annual subscription! Use coupon code HELLO10.
My box was delivered to my door and I could do a whole post just on how cute the packaging was. The box was big – I'm sure my cats will move in as soon as it's empty.
When you sign up, you also fill out your preferences such as skin tone, clothing + shoe size, and ring size. See the darker blue bars? You can toggle down to find more choices, such as "plus size" for clothing and "deep" for skin tone.
There are lots of lovely details in this box, such as the flamingo-shaped paperclip holding the inserts together. This season's box is all about Flamingos!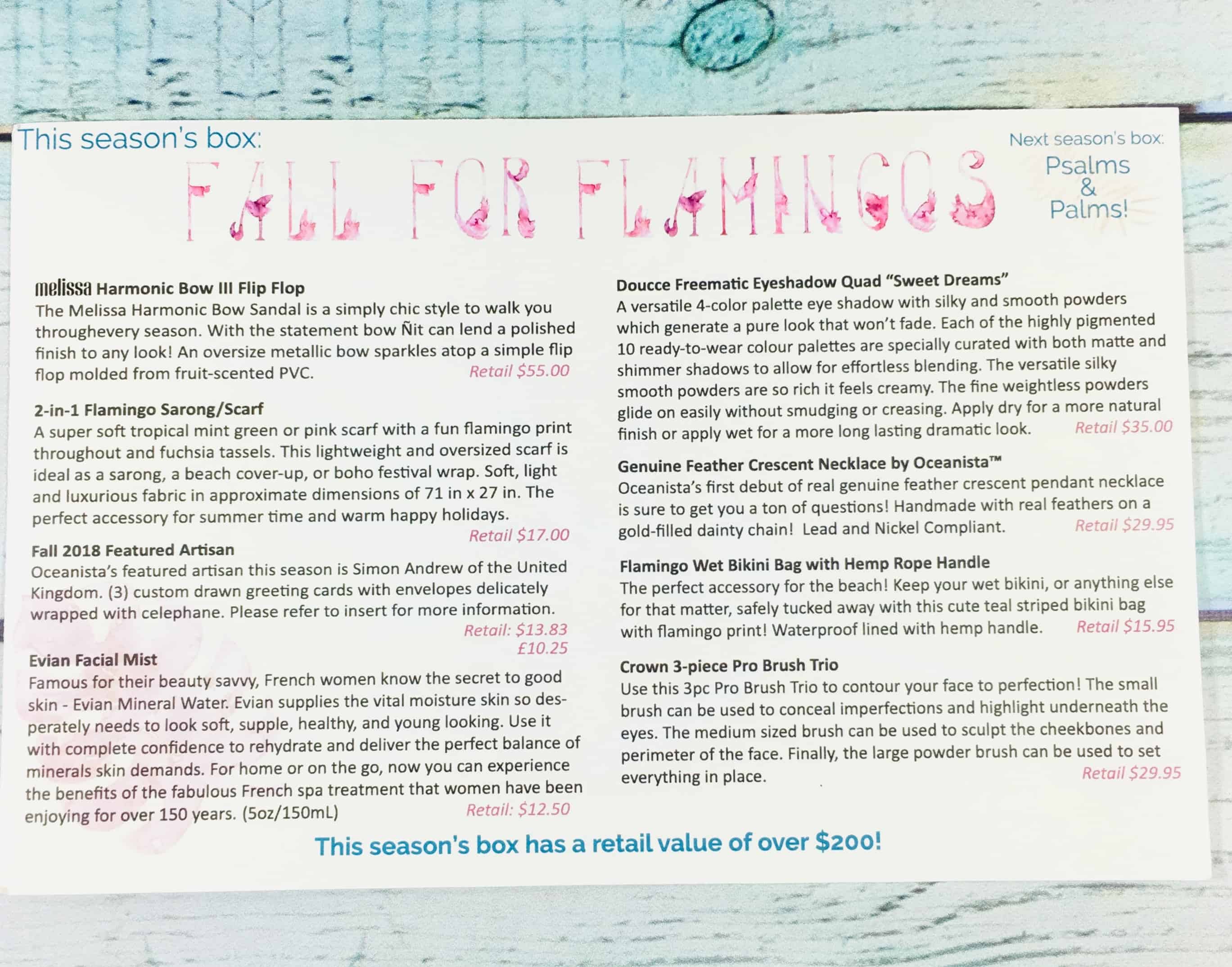 A list of each item, some item info, and retail price are listed.
There was another card welcoming me to the Oceanista lifestyle.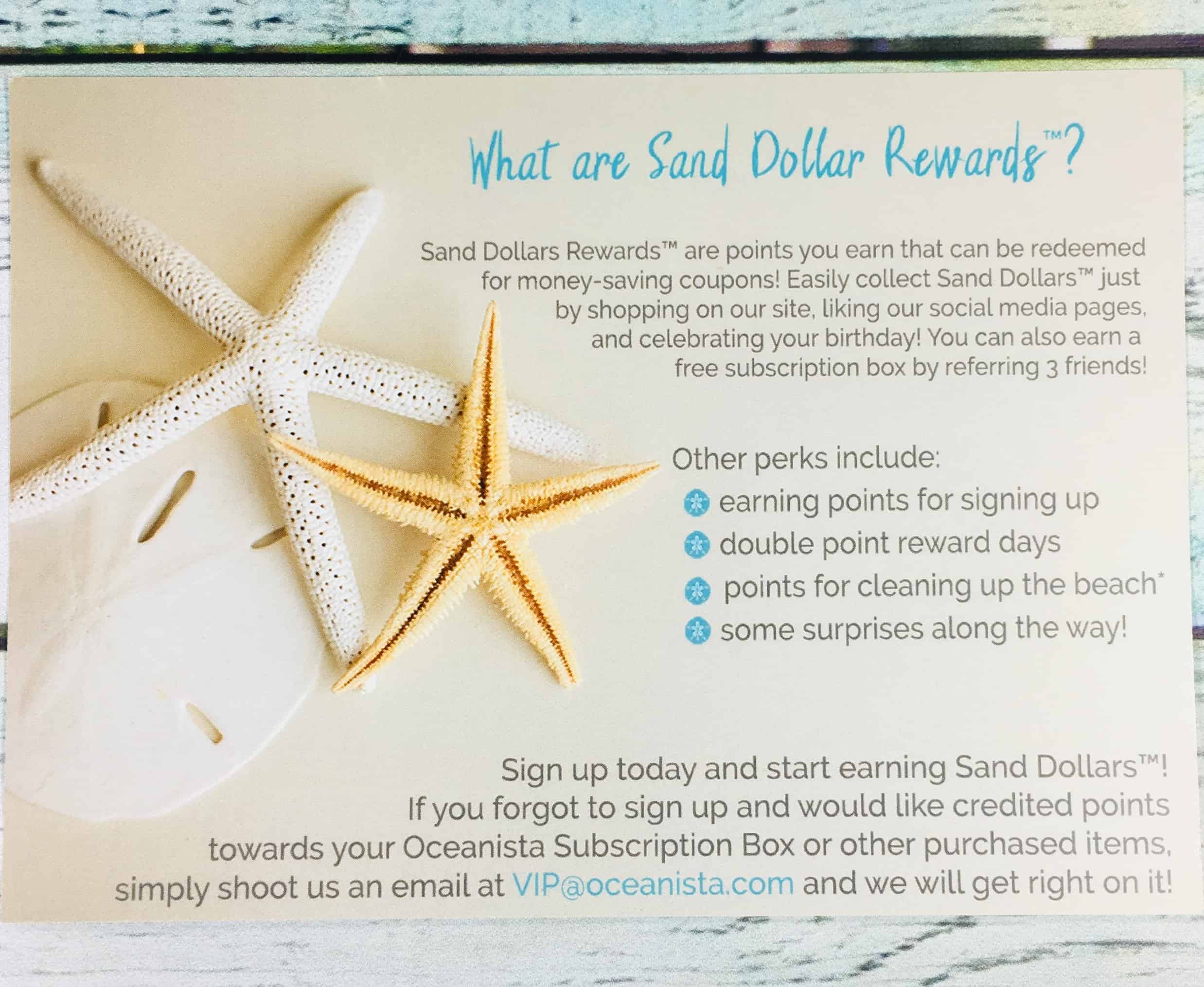 Another card described the Sand Dollar Rewards program.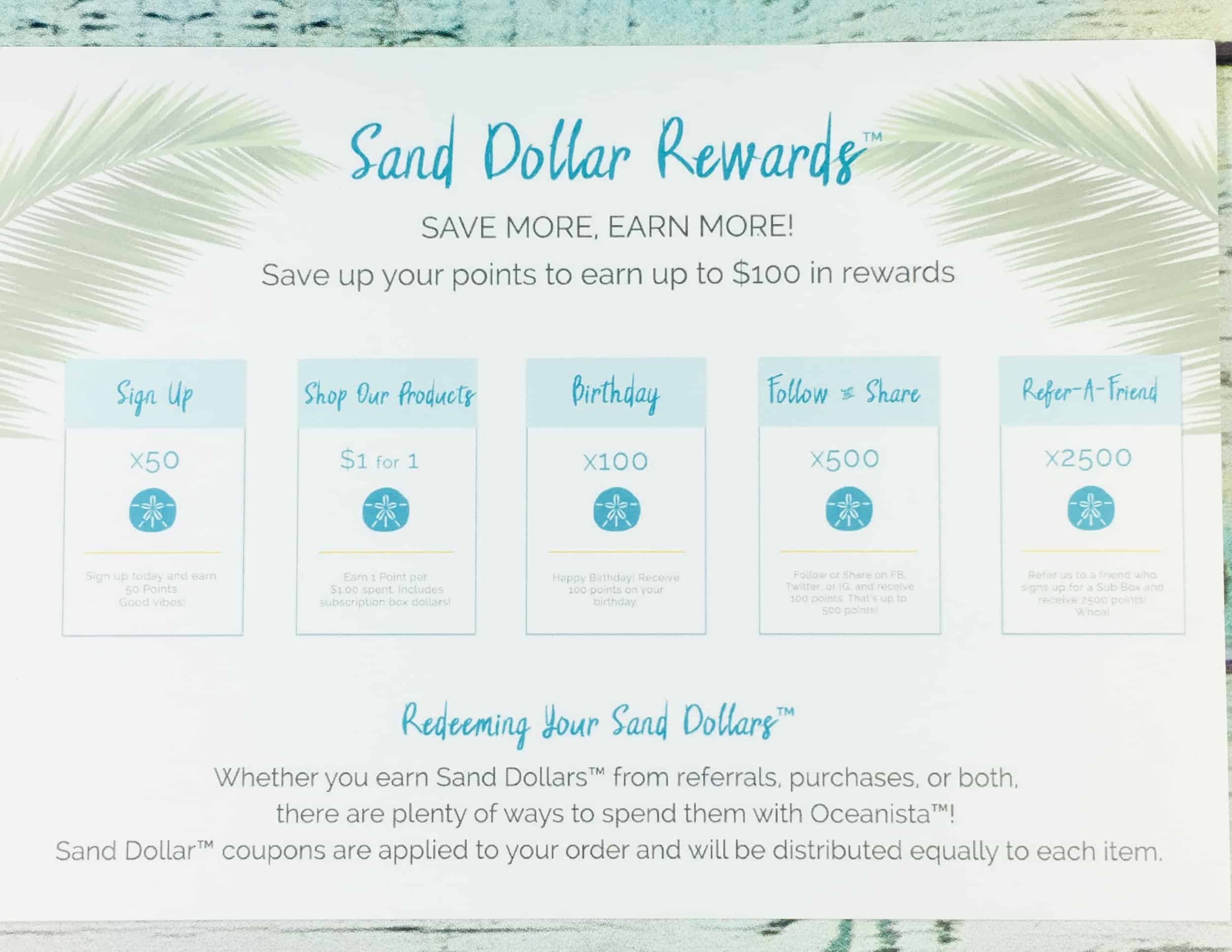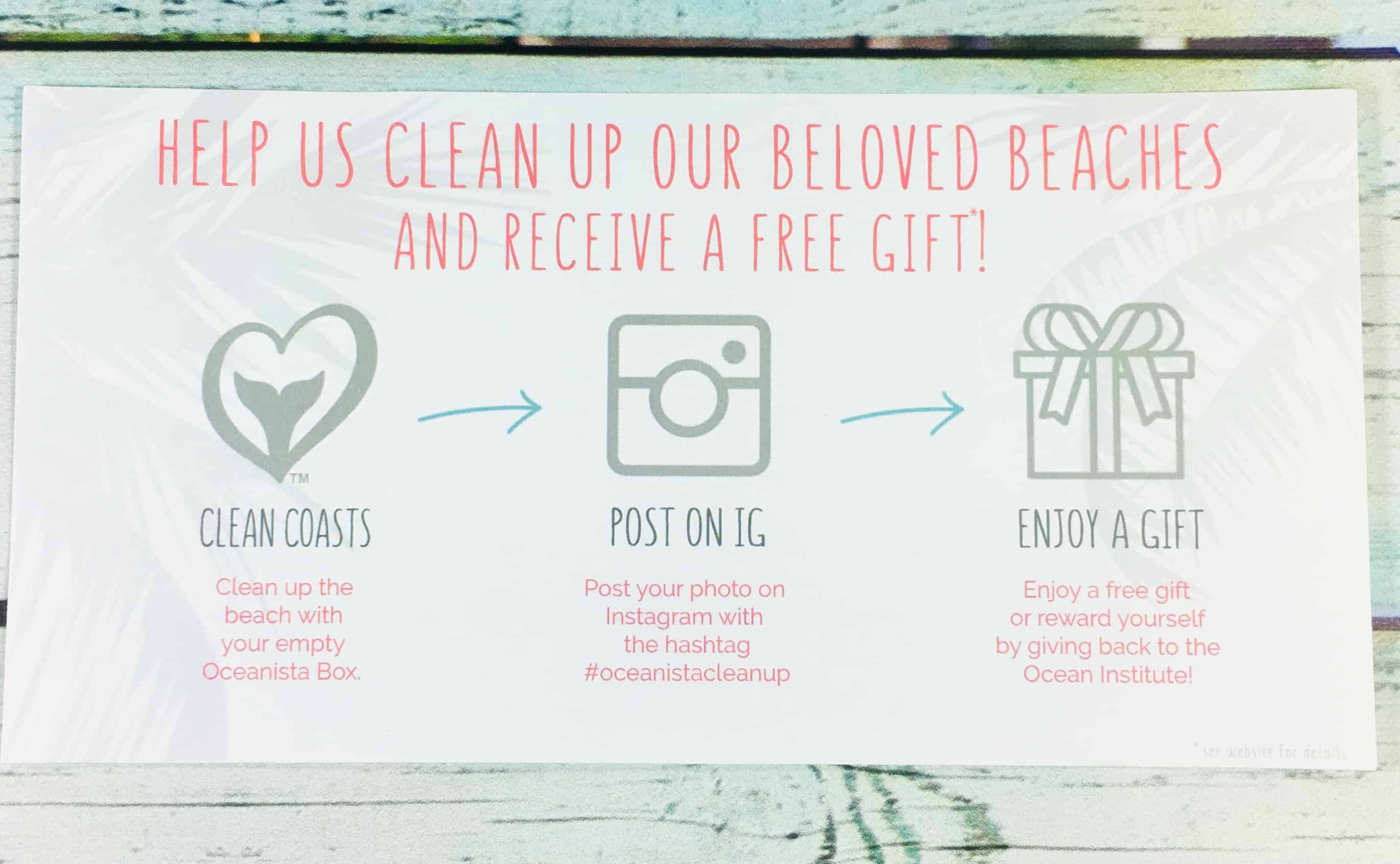 You can even receive a free gift for sharing your photo of you cleaning up the ocean! Just use your empty shipping box (if your cats are no longer living in it) as a receptacle for all that trash.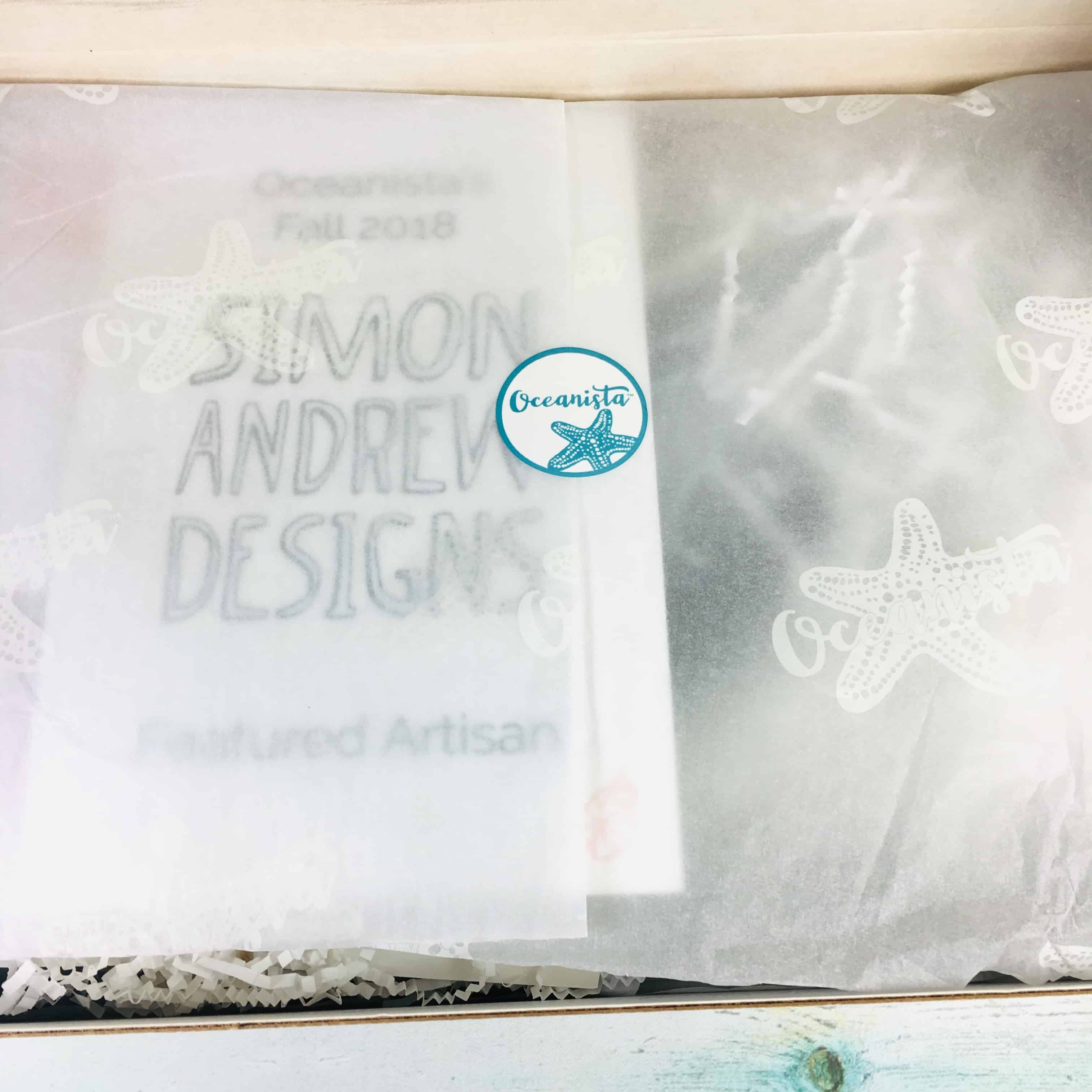 My items were wrapped in tissue paper with a sticker closure.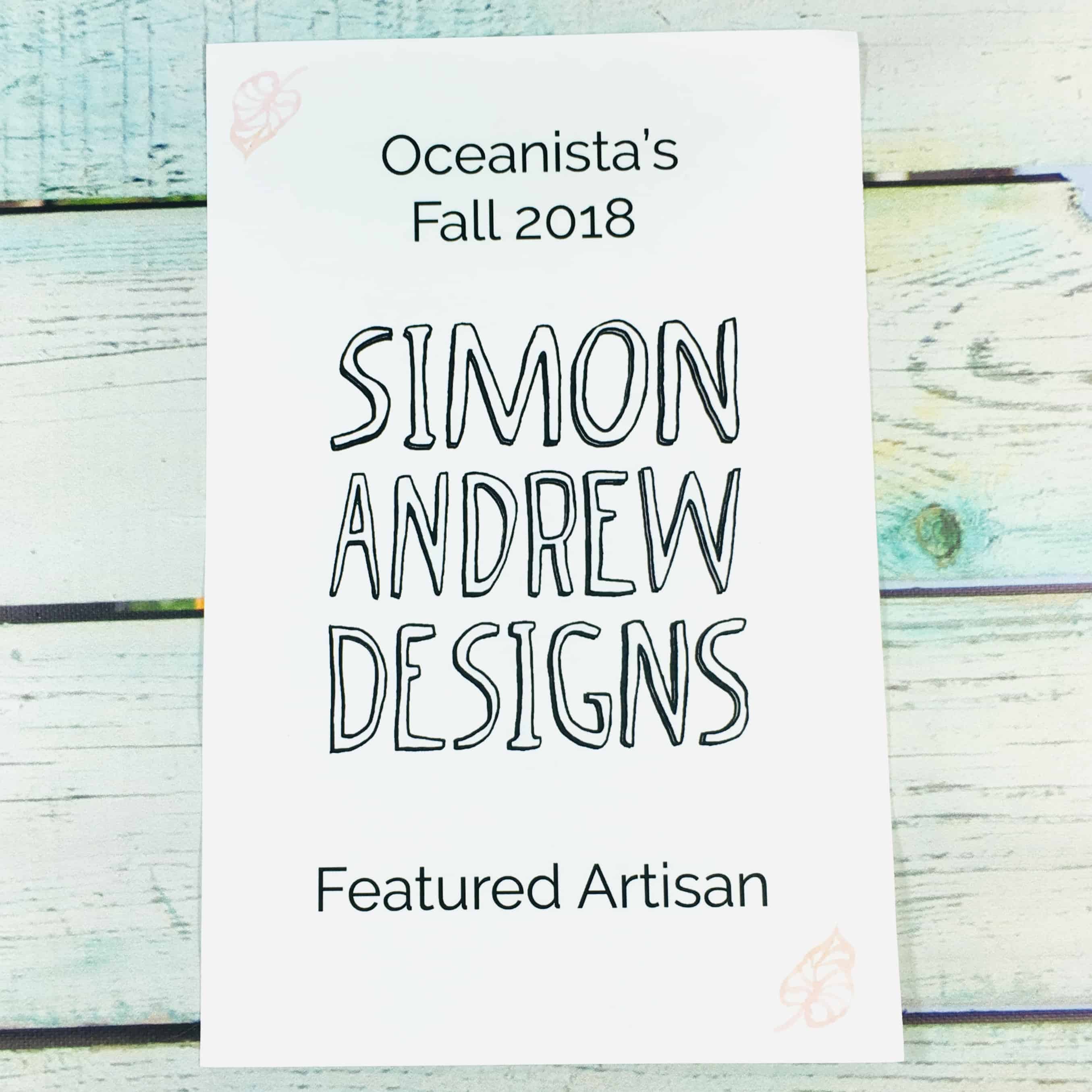 There was a card with info on the featured artisan of the month.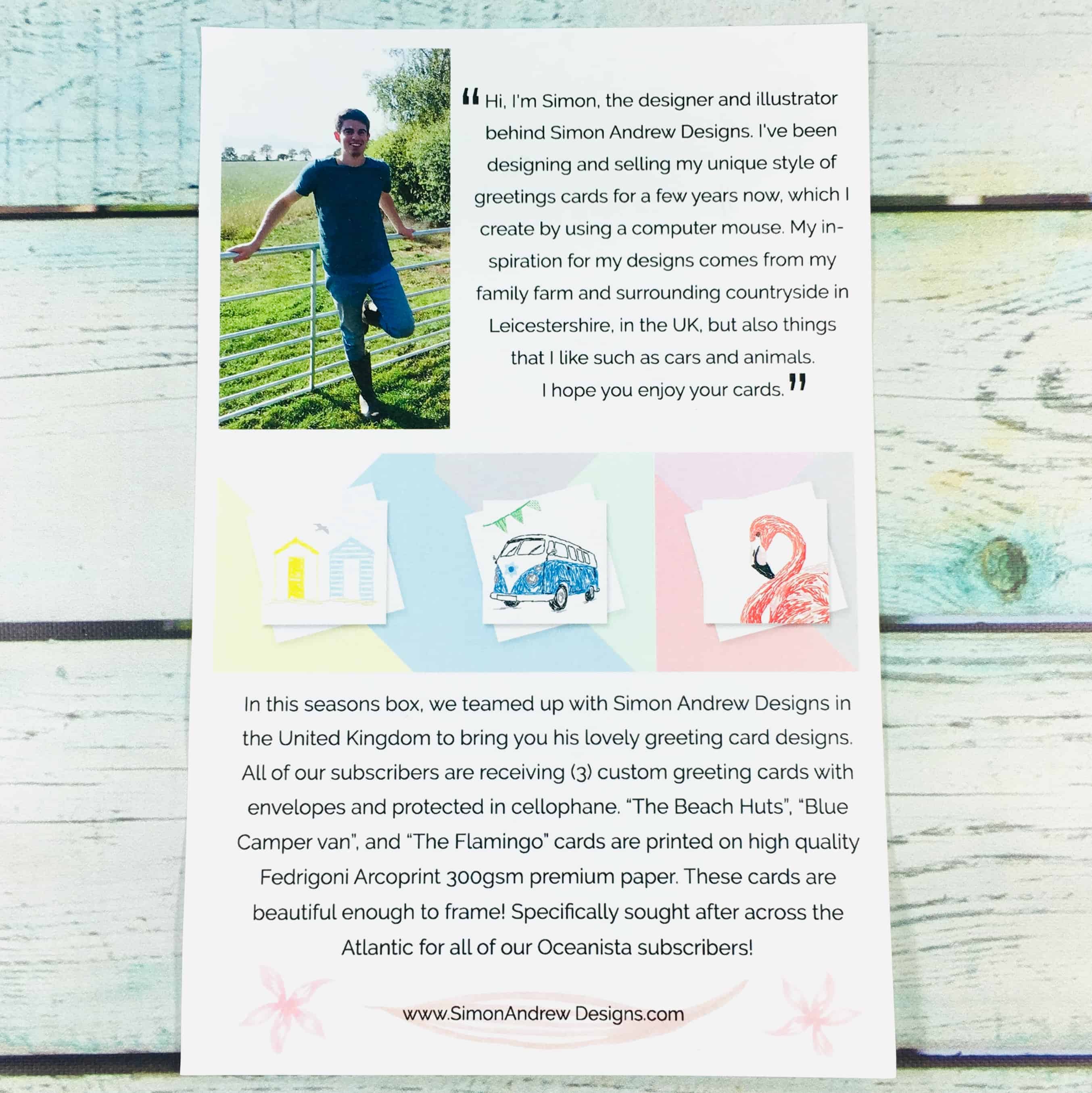 Look for these greeting cards later on in the review!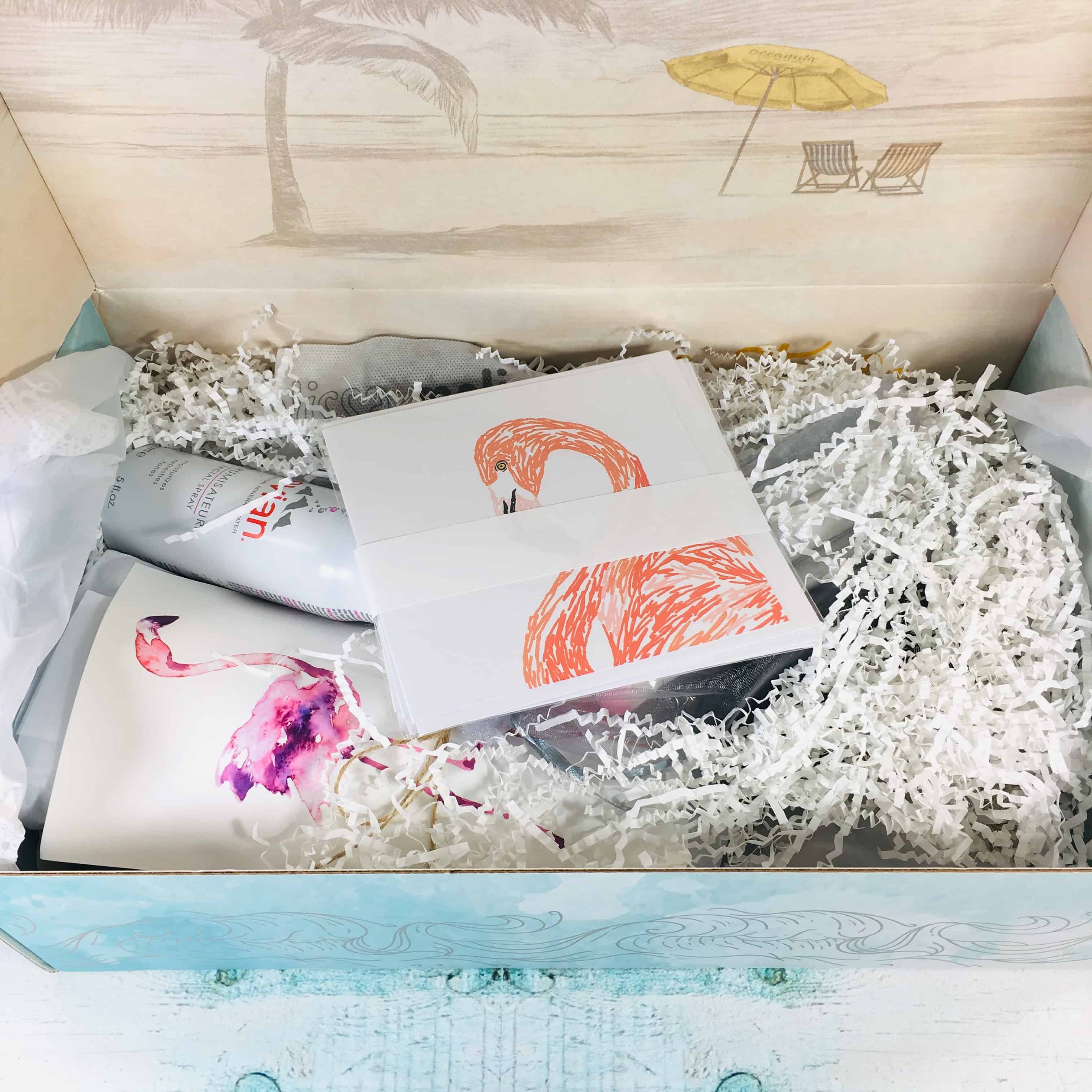 My items were protected by shredded tissue paper squiggles.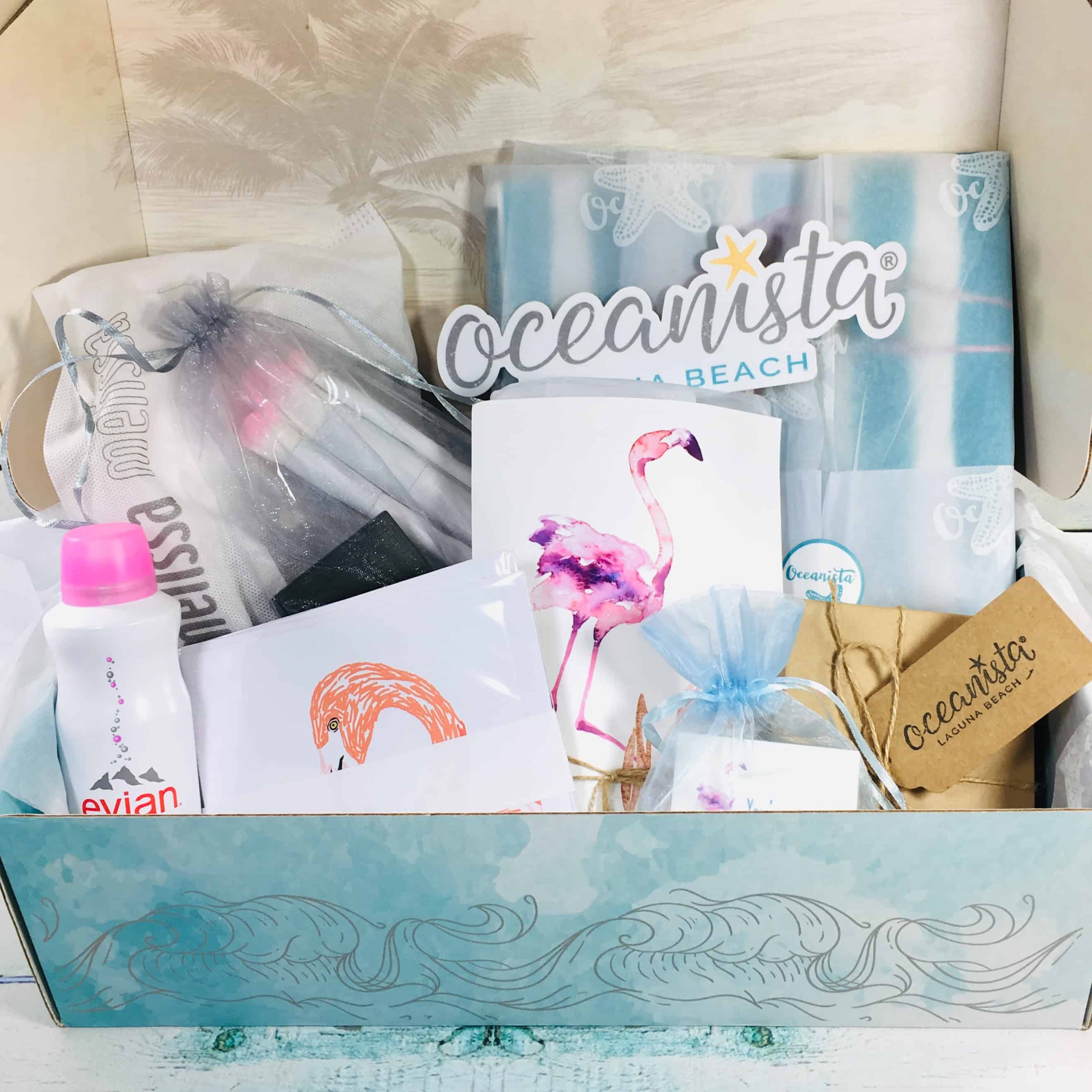 Everything in my box!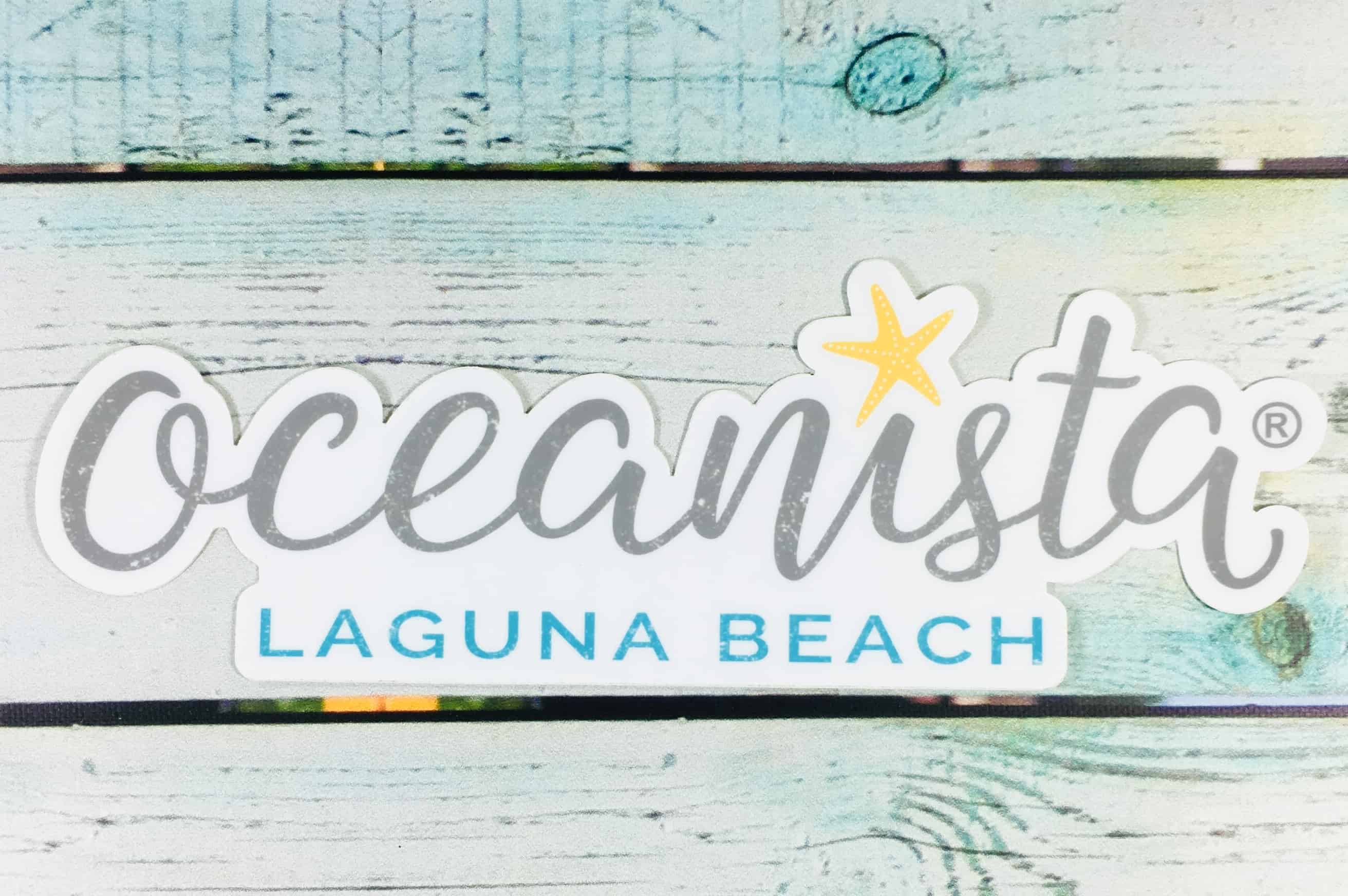 Oceanista Decal can go on your car or laptop, notebook, or wherever you need a reminder that you are an Oceanista!
Some of the items are individually wrapped.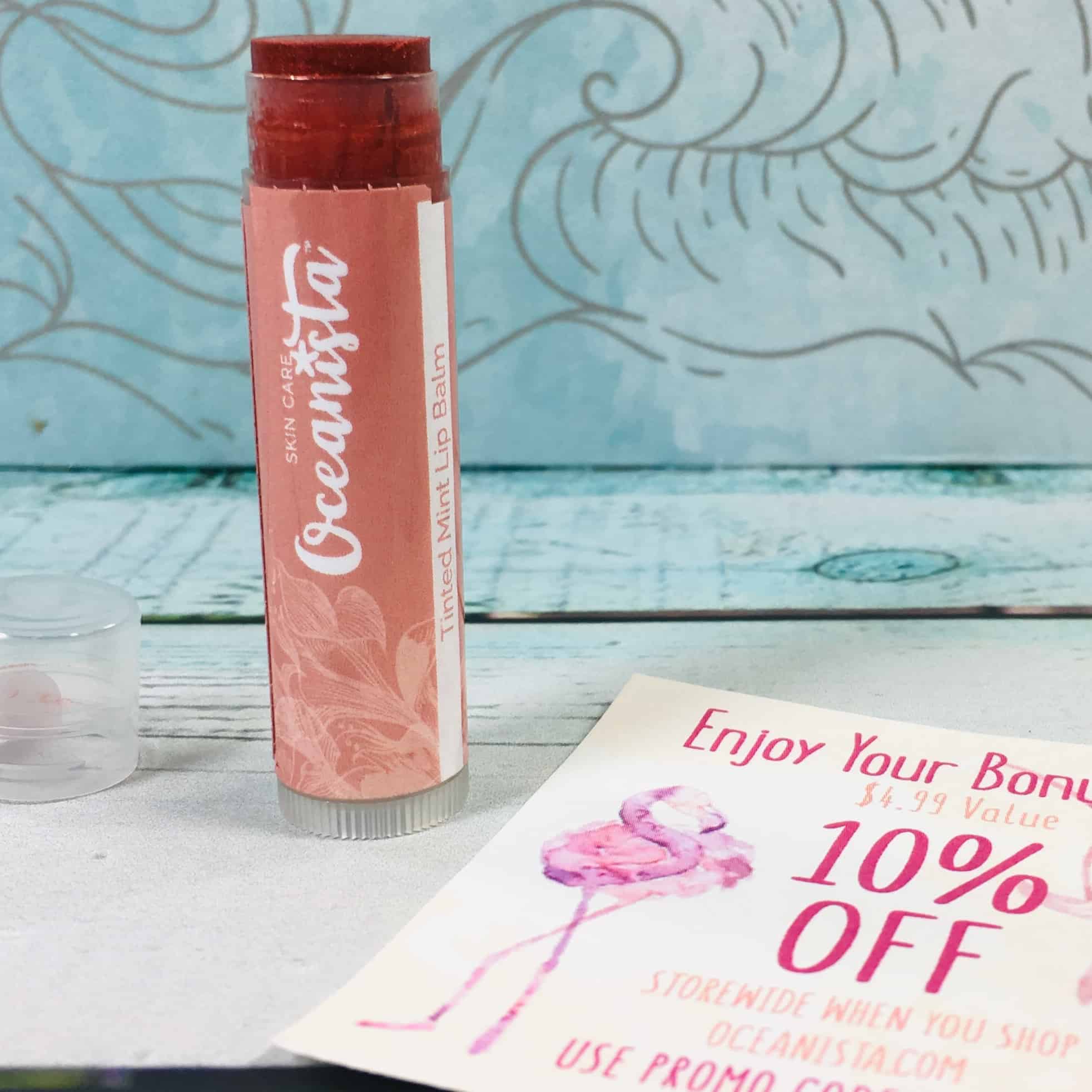 Oceanista Tinted Lip Balm ($4.99) came with a coupon code to save 10% off of a purchase on the Oceanista website.
I like the tint and the minty flavor.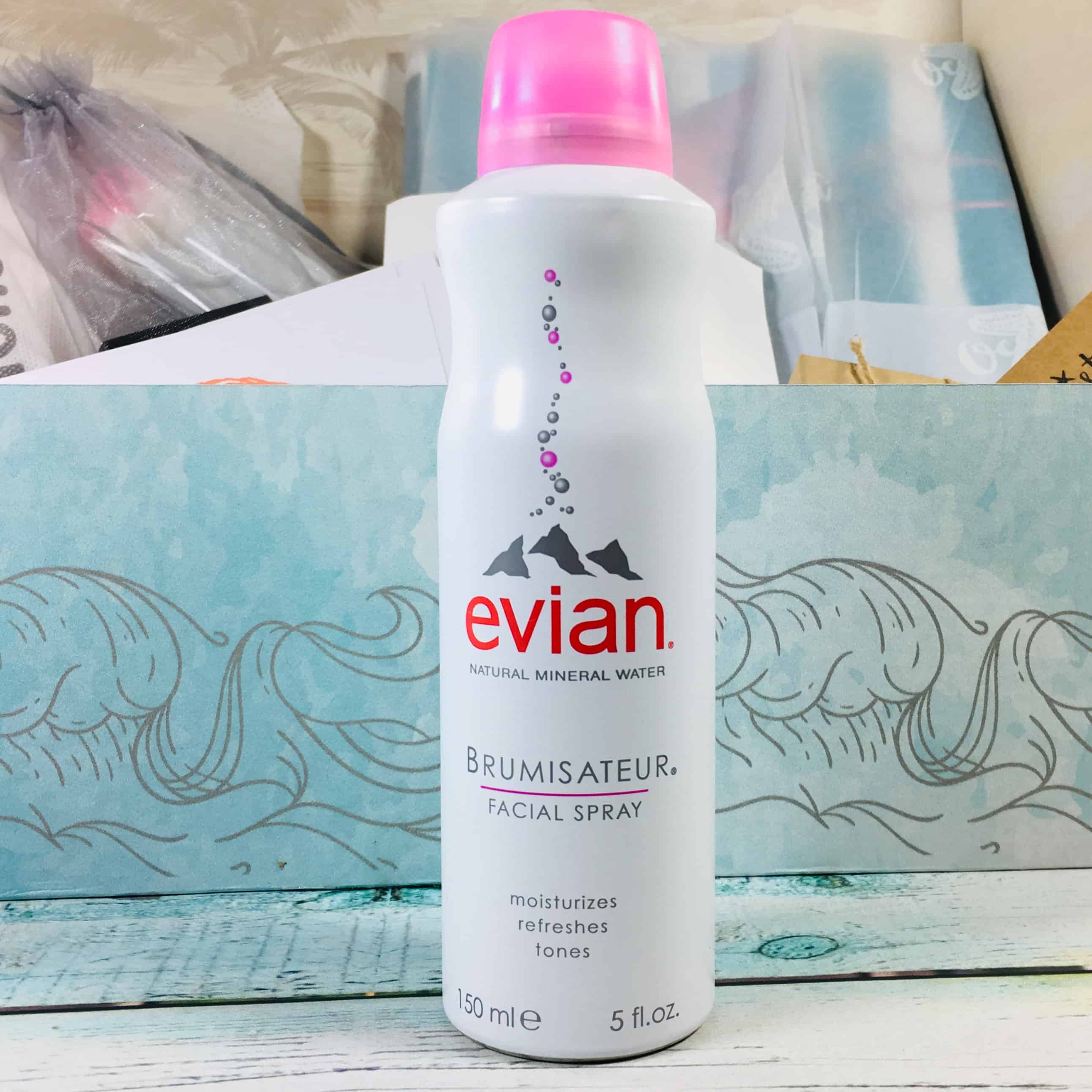 Evian Facial Mist ($12.50) is mineral water from the Alps and it comes out of the sprayer in a fine mist. I like to spritz this on my face before applying facial oil, but it is also a nice pick me up in the afternoon or can calm ruddy cheeks when they flush (which happens to me sometimes).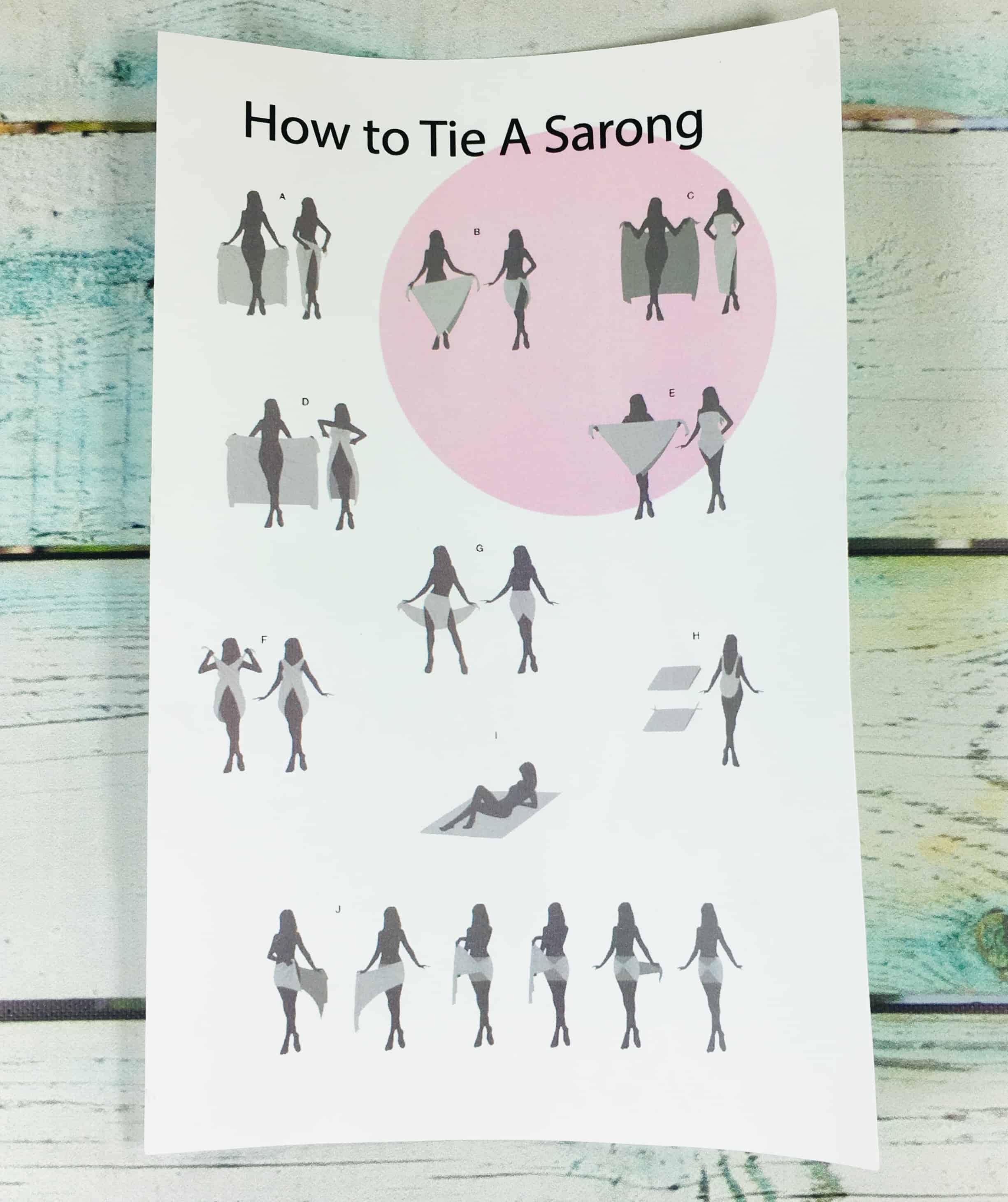 The next item came wrapped with instructions!
2-in-1 Flamingo Sarong/Scarf ($17, find similar item here for $16) I couldn't find this on the Oceanista website so I linked to a similar item on Etsy. Subscribers may receive pink or this lovely mint shade.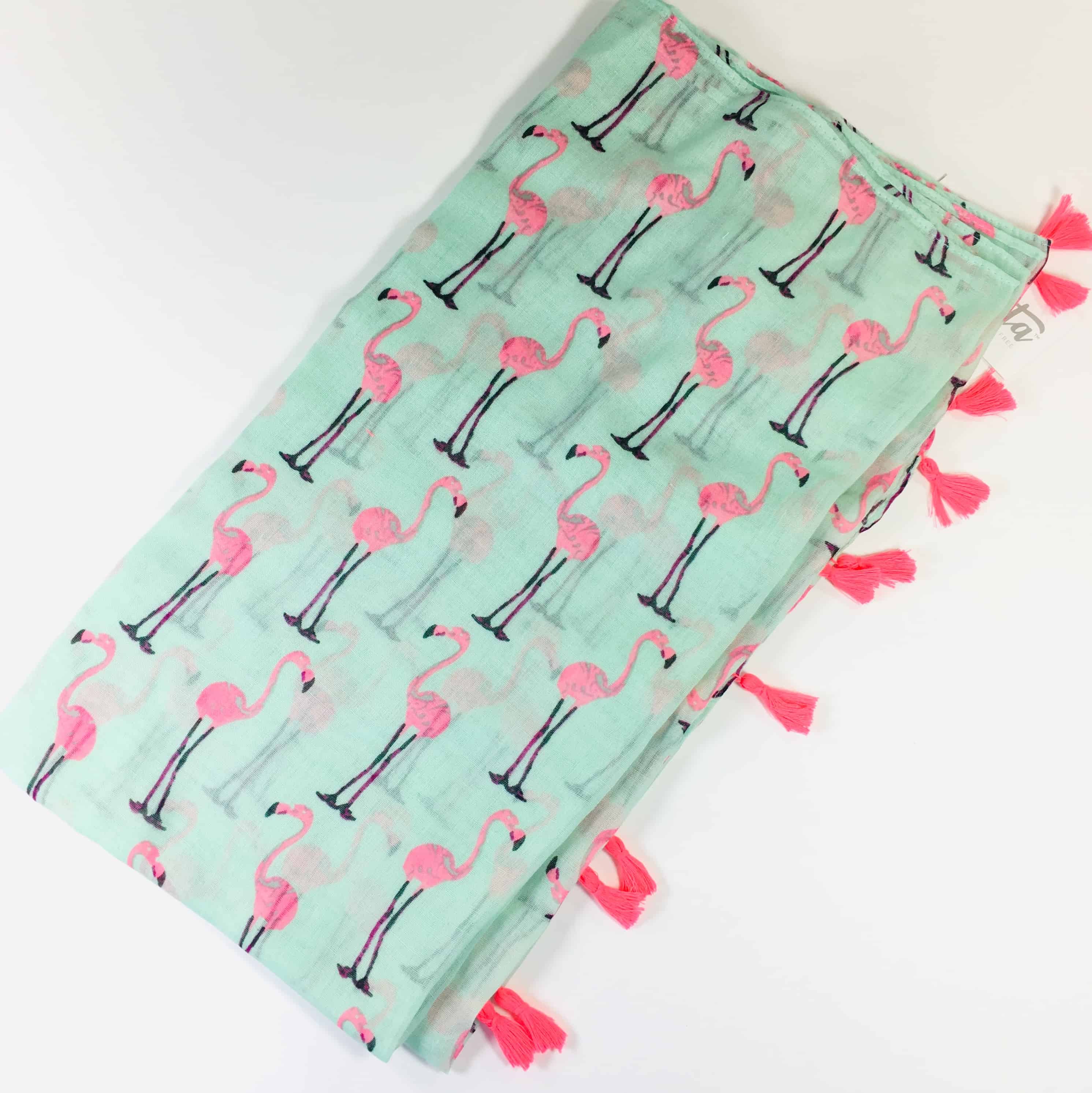 I love the bright colors and cute bird print all over this multi-purpose item.
The pink tassels are adorable!
Flamingo Wet Bikini Bag With Hemp Rope Handle ($15.95) The attention to detail is spot on with this sub. Check out the tissue paper and sticker!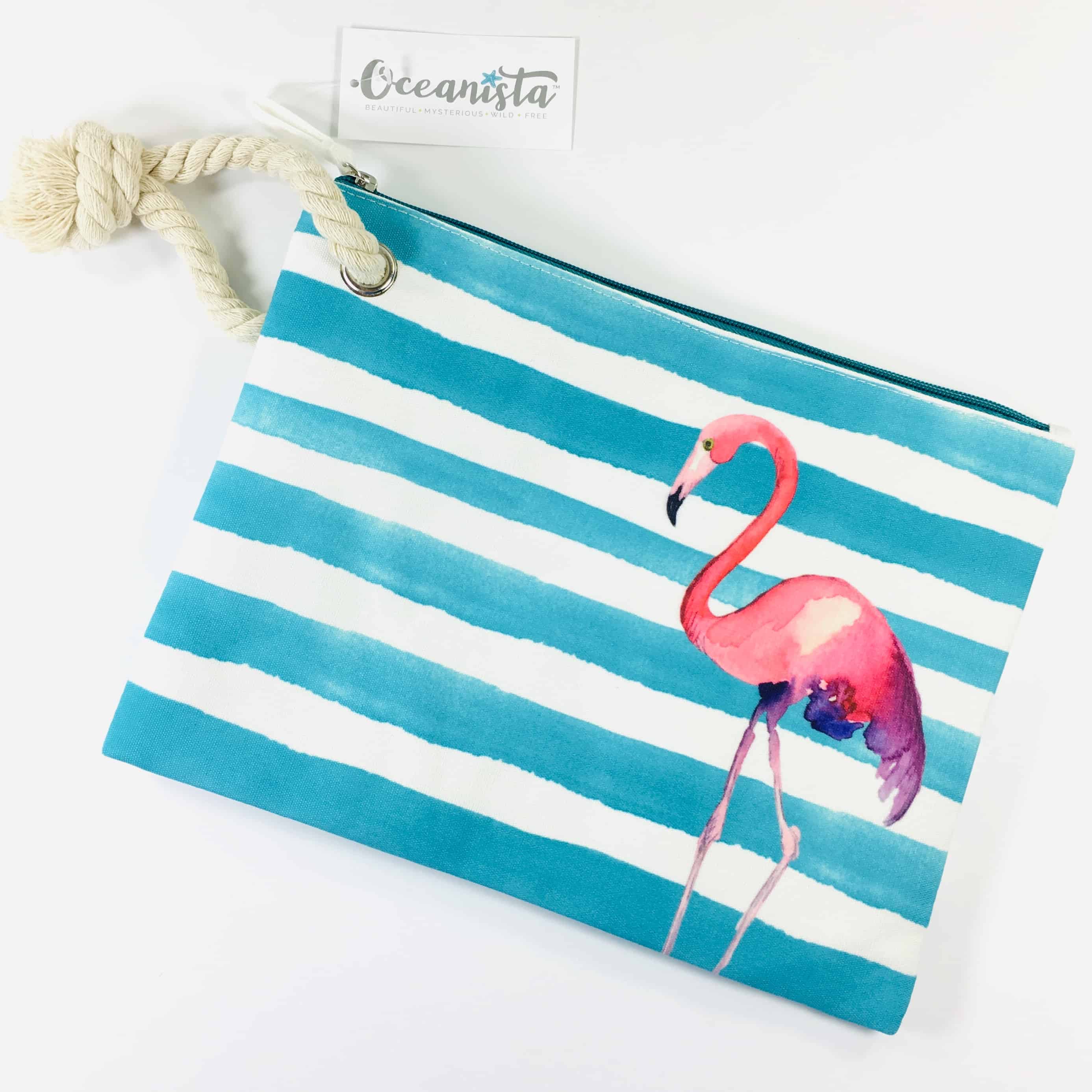 What an adorable bag! I love the colors, the cabana stripes, the flamingo on the corner. Plus there's a sturdy hemp rope handle on the corner.
The inside of the bag is lined with waterproof fabric so you can place your wet bathing suit inside without fear of it soaking through to the rest of your beach bag. You can also use this to carry on trips, it's pretty big and can hold beauty items or makeup. Or use it as a tote or however you see fit.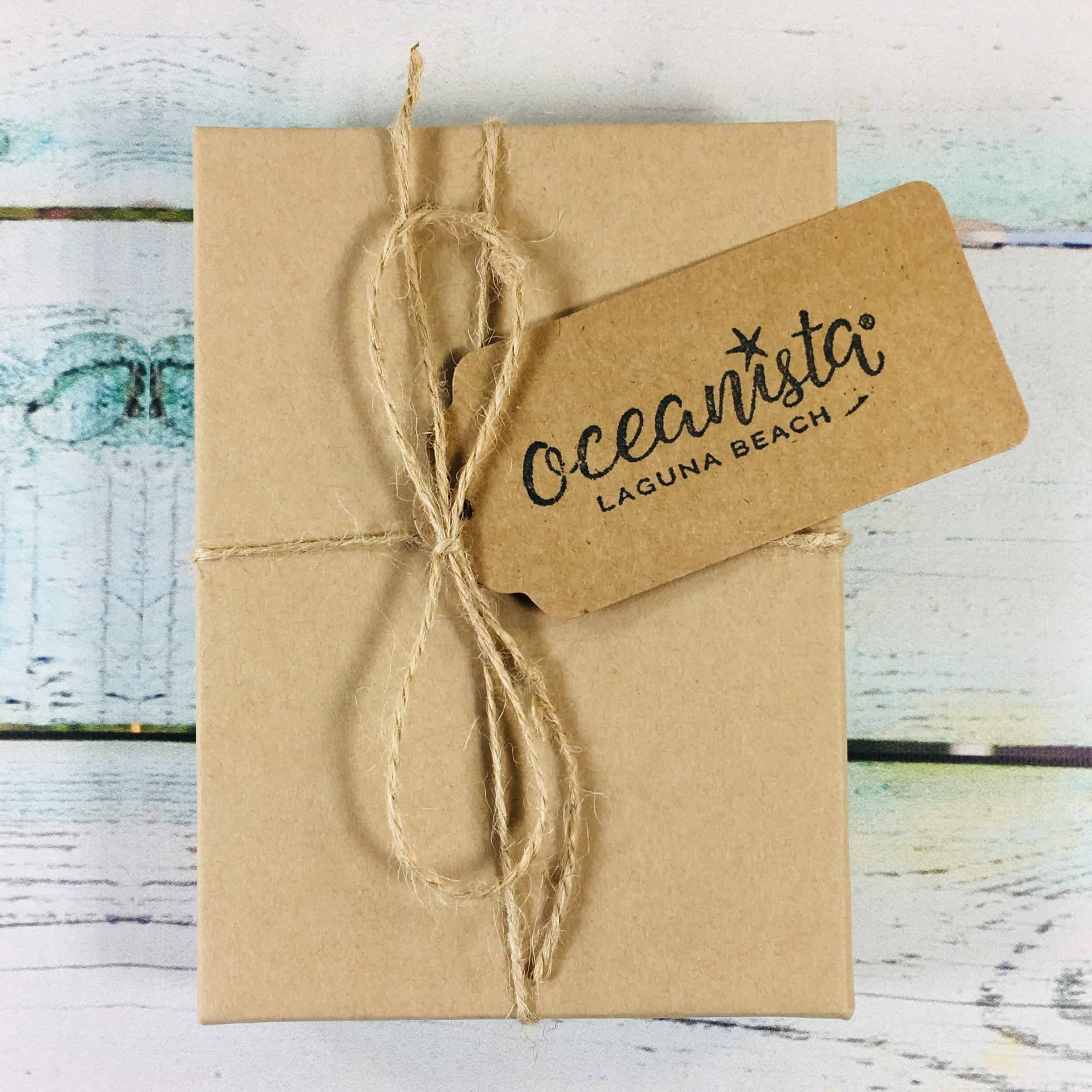 It looks like there might be jewelry in here!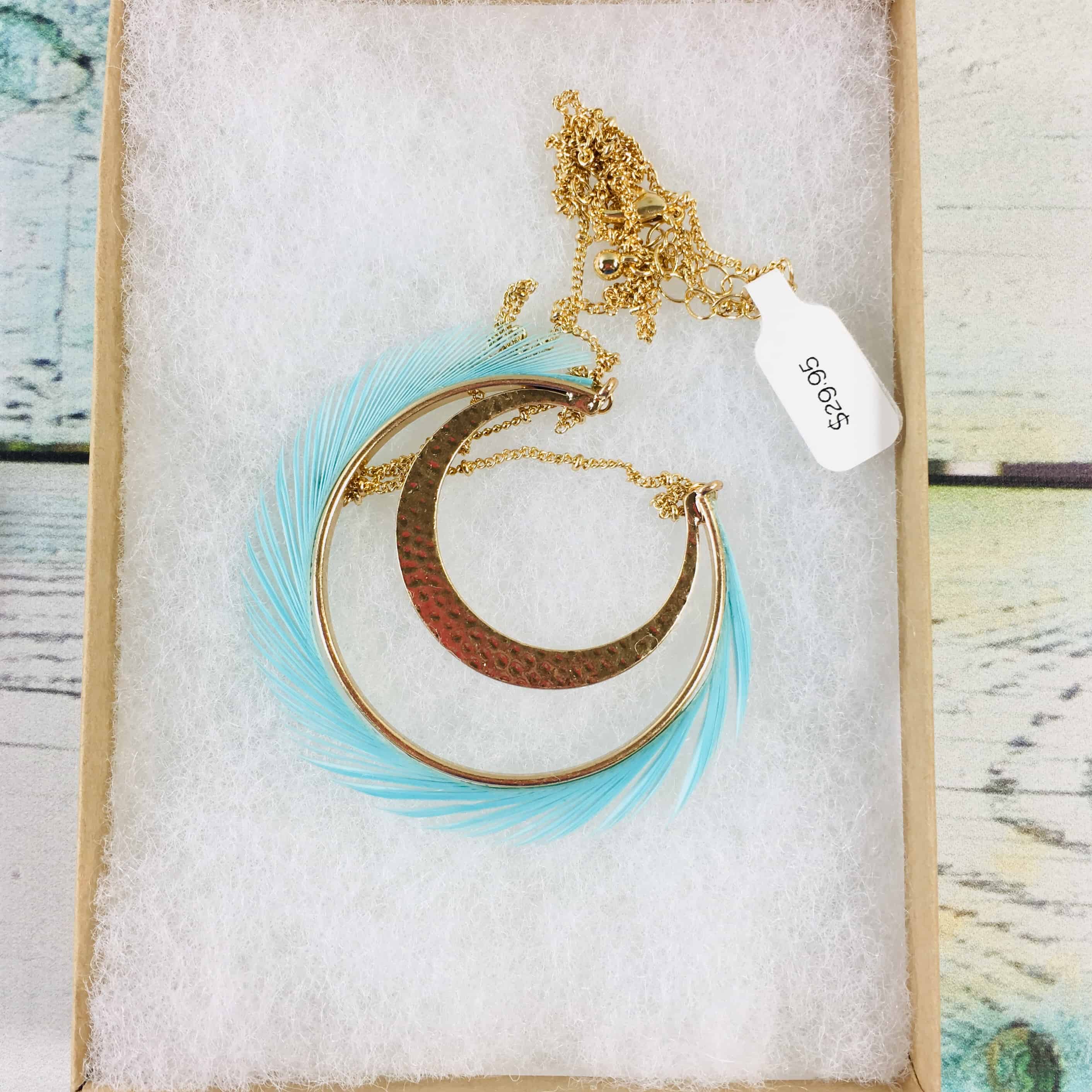 Oceanista Genuine Feather Crescent Necklace ($29.95) What an amazing necklace!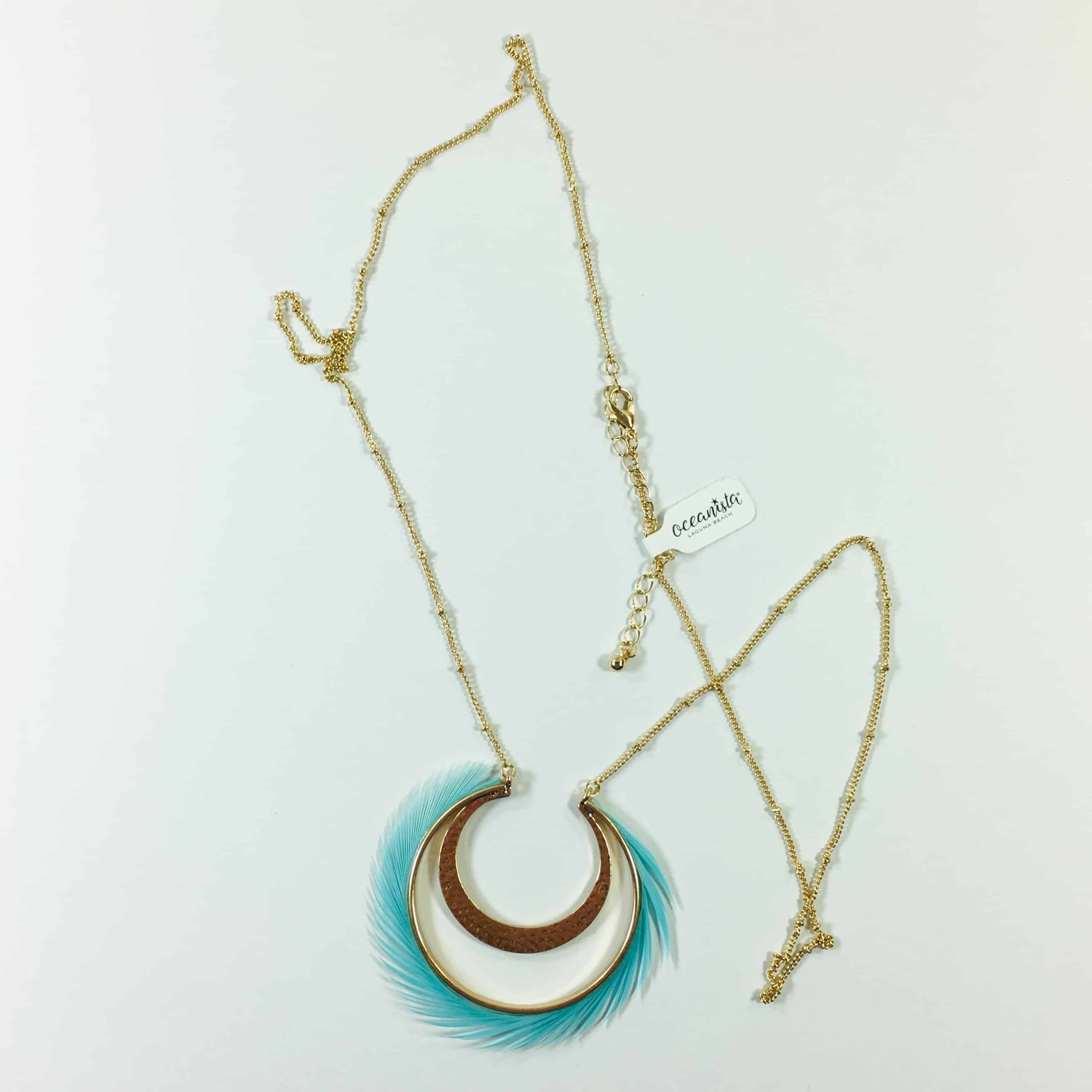 This one is long, about 30 inches, and has an extender too.
There is a genuine blue feather and hammered gold-tone crescent in the middle. Even the chain has decorative balls every half inch. Imagine this necklace with jeans and a white t-shirt, stunning!
Each shipment will feature a different artisan and for this box the artist is Simon Andrew Designs, from England!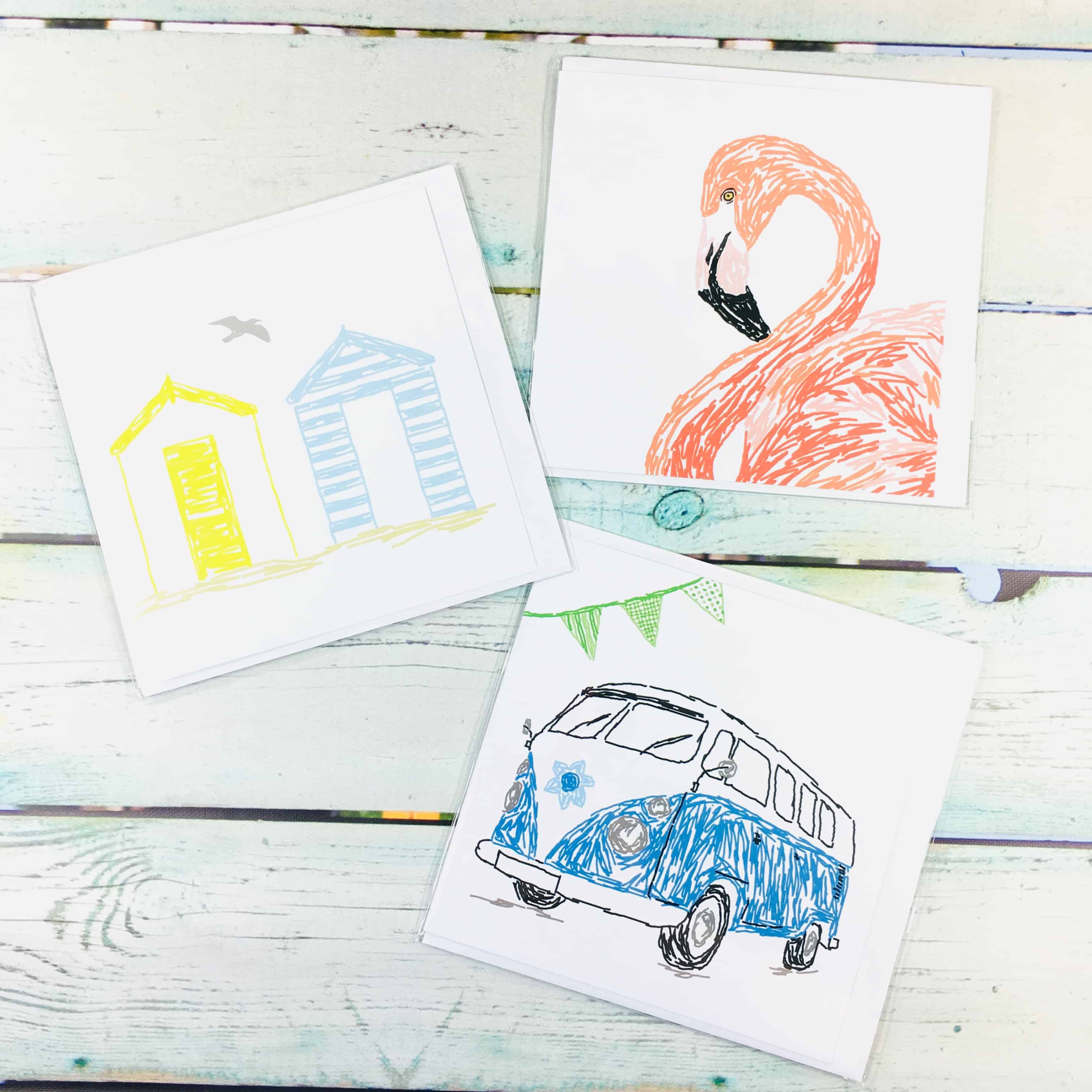 There was a set of three of his cards: Blue Camper Van, Beach Huts, and Flamingo ($2.36 each plus shipping).
Each card is on cardstock with a matching envelope. I think they are cute and of high quality.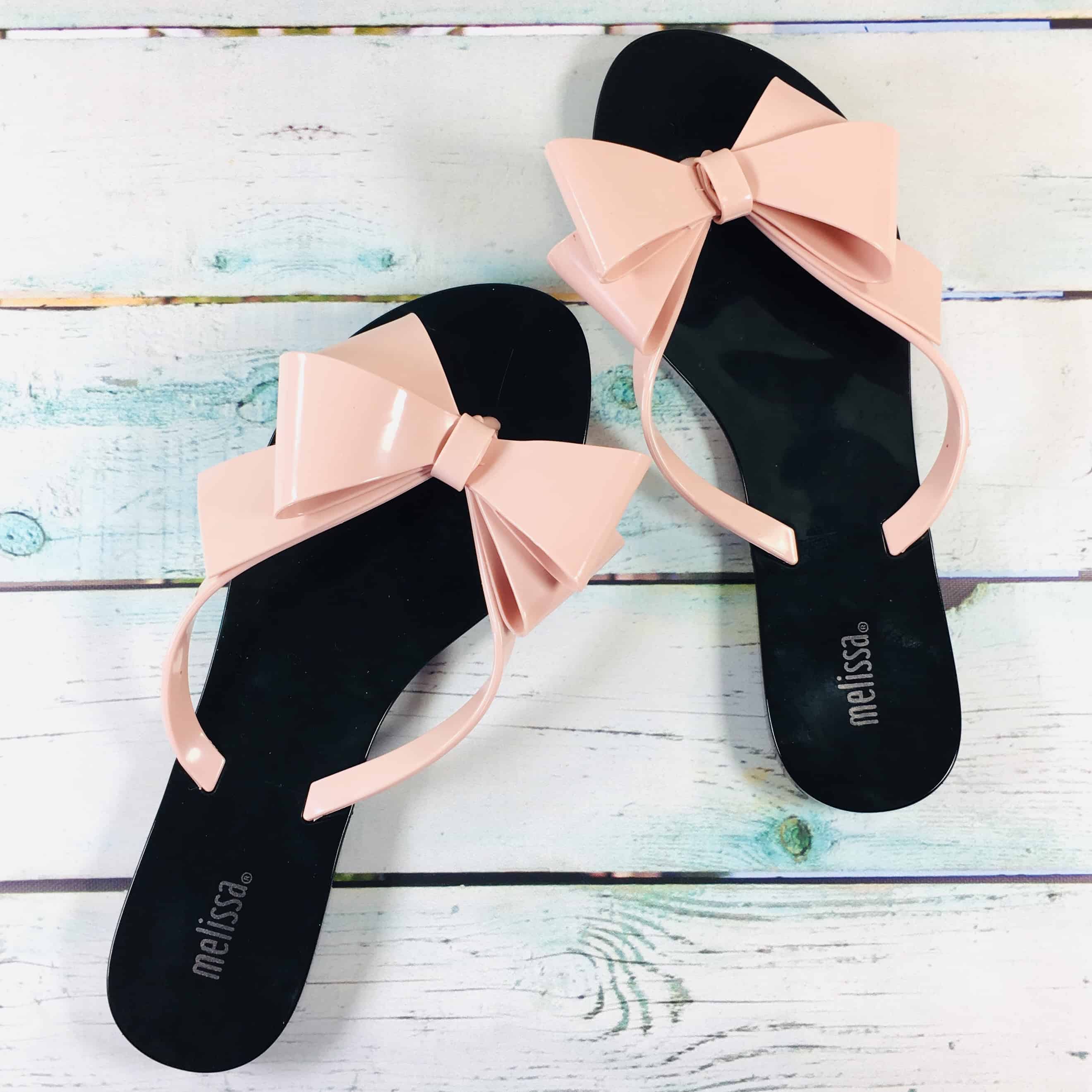 Melissa Harmonic Bow III Flip Flop ($55, but price varies depending on size ordered) I have mixed feelings about these shoes. They are cute but not something I would wear, and these were sent in my younger daughter's size and it isn't her look either. My older daughter would probably love these, so it just depends on your personal tastes.
The shoes are made of PVC plastic and although the card says they are metallic these are shiny, like patent leather (you can order metallic ones on Amazon). They also smell strongly of something like fruity bubblegum and again, not a fan. They absolutely fit with the theme, because flamingos are pink, so I'm giving them bonus points for carrying it through!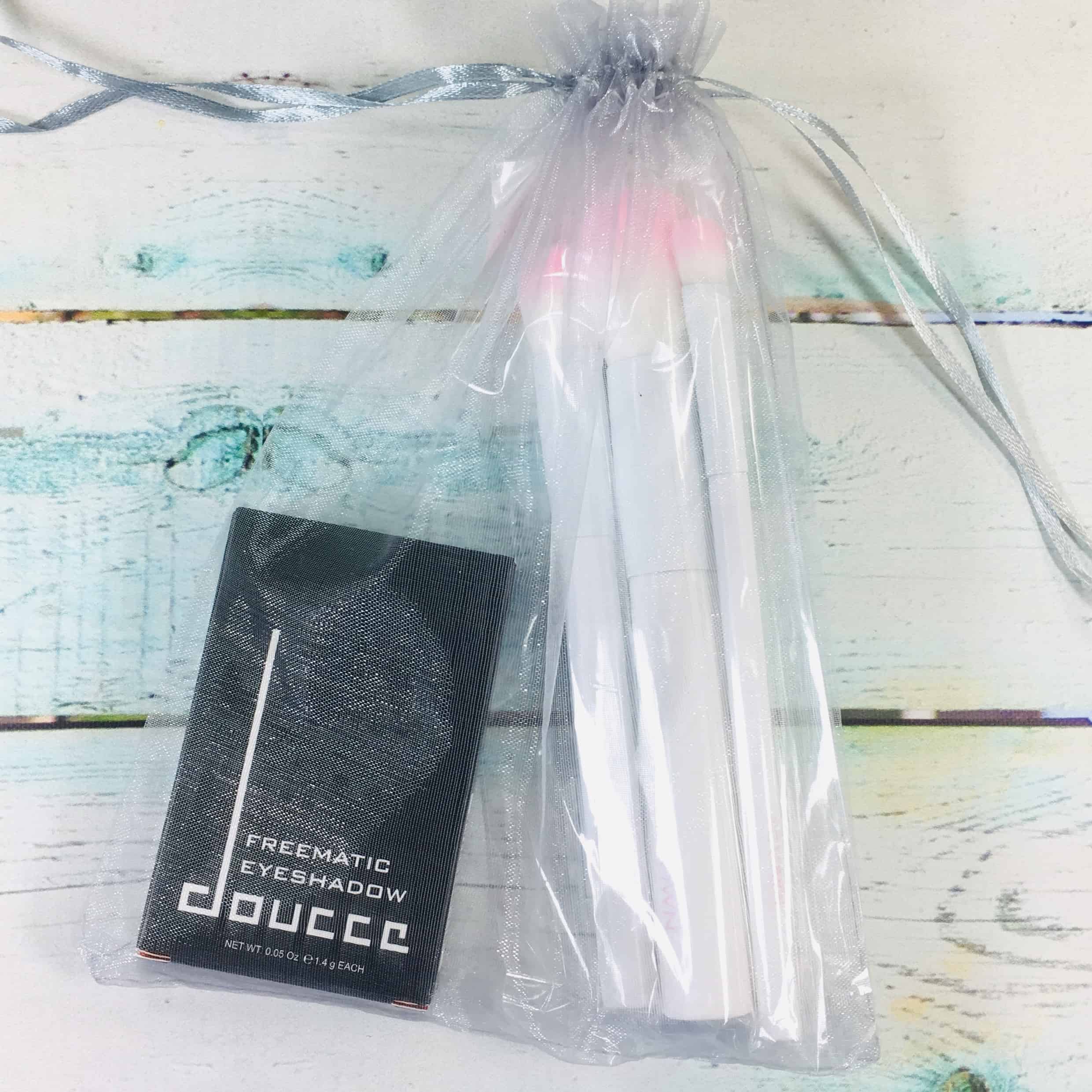 The next two items were bundled together in a pretty bag.
Crown 3-Piece Pro Brush Trio ($29.95) is too cute!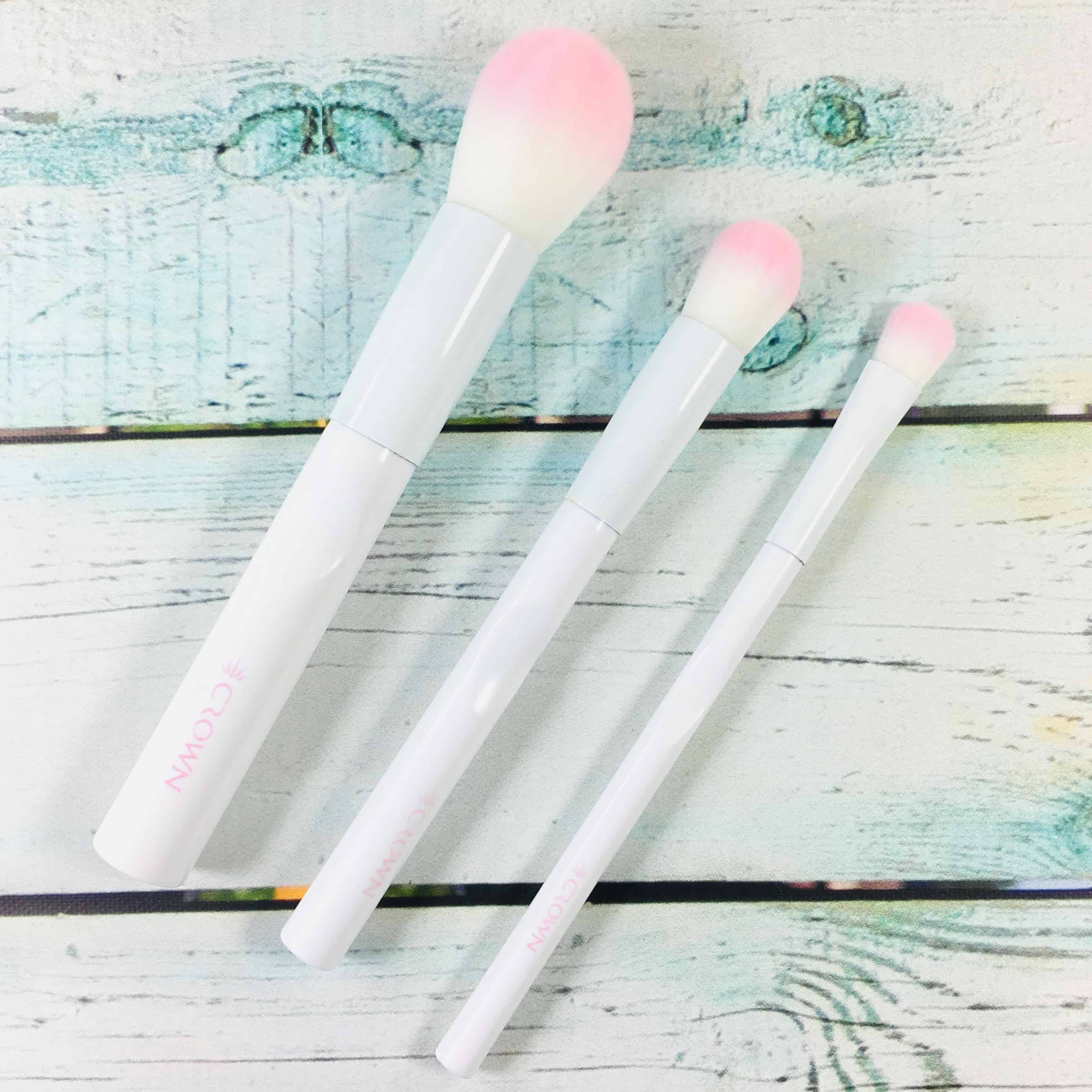 These brushes are made of synthetic bristles so they are vegan-friendly.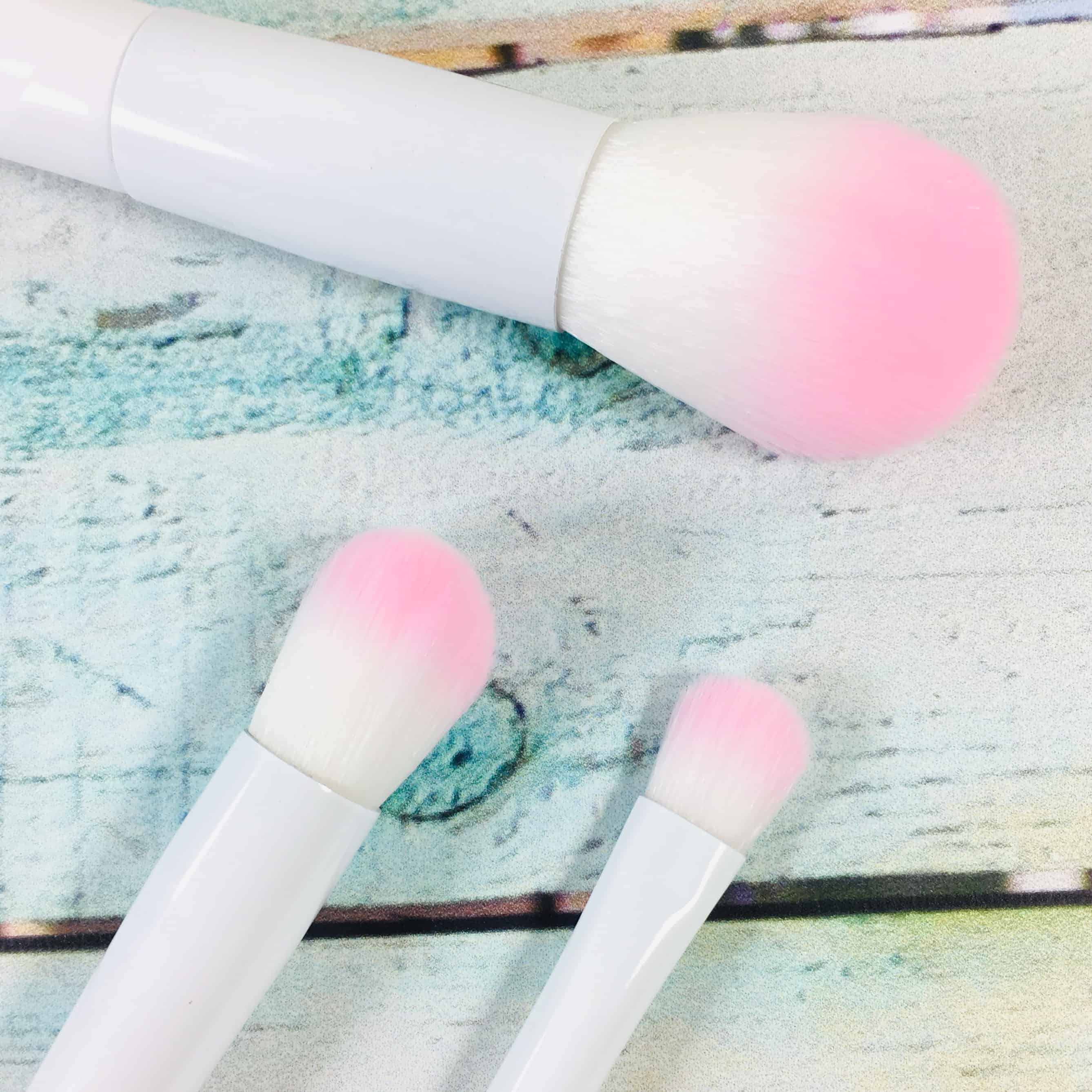 On the top is a powder or blush brush, the brush on the left can be used to apply foundation or to contour, and the brush on the right can be used for applying concealer or as an eye shadow blending brush. I pulled on the bristles and didn't have any come loose. I think these are adorable!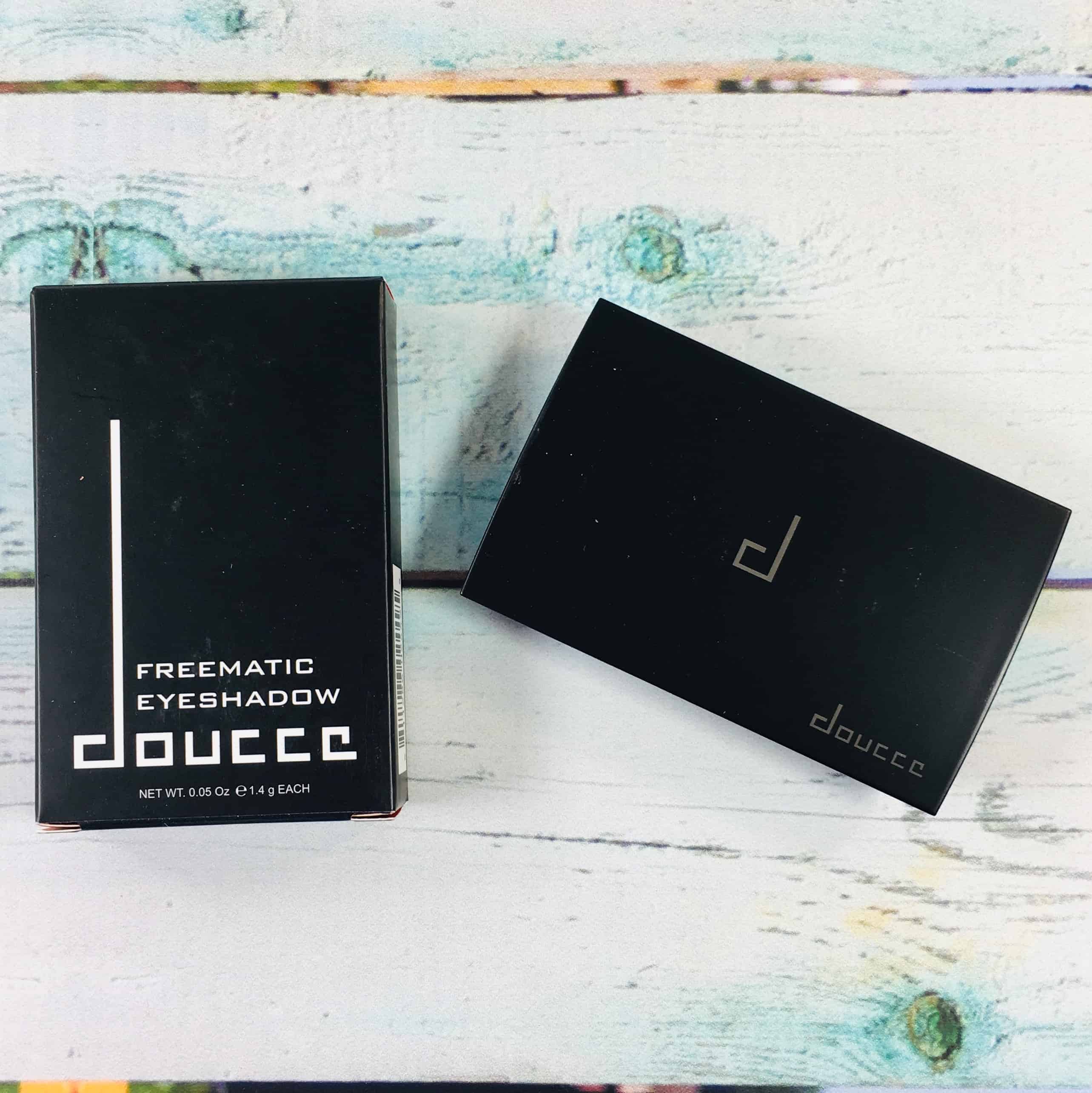 Doucce Frematic Eyeshadow Quad in Sweet Dreams ($35) Doucce shows up regularly in subscription boxes and I really like the color of this palette.
There are four coordinating shades in the quad – two shimmers, and two mattes. I started with a matte base shade (not shown) and then mixed and matched to my heart's content! The first time I used this set I had fallout, but didn't notice any the second time around. Each pan of color has a magnetic back so you can remove these and put other colors in the holder if you like.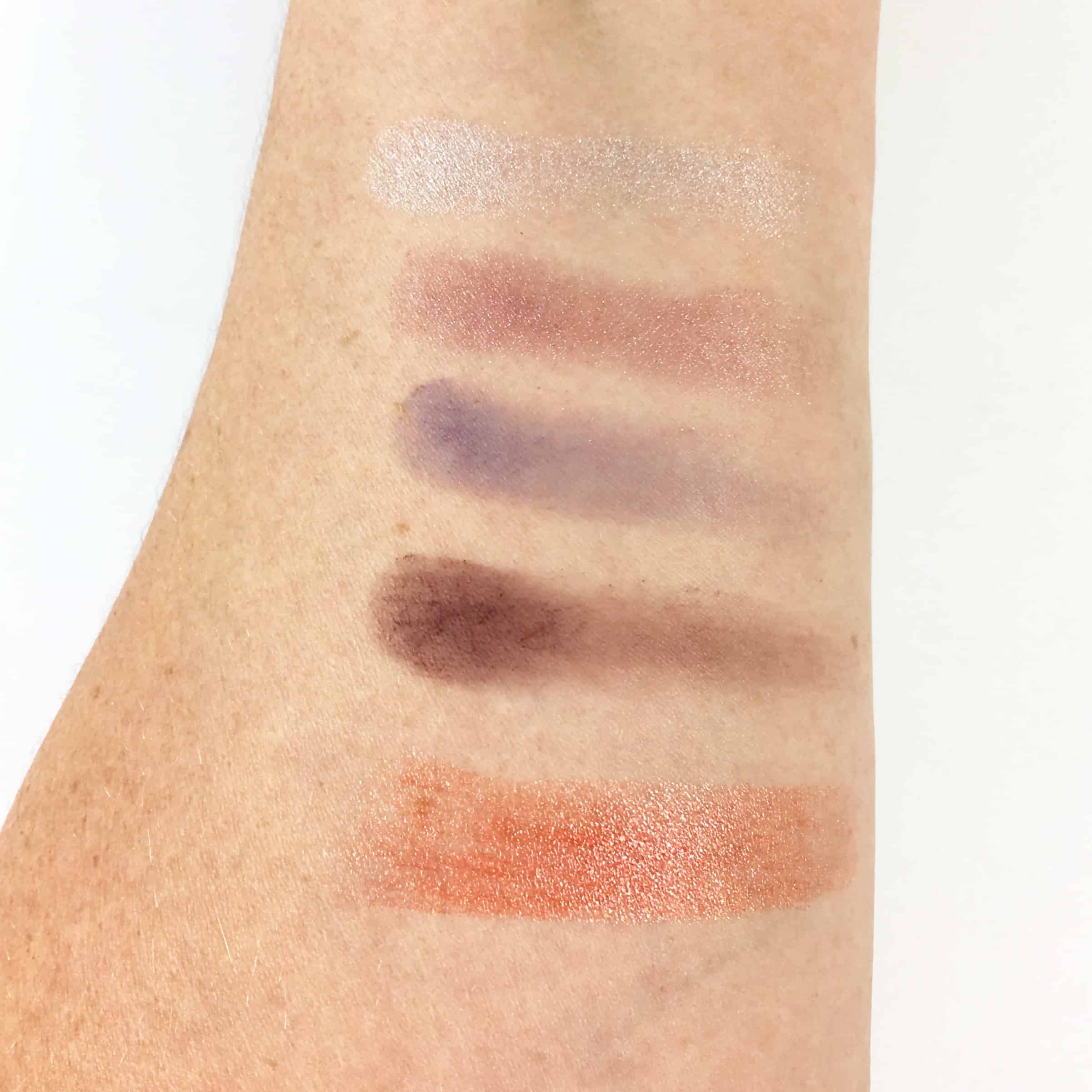 Here they are swatched on my arm, with the minty tinty lip balm on the bottom. The color payoff from the shadow was pretty impressive!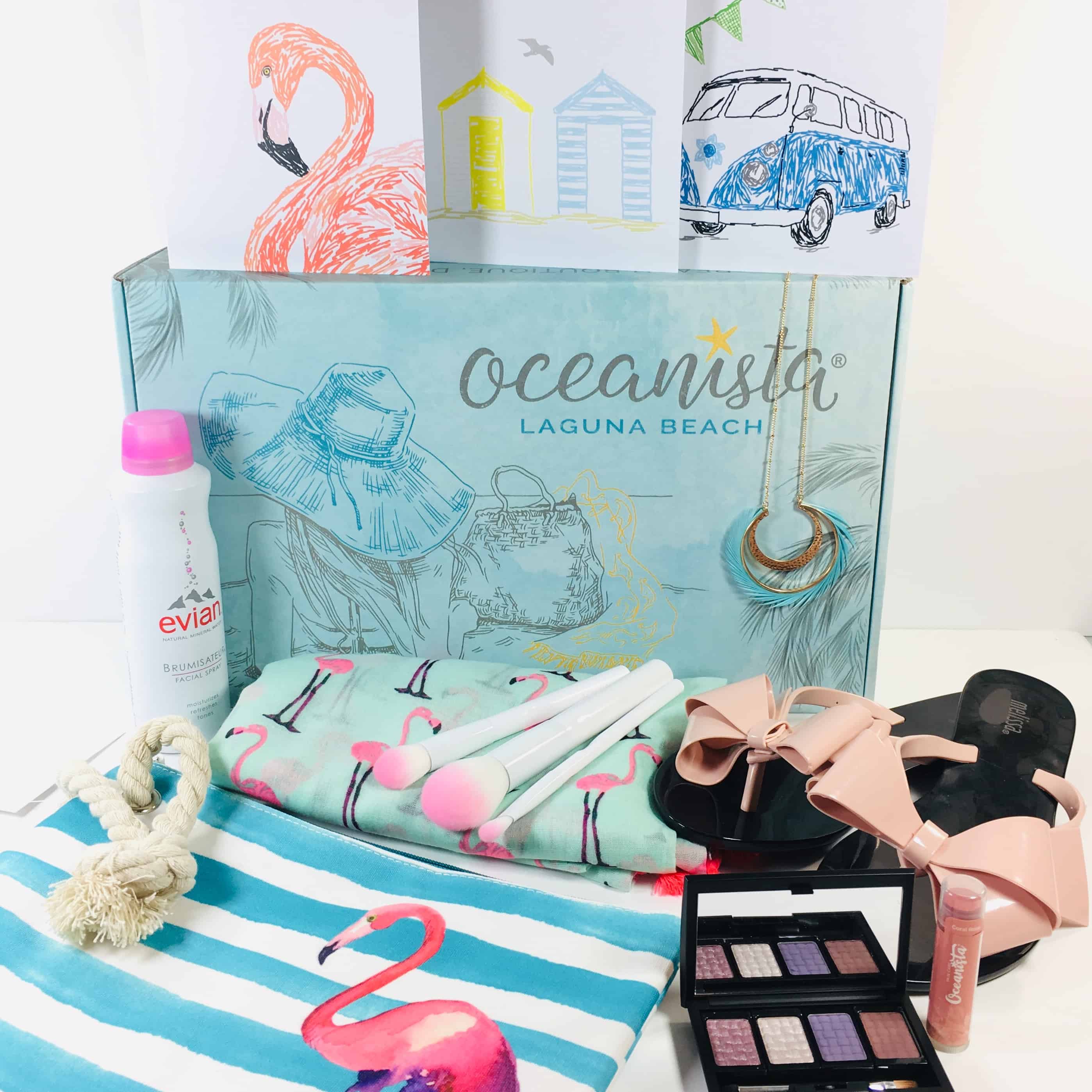 What an amazing box of ocean- and flamingo-inspired goodies! I think Oceanista did a great job of curating a cute collection and I love how they presented the theme and found quality items to go along with it til the end. Plus the value was amazing – around $207 for everything! With the exception of the shoes, everything will get used up and I am really impressed with this subscription!
Head's up: The Winter Oceanista box theme is Psalms & Palms! I love both of those so I can't wait to see what will be in the next box!!!
Any thoughts about the Oceanista Fall box? Let us know your comments!