Marvel Collector Corps is a bi-monthly subscription from Marvel Comics and Funko, now available through Amazon! The box promises 4 to 7 collectibles in every box, including an exclusive vinyl Pop for $29.99
Funko recently ended managing their own subscriptions but has made the past boxes available in their shop with no subscription required. Boxes are $35.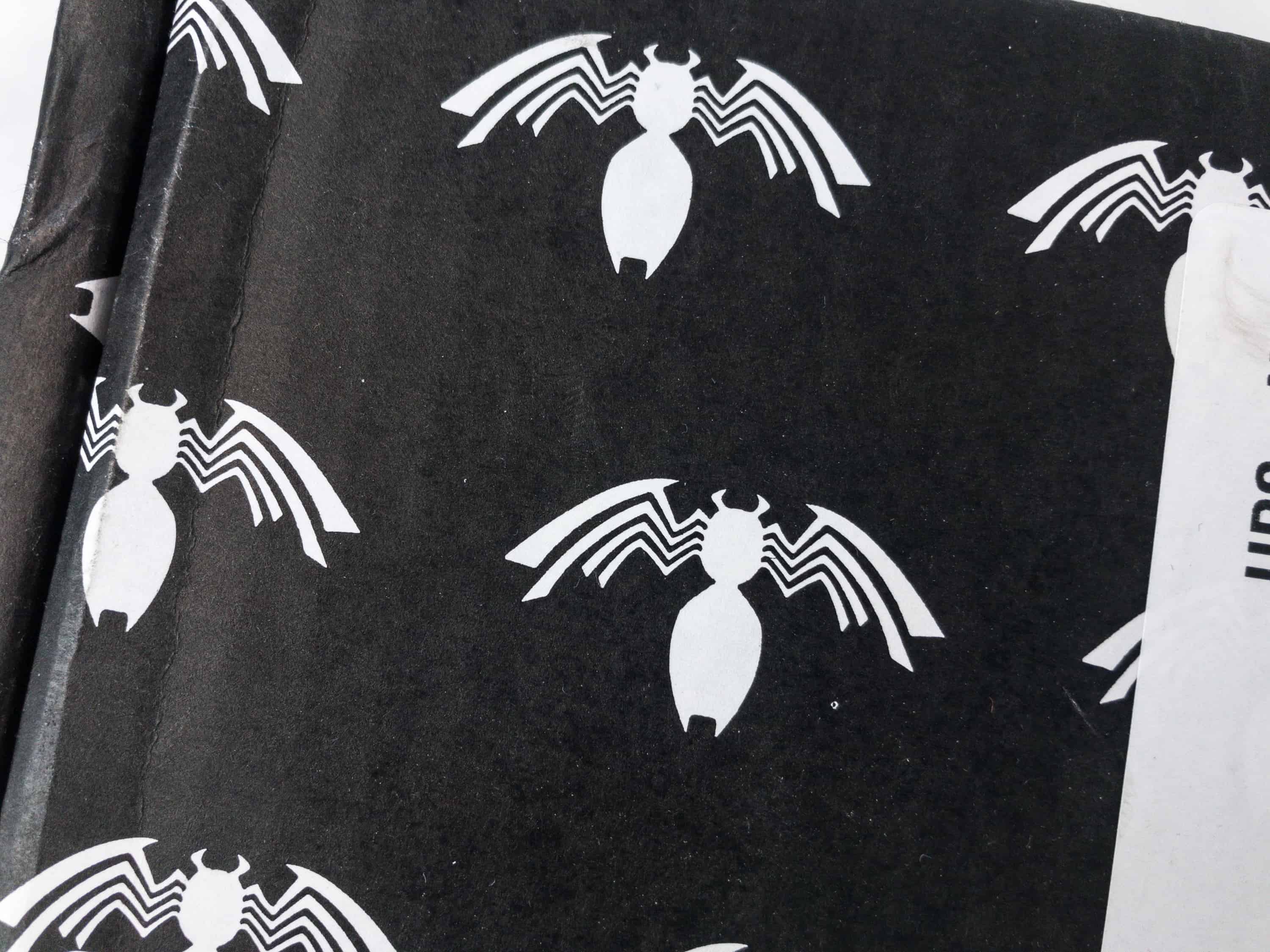 Looking at the box, we already know what's up!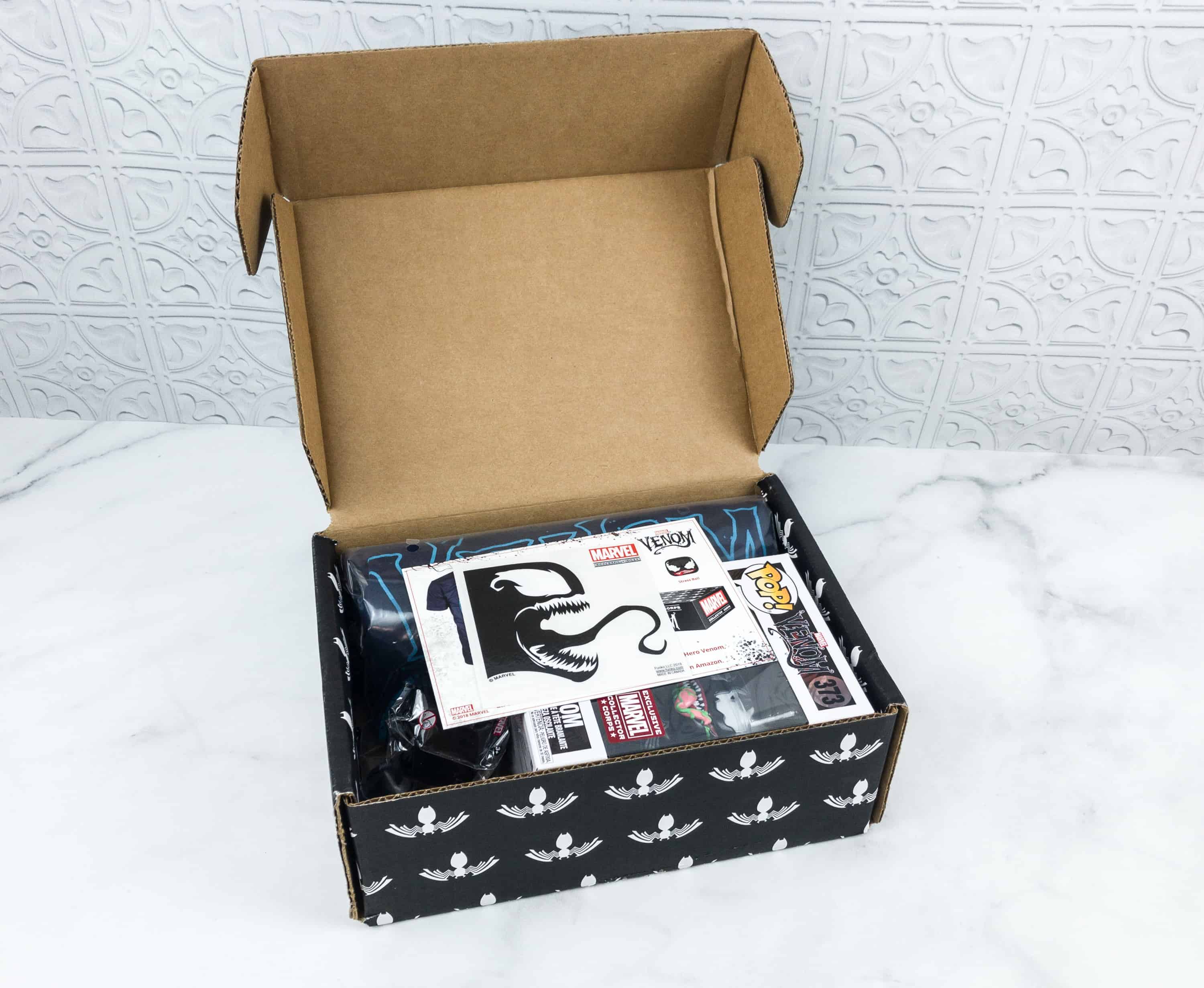 To fit the theme, the box features an overall Venom print.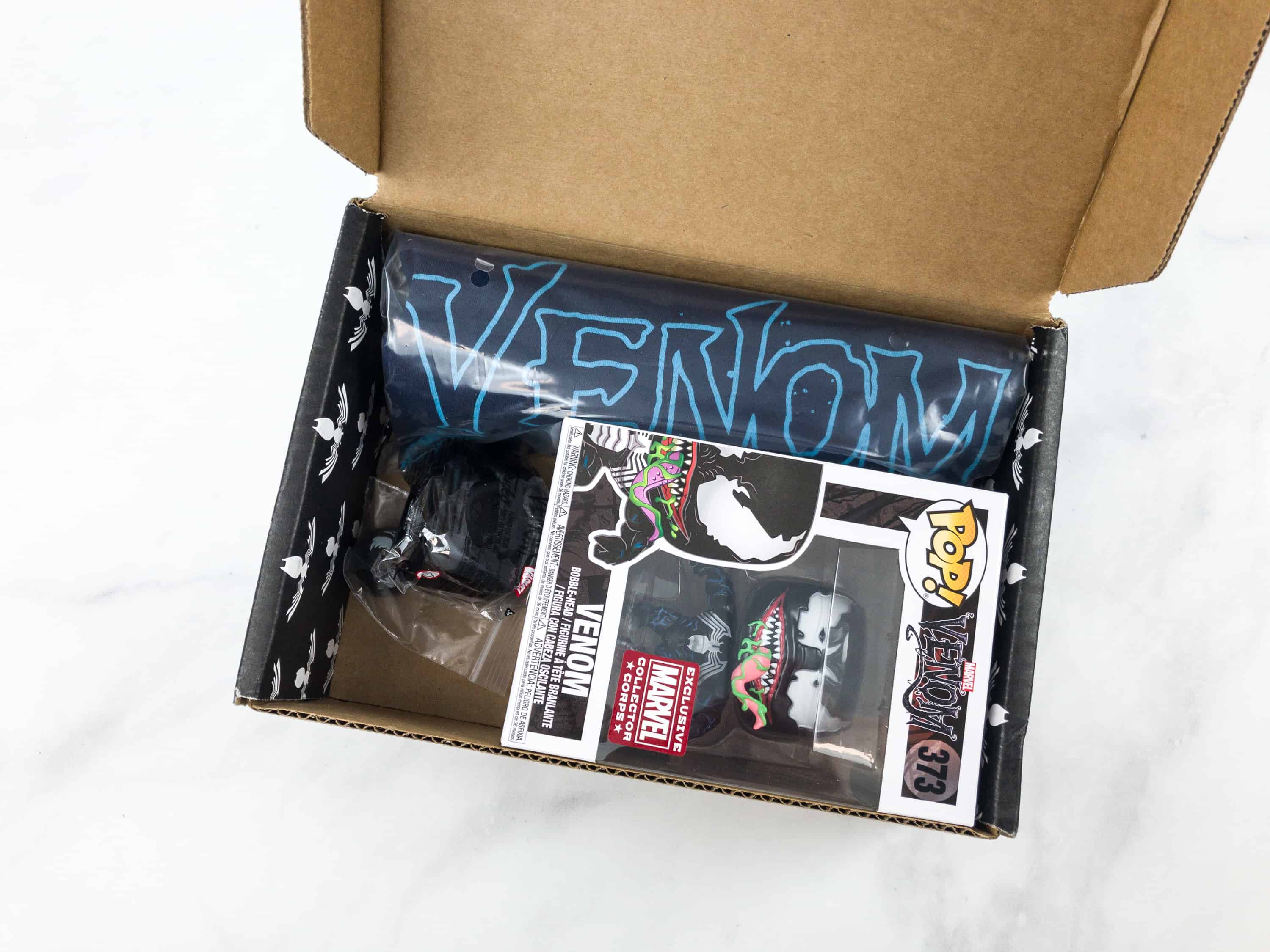 I am seeing a really interesting POP! figure!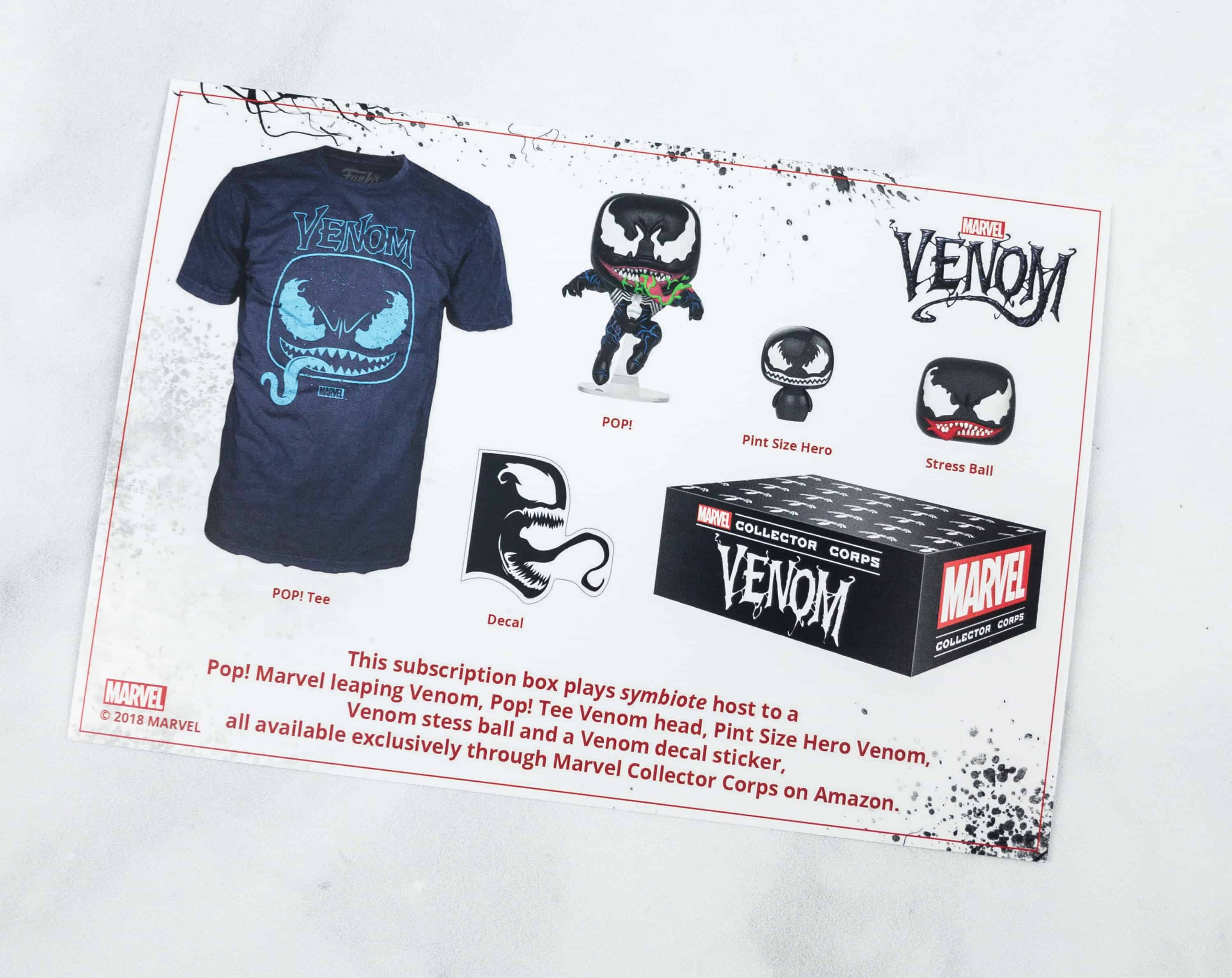 The info card lists all the items inside the box!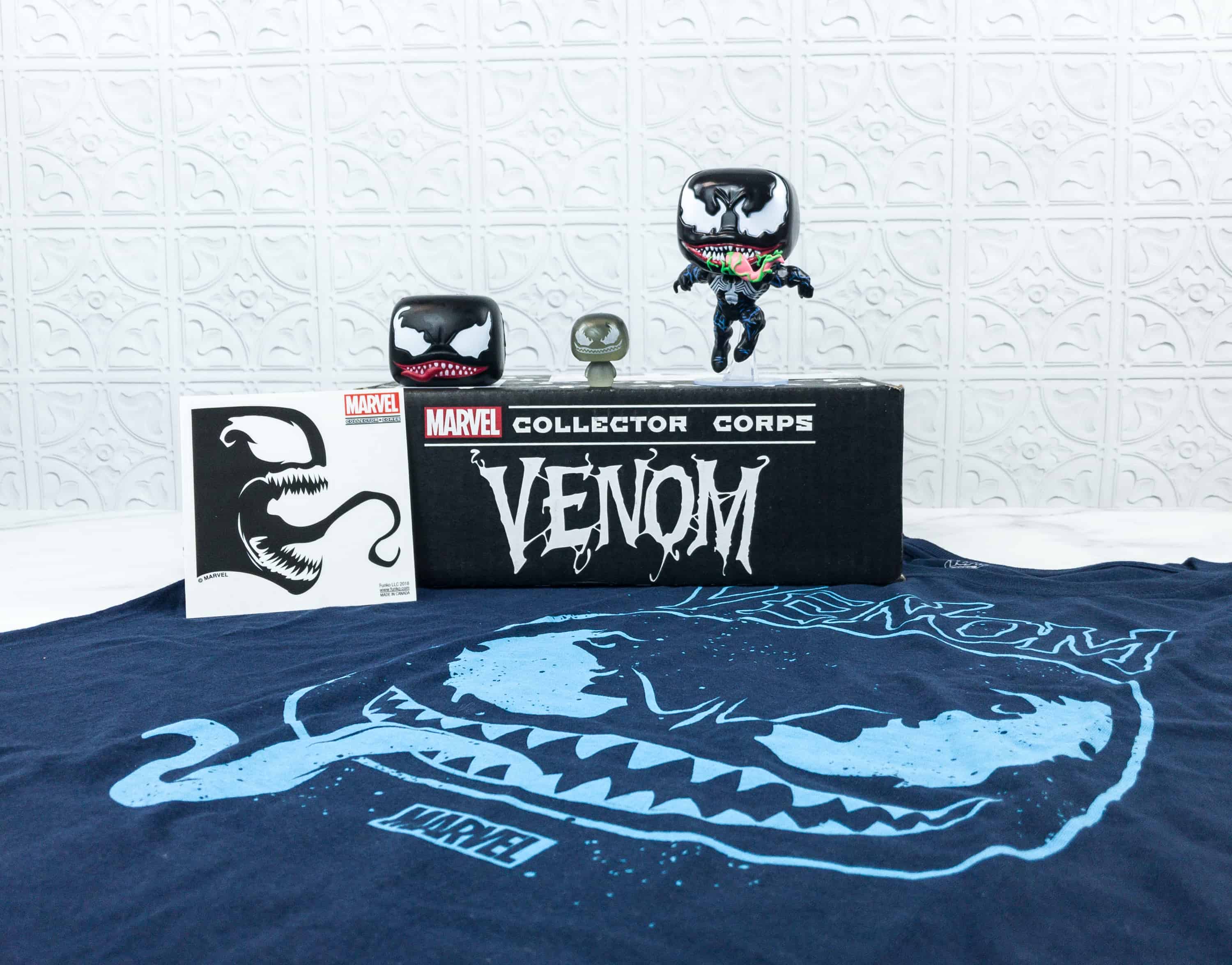 Everything in the September box!
Venom Decal. Venom's delicious tongue, on a sticker!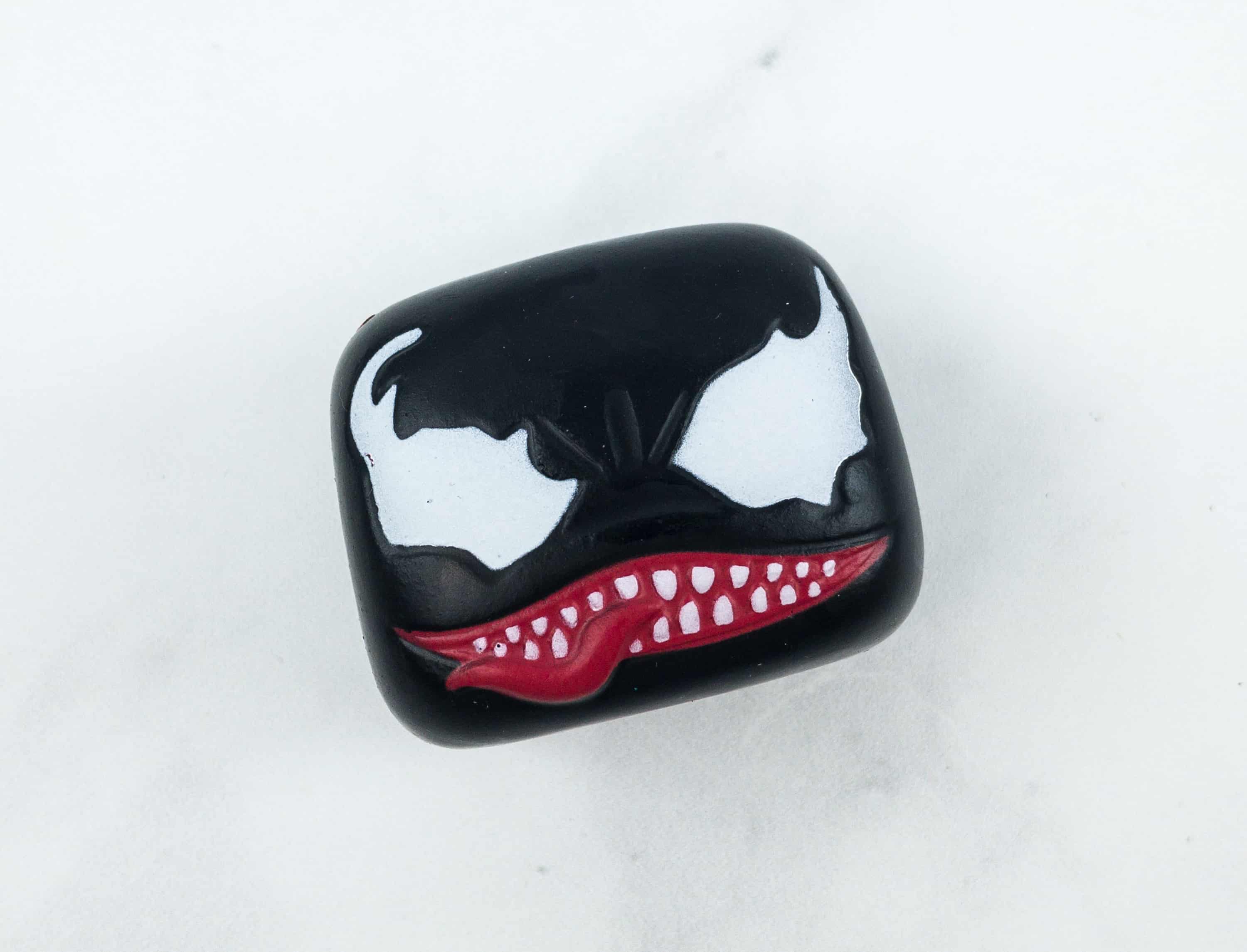 Venom Stress Ball. After a long day, all I really want to do is to de-stress. This is far from being a ball but the squishy-ness is there, so it passes as one!
Squish squish! And I squish even more until it takes all my stress away. Good thing it goes back to its original shape after some forceful squishing.
Venom Pint Size Hero. Pint Size Heroes from Funko are smaller than the usual figures, and this Venom one actually looks like Jack Skellington from Nightmare Before Christmas! Save for that eyes that actually gave away his real identity. The mold on mine isn't the best quality, it seems like the end of the run and that the plastic hardened before it made it all the way in. I wasn't impressed.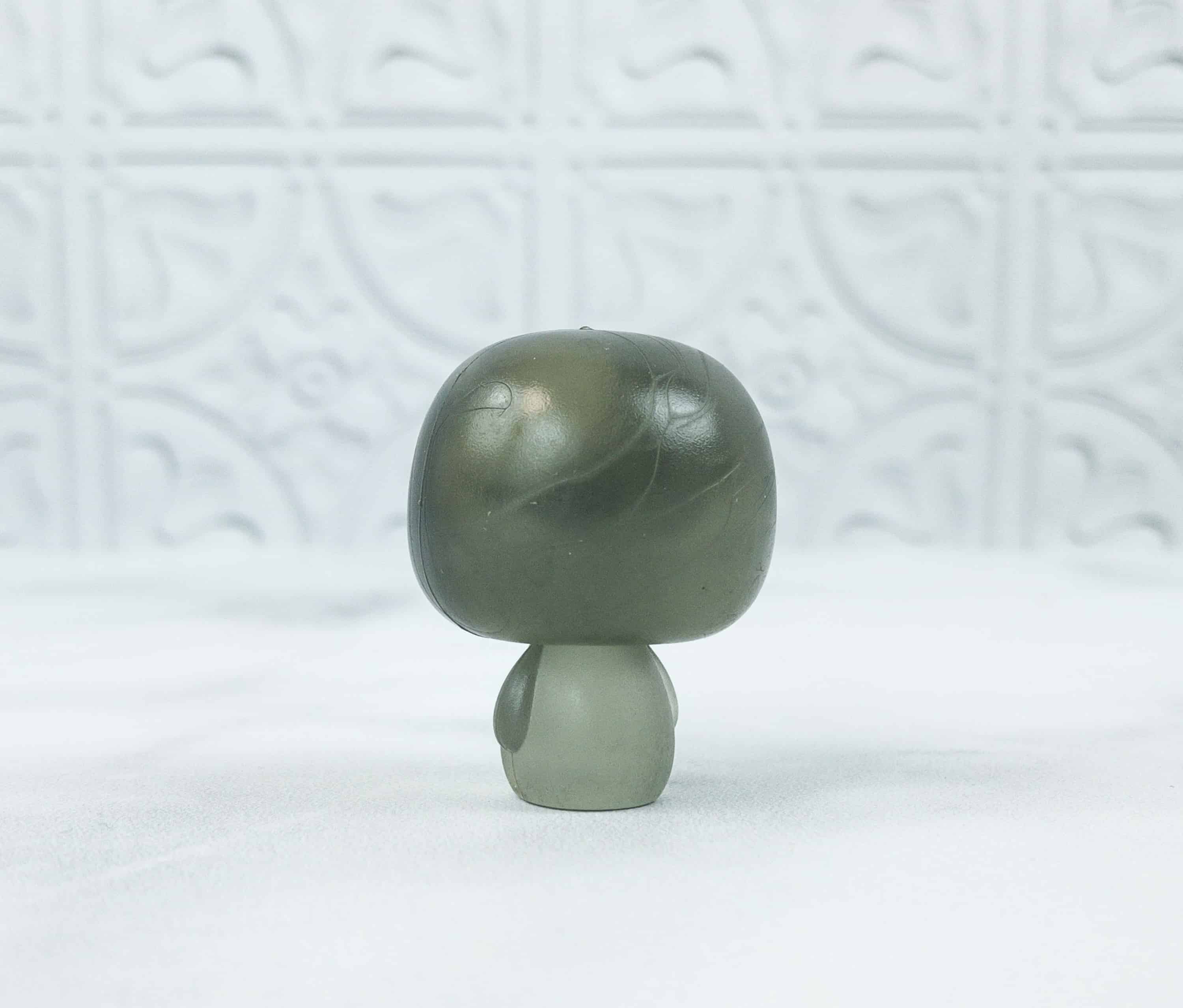 Venom Pop #373. POP!s are a staple in this box. This month, of course, we got the alien symbiote!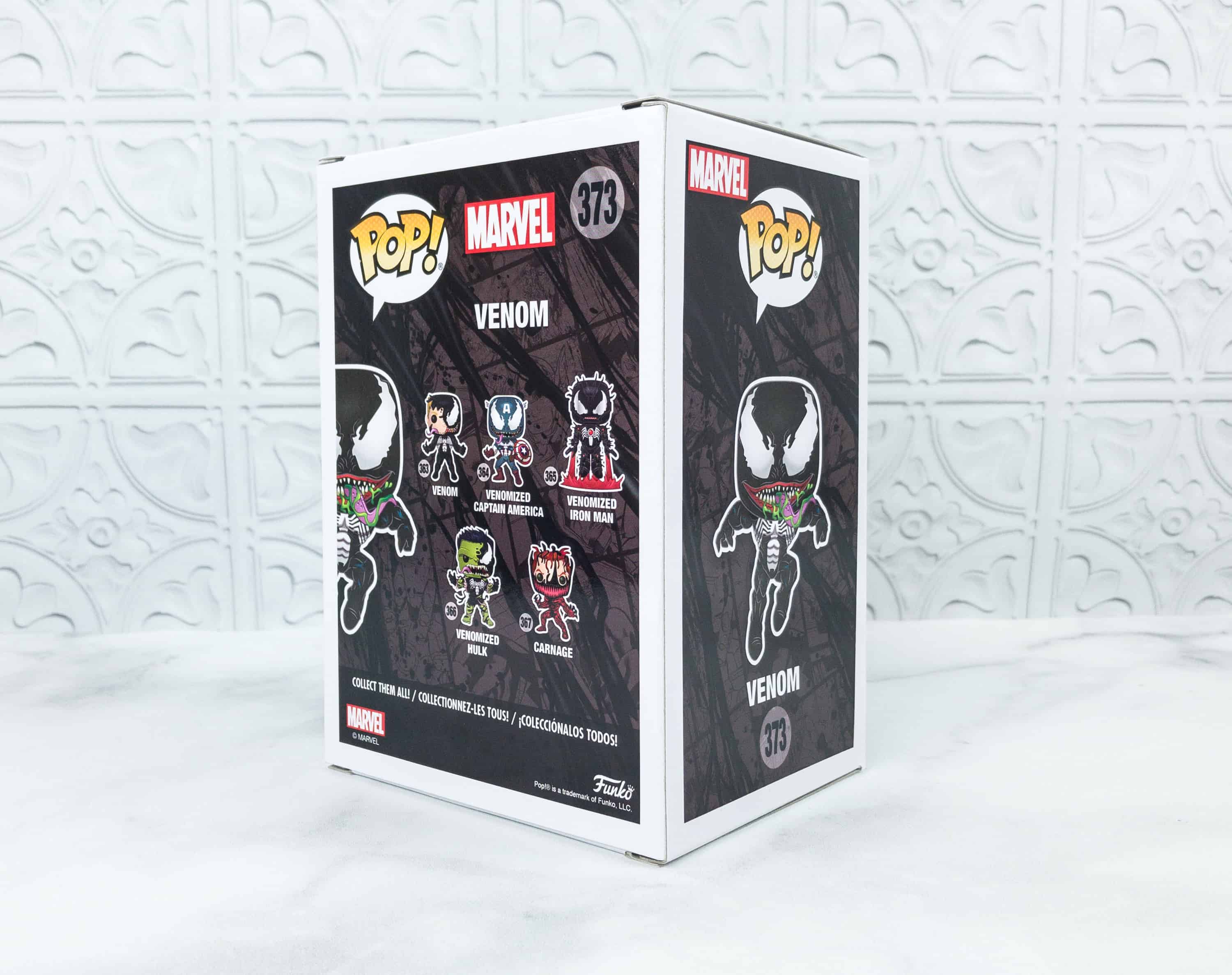 The displayable window box's back also lists the other figures you can get from this line: the Venomized versions of Cap, Ironman, and Hulk. You can also get Carnage.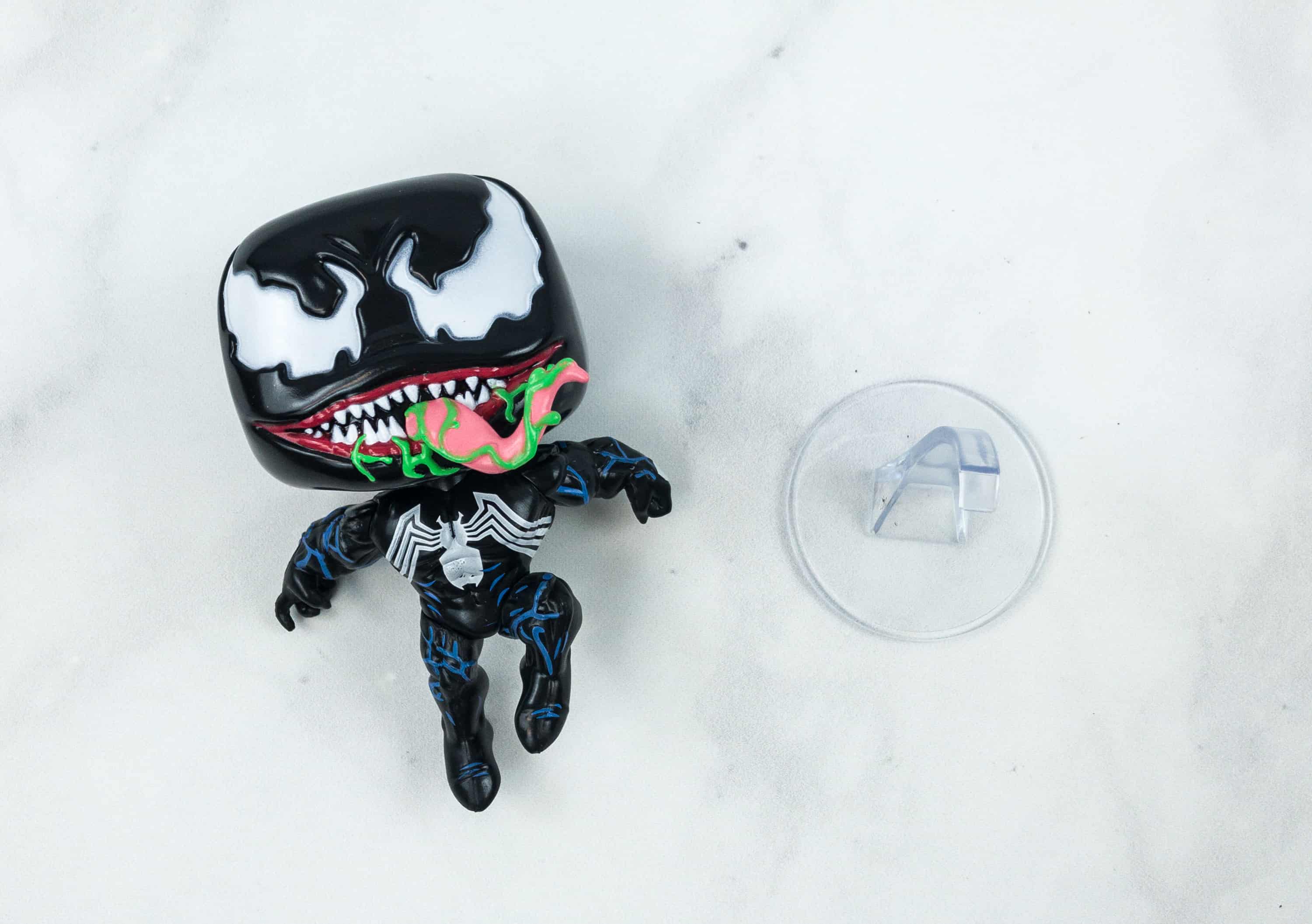 The figure came with a clear base to help it stand up.
That tongue is really an iconic feature, and his morphsuit is actually Spiderman's new costume, which has a spider at the center and colored black and white.
Even the teeniest detail was captured, and it sure made the figure look cool!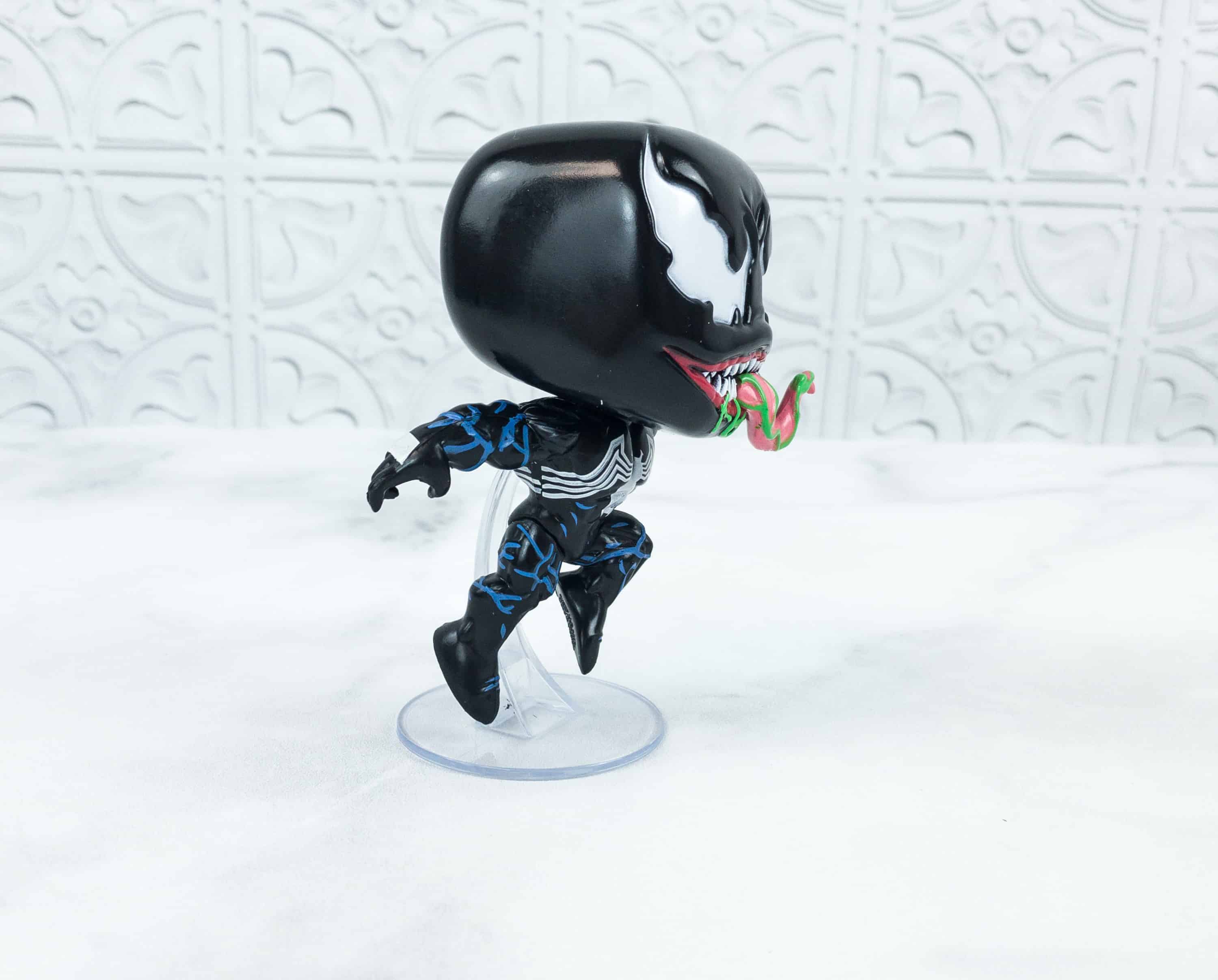 The clear base actually made him look like he's floating in air! And it looks like he's ready to get on with his enemies because of his attack pose.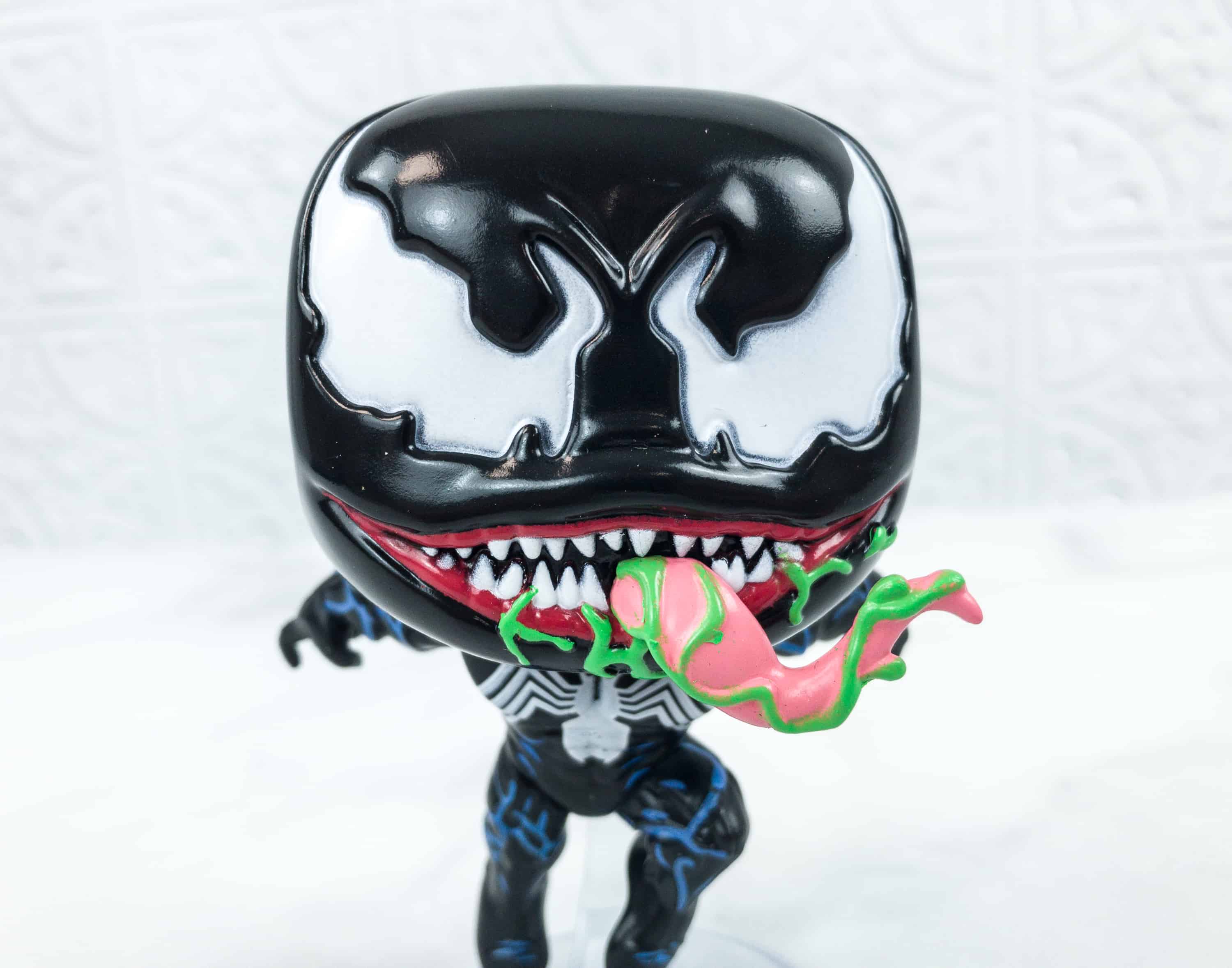 He looks really cool, and at the same time, scarier up close!
Venom Pop Tee. Yes! I finally got a shirt from this box and it features a Funko-fied version of our featured character!
Of course, that iconic tongue defines the character. And I love that the navy blue overall color of the shirt is paired with a print that has a slightly lighter shade of blue, it looks perfect! I'm definitely wearing this.
Next month, they're celebrating Marvel Studio's 10th year, and I'm really hyped up!
This Venom box was fun! Since its transfer to Amazon, it's pretty much still like the same old box minus the comic books, patch, and pain, which I think is one reason for the lower prices, but I don't mind paying extra for additional good grabs if they'd bring them back. For this box, the POP! figure is my favorite as it captures the character's attitude really well. I also love the shirt! My least fave's gotta be the Pint size hero, it didn't get me excited and I thought the quality was poor. I am truly interested in for what's in store next box, I'm sure it's grand as they're celebrating Marvel Studio's 10th year! Really looking forward to that one!
What do you think of this month's box?