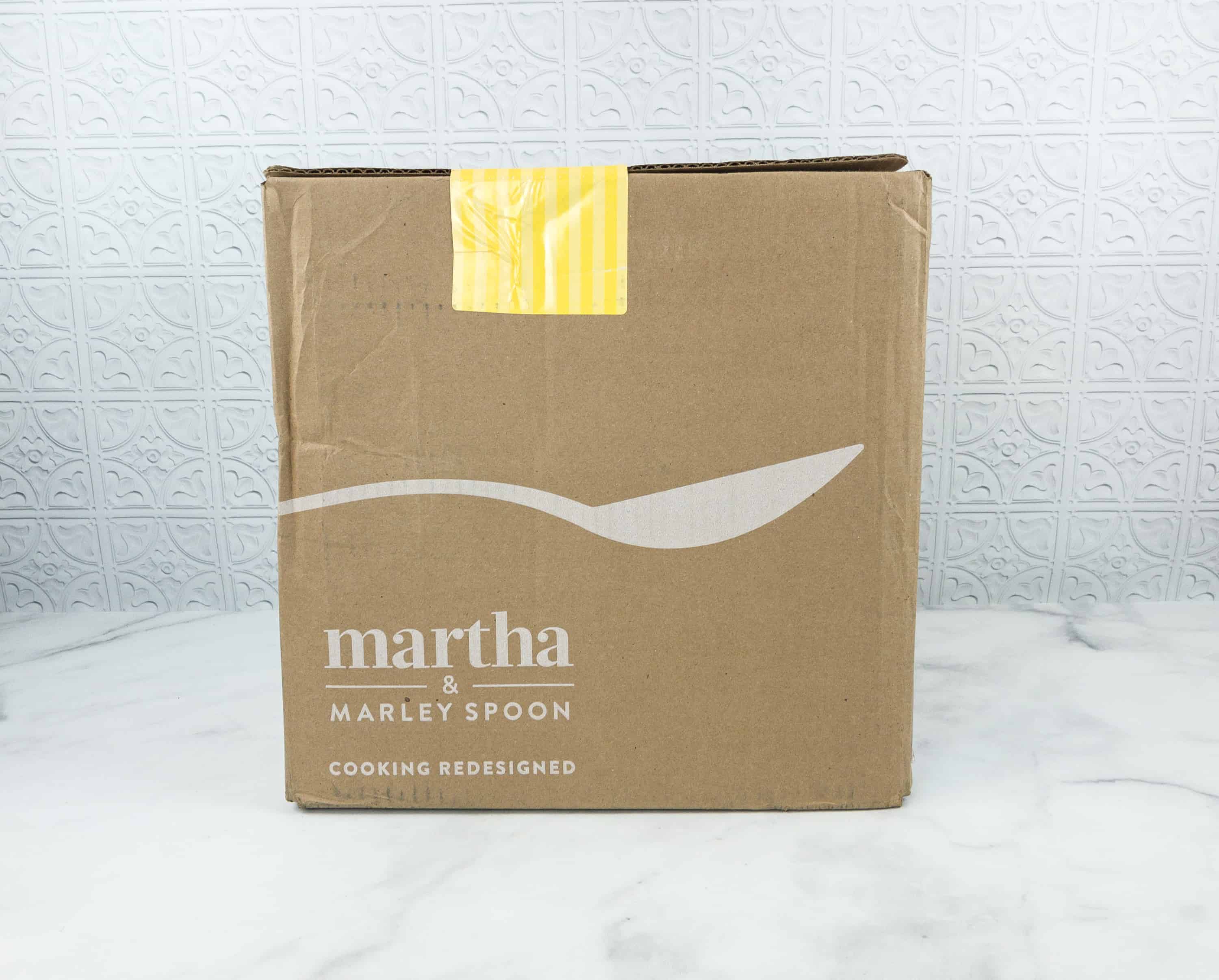 Marley Spoon delivers delicious recipes and fresh, seasonal ingredients straight to your door. You can choose from a weekly menu featuring 10 chef-created recipes, including recurring customer favorites, vegetarian meals, and kid-friendly recipes. Each option is clearly marked to note whether it features meat, fish, or just veggies, plus other characteristics of concern to diners with diets restricted by necessity or preference — they note gluten free, dairy free, kid-friendly, quick to prepare, vegetarian, and spicy meals to help you pick the best meals for you. Each recipe serves two people (there is a minimum four portion requirement per box), and shipping is free!
DEAL: Save $30 on your first box. USE THIS LINK to get the deal. Valid to USA subscribers only.

This is a review of a normal weekly box, but they also offer a fabulous Martha Stewart's Marley Spoon Thanksgiving box. Available along with your subscription or as a one-off, the Thanksgiving box includes four sides and a dessert (you can order with or without a turkey)!
Your food arrives in a big box lined with insulated padding. 
Here are the three recipes for October 2018! I like having the prep time estimate provided, and I often choose the order in which to make my meals based on that and perishability of ingredients. Typically, I'd start with any seafood dish, then do anything with fresh greens next.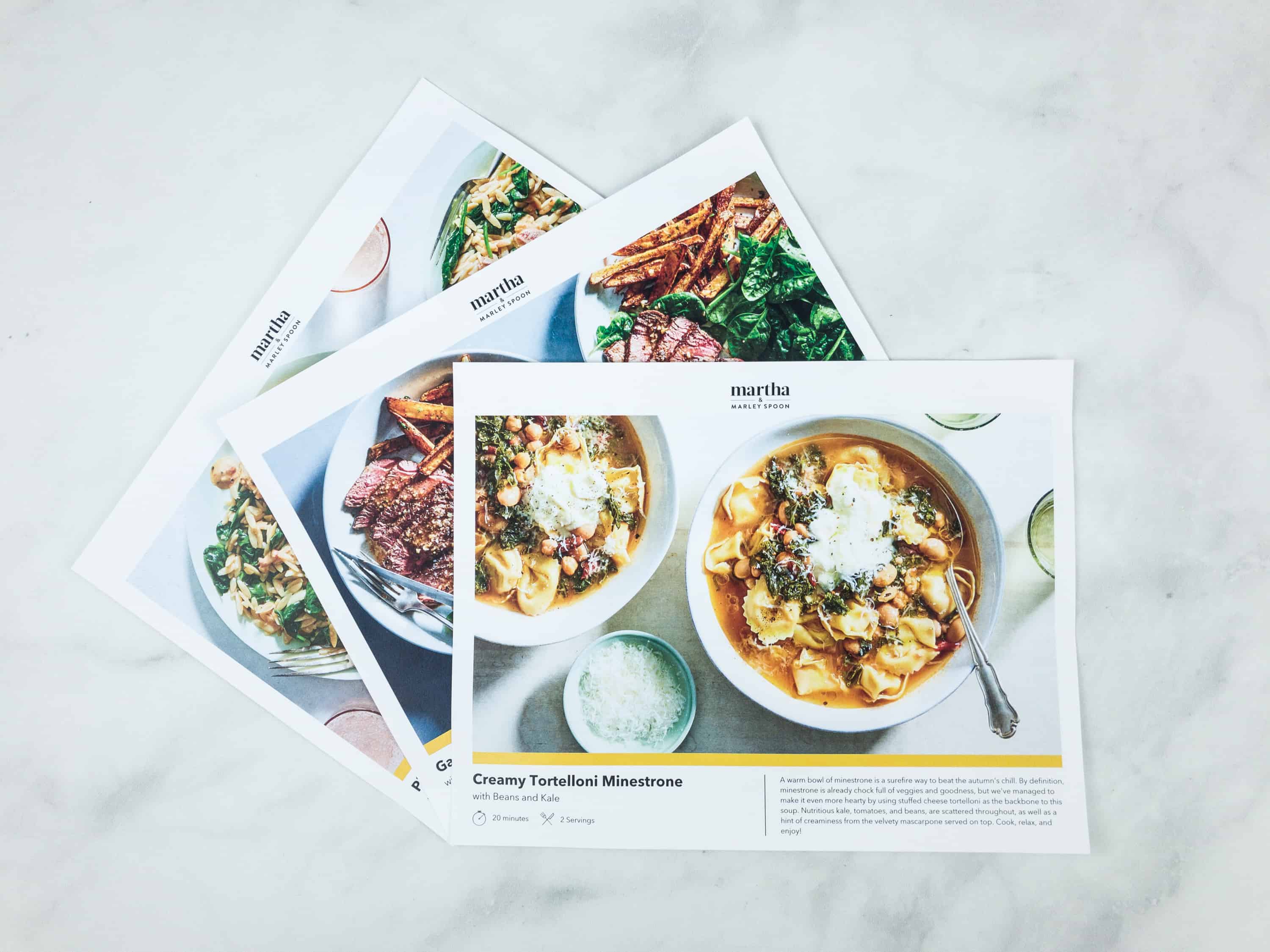 Each Martha & Marley Spoon recipe card includes a full-color picture of the plated dish, prep time and a number of servings. The dishes are elegantly plated in the pics, and you can use them as inspiration for setting out your own food.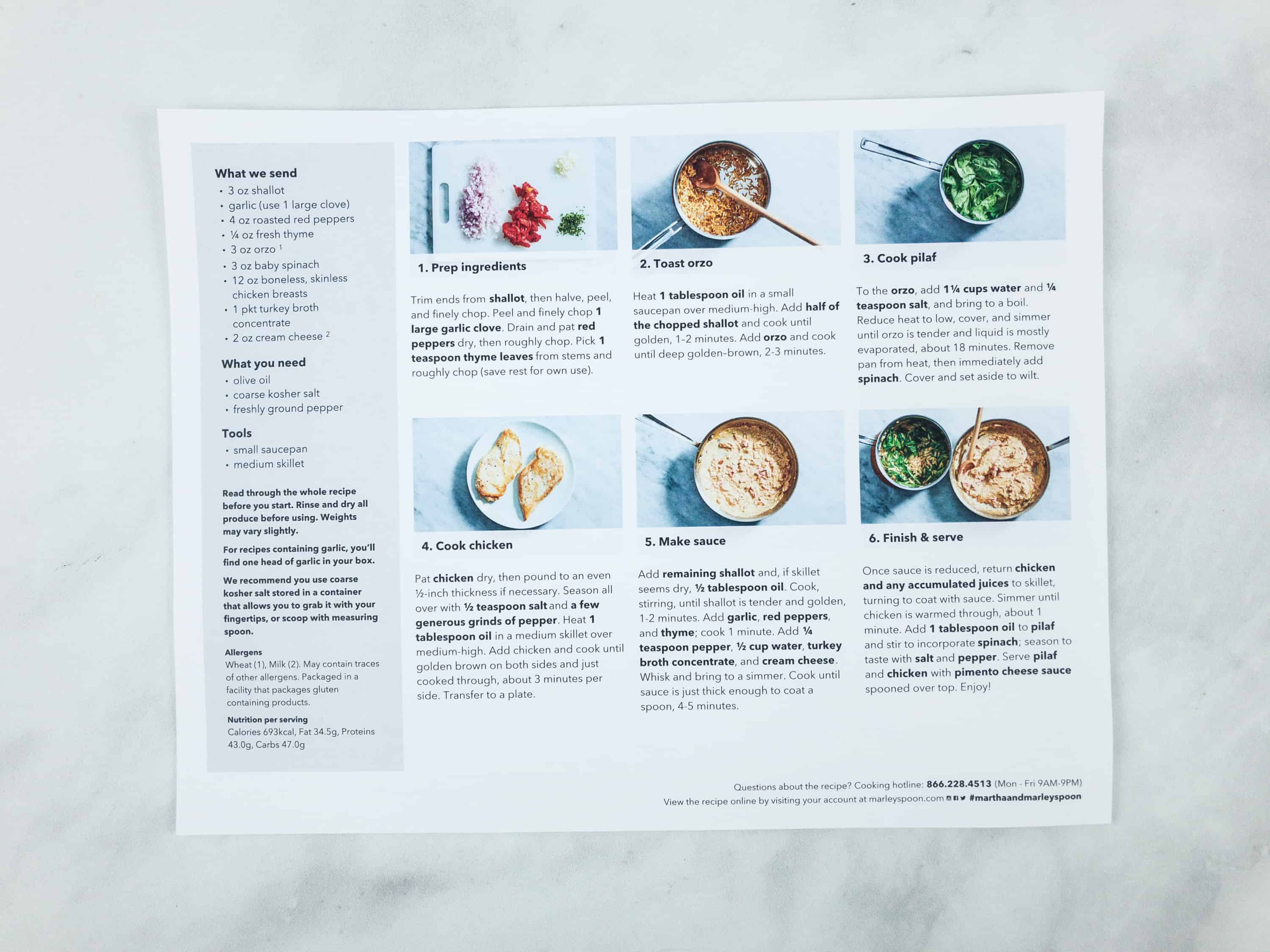 The back includes the full recipe (with pictures!) and allergen and nutrition info. The instructions are easy to follow, whether you are a novice or pro. Usually, you start by washing and prepping all the ingredients before cooking. Within the detailed, step-by-step instructions, ingredients are set in bold type for ease of recognition. Info panes in the sidebar list any ingredients and tools you'll need from home (pans, cooking oil, etc).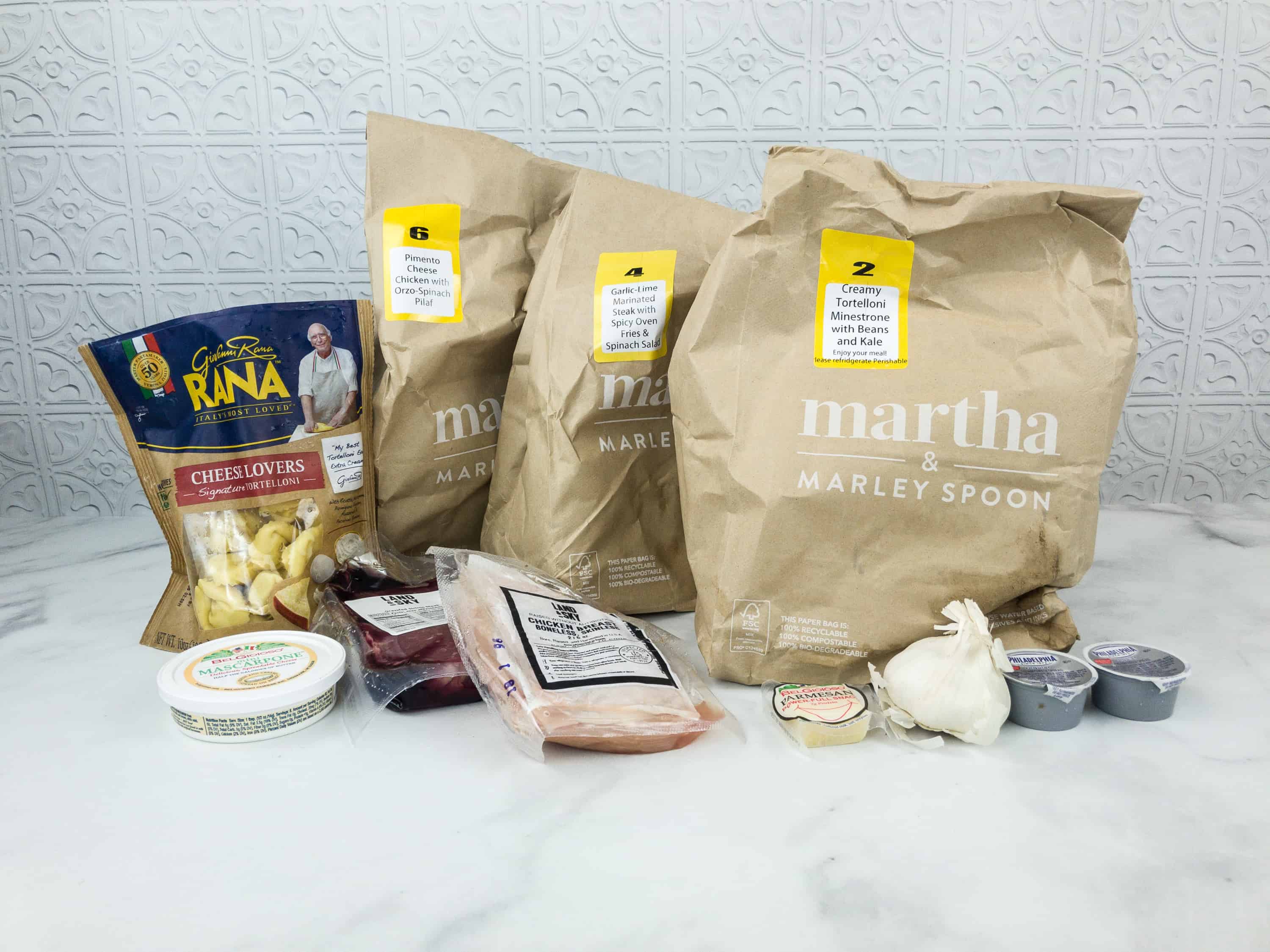 The ingredients for each meal are packed in a paper bag separately, except for the meat and items needing refrigeration — they are tucked between ice packs in the bottom of the box.
Everything in this box!
Martha & Marley Spoon always throws a bulb of garlic to use in any recipes for which it may be needed. We've even gotten one before when none of our recipes called for it! Even when we use lots in the recipe, we always have some leftover for our own dishes.
Creamy Tortelloni Minestrone with Beans & Kale – 20 minutes, Easy, 874 calories per serving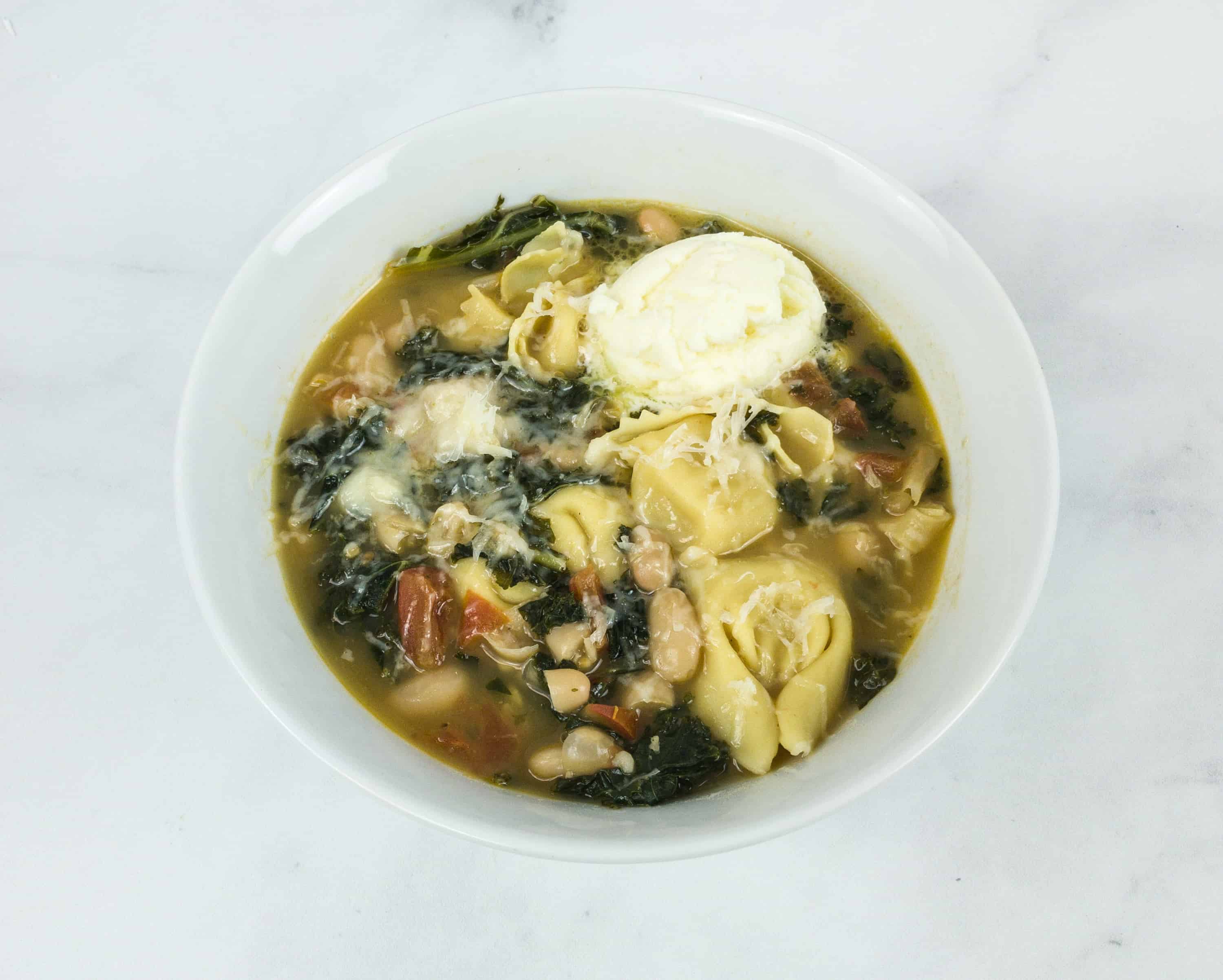 This delicious bowl of soup is made from cheese-filled tortelloni mixed with organic cannellini bean, tomatoes, kale, and vegetable broth. It is topped with mascarpone and Parmesan cheese for a more velvety and creamy soup. The mascarpone was super-buttery, like finishing the soup with a half-stick of butter! It's the perfect dish to have when you're craving for something to warm your tummy on a cold night, and the tortelloni were very plentiful and cooked right in the soup — I love these one-pot dishes!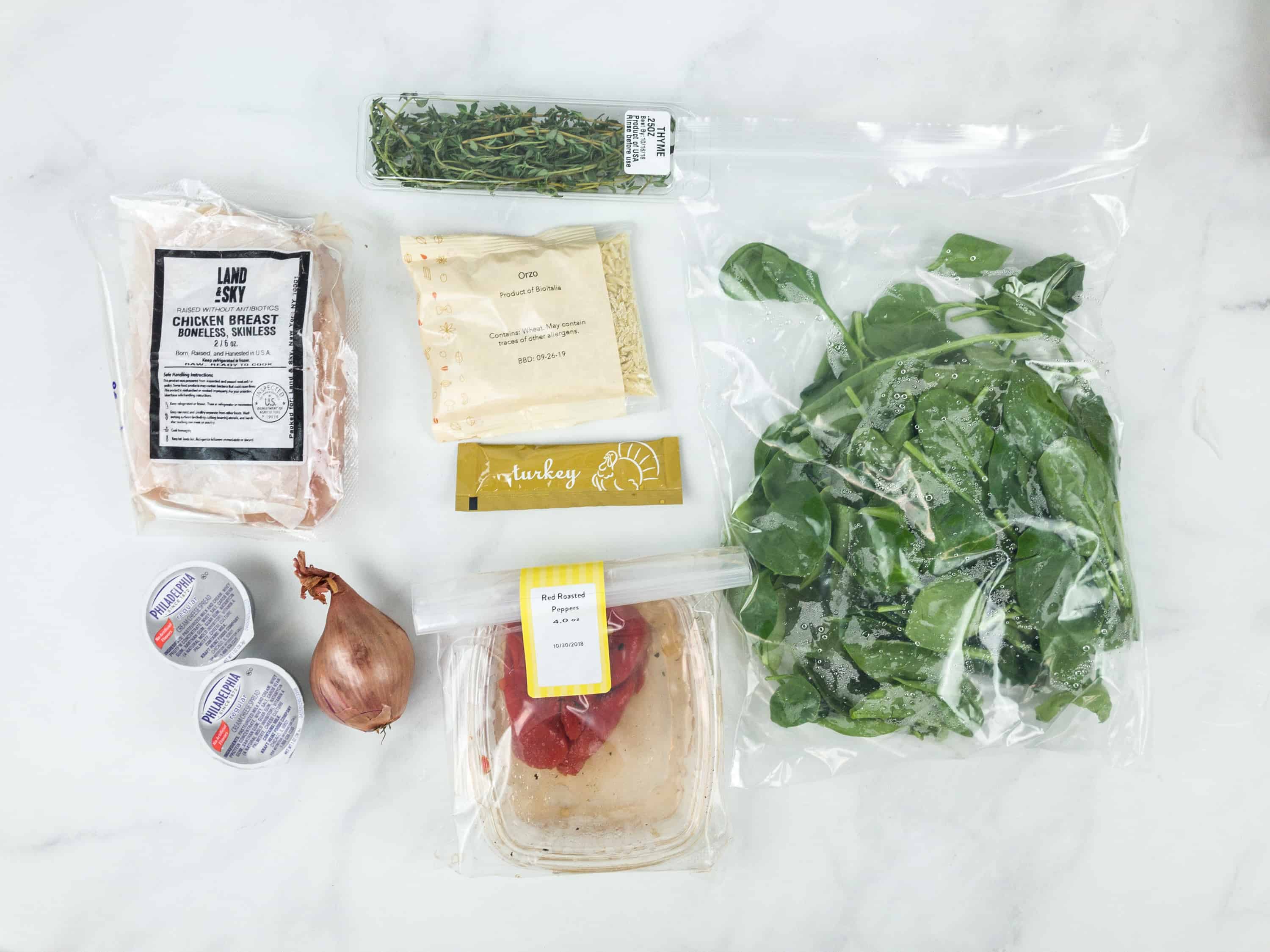 Pimento Cheese Chicken with Orzo-Spinach Pilaf – 40 minutes, Easy, 693 calories per serving
It's a spin on classic Southern cuisine made from tender orzo, thyme, roasted red pepper, spinach, and boneless chicken breast immersed in a creamy cheese sauce. They did a great job of capturing the appeal of pimento cheese. This packed huge flavor for such an easy dish to make, and it was so filling!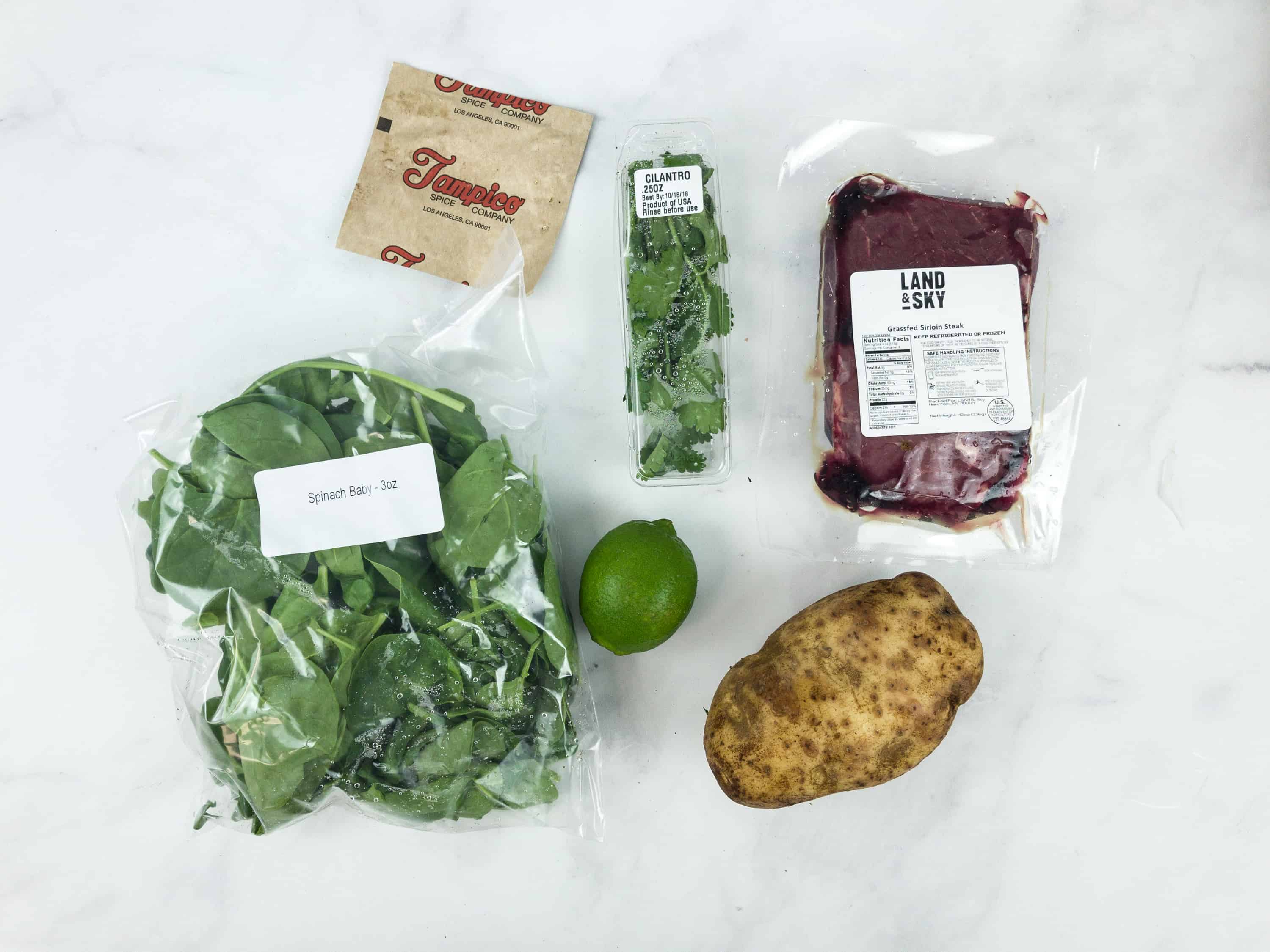 Garlic Lime Marinated Steak with Spicy Oven Fries & Spinach Salad – 30 minutes, Easy, 701 calories per serving
The third recipe is a meaty pub-style steak dish. It is coated with lime and garlic dressing right after cooking, producing a powerful flavor that set off the steak. Pairing it with crispy oven fries and a fresh spinach salad helped this dish really hit all of the notes. The prep was pretty simple, though it did require the ability to cut a potato into relatively uniform fries.
Weeknight cooking is made easier by Martha & Marley spoon! This box included three mouthwatering recipes with ingredients and easy-to-follow instructions. The Creamy Tortelloni Minestrone was such a comforting meal, while the Pimiento Cheese Chicken made our dinner extra special because it reminded us of one of our favorite Southern comfort foods. Of course, we're happy whenever they include a steak meal, too. The Garlic Lime Marinade definitely tickled our tastebuds! The best thing about this meal subscription is that you can choose what meals you want to receive from a weekly menu. They even have vegetarian meals and recipes ideal for kids. It's customizable according to your taste and needs, so it's really convenient!
Have you tried Martha & Marley Spoon? What do you think?