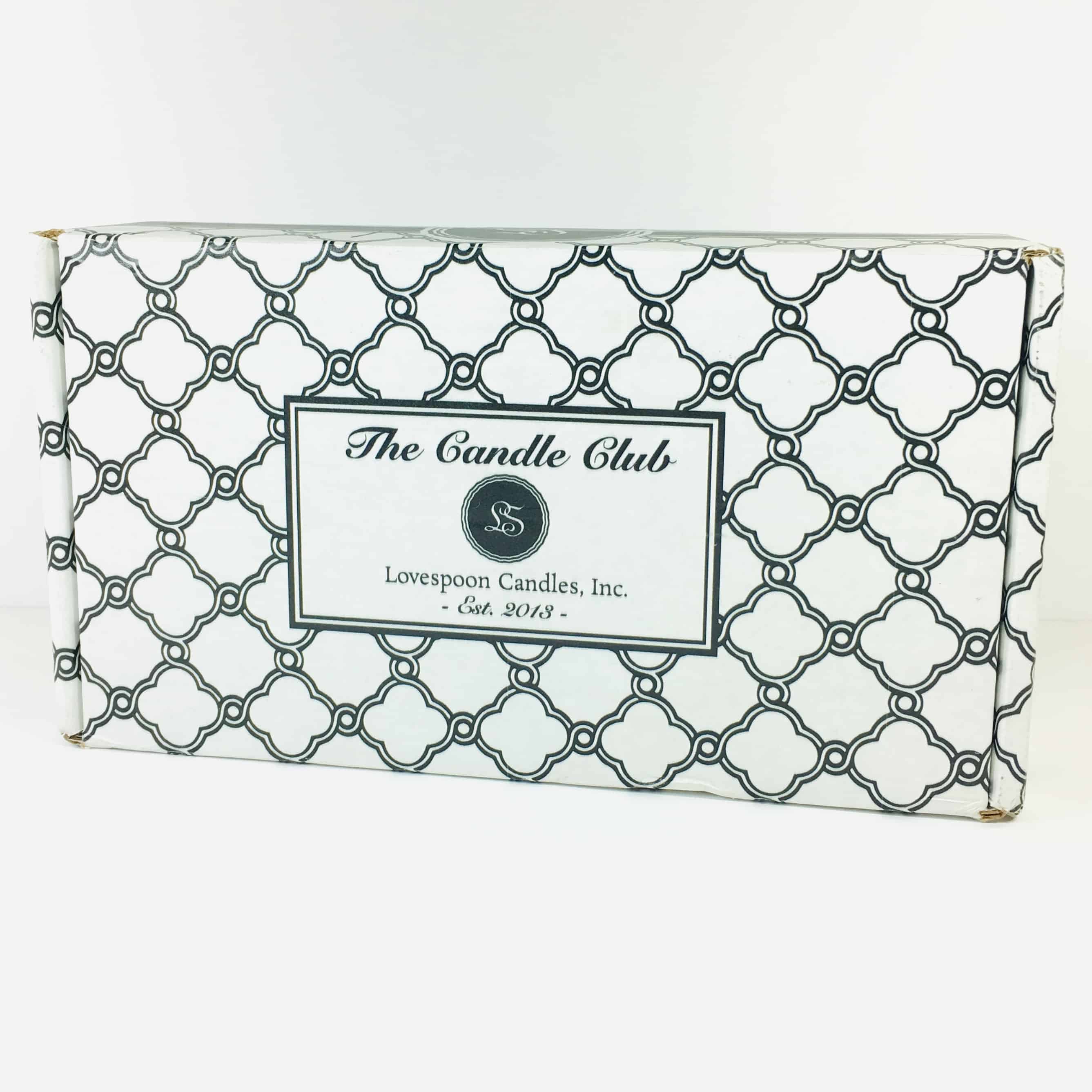 Lovespoon Candles sends a monthly box of amazing candles and bonus items. The candles are made of soy wax and are hand-poured and feature seasonally appropriate scents. They also donate proceeds to Feeding Children Everywhere, who aim to provide healthy meals to needy children in America.
Each Month We Find The Most Delectable and In Season Fragrances For You To Enjoy! You will Receive Two Candles, One from our Cornerstone Collection and One from our Monogram Series. Plus You will receive many add on freebies such as: Lovespoon Charms, Wick Trimmers, 2oz Samples, Gratitude Cards and Provide Money To Feeding Children Everywhere!
My box was delivered to my mailbox and was kind of heavy – they send some pretty big candles!
DEAL: Get 10% off your first month's box on either 6 month or 12 month candle club. Use coupon code HELLO10.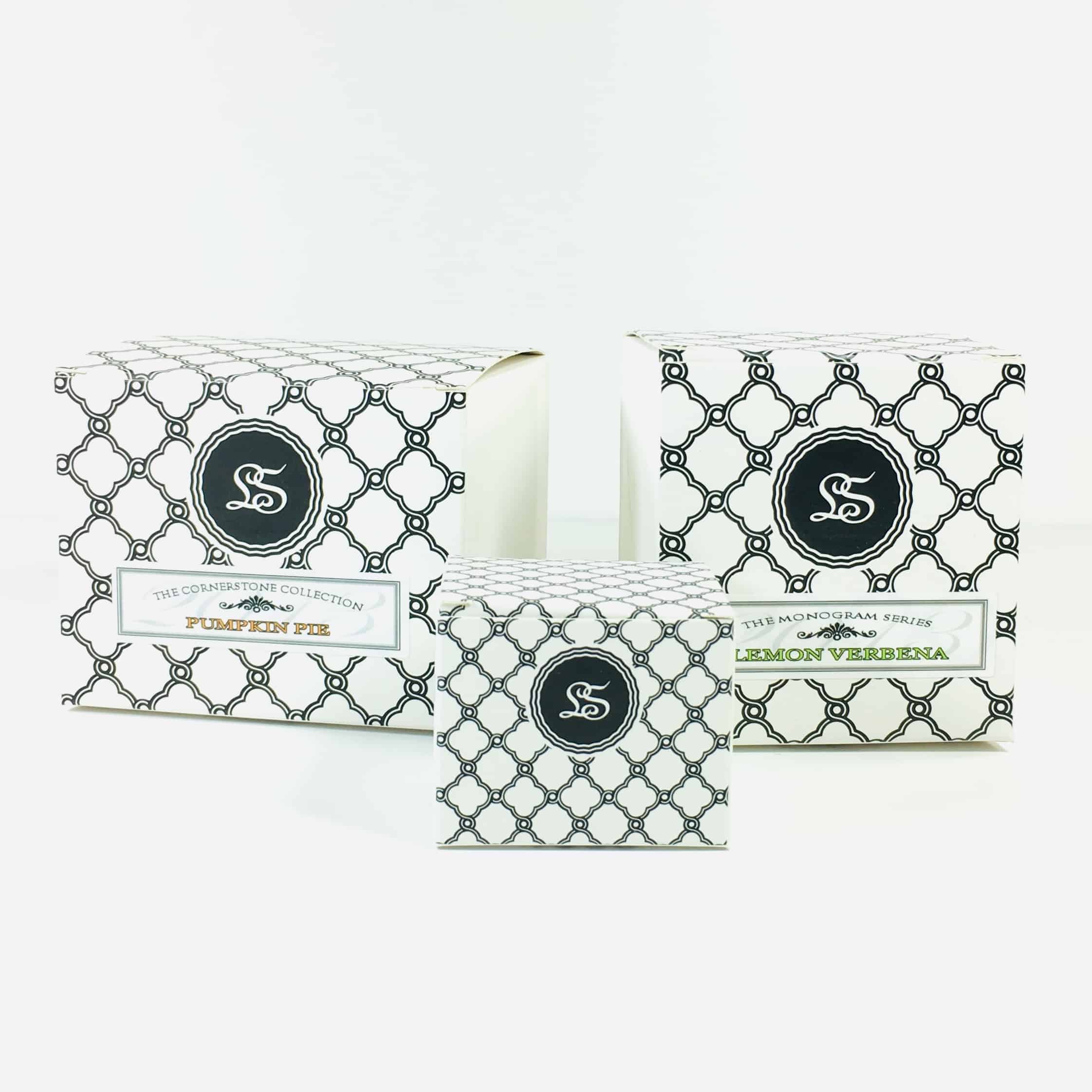 This month I simply received my three candles and no literature or extras.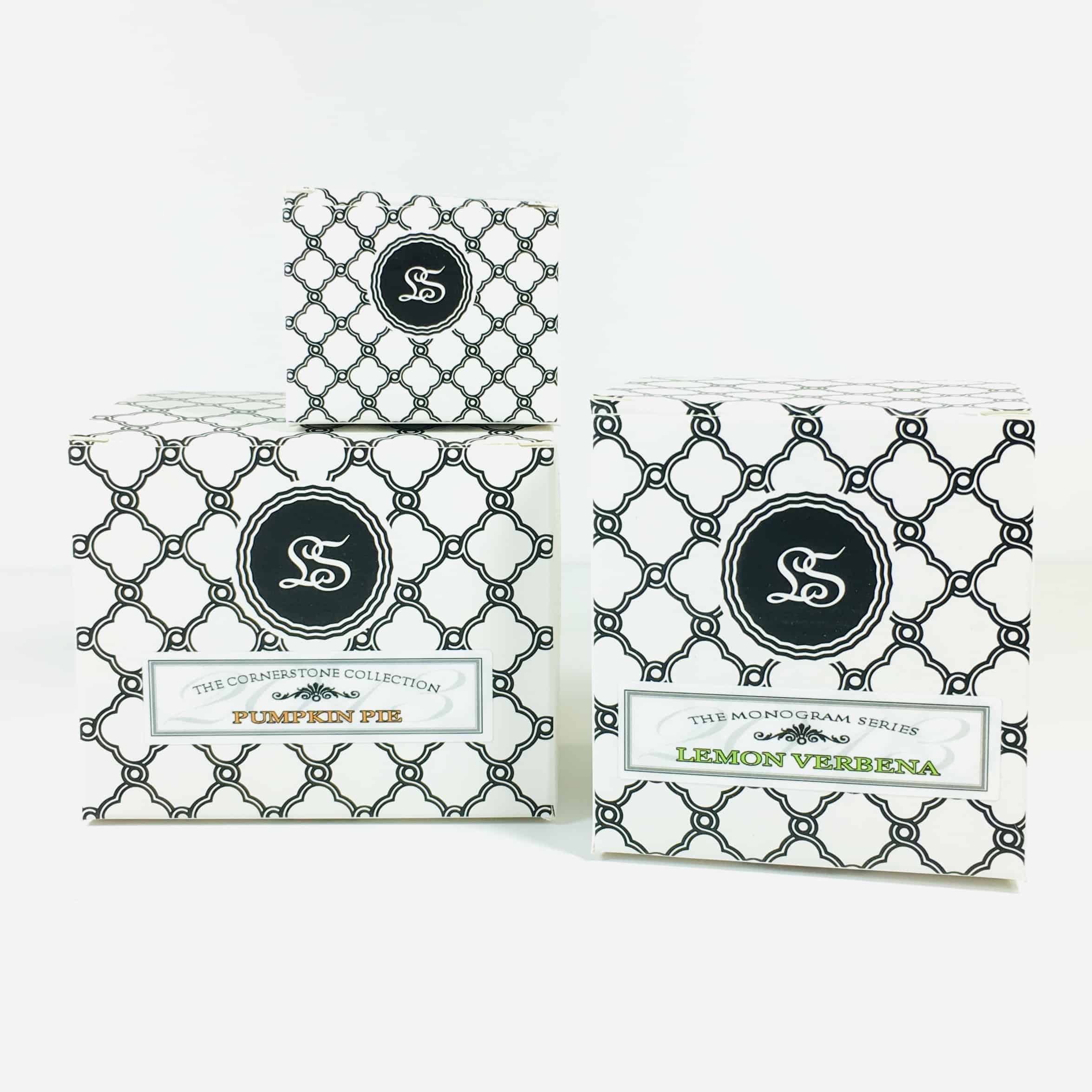 Each candle is individually boxed! If you decide a scent isn't meant for you then it would be very easy to put a bow on it and gift to a friend.
Each box has info on the LoveSpoon, from which this subscription gets its name. It also mentions that the candles are made of soy wax.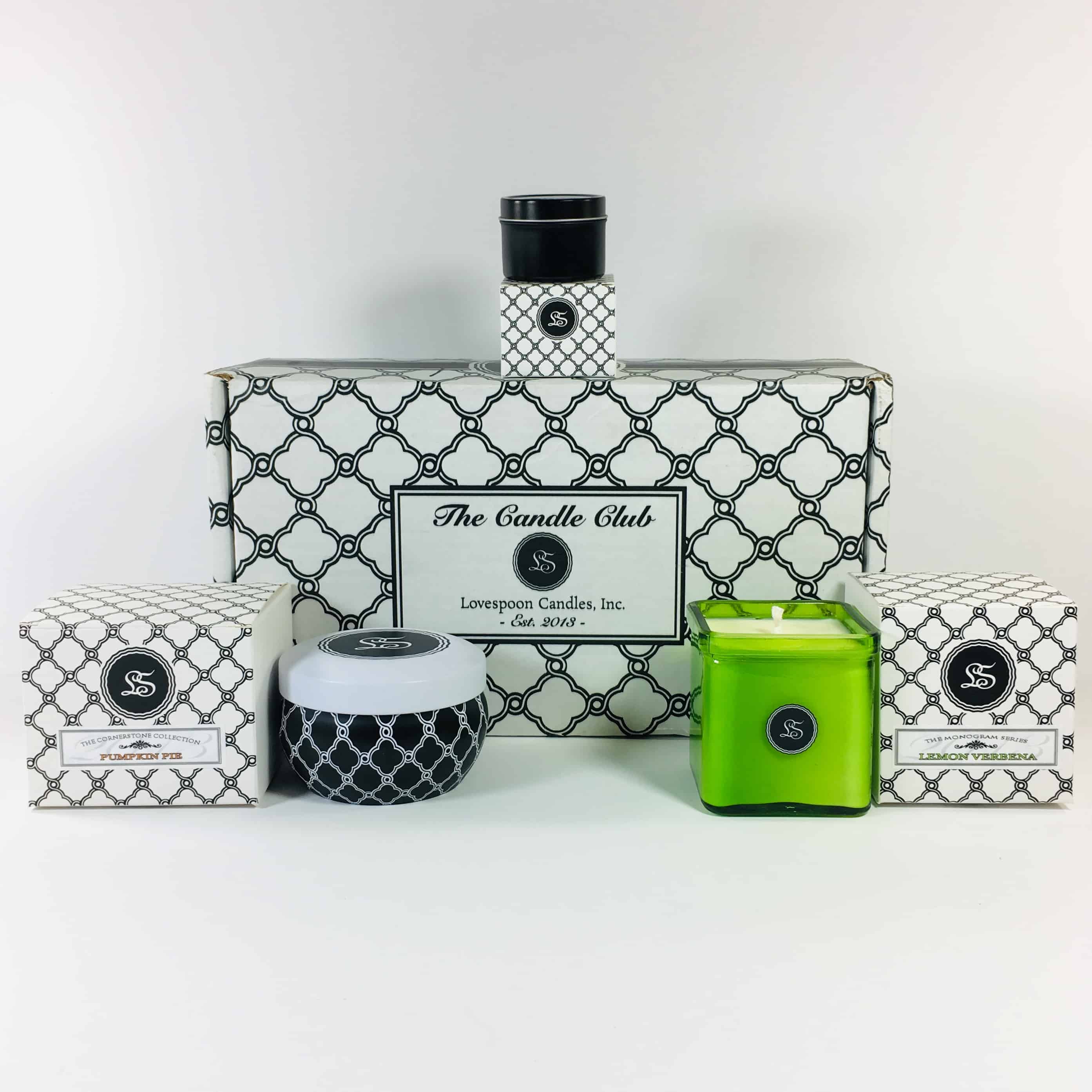 Everything in my box!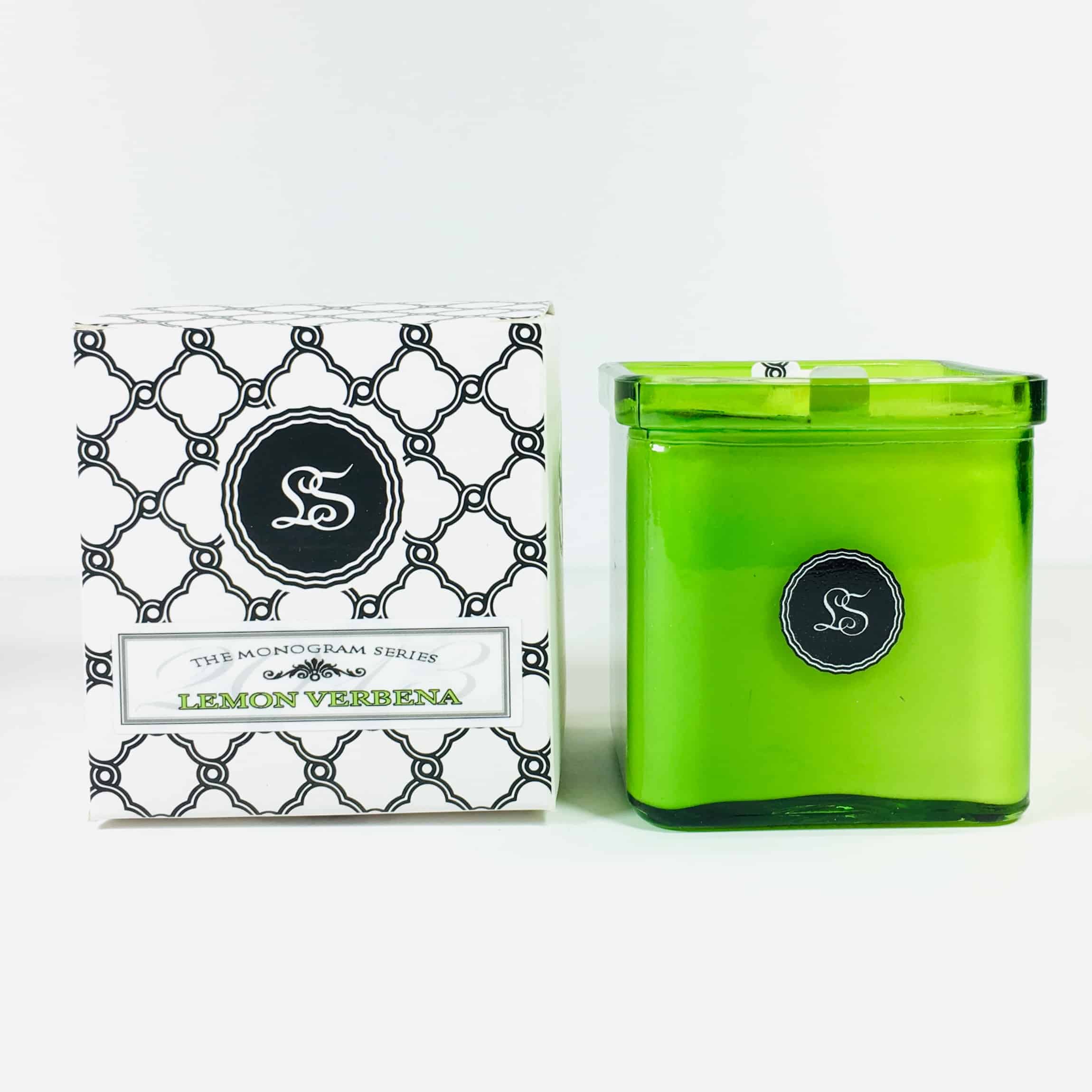 Lovespoon Candles The Monogram Series Lemon Verbena Soy Candle ($28) "Spunky lemon & floral verbena combines in this uplifting delight. Our Lemon Verbena Candles begin with tangy lime, grapefruit & lemon and combines the best offerings of lavender, geranium, rose & lemongrass."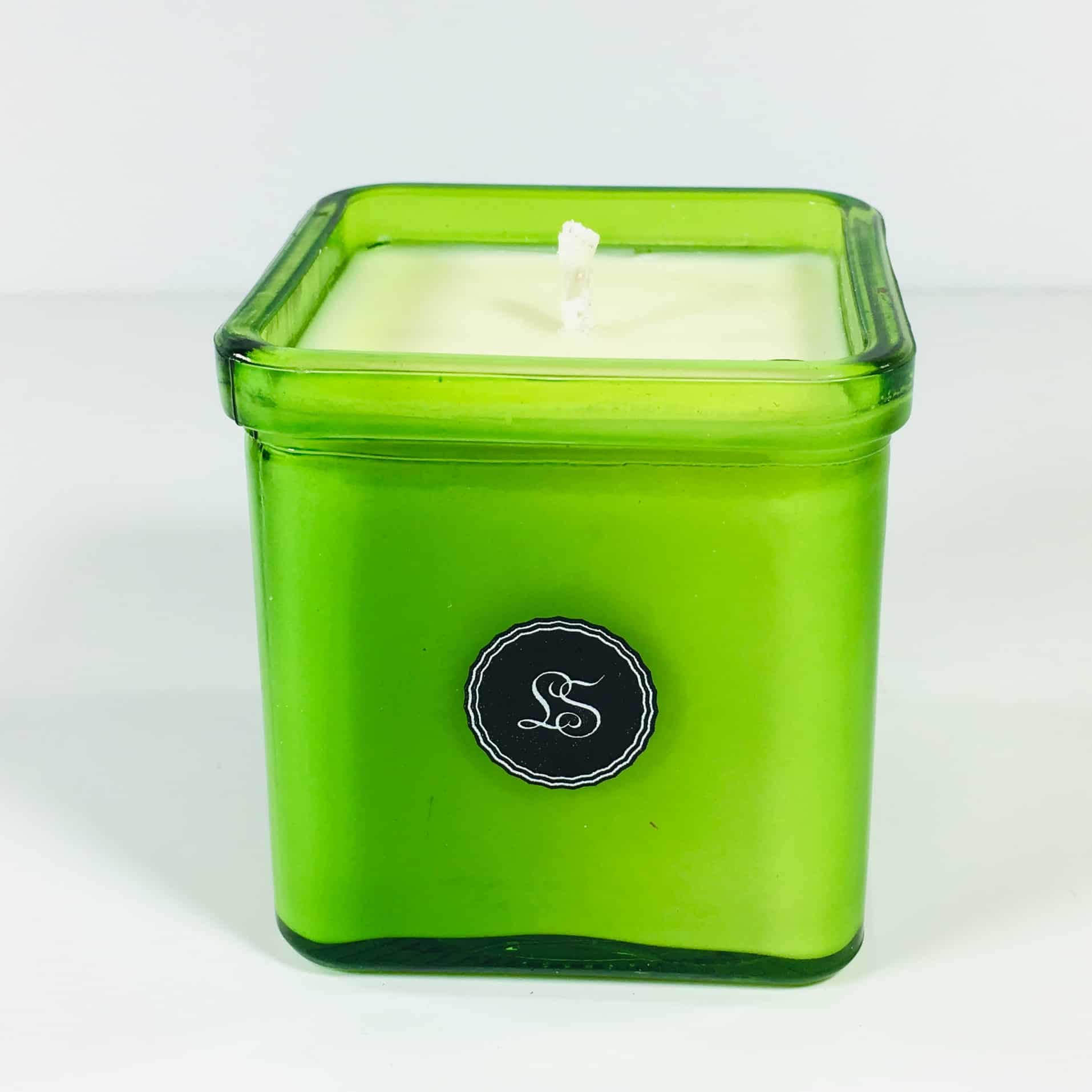 I love the simplicity of a glass candle. The lines are classic and this color adds a bright touch to my decor. This size should burn for about 50 hours.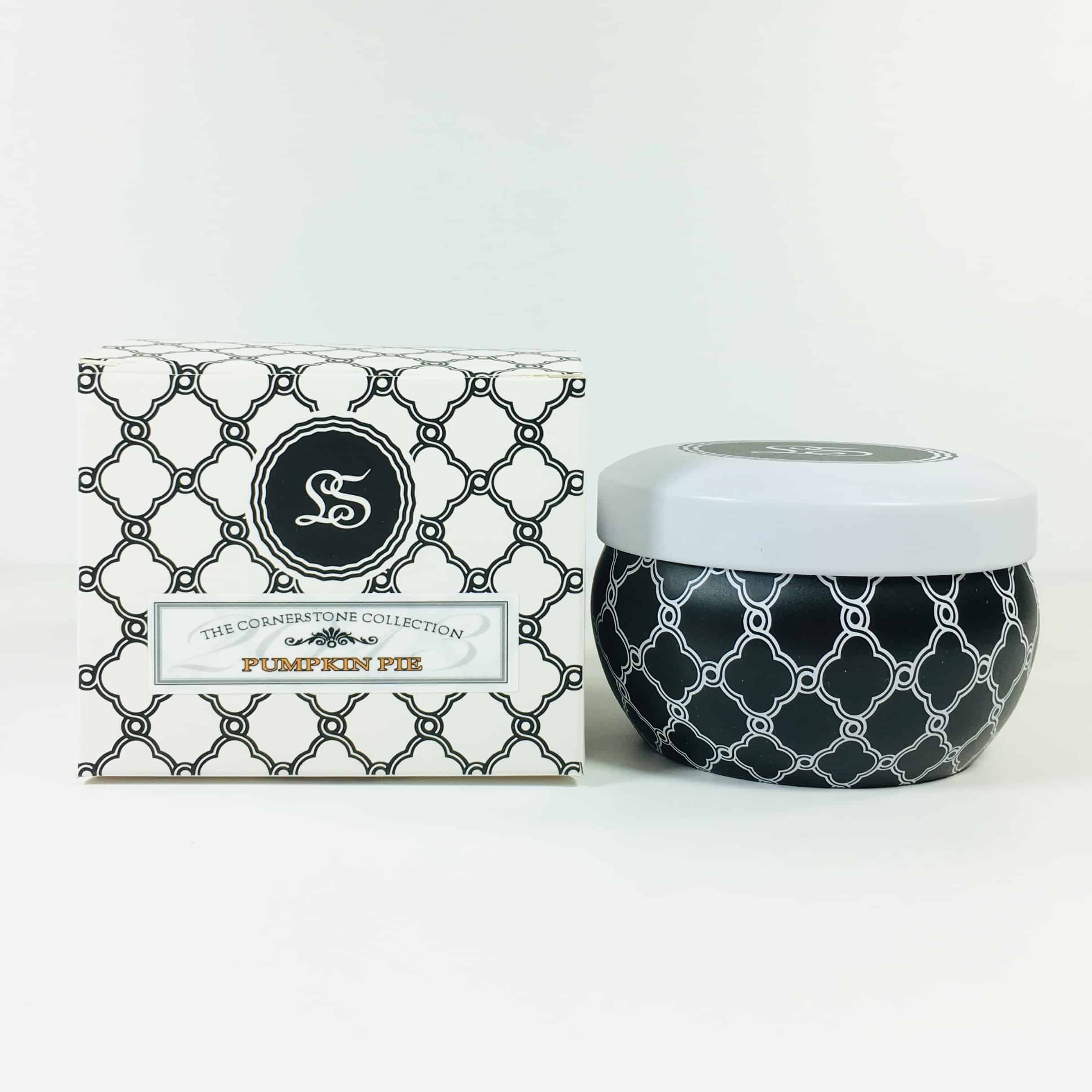 Lovespoon Candles The Cornerstone Collection Pumpkin Pie Soy Candle ($28) "If you're a fan of Fall or you love the smell of pumpkin pie fresh out of the oven, our Pumpkin Pie Premium Soy Candle will make the perfect addition to your home. This premium scented candle will fill your home with notes of pumpkin, vanilla, cinnamon and ginger for a scrumptious and mouth-watering fragrance."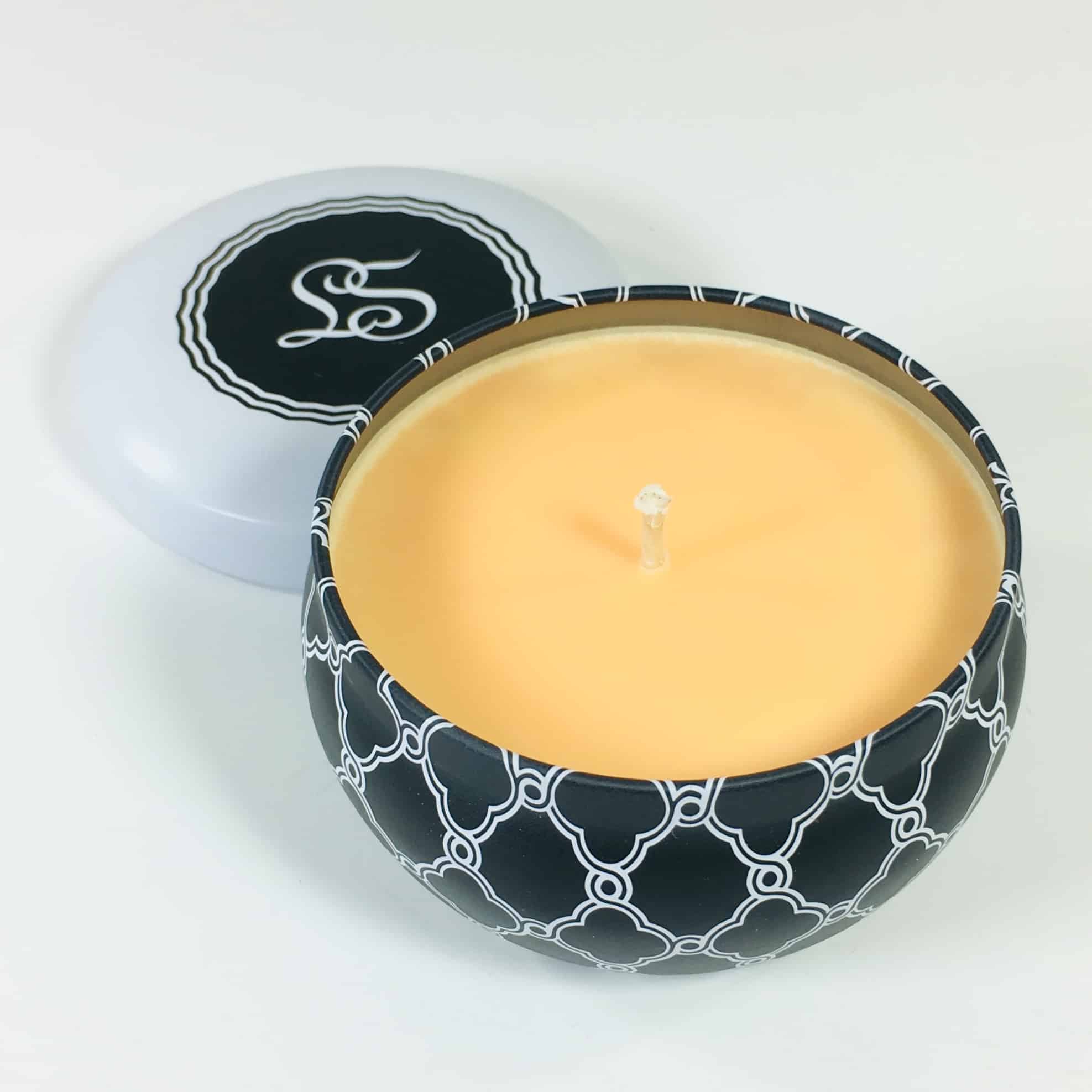 It's October and while I may not be a fan of pumpkin spice lattes (please don't hate me), I sure don't mind the scent of pumpkin, spices, and sugar! This is a sweet take on traditional pumpkin and adds a seasonal fragrance to my living room. This size should burn for about 50 hours.
Lovespoon Candles Cinnamon Stick Soy Candle ($6.95) "Our Cinnamon Stick Premium Soy Candle is a favorite among our Christmas and holiday candle customers. This premium soy wax candle delivers a full bodied scent of cinnamon bark, clove and nutmeg for a sweet and earthy aroma."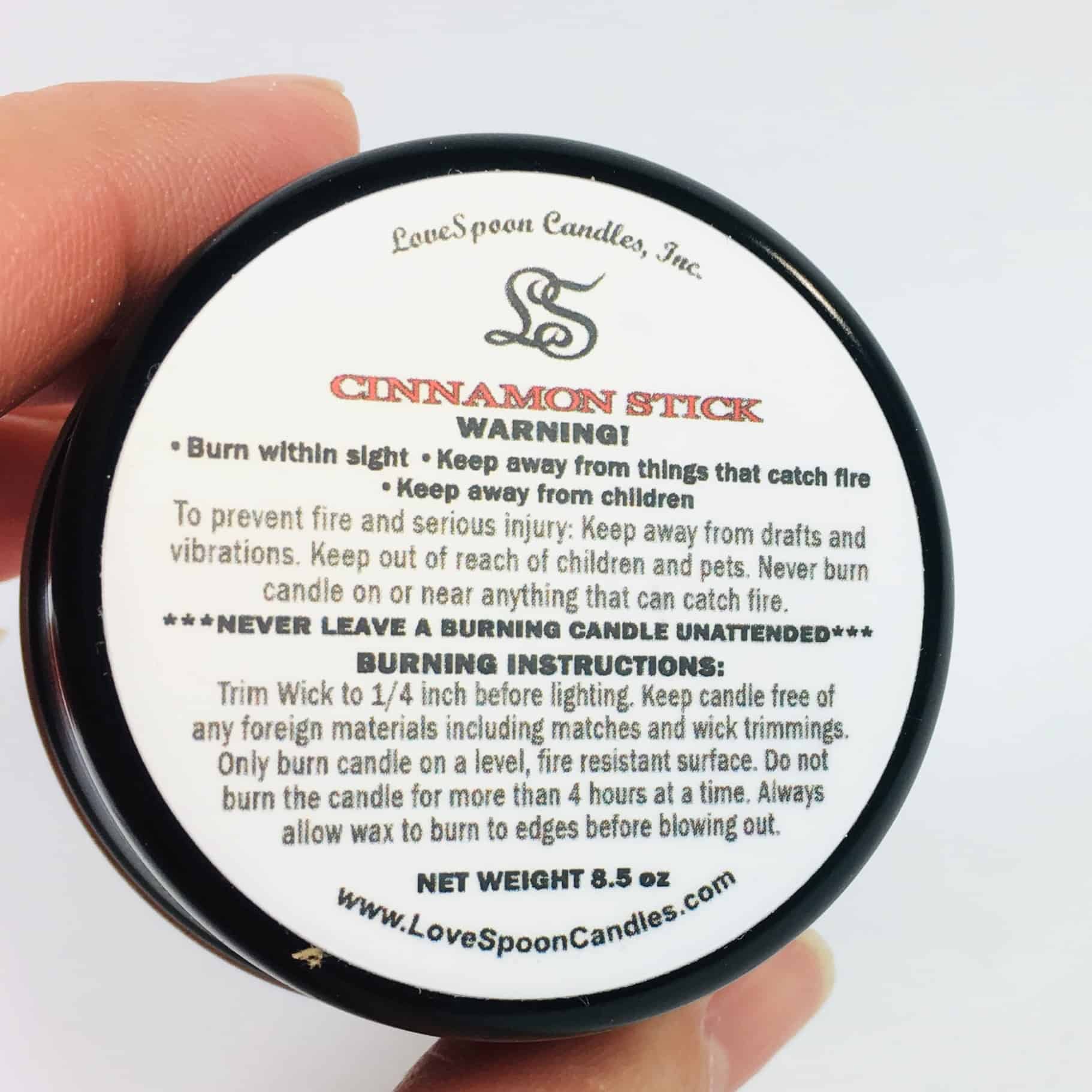 My box didn't have a sticker on it announcing the scent, but never fear, it is also on the bottom of every candle! I think the size is mismarked since the travel sized candles are 2 ounces, not 8.5.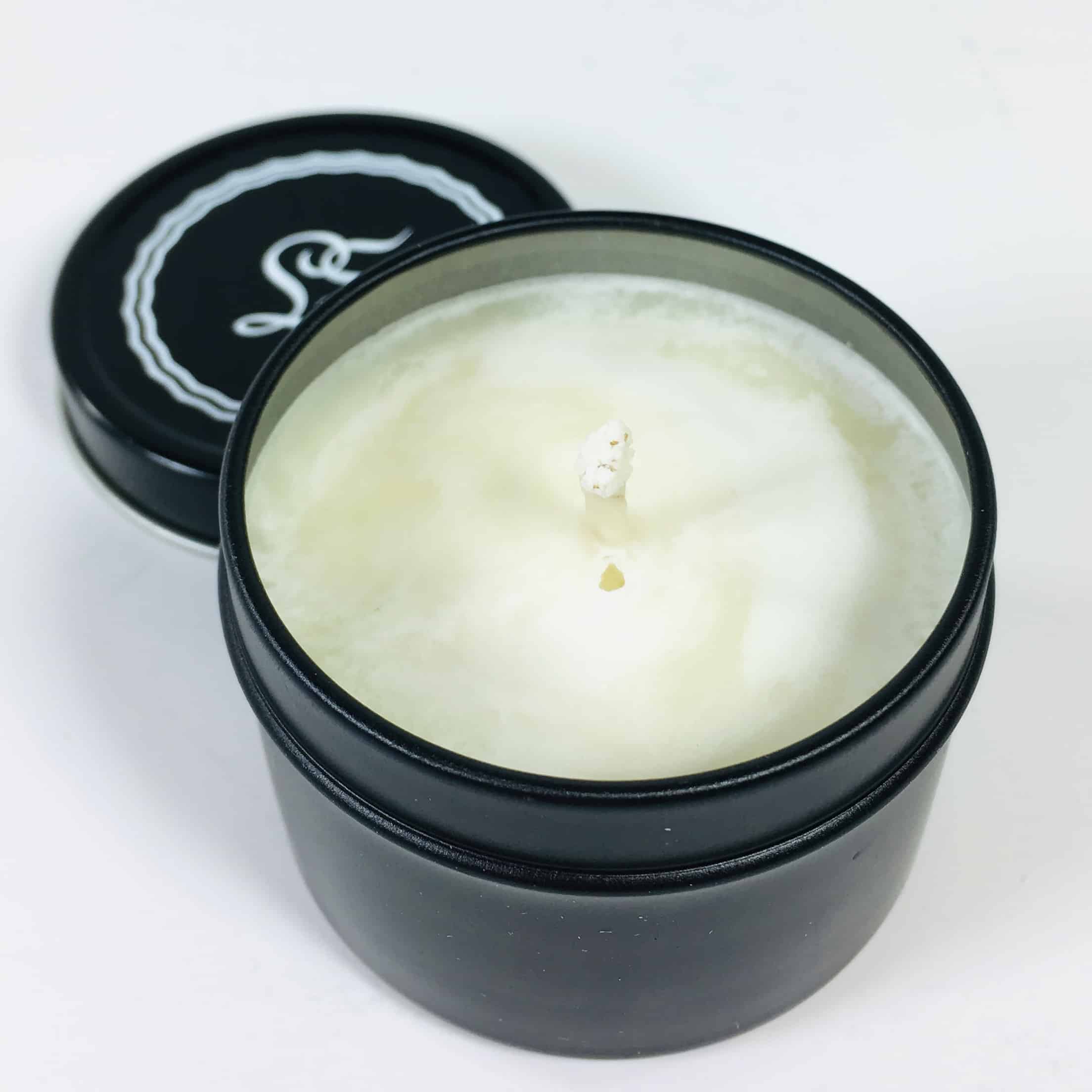 This is probably my favorite of the bunch, and while I feel funny saying that since all of these candles were amazing, it was the most simple and classic of all of the scents. Nothing says fall to me more than this cozy fragrance.
Once again LoveSpoon Candles sent an amazing box of beautiful candles in lovely seasonal scents! I review a lot of candles and so many of them smell great until you light them, and then you get nothing. LoveSpoon Candles smell great while cold and while burning, which makes them a winner in my book. They also have substantial throw, so you can smell them as soon as you walk in the room. I received $62.95 worth of candles, for a significant savings over purchasing individually through the online shop.
What do you think of the Lovespoon Candles box? Let me know your favorite fall scents in the comments!