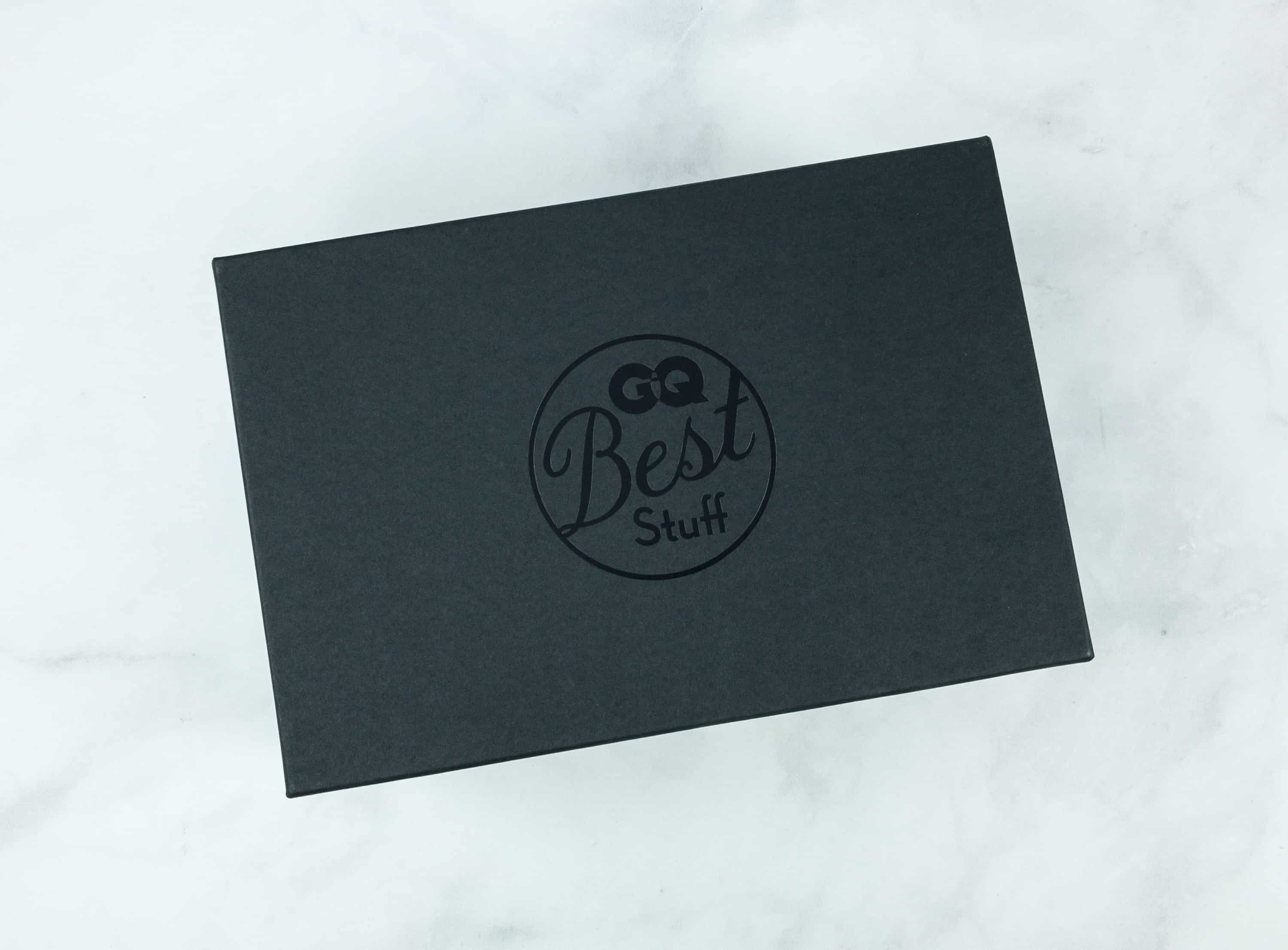 GQ BEST STUFF BOX is a quarterly subscription box that features GQ editors' tested and loved items like electronics, grooming products, and man-friendly accessories. All boxes are valued at over $200 each and a total of over $800 value per year!
NOTE: We are realigning the seasons for this box. GQ Best Stuff hasn't been consistent with any naming but given their shipping schedule and the contents, it's clear that this is a Fall box.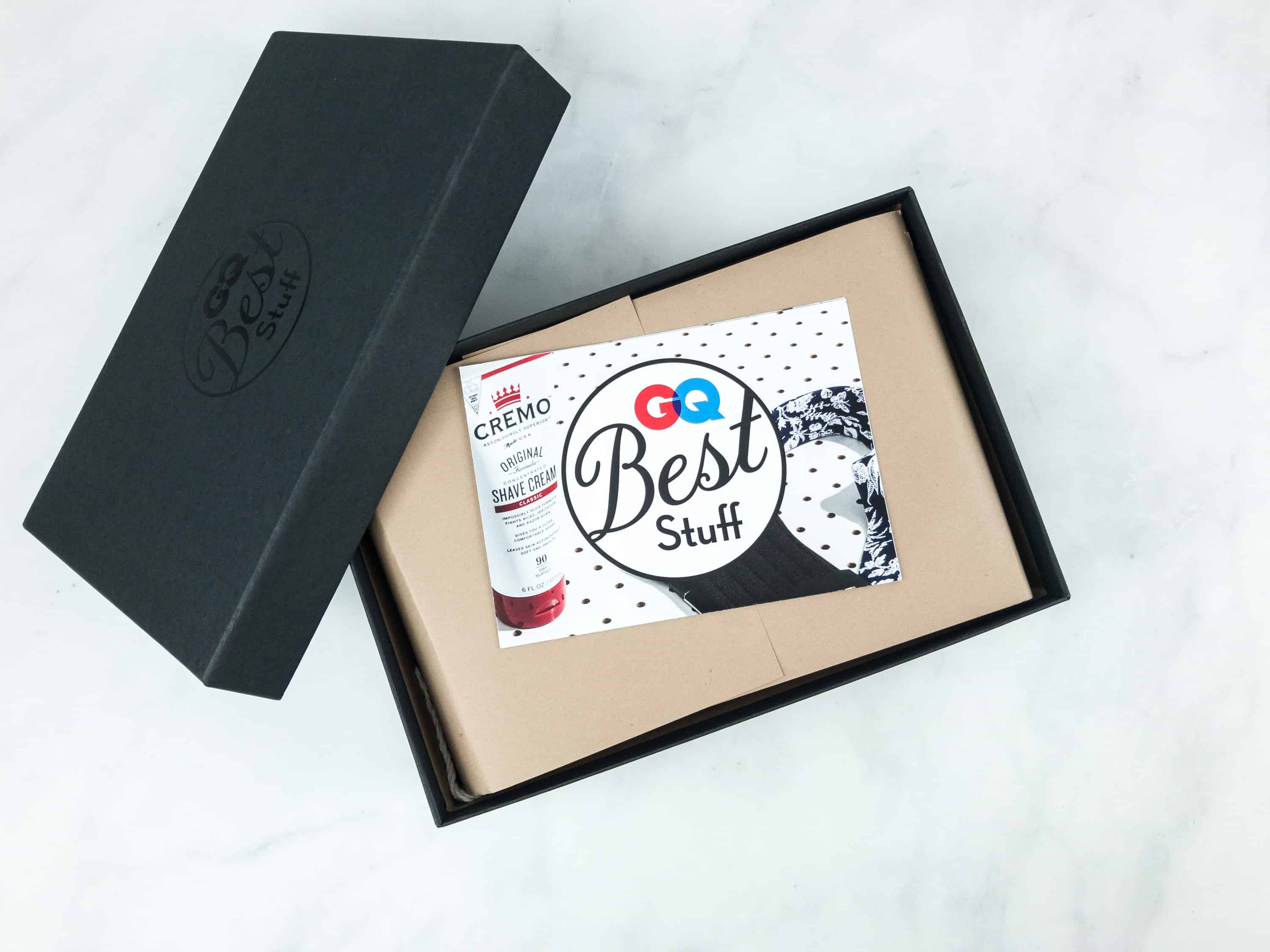 Your stuff arrives in a reusable black box with a GQ Best Stuff logo on it.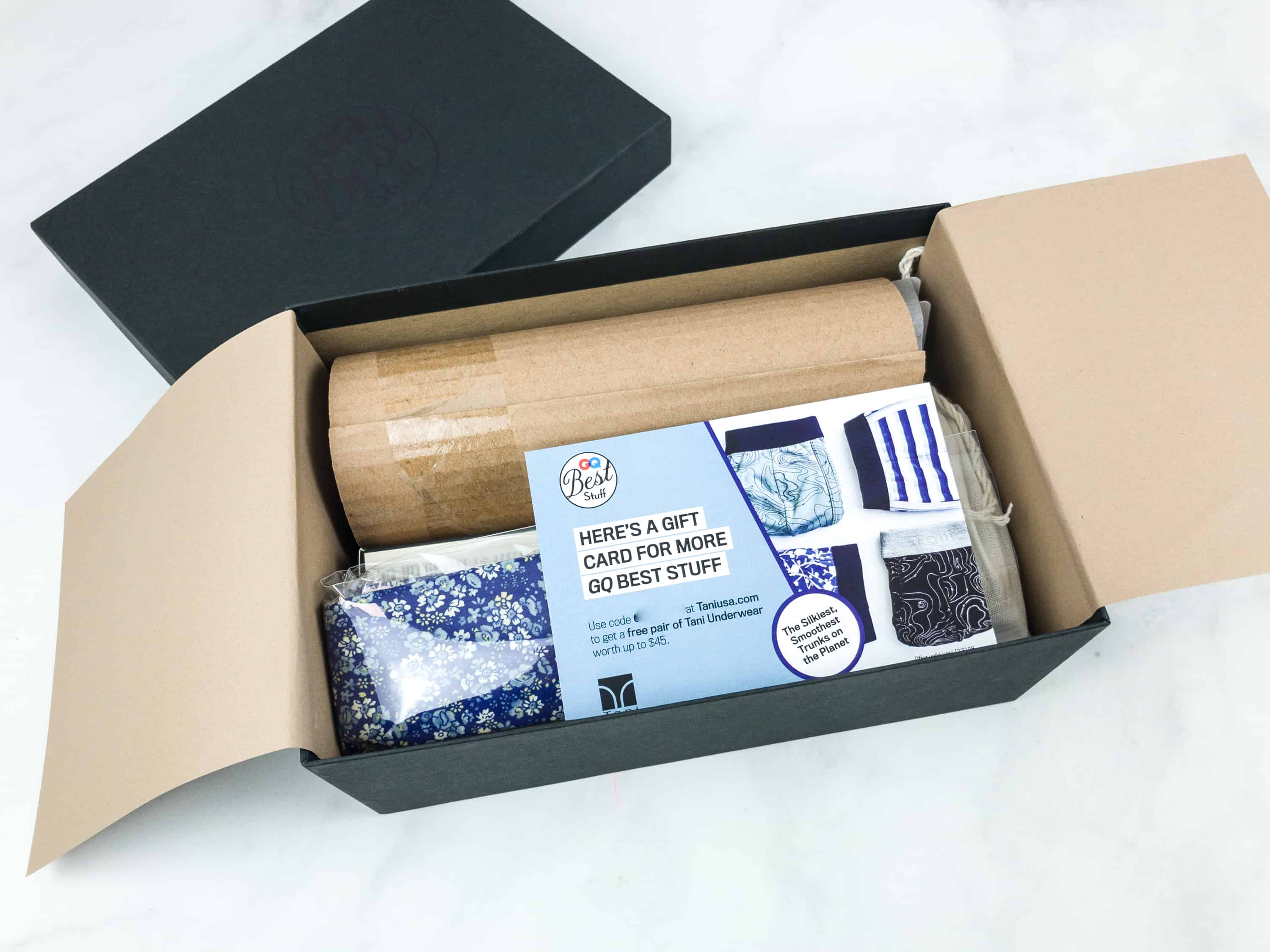 All the items are neatly placed inside the box, most being included in their full original packaging.
It includes an info pamphlet covering everything in the box.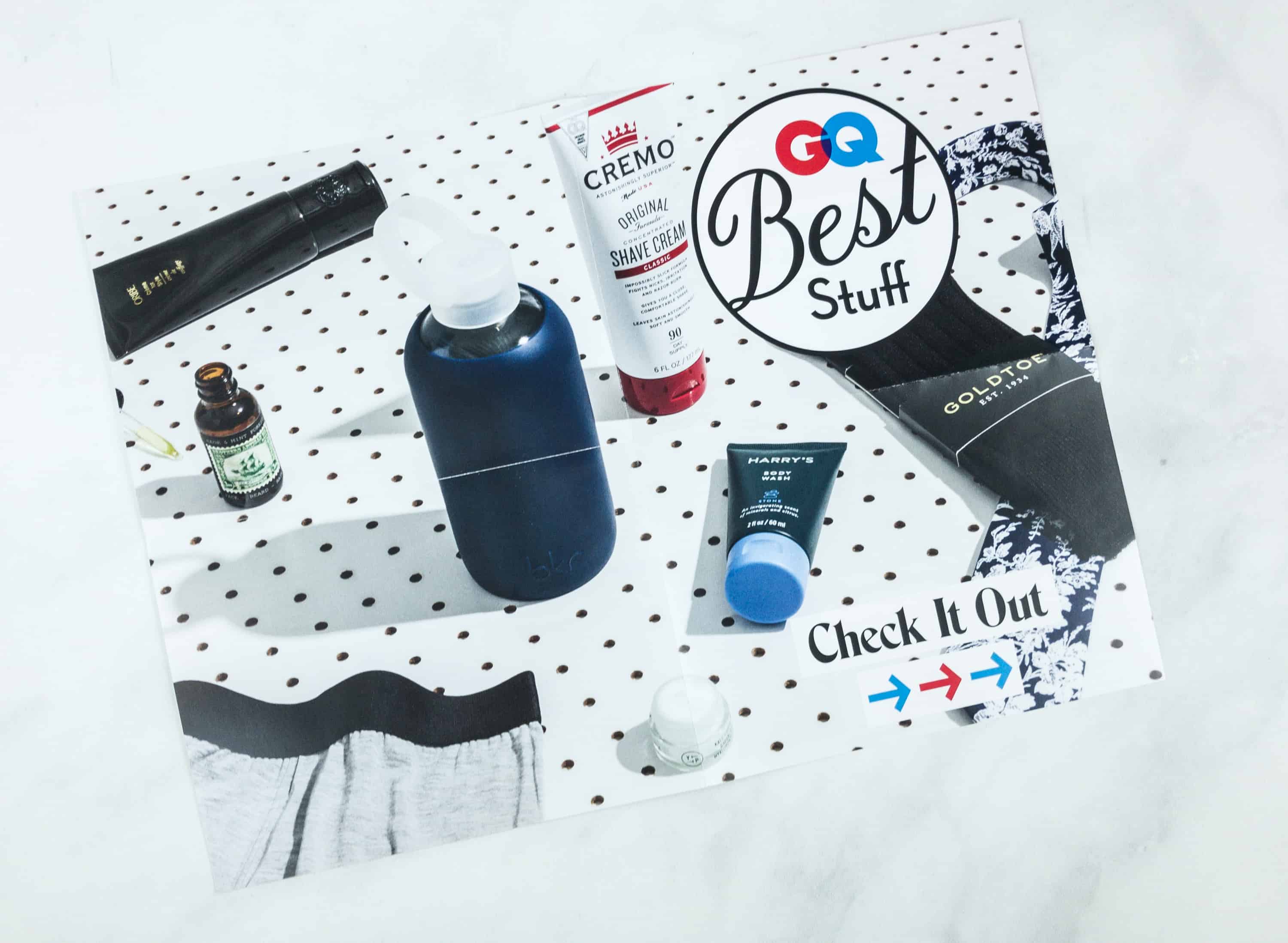 It folds out for a visual preview of the contents.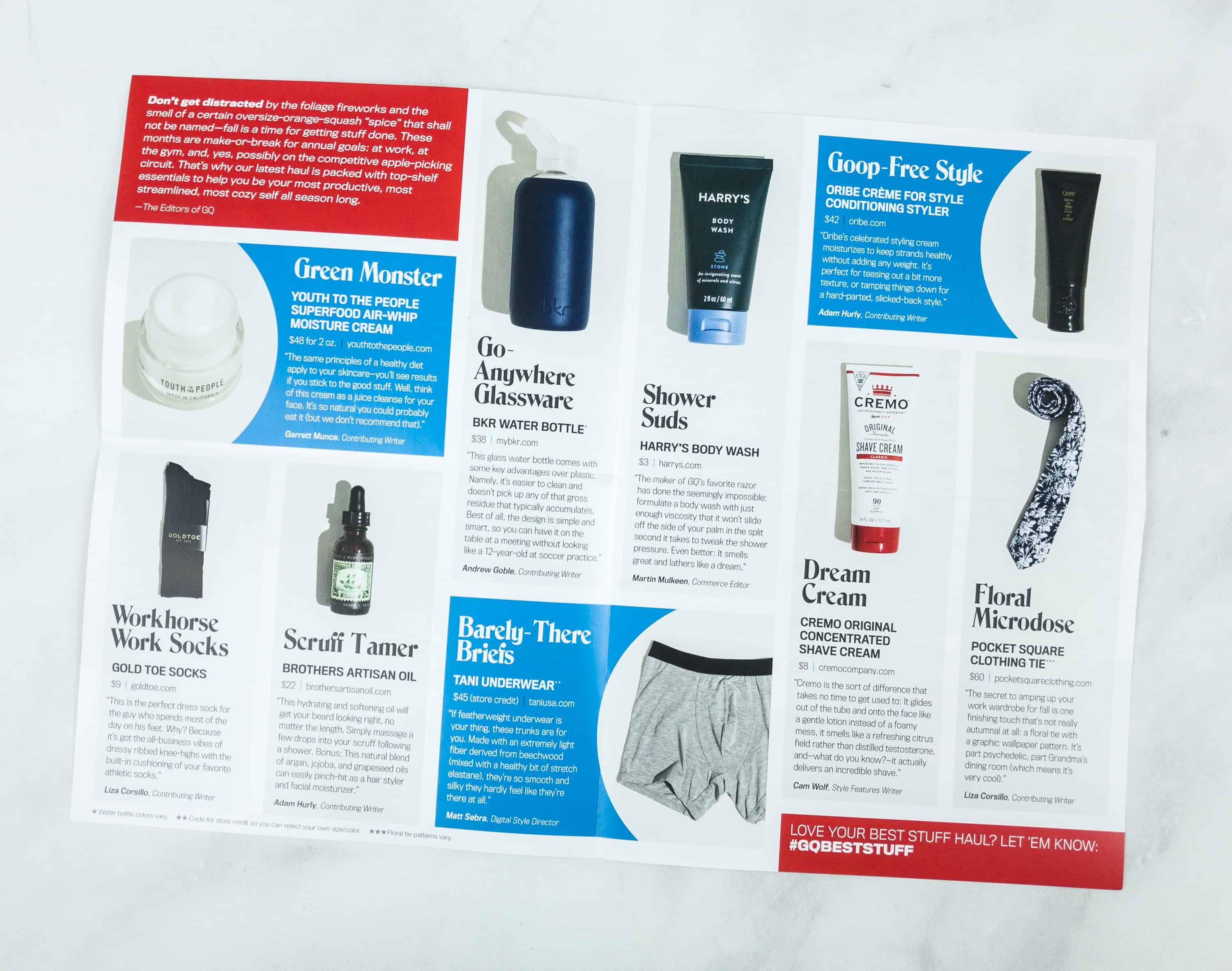 The inside identifies this as a Fall collection centered around the theme of productivity, though it isn't immediately clear how the picks in this curation reflect that. It lists the retail value of each item and includes a blurb from a recommending staff member explaining why each item was chosen.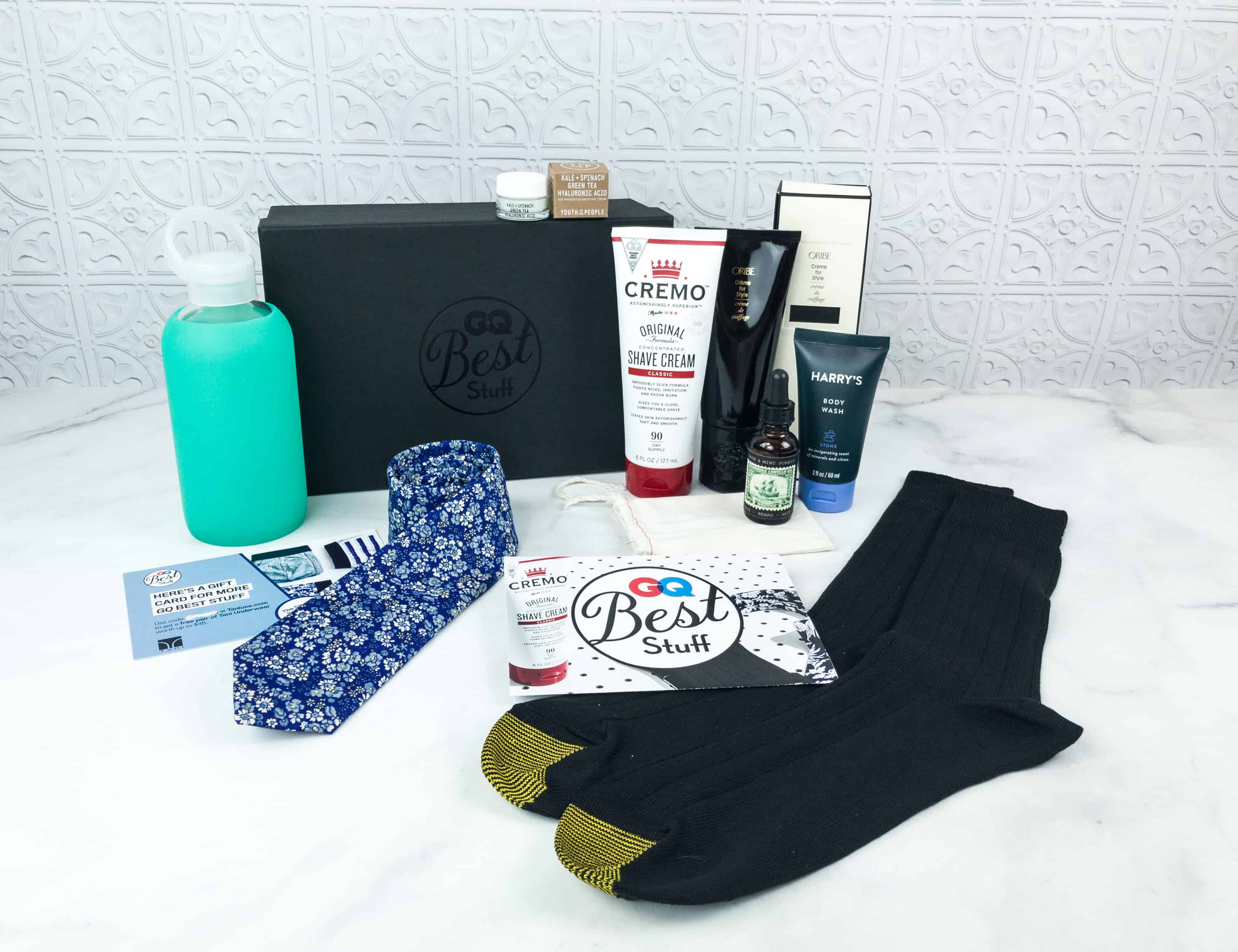 Everything in my Fall 2018 box!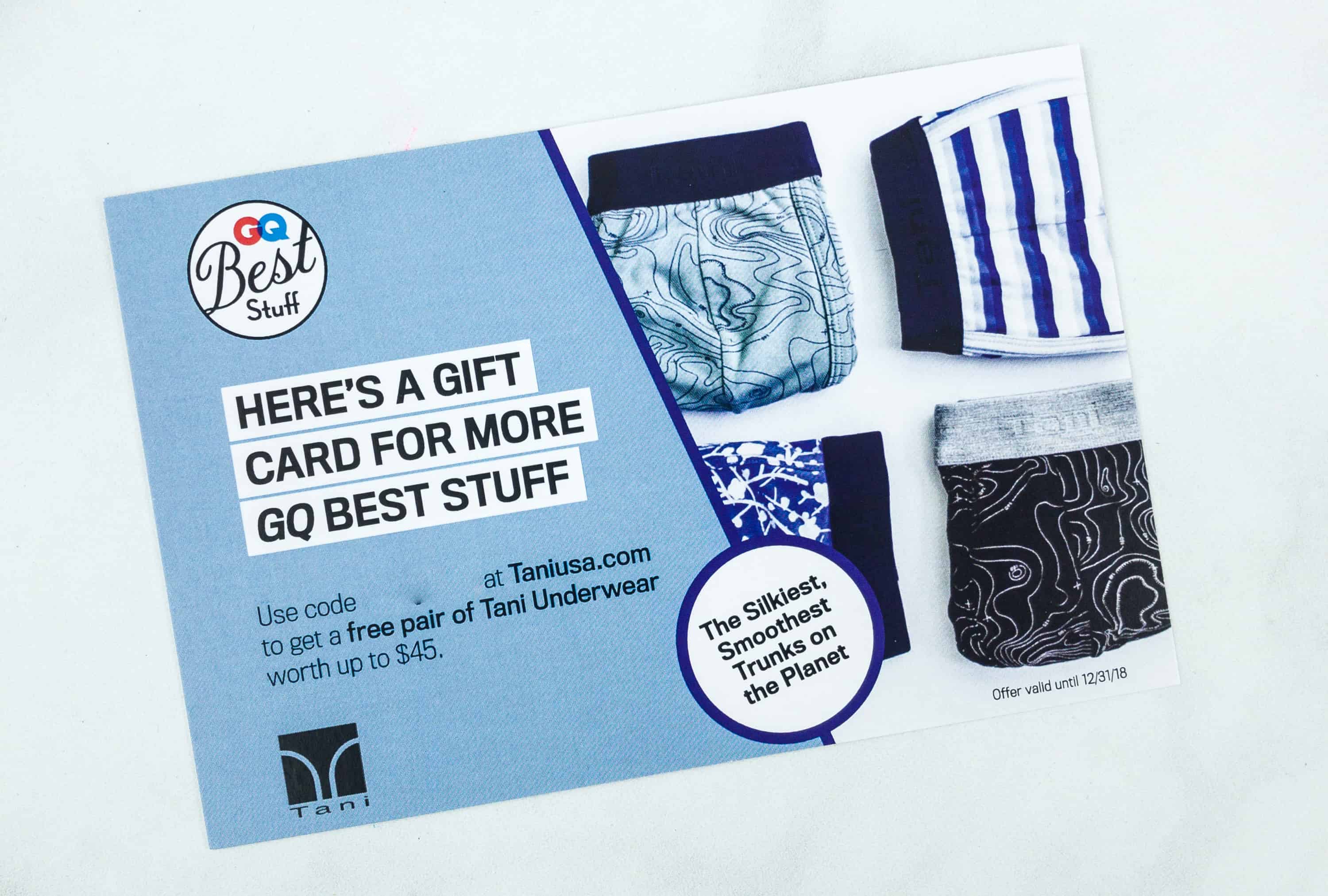 Tani Underwear Gift Card – Tani is a well-known supplier of premium quality undergarment for men and women. You can get a free pair of Tani Underwear worth up to $45, using this GQ best stuff gift card included in this box.
Pocket Square Clothing Floral Tie ($60) This blue floral tie is made from soft cotton fabric. Though it has a very Springtime vibe to it, it is a classic looking pattern that never really goes out of style.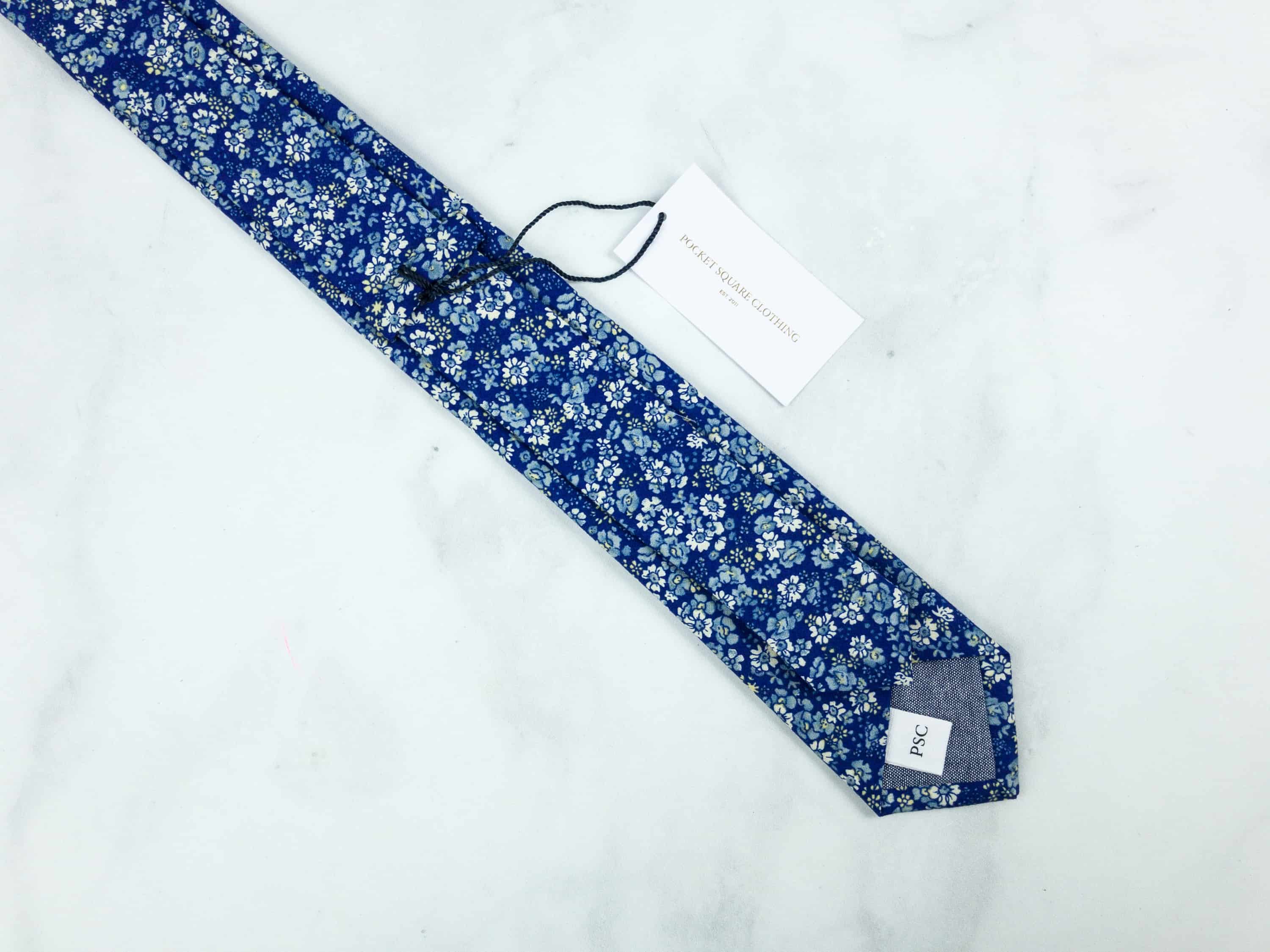 It's very versatile and can be paired with almost anything. It's ideal to wear for more laidback events and parties, but it can also add a bit of lightness to a more formal outfit.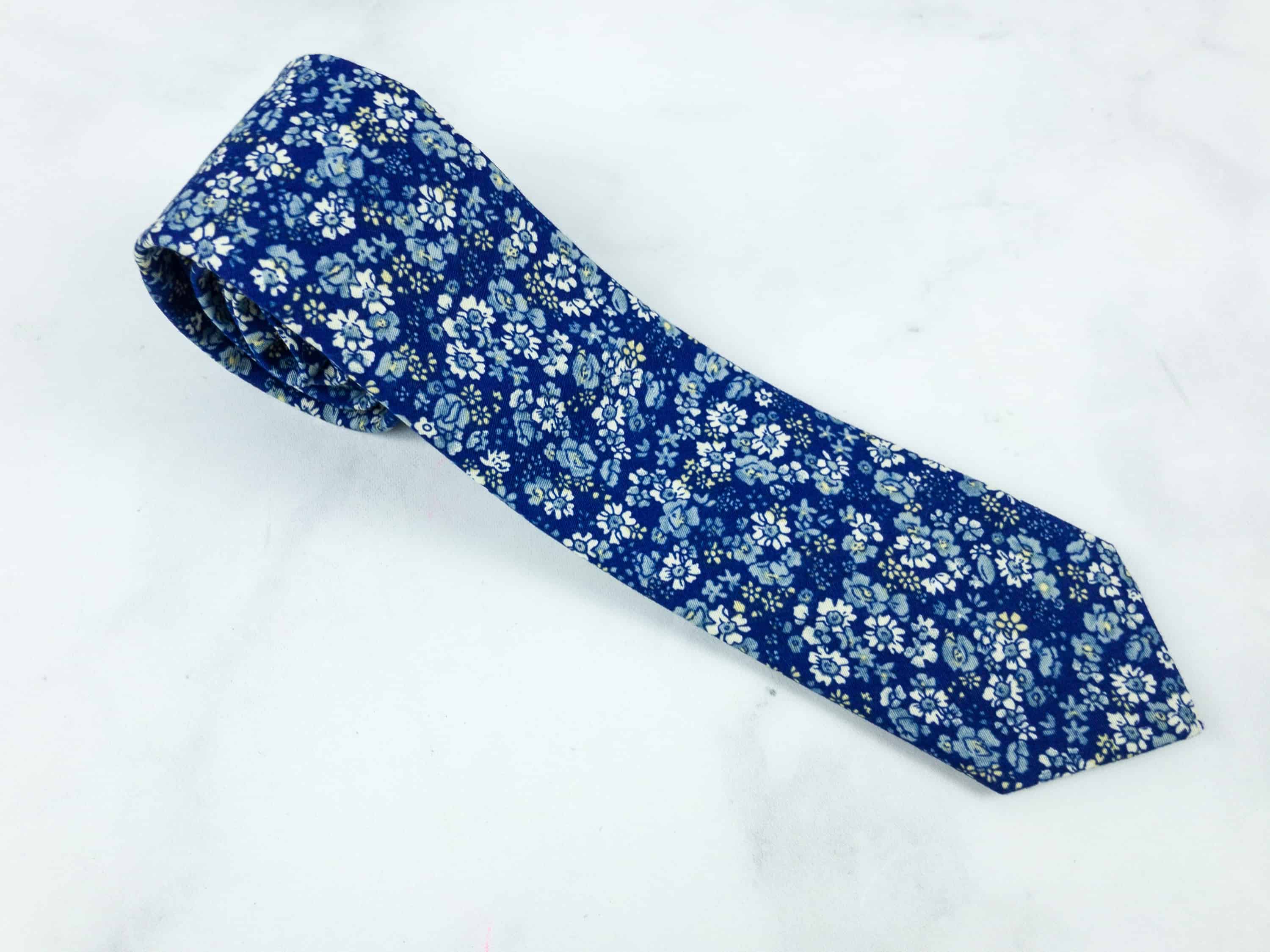 I love the fun print. It has multiple tones of blue, blended with a watercolor effect, and some gentle yellow accents. The mix of bold and mellow shades and the juxtaposition of the sharply contrasting shades and gentle connotation of the print lend this tie an enigmatic quality, broadening its utility.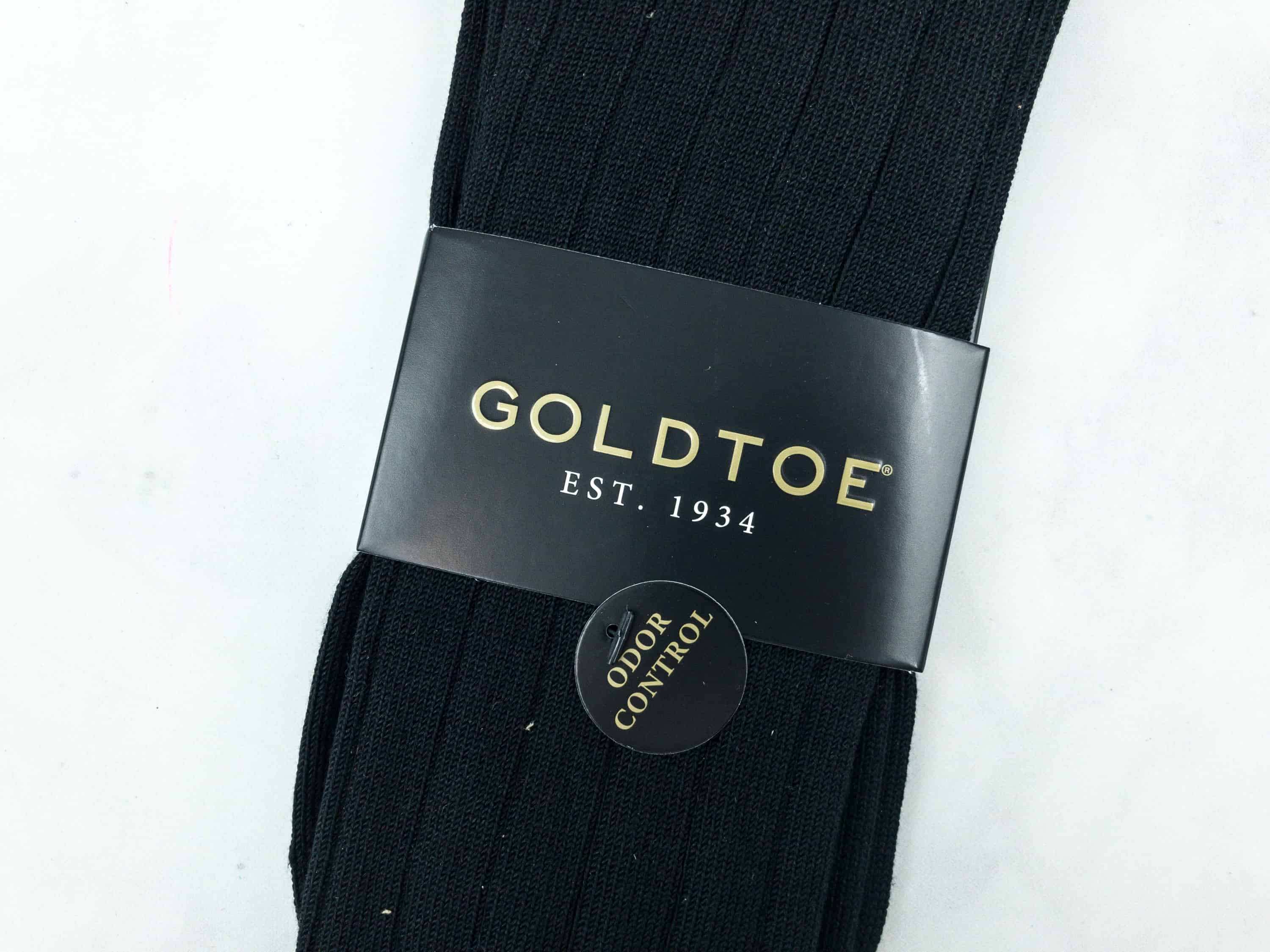 Gold Toe Socks ($7) These are not your ordinary black socks — they have an odor control technology that dampens odors even if you move around a lot and wear them all day long!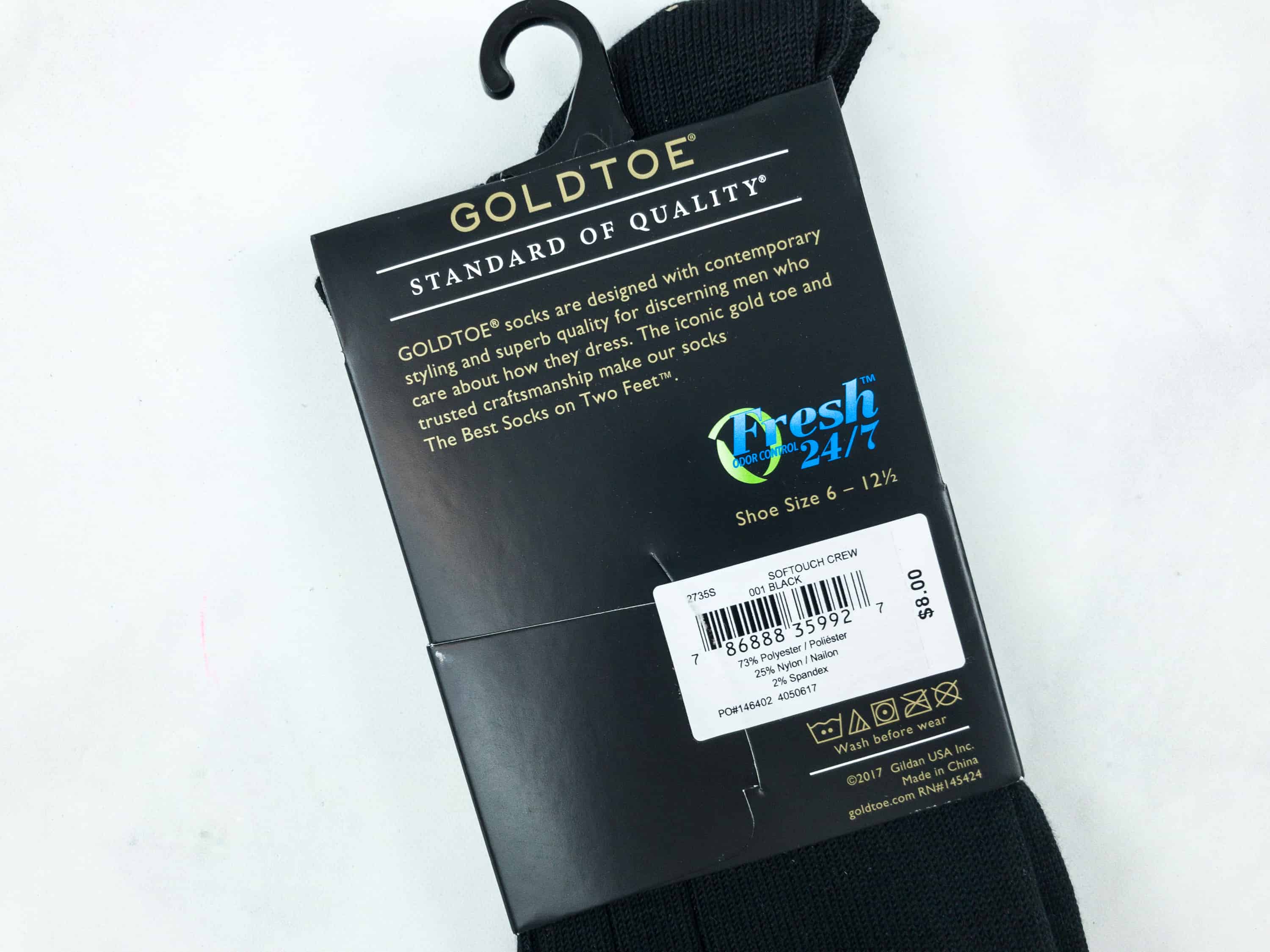 This pair of socks is made from 73% polyester, 25% nylon, and 2% spandex. This pair is sized to fit most men's feet.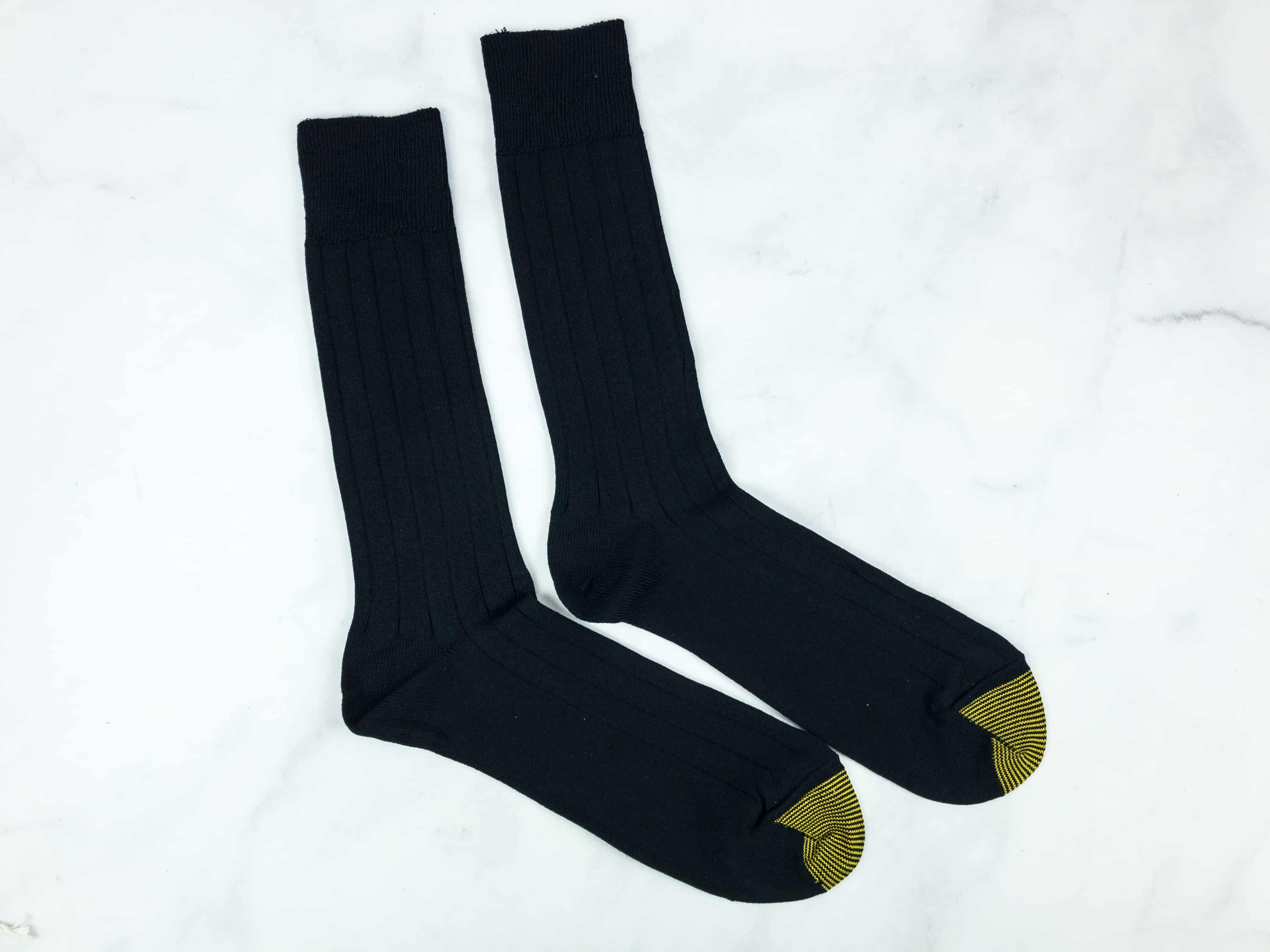 The socks are crew style, but they are long enough to keep me warm and comfortable. It has a great fit too.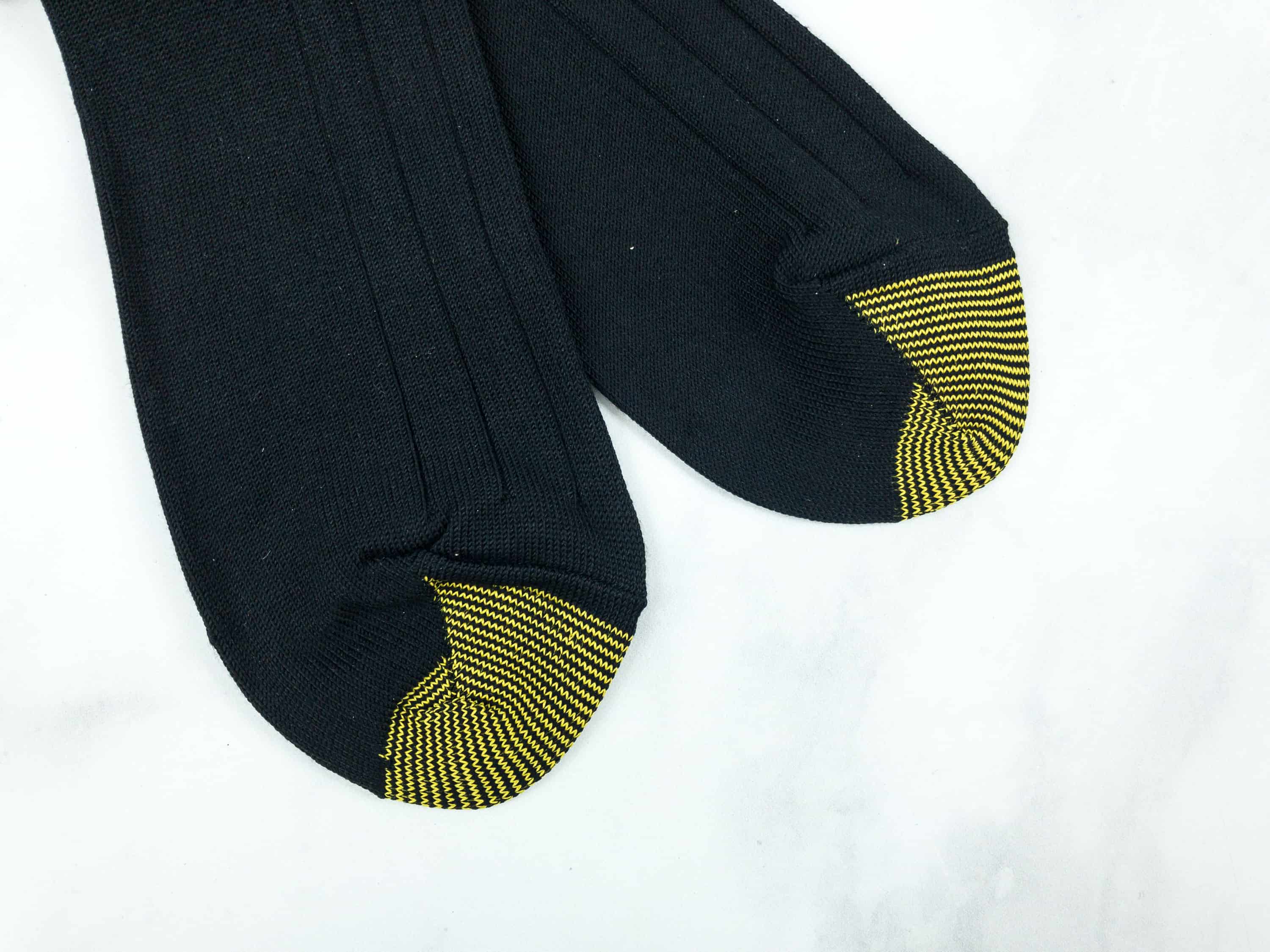 The socks also have a long-lasting reinforced gold-colored toe, their famed trademark.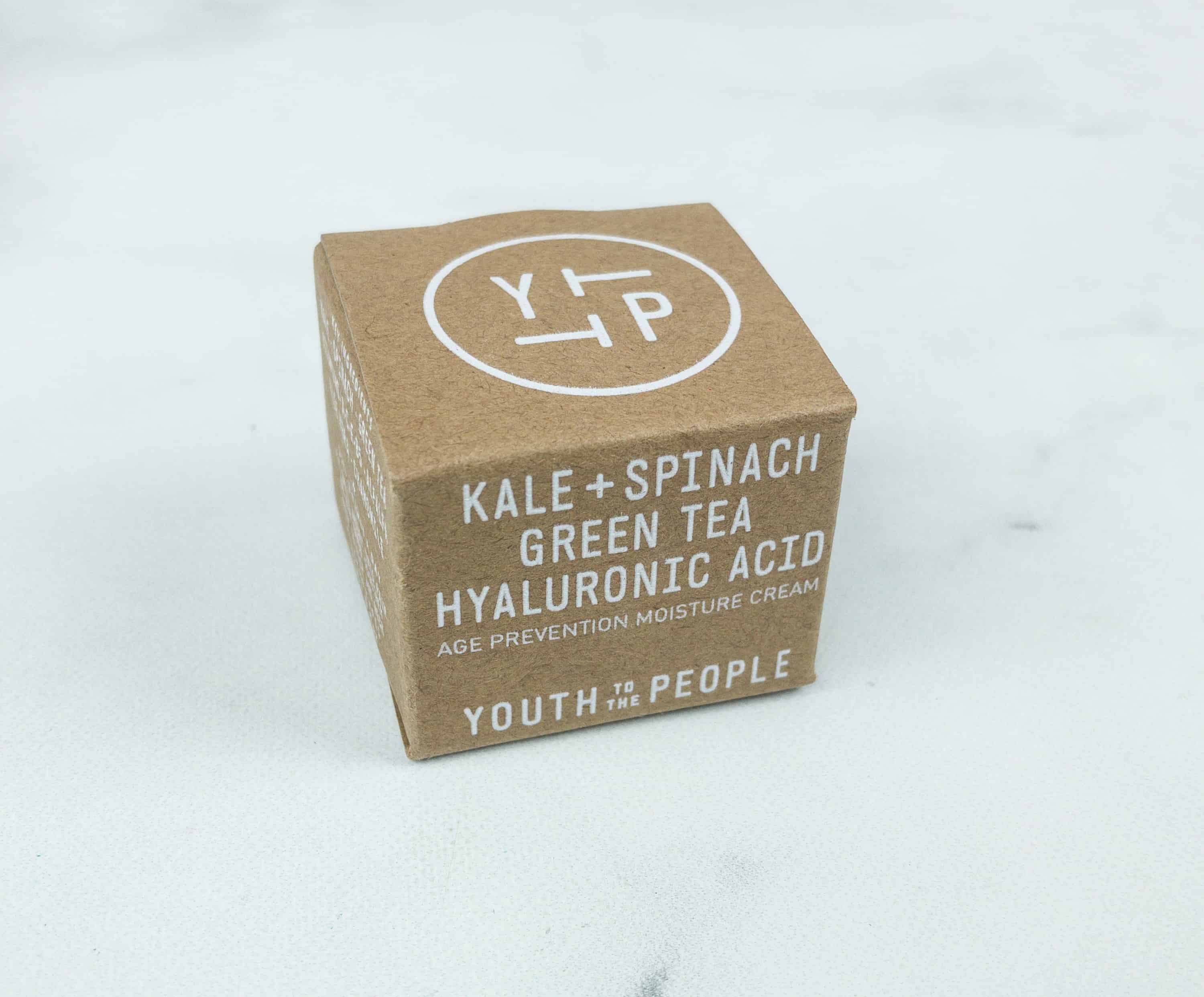 Youth To The People Superfood Air-Whip Moisture Cream ($48 Full-Size 2 oz.) It's an age prevention moisturizing cream filled with superfood ingredients like kale, spinach, and green tea. The formula also contains hyaluronic acid that helps revitalize your skin.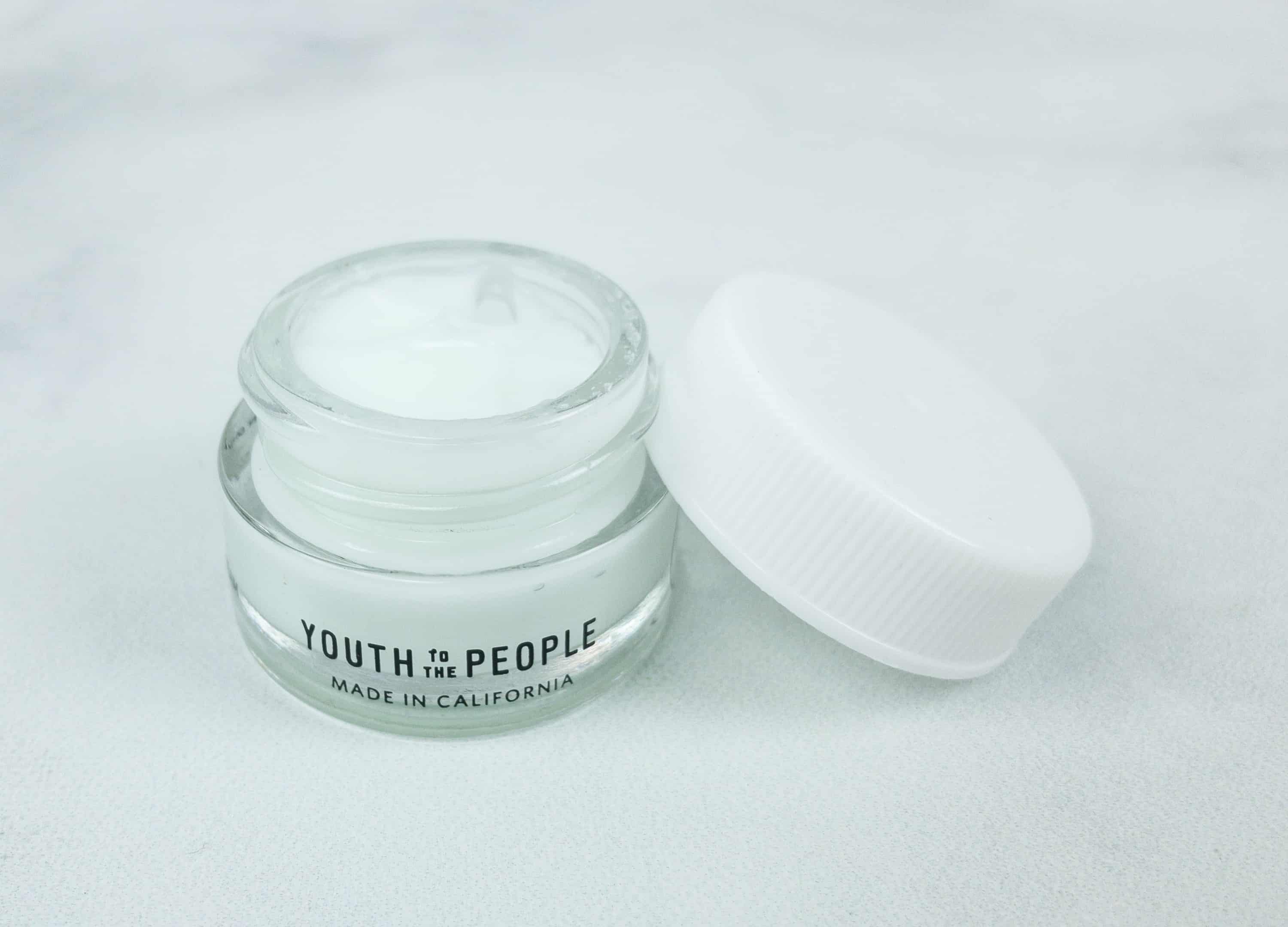 It is free of parabens, sulfates, Dimethicone, and other chemicals that may cause harm to your skin. I like that it's lightweight and doesn't feel greasy on the skin.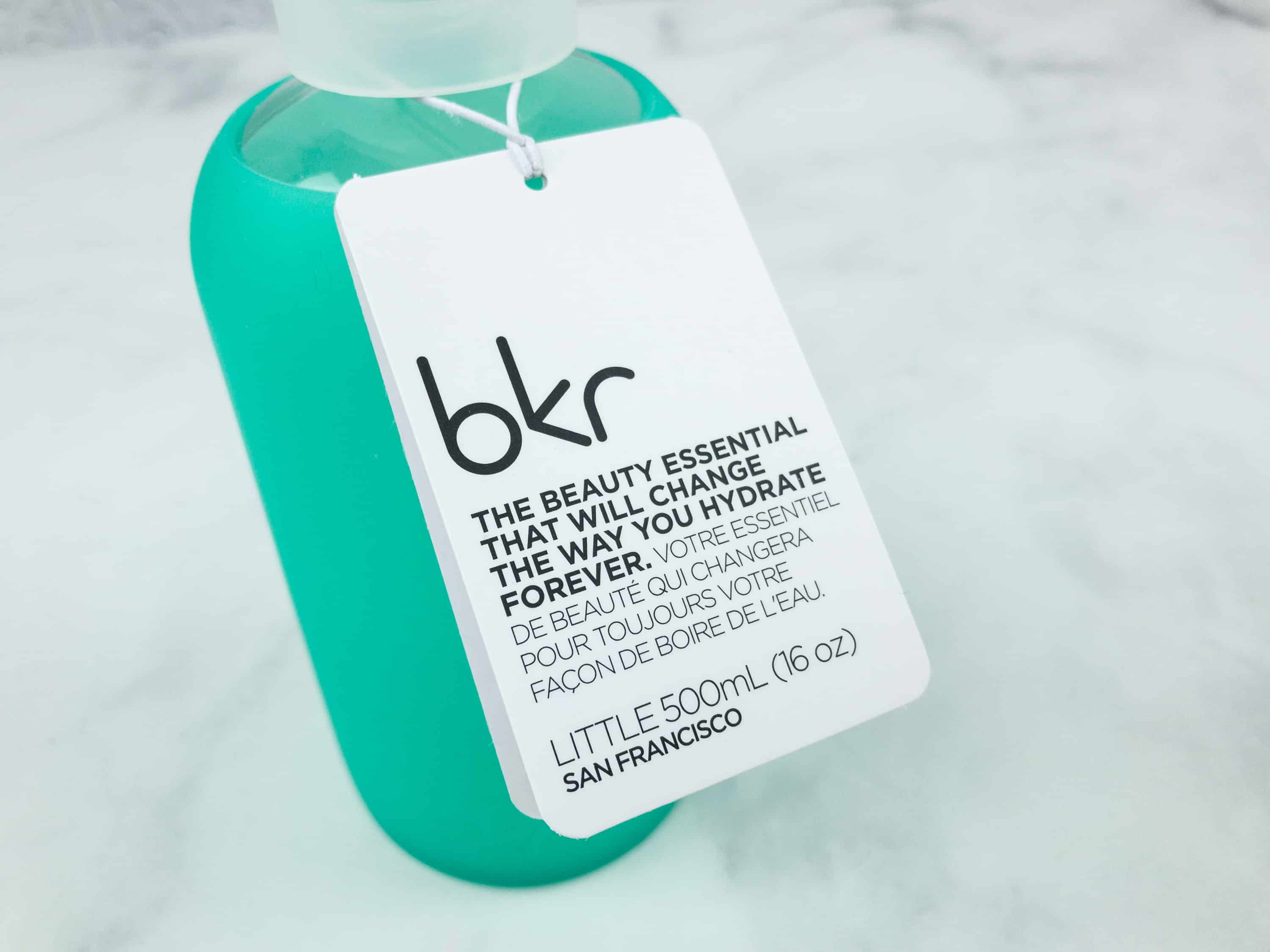 BKR Water Bottle ($38) Simple yet cleverly designed, this drinking bottle is made from glass and covered with opaque peppermint green rubber.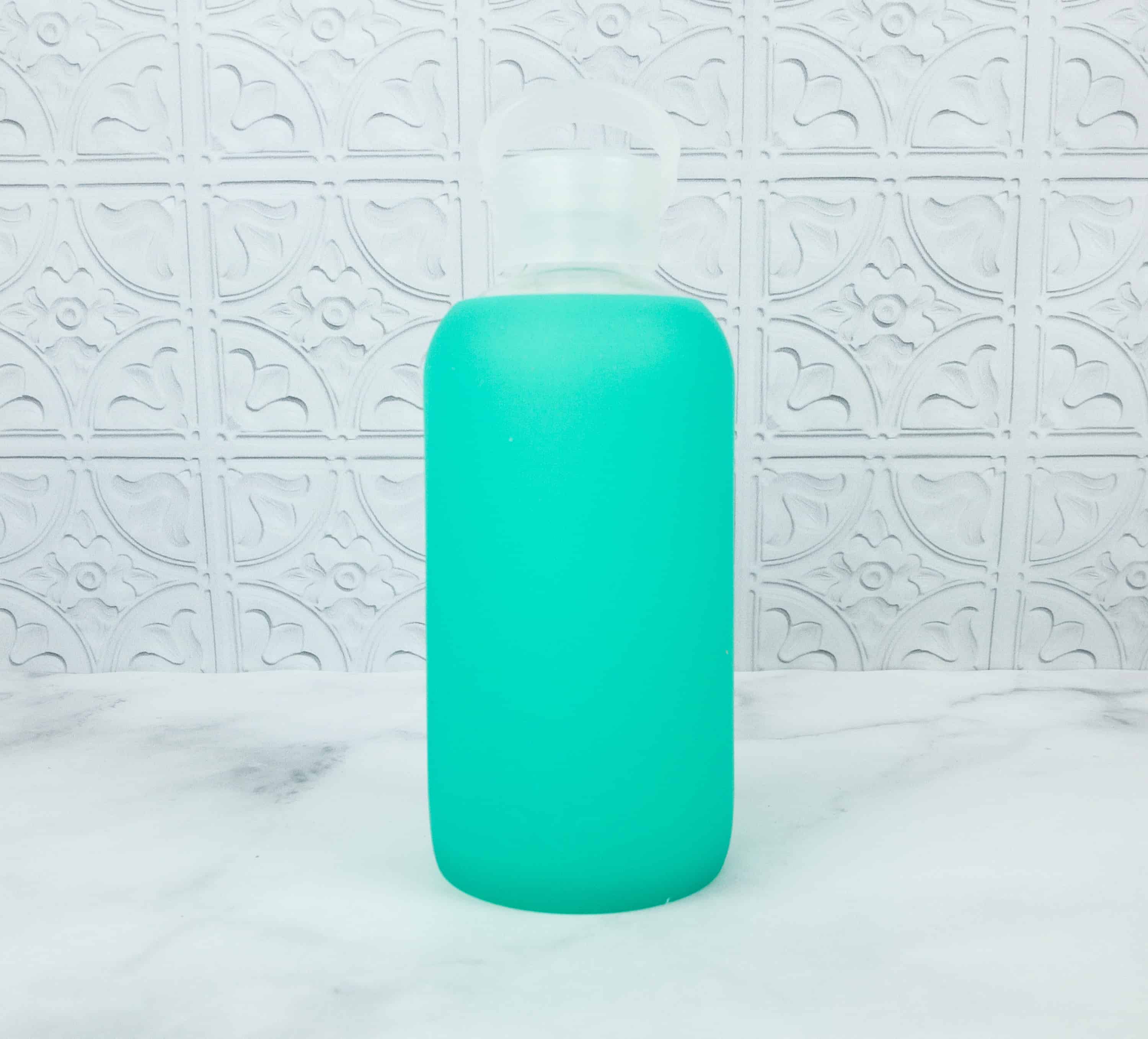 It can accommodate up to 500 ml of water, making it the ideal bottle to bring to the office or even to the gym.
The sleeve is removable and washable too. It provides some shock protection and a comfortable grip, while you get to drink out of the reliable non-reactive and clean-tasting glass vessel.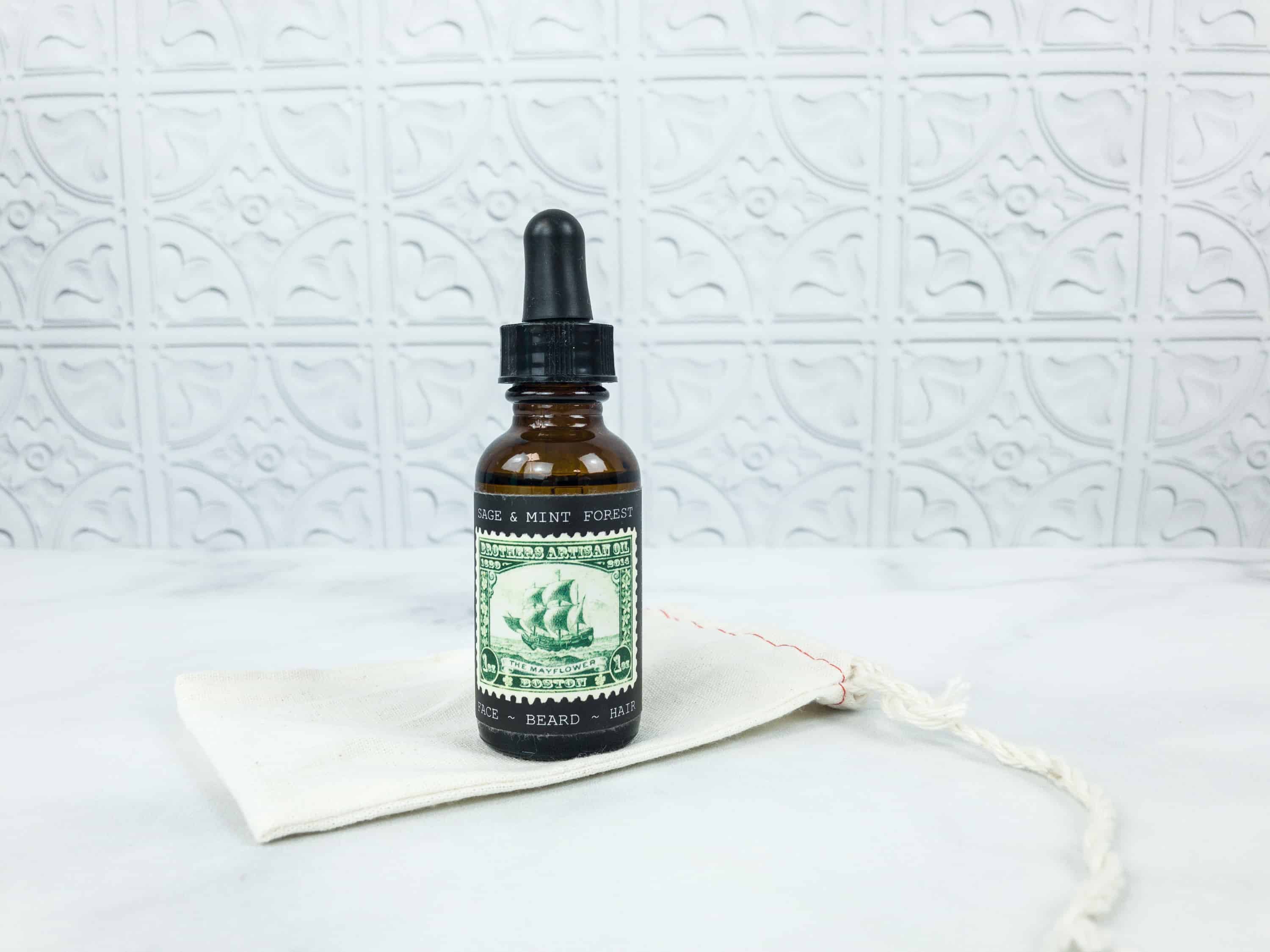 Brothers Artisan Oil ($22) Packed with a blend of essential oils, this formula is designed for full-face grooming. It's so easy to use, just put a few drops into your scruff after shower then massage. You can also use this on your hair to tame frizz and on your skin for hydration, pore tightening, and eliminating blemishes.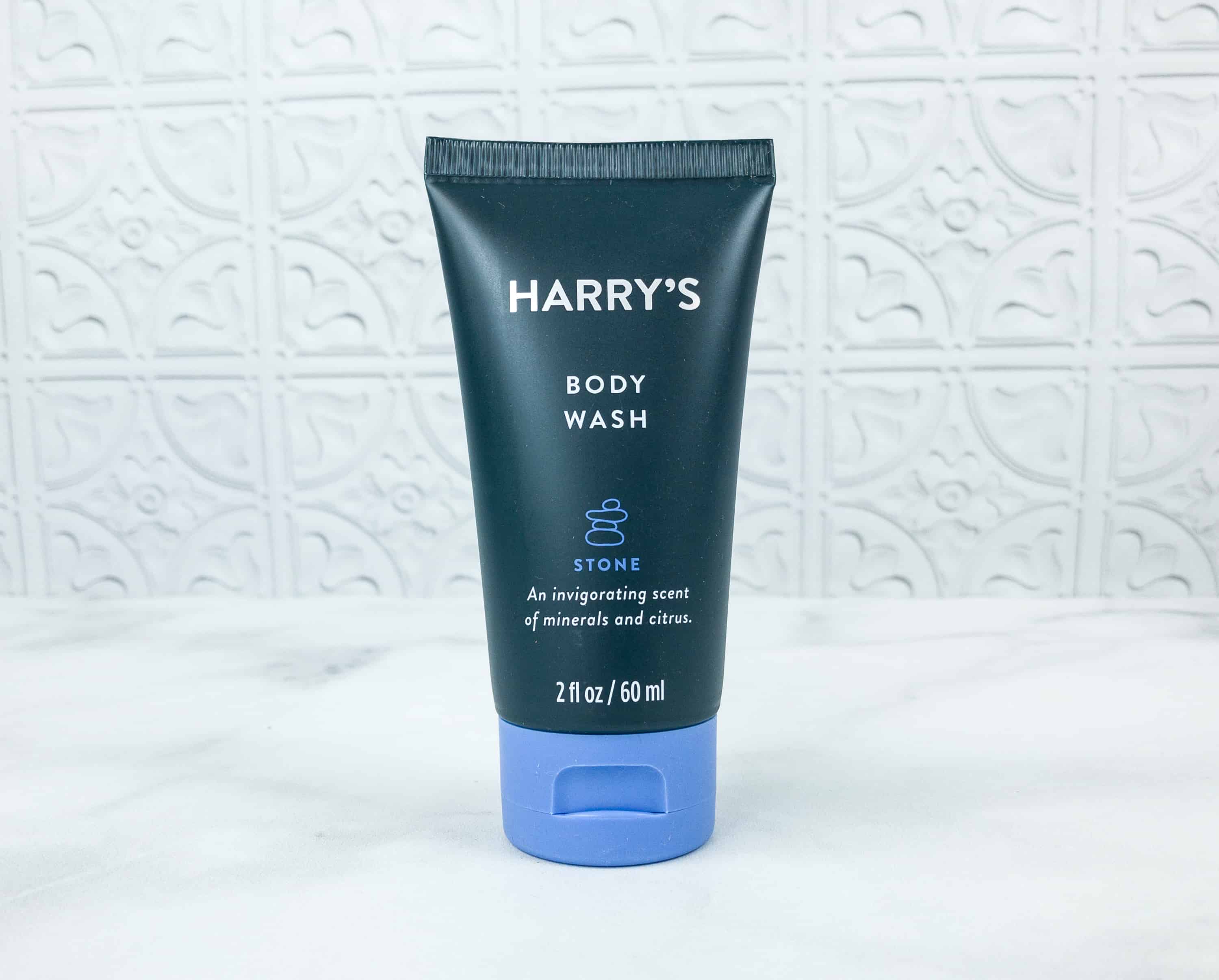 Harry's Body Wash ($0.87) This body wash was formulated for deep cleansing without stripping your skin of moisture. The formula produces a nice lather! It's sulfate-free, yet full and creamy. It also features a mineral and citrus scent that is energizing. I like that they've incorporated a pleasant fragrance that isn't overpowering and won't clash with any scent you might wear.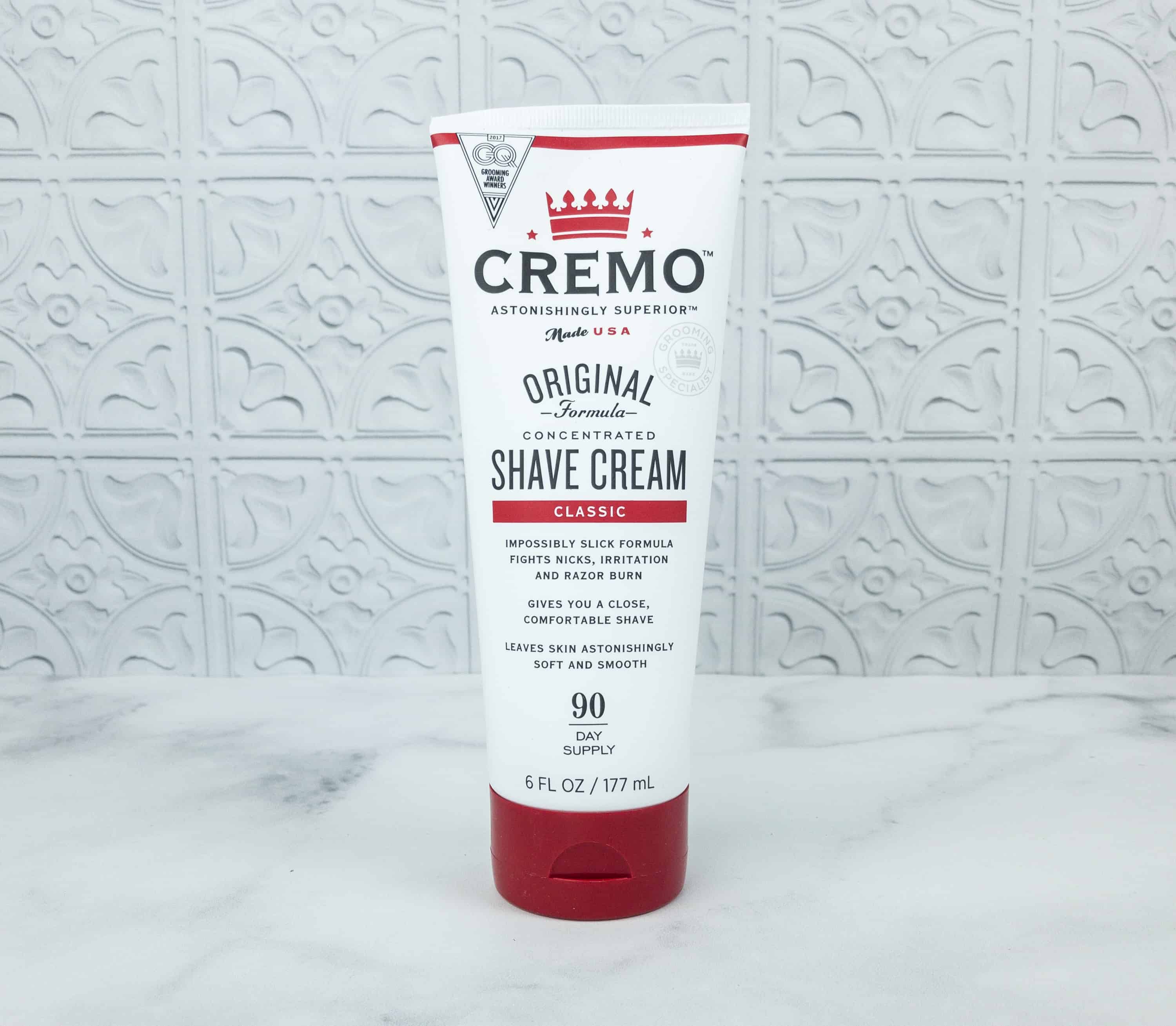 Cremo Original Concentrated Shaved Cream ($4.29) It's a highly concentrated and water activated shaving cream that produces a thin, foam-free layer lubricant. It provides a clean and comfortable shave, and it even fights nicks, razor burns, and irritation. A little of it goes a long way. The citrus scent is subtle yet refreshing.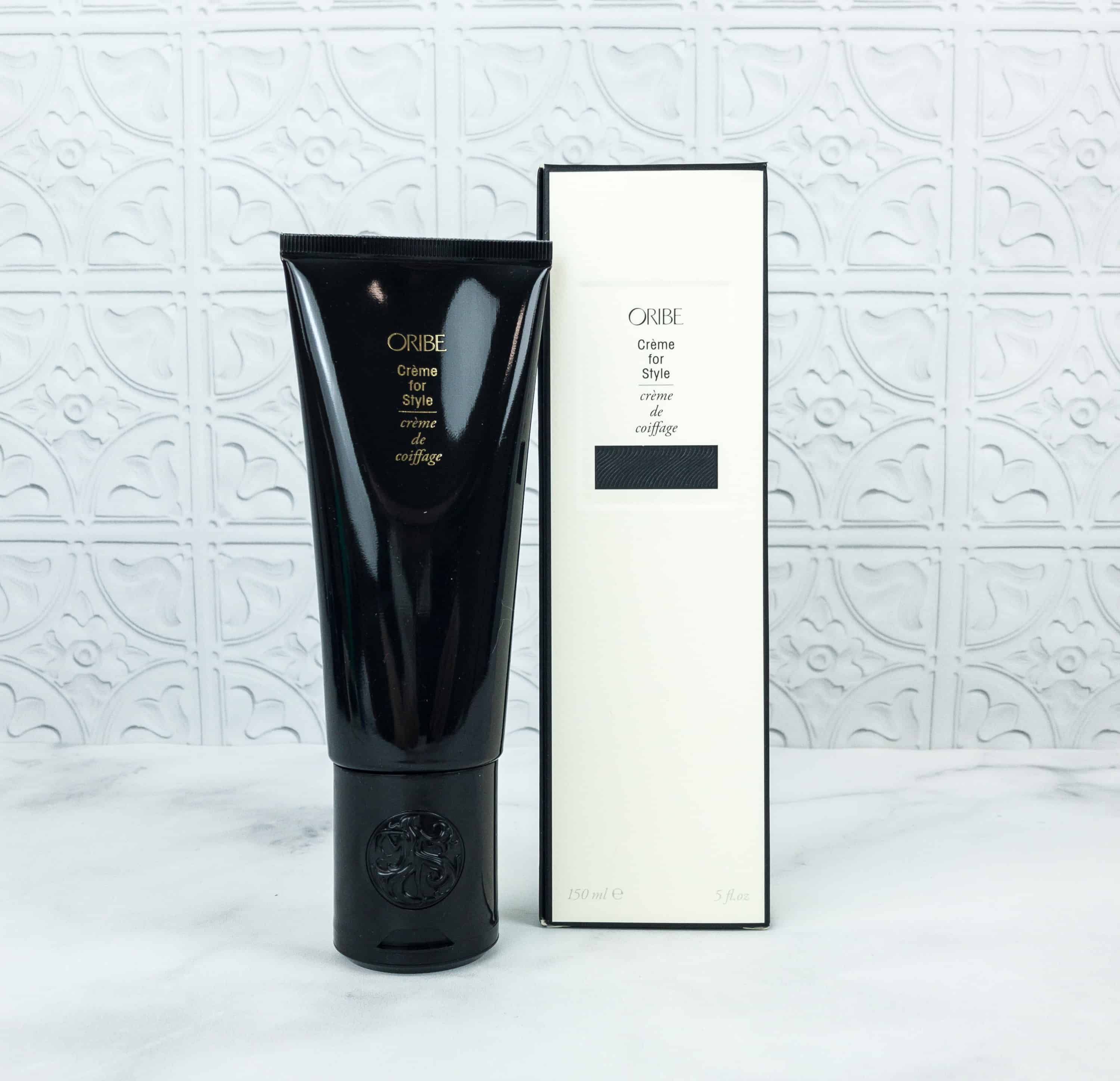 Oribe "Cream For Style" Conditioning Styler ($42) Many styling creams for men are either sticky or too greasy. This one is different because it offers firm yet flexible all-day hold without the icky feeling. It also tames frizz with rich moisturizers.
The Fall GQ Best Stuff Box includes a lot of useful items for the daily grind. I am so impressed with how practical their selections were, they focused on stuff I'm sure to use and admire. This box was very grooming centric, as they skipped the normally included accessory, such as a phone charger or wallet. I particularly love the last few items in this review — grooming essentials that get the job done and aren't overly perfumed. I think they do a great job of avoiding very eccentric items, instead focusing on time-tested products that are practical for any man. This is definitely a great subscription that allows me to grab a batch of handy stuff every quarter!
What do you think of the Fall 2018 box?