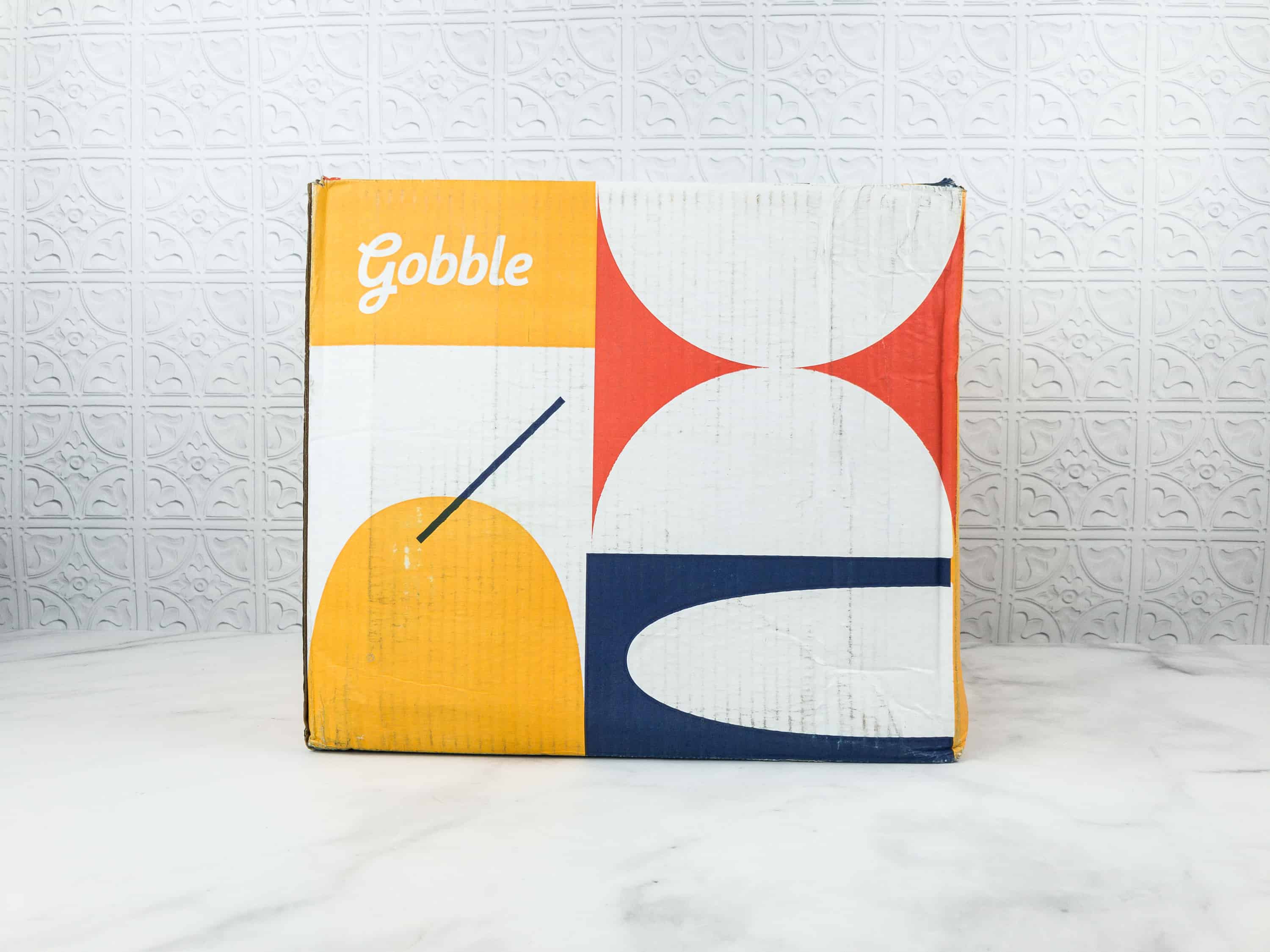 Gobble is a weekly dinner kit subscription box. Each delivery includes 3 dinner kits, each with 2 or 4 meals, but you can add on meals and get as many as you want! Each meal comes with a simple three-step recipe card  to guide you in getting your dinner to the table. Gobble's focus is on making dinner preparation as quick and easy as possible without compromising on freshness. They speed up the process through the strategic use of pre-prepped items, allowing them to promise a prep time of 15 minutes or less for all of their meals!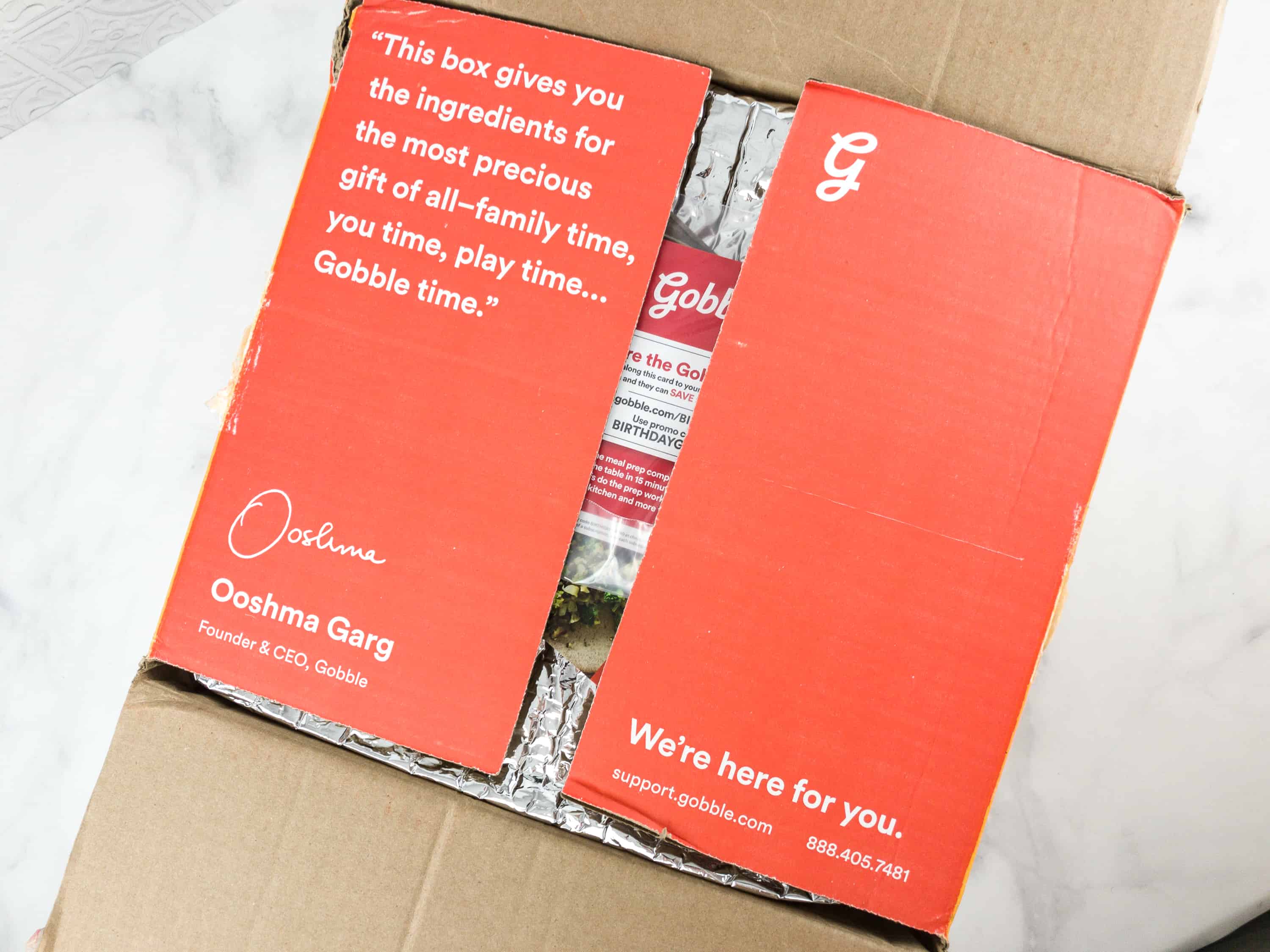 DEAL:
Save $50 on your first box! Use coupon code 
50DPARTNER
.
Inside the box is a large soft-side cooler bag containing all the items.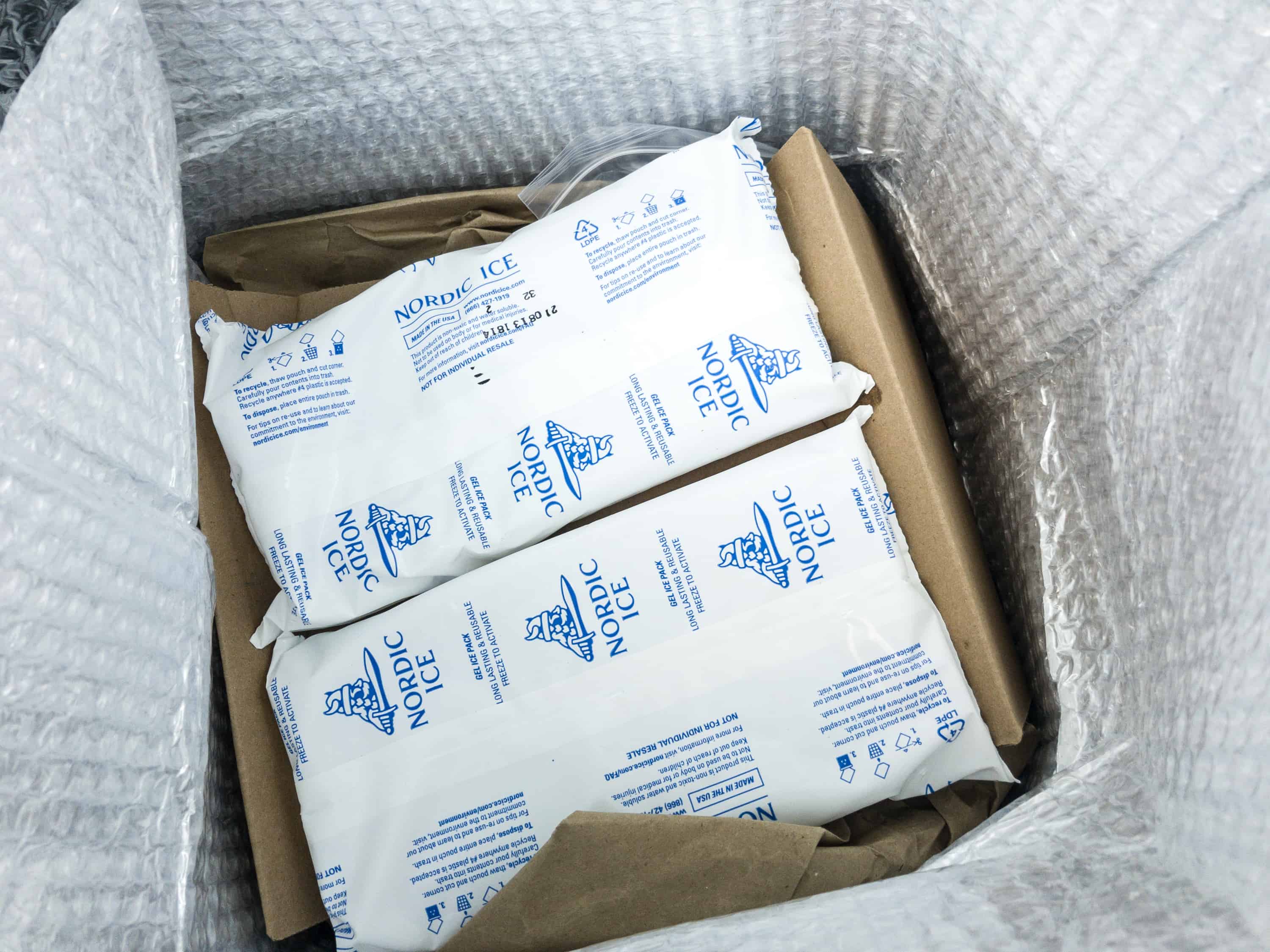 Protected inside the padding, all of the items are topped with a ice packs, ensuring that all the ingredients arrive in their best condition.
Each Gobble recipe has its own lovely card with a picture of the plated dish, calorie count per serving, a list of supplies you need to gather from your own kitchen, a list of items from the dinner kit, and some useful trivia. The card is tinier than that used by other kits (about half again the size of a classic recipe card), but they've managed to fit everything you need on it.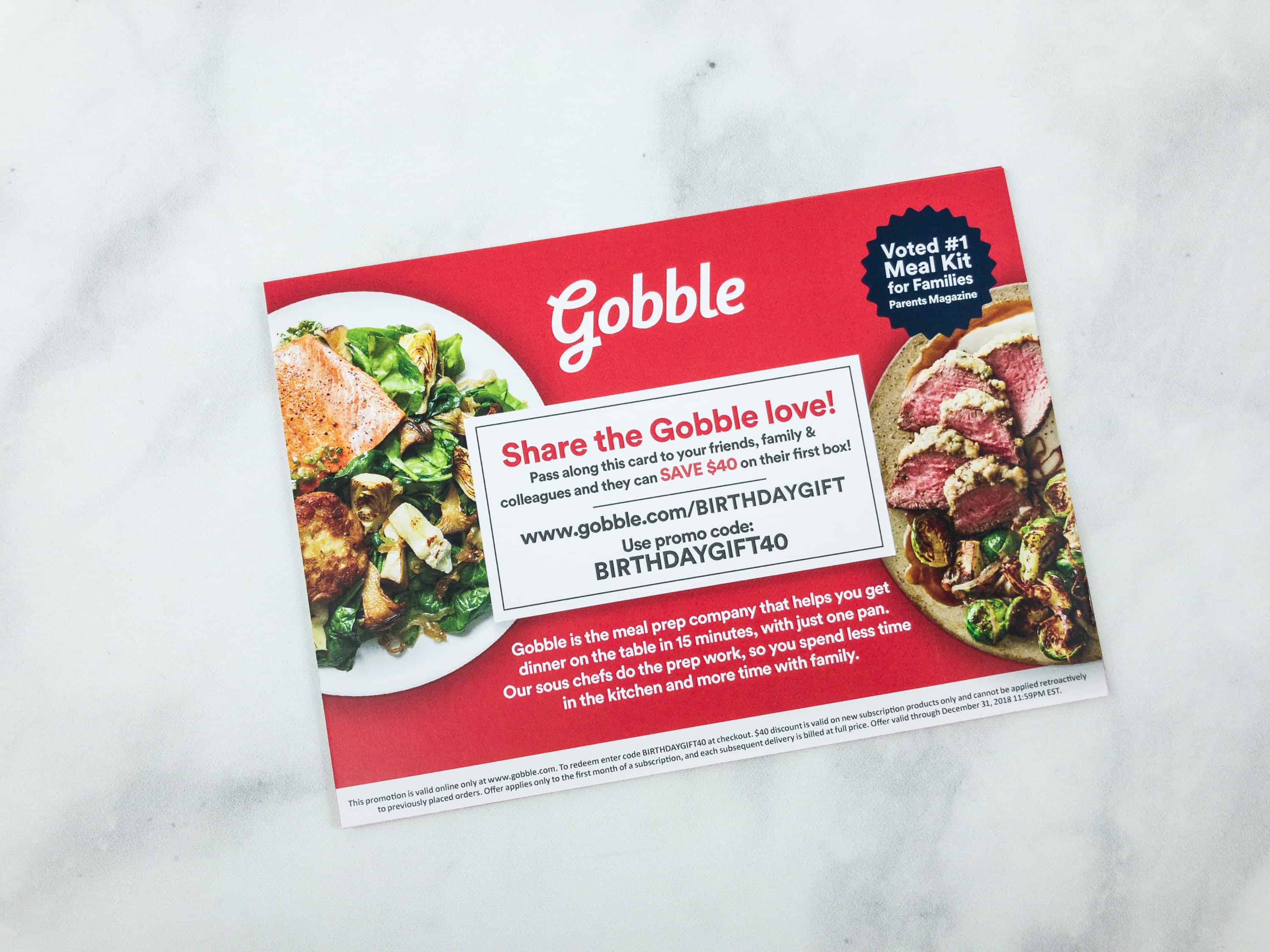 Aside from the recipe card, we also got several $40 discount cards to share with friends and family.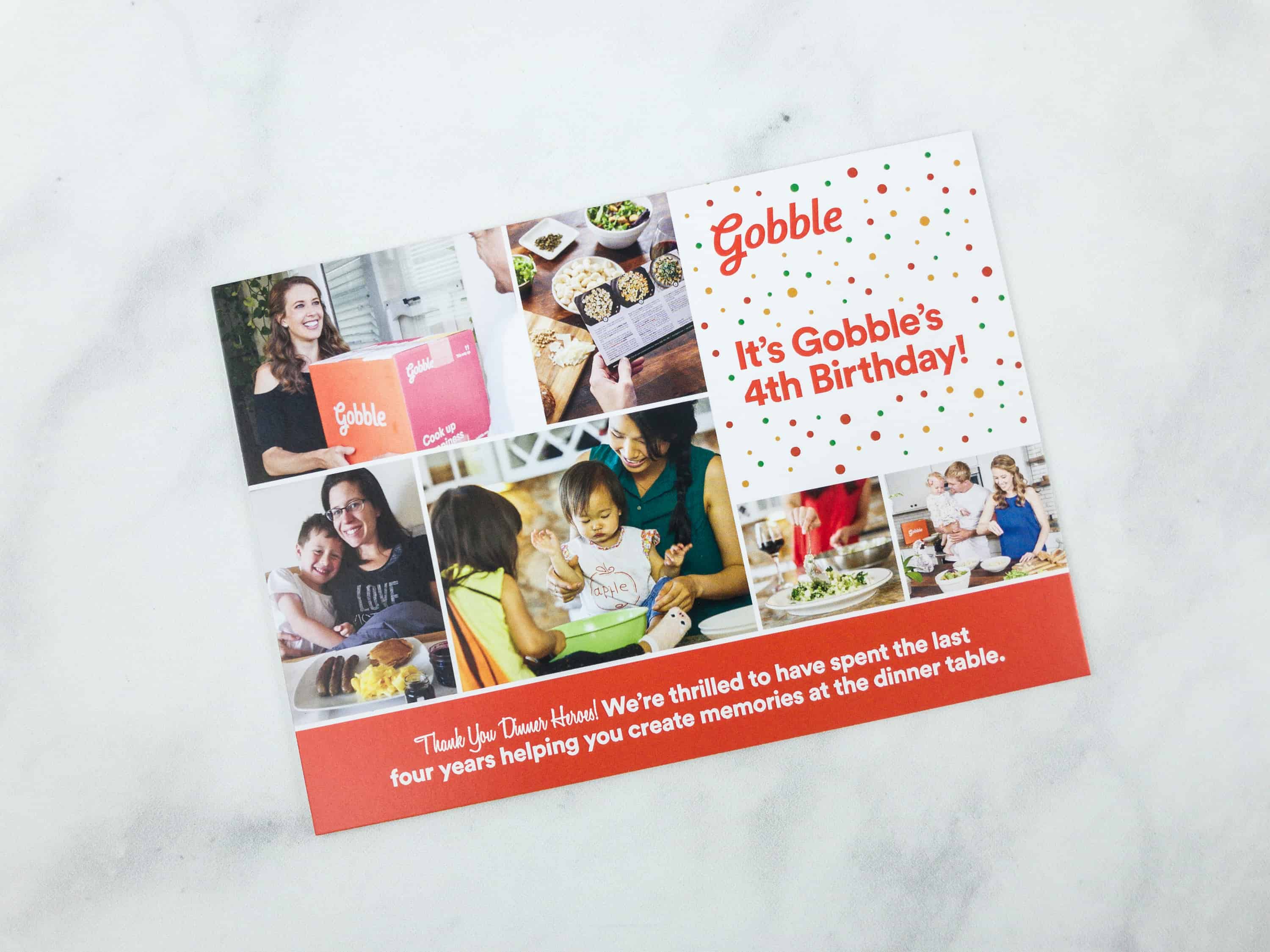 This month, Gobble's celebrates its fourth birthday!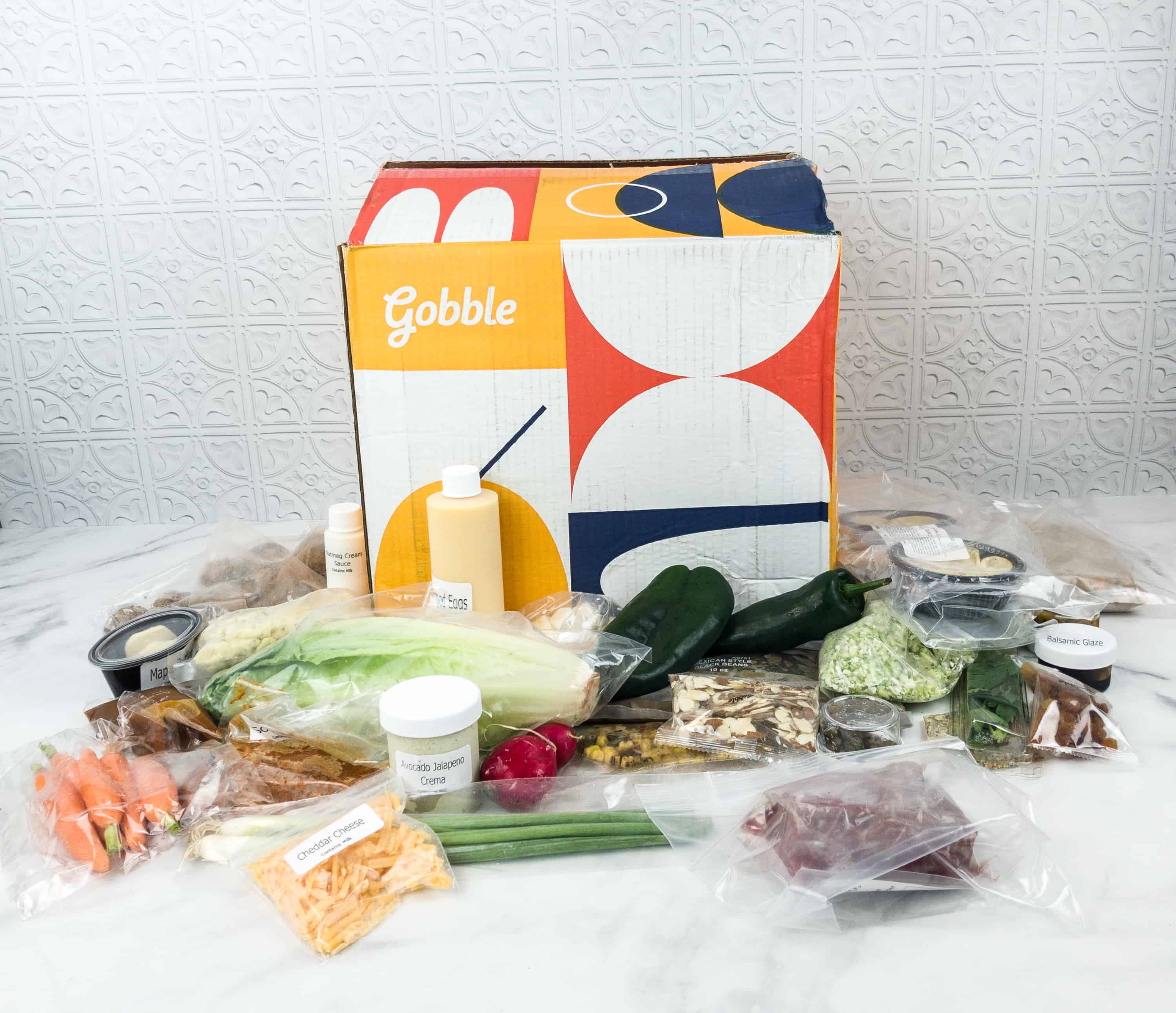 Everything in my box!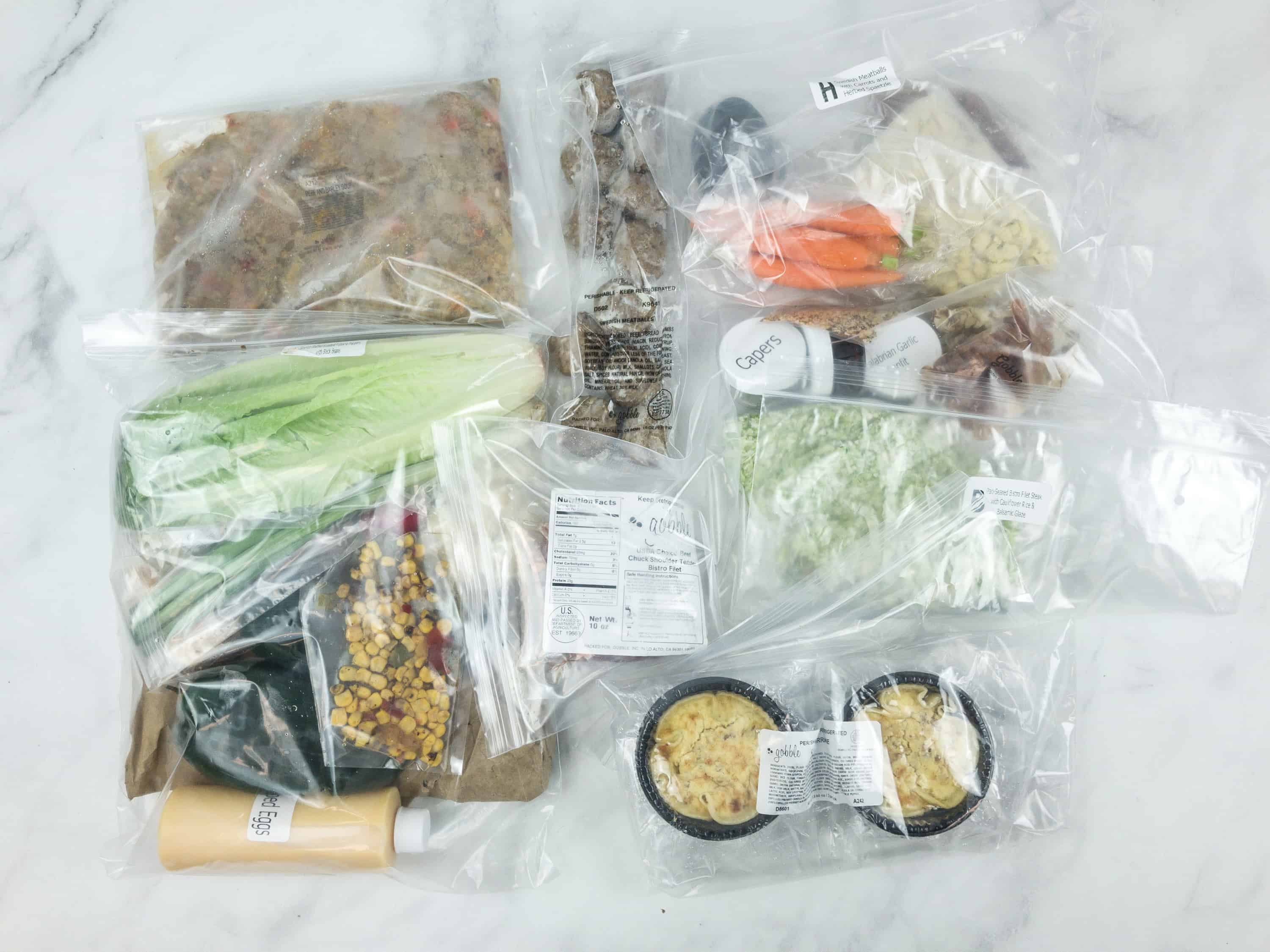 The ingredients were neatly packaged and bagged together by recipe. This box has my favorite packaging of any kit — it is similar to Plated or Home Chef, with a combination of bags and screw-top canisters, but it was very neatly packed, and the bags were thick and pleasant to handle. It seems odd to note the quality of the plastic bags, but they stood out enough for me to notice them. I was also immediately impressed by the cleanliness and freshness of the ingredients — everything was absolutely pristine and extremely fresh looking.
Swedish Meatballs with Carrots and Herbed Spaetzle. 710 calories per serving.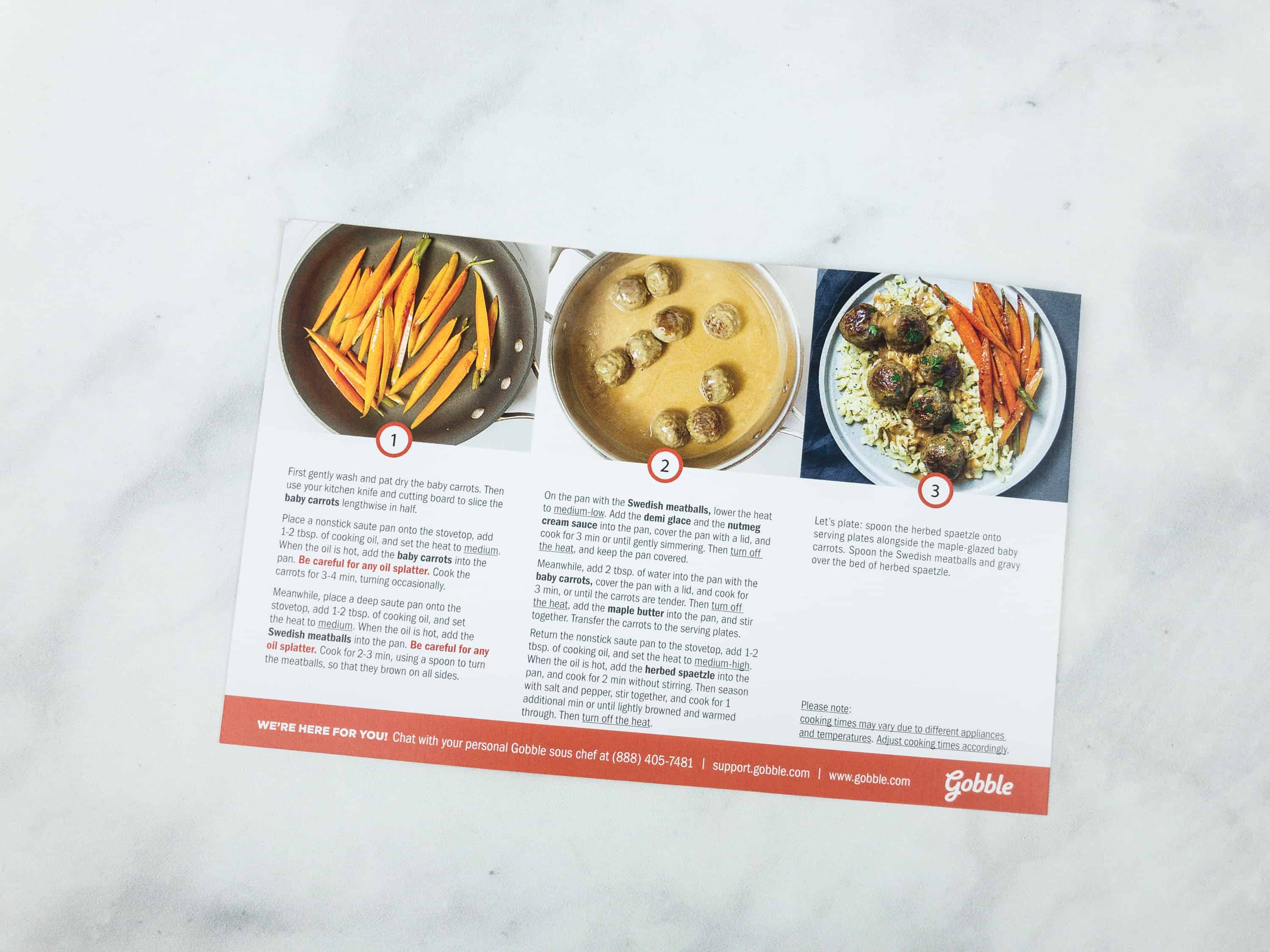 It's an easy to prepare version of the classic comfort food! Gobble mentions one-pan preparation in their ad, but this recipe required a couple. It was still used far less in the way of cookware than the other popular dinner kits.
The kit includes Swedish meatballs, demi-glace, nutmeg cream sauce, herbed spaetzle, baby carrots, and maple butter. The prep is super easy on this dish, thanks to help from Gobble's sous chefs. Our carrots were pre-turned, meatballs formed and cooked, spaetzle made and seasoned, and our sauces and compound butter were ready to deploy.
These tender Swedish meatballs were sauteed to perfection until it achieved a golden brown color, then simmered in gravy. The cream sauce was seasoned with nutmeg and allspice, and we merely had to combine the demi and cream sauce to complete it. The baby carrots glazed in sweet maple butter were firm and extremely flavorful. My favorite part was actually the spaetzle. I find this to be a very easy food to find poorly prepared, but this version was absolutely delicious — perfectly seasoned, tender, and crispy — they reminded me of delicate little fried gnocchi. It was a filling meal that we'd like to have over and over again!
Soyrizo-Stuffed Roasted Poblano Peppers. 810 calories per serving.
This dish puts poblano peppers in the spotlight! This variety of pepper was first cultivated in Puebla, Mexico, and it's mild heat and unique flavor have become a staple of many Mexican and Tex-Mex dishes.
The kit includes poblano pepper, whipped eggs, avocado jalapeńo crema, Mexican-style black beans, cheddar cheese, soyrizo, jicama, radishes, romaine lettuce, green onion, and fire-roasted corn.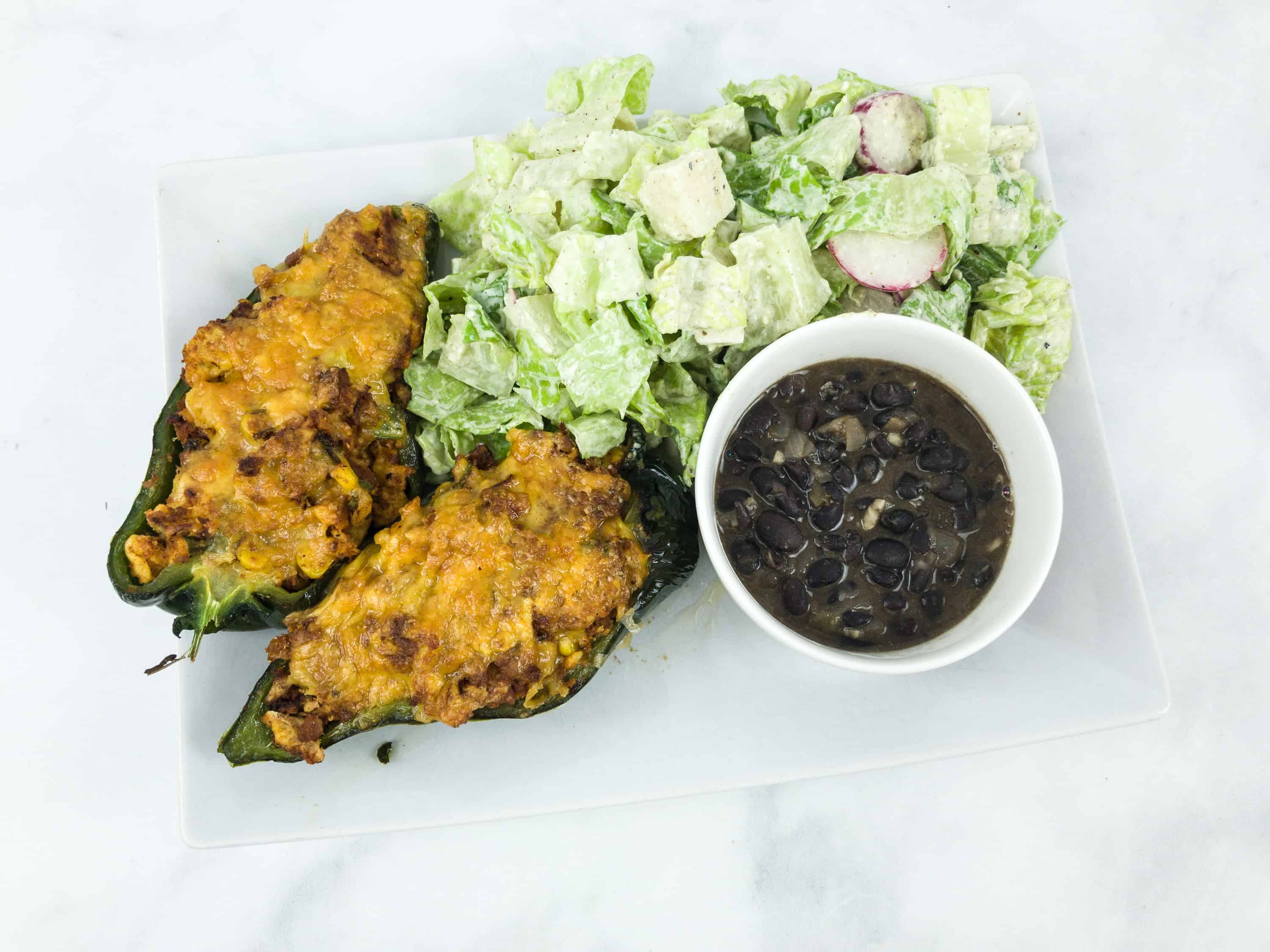 It's surprisingly easy to make. Just cut the poblano pepper in half, pan-steam it to soften a bit, then stuff with scrambled eggs, roasted corn, and spiced soyrizo, topping it with the Mexican cheese. We then baked til hot and bubbly. It paired well with Mexican-style black beans and the jicama-topped salad. The side salad with avocado crema dressing made this into a complete vegetarian meal. My peppers were a tiny bit firm, but I was pleasantly surprised at how well the soy-chorizo and egg worked to create a yummy stuffing, though I would have loved a pinch of pre-cooked rice in there, too. The jicama in the salad was a refreshing revelation. Our only criticism of the dish was the spice level of the dish. Though we love spicy food (this was a little spicy for mild-food fans), we didn't like that the spice level was high for all three components on the plate, and they all had the same kind of heat. We would have preferred that, for example, the main dish be spicy while the salad be cool and refreshing, and the beans have maybe a smoked pepper instead of each element having the same jalapeño heat. Great textures and flavor, though, and it made for lovely and tasty plated meal.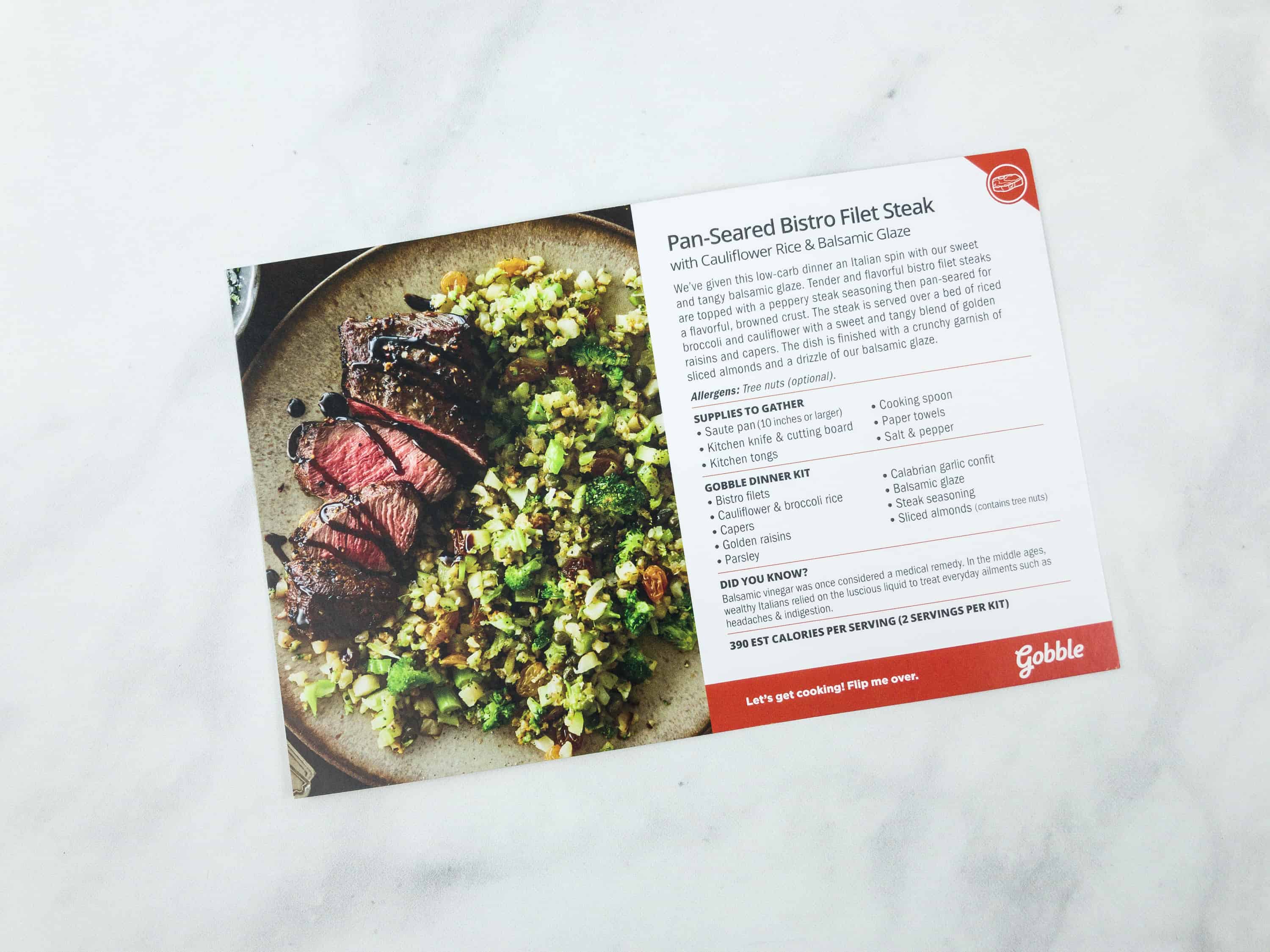 Pan-Seared Bistro Fillet Steak. 390 calories per serving. We love the food facts on the cards. This one points out that, In the middle ages, Balsamic vinegar was often used as a medical remedy for common ailments.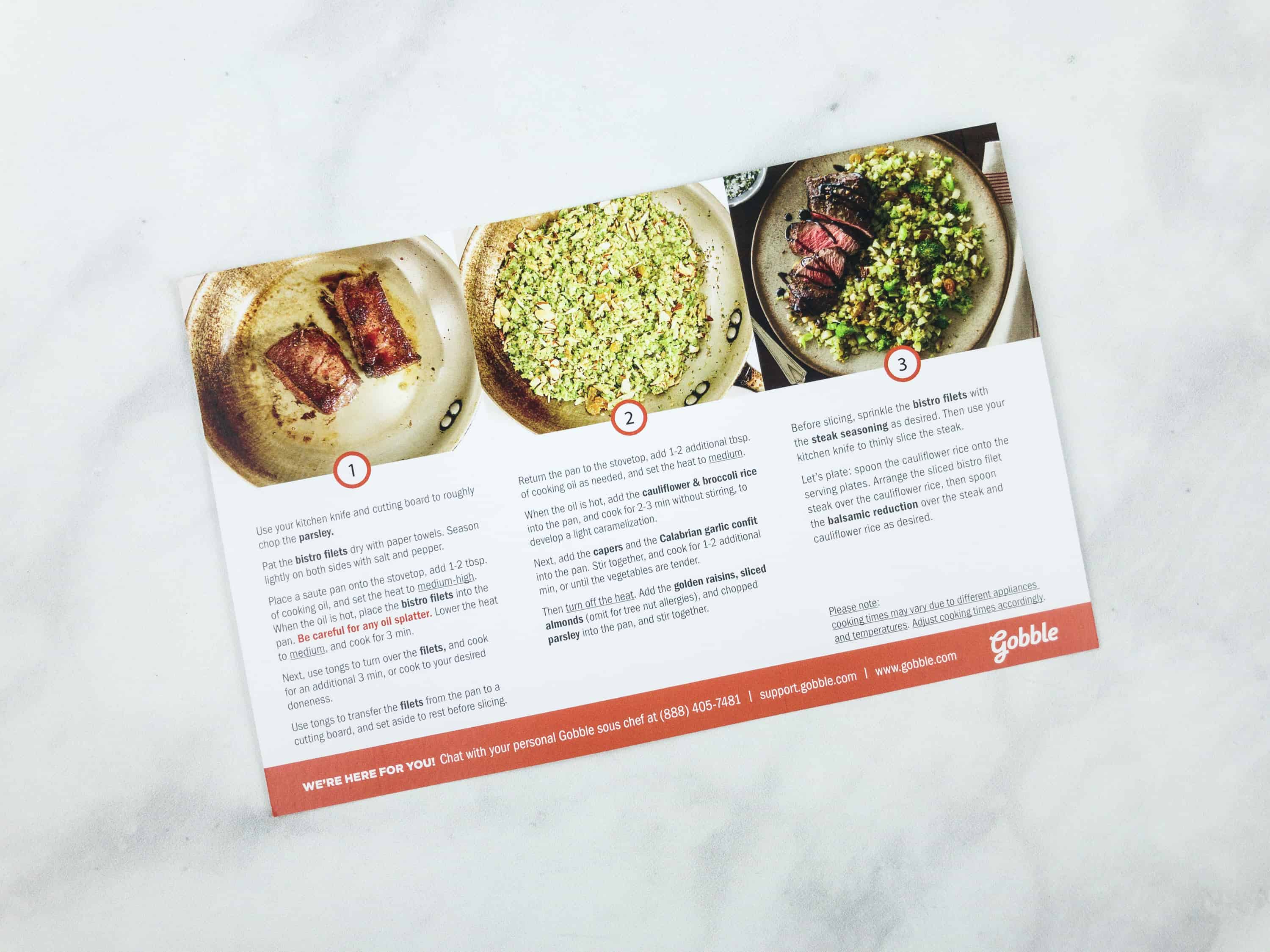 This dish was and interesting take on a steak bowl. The prep was very simple, pairing a seared steak with a hash of pre-riced veggies and flavorful add-ins.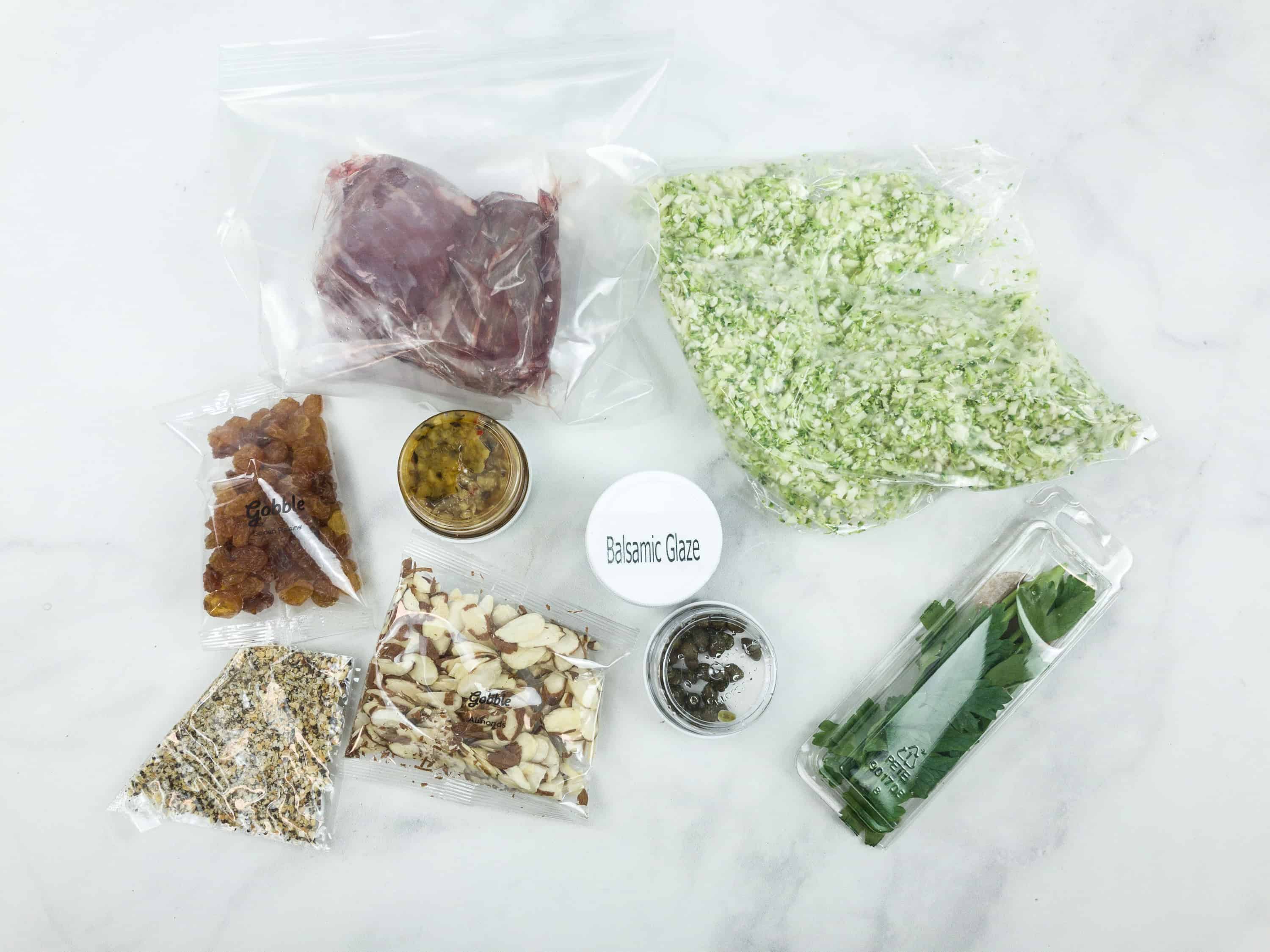 The kit includes bistro fillet, cauliflower & broccoli rice, capers, golden raisins, parsley, Calabrian garlic confit, balsamic glaze, steak seasoning, and sliced almonds.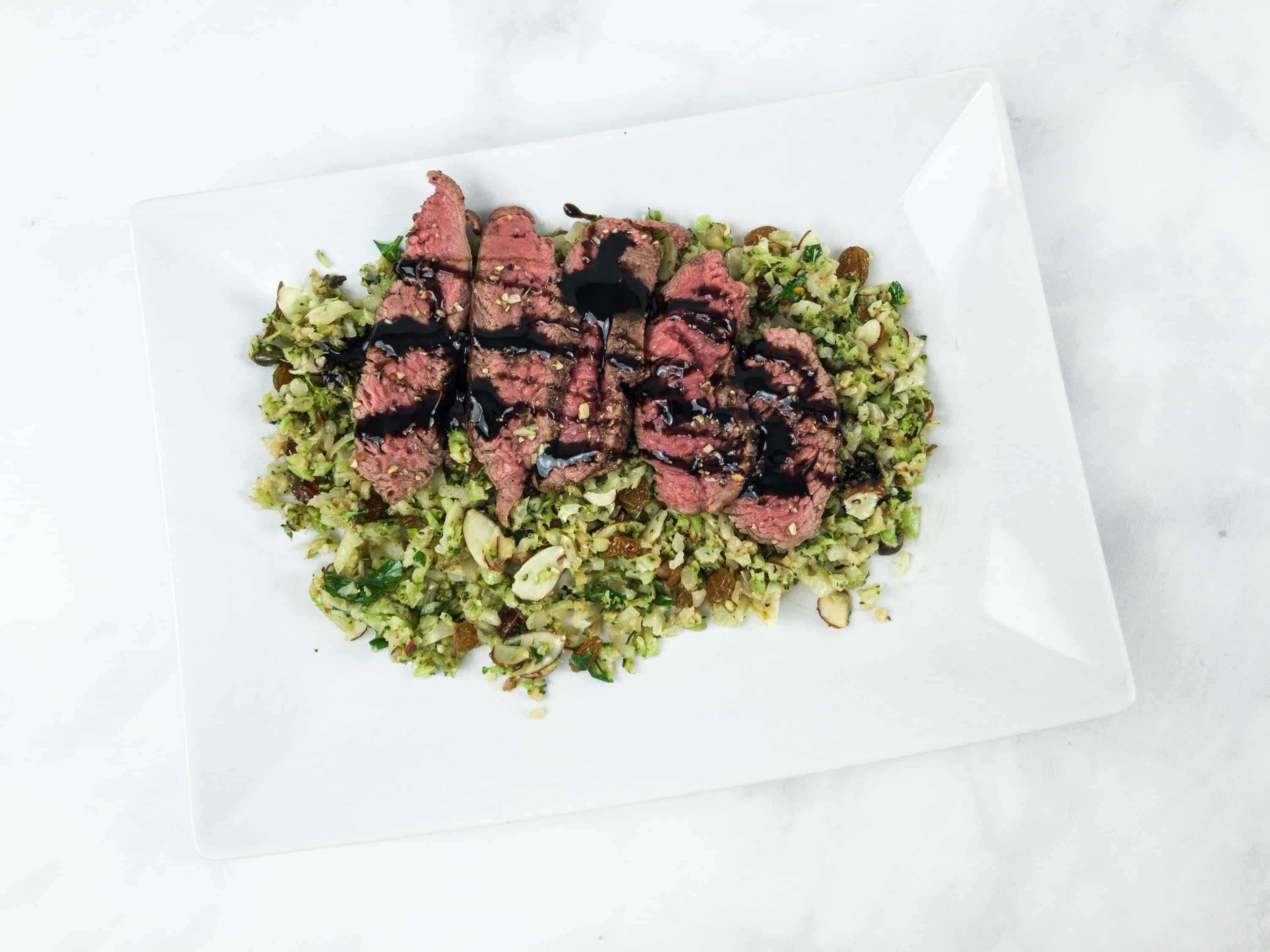 I can't praise the filet highly enough — definitely one of the best cuts of meat we've gotten in any meal kit ever. It was tender and flavorful, and it cooked a beautiful even pink all the way through. The veggie portion was a bit of a jumble, incorporating cruciferous veggies, capers, garlic, raisins, almonds, and parsley. It was a blast of flavor and, although it was enjoyable, it wasn't very harmonious or balanced. The use of riced veggies made this protein-packed meal a great way to enjoy some low-carb Italian fare.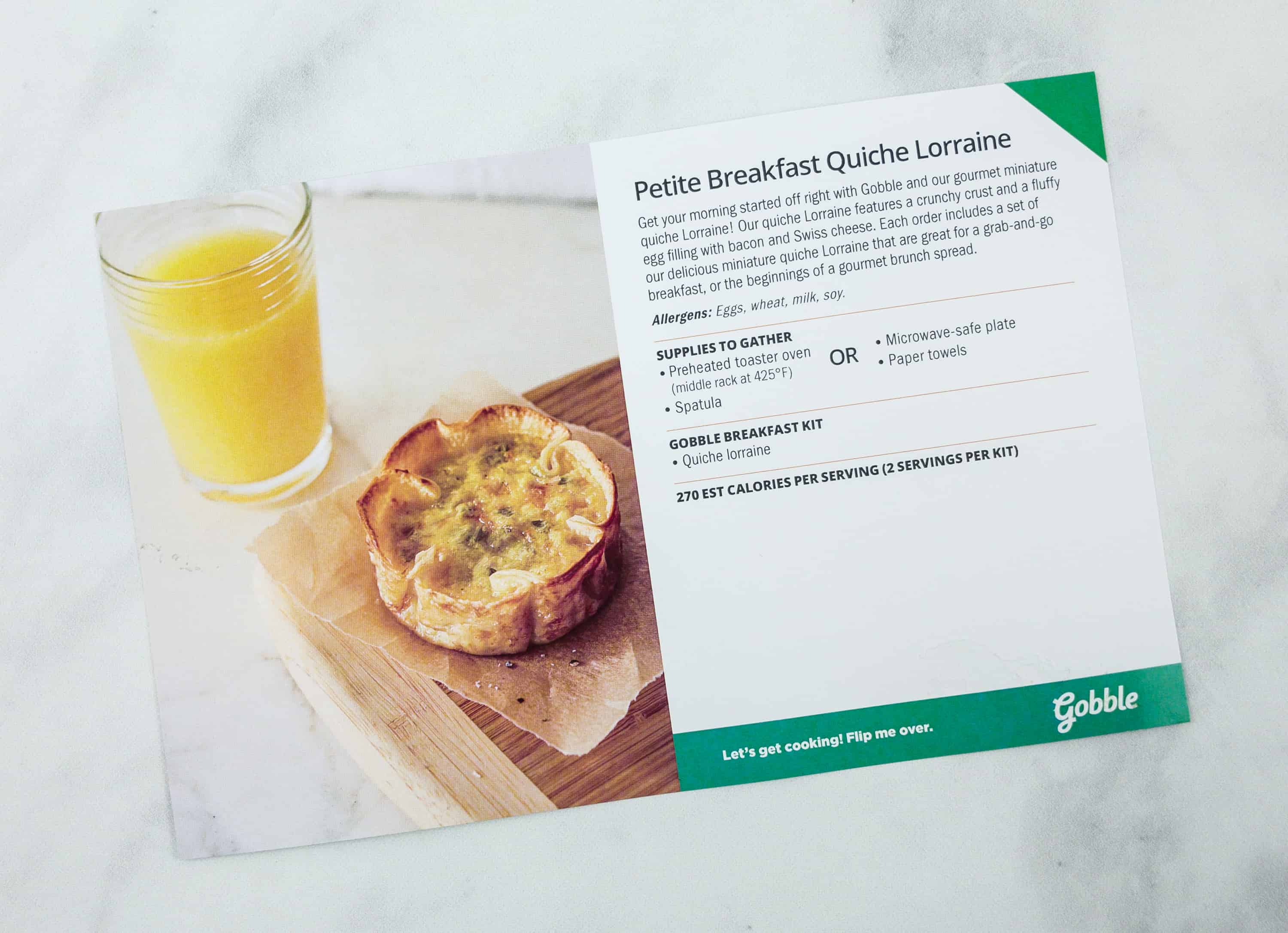 Petite Breakfast Quiche Lorraine. 270 calories per serving.
Prep for this dish is as easy as it gets. Just put it on the oven toaster for 12-14 minutes, or until the edges become golden brown. Perfect for lazy mornings!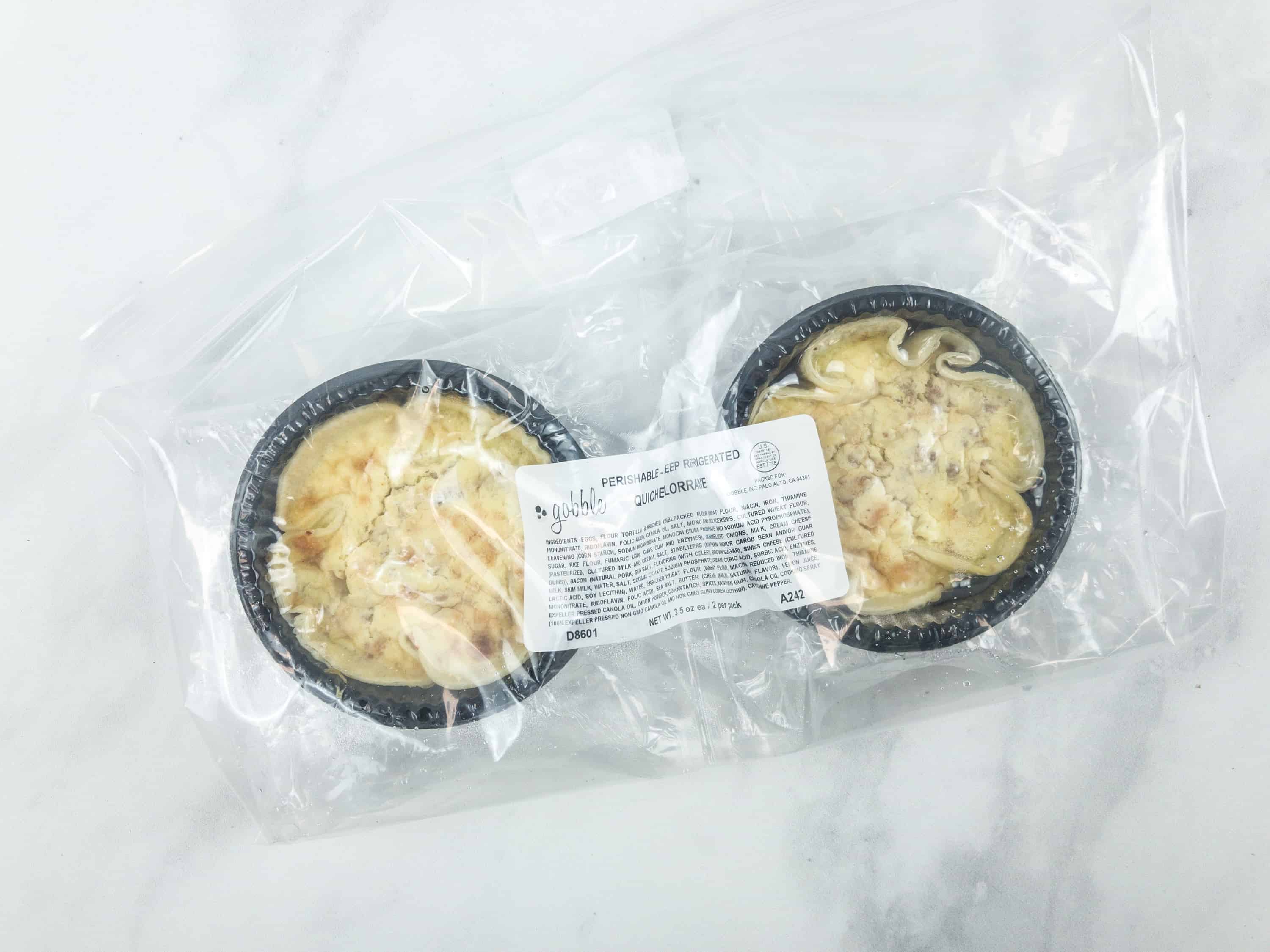 Our kit included two tiny tart-shaped Quiche Lorraine. All we needed to do was remove them from their cups and heat. I used the oven, but the directions allow for microwaving if you are crunched on time.

This is the quiche once cooked. It looks like a mini baked egg pie!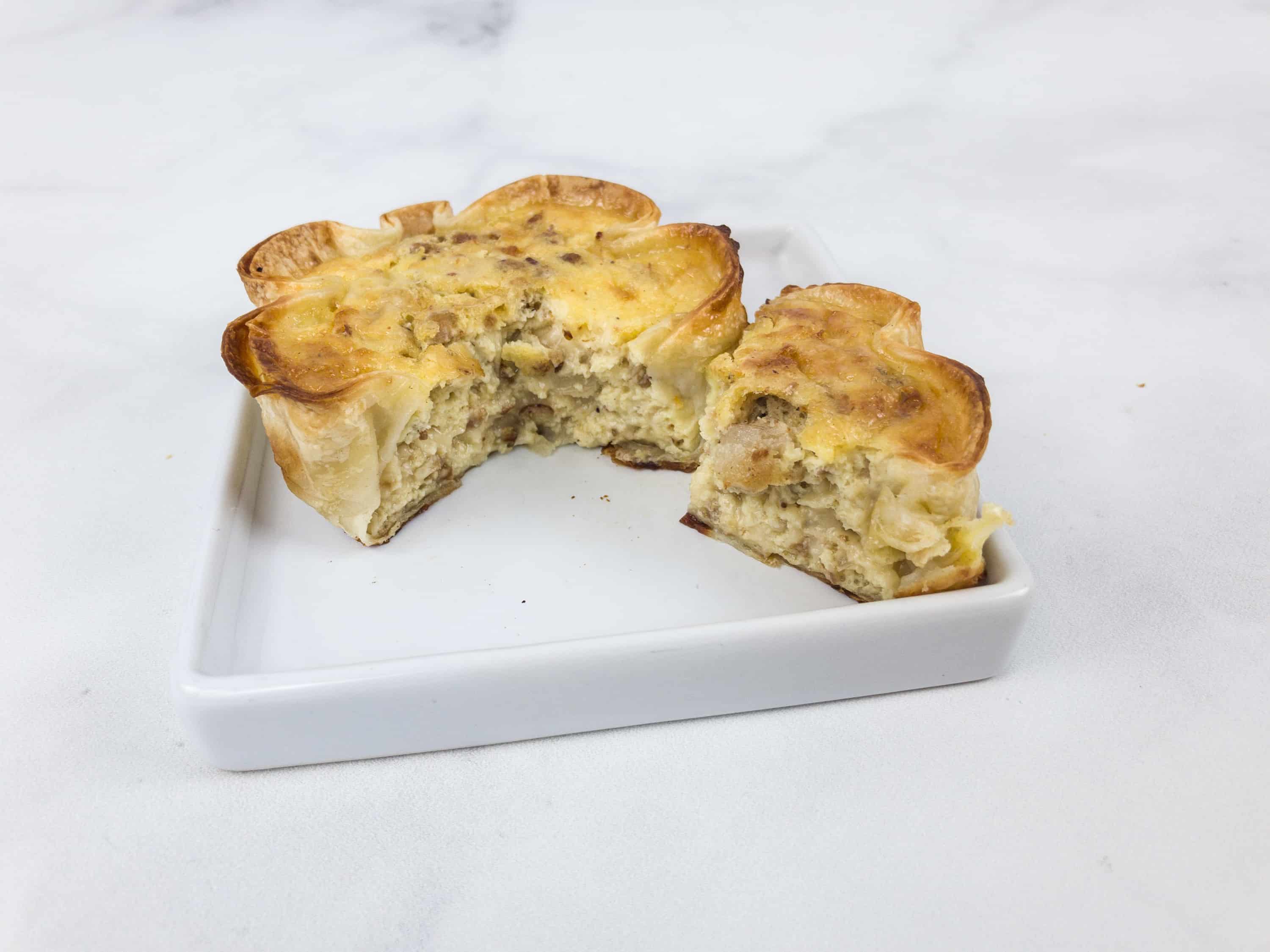 I loved the texture once toasted, as the crisp pie crust was a nice complement to the tender, velvety interior. Their was lots of bacon inside, but it was broken in tiny bits, so it was flavorful but not a textural contributor. The serving size was perfect for a satisfying but reasonable breakfast.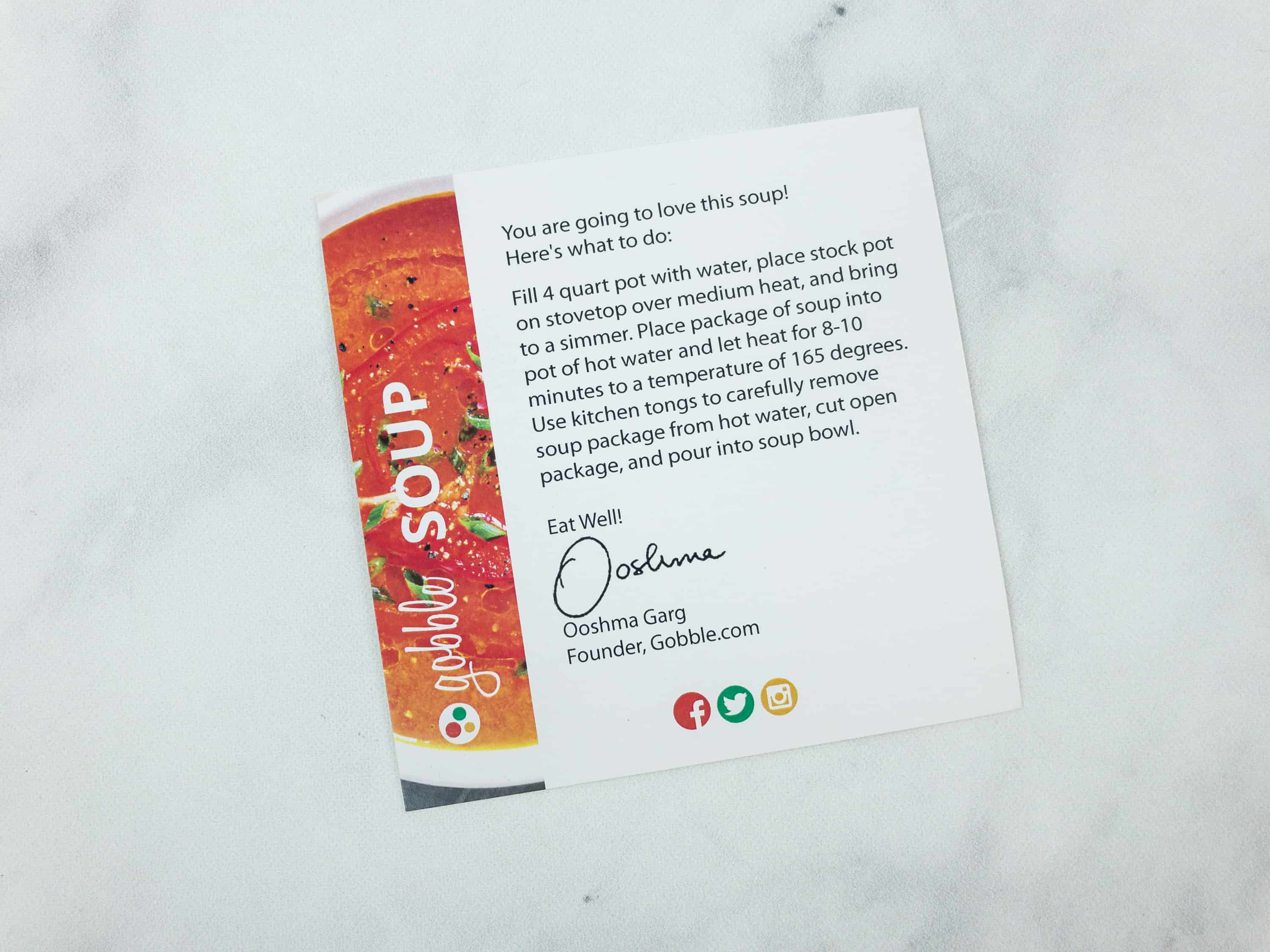 Aside from our four dinner kits, we also received an meal of beef and barley soup!
It's so easy to make using a sous vide type preparation — simply simmer the package of soup int a hot pot of water for 8-10 minutes.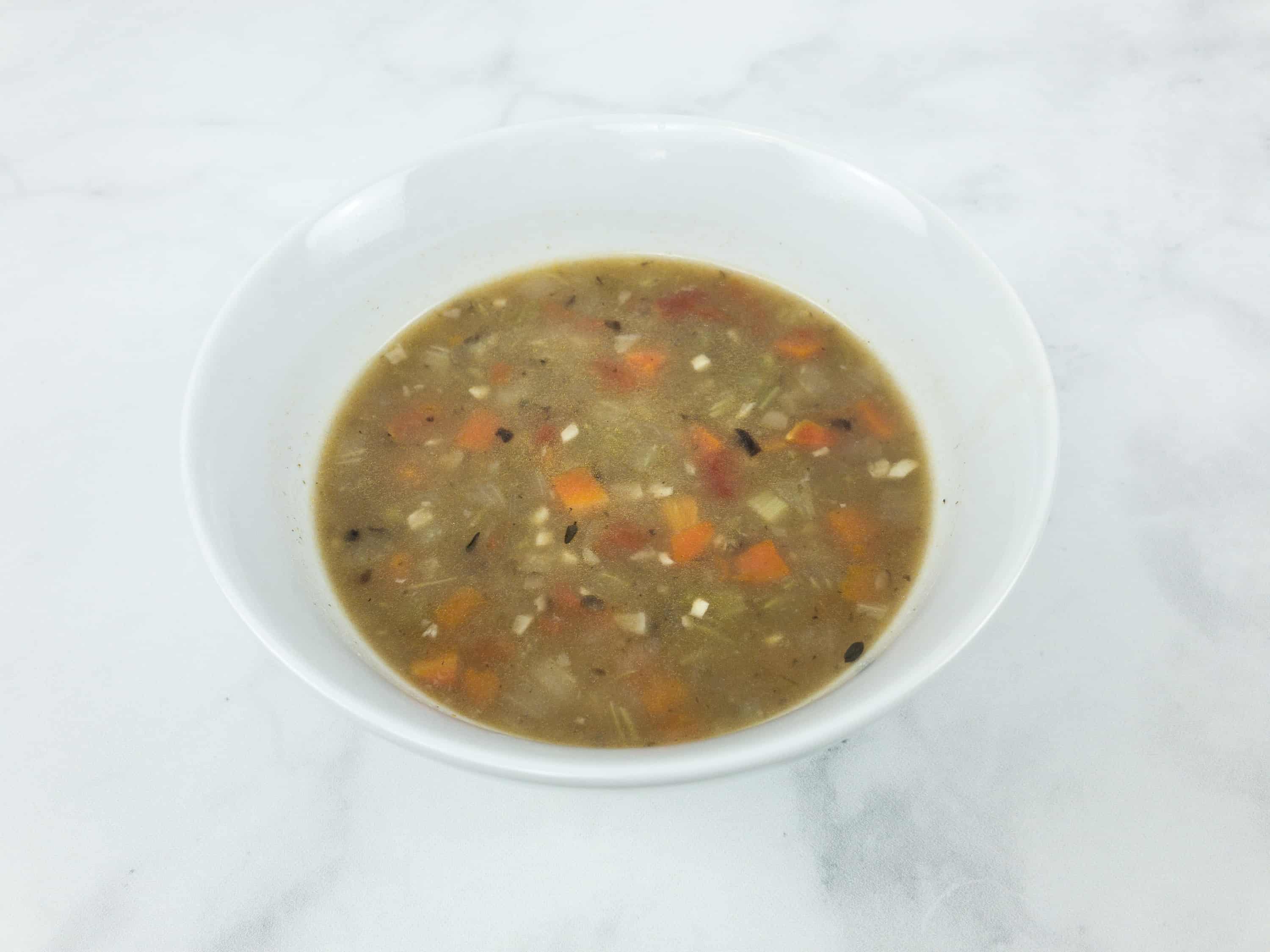 Remove the package from hot water, cut open, pour into the soup bowl, and slurp!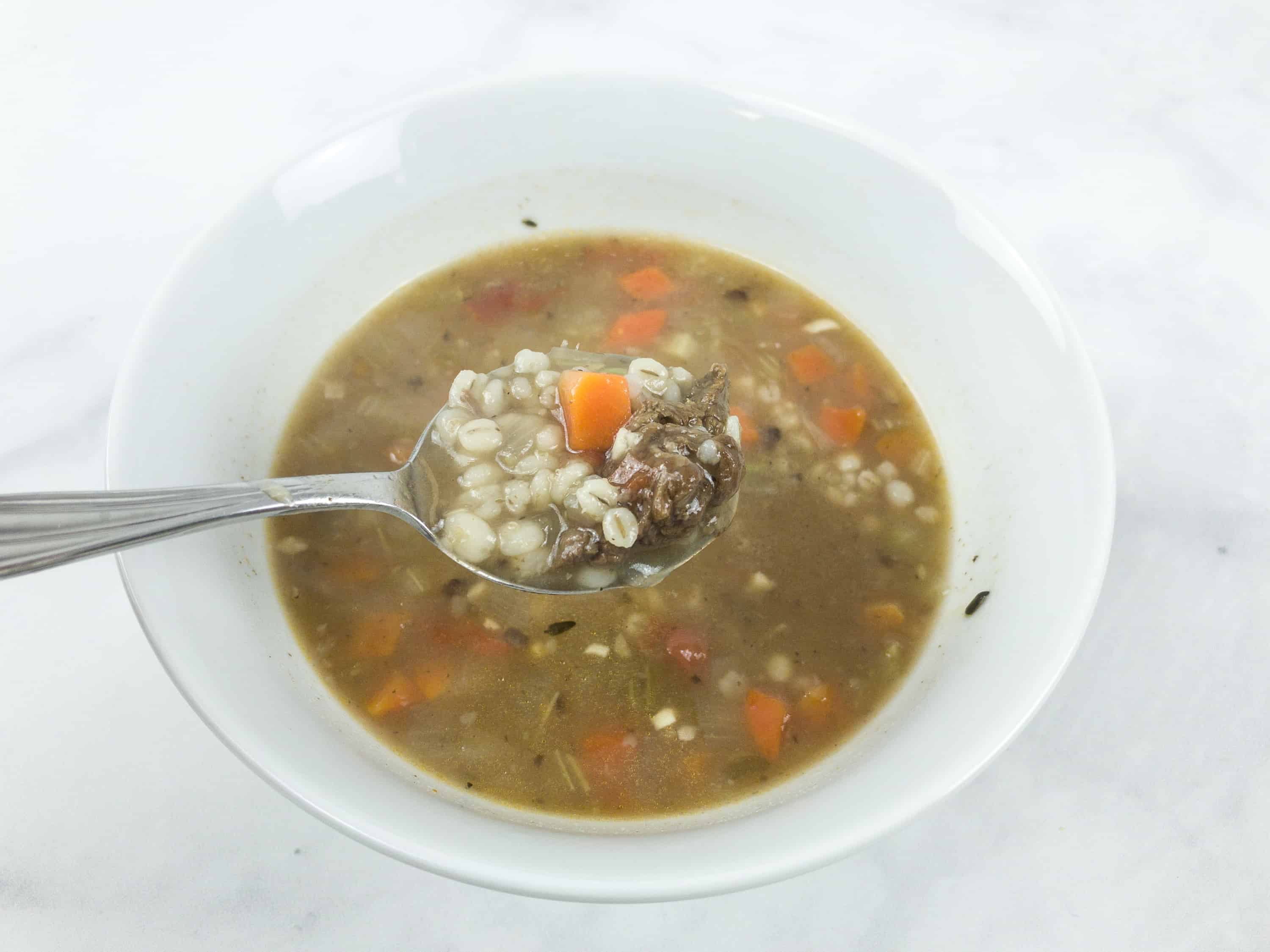 The soup was really nice, and it had lots of yummy bits in it. There were several pieces of tender steak in there!
Gobble lived up to its promise of delivering dinner kits which can be prepared in short order. I noticed the relative cleanliness of the prep area after I made dinner — it used noticeable fewer kitchen resources than other kit meals. This meal kit subscription is ideal for any busy individual who wants homestyle meals minus the hassle of preparation. Also, the servings are generous and filling. I really appreciate that the ingredients came fresh and that I only needed a few things from our own kitchen, and the pre-prepped ingredients really sped the process along. The seasoning level was great, too. Though I noted the heat level on one of the dishes, the salt level was well-controlled in every dish. The instruction card is well detailed too, which makes cooking a lot easier and enjoyable!
What do you think of this month's box?