Dinnerly is a dinner meal kit subscription that is meant to be simpler to make and more affordable than rival kits. They do this in part by using digital recipe cards instead of printed, and they avoid hassle and confusion by using fewer ingredients per dish. Dinnerly allows subscribers to pick the delivery day and their preferred recipes. Subscribers can also skip any week that doesn't work for them and change the number of portions they'd like to receive. Boxes start at $30 per week + $8.99 shipping. You can also get a family plan for $60, and switch out your recipes between 3 meat-based recipes and 3 vegetarian recipes.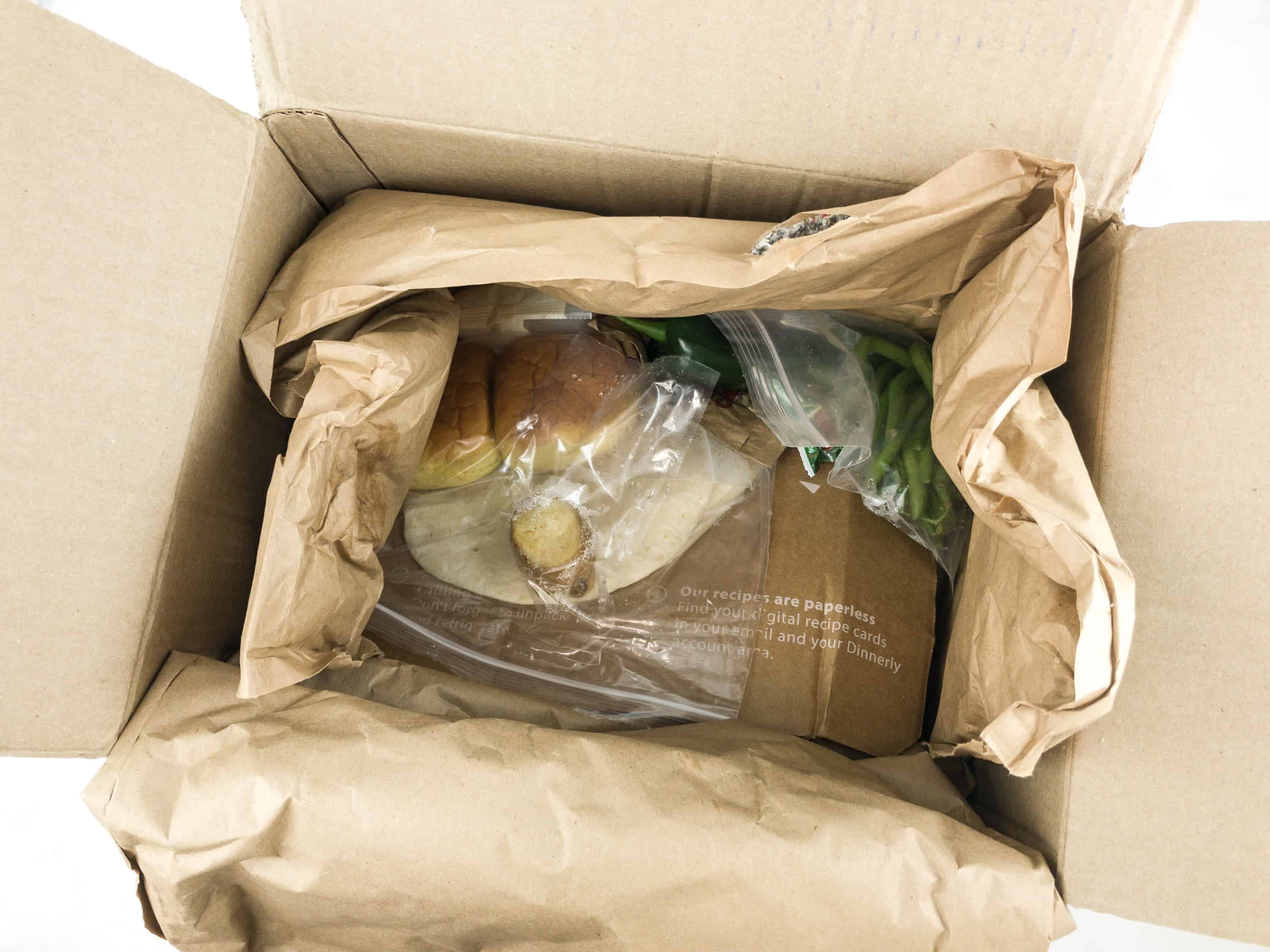 DEAL: Free shipping on your first box! Use coupon code AW18DINFREE 
The cushioned insert both insulates and protects the food from external damage, but you have to hope your delivery person keeps the box upright, or your bread may get flattened. That is one of the few downsides we've found with this box — everything arrives jumbled together instead of being bagged or sorted by recipe, so you have to sift through your box carefully to make sure you've gotten everything out. Meats are kept on ice at the bottom. No ice pack explosions this month!
Everything in my box!
All the ingredients are individually wrapped, but they are not separated into individual meals. You'll definitely want to look up the information cards to print out or view on your phone, so you'll know what to grab when it's time to cook. On the upside, the limited number of ingredients makes that task pretty easy.
Recipe cards don't ship with the box, but you can check out PDFs on the website and print them out.
It includes a picture of the dish, preparation time, and the number of servings per recipe.
The instructions are easy to follow, regardless of your cooking skill level. Its step-by-step procedure is very detailed with some of the words printed in bold letters for an easier recognition. They even provide suggestions on leveling up your meal if you want to add some extra touches from your pantry.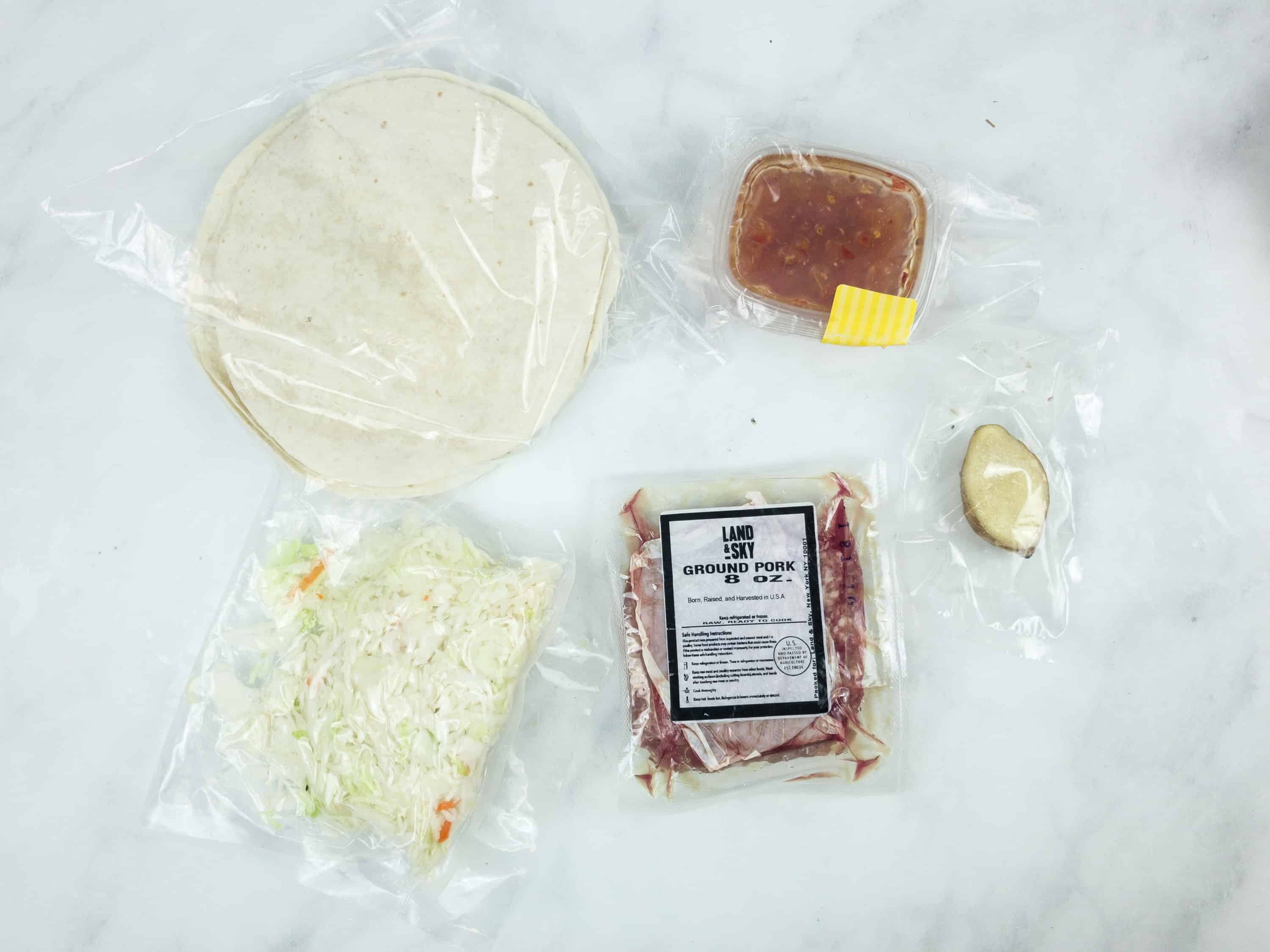 Crispy Pork Egg Roll with Cabbage & Sweet Thai Chili Sauce – 30 minutes, Level 1, 916 calories per serving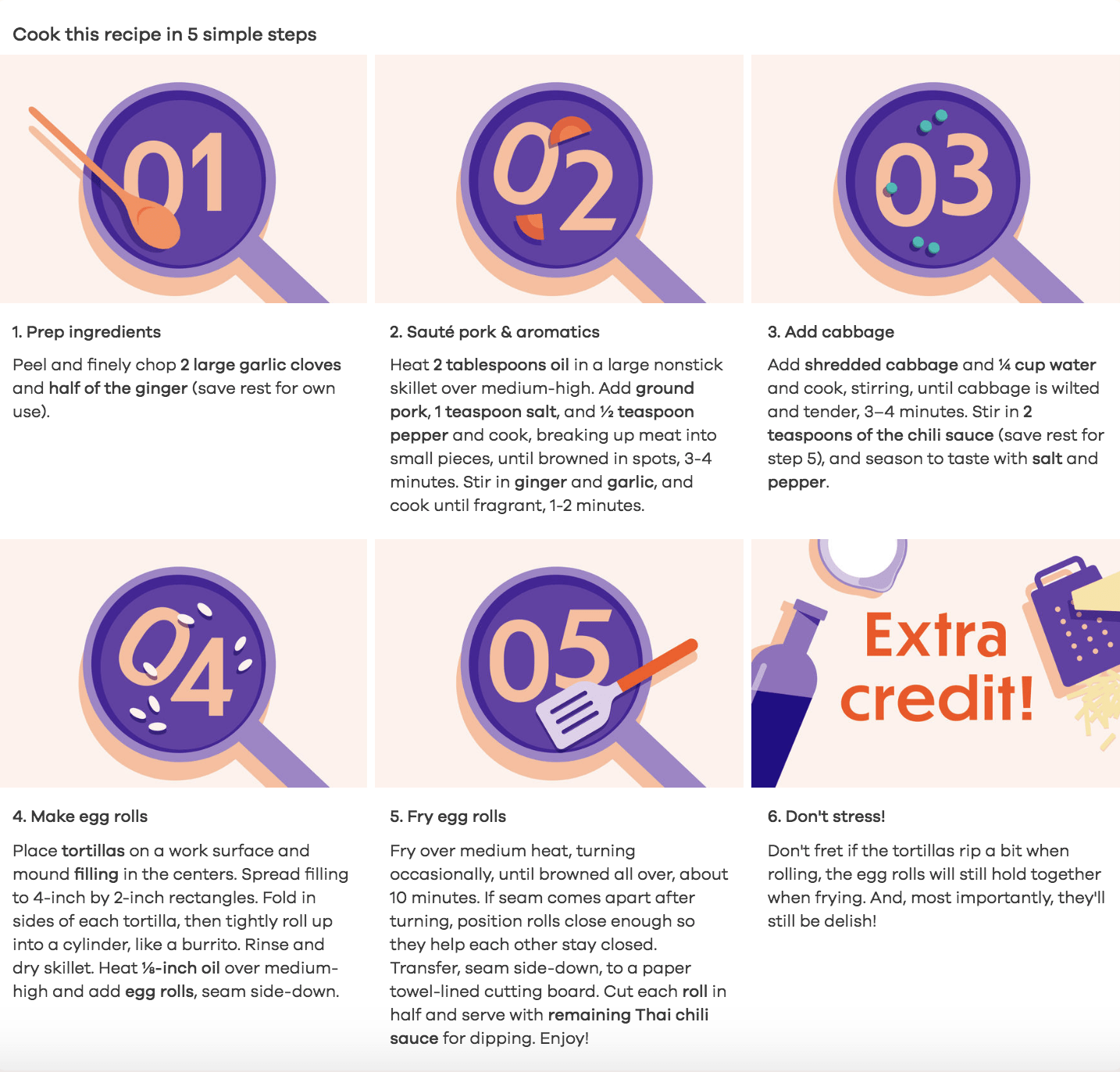 According to Dinnerly, it's normal when the tortillas rip a bit when rolling. The egg rolls will still hold it together when frying.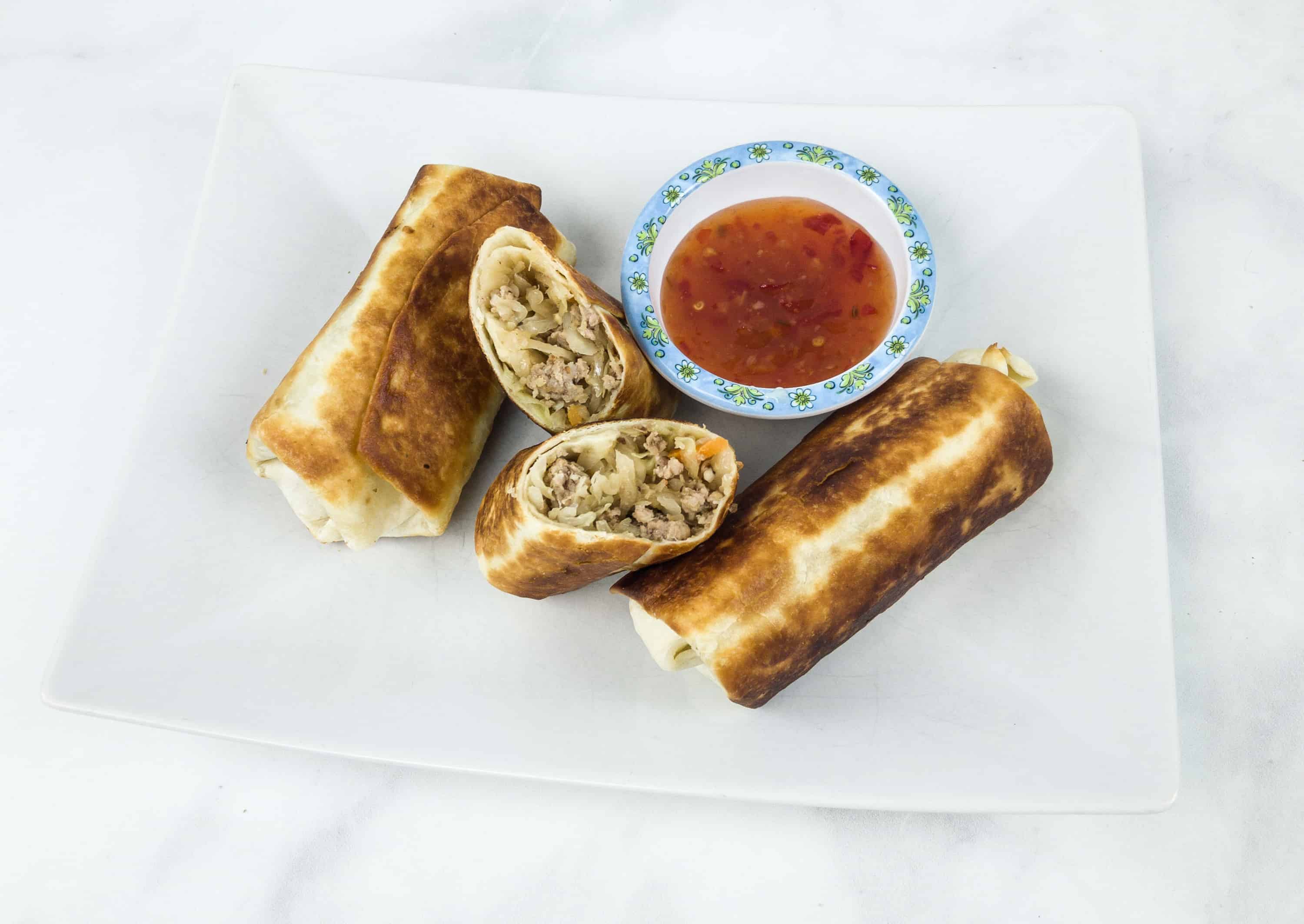 This pork egg roll is a quick and easy to prepare dinner option. The combination of ground pork, ginger, garlic, and cabbage filling will give you some Chinese vibes, while the Thai chili sauce makes a perfect complement. This was a quick fry-up so it was easy to pull off! It's also easily satisfying!
Southwest Turkey Burgers with Ranch & Charred Green Beans – 30 minutes, Easy, 525 calories per serving
According to Dinnerly, you can make the burger more personalized by adding your favorite toppings like pickles, tomatoes, onions, or lettuce.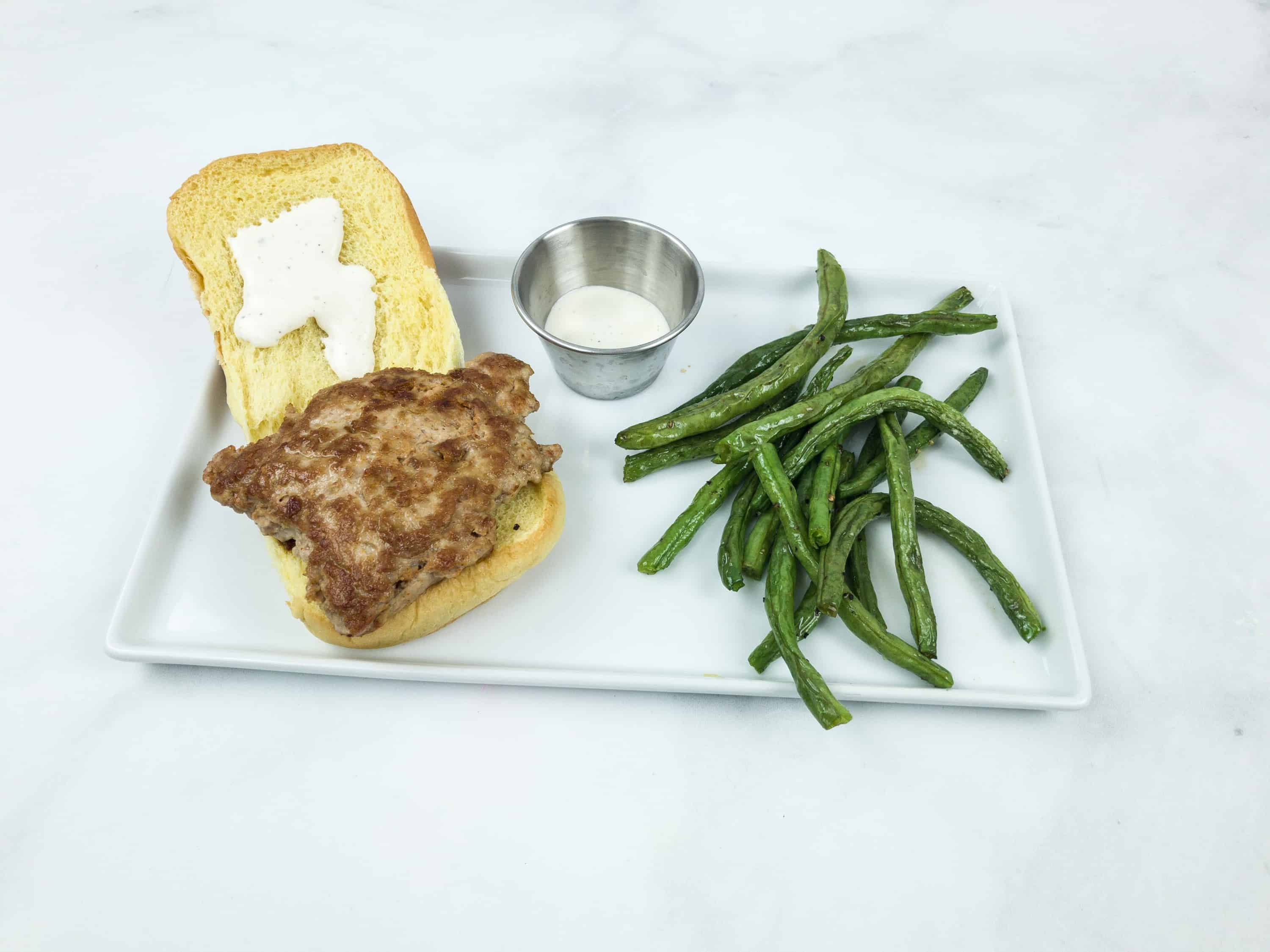 The second dish is a classic burger meal. It was made tastier by a dollop of ranch sauce, while the charred green beans tasted great as sides.
The combination of fresh ground turkey and tampico de gallo makes a filling patty that will meet your burger cravings while staying on the healthy side. The excess ranch sauce can be used as a dip. This is the kind of burger my kids love!
Beef Molé Chili with Jasmine Rice and Sour Cream – 30 minutes, Easy, 762 calories per serving
You can enhance the dish's chili by adding a few slices of fresh avocado, a piece of your favorite guacamole, and slices of pickles or fresh jalapeños.
This beef molé chili pairs perfectly with Jasmine rice. The yummy Mexican flavors are brought by the combination of onion, poblano, pepper, and sour cream. Every bite of this dish is oozing with flavors and I couldn't ask for more!
As always, recipes from Dinnerly are simple, quick to prepare, and easy to cook. All the featured dishes were so filling and tasted really great, and are good enough to feed two people. There are no recipe cards in the box, but it's easy enough to access the step-by-step procedure which is readily available on their website. They also provide such useful tips that make cooking easier. This subscription is a great meal kit subscription for anyone who loves cooking but doesn't have a ton of time or money to waste!
We do have to point out that they forgot the garlic for one of the recipes. We don't keep garlic on hand because we generally get it from meal boxes when needed, but they compensated us with a credit on a future box.
What do you think of Dinnerly?