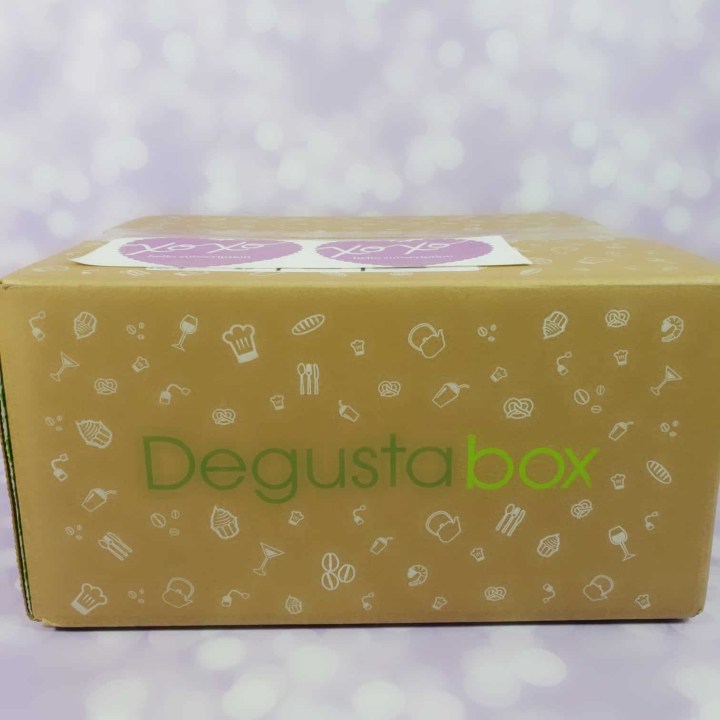 DegustaBox is a monthly subscription box that brings your favorite food and snacks to your doorstep. The subscription costs $19.99 per month in the US and you'll get a box filled with 10-15 products and goodies!
DEAL: For a limited time get your first box for $7 off – just $12.99! Use code HELLOSUBSCRIPTION7. You'll also get free shipping and a free bonus gift!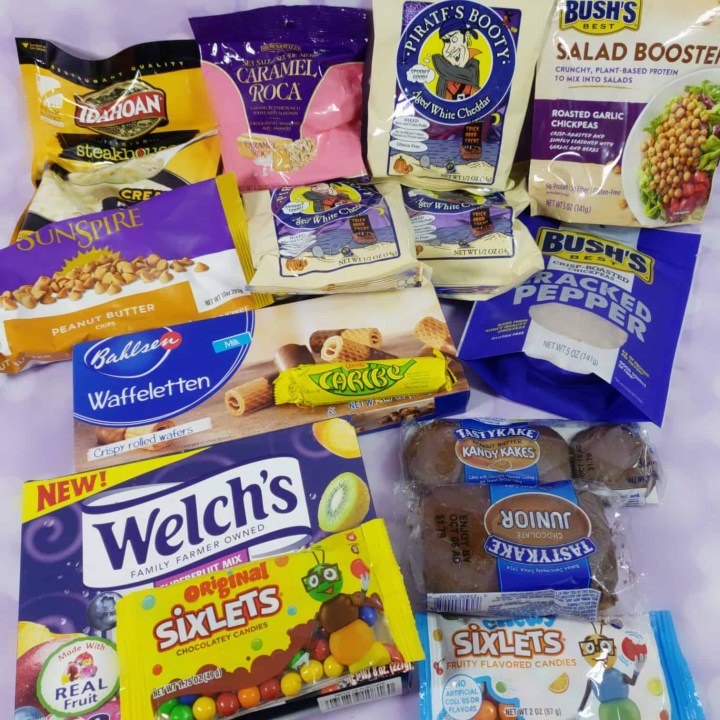 Everything in my October box!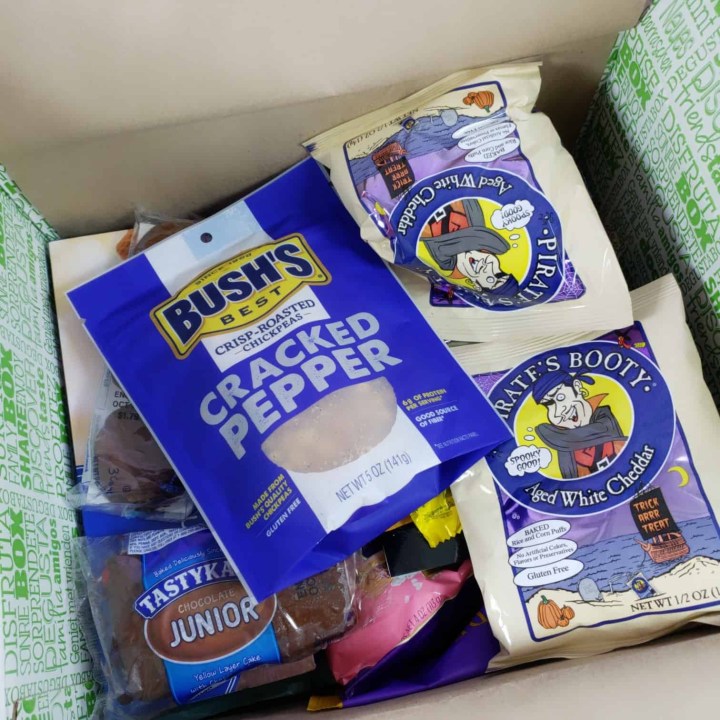 My box was packed full again this month. DegustaBox does a great job of wrapping the glass jars in bubble wrap and keeping things from getting broken and there are so many full-size items in the box everything is all packed in and good for shipping.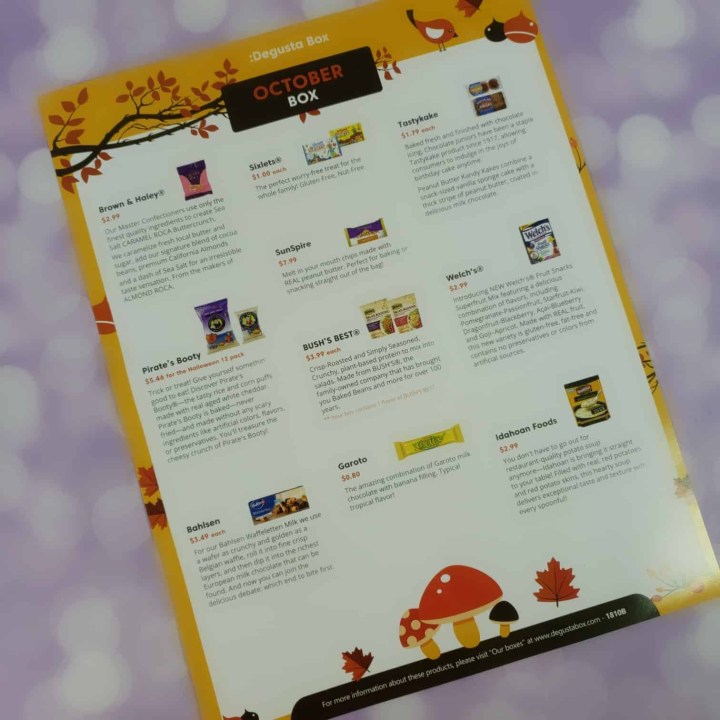 The information sheets are always great and full of information on the included items.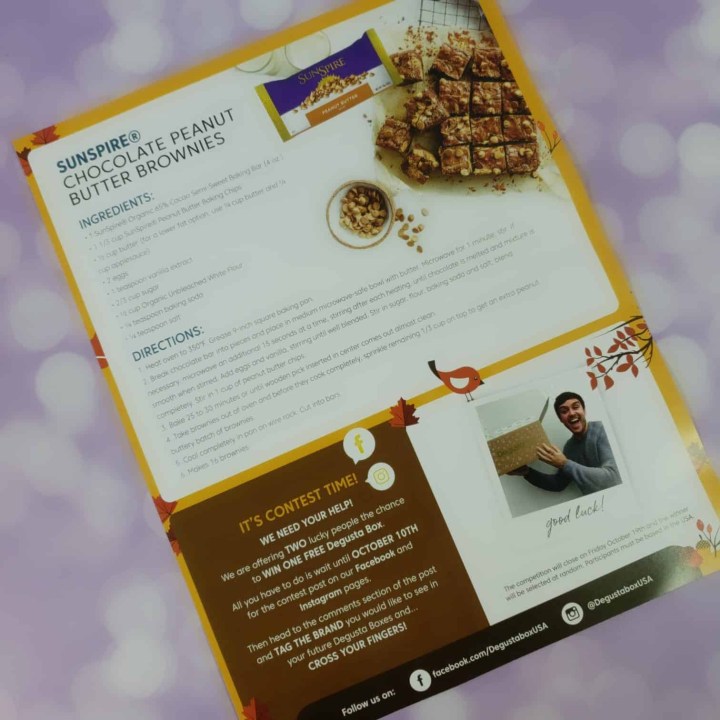 The back of the information sheet has a recipe and some contest info on it.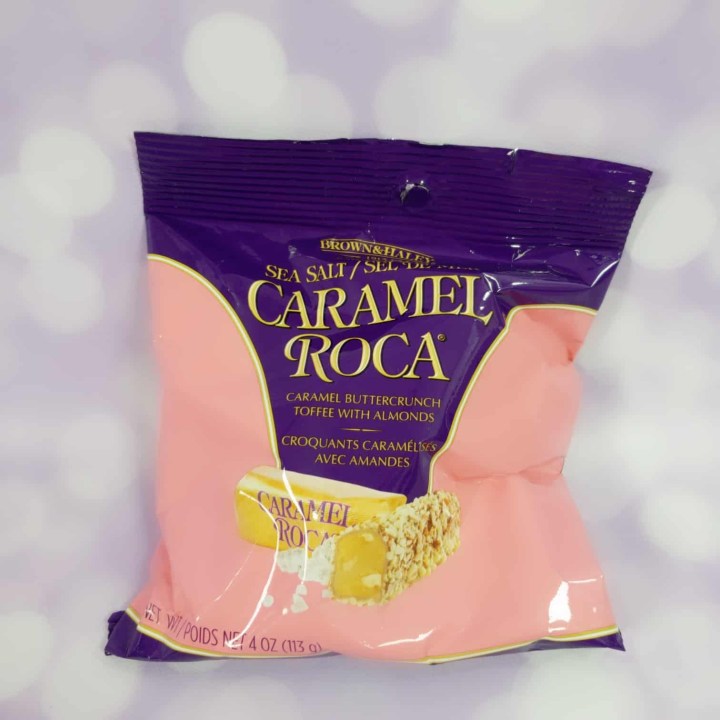 Brown & Haley's Caramel Roca ($2.99) – I feel like Sea Salt Caramel is a newer thing but then I feel like it's been around forever. I'm not sure it really matters since it is absolutely delicious.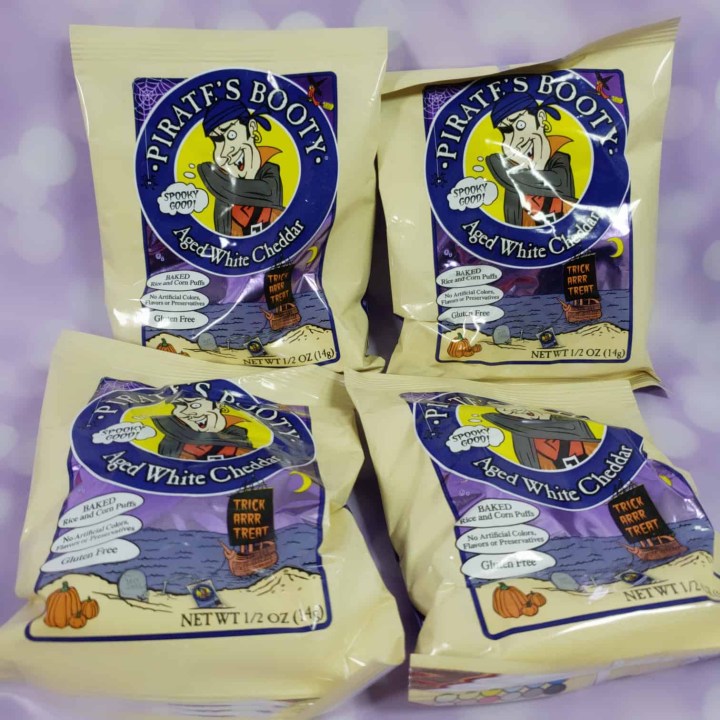 Pirate's Booty ($5.46 for the Halloween 12 pack) – These were a staple in my house when my youngest was in preschool. We've gotten out of the habit of getting it but he was jumping for joy when he saw these. Pirate's Booty is baked (never fried) and made without any of those scary ingredients like artificial colors, flavors, or preservatives.  I'm going to need to remember to get more of these when I'm at the store for him to take as snacks to school.
Bahlsen Waaffeletten Milk ($3.49) – I'm a wafer cookie junkie so I opened these right up. They are a wafer that is crunchy like a waffle rolled up and then dipped in milk chocolate. So good and reminds me of a waffle cone so now I want to get some ice cream to have with them.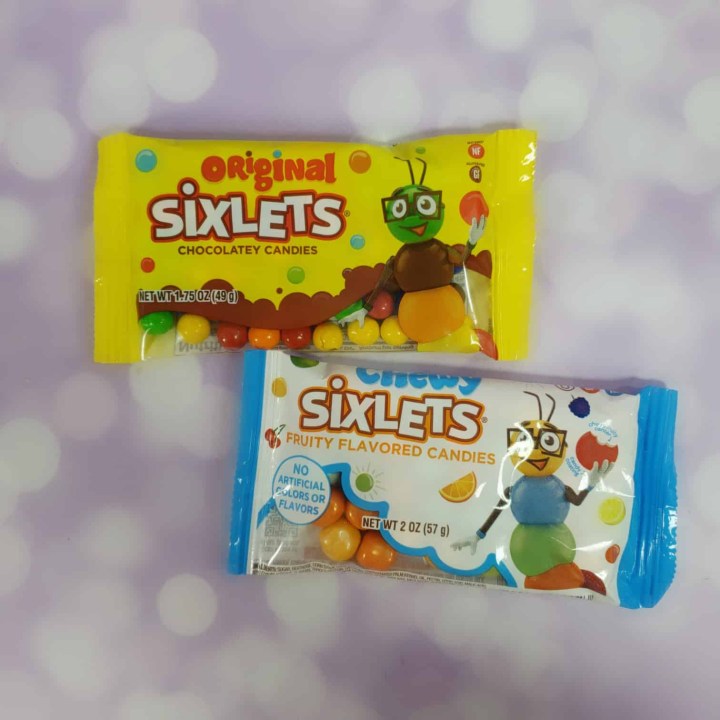 Sixlets ($1.00 each) – So I was laughing when I saw these and then left them right in the package. I'm not a fan of these and always think they are the cheap candy people give out at Halloween. While they are a worry-free choice in being Gluten free and nut free I'll just pass on these.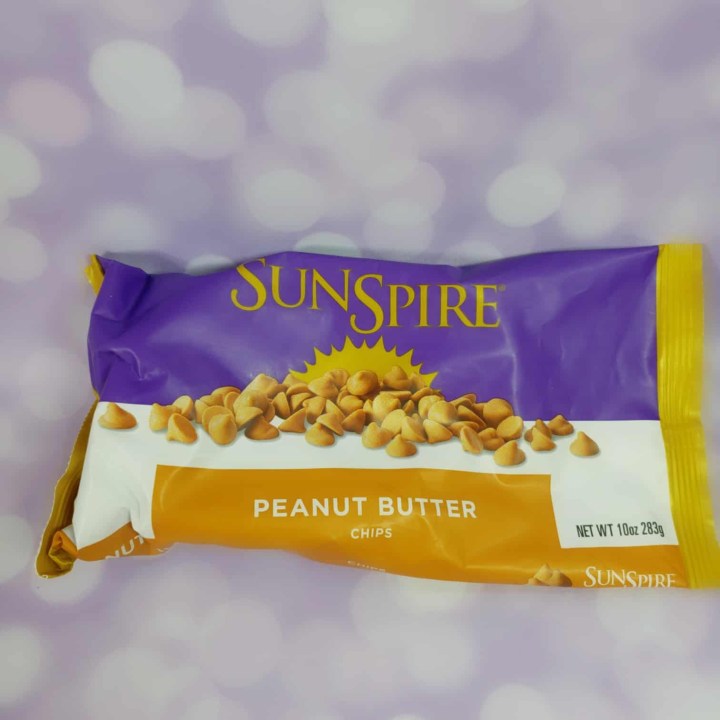 Sunspire Peanut Butter Chips ($7.99) – Yes!!! Do any of you get the Monster Mix from Target? It is one of my husbands and my favorite snacks to have at the house and while it's a good mix there are never enough peanut butter chips so we've started adding some of our own in after we eat a bit. These are so good and I've been eating them by the handful but they are also a great addition to my mix.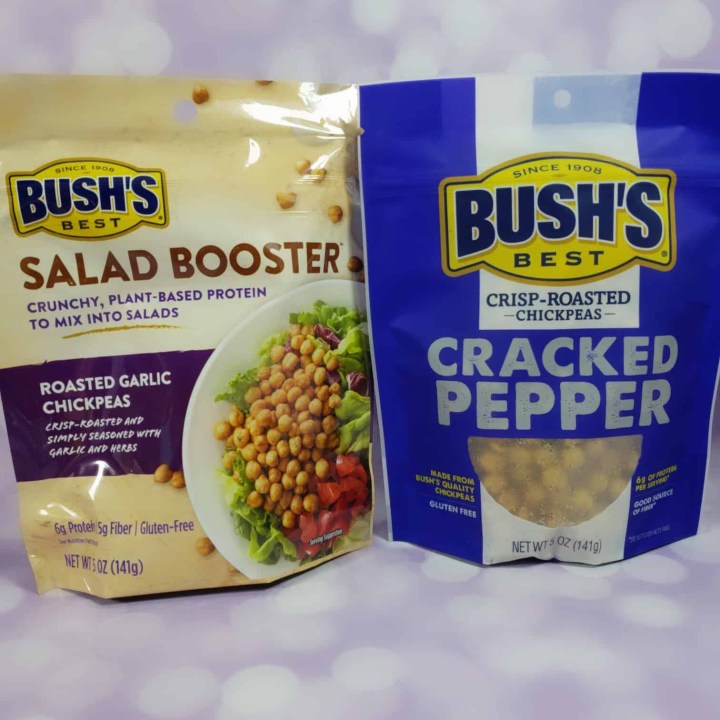 Bush's Best Chickpeas ($3.99 each) – Since I'm reviewing this box I got both flavors of beans but the normal boxes just got one of the flavors.  I was a bit skeptical with this even though I like chickpeas but they were easy to pop in my mouth and snack on. I preferred the cracked pepper better but I could see the roasted garlic being a great addition to a Caesar salad.
Garoto Caribe ($0.80) – A tropical snack of mil chocolate with banana filling. This is a larger size bar but it also comes in a bag of mixed flavors.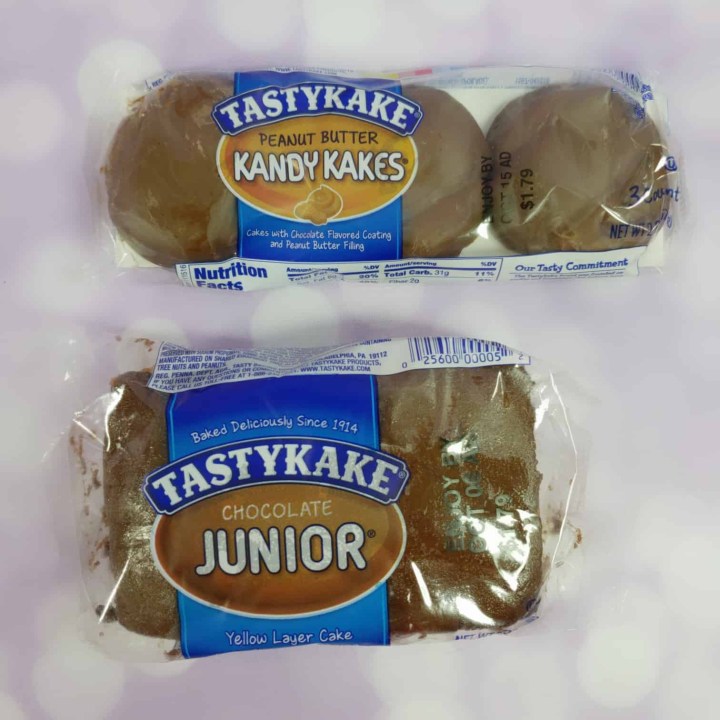 Tastycake Peanut Butter Kandy Kakes and Tastykake Chocolate Junior kake($1.79 each) – Peanut Butter cakes combine vanilla sponge cakes with a thick stripe of peanut butter coated in milk chocolate. Chocolate Juniors have been a staple of the Tastykake line since 1917 allowing people to have birthday cake anytime. These are both rich and delicious and I'm all about the single servings so that they stay fresh.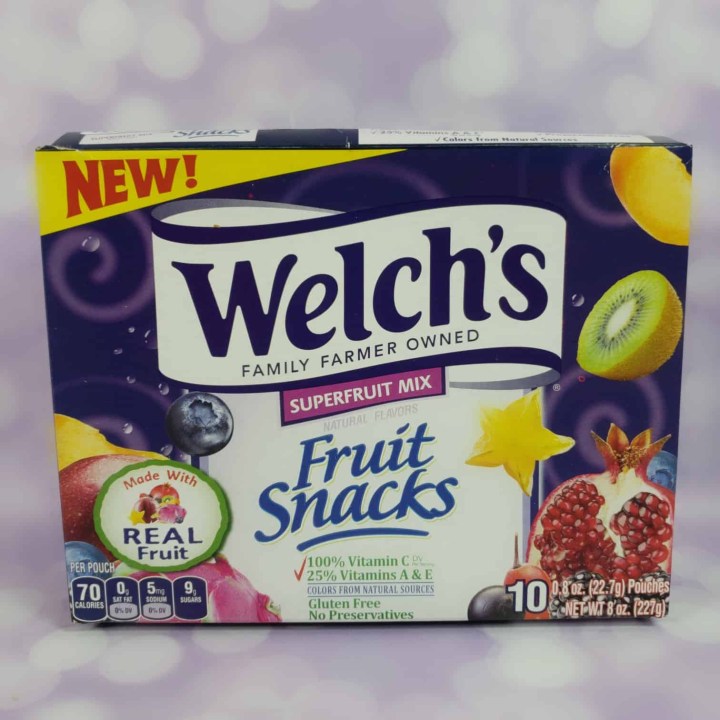 Welch's Superfruit Fruit Snacks ($2.99) – Are fruit snacks a food group at your house? They certainly are at mine. This new mix includes pomegranate-passionfruit, starfruit-kiwi, dragonfruit-blackberry, acai-blueberry and goji-apricot. Welch's are made with REAL fruit and this new variety is gluten-free, fat-free and contains no preservatives or colors from artificial flavors. I'll be adding these to my boys' lunches all week.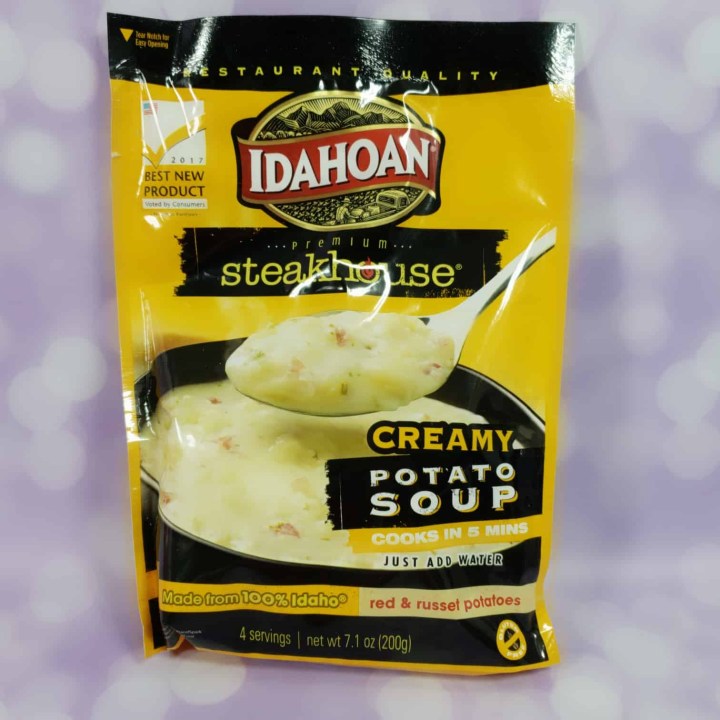 Idahoan Foods Creamy Potato Soup ($2.99) – Eeehhh, I'm a potato soup junkie and with it finally getting cooler here in NC I can't wait to make this one. This is filled with real, red potatoes and red potato skins it cooks in just 5 minutes with the addition of water. A great and quick dinner for me to enjoy on a cool fall night.
DegustaBox sent another fantastic box for us to try out this month. Some snacks we already know we liked and others that we got to try and discover are delicious.  Degustabox sends a great mix of snack items and food items for us to try each month. I love that the box is always so full with such a variety there is something in here for everyone. I can't wait to see what other goodies they send for the long cold winter months.
Have you tried DegustaBox? Did you have a favorite this month?