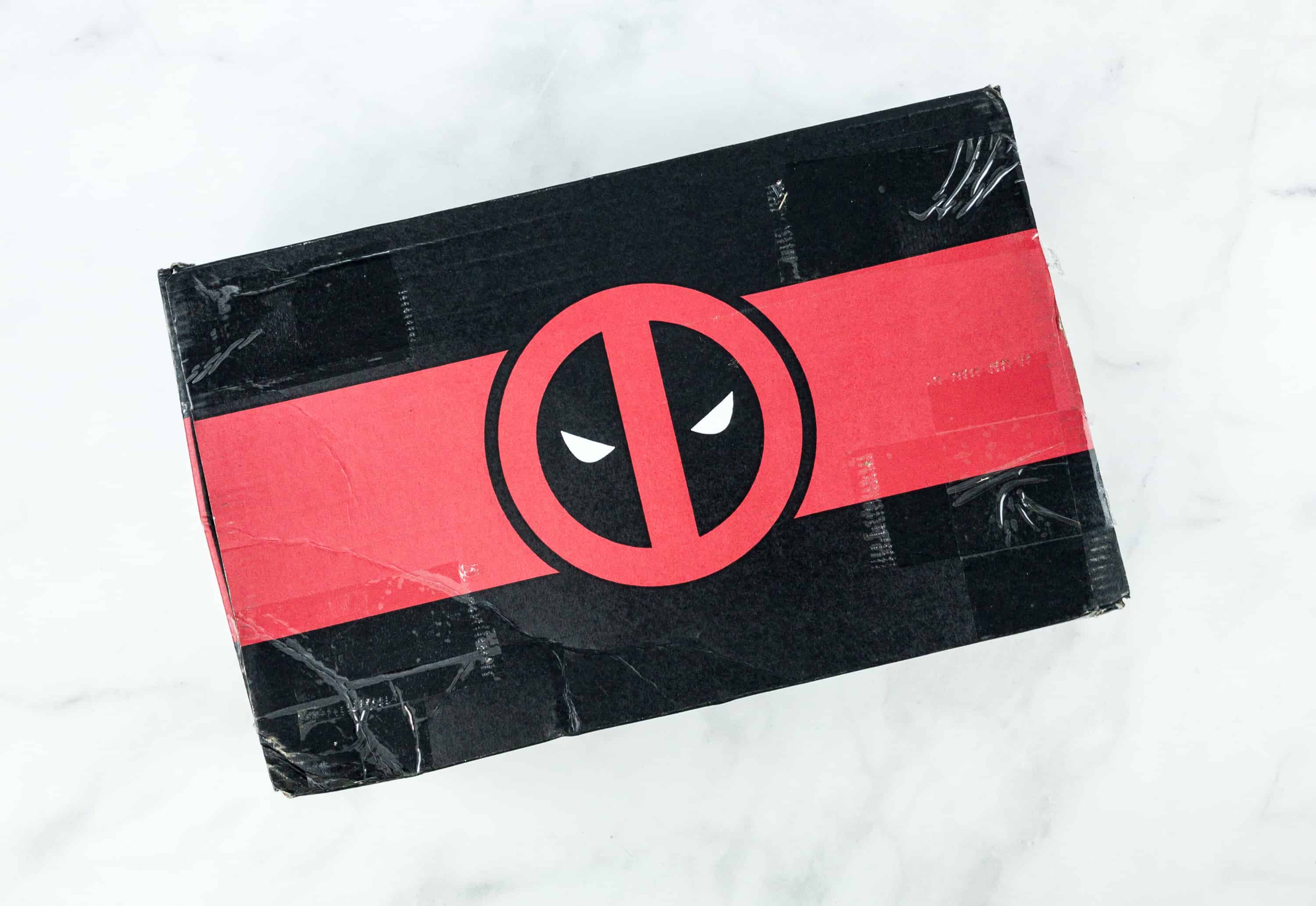 Deadpool Club Merc is a quarterly subscription of all things Deadpool. The box costs $34.99 each quarter, plus shipping and handling. Every quarter you'll get a box full of original and official Deadpool merchandise that contains 4 to 5 items in black and red, and that includes stickers, shirts, and collectibles that you won't find anywhere else.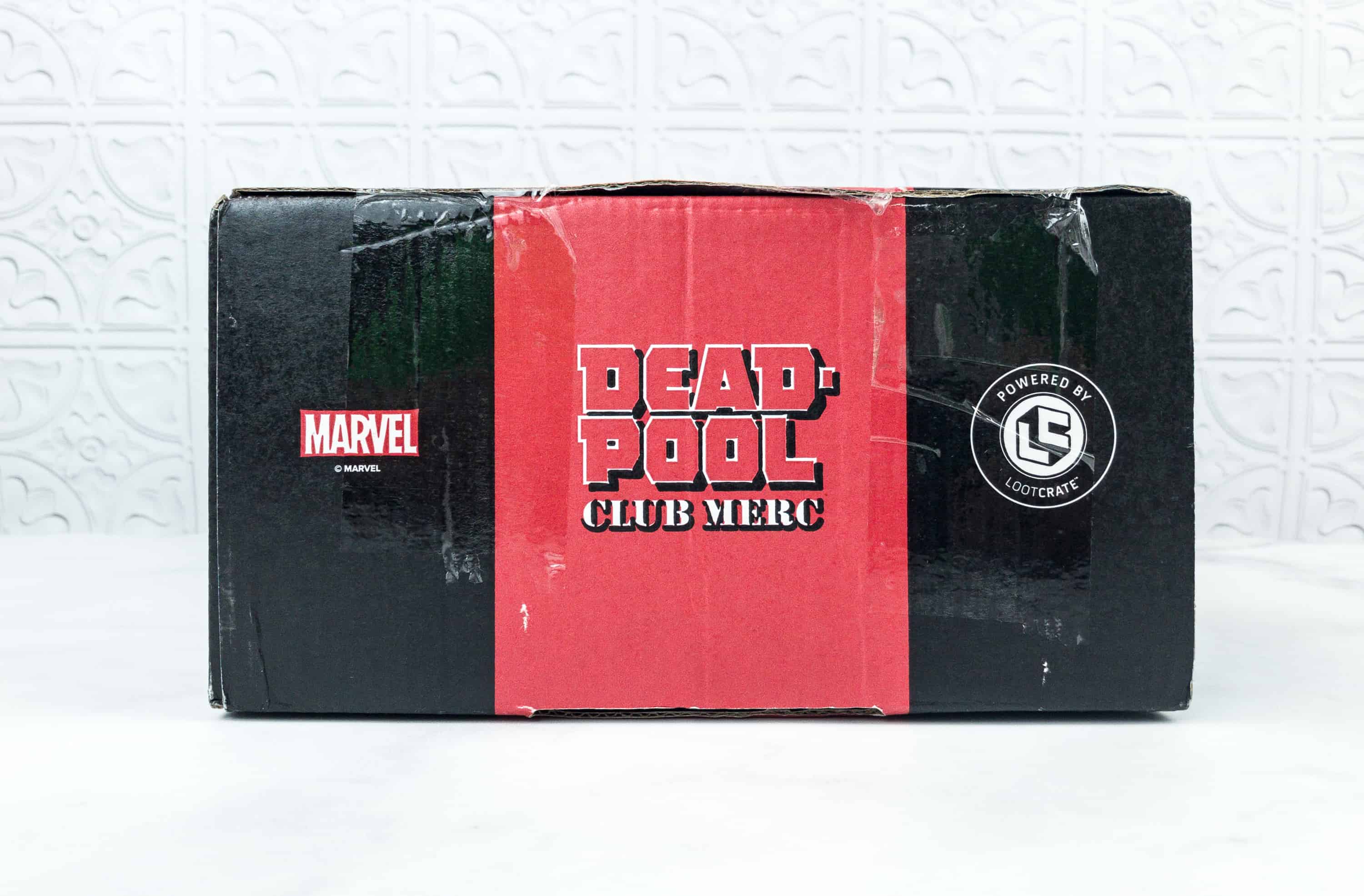 DEAL: Save 15% on any subscription when you use this link and coupon code HELLOSUBSCRIPTION15.
Now through 10/9 Get 25% off when you subscribe to most Loot Crate subscription plans when you use coupon code NYCCLOOT2018!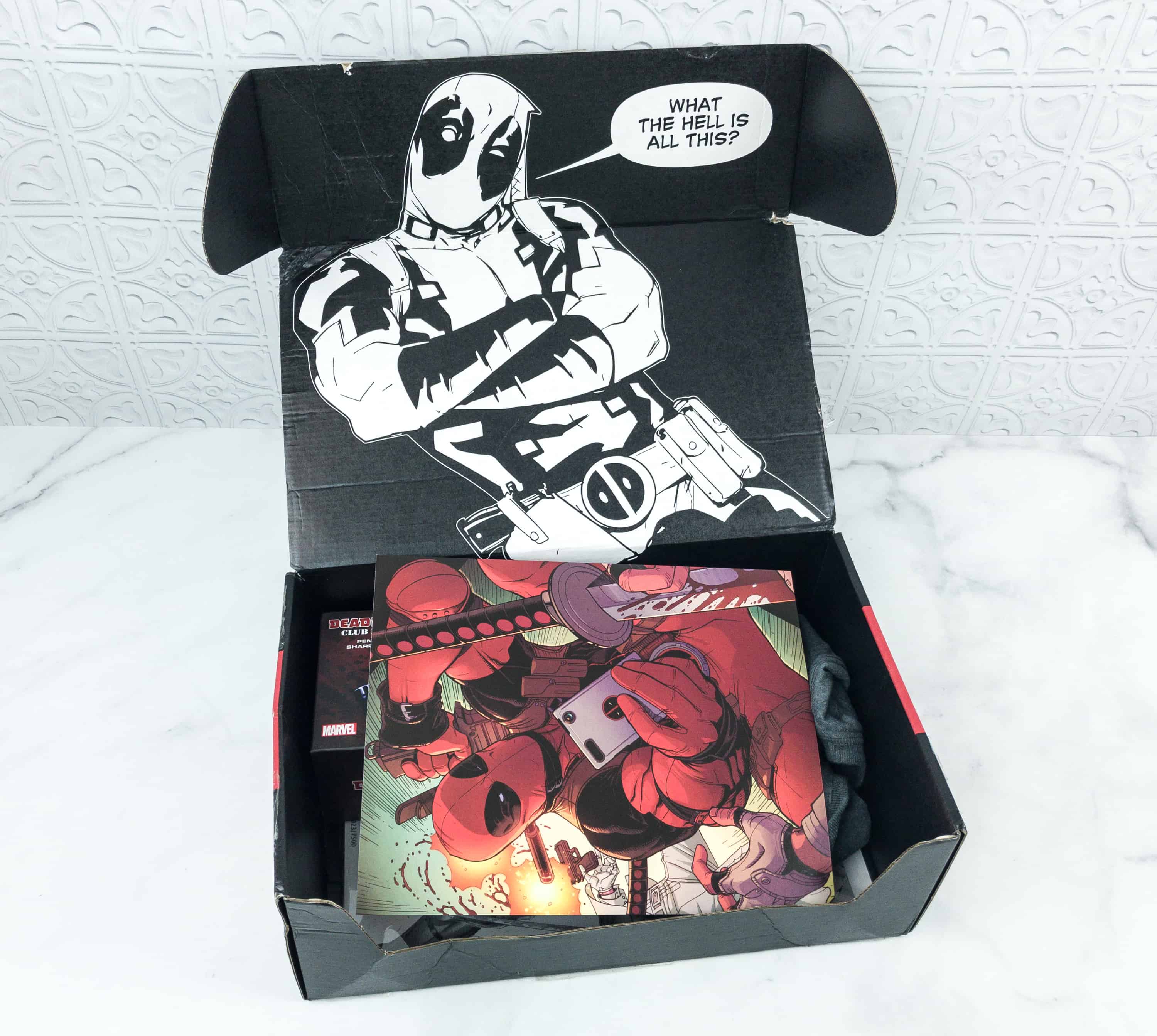 The merchandise is packed neatly and it's hard not to unbox everything in a hurry.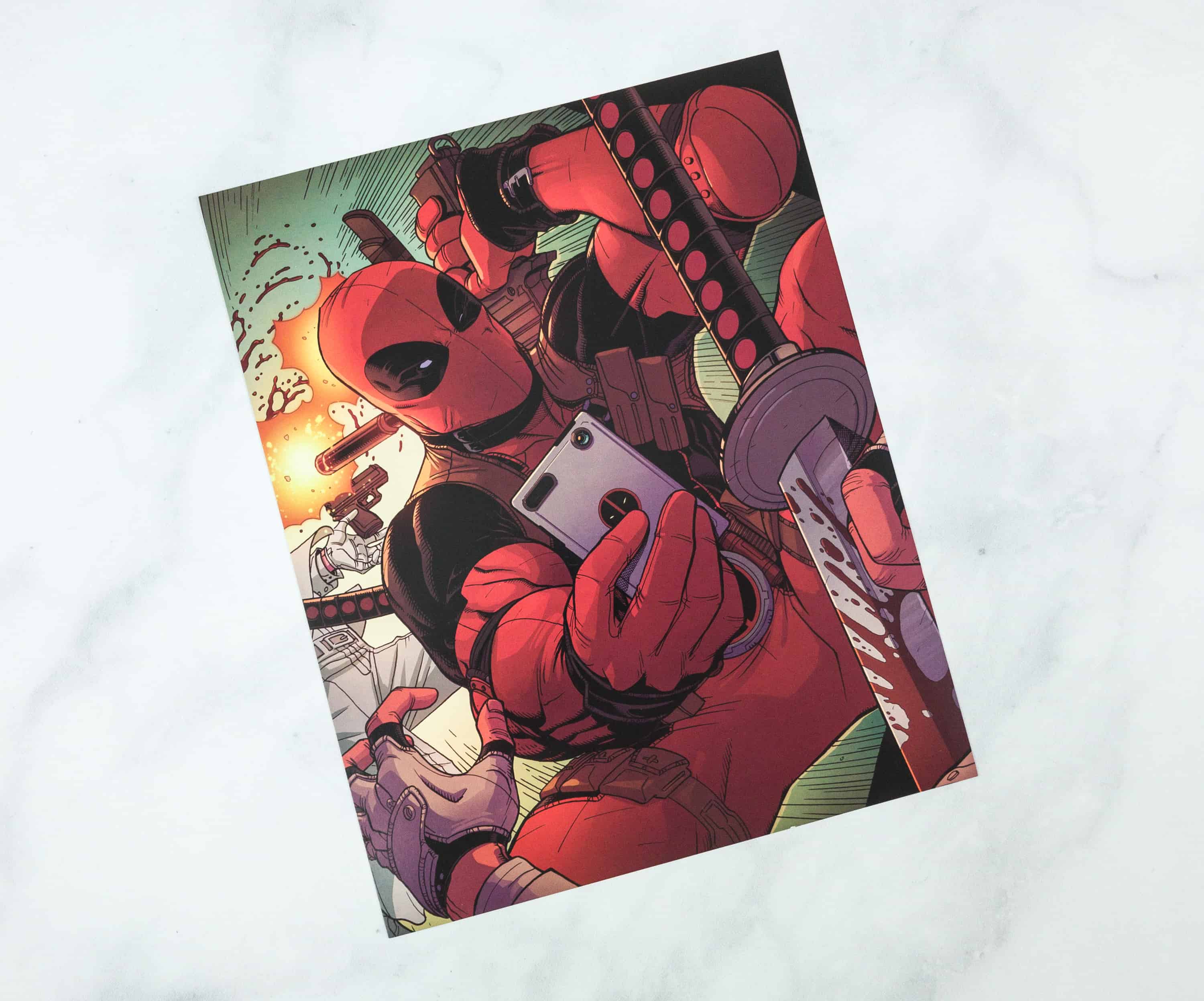 I got this cool poster where Deadpool is taking a selfie! The graphics are amazing!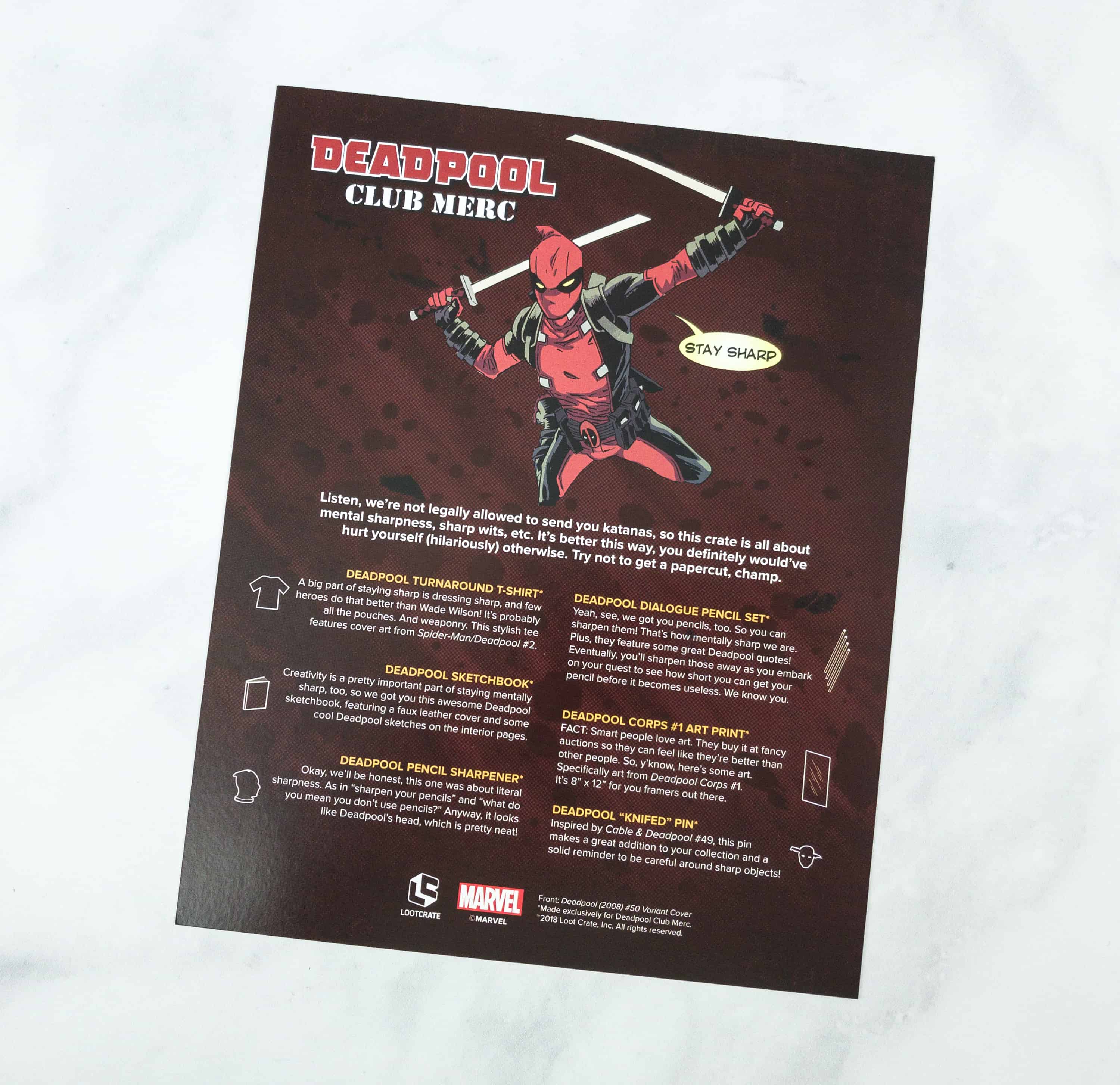 The back of the poster lists all the items that you are going to get from this box, each with a description in Deadpool style.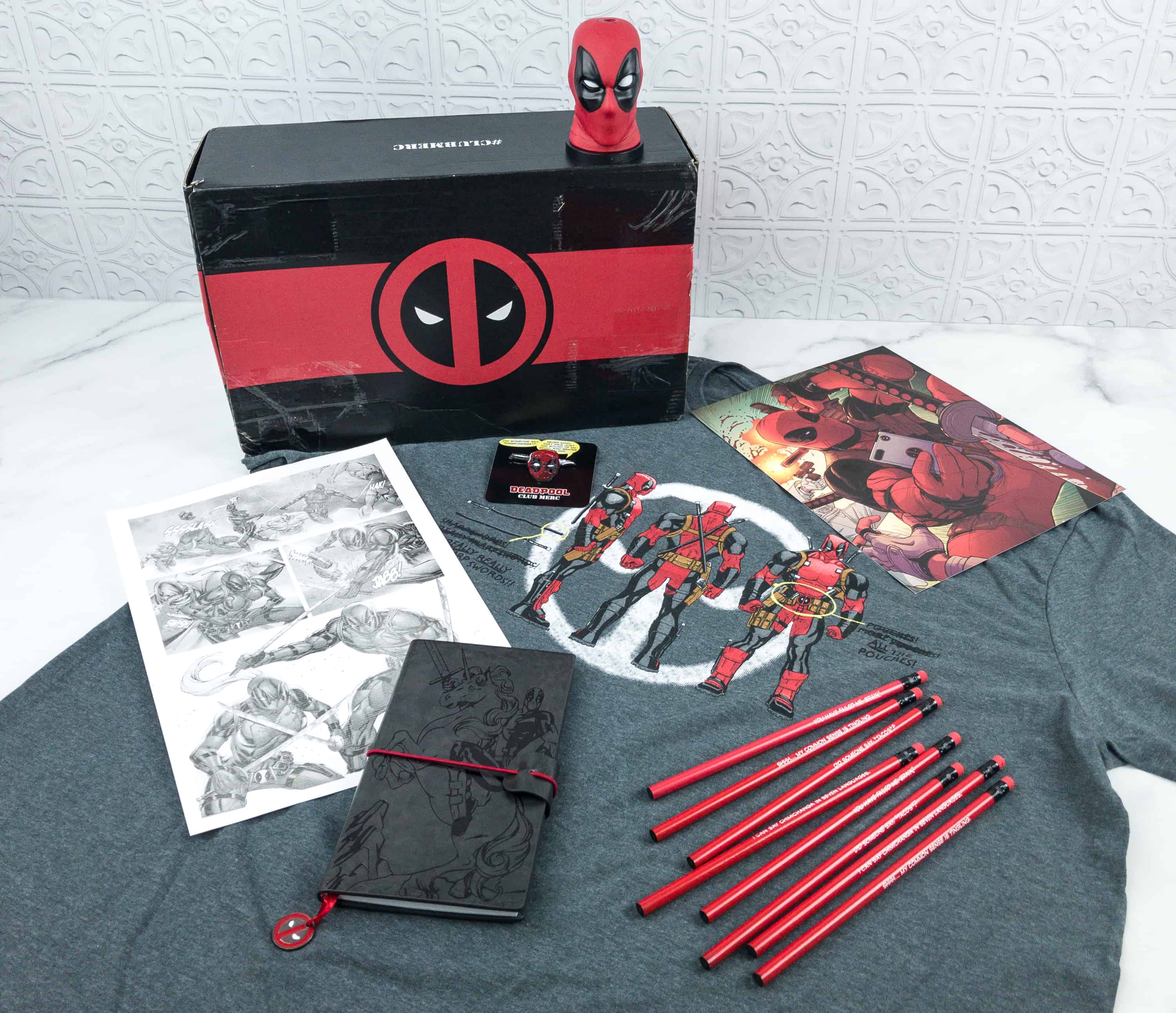 Everything in my box!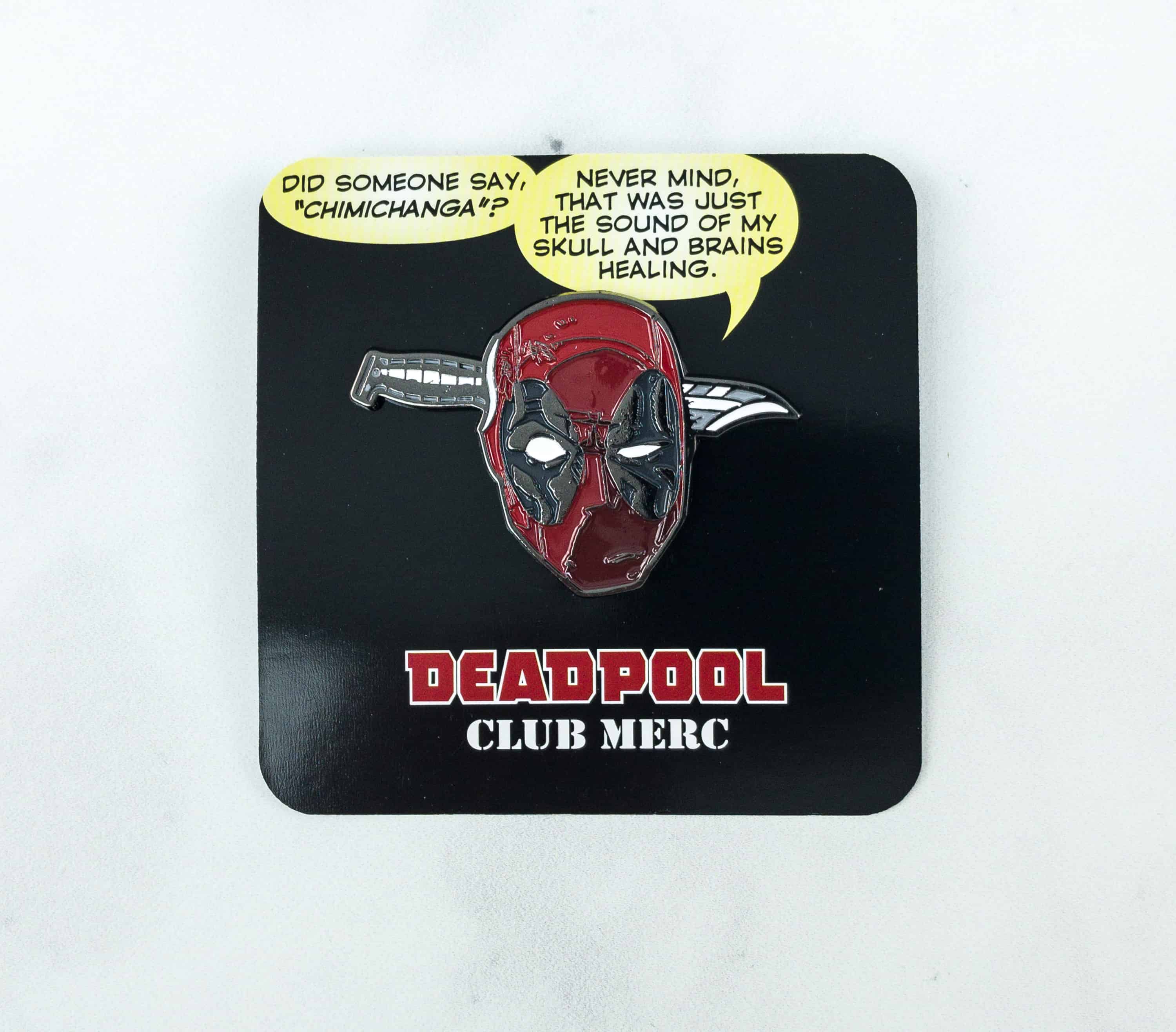 Deadpool "Knifed" Pin. Deadpool may look beaten up on this pin, but his brains are still screaming for some good chimichangas! Well… I can't blame him! I also love that they get really creative and humorous with the packaging.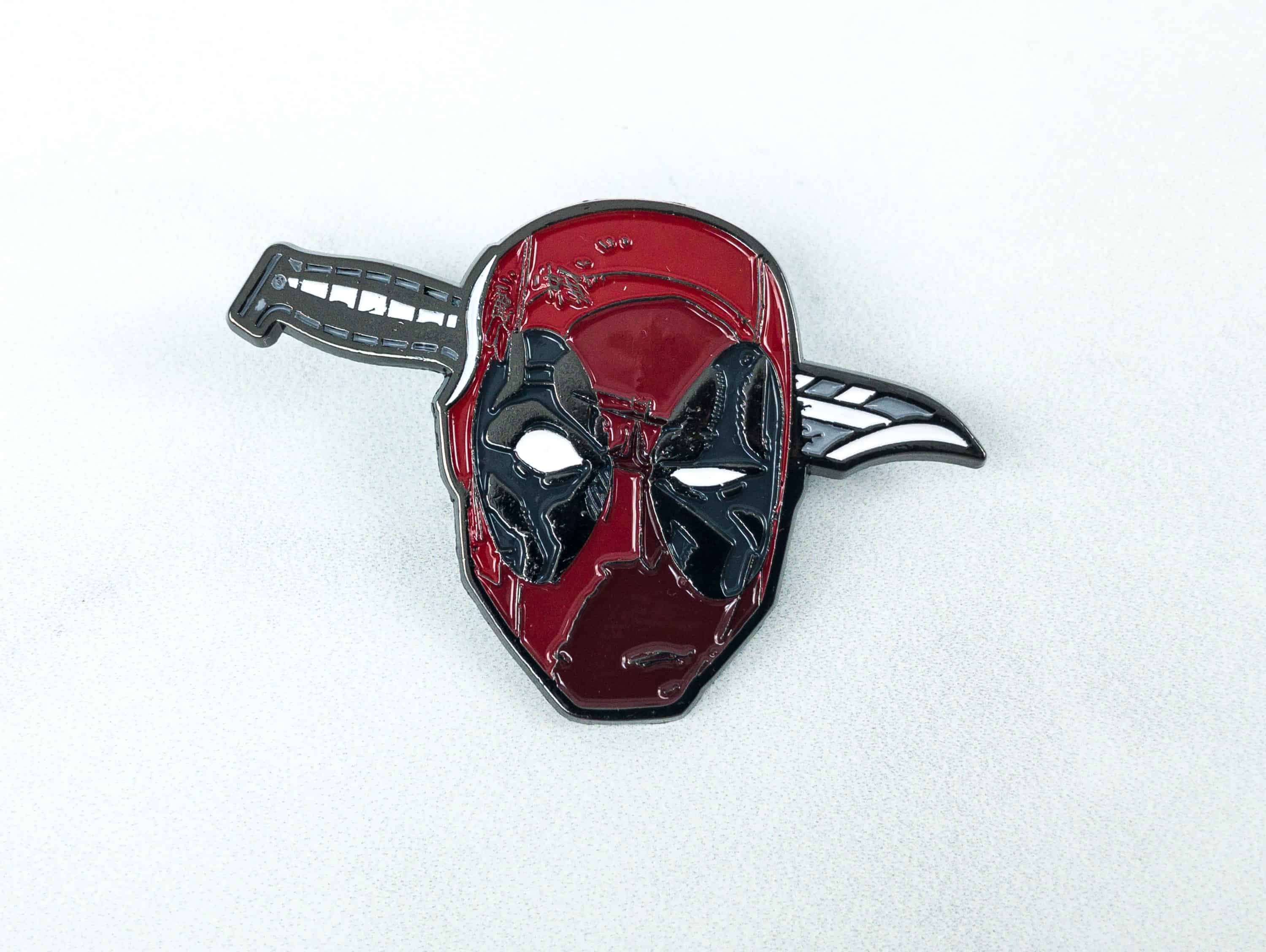 It will take some time for him to fully recover from being "knifed", but I believe his brain is still in a really good state as he's still thinking about his favorite food. And he's still looking good despite all the deformations he's gone through, right?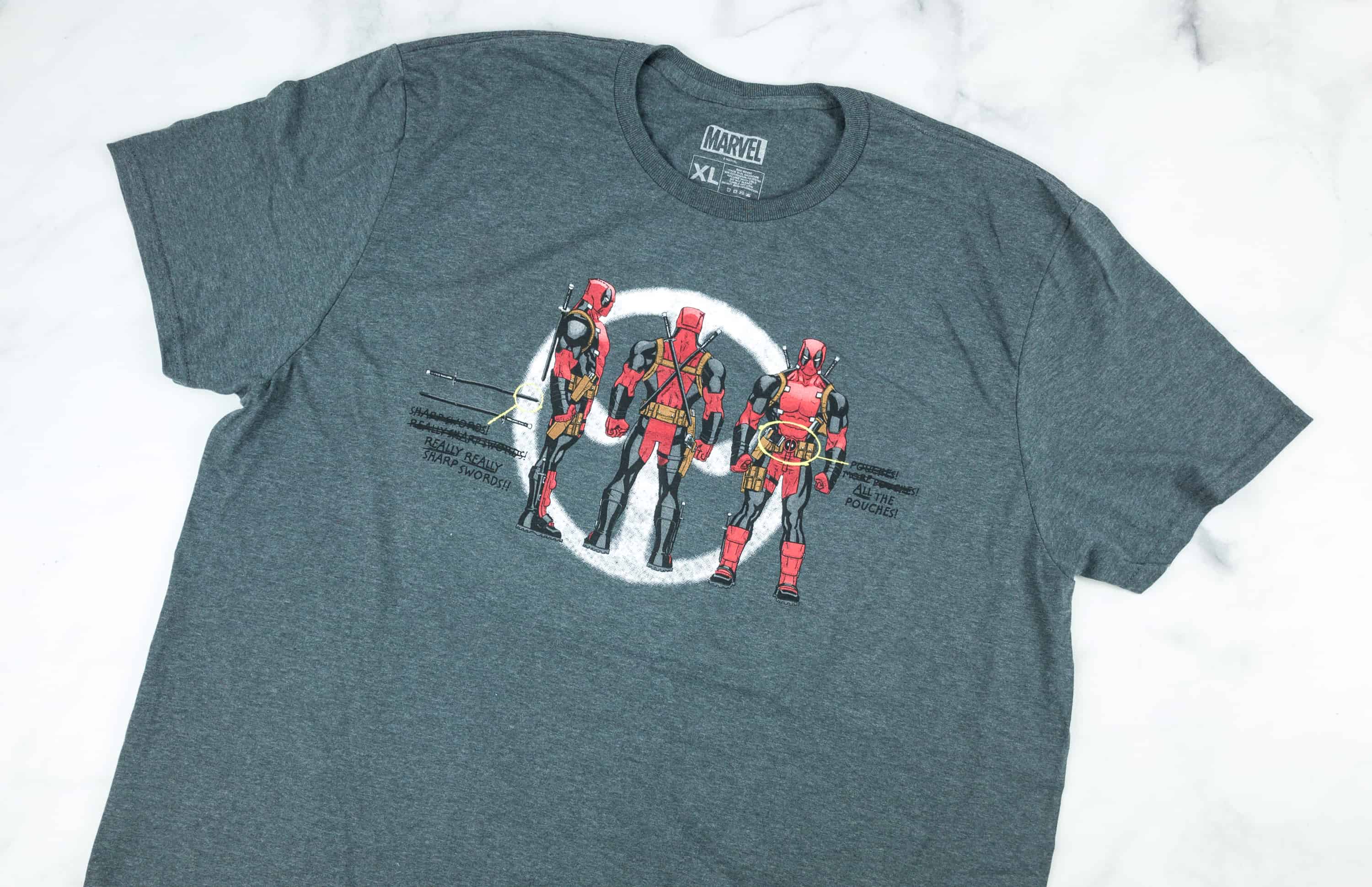 Deadpool Turnaround T-Shirt. I love comfy Deadpool shirts as they're full of humor and character. This isn't an exeption as it hilariously shows Deadpool literally turning around and actually showing you what's up! And those swords… Yeah, I get it, this shirt is as sharp as those! The design is from Spiderman/Deadpool #2.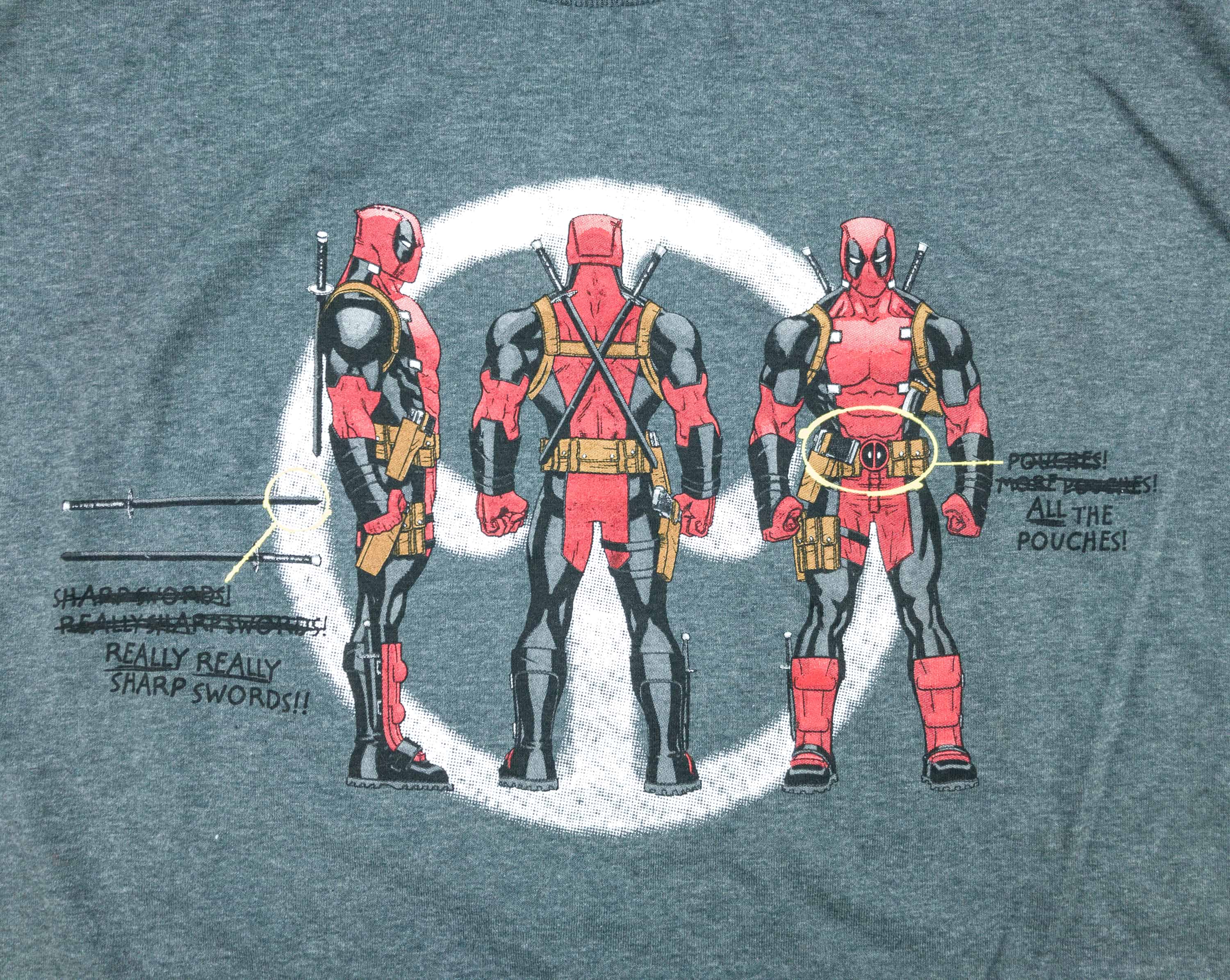 This is already funny, but just imagine, what if he's trolled the Vitruvian man? That would be a nice shirt design! Going back to this shirt on hand, I love how those scratchouts add more comedy to the already silly character. Aside from the SHARP blades, I hope Deadpool already has ALL the pouches he needs! Enough with the talking, I just need to look sharp dressed in this one!
Deadpool Corps #1 Art Print. The print came bagged, but I already took it out before taking a photo, so here it is. It shows an action-packed panel of Deadpool and Lady Deadpool, complete with all the SFX! Love that pony!!!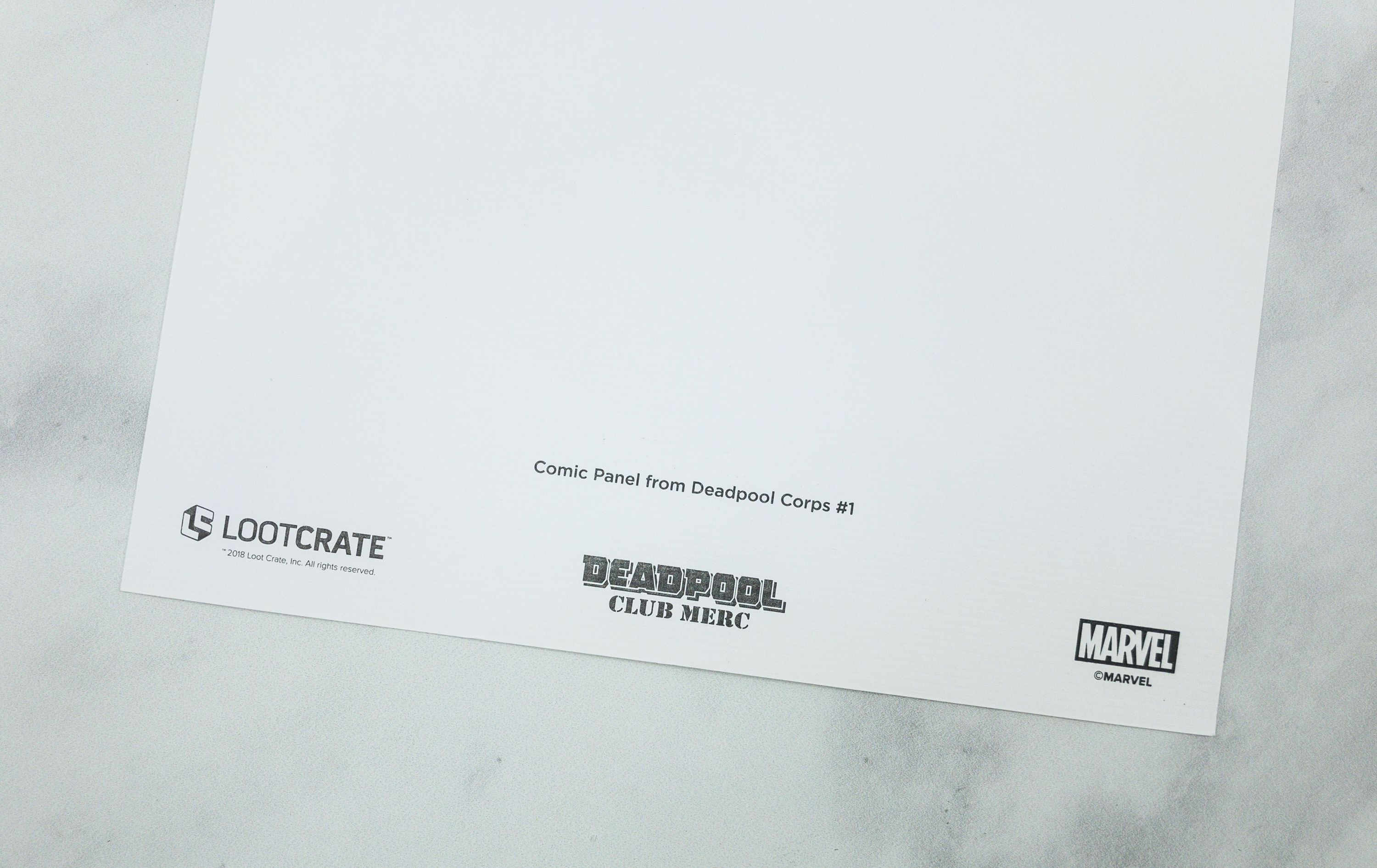 It is a comic panel from the comic Deadpool Corps issue #1!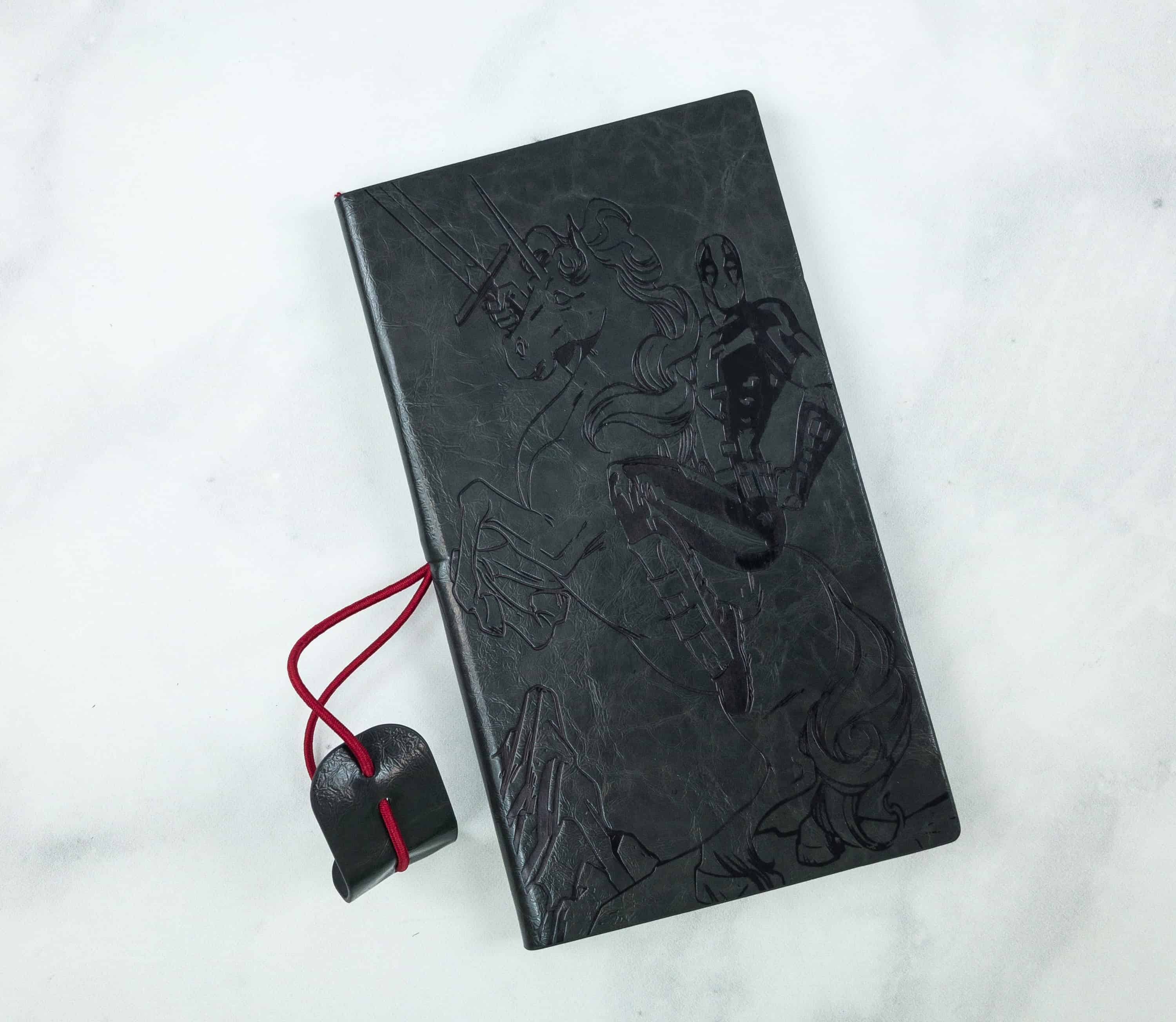 Deadpool Sketchbook. Planning ahead with stuff is great, so it's just right to have a Deadpool sketchbook that I believe will draw more inspiration, and of course, will make you as sharp as ever! Perhaps… as sharp as a unicorn's horn?!?!
The sketchbook cover is made of faux leather. And the markings at the back indicates that you can only get it from the Deadpool Club Merc box!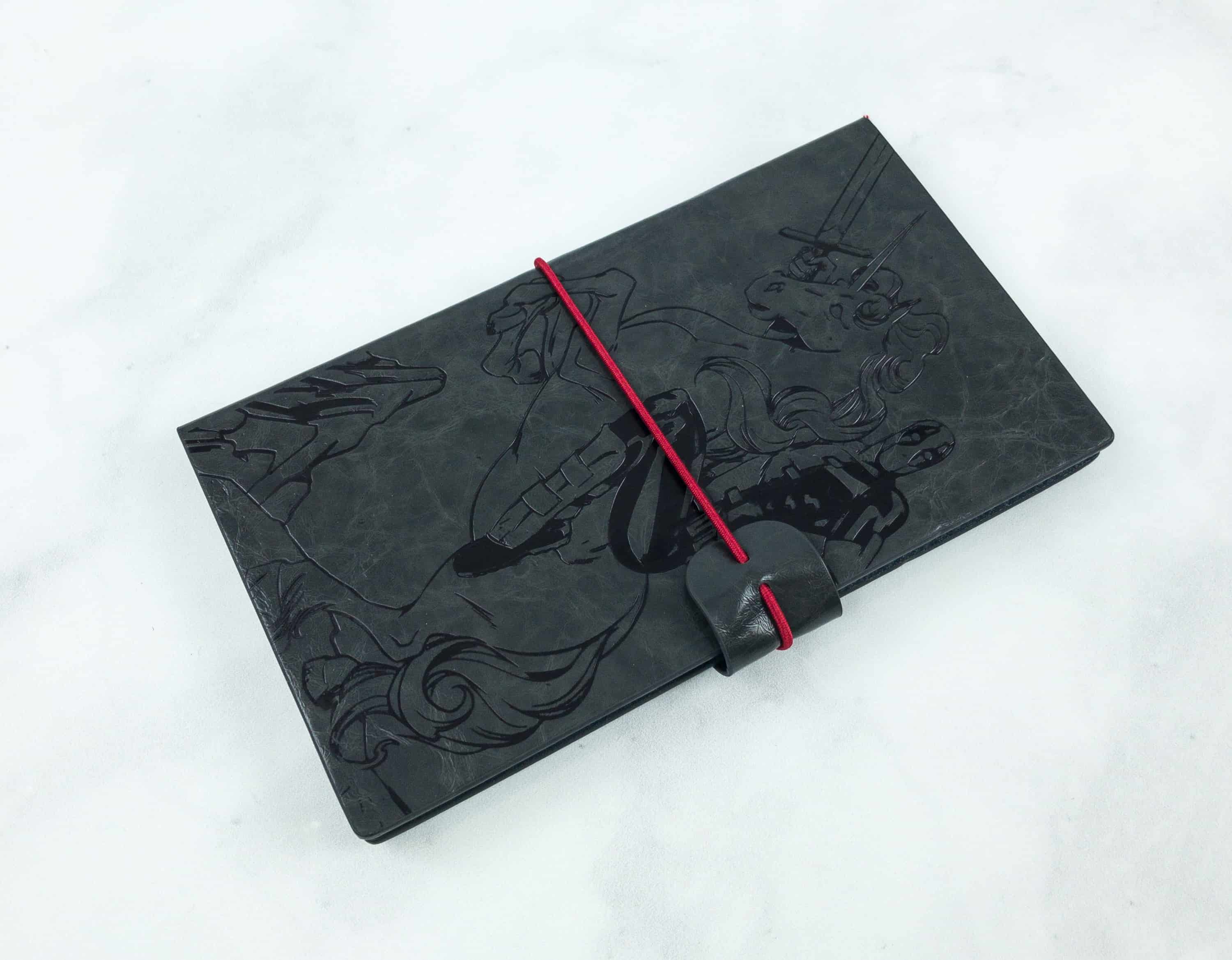 Aside from the cool Deadpool versions illustration, the sketchbook comes with an elastic enclosure, well, to keep all your sharpness inside! Deadpol on a unicorn never gets old – ever.
Some pages have some cool illustrations on them, like this one which has the other cool versions of Deadpool: there's Lady Deadpool, Kidpool, Dogpool, and even Headpool.
Oh yes! There's Deadpool riding a fierce-looking Unicorn! Awesome! And it's colored!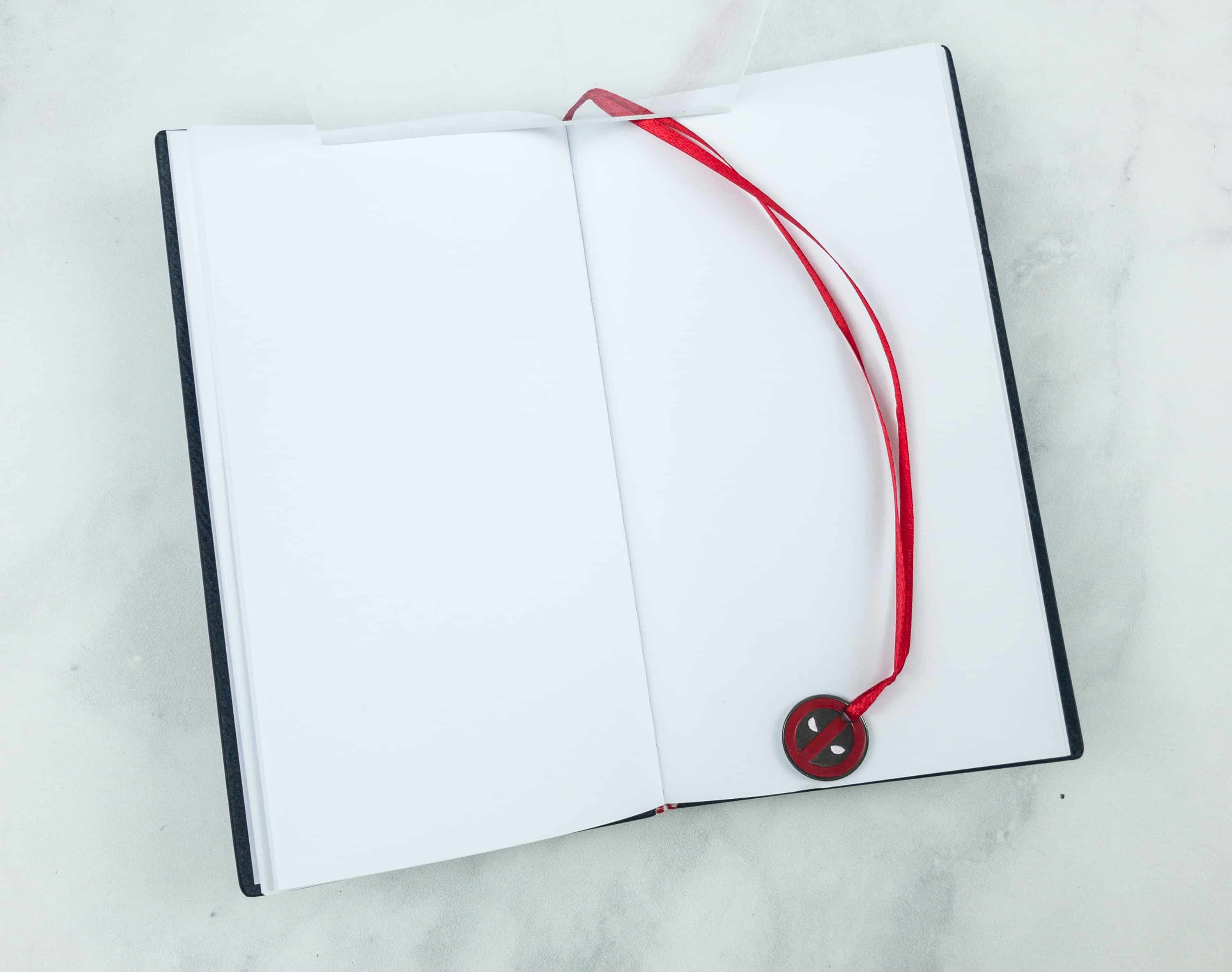 It also comes with a ribbon bookmark with a Deadpool charm on one end. We LOVE that the pages are blank – we get super excited about blank notebooks, because of the versatility!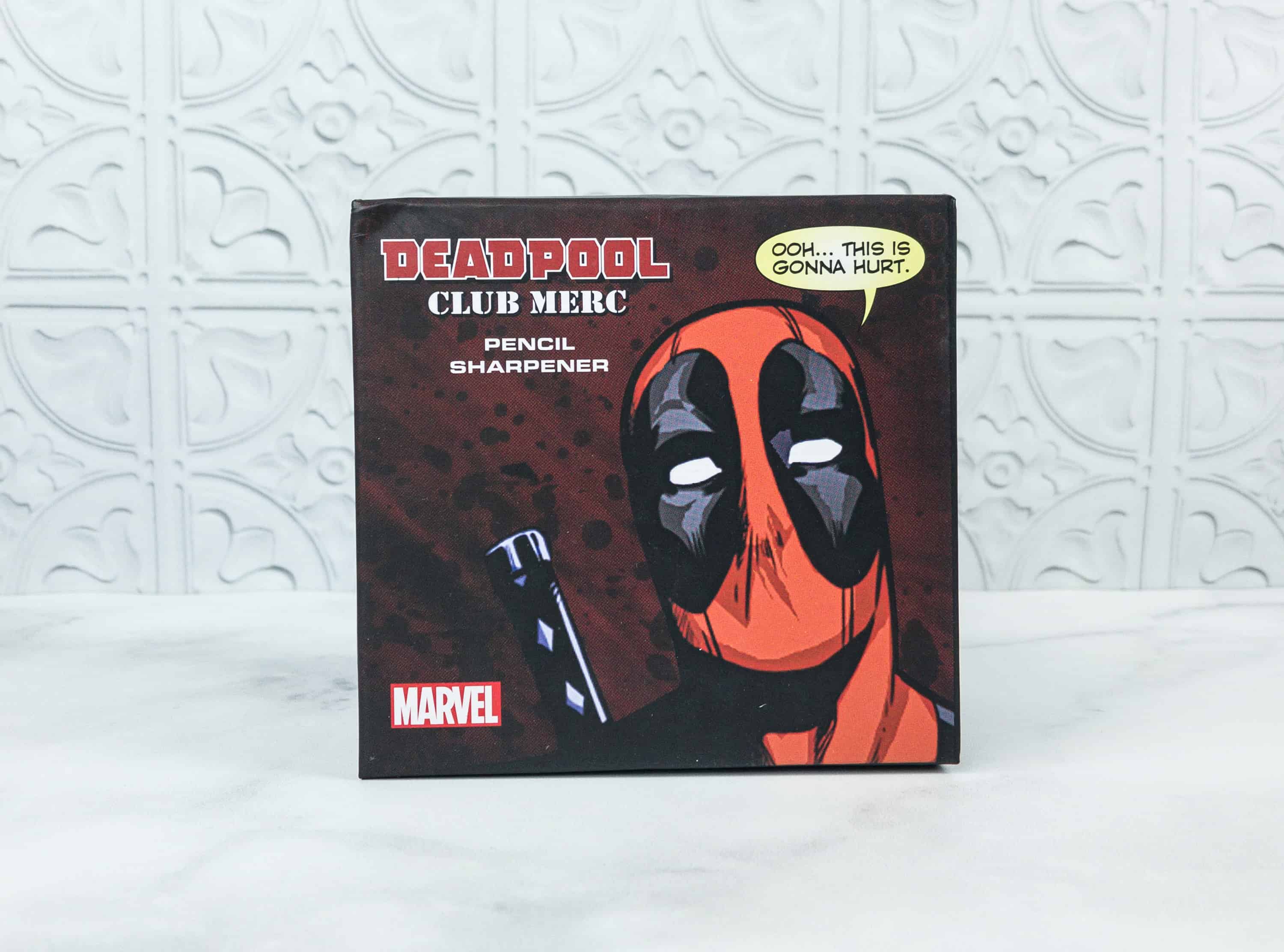 Deadpool Pencil Sharpener. We are talking about "sharpness" in this whole box so it's just right to have something that sharpens… Pencils?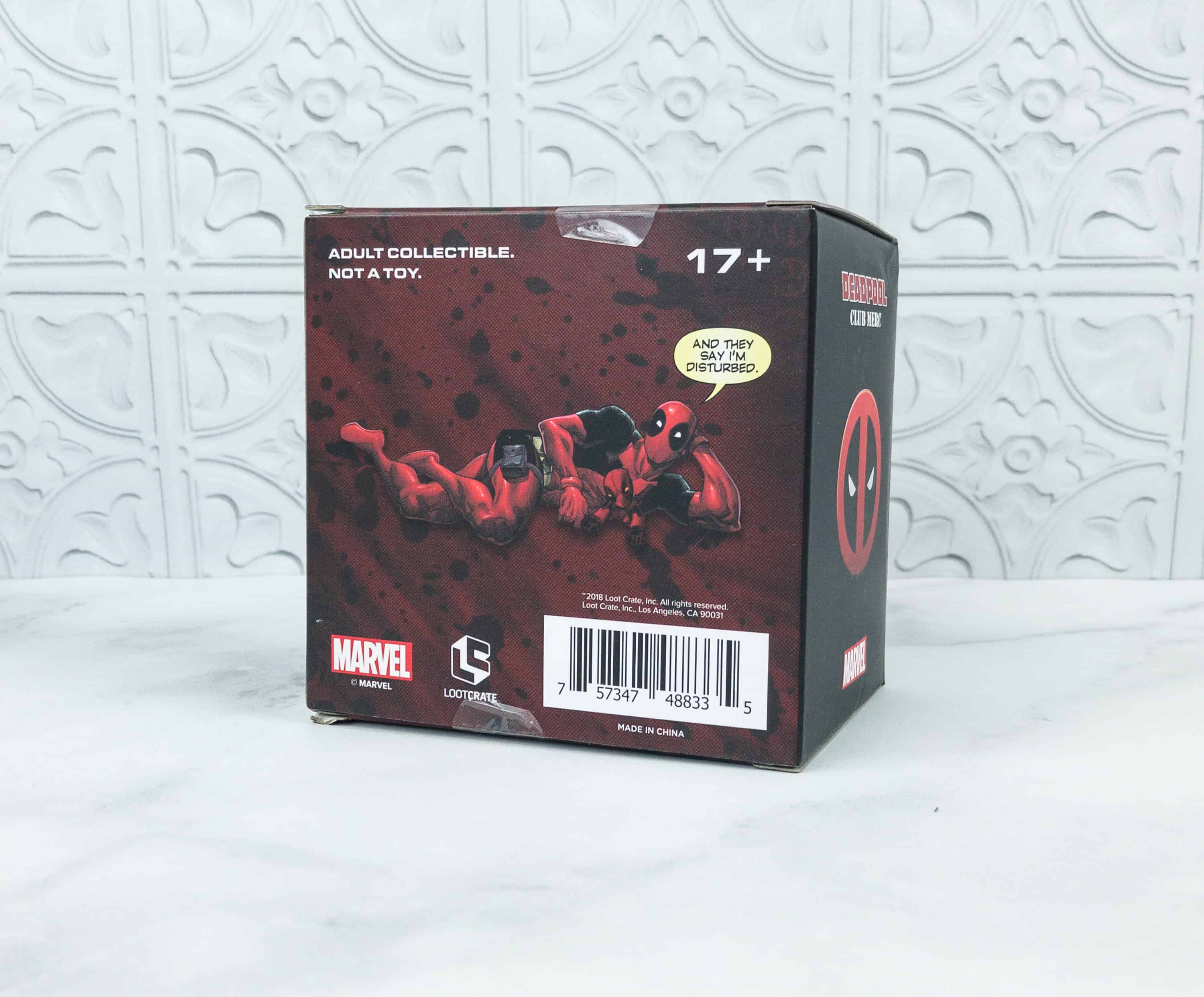 This box is gold! It comes with a warning that this is not a toy and just an adult collectible. I love this box as it has a seductive Deadpool sitting on it.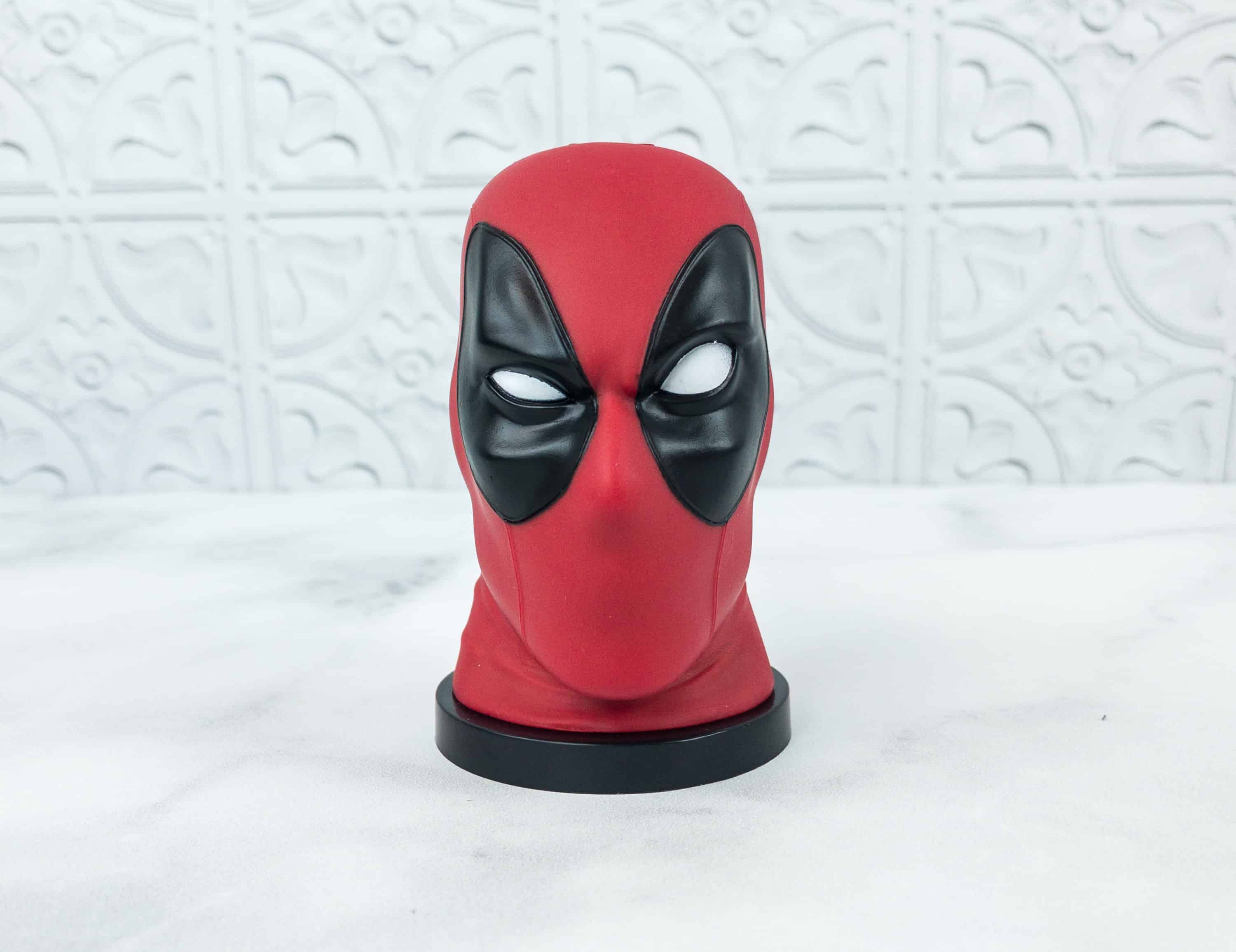 Despite not seeing his true face, I can tell that's he's raising an eyebrow, and I guess he's challenging me to go use his head to sharpen some pencil.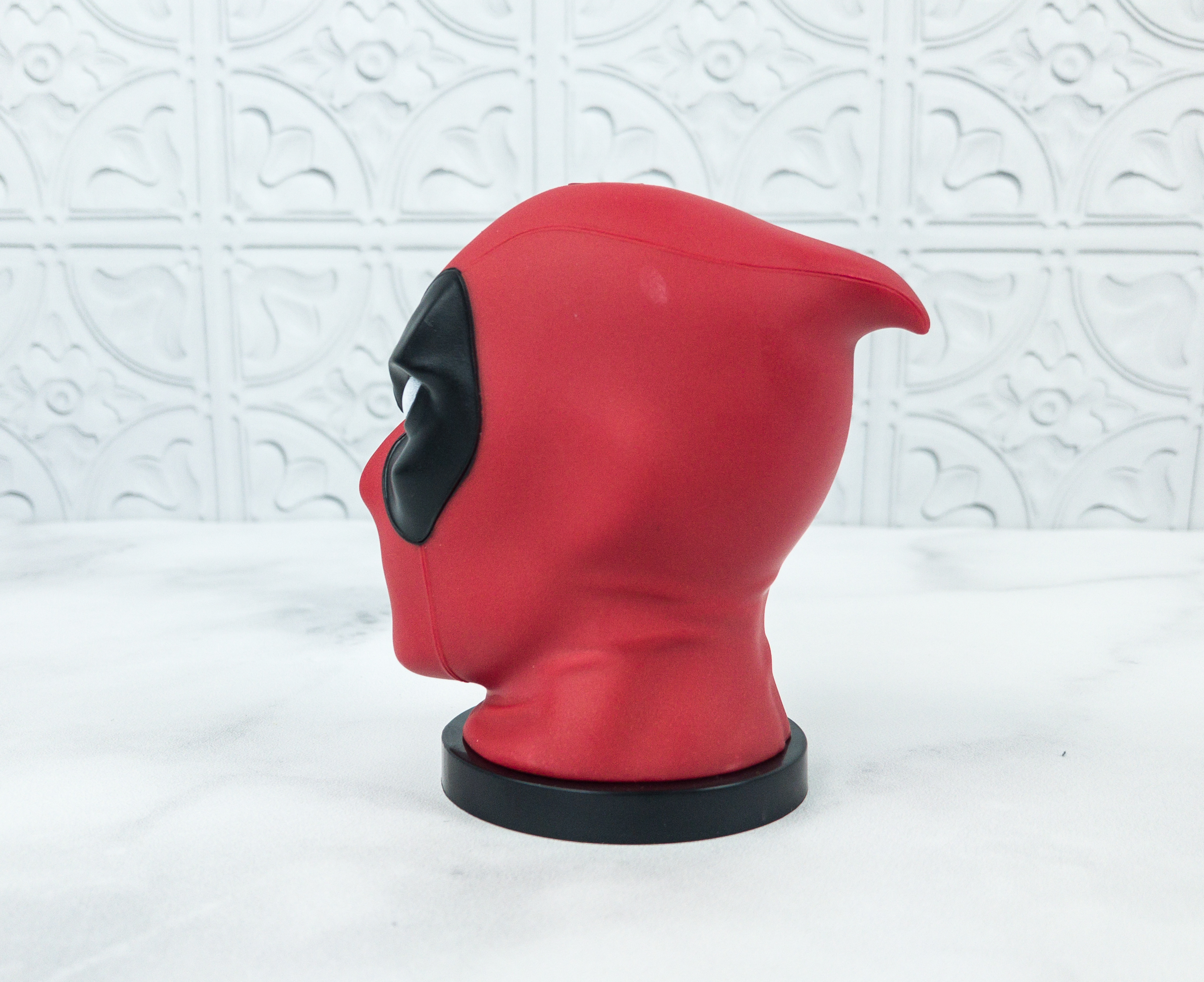 The sharpener actually looks more of a decor than a school/office item.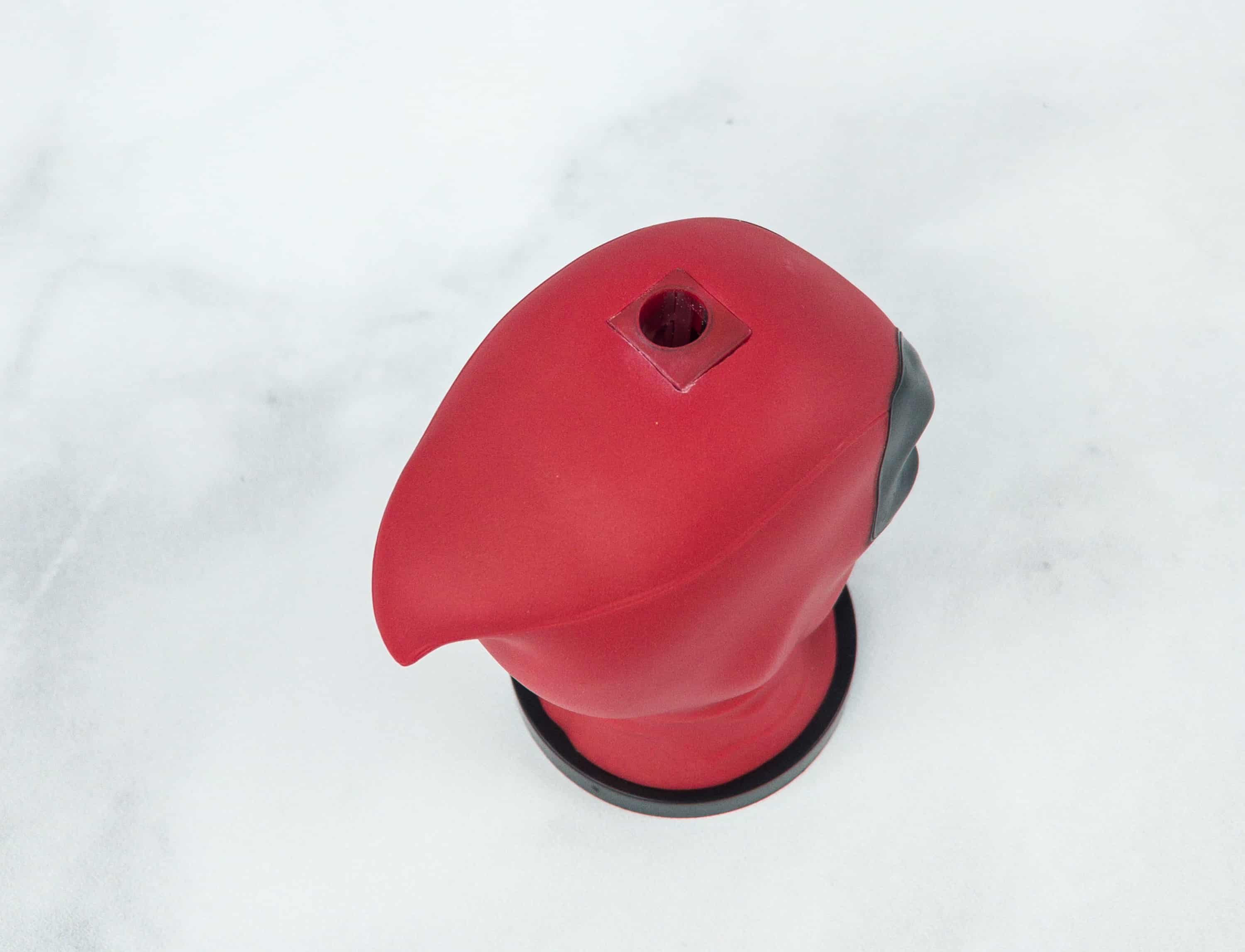 The tapered hole is located on top of the head.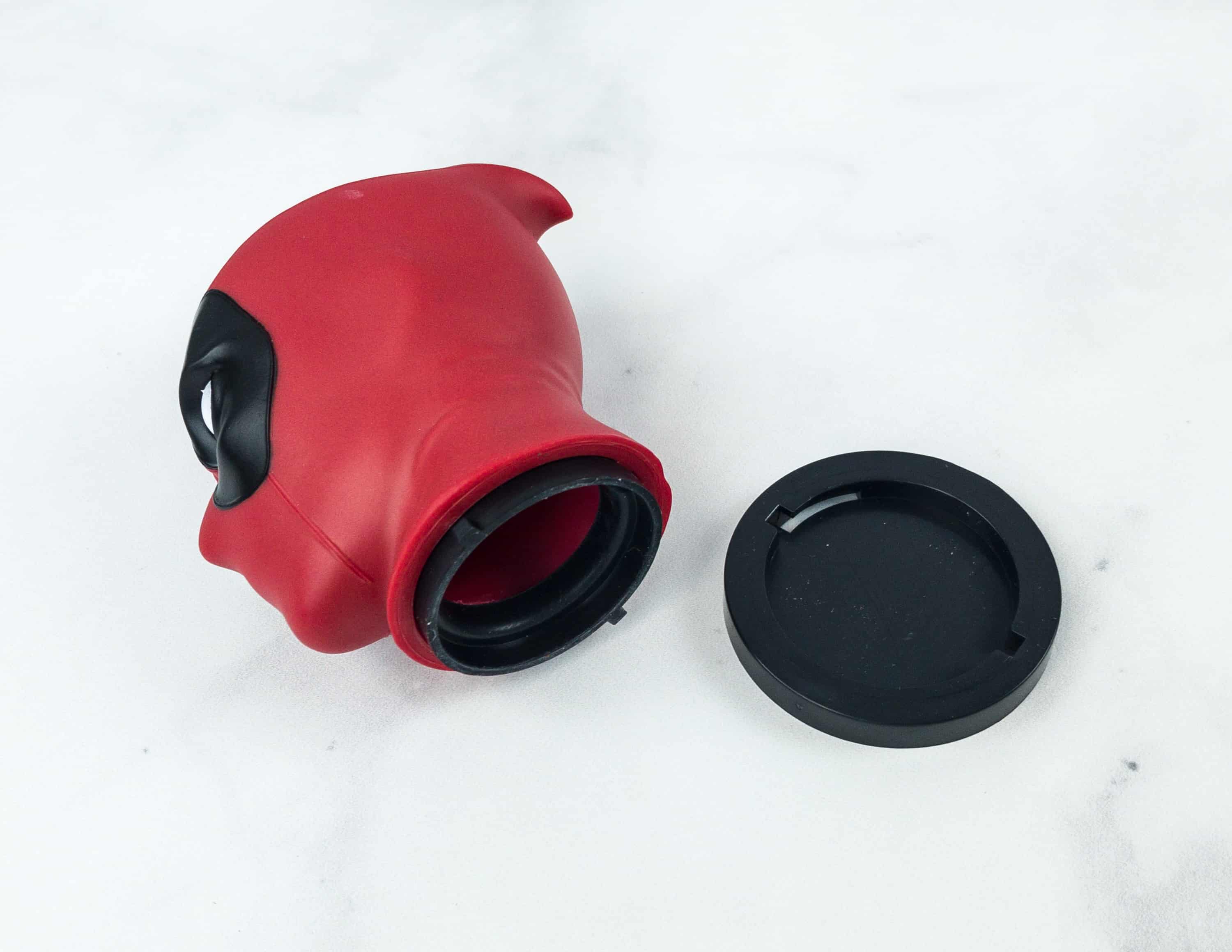 While the bottom/neck part has a lid that keeps all the pencil shavings from scattering all over the place.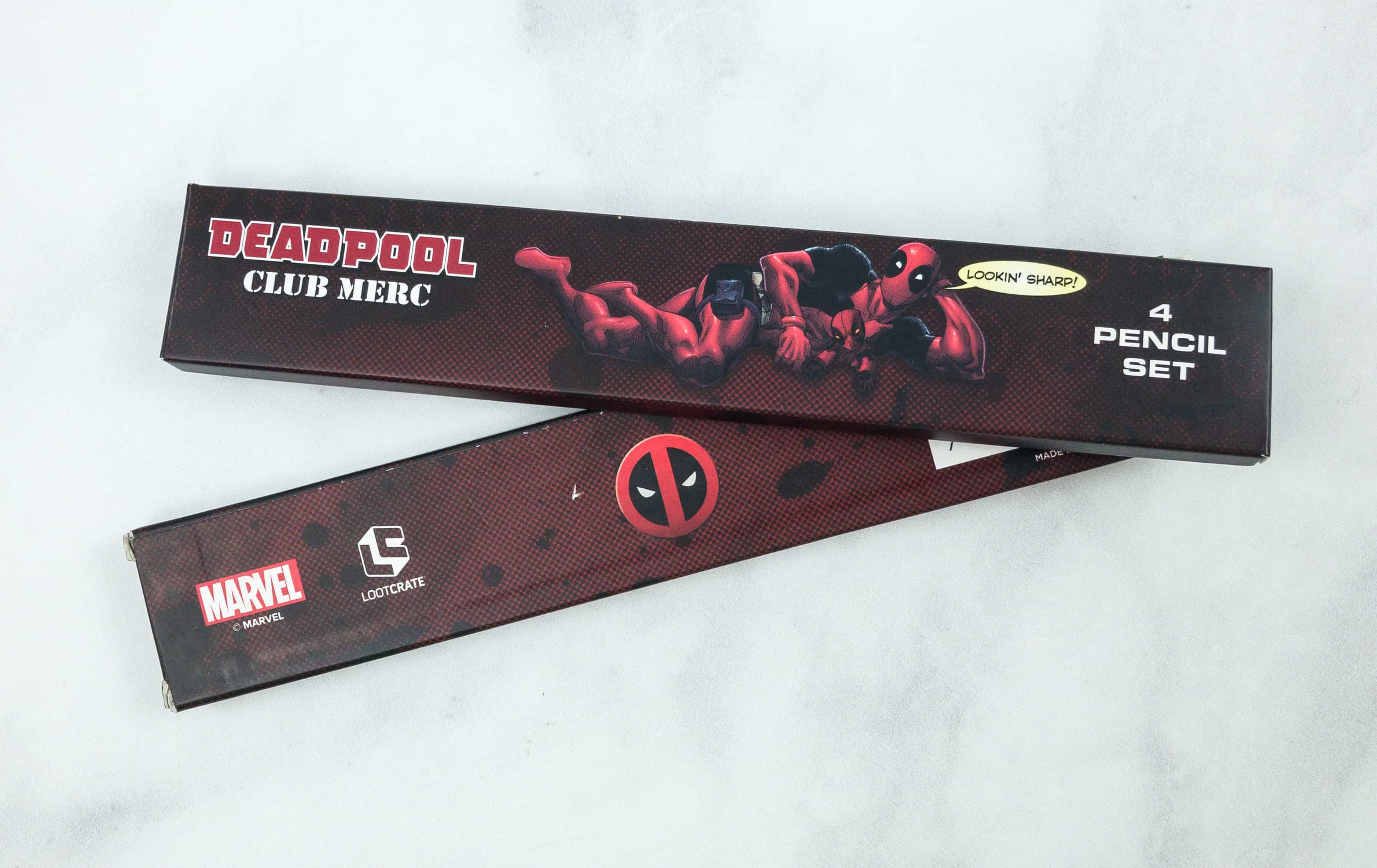 Deadpool Dialogue Pencil Set. I got a sharpener, so how can I test its effectiveness? Of course, by sharpening real pencils! It's a good thing they also included 2 boxes of them!
Each pencil comes in a Deadpool-ish fashion, and to make them authentically Deadpool-ed, the makers engraved his dialogues on each of them! Now, there's no doubt that these are pencil versions of him.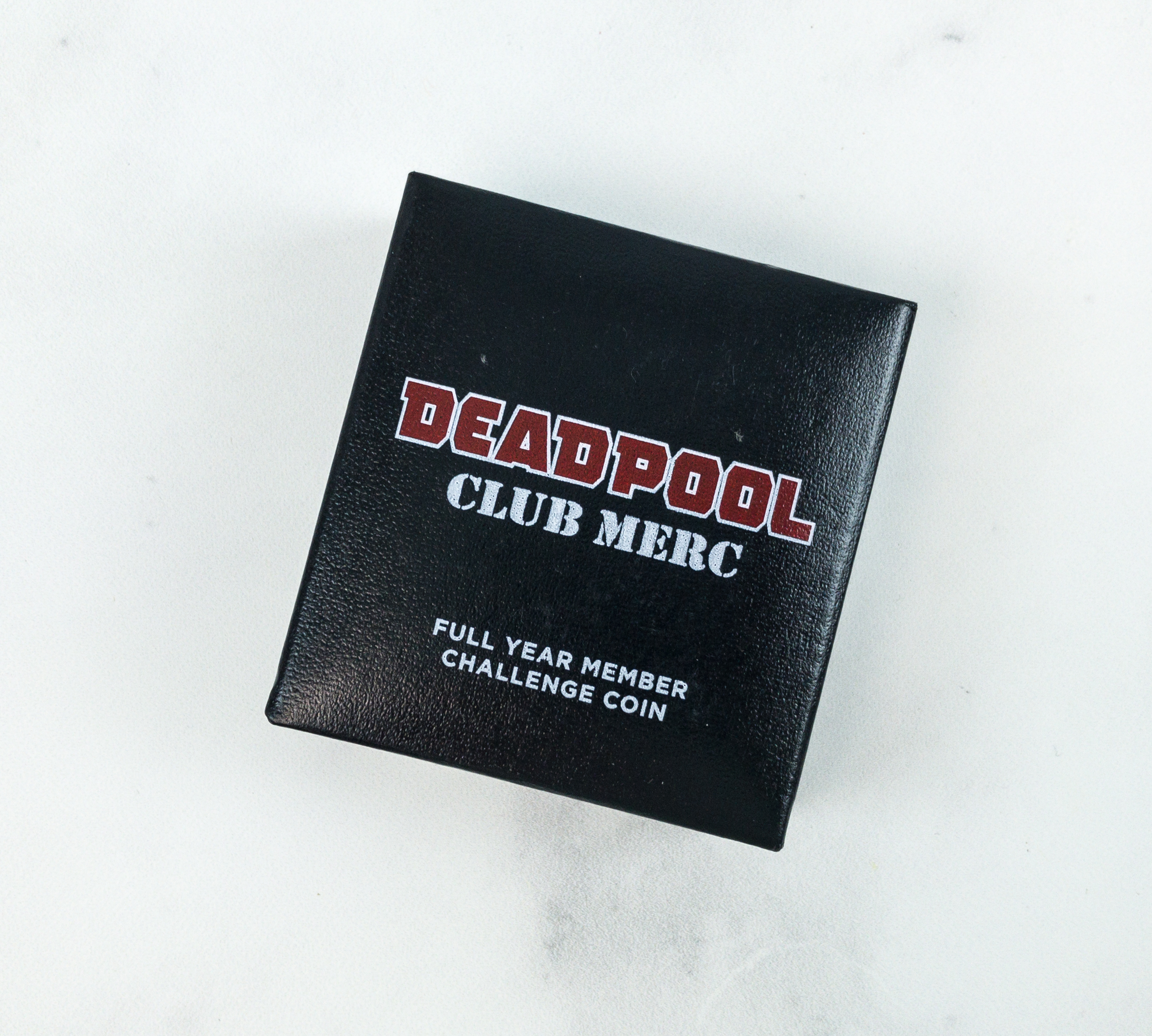 Deadpool Club Merc Full Year Member Challenge Coin. This isn't a part of this quarter's box, but a promo coin for annual members that signed up in the initial sales period.
The coin came in a gorgeous Deadpool-colored ring box!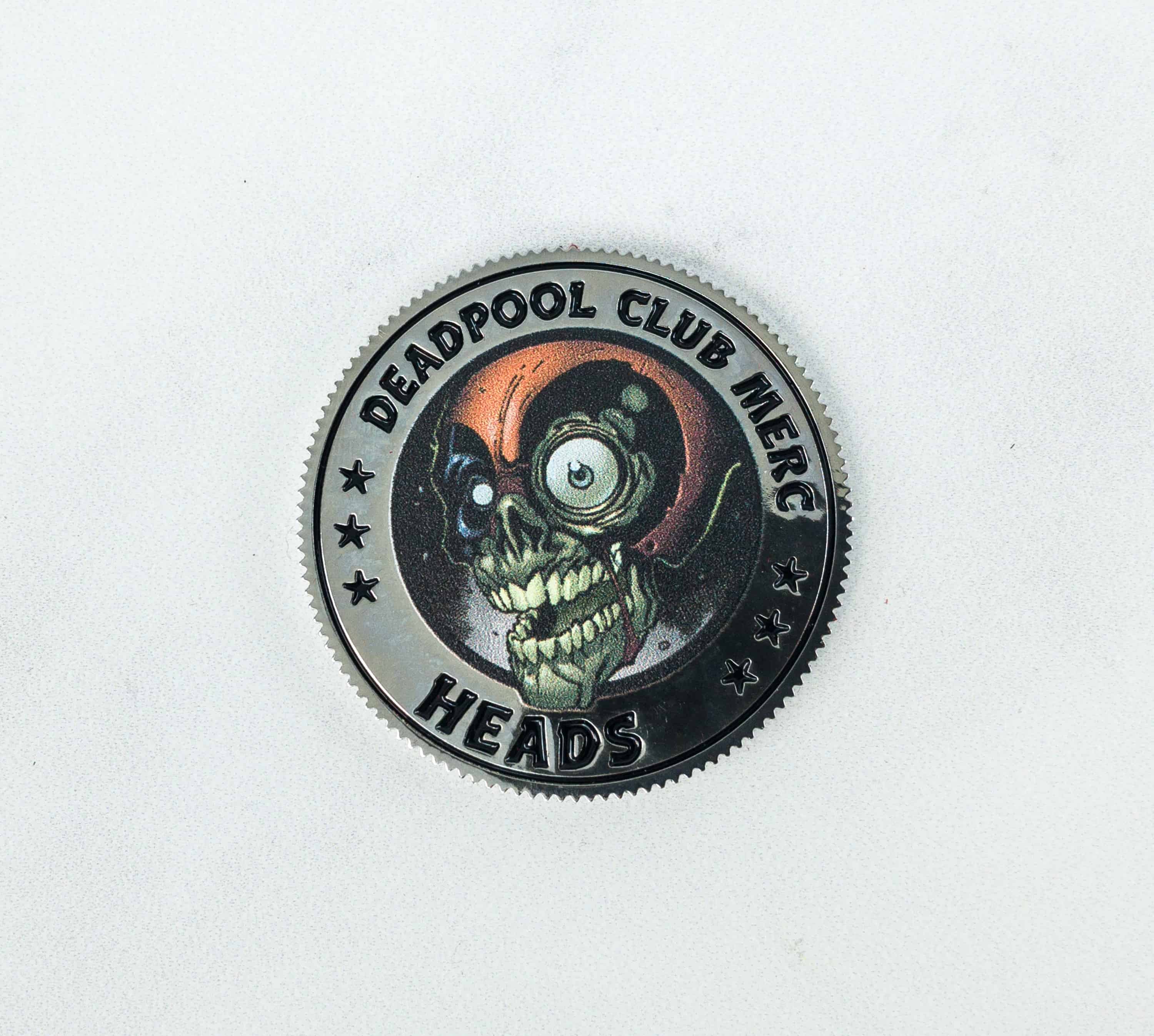 Of course, the heads part has Headpool on it! And what I love about this coin is that it's colored!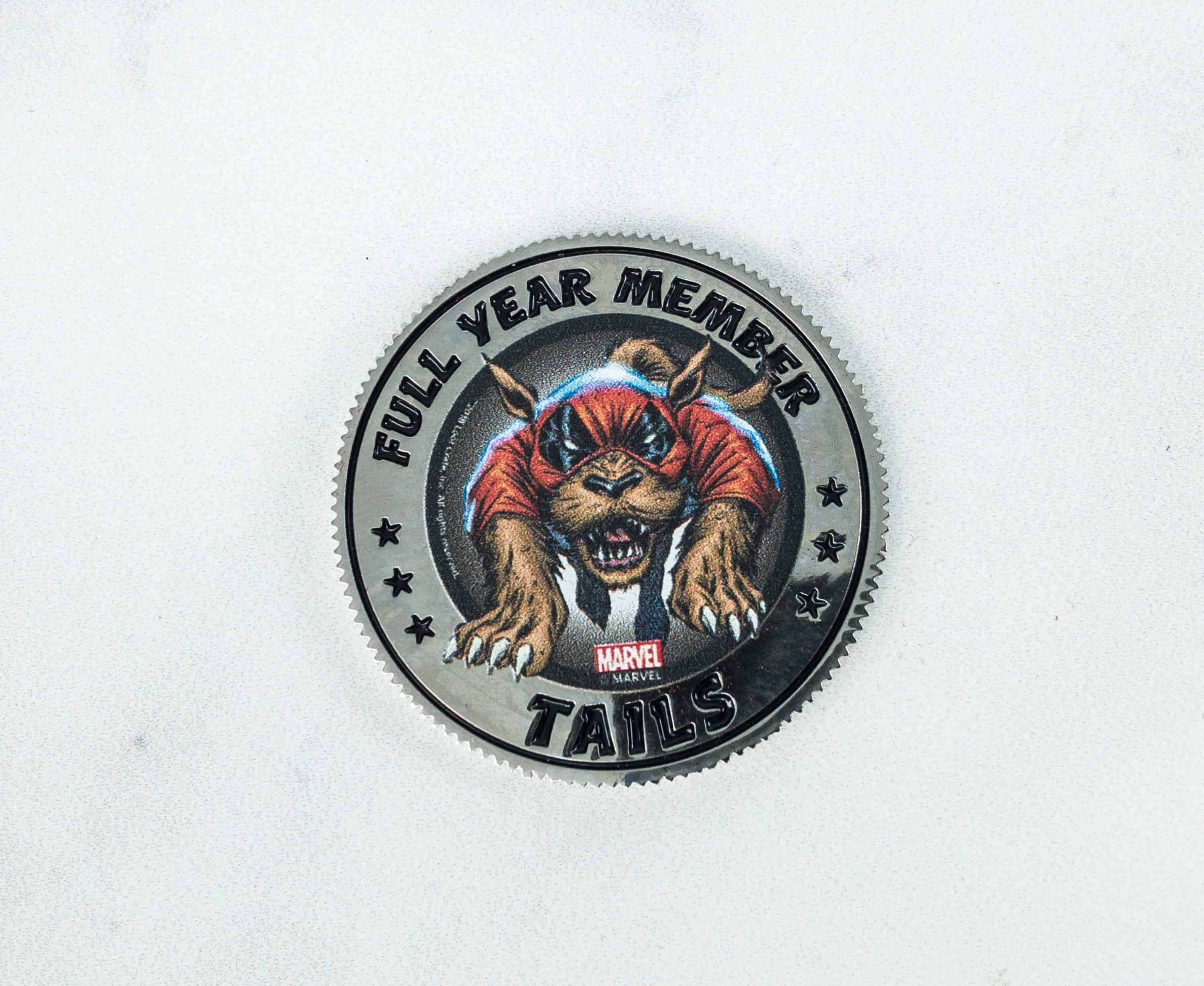 While the tails part featured Dogpool, which literally has a tail. I am a loud and proud member of this cool merc club!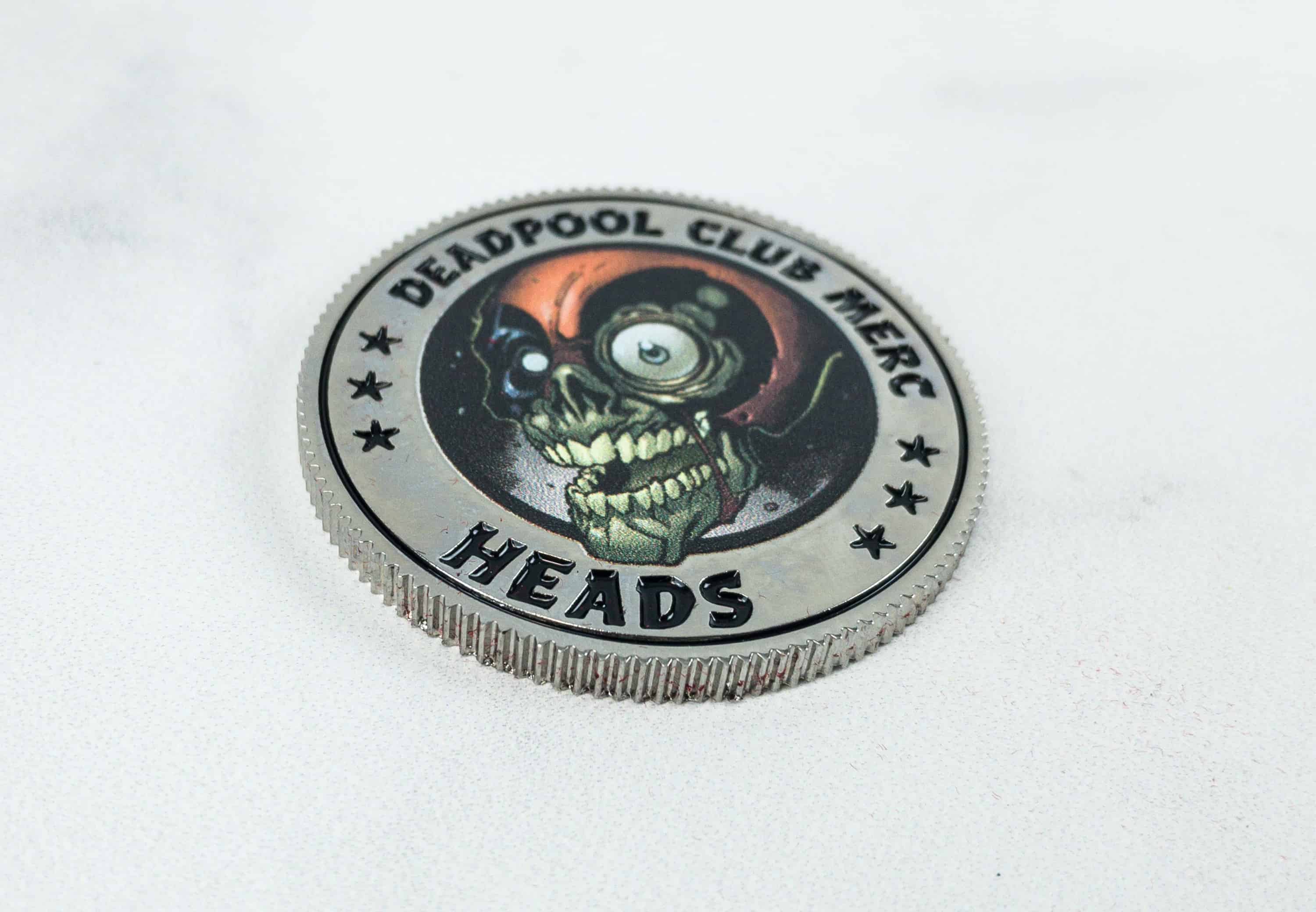 Like most coins, it has a ridged edge. This made the coin design's more intricate.
Deadpool Club Merc is definitely a box to beat when it comes to exclusive and one of a kind geek items, especially Deadpool-related ones! I love everything Deadpool, so finding one or two items from other boxes really doesn't satisfy me as a fan! I am so happy that they come up with a box dedicated to him, and now, I can have as many Deadpool items as I want! For this edition, everything is literally and figuratively sharp, especially the sketchbook-pencil-sharpener trio. The shirt also has some sharpness to it!  I am already excited for the next box!
What do you think of this quarter's Deadpool Club Merc?