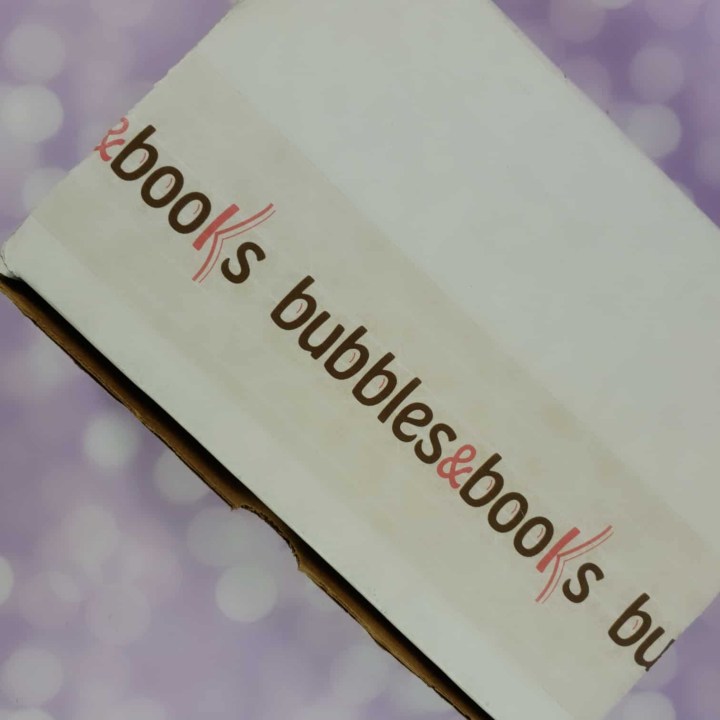 Bubbles & Books is a monthly subscription that sends a romance book and items to help you relax in your tub after a long day doing whatever you do. Need a break from the hectic workday? Step inside your bath/spa. Wrangling little ones under your feet? Time for a bit of me-time in the tub. What can you expect from this subscription?
Every box contains at least one romance novel, one artisan-crafted soap, and one other book- or bath-related goody. However, the majority of our boxes contain more than this!
Bubbles & Books is $24 a month plus shipping. My items this month were wrapped in pink tissue paper. Pink paper squiggles kept everything safe on the journey to my mailbox. Bubbles & Books has 3 options to choose from: The Bad Boy Box, The Luxe Paranormal Box, and The Swept Away Box.
DEAL: Get 10% off on your first box! Use coupon code SOAKME.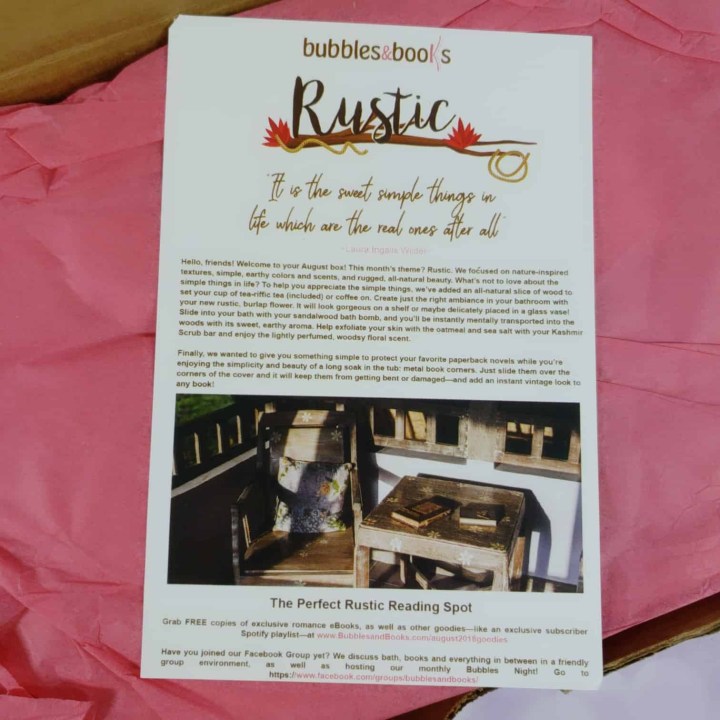 This month's box came with another of the tiny fonted notes telling us about the Rustic theme.
Dangerous The Outcasts by Minerva Spencer( $7.19) Sold into a Harem? I'm drawn in right away. I always find the English Season interesting and there is a fun twist with their respective pasts thrown in.
What sort of lady doesn't make her debut until the age of thirty-two? A timeless beauty with a mysterious past—and a future she intends to take into her own hands . . .

Lady Euphemia Marlington hasn't been free in seventeen years—since she was captured by Corsairs and sold into a harem. Now the sultan is dead and Mia is back in London facing relentless newspapermen, an insatiably curious public, and her first Season. Worst of all is her ashamed father's ultimatum: marry a man of his choosing or live out her life in seclusion. No doubt her potential groom is a demented octogenarian. Fortunately, Mia is no longer a girl, but a clever woman with a secret—and a plan of her own . . .

Adam de Courtney's first two wives died under mysterious circumstances. Now there isn't a peer in England willing to let his daughter marry the dangerously handsome man the ton calls The Murderous Marquess. Nobody except Mia's father, the desperate Duke of Carlisle. Clearly Mia must resemble an aging matron, or worse. However, in need of an heir, Adam will use the arrangement to his advantage . . .

But when the two outcasts finally meet, assumptions will be replaced by surprises, deceit by desire—and a meeting of minds between two schemers may lead to a meeting of hearts—if the secrets of their pasts don't tear them apart . . .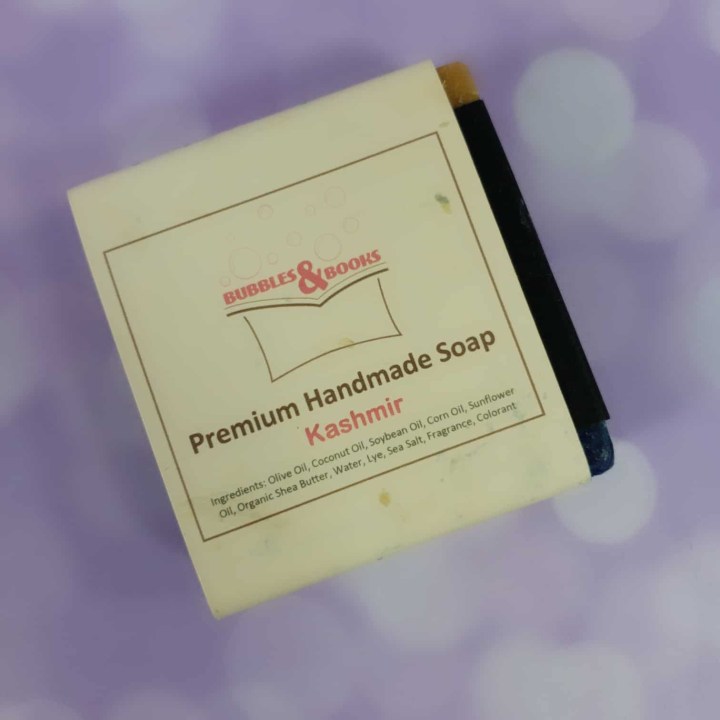 Kashmir Soap – Helo exfoliates your skin with the oatmeal and sea salt in the Kasmir Scrub bar this month. The soap is perfumed with woodsy floral scents.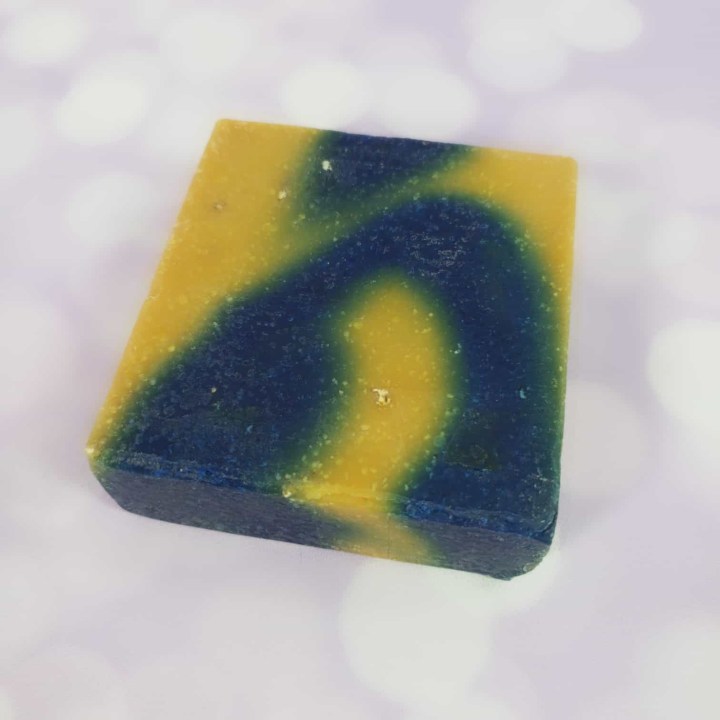 Look how gorgeous the soap is? I saw a bit peaking out of the side of the wrapping and I just had to open it up. These colors go so well together and really bring out a rustic vibe.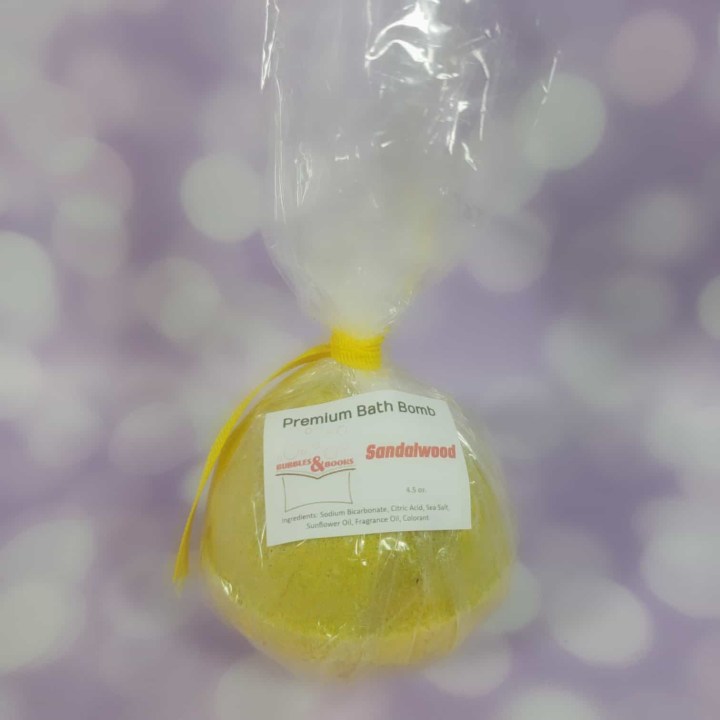 Sandalwood Bath Bomb – Sit down and soak into a hot bath full of woodsy, earthy scents with this month's bath bomb. Let it take you away to a cabin out in the woods. I can't wait to get some cooler weather to be transported.
Bringing in the rustic and earthy touches for the box we received a burlap flower and then to help protect our books while in the tub some fun metal book corners.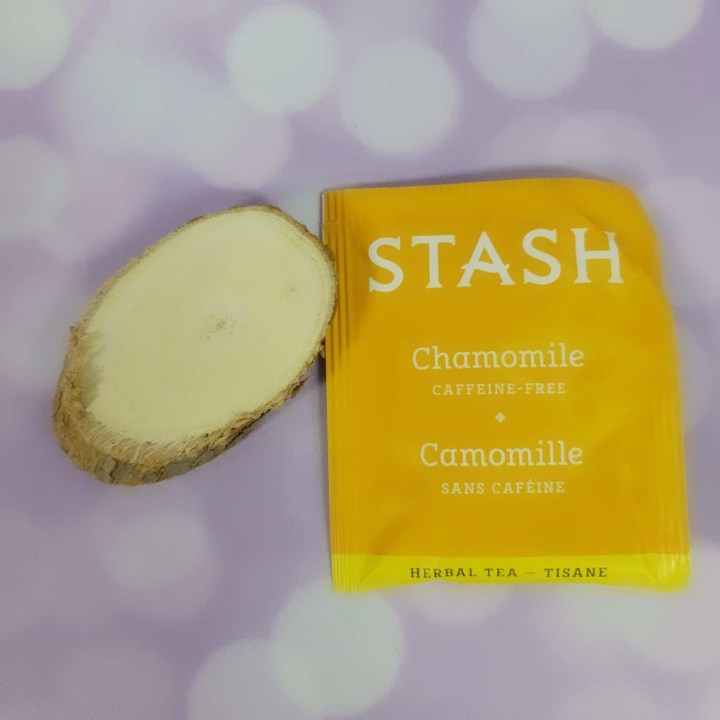 This month's tea is Camomille and to go with the tea we got a slice of wood to use as a coaster. This is a great idea and not one I've thought of but I would love to add some more of these around my house for people to use this fall.
This month's Bubbles & Books Rustic box is full of earthy elements and fantastic scents. The smells always catch me right when I open the box and keeps going as I wait for a night to tune it. This box gives me a good night in each month with all I'll need to relax and unwind: a HOT book, tea, and bath bombs.  What else would make my night in better?
What do you think of this month's box? How do you take a little me time each month?