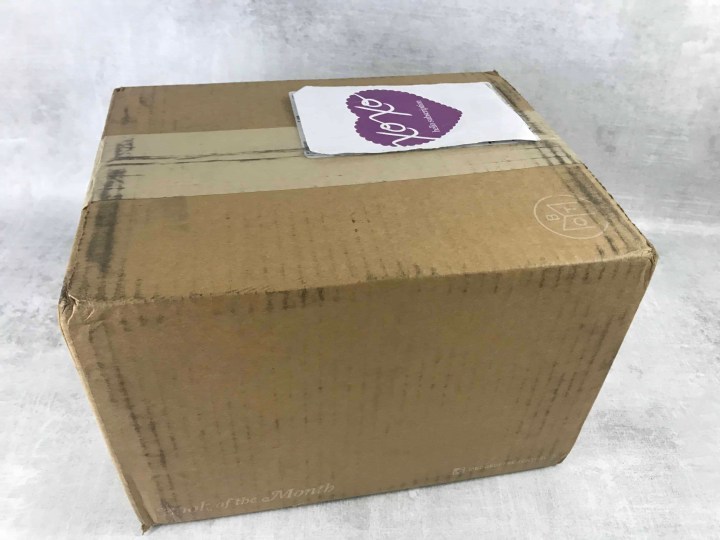 Book of the Month Club is a monthly book subscription box. Each month, their panel of judges selects 5 books, which they announce on the first of the month, and members have six days to decide which book (or books) they would like to receive. One book per month is included in the membership fee, and members can purchase up to two additional books each month for $9.99 per title. The subscription price is $14.99 per month.
The Book of the Month subscription includes one book per month – we were sent all five to examine. You can add on extra titles for $9.99 per book!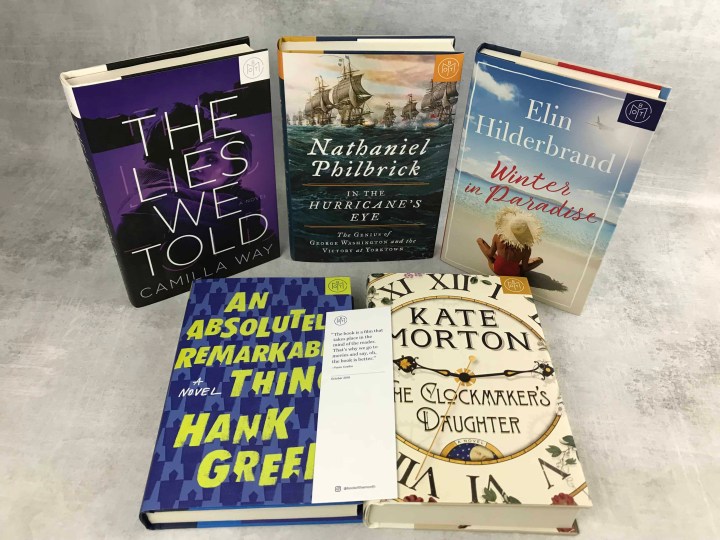 Here's how it works: Members will pay $14.99 when they sign up for a subscription that will renew monthly. Their first month is free, and their second month is covered by their upfront payment of $14.99. Then they'll be renewed at the end of their second month (unless they cancel).
Members who sign up for 12 months will pay $149.99/year. That's $12.50/book, instead of the standard price of $14.99.
DEAL: Book of the Month has a new coupon code to get a free month/book with your subscription when you use code SUGARHIGH  at checkout!
The Clockmaker's Daughter: A Novel by Kate Morton ($16.80)
My real name, no one remembers.
The truth about that summer, no one else knows.

In the summer of 1862, a group of young artists led by the passionate and talented Edward Radcliffe descends upon Birchwood Manor on the banks of the Upper Thames. Their plan: to spend a secluded summer month in a haze of inspiration and creativity. But by the time their stay is over, one woman has been shot dead while another has disappeared; a priceless heirloom is missing; and Edward Radcliffe's life is in ruins.

Over one hundred and fifty years later, Elodie Winslow, a young archivist in London, uncovers a leather satchel containing two seemingly unrelated items: a sepia photograph of an arresting-looking woman in Victorian clothing, and an artist's sketchbook containing the drawing of a twin-gabled house on the bend of a river.

Why does Birchwood Manor feel so familiar to Elodie? And who is the beautiful woman in the photograph? Will she ever give up her secrets?

Told by multiple voices across time, The Clockmaker's Daughter is a story of murder, mystery, and thievery, of art, love and loss. And flowing through its pages like a river, is the voice of a woman who stands outside time, whose name has been forgotten by history, but who has watched it all unfold: Birdie Bell, the clockmaker's daughter.
An Absolutely Remarkable Thing: A Novel by Hank Green ($15.60)
The Carls just appeared.

Roaming through New York City at three a.m., twenty-three-year-old April May stumbles across a giant sculpture. Delighted by its appearance and craftsmanship—like a ten-foot-tall Transformer wearing a suit of samurai armor—April and her friend, Andy, make a video with it, which Andy uploads to YouTube. The next day, April wakes up to a viral video and a new life. News quickly spreads that there are Carls in dozens of cities around the world—from Beijing to Buenos Aires—and April, as their first documentarian, finds herself at the center of an intense international media spotlight.

Seizing the opportunity to make her mark on the world, April now has to deal with the consequences her new particular brand of fame has on her relationships, her safety, and her own identity. And all eyes are on April to figure out not just what the Carls are, but what they want from us.

Compulsively entertaining and powerfully relevant, An Absolutely Remarkable Thing grapples with big themes, including how the social internet is changing fame, rhetoric, and radicalization; how our culture deals with fear and uncertainty; and how vilification and adoration spring for the same dehumanization that follows a life in the public eye. The beginning of an exciting fiction career, An Absolutely Remarkable Thing is a bold and insightful novel of now.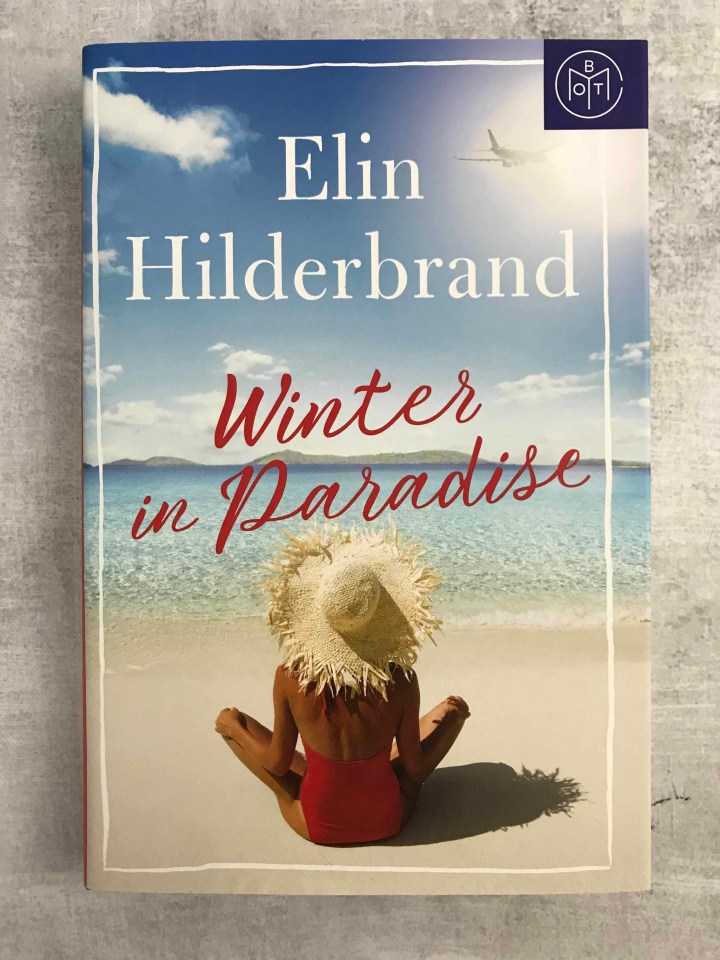 Winter in Paradise by Elin Hilderbrand ($16.80)
A husband's secret life, a wife's new beginning: escape to the Caribbean with New York Times bestselling author Elin Hilderbrand.

Irene Steele shares her idyllic life in a beautiful Iowa City Victorian house with a husband who loves her to sky-writing, sentimental extremes. But as she rings in the new year one cold and snowy night, everything she thought she knew falls to pieces with a shocking phone call: her beloved husband, away on business, has been killed in a plane crash. Before Irene can even process the news, she must first confront the perplexing details of her husband's death on the distant Caribbean island of St. John.

After Irene and her sons arrive at this faraway paradise, they make yet another shocking discovery: her husband had been living a secret life. As Irene untangles a web of intrigue and deceit, and as she and her sons find themselves drawn into the vibrant island culture, they have to face the truth about their family, and about their own futures.

Rich with the lush beauty of the tropics and the drama, romance, and intrigue only Elin Hilderbrand can deliver, Winter in Paradise is a truly transporting novel, and the exciting start to a new series.
The Lies We Told: A Novel by Camilla Way ($11.00)
The highly acclaimed author of Watching Edie returns with a new novel of dark psychological suspense that explores how those closest to us have the most to hide…

A daughter
Beth has always known there was something strange about her daughter, Hannah. The lack of emotion, the disturbing behavior, the apparent delight in hurting others…Sometimes Beth is scared of her and what she could be capable of.

A son
Luke comes from the perfect family, with the perfect parents. But one day, he disappears without a trace, and his girlfriend, Clara, is desperate to discover what has happened to him.

A life built on lies
As Clara digs into the past, she realizes that no family is truly perfect, and uncovers a link between Luke's long-lost sister and a strange girl named Hannah. Now Luke's life is in danger because of the lies once told and the secrets once kept. Can Clara find him before it's too late?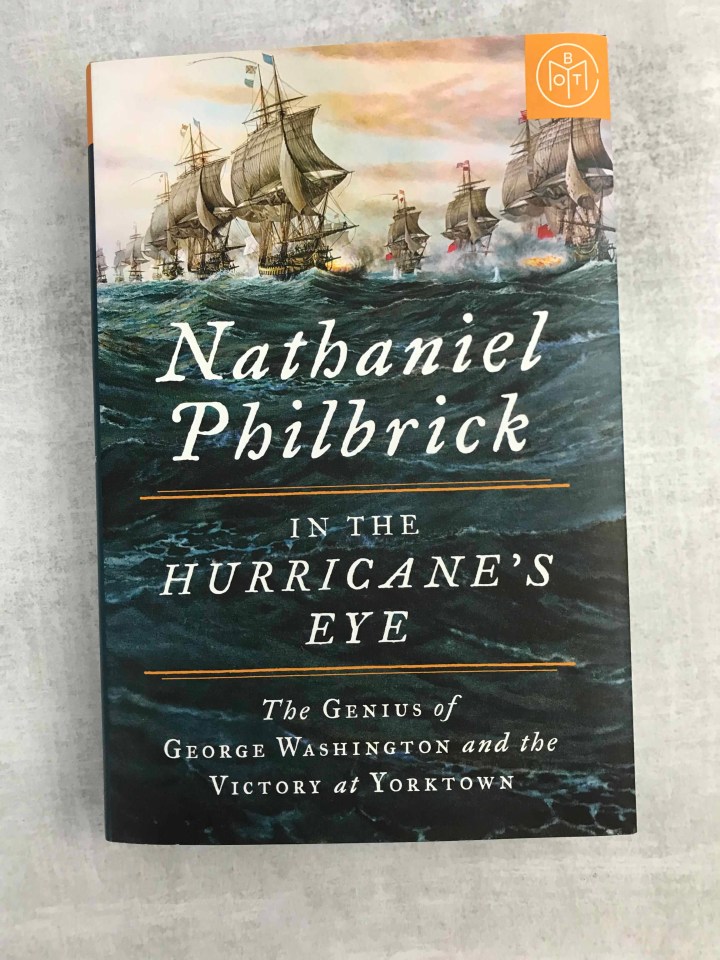 In the Hurricane's Eye: The Genius of George Washington and the Victory at Yorktown by Nathaniel Philbrick ($19.49)
The thrilling story of the year that won the Revolutionary War from the New York Timesbestselling author of In the Heart of the Sea and Valiant Ambition

In the fall of 1780, after five frustrating years of war, George Washington had come to realize that the only way to defeat the British Empire was with the help of the French navy. But as he had learned after two years of trying, coordinating his army's movements with those of a fleet of warships based thousands of miles away was next to impossible. And then, on September 5, 1781, the impossible happened. Recognized today as one of the most important naval engagements in the history of the world, the Battle of the Chesapeake–fought without a single American ship–made the subsequent victory of the Americans at Yorktown a virtual inevitability.

In a narrative that moves from Washington's headquarters on the Hudson River, to the wooded hillside in North Carolina where Nathanael Greene fought Lord Cornwallis to a vicious draw, to Lafayette's brilliant series of maneuvers across Tidewater Virginia, Philbrick details the epic and suspenseful year through to its triumphant conclusion. A riveting and wide-ranging story, full of dramatic, unexpected turns, In the Hurricane's Eye reveals that the fate of the American Revolution depended, in the end, on Washington and the sea.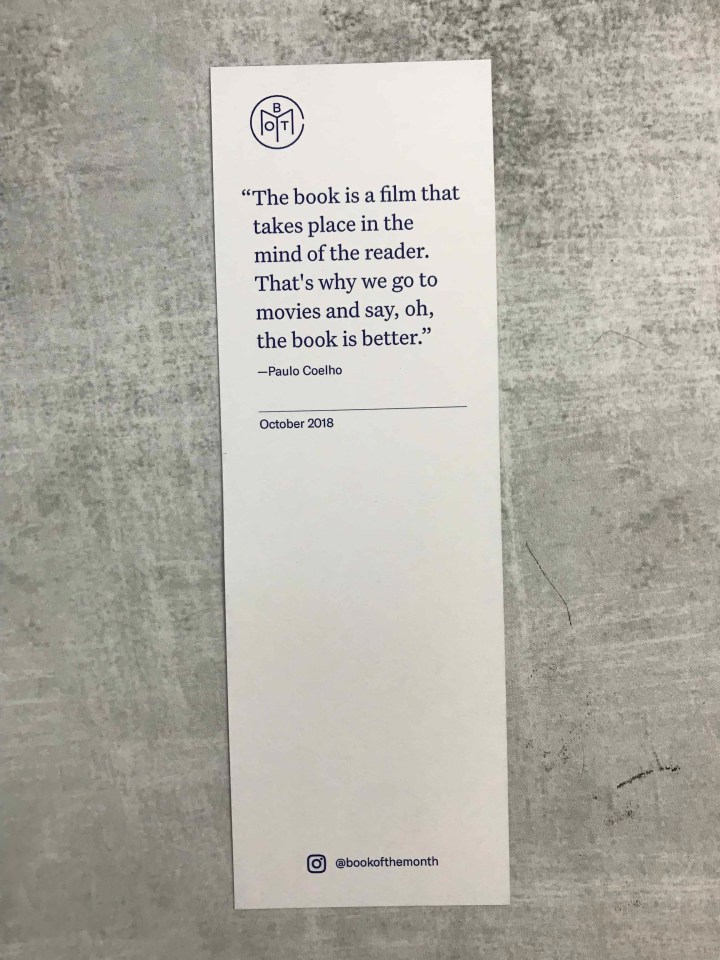 And a bookmark, this subscription wouldn't be complete without one of these!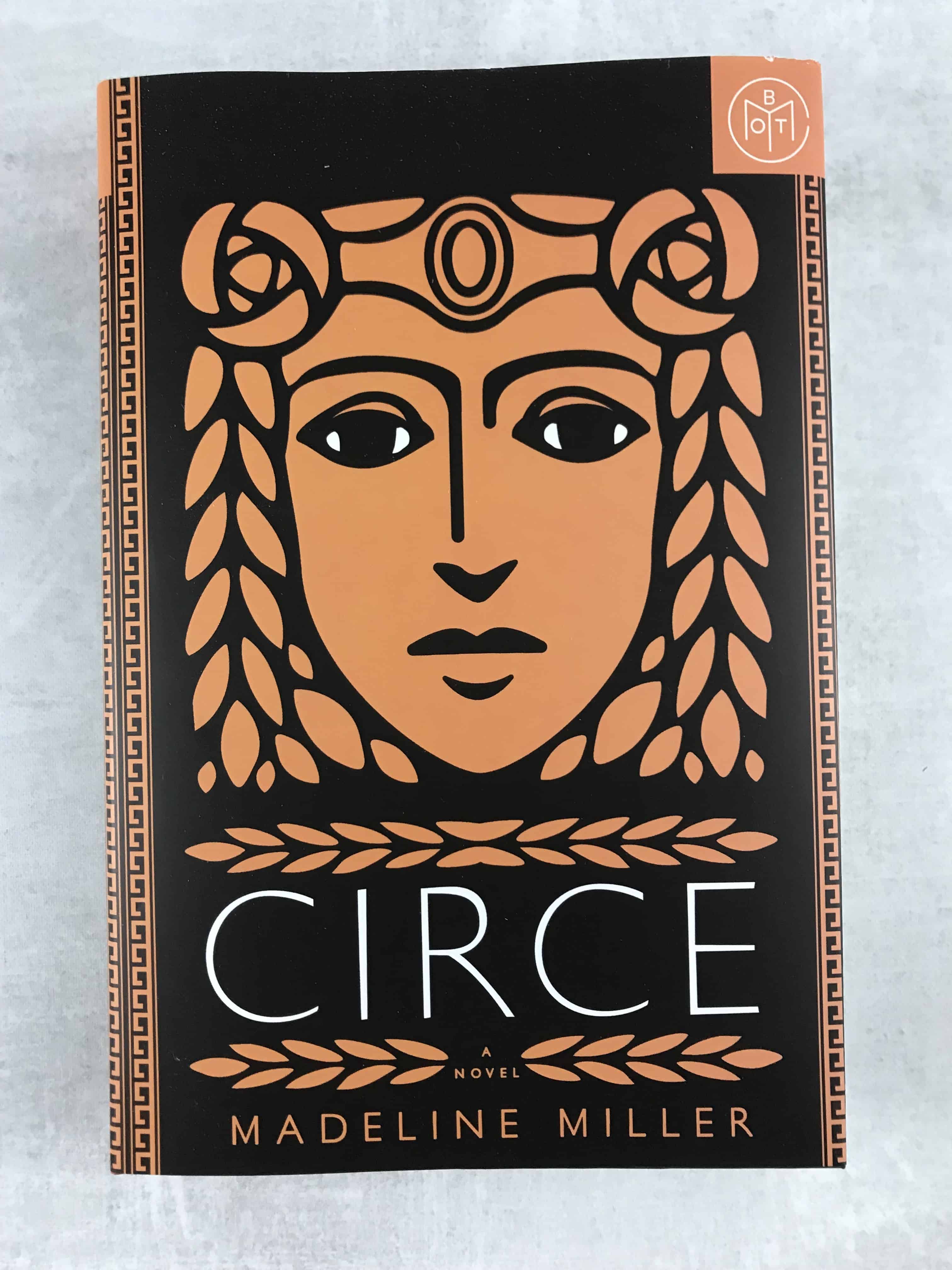 BOTM is amazing – bringing a splash of so many different genres to my door in one very heavy box (the add-ons are a must if you read a lot!). I love that each book is hard-covered and how each jacket is made just for BOTM. BOTM keeps me up to date with new authors and most importantly new books. I love this subscription! It's my personal challenge each month to get through all of these wonderful titles before the next box arrives. Normally it's a pretty tight race.
What do you think of this month's book selections?