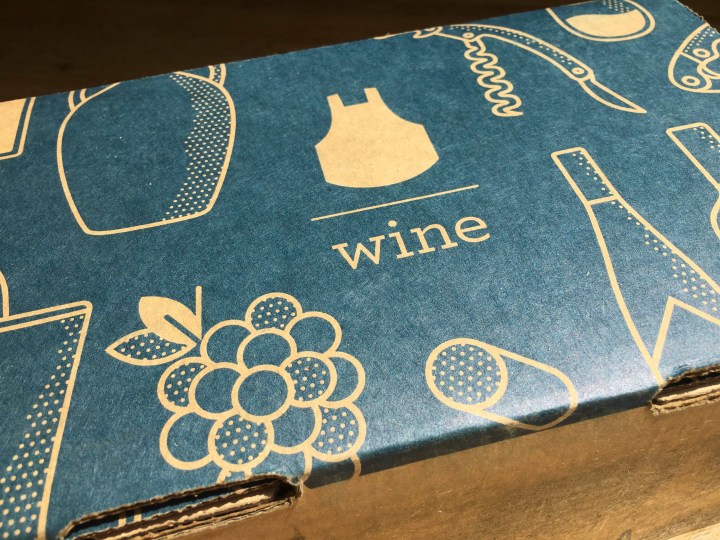 Blue Apron Wine is a subscription for people who love trying new wines as much as they love great food. You may be familiar with the Blue Apron Meal Delivery Kit subscription, which sends boxes of fresh ingredients to make exciting meals at home. The wine subscription is separate from the meal subscription, but it's designed to complement it.
Here's how it works: every month, for about $11 per bottle ($65.99/month, including shipping and tax), Blue Apron sends you 6 bottles of wine, plus tasting notes and pairing recommendations. The wines are selected to pair perfectly with the meals in the Blue Apron kits. The bottles are 500 ml, or 2/3 the size of a standard bottle, which, in addition to being adorable, means that you and your dining partner can enjoy your entire bottle with your meal without regretting that additional glass needed to finish a standard-sized bottle.
Blue Apron pairs with wineries around the world to bring a wide range of new and interesting wines to you each month. I love wine, and I love food, and I love everything about the idea of this subscription.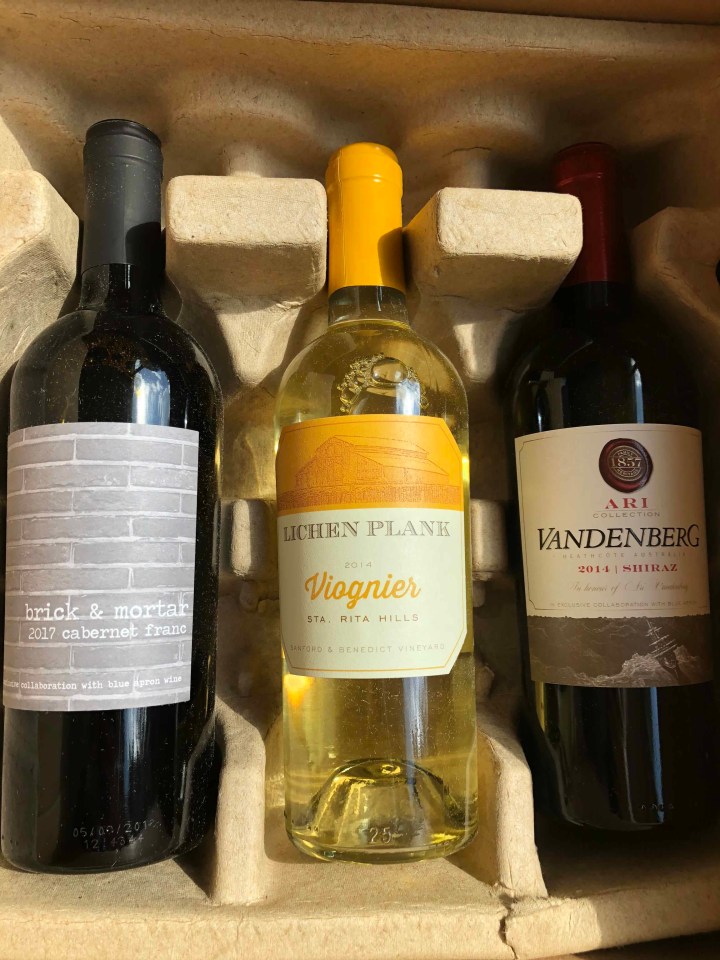 The new packaging is great and keeps everything snug and secure. Keep in mind that someone 21+ will need to sign for it. Everything is in great shape when it arrives, and the packaging remains, happily, recyclable cardboard.
Blue Apron Wine allows you to select your wines–you can go all white, red, or mix it up. There are lots of choices, and it's easy to change it up. I went with the recommended selections this month.
DEAL: You can try out your first box of Blue Apron dinners for $30 off with this link.
If you're wondering what a 2/3-sized bottle looks like, here is one of the bottles with a standard-sized bottle next to it. You'll get about 3 1/2 standard glasses in a bottle, or a generous pour plus a top-off each if you're with a partner.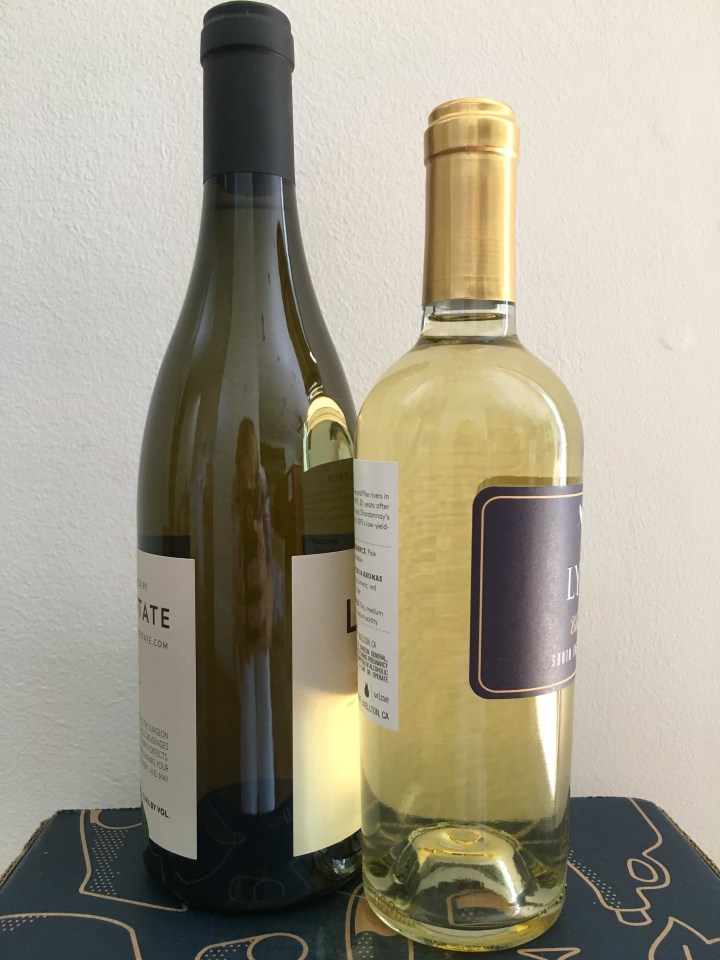 Each box comes with a great collection of tasting notes. Blue Apron tells you a little bit about the winery and how the bottle was made, plus the region at large. Because come on, you didn't REALLY know where the Central Coast was, did you? The info details the color, body, and structure of the wine, and also gives some thoughtful food pairings for each bottle. The info is terrific – wine is not scary, and tasting it should be fun and informative. Data is your friend.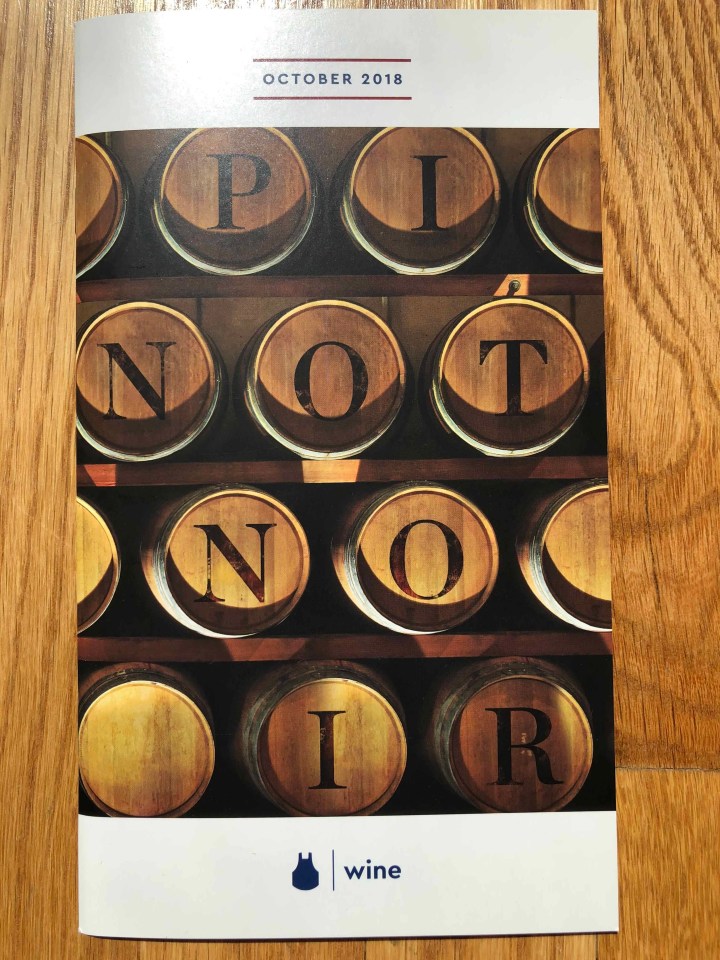 It's October!  And it's still 85 degrees in the South!  BA might be celebrating all things Pinot Noir (a little notice, guys? I could have done a themed review box), but here it's still screened-porch-because-the-mosquitos-just-won't-die outdoor eating.  (We'll get to those cozy reds next month!)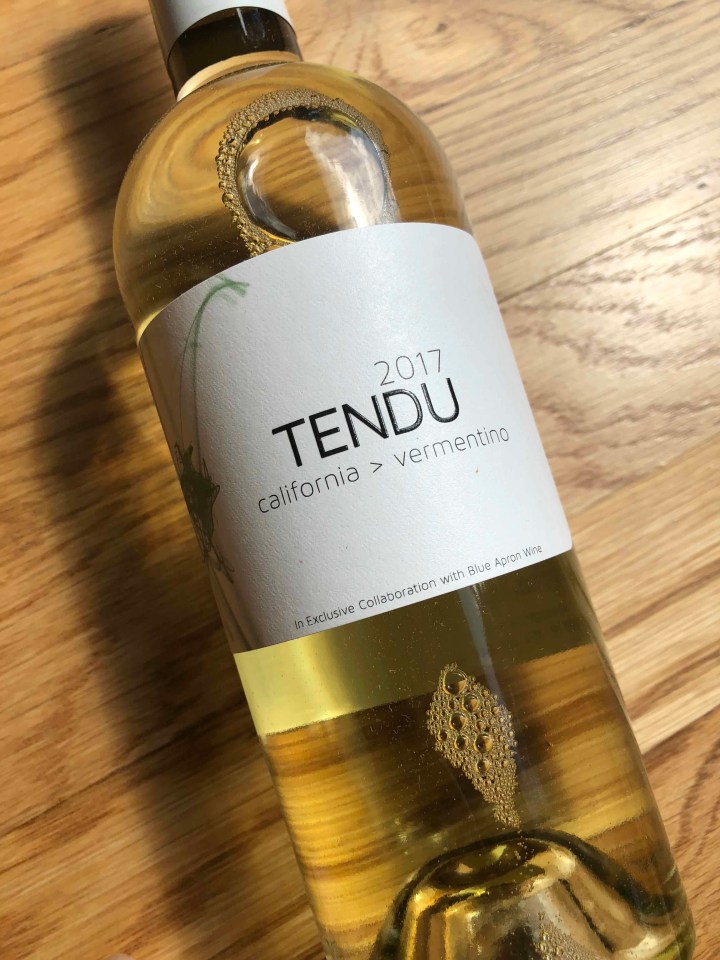 First up is a repeat visit from my pal Steve Matthiasson and what is surely the last of the delicious, summery 2017 Tendu Vermentino. I reviewed this bottle back in April, but I can't give up on summer whites when it's still summer around here.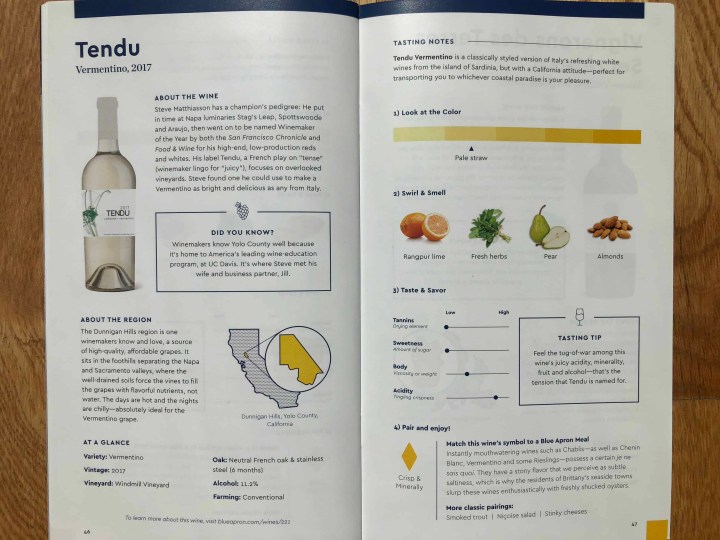 As I said in April, this is one of those "exclusive collaboration" bottlings, but I have seen this one on the shelves, in a fun beer-topped liter bottle.  This wine is pale yellow, with a light nose of citrus and herb.  Vermentino is like Sauvignon Blanc at the beach, and this is a great expression of that grape, with a low 11.9% ABV that won't overwhelm you or your meal.  It's light, it's easy, it's delicious.  Drink it cold with some carrots and ranch dip.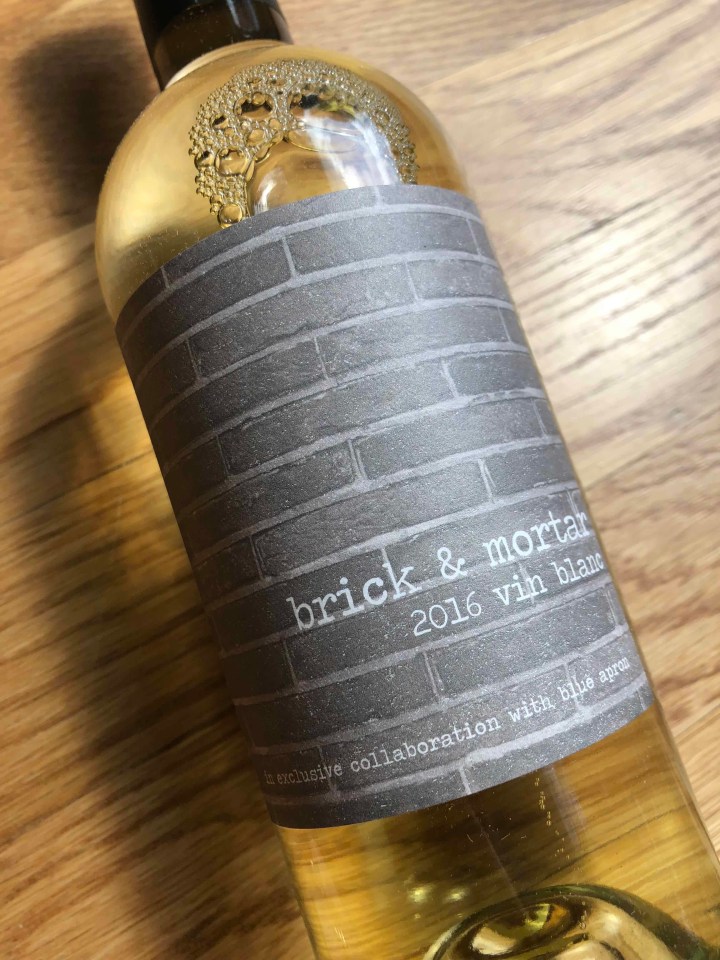 Our second white is from Matt Iaconis, BA's current favorite collaborator, the 2016 Brick and Mortar Vin Blanc. This one is a white blend from Lodi, mostly Chardonnay lightened up with some Chenin Blanc.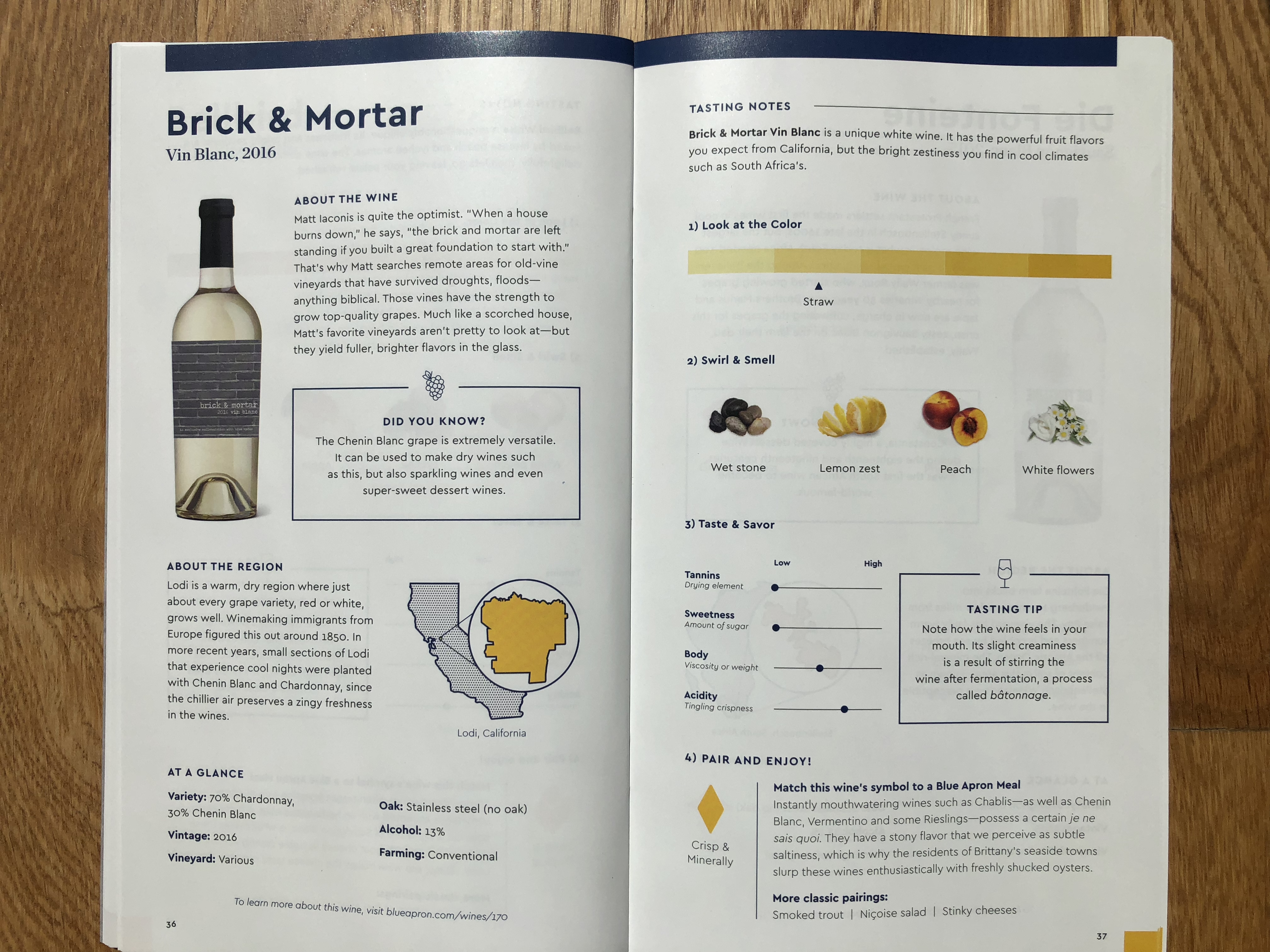 The Vin Blanc is a light/medium straw color, with a surprisingly dry citrus nose.  It has a medium body but a big acidic finish, which makes it feel zippy.  The citrus leads and carries into some more chard-like stone fruit, before finishing sharply with more citrus and stone.  There is a lot going on here, and I'm not sure it all works, but it's an interesting wine to drink.  We had it with grilled chicken sandwiches, and that worked pretty well.  I'd keep this cool–the fruitiness became a little overwhelming when it warmed up in the glass.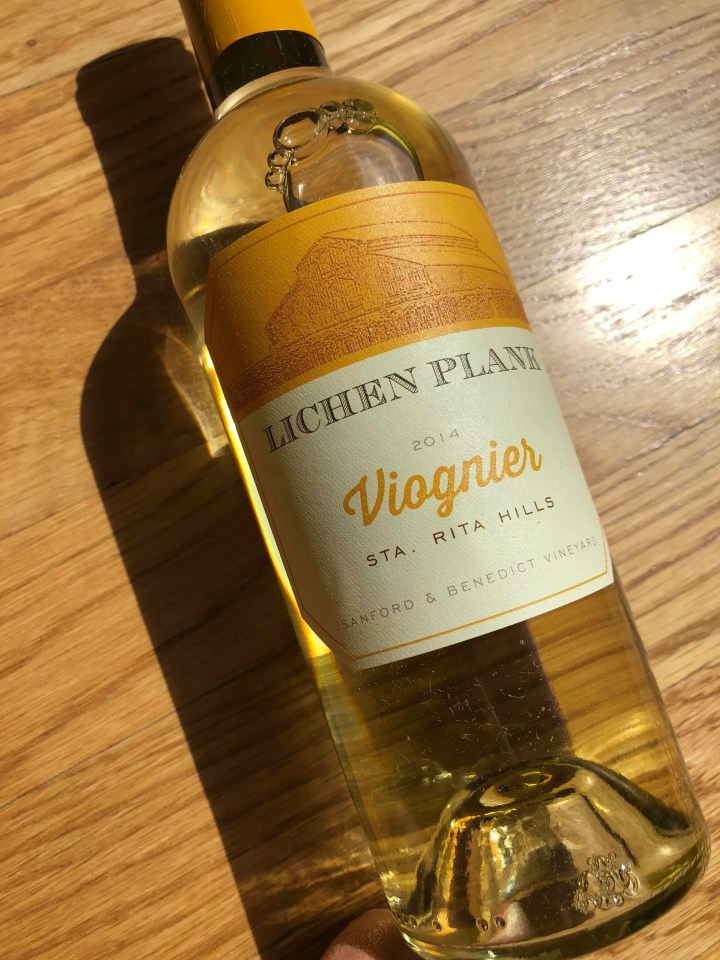 Our last white comes to us from the golden shores of Santa Barbara, the 2014 Lichen Plank Viognier. (Don't call it Vye-og-ner like my 9-year -old just did). Viognier is reminiscient of Chardonnay, and like, Chardonnay, can be oaky and buttery or lean and minerally.  This one literally references butterscotch and buttered toast in the flavor profile, so you can guess where we land on the spectrum.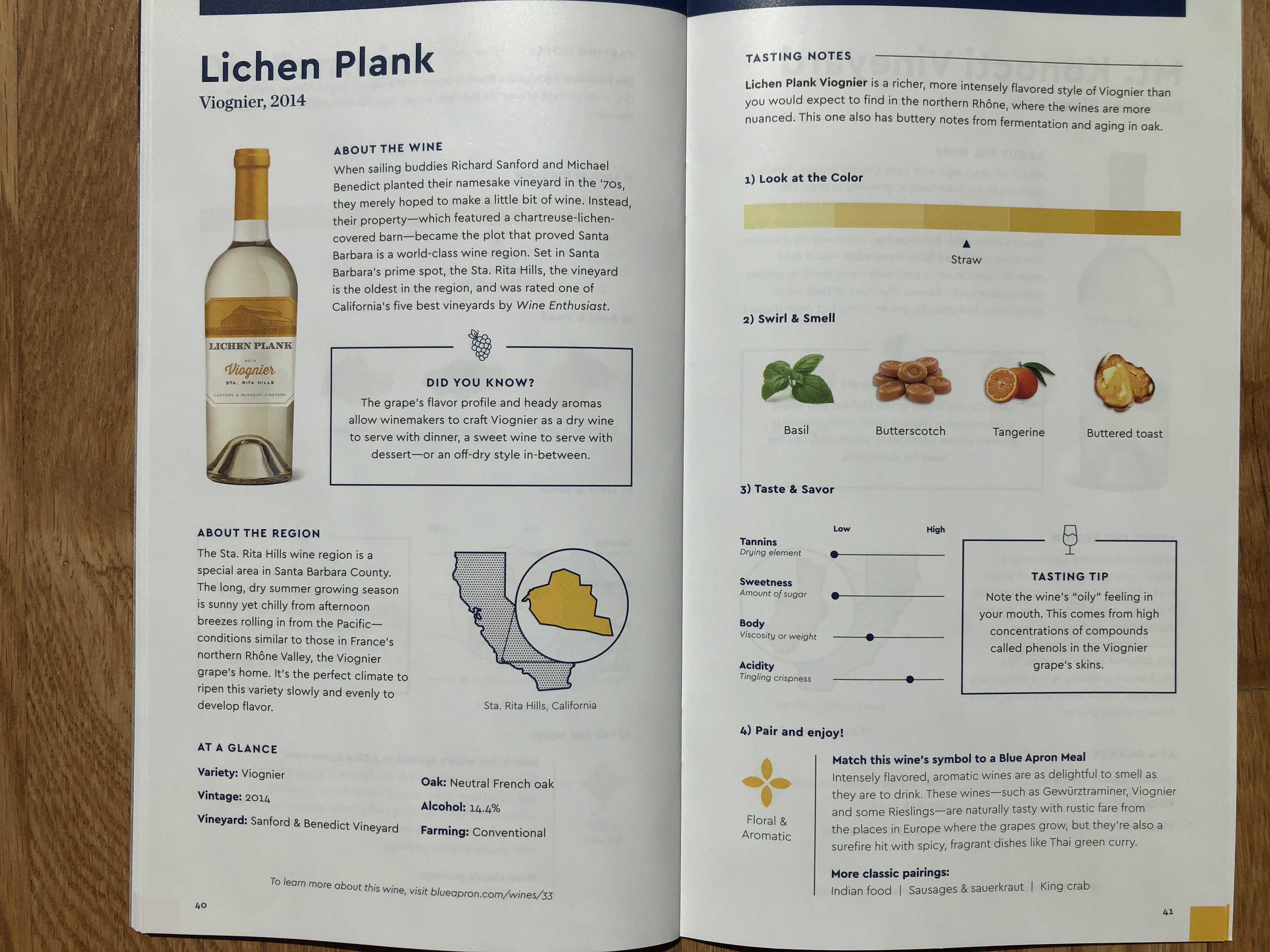 The Lichen Plank is golden yellow in the glass and lighter on the tongue than you might expect, but it does have that lingering oiliness that's characteristic of viognier. The nose is huge with oaky fruit, and that flavor carries through the finish, which is oaky, buttery, and a bit heavy from that 14.4%ABV.  If you like those giant Chardonnays from southern Cal, you will probably like this!  Maybe lean into the flavor profile with some oven-roasted salmon or lobster rolls.  (I mean, I'd drink about anything with a good lobster roll).  Cool but not cold here.
Onward to red wine, which still seems a little heavy in the South but I assume it's not oppressively summer everywhere.  Go forth into a crisp afternoon of leaf jumping and then retreat home to our first red, the 2017 Brick and Mortar Cabernet Franc.  Actually, Cab Franc is not all that leaf-jumpy of a varietal, so maybe save that for a Pinot Noir.  Cab Franc is a zippy, tannic red that goes with anything food.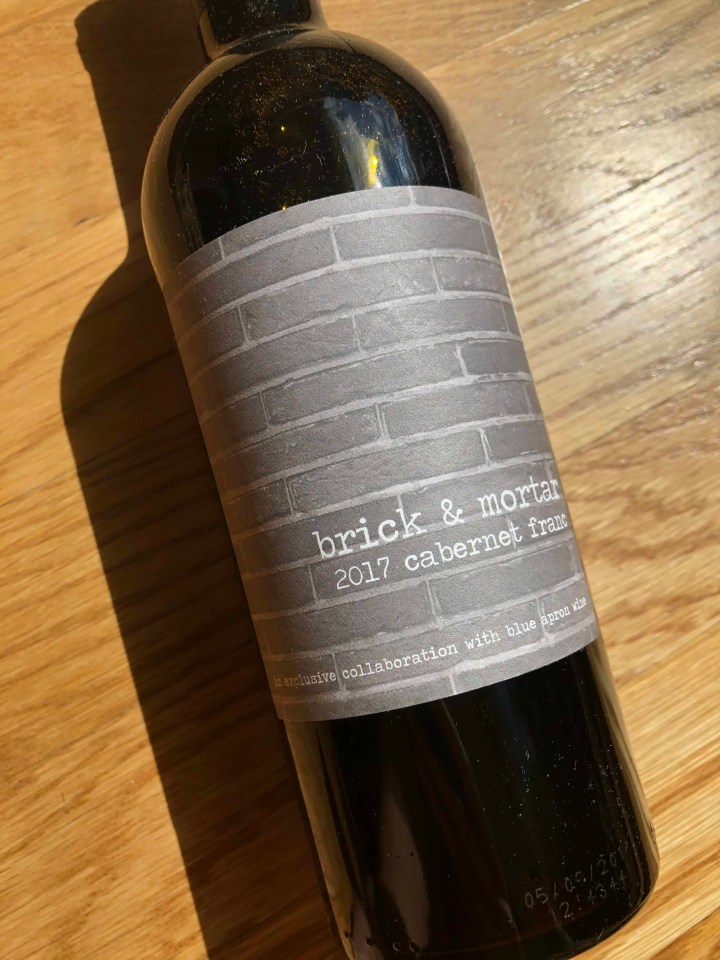 The Brick and Mortar is a dark purple in the glass with a heavier body than typical for Cab Franc. This one has tons of dark fruit and herb on the nose.  The flavor is big, too, with more berry and herb and a fairly short finish with some oak and more herbs.  This tastes like a Cab Franc that dressed up like a Syrah for Halloween, which is not necessarily a bad thing.  We had this with black bean skillet chili on a Tuesday, and it worked.  Cool room temperature.
Our next red is from Willamette Valley, Oregon, the 2016 Anthesis Pinot Noir. Pinot noir is everyone's go-to red, which means that it can be sweetish and insipid. This one's origins are a little vague–the vineyard is identified but not the winemaker. Mysterious.
The Anthesis is a medium red in the glass, with a nice body and a medium nose of dark fruit and spice.  The mouthfeel has the typical smooth velvetiness of a Pinot Noir.  The flavor is subtle, with warm notes of pepper and a little earthiness (mushroom?) at the tail end.  The finish is short and smooth.  This is a pretty nice wine, not complicated, but balanced and relatively sophisticated.  And, I admit it, it is a nice autumn wine.  It would go nicely with pork, of course, or any grilled meat.  Cool room to room temperature for this.
Our last wine this month is a Shiraz from Australia, the 2014 Ari Vandenberg.  I drank a lot of kangaroo-labeled Shiraz back when I was a new grownup, but I don't drink it as often anymore (and never with the kangaroo label).  It can be a great food wine, though the Australian-style ones can overwhelm your meal if you're not careful.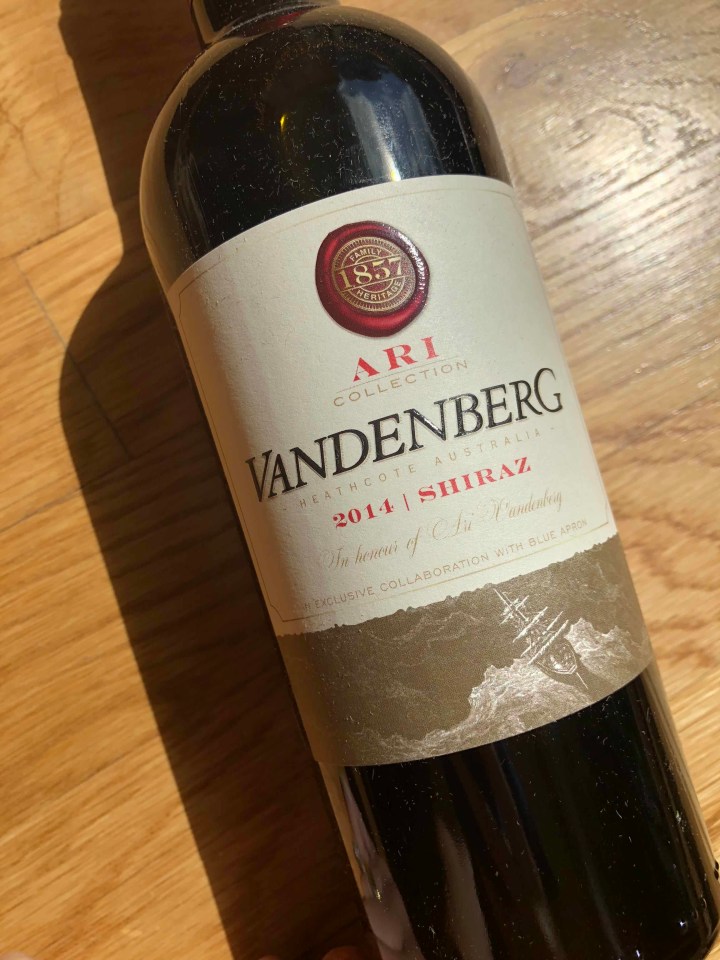 As is typical of Shiraz, the Ari Vandenberg is dark, dark purple in the glass–really pretty!–with a nose of dark fruit and a very heavy body.  The ABV on this wine is not as high as you might fear for a dark and heavy Shiraz, only 14.1%.  The flavors are fruity but not sweet, with some herbal notes to the finish, which is long and tannic.  This is nice, not junky or overdone at all.  We had it with pizza and it was a great way to finish Sunday, but it would also go great with a burger or black bean soup (if you must, because, fall).  Cool room to full room temperature.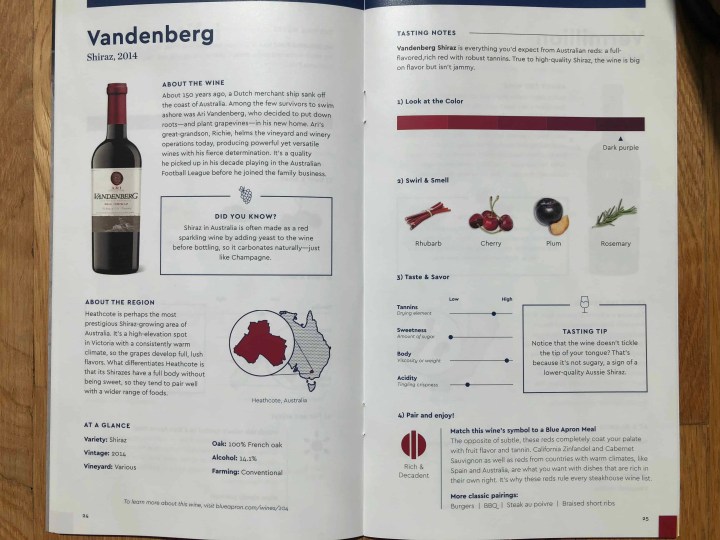 And that's October! We had a fun variety of light-summer to full-fall wines as a great transition to a new season  Now we just need the weather to cooperate!  Next month is all red in anticipation of Thanksgiving, so see you then!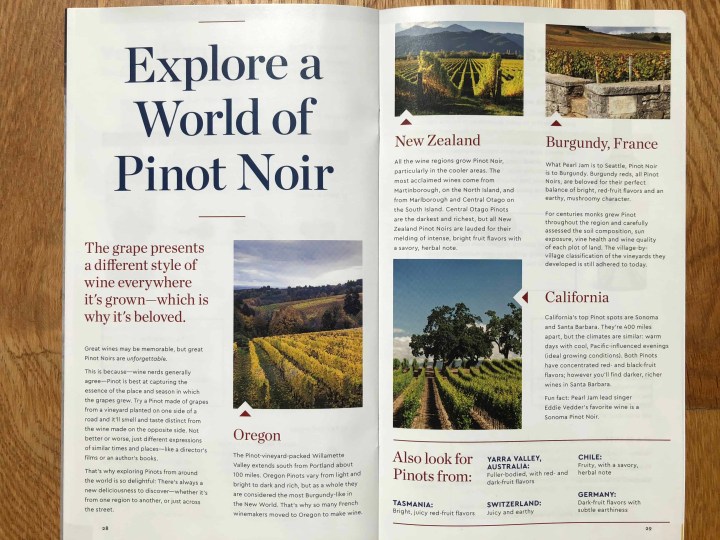 By the way, Blue Apron has an easy system for pairing its wines and its food subscriptions, somewhat like you might have seen in nicer grocery stores — the wines are categorized by type (crisp & minerally, plush & fruity, etc.) and then that symbol shows up on the food recipes. Pair any wine of the recommended type to the food, and voila — you have a great meal!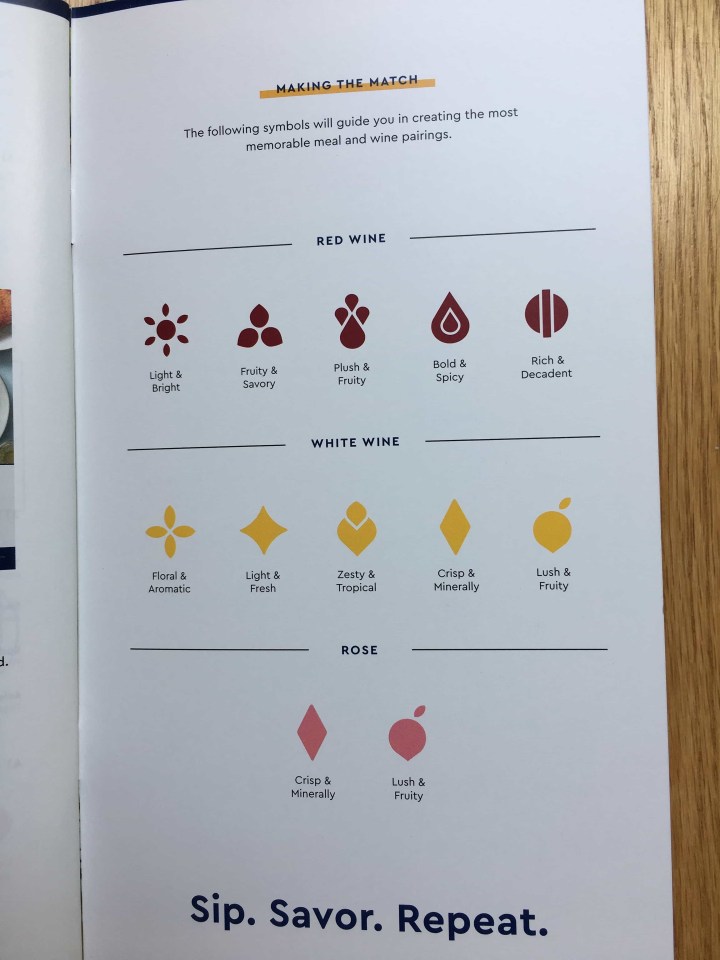 Have you tried Blue Apron Wine? What's your favorite fall wine? Tell us in the comments below!