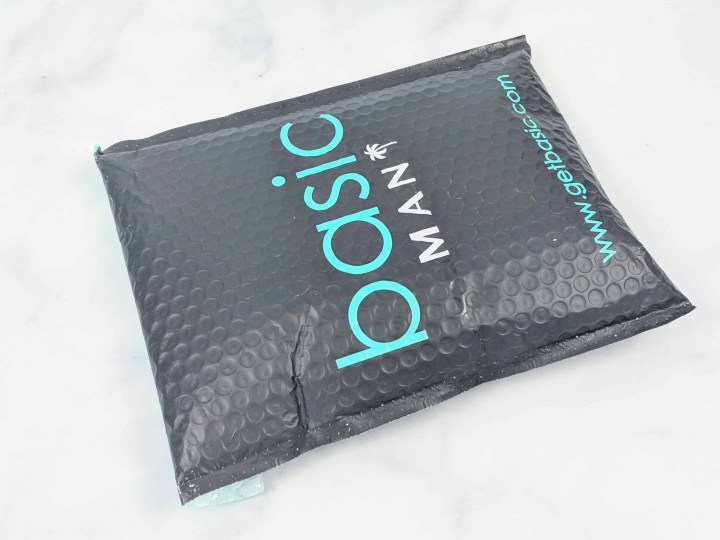 Basic MAN is a men's monthly subscription box that will send you three basics: socks, boxer-briefs, and a t-shirt. The box is $19.99 a month and shipping is free for US subscribers and they ship worldwide ($5 to Canada). All you have to do is to choose your size and you are set! Styles will vary from month to month, but nothing too crazy!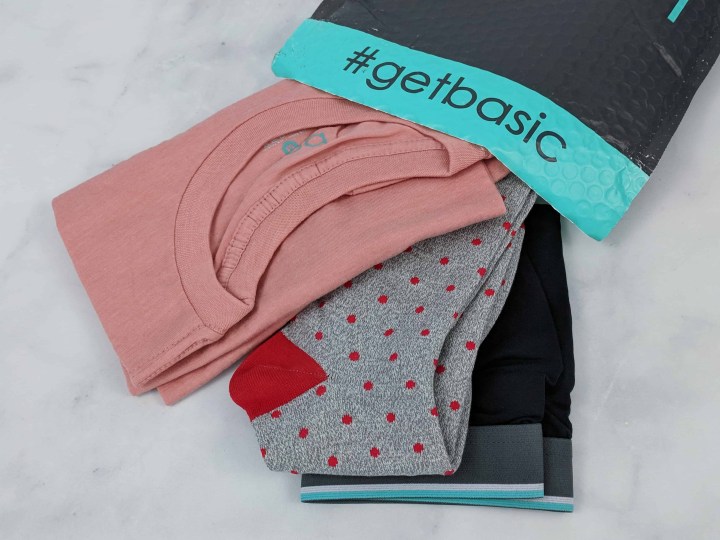 For October, we received the basics in salmon, black and grey!
DEAL: Save 50% on your first month with coupon code HELLO50.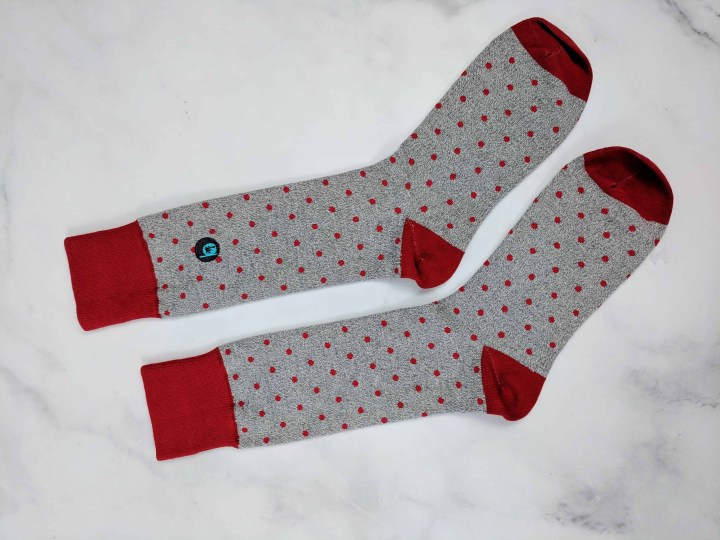 The socks are long but they are soft and not too thin. At first, I thought the dots were little hearts, but they are simple red dots. We love this design for fall, with the red and grey. The logo (a palm tree) is stitched to the socks, but it's subtle and cute. The socks are made with a blend of cotton, polyester, and elastic.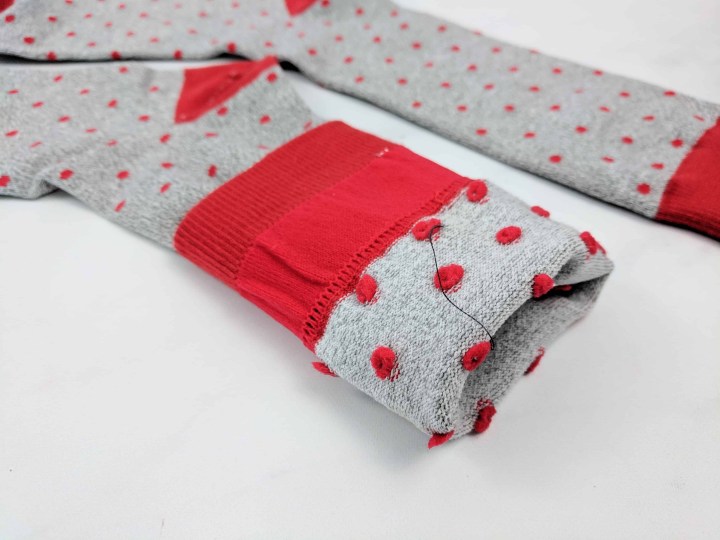 The inside is well made and the dots are stitched on!
Next is a pair of boxer briefs which came in black with a grey elastic band. The fabric is quite light and soft. My husband really likes the light feeling, while keeping everything in check. Even though this box got my husband into colorful underwear, it's still nice to have basic blacks as well!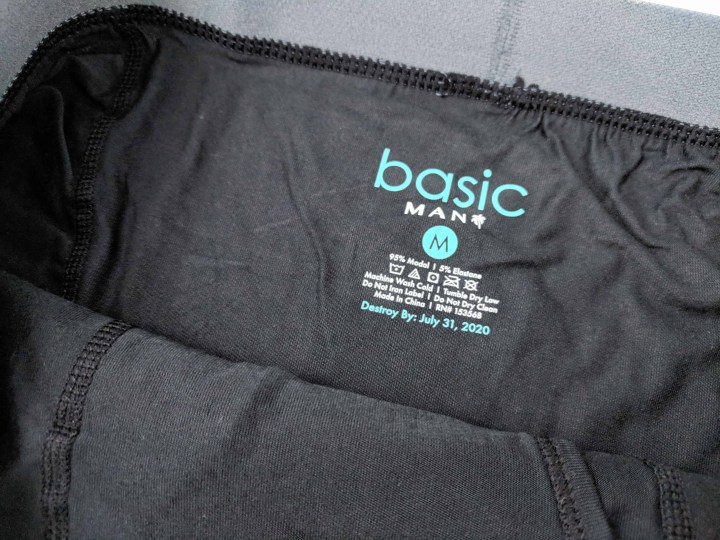 As usual, it has an expiry date! Yes, this subscription box reminds you to throw away your old underwear! It's pretty good, you have almost two years worth of wear! It says to wash in cold water, but we've been washing all the Basic Man socks and boxer briefs in hot water and they haven't lost any of their color, their soft feel, or their elasticity.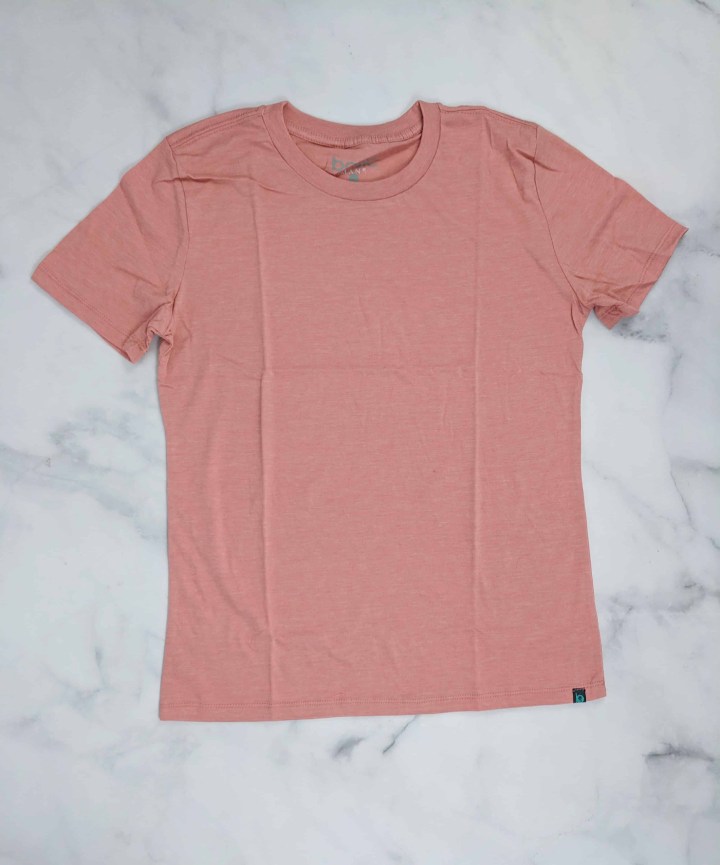 The last basic item for this month is a salmon colored t-shirt. This is a color my husband never had any interest in, but it looks good on him and he likes the opportunity to try something a bit out of his comfort zone, while still being easy to pair with his wardrobe. It's a simple crew neck tee and it also came with an expiry date! The fabric is a blend of polyester and cotton. Basic Man's t-shirts are pre-washed, so no worries about shrinkage and it makes them soft and light right out of the bag. We are also happy to say that Basic Man's tee can go through a lot of wash cycle without losing their colors or shape. And the colors don't bleed in the laundry, even in warm water (delicate cycle).
It's good until May 2020. My husband is always happy with his Basic Man's shirt as he can wear them in different occasion: under a dress shirt, to work in the backyard, to go to bed, to hang out with friends. They look good, they feel good, and they are so versatile.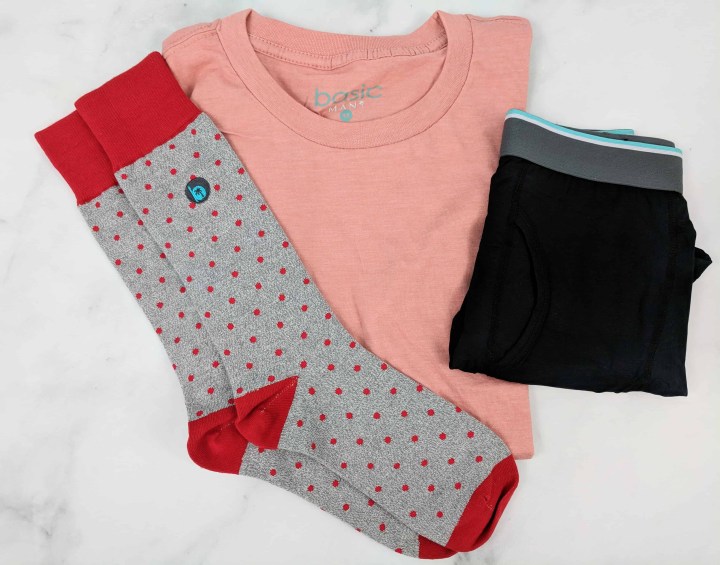 My husband was, once again, really happy with his Basic Man. As soon as he gets his new package, one (or more) pair of socks find their way to the bin and get replaced with fun, yet simply designed socks. And he will not say no to a new soft pair of black underwear. The shirt was the only item he wasn't sure about, but he was wearing it only hours after getting this box and he likes the feel and looks of the simple tee.
Basic Man is a great monthly subscription box for men who don't have time to go shopping for new basic items, or who hates taking time to go to the store. It's easy, the items are exactly what you need while being classy and comfortable, and the quality is very nice. This subscription is a great value to renew your basic wardrobe without worrying about it. We like that this subscription is true to the basic, in colors and design, and any guy would enjoy it.
What do you think of this subscription box?