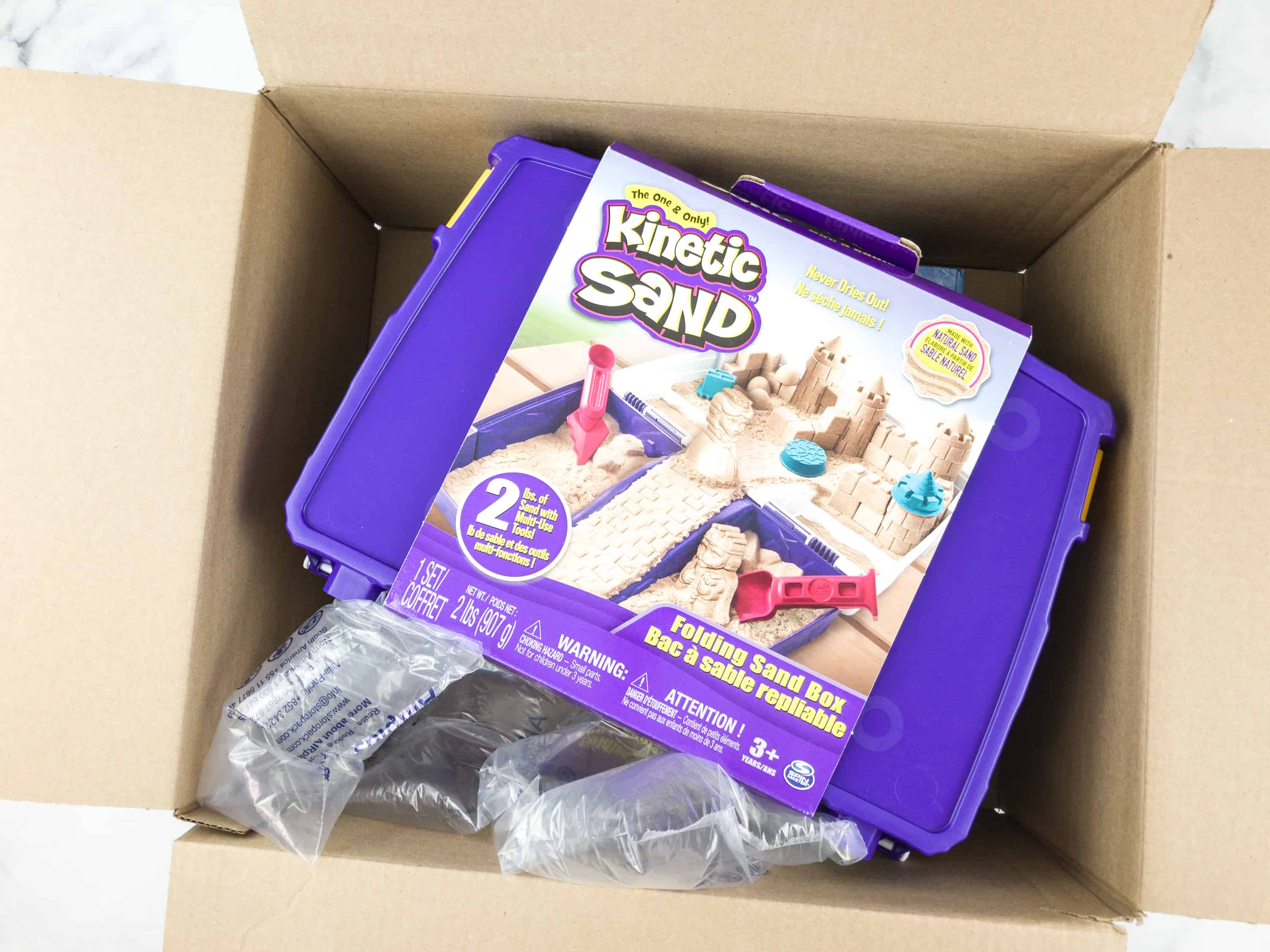 Amazon STEM Toy Club is a monthly subscription box service that delivers age-appropriate STEM toy that encourages any child to learn through play. The subscription costs $19.99 per month, and the theme of the month can be anything from natural sciences to robotics. There's always something new to discover in every box of Amazon STEM Toy Club!
There are three age ranges available for this box: 3-4 year old, 5-7 year old, and 8-13-year-olds. This is a review of the 3-4-year-old box.
The subscription doesn't include any Amazon-generated introductory materials – just the toy in its commercial packaging. It arrives in the usual Amazon shipping materials – multiple age range selections usually ship together.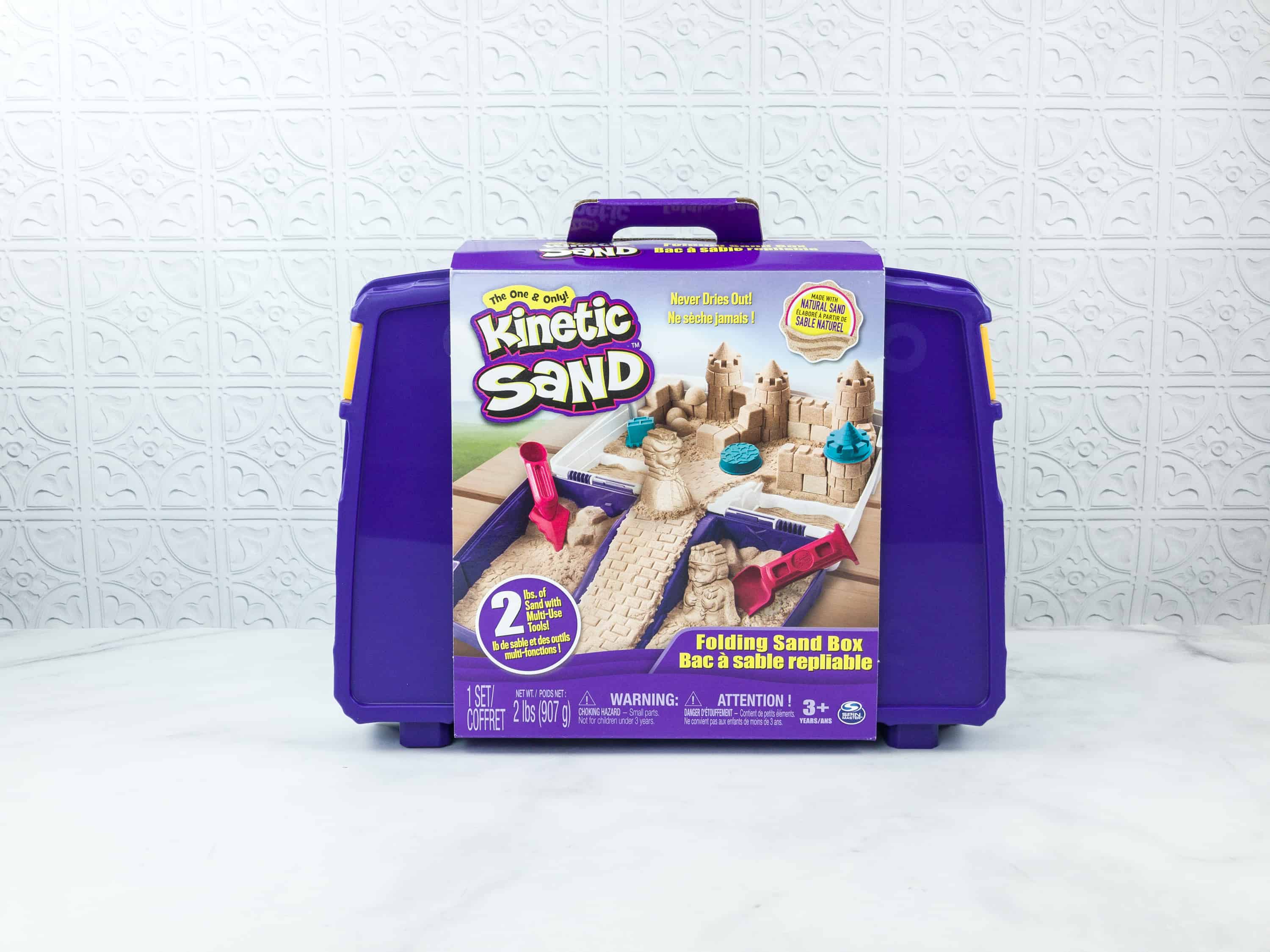 In case you're wondering what's included in the other subscriptions, here's what they were for our family: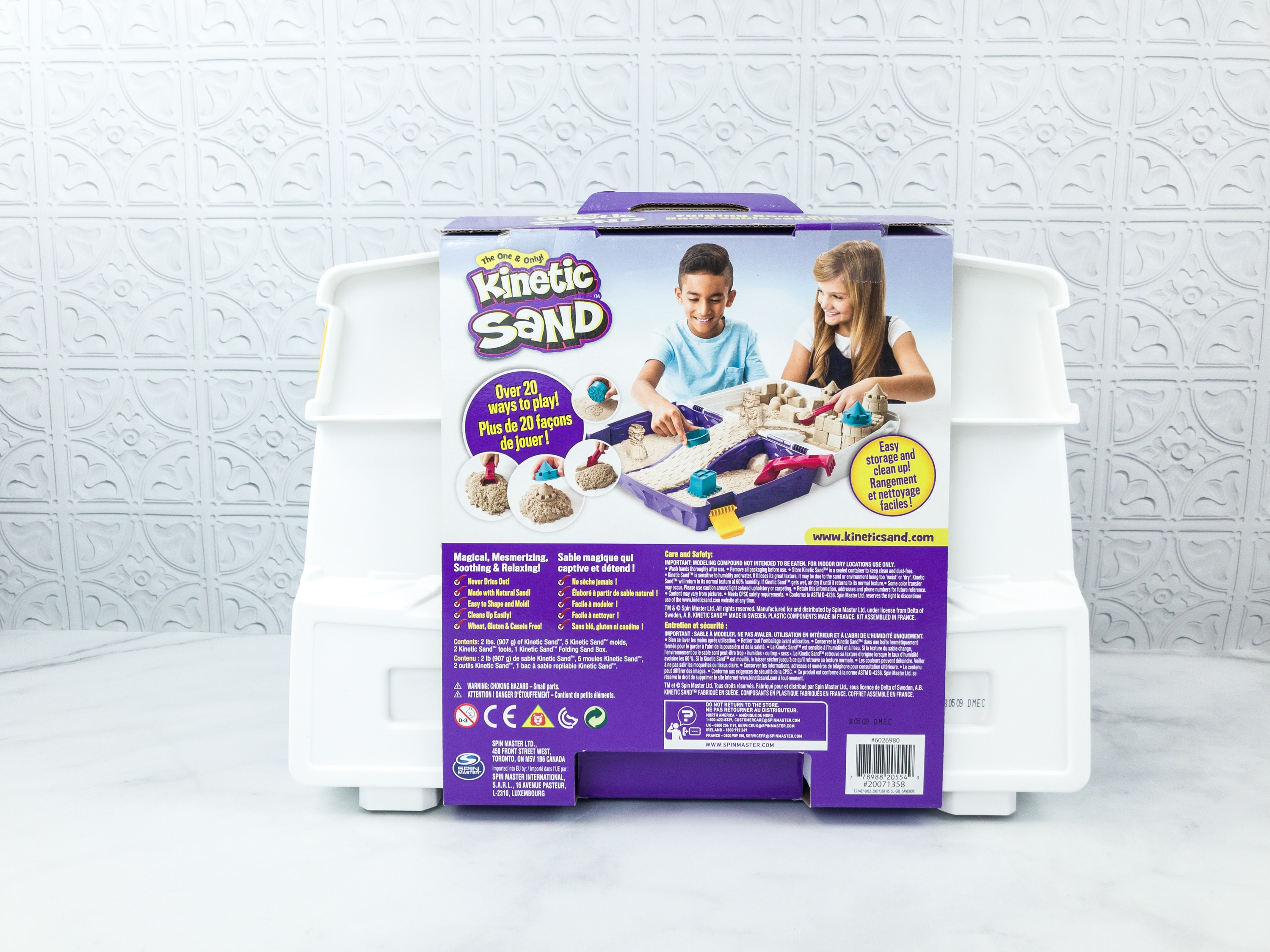 3-5 Year-Olds – The One & Only Kinetic Sand Folding Sand Box ($24.79) This is a nice educational toy for preschoolers who are already in the phase of exploring new things. From the package itself, you can see that there are three smaller vehicles included in the set and some fun characters too.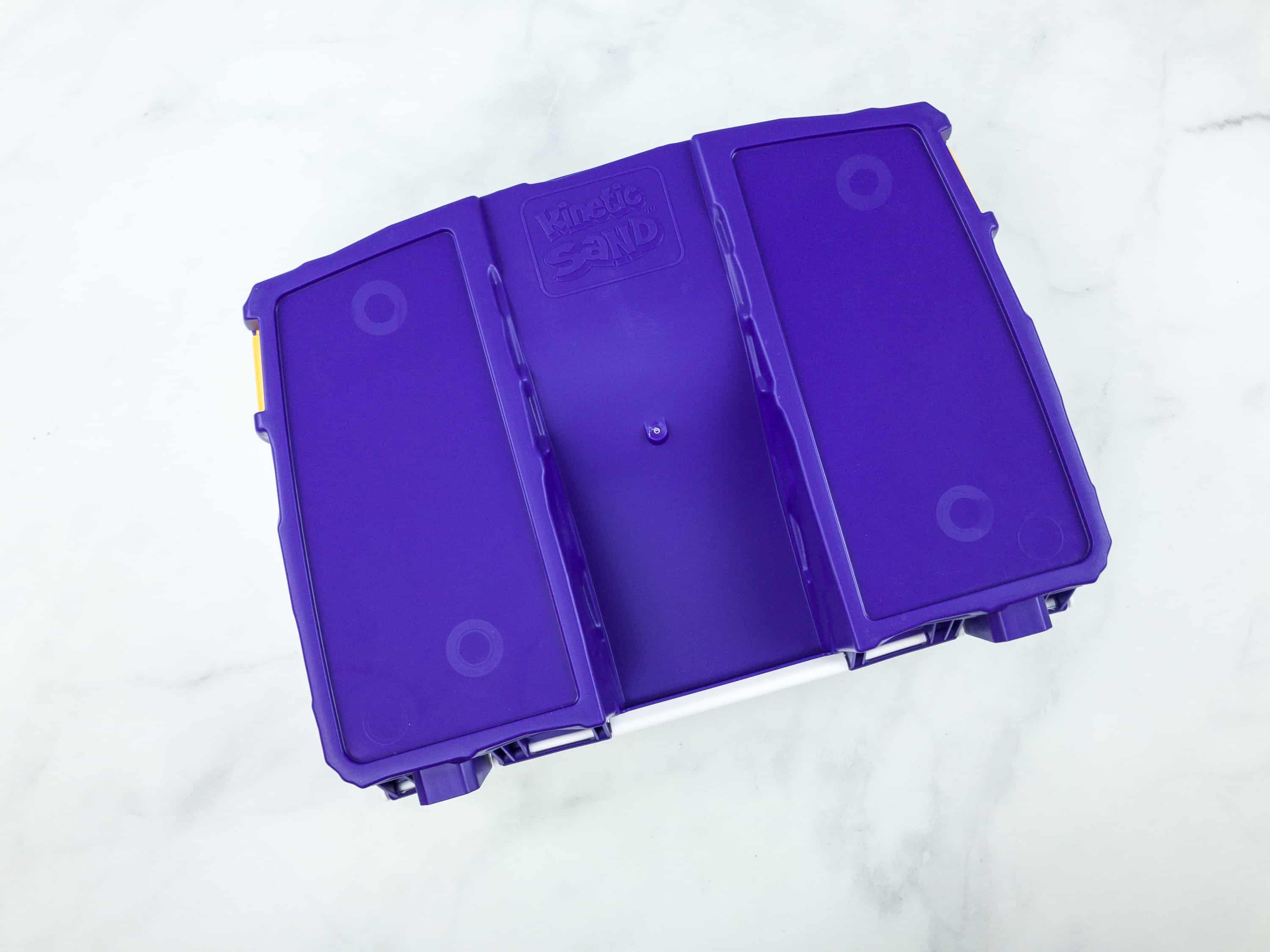 It comes in a huge box so you can use this as a landscape for your elaborate kingdom.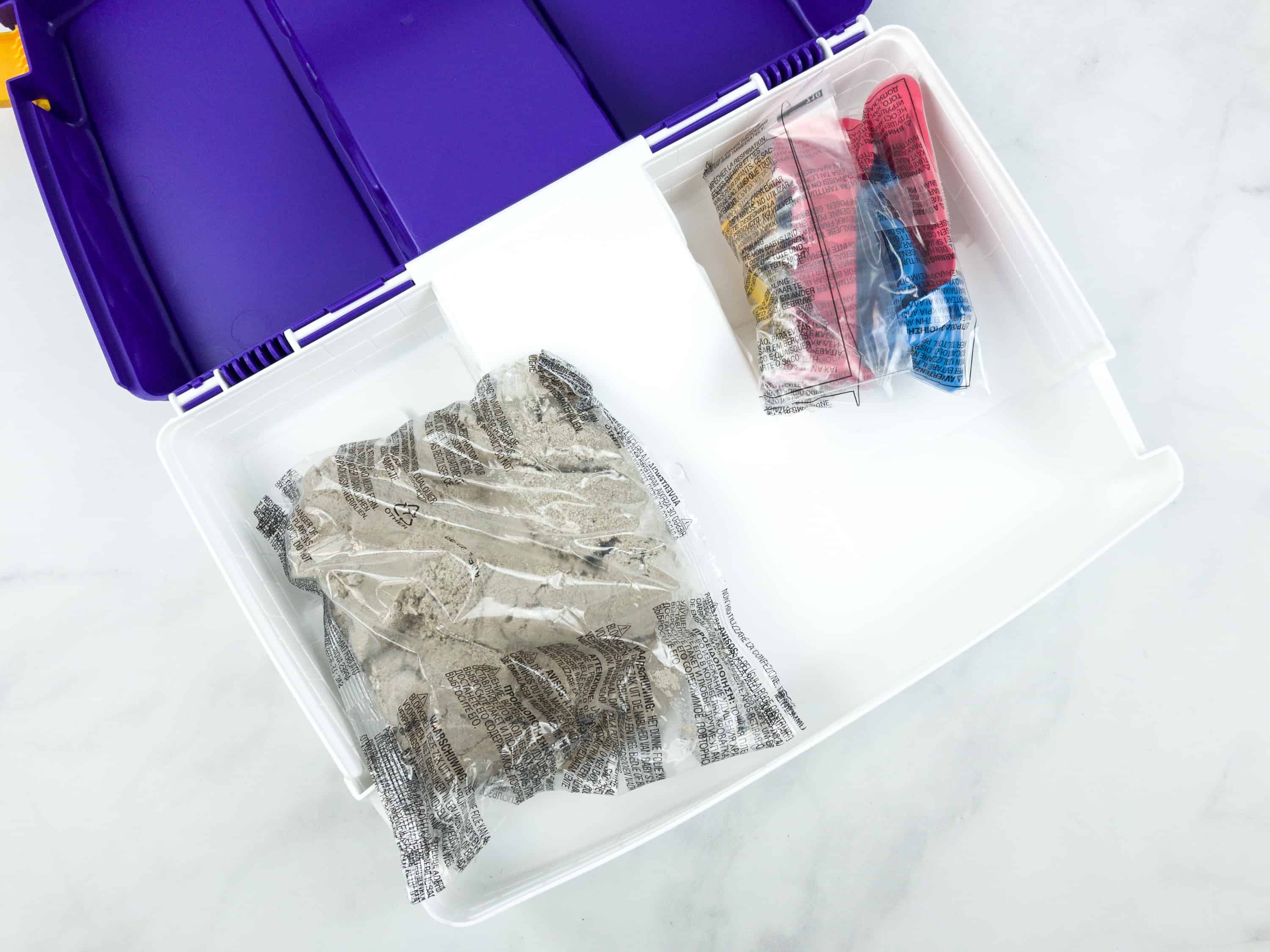 We have separate packs for the kinetic sand and the molds.
The kinetic sand looks good! It is easy to mold and to manipulate. It does not dry up and is soft on hands (it leaves them silky!). It doesn't make a mess either!
We have different kinds of molds that can be used to design or form our kingdom.
These are two ended tools to manipulate the sand. We have one tool for shovel and rake. The other is for designing or to separate the sand in different shapes.
A castle must have a king and queen of course. We will place them at the top!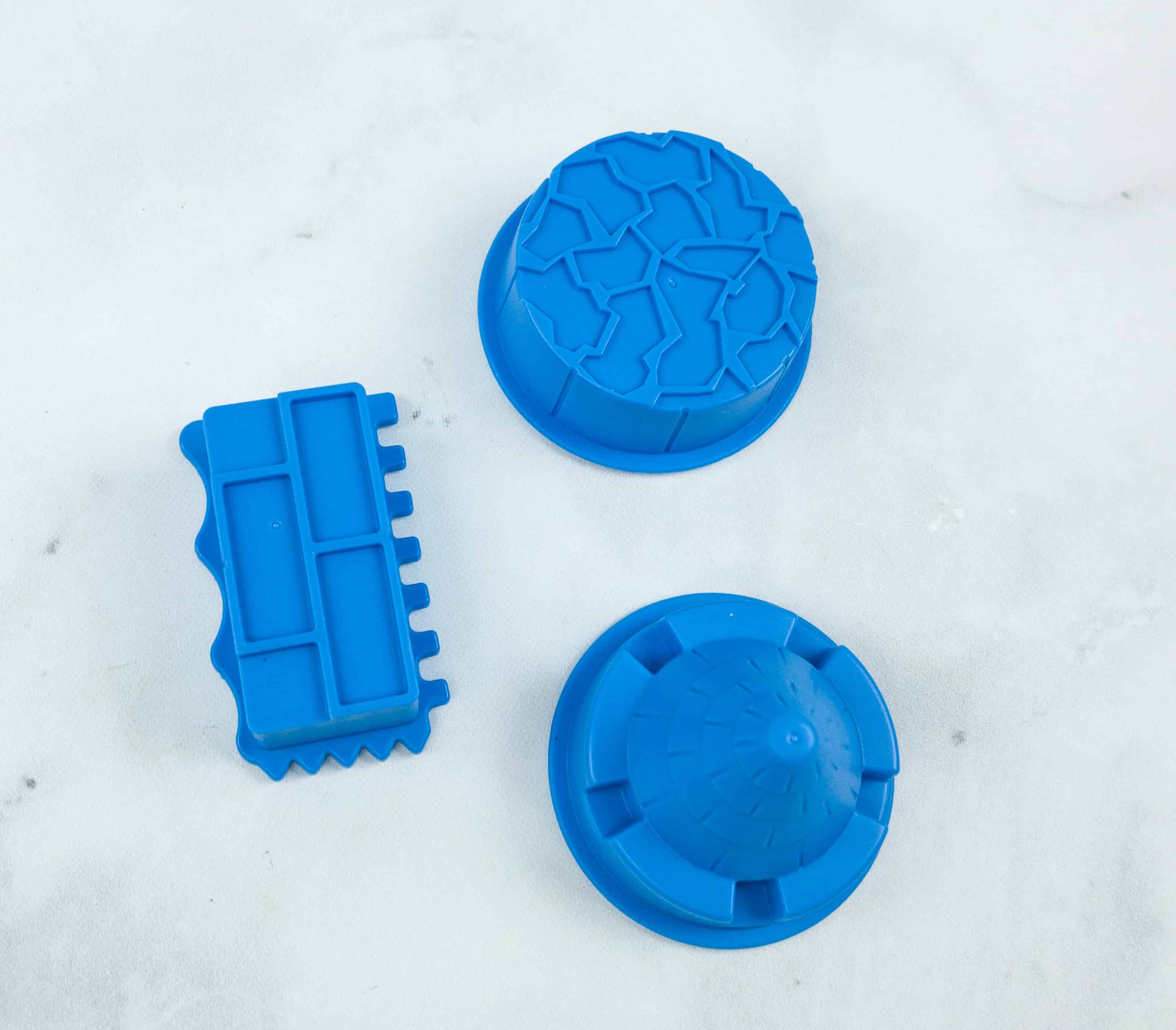 We have molds for bricks and the signature cone-shaped roof of the castle.
This is NOT INCLUDED in the subscription box. It's another bag of kinetic sand we bought separately because we decided to use the subscription item as a birthday gift! Also it's not as nice as the kind that came in the toy. Don't be cheap like me, get this brown sand (ok, I didn't know they were different) instead.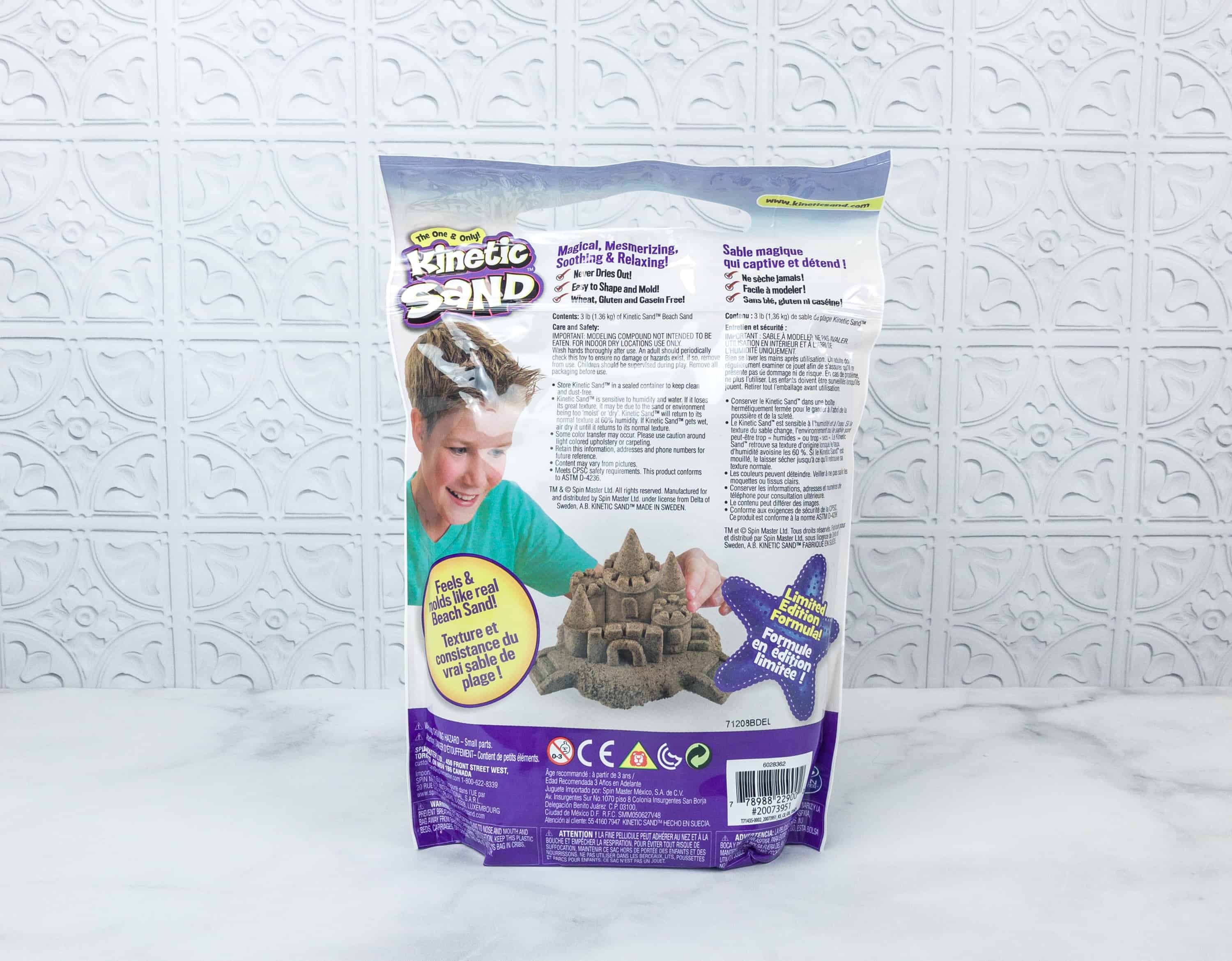 We included this in the review because we also used it in the activity!
The tower or the cone-shaped mold was the favorite. They used it a lot of times.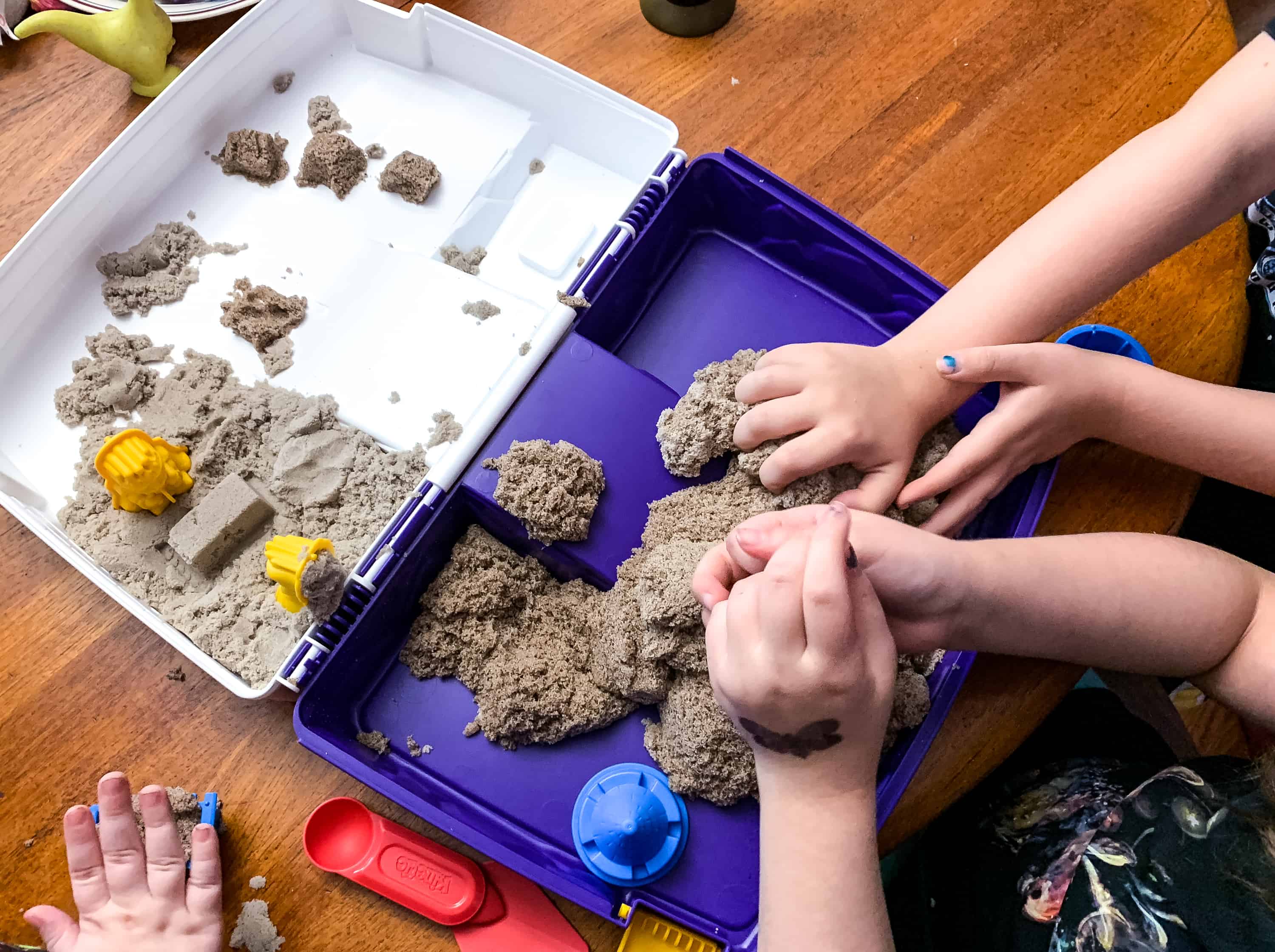 They can't get enough of manipulating the sand. This is effective for imaginative play and their creativity. It also enhances their grasp as they mold or sculpt the things that they think of.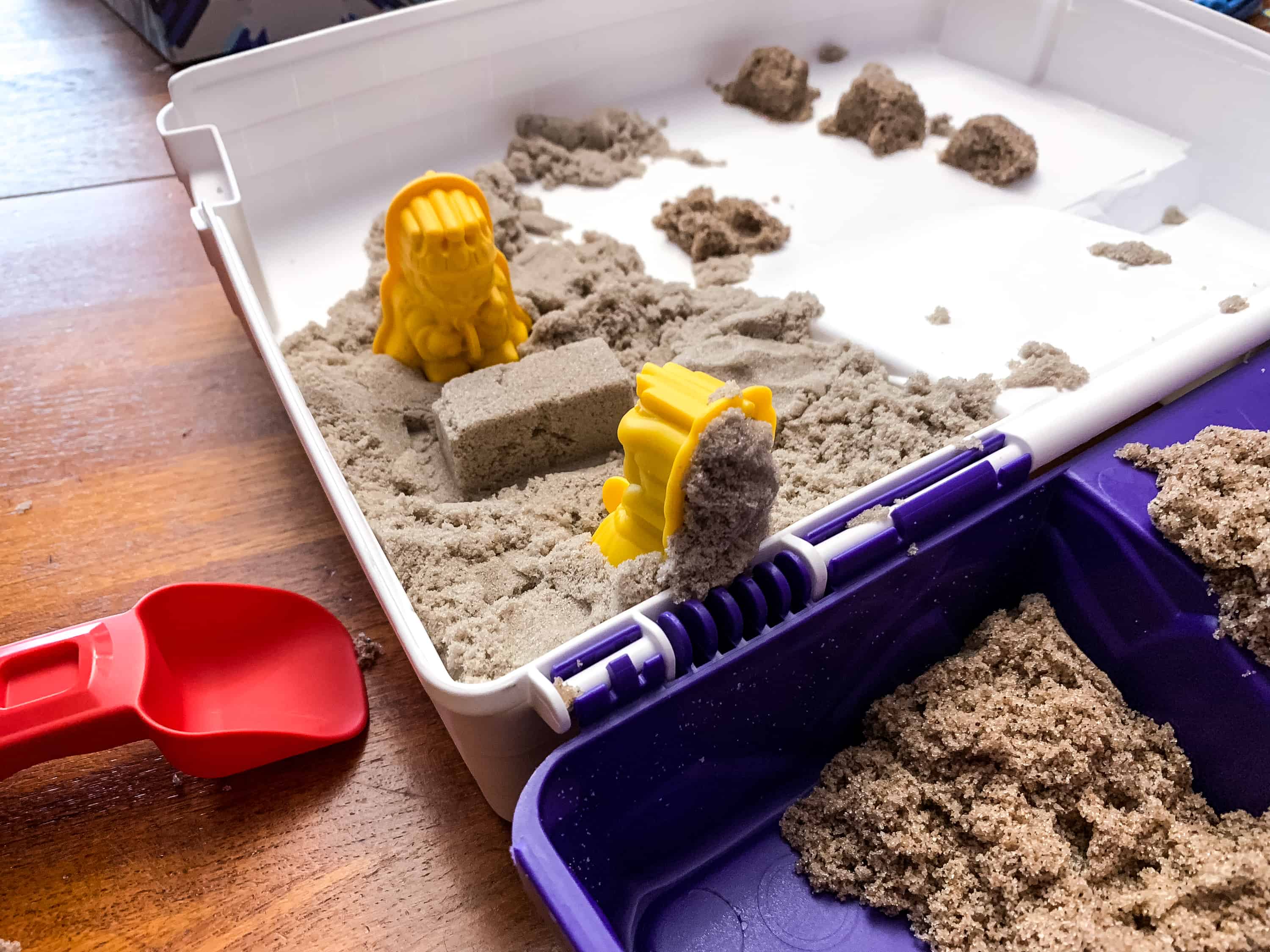 The sand that comes with the box is the light colored one and the sand that we bought separately has a darker brown color. We recommend the lighter colored sand – it's finer and it's easier to see the molded items.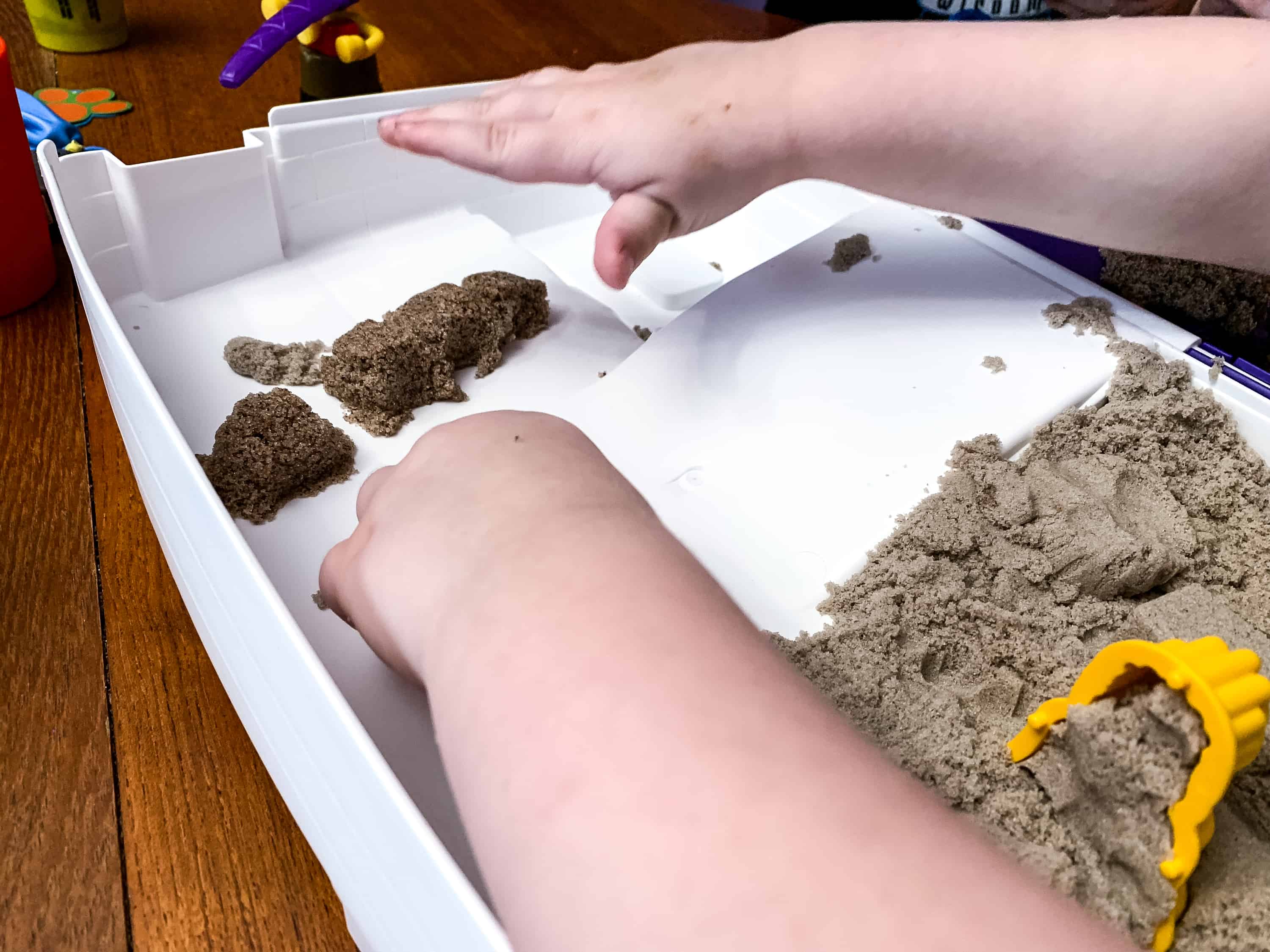 It is an effective stress reliever too.
They are using the blue mold to build the castle's walls from the ground up.
This is a great activity for my 4-year-old kid because he can build and mold!. Kinetic Sand enhances fine motor skills and sensory awareness which is a perfect activity for my son's age. The kit provided is enough for an individual player but we had to buy more sand so that my other kids could join in on the fun too. More sand will promote imaginative play with siblings and you can build more things with it.  We loved this set and he won't stop playing with it. My favorite part is that it just closes right back up! I thought this was a good value and perfect for this age range, and a totally different, but appropriate, toy than they've sent in the past!
What do you think of this toy set? If you received something different than our family, let us know in the comments!