Tinker Crate is a subscription box that inspires kids to learn about science, engineering, and technology, all while having lots of fun. Each month, the box explores a field of study within a STEM (Science, Technology, Engineering, and Math) discipline. Kids practice their problem-solving skills and learn how to engage in both structured and open-ended exploration and investigation. Most boxes walk the tinkerers through the construction of fairly complex mechanical devices.

This month, we got the KINEGRAM MACHINE.
Everything arrives together in a single Tinker Crate – the supplies, a fold-out instruction sheet, and the Tinker Zine.
DEAL: Use this link to save 40% on your first box of Tinker Crate! (or Kiwi Crate and the KiwiCo family subscriptions Koala Crate, Tadpole Crate, Atlas Crate, and Doodle Crate).
Tinker Zine

The main project is always a great hands-on activity and a great demonstration of the scientific principles featured in the box, but the Tinker Zine is full of well-written, historically and scientifically accurate background and explanatory materials. This where the lessons really take shape!

This month's Tinker Zine discusses the science of animation!

These pages discuss how moving pictures work by frames and their speed.
The Tinker Zine also has an article about the Beta Effect wherein you think the broadway or Christmas lights are moving but in reality, they are just blinking on and off by pattern and that creates the illusion of motion.

In this page, they tell us how the screen works.

It might look confusing at first but once you get the grasp of the illustrations and the details with it, you can easily understand the mechanism of the machine being discussed.
Tinker Crate Blueprint + Materials

The instructions and other essential project information are printed on a faux blueprint fold-out sheet.
It has a lot of explanatory notes, highlights on highly important and technical areas.
Here are all the materials provided to build our own kinegram machine!

The sheet has an elaborate sequence of instructions to follow and be sure to check every detail before sticking the given adhesive!

We already did Step A which is to build the crank.

There are a lot of little parts especially the sticky foams so be sure not to lose any piece. Double check the instructions and be sure you look at the diagrams carefully before doing the assembling step by step.
Tinker Crate Activities

My daughter was able to Tinker her way to success!
She put the screen in front of the pattern and tested it by moving the screen using her hands to left or right. While doing so, the science of animation begins.

Crank Crank, it worked perfectly!
You can always refer to this page to troubleshoot.

At first we had a sticky crank so my daughter used the troubleshooting on the sheet to make sure everything was right, corrected an error, and off she went.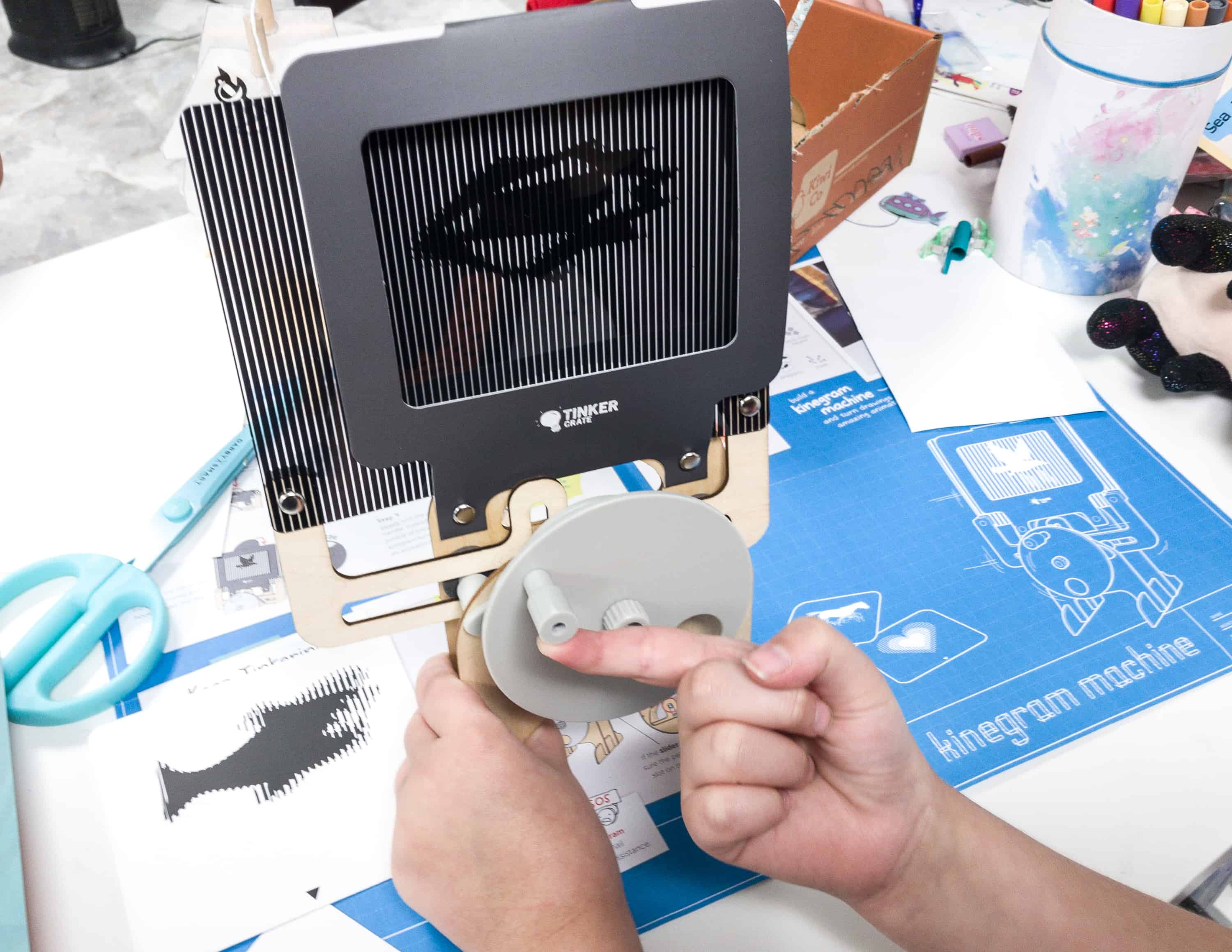 After successfully attaching the crank, she had fun making all the illustrations move.
Tinker Crate Extensions
This is a good idea for an additional activity so we can maximize the use of the screen. We can be able to see more animations and patterns.

Tinker Zine also has book suggestions for kids which include Animation Lab for Kids and Cartoon Animation.
Tinker Crate is always indulging us on our quest for knowledge. My kids love movies and animations or cartoons and have always wondeed how things work and now they had something to think and tinker about in that domain! My daughter is getting better at following instructions and diagrams. She's also more keen on the details now because of the interesting activities Tinker Crate has. It also opens a lot of opportunities to discover more about themselves and what they are really interested in. We are amazed by the Kinegram and the concept of illusion and animation it brings. Not just magic or hidden behind the curtain, we know all about the science behind it now.!
Have you tried Tinker Crate yet with your kids?