The Dapper Dog Box is a monthly box for your best friend in the world – your dog! They source organic and natural items from passionate small companies that love dogs, hand-picking each item for your dog based on a personalized survey. The survey lets you customize your box for gender, five different dog sizes, and also any allergies. The regular sized box has 4-6 items with an average $50 value.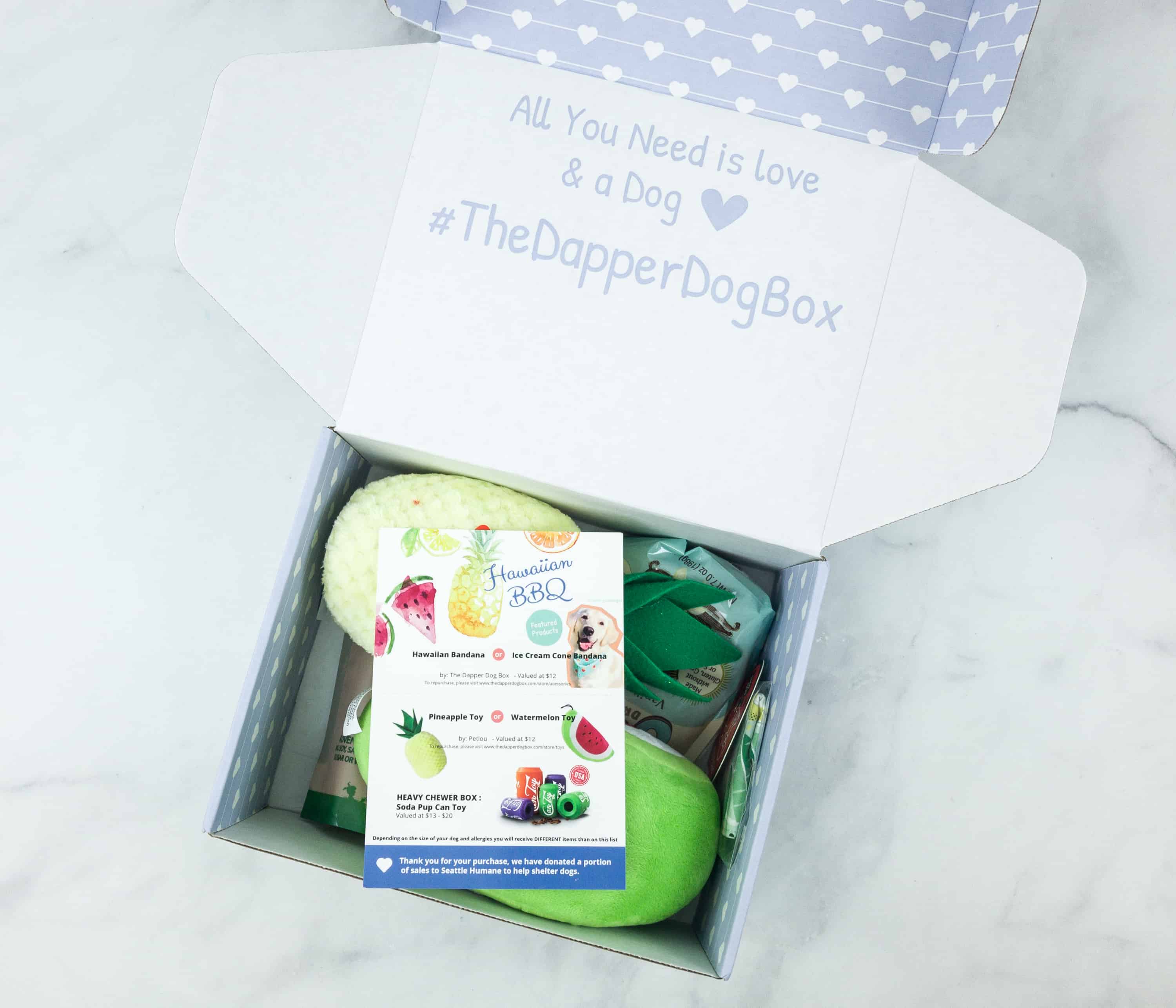 DEAL: Save 10% off your first shipment! Use coupon code HELLOSUBSCRIPTION.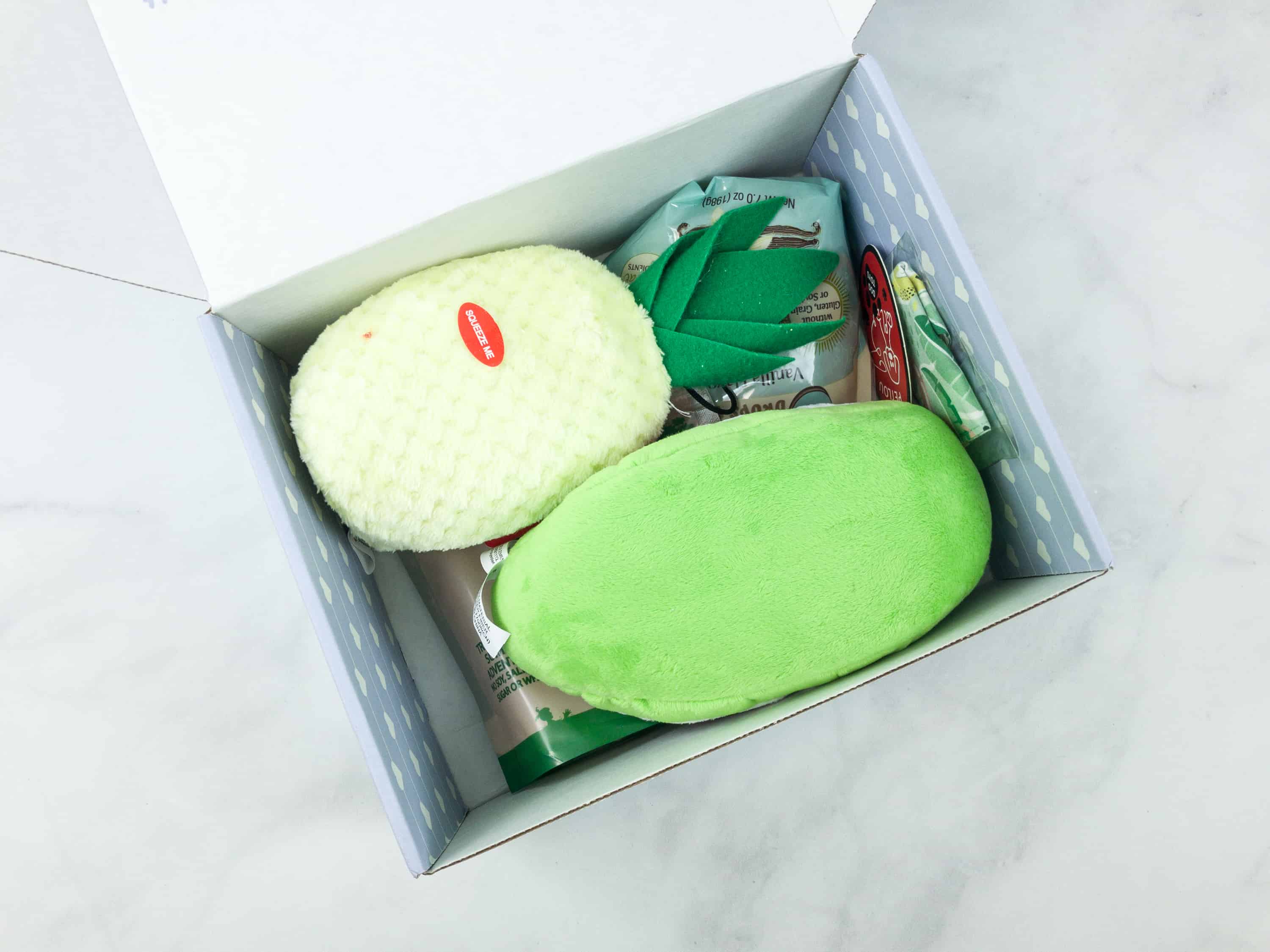 All the items are packed neatly inside the box. No fillers or extra packaging!
The information card features adorable dogs posing with treats!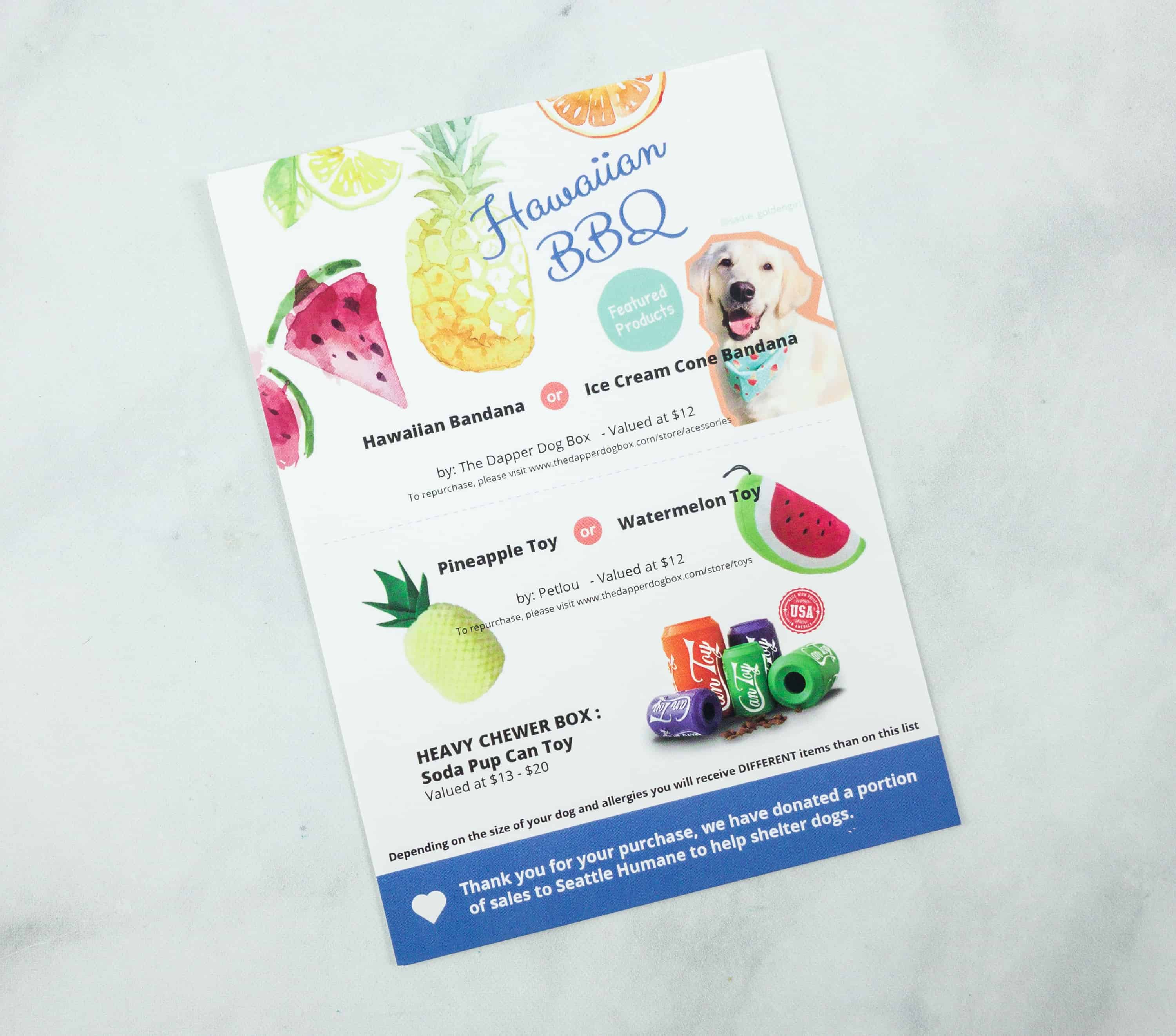 This month's theme is Hawaiian BBQ.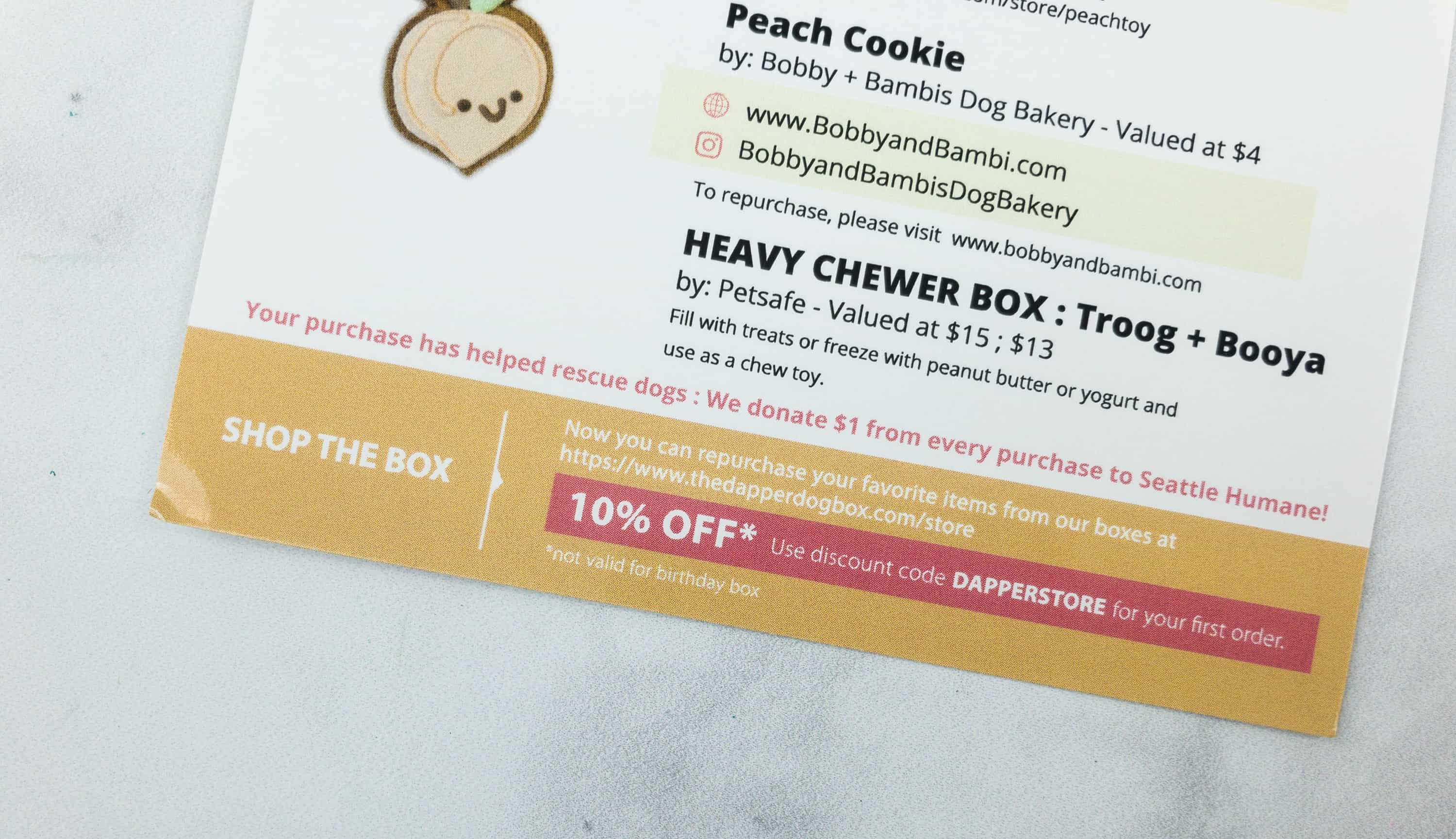 The information card contains the items and prices – plus a discount on future orders.
You can also join Dapper Dog's monthly contest to win a free box!
Here are all the items in the August box!
Dapper Dog Hawaiian Bandana ($12) Our beloved pup will get to enjoy the rest of the summer with this Hawaiian themed bandana.
The print features a fun ensemble of palm leaves, flamingos, watermelon, and summer drinks.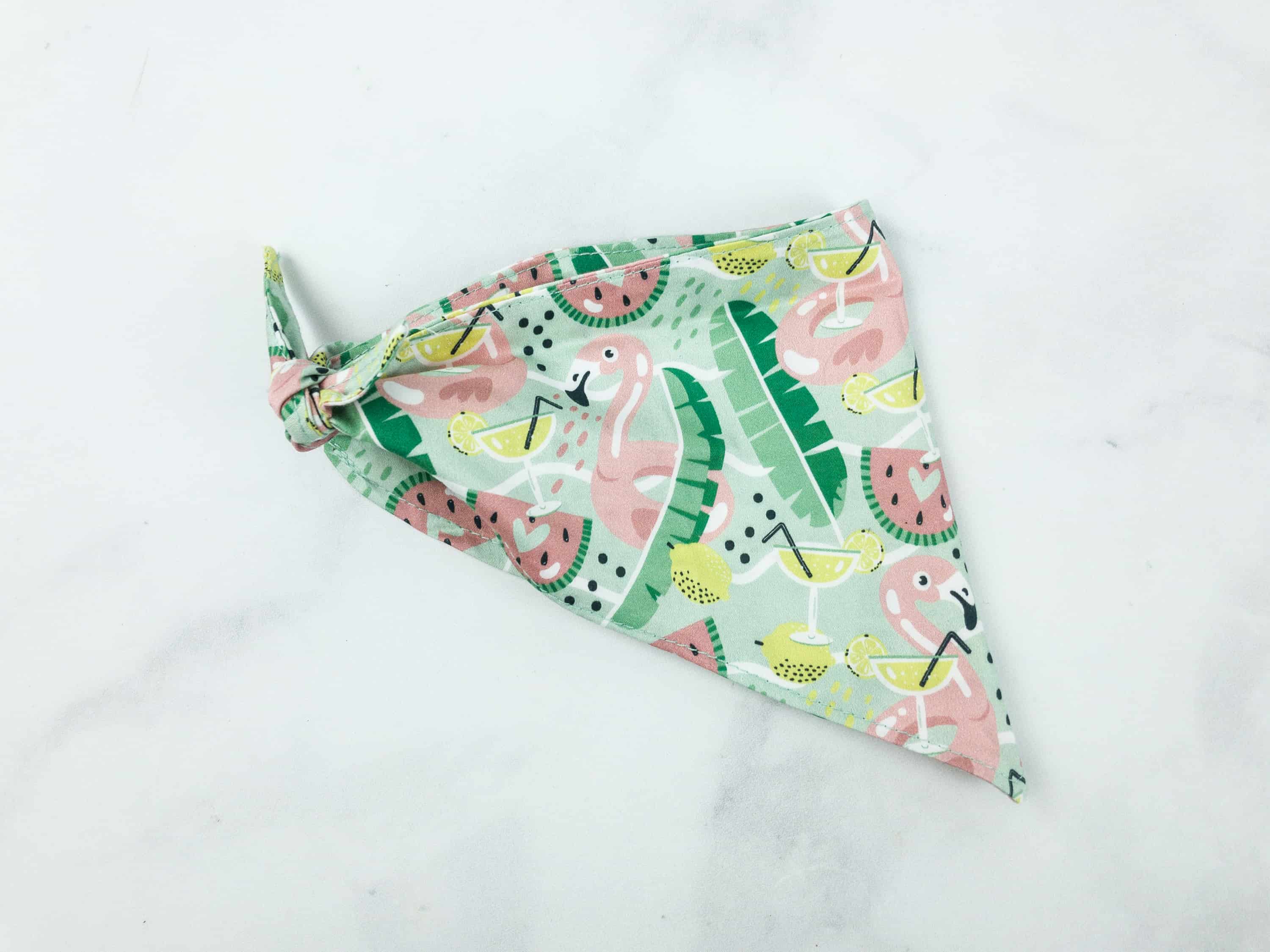 It's easy to tie and adjust around a pup's neck!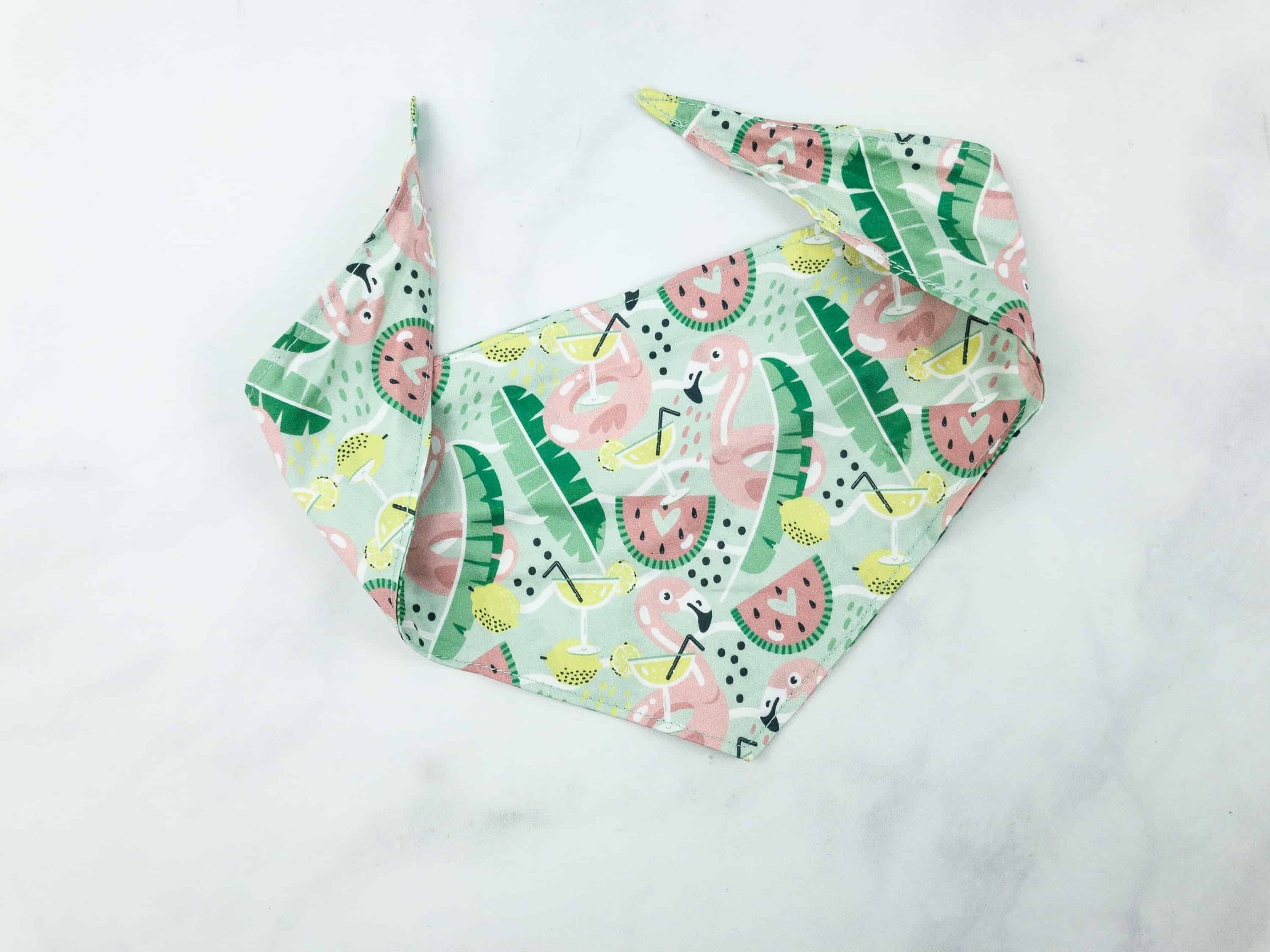 The fabric used is soft and breathable.
Petlou Watermelon + Pineapple Set Toy ($14.99) To continue the summer fun, they also sent a set of tropical fruit-themed plush toys.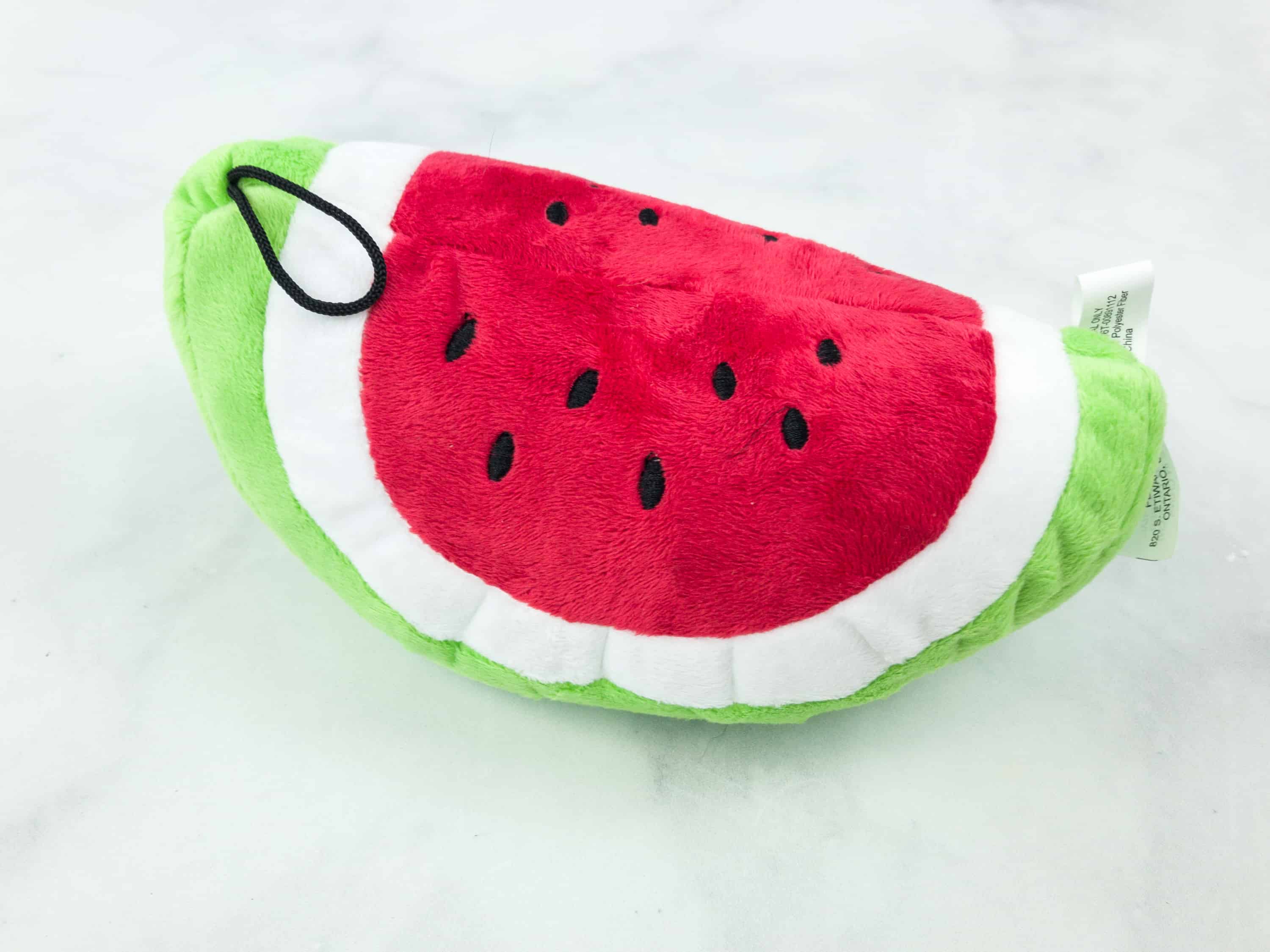 First is a watermelon plushie. It's bright, soft, and squeaky!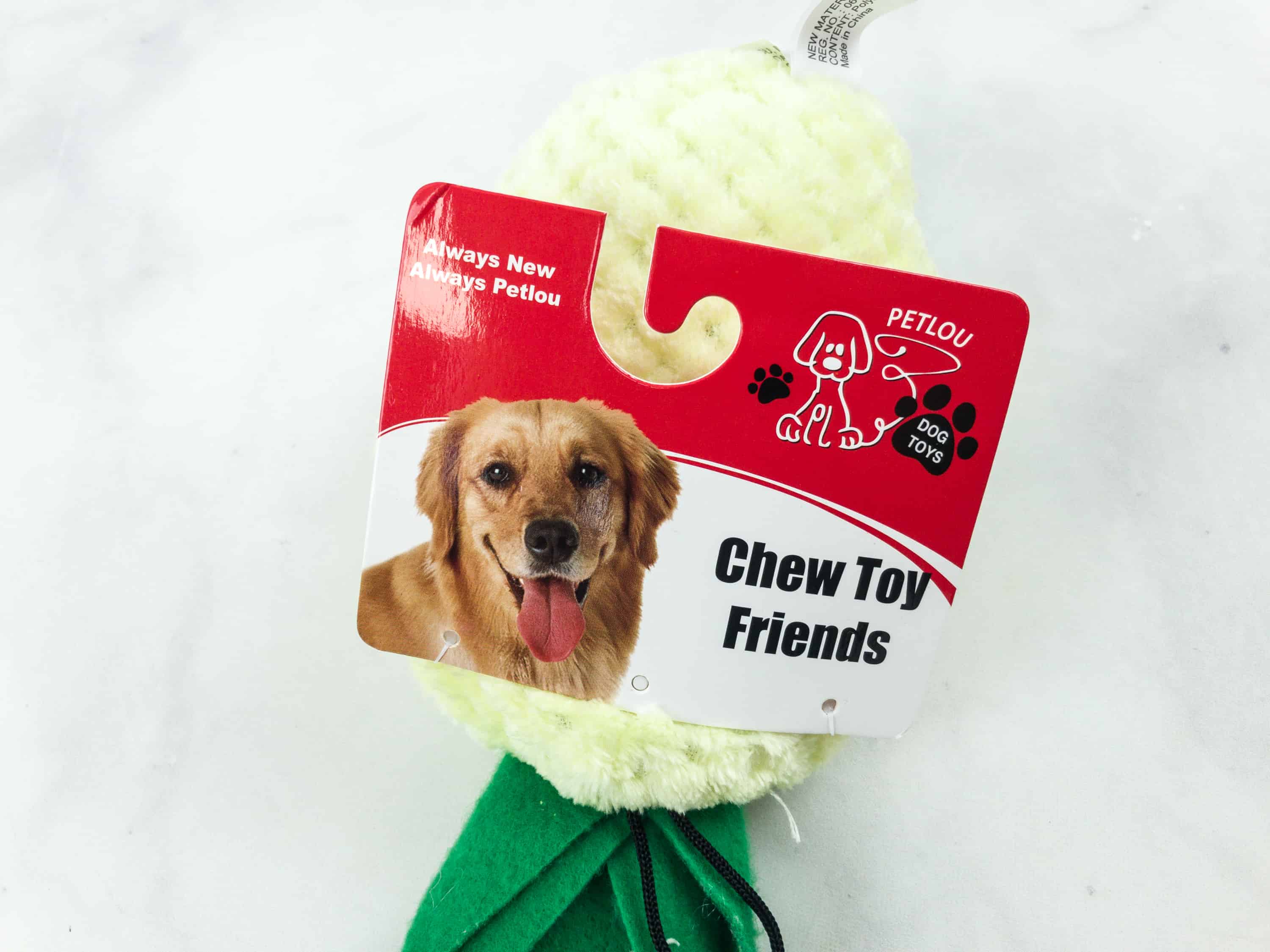 The second toy is pineapple shaped!
It comes with the leaves too! Like the first toy, it's also has a squeaker. The size is just right for my pups.
Subscribers received one of the two toys.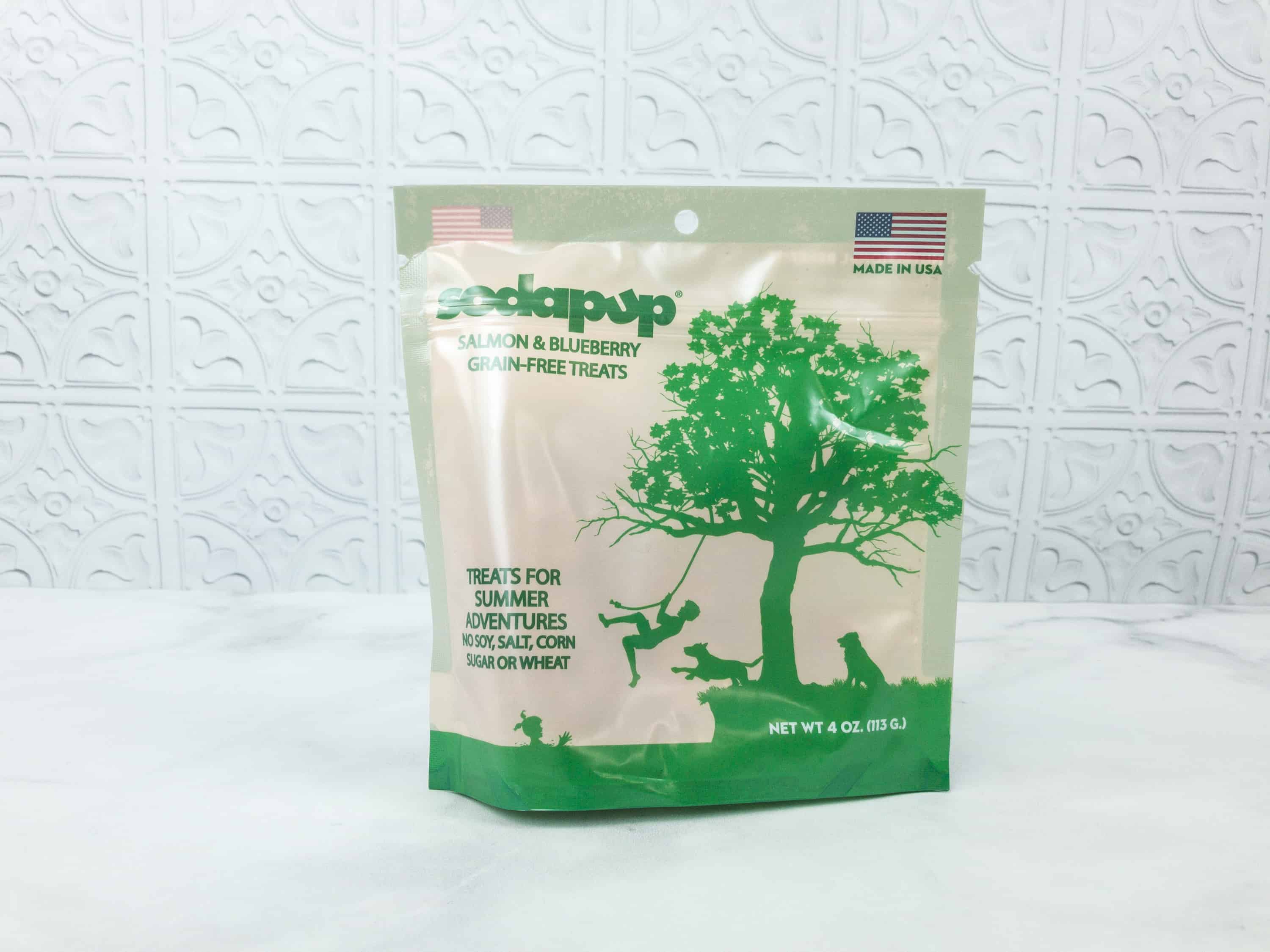 Sodapup Salmon & Blueberry Treats. This bag of gluten-free treats is made with salmon and blueberry.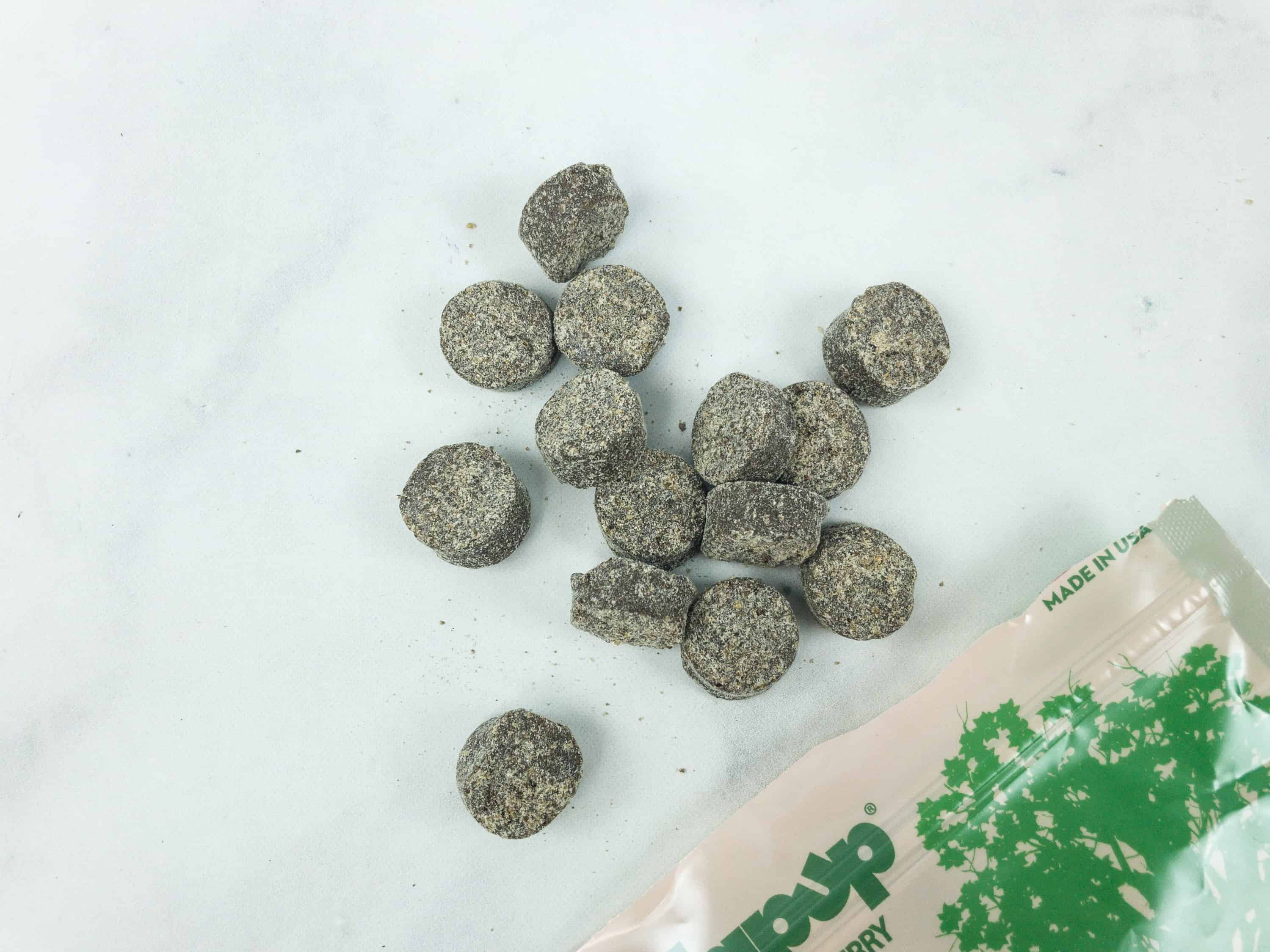 Each piece is round, soft, and chewy. It's ideal as a training treat or simply as a snack!
Salmon has omega-3 fatty acids while blueberries are known for their antioxidants. The bag is resealable too. My dogs INHALED these!
Exclusively Dog Smoochers Drops With Yogurt Dog Treats ($8.29) We also got another pack of dog treats, and this time it contains yogurt, which aids in digestion. The treats are also free from soy, wheat, and corn.
Our pups had fun chewing on these round shaped treats. The vanilla scent is there but it's not that overpowering. Each piece is soft and chewy too.
It comes in a resealable pack with the nutritional content listed at the back. Once again – gulped up in a snap!
The bandana fits Dean nicely. We are so ready to enjoy the rest of the summer!
This month's Dapper Dog Box met my expectations once again! The bandana and the squeaky toy are perfect for enjoying the rest of the summer. Both bags of treats are fresh and delicious, our pups can't get enough of them. Another thing we like about this subscription is that it can be customized depending on your dog's size and if they have any allergies. This box was impressive overall and we look forward to more awesome toys and treats for our dogs!
Did you love this month's box as much as we did?