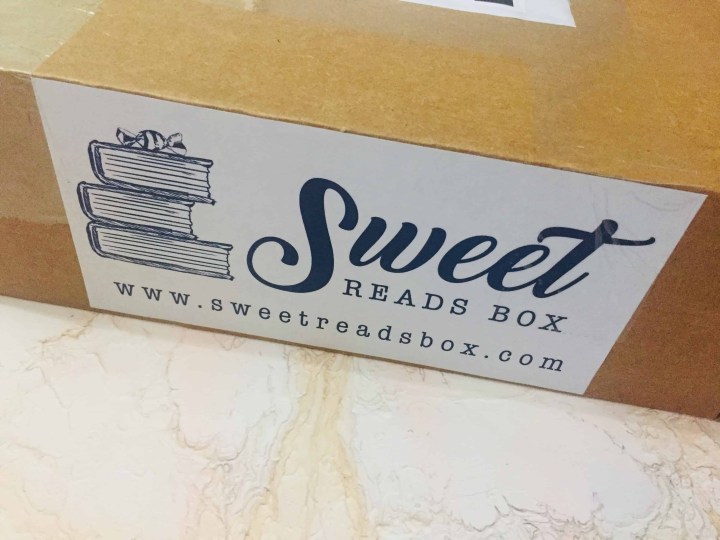 Sweet Reads Box is a Canadian subscription box bringing a curated selection of a bestselling book along with complimentary items to enhance the experience. The box is $54.99 CAD ($42 USD) for one month, and drops slightly when you purchase a 3 or 6 month subscription as well. Since I got my Kindle a few years ago, it's been ages since I've read an actual book, and the past book selections were right up my alley so I'm really excited to open the box and see what's inside!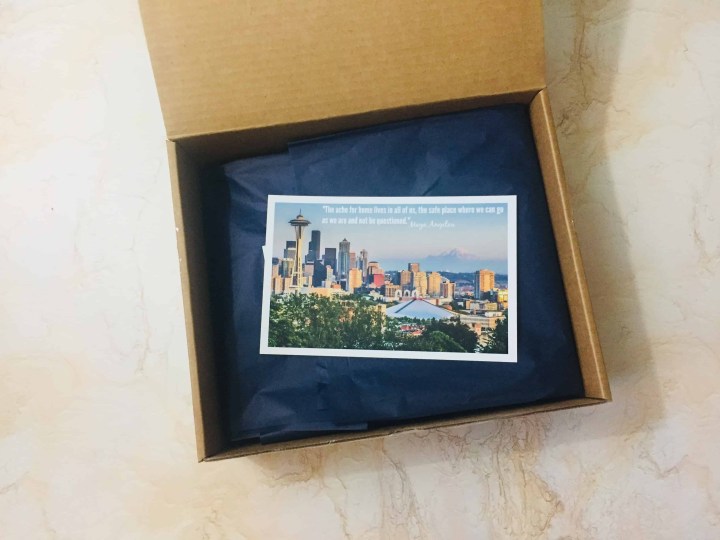 On top is the information card – I recognize the Space Needle in Seattle.
DEAL: Get 10% off your first box! Use coupon code LOVEBOOKS.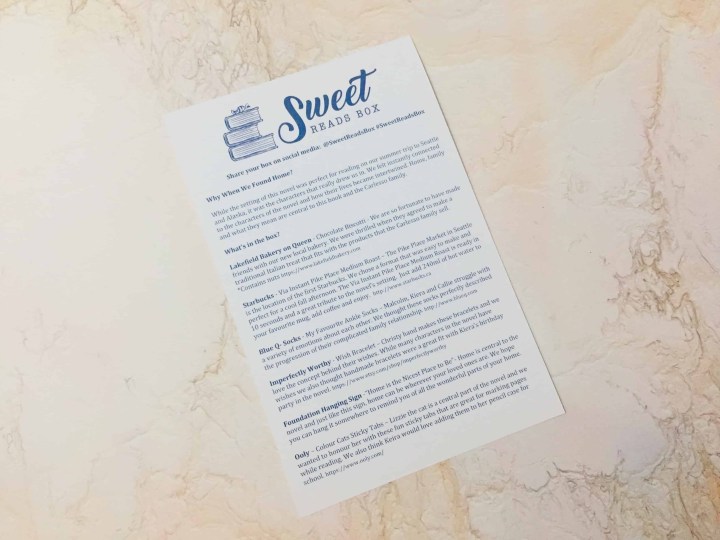 The back of the card has information about the month's book selection as well as the other items included, and how they all tie into the theme.
This month's book is Where We Found Home by Susan Mallery ($15.99)
Callie Smith doesn't know how to feel when she discovers she has a brother and a sister—Malcolm, who grew up with affection, wealth and privilege, and Keira, a streetwise twelve-year-old. Despite her trepidation, she moves into the grand family home with her siblings and grandfather on the shores of Lake Washington, hoping just maybe this will be the start of a whole new life.

But starting over can be messy. Callie and Keira fit in with each other, but not with their posh new lifestyle, leaving Malcolm feeling like the odd man out in his own home. Becoming a family will take patience, humor, a little bit of wine and a whole lot of love. But love isn't Malcolm's strong suit…until he learns that an open heart, like the family table, can always make room for more.
I found this book to be a relatively quick read despite its size. The characters are all very colourful, and my favourite was probably Keira. Each chapter switches perspective to one of the main characters, and the way the connections are made between them becomes more apparent the further into the book you get. There was humour, family drama, a few steamy love scenes if that's your thing, and in general, I really liked it. The ending was a bit abrupt! I would like to see a sequel to this.
Biscotti and Coffee — There are quite a few scenes that take place at the coffee shop where Delaney works, so this was a cute nod to both that and also the family business which is putting together food gift baskets.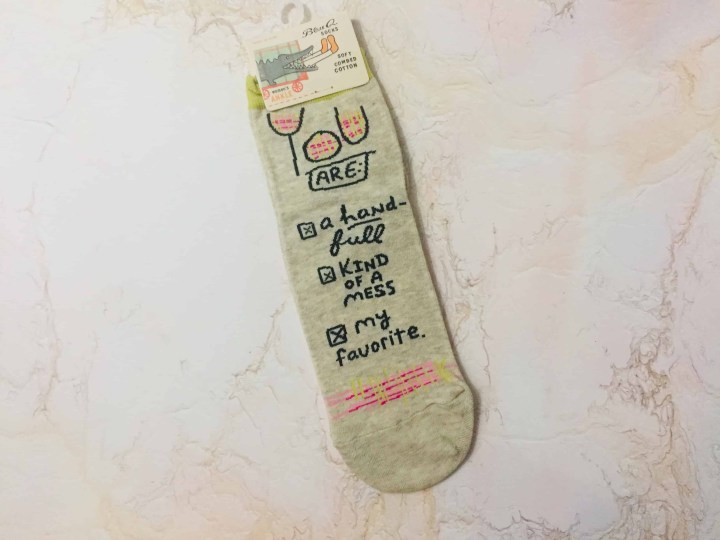 Socks — The info card says this explains the family relationship, and I definitely agree! There is definitely a journey that the three siblings go on from start to the end.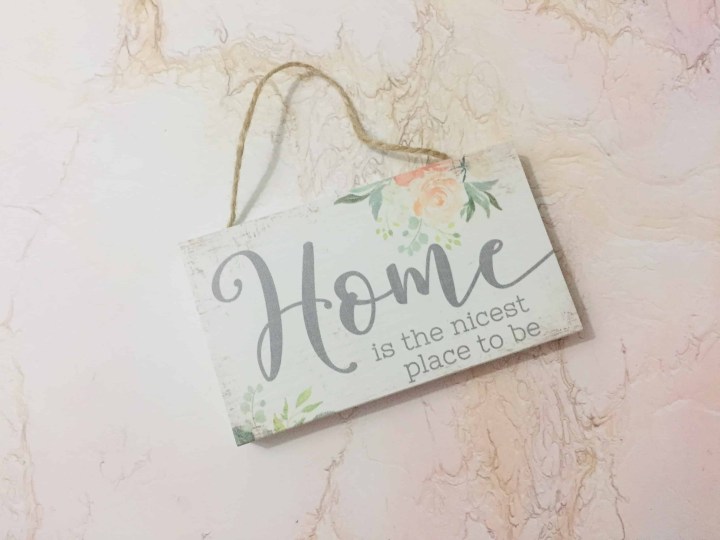 Home — A cute wooden sign to hang so you know you're home, wherever that may be.
Cat Sticky Tabs — Lizzy the cat is one of the important side-characters in the book, and these sticky tabs can be used for bookmarks, homework, and so on.
Wish Bracelet — A string bracelet with a cute star on it. When it breaks apart, your wish will come true!
I am always super impressed with the curation of Sweet Reads Box! I really enjoyed the September book (alongside rainy weather and a cup of tea!) and think the items sent alongside it really add to the experience.
What did you think of this month's book selection?