Sisley Paris Beauty Subscription is a monthly beauty subscription service starring 5 luxurious, expensive samples of products that would normally be found at upscale department stores such as Saks, Bergdorf Goodman, Neiman Marcus, Bloomingdales, or Nordstrom. It is $10 a month, however, you must sign up for a 6 or 12-month term. The 6-month term is $60, and the 12-month term is $100 ($20 savings). When the term expires, it will not automatically renew. Members of the My Sisley Club with either Gold or Platinum status should automatically receive the box as long as they maintain their status.
My products arrived in an unmarked black box. The items were wrapped in white paper and sealed with a sticker.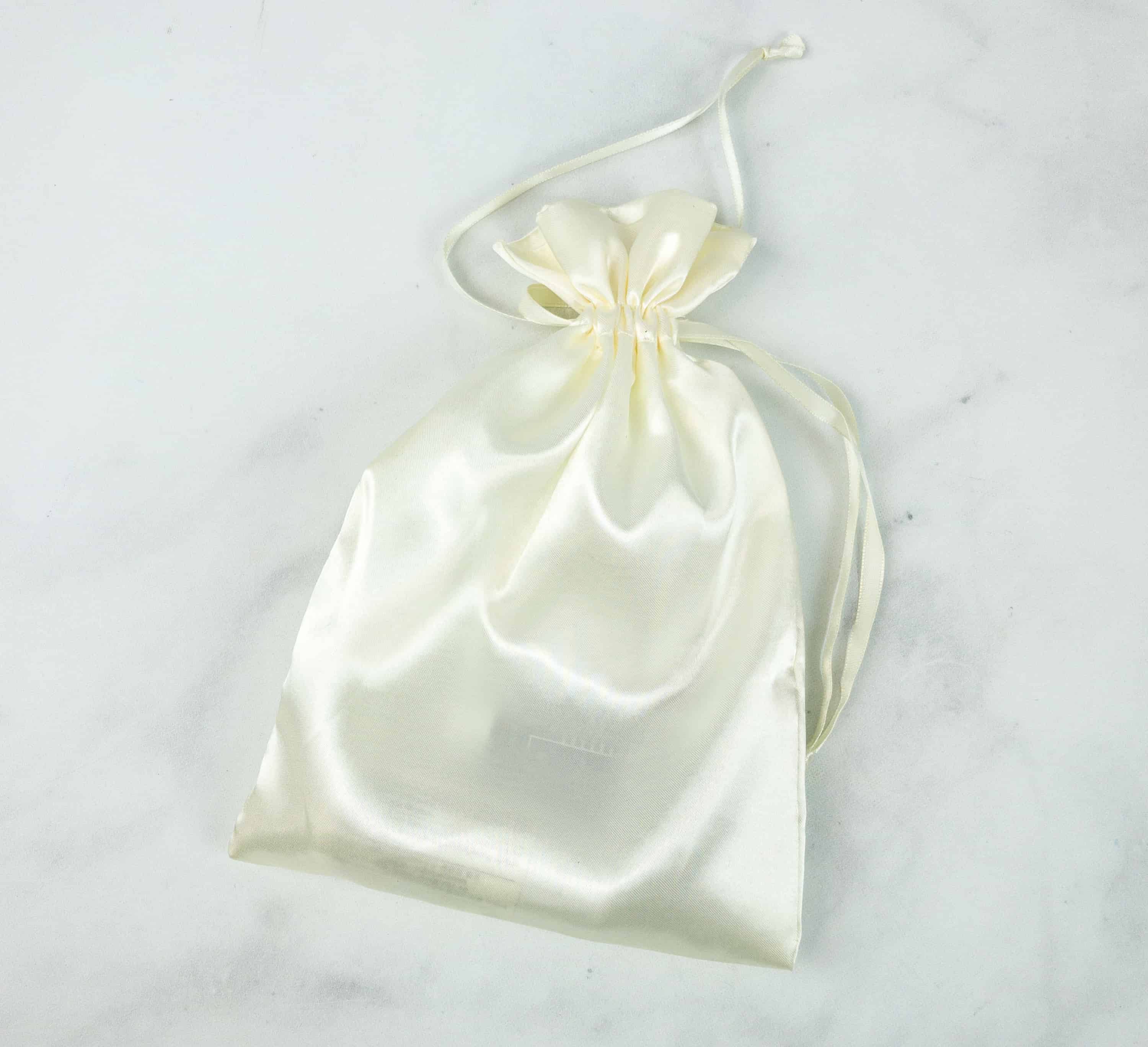 All the samples are inside a silky drawstring bag.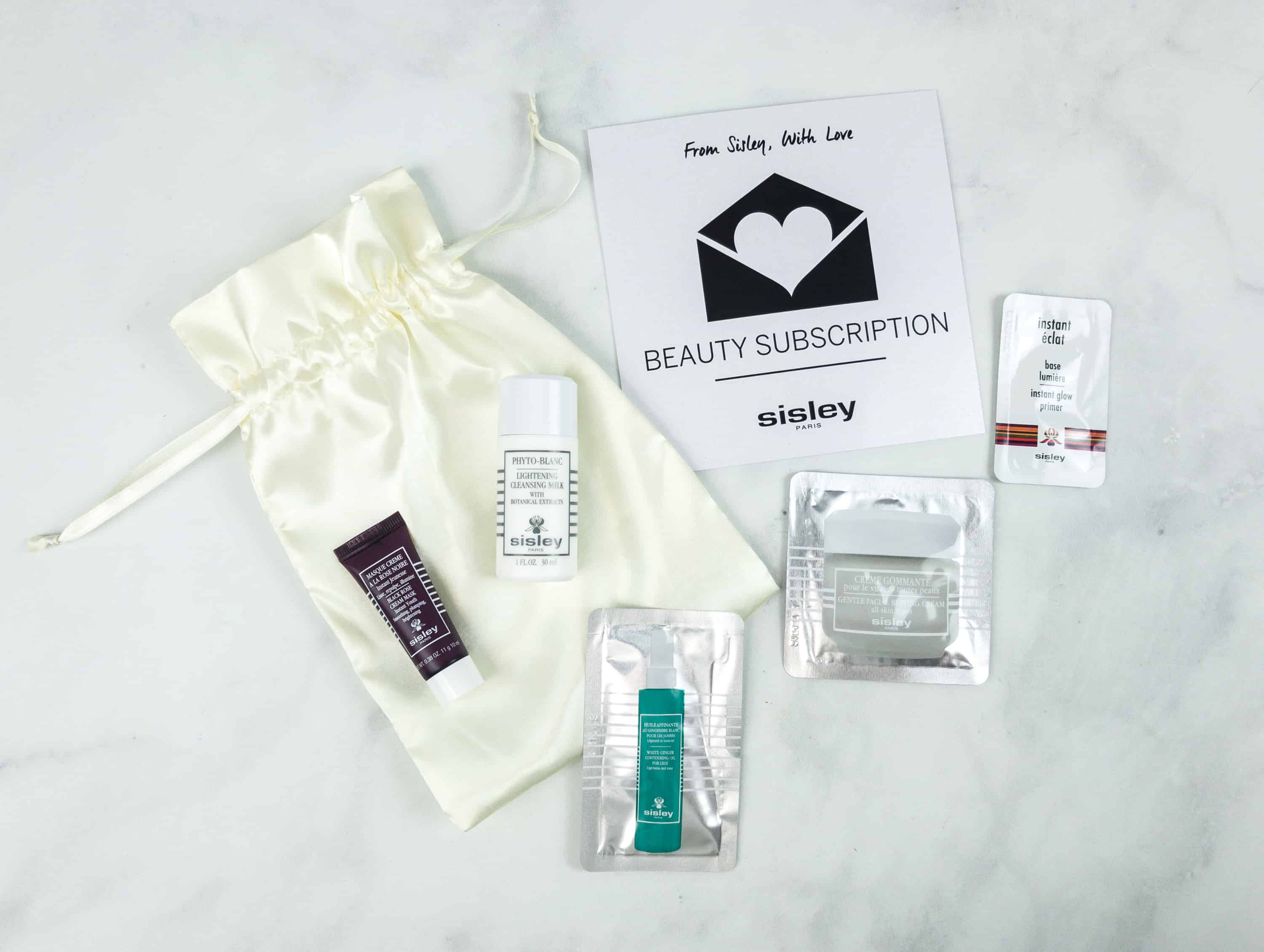 Everything in my box!
Sisley Paris claims to harness the power of plants to create the best cosmetics for your skin.
There's a welcome card that introduced the theme for August box, which is INSTANT GLOW!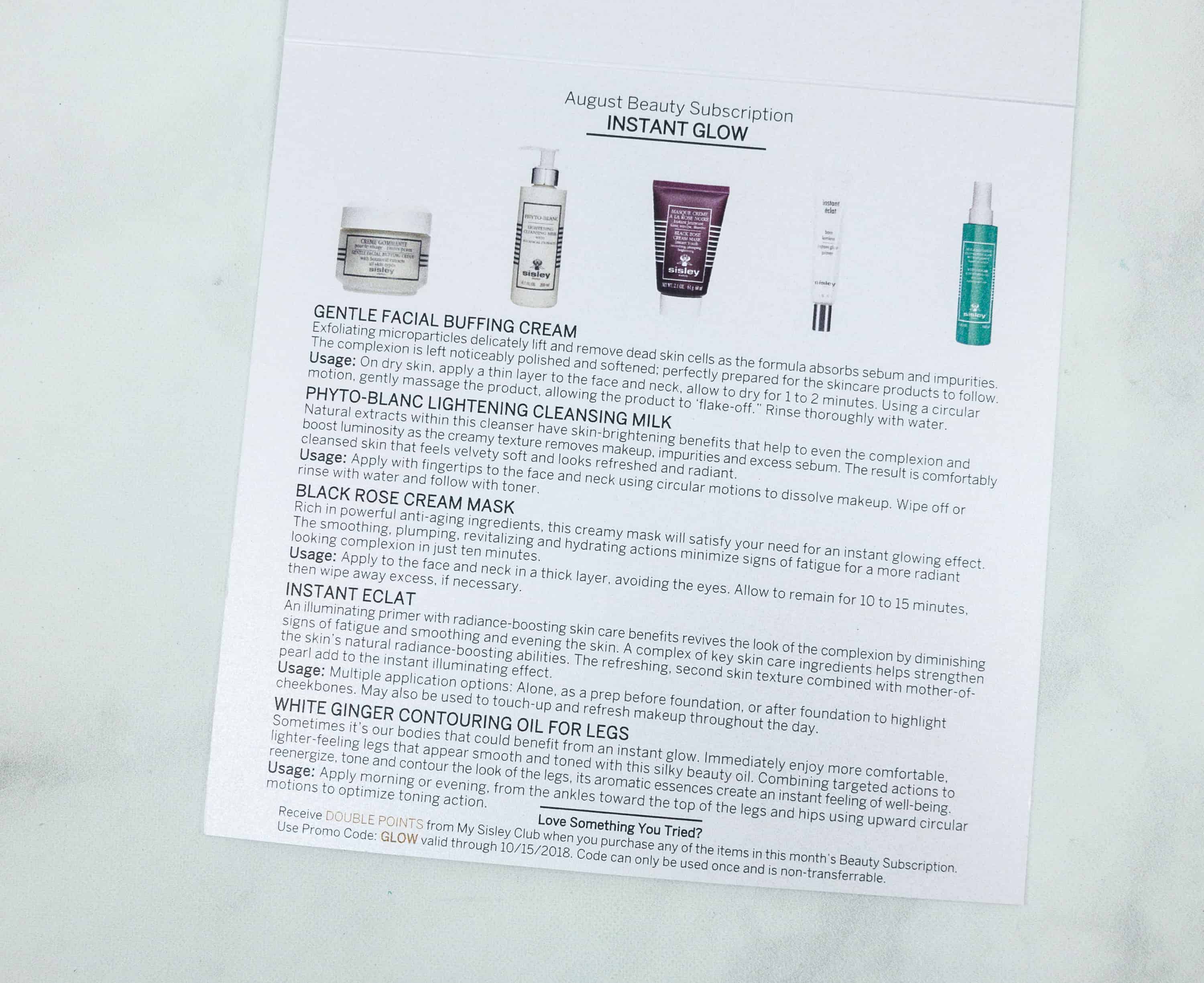 Here's the list of all the items, with tips on when or how to use them.
Sisley Paris Gentle Facial Buffing Cream ($6.86) It's an exfoliating but gentle facial buffing cream with botanical extracts that removes dead skin cells and impurities. Skin becomes polished and prepped for other skin care products because it is soothed and softened with Matricaria and not oily because of kaolin.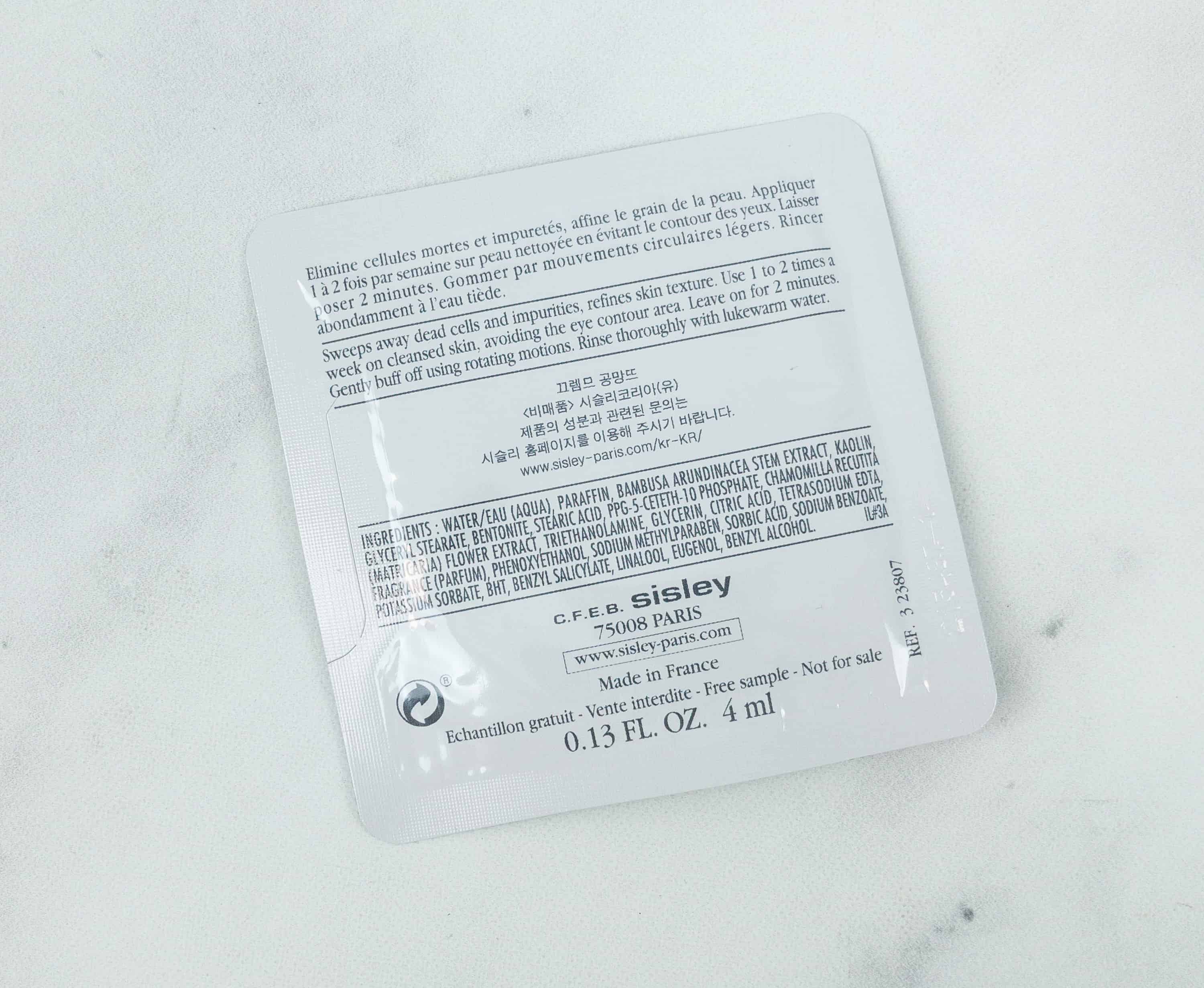 Apply a thin layer to clean and dry skin of face and neck. Then you allow it to dry for one to two minutes and gently massage until all the exfoliating particles have disappeared. It just rolls up and falls off. Rinse with water and do this once or twice per week. It made my skin so soft and smooth!
Sisley Paris Phyto-Blanc Lightening Cleansing Milk ($22.38) It's a light and creamy cleansing milk for all skin types. The formula promotes soft skin. It also thoroughly removes makeup, impurities, and oil. It has natural skin lightening properties that come from lemon, sculletaria, and white mulberry. The vitamins and essential oils leave the skin clear and fresh with its natural defenses reinforced.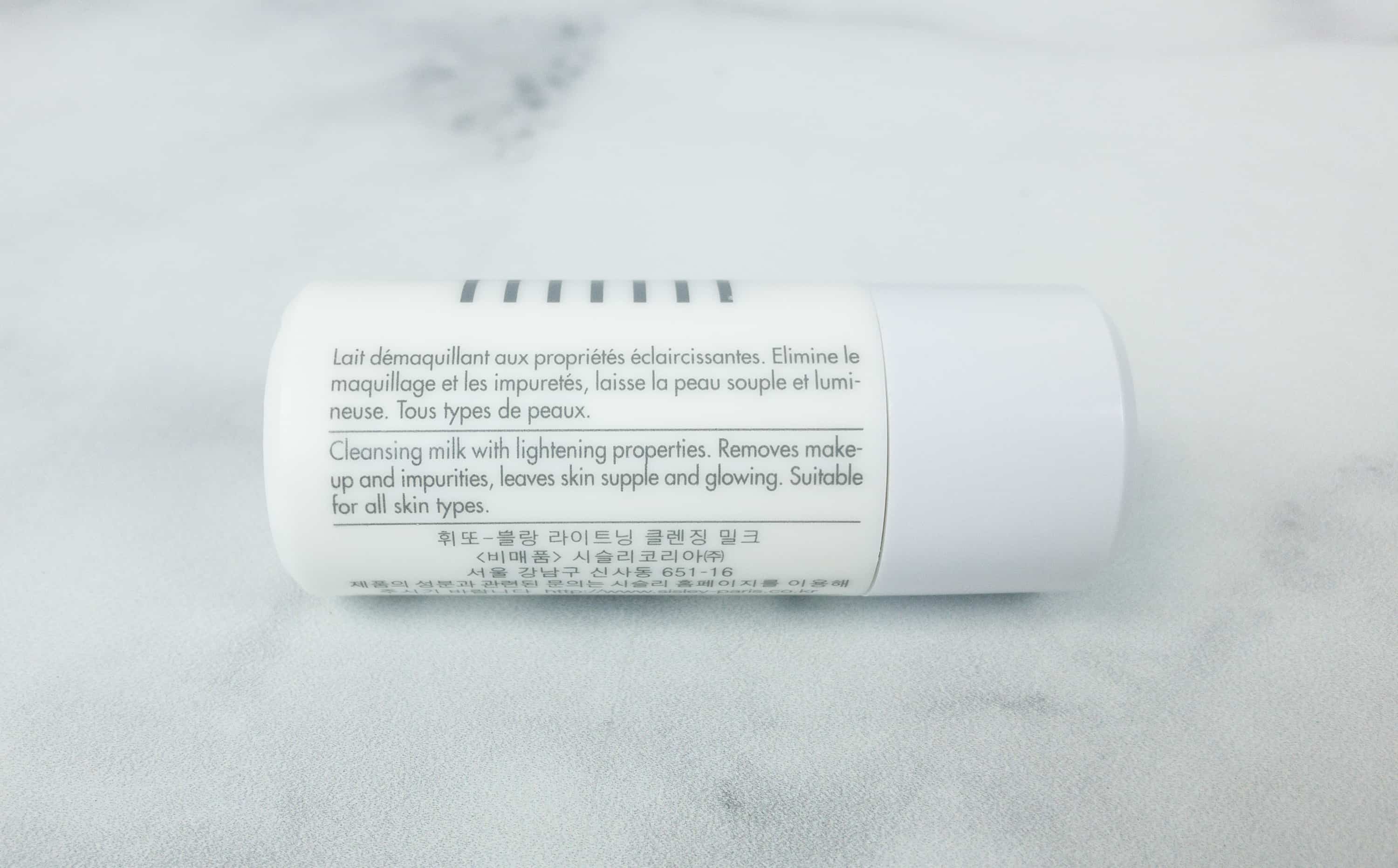 Just apply using your fingertips in circular motions to fully dissolve even stubborn makeup o the face and neck and rinse off. Finish the ritual by using a toner after.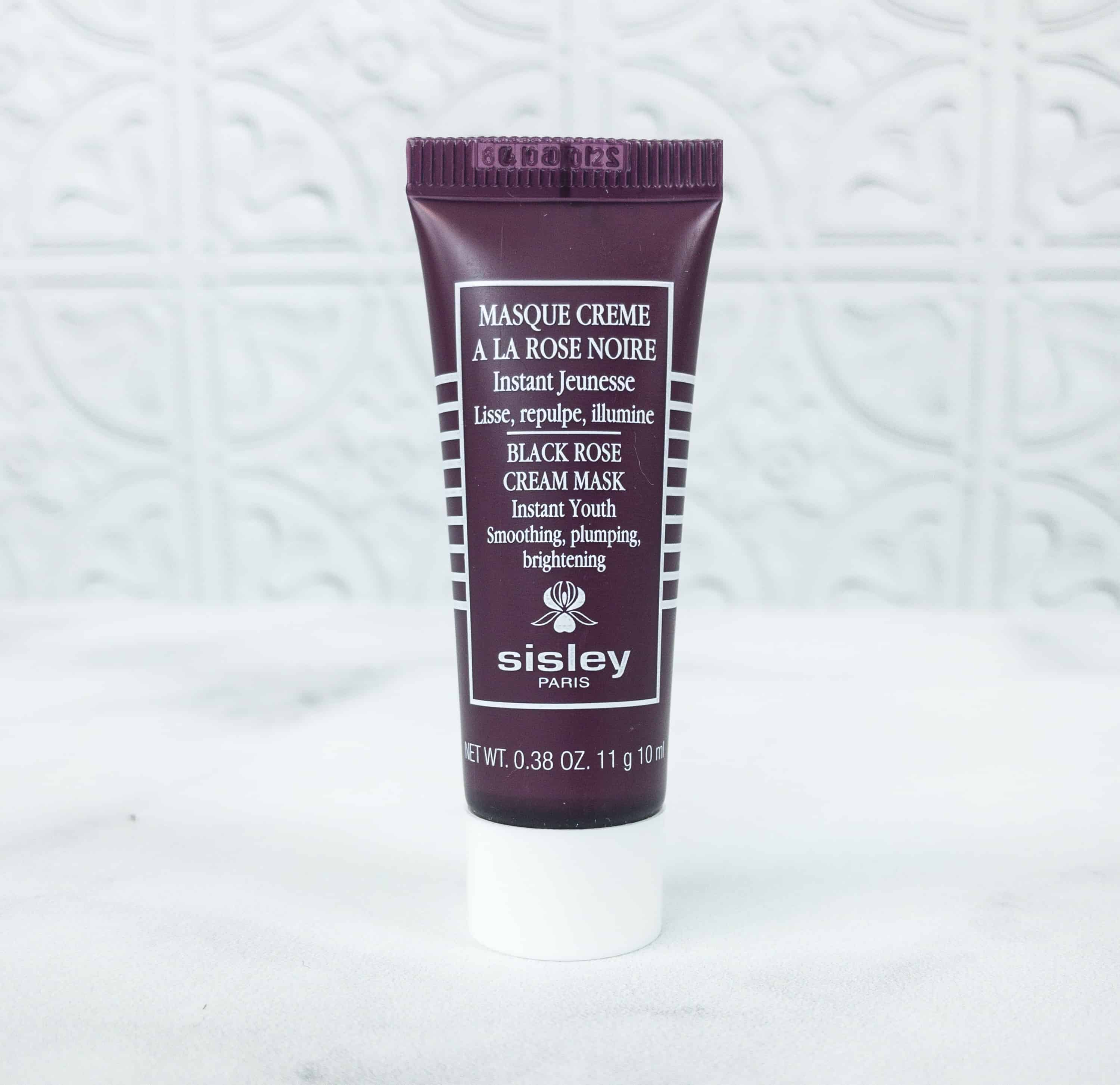 Sisley Paris Black Rose Cream Mask ($29.31) This cream revitalizes, softens and hydrates to restore and re-densify skin in just 10 to 15 minutes. For a youthful and energized look, this cream is rich in active anti-aging ingredients that immediately work on signs of fatigue, fights free radicals, and soothes and repairs skin.
Apply a thick layer on face and neck, avoiding the contours of the eyes. Leave it on for 10 to 15 minutes and do this for 2-3 times per week to make the routine work. Wipe away excess? Naw, I let it totally soak in – this little bottle is worth almost $30!
Sisley Paris Instant Eclat ($4.50) This illuminating primer has a radiance-boosting formula that instantly revives the skin as if you've never been tired at all! It's lightweight on the skin, even though it's jampacked with beneficial key ingredients like kiwi extract, butcher's broom extract, and padina pavonica extract. They all work hand in hand to moisturize, energize, and tone your skin.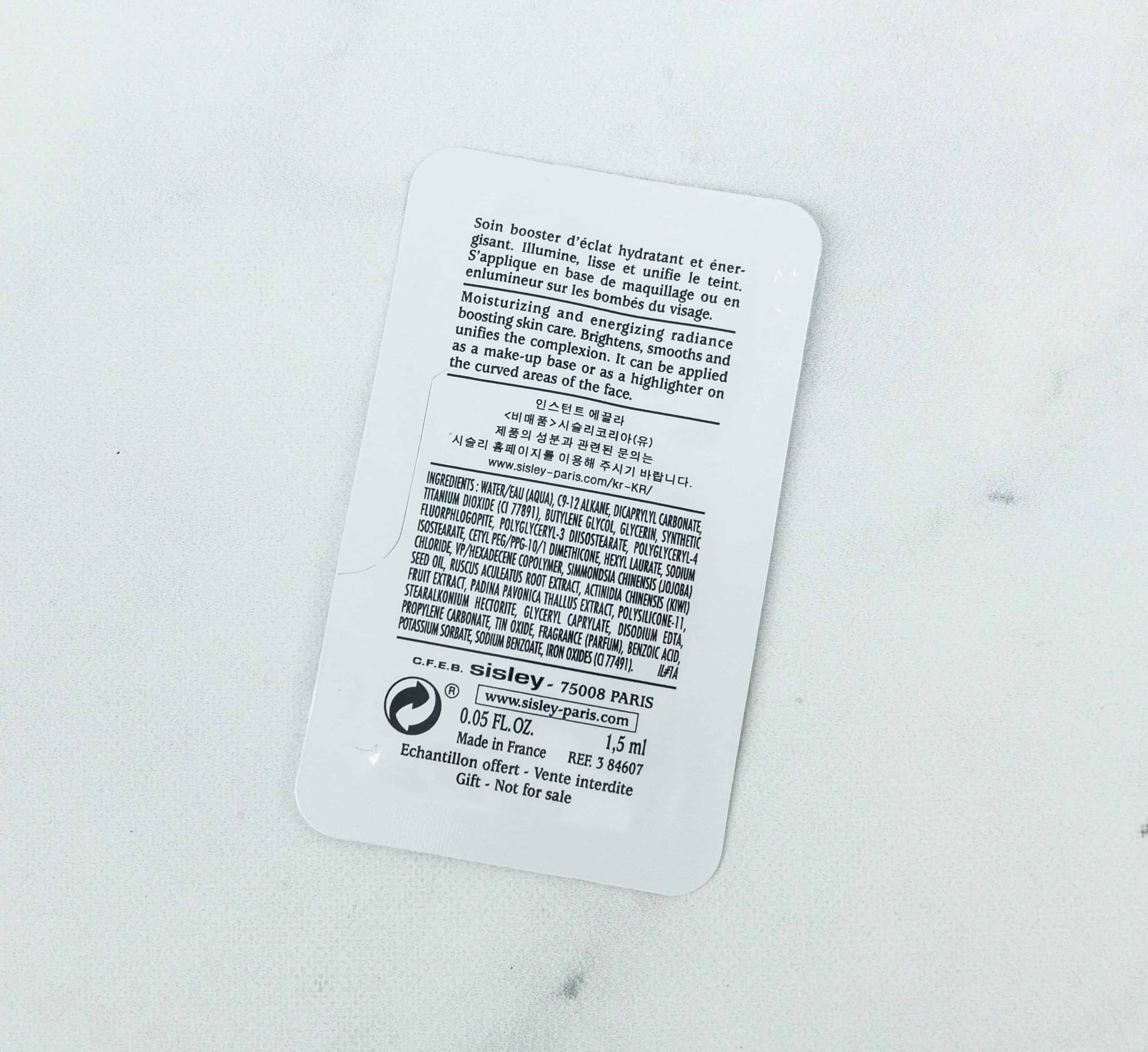 You can apply this before foundation to boost its radiance and give a lit from within glow. For a strobing effect, you can apply it on the contours of face after foundation. You can also apply on its own all over the face for a healthy glowing looking skin.
Sisley Paris White Ginger Contouring Oil For Legs ($10.26) It focuses on energizing, remodeling, toning and enhancing the legs along with a specific massage technique of course. The silky-textured oil makes the legs' skin softer, smoother and toned while the silhouette appears reshaped. It has a refreshing aroma that makes it addicting to use.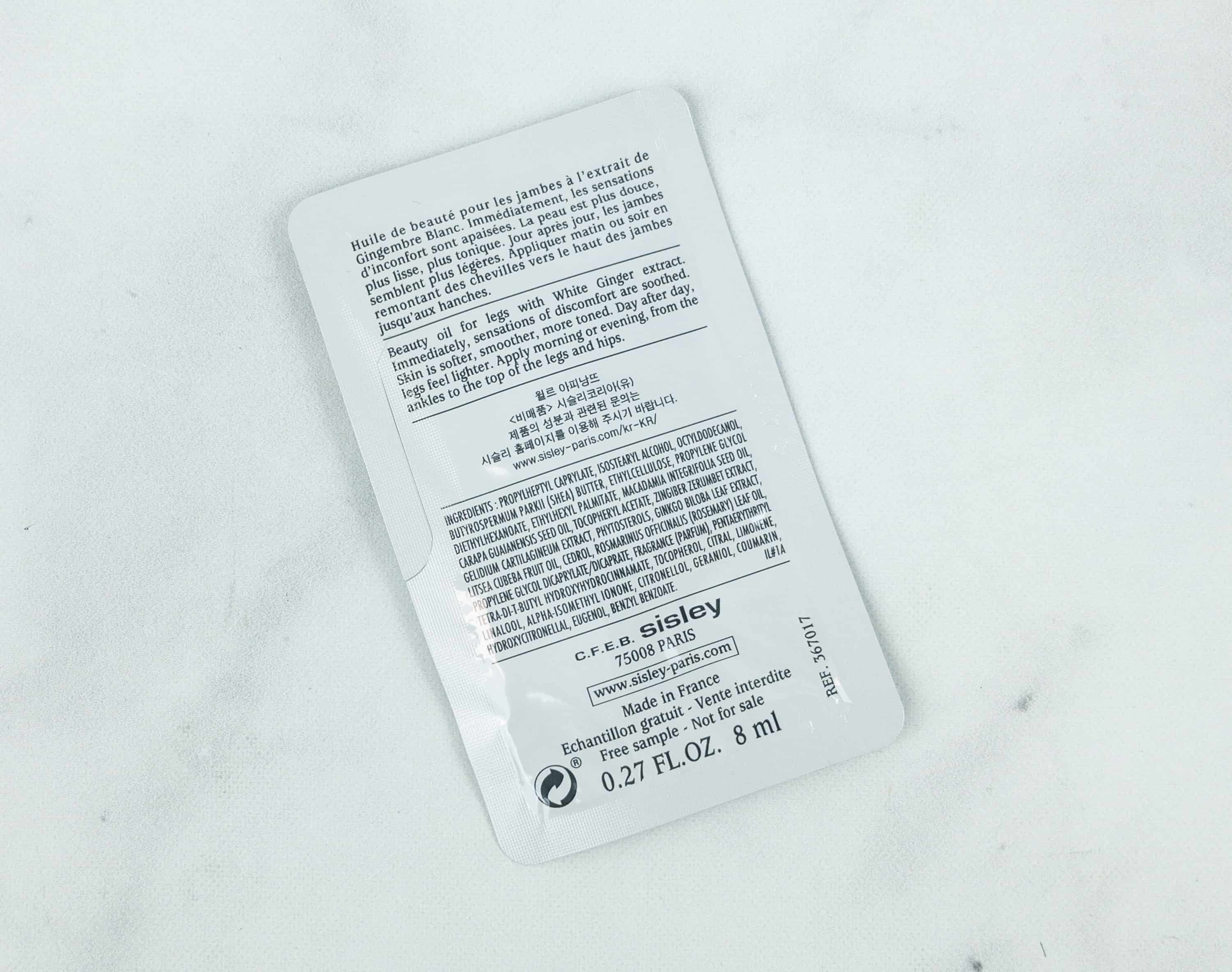 The suggested application should be in circular motions on the arches and around ankles moving to the top of legs and hips. Press firmly in upward motions and in circular motions. You should do this three times on each leg to maximize the full potential use of the oil. The last time I got this I made my husband apply, because the application instructions are so intense! It smells great but is a little messy!
Summer is ending and they don't want us to have sad skin, but feel refreshed instead. So they gave us $74 worth of pick-me-up creams Sisley has to offer! We have a buffing cream that exfoliates, cleansing milk that is hydrating, the cream mask that has anti-aging properties, brightening primer that can be used with or without makeup, and oil for legs because we can't always focus on our face right? Our legs need some loving too. If I have to pick a favorite, the primer is divine! It blends well, makes the makeup long wearing and takes care of my skin at the same time. Sisley has always been consistent in giving us premium skin care products and I love that this box is a win! This box was late, but the value made up for it!
What do you think of the Sisley Paris subscription? Have you tried any products from this company before?
Visit Sisley Paris Beauty Box to subscribe or find out more!