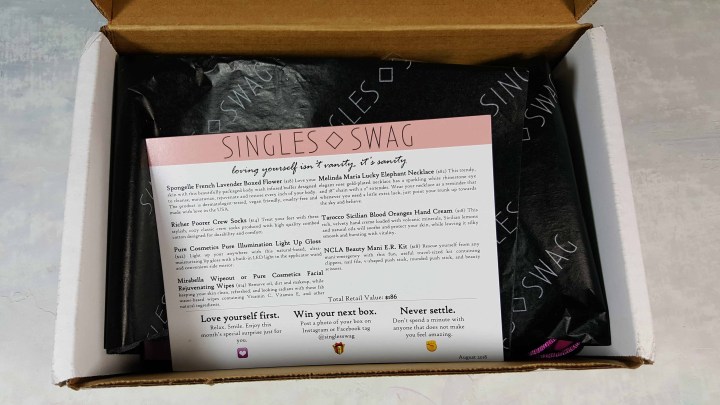 SinglesSwag is a fun, stylish monthly surprise designed exclusively for single women. Each month, receive full-sized products hand-selected for fabulous single women. These include organic bath and beauty products, trending fashion accessories, delicious artisan-crafted foods, best-selling books, and exciting surprises just for you. Choose between the regular (5-7 products) and petite (3-4 products) sized boxes. Month-to-month subscriptions start at $39.99 and $24.99, respectively, but rates are reduced for 3 and 6-month subscriptions (longer term = more savings). This is a review of the regular SinglesSwag box.
We Love Single Women

At SinglesSwag, we do not subscribe to any societal or cultural expectations on women. We believe a woman's happiness is determined by her outlook and attitude, not by her relationship status. We love to make single women look and feel beautiful, while empowering and inspiring them. We hope that our monthly package, created with love and delivered right to your doorstep will contribute to your happiness and well being. Never settle.
DEAL: Use coupon code HELLO20 to receive 20% off your entire subscription!
Everything in the August SinglesSwag box! I'm so excited about the Spongelle. Yes, these are often in boxes, but this one is French Lavender (one of my fave scents)!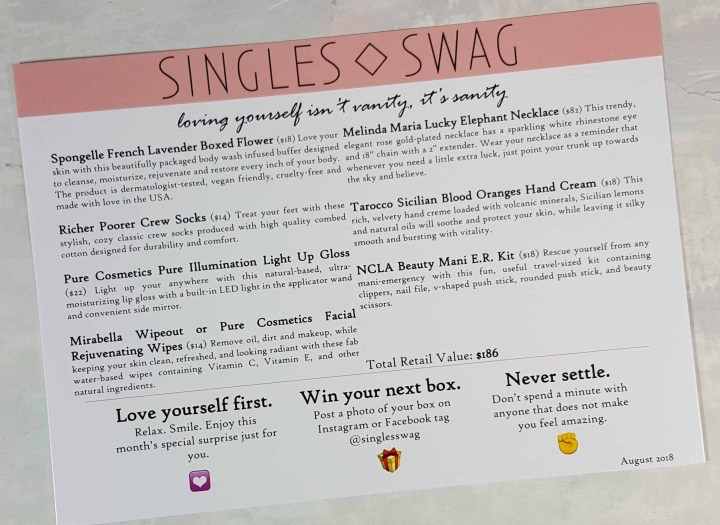 The information card contains a brief description of each item and its value. This month's quote is, "loving yourself isn't vanity, it's sanity." That's right! You are allowed to and should always remember to love yourself (first). Sometimes we get so caught up in making sure that everyone around us is satisfied and cared for that we lose ourselves. Make sure to take come time for a bit of self-care.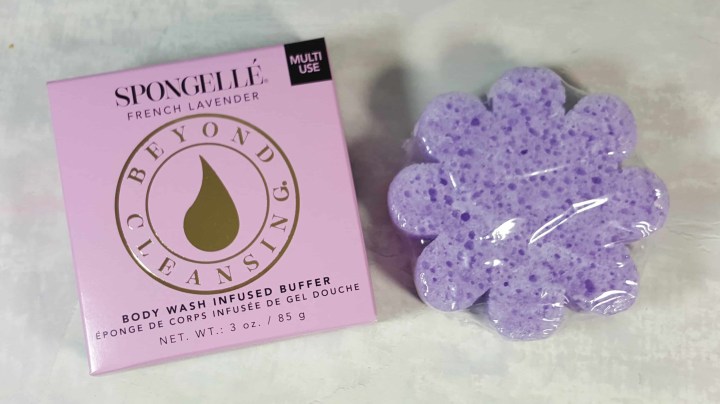 Spongelle | French Lavender Boxed Flower ($18):  So for pricing, the listed price is more than Spongelle.com.  Also, I'm not sure whether this item is $14 (unboxed) or $16 (boxed). I know this seems like a simple answer, but the Spongelle sponge I received is the same color as the unboxed version on the site although it was boxed. See, my conundrum now? Spongelle sponges are infused with a moisturizing body wash designed to give you multiple uses (14+), and the actual sponge texture works as a buffer to provide exfoliation benefits as well. The wash contains extracts of yuzu (antioxidant), edelweiss (antioxidant/humectant), and vetiver (anti-anxiety/antiseptic). Did I mention that this has a French Lavender scent?!? I love bathing in lavender before bed – it helps relax me and gets me ready to sleep. This scent blend has a top note of hesperides (citrus), middle notes of tea rose and amber, and bottom notes of lavender, spice, and woods.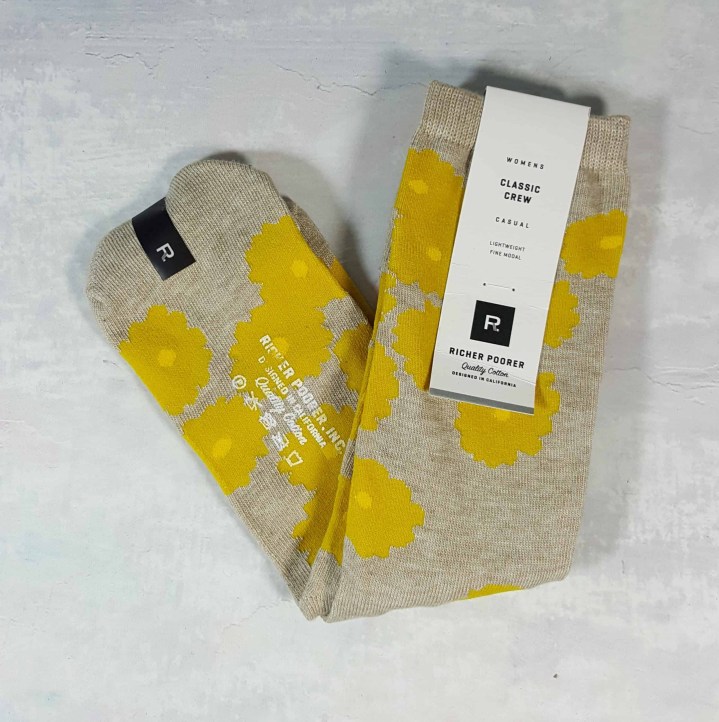 Richer Poorer | Blossom Crew Socks – Oatmeal ($14): The description for these socks state that they are an homage to Mayim Bialik's 90s TV character and her super big hats. LOL! I read that and let out a Joey Lawrence style "whoa!" I couldn't help myself. Anyway, these classically styled socks are made with combed cotton for durability and comfort. This style is also available in blue or green.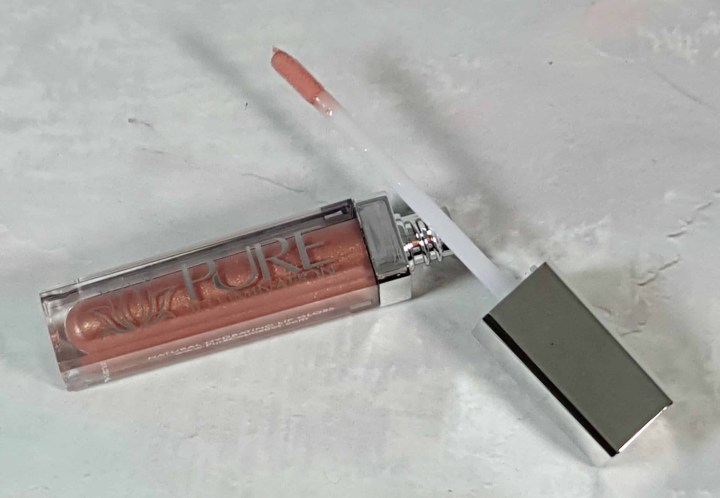 Pure Cosmetics | Pure Illumination Light Up Gloss – Nude Beach ($22): This is listed for $20 at PureCosmetics.com. The color I received is Nude Beach, a sheer, shimmery peach tone. Wear it alone for a glossy natural look or pair it over your favorite shade for a high shine finish. Made without parabens, this moisturizing formula contains medical-grade lanolin, sweet almond oil, jojoba oil, and Vitamin E to nourish and protect lips.
BUT, what I really appreciate about this gloss is the packaging. The tube has a built-in mirror, so no using the selfie feature on your phone to apply product. AND, there is built-in LED lighting for the applicator that comes on when you unscrew the cap. Pure Cosmetics is the pure genius in my book!
The LED light is very bright.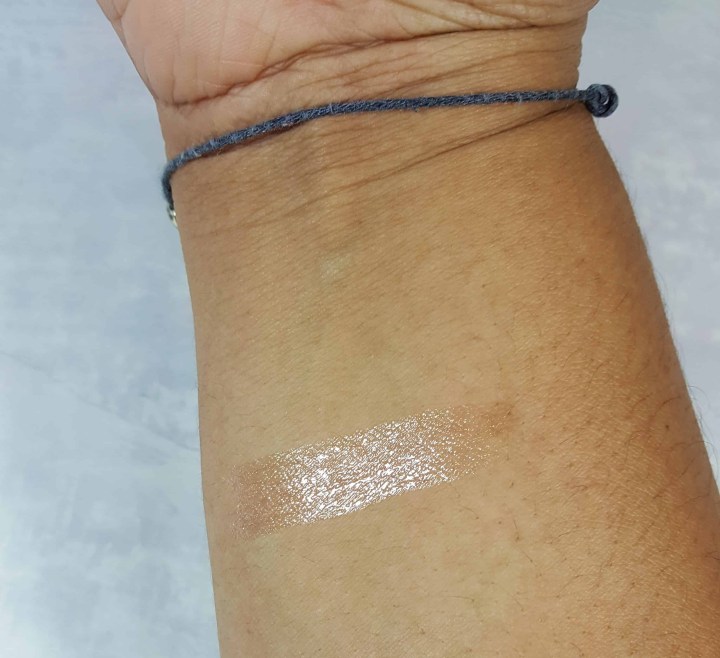 Swatch of Nude Beach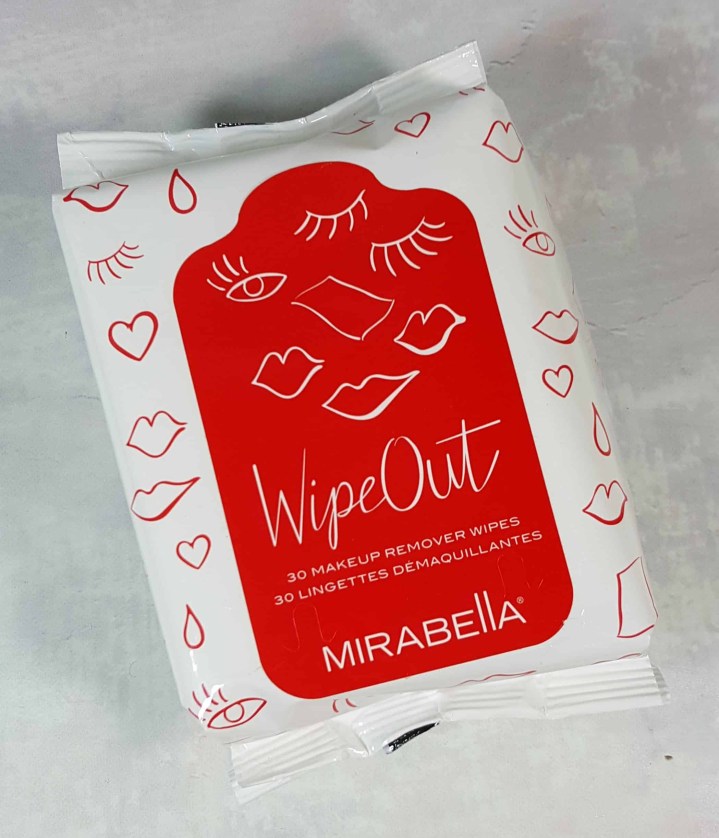 Mirabella | Wipeout Makeup Remover Wipes ($14): This pack of 30 wipes is pre-moistened with a solution featuring micellar water and Vitamin E to remove dirt, oil, and makeup in one swipe without drying out your skin. I always have wipes at the ready in my bathroom for a quick clean, and these will be added to my stash for later use. These are priced at $12 on MirabellaBeauty.com.
Melinda Maria | Lucky Elephant Necklace ($82): This necklace is rose gold plated over brass with an 18″ chain (plus 2″ extender). The elephant pendant also features a white simulated diamond eye. Elephants are considered a symbol of good luck. Hopefully, this little guy brings some your way. I don't know how SinglesSwag determined the listed price for this necklace, since it is priced at $58 on MelindaMaria.com.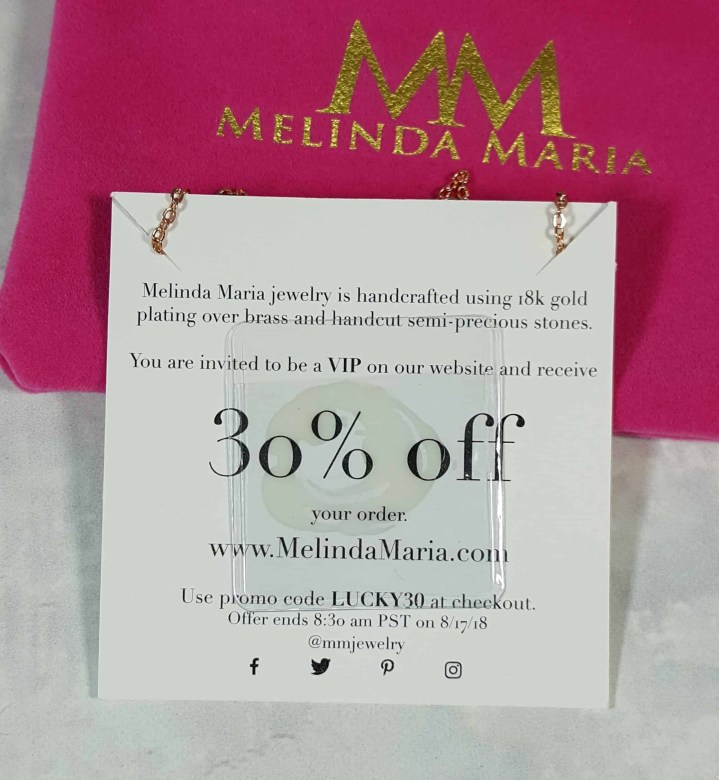 The back of the jewelry card also featured a promo code for 30% off your next purchase (expires 08.17).
Baronessa Cali | Tarocco Sicilian Blood Oranges Hand Cream ($18): This hand cream has a quick absorption, non-greasy formula. The base includes glycerin and olive oil to nourish skin and restore moisture. The orange essence also gives an aromatherapy energy boost throughout the day as you apply the cream. This product also has a pricing difference. CaliCosmetics.com shows the 4 oz. size for $20. I received a 2.5 oz. tube, making my value $12.50.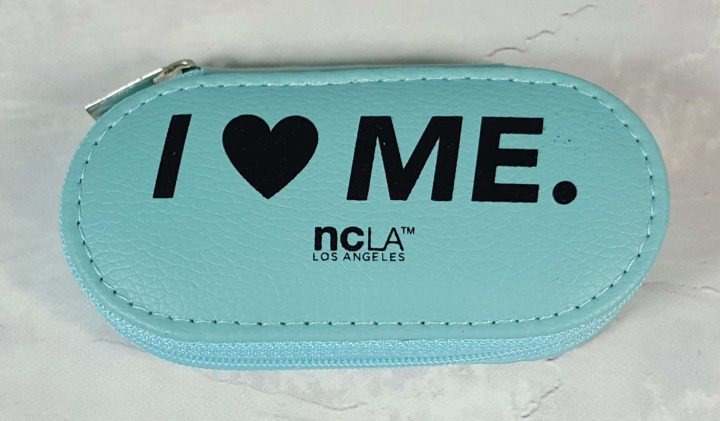 NCLA Beauty | Mani Tool Kit ($18):  I couldn't find this particular phrase on the NCLA site, so I'm assuming that it was an exclusive for SinglesSwag. The kit contains your essentials for nearly any mani emergency (except chipped polish) – clippers, nail file, v-shaped push stick, rounded push stick, and beauty scissors. I received this same kit back in my October 2016 SinglesSwag box, and it has been a lifesaver at work when I've broken nails.
August's SinglesSwag box has a listed value of $186.  However, using the prices that I found online, that drops to $150.  Although that seems like a large difference, the value of the box is still significantly higher than its cost. I'm going to continue viewing this as a win. Plus, I was happy with the curated items. I don't think I gushed enough over my French Lavender Spongelle or told you how mind-blowing the Pure Cosmetics gloss was (LED light and a mirror, WHOA!). Any standout items for you? Let me know your thoughts by leaving a comment below.
Whether you're single or attached, I think you can enjoy this box. Plus, what a great monthly box if you're searching for something to replace your monthly POPSUGAR Must Have Box!
What about you? Did you have a favorite in this month's box? Let me know with a comment below.