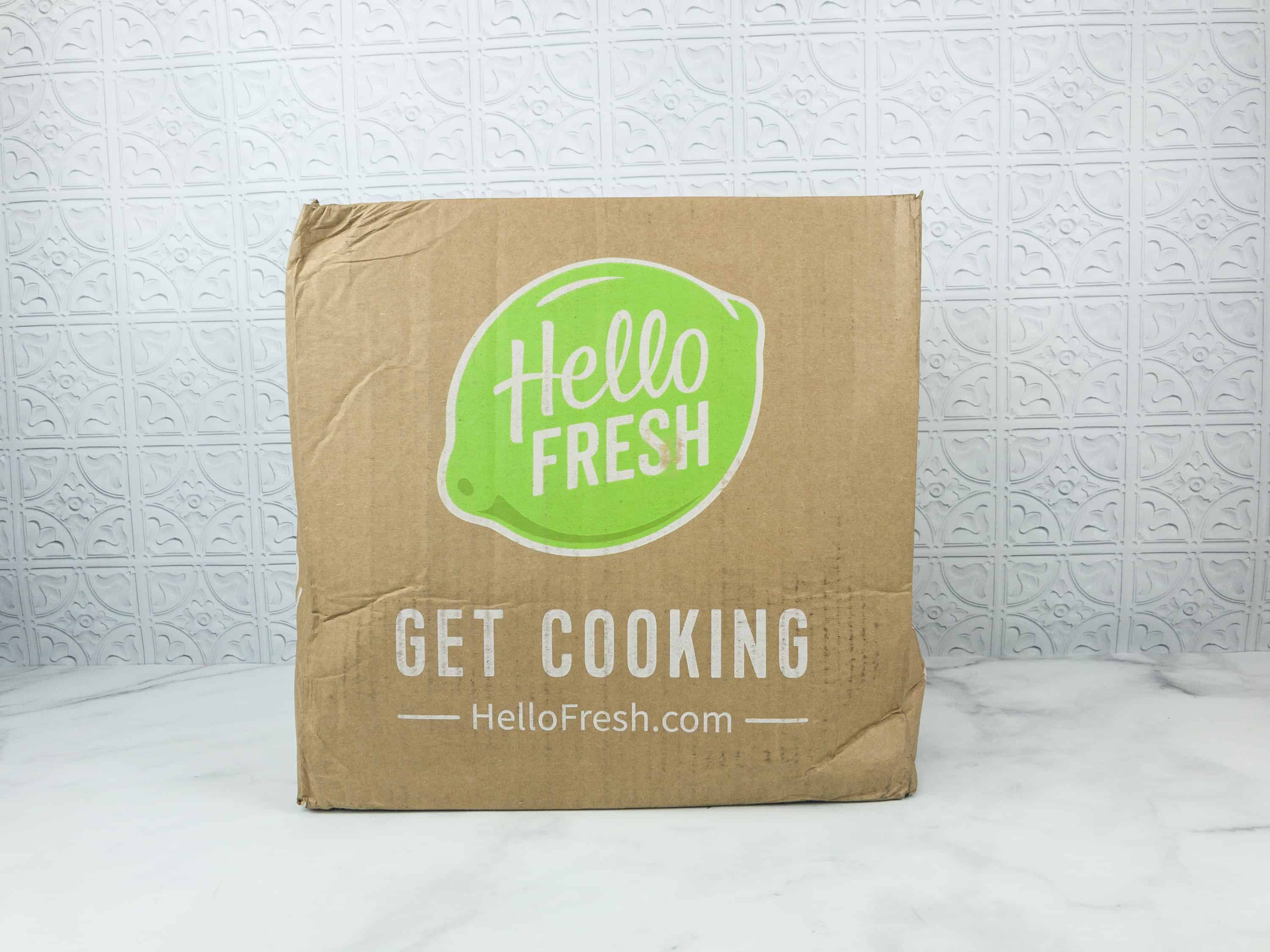 Hello Fresh is a weekly meal kit subscription box with complete recipes and high-quality ingredients to make your own fresh, healthy, gourmet meals at home.
They offer three different subscription options — Classic (choose 3, 4, or 5 meals for 2 people or 3 meals for 4 people from 6 weekly options/$9.99 per serving for the basic plan, $11.50 per meal for unlimited meal choice), Vegetarian (receive 3 HF-selected meals for 2 or 4 people/$9.99 per serving ), and Family (receive 3 HF-selected meals for 2 kids and 2 adults/$8.74 per serving). You can always pause the subscription to skip a week if you need to – this is super handy for vacations!
This is a review of the Hello Fresh Classic Box!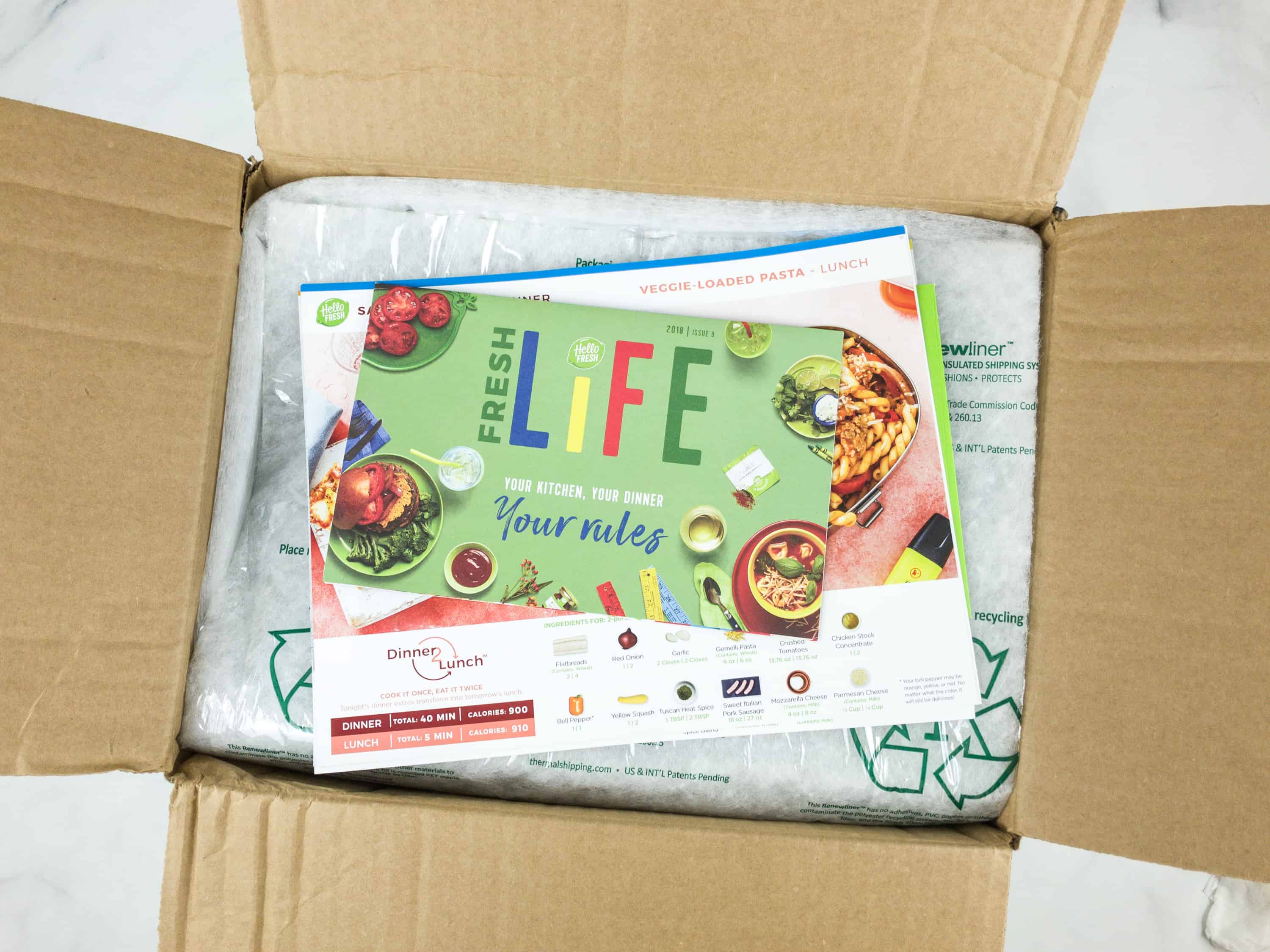 The ingredients for each meal are packed in a separate bag within a larger, insulated box. The rigid inserts both insulate and protect the food from any damage to the external box.
DEAL: Save $40 off your first two boxes – no coupon code required, just use this link for the deal!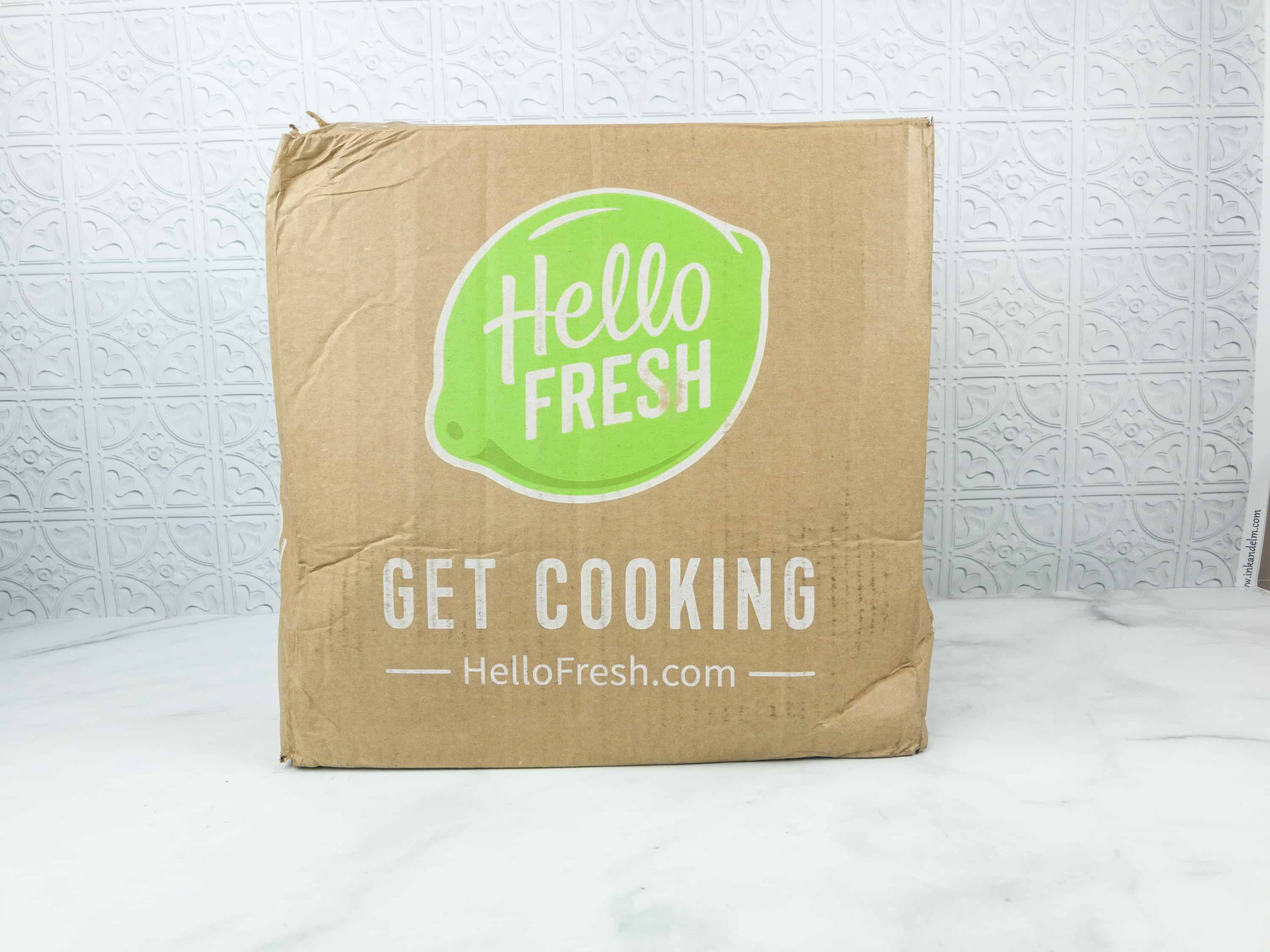 The box itself wasn't in the best condition when it arrived, but the contents remained fresh and intact.
Several ice packs keep everything cold, and the food bags are separated from the icepacks by a divider. Meat is packed at the bottom, sandwiched amongst the ice.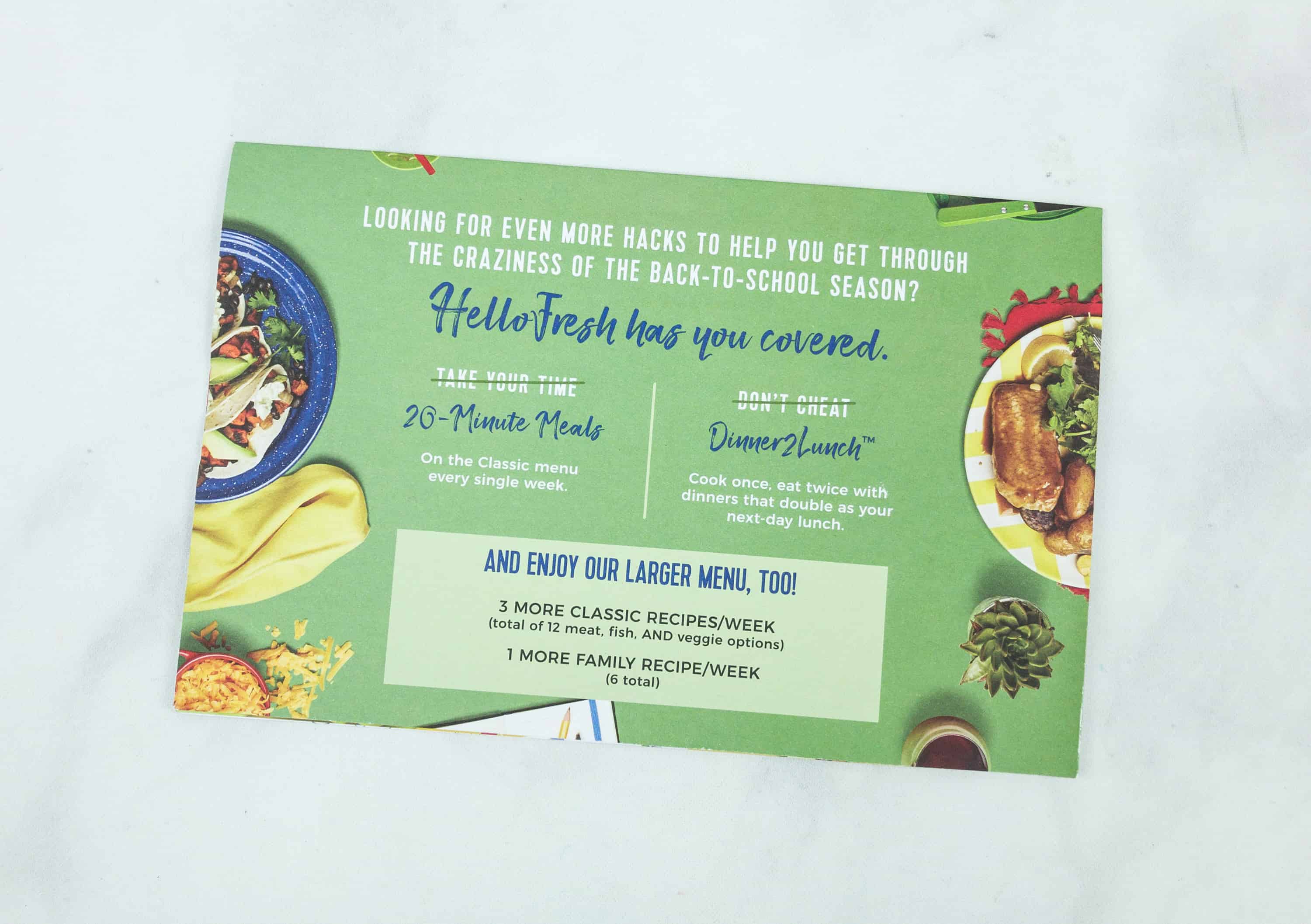 Hello Fresh is constantly improving their offerings. They've added some quick, 20-minute recipes, dinner2lunch meals that let you prep a second meal for the next day while you makes dinner, and they'v expanded the number of available choices on both their classic and family menus.
As a student, teachers make the rules… and everybody listens. But once you step inside the kitchen with HelloFresh this back-to-school season, YOU are the one in charge, and YOU make the rules.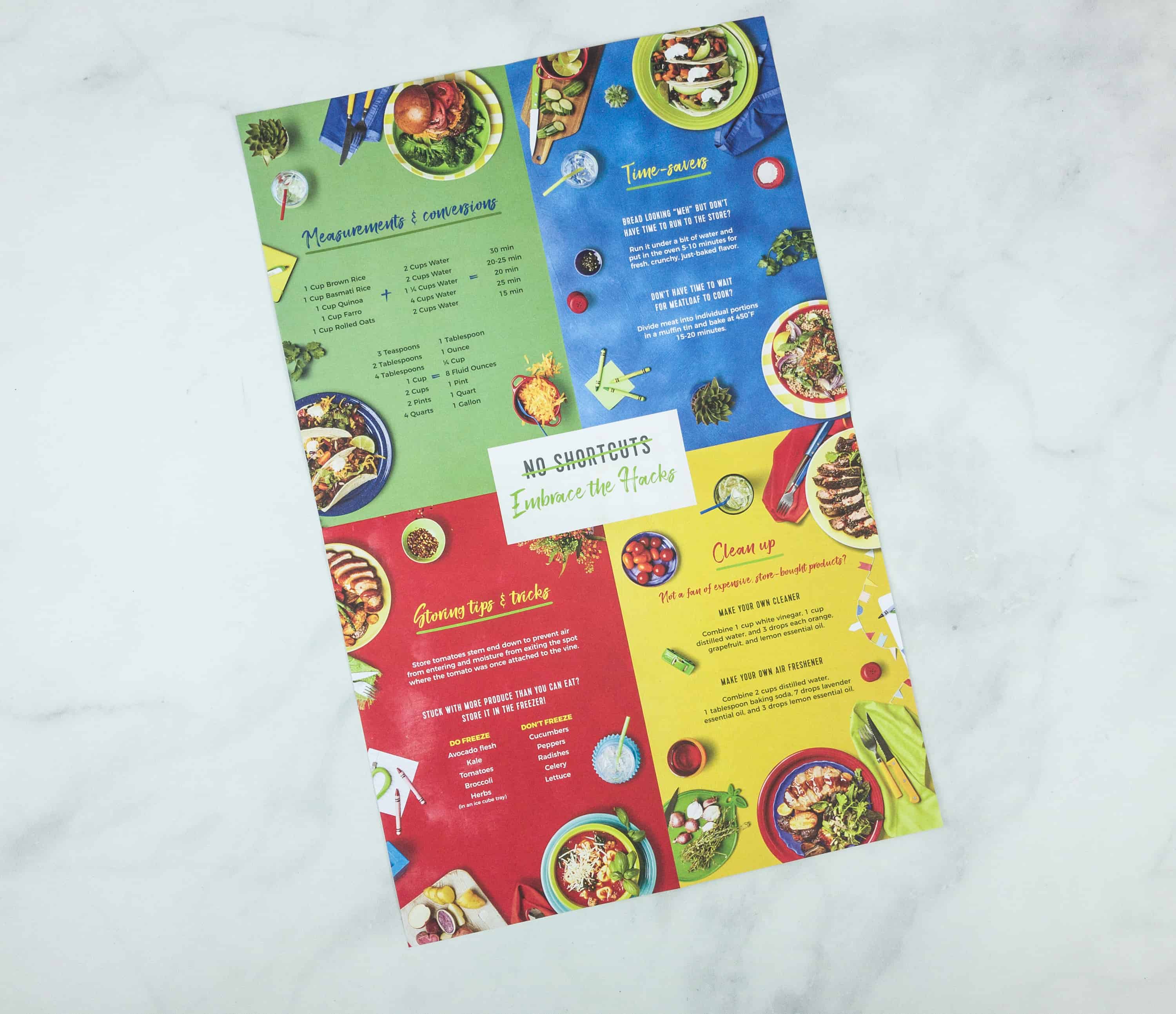 The info sheet features some handy tips, such as conversion and measurements, time-saving hacks, and more.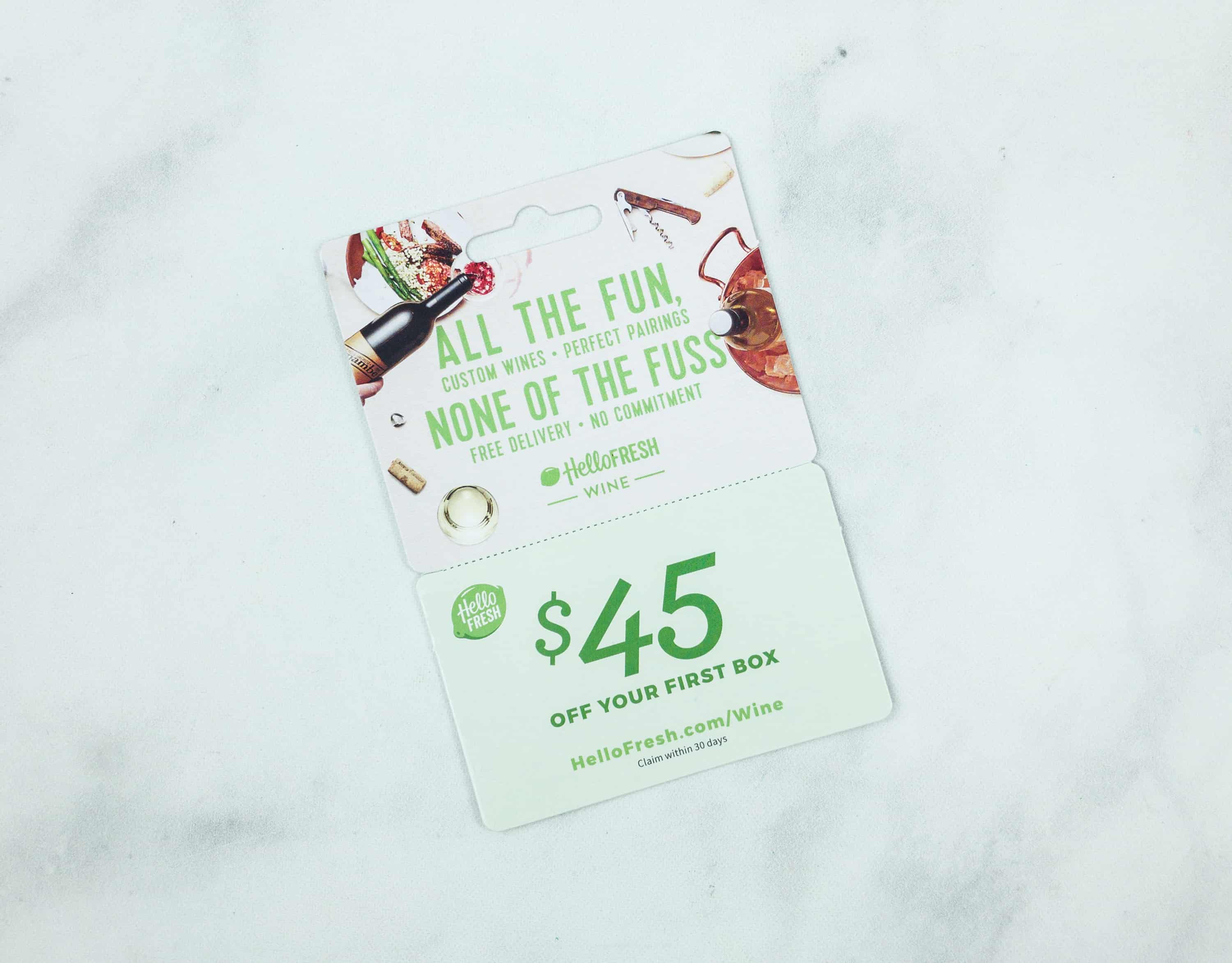 Also included is a $45 off coupon for Hello Fresh Wine subscription.
The recipe cards give a quick overview of each recipe and are handy for inventorying your ingredients.
Here's the complete nutrition information for each recipe, including a list of all ingredients, their country of origin, and a "best used by" timeframe.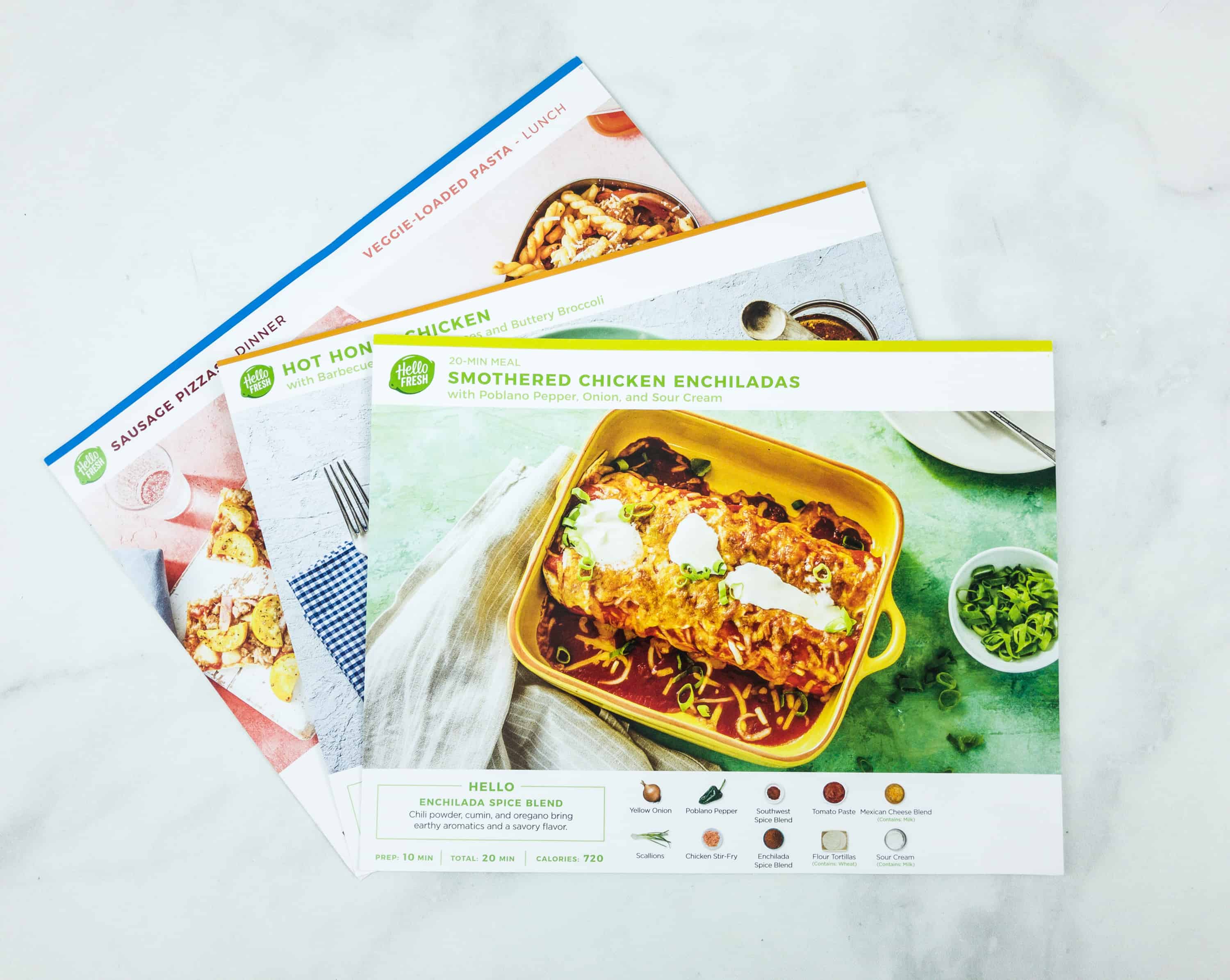 Each Hello Fresh recipe has its own lovely card with a picture of the plated dish, prep time and total time to the table, calorie count, and a visual inventory of the included ingredients. I usually decide what to make based on prep time and the type of ingredients — fish gets made first, then anything with fresh spinach, etc.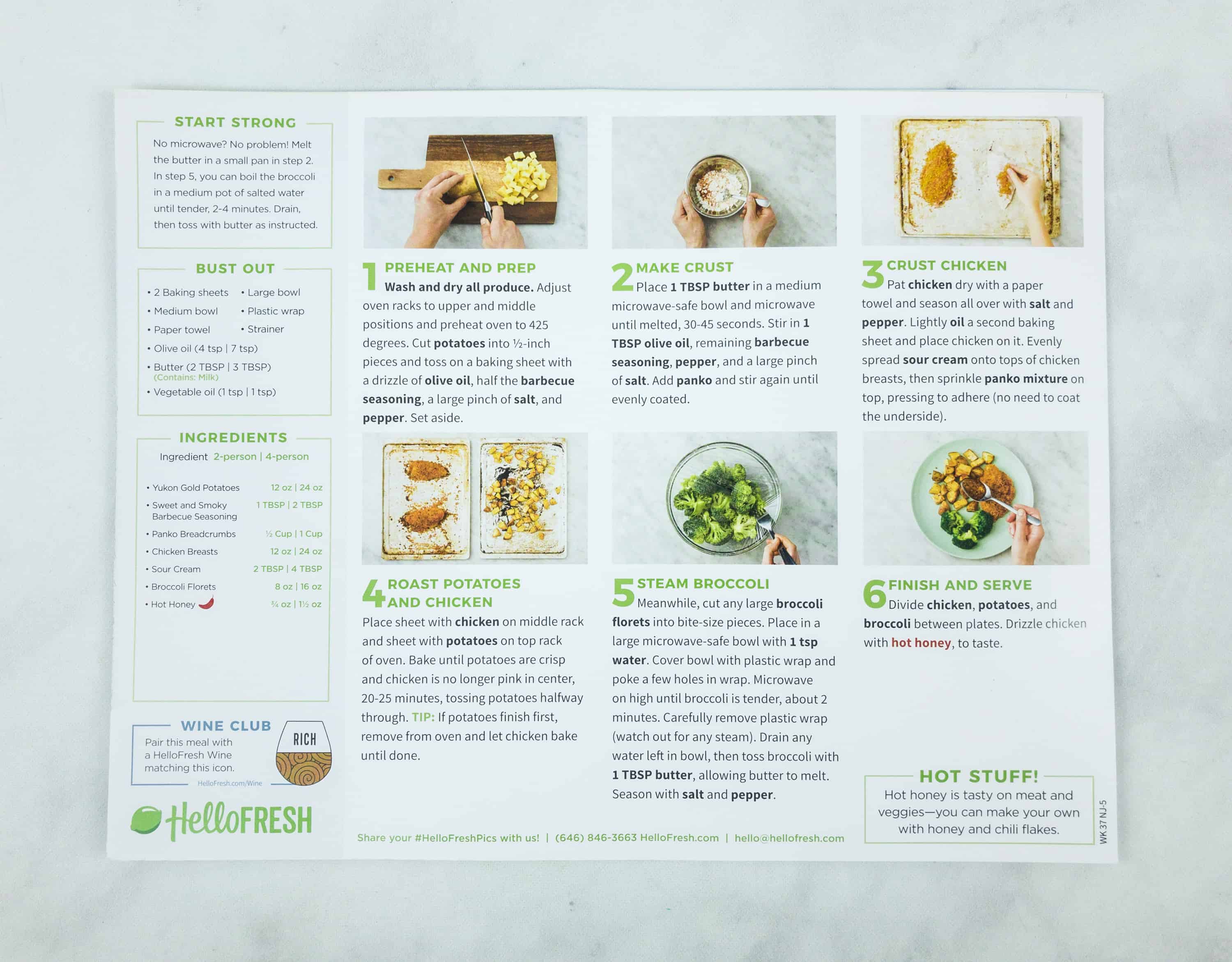 The instructions are easy to follow, regardless of your skill level. Usually, you start by washing and prepping all the ingredients before cooking. Within the detailed, step-by-step instructions, ingredients are set in bold type for ease of recognition. They even use a red font to point out spicy ingredients, so you can adjust accordingly. I really like that they call out when they've sent more of an ingredient that is used in the recipe — when they don't mention it (which is most of the time), the items are pre-portioned and can be tossed right in without measuring. Info panes in the sidebar list anything you'll need from home (pans, cooking oil, etc), as well as the quantity of each provided ingredient needed for 2 and 4 person versions of the recipe.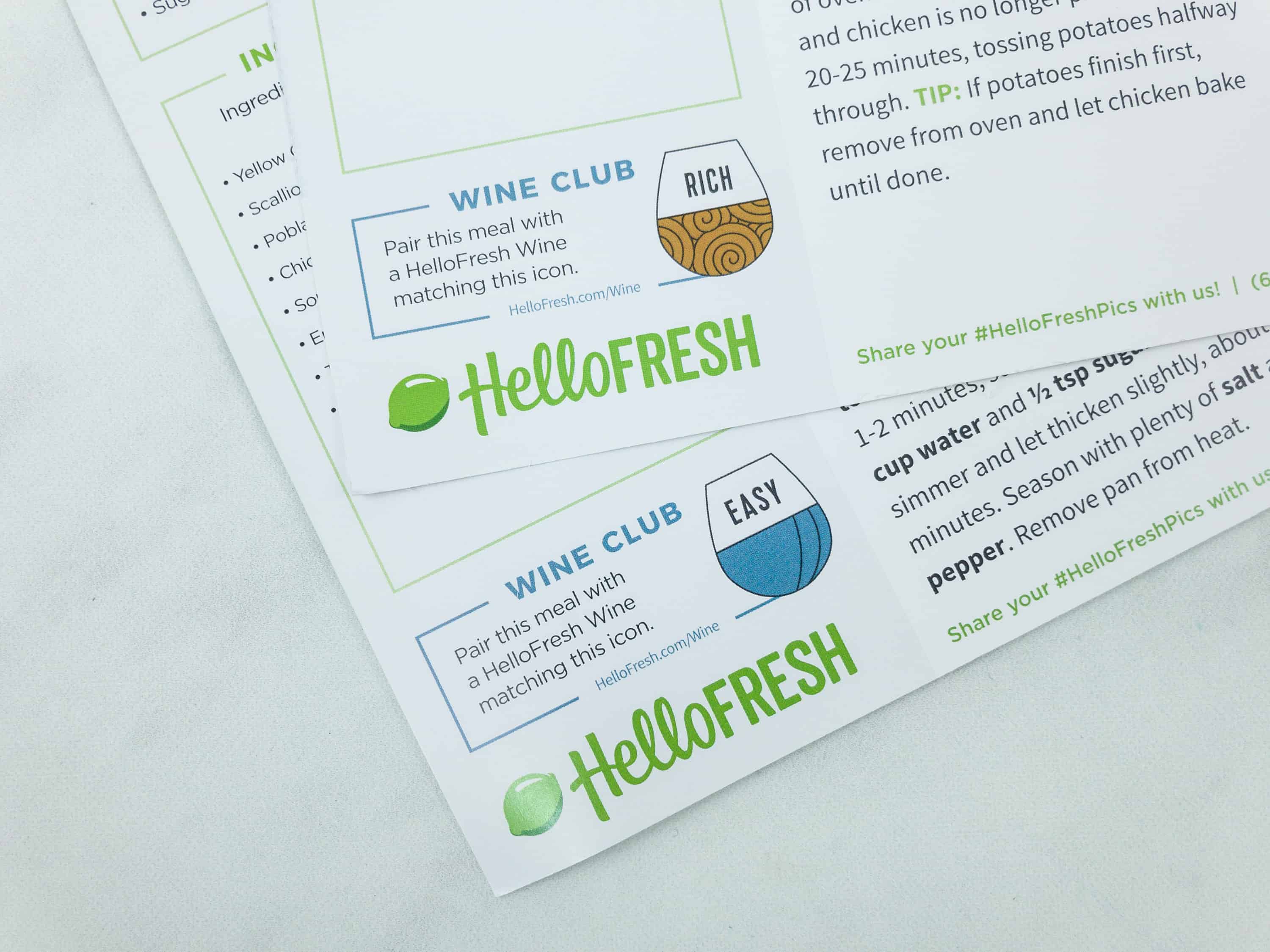 I like that Hello Fresh is also giving suggestions on what wine you can pair your meals with. They point you to a category of wine that matches up with their Hello Fresh Wines selections.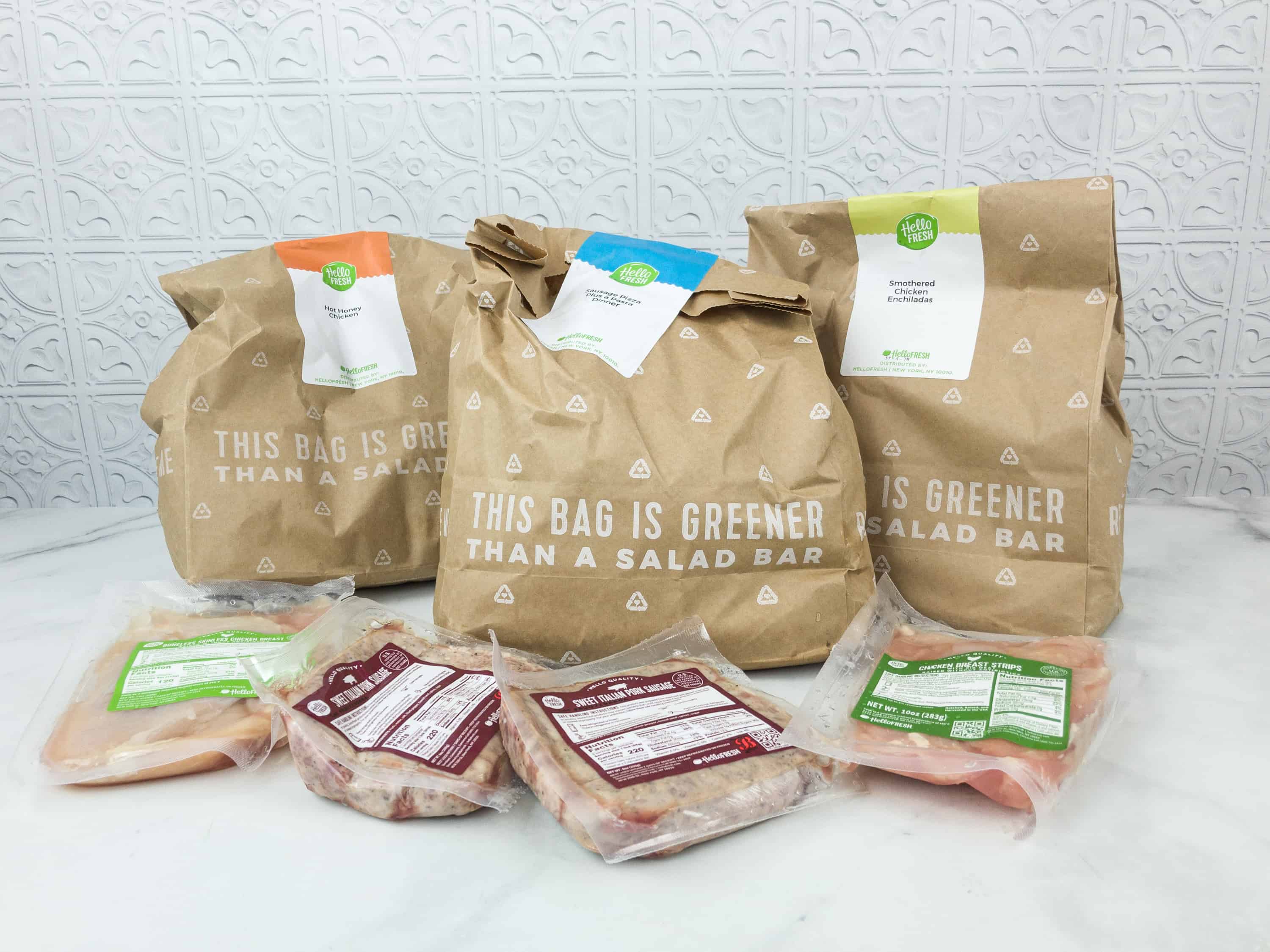 The ingredients are well-packed and labeled! Each recipe gets its own bag.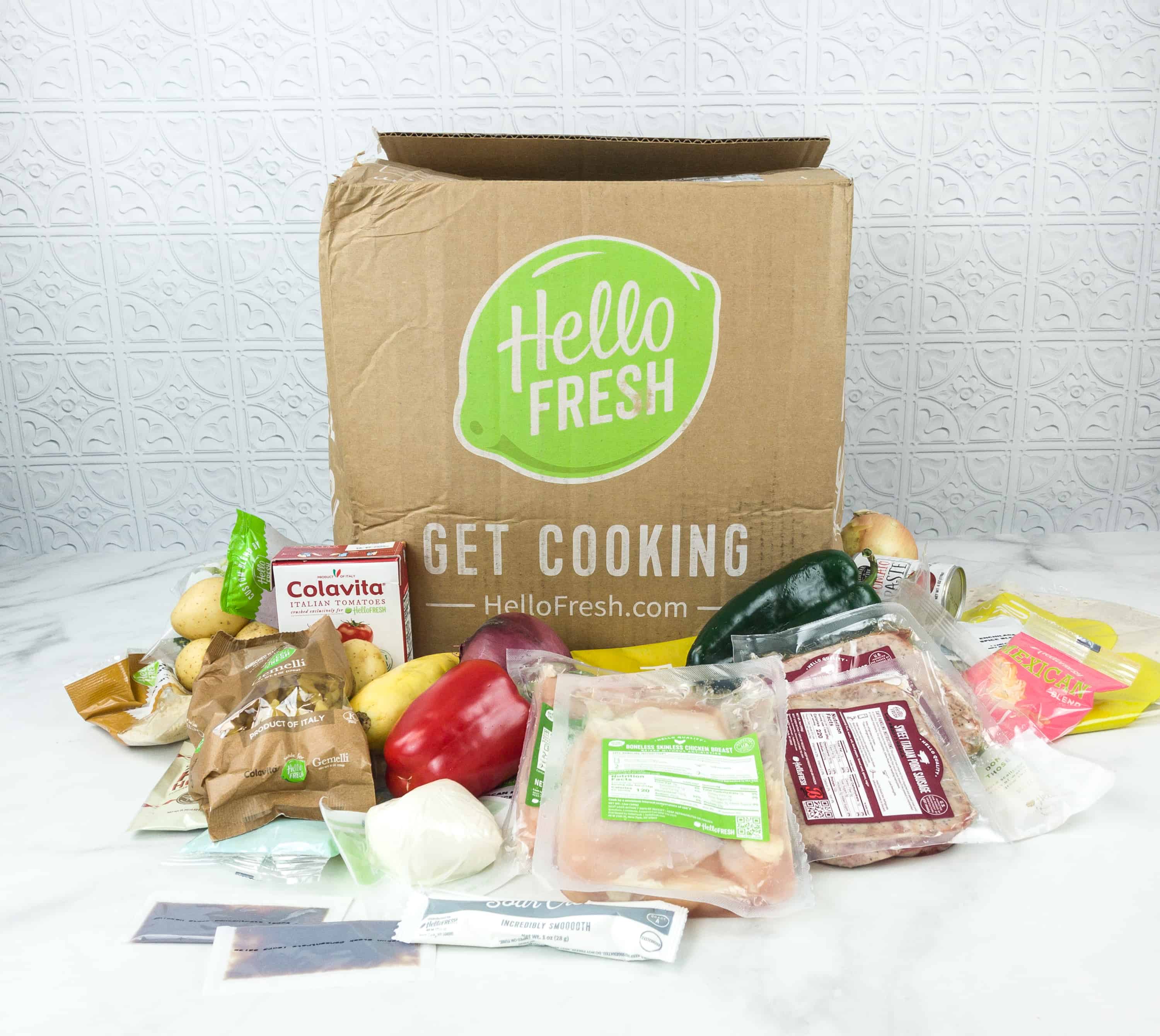 Everything in my box!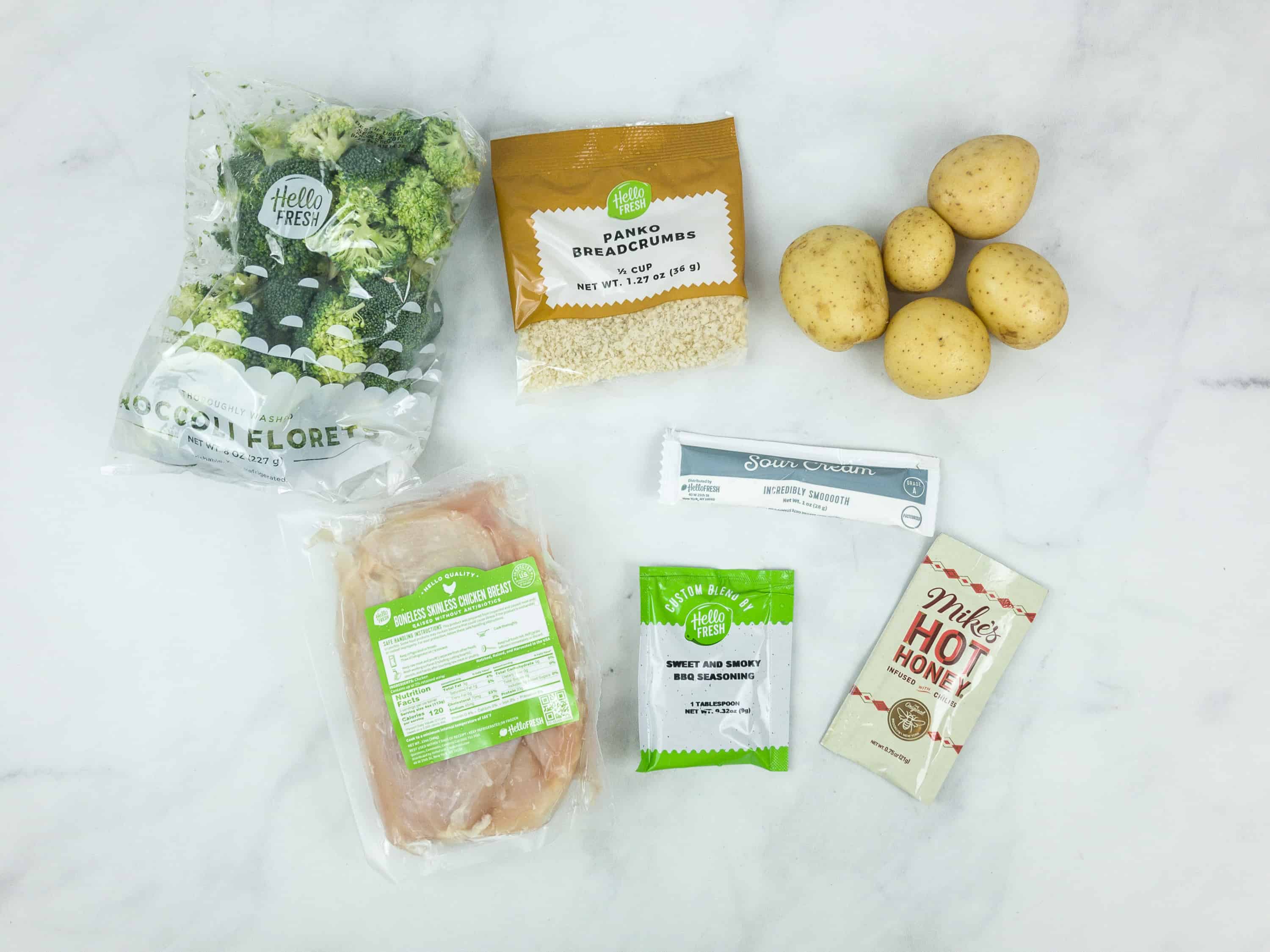 Hot Honey Chicken with Barbecue-Roasted Potatoes and Buttery Broccoli – 35 minutes, Level 1, 690 calories per serving
This has everything we need for a filling meal: chicken coated in crispy breadcrumbs, smoky potatoes, and steamed broccoli. It's a dinnertime classic, so I couldn't really ask for more, except maybe for a glass of red wine! Although this dish required multiple steps because of its three components, the instructions were pretty easy to follow and they turned out really tasty! The potatoes roasted without needing any fussing, and the breading for the chicken was simply pressed into a coating of sour cream, so there was no three-bowl setup required.
Sausage Pizzas Dinner with a Veggie-Loaded Pasta for Lunch – 40 minutes, Level 1, 900 calories per serving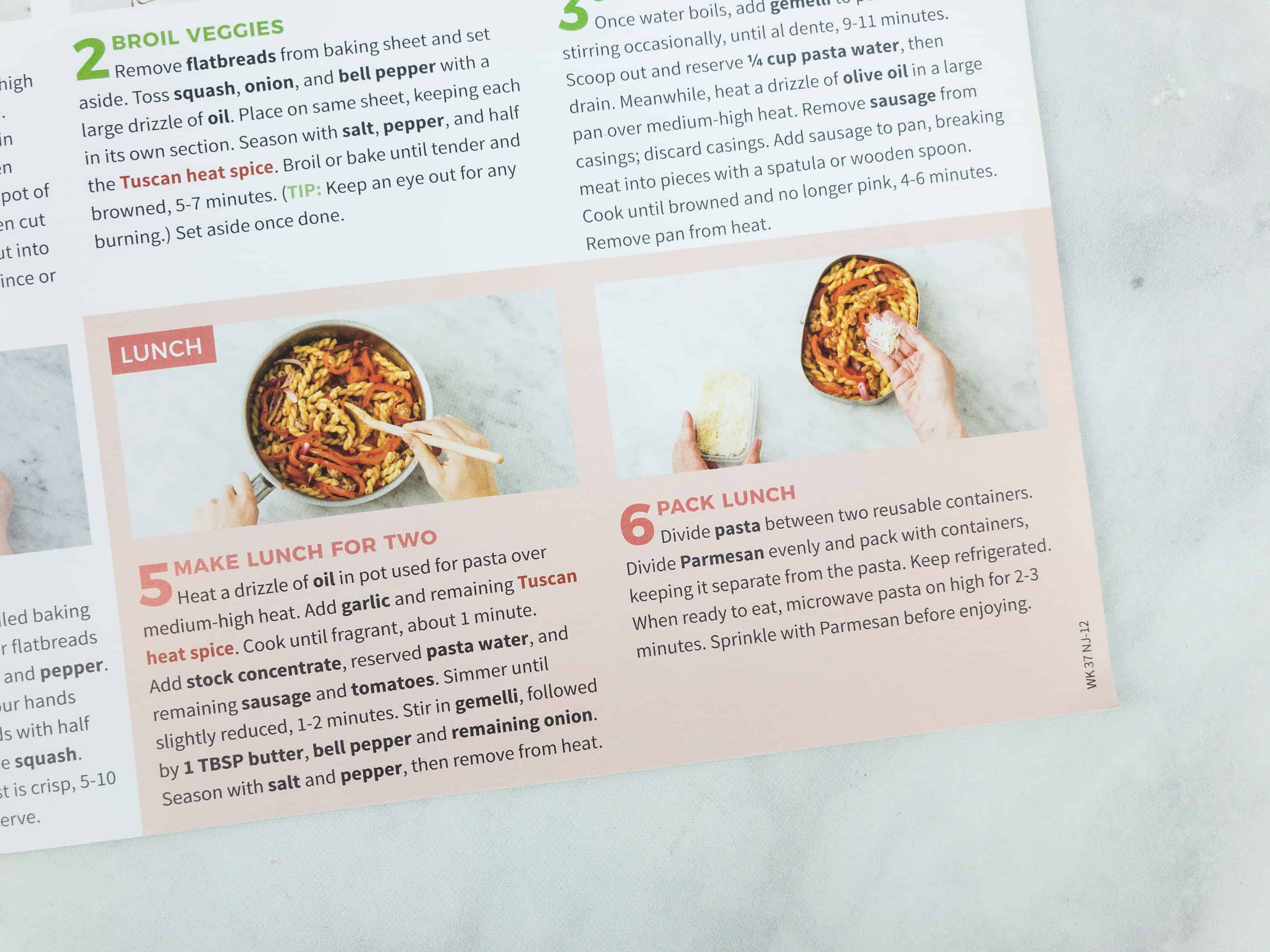 They doubled up our portion of sausage, so we had plenty of protein to cover both dinner and lunch. We love Italian food, but this may be the first time I've ever made pizza and pasta at the same time — It doesn't get any better than this!
Who could say no to this hearty pizza? It contains sausage and zucchini, making it full of flavor in each bite. The veggies get pre-roasted, so their flavor is condensed, and they don't make the pizza soggy.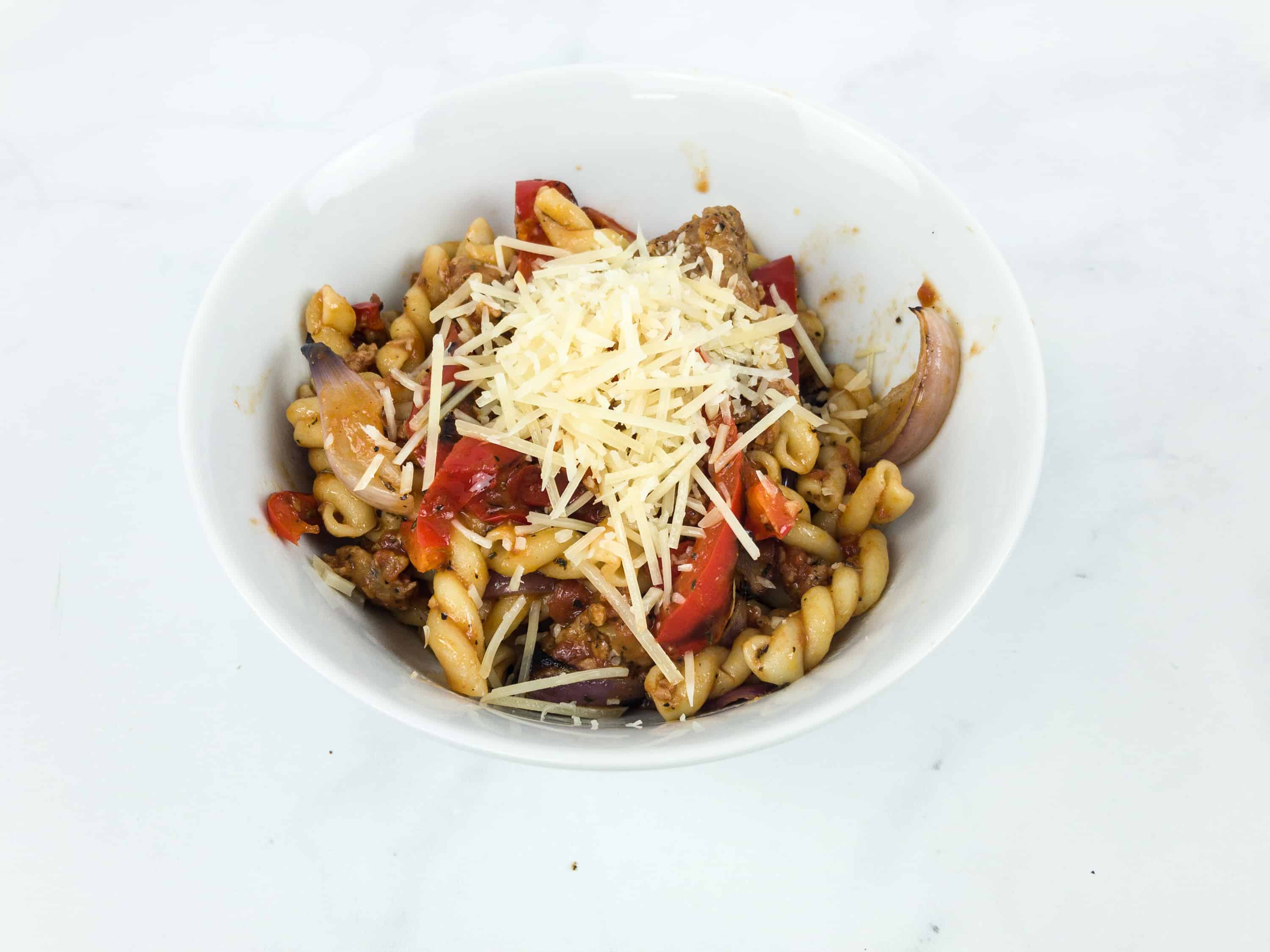 For lunch the next day, the remaining toppings and some roasted red peppers are used to make a delicious pasta. We topped it with lots of Parmesan to make it even more delicious! We usually save some of our dinner to have as a light lunch the next day, but the dinner2lunch meals gave us lots to have the next day. We actually ended up spreading these two meals over dinner, breakfast, and lunch!
Smothered Chicken Enchiladas with Poblano Pepper, Onion, and Sour Cream – 20 minutes. Level 1, 700 calories per serving
Enchiladas are stuffed and rolled tortillas with a tasty sauce. This one is jampacked with chicken strips, Southwest spices, shredded cheese, and sour cream. Preparing this only took me 20 minutes! The inside of this enchilada was a lot like a fajita, whereas we like to see some beans or sauce on the inside of a dish like this. The sauce was tomato paste based — this means it's super quick to make, but it also makes it really easy to get a little too acidic. This dish was good, but it didn't quite hit the mark.
Hello Fresh is always a great help for meal planning. I know how difficult it is to think of what meal to cook every single day, and subscribing to Hello Fresh made it easier for me to come up with new meals with lots of fresh ingredients. Almost everything is provided in the box, and the recipes are pretty easy to follow. We really love the Dinner2Lunch option meals — they are great for our busy schedule, because they let you prep two meals at the same time, using the same core ingredients. Rather than packing leftovers, in about the same amount of time it takes to prep one meal, you also get a hearty lunch that feels completely different! All in all, this is a great box as it makes cooking easier and more fun!
Have you tried Hello Fresh?