Robb Vices is a monthly subscription service that delivers a collection of "storied treasures." The subscription costs $89.95 per month, and each box comes with a collection of incredible products and experiences that have been curated for your enjoyment.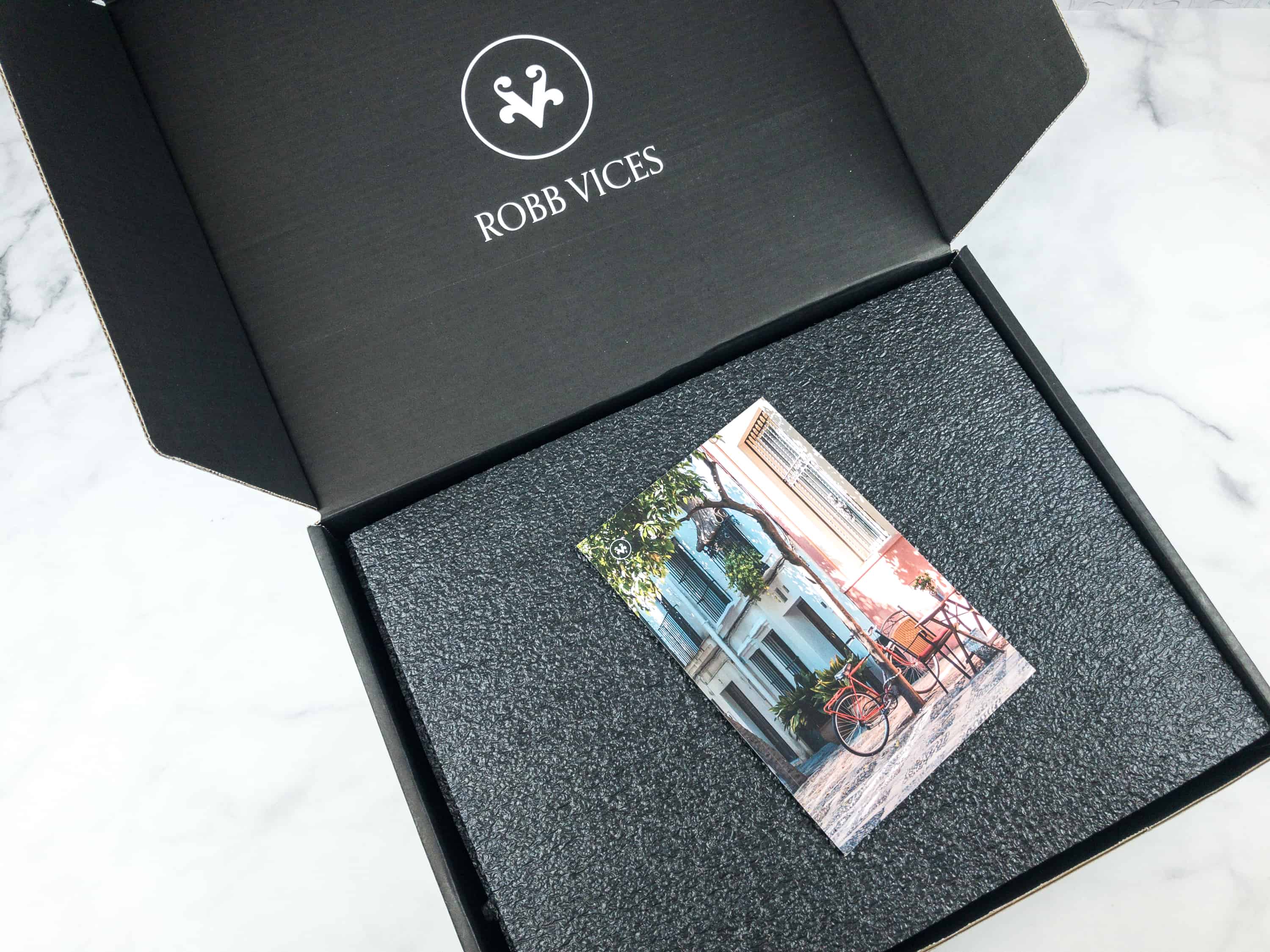 The box is huge! It is the size of a padded laptop shipping box. The large size lets them ship fragile and really expensive stuff with adequate padding.
DEAL: – Use codes/links to get these offers!
Want to start with one box? Just use coupon code TEATIME if you wish to get the Robb Vices Tea Experience box (see review) as your first box OR CELEBRATION18 if you want the Great Celebration box (see review) first.
Everything arrives cradled in a custom-fitted foam case. The foam protected everything well, but I do miss the luxurious look and feel of the soft, velvety foam of previous boxes.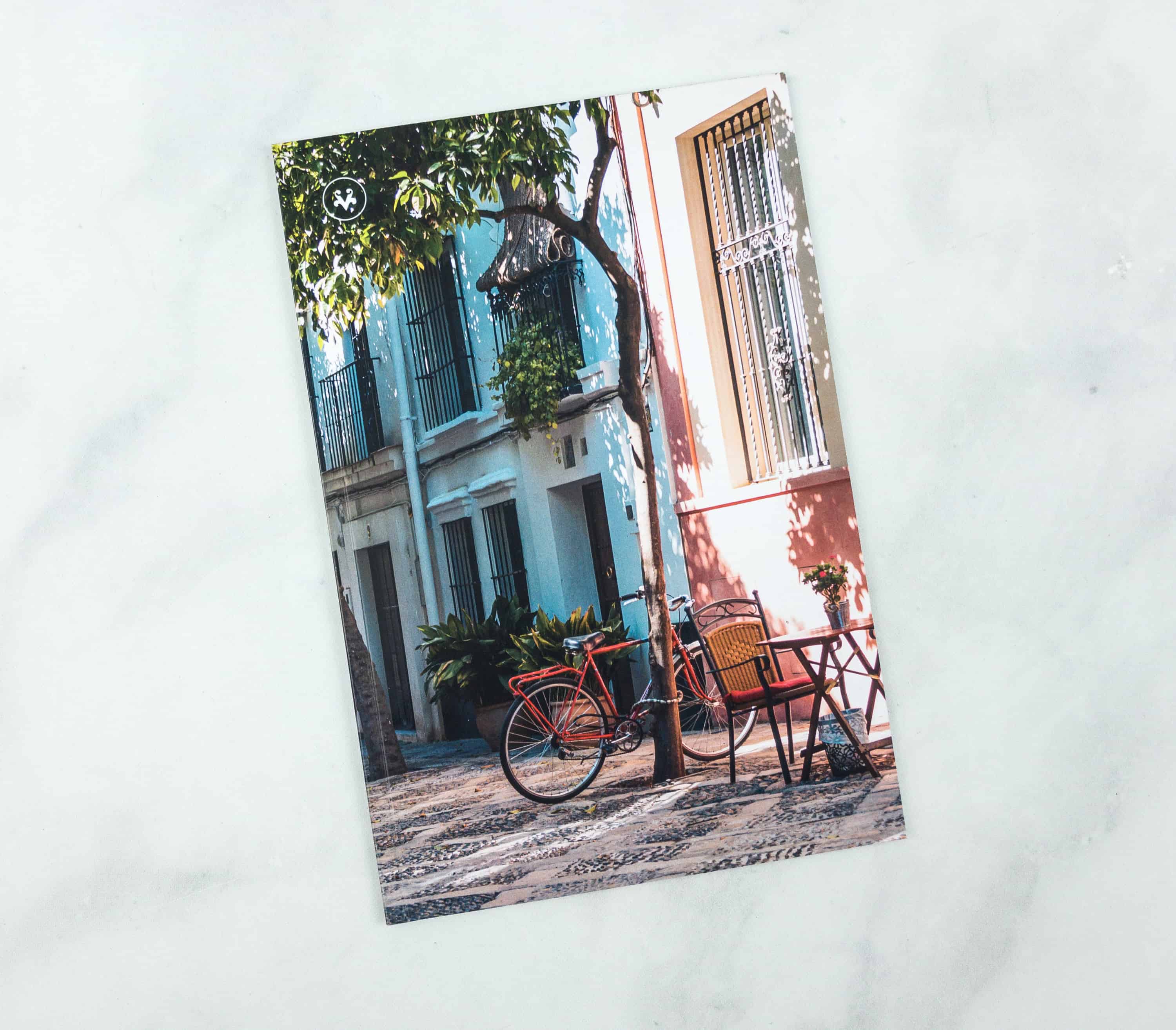 The story of the premium products is told through a giant, novella-sized booklet with multi-page featurettes on each selection. It is the most thorough exploration of products I've seen in a curation, as each one has the equivalent of a magazine article written about it.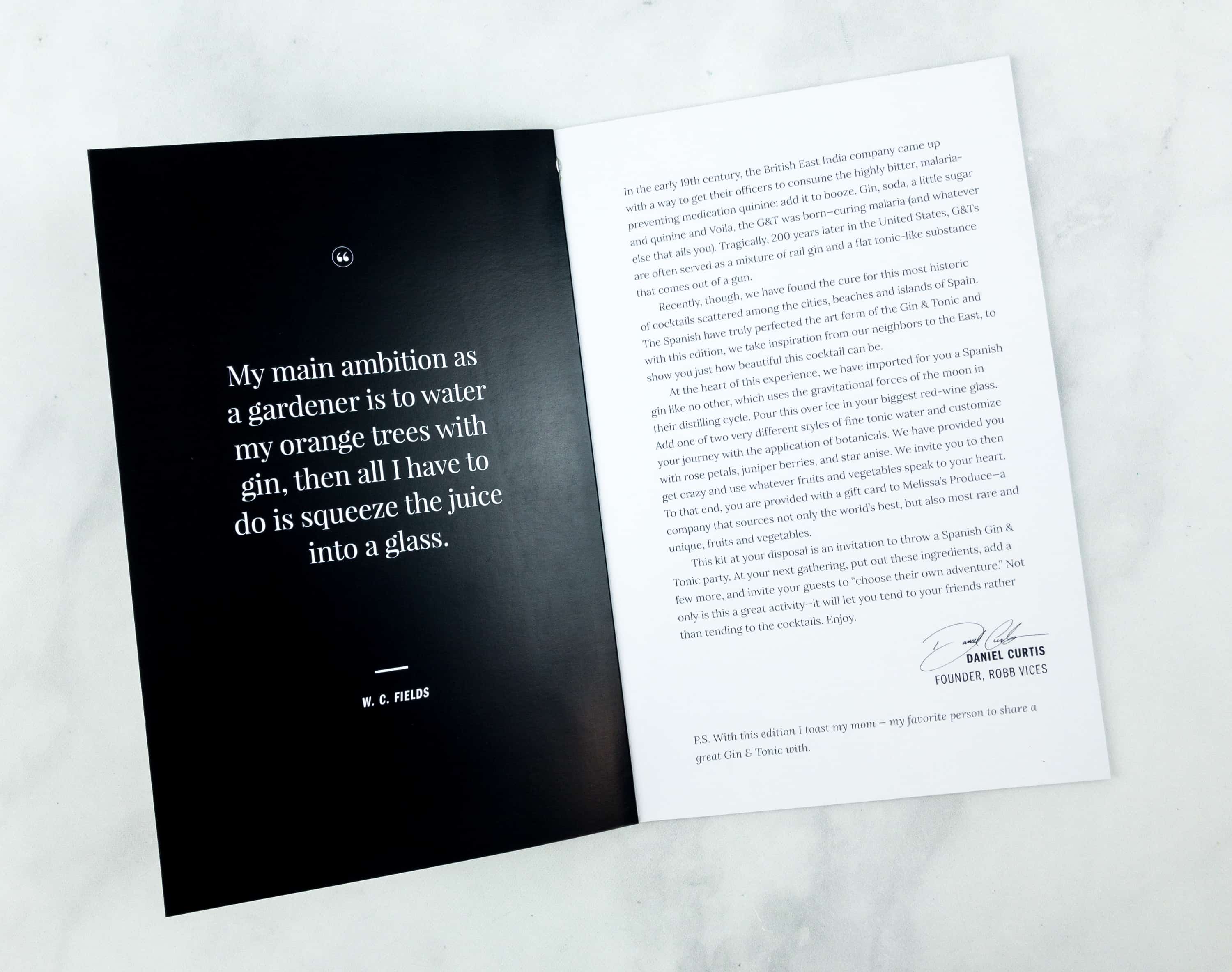 My main ambition as a gardener is to water my orange trees with gin, then all I have to do is squeeze the juice into a glass.

– W.C. Fields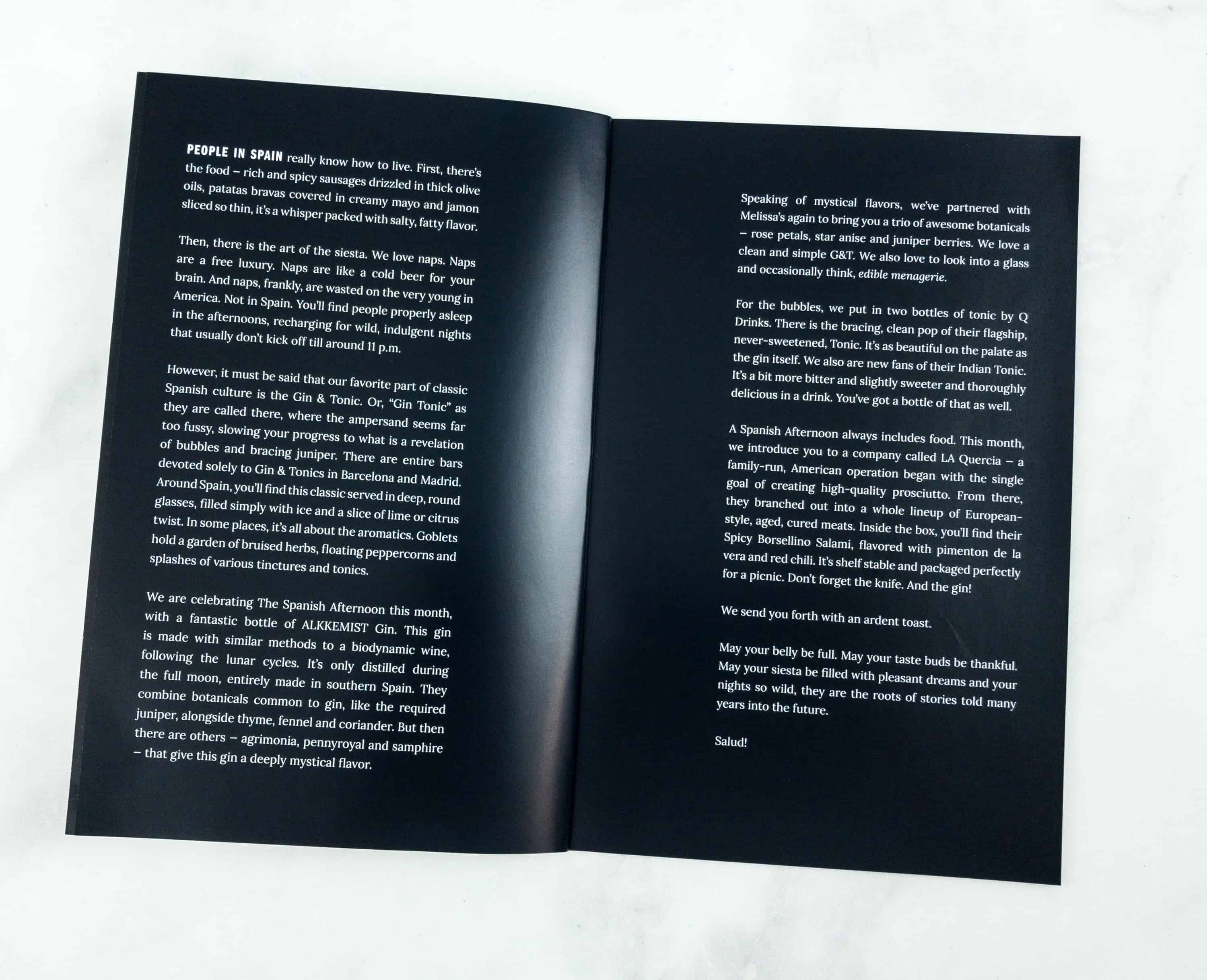 There's a long introduction about this month's theme, but it is basically about the people in Spain, their way of living and its classic Spanish culture. I have always thought of the Gin & Tonic as a purely British contribution to the world, but love for the drink has apparently sprouted elsewhere, as well. There is an entire Gin Tonic scene in Barcelona and Madrid.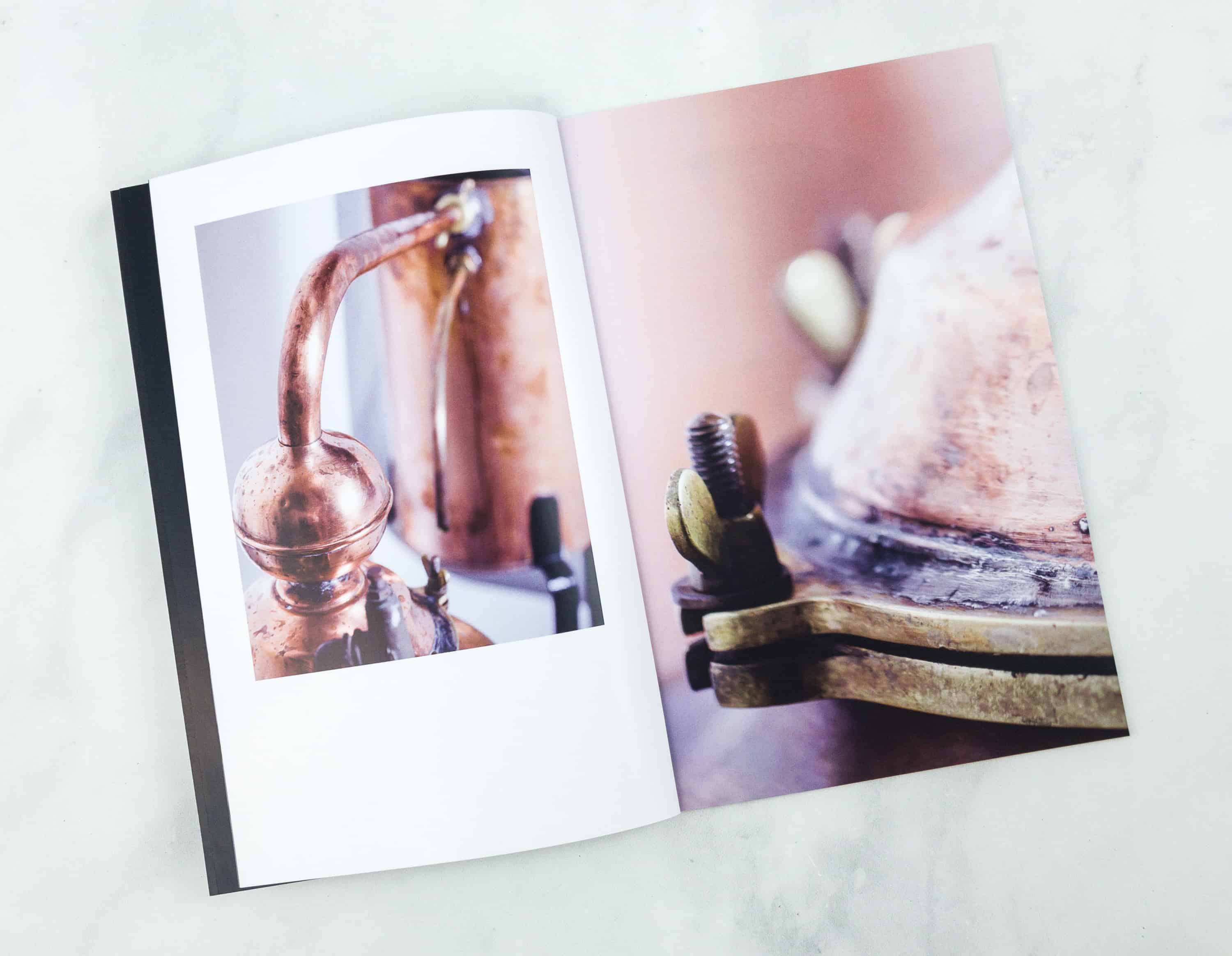 As always, the booklet includes high-quality photos relating to the production of items in the box. Here, we get a glimpse of the copper still used at Alkkemist.
The back of the booklet always has a brief directory of all the featured products, plus a reminder of any coupon codes from within the pages of the booklet.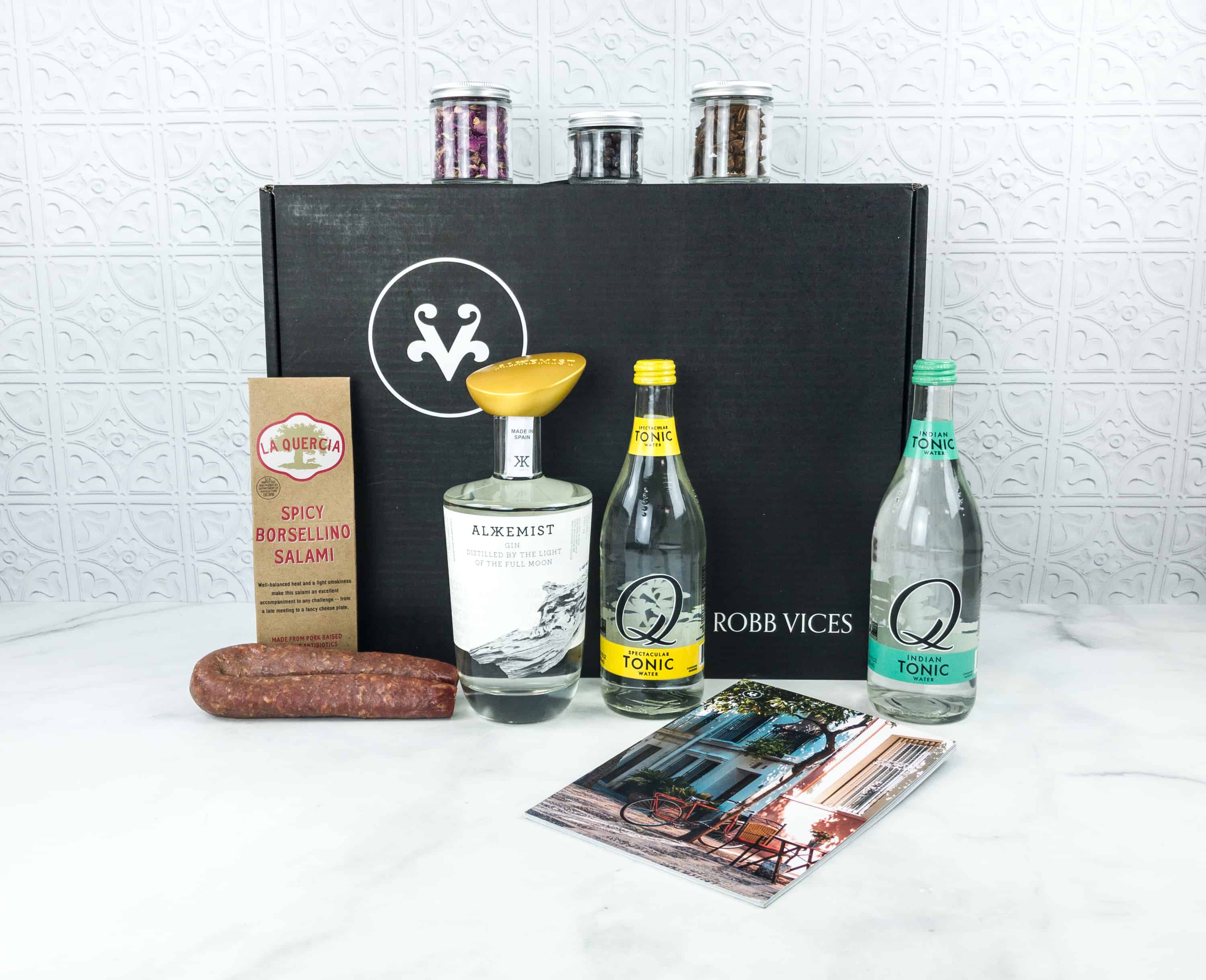 Everything in the August 2018 Robb Vices box!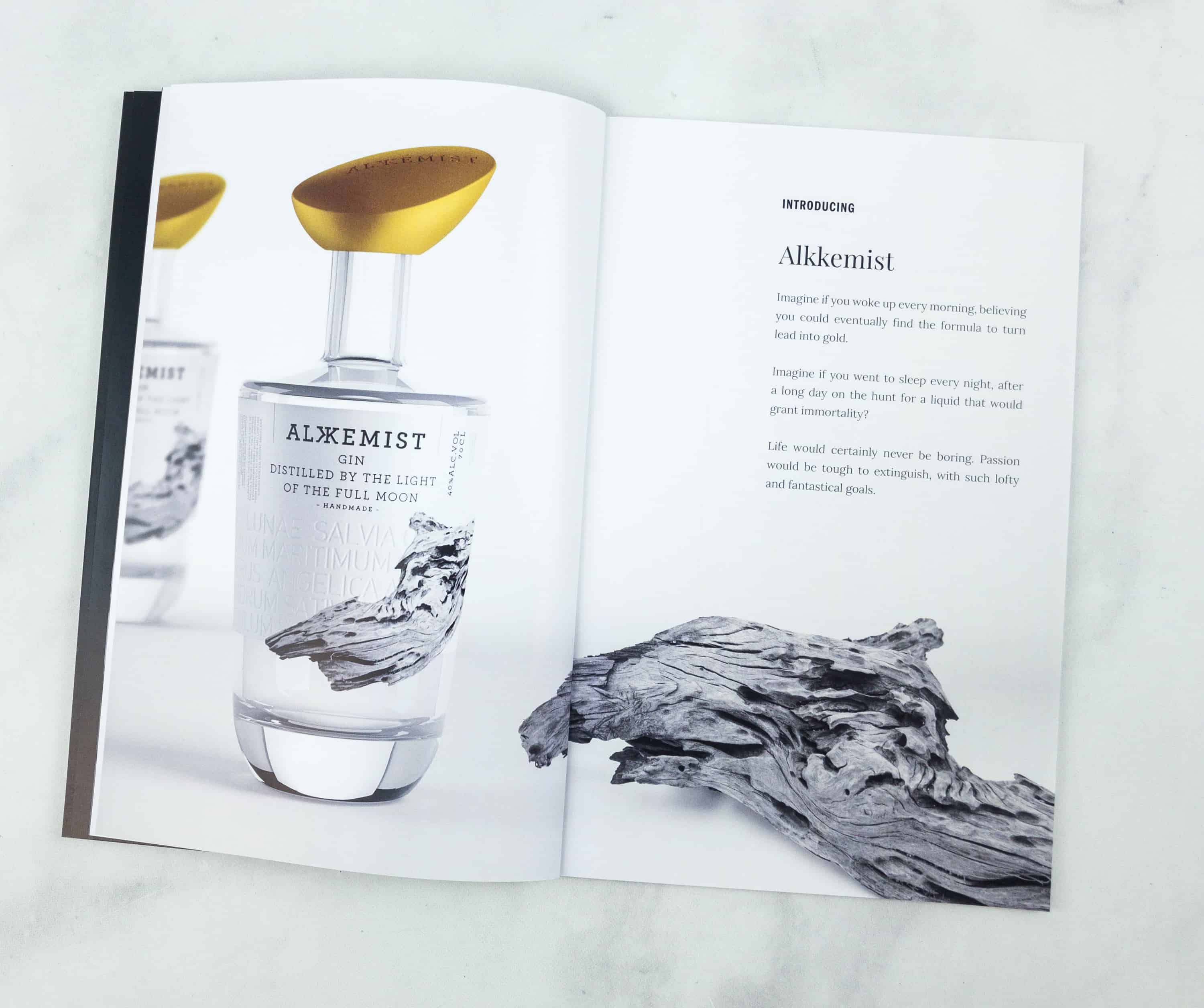 Alkkemist Gin. This Spanish-made drink contains triple-distilled grain spirit base and 21 different botanicals including Muscat grape, orange and lemon peel, rose petals, samphire, fennel, thyme, and mint.
The bottle is uniquely shaped and has an eye-catching cap. I found it to be a very lightly-flavored gin, good for sipping or making cocktails. The botanicals add some roundness and sweetness and take some of the heat off of the alcohol, but it is still a very pure tasting gin that is closer to a vodka than a London Dry. It reminds me alot of the Glass Vodka from a previous box that similarly was produced using grapes.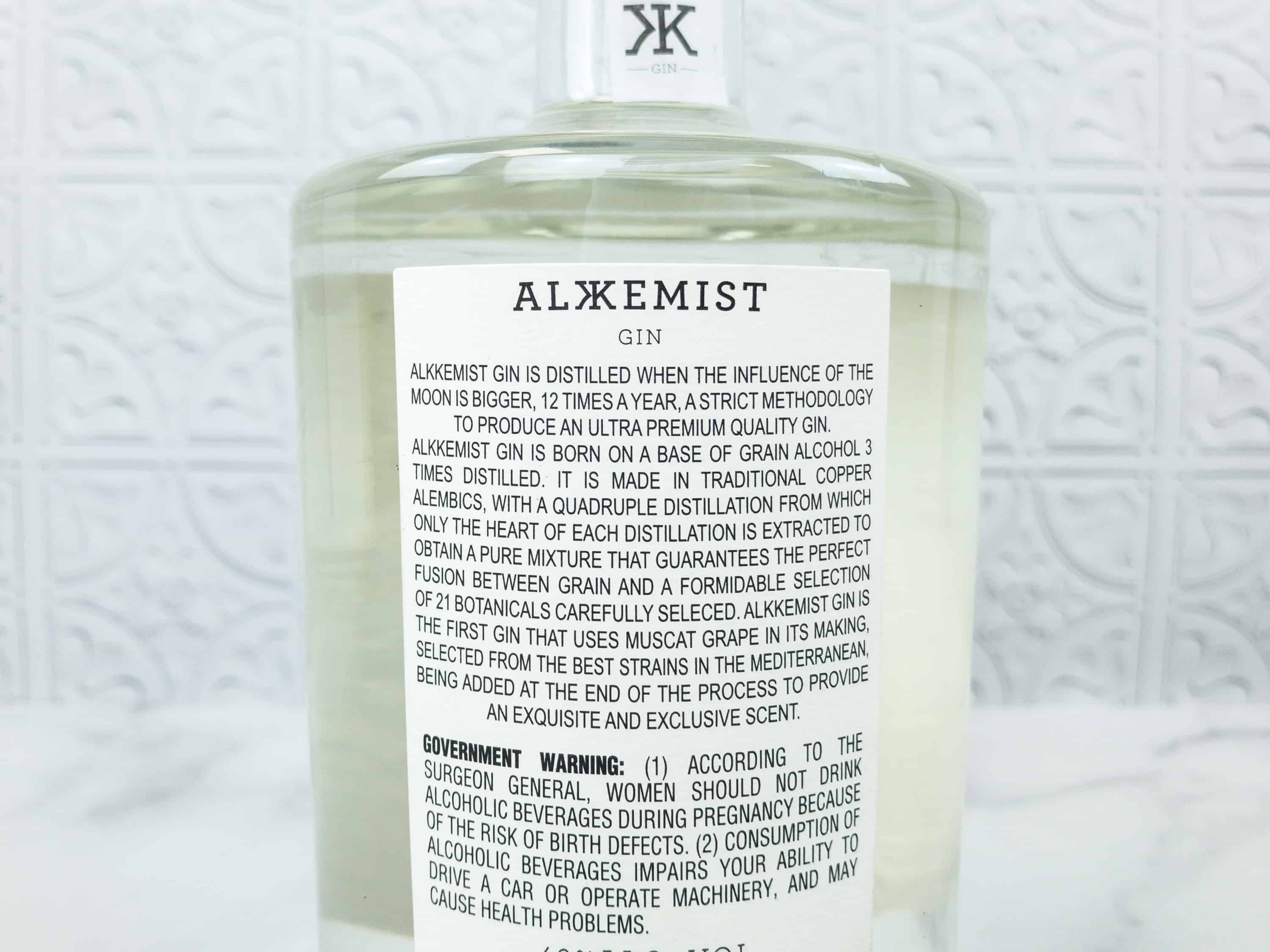 It is apparently "distilled by the light of the full moon" which means that the distillation process is made when the influence of the moon is greater. It's a strict methodology to produce an ultimate quality gin. It features strong floral notes on the palate with hints of grape and fruit.
Q Drinks. They claim to be the world's best tonic water. It's clean and crisp, plus it has the ability to enhance the taste of other spirited drinks.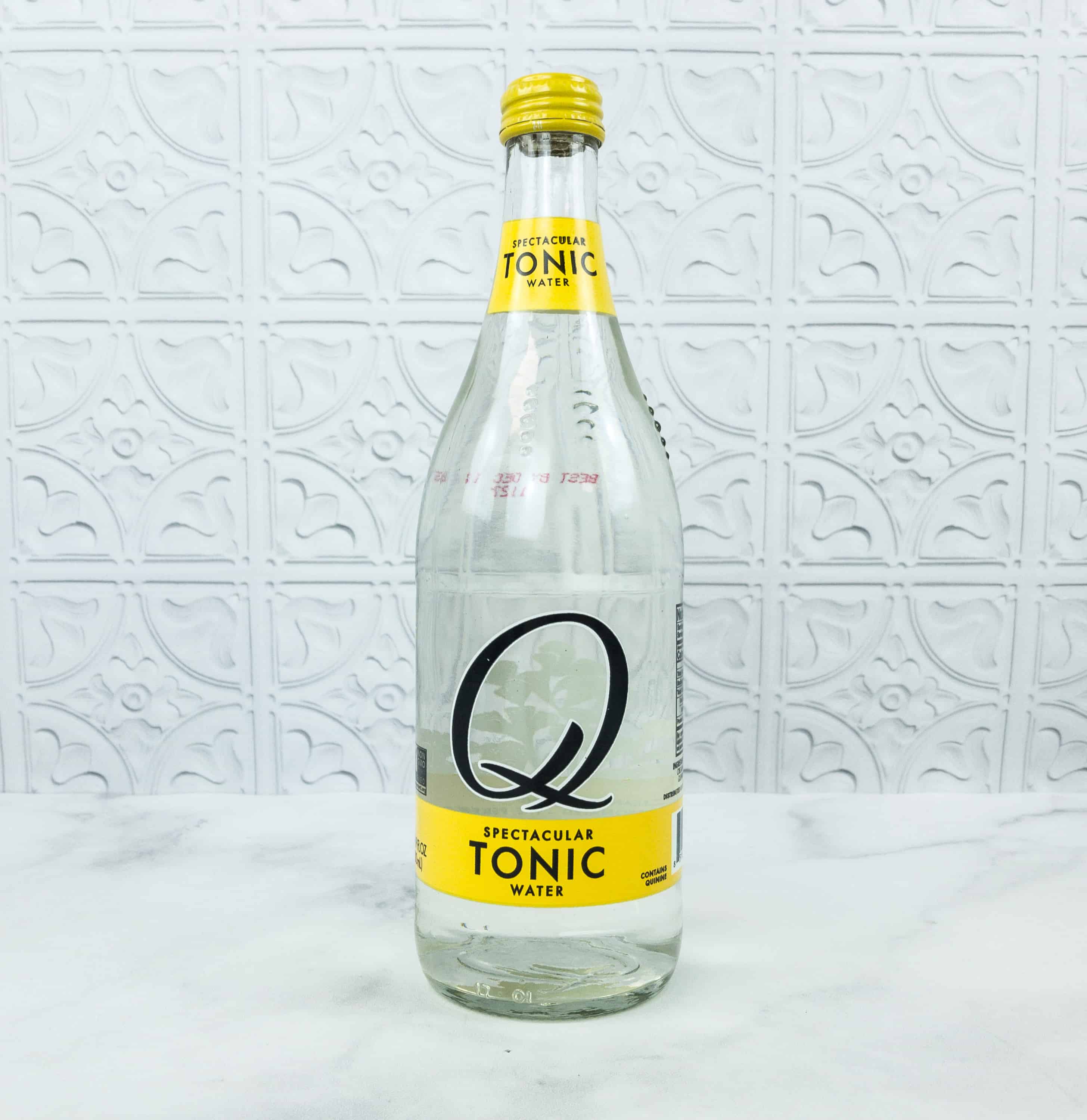 We received a bottle of their flagship Spectacular Tonic Water. It also tastes great on its own, as long as you enjoy tonic!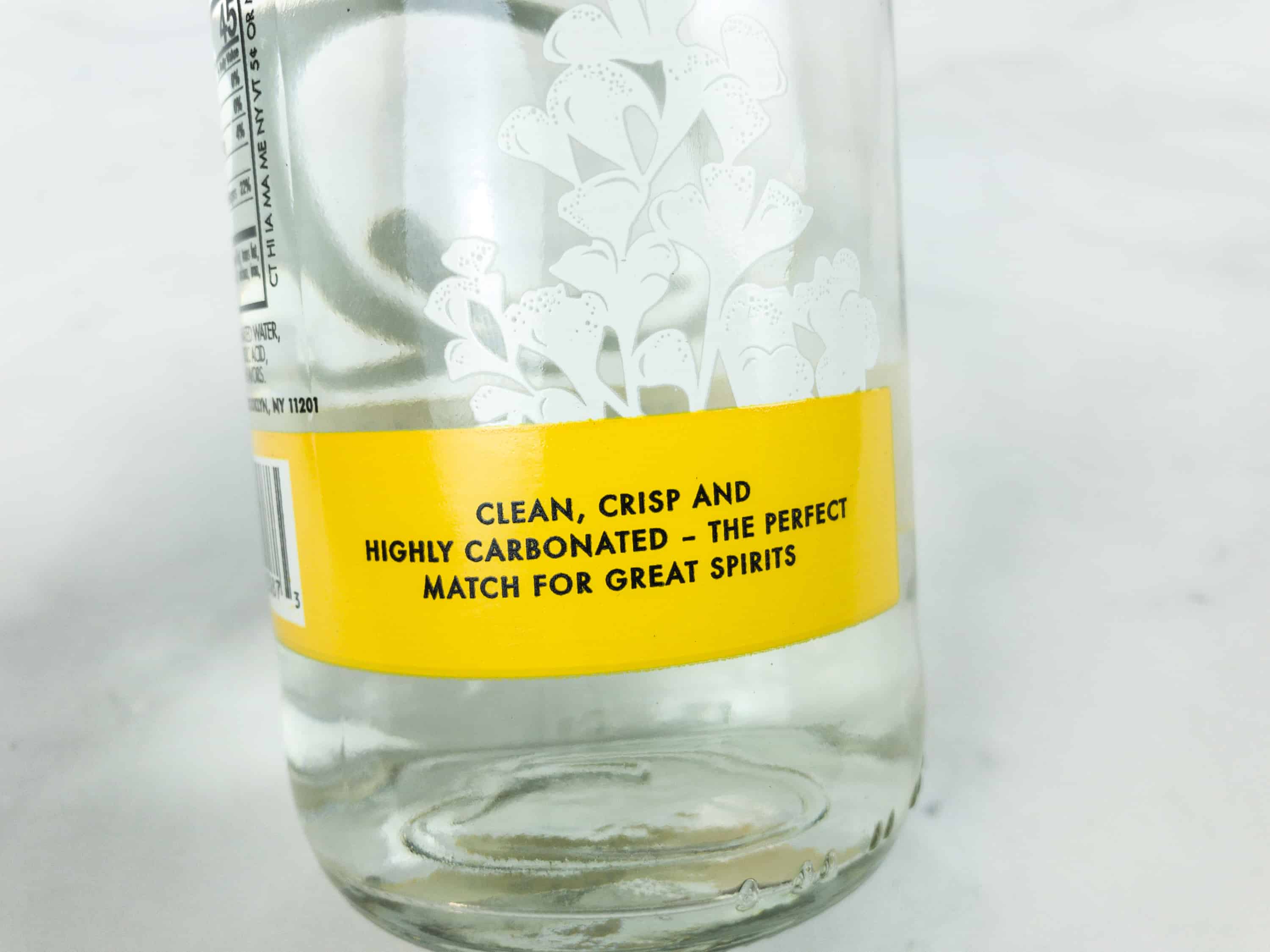 It has a sharp flavor and high carbonation, plus it's less sweet than typical tonic, so the taste of the gin shines through when combined with it.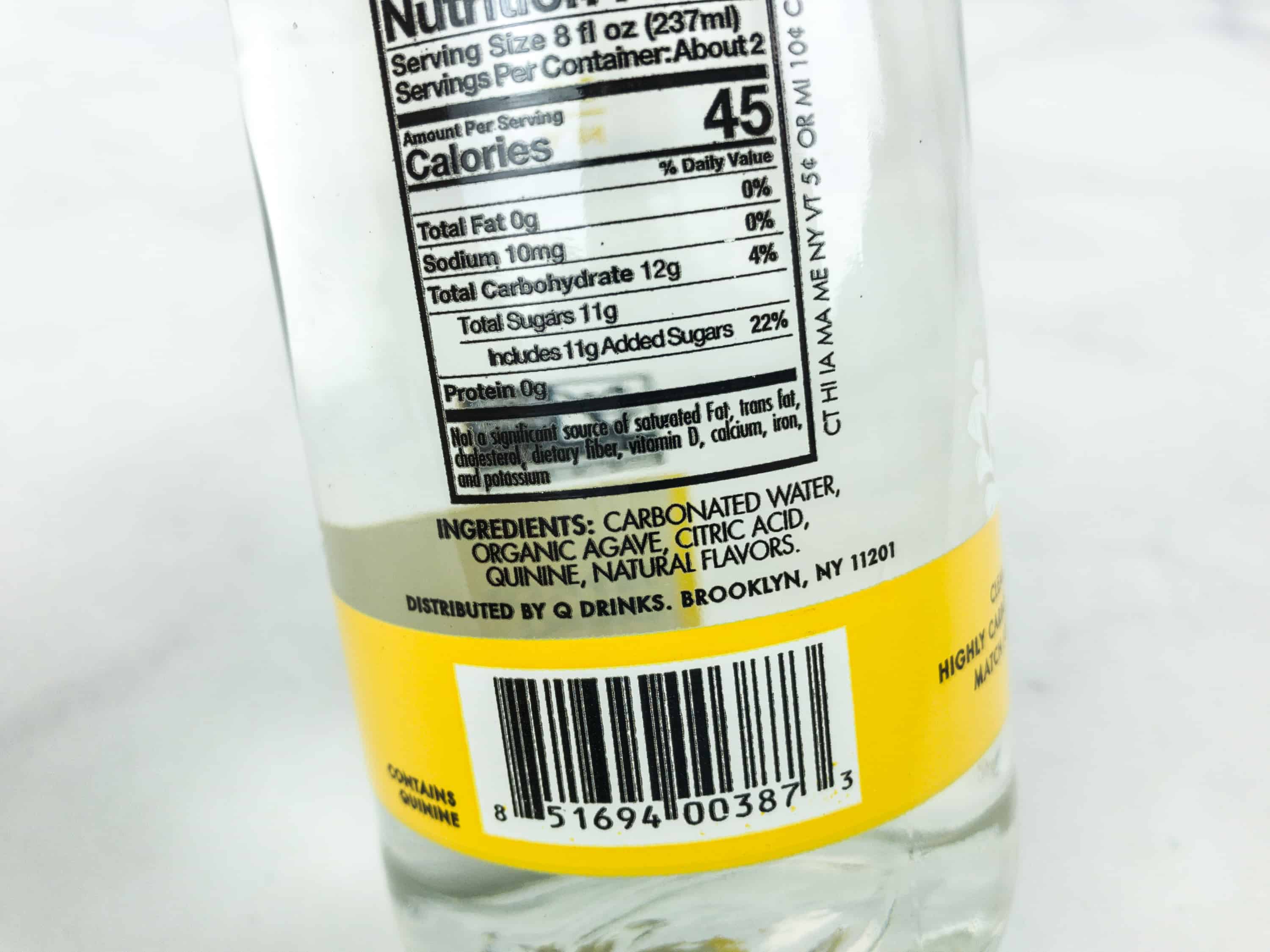 The Spectacular Tonic contains carbonated water, organic agave, citric acid, quinine, and natural flavors.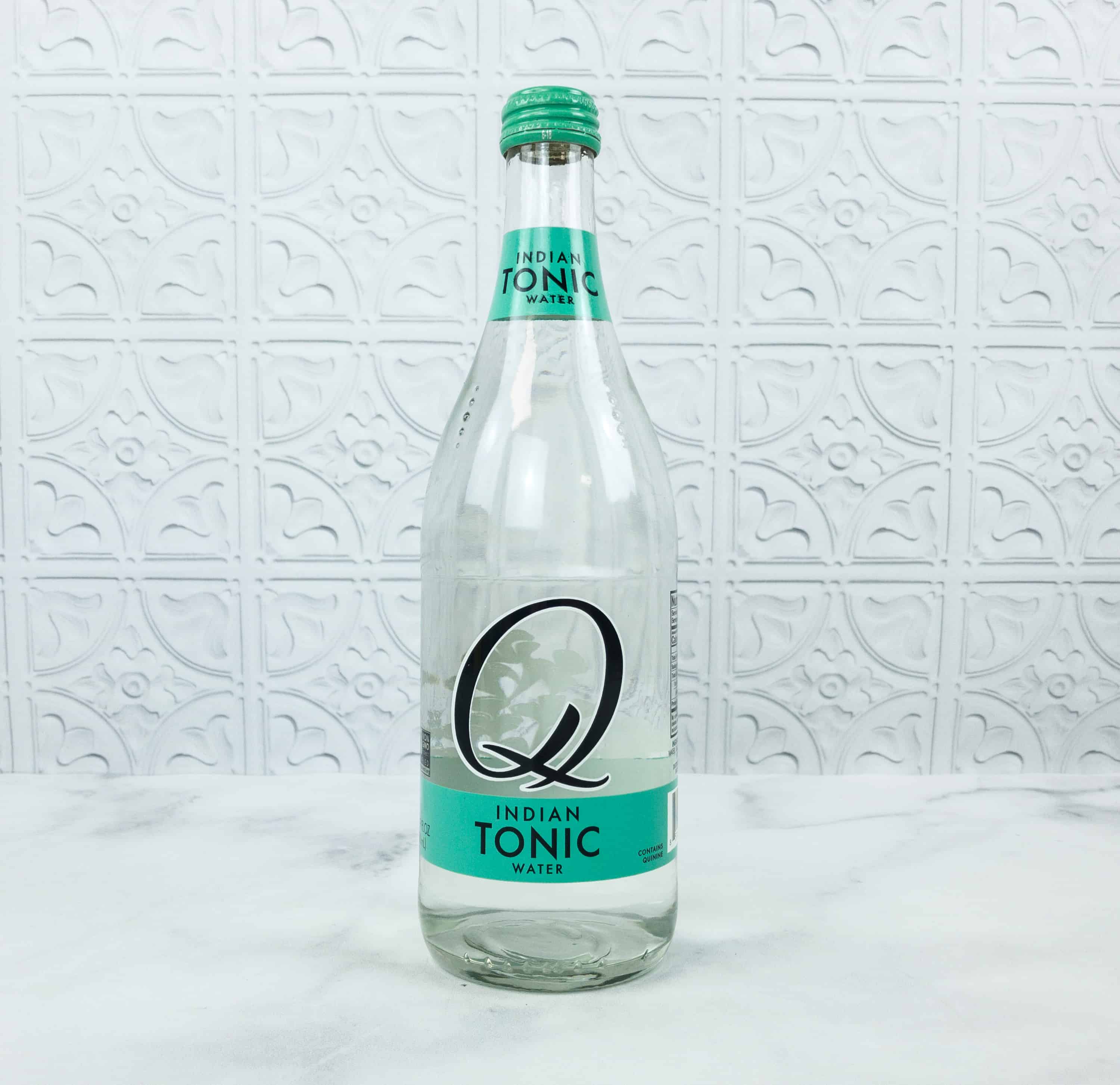 The other drink we got is a Q Indian Tonic Water. It's primarily meant to be mixed with London Dry gins. It's a little bitter and a little sweeter than the original Q water.
Q Indian Tonic is created to supplement the strongest, most juniper-forward gins, but with all the extra carbonation.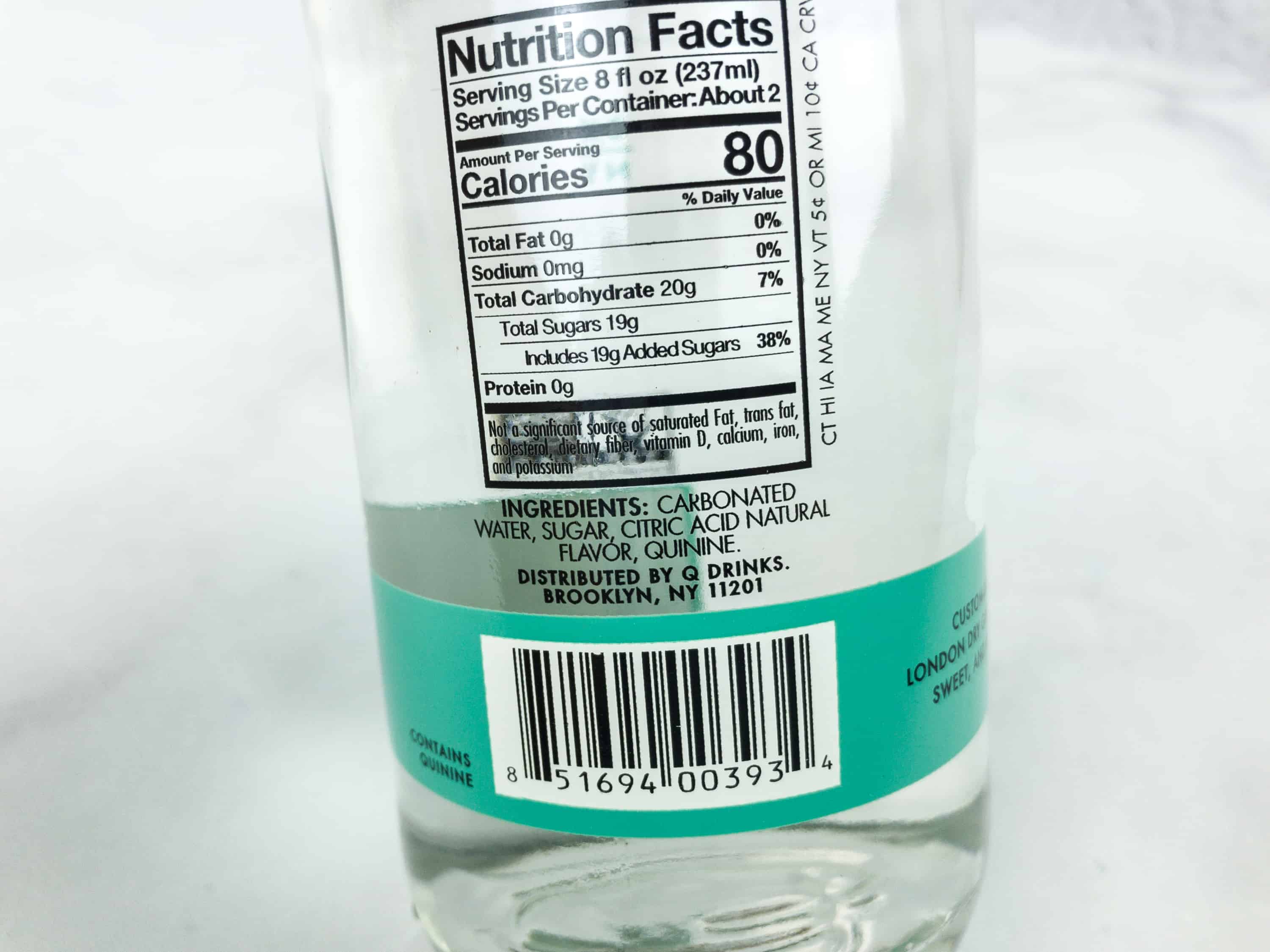 It has the same ingredients with Q Spectacular Water, except that it is sweetened with sugar instead of agave.
This part of the Robb Vices booklet features some Tonic Cocktails where you can use your tonic water.
You can create your homemade Classic Gin & Tonic drink using 2 oz. Alkkemist Gin (Chilled), 1-3 lime wedges, and 4 oz. of Q tonic water. The lime is really just optional, and you could always use some of the Melissa's products as garnish instead. I like it when the box has recipes you can make without going shopping for extra stuff.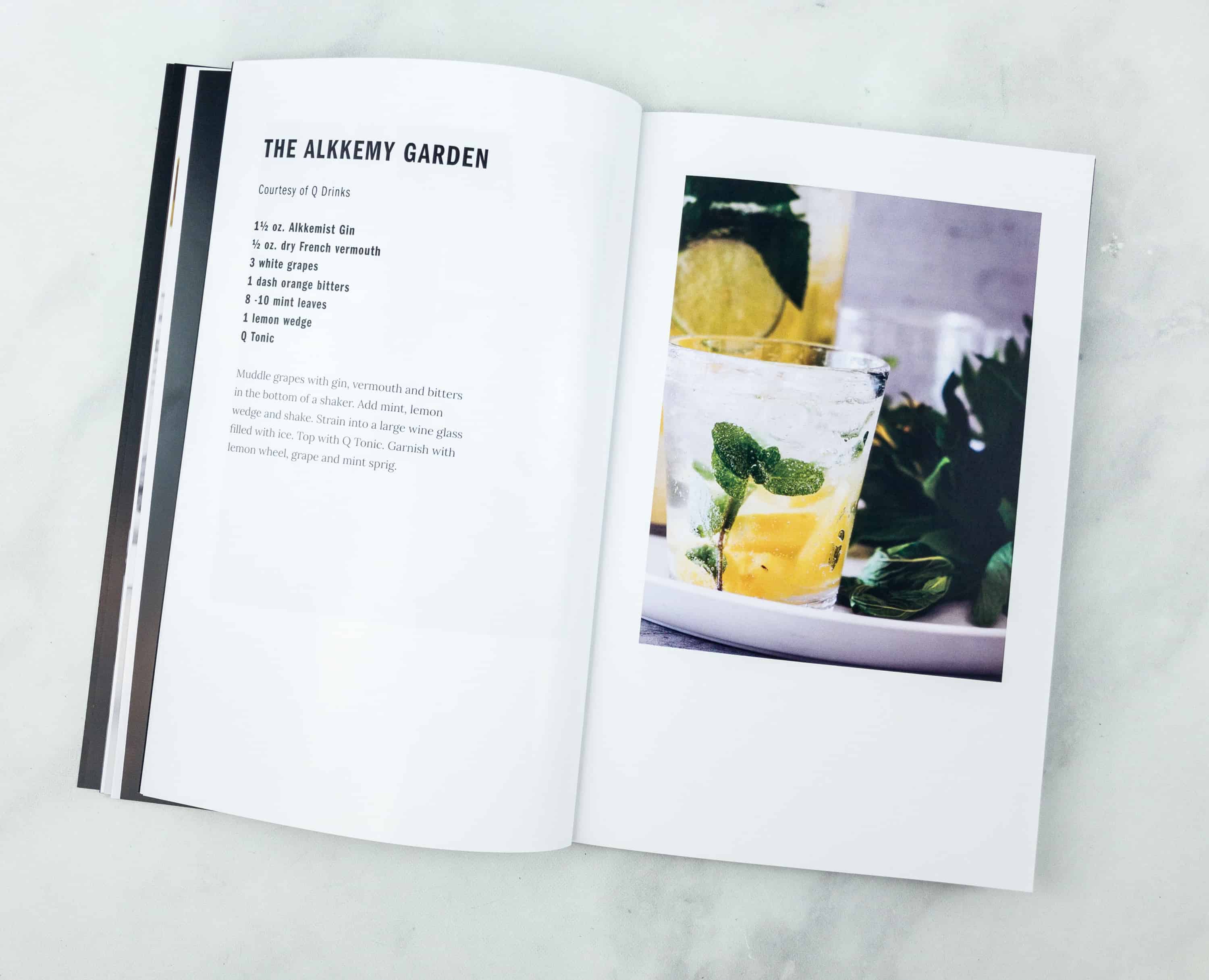 The Alkkemy Garden cocktail is surprisingly easy to make, too, as the ingredients are relatively common (if you have a modest home bar, you might actually have them on hand). All you need is a 1.5 oz. Alkkemist Gin, 0.5 oz. dry French vermouth, 3 white grapes, 1 dash orange bitters, 8-10 mint leaves, 1 lemon wedge, and Q Tonic drinks.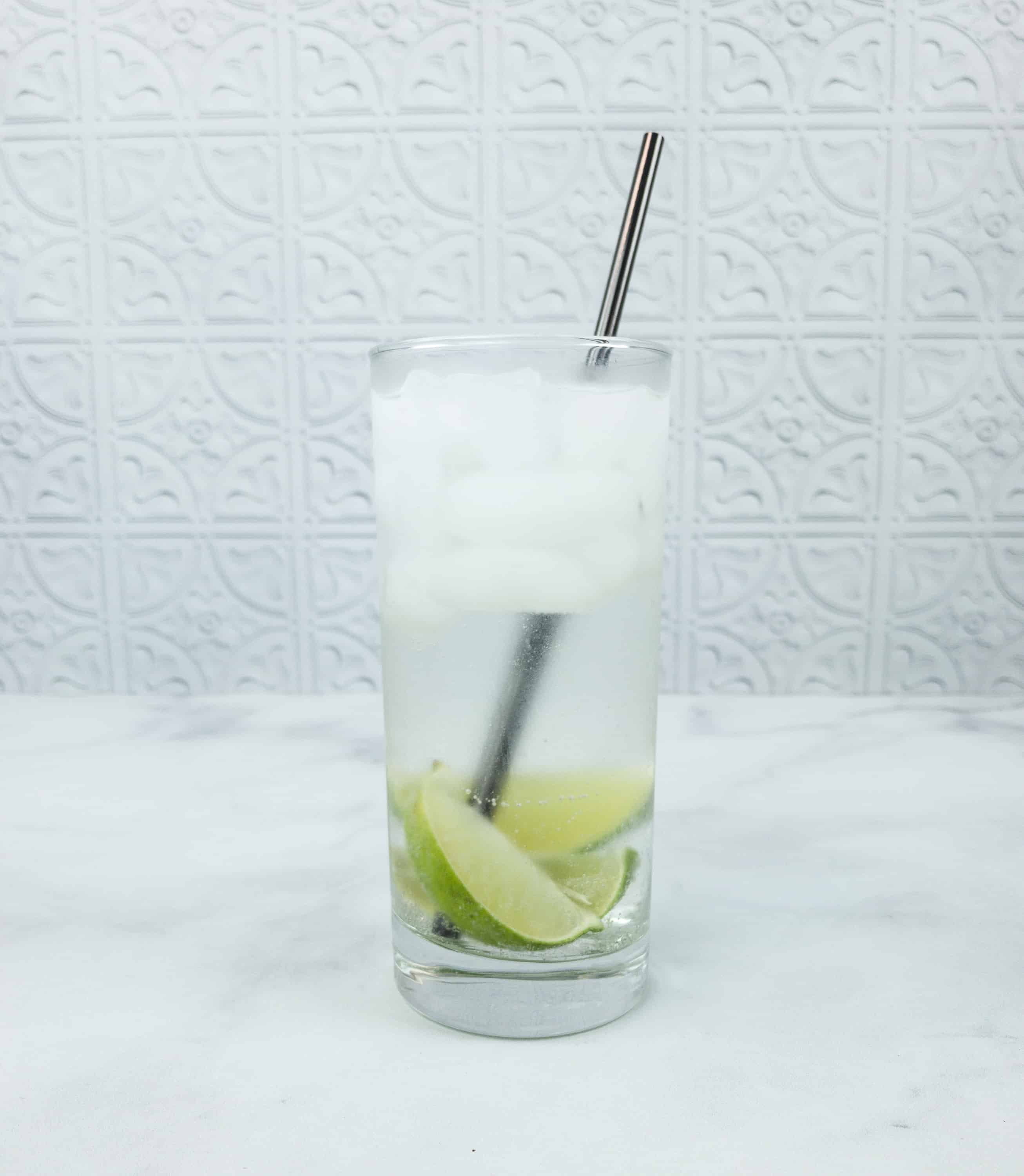 I made the Classic Gin & Tonic drink. It's quick to make, so it's perfect for last-minute parties and gatherings with friends. I like simple highballs like this because they can be thrown together quickly, require no specialty liqueurs, and don't require you to get your entire counter sticky with juicing, shaking, etc.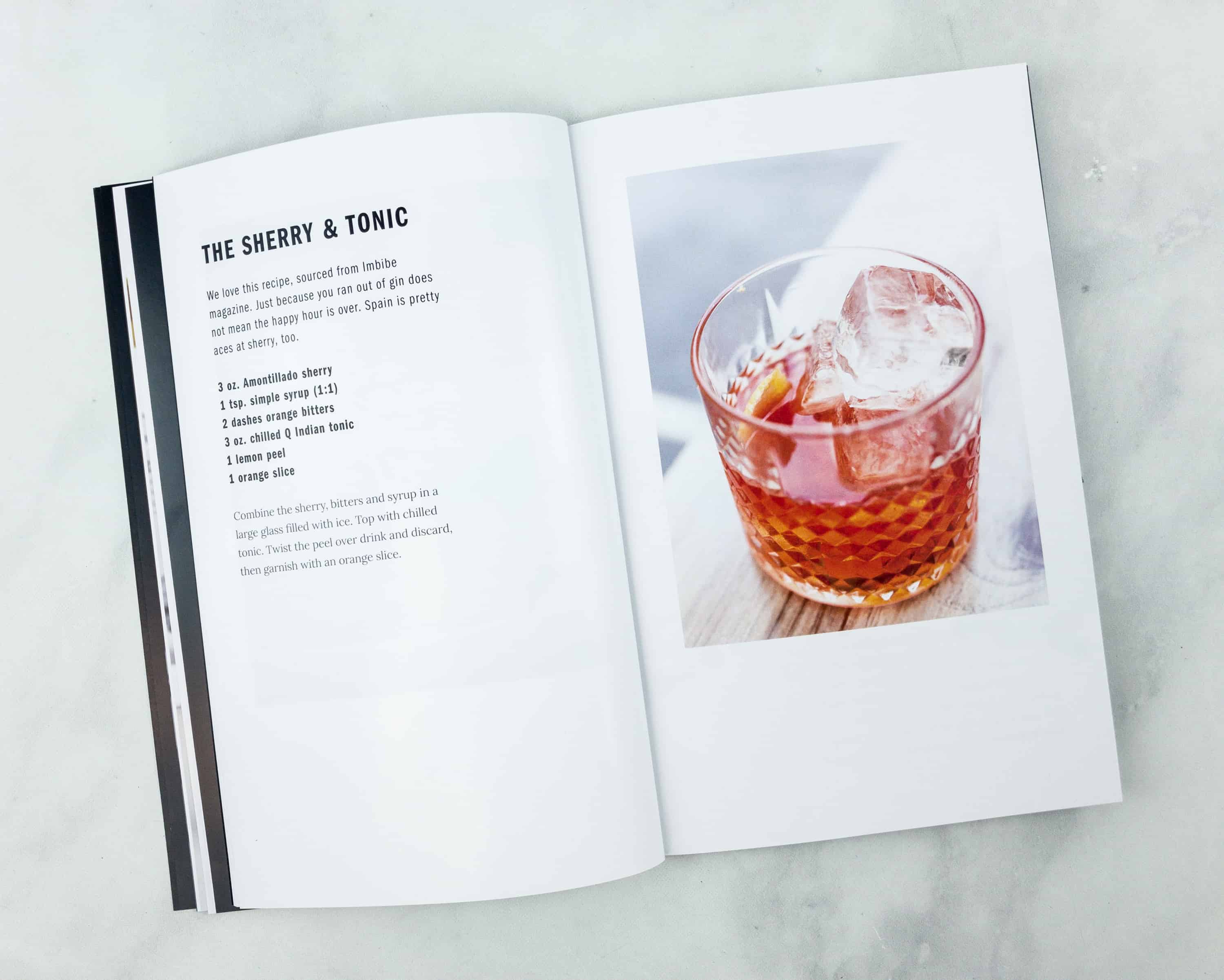 For the Sherry & Tonic recipe, just combine the sherry, bitters, and syrup in a large glass filled with ice, then top it off with chilled tonic drink and garnish with an orange slice.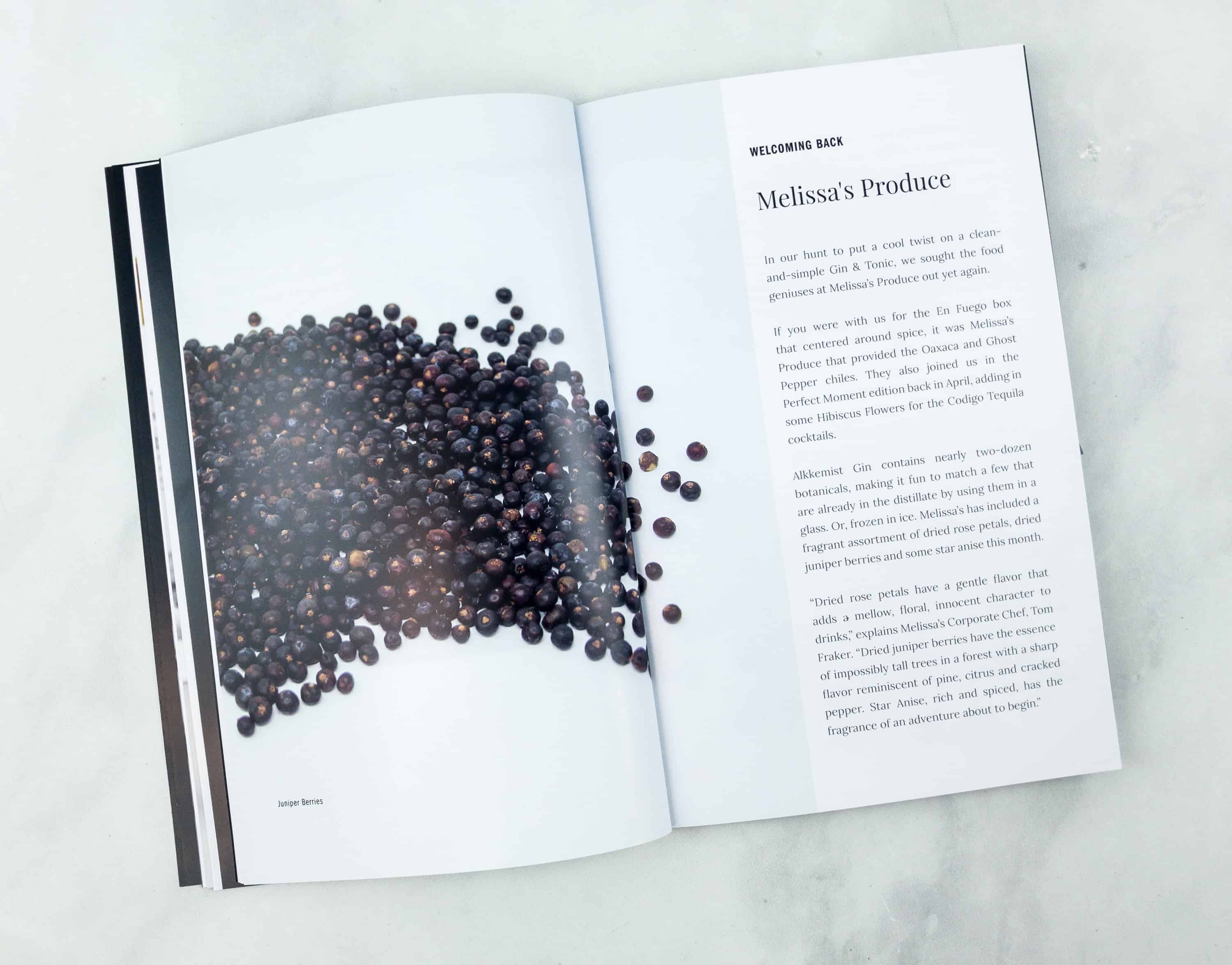 Melissa's provided a few different botanicals to use as mix-ins for a boost of flavor in our drinks. They echo some of the flavors already present in the Alkkemist, so they will blend seamlessly with our base spirit.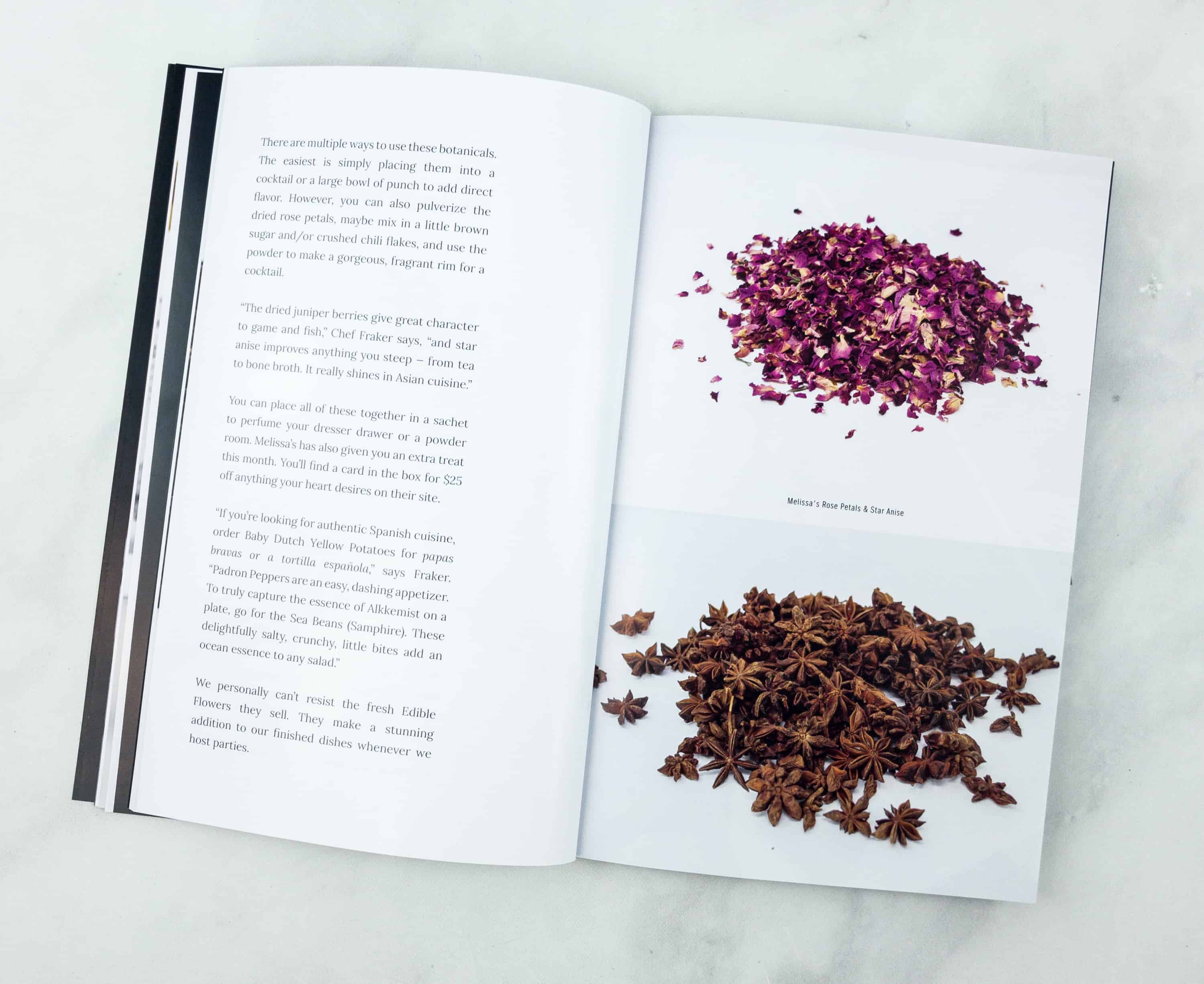 If you prefer, the Melissa's items are also great for cooking or even using as potpourri.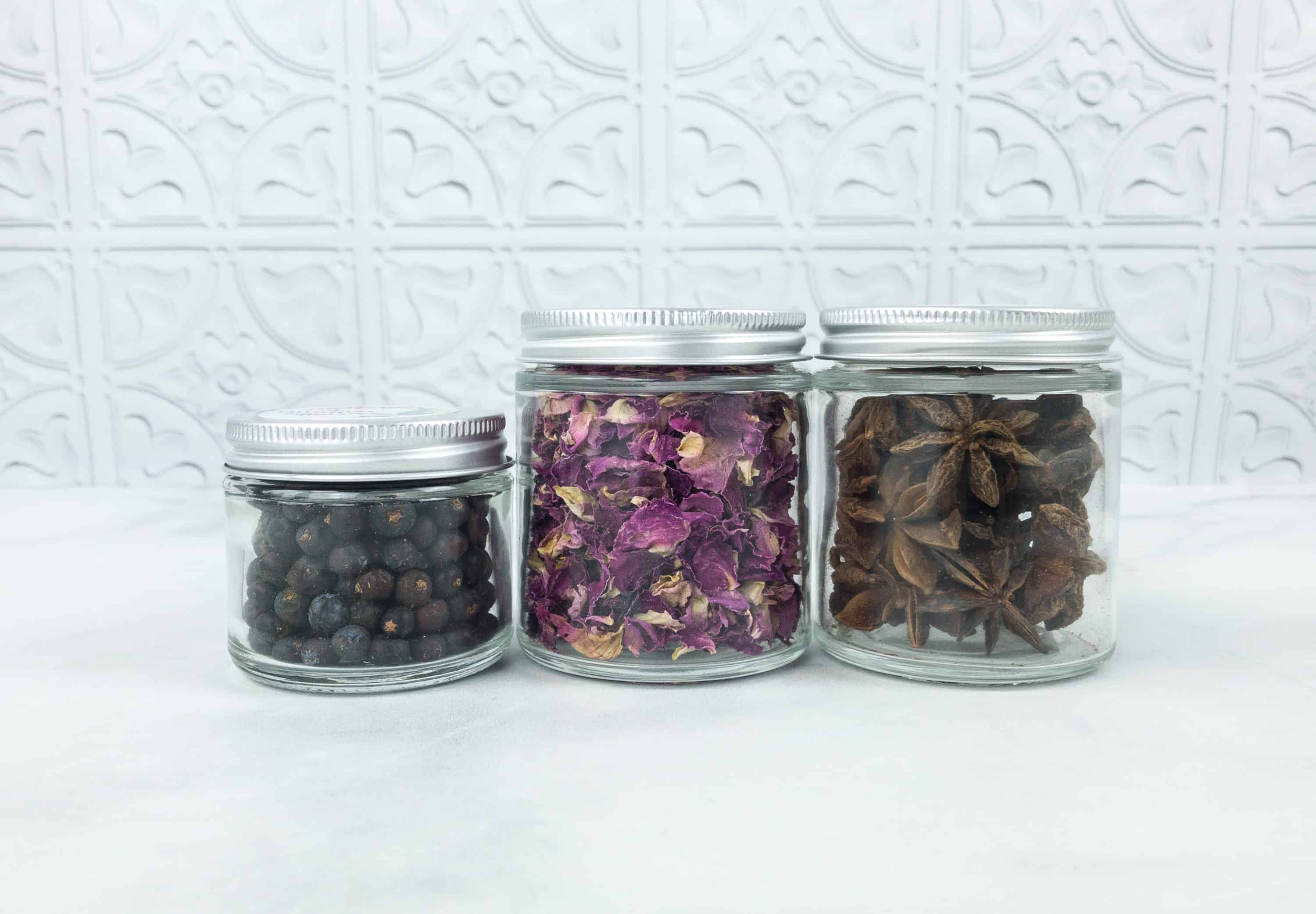 Inside these glass jars are botanicals like those used in creating this gin: Juniper Berries, Rose Petals, and Star Anise.
Melissa's Produce Dried Juniper Berries ($10.29 Full Size 1.5 oz.) With notes of pine, citrus, and cracked pepper, juniper is the essential botanical in most gin. These big berries can also be crushed and used to season gamey meats.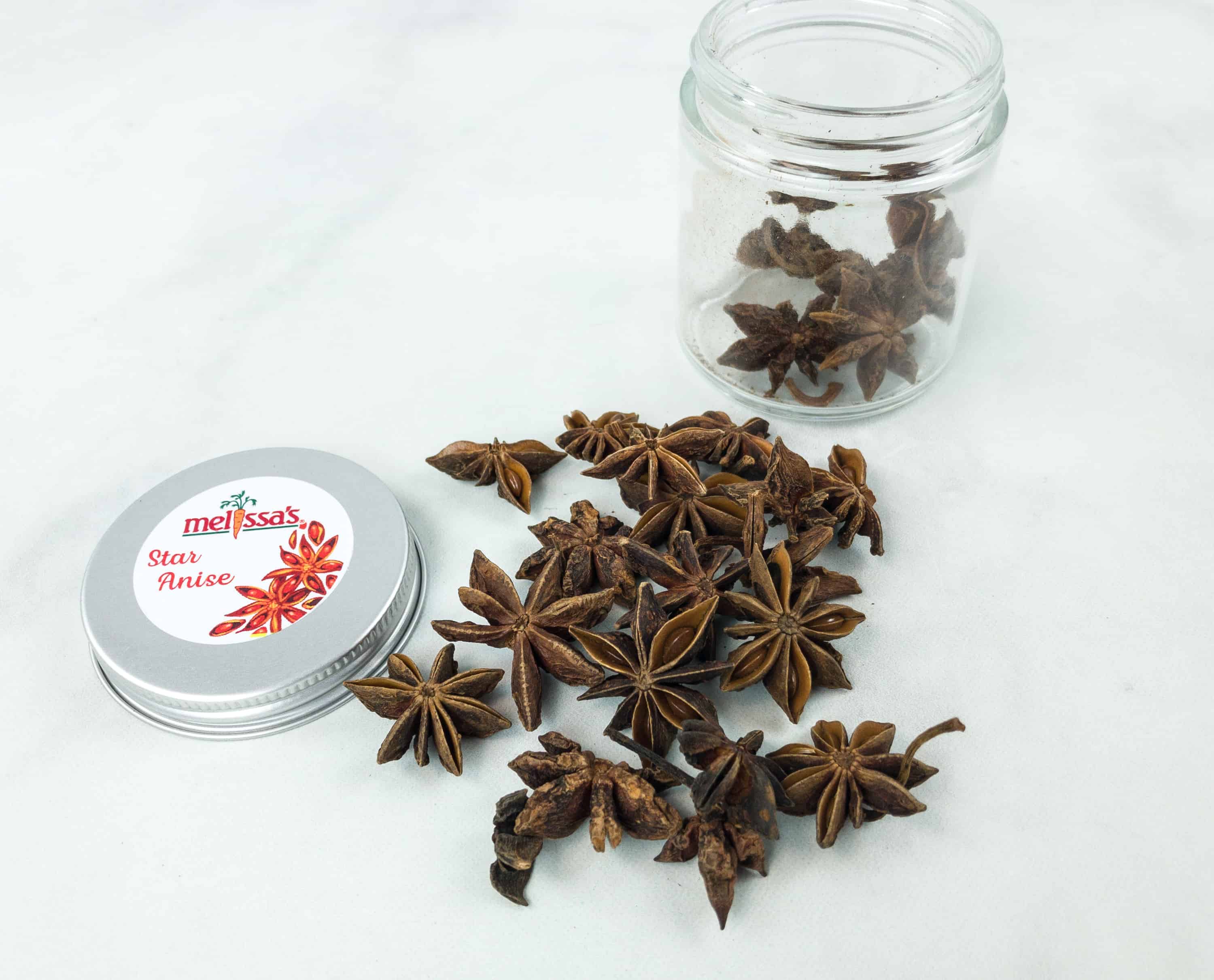 Melissa's Produce Star Anise ($6.30 0.81 oz.)  Star Anise has a flavor similar to a licorice but provides a super-rich fragrance of an adventure that is about to begin. These botanical can be used in multiple ways — placing them on top of a cocktail as a garnish, mulling wine or cider with them, or even cooking them in sugar to make a flavored simple syrup.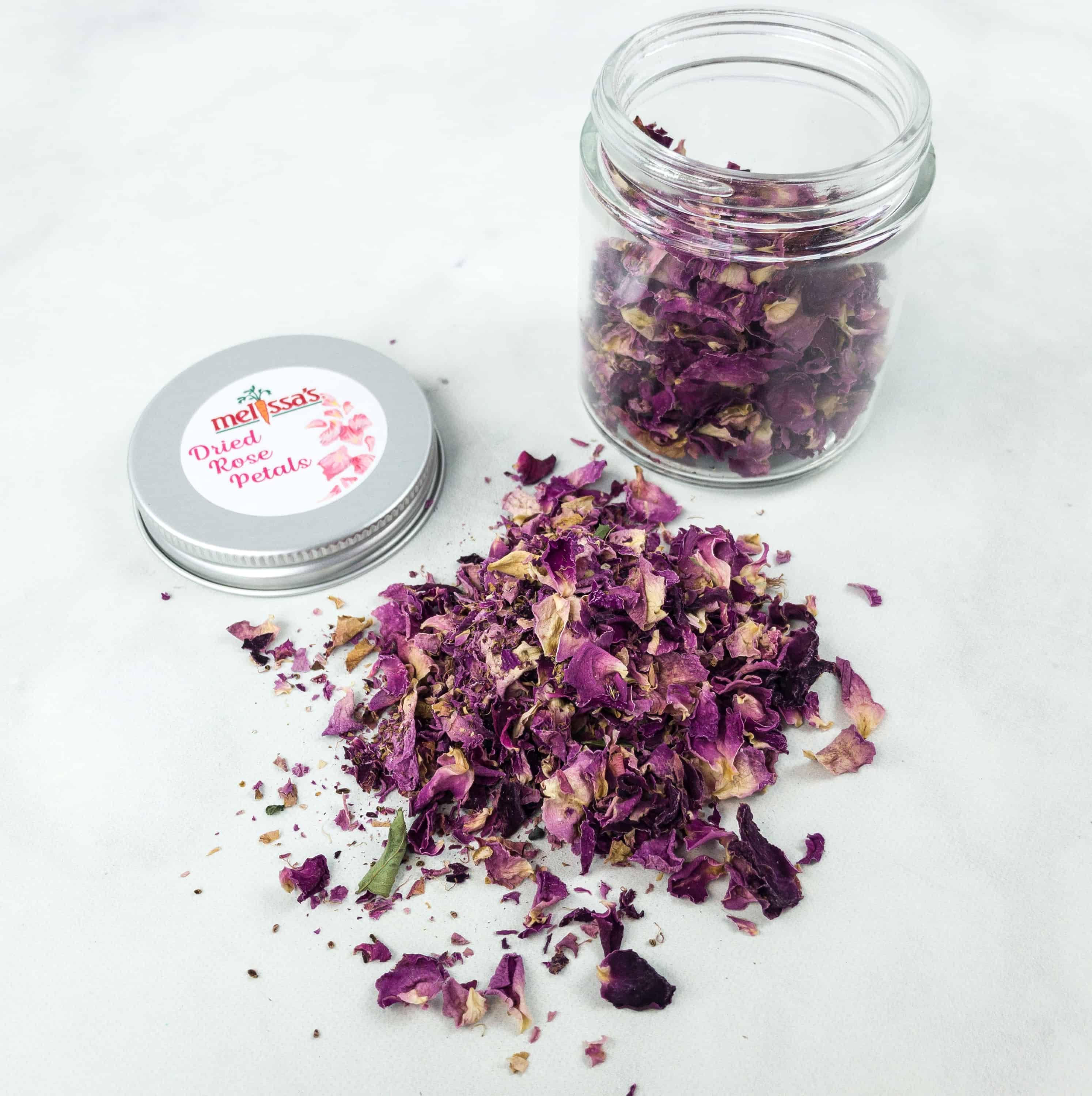 Melissa's Produce Dried Rose Petals. These petals have a gentle flavor that adds an innocent, mellow, floral character to the drinks. You can pulverize it and mix with a little brown sugar or crushed chili flakes to create a gorgeous, fragrant rim on the cocktail.
They also included a $25 off coupon code from Melissa's.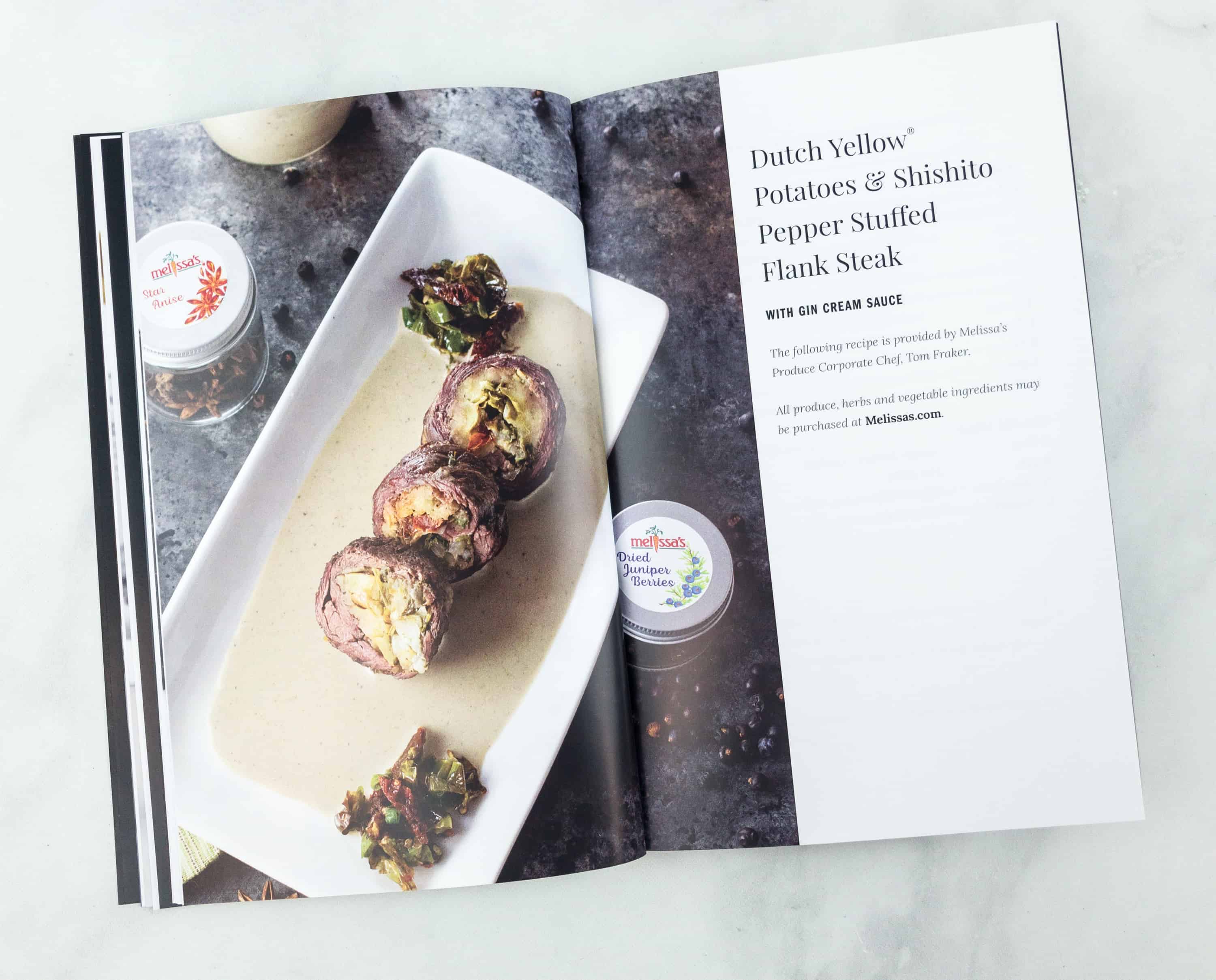 This flank steak recipe looks tempting! It incorporates some botanicals from our box, and it even calls for a splash of gin!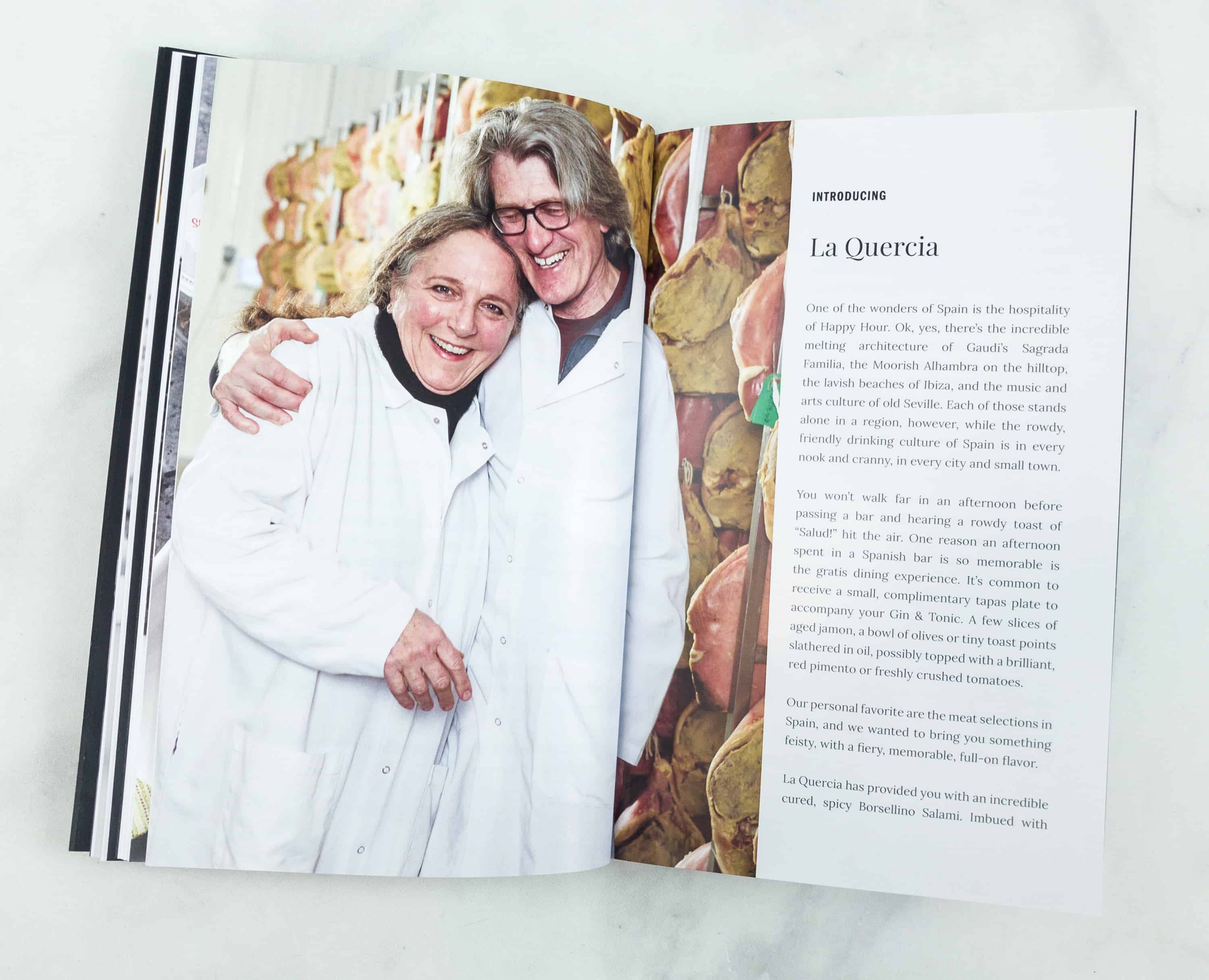 La Quercia which also means The Oak in Italy, is a traditional symbol of province of Parma, which is La Quercia's Home for Three and a half years, and has been associated with the production of premium dry cured ham for millennia. They also believed that…
A great food is made with the highest quality materials, careful adherence to the best of tradition, and the judicious use of modern tools.
La Quercia Spicy Salami ($12) This Spicy Borsellino Salami is a ready-to-eat meal or snack made from naturally raised hogs, without hormones or sub-therapeutic antibiotics, cooked in a well-balanced heat and light smoke.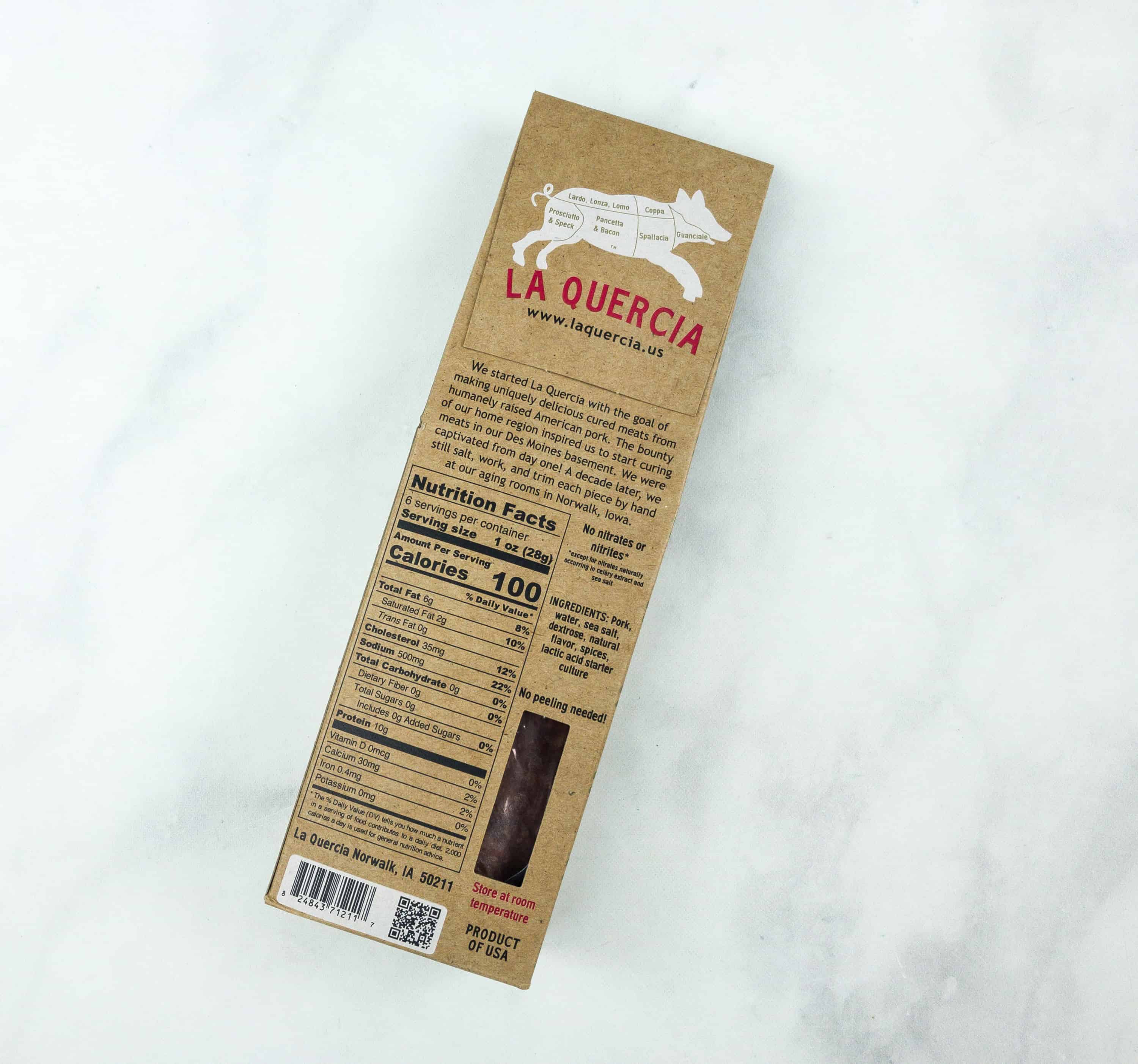 Though inspired by Spanish cuisine, this sausage is actually produced in Iowa from American pork.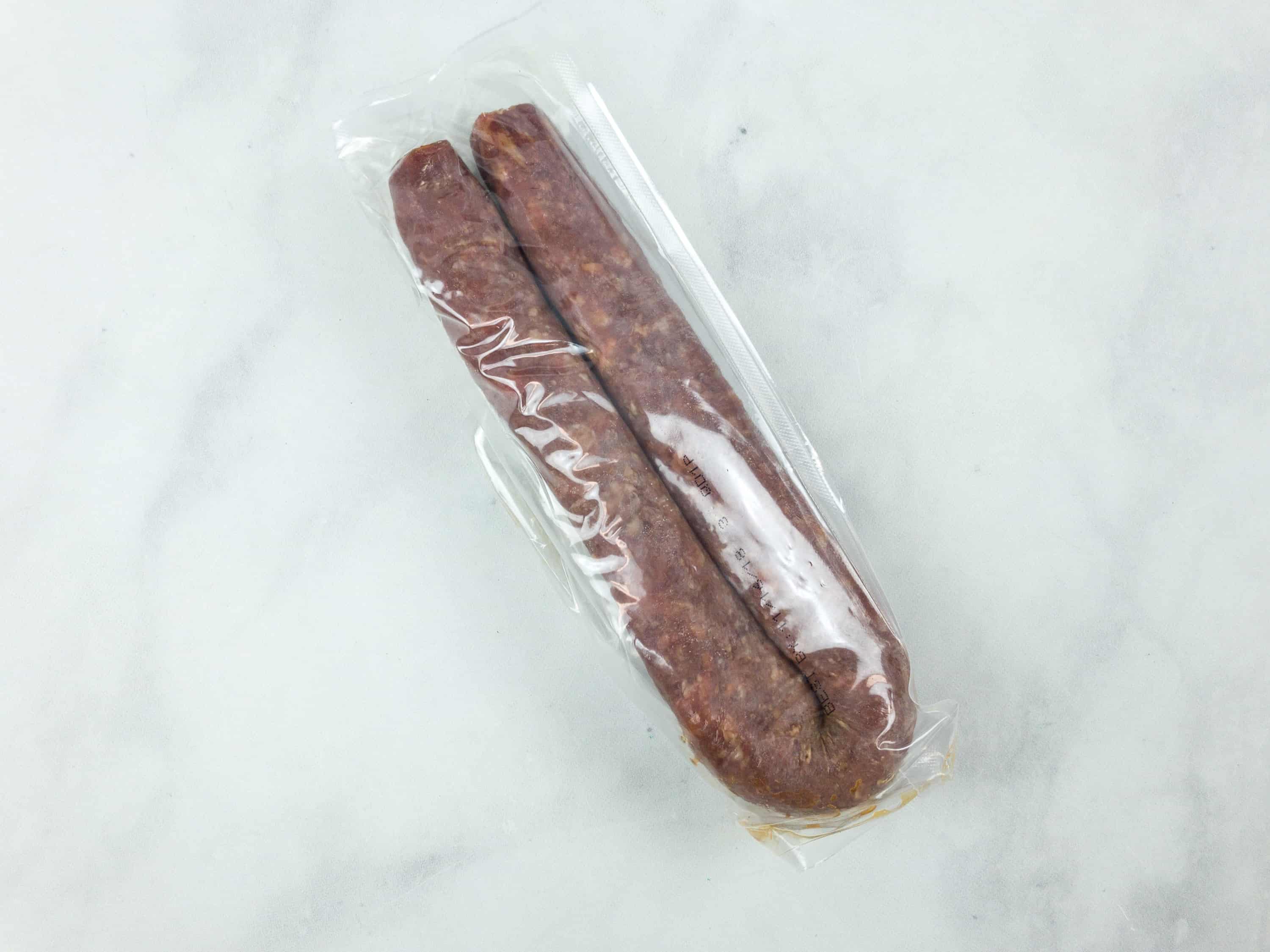 Its size is somewhere between a quarter and a half-dollar in diameter. The natural casing is packed with coarsely ground pork with a bit of fat.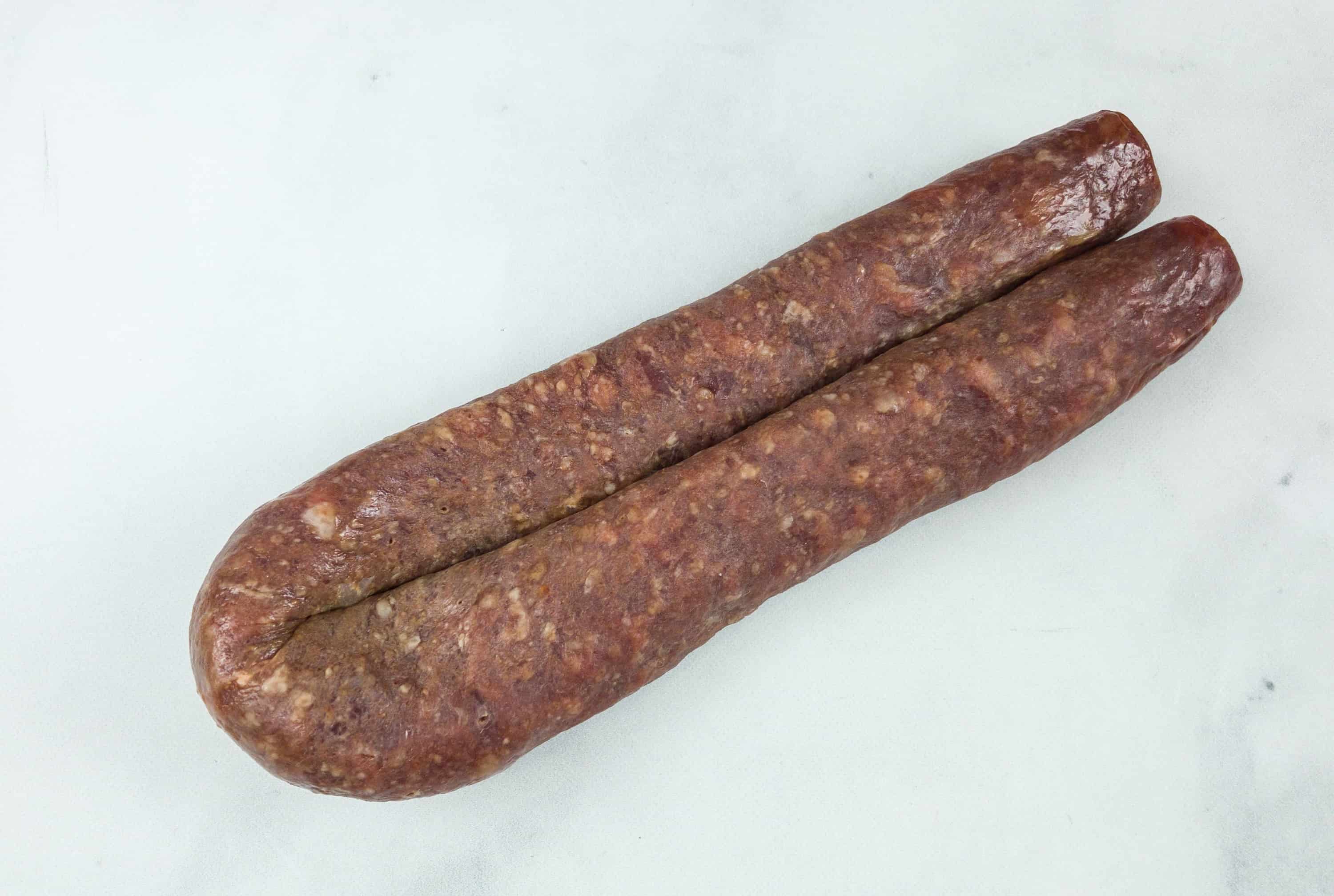 It's a soft, sweet, porky, and dry-cured salami that you don't need to cook. Just slice and snack on!
We added some Spanish cheese and Tempranillo, some quince, olive oil, and bread for a superb cheese plate. That's what I call a meal!
Robb Vices is well-known for their unique and sophisticated curation, and I'm once again impressed with all the treats and drinks I received this month. This month celebrated Spanish happy hour with some delightful Spanish gin, complete with high quality mixers and some special add-ins, and some salami to make your cocktail hour into an authentic Spanish afternoon. The Robb Vices booklet is always a revelation — although it's quite long, it provided key information, tips, and even recipes to create our own cocktail mix. The value of this box, however, isn't as impressive as it has been in the past. Some of their past boxes have been literally hundreds of dollars over the price of the subscription — this month's box is probably $20 or less above break-even, as the gin can be found for about $45 and the salami for about $10. The Melissa's items probably carry a lot of the value, particularly the $25 gift card, but they don't have the big ticket item feel Robb Vices usually goes for. Still, the quality is really good, and I'm a sucker for booze-centric boxes! This subscription is definitely an awesome way to indulge in extravagant goods and it also makes a perfect gift for anyone who has a sumptuous taste!
What do you think of this month's Robb Vices box?