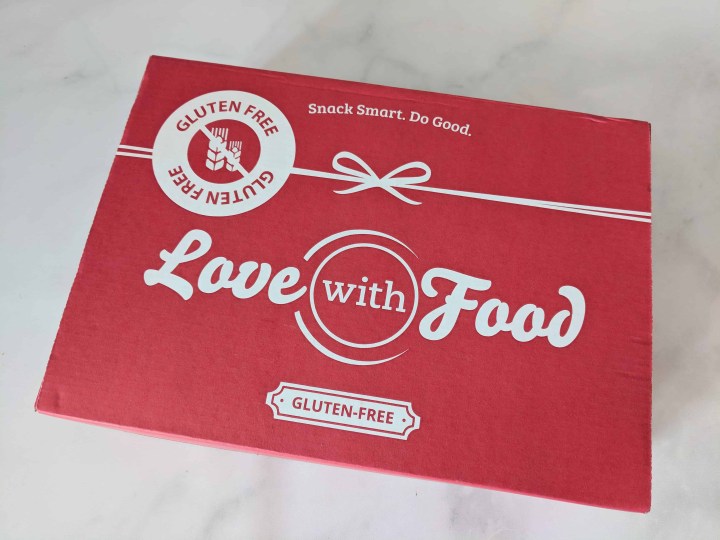 Love with Food is a popular snack subscription that also carries a gluten-free option! It is a fun snack discovery subscription available in three versions: classic tasting box, deluxe/family size, and gluten-free. This version is the gluten-free box, but you can see our reviews of the other versions too.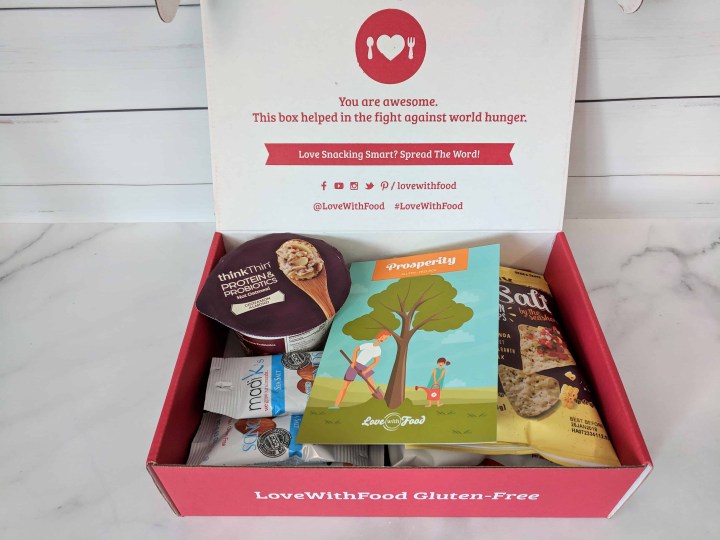 DEAL: You can save 25% on your first Gluten-Free box by using this link, no coupon code required!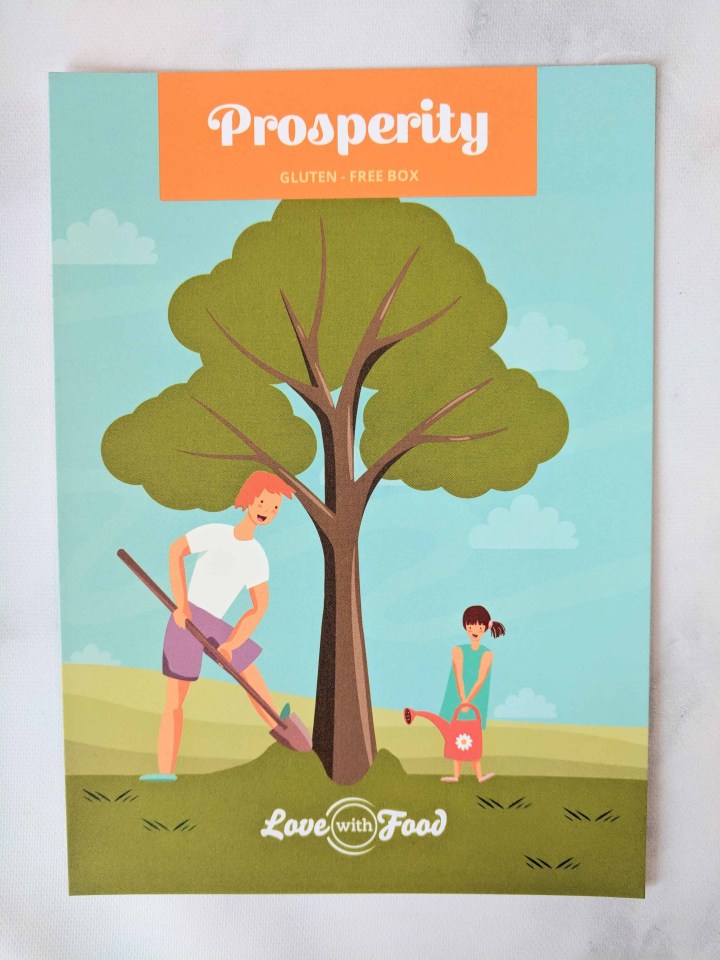 This month's theme is Prosperity.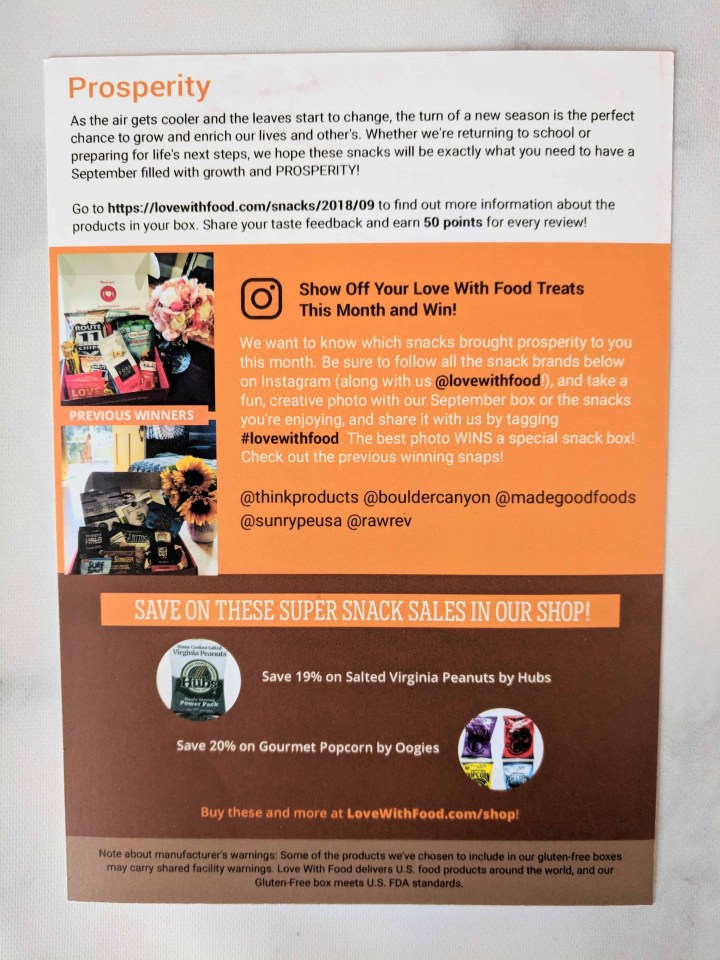 They don't include details on the product card, but the info is available on their website.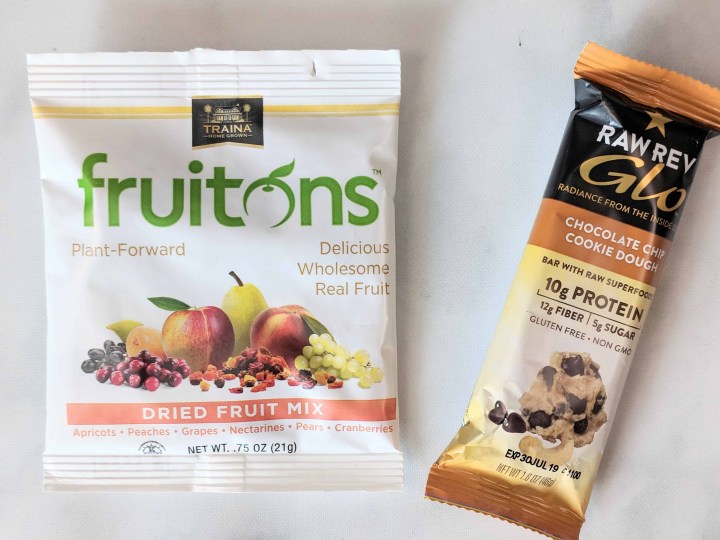 Raw Rev Glo Chocolate chip Cookie Dough. With 10g of protein (from the raw cashews and pea protein) and 12g of fiber, this bar is delicious and could totally replace a dessert for me! It tastes like good cookie dough with melty, soft and sweet chocolate chips.
Traina Fruitons Dried Fruit Mix. This is a tasty blend of sun-dried apricots, peaches, grapes, nectarines, pears and cranberries. There's a bit of sugar added (for the cranberries), and it's a tasty mix to grab and go.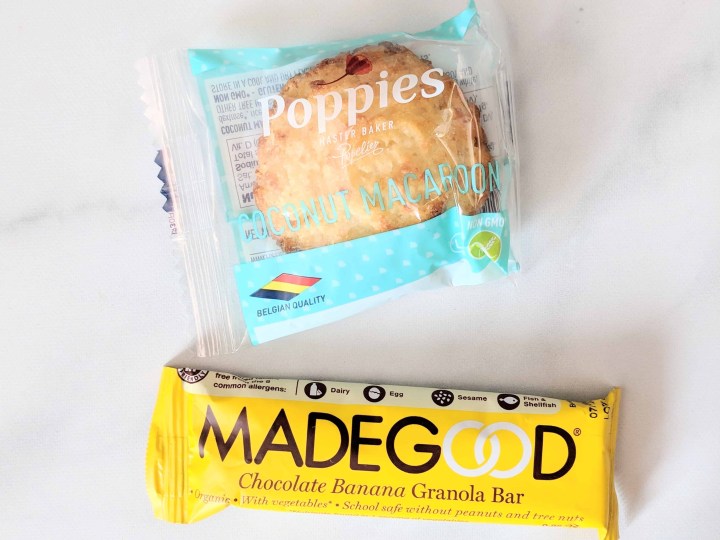 Poppies Coconut Macaroon. A tasty coconut macaroon with the right amount of sweetness.
Made Good Chocolate Banana Granola Bar. Made Good bars have none of the most common allergens (peanut, soy, dairy, eggs, gluten, sesame, tree nuts, and fish), and I usually like their flavor.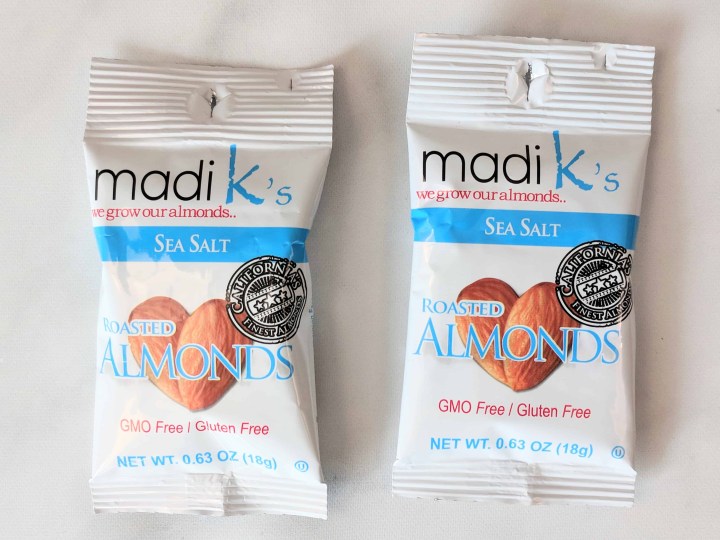 Madik's Roasted Almonds – Sea Salt. Perfect Grab and Go roasted almonds, not too salty, and paired with a fresh fruit, they are the perfect size for an afternoon snack. By themselves, they are great for a post-run quick snack, or to keep me happy if I'm hungry an hour before dinner.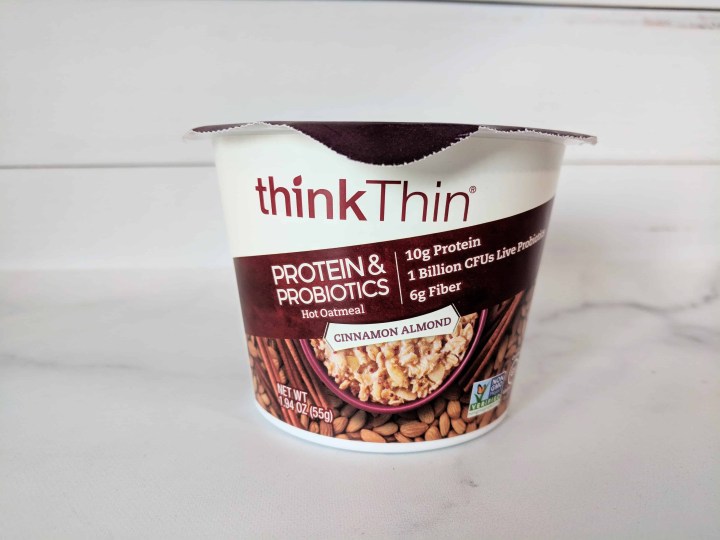 Think Thin Protein & Probiotics Hot Oatmeal Cinnamon Almond. 10g of protein, 6g of fiber and live probiotics in a delicious hot oatmeal (I love the cinnamon almond flavor!), these oatmeal cups are so easy to use and easy to keep in your office drawer for a quick snack, or a breakfast on a busy morning.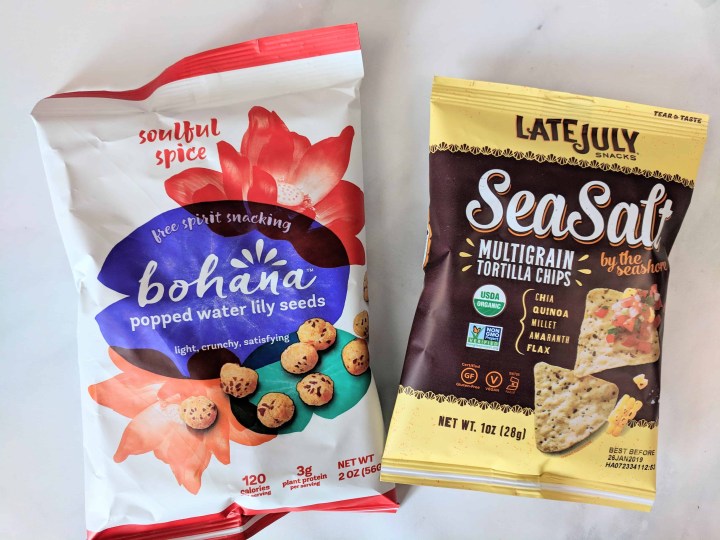 LateJuly Multigrain Tortilla Chips – Sea Salt. Nice tasty tortilla chips, they are amazing dipped in salsa!
Bohana Popped Water Lily Seeds. Puffed treats with lots of flavor.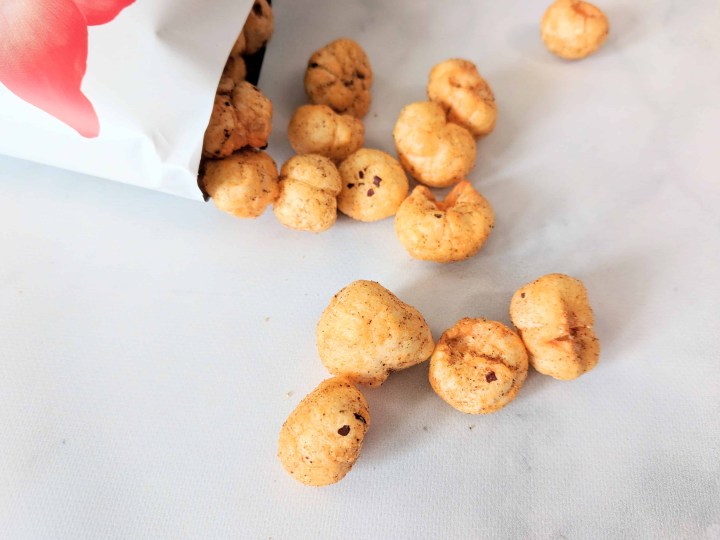 Sadly, I don't like their texture in my mouth, they tend to stuck to my teeth once I started chewing.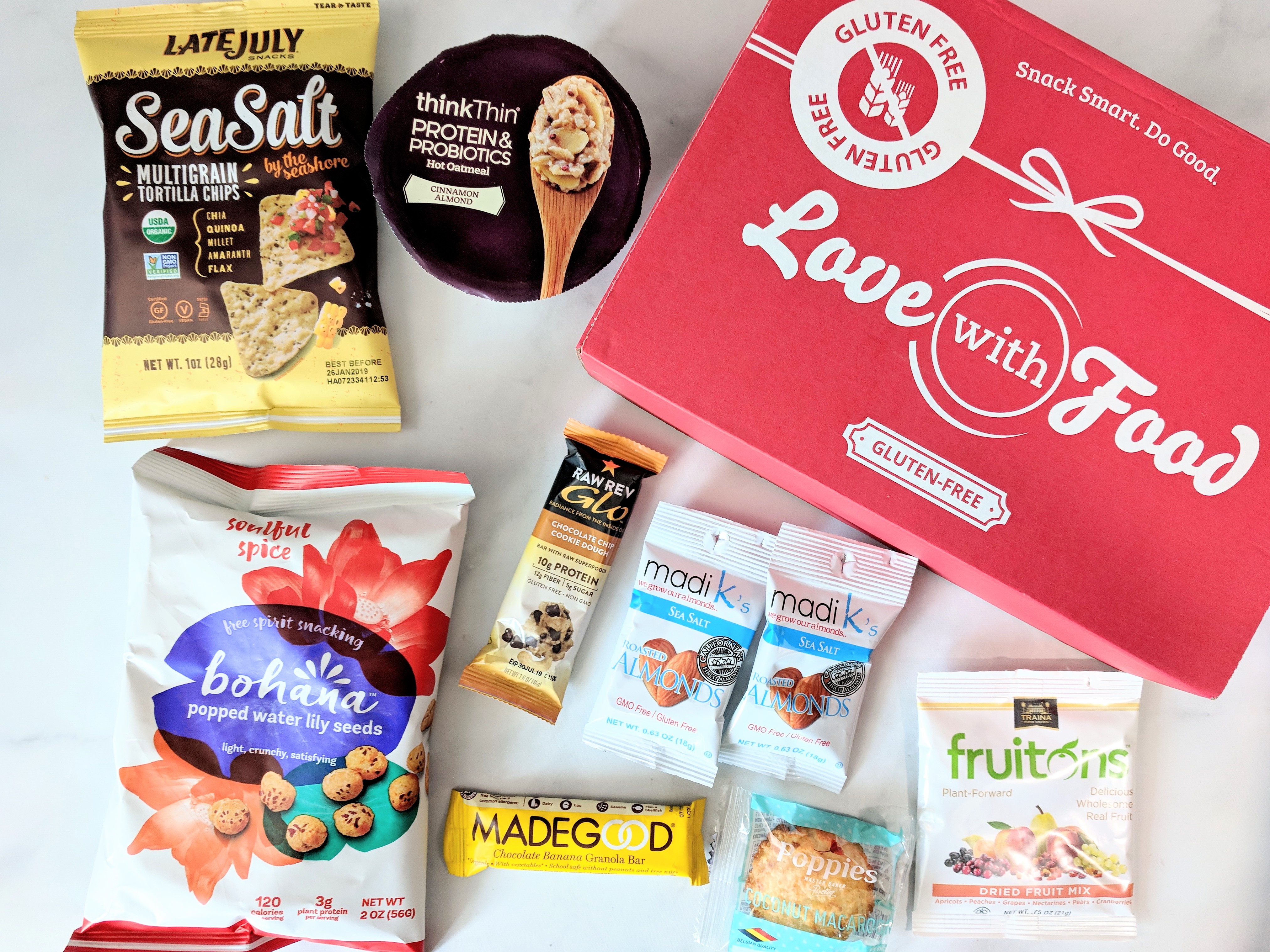 I really liked this month's Love With Food – Gluten Free box. There was a nice mix of sweet and savory treats, and the mix of the old favorites and most of the snacks were new to me this month, although some were familiar (almonds are almonds!) I really enjoyed my almonds, the Raw Rev Glo bar and the oatmeal cups.
What is your favorite Love with Food item from this month's box? Share below and let us know!

Visit Love with Food Gluten-Free to subscribe or find out more!