Loot Tees is one of the Loot Wear collections of monthly subscriptions from Loot Crate with exclusive geek and gamer premium wearable accessories with a monthly theme. Loot Tees is their t-shirt subscription. From size small to 3XL for Women and 5XL for Men for just $8.99 per month – shirts for adult geeks of all sizes. See our Loot Wear reviews for photos of the other subscriptions!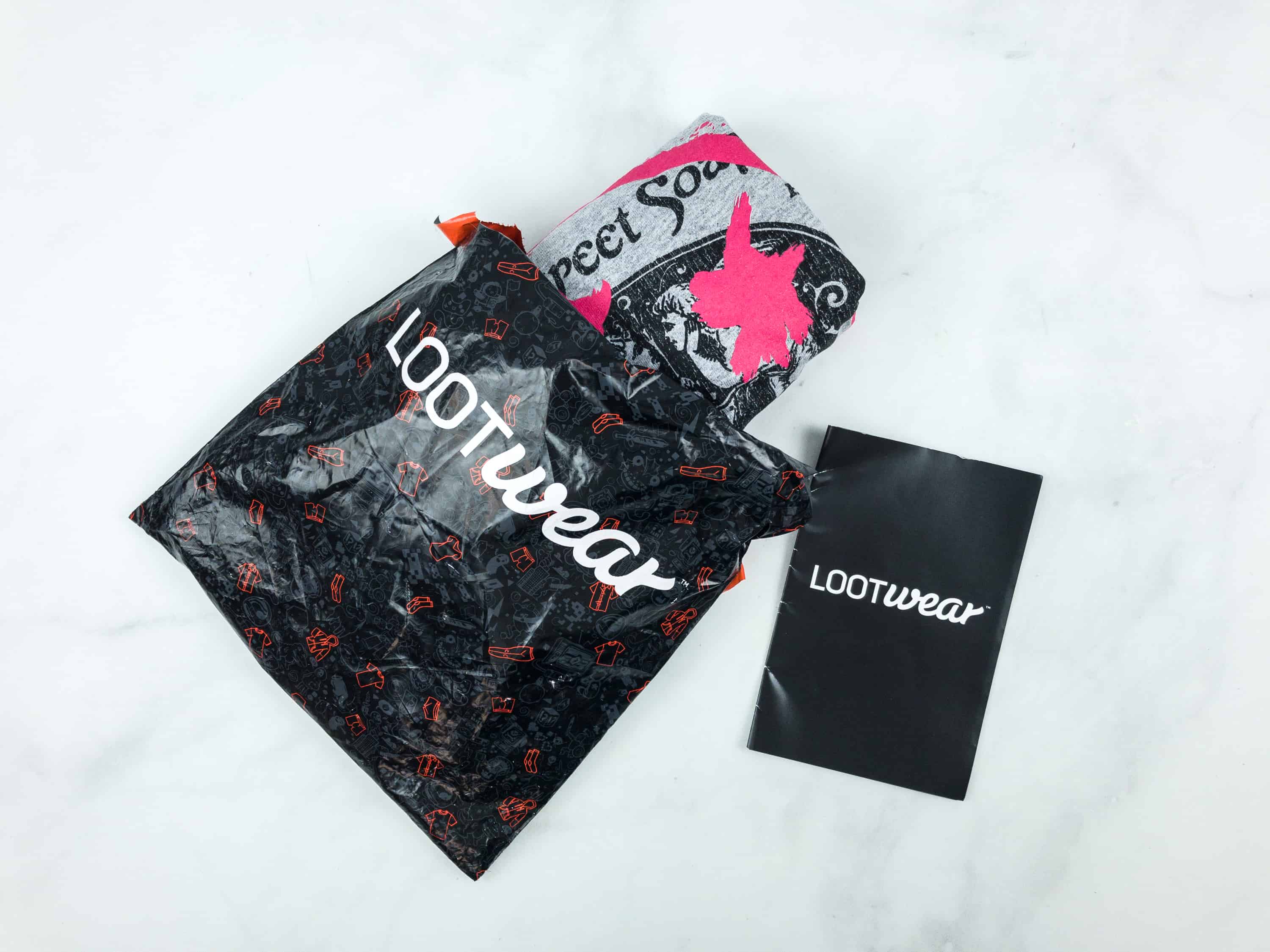 DEAL: Save 15% on Loot Wear subscriptions when you use this link and coupon code HELLOSUBSCRIPTION15. [Does not apply to Wizardry Wear] Get $3 off your first month with coupon code SAVE3. [Not valid on Undies]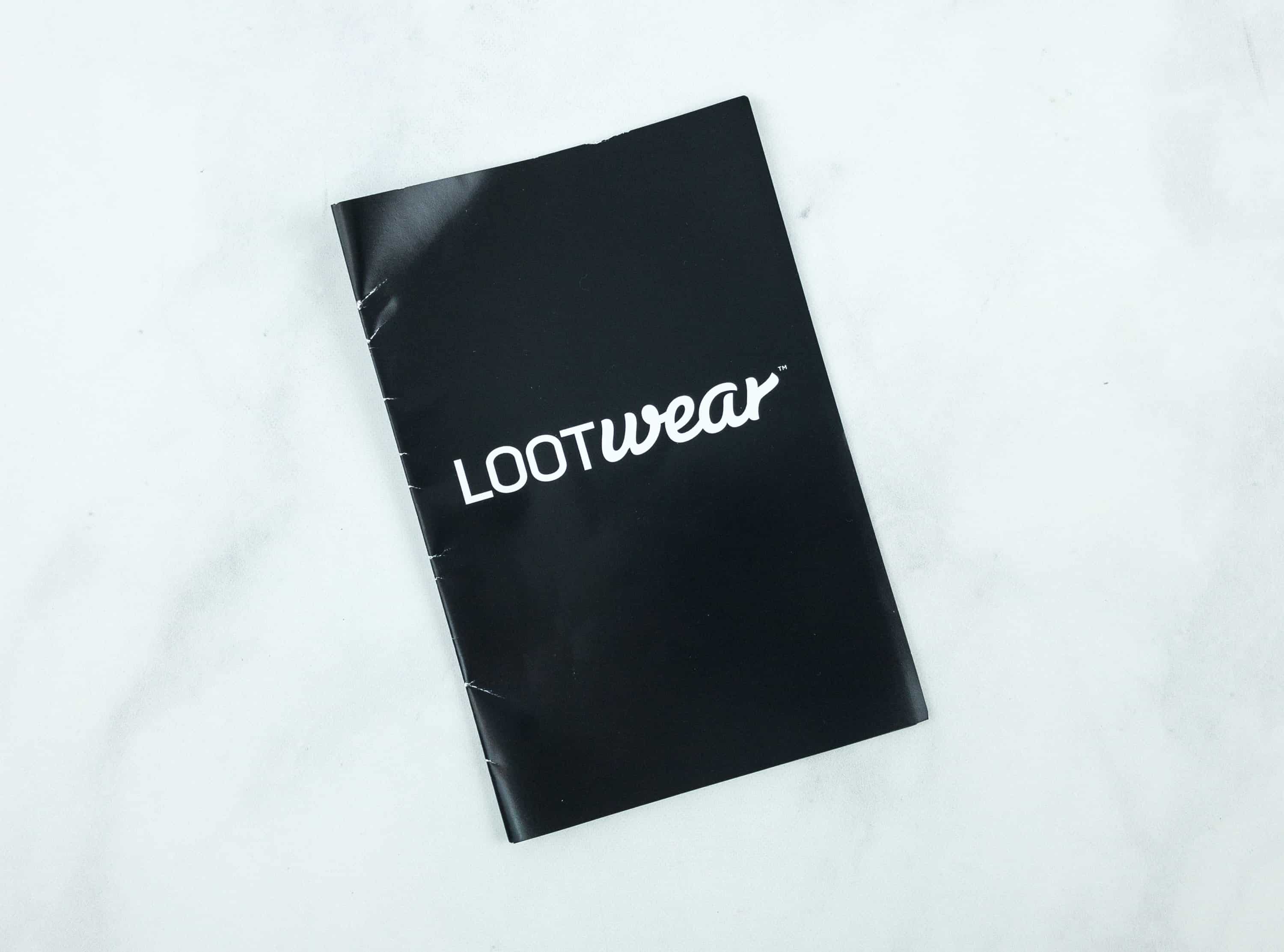 Really excited for my tee this month!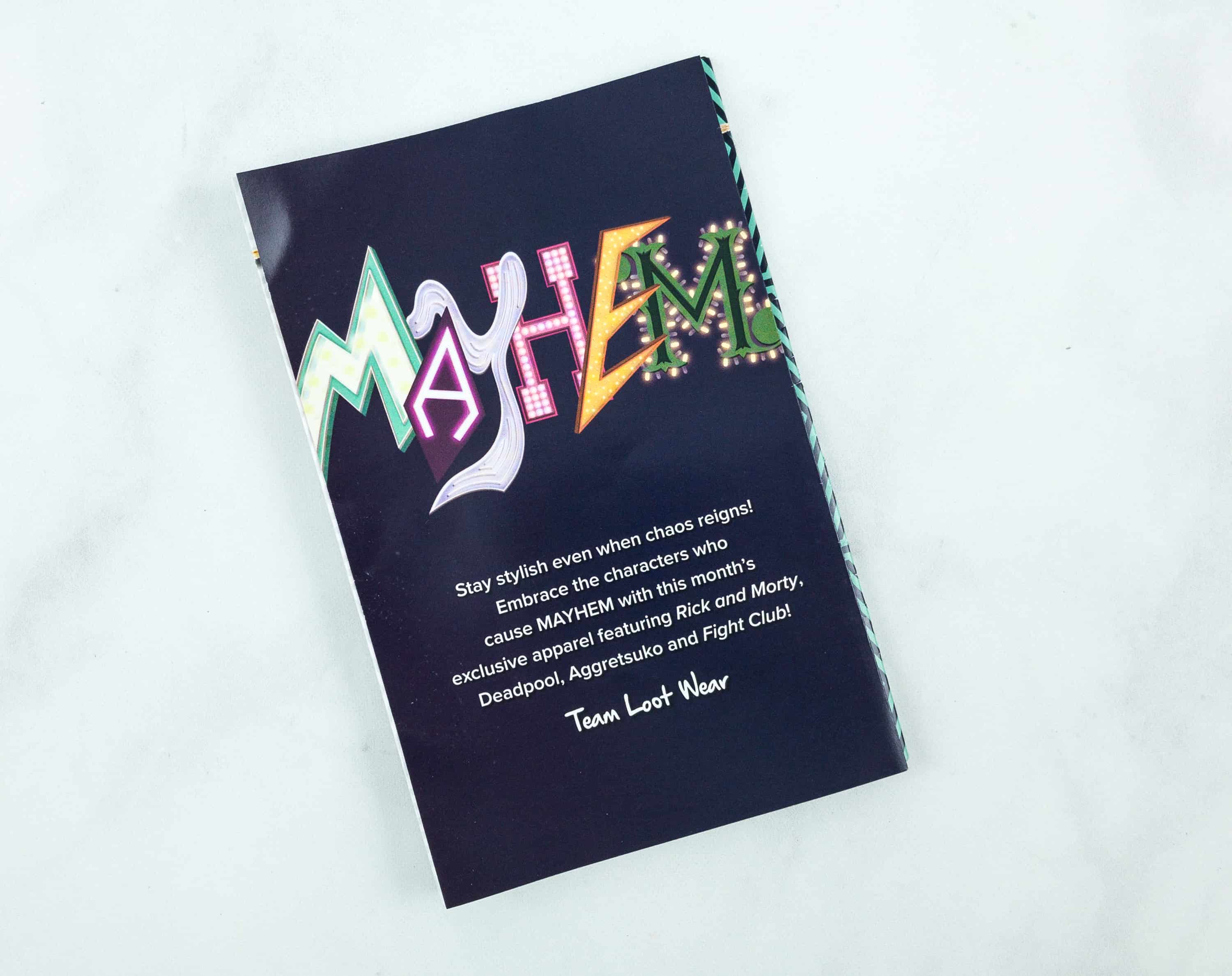 The theme for the August 2018 Loot Tees was MAYHEM!
The information card shows all the items over all the Loot Wear subscriptions.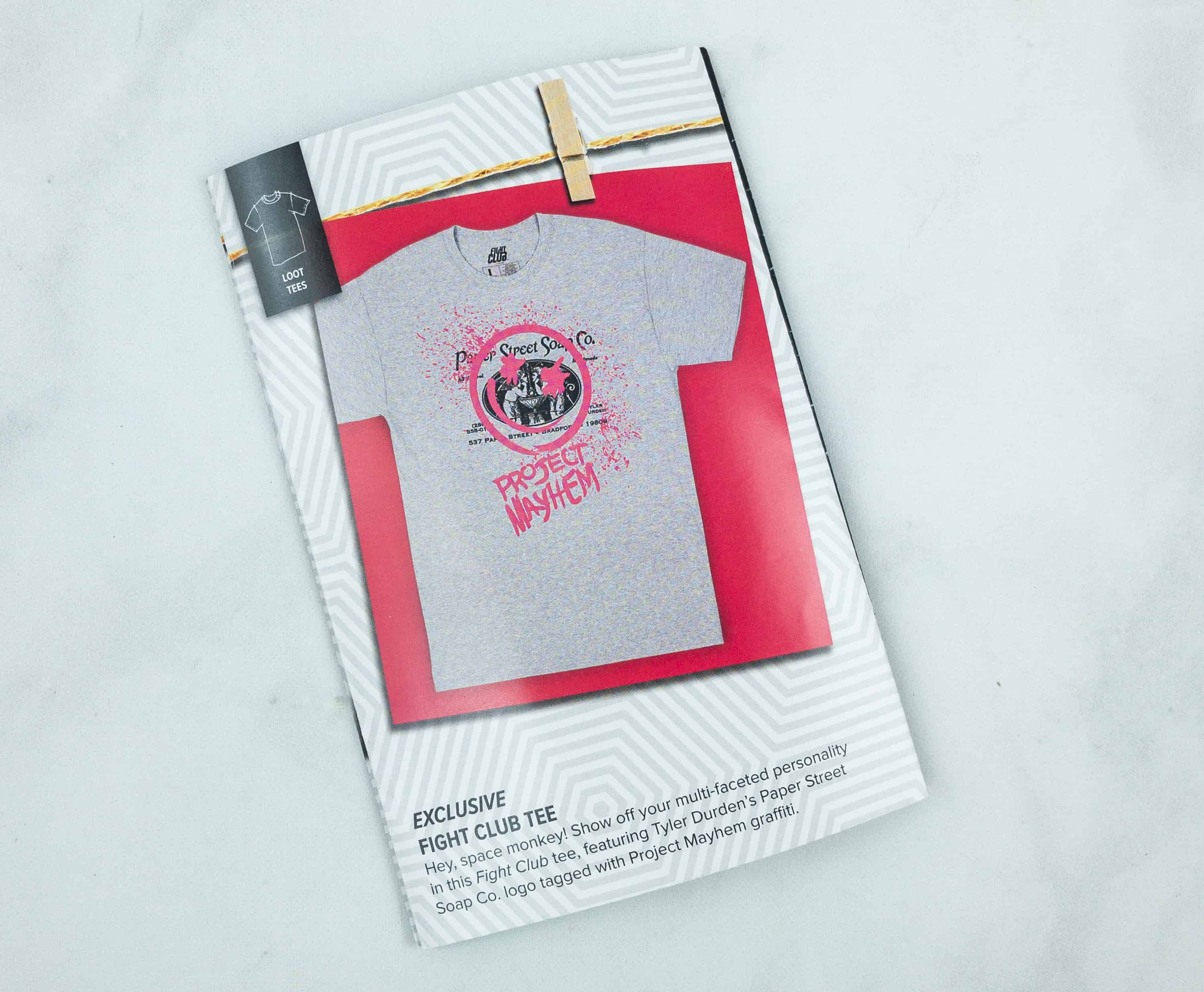 This accordion pamphlet describes all the Wearables available this month.
It's usually superfluous, as the franchise references on the clothing are spot-on and highly recognizable.
They also send out pairs of cool socks and even undies too, and what's more exciting about this crate is that most items are Loot Wear exclusives!
Loot Tees: EXCLUSIVE Fight Club Tee. Fight Club is a 1999 film that is based on the novel of the same title, written by Chuck Palahniuk.
A depressed man suffering from insomnia meets a strange soap salesman named Tyler Durden and soon finds himself living in his squalid house after his perfect apartment is destroyed. The two bored men form an underground club with strict rules and fight other men who are fed up with their mundane lives. Their perfect partnership frays when Marla, a fellow support group crasher, attracts Tyler's attention.
This shirt is definitely in line with this month's MAYHEM theme! It features the Paper Street Soap Co. logo covered by a graffiti in pink. The paint splatter effect looks really cool.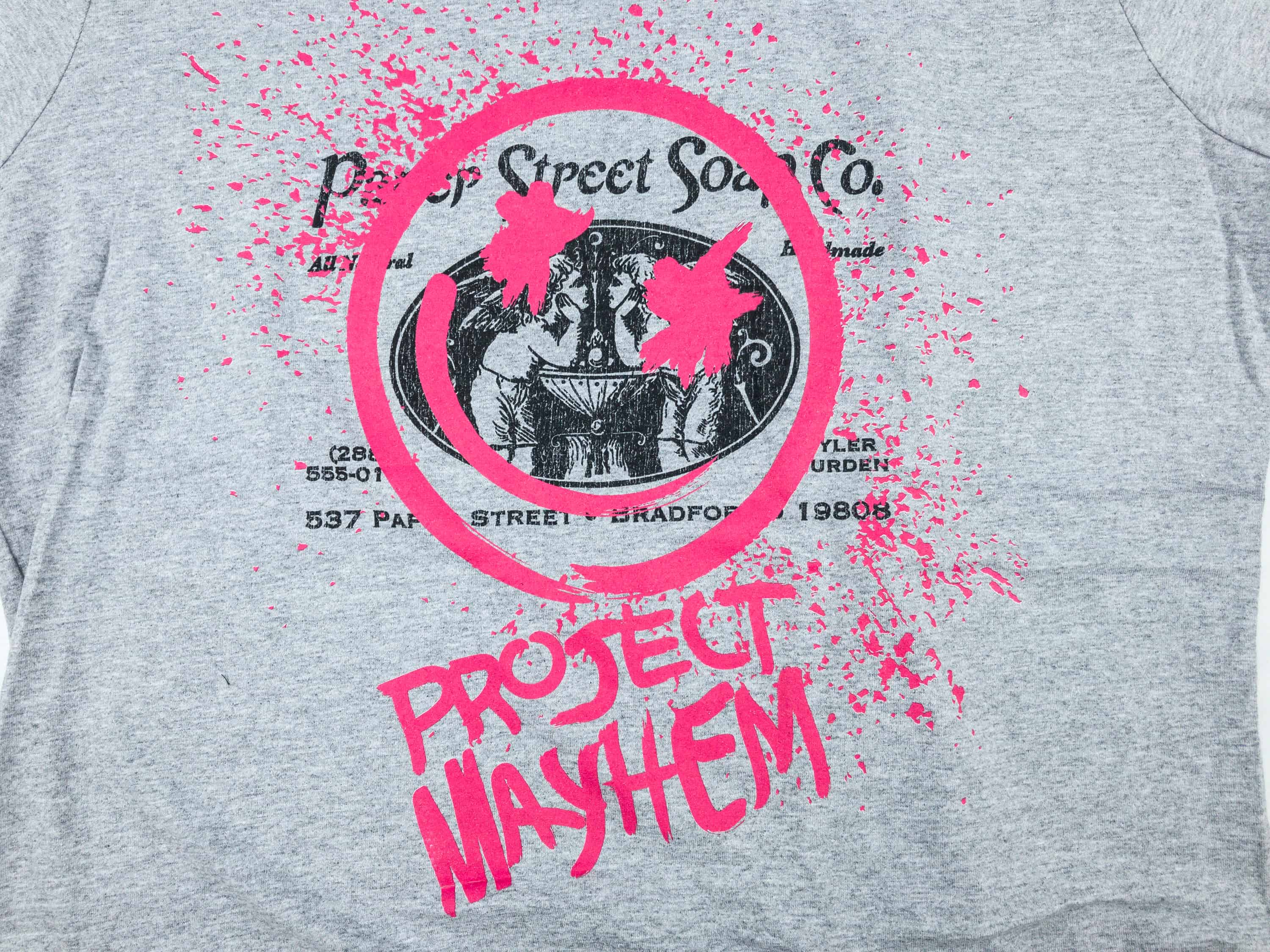 I'm sure Tyler Durden approved that his soap company's logo is tarnished by these pink-colored writings! And can you make out the smiley emoji at the middle?
At the back of the shirt is where the film's title is printed, exactly like what's on most of its promotional materials!
Loot Tees sends out wearables that are perfect for any gamer or geek out there who wants to show off their fandom or favorite characters through their shirts. This month has the classic Fight Club featured which definitely showcased MAYHEM! (Cringing a little at saying classic – this came out when I was in college!!)
What do you think about this month's tee?