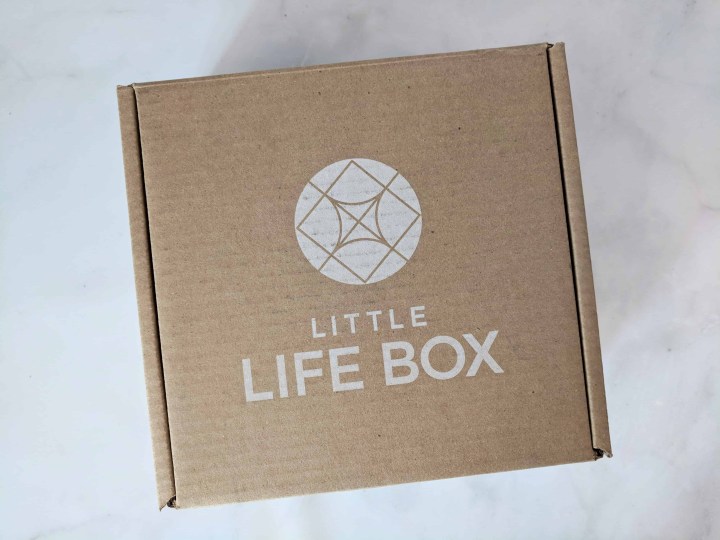 Little Life Box is a Canadian monthly healthy box subscription. For $23 CAD (+$5 shipping), you will receive 8 to 12 items ranging from snacks to beauty products and supplements. The items are a mix of sample and full-size products. When you subscribe, you choose between the original and the vegan box. This review is for the original box! Good News, they now ship to the USA and shipping is free! Items in the US box might differ from the Canadian one.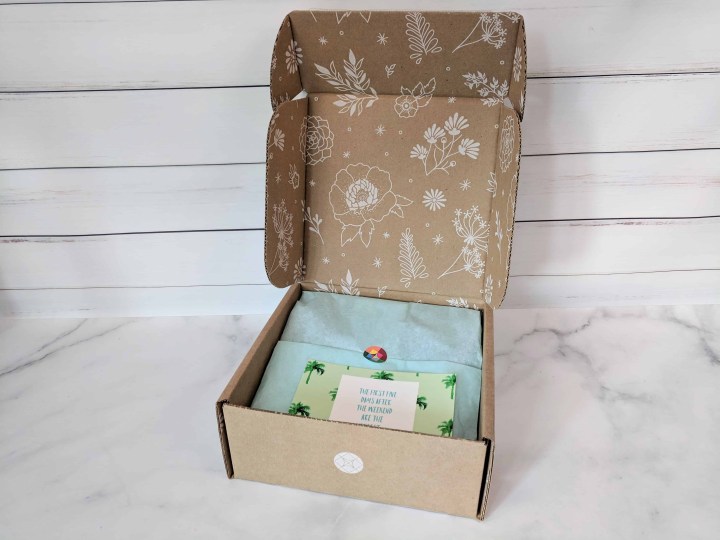 DEAL: Save 25% on your first month! Use coupon code LLB25.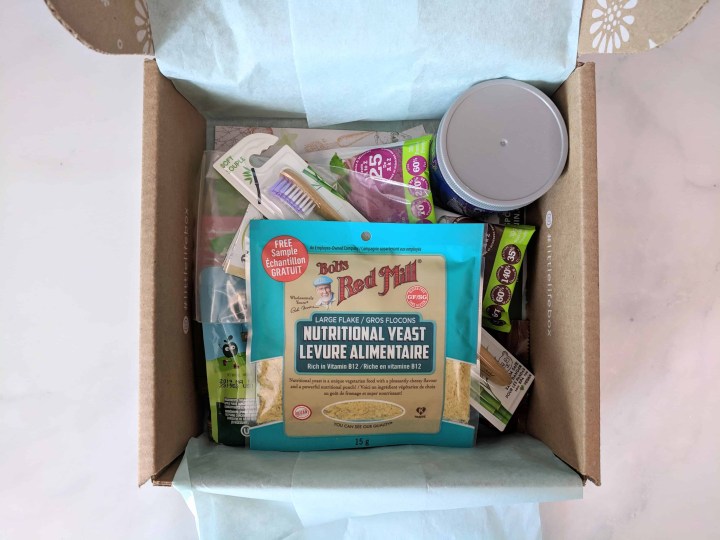 Everything in the box.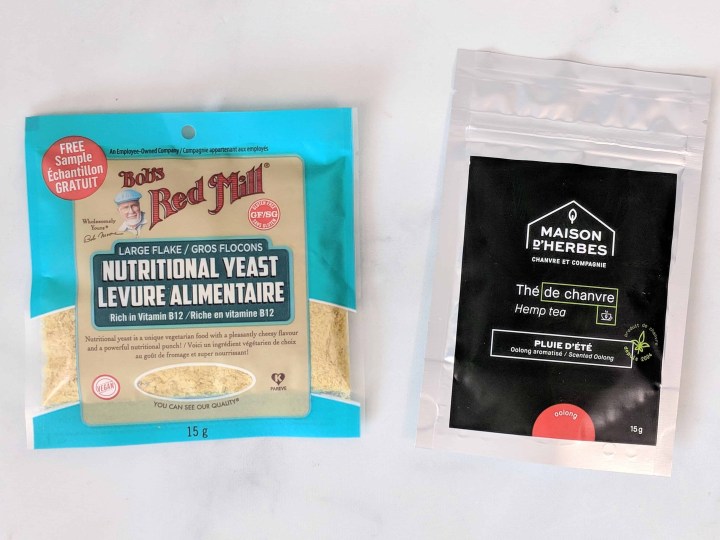 Bob's Red Mill Nutritional Yeast. I love the flavor of nutritional yeast and it's a great way to add some of the needed vitamins B that a vegan diet sometimes is missing. I love to roll tofu strips in olive oil and coat them with nutritional yeast before baking them or to add it to popcorn with a drizzle of rosemary olive oil. It has a very pleasant cheesy flavor, almost nutty.
Hemp Tea – Pluie D'été Scented Oolong. A blend of Oolong and hemp tea with some passionfruit, sweet lemongrass, apple, and hibiscus.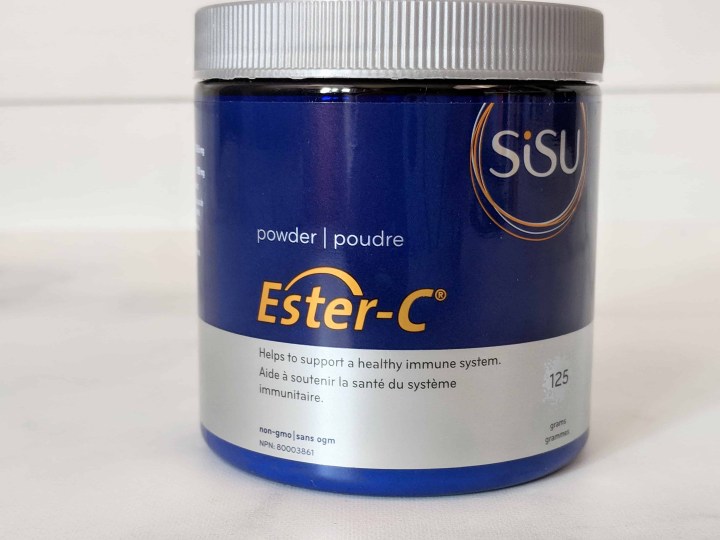 Sisu Ester-C powder. The Ester-C is a unique, patented form of calcium ascorbate, which is made when ascorbic acid (regular vitamin C) is buffered with calcium using a water-based process, providing your body with both calcium and vitamin-c. It's in a powder form, so you can add it to your drink of choice.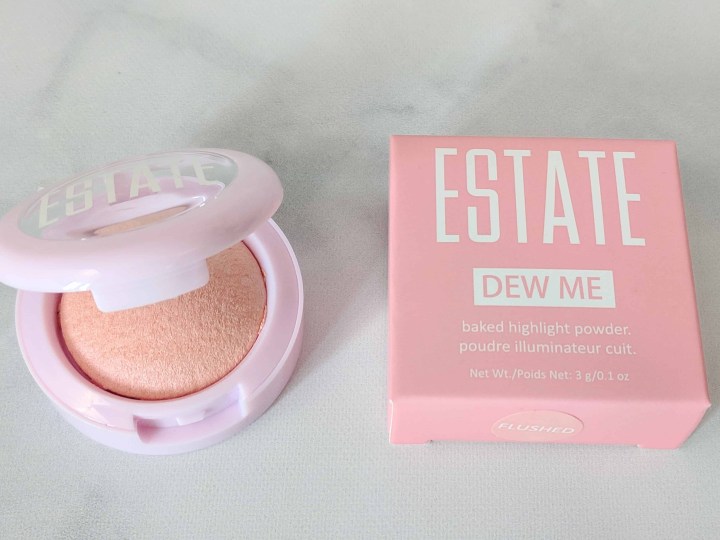 Estate Dew Me in Flushed. This is a cute baked highlight powder that is very light but quite pink! The color is buildable so you can play with the color.
Pranin Organic Smoothie Booster Pack A blend of high in food sourced iron, B-vitamin and vitamin C (The Balance and Glow) and high in good sourced calcium, magnesium and vitamin D (Revive and Rebuild) that you can add to any liquid of your choice for a boost of vitamins.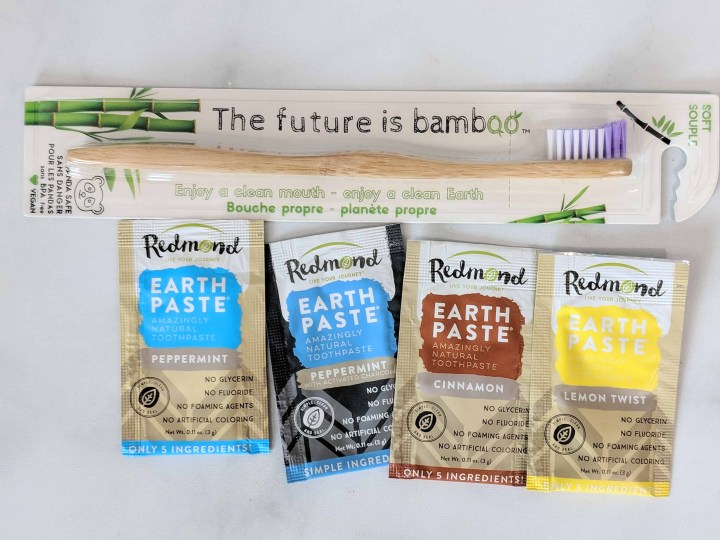 The Future is Bamboo ToothBrush. A bamboo toothbrush to replace the usual plastic toothbrush that we usually go for! The bamboo used for this toothbrush is Panda safe and disposing of the toothbrush is as easy as removing the bristles with a pair of pliers, recycling them and dispose of the bamboo part in the compost!
Redmon Earth Paste, variety samples. This is a non-fluoride all-natural toothpaste made with locally sourced clay. This toothpaste only have five ingredients: Water, Redmond Clay, Real Salt, essential oils, and xylitol.
Oleiva Traditional Extra Virgin Olive Oil. Lovely olive oil that can be used for cooking or as a salad dressing (with balsamic vinegar and shallots, it's divine) to add good fat to your diet.
Land Art Omega 3. Omega 3 has a lot of benefits, and for certain persons, it is lacking in their diet. This supplement is in a straight oil form but doesn't smell fishy or anything like that. It's actually quite neutral and this sample is one dose, so not enough to know if it works or not.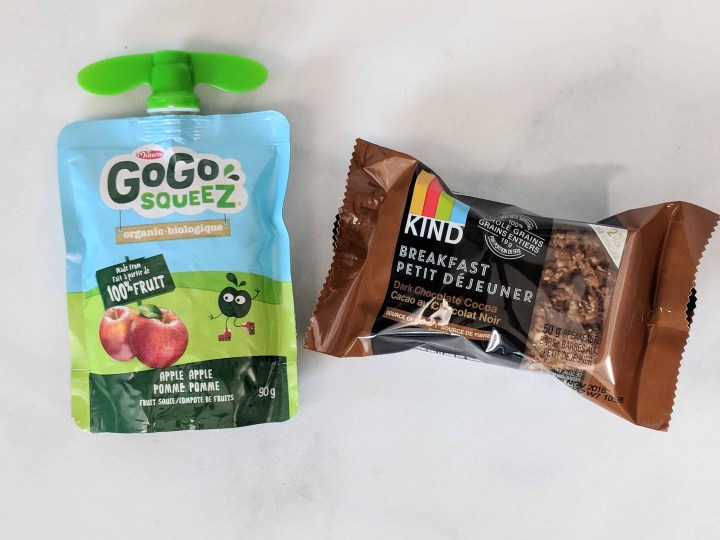 GoGo Squeez Organic Apple Sauce. I love squeezable applesauce for my on-the-go needs. It's shelf-stable so you can carry one in your purse at all time, and the cap is flat so it fits nicely in a lunchbox. And it tastes like applesauce!
Kind Breakfast Dark Chocolate Cocoa. Chewy but with nice crisps bites, these bars are a nice little morning pick-me-up. They are made of Quinoa, Oats, Millet, Buckwheat, Amaranth, chocolate, raisins paste, cane sugar, cinnamon. They are tasty paired with coffee for my morning snack.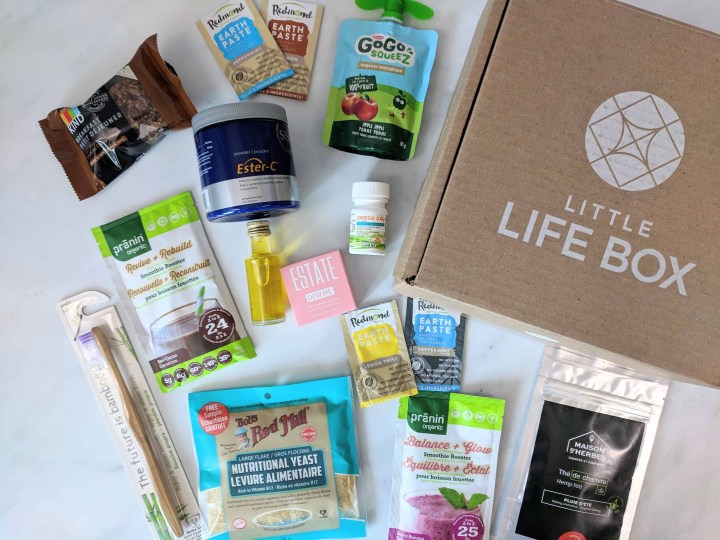 This month's Little Life Box had a Back to School feel with a new toothbrush and toothpaste, and some easy to make snacks for busy mornings! I'm always happy to discover new products through this box and as a Canadian, they are usually easy to find in the nearest grocery store!
What did you think of September's Little Life Box?