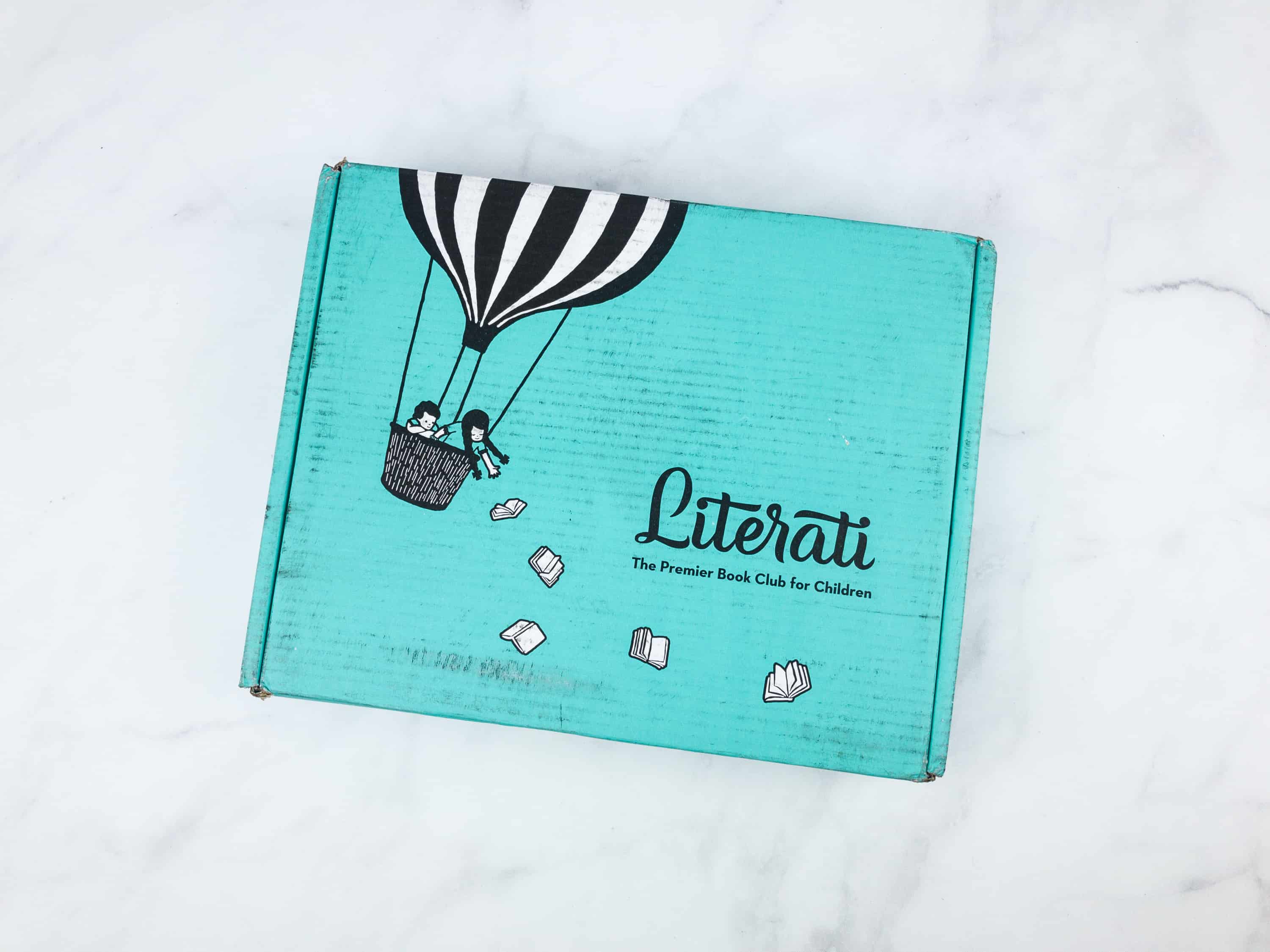 Literati is a monthly book subscription box for children that works similar to Stitch Fix. For a monthly fee of $9.95, you'll receive 5 books to try out for a week. You can purchase the ones you love and return the rest (in totally new condition) in the enclosed prepaid mailer (shipping is free in both directions).
You can get 5% off when you decide to keep all the books! There are also categories for each age bracket: Club Neo is for newborn to 1 year; Club Sprout is for children ages 2-3; Club Nova is for kids 4-6, and Club Sage is for those 7-8 years old.
This is a review of the Club Nova box.  We decided to try out Club Nova for a while, so this is actually a welcome box!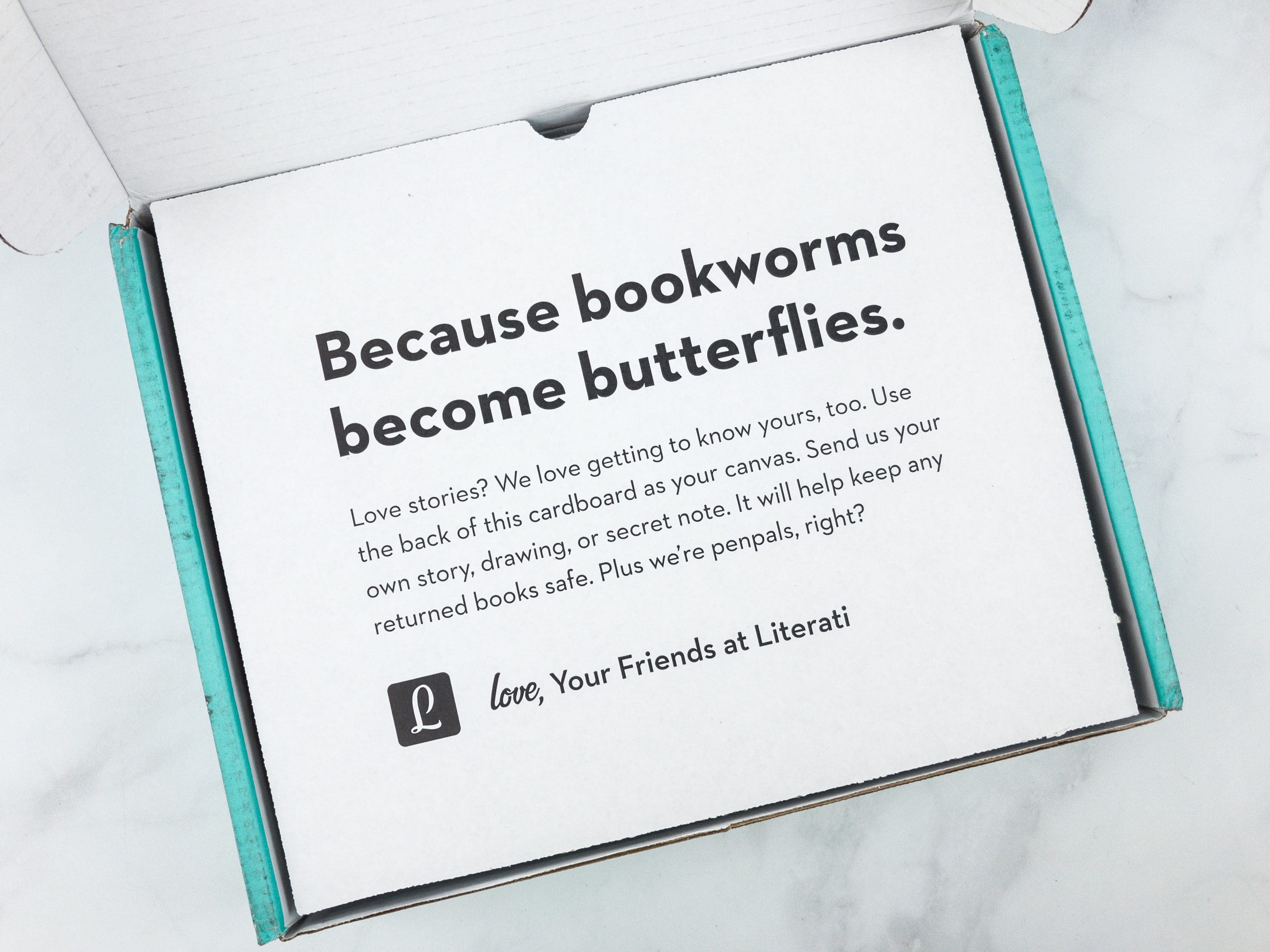 Because bookworms become butterflies.
There are lots of books in store for us!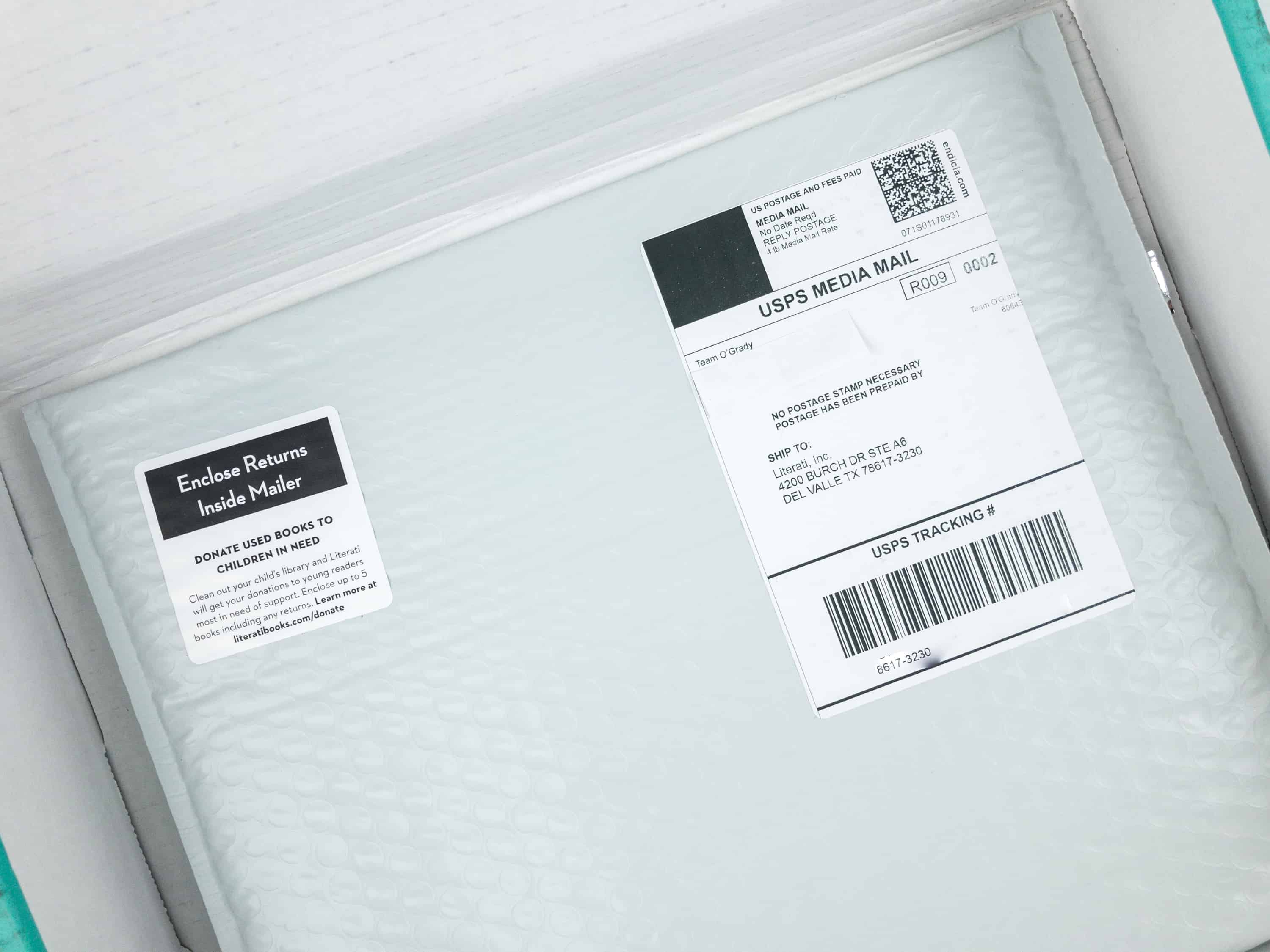 There's also a padded mailer, if you want to return some of the books. You can also return your own gently read books (up to five total in the mailer) for donation.
DEAL: Get $25 in account credit to put towards books when you sign up! USE THIS LINK to get the deal.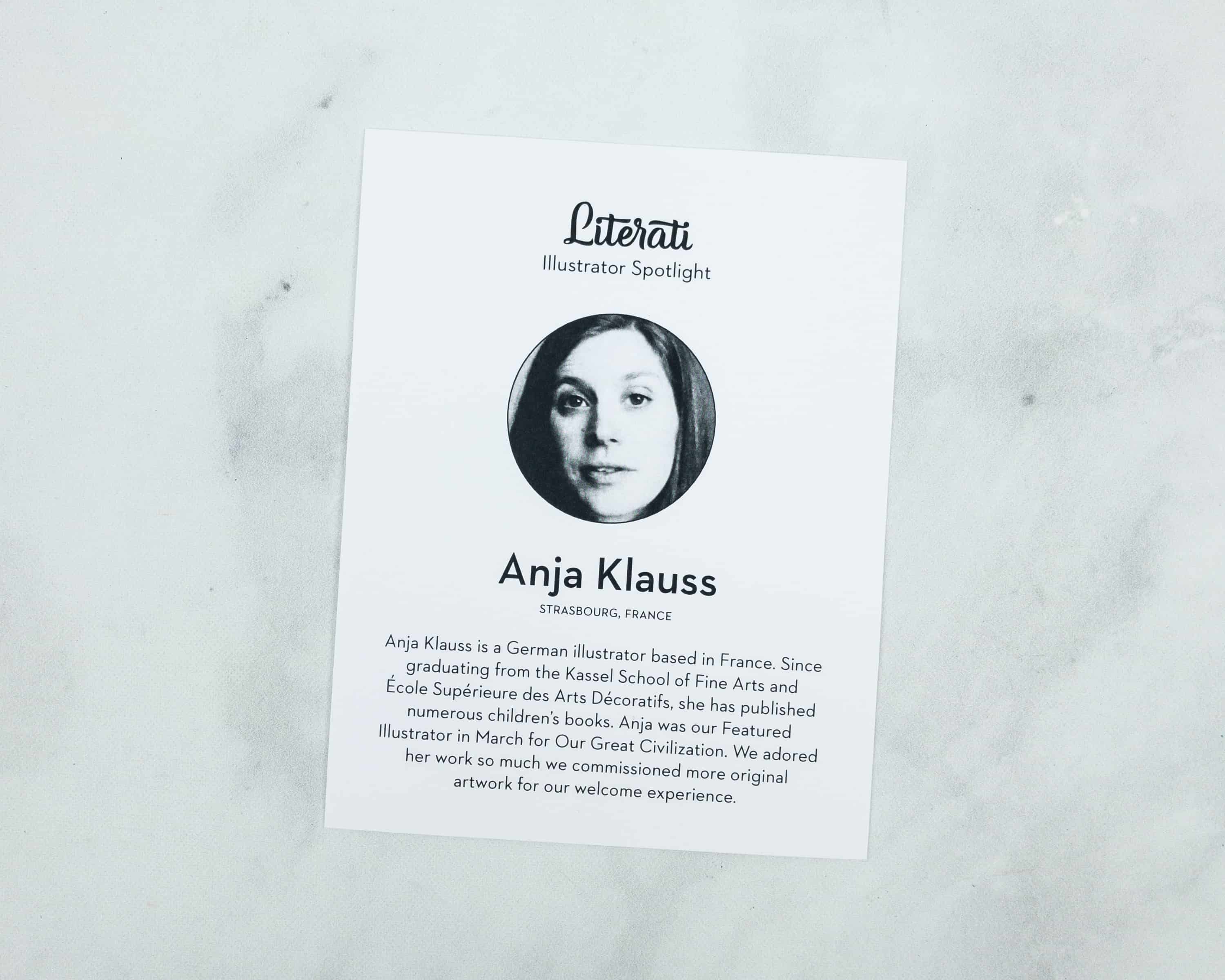 The featured illustrator creates new artwork for the monthly themes. This month's illustrator is Anja Klauss.
There's a little Q&A with the featured illustrator at the back of the card.
A full-size print comes with the box, along with free shipping. Although I don't love that the fee doesn't apply to a full box purchase, this makes it more worth it.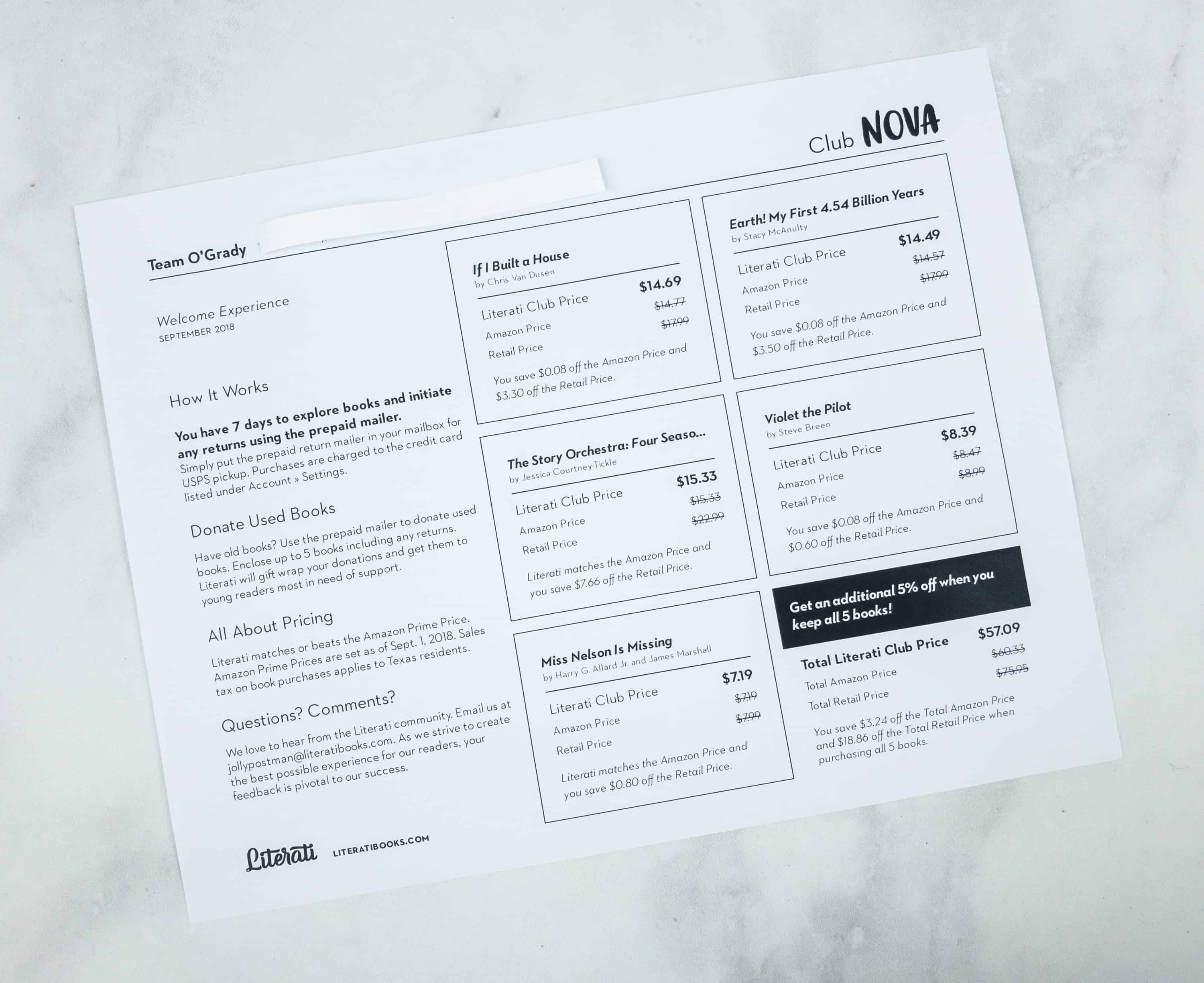 The information sheet lists the titles with a brief description for each.
There's also a listing of the book prices. If you decide to keep everything, you'll get 5% off. The subscription has a $9.95 non-refundable fee. According to Literati "it covers shipping both ways, allows the curators to invite a new world-renowned illustrator each month to draw personalized bookplates and a unique print for members, and covers other themed surprises that are included in the box." Since the print is now full size and high quality, we are digging that change. It includes the shipping back and forth too.
They included a sheet to help us label the books, and let others know that they're ours when we decide to keep them. They're really adorable!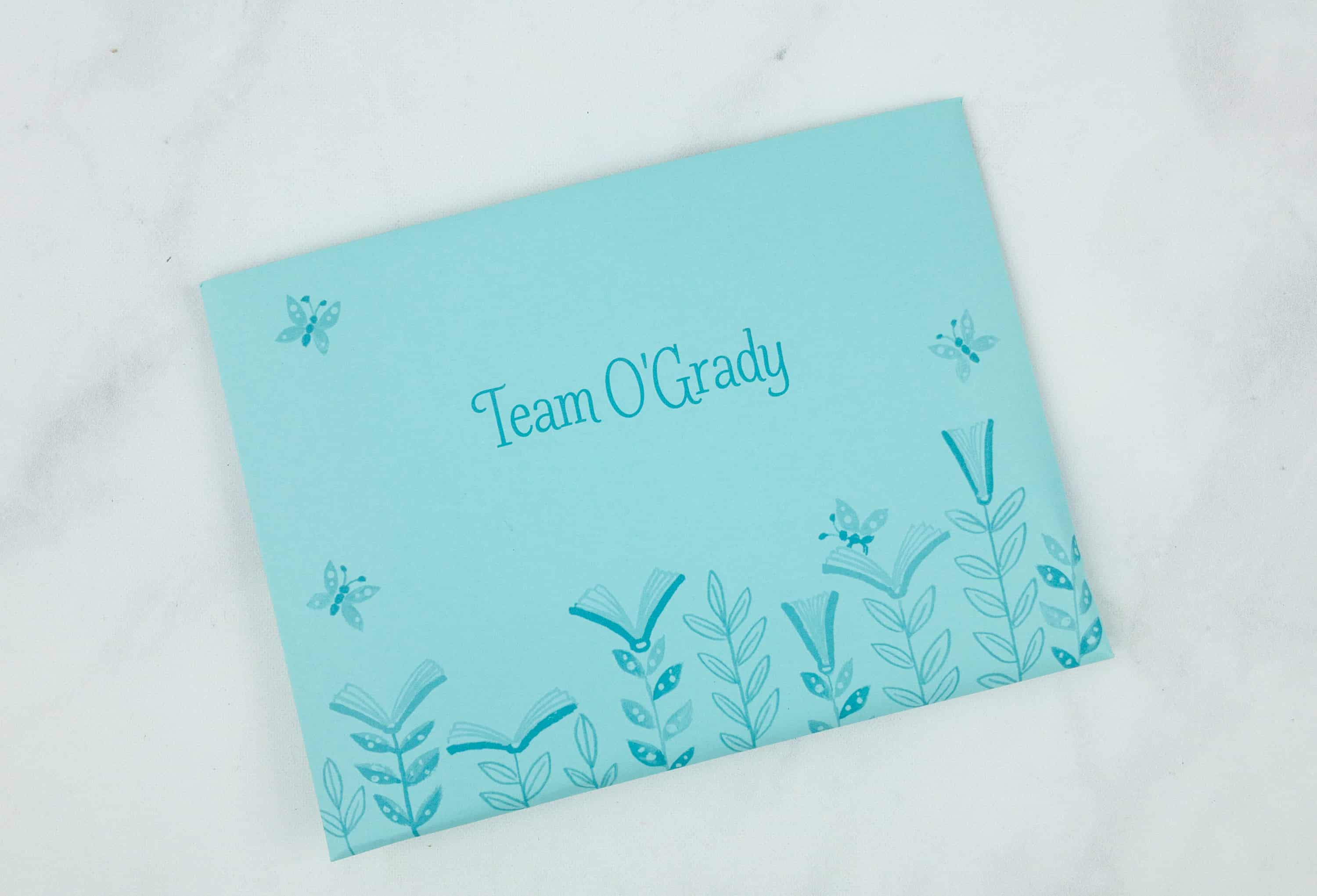 There's also a personalized card and note from Literati.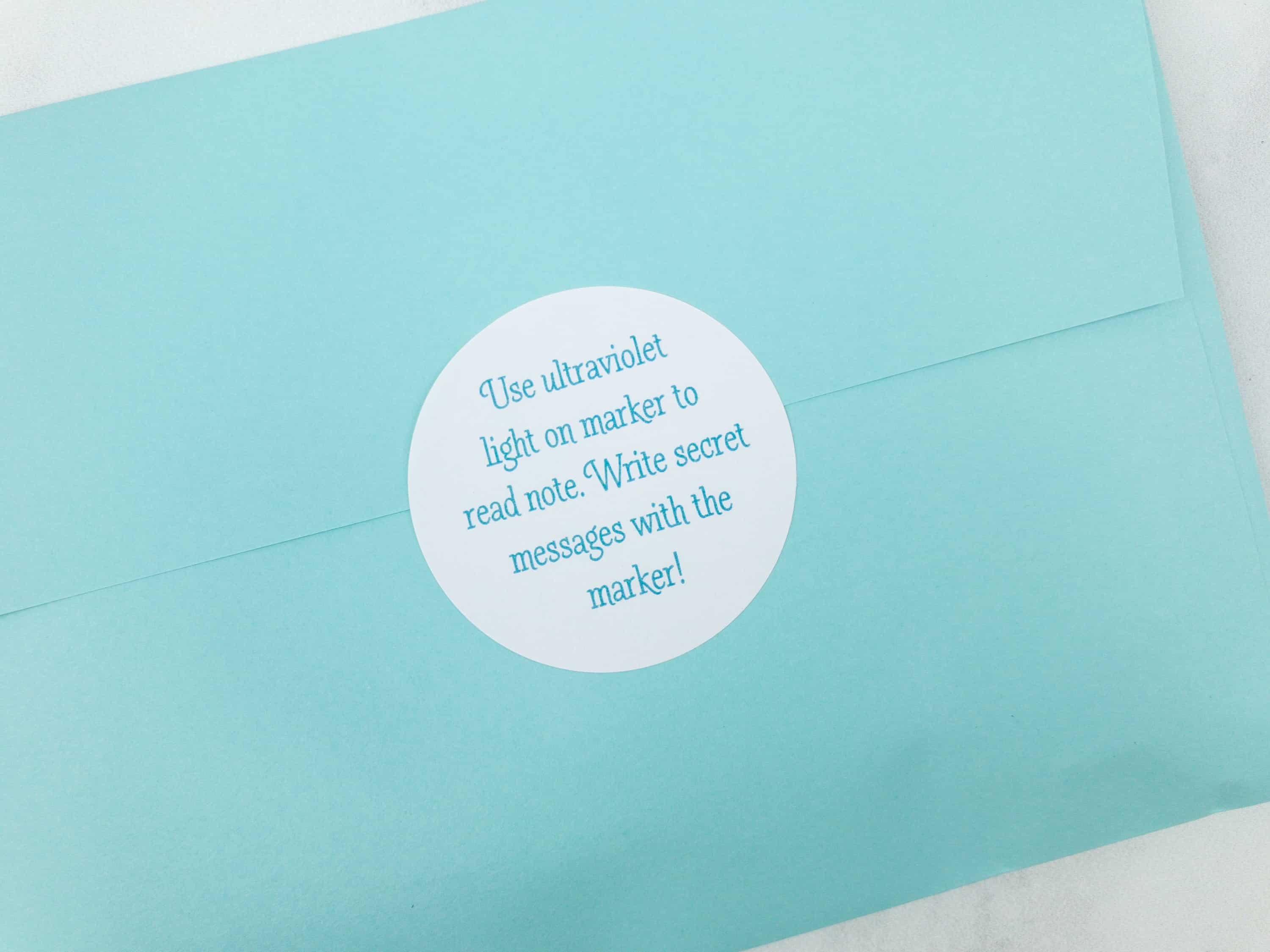 The sticker seal says that we need to use an ultraviolet light on the marker to read the note, and we can also write a secret message with it.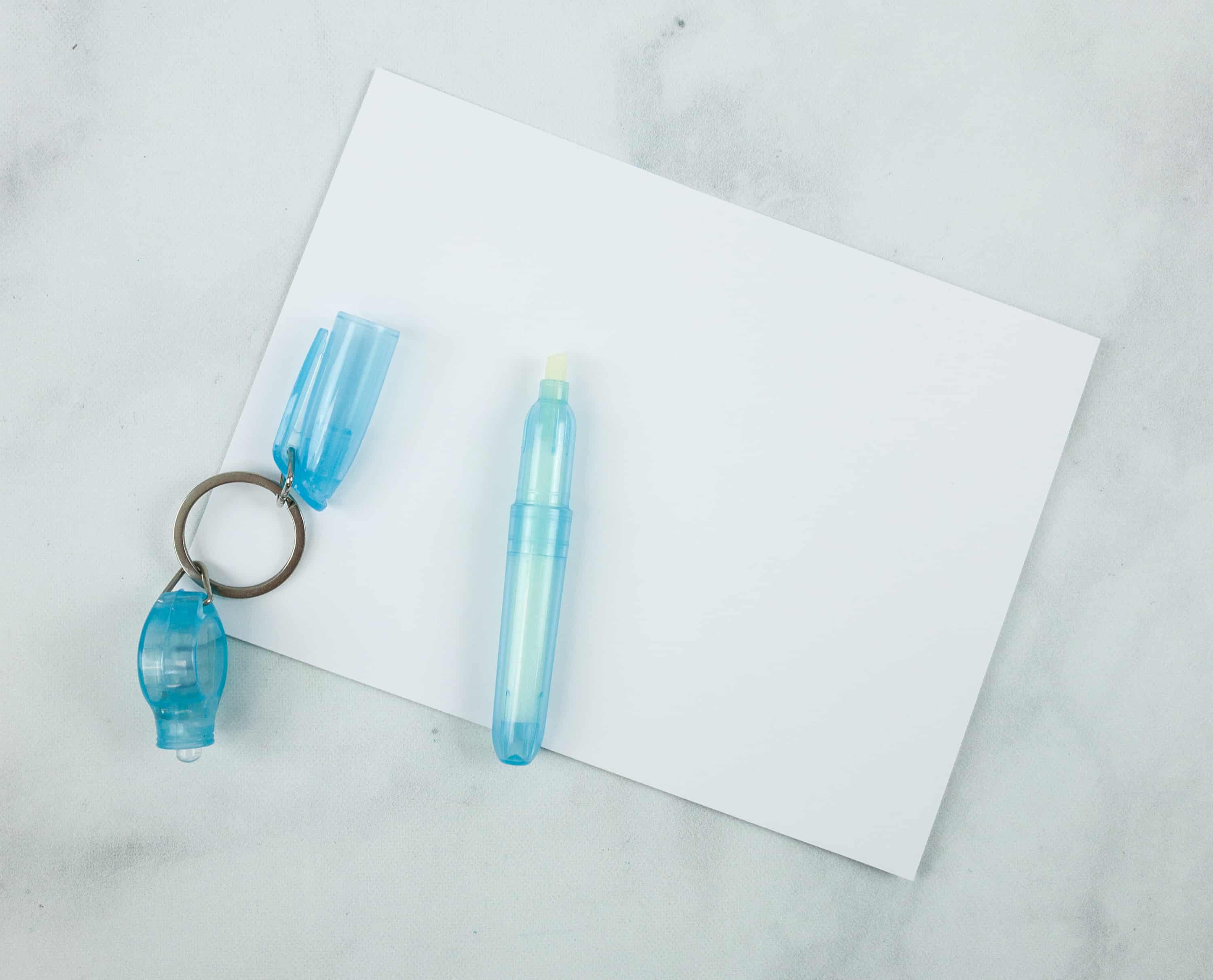 I love that the marker and the UV light were attached together on a keychain ring!
And there's the secret message! It says that books are like magic doors that open new adventures!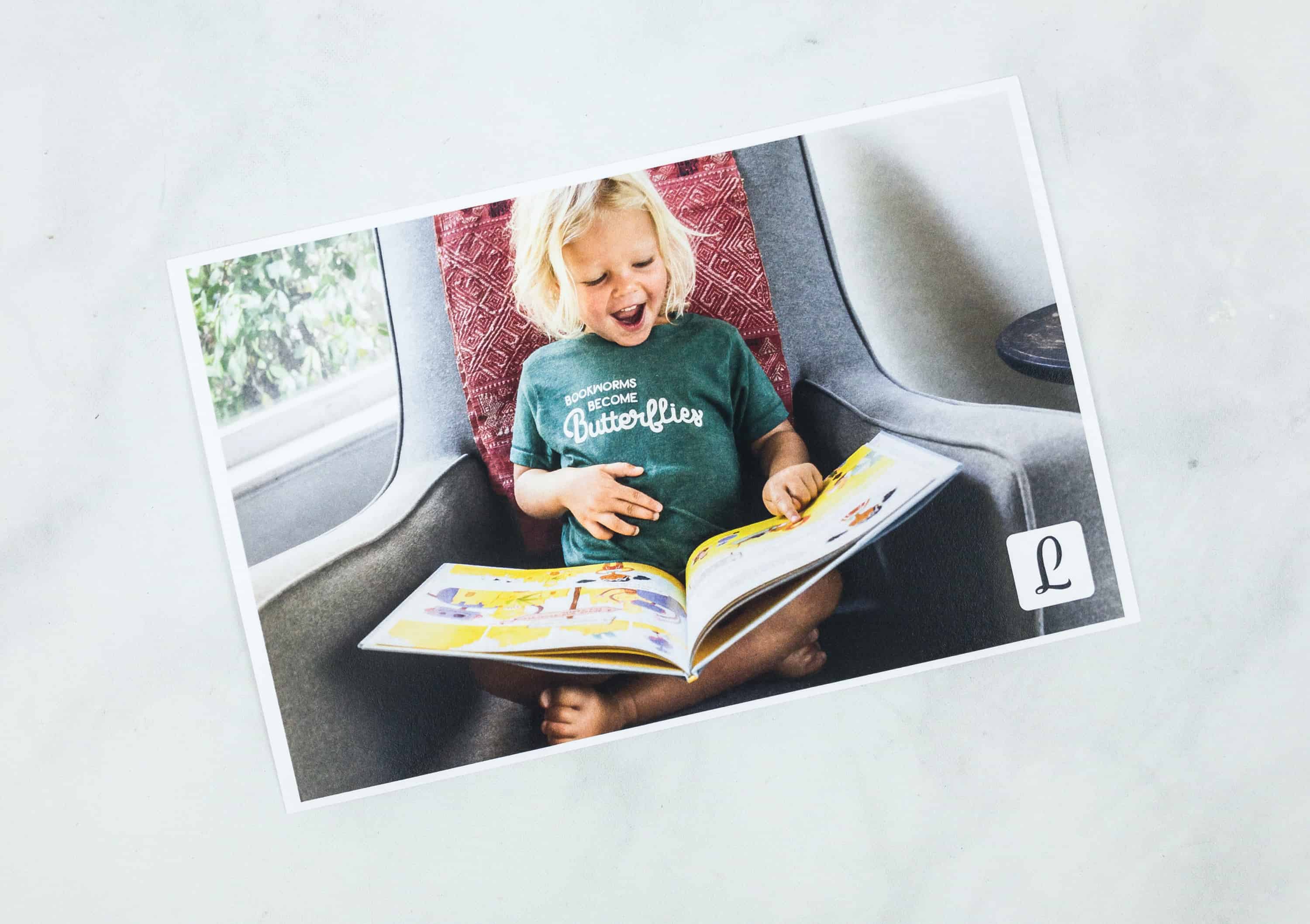 There's a card that shows how delighted this kid is reading a book!
It's an info card about the 5 books sent to us for Club Nova for kids aged 7-8 years old.
Everything in the box!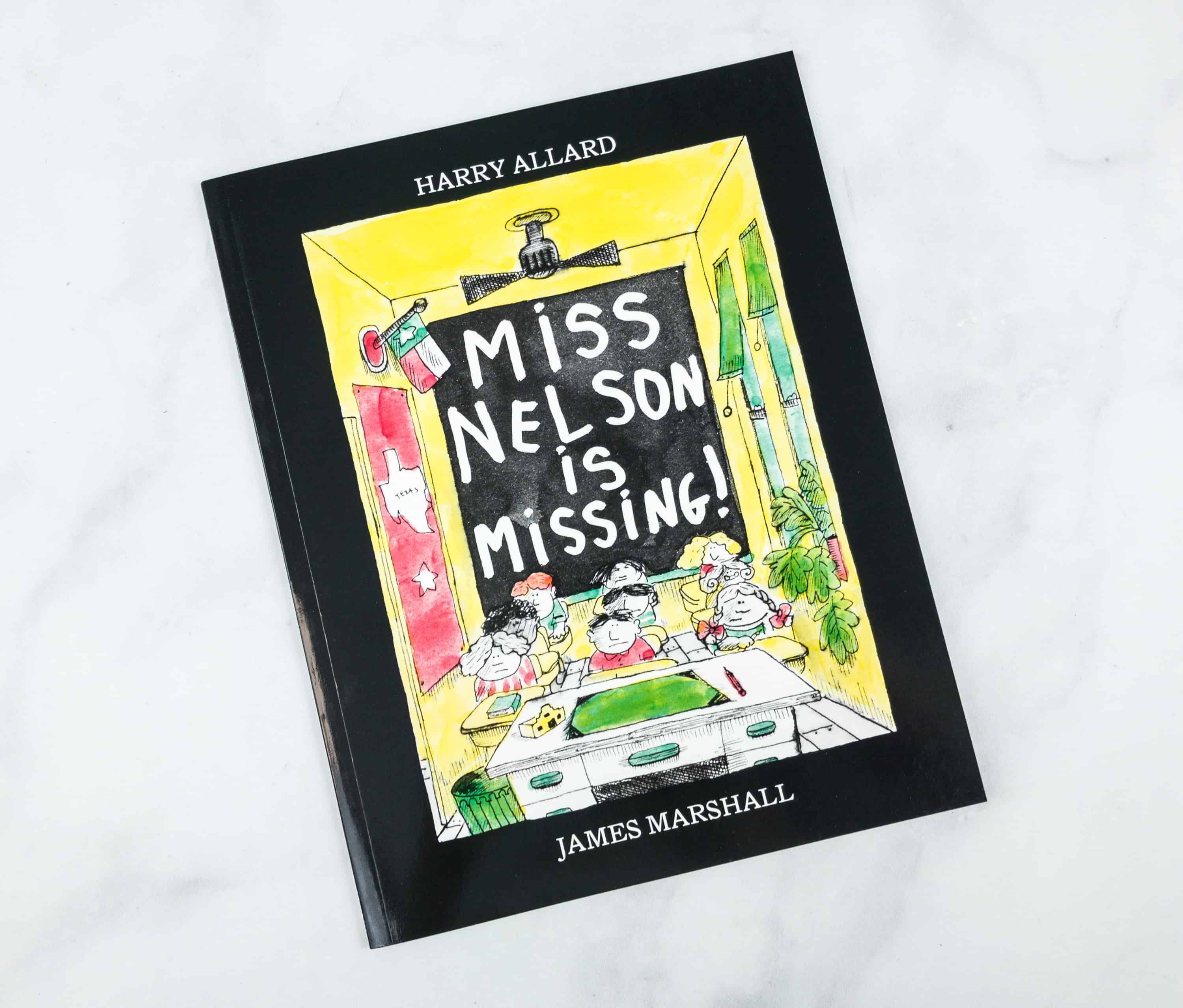 Miss Nelson Is Missing By Harry Allard ($14.86)
The kids in Room 207 were misbehaving again. Spitballs stuck to the ceiling. Paper planes whizzing through the air. They were the worst-behaved class in the whole school.

So begins this quirky classic, first published in 1977 and still relevant today as a lighthearted reminder to show our appreciation to those we value. The students don't proffer a shred of respect for their good-natured teacher Miss Nelson, but when the witchy substitute Miss Viola Swamp appears on the scene, they start to regret their own wicked ways. James Marshall's scritchy, cartoonish full-color ink and wash illustrations are hilarious. A back-to-school perennial!
The back cover has a short review from The New York Times, as well as an illustration of Miss Nelson!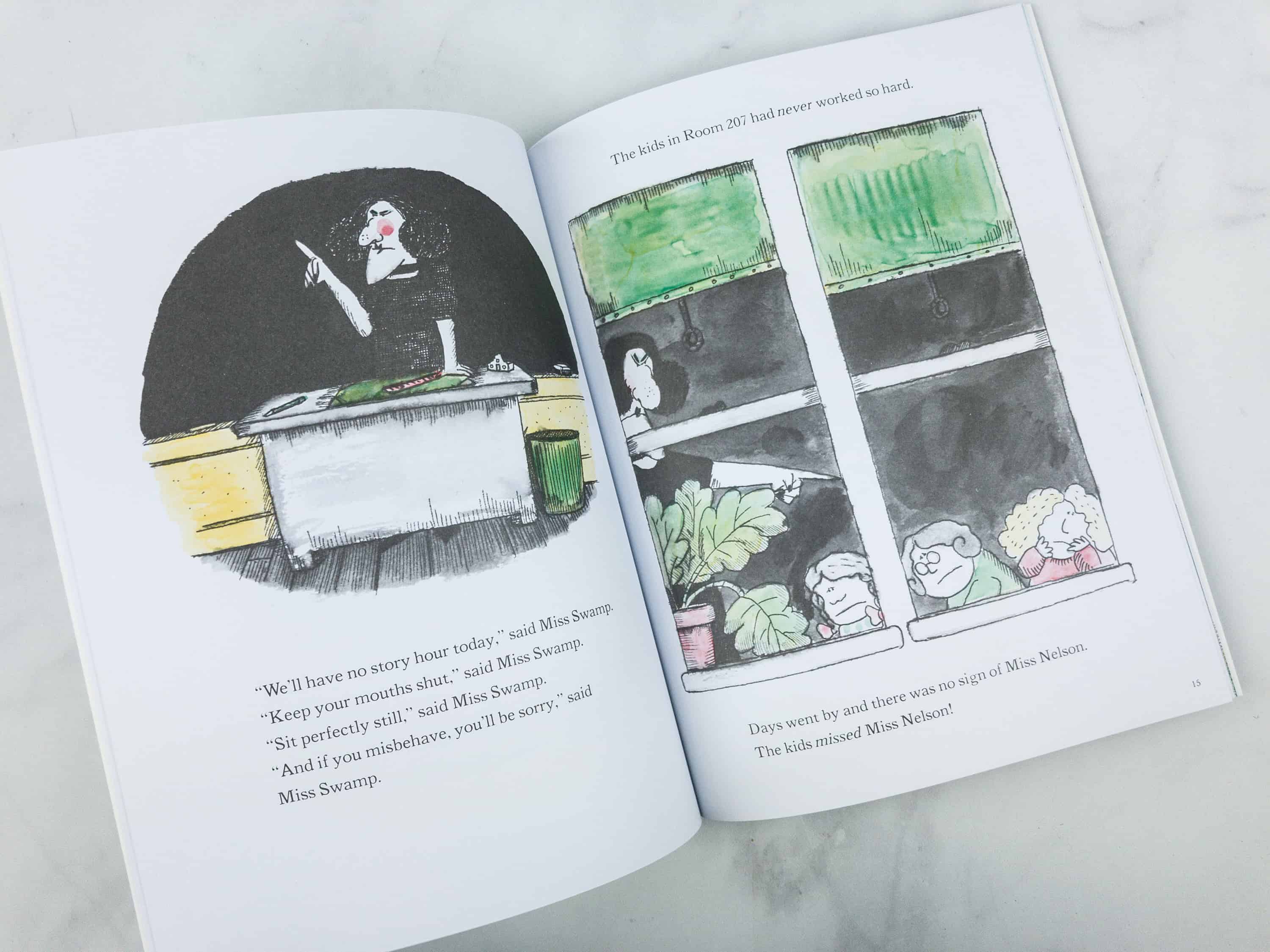 The story teaches us all about appreciation. The illustrations are impressive too, keeping the kids glued to the story!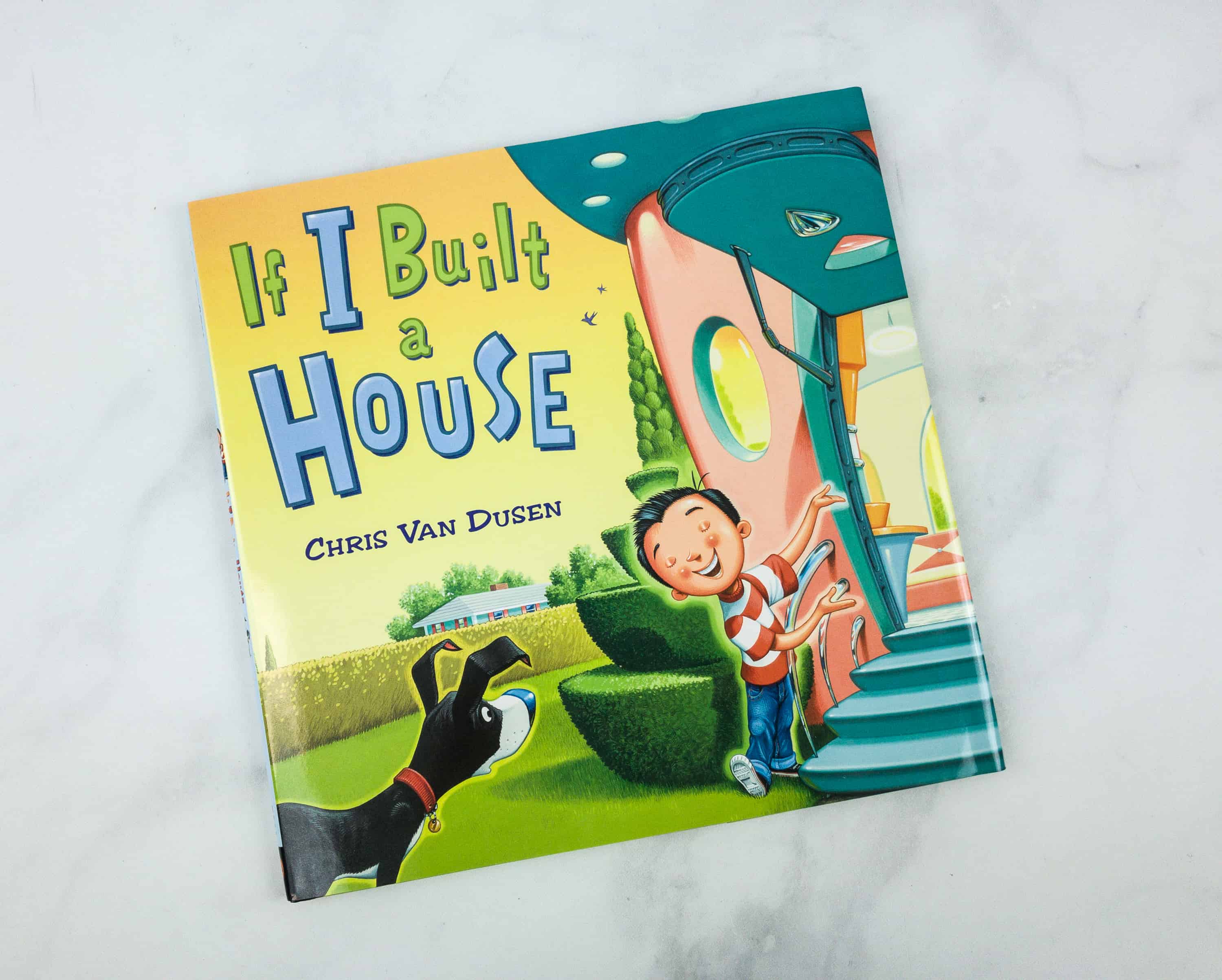 If I Built A House By Chris Van Dusen ($15.22)
The much-anticipated follow-up to the E. B. White Award-winning picture book If I Built a Car

In If I Built a Car, imaginative Jack dreamed up a whimsical fantasy ride that could do just about anything. Now he's back and ready to build the house of his dreams, complete with a racetrack, flying room, and gigantic slide. Jack's limitless creativity and infectious enthusiasm will inspire budding young inventors to imagine their own fantastical designs.

Chris Van Dusen's vibrant illustrations marry retro appeal with futuristic style as he, once again, gives readers a delightfully rhyming text that absolutely begs to be read aloud.
It's a follow up to the first book entitled "If I Built A Car." It tells us about Jack's boundless ideas and contagious enthusiasm!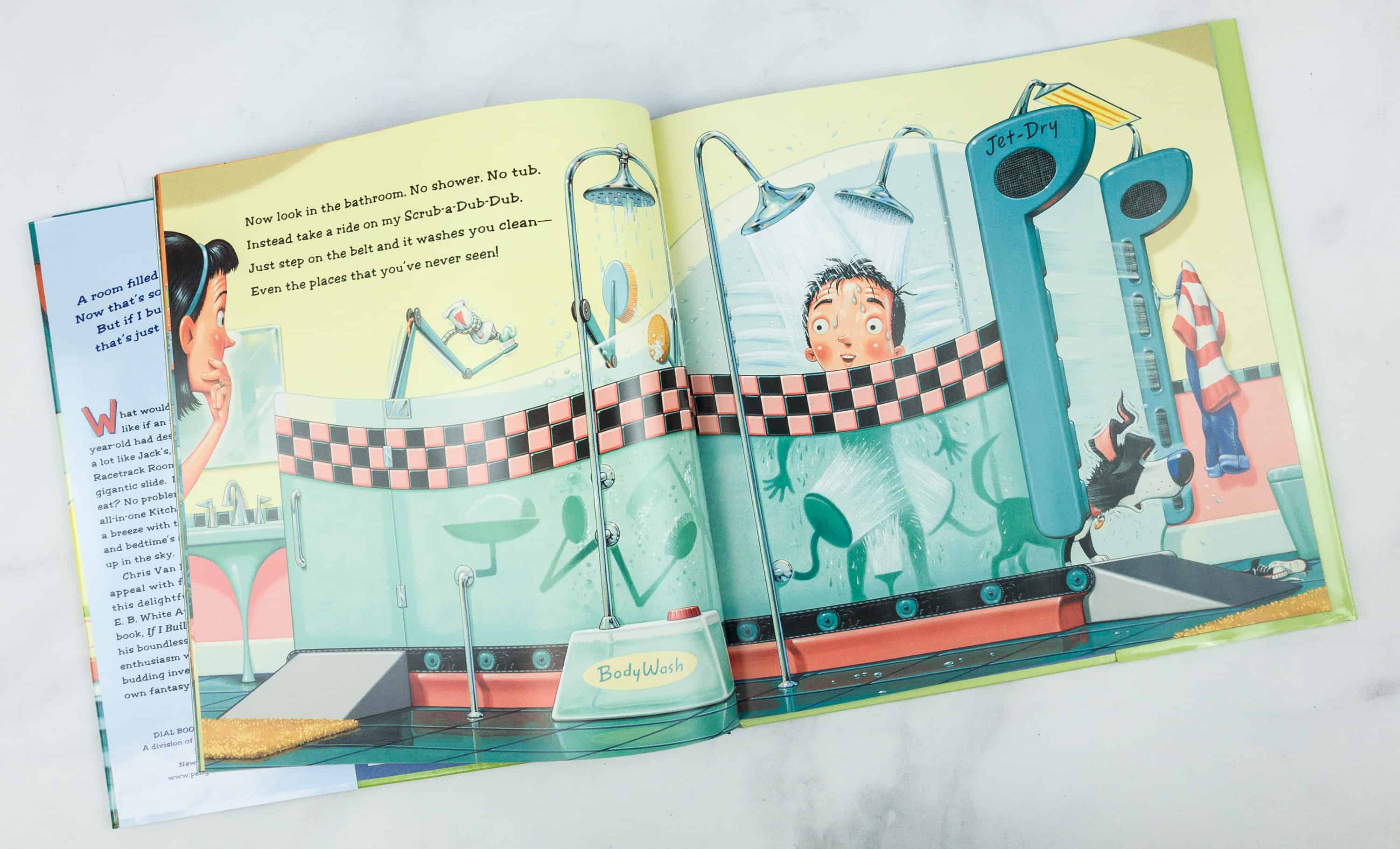 The text is small, but the pictures actually tell the story!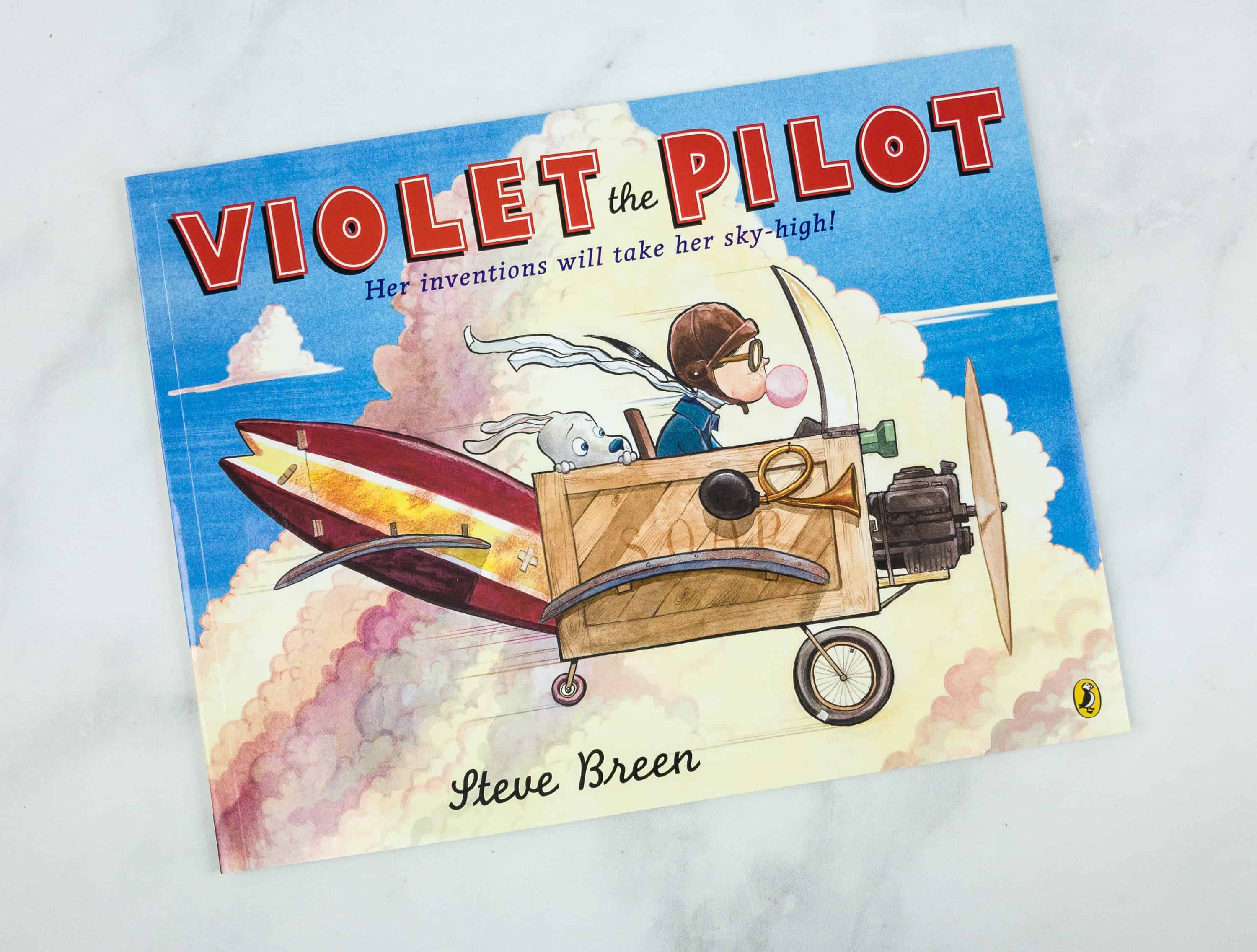 Violet The Pilot By Steve Breen ($16.40)
By the time she's two years old, Violet Van Winkle can fi x nearly any appliance in the house. And by eight she's building elaborate fl ying machines from scratch?mind-boggling contraptions such as the Tubbubbler, the Bicycopter, and the Wing-a-ma-jig. The kids at school tease her, but they have no idea what she?s capable of. Maybe she could earn their respect by winning the blue ribbon in the upcoming Air Show. Or maybe something even better will happen?something involving her bestever invention, a Boy Scout troop in peril, and even the mayor himself!

A classic underdog story full of humor and sweetness and retro pizzazz, Violet the Pilot is both endearing and adorable. It?ll fl y right into your heart.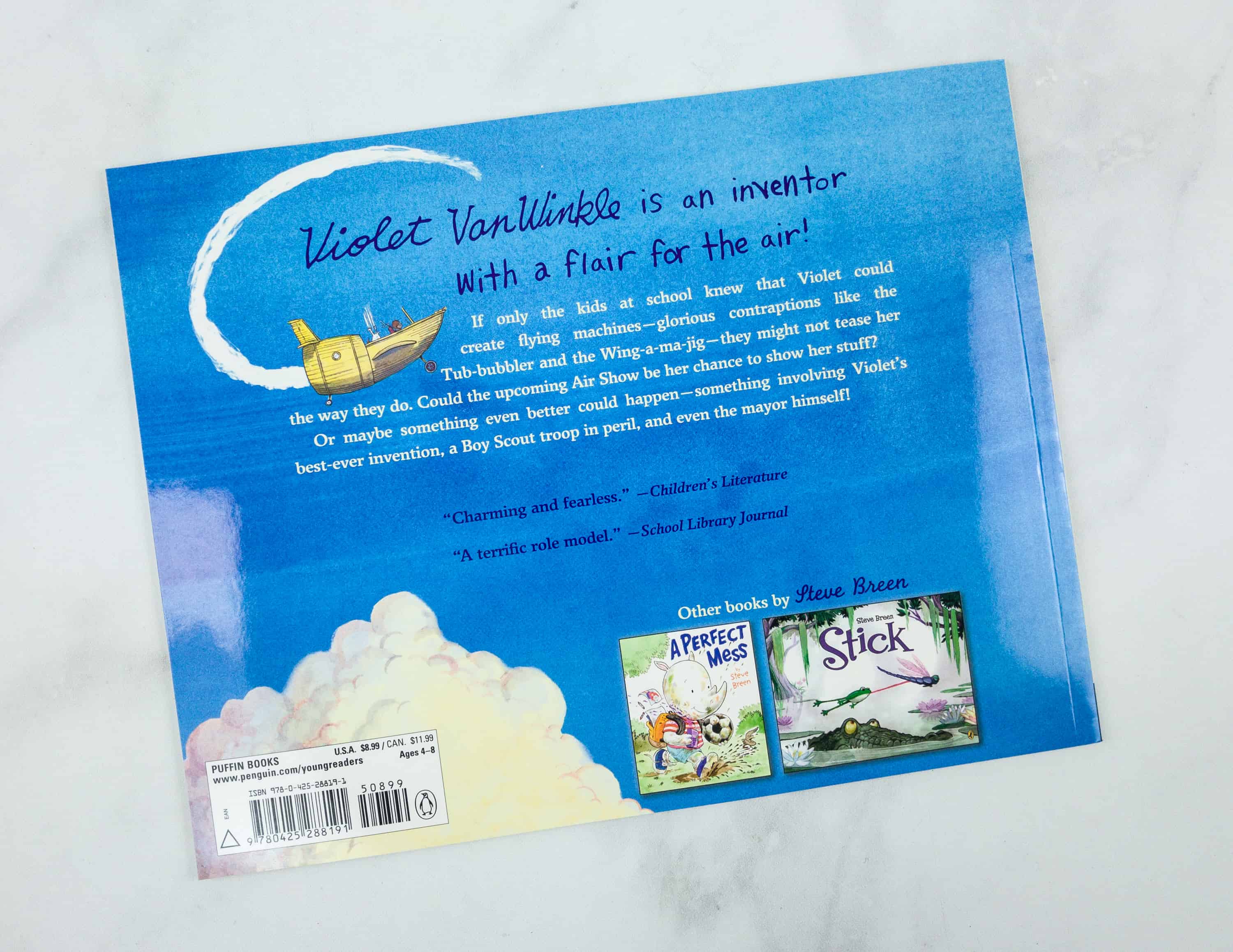 The story is about the inventor named Violet Vanwinkle who has created a lot at her very young age!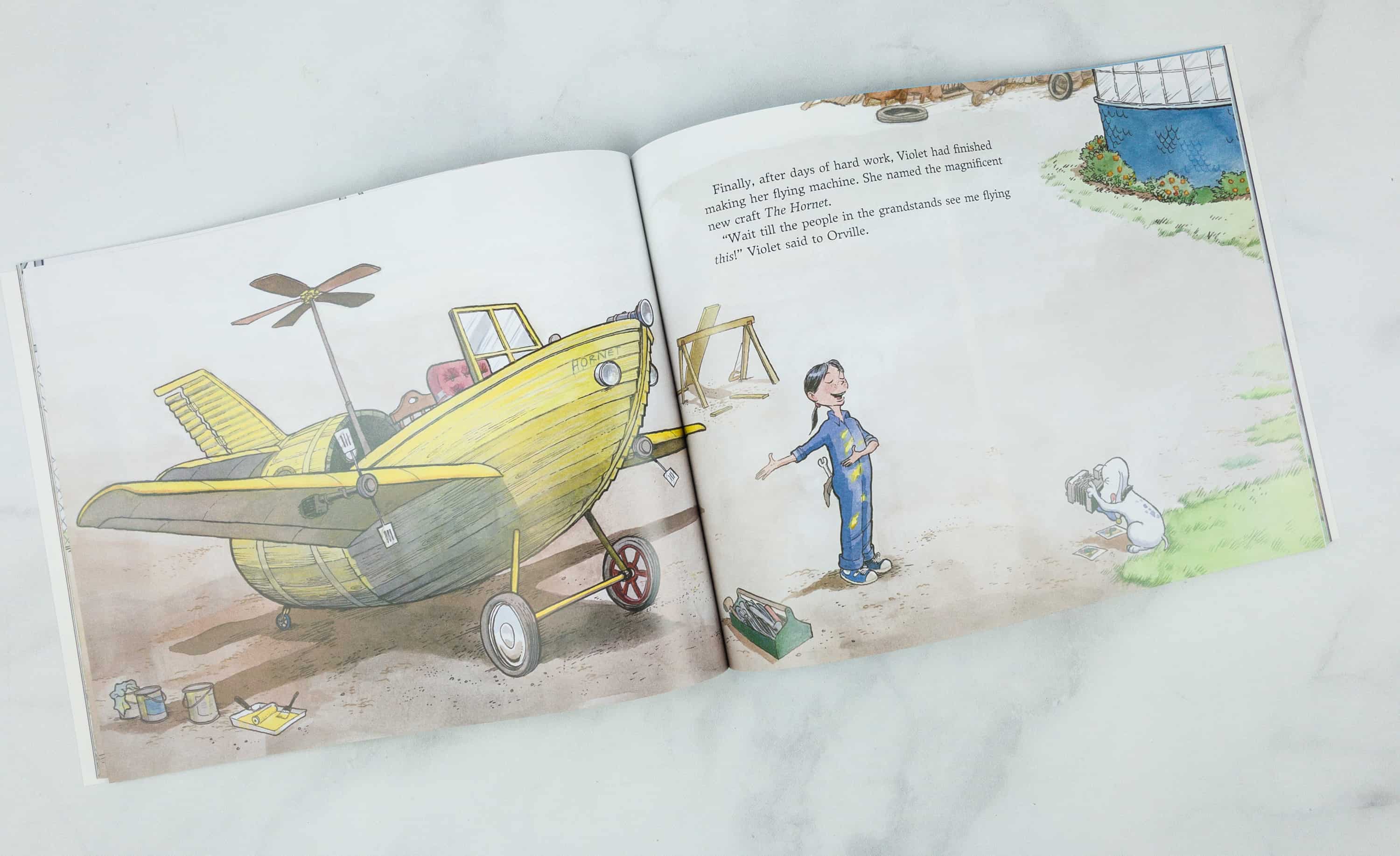 It actually sparks the kids' interest to make things on their own. I bet my young scientists, artists, and inventors will love this book!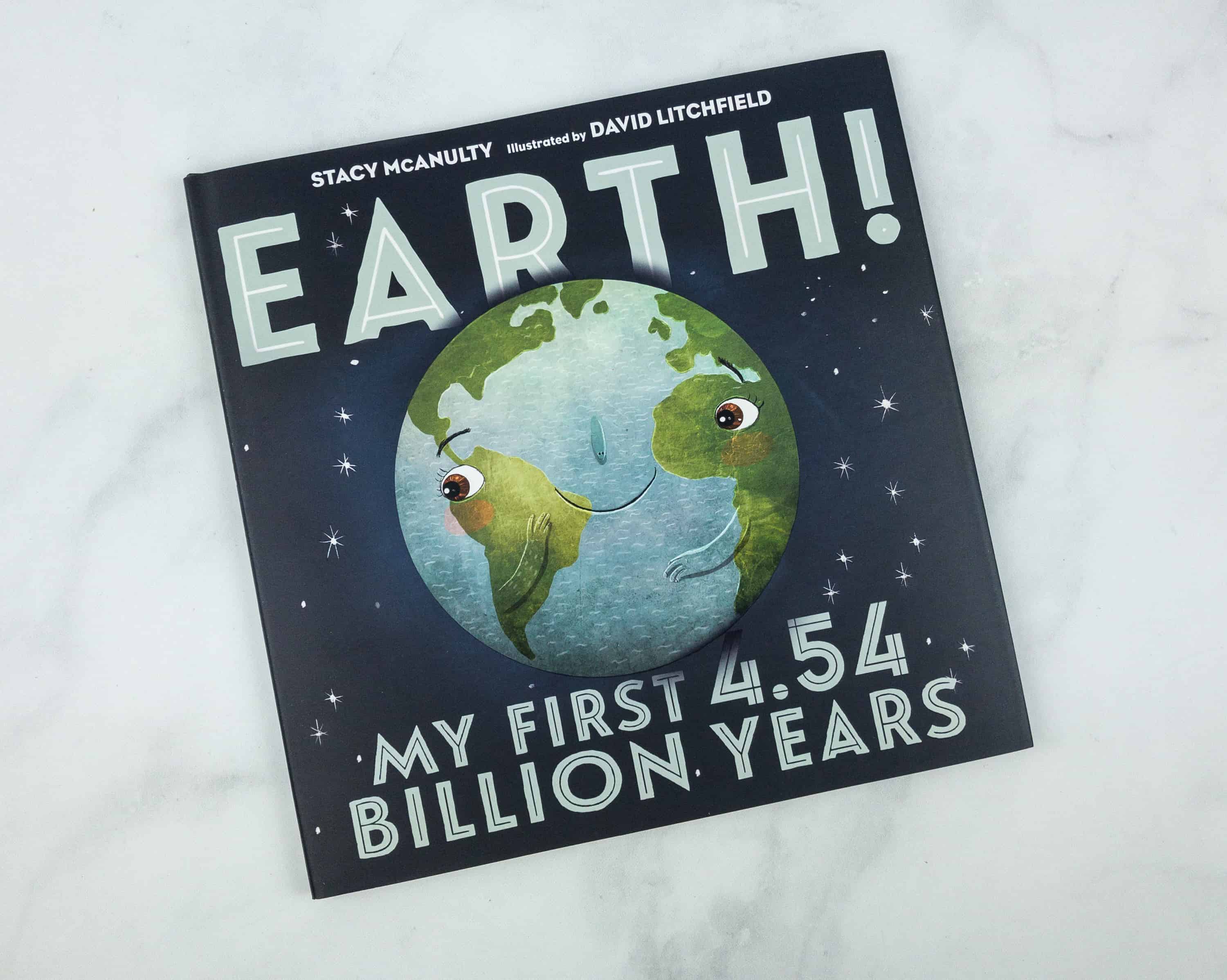 Earth! My First 4.54 Billion Years (Our Universe) By Stacy McAnulty ($14.57)
"Hi, I'm Earth! But you can call me Planet Awesome."

Prepare to learn all about Earth from the point-of-view of Earth herself! In this funny yet informative book, filled to the brim with kid-friendly facts, readers will discover key moments in Earth's life, from her childhood more than four billion years ago all the way up to present day. Beloved children's book author Stacy McAnulty helps Earth tell her story, and award-winning illustrator David Litchfield brings the words to life. The book includes back matter with even more interesting tidbits.

This title has Common Core connections.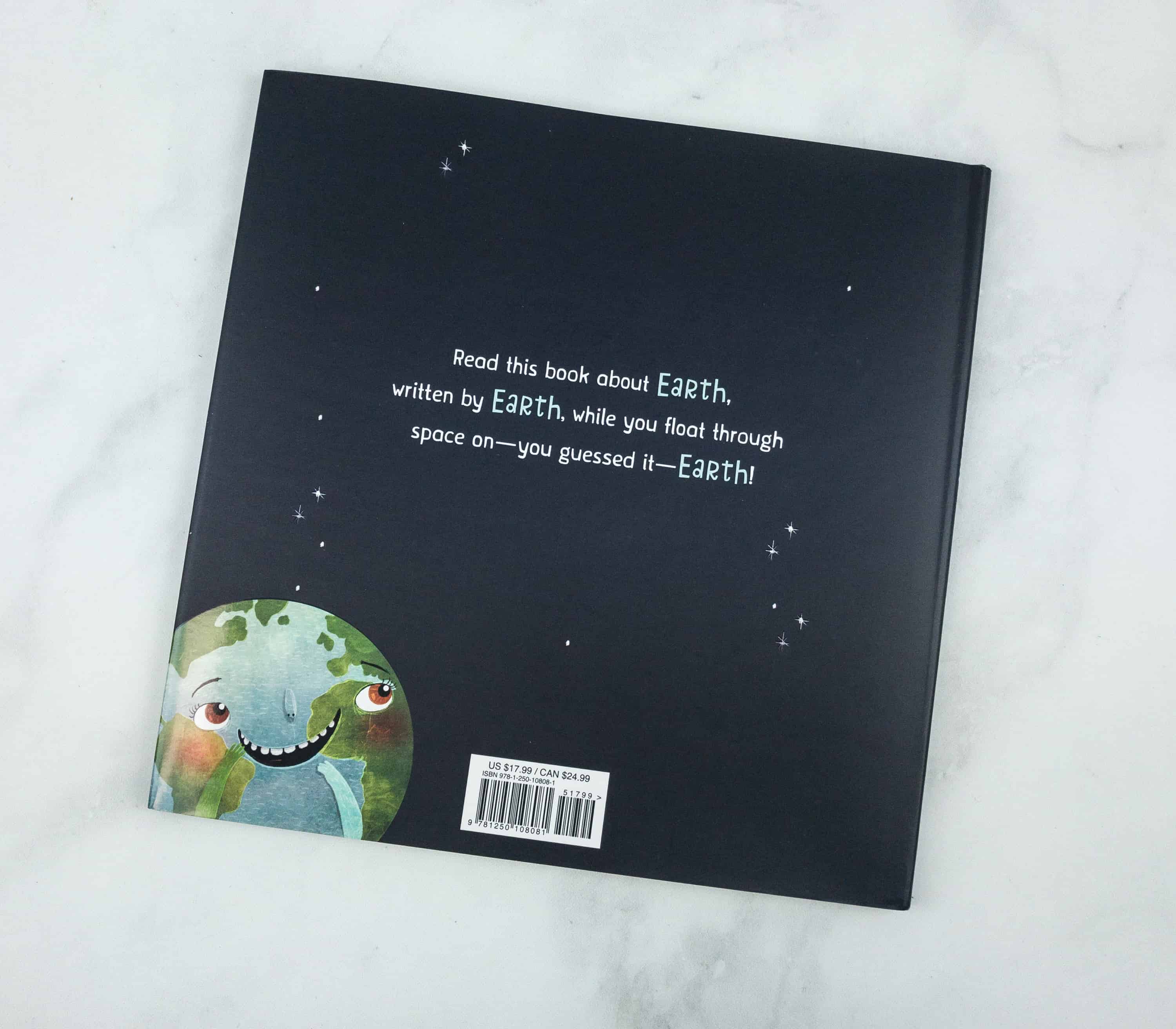 This book is all about the earth!
The book will take the kids into a wonderful journey around our awesome planet.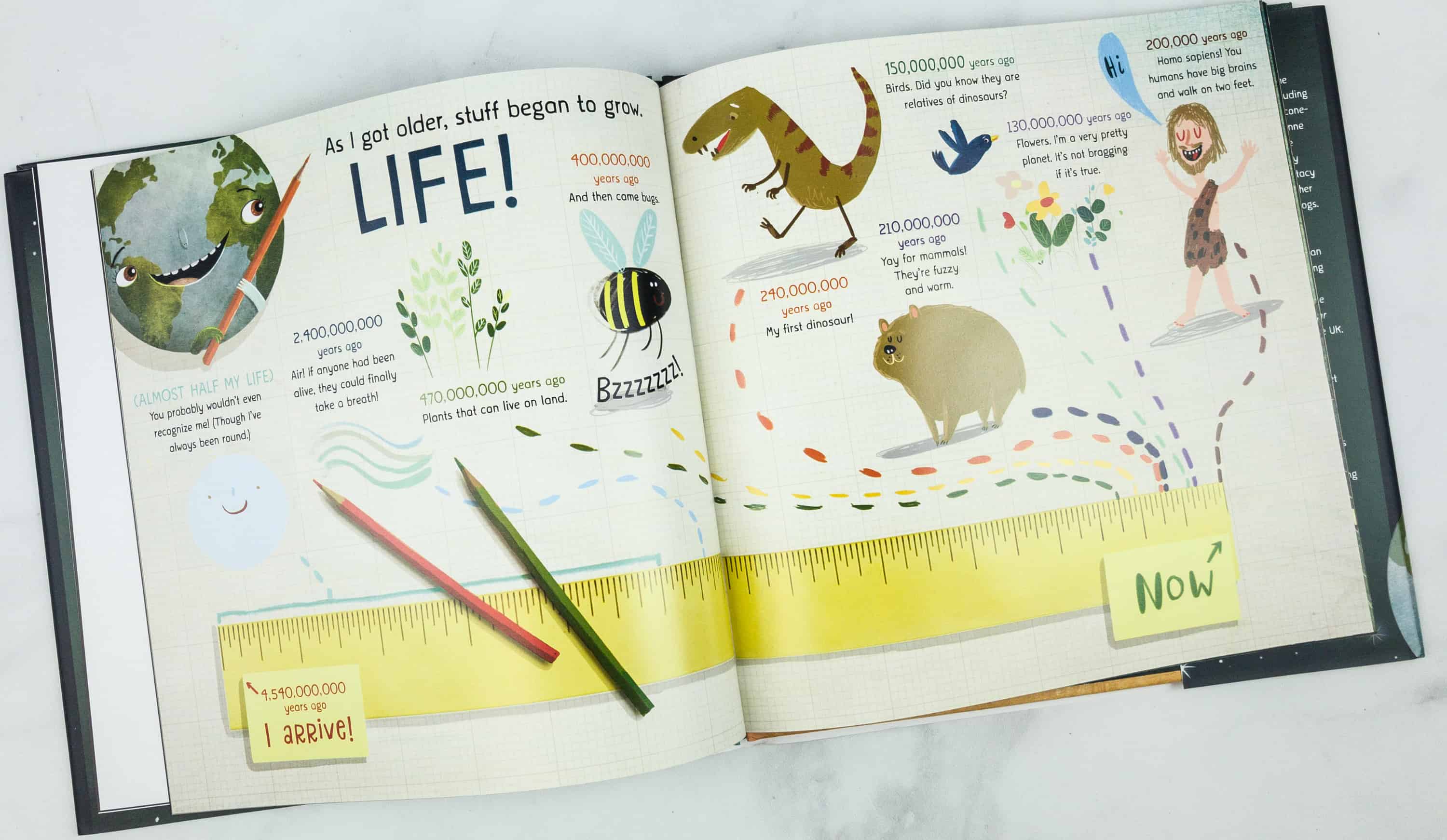 It shows the different life forms that walk on the planet, and that includes us.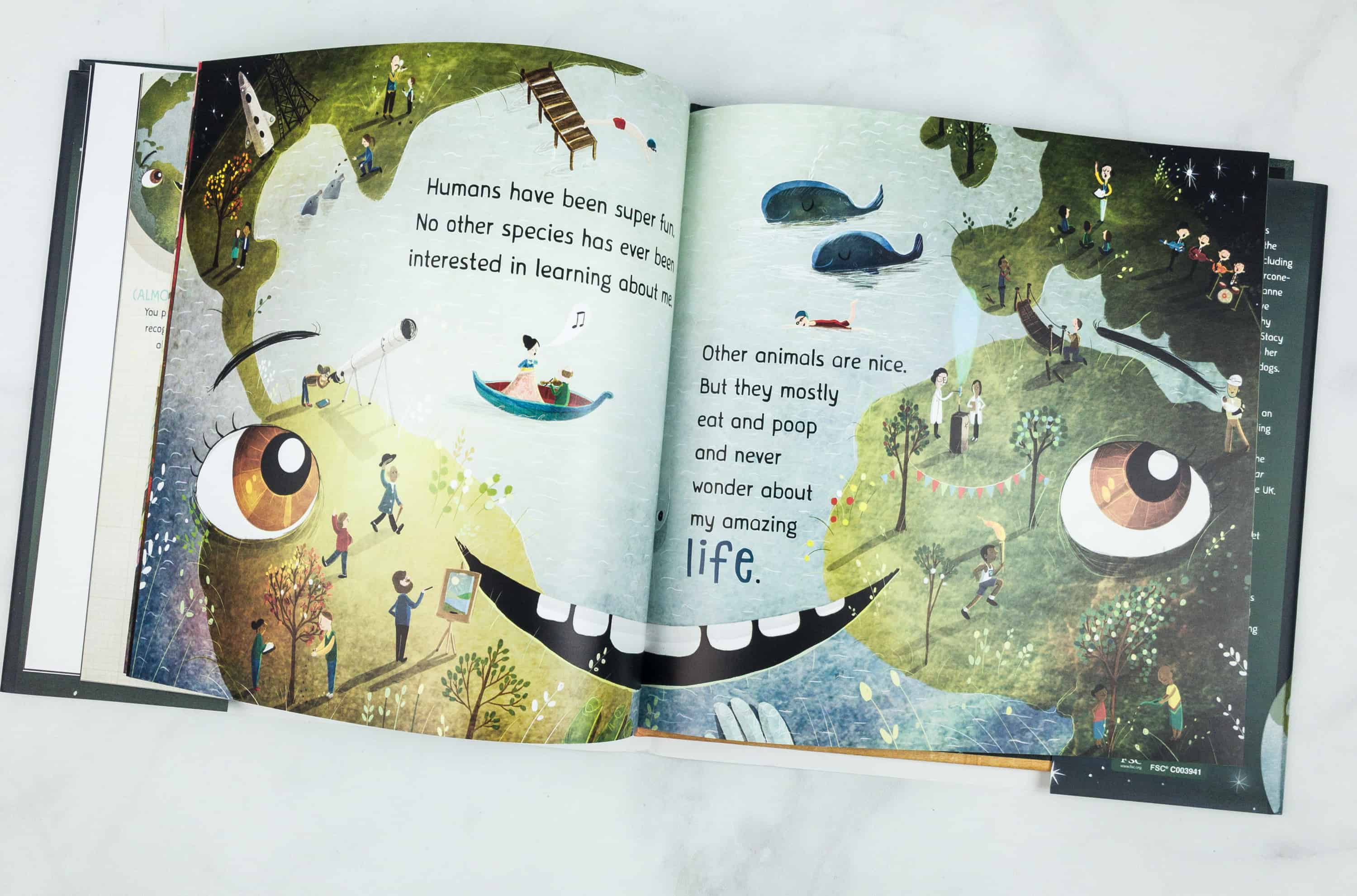 The illustrations are well-detailed. There's so much to see in every spread!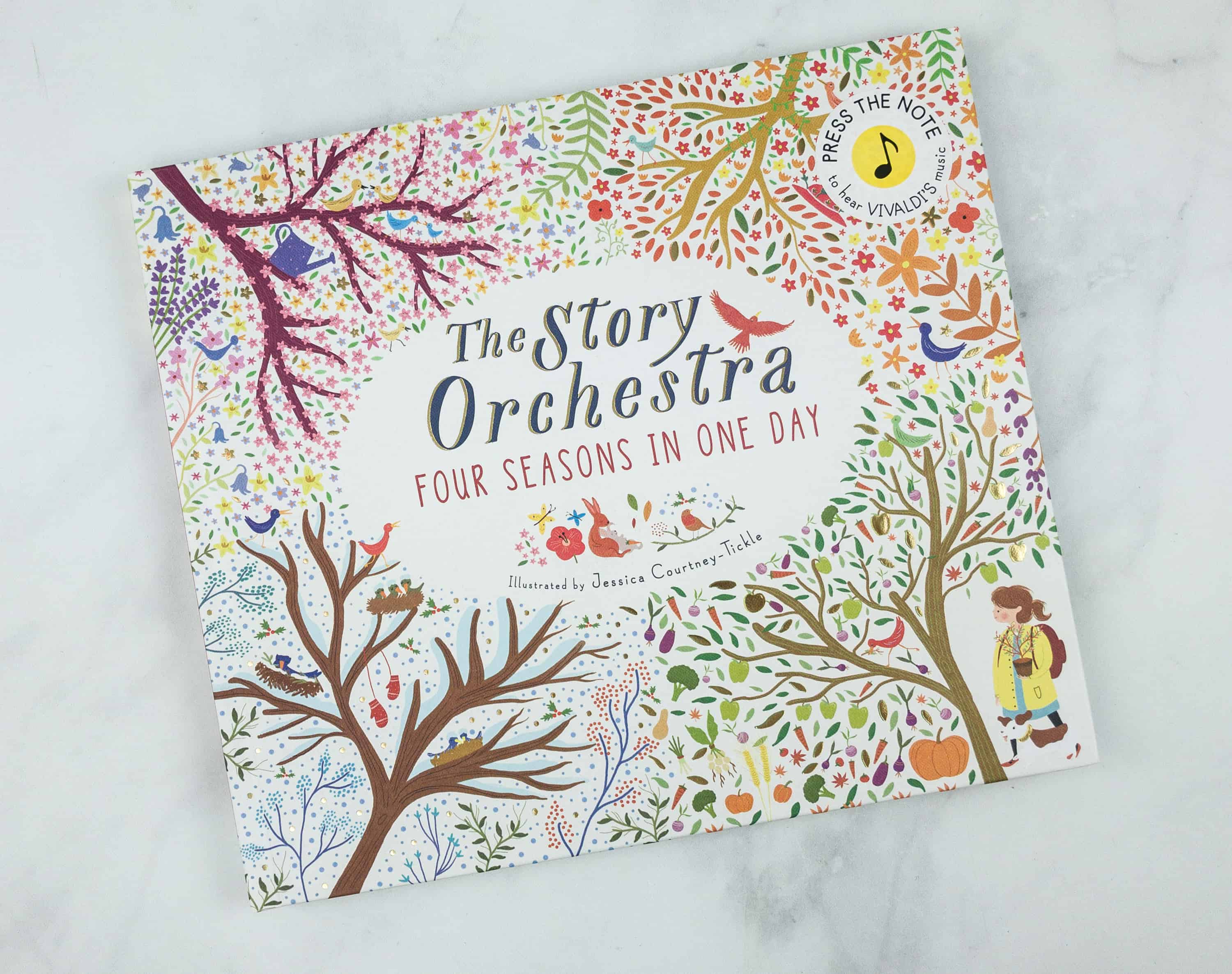 The Story Orchestra: Four Seasons In One Day: Press The Note To Hear The Vivaldi's Music By Jessica Courtney-Tickle ($15.48)
Discover what it would be like to travel through the four seasons in one day, following a little girl called Isabelle and her dog, Pickle, as they take on the adventure of a lifetime. As a sign of the changing seasons, Isabelle carries a little apple tree with her, and we see it bud, blossom and lose its leaves. Each spread features a musical note to press and a 10 second sound clip from the original score of Vivaldi's Four Seasons. Illustrated by artist Jessica Courtney-Tickle, the book also features a biography of Vivaldi at the back along with a guide to the music. This is the first title in a series of sound books that bring classical music to life for young children.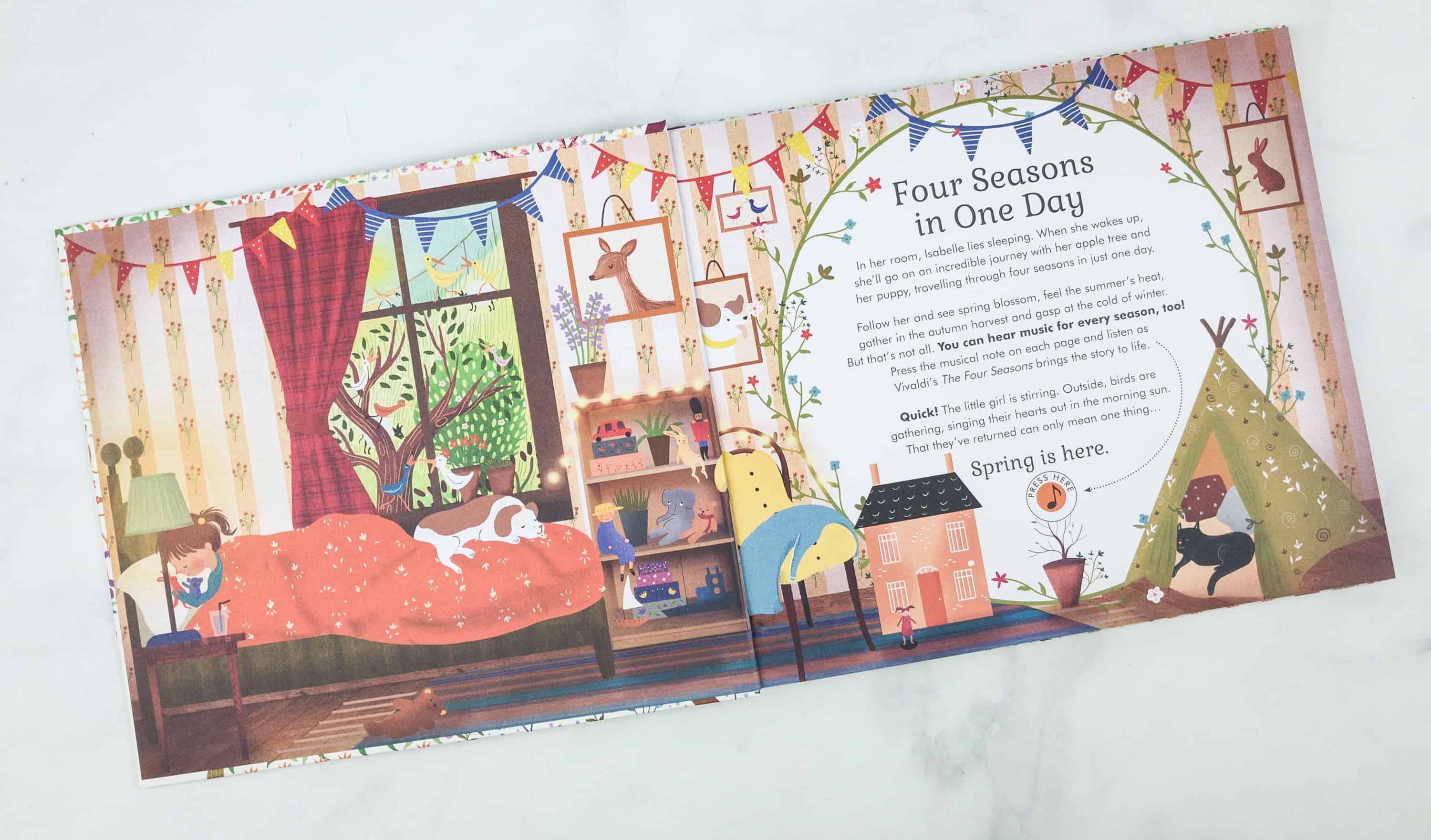 Have you wondered how it's like to have all the 4 seasons in a day? This book will actually show you just that!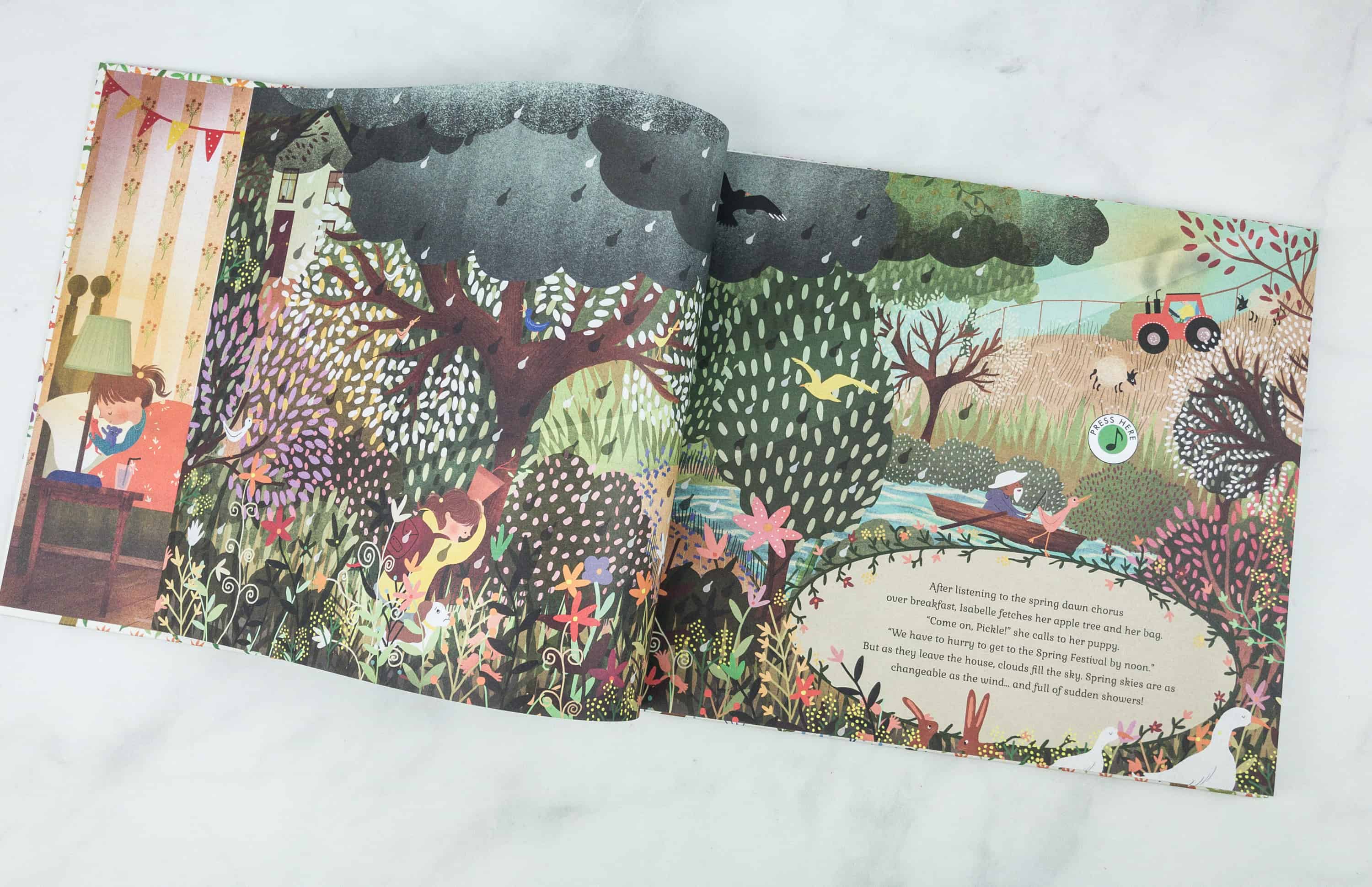 With the help of the Apple Tree that Isabelle brought with her, we can all tell the difference of the 4 seasons.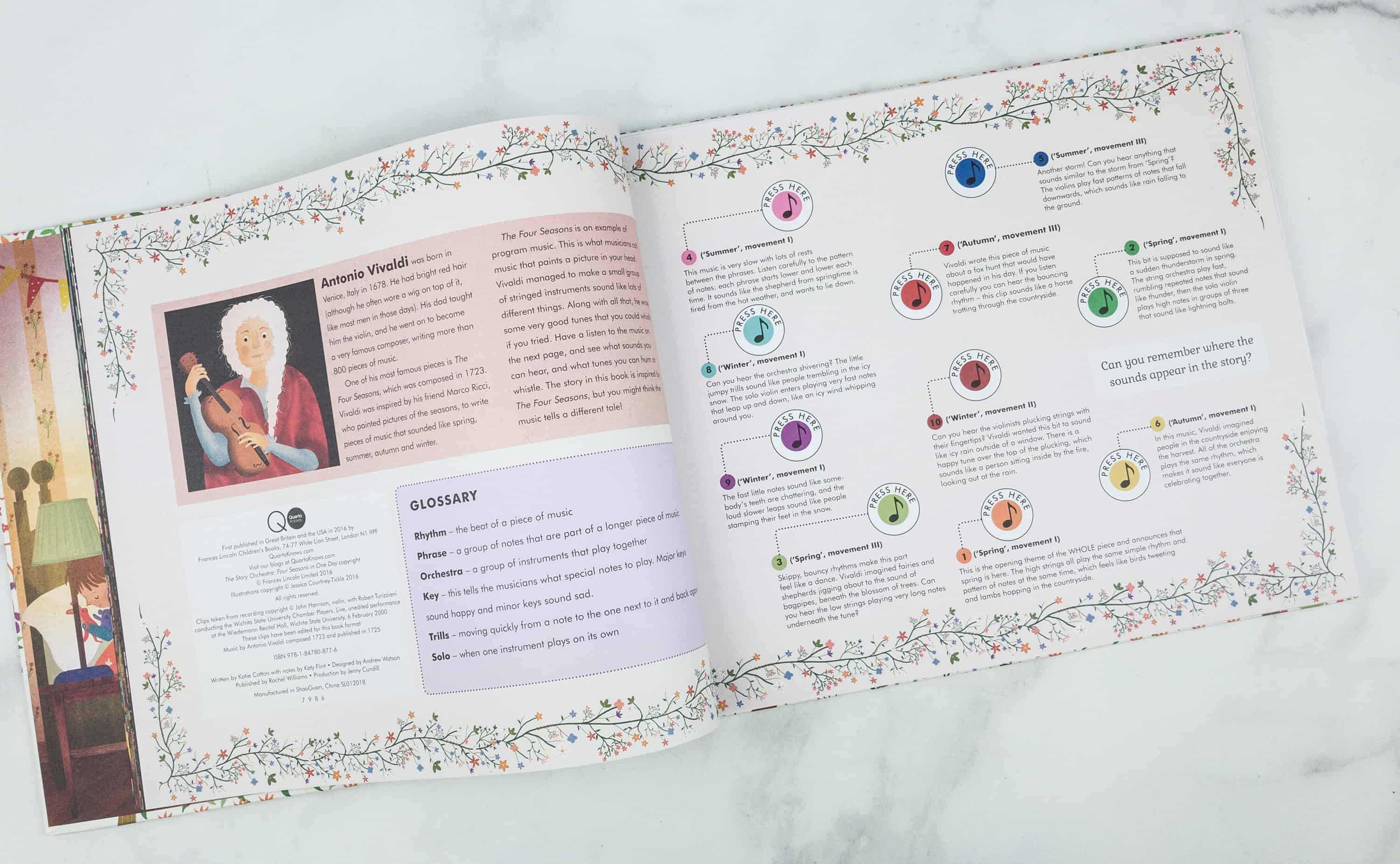 There's even a glossary, Vivaldi's biography, and sample classical music that we can explore and listen to!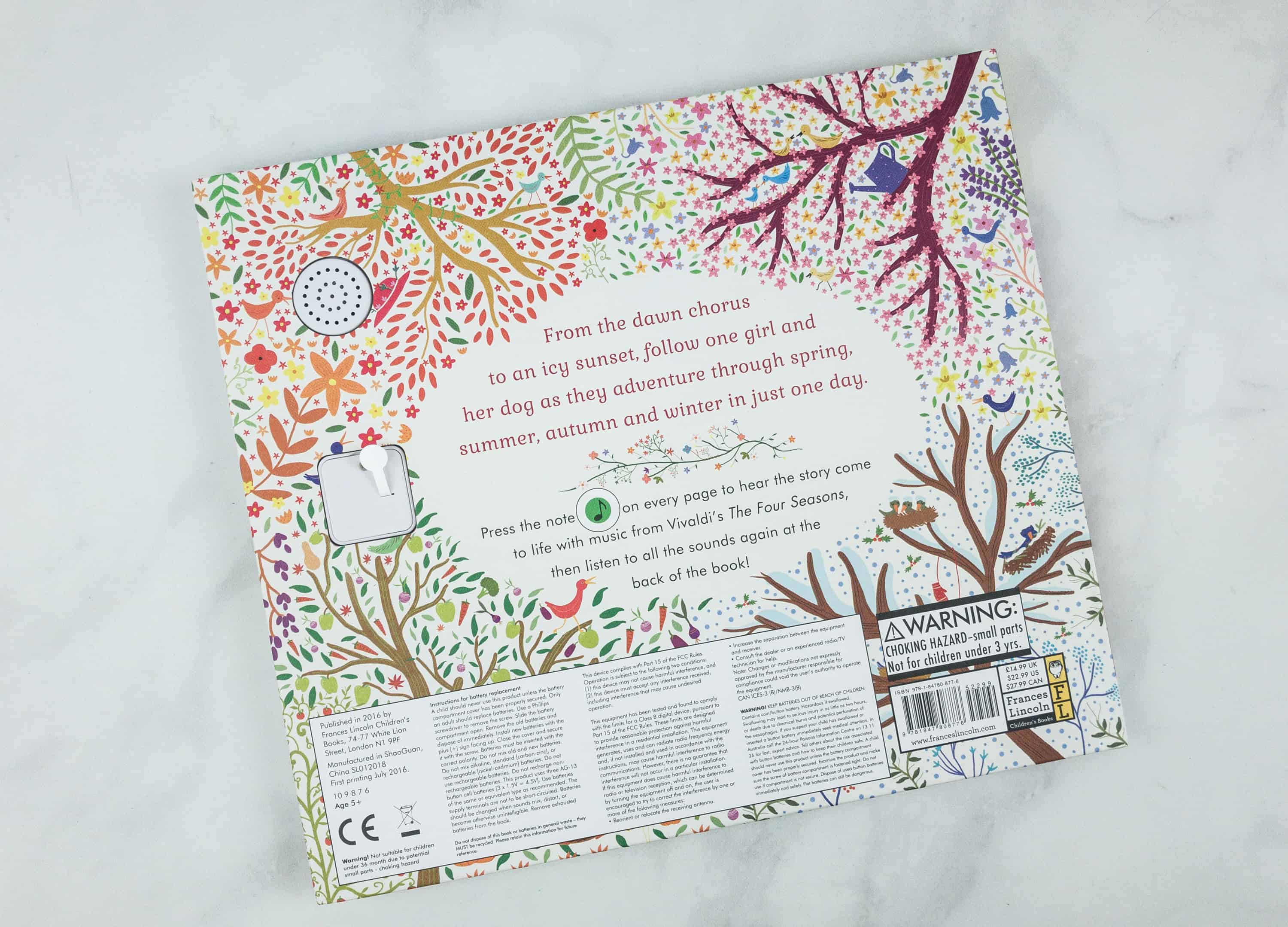 This is a wonderful book! I love how it presents the different music by being able to listen to each of them!
All the books this month are full of adventures! My kids definitely loved all of them, especially the book about the Earth as it contained lots of interesting information about our beautiful planet, and we adored the Vivaldi book. Reading is a great way to feed our minds and we're just happy to receive such valuable books! Looking forward to next month's selections!
Any thoughts on Literati?