Kid Wonder is a monthly kids subscription box by Little Dreamers. Each month, this Activity Kit will contain various crafts and projects designed according to that month's theme and usually includes supplies such as glue, scissors, paint and paint brushes and even smocks for the messier crafts. This box is intended for kids 3-6 years of age who love to create, play and explore through dramatic play. The box starts at $24.95 per month. If you're looking for a box that's older than the stated age range on the box, no worries, my almost 8 year old had a blast with these activities too.
DEAL: Get 30% off your first subscription! Use coupon code HELLO30.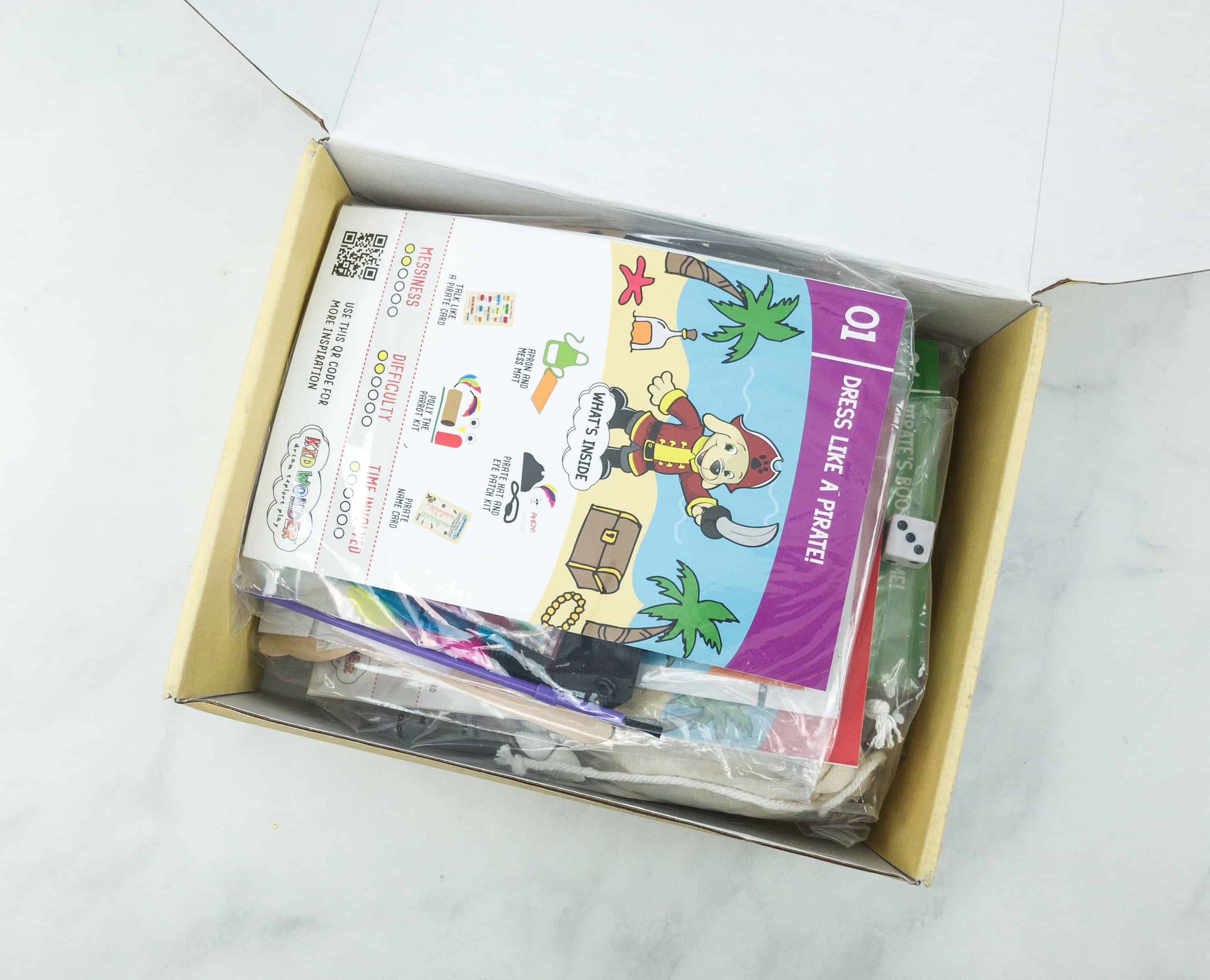 As usual, the activities are separated into different packs.
They never fail to greet us with a warm welcome!
There are 5 activity packs in this box. Every activity kit comes with a guide stating the messiness level, difficulty level, and the time needed so you'll know what to expect. There's also a QR code on the activity pack sheets that you can scan to get more inspiration for your projects!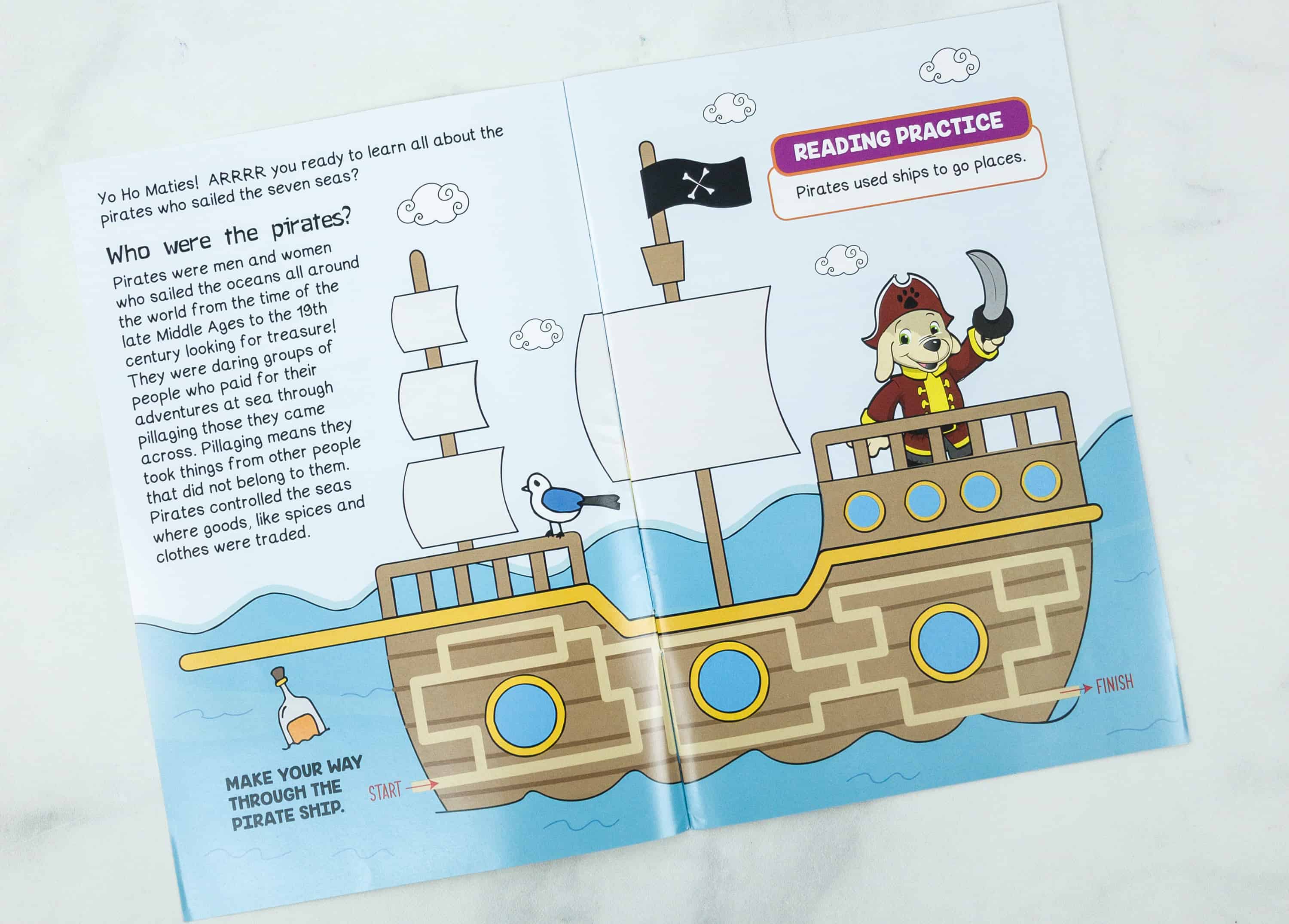 Let's get ready to learn about Pirates!
My son was so excited he was able to do the first book activity right away. He drew the design of his flag and solved the ship's maze.
This is an interesting topic for kids. These pages teach the fast facts about pirates and the different roles of the crew and things needed in the ship.
This is an enjoyable activity which hits two birds with one stone. The kids will be able to review their counting skills and their attention to detail.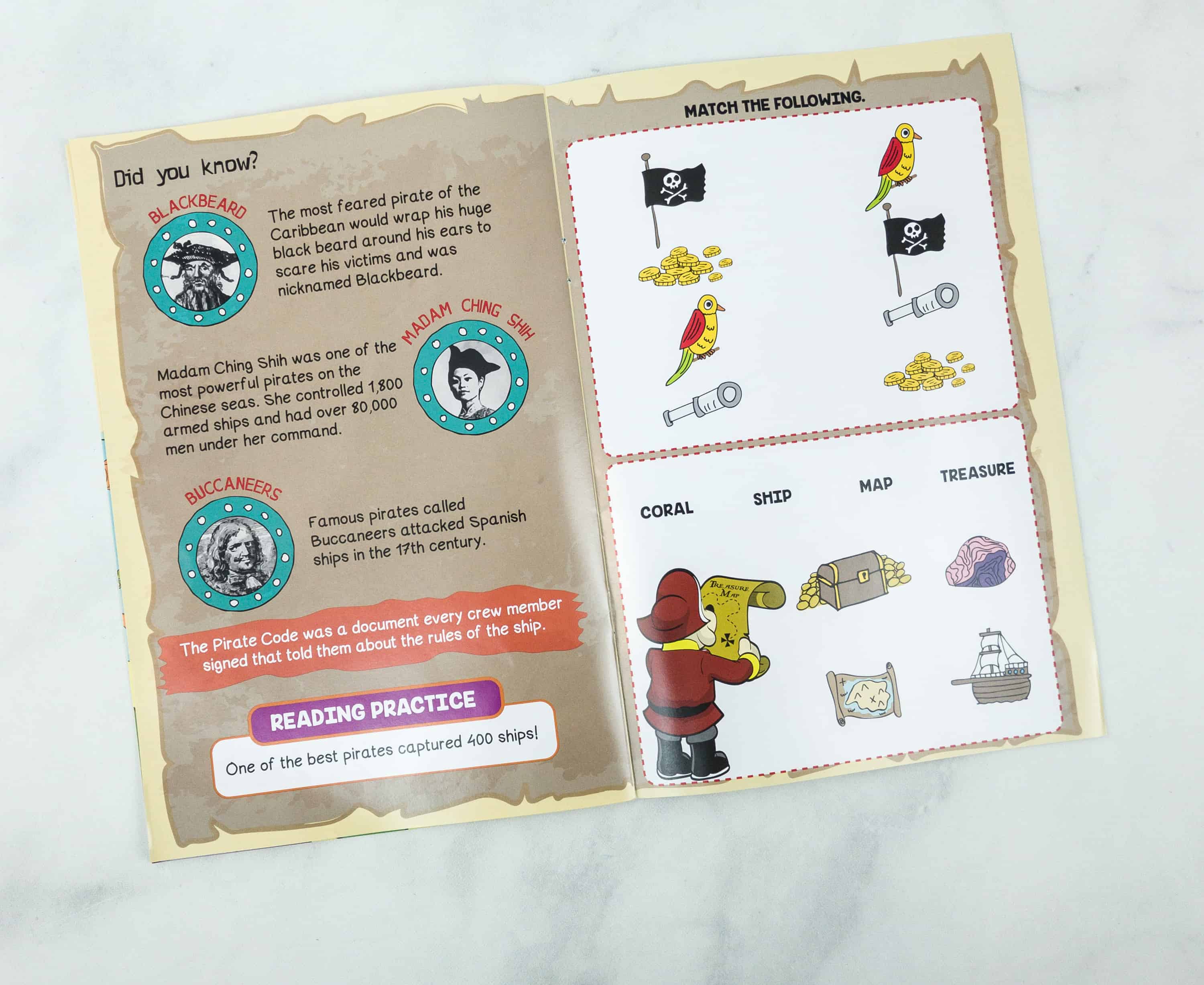 Wow, the pirate code does exist! These are the notable pirates throughout history and a matching activity.
The illustrations are vibrant and detailed, the kids can now imagine what goes down when a merchant ship chance upon a pirate ship.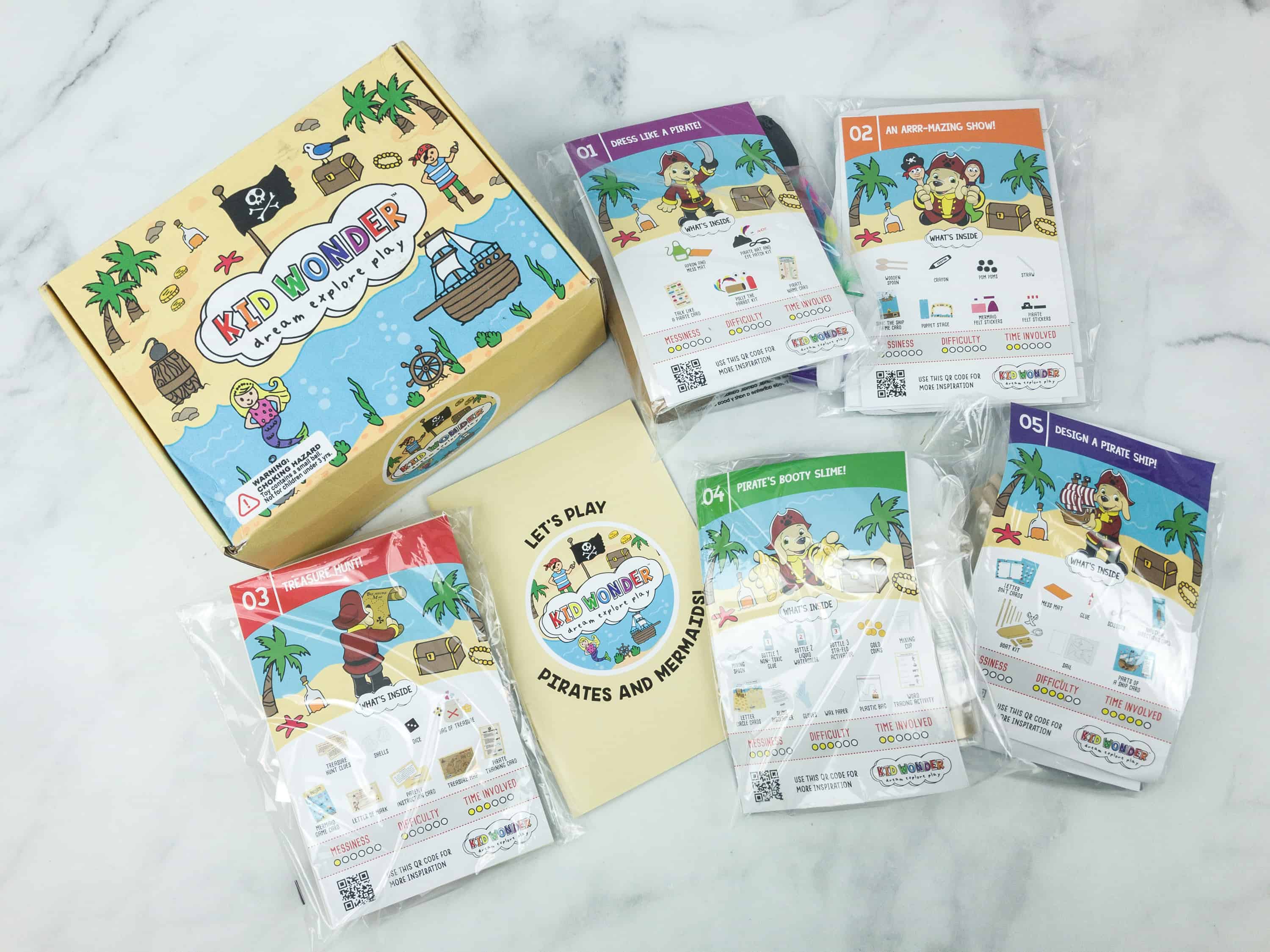 Everything in my box!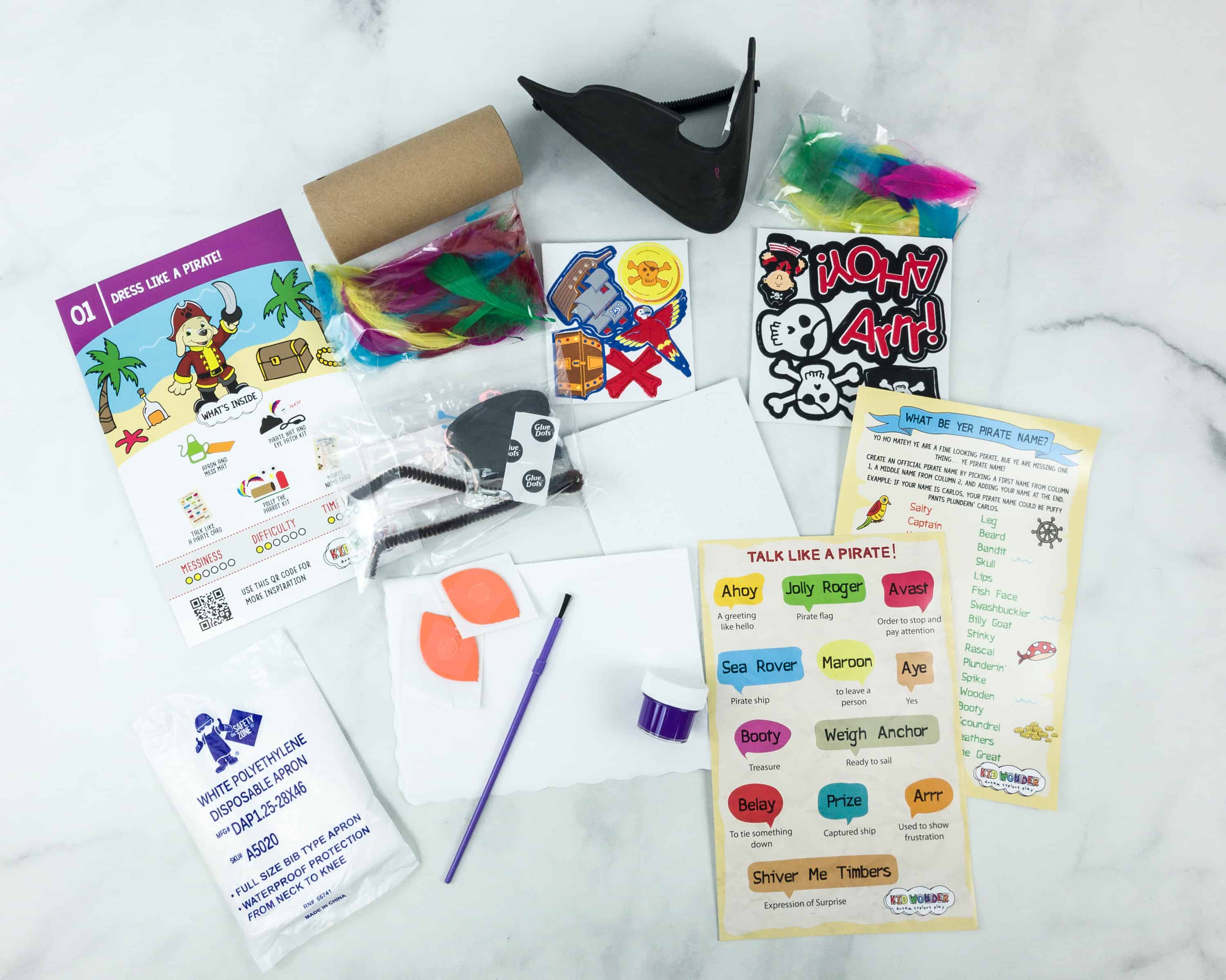 Activity No. 1: Dress Like A Pirate. We must dress the part to be the character, right?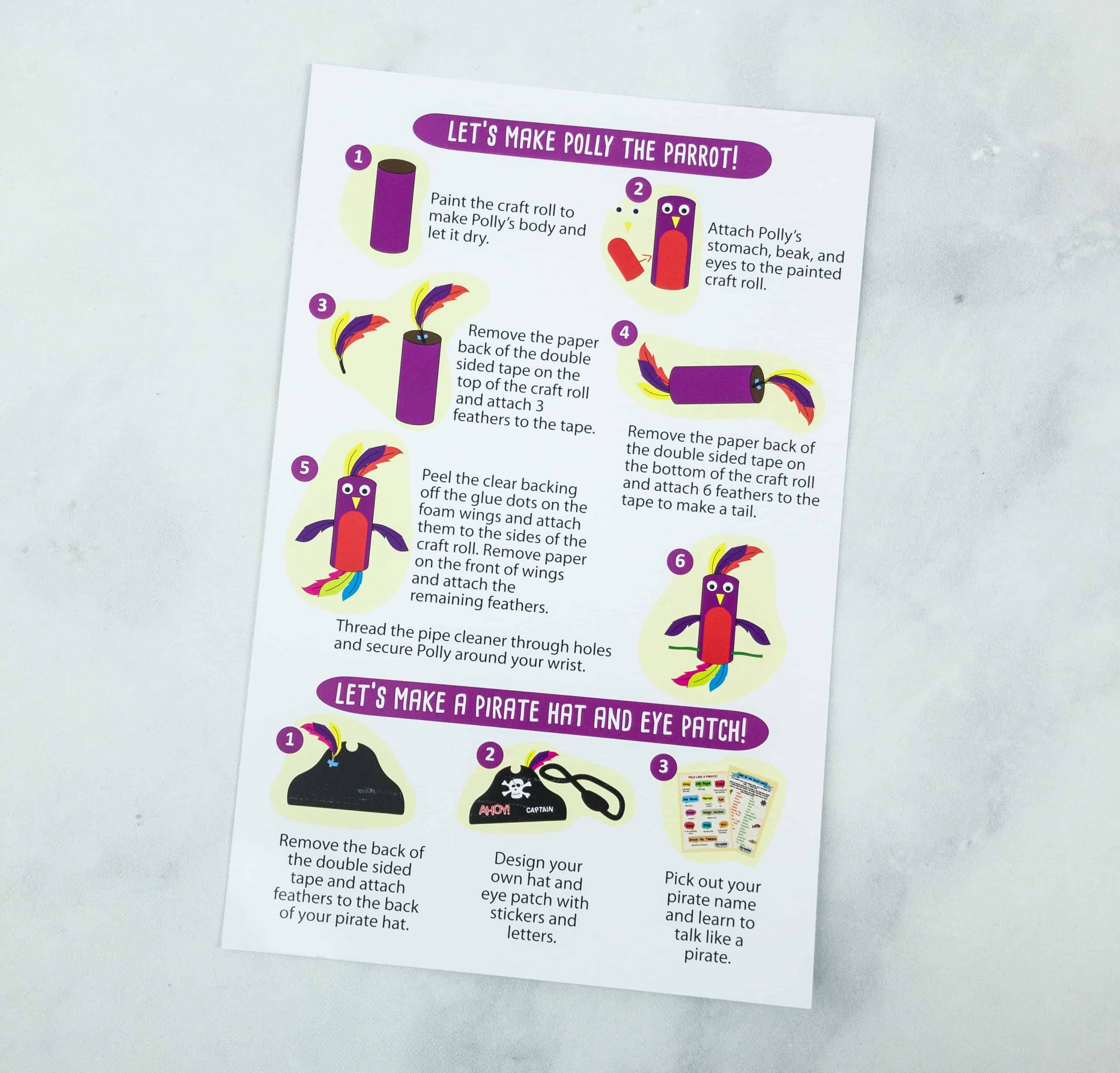 A pirate always has a trusty pet that is loyal and will always be by our side. It's a good thing they also made a way to make that happen for us.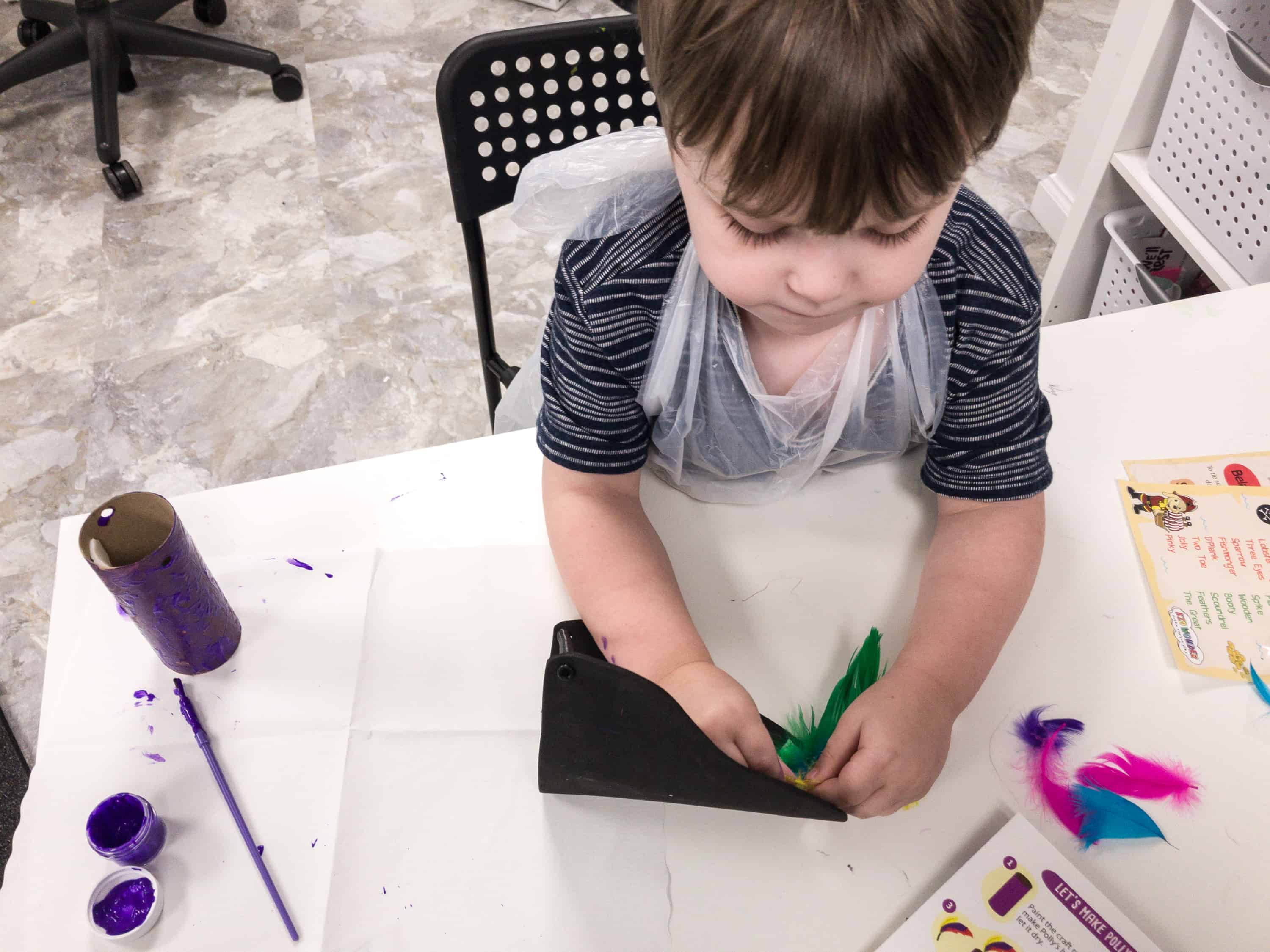 Look how cute he is in his apron. He painted the craft roll all violet and proceed with putting feathers on his pirate hat.
We let him wear the signature eye patch too. But he kind of made it look like a headband now because he needs both eyes to concentrate on activities!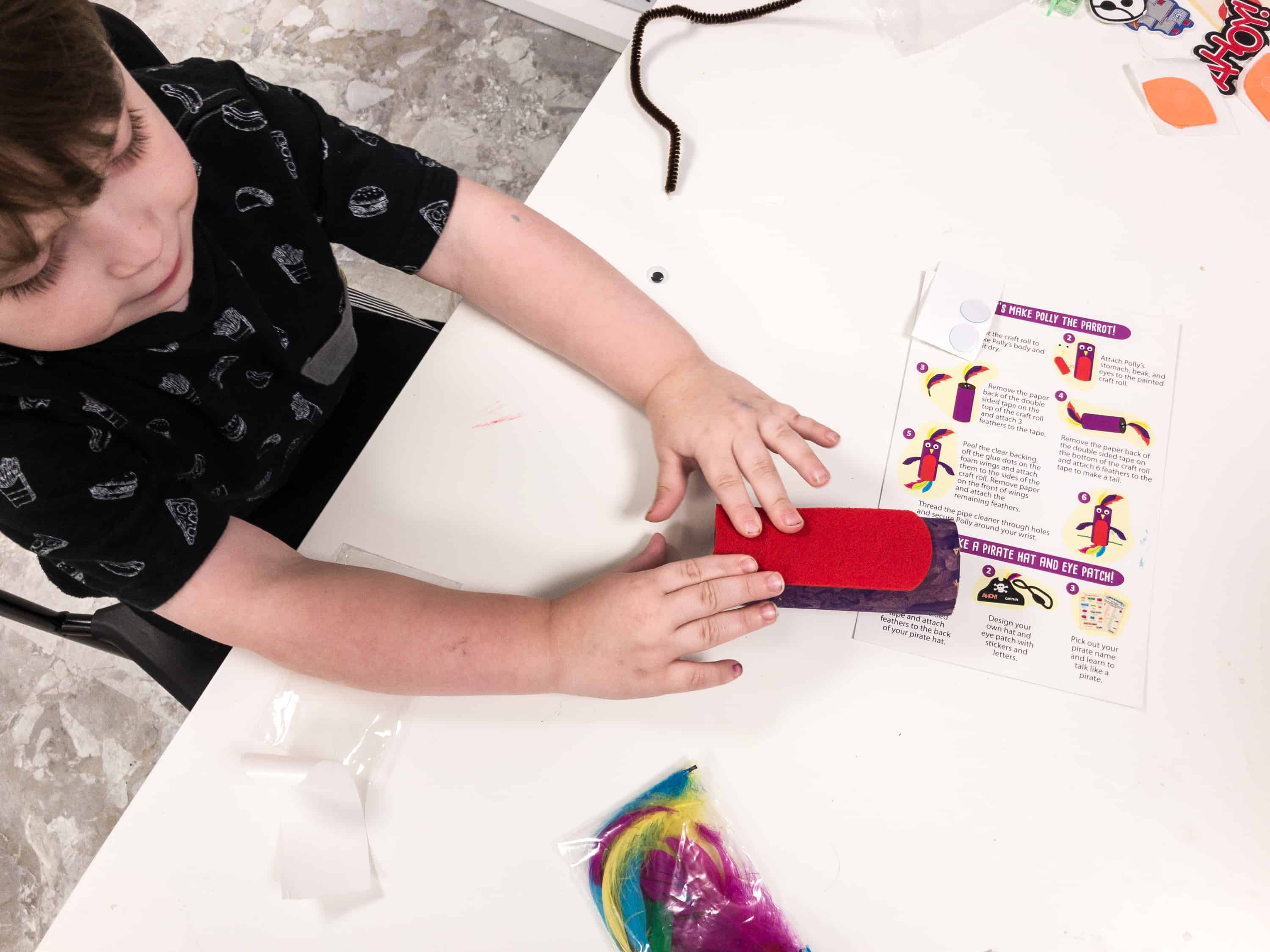 We also made our own version of Polly the Parrot!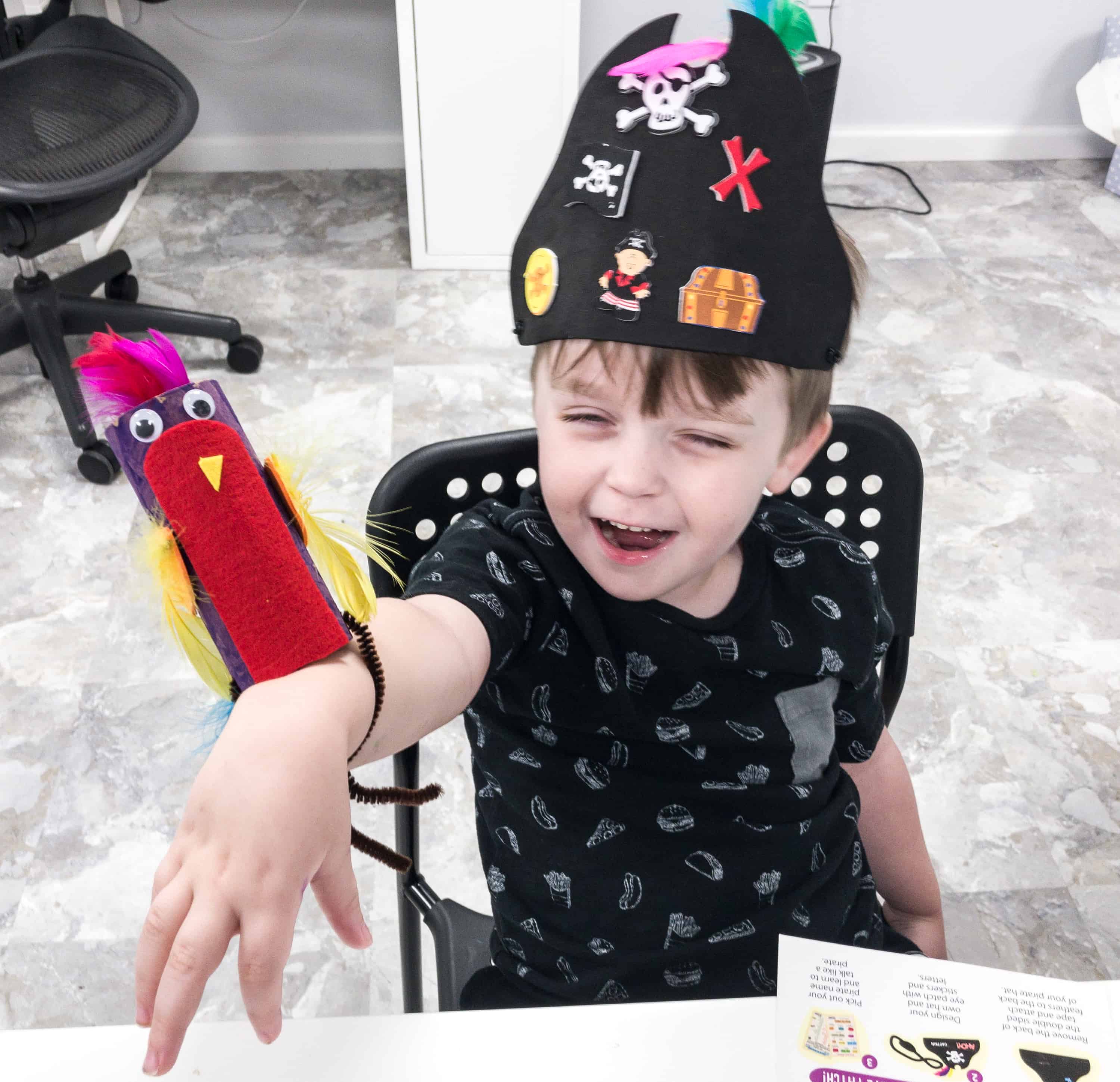 After we let it dry, we followed the directions in designing our feathery friend and let it perch on his hand. He was so happy with his designed hat, he looks like a legitimate happy pirate!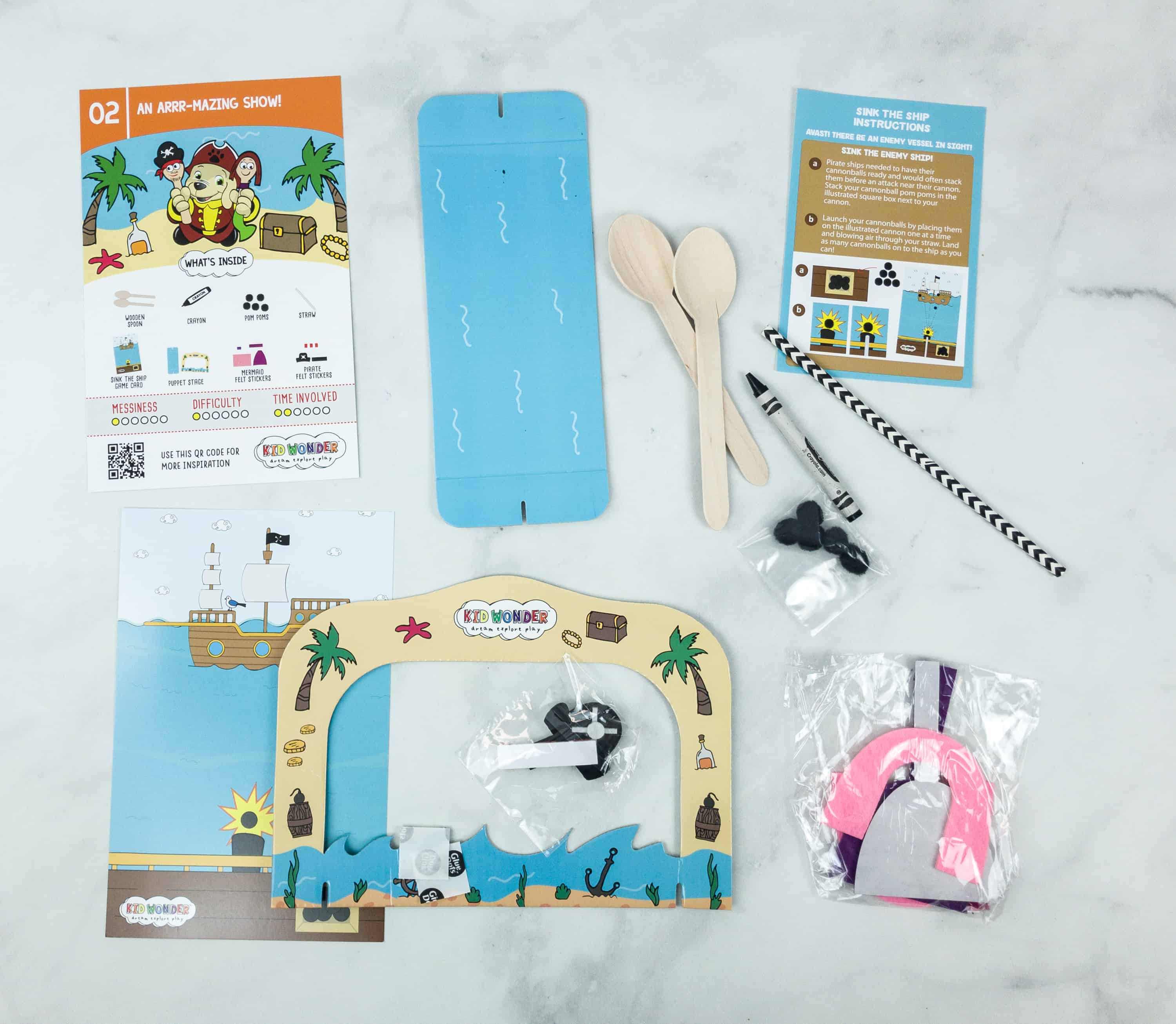 Activity No. 2: An Arrr-mazing Show. It's a puppet show time! This will teach him to be crafty and creative in putting up an imaginative and entertaining show.
This is the instruction card of the puppet stage, the mermaid puppet, and the pirate puppet. They had illustrations step by step which is really helpful.
He finished the mermaid puppet first and now he's drawing a smiley face on our pirate puppet! Maybe we can create a lovely friendship storyline here.
When we assembled the set, the story comes out alive with our two puppet protagonists in tow.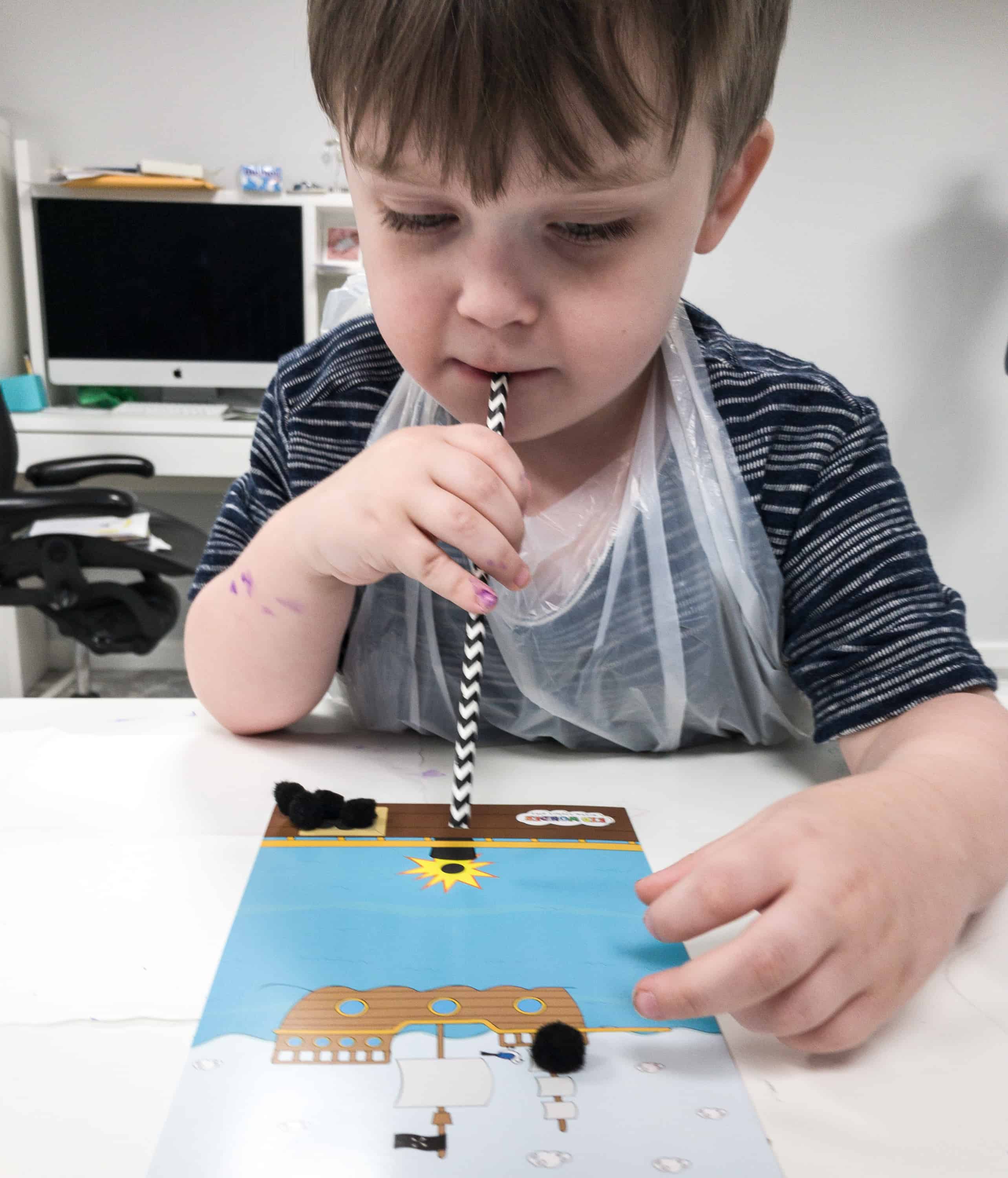 Now we have to launch some cannonballs! We positioned the furry balls on the cannonball picture and then he blew on it using the straw and it shot right to the ship!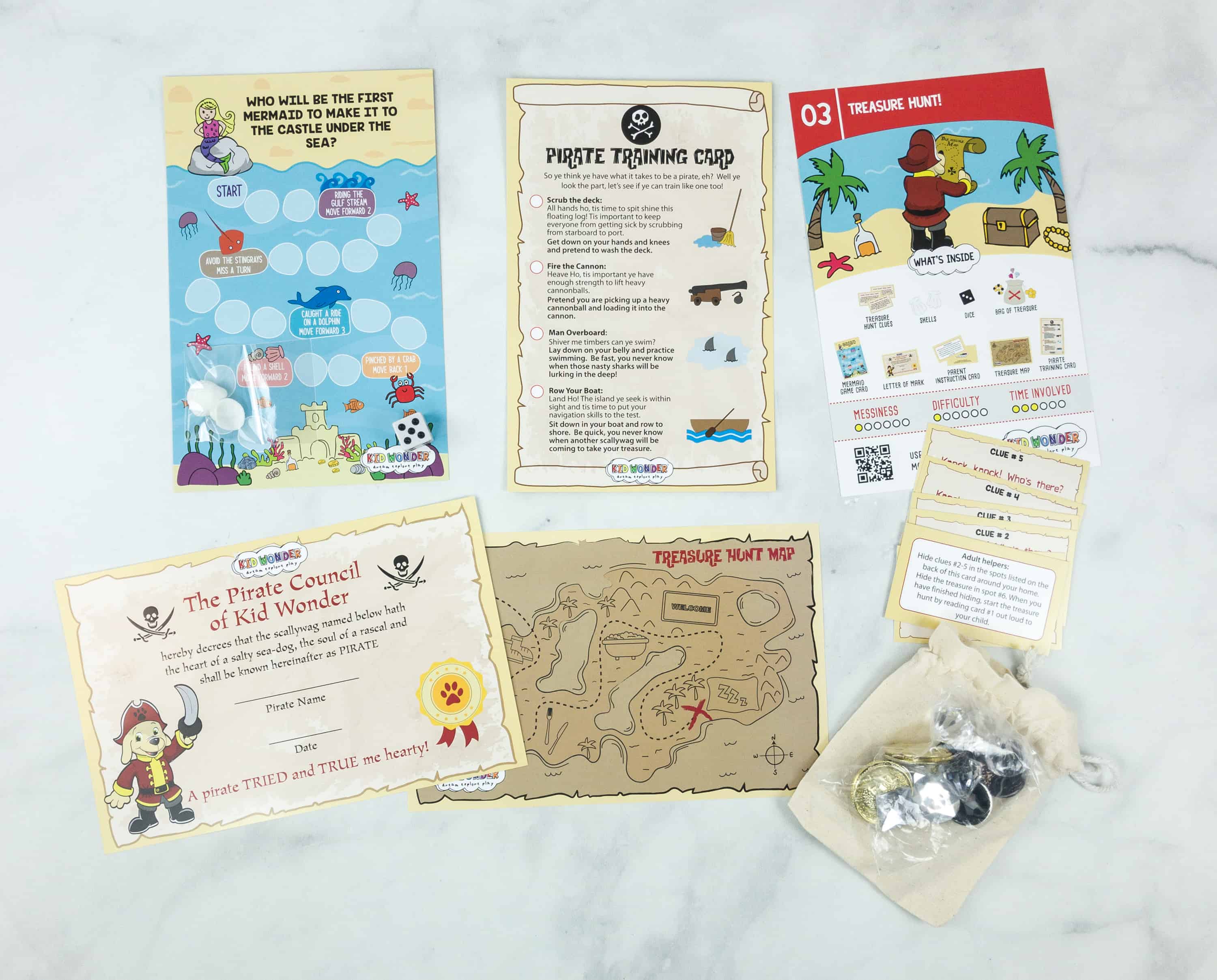 Activity No. 3: Treasure Hunt. Of course! It's not a legitimate heist without a treasure hunt! This is where the training begins for our little pirates.
Now that we look the part, we also have to play the part! This checklist shows us what pirates do every day.
This is a funny way of showing the pirate chores. My kids have fun with these but they're impossible to photograph!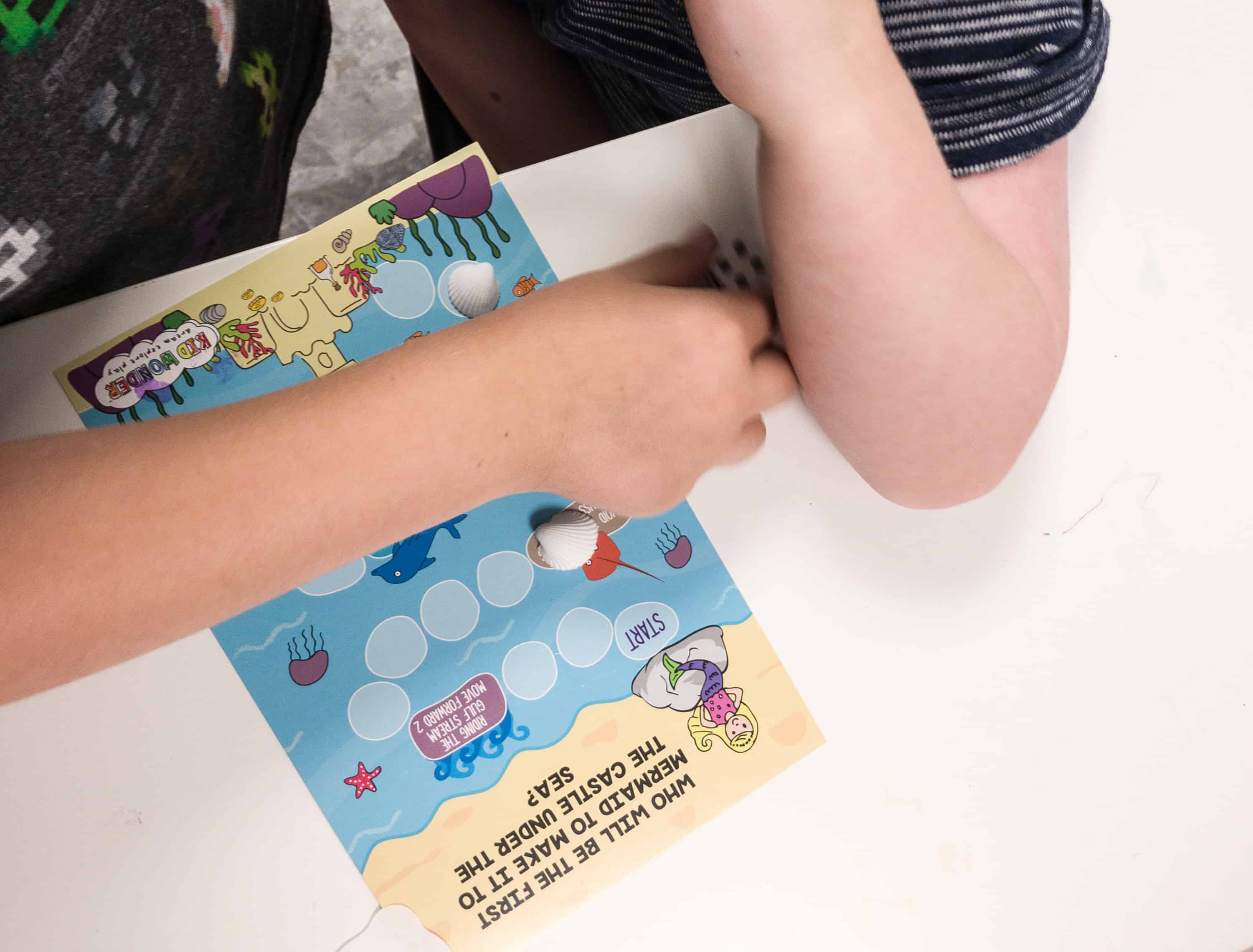 This is like the mermaid's version of snakes and ladders! They even provided dice and shells!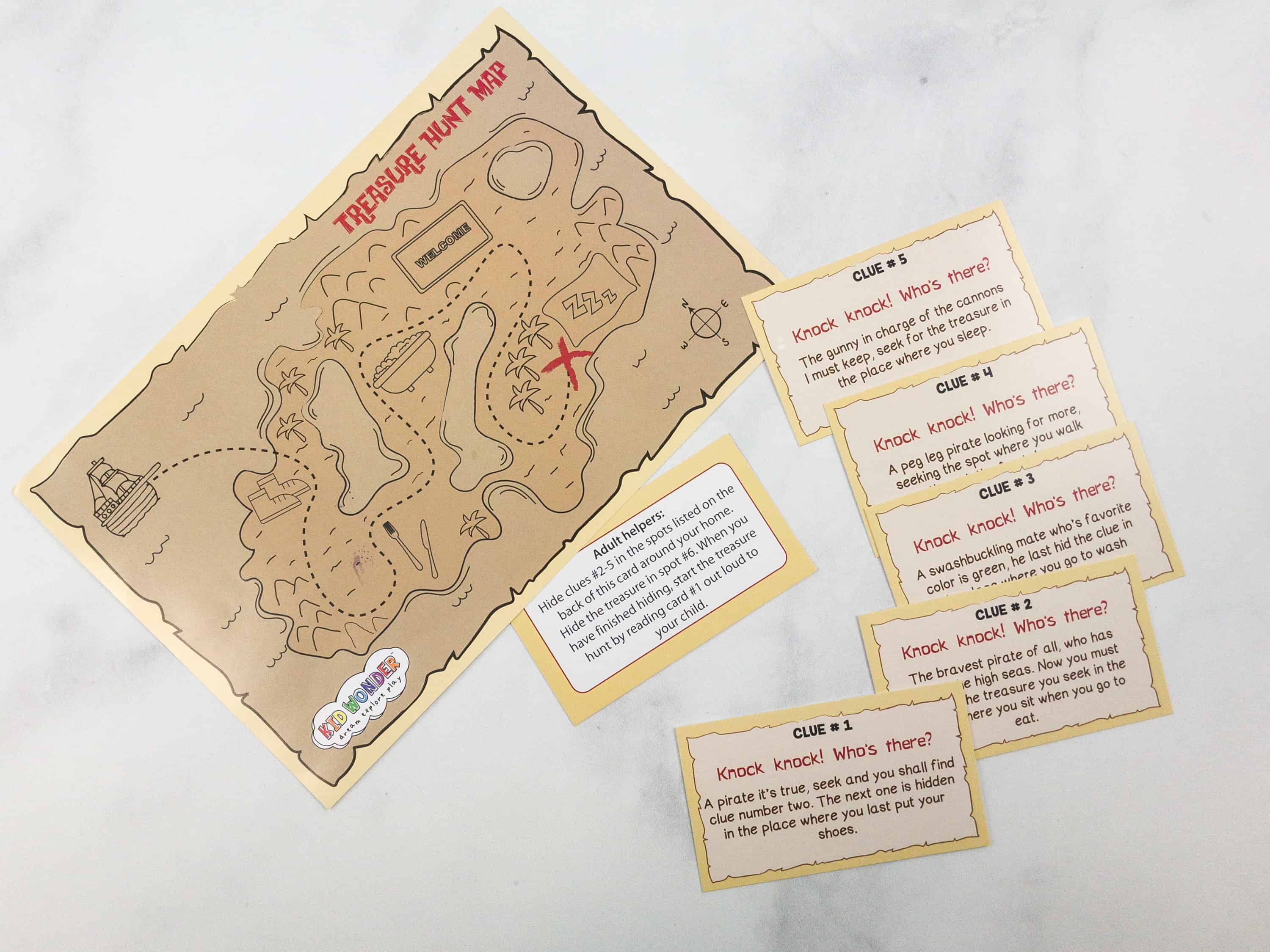 For our treasure hunt, they provided us a map and lots of clues!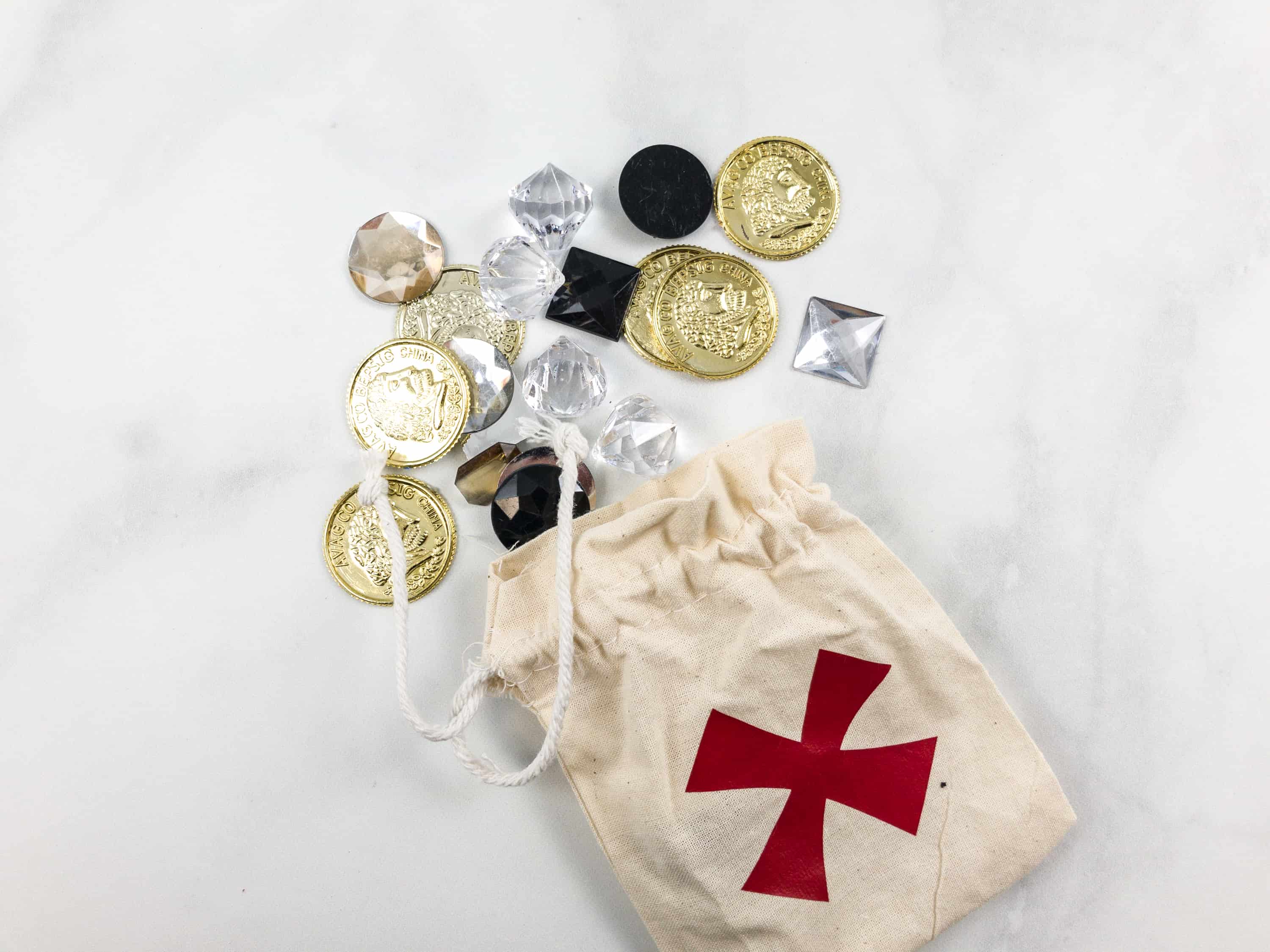 They even provided us with gold, crystals, and gems for the hunt! I'm sure he will be ecstatic!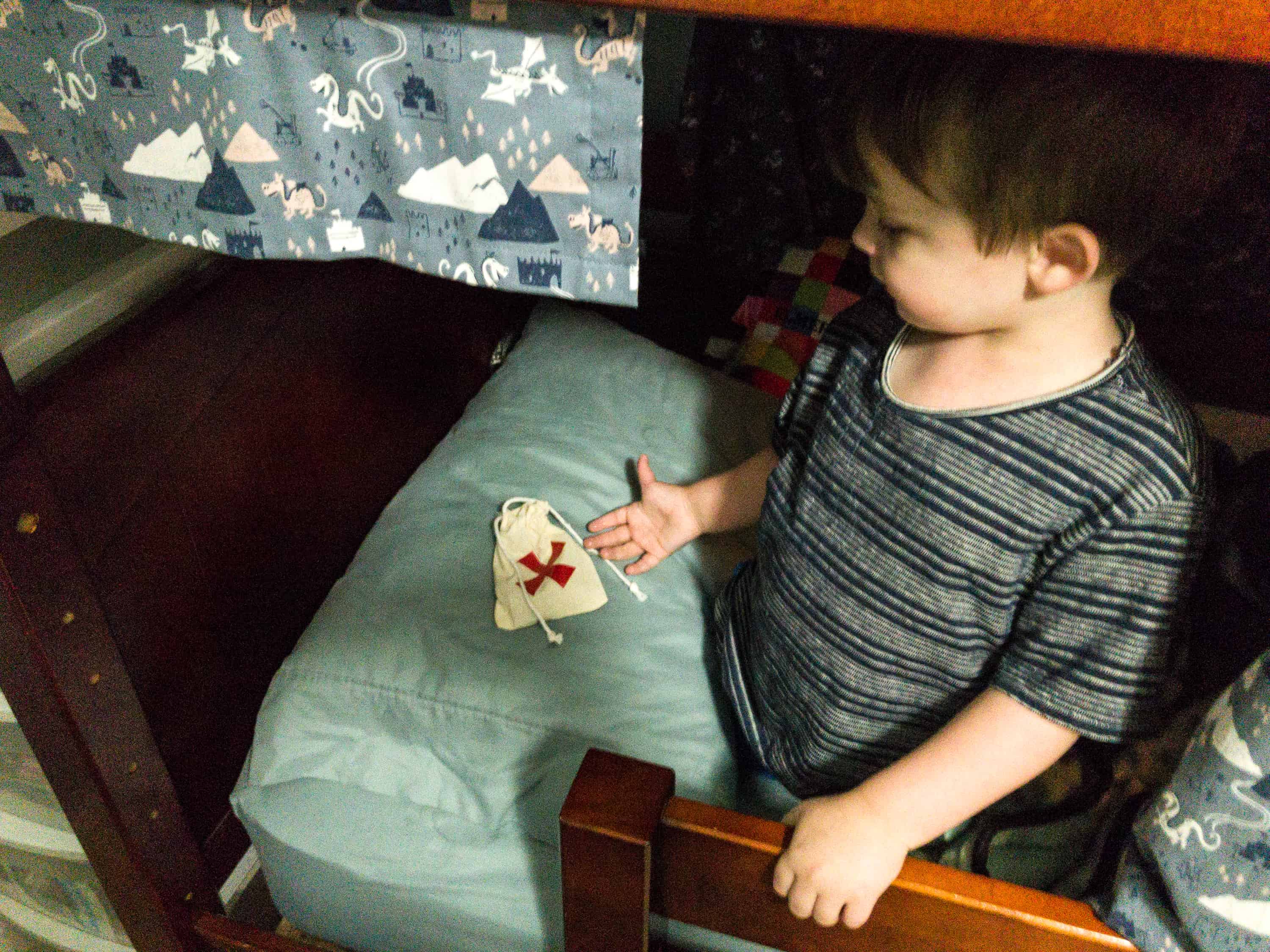 We placed the treasure on his pillow and he found it!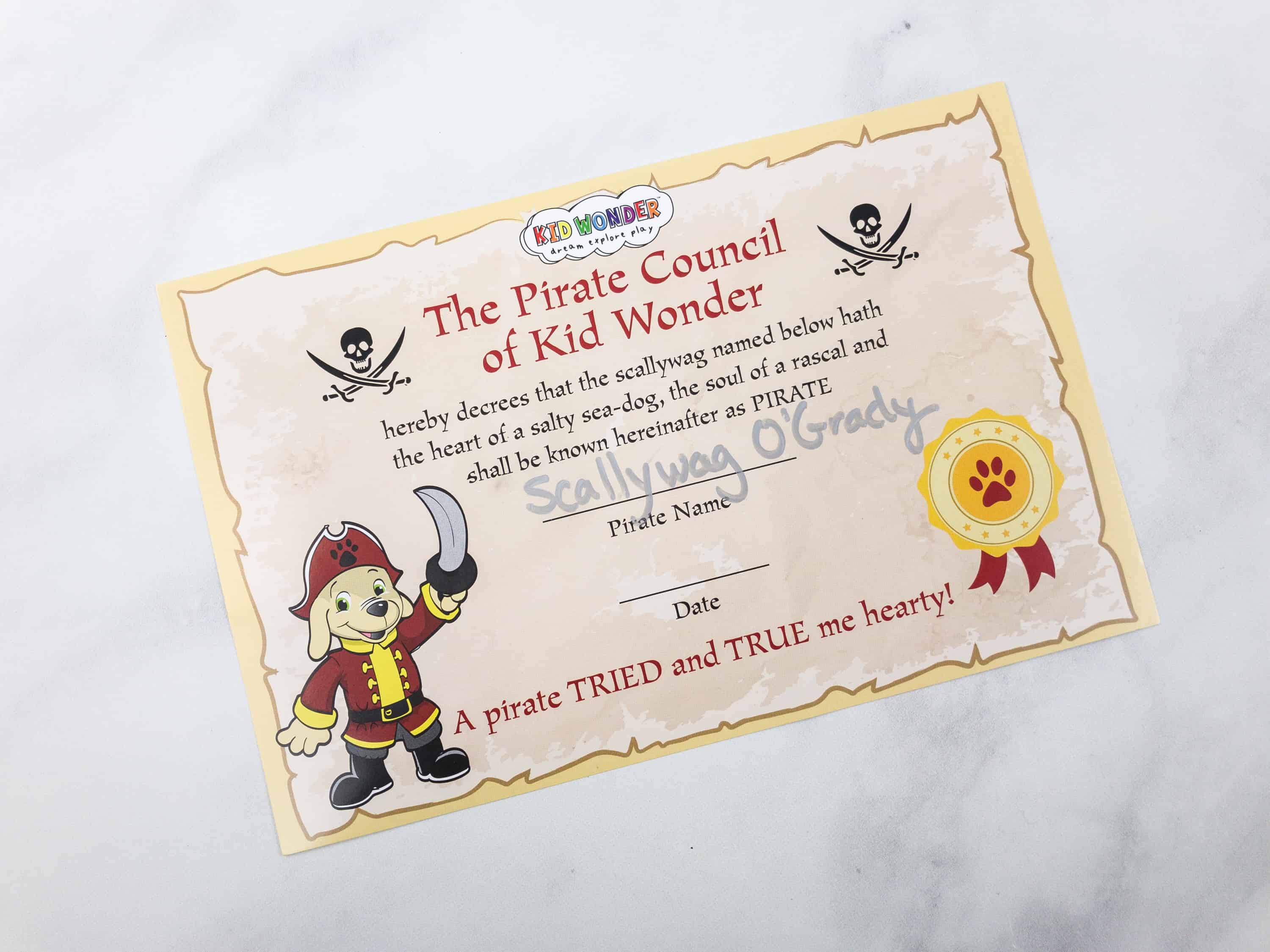 He passed the pirate training camp with flying colors and gave him the name Scallywag!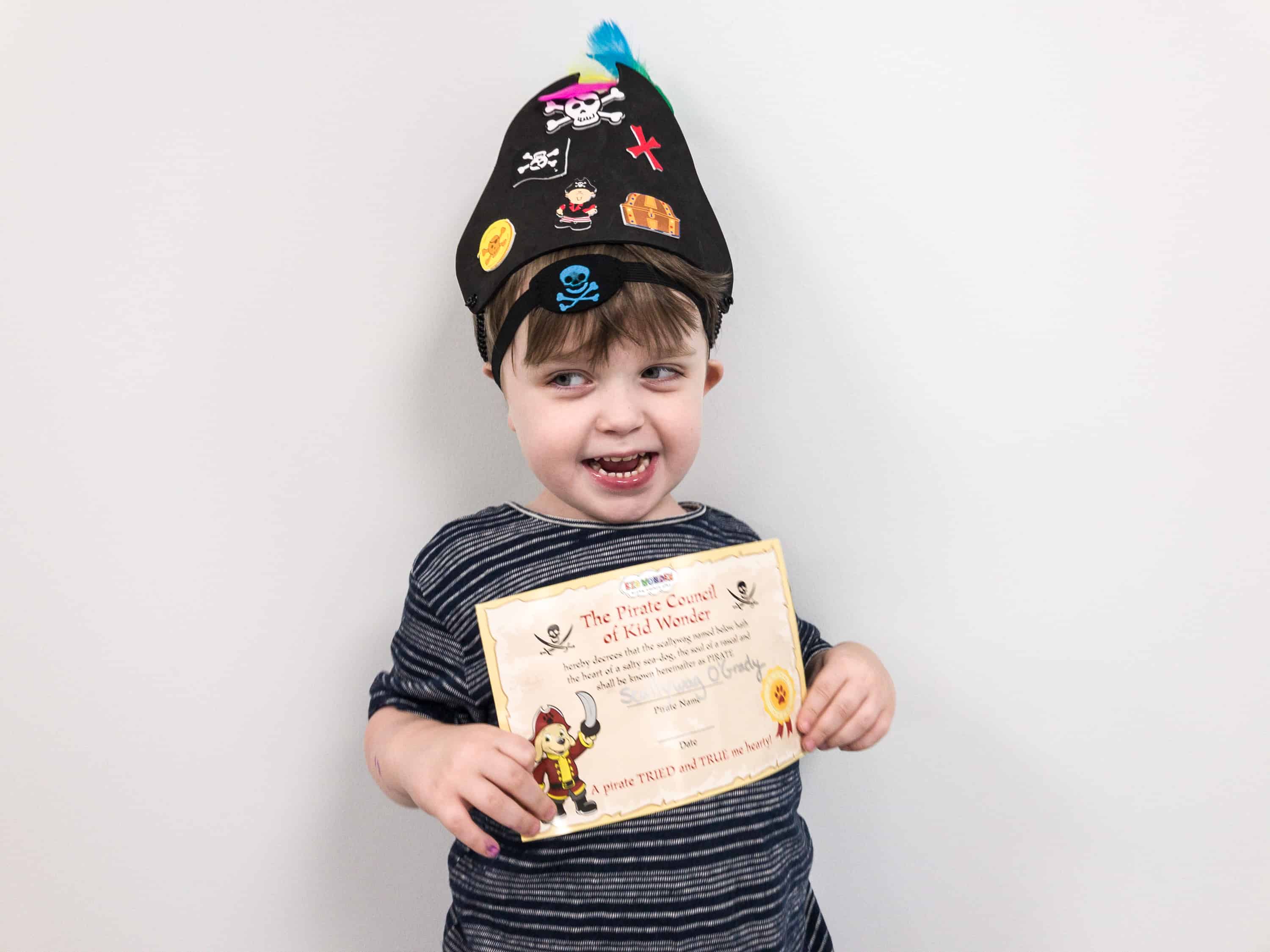 Arrrgh! Scallywag is a legitimate pirate now!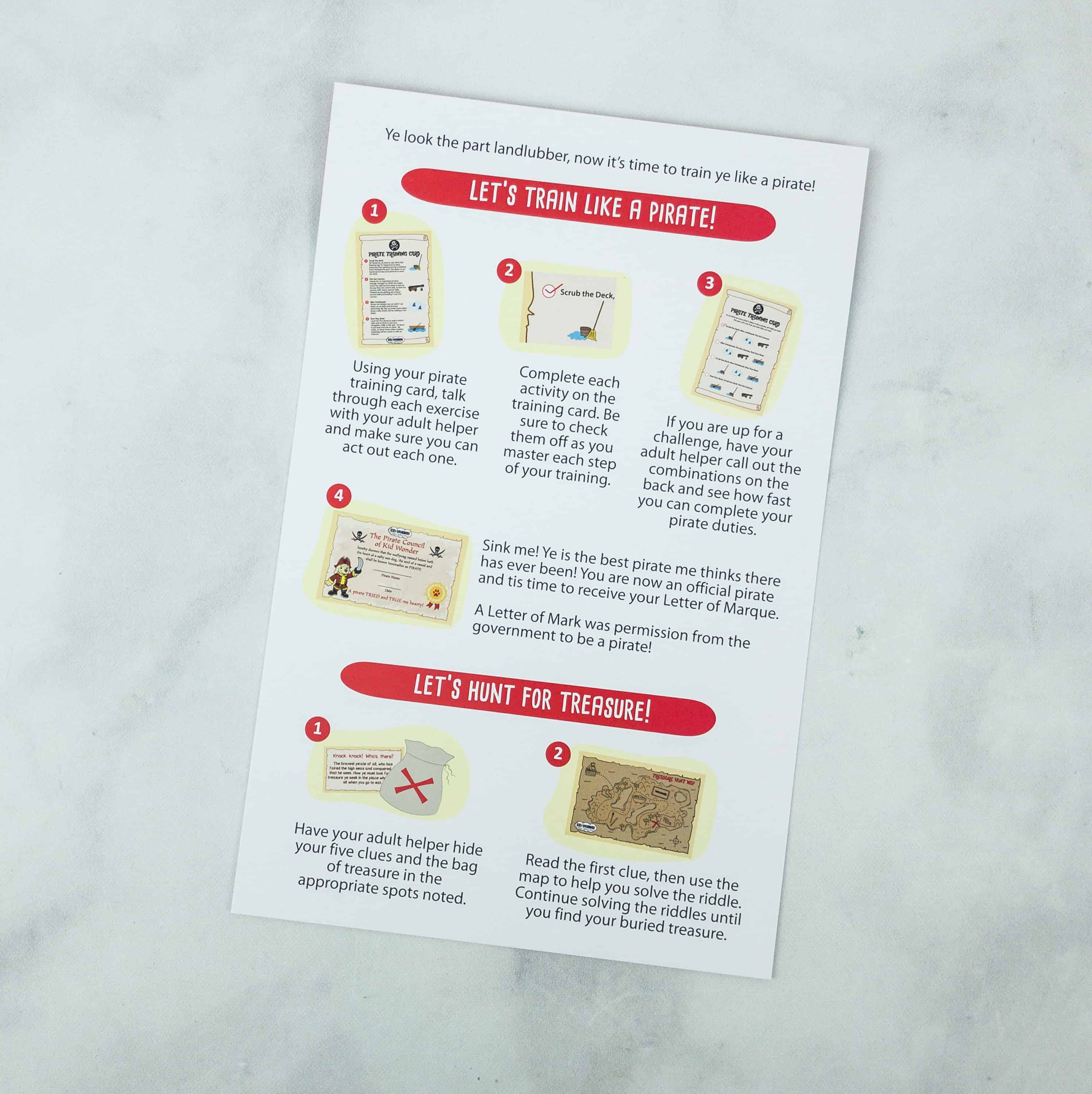 This is the instruction card for the training and the treasure hunt.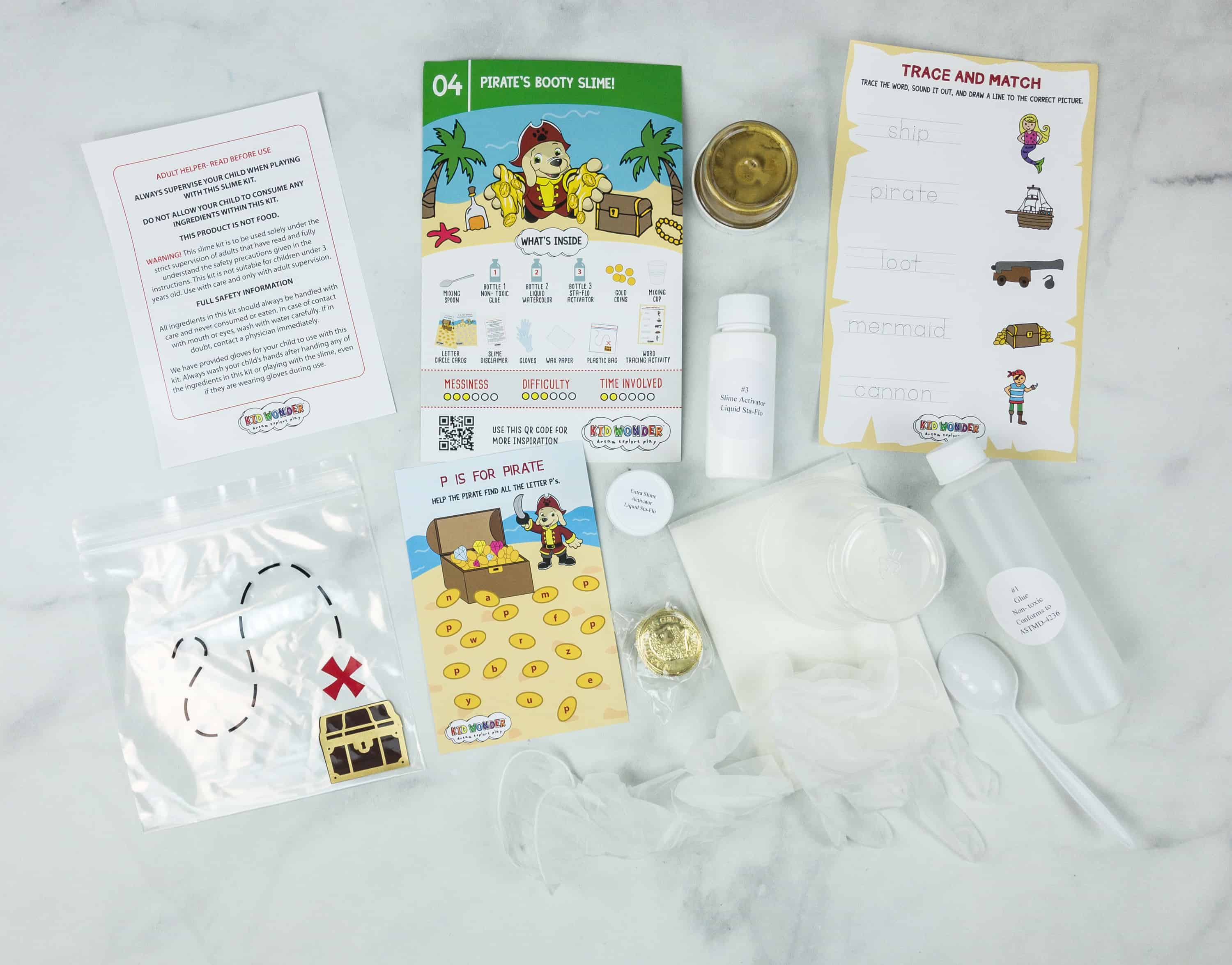 Activity No. 4: Pirate's Booty Slime. This loot makes me excited! Still, I have to guide them through the whole activity as their curiosity might get the best of them and it's crucial for them not to ingest any of the ingredients for our slime.
I asked him to trace the words and match them with their corresponding image. He was psyched about it, although he still needs practice. Any lefty tips?? (He's getting left-handed big boy scissors for his fourth birthday… which is on TALK LIKE A PIRATE DAY! ARGGH!)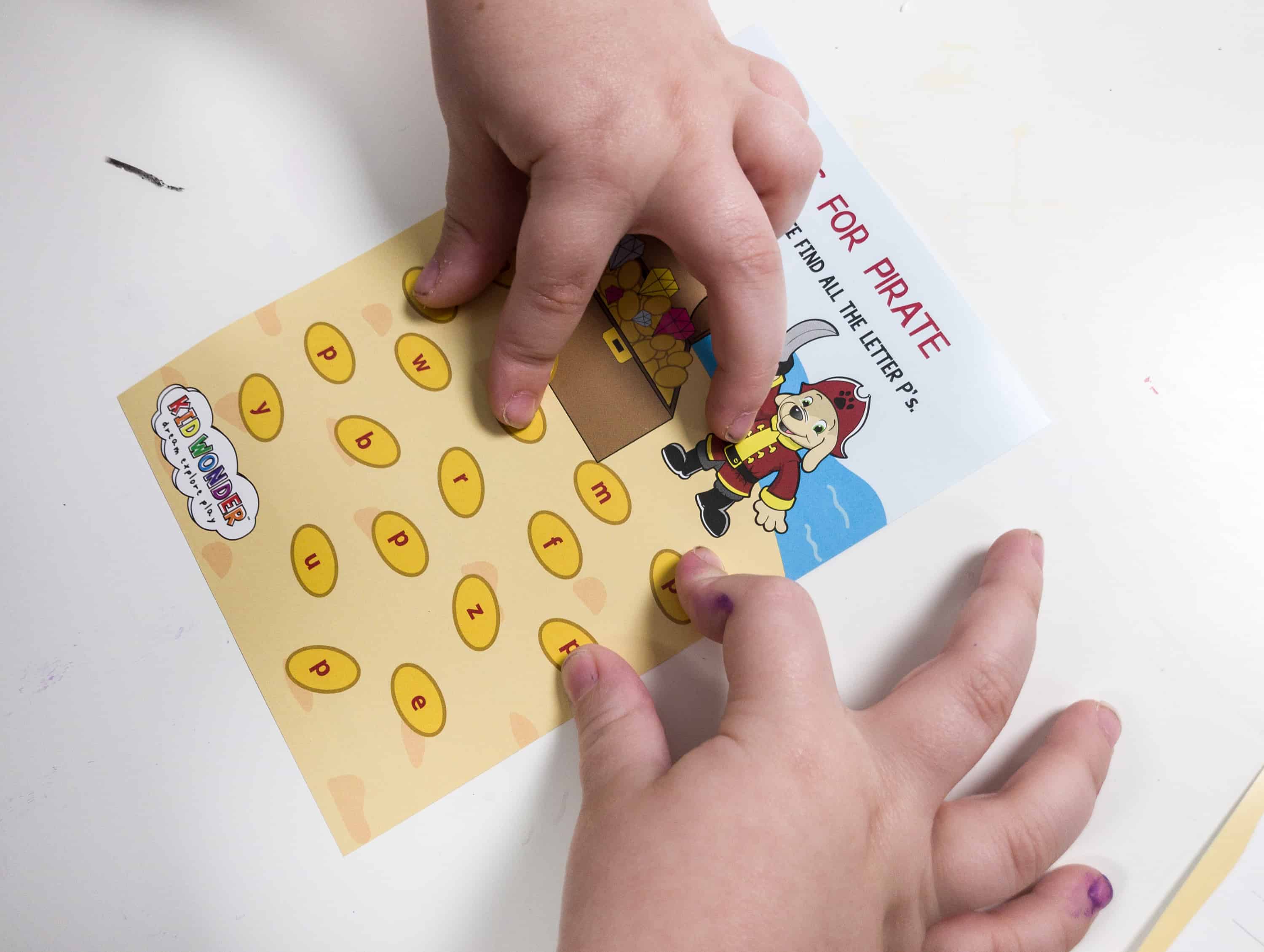 So cute, he used his fingers as the markers for the letter P's. He needs more fingers for the other letter P's though.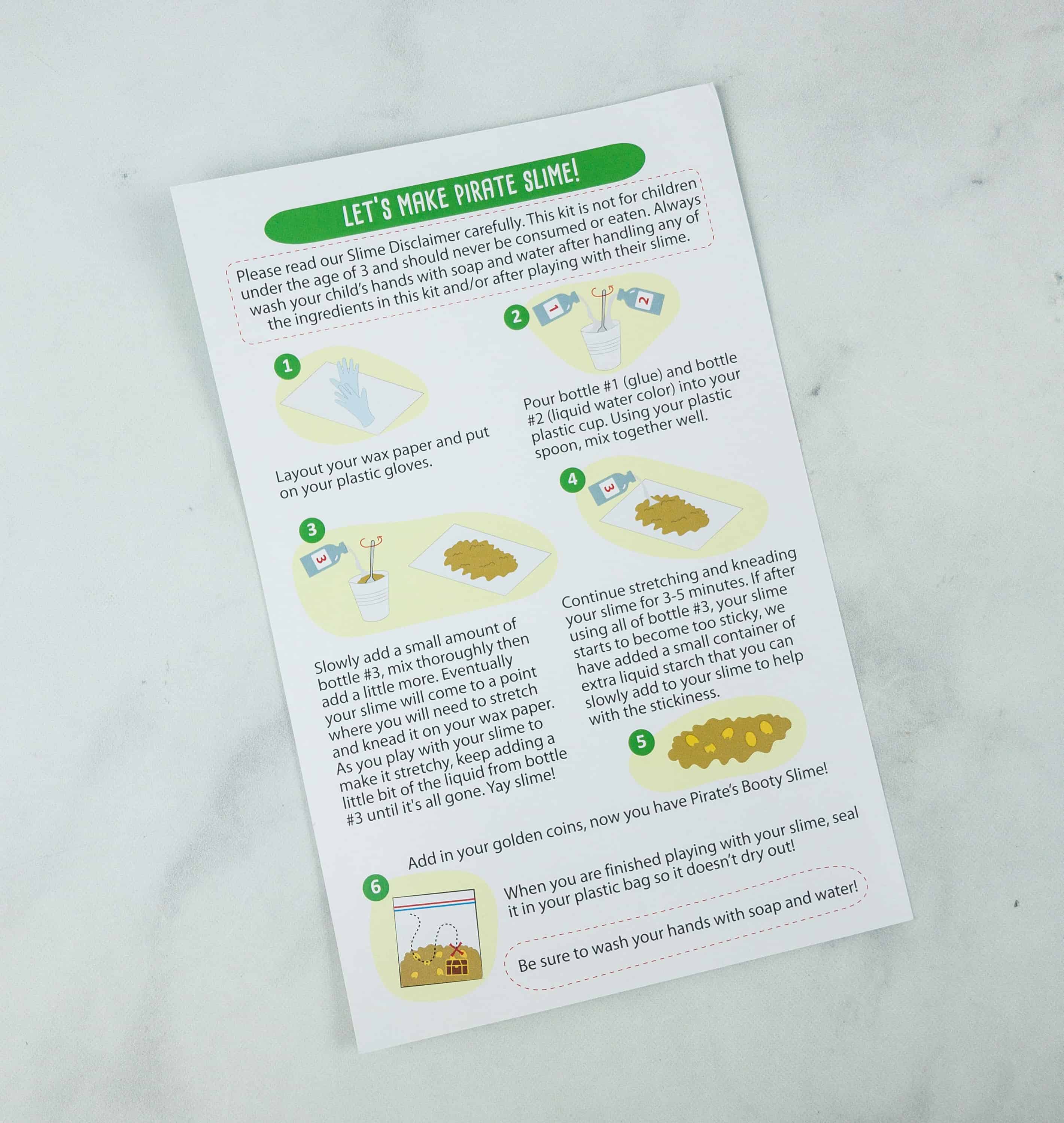 Good thing the bottles are numbered because they all look alike! Yay! let's get gooey with the gold slime!
We laid out the wax paper but also put another plastic on it so it won't be as sticky. We got right into it after wearing the provided gloves! We mixed the non-toxic glue and the liquid color first in a cup and slowly adding the activator and transferred it to the plastic mat.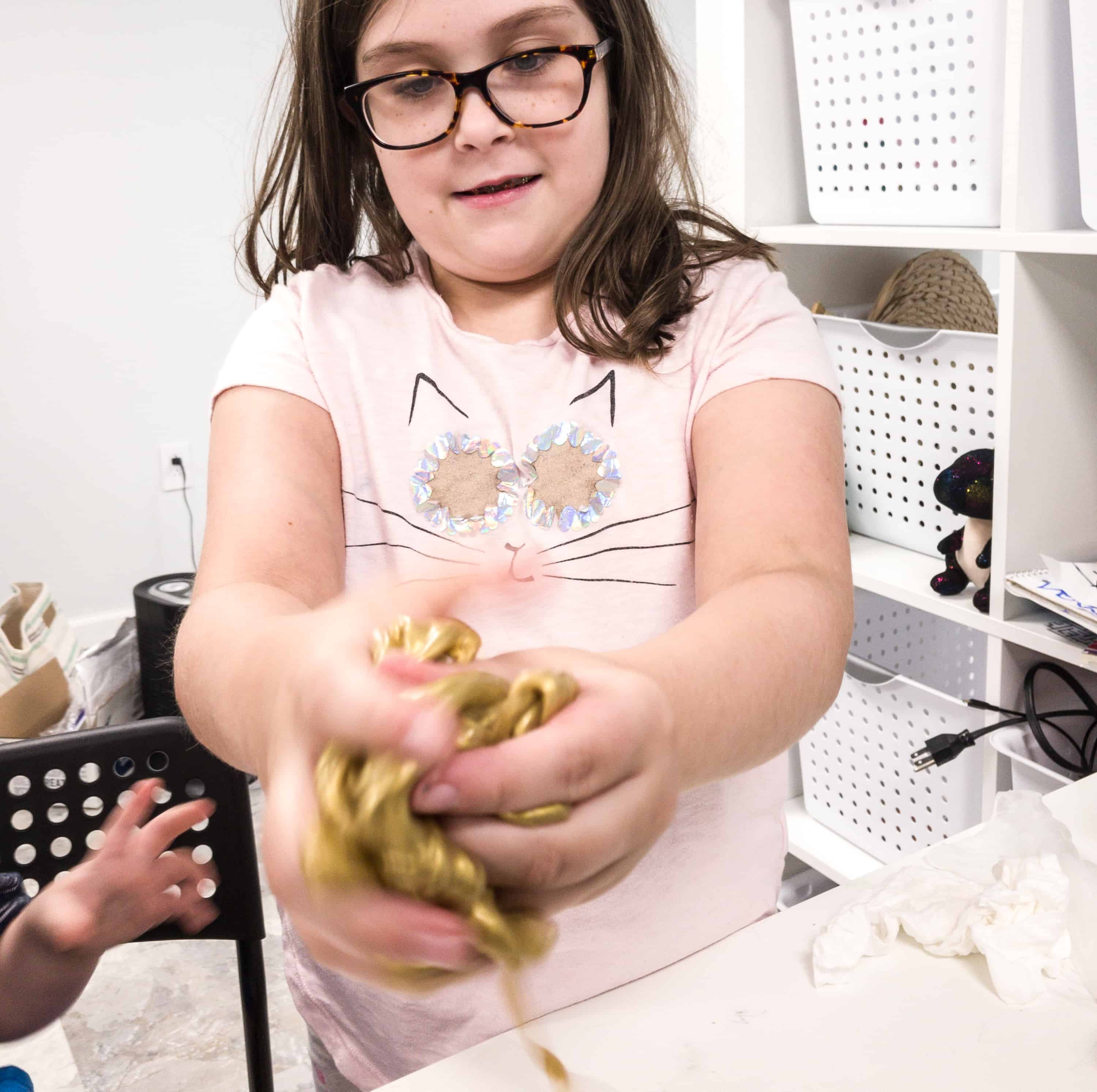 Kneading can be tricky but the big sister had it covered!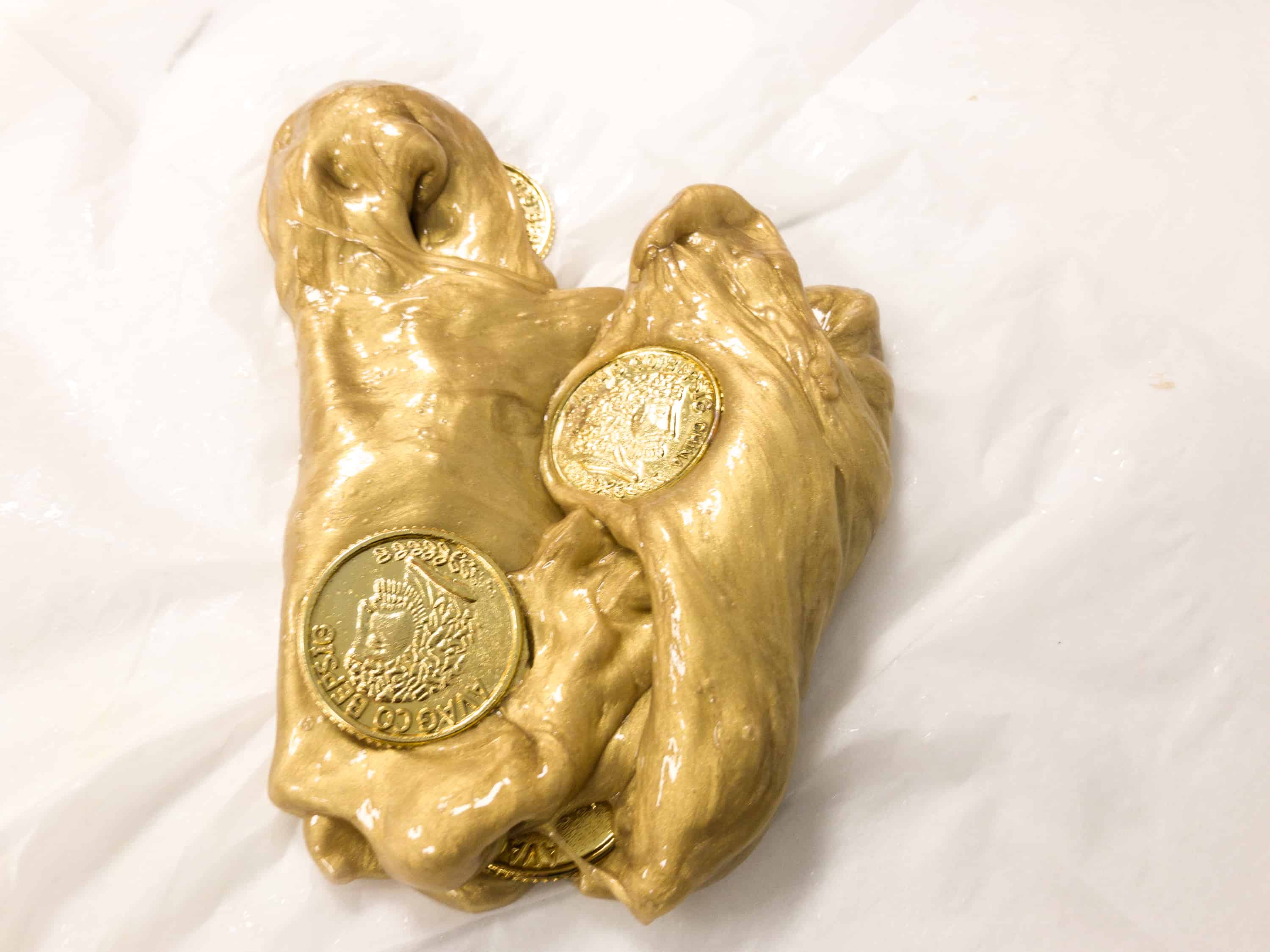 What a luxurious looking slime!
We put it in the plastic for storage, so that our shimmering slime won't dry out. Aye, aye, captain!
Activity No. 5: Design A Pirate Ship. This is proof that you are an official pirate and a captain of the ship!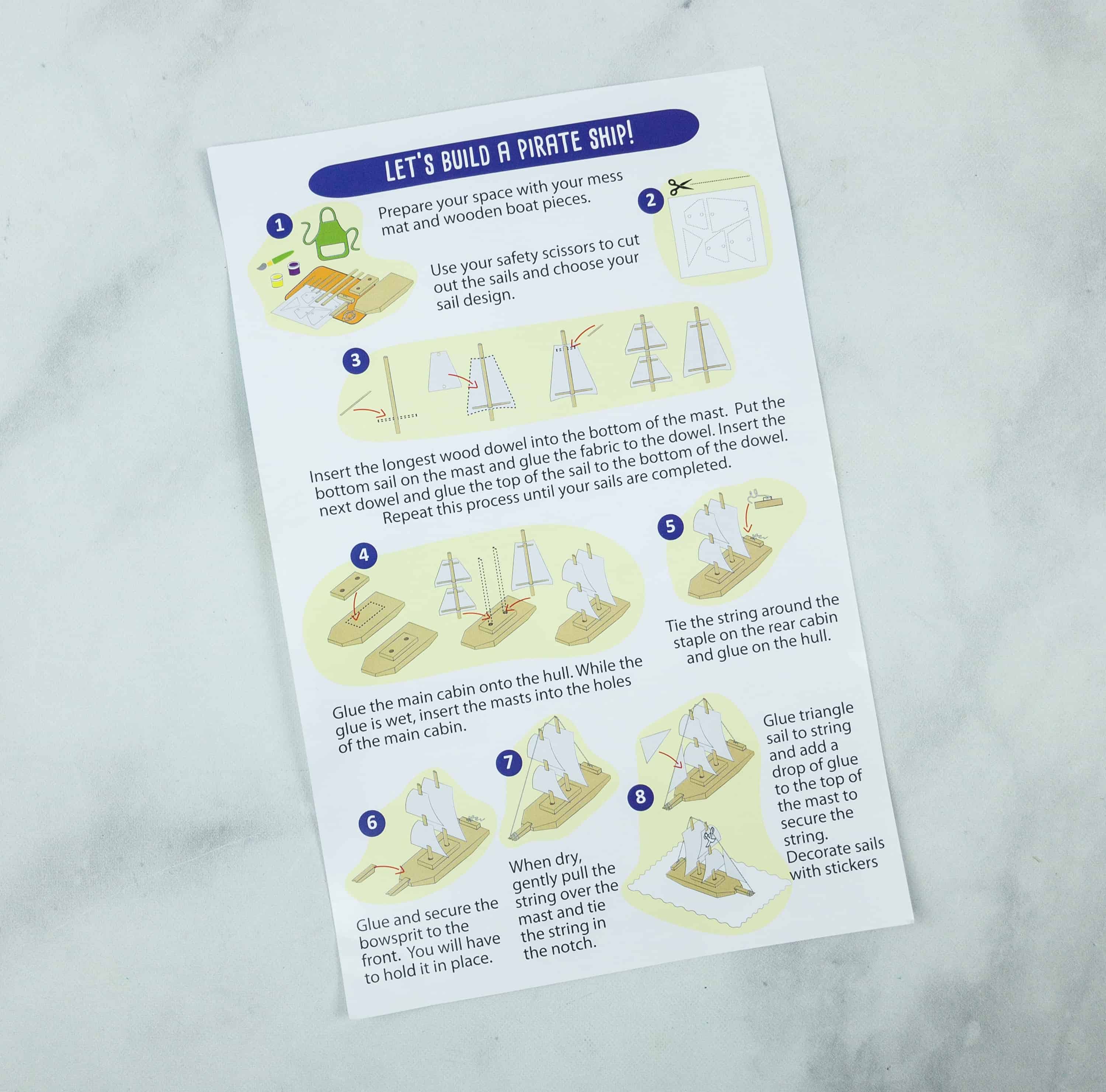 The ship has so many parts and my son was ecstatic and we helped him put the pieces together.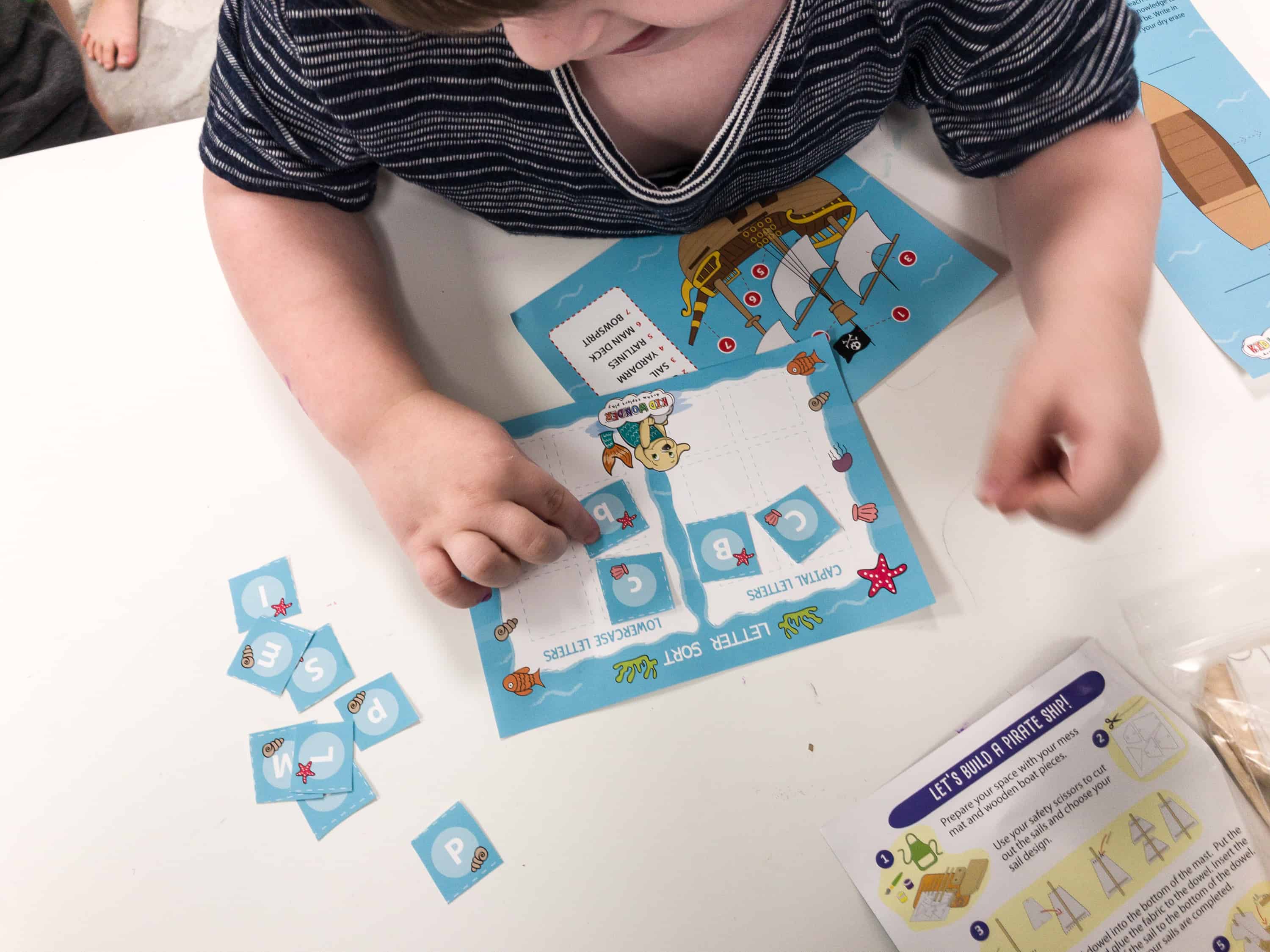 He differentiated the capital from the small letters.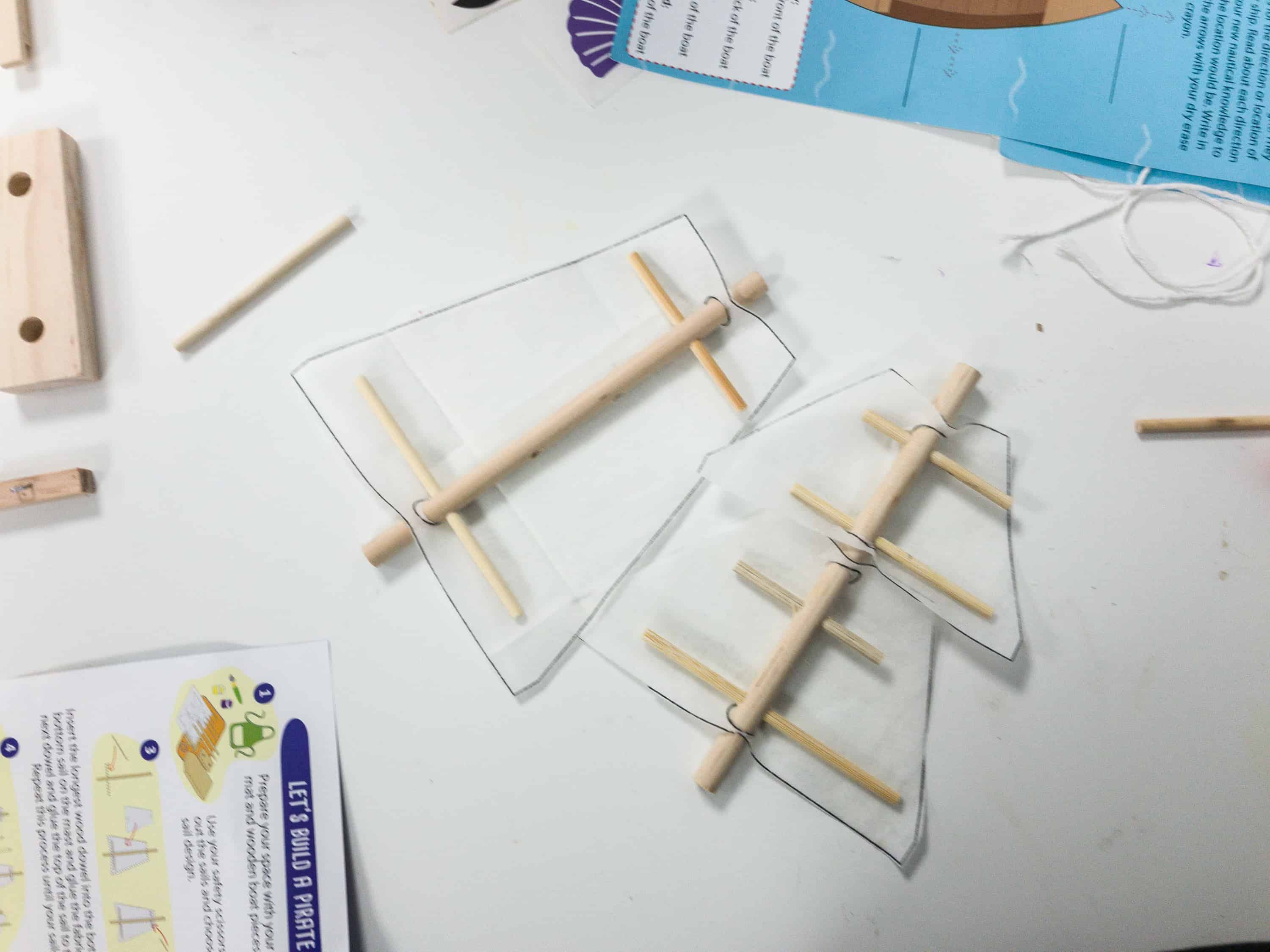 We started putting together the small parts of the sails first and then moved on to put the large pieces together.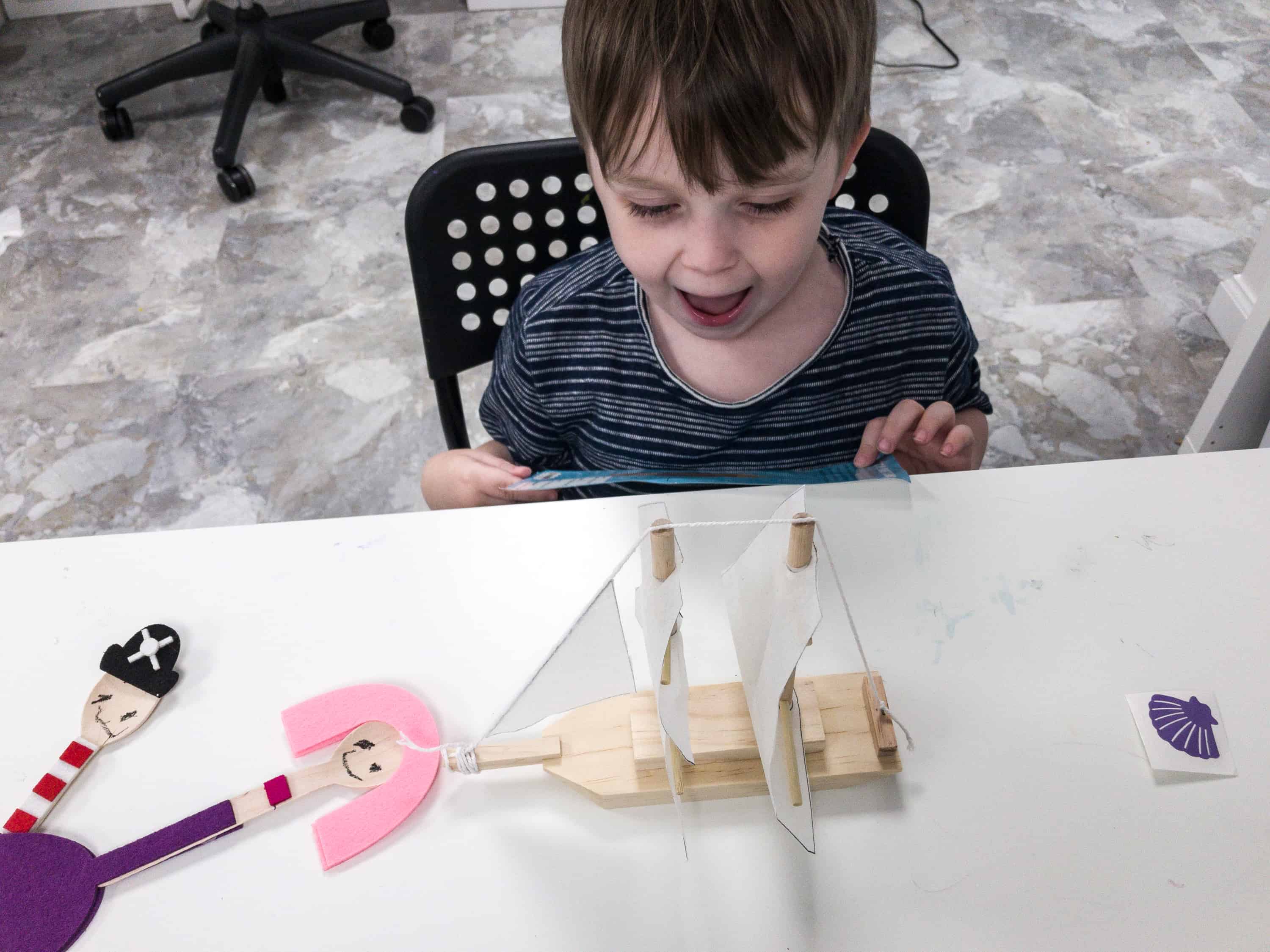 We successfully have a new ship! Now we have to establish the pirate code!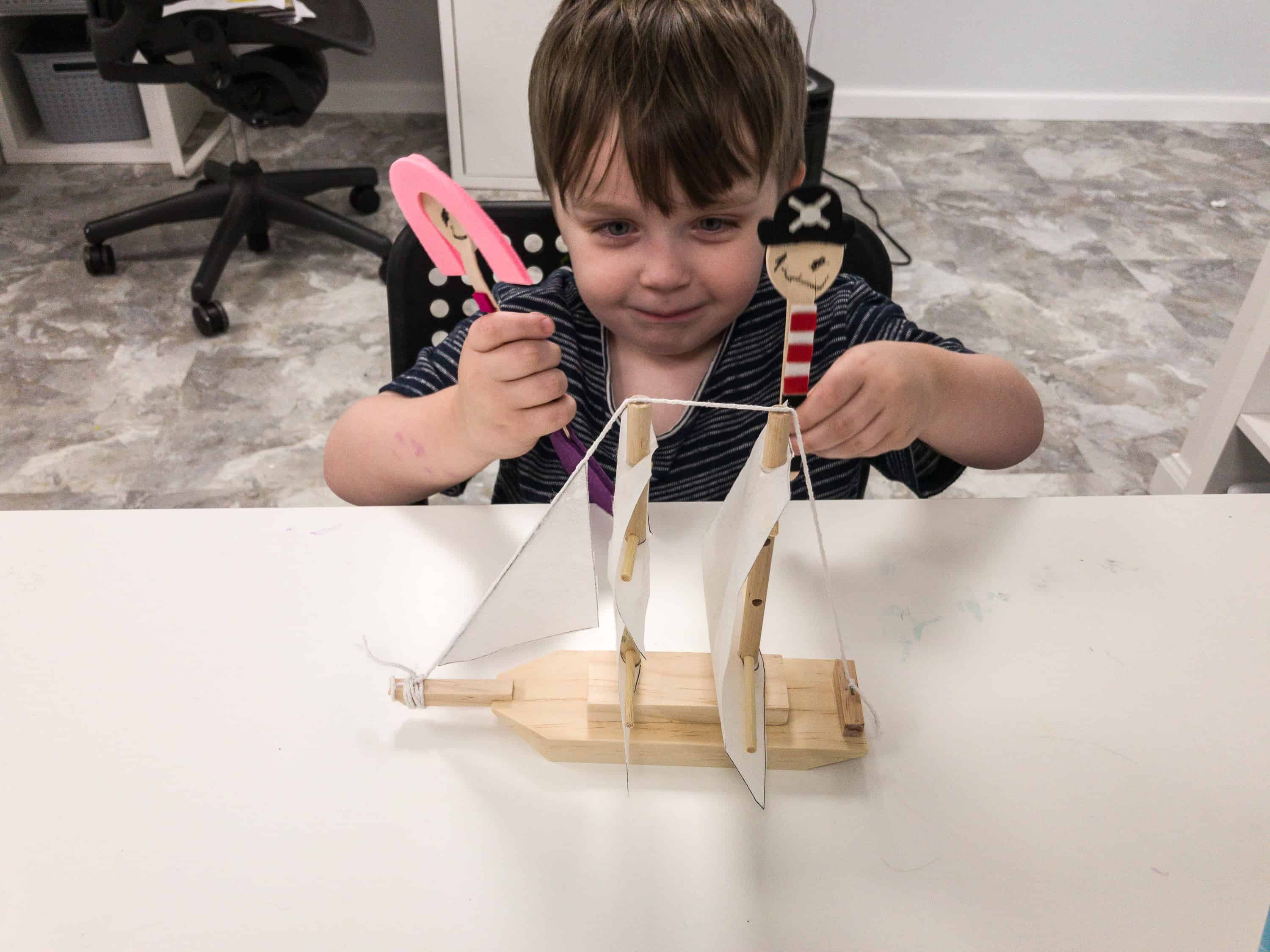 He immediately invited the couple on board.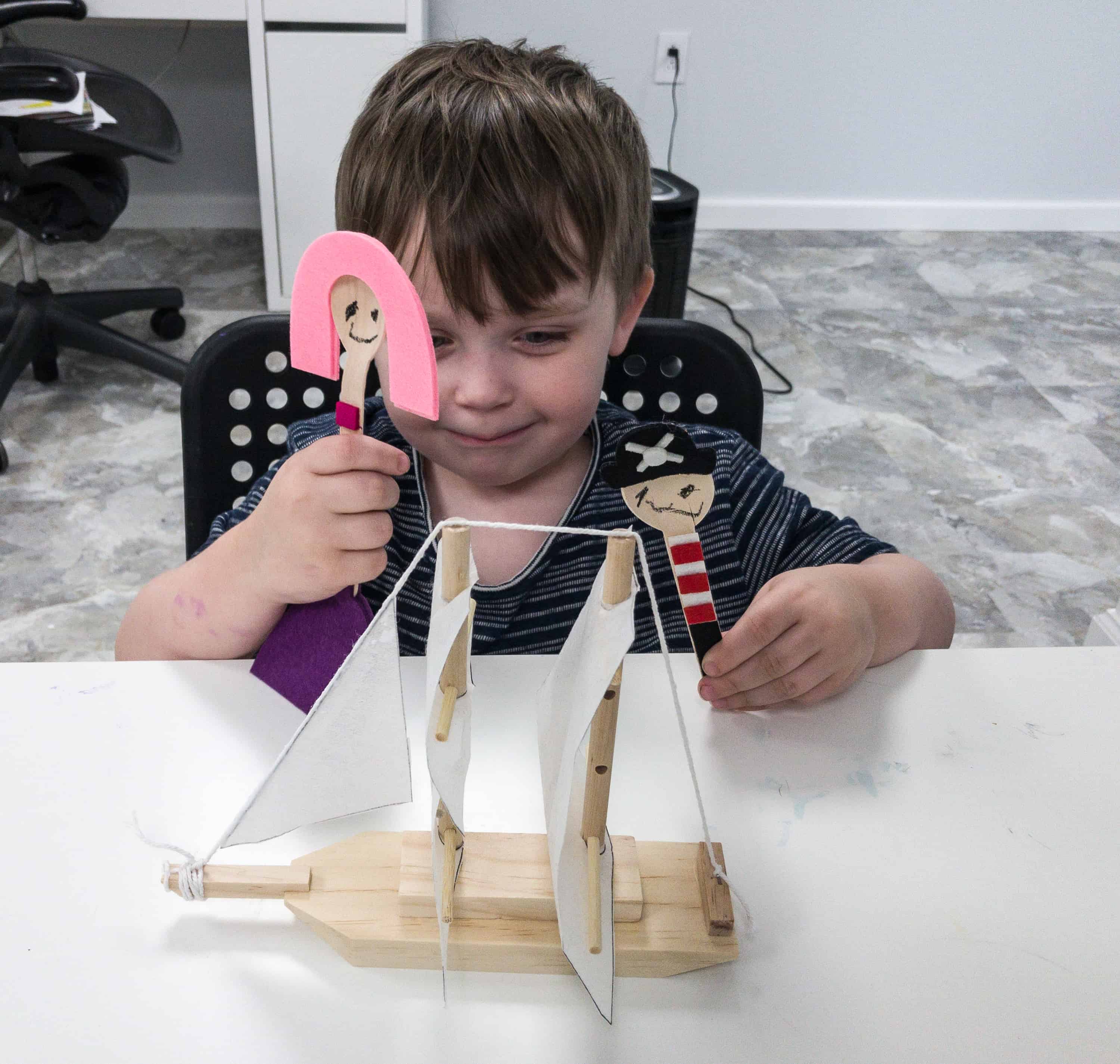 He's very happy playing with his puppets and extend the storyline from the pirate stage to the pirate ship!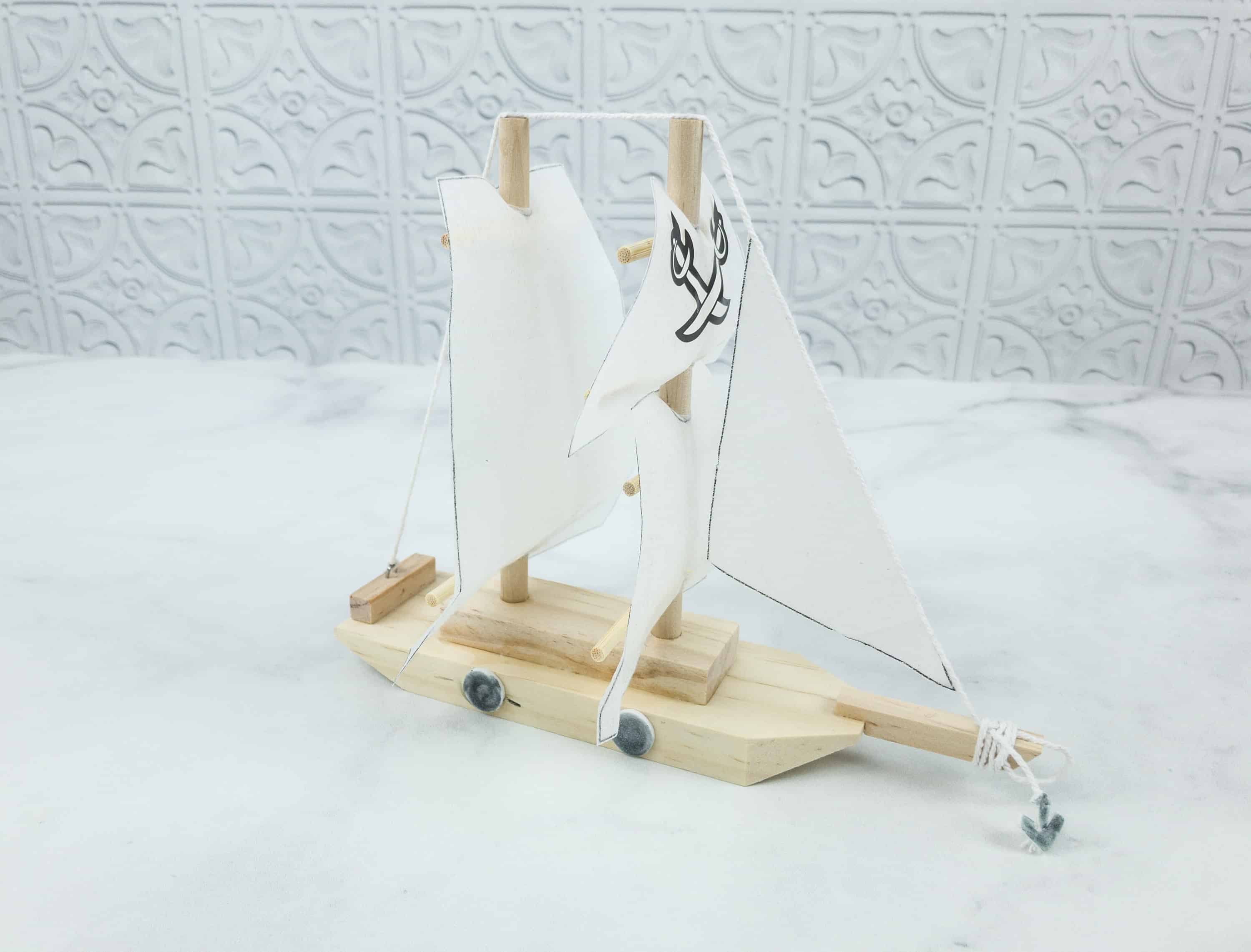 Look how sturdy our ship is! The materials or parts that the box gave us fit each other well and there are no defects or missing parts. I can imagine this painted and can be placed on display at my son's bedside so he can remember that he's the captain of the ship. He has toted this ship everywhere and is totally in love with it!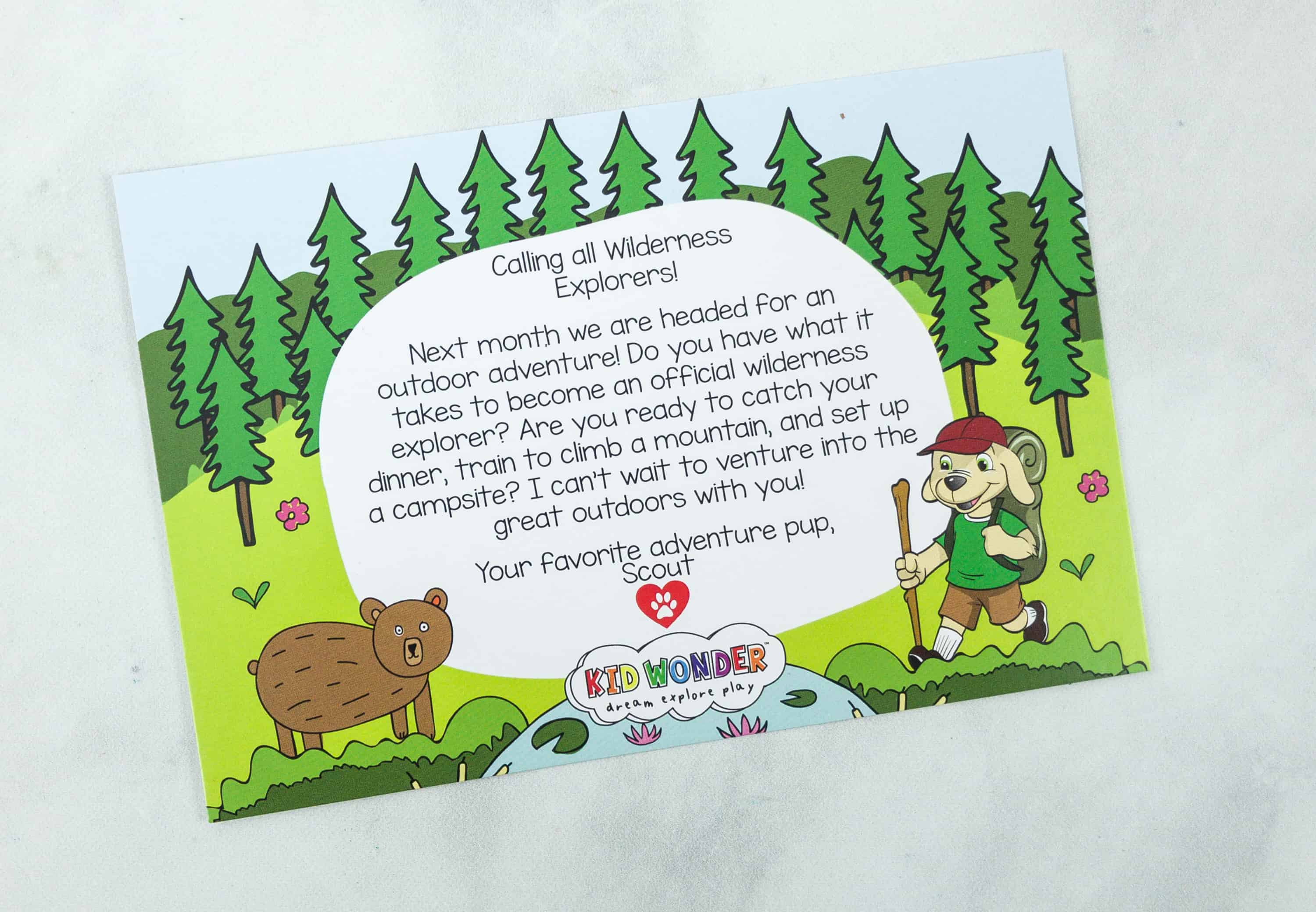 Oh goody! Now I'm excited to take part in the next outdoor adventure in the wilderness!
The kids had a great time. They were very excited when they found out about this month's pirate themed box! The book and craft activities are equally challenging and fun. They explored a variety of activities that opened the magical, vast world of pirates, mermaids, and treasures. My son was able to imagine and create a world filled with adventure using the stage, ship, and the puppets he made with the kits. He's beaming the whole time and it's priceless!
What do you think of the Kid Wonder Box?
Visit Kid Wonder Little Dreamers Box to subscribe or find out more!