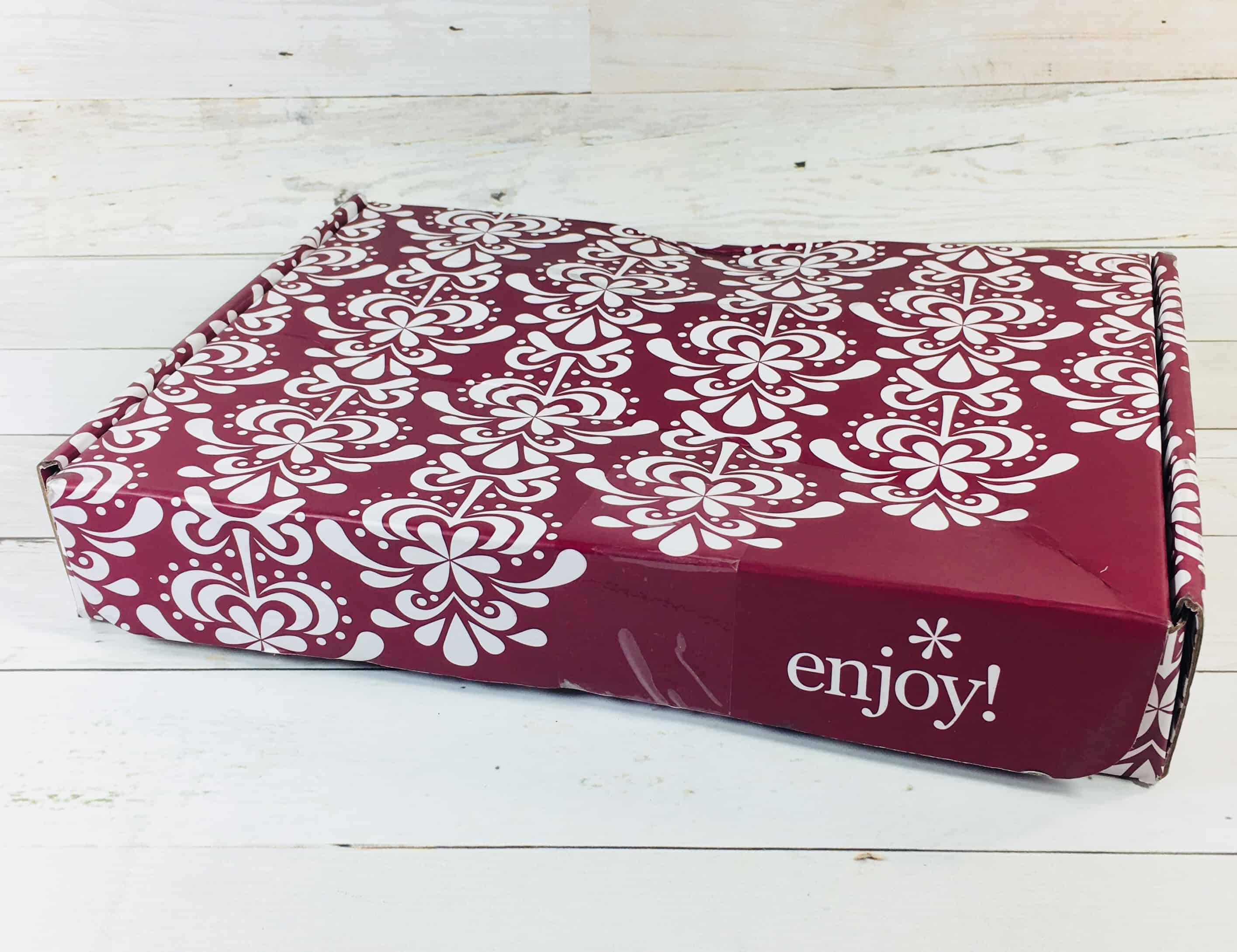 Erin Condren's Seasonal Surprise Box is a quarterly planner accessories and stationery box featuring early access items, popular accessories, and exclusive surprises from Erin Condren. This box isn't available by subscription; you must purchase each box individually. This box is currently sold out but click here and tap that blue bell to get notified when the next box becomes available!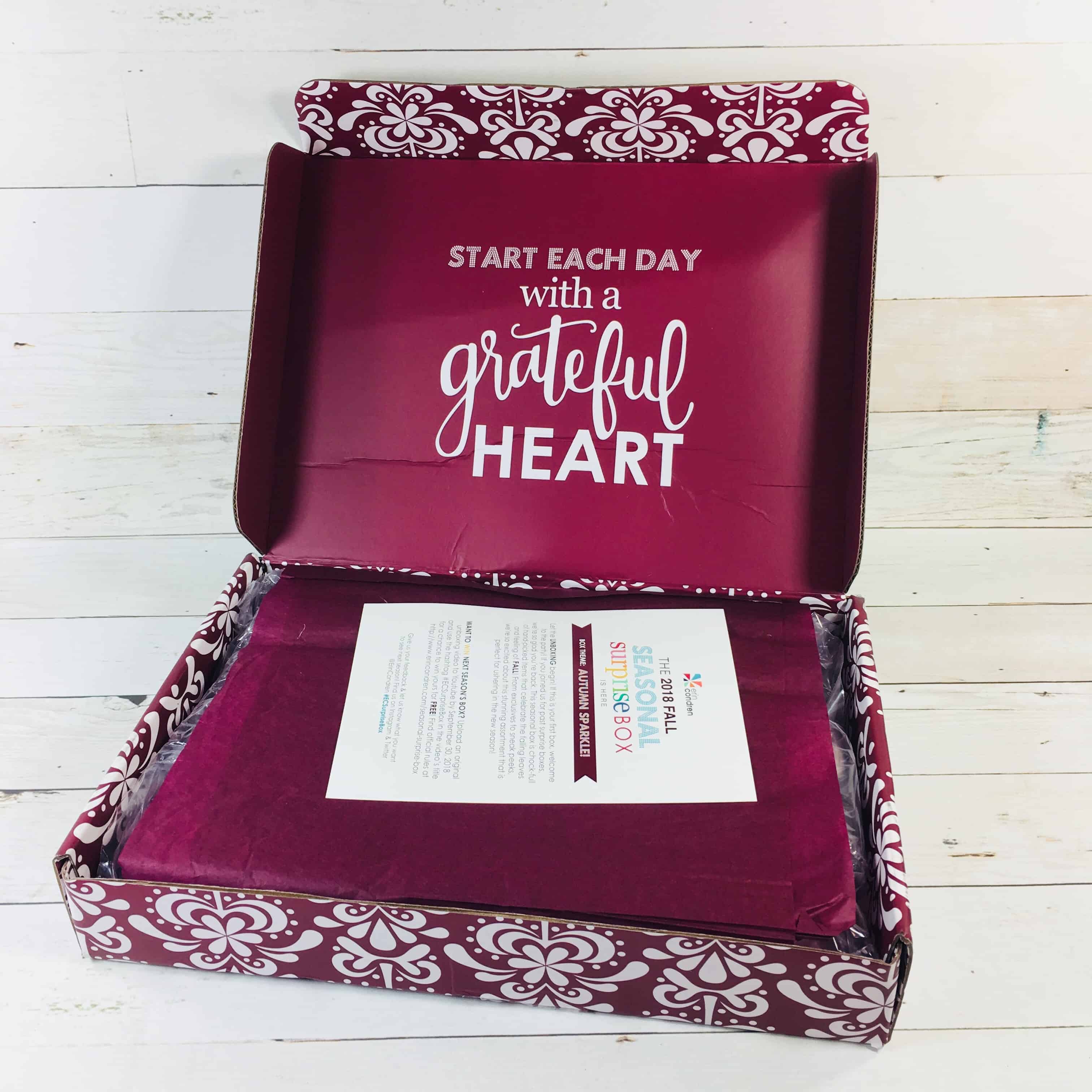 Each box contains a mystery collection of new, favorite, and exclusive items to surprise and delight!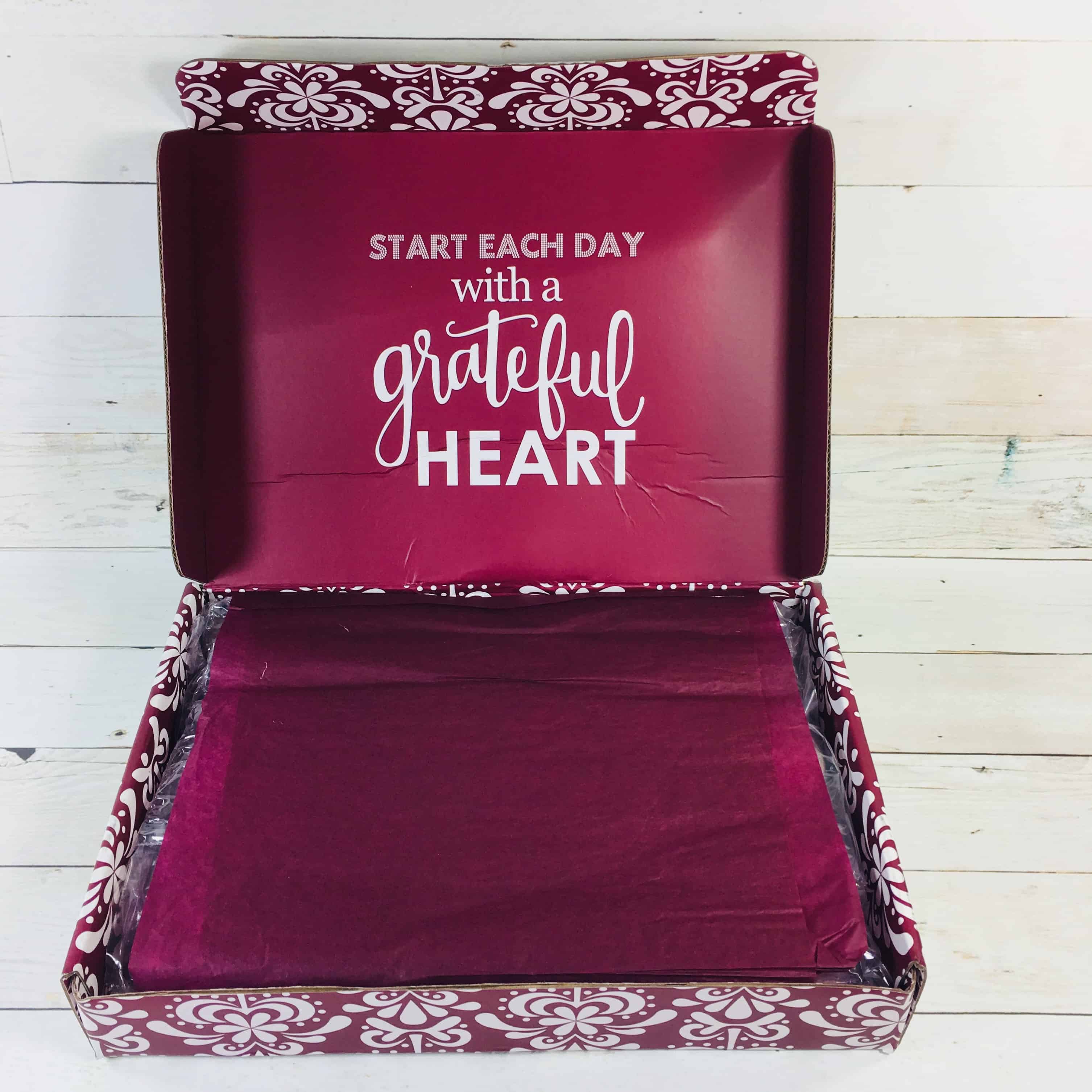 In addition to the main EC site, you can now shop a selection of non-personalized Erin Condren items on Amazon! Many, if not most, are discounted, and they all have free prime shipping!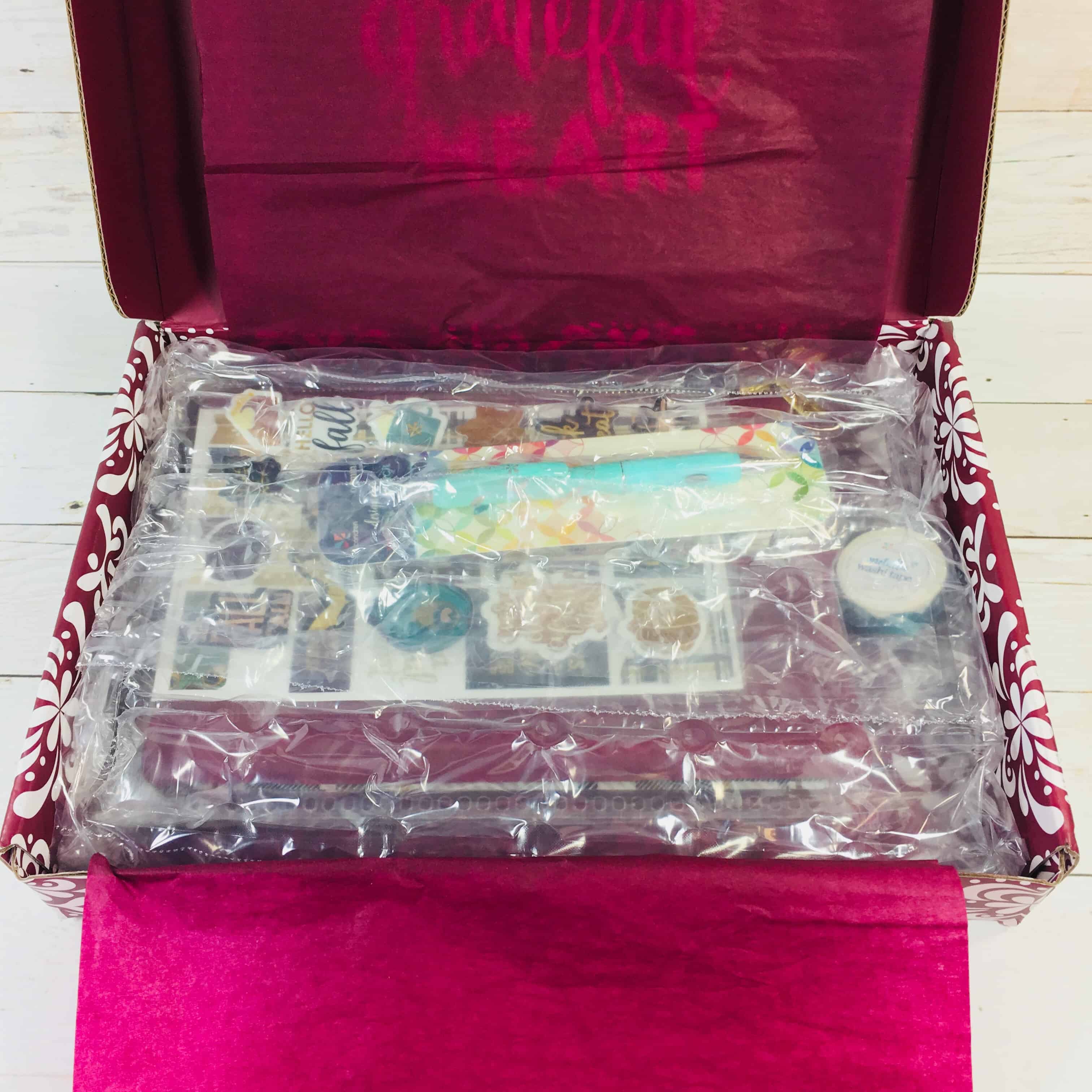 DEAL: FYI – if you use this referral link to register for the site, you'll get a $10 coupon code emailed to you. It may not work on the box purchase. You can use it on pretty much anything on the site.
The theme for the Fall Box is Autumn Sparkle!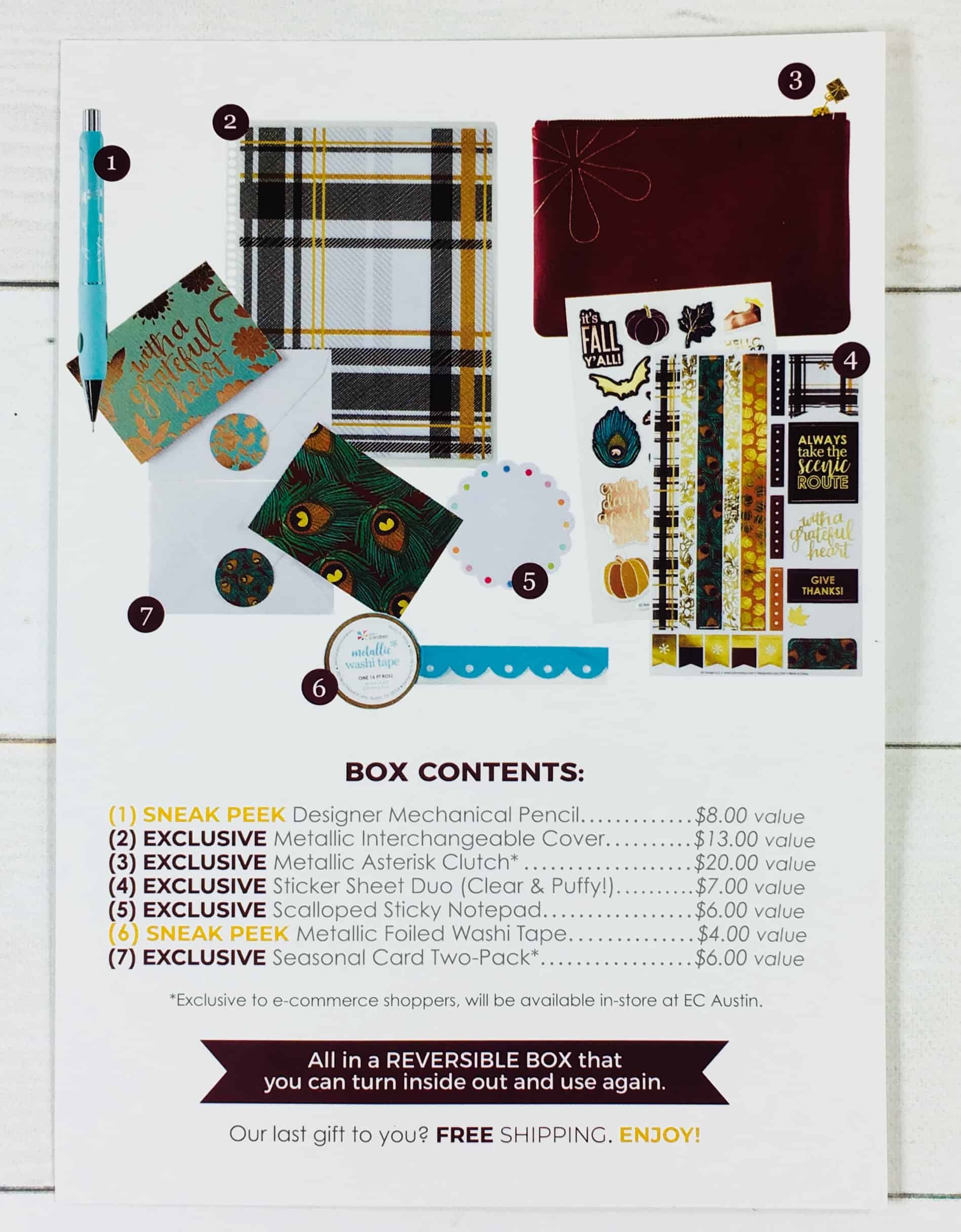 The information card gives you a picture list of all the items included and value. Some of the items may be available at the Erin Condren flagship store in Austin, Texas, and reminds me that I really need to take a trip over there since it's pretty close to where I live.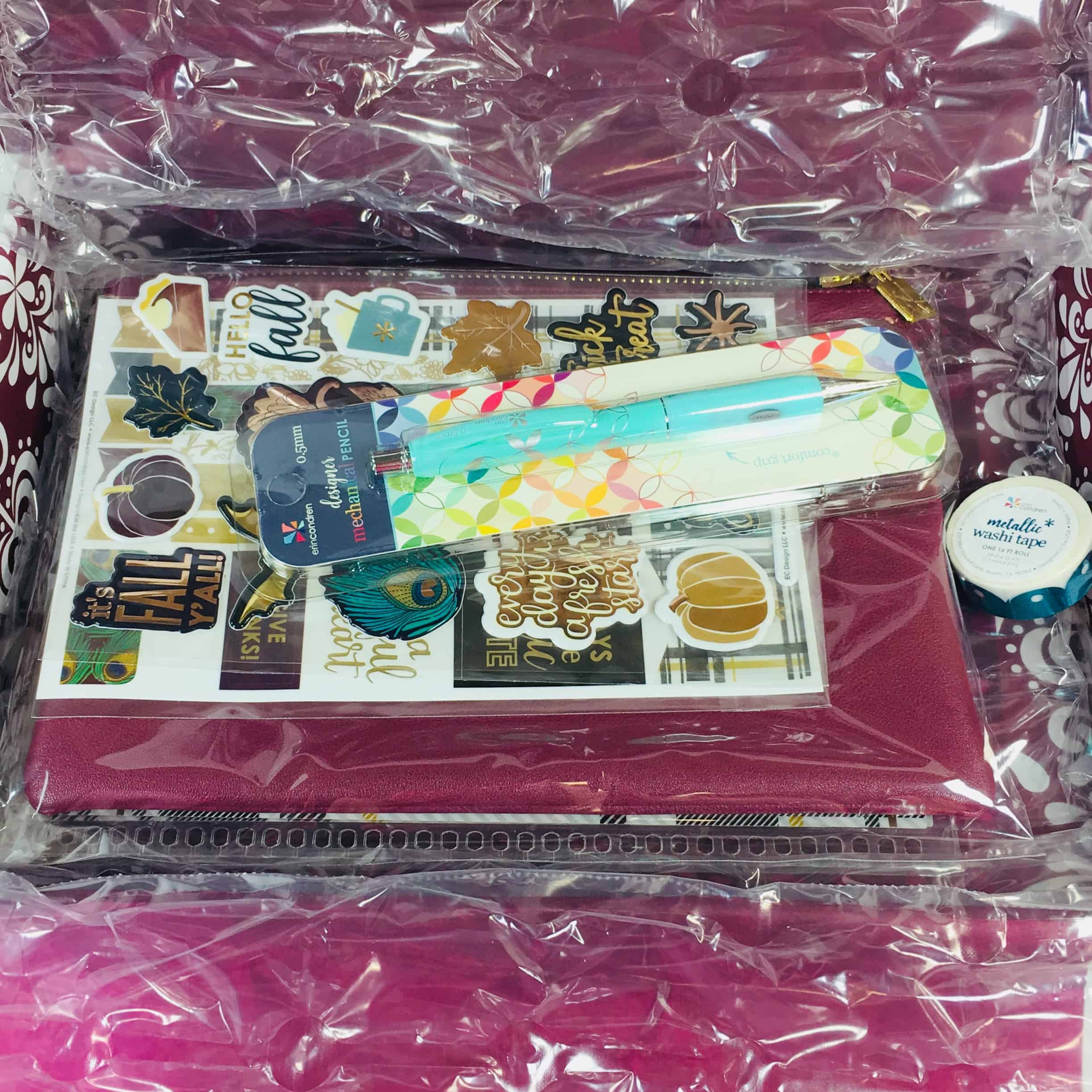 Ohh, I see some pumpkins and leaves!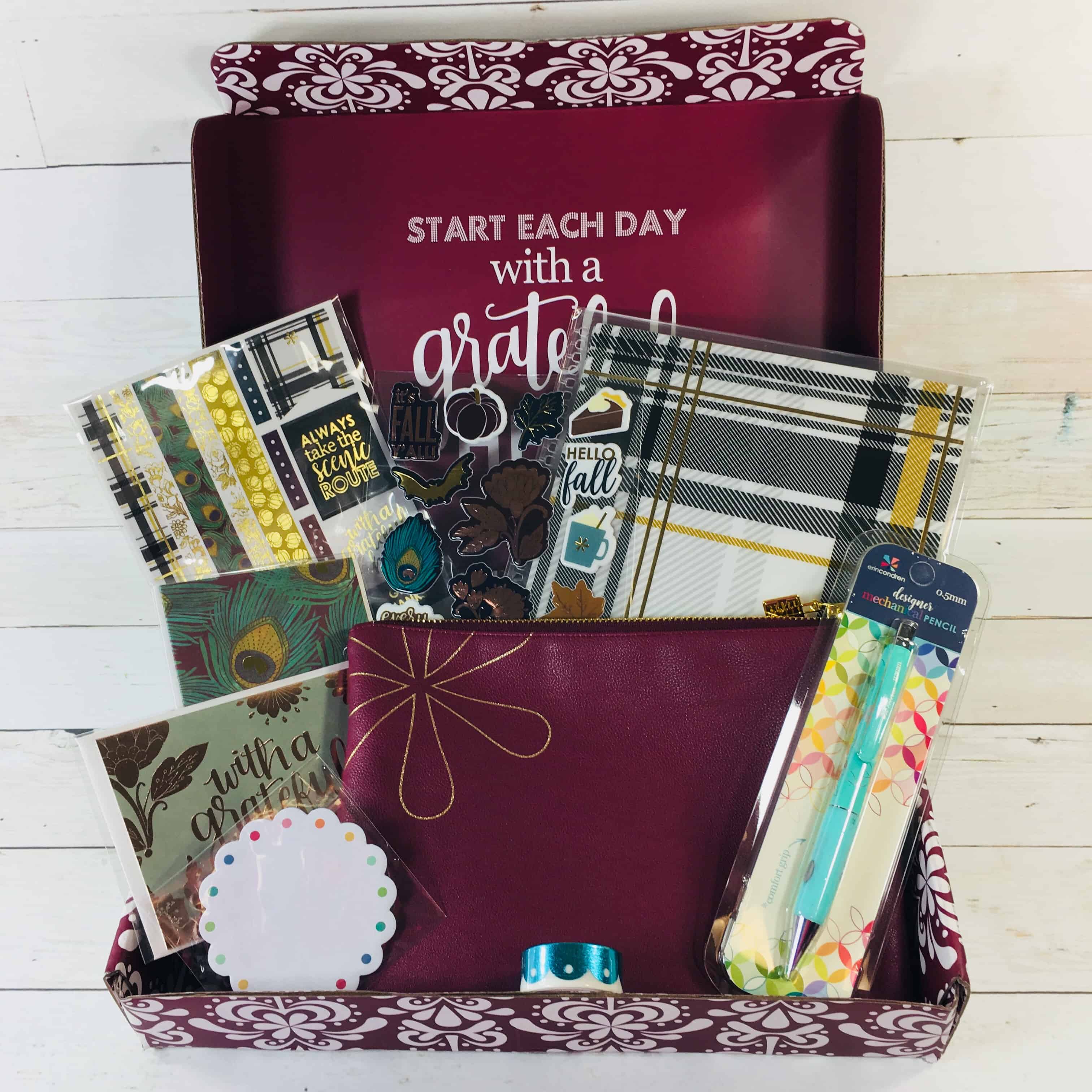 The box is reversible to make a cute little storage case for your goodies! I used my last box on my bookcase to hold stationery supplies, but sadly this month's box was dented during shipping and will need to be recycled.
Everything in the Fall box! Please note that these items are either new or exclusive and I couldn't find these exact items in the online shop.
Metallic Asterisk Clutch ($20) The first thing I thought when I opened this box is that my daughter, who attends Texas A & M, would LOVE this season's shipment since maroon and white are her school's colors! However, the asterisk on this clutch is gold, and my high school colors were maroon and gold, so I may have to think a bit longer about giving this one away.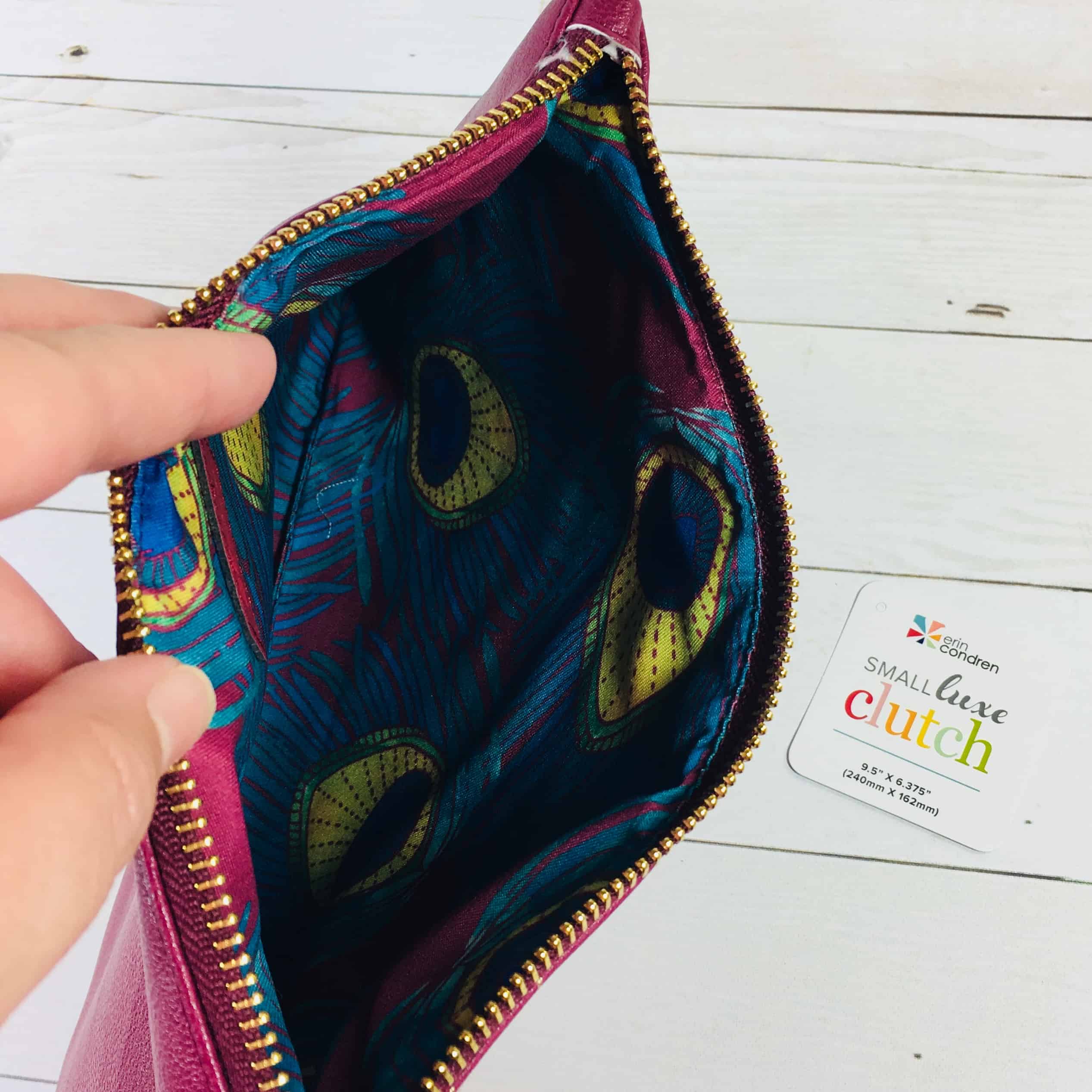 The inside is lined with pretty peacock fabric, and you will see this pattern repeated on some of the items in this box. The clutch is bigger than a makeup bag, good for stashing items for a weekend getaway, or place your essentials in here and grab it from a bigger tote when you are just running a few errands.
Seasonal Card 2-Pack ($6) The seasonal cards always have a matching sticker, and this time around the cards and the stickers have gold foil accents. The accents on the card on the left are gold-toned, while the ones on the right are rose gold-toned. The cards are blank on the inside and have white envelopes.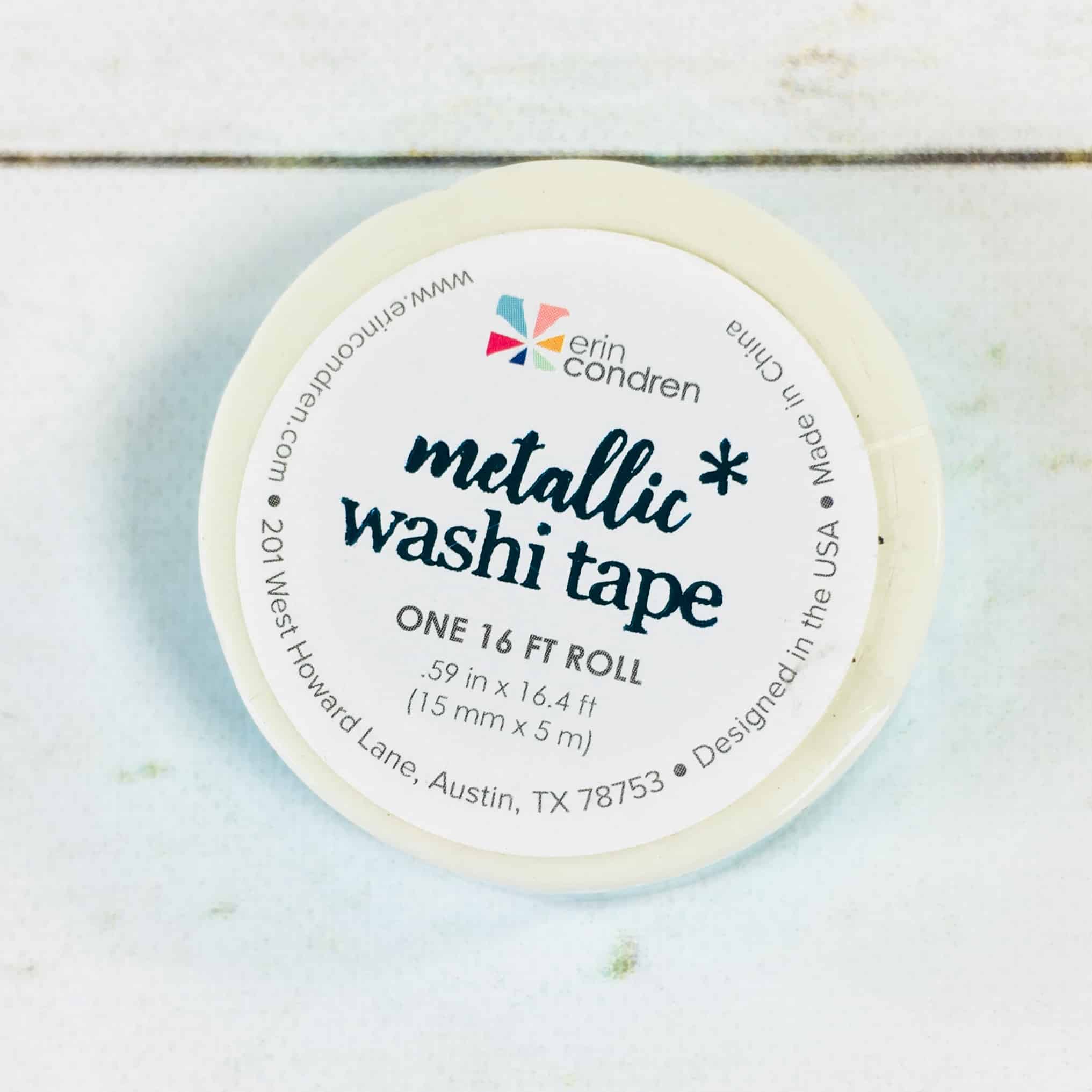 Metallic Foiled Washi Tape ($4) Washi tape is a popular choice for decorating a planner, although I haven't tried it before.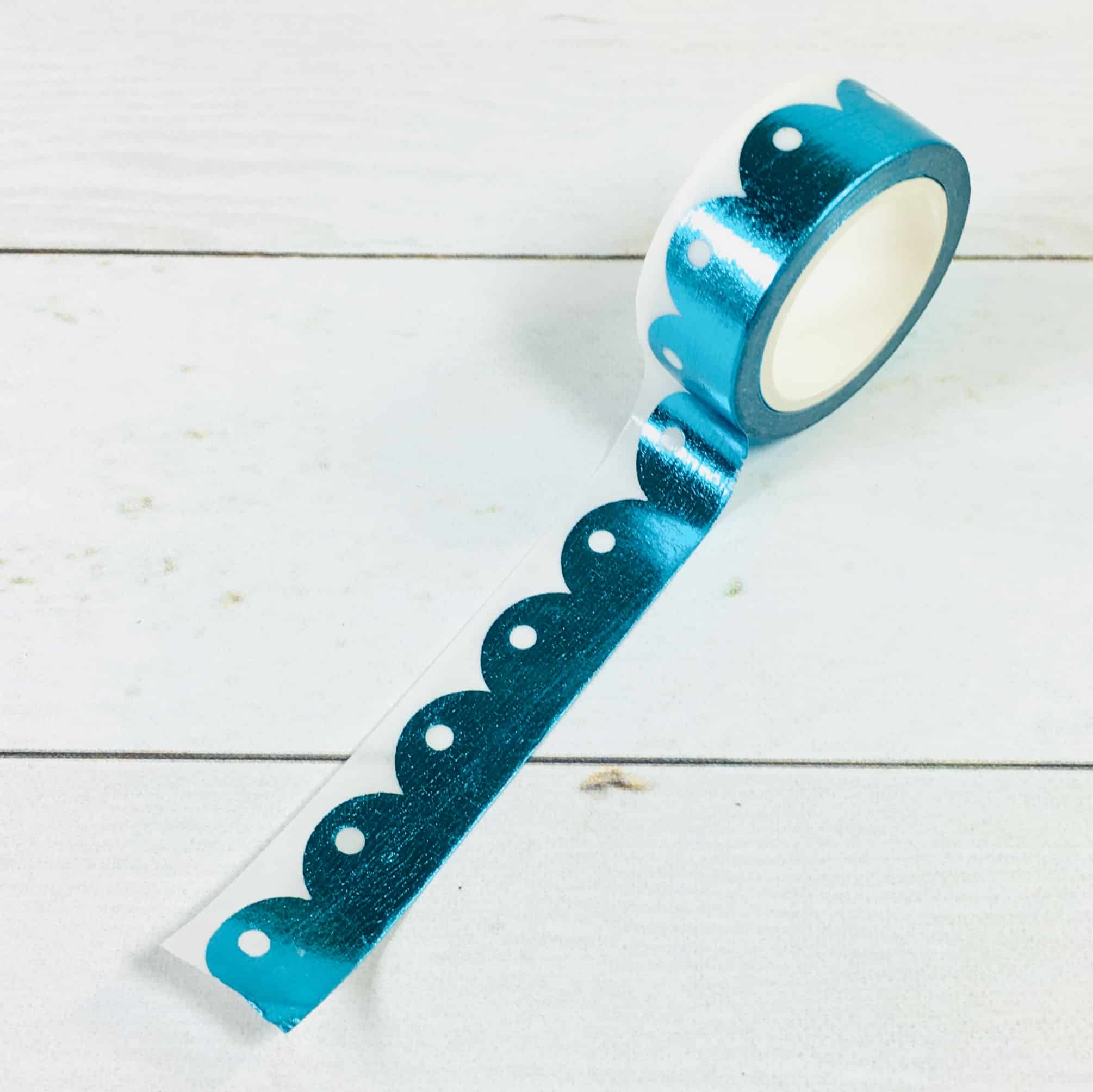 This one is metallic peacock blue and I'm looking forward to using it after I pin a few ideas first.
Scalloped Sticky Notepad ($6) A notepad is good for jotting quick notes or for flagging pages in your planner or a book.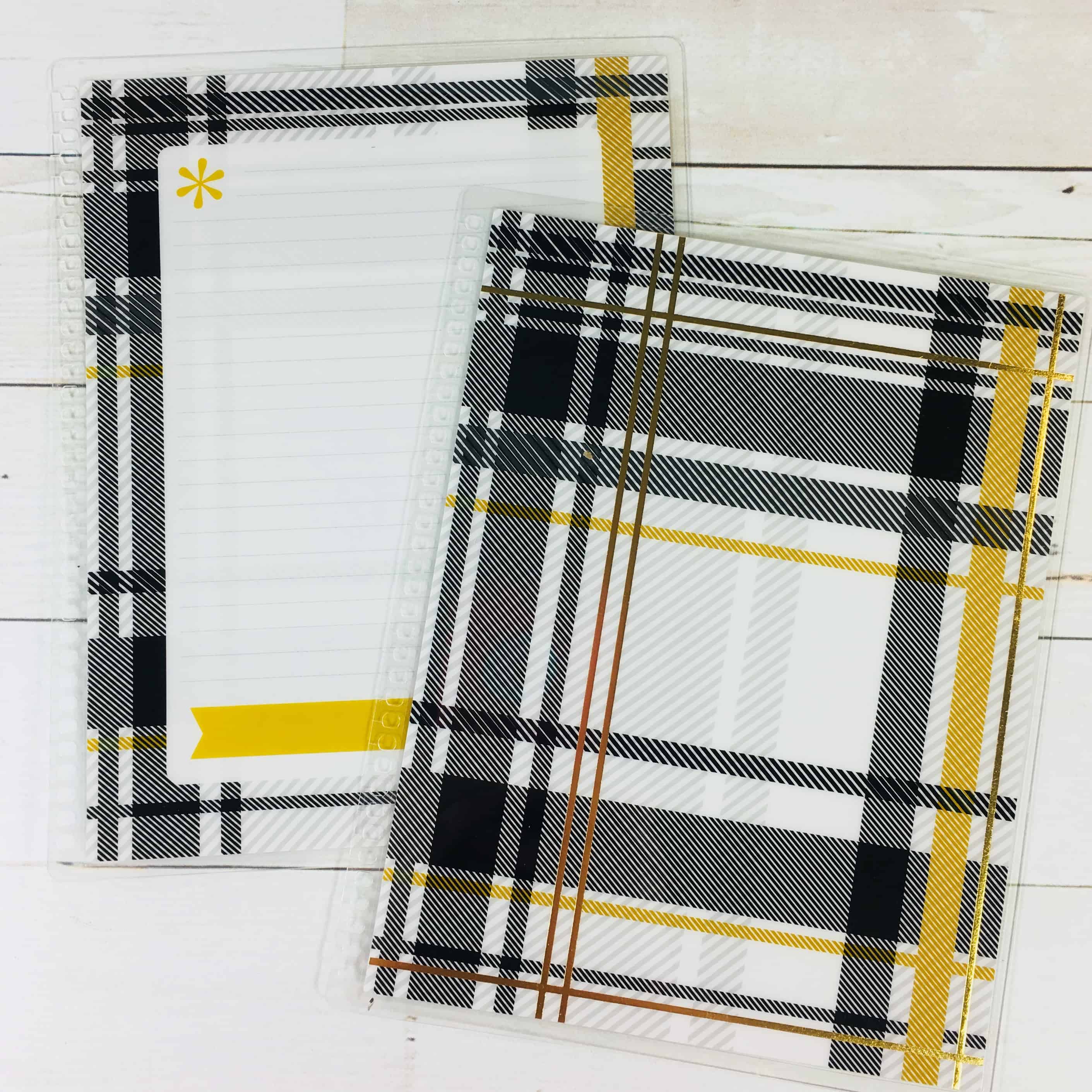 Metallic Interchangeable Cover ($13) You can change the look of your planner by using interchangeable covers, and these definitely have a fall back-to-school vibe going on. The thinner gold lines are metallic on both the front and back.
Ok, I may have this upside down, but you can see that they have spaces where you can write notes with a dry erase pen and then wipe them off later.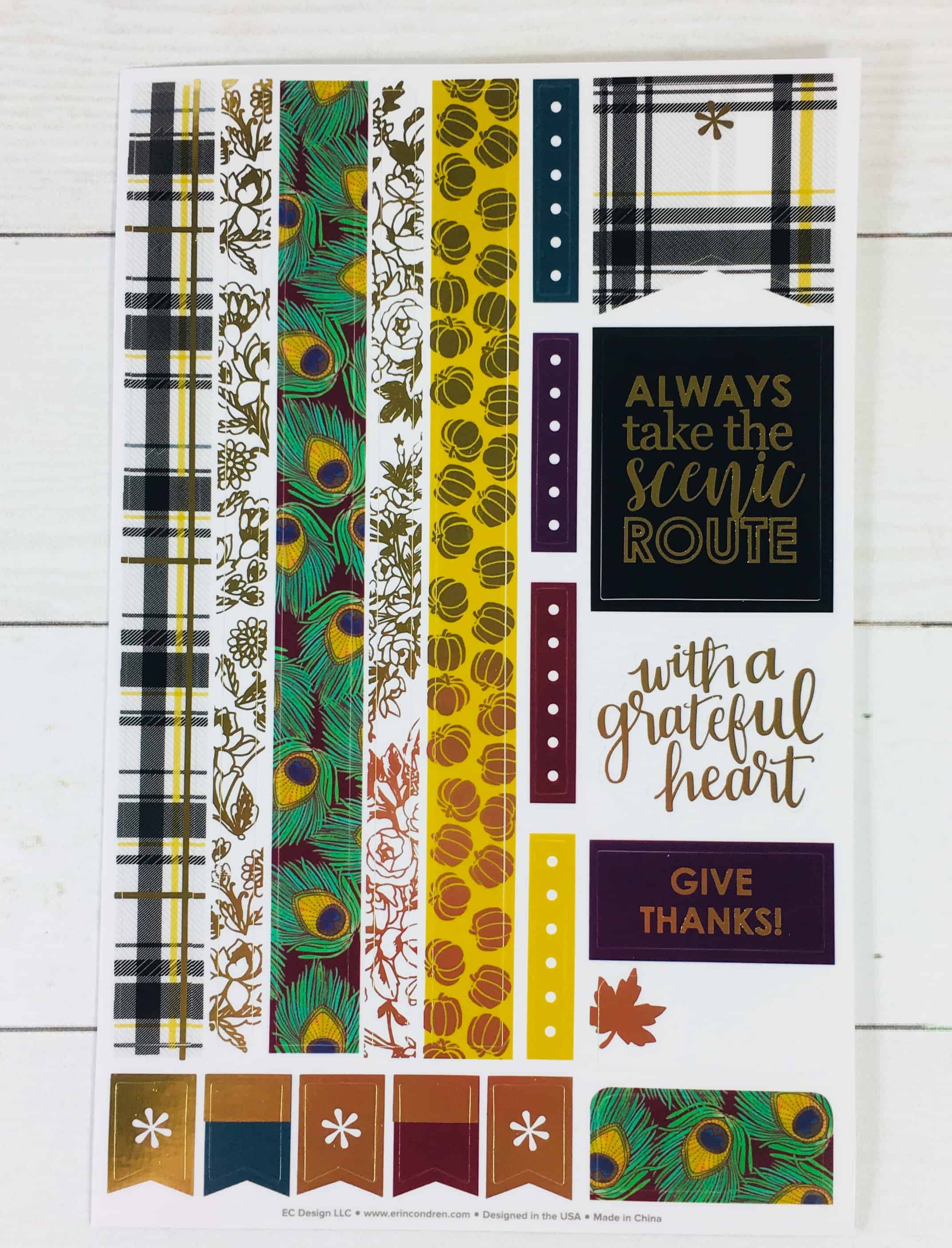 Sticker Sheet Duo (Clear & Puffy) ($7) Here are the "clear" stickers, which are mostly not clear but do have beautiful fall colors and motifs.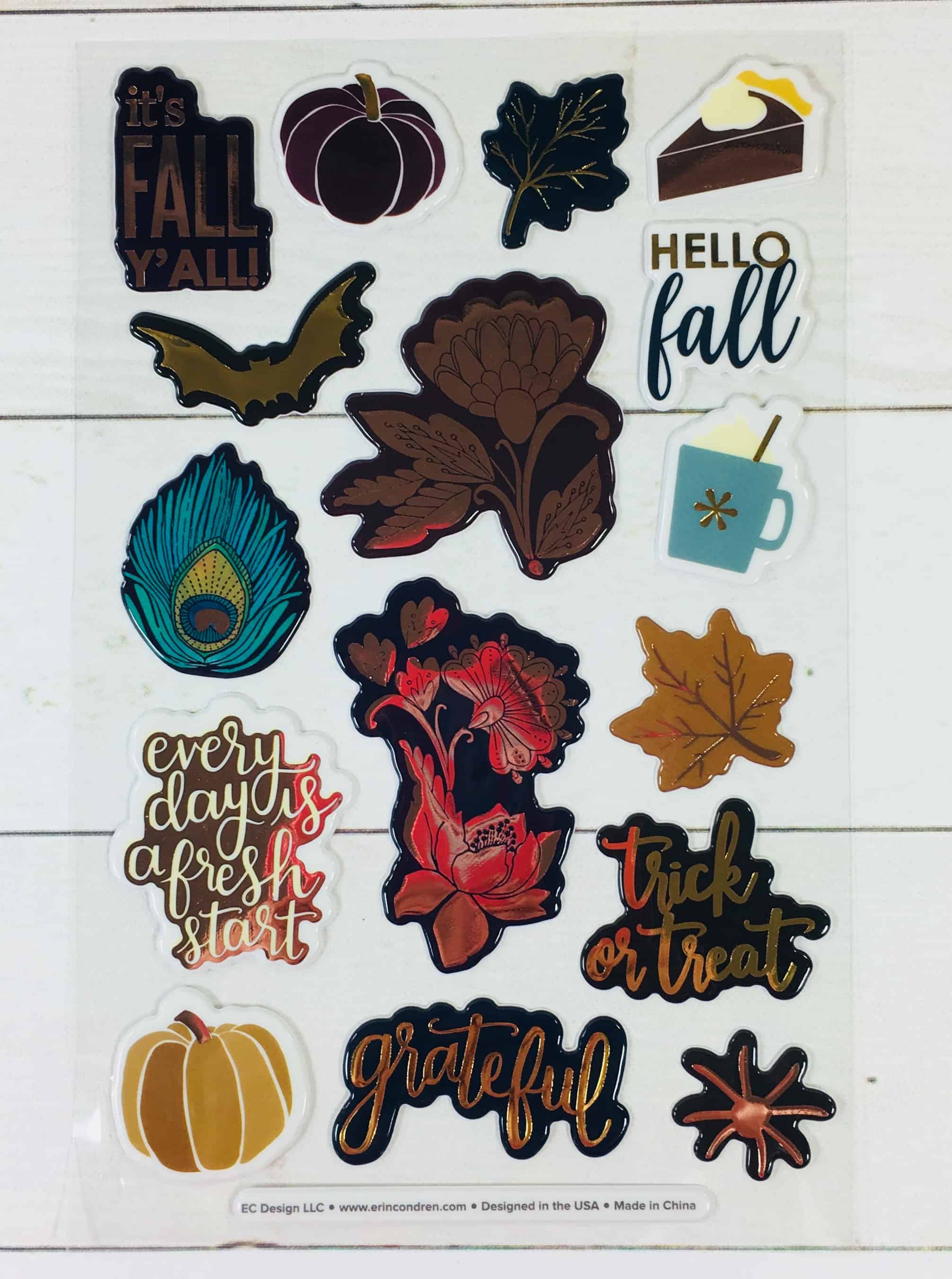 Here are the "puffy" stickers which are on the puffy side, and all of them have a touch of metallic color on them, including rose gold.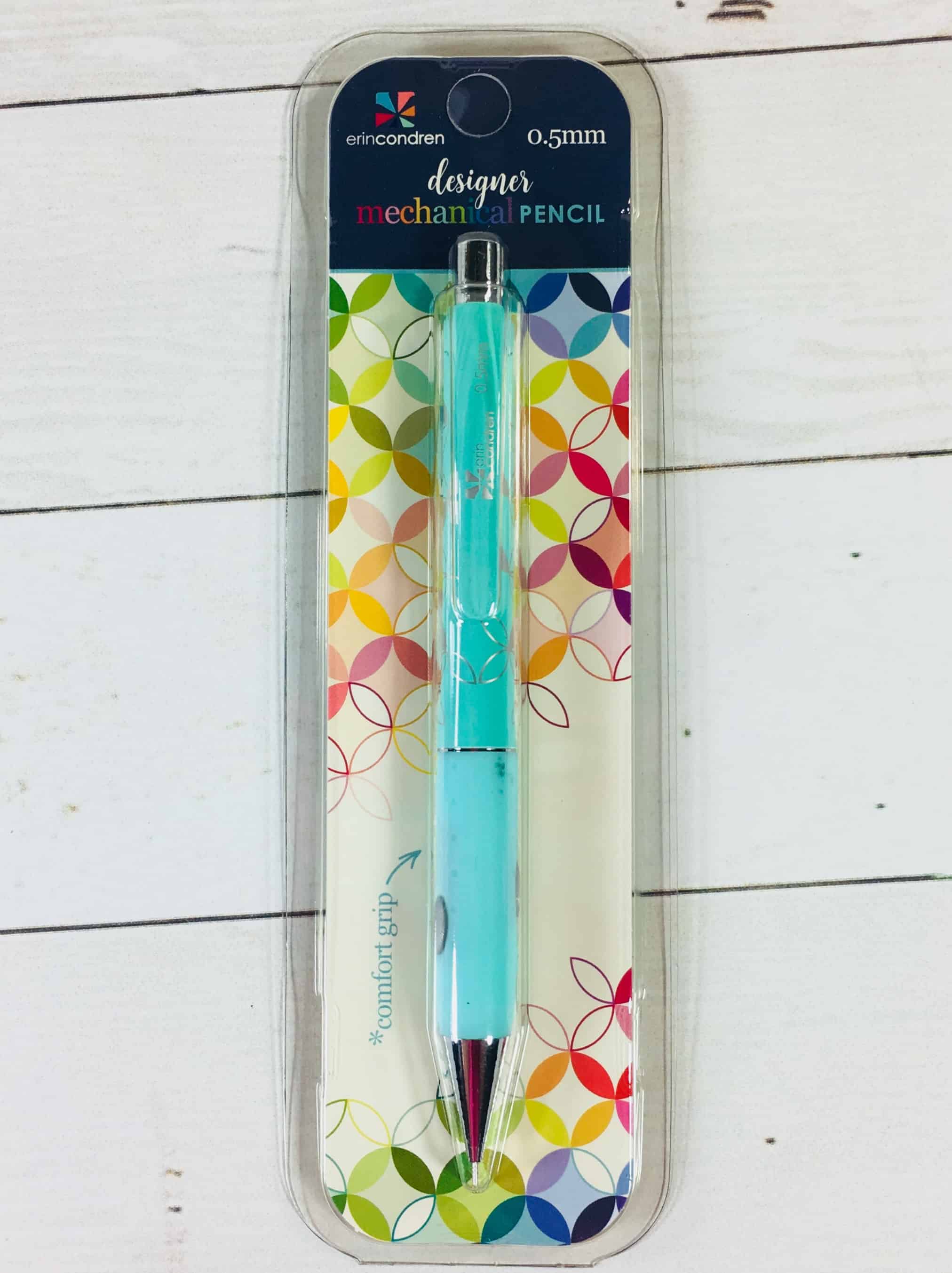 Designer Metallic Pencil ($8) I couldn't find any mechanical pencils in the online Erin Condren store, so this may be a new item they are introducing.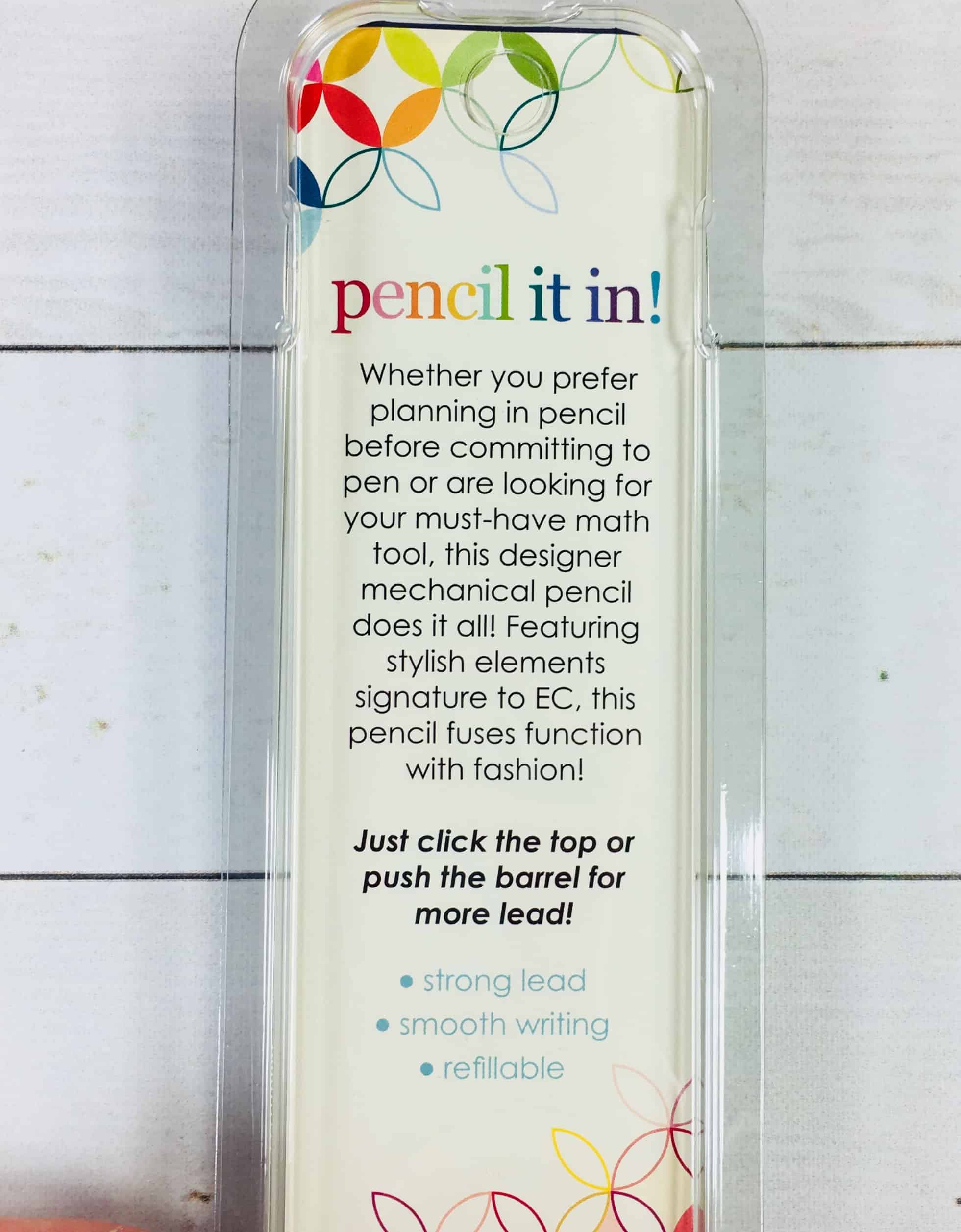 It is refillable and says it has a strong lead and writes smoothly.
It looks classier than the usual automatic pencil and I like the sky blue color. Honestly, I've never been able to figure out how to refill this type of pencil so I may need some help in that department. I'm guessing you refill it with 0.5mm leads from the store.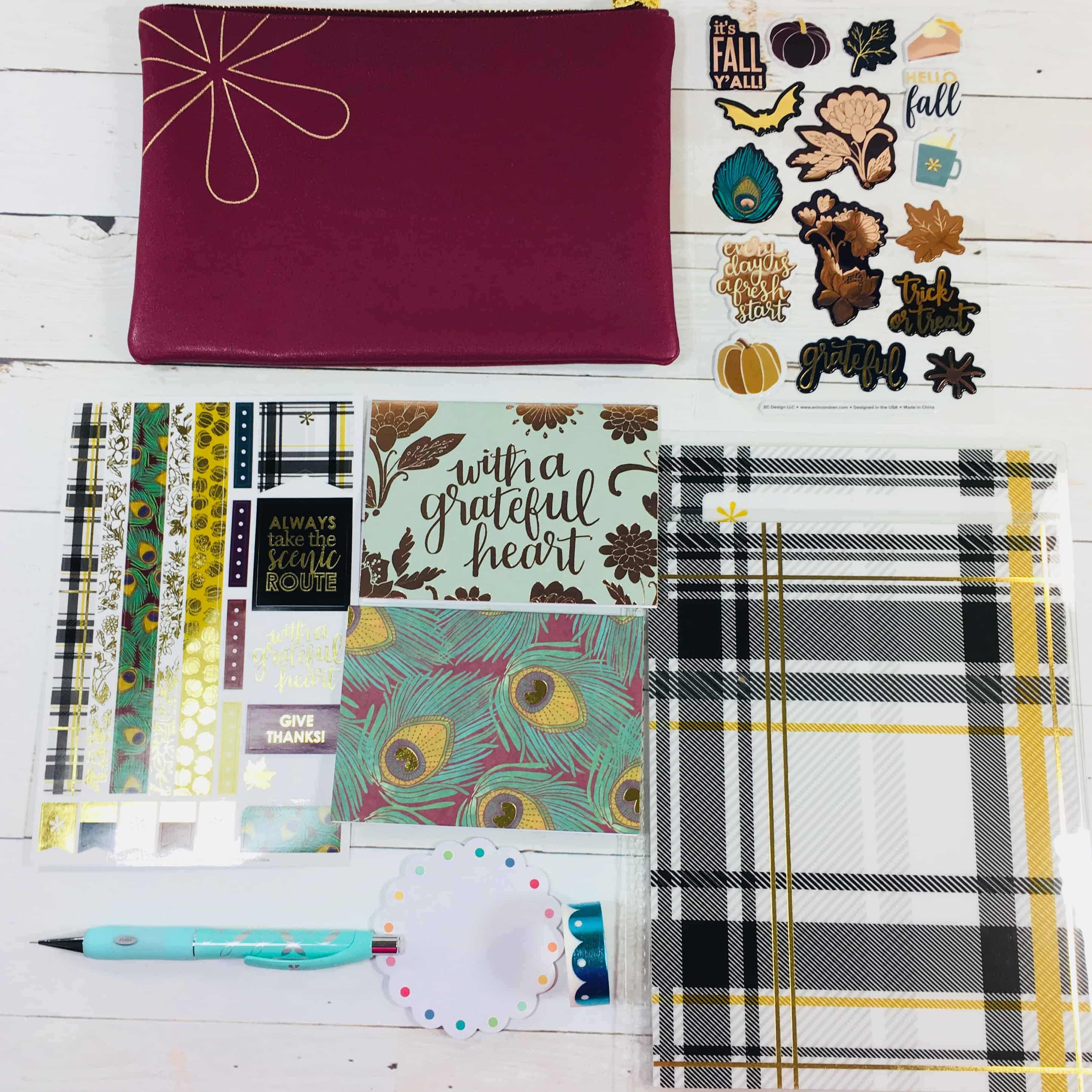 This is my third Erin Condren Seasonal Surprise Box and I've noticed a trend in the types of products they send. This is my second set of interchangeable covers, so I will assume you may receive them every other season. A lifestyle product is usually sent. Two sticker sheets are usually included, plus two note cards. Then a writing instrument and a couple of stationery items. I like the variety of items sent, but keep in mind that it isn't all planner items. I like giving my planner a seasonal shot of color, and the themes are cute and all of the items usually tie into the theme. These boxes sell out each time, so if this is something you want then make sure to sign up for a reminder so you can grab the next Seasonal Surprise Box!
What did you think of the box?
Visit Erin Condren Seasonal Surprise Box to subscribe or find out more!