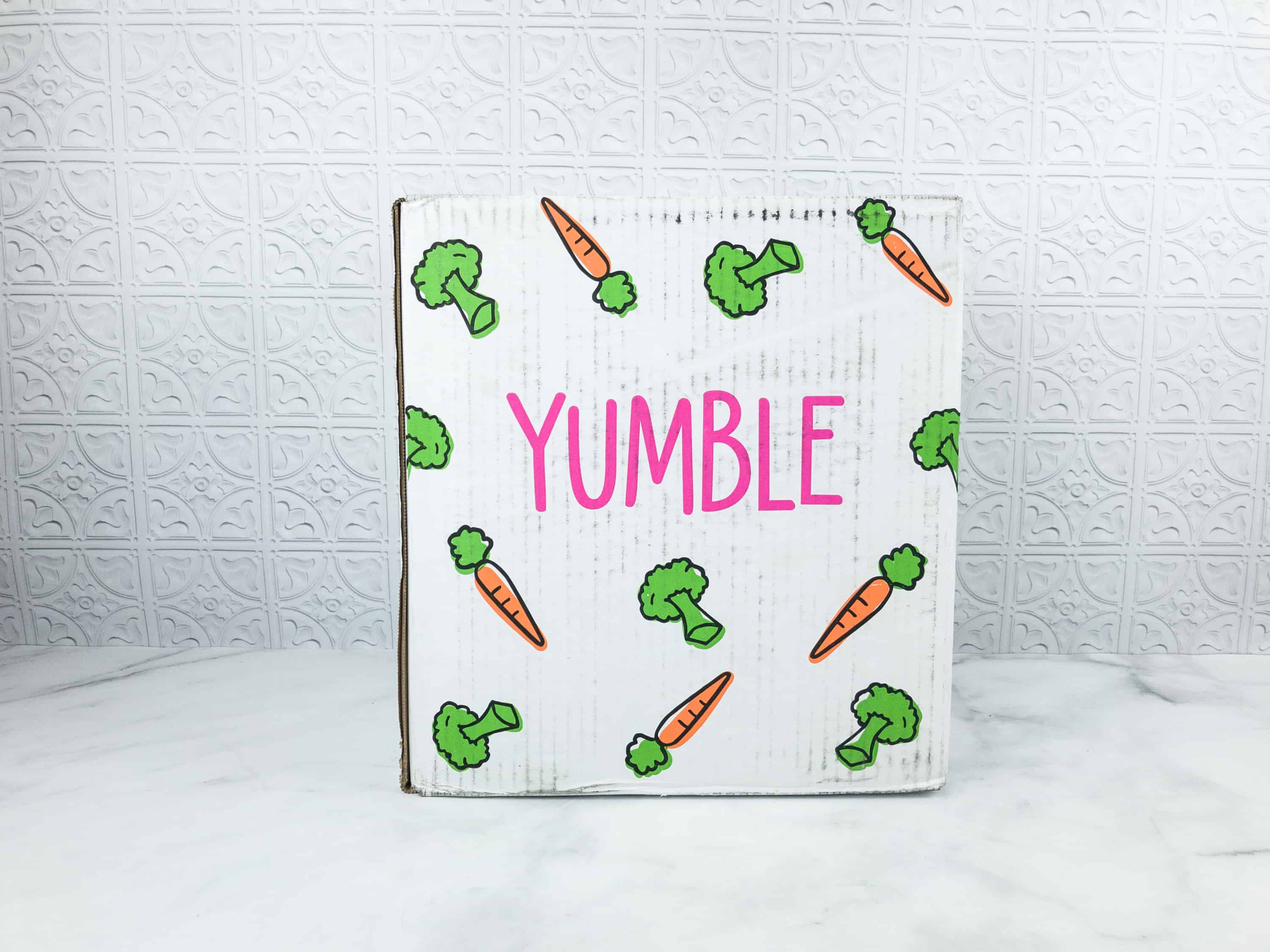 Yumble is a weekly meal subscription service for kids. They deliver pre-prepared meals suited to the specific tastes, nutritional needs, and portion size requirements of children. To make things more fun, they also include activities in each box! All the meals are pre-cooked and need either minimal heating, or no heating at all. You can customize exactly what meals you receive, or have Yumble just automatically send meals. Yumble meals are designed to be healthier versions of "kid food," and Yumble claims that after two weeks of Yumble food, they'll adjust to the healthier menu. Win!
Yumble offers meal plans with six, twelve, and twenty four meals per week – this is a review of the 12-meal per week box! Individual meals range from $6.99 to $7.99, and shipping is always free!

To keep the meals fresh, they ship it in an insulated box with frozen gel packs.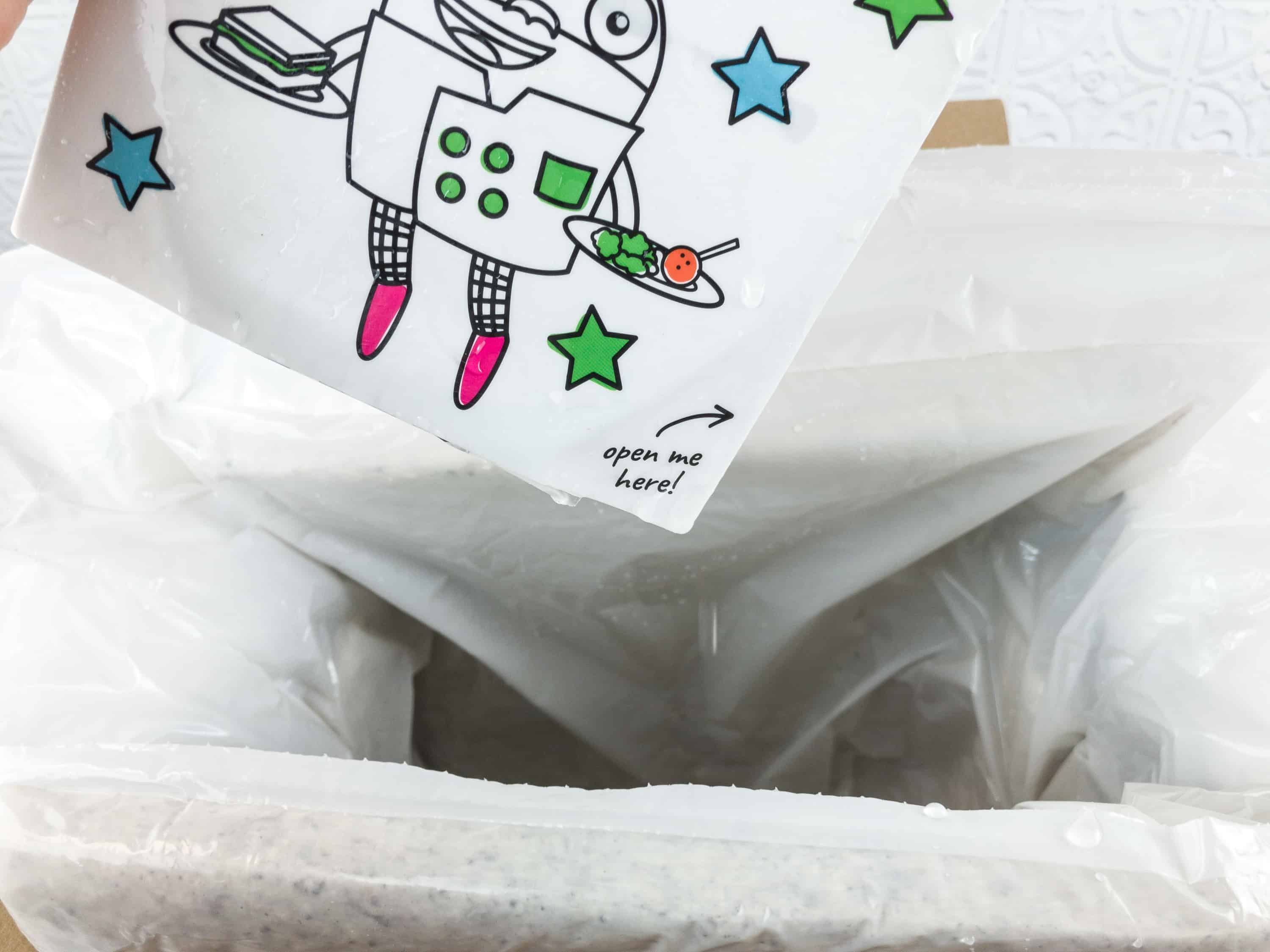 We have had some issues with the ice packs bursting in transit. This results in soggy paper sleeves, but the sealed food trays are none the worse it. The only loss is the coloring and cut-out activity located on the inside of the paper sleeve.
DEAL: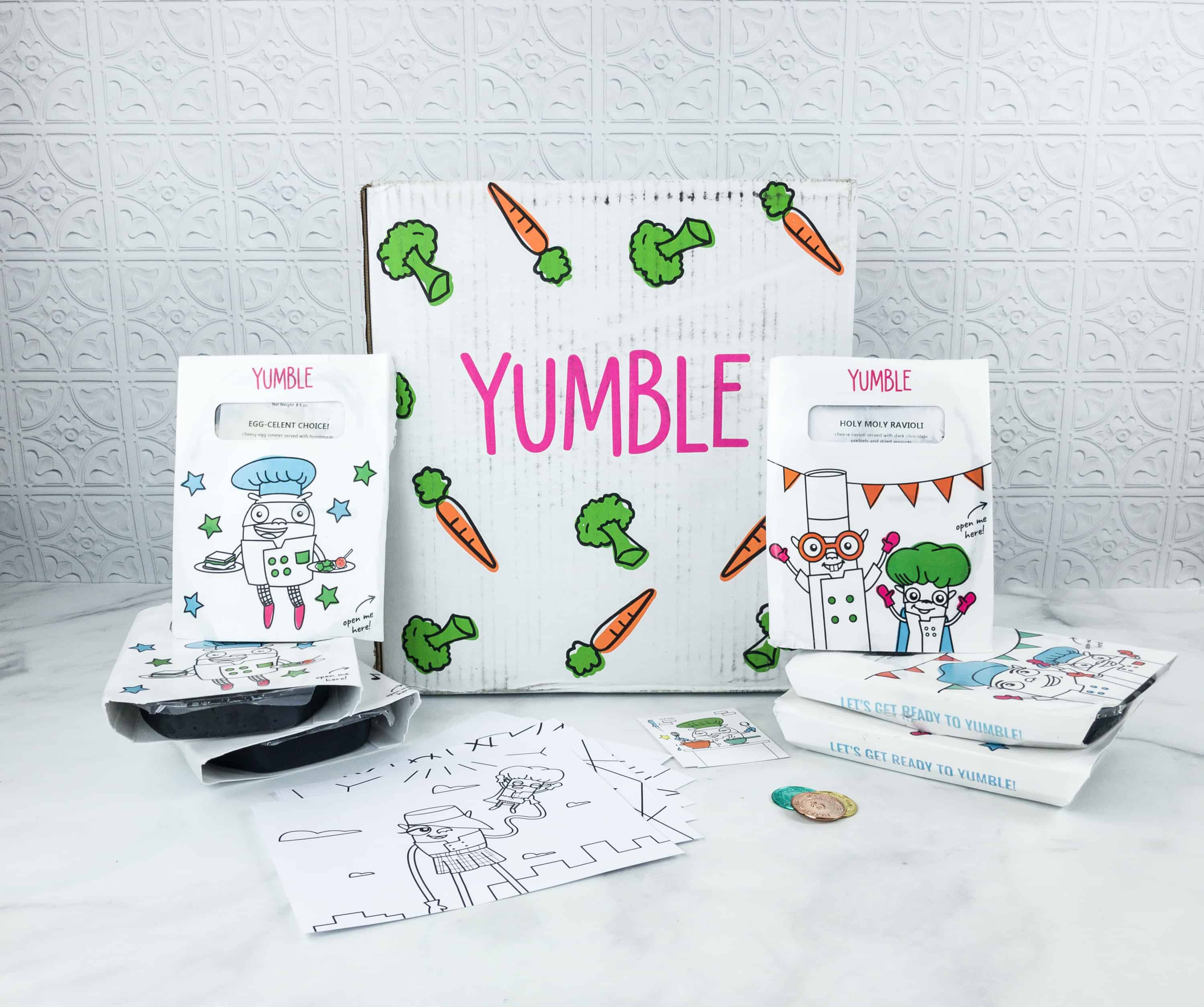 Everything in the box!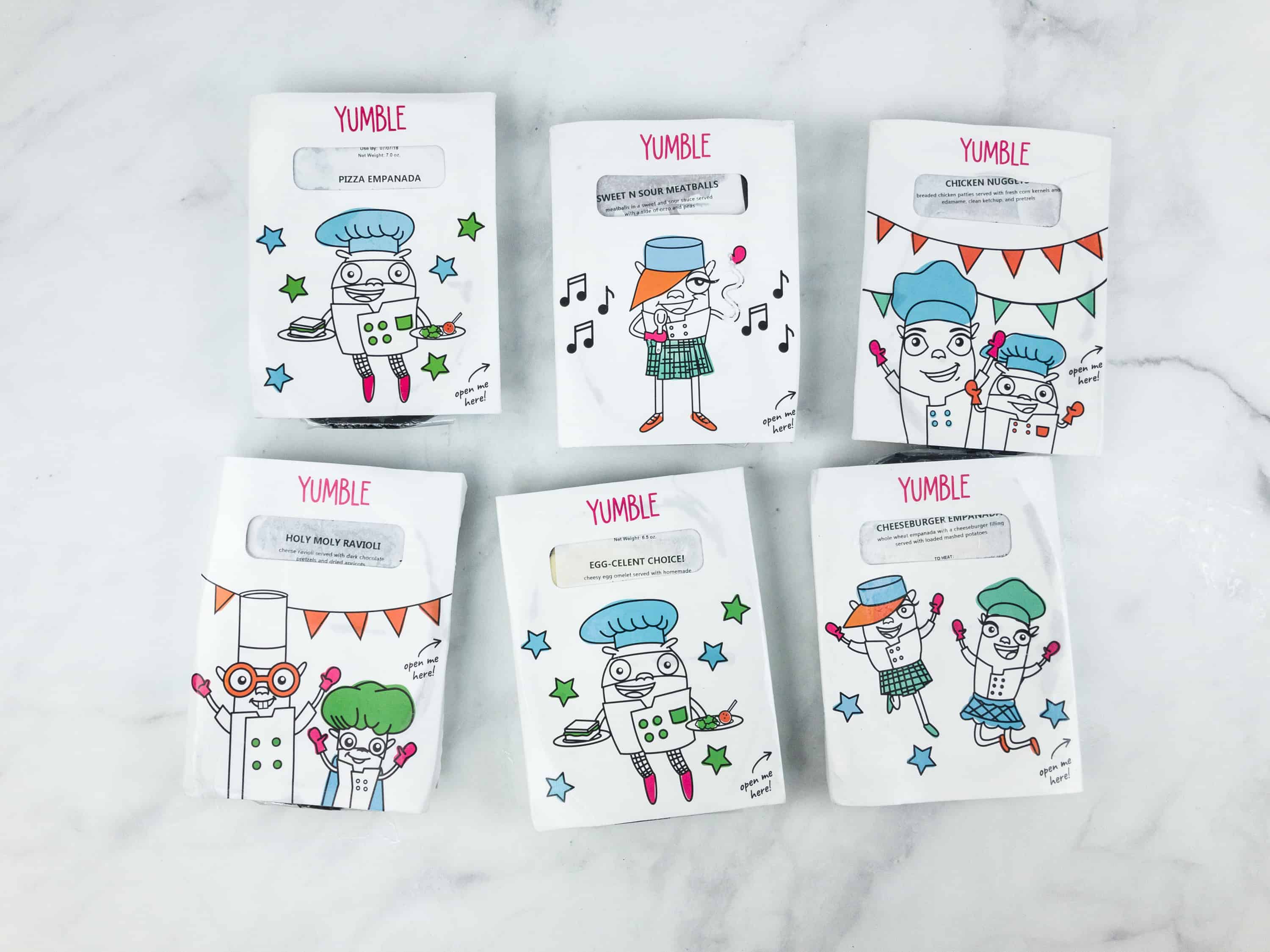 Meals are packed separately in trays with cardboard sleeves featuring cute and colorful designs.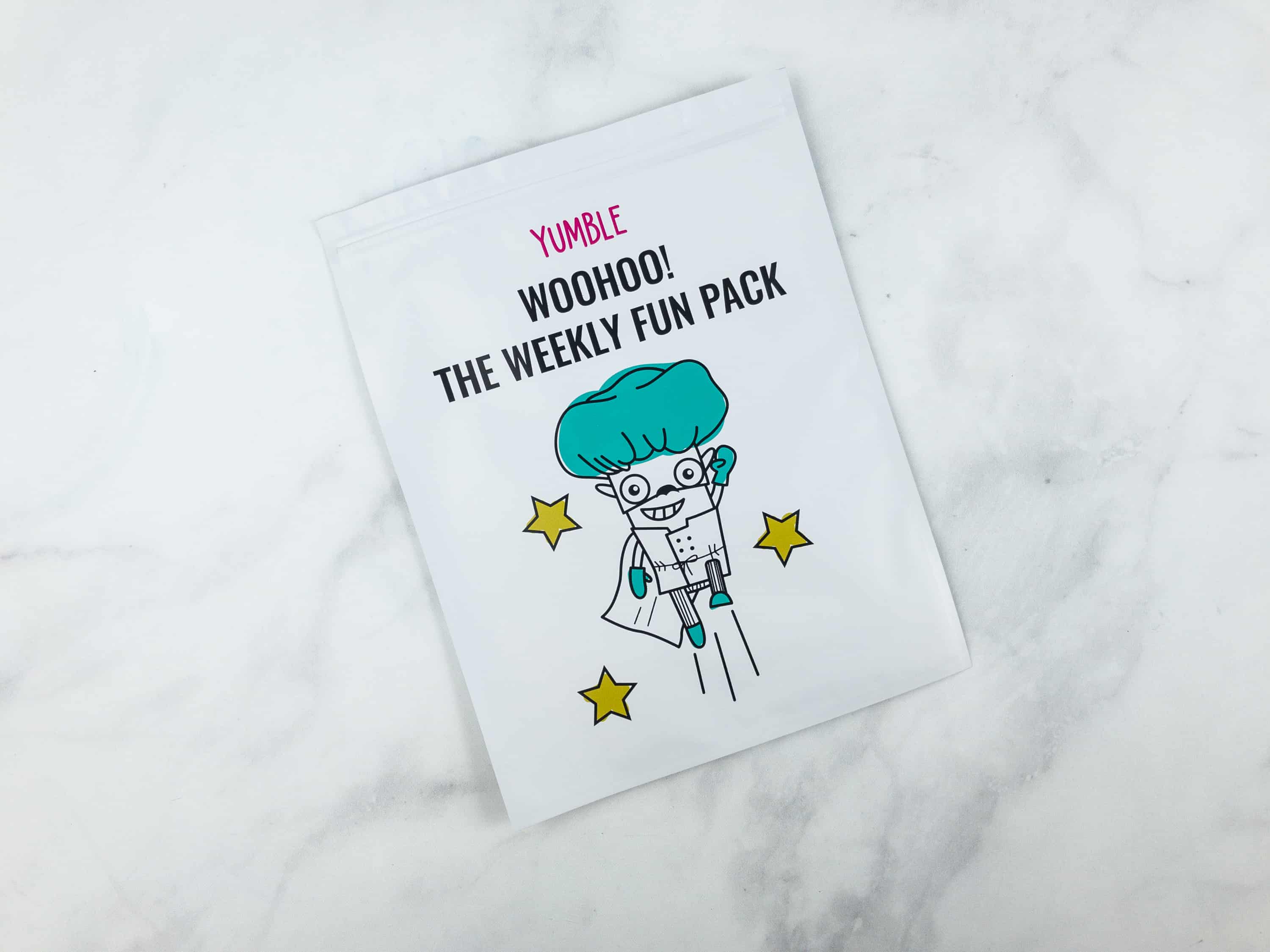 Every week, the box has a fun pack that has coloring activities and other fun items inside.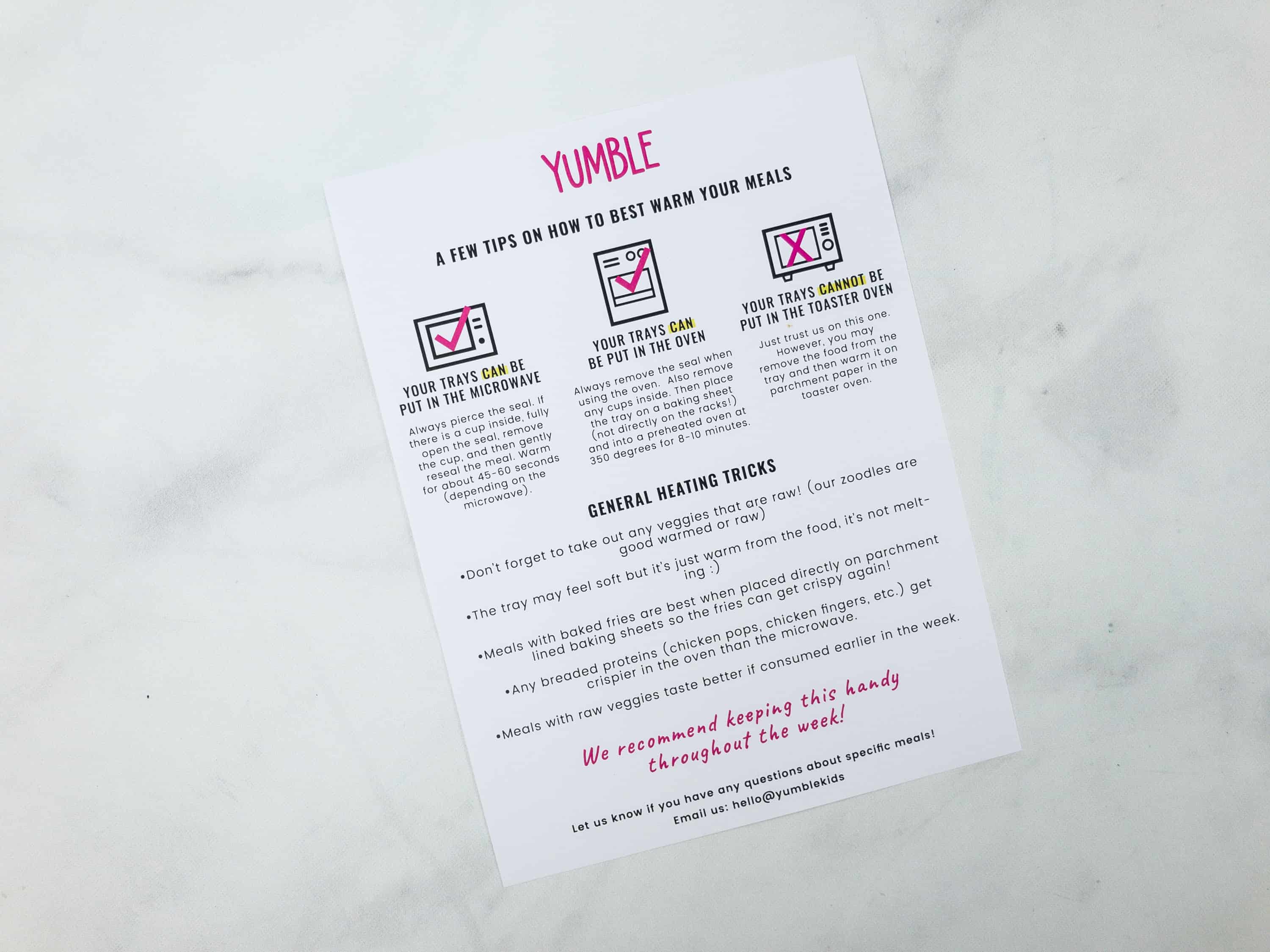 This card provides some tips on how to best warm your meals and get the best results. I like that they remind you to eat your fresh veggies early in the week.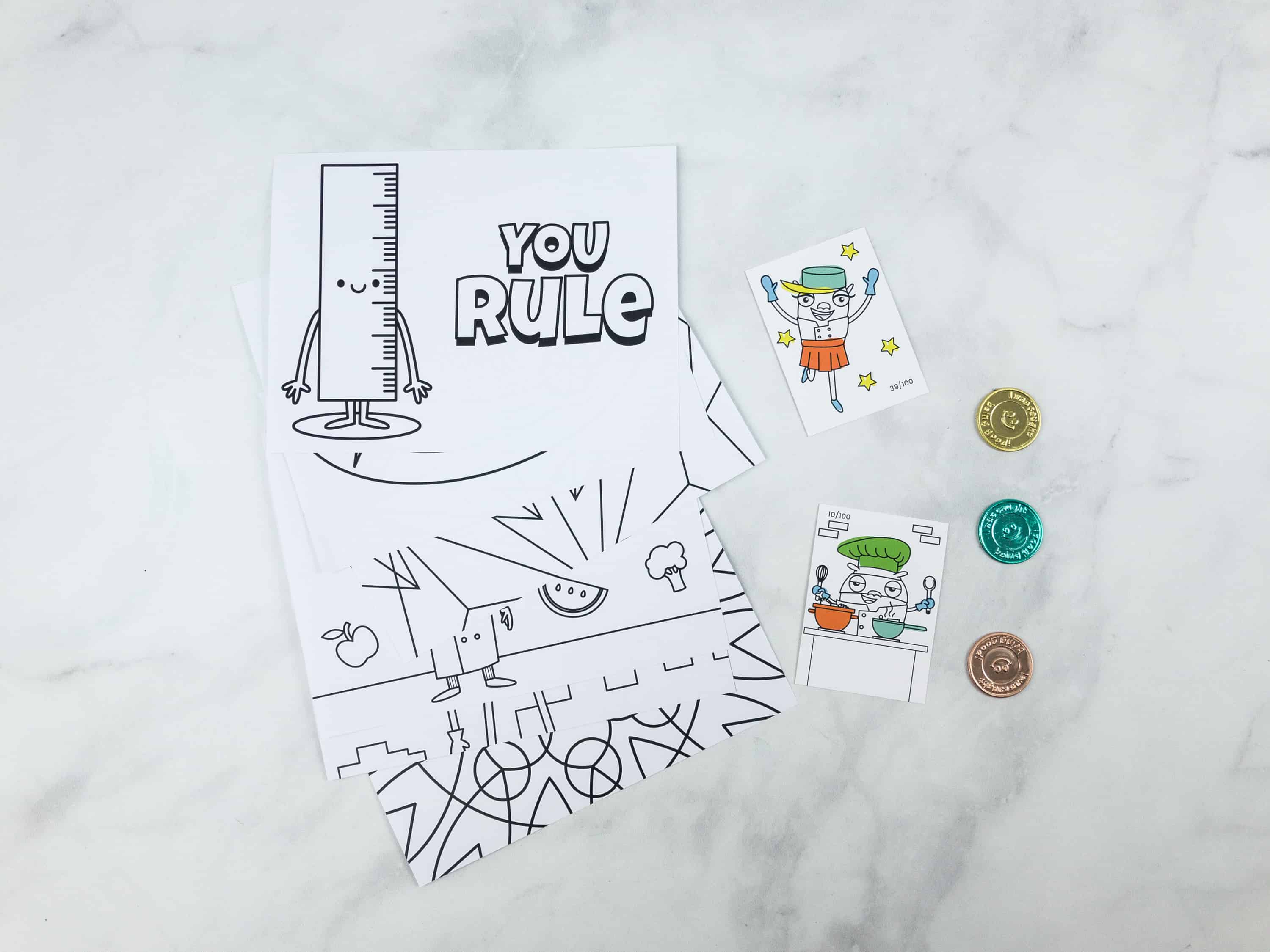 These are the other items included in the weekly fun pack!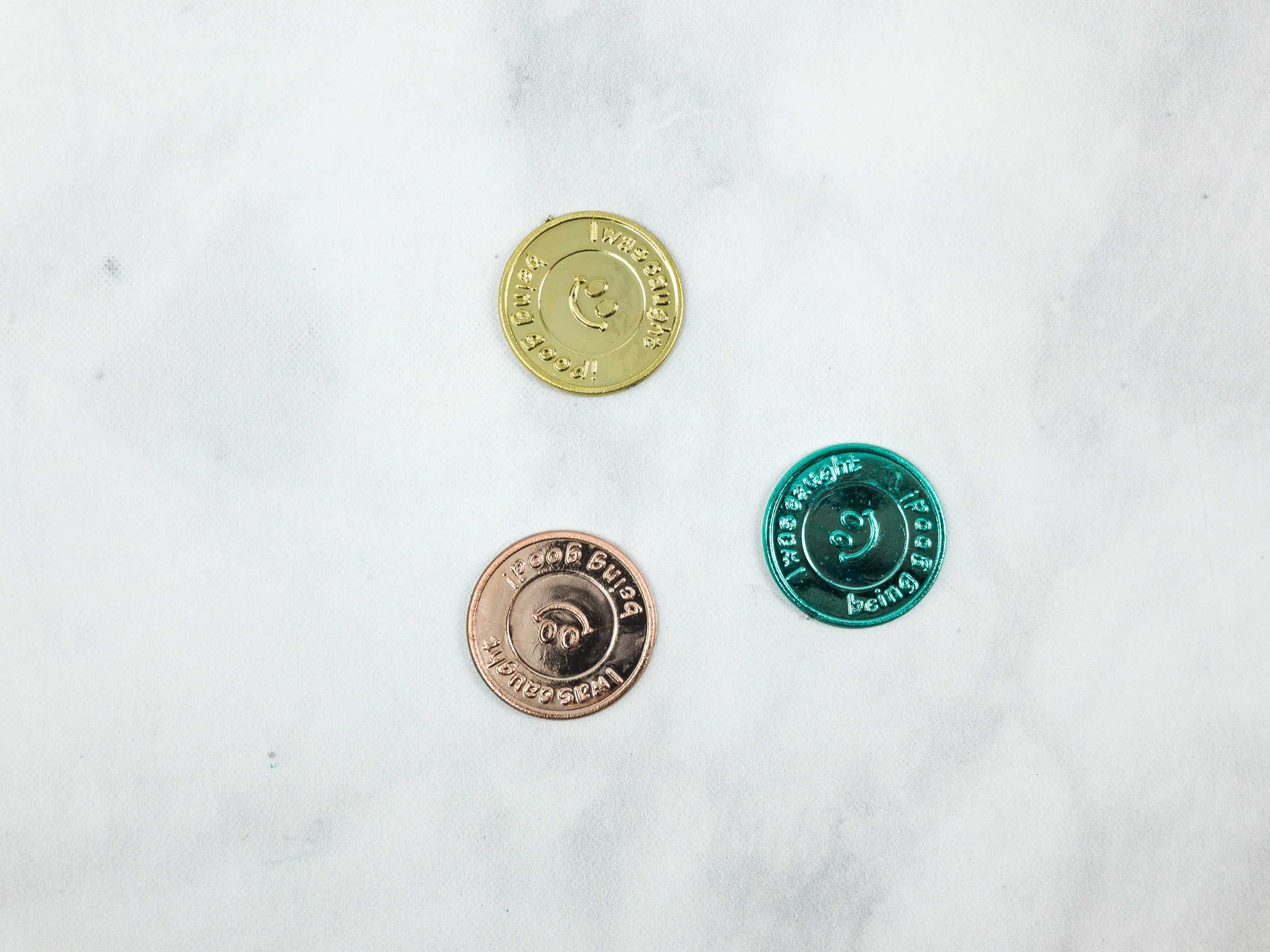 Yumble Coins. These can be used to rewards the kids for their good behavior. You can use them to encourage veggie eating, or as a "carrot" for any other behavior modification. From the Yumble guide:
As their collection grows they will gain a sense of pride. Be sure to set clear goals so they know what they have to do as they earn their coins.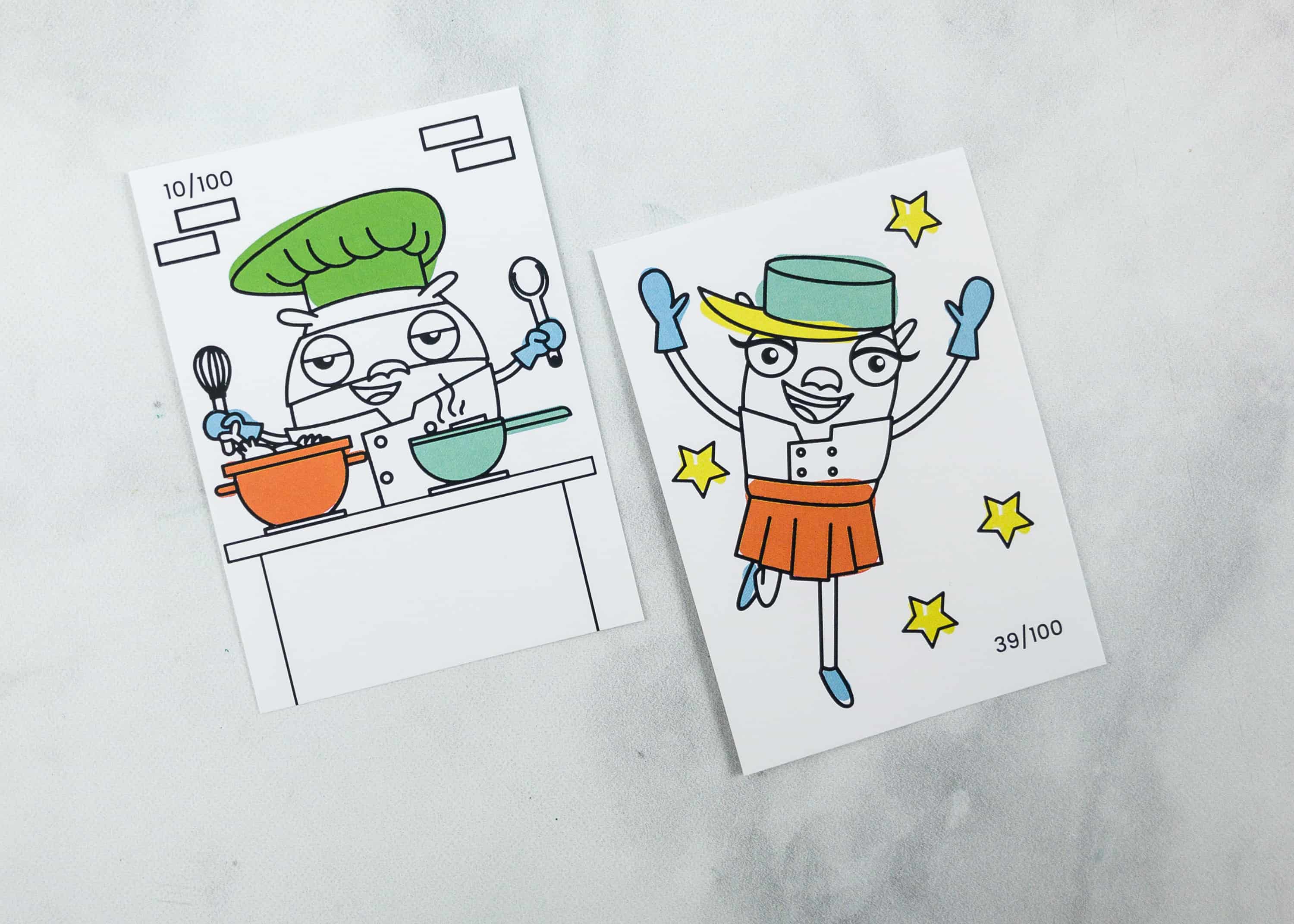 Yumble Cards. These are collectible cards, each with one of 100 unique designs. They give us 2 cards for every box.
The flip side has trivia, jokes, and other fun stuff!
They also send several coloring sheets for a fun pre-meal or post-meal activity for the kids.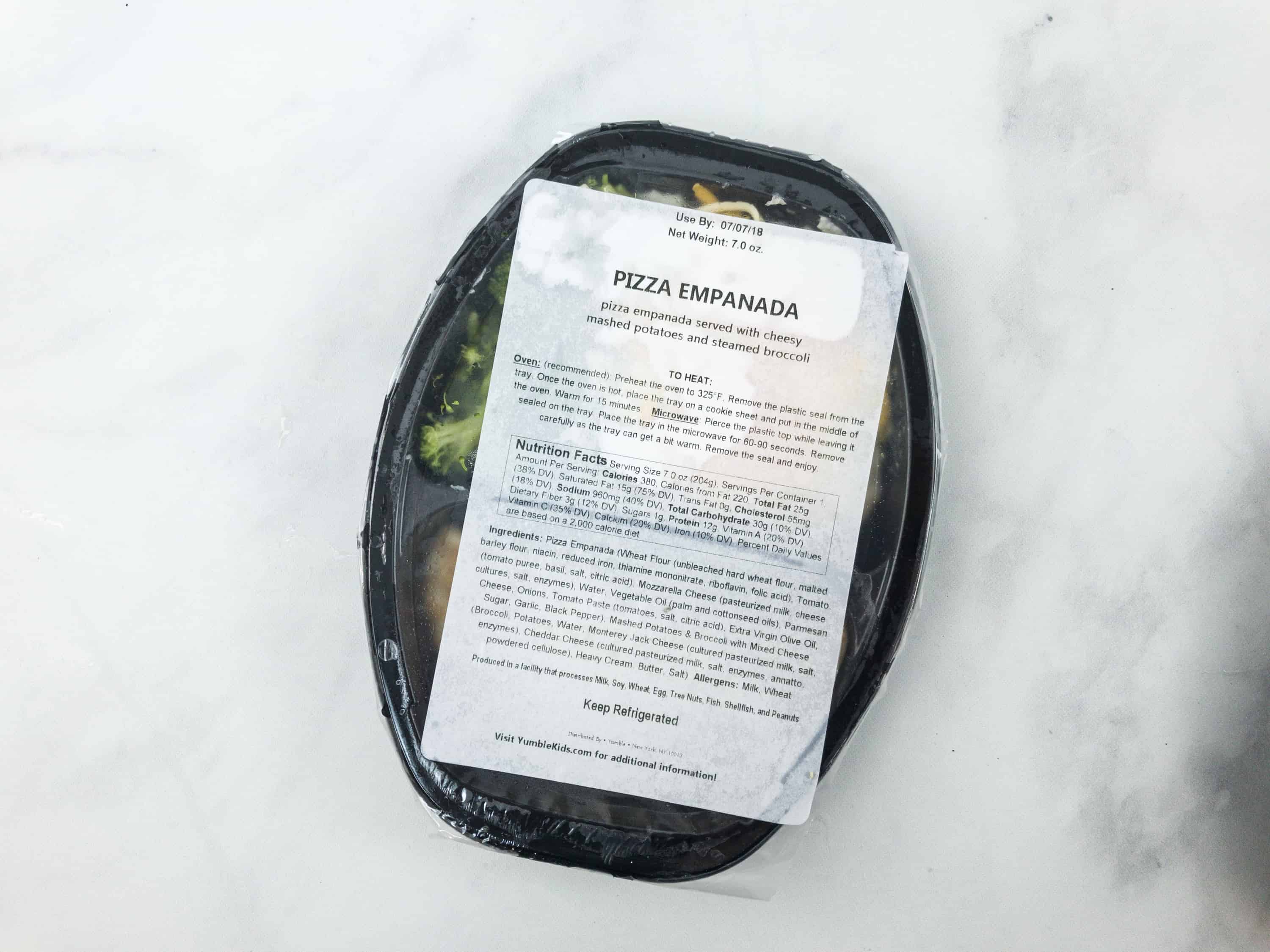 The top of every tray has all the info related to that meal, including heating instructions, nutrition, and ingredients. They also have a handy "use by" date to help you order your meals for optimal freshness. Heating instructions depend on the meal. Sometimes you just pierce the film and microwave. Other times, you peel the film off and remove some meal components that don't need to be heated. Most meals have both microwave and oven directions.
Pizza Empanada with Cheesy Mashed Potatoes and Steamed Broccoli. This empanada-style pizza is made with whole wheat dough, filled with an all natural tomato sauce, mozzarella and parmesan cheese. The mashed potato is also topped with a variety of cheese, making it a supremely filling and satisfying meal. We loved this little meal, and we found ourselves hoping the kids wouldn't finish it all!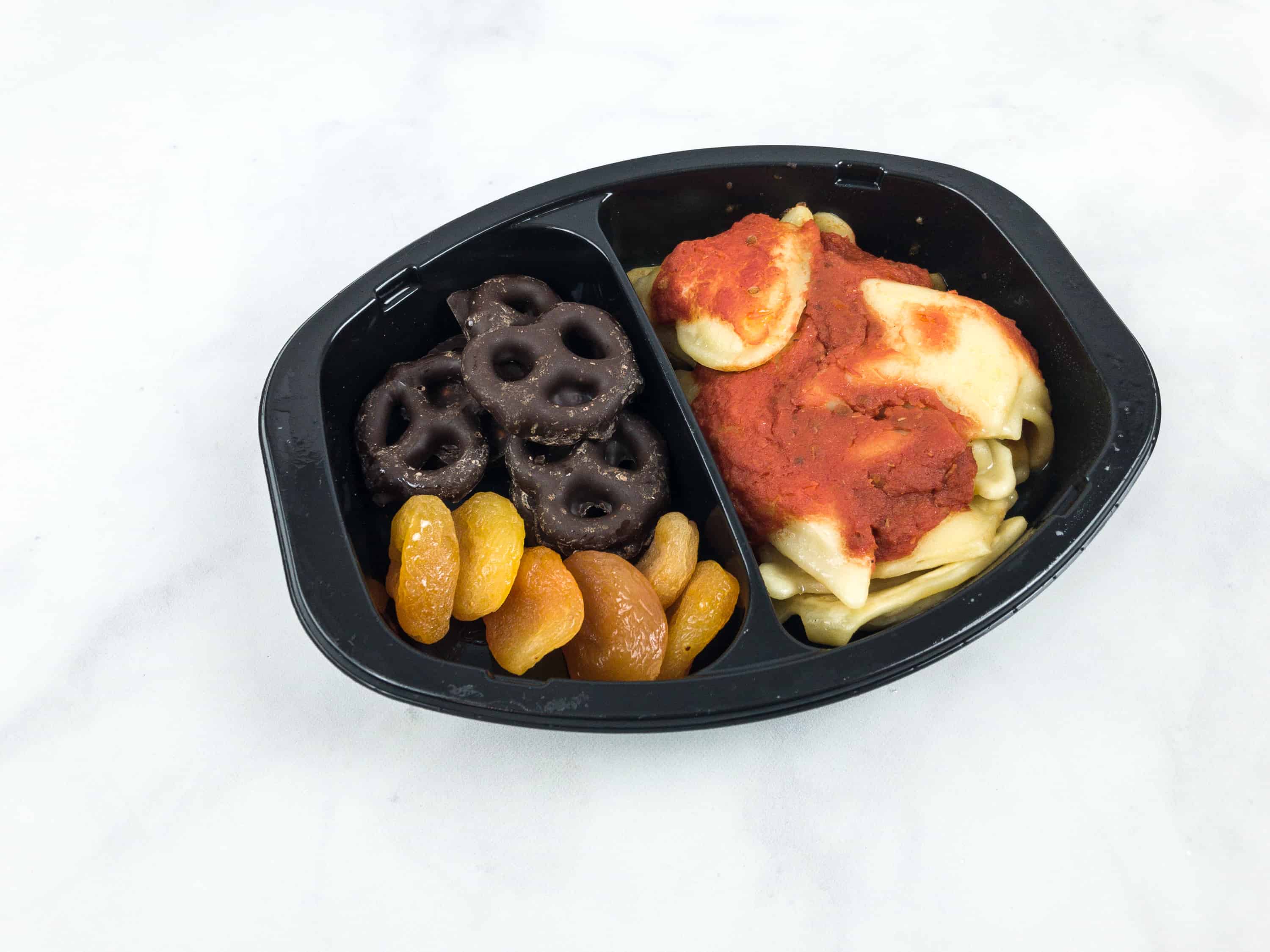 Holy Moly Ravioli – Cheese Ravioli with Dark Chocolate Pretzels and Dried Apricots.
This dish is one of my son's favorites, due in large part to the pretzels. The cheesy ravioli are excellent as well. They are topped with homemade tomato sauce, though it looked a little dry this time. It is served with dried apricots and chocolate coated pretzels as sides, makes a satisfying meal that your kids will love.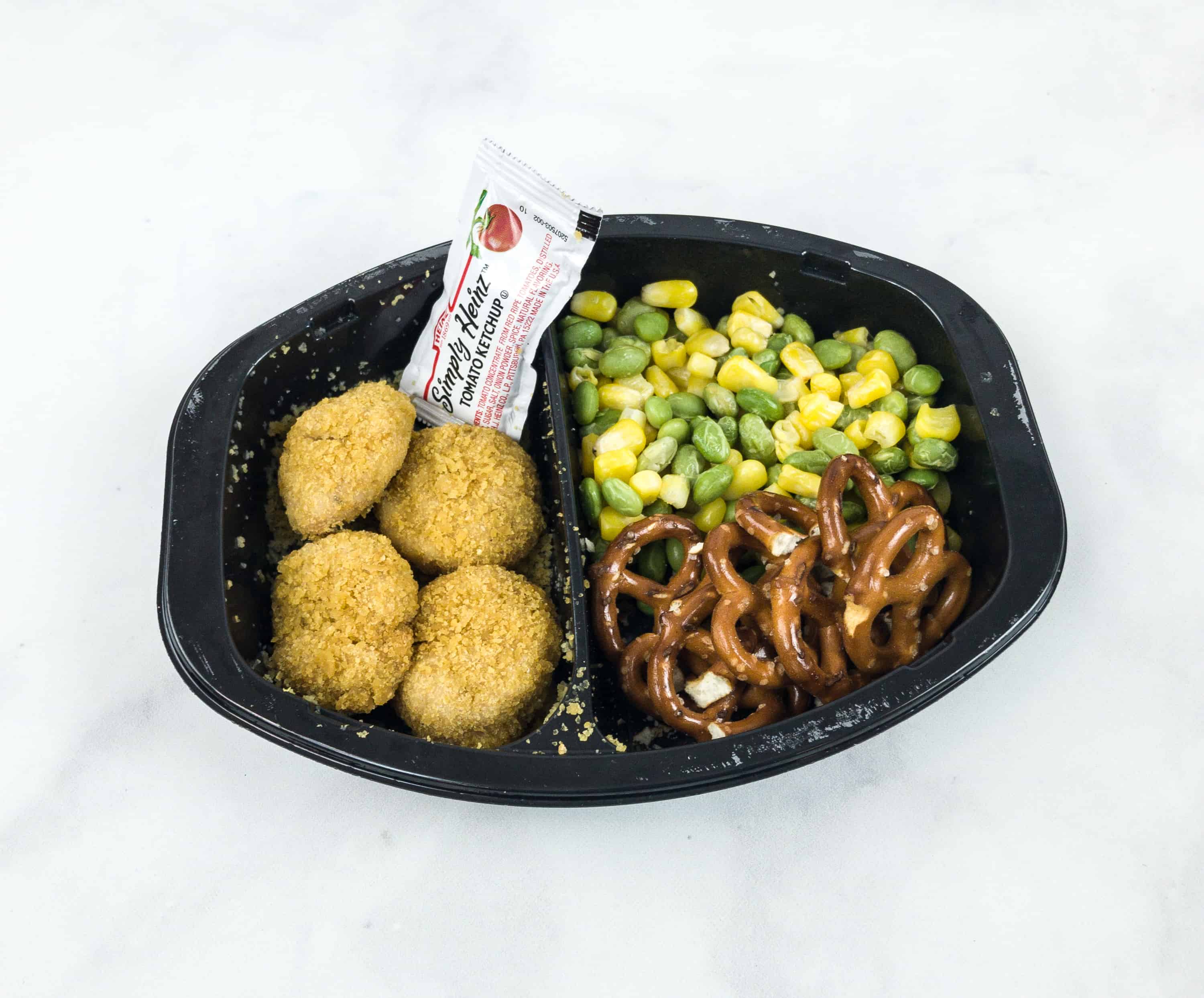 Chicken Nuggets – Breaded Chicken Patties served with Fresh Corn Kernels, Edamame, Clean Ketchup, and Pretzels.
This chicken nugget-featured meal is a hit with my kids, so we ordered them again. These nuggets are made from the white meat of chicken breasts lightly coated with homemade breadcrumbs. It comes with a corn and Lima bean medley and pretzels.
Cheeseburger Empanada – Whole Wheat Empanada with Cheeseburger Filling served with Loaded Mashed Potatoes.The empanada looks a little dry, but inside it is bursting with creamy cheeseburger flavor made using natural and preservative free ingredients. The meat is simmered in a homemade blend of spices making it super delicious and tasty. The other side of the tray has creamy mashed potatoes loaded with cheese and bacon. This meal is simply creamy and cheesy, we love it!

Sweet and Sour Meatballs – Meatballs in a Sweet and Sour Sauce with Orzo and Peas.
Aside from the chicken nuggets, another meal that the kids will never want to miss is the meatballs. They are very tasty, with a perfect blend of sweetness and a hint of sour. The orzo and green peas makes a great side, too.
Egg-Celent Choice – Cheesy Egg Omelet with Homemade Shredded Hash Browns.
A perfectly balanced meal to provide your kids with all the energy and nutrients they need for the day. It contains a high level of protein and low level of sugar, just enough to satisfy your kid's cravings. The egg omelet is topped with all natural cheddar cheese that is lightly melted. The shredded hash browns don't really crisp in the microwave, but I found that they were good soft. It's another big hit!
Yumble Kids definitely proves that a healthy diet does not necessarily need to be boring. They feature a wide range of meals that keep my kids excited and wanting more. Our only critique is that balance of the meals is sometimes perplexing — they'll take a carb-centric dish and add both fruit and a sweet dessert, while other dishes have broccoli instead of dessert. We let our kids pick their meals, and the uneven inclusion of dessert definitely influences their decisions. We appreciate the fun-filled activities, trivia cards, and reward items. The extras may make this meal subscription stand out from the others, but it is the quality of the food that is the real big plus. Everything is seasoned appropriately, with just enough salt and spice to make it taste great. There is no better scene for any parent to see than their kids enjoying the meals, so this subscription is a win for me!
Have you tried Yumble Kids subscription box yet?