Treats is a monthly snack subscription full of snacks from around the world. You can expect to receive eclectic and interesting snacks that you've never sampled before (unless, of course, you've lived in the featured country recently)! The Standard Pack offers 4-5 snacks, while the Premium box offers 8-10. It's quick to enroll, and you'll get your first box within a few days of when you subscribe.
This is a review of the premium pack – $25.95 per month.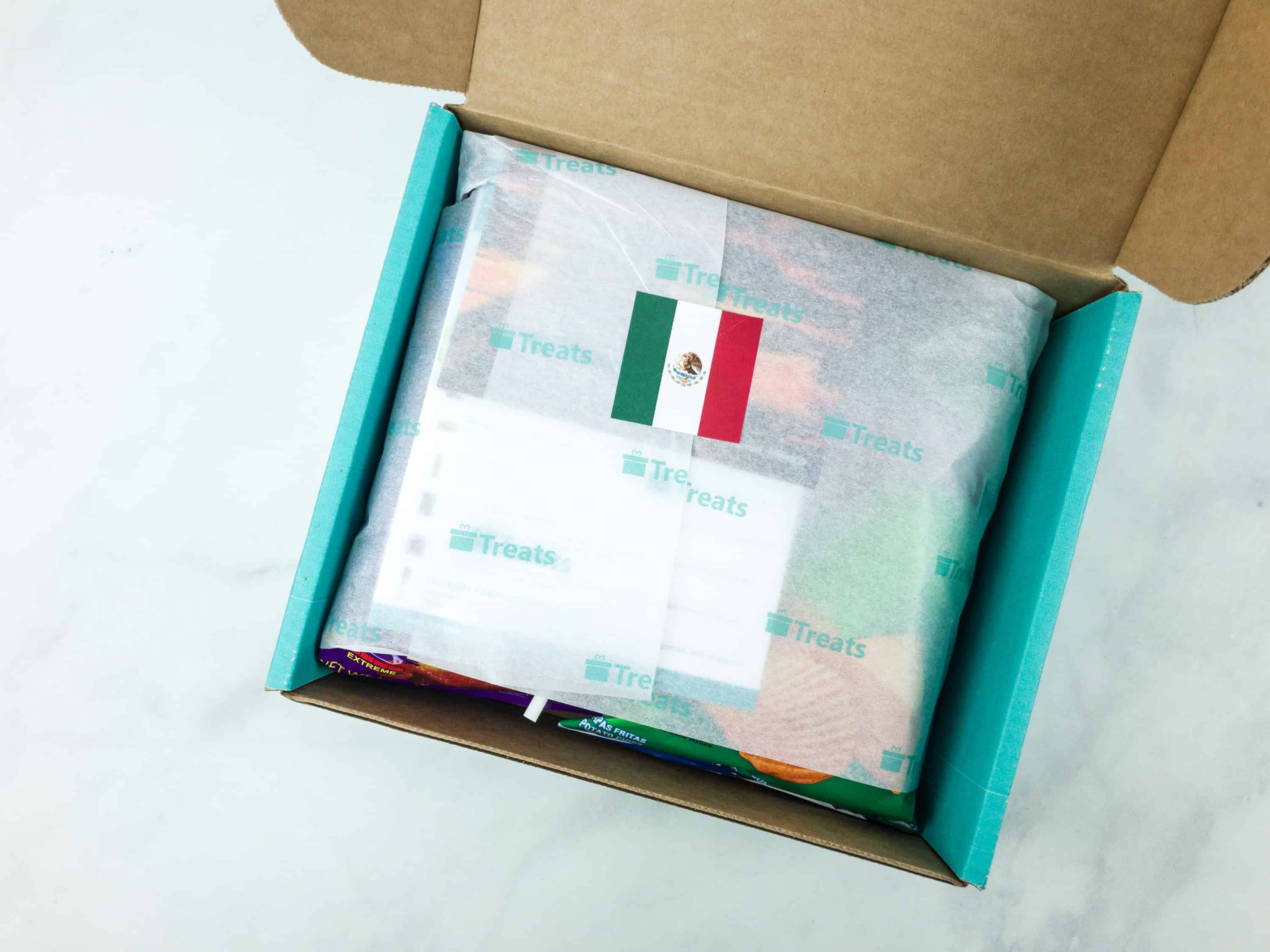 This month's Treats destination is Mexico! The packaging is simple and elegant, and you are always greeted with the flag of the featured country when you open the box. Tissue paper keeps the contents a secret until you are ready to dive in.
DEAL: You can save 15% on your first month with coupon code HELLO15.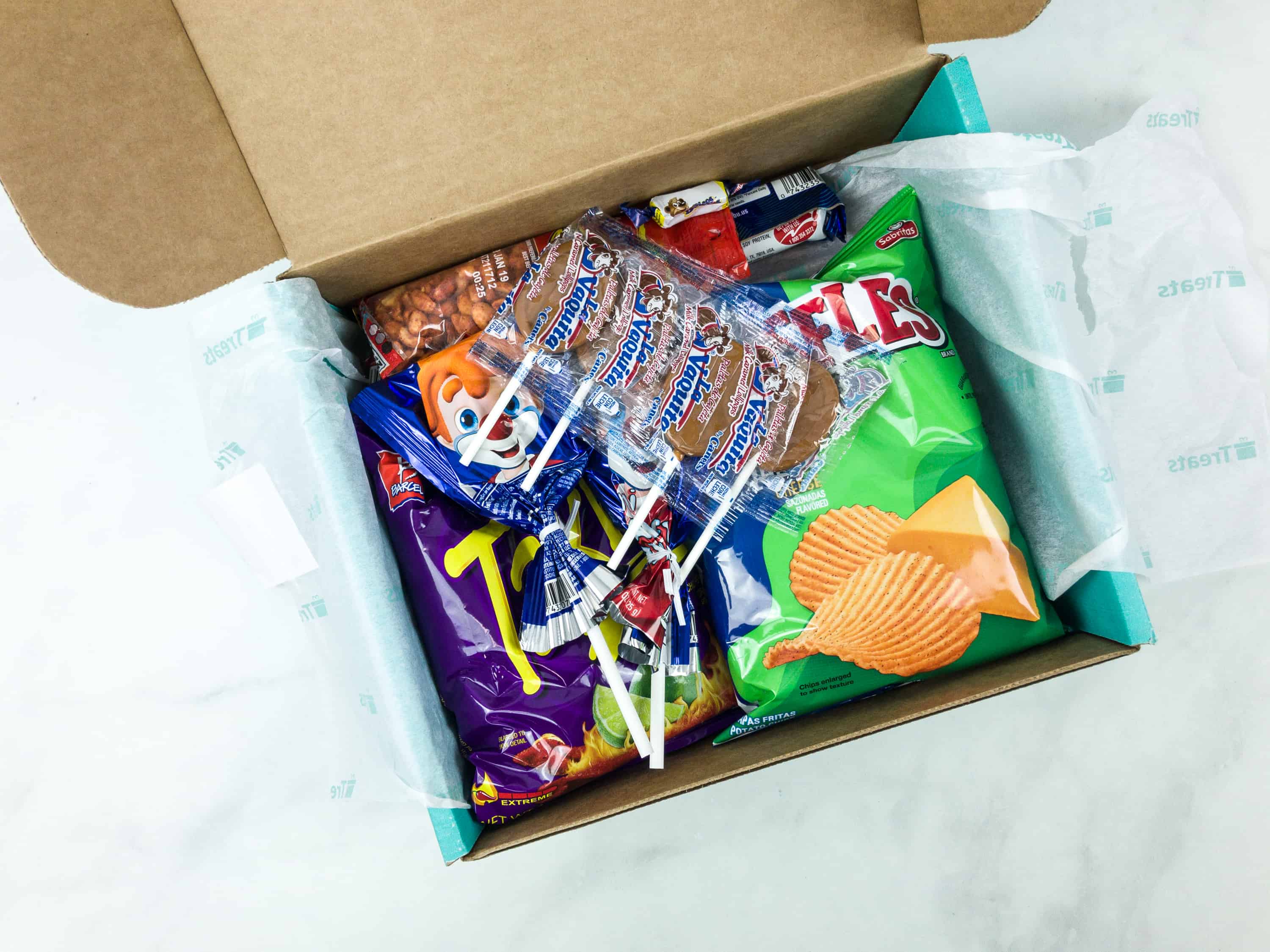 The box is filled to the top with goodies! Everything comes in its original packaging, often solely in the language of the featured country – sometimes it's just as much fun to see the unique package styling as it is to try the snacks! The box is always so full, that they don't need to use any extra packing material.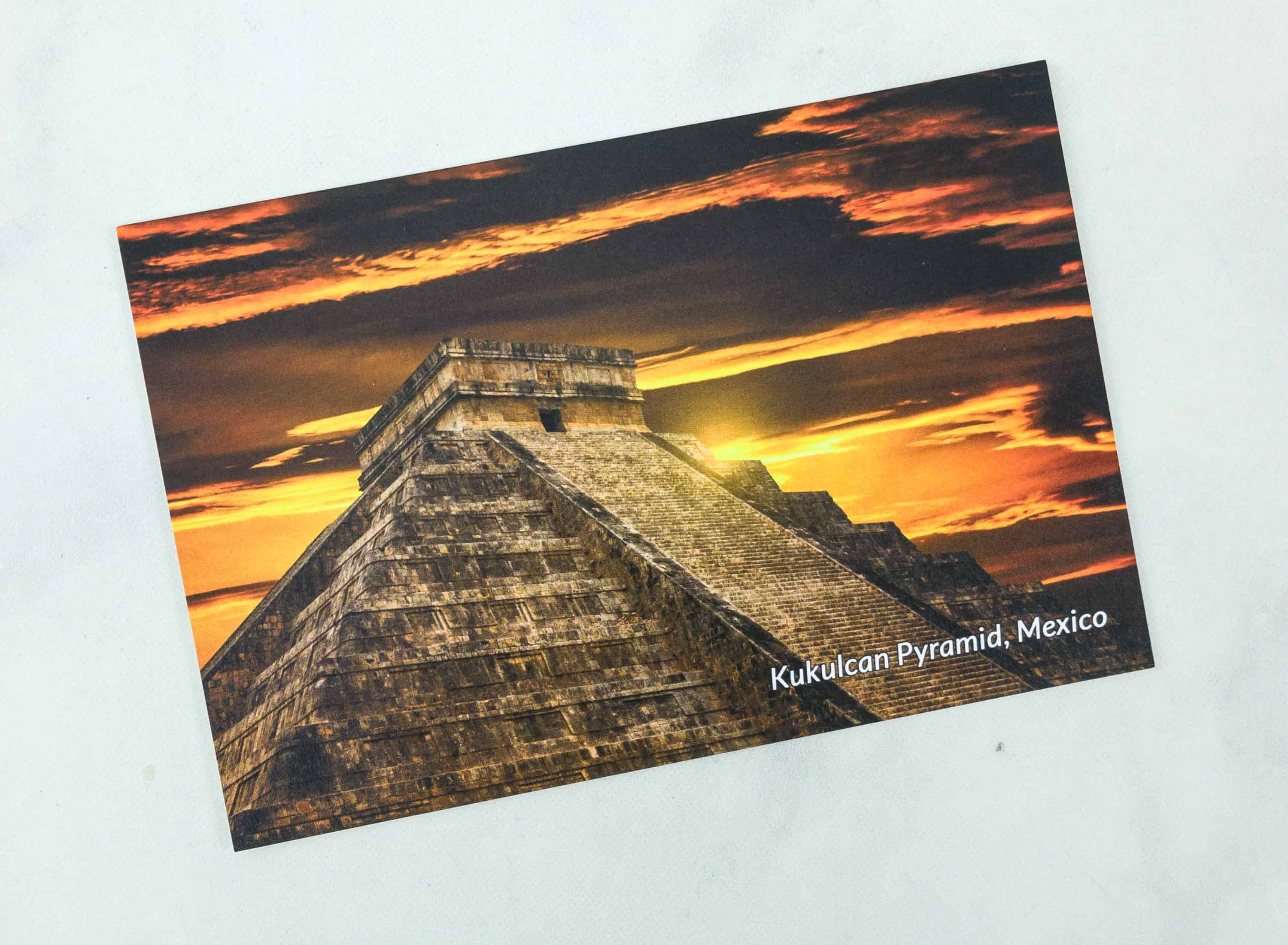 The box always includes a beautiful postcard welcoming us to this month's Treats destination. Usually, it is a shot of one of the most iconic landmarks of the country. This month, it's Kukulcan Pyramid, Mexico!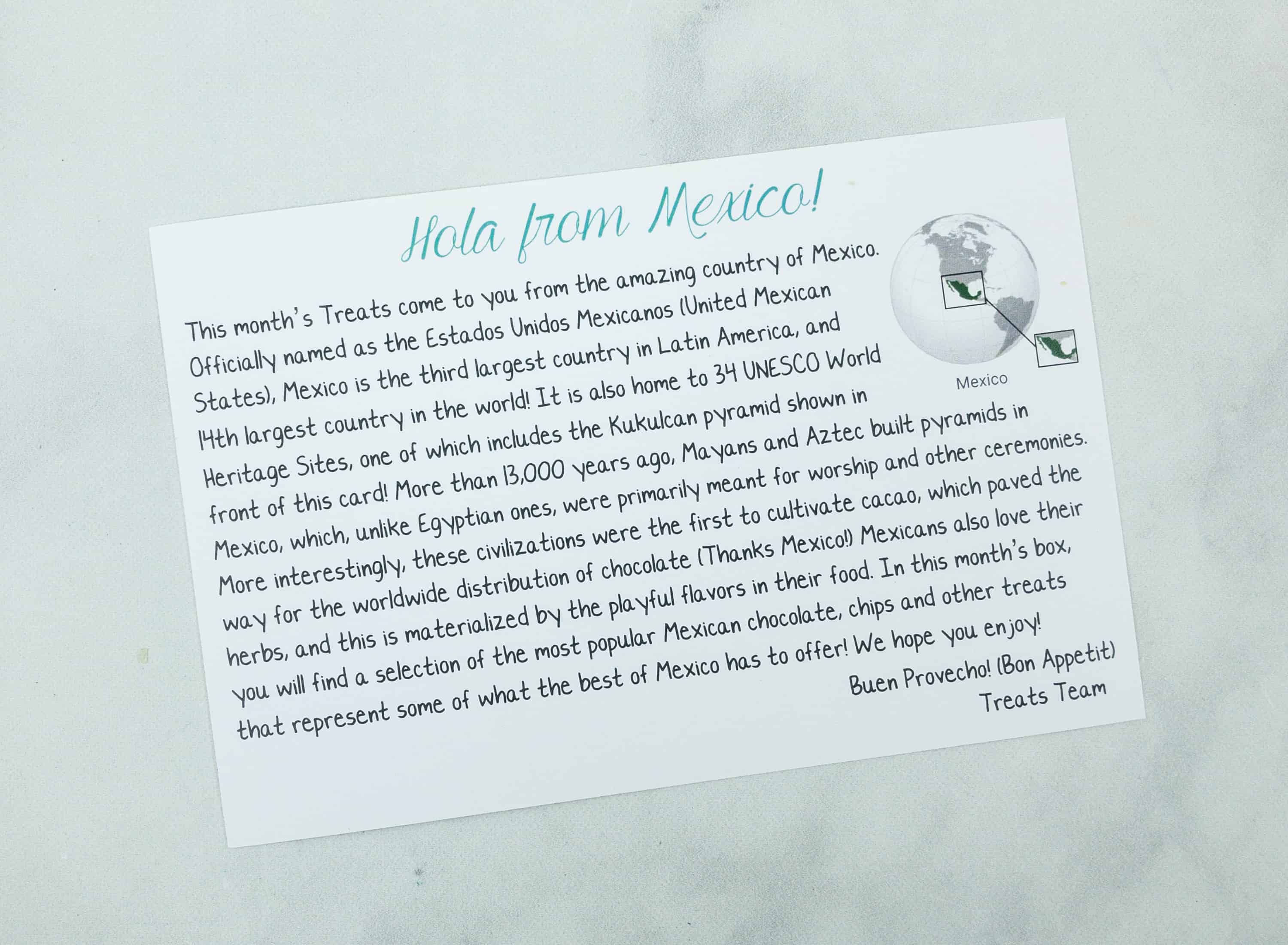 The introduction card tells a little about the snack culture and points out some of the flavors or snack styles that are popular or unique to the destination.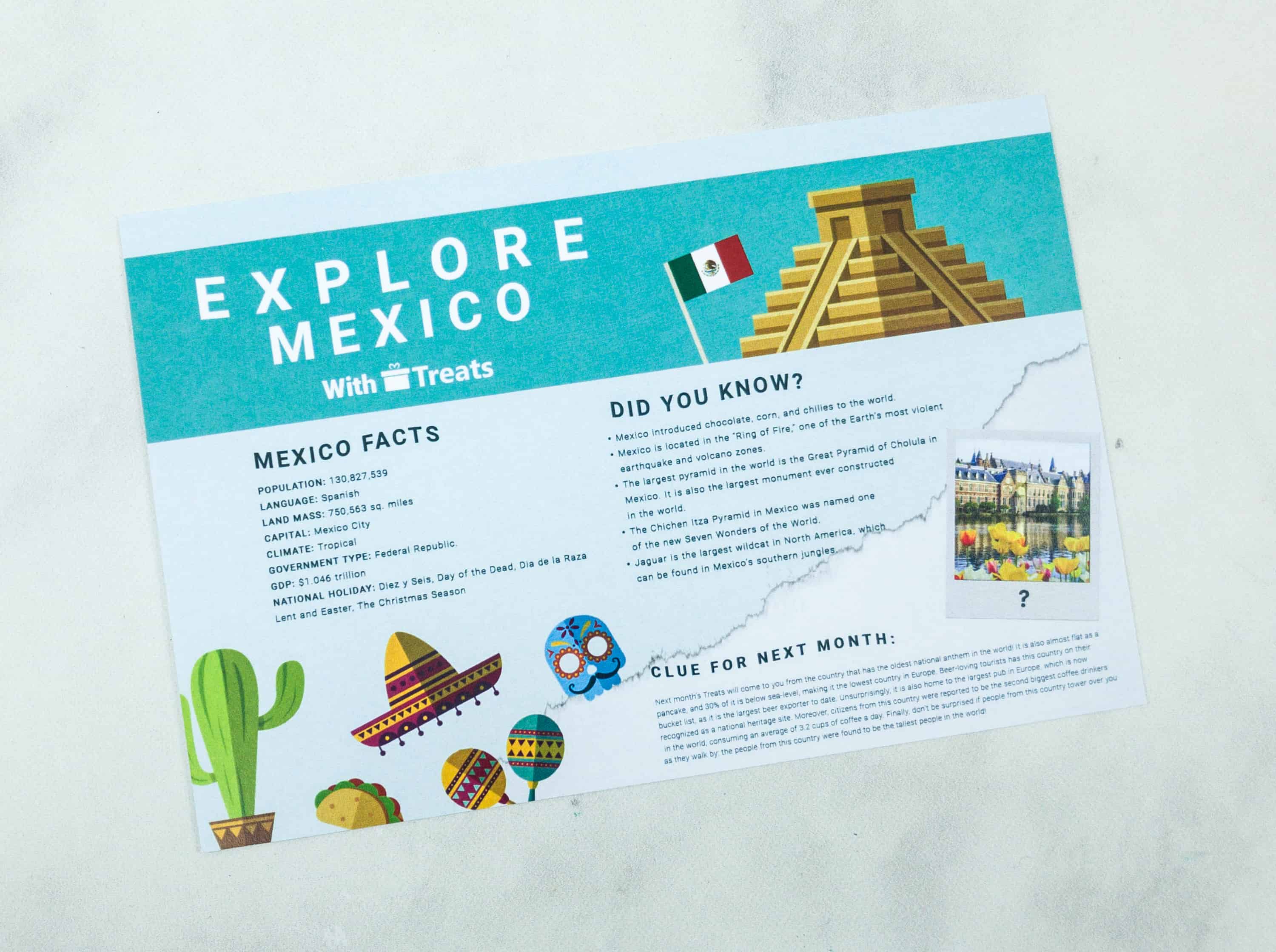 Another card features facts about Mexico, plus a clue for next month's box. I'm thinking we're headed to the Netherlands!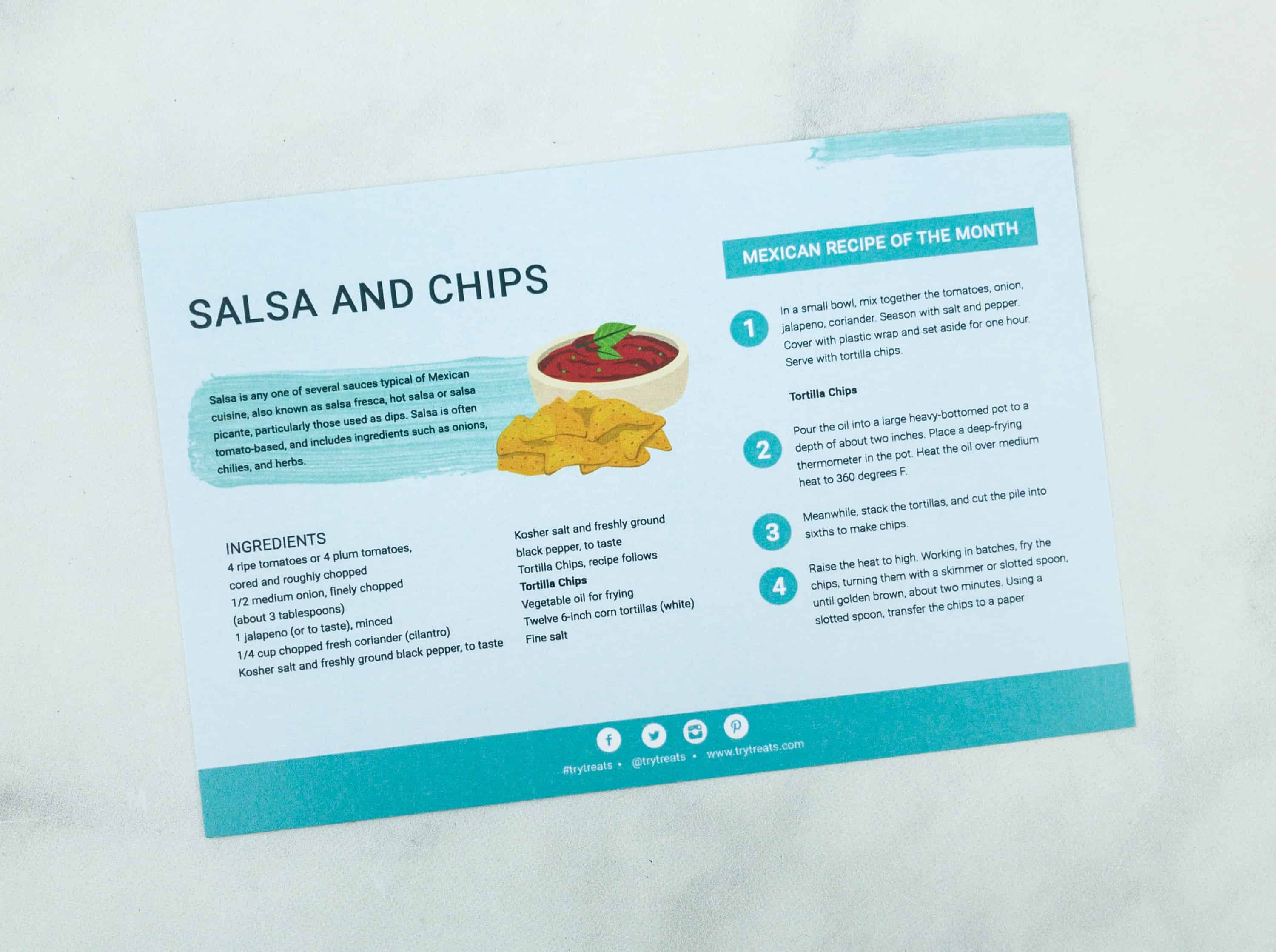 This month's featured recipe is Salsa and Chips.
There is also a handy info card that gives the name and maker of each treat, as well as a short description of each. The blurbs give you a sense of what to expect, but you'll have to check each treat's label (and possibly hire a translator) for more detailed info on ingredients and nutrition. Even with the card, the only way to truly appreciate everything is to taste it!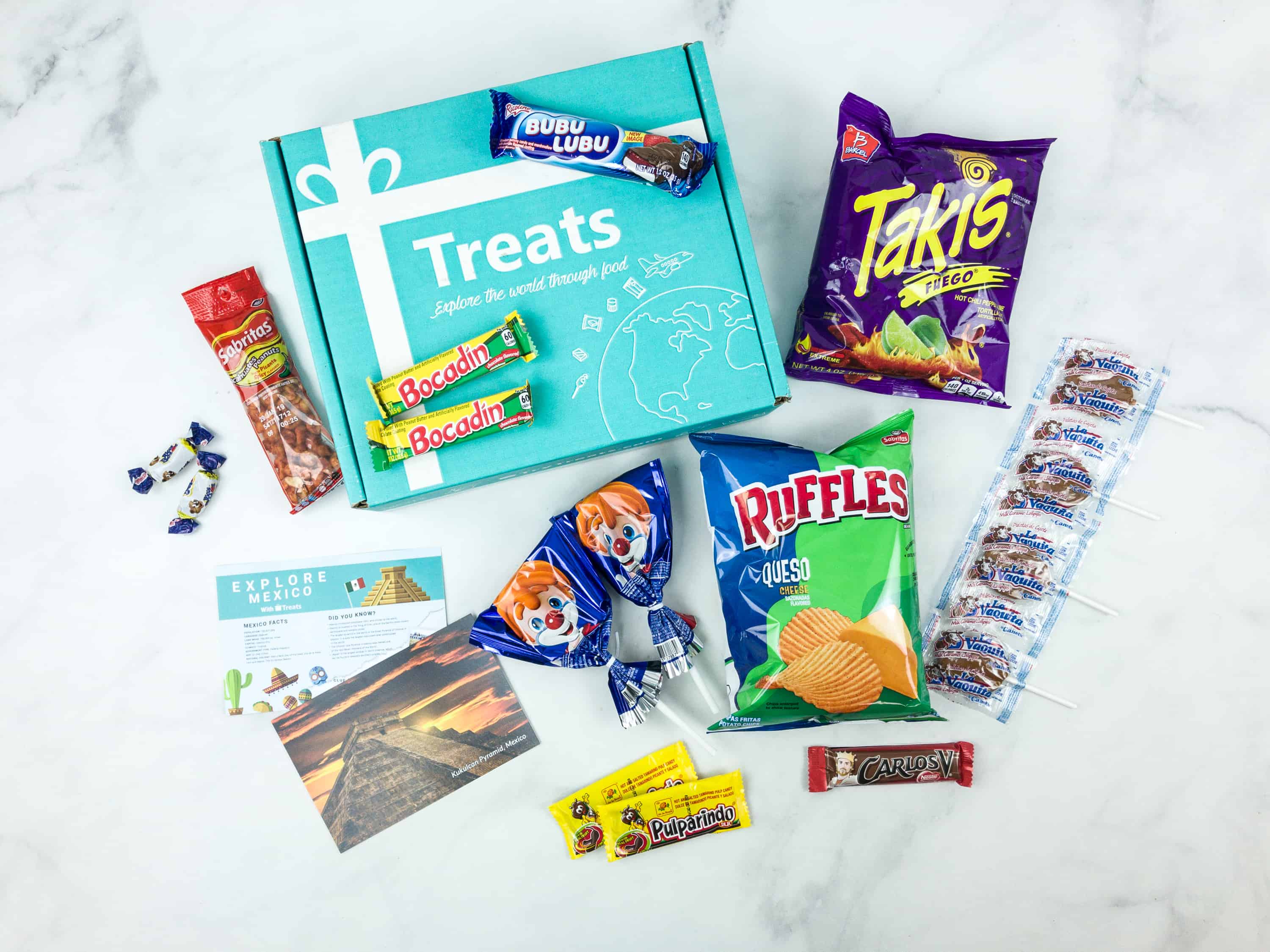 Everything in the box. The composition of each Treats collection depends on the local snacking culture, but there is usually a good mix of sweet and savory and individual and family packs.
Ricolino Bubu Lubu ($0.59) It is a strawberry jelly stacked on a marshmallow and coated with a rich-layered chocolate. The unique combination of textures makes it an addicting snack, particularly if you are chocolate and fruit person.
Ricolino Bocadin Chocolate Wafer ($0.30) If you like peanut butter then this snack is for you. Aside from the heart of the snack which is the crispy peanut butter-filled wafers, they are also coated with creamy chocolate that makes a delectable combination.
Ricolino Payaso Pop Mini. Clowns might be scary for some, but this is one clown you'll definitely like. It is a chewy marshmallow lollipop coated with chocolate and decorated with gumdrops. The lollipop doesn't really look like a clown, but it does have a cute smiley expression, and the kids don't seem to mind.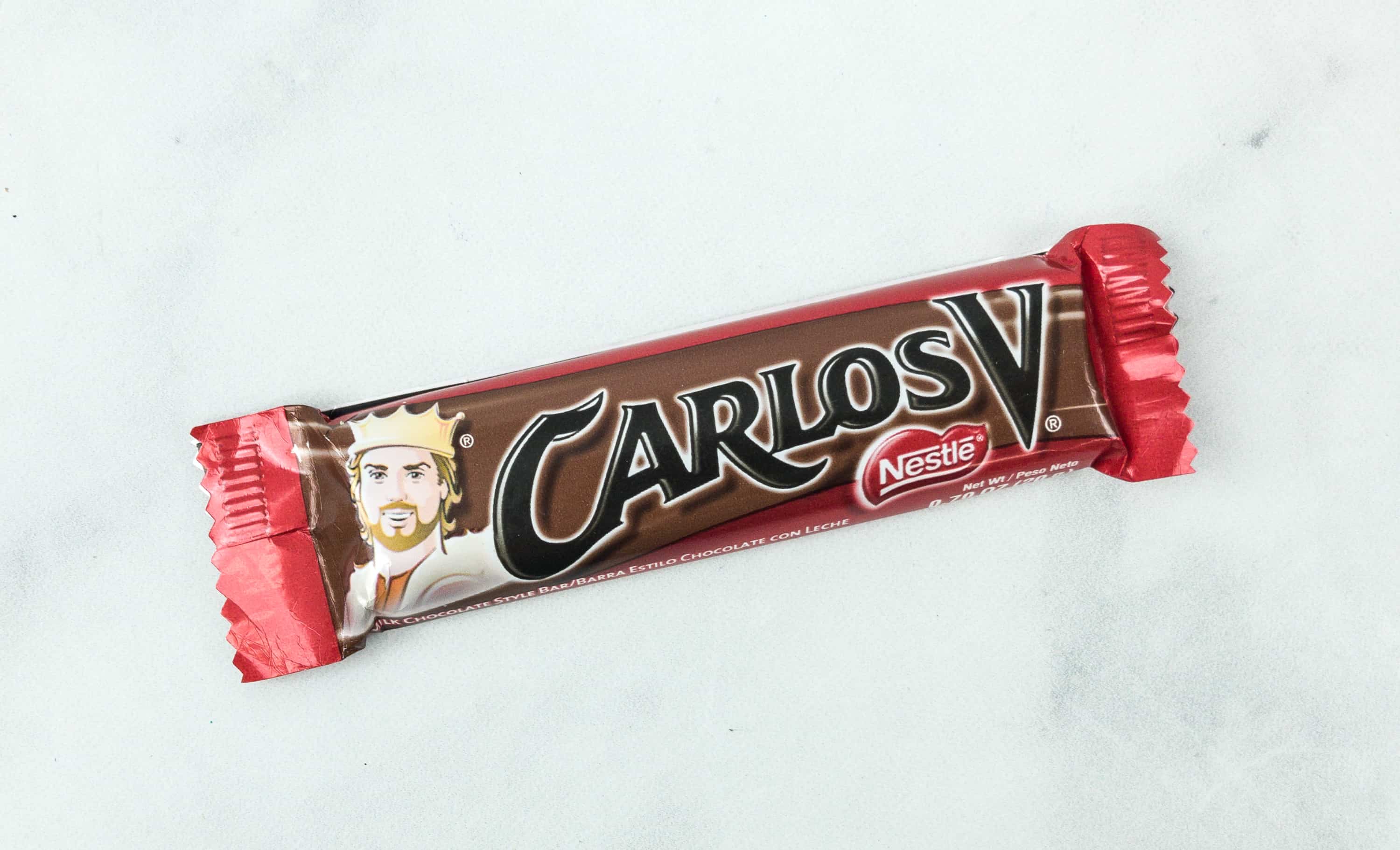 Nestle Carlos V Chocolate ($0.50) You haven't been to Mexico long enough if you haven't encountered Carlos V. It is the "King of Chocolates" in Mexico and has a unique "powdery" taste.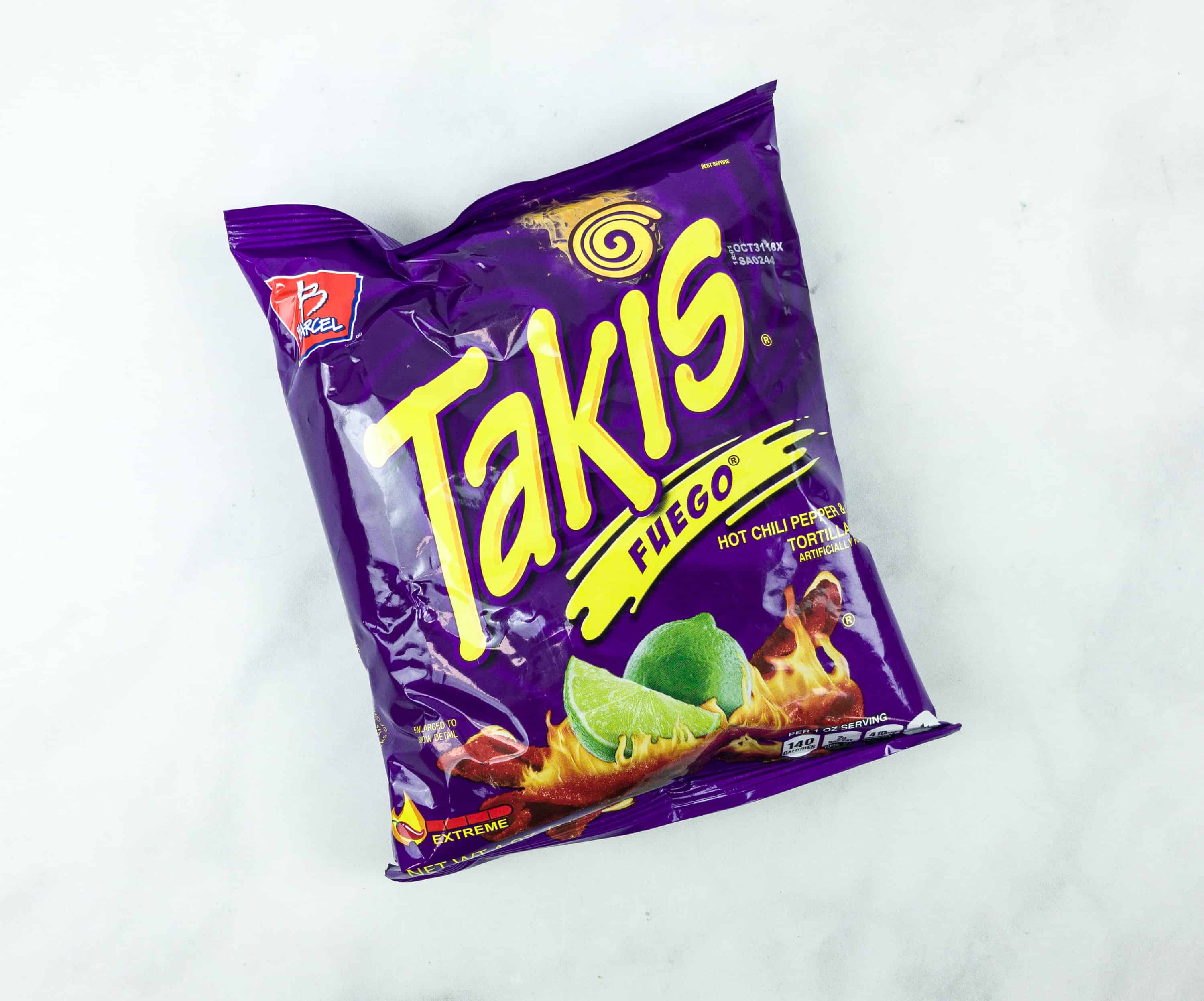 Barcel Takis Fuego ($0.83) For hot and spicy food lovers, this snack has a combination of hot chili pepper and lime flavored tortilla chips. Its tagline is "like firewalking in your tongue," and it's quite accurate. I'm not joking that it is blazing hot so ready your milk or water when you try it. They are heat level "extreme" and put most American spicy chips to shame.
De La Rosa Pulparindo ($0.49) The taste of the spicy traditional chili and the sour taste of tamarind gives you a different snack experience indeed. These are essentially spiced tamarind pulp rolled out into a thick strip.
Sabritas Spicy Peanuts ($1.22) Spicy peanuts have always been one of my favorite snacks. It's fully coated with the powdery spice that gets hotter and hotter every bite but you can't help but ask for more. These are a little different than the typical dry roasted I'm used to — they are slightly soft to to the tooth.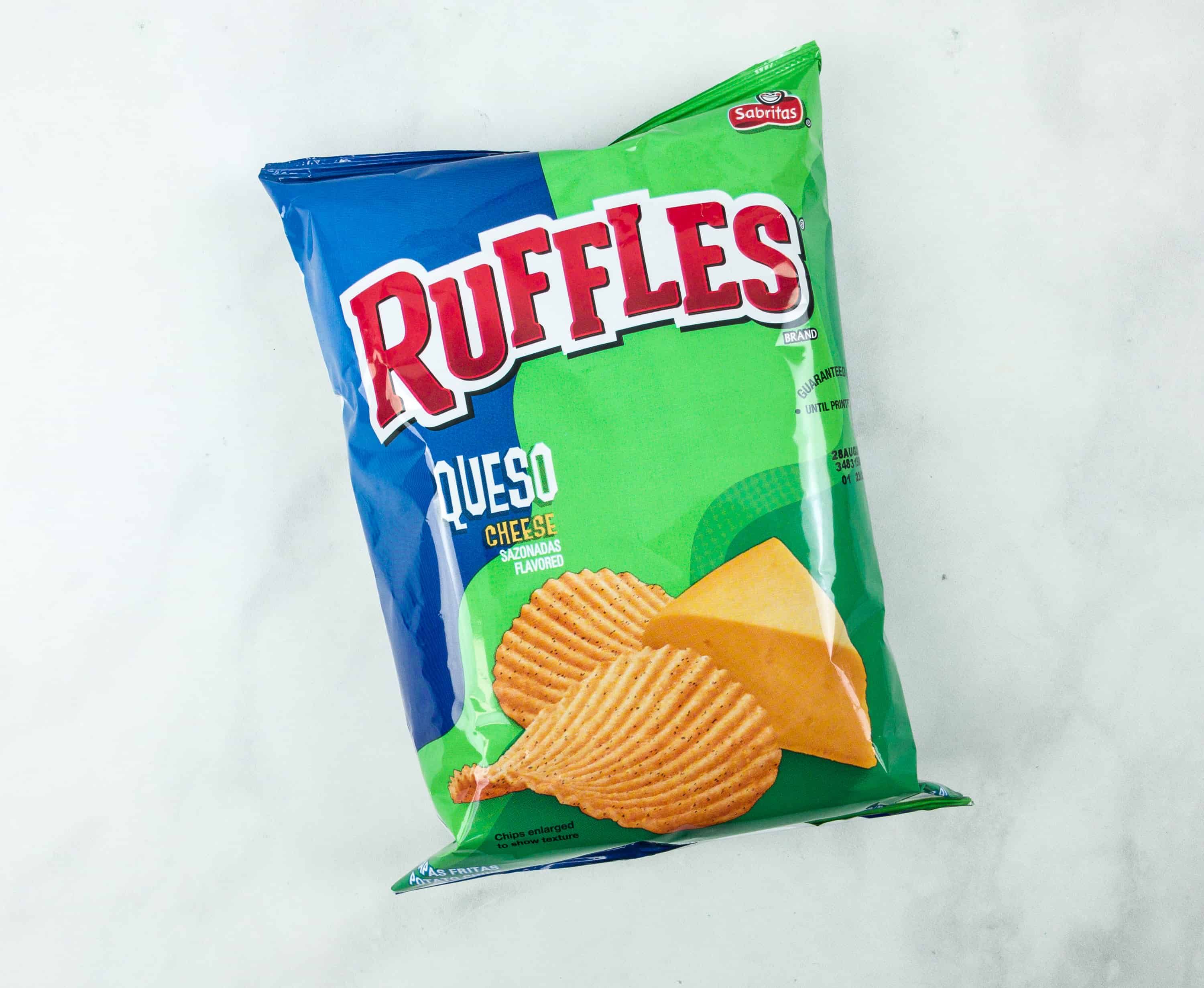 Sabritas Ruffles Queso ($4.11) It's a cheesy snack on trademarked crispy crinkle-cut chips. I believe the ridges hold more flavor and can stand to the thickest dips. These are pre-loaded with queso flavor, but I am tempted to try these dipped in… queso.
Montes Ricos Besos ($0.32) These sweet and chewy toffee candies contain chocolate and real milk. It is so chewy and gooey, it has a tendency to be stuck on your teeth.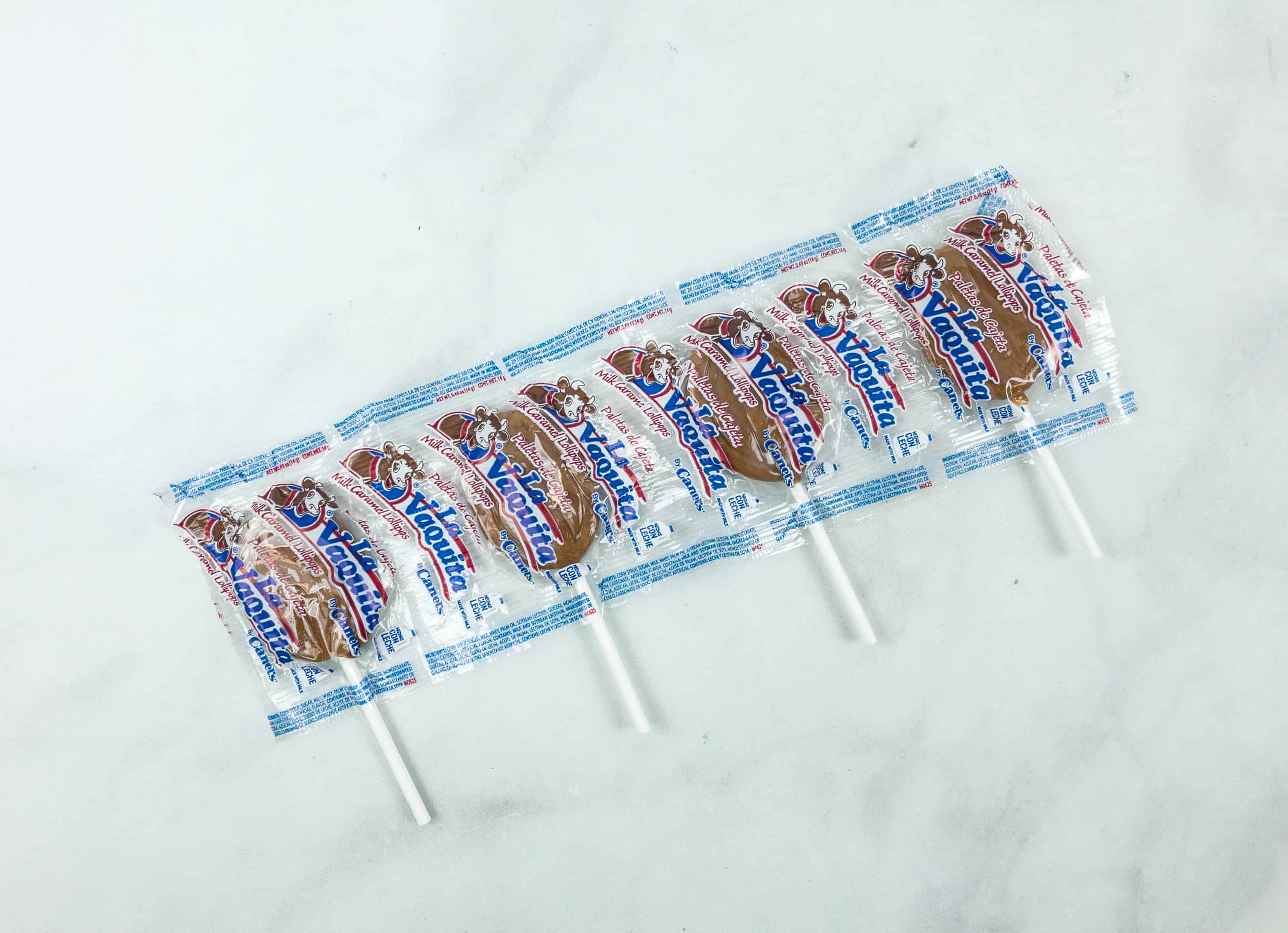 Canels La Vaquita Paleton De Cajeta ($8.16) Sweet and creamy, these traditional milk caramel lollipops are made with goat's milk that is popular in Mexico. I'm glad I got four of them so I can share with the kids! The goat's milk adds a slightly sour, creamy taste that really plays well off of the sweet caramel.
Treats features a different country every month, so there is always something novel and fun to try. It's a good idea for people who like learning about a country through food or who just find ordinary snacks boring. For this month, they sent us some popular and traditional snacks of Mexico. They covered a variety of flavors and textures, from sweet to spicy and from crispy to chewy — all of them brought a different experience to our snack game. I especially liked the spicy peanuts, and I wish they included more of them. Usually there are a couple multi-serving or family size items in a box, but this time only the lollipops were in multiples beyond two. Still, Treats is one of the easiest and most enjoyable ways to get a taste of a different countries cuisine, and there is enough in each box to share with family and friends for extra fun!
Have you tried Treats yet? What did you think of the box?