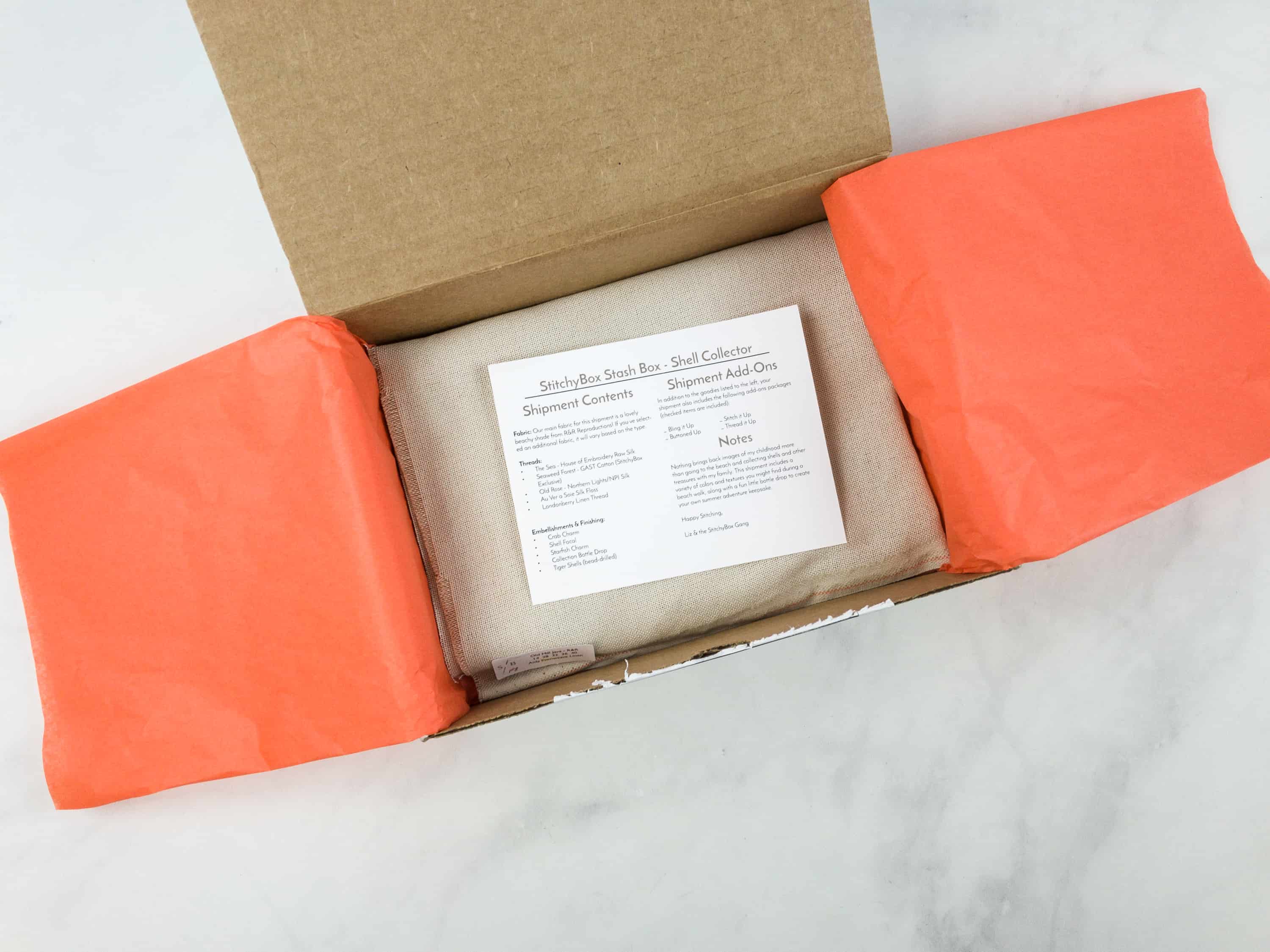 StitchyBox is a bi-monthly subscription box for counted thread embroiderers and cross-stitchers. There are two options, the Big Picture Box and the Detail-Oriented Box. With both styles, you'll receive a variety of threads from staples like DMC to specialty threads you may not have met yet. Boxes may also include embellishments, stitching accessories and other goodies, with a total value of about $35 per box.
StitchyBox Stash Box Subscription has announced some important subscription updates!
Here are the changes happening with StitchyBox:
Stash Box is not closing, but will no longer take new subscriptions.
Current subscribers can extend their subscription until the end of 2020 (since most prepaid customers are paid until the end of 2020).
Stitch-it-Up add-on will be closing after the July/August 2018 box.
I renewed my subscription shortly before they announced these changes, so we'll have more reviews, but not through the end of 2020. It all seems a little odd but I think their countdown boxes must be better performers for them.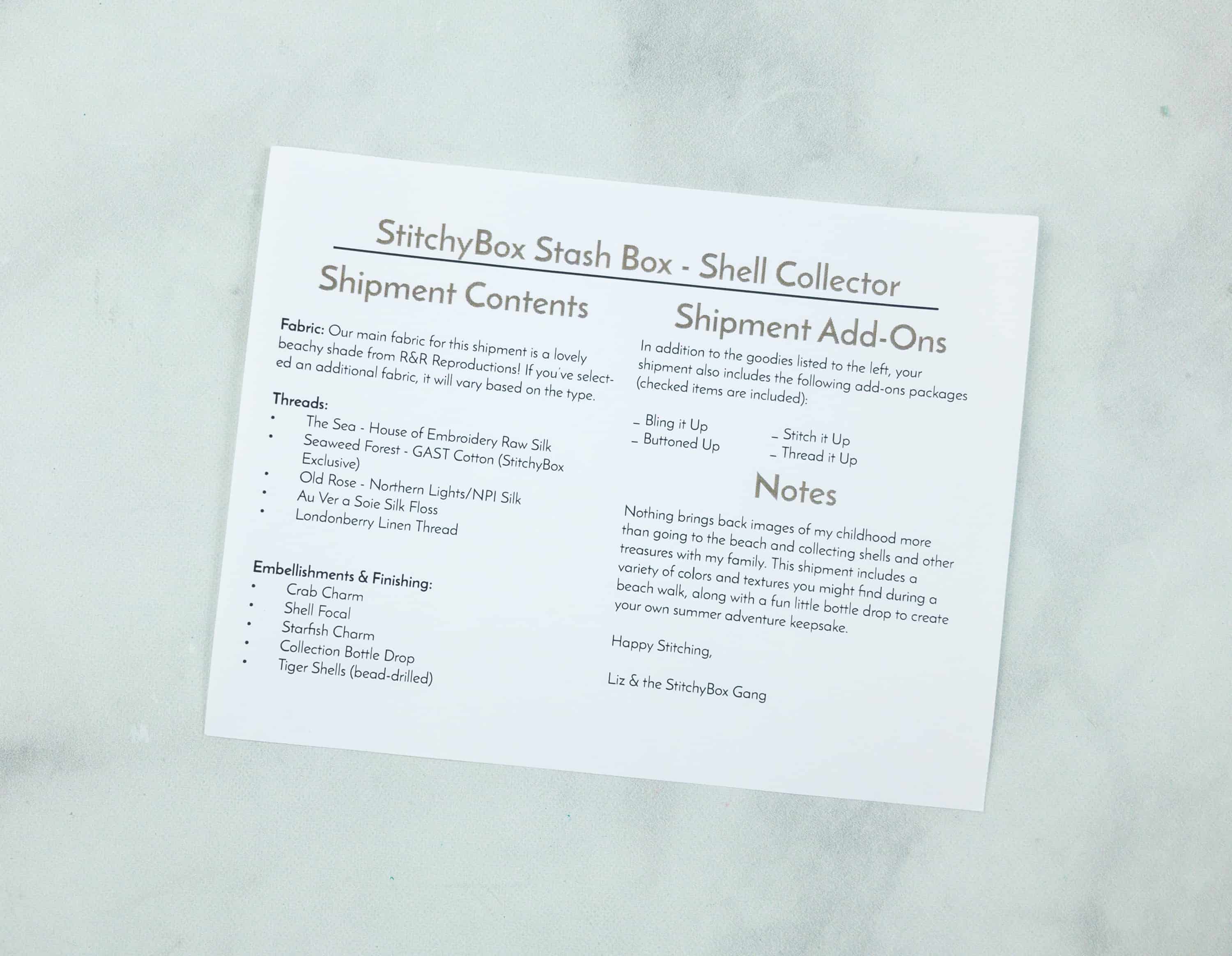 The information card gives a bit of detail about each item, plus info about the supply shop (you can buy more of what you love, but usually only for a limited time – supplies are sometimes hand-dyed just for this box).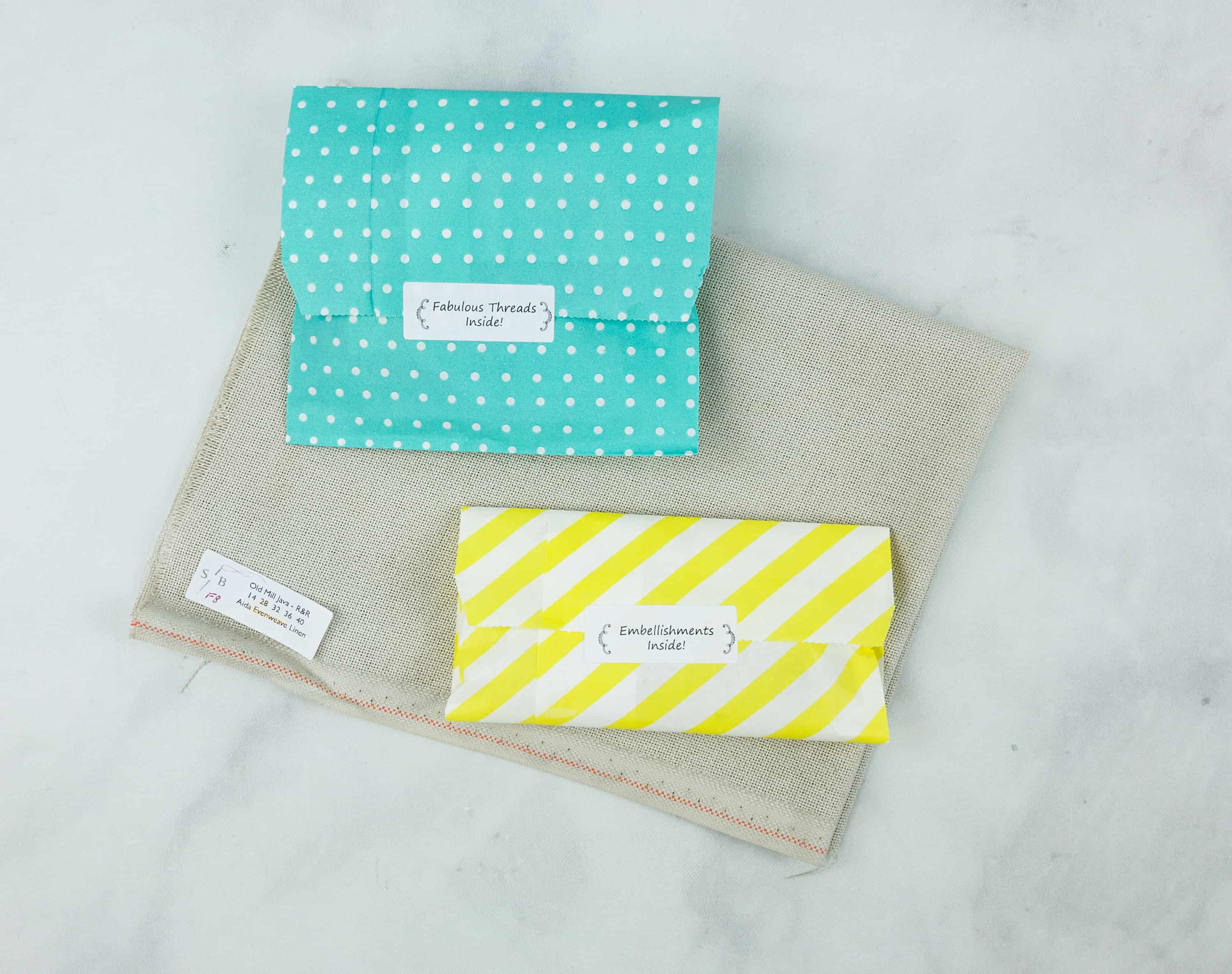 There are two paper envelopes containing the items, secured with a sticker, plus the bagged fabric.
All the goodies this month!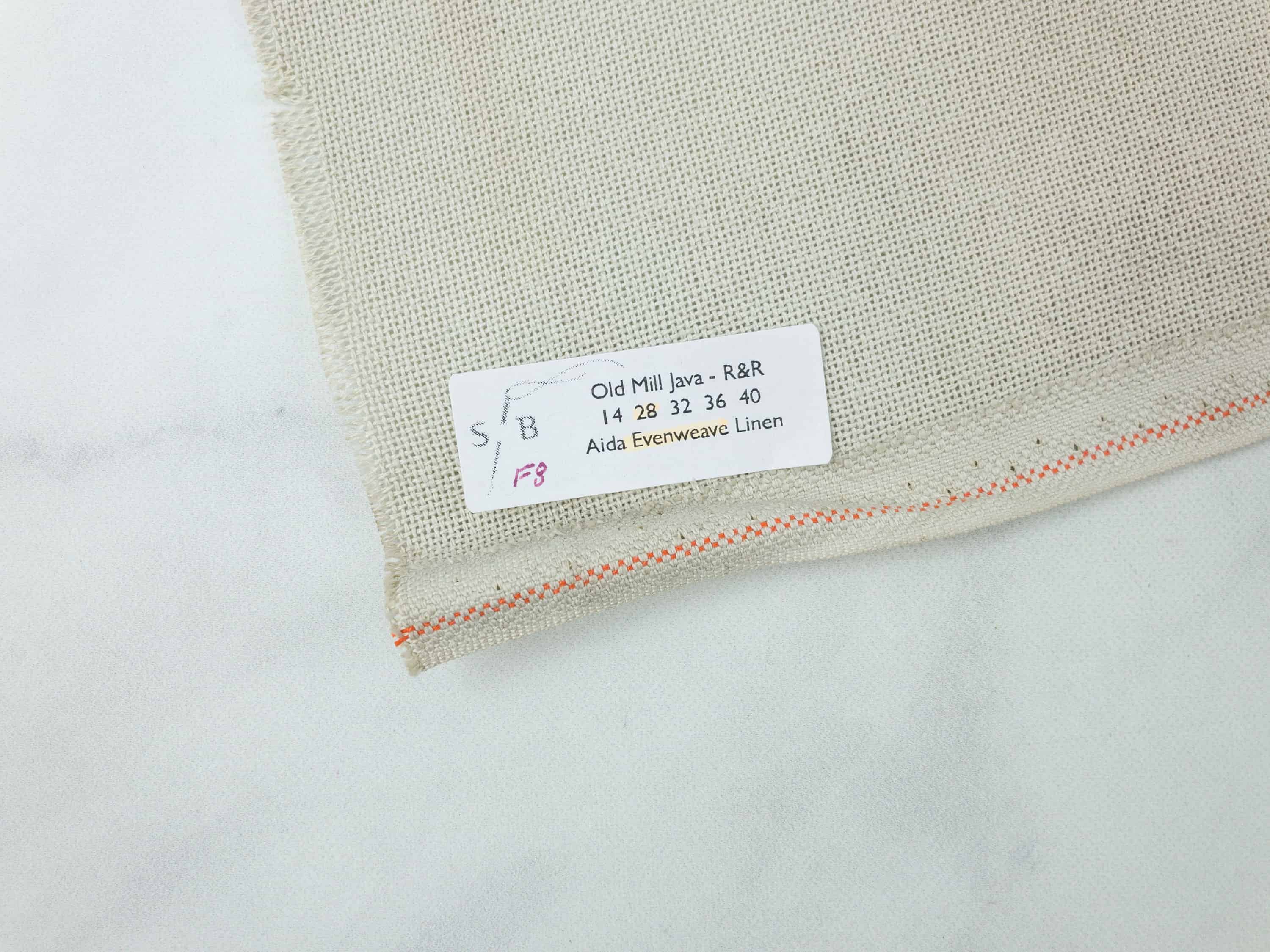 Fabric: Old Mill Java Aida Evenweave Linen ($20.50) The linen is hand dyed and a beautiful even color suitable for loads of different types of products.
This fabric is perfect for stitching a sampler!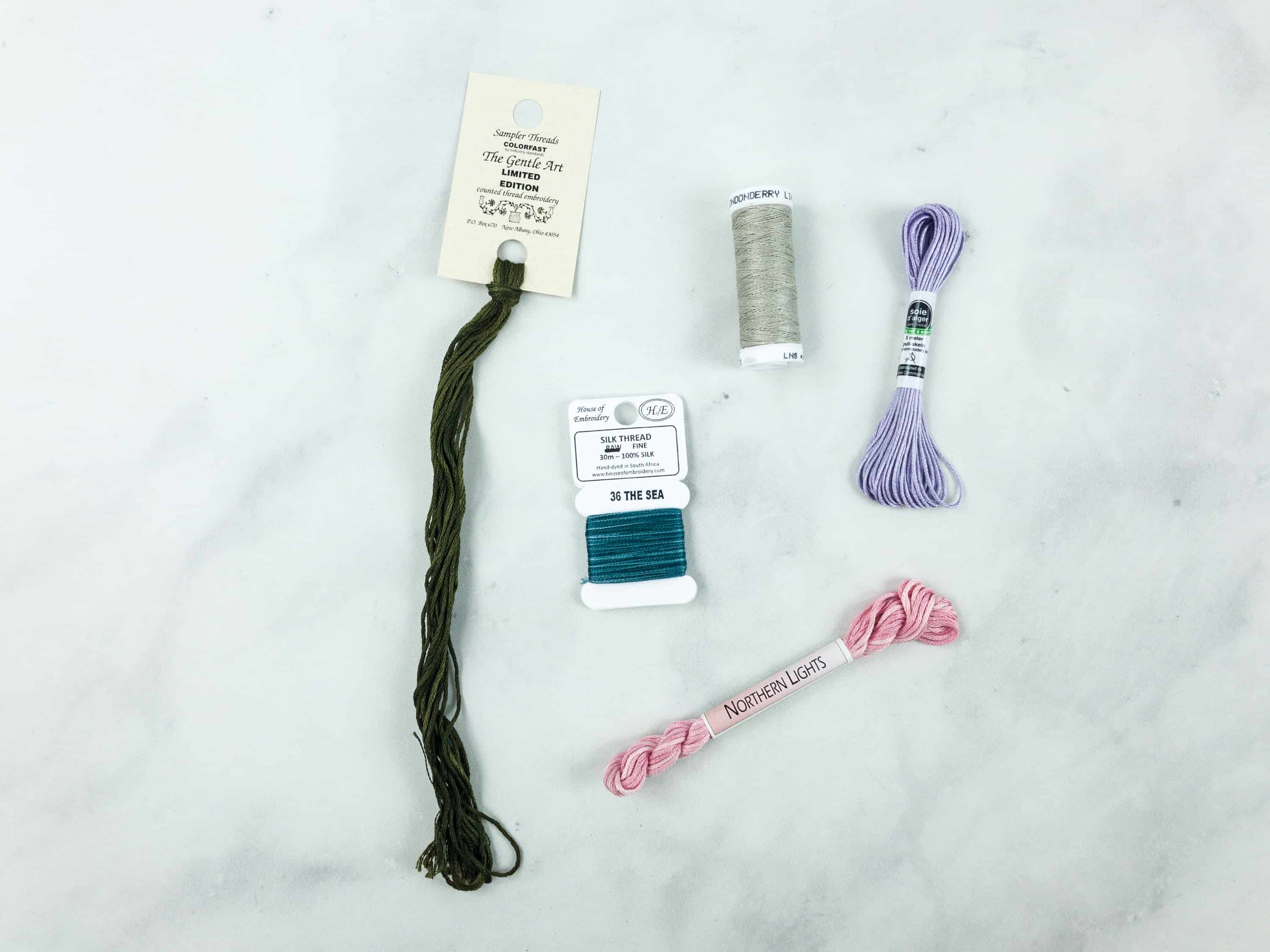 Threads:
The Sea House Of Embroidery Raw Silk – It's made from hand-dyed silk threads in raw form. It has a beautiful lustre!
Seaweed Forest GAST Cotton – This limited edition thread has a deep green color. I can use it for borders or for adding depth to my cross-stitch projects.
Old Rose Northern Lights/NPI Silk ($6) – It's an old rose silk thread that looks perfect for those antique style embroideries. I am happy that I got one in this box because now I can add some delicate colors to my craft projects.
Au Ver A Soie Silk Floss – I also got this lavender colored silk floss from one of the leading brands in France. I love the color as it has an Old World charm to it. Au Ver ASoie is known for producing high-quality threads from silkworms which means that you are going to get the finest threads out there. I am happy that I got one for myself!
Londonberry Linen Thread – This ash-gray thread is made from pure linen. It has a rustic vibe and it comes with a natural finish too. I can use it for cross-stitch or even with other embroidery projects too.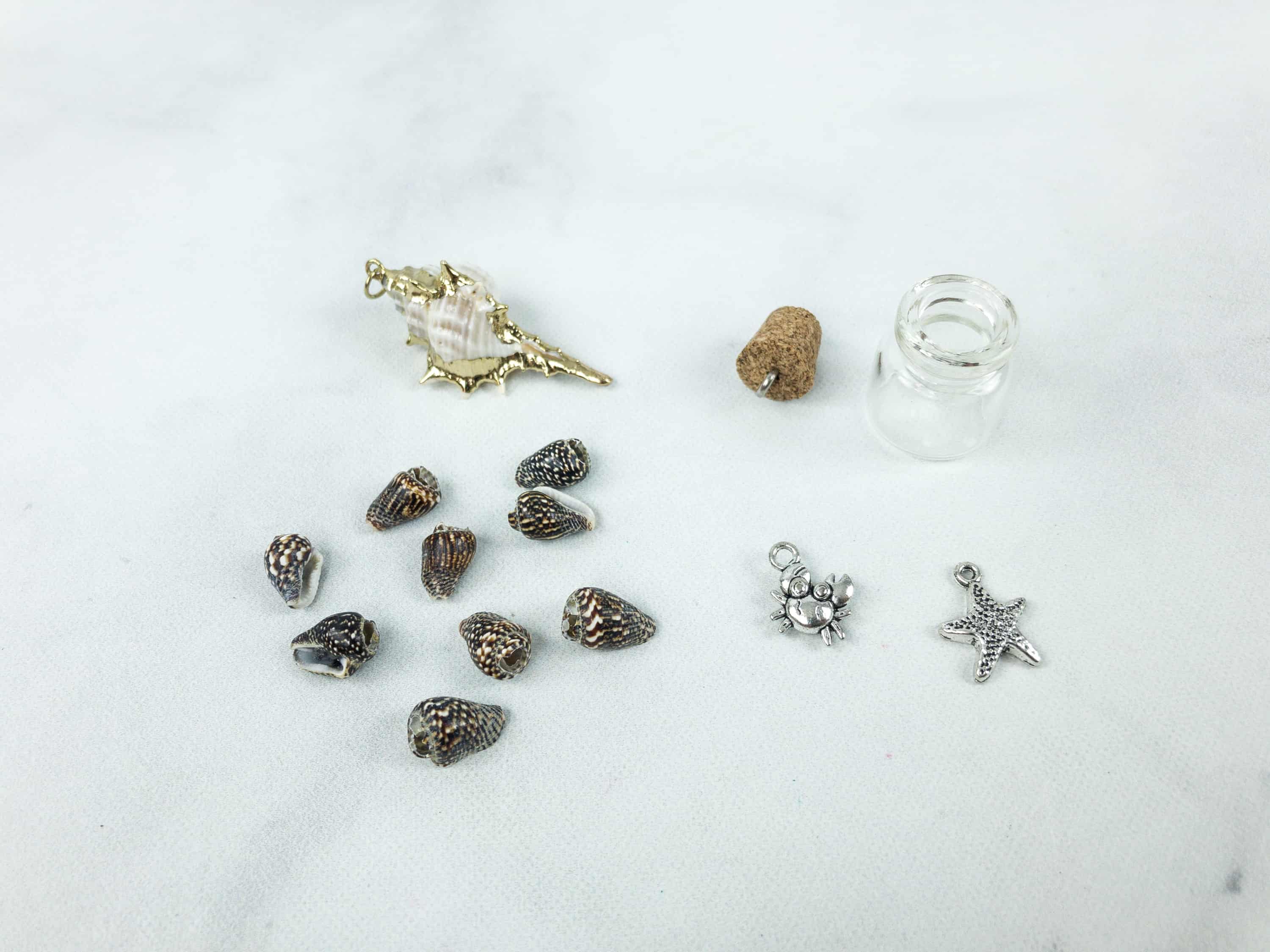 Embellishments & Finishing:
Crab Charm – The cute crab charm is in silver. It can be added to bracelets, or even in your tote projects if you like.
Shell Focal – The shell focal is a weighted charm. It's a decorative accessory for your bags, or for embellishing your craft projects. I love the design as it has a gold dip. I am sure that it's going to stand out when used.
Starfish Charm – Another sea themed embellishment is this starfish charm. It looks great with the crab charm!
Collection Bottle Drop – This collection bottle drop is a unique design to use for your craft projects because you can actually put a lot of things inside it. It has a cork cover which you can remove to slip some stuff inside.
Tiger Shells (bead-drilled) – I got 9 tiger shells! They're drilled so we'll be able to insert a thread inside it too.
Stitchy Box made me happy this month because I got some colored threads to work with and new embellishments that go well together. Whether you're a cross-stitcher, embroidering enthusiast, or someone who is an all around crafter, this subscription offers a nice bi-monthly dose of threads and other materials you can actually use! This box was delayed but they had good communication about it.
What do you think of this month's box?