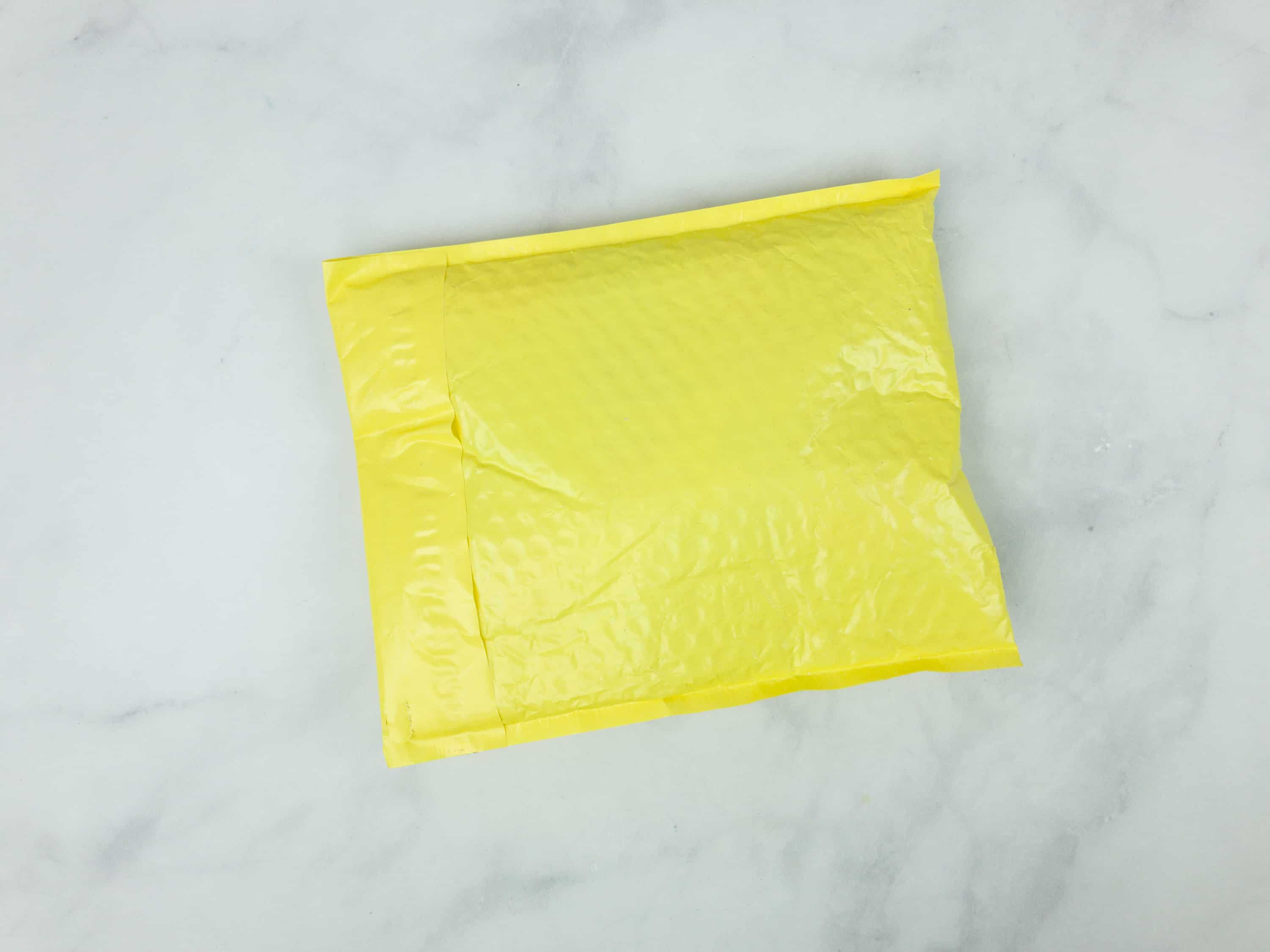 So Susan Color Curate is a monthly makeup subscription bag from the UK that delivers an adorable bag stuffed with goodies from So Susan and their related makeup lines (Jelly Pong Pong, Trifle, etc). They also have the cutest packaging! FYI – they changed the name of the subscription month, it was formerly known as So Susan Lip Love.
So Susan is vegan, cruelty-free, and paraben-free as well. Even better, you can always get the current box through the end of the month!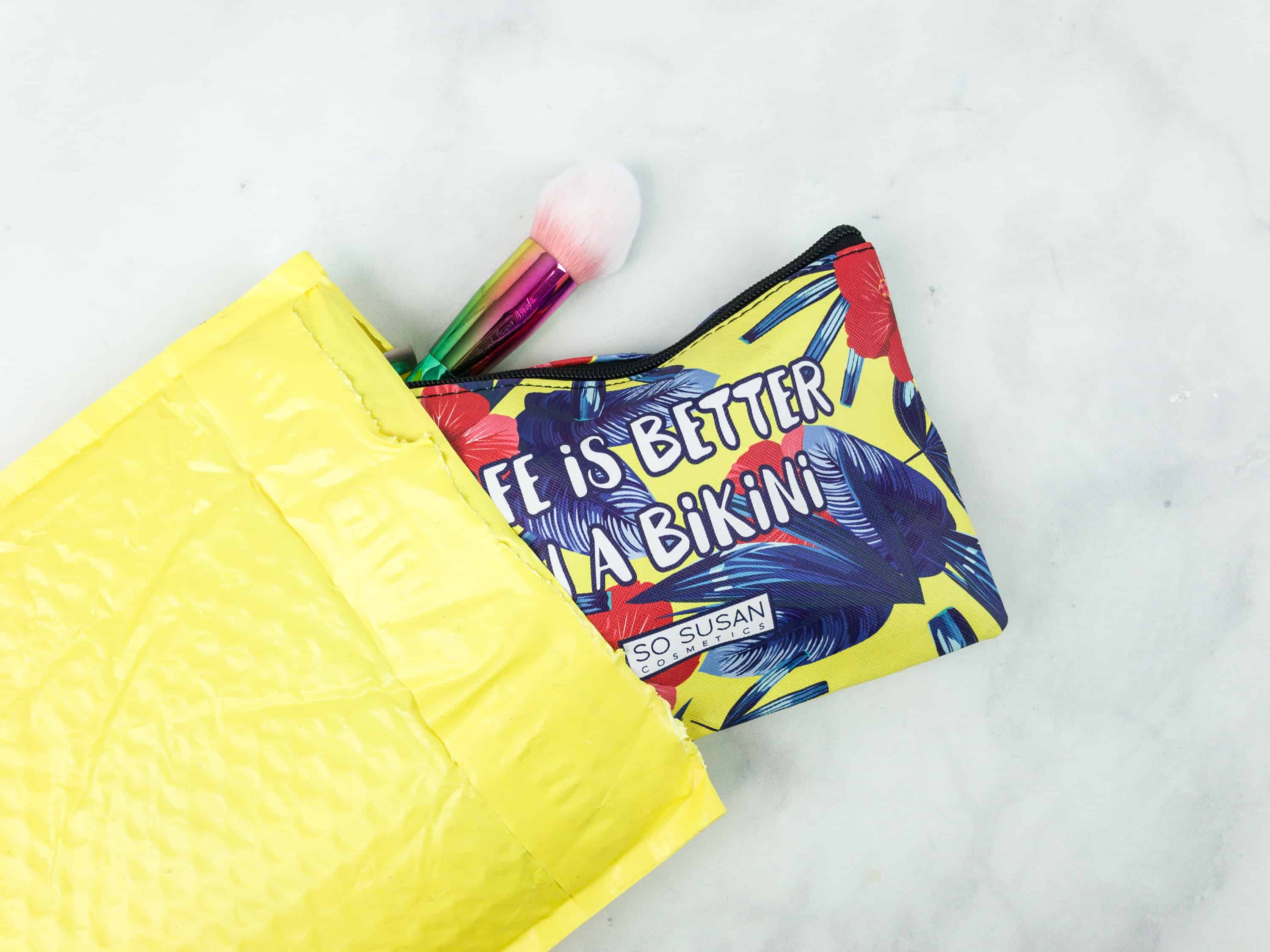 DEAL: Get a free bag when you purchase a 6-month subscription! Use coupon code LIPLOVE1.
Eco-Chic Makeup Bag July 2018 ($12) This month's theme is printed on the front of the makeup bag.
These colors are vibrant. It features the Gumamela flower of the tropics.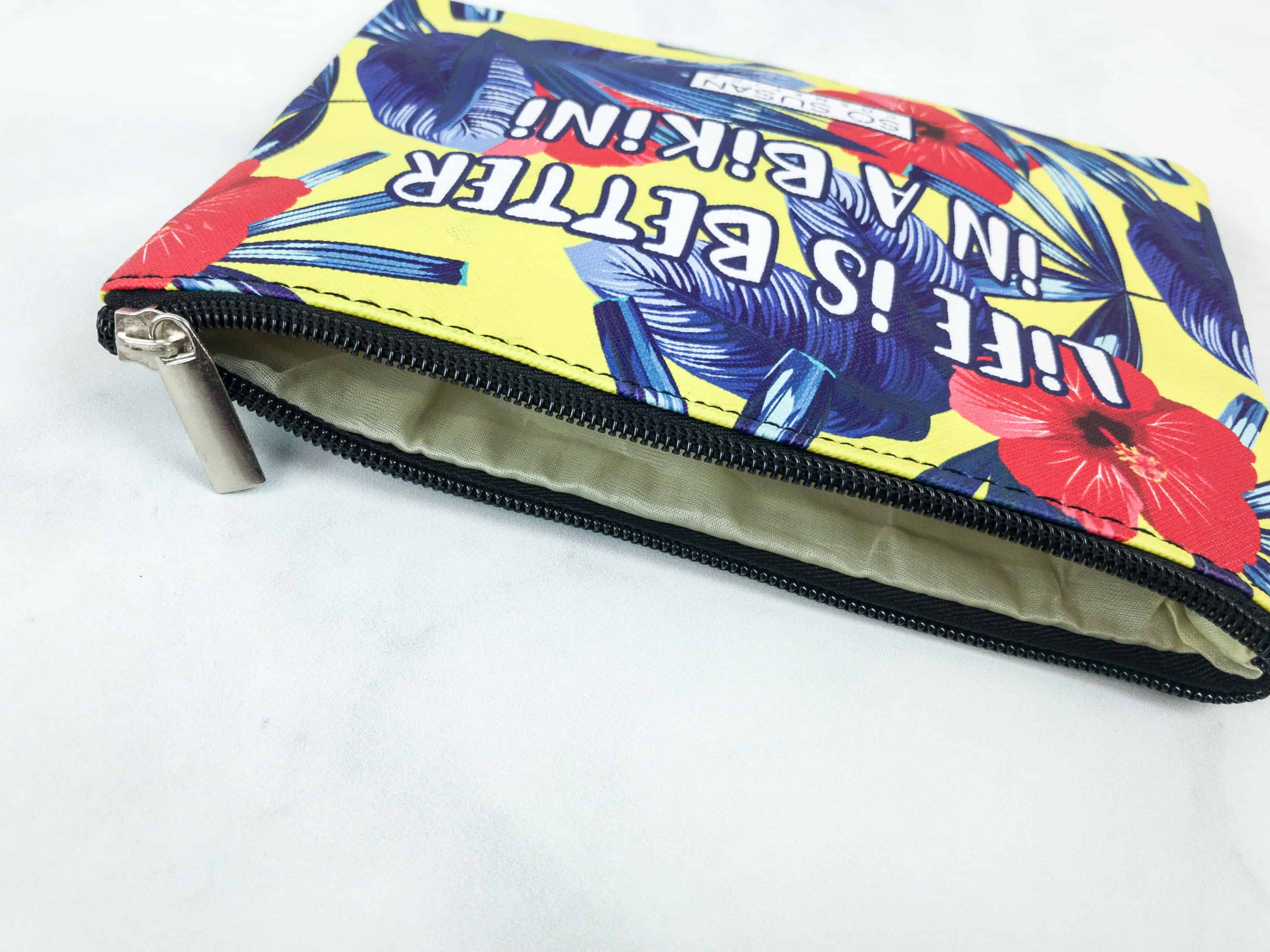 It has a smooth rust-resistant zipper closure with a fabric inner lining. They really made it for summer.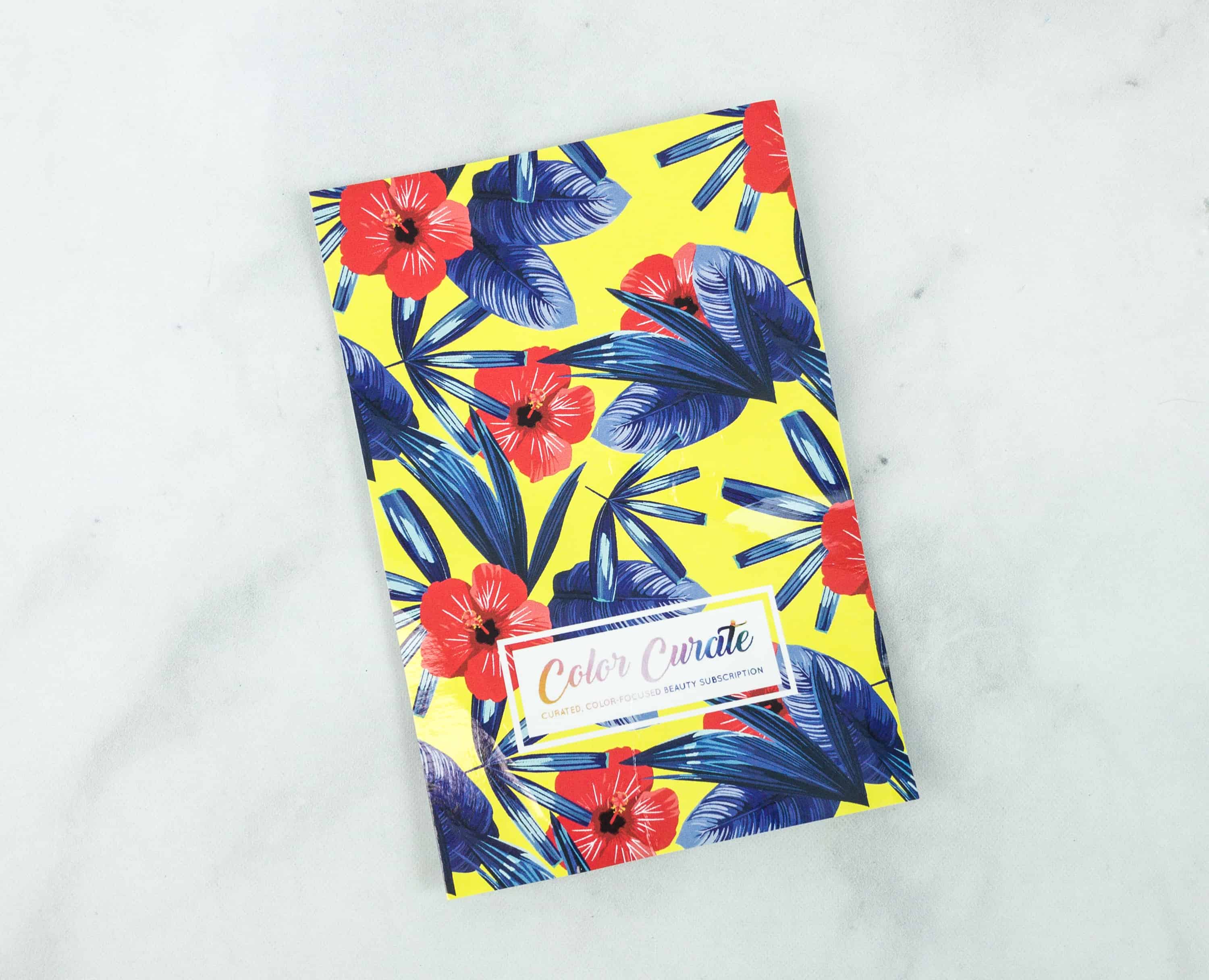 The theme this month is to LIFE IS BETTER IN A BIKINI.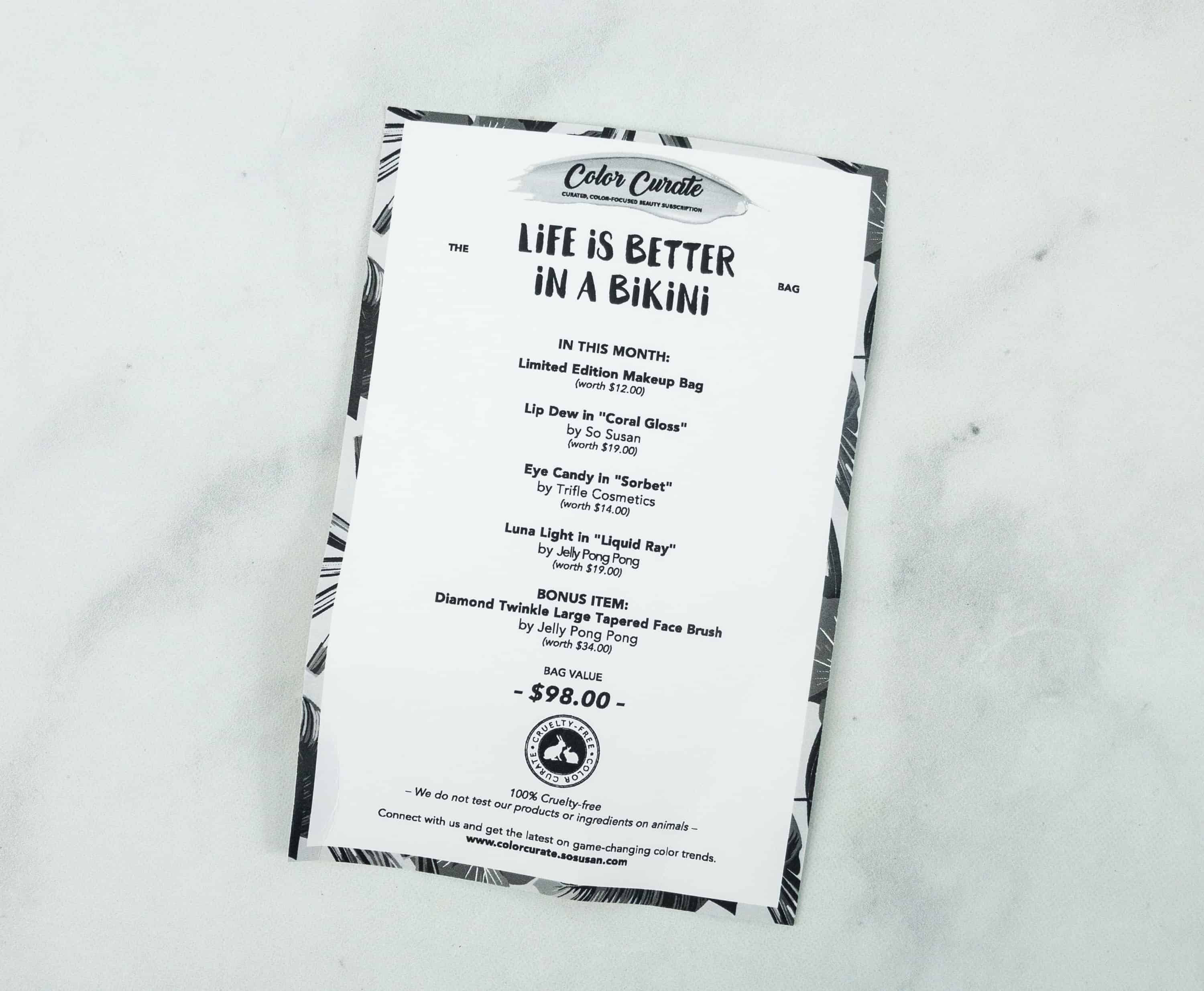 The information card gives you a list of all the items in this curation.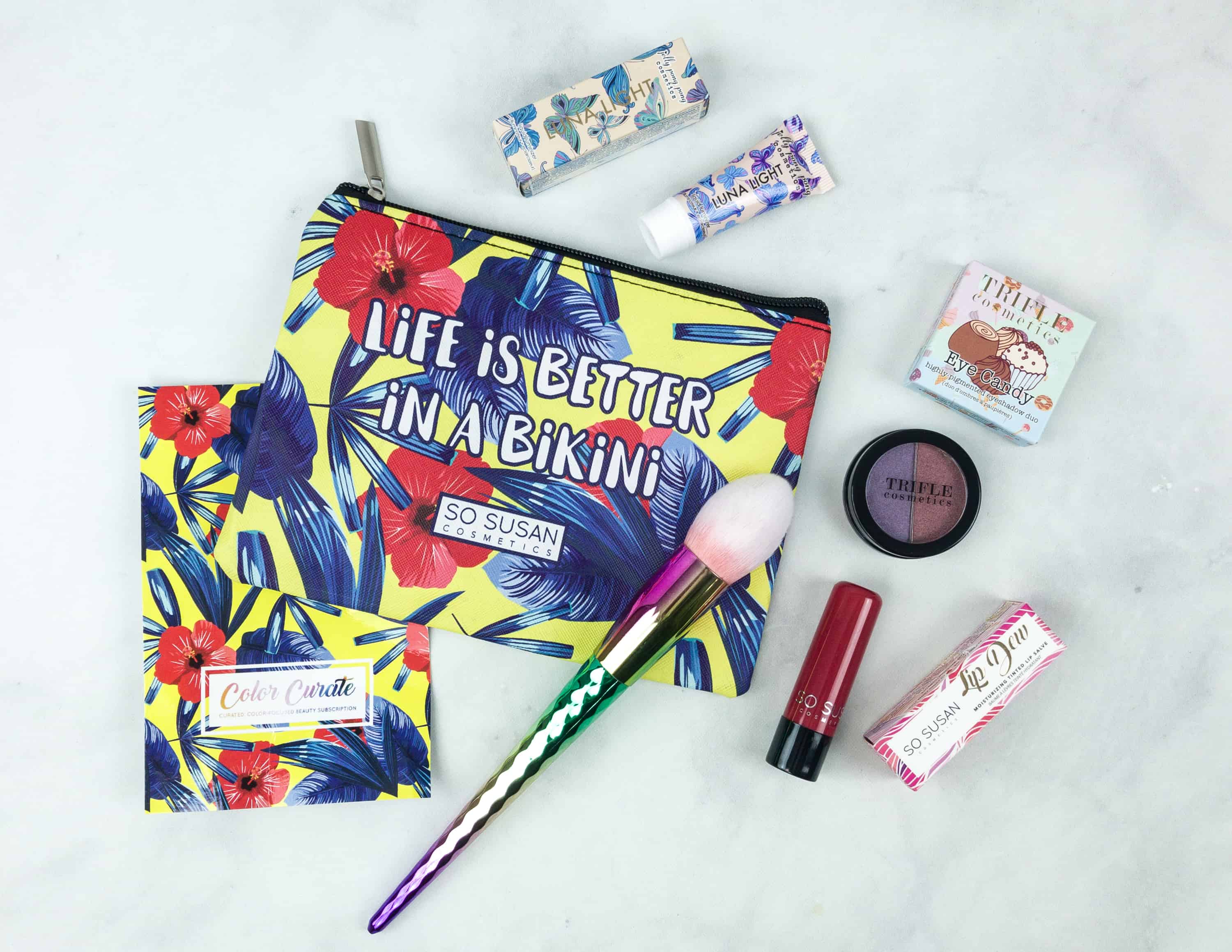 Everything in my So Susan Color Curate August 2018 Bag!
Jelly Pong Pong Cosmetics – Large Tapered Face Brush ($34) Out of all in the 8 piece brush set, they gave us this one with the fluffy domed one in the collection. I appreciate that because this brush enables flawless blending and it's versatile. It doesn't hurt that it looks cool too.
We can use it to set powder, apply liquid or cream foundations, or blend concealer, blush, and even contour.  It's 100% vegan, cruelty-free and has antimicrobial densely packed bristles. It is dual-toned, tapered to facilitate layering of product effortlessly to build coverage using tapping motion and have a streak-free finish.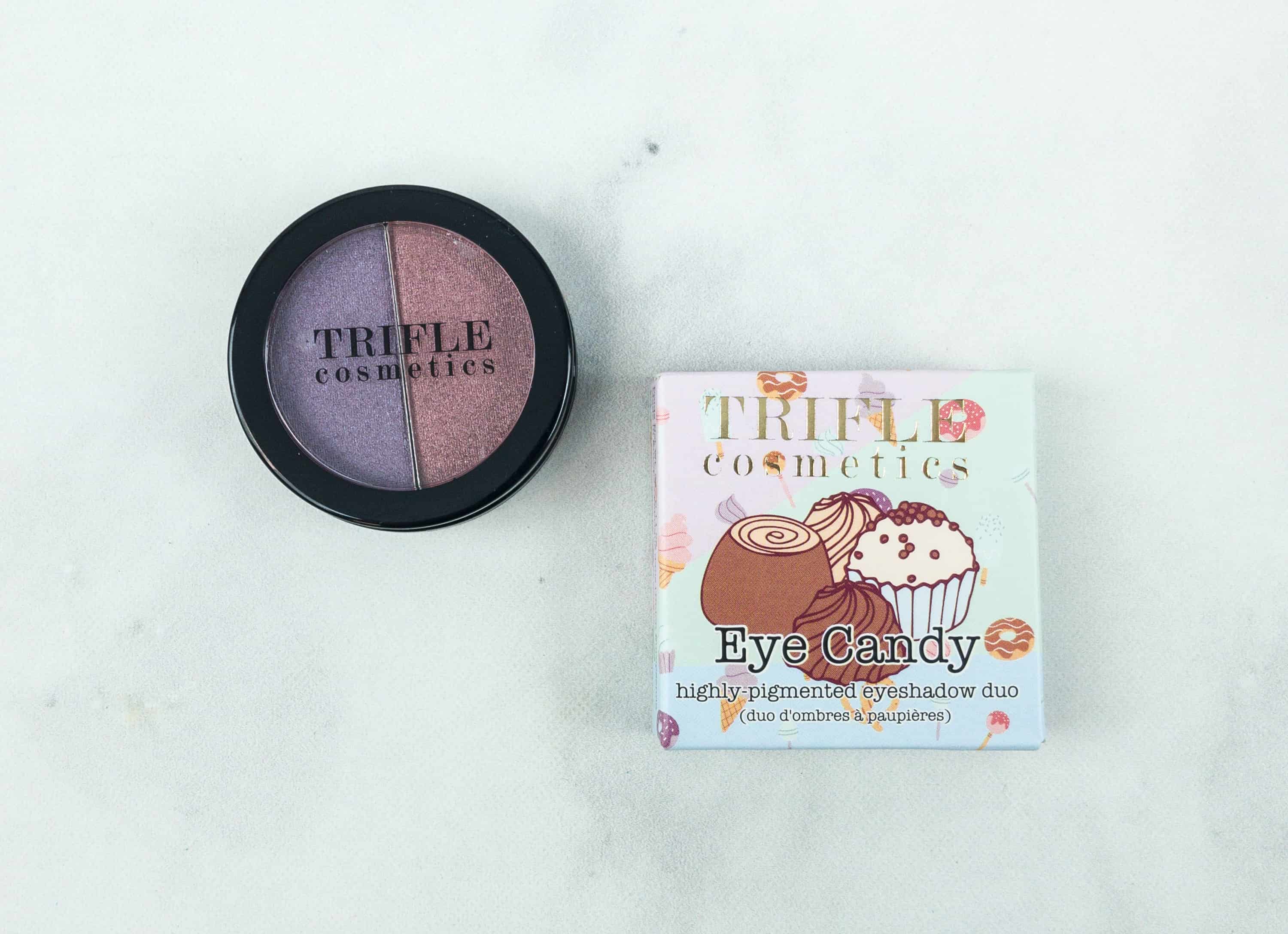 Trifle Cosmetics – Eye Candy in "Sorbet" ($14) Sorbet is one of the seven highly pigmented, fallout-free eyeshadow twins in a dessert-named collection. It has a lustrous, semi-matte finish that is vegan and free of parabens, phthalates, and gluten.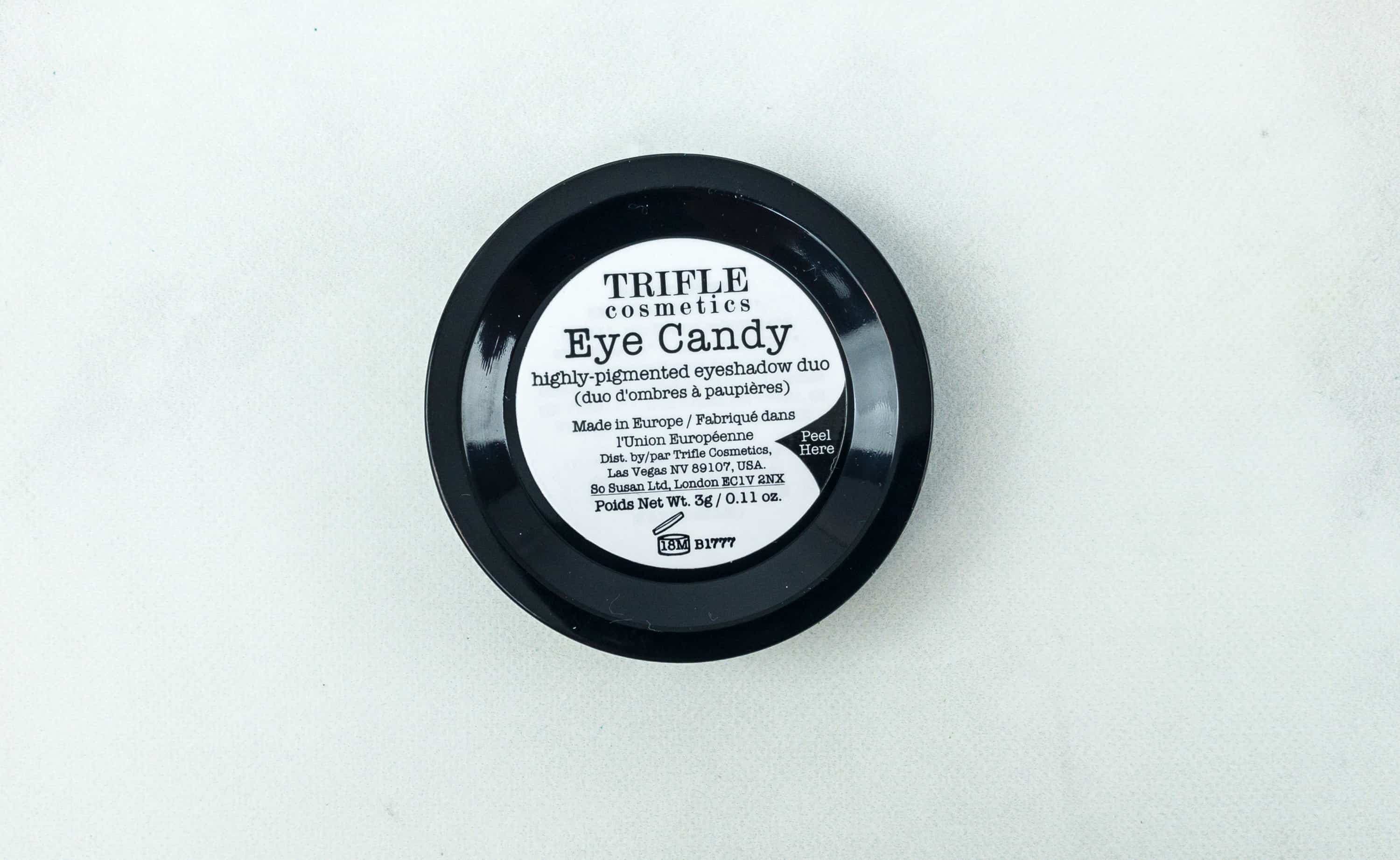 You can use either your finger, or a wet or dry eyeshadow brush and there won't be a problem because the pigment is buildable and the formula is easily blendable.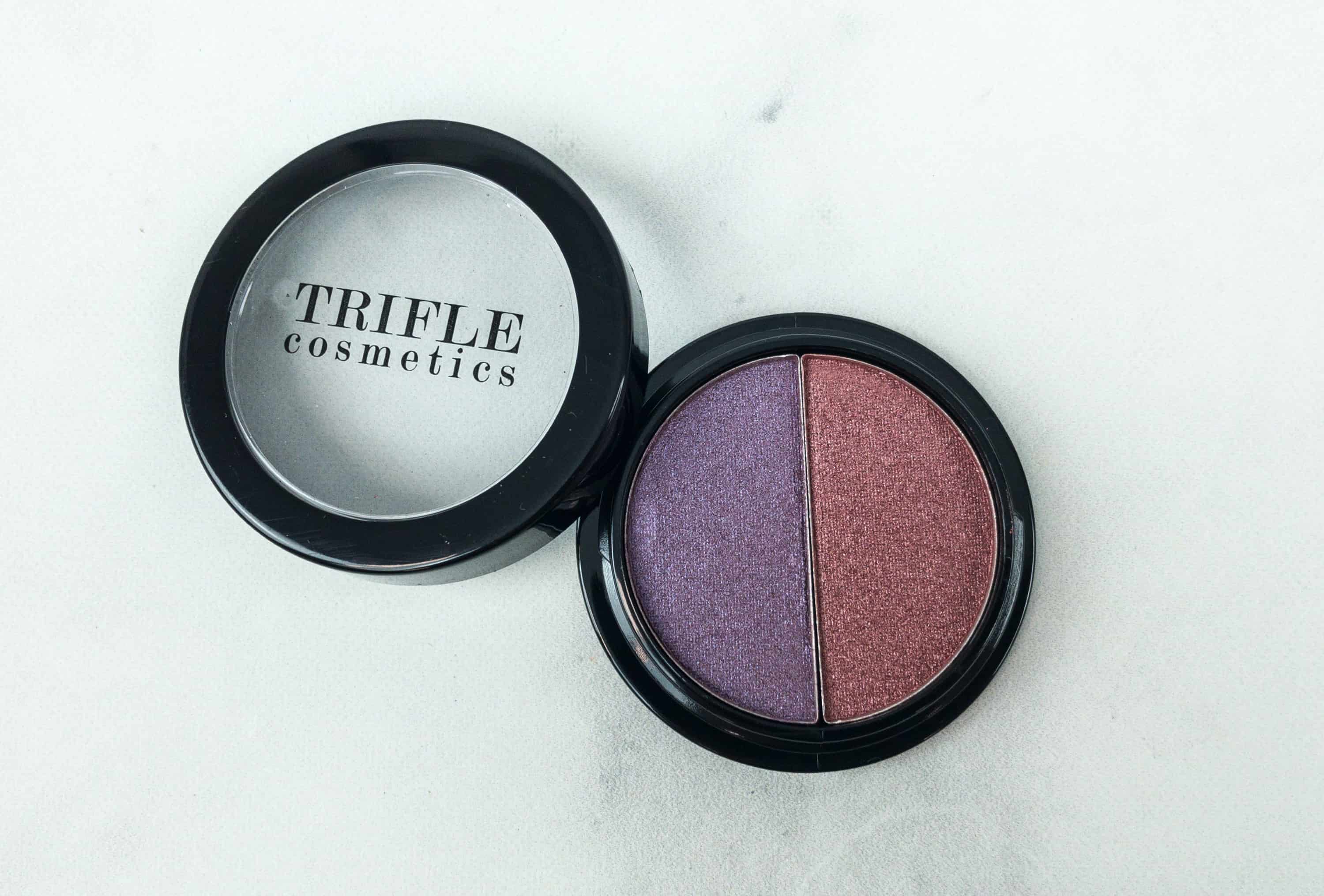 The non-comedogenic and hypoallergenic pigments are encapsulated in a smooth base. They are paired together in a way that the colors can work harmoniously to deliver long lasting elegance whenever you want it. The texture is creamy, not streaky or patchy. It just glides on the lids smoothly and results in flawless pigmented coverage.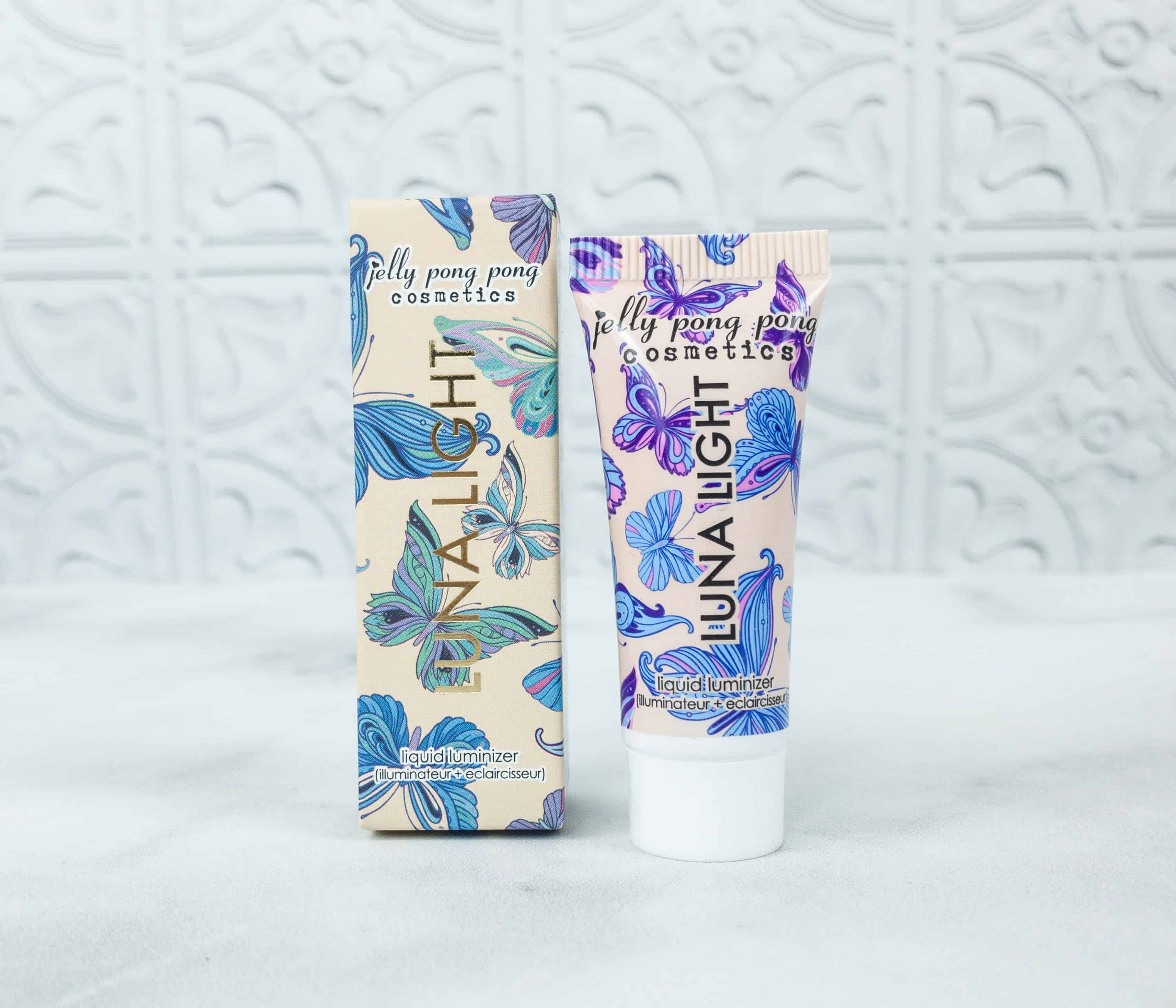 Jelly Pong Pong Cosmetics – Luna Light in "Liquid Ray" ($19) A liquid luminizer is all we need to provide the face a feather-light and iridescent twinkle that can be used with liquid foundations and moisturizers to have a dewy radiant effect – and it can be used over or under your base makeup! Its formulation is a combination of pearlescent pigments, evening primrose, eyebright extracts and high-grade mica. It's vegan, and without mineral oil, parabens, or phthalates. It's also hypoallergenic and non-comedogenic. Squeeze a small amount on your fingers and spread unto cheekbones or wherever a touch of luminescence is wanted and then blend well with a thick brush.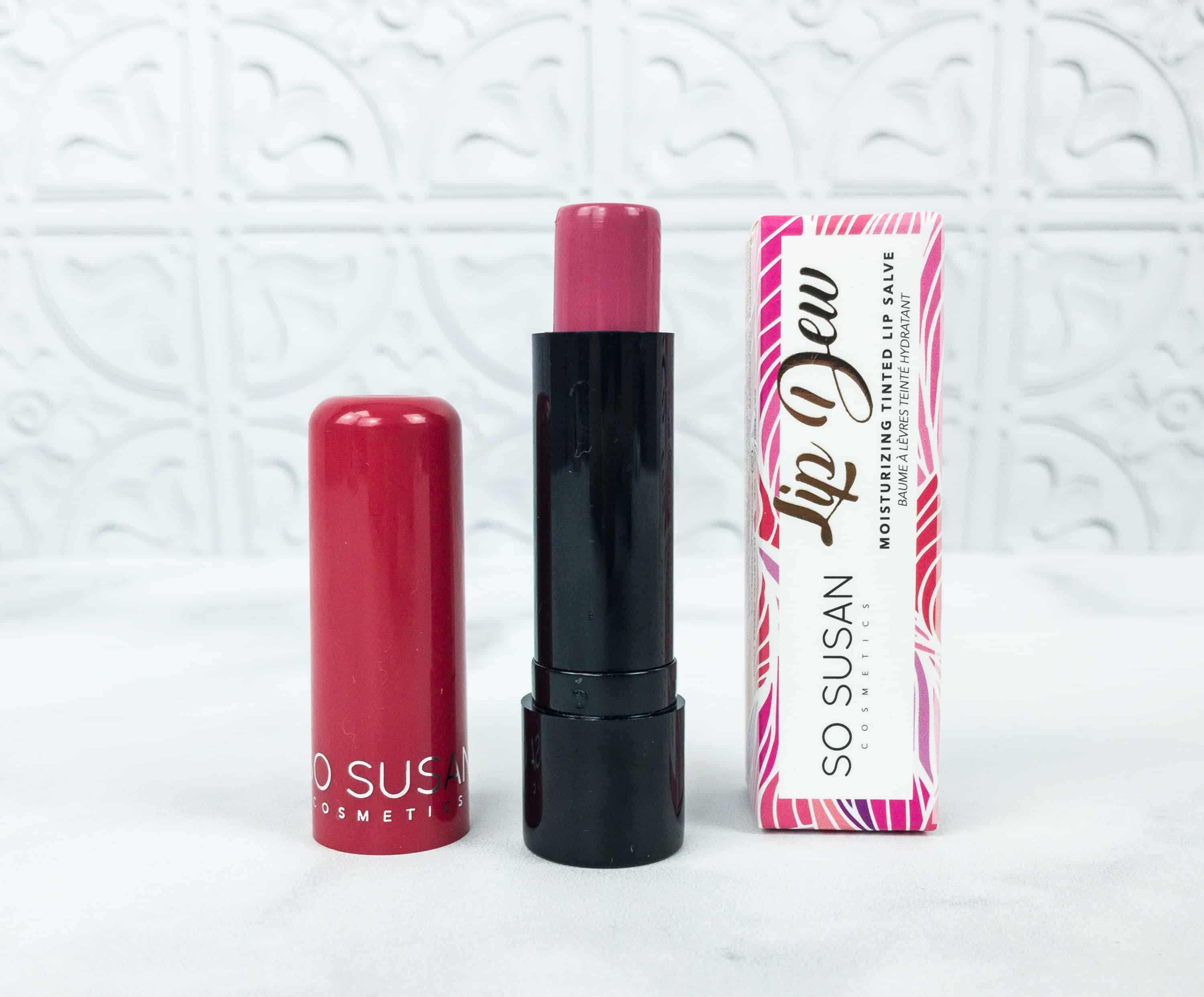 So Susan Cosmetics Lip Dew Moisturizing Tinted Lip Salve ($19) It's a long-wearing lip salve that is pigmented and offers deep hydration for dry and chapped lips. It has protective pure shea butter, vitamin-rich barrier and a buildable formula that moisturize and improves the elasticity of lips.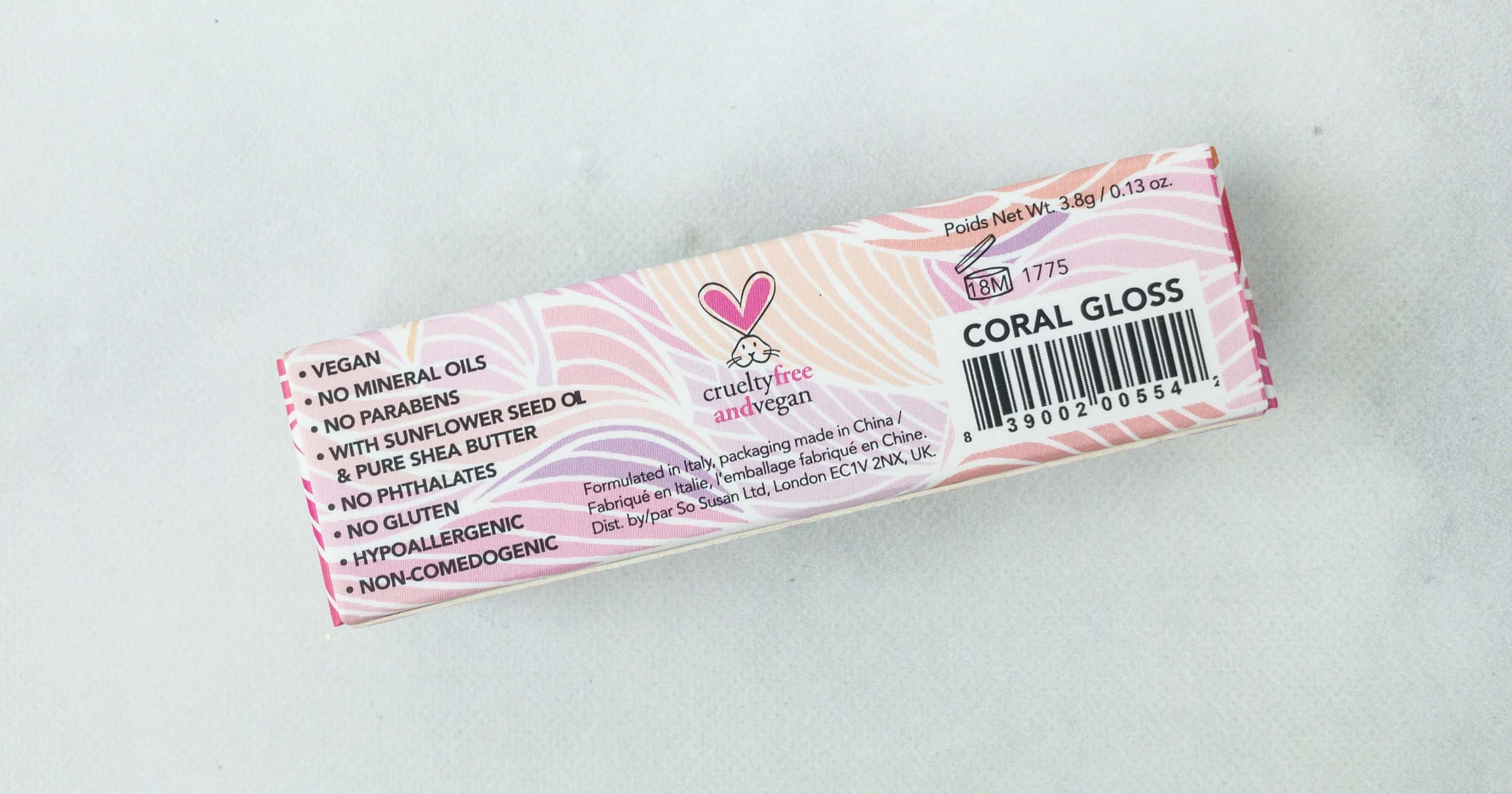 Just glide and follow the contours of your mouth and you're good to go. It's vegan! It is also formulated without gluten, mineral oils, parabens, and phthalates. Same with the other items in the box, it is also hypoallergenic and non-comedogenic.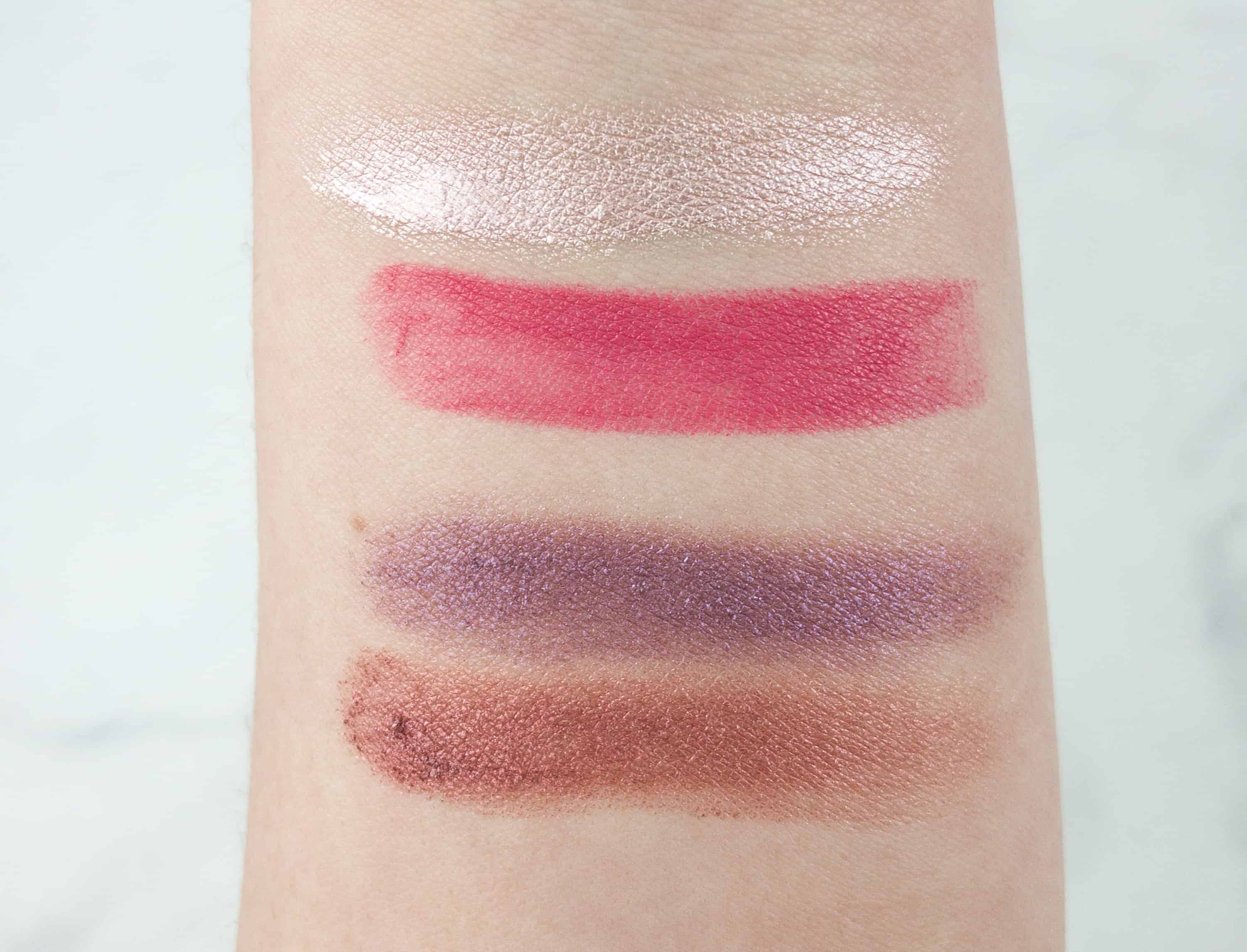 All the swatches look actually pretty good. All of them are pigmented and creamy. They're not gritty at all. I love that creamy lip salve and I love not putting my fingers in it even more!
So Susan always makes an effort to give us products that are vegan or cruelty-free which really helps to raise the standards of makeup. I love everything about the box and using an illuminizer is always a fun extra touch. So Susan is always trying to spice things up and make it interesting for all of us. I love that the eyeshadows are so pigmented and that the lip salve is super creamy and moisturizing. The brush is a multi-tasker too even though they didn't send us makeup that can be used by the brush. On top of that, a new summer pouch has been added to the So Susan Collection too. All of the items together have a retail value of $98!
What do you think about the So Susan Color Curate?