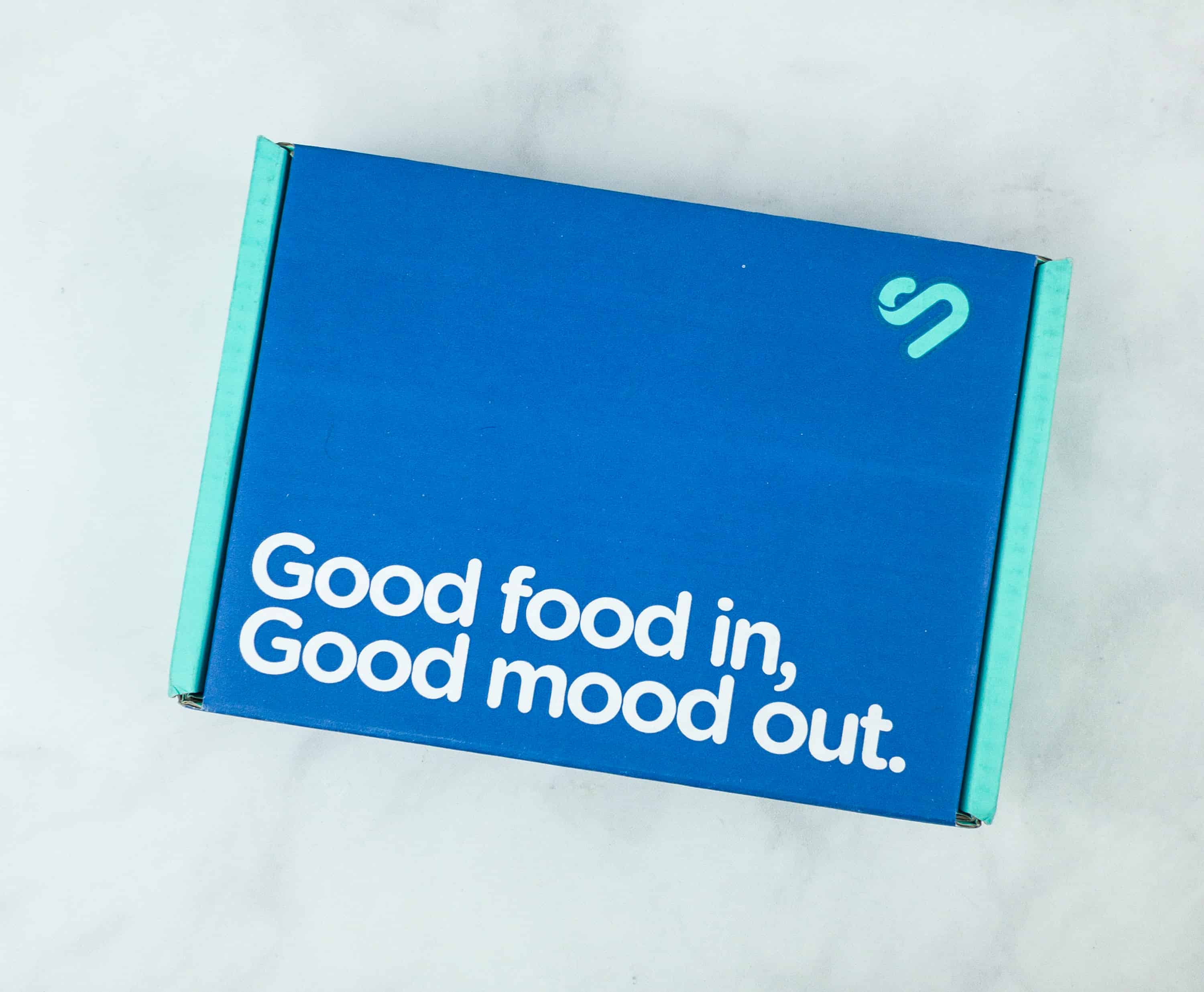 SnackNation is an award-winning healthy snack delivery service that makes it "auto-pilot easy" to discover new, exciting, all-natural snacks every month. Each month, the snack experts will meticulously select 6 best snacks to be in the box. This box is $9.99 but your first box and every month thereafter will be $4.99 as long as you complete the survey (which is quick enough for even me to finish it!).
For every box delivered to your door, SnackNation donates a meal on your behalf to a hungry family.
DEAL: Pay only $1 for 6 snacks every month when you complete a quick online survey. USE THIS LINK to get the deal. You'll pay $1 + $3.99 shipping for each month as long as you fill out the survey.
There's an info card reminding subscribers to fill out the survey form to get the next box on a discounted rate!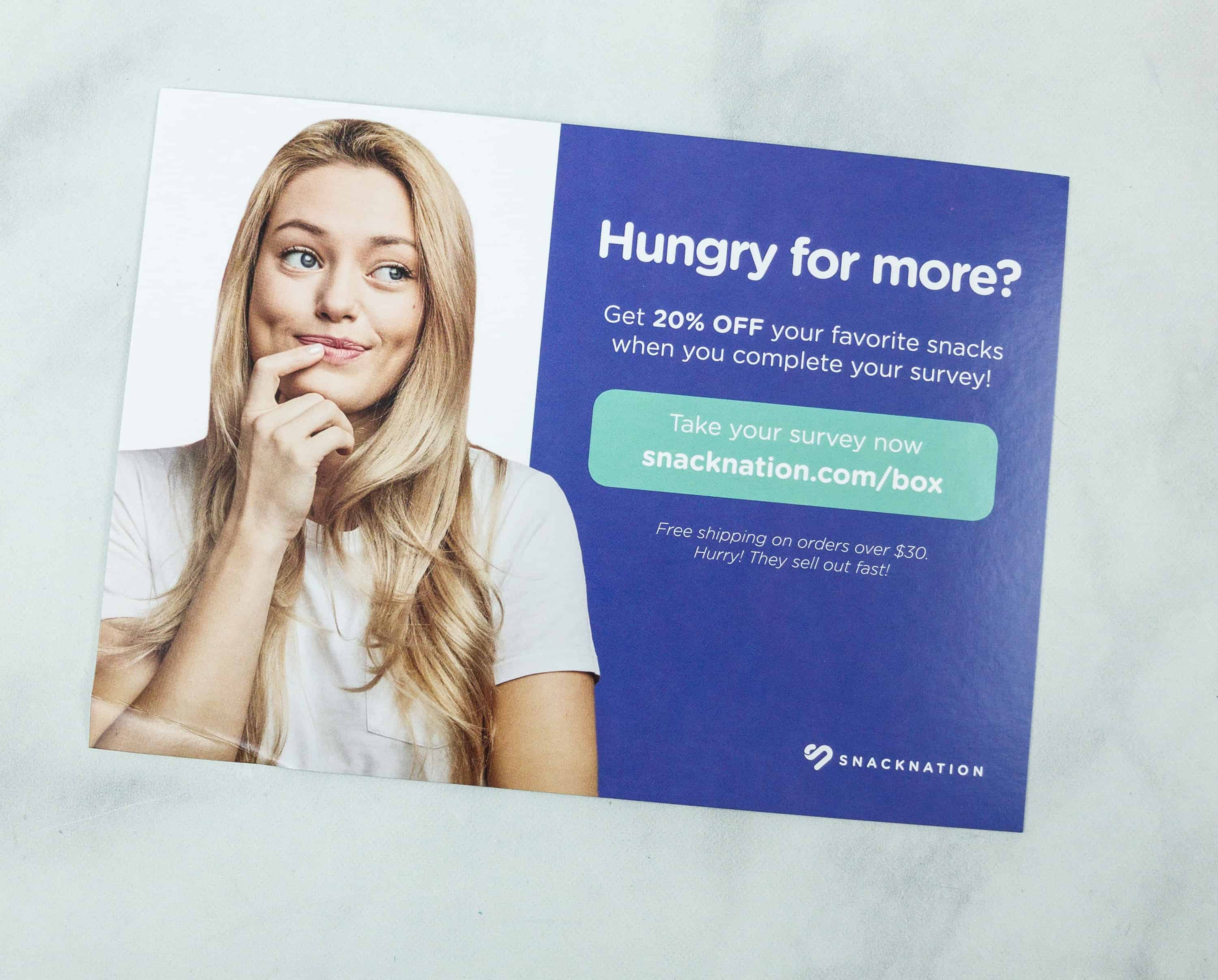 Get a 20% off when you complete your survey!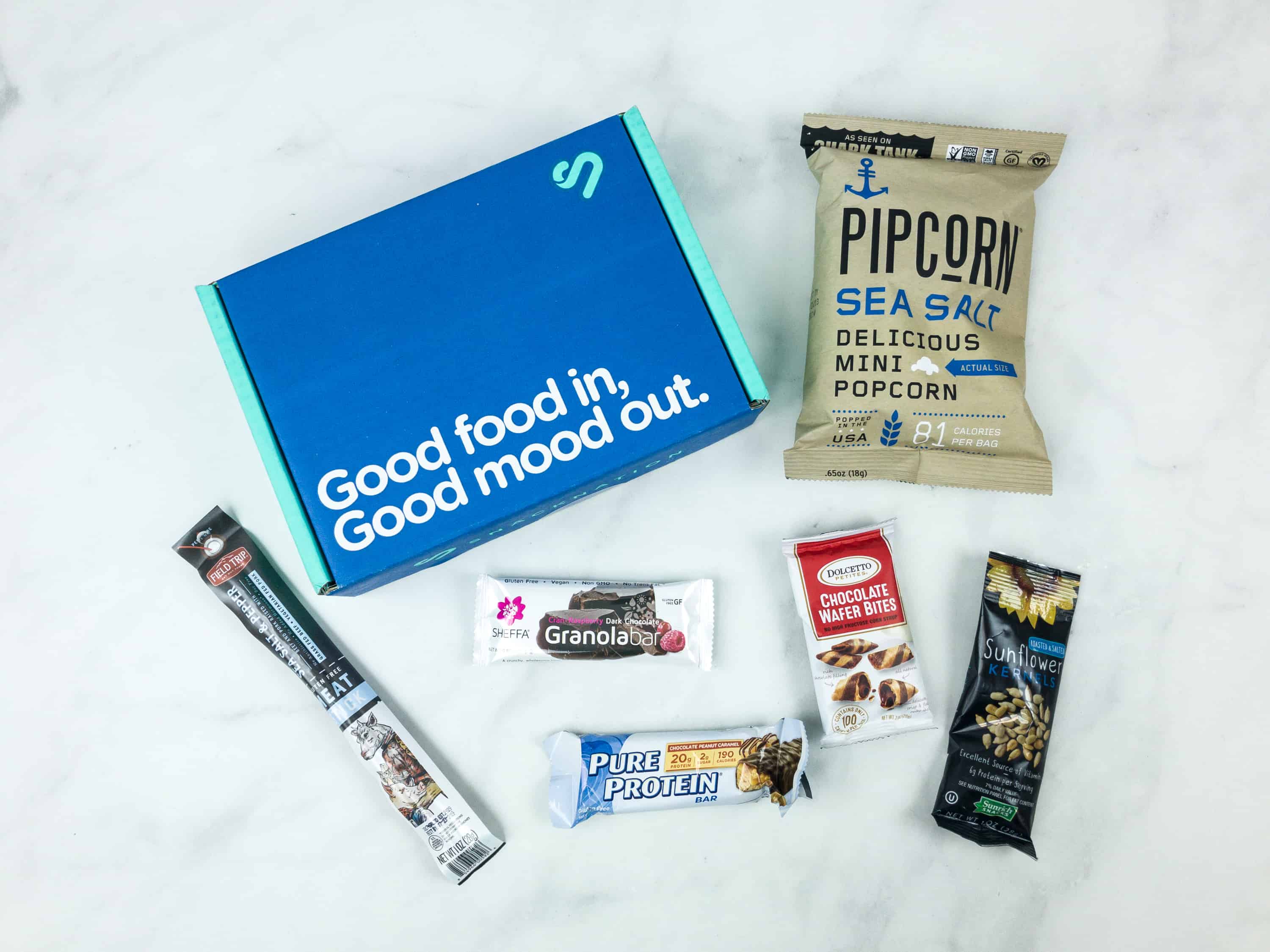 Everything in this month's box!
Pipcorn Mini Popcorn In Sea Salt ($1.08) This popcorn snack is made from corn seeds which are popped using pure olive oil. It's also lightly seasoned with sea salt. So tasty! The best thing about it is that it's gluten-free and vegan. It's a great snack during movie night or even a simple snack between meals!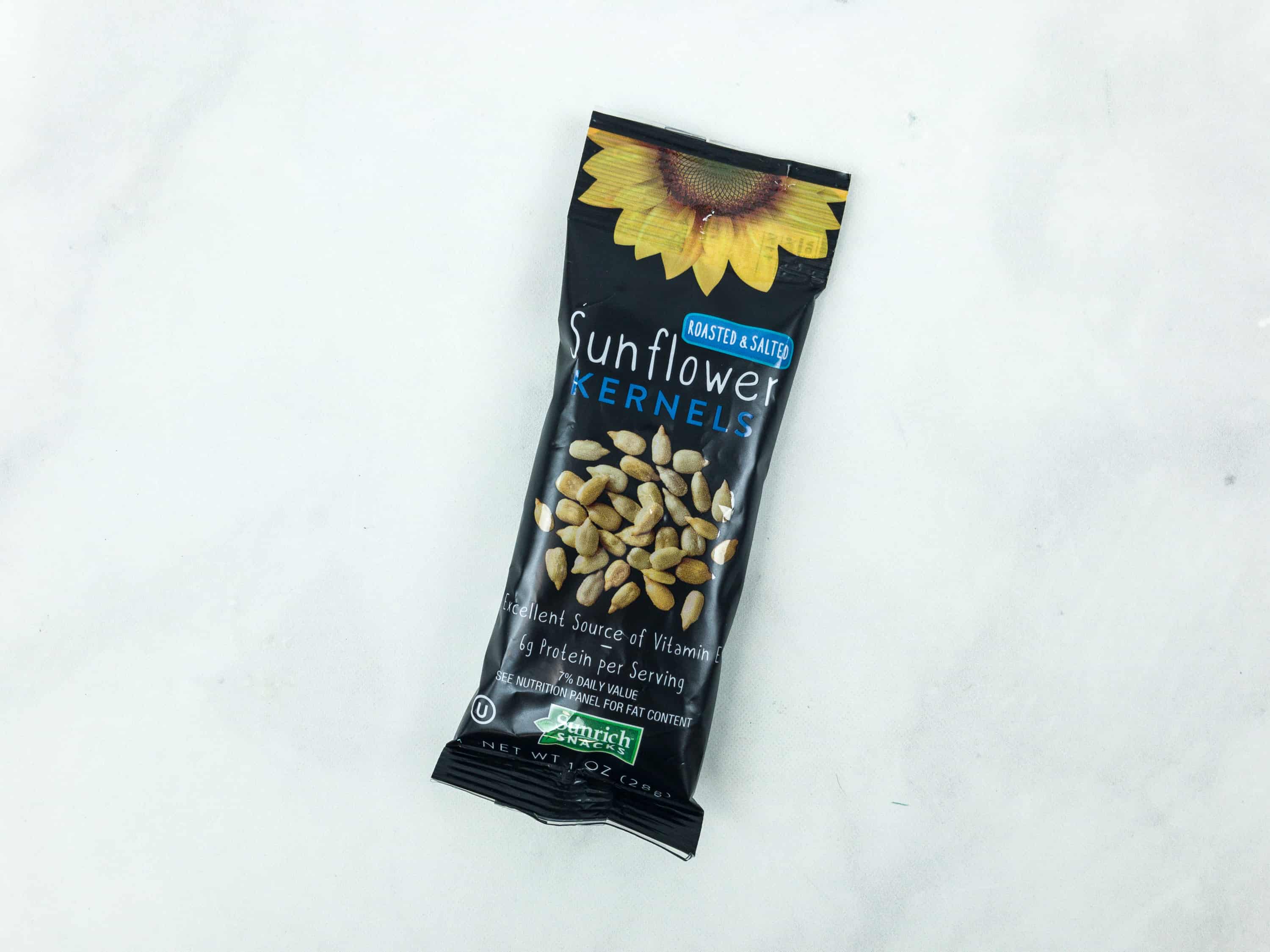 Sunrich Snacks Roasted & Salted Sunflower Kernels ($0.34) Gluten-free and vegan, these sunflower kernels make an excellent source of protein and Vitamin E. It was salted just right, not too bland nor too overpowering.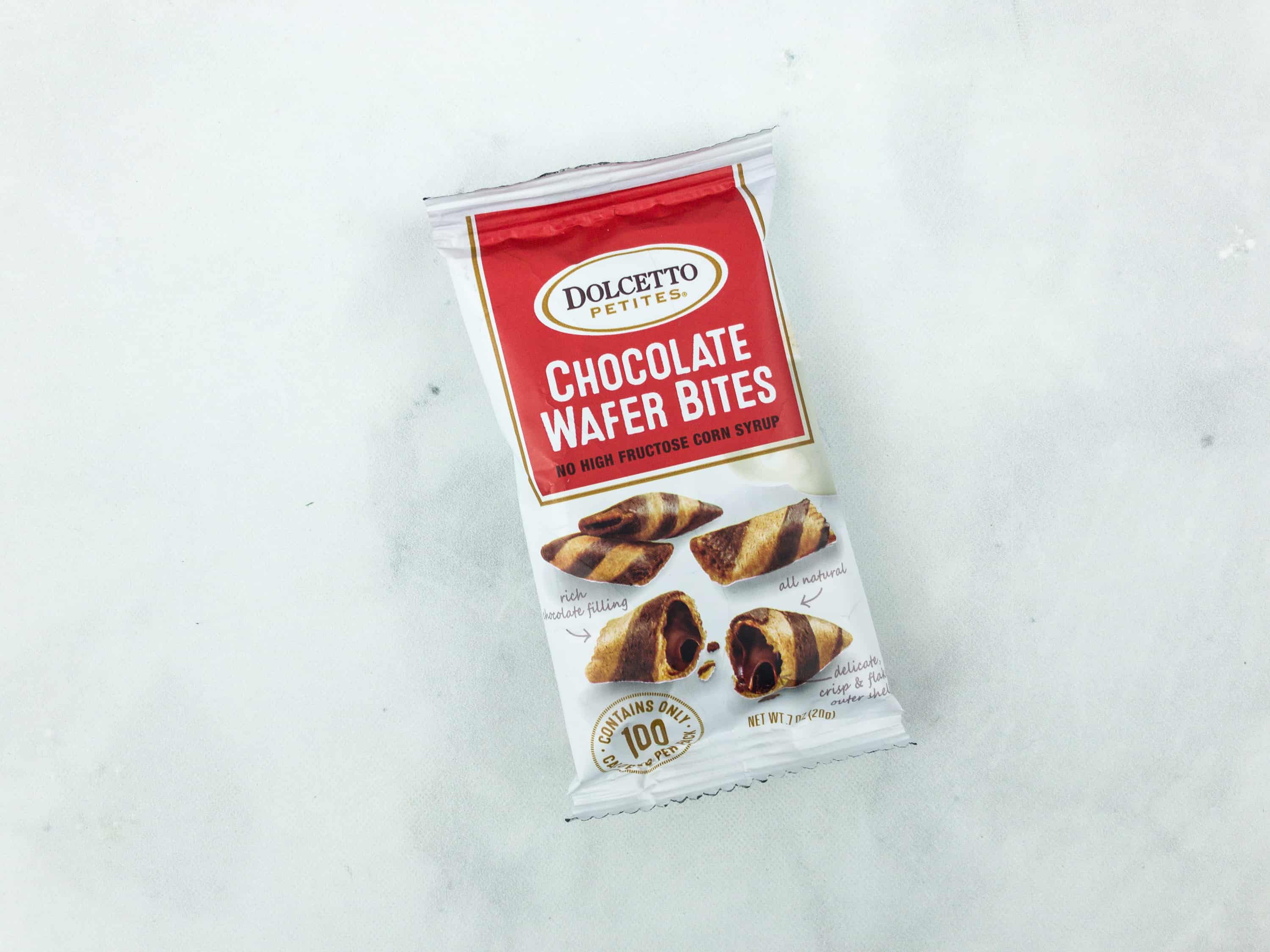 Dolcetto Petites Chocolate Wafer Bites ($0.50) The pack contains bite-sized crispy wafers filled with chocolate cream. It is made with all-natural ingredients without any trans fat. No artificial flavors, coloring, preservatives, or high fructose corn syrup too. So yummy!
Pute Protein Bar In Chocolate Peanut Caramel ($1.15) From the name itself, this chocolate bar is a great source of protein! It's a gluten-free, chocolate peanut butter loaded with 20g of protein, and packed with vitamins and minerals that will fuel you up on a busy day.
Sheffa Cran-Raspberry Dark Chocolate Granolabar (about $1.56) This gluten-free granola bar is made with oats and brown rice. It's made tastier by dark chocolate, hazelnuts, cranberry, and raspberry. Perfectly sweet and chewy!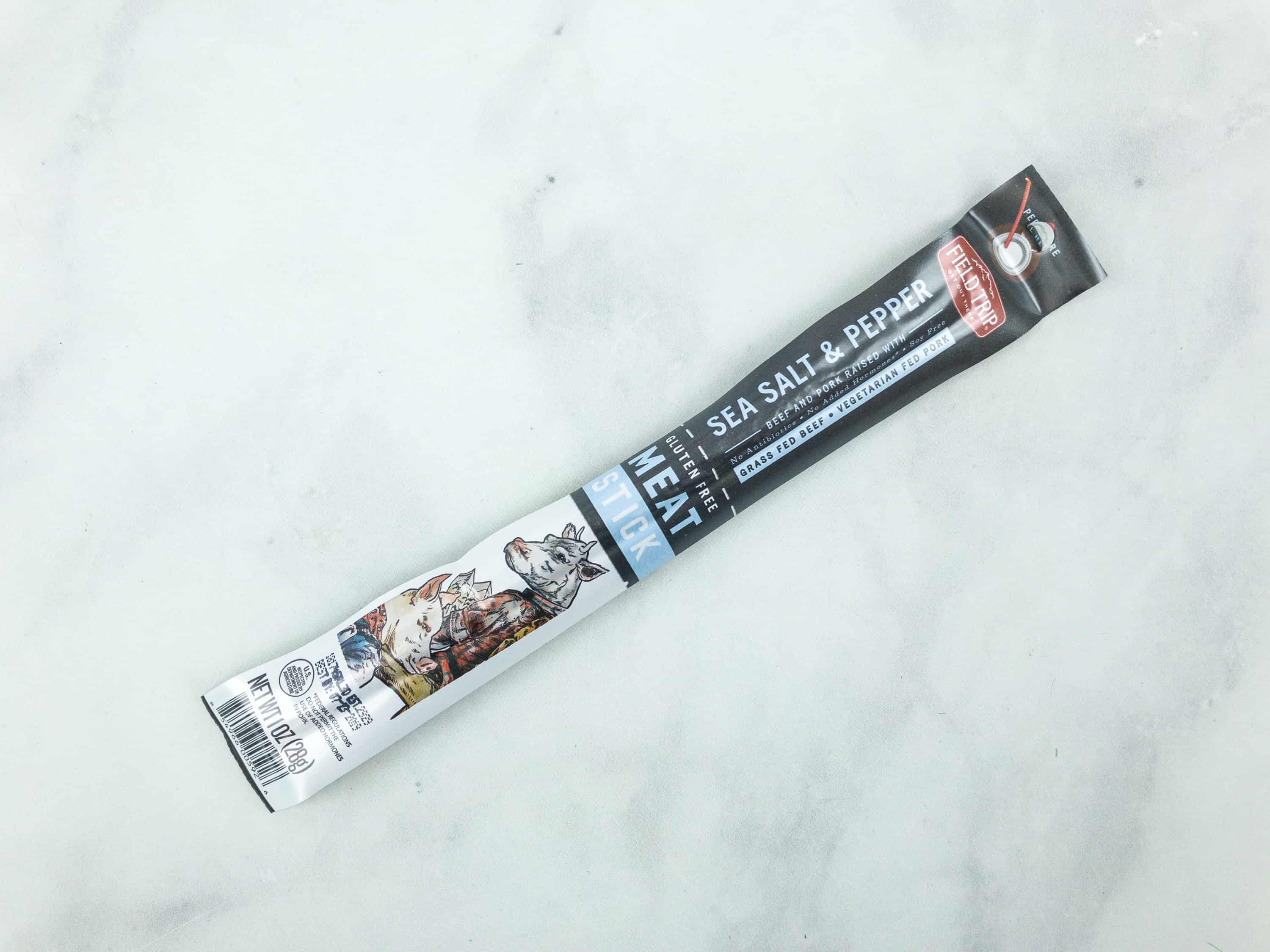 Field Trip Sea Salt & Pepper Meat Stick ($1.82) Jerky sticks are great on the go snacks. This one is all-natural, low-fat, and low-carb. There's no MSG, preservatives, artificial ingredients, and sodium nitrate too. It was seasoned with sea salt and pepper, making it evern more satisfying to eat!
Flavorful and healthy snacks are always included in Snack Nation boxes. This month, we got snacks which can be enjoyed at home or even on-the-go. It's definitely the perfect subscription for busy people like me who love snacking. One more thing about this subscription that makes it very special is that they donate a meal to charity for every box delivered. All in all, it's a great way to discover new snacks! There's not a whole lot in here but there's enough to keep me happy to fill out the survey for a quick snack box at this price!
Are you getting a SnackNation box?