PostBox is a paper and stationery subscription box by Postmark'd Studio filled with handcrafted greeting cards and postcards from around the world. PostBox curates the items to a theme and it costs $25 a month plus shipping. You can save on a longer subscription – save 10% on a 3-month sub, 15% on a 6-month sub, and 20% on a 12-month sub. Each sub is $5 a month for shipping.
Each month, your PostBox card box is filled with four greeting cards, one postcard, postage, and a fun artsy doodad such as a pen, pencil, or knick-knack gadget based on a theme. The value of the products in your subscription box will always be what you pay for each month, sometimes more. There may be a surprise bonus gift some months, so you don't want to miss a box!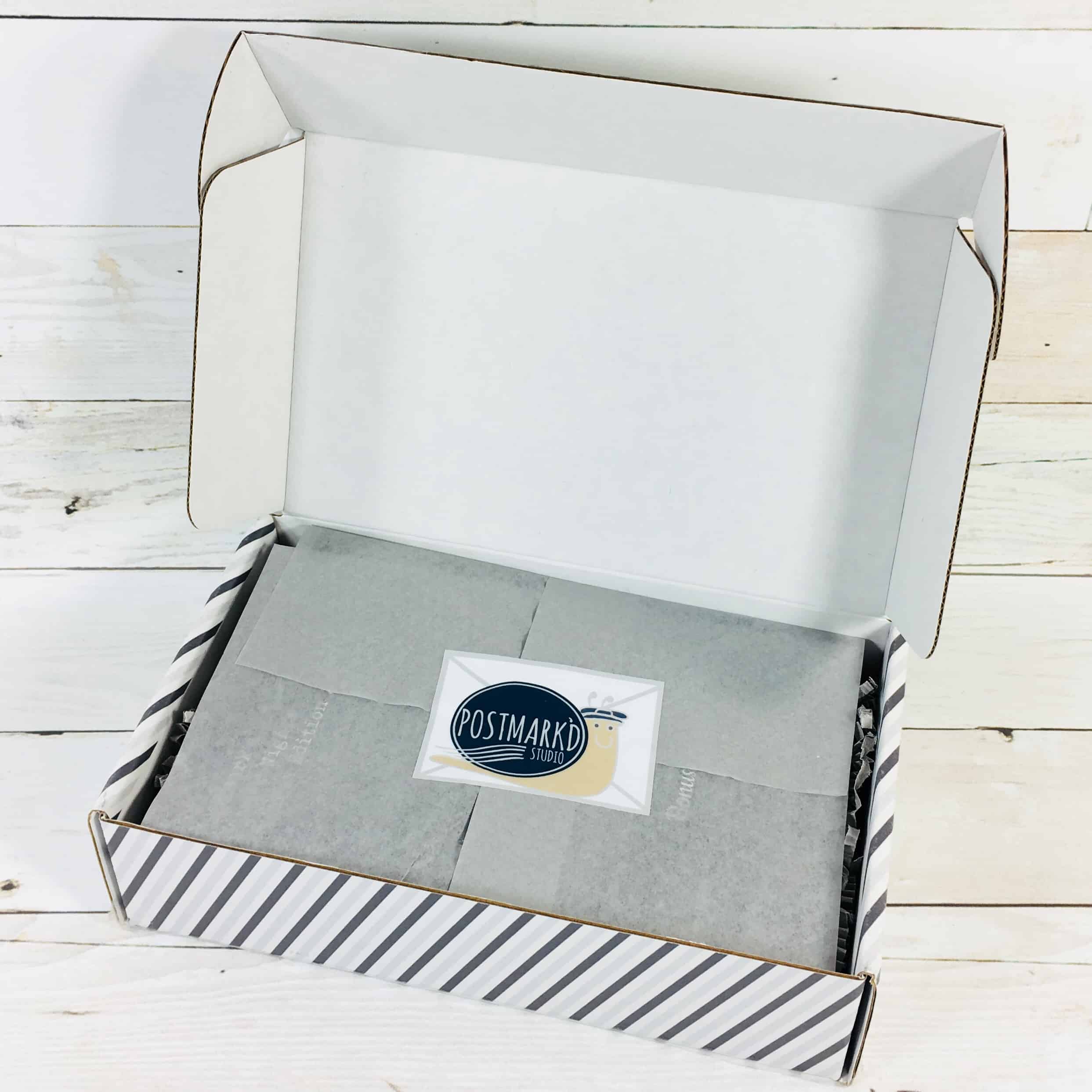 DEAL: Get 40% off or $10 off your first box when you sign up for a 3-month subscription. Use the code HS404ME.
PostBox is perfect for those who enjoy sending a handwritten letter or who wants to keep thank you cards on hand. The items in the box would also make a nice hostess gift in a pinch.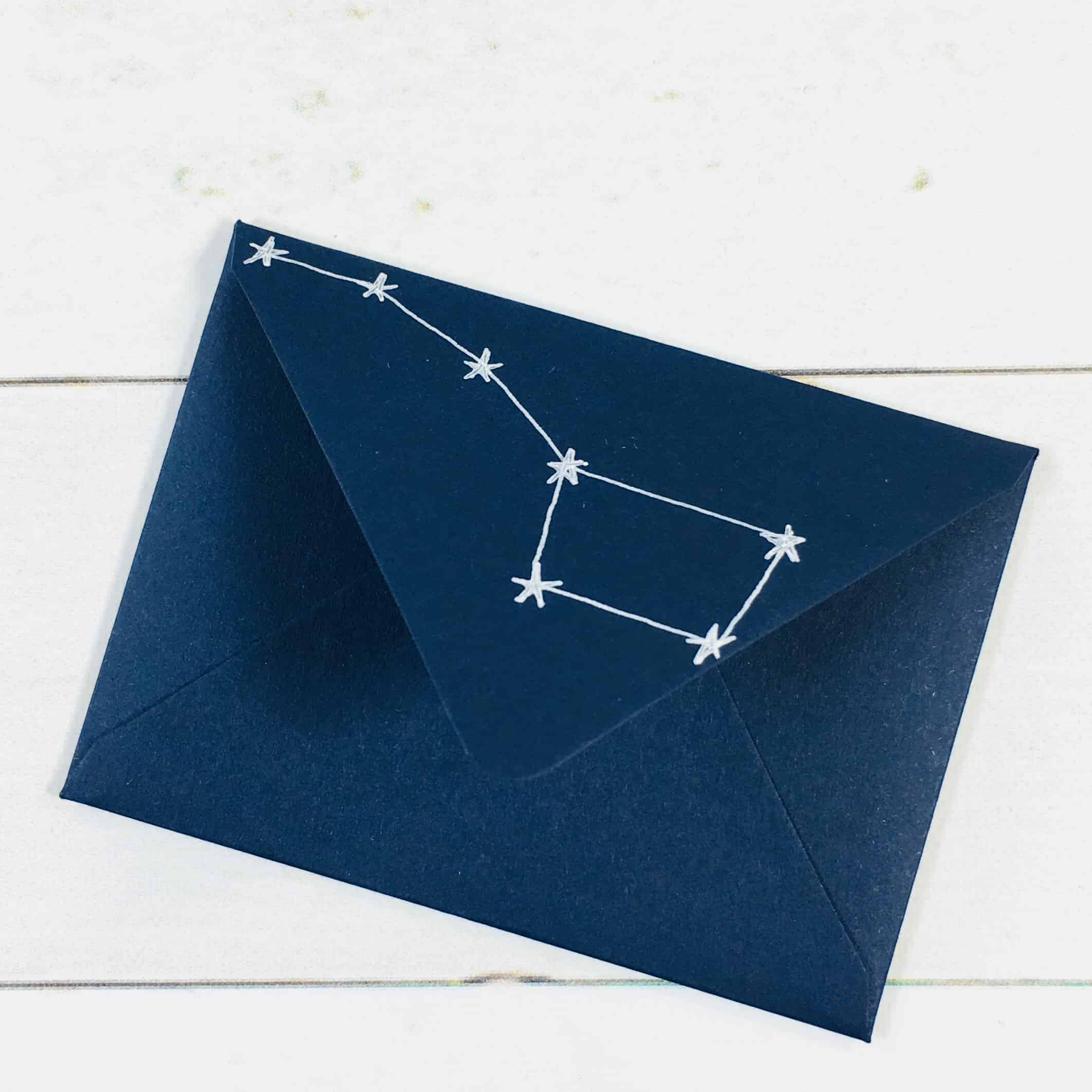 I received a card. The envelope usually gives a clue to the theme.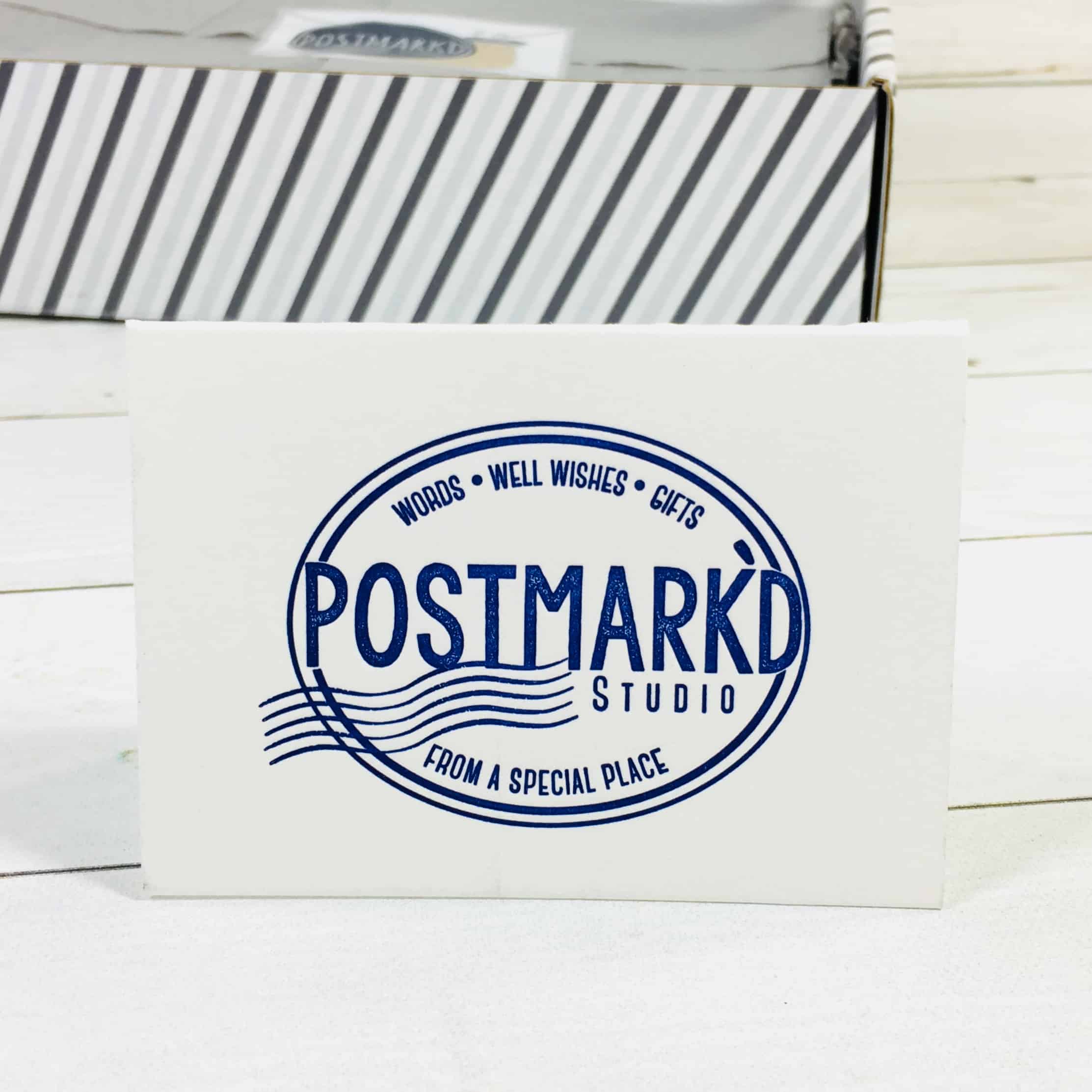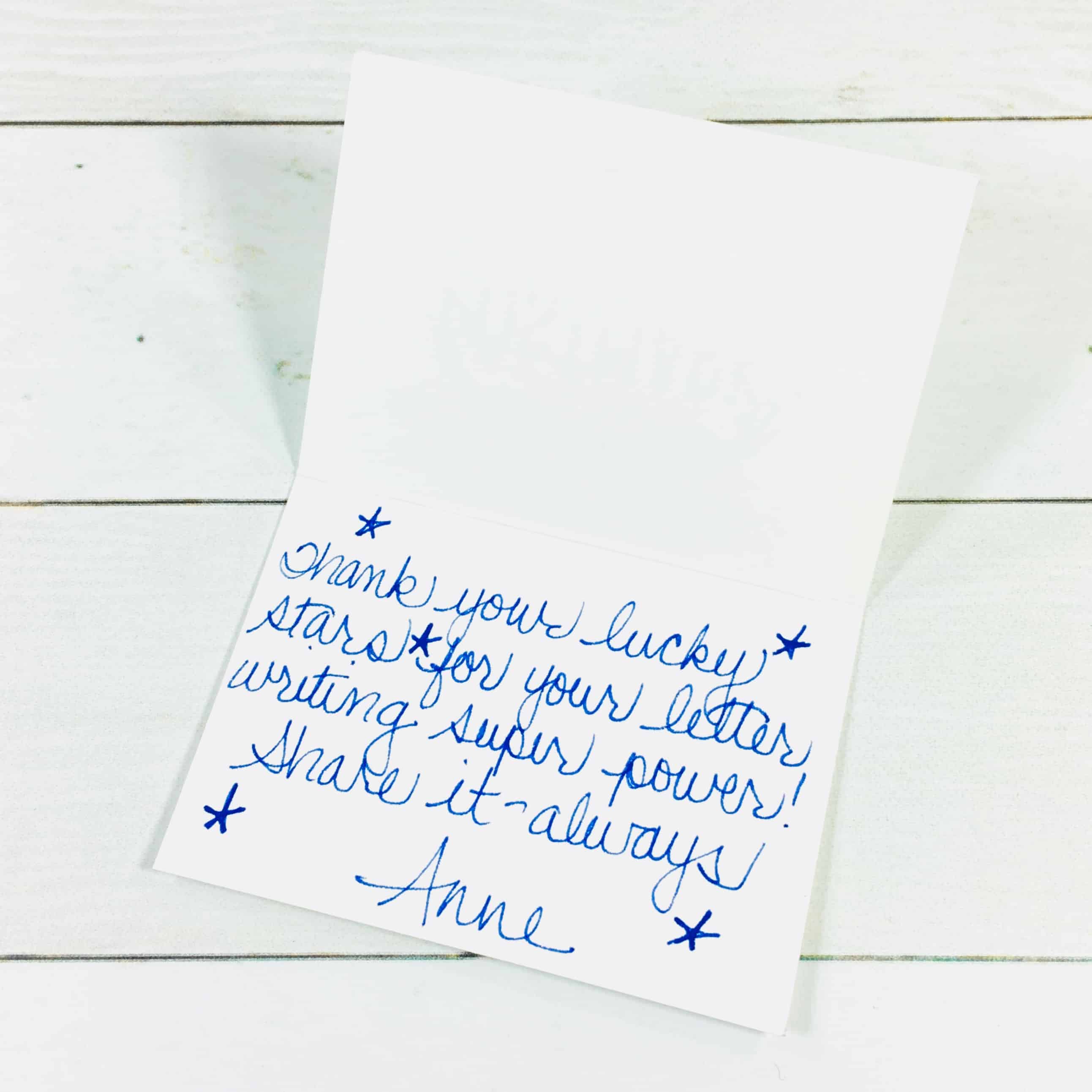 A handwritten card is always appreciated!
I received a card with info on all of my new products. I enjoyed reading the short bio about the makers and where they are from. The theme for August is Starry Nights!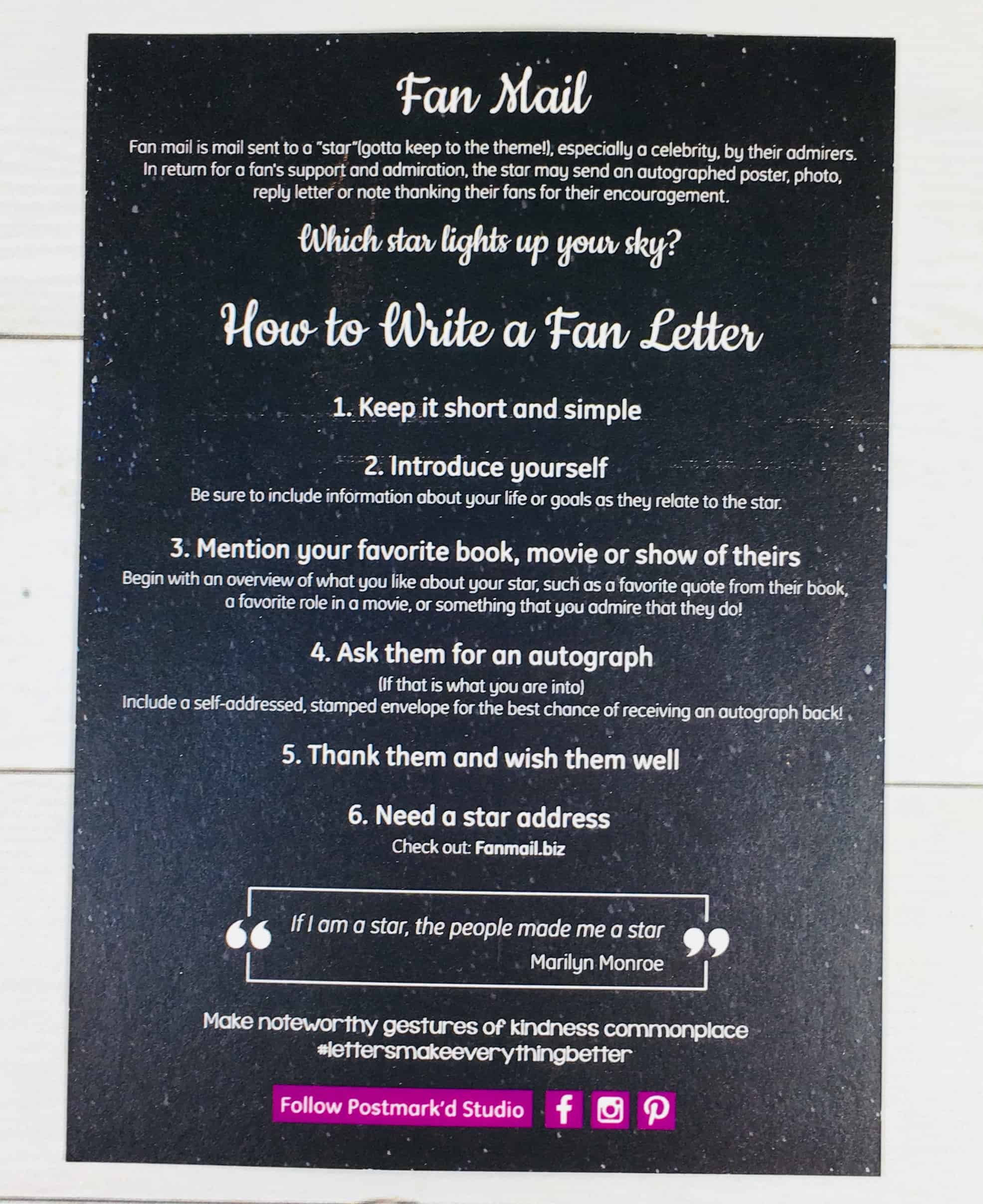 The back of the card listed some hints for writing a fan letter to one of your favorite "stars", get it?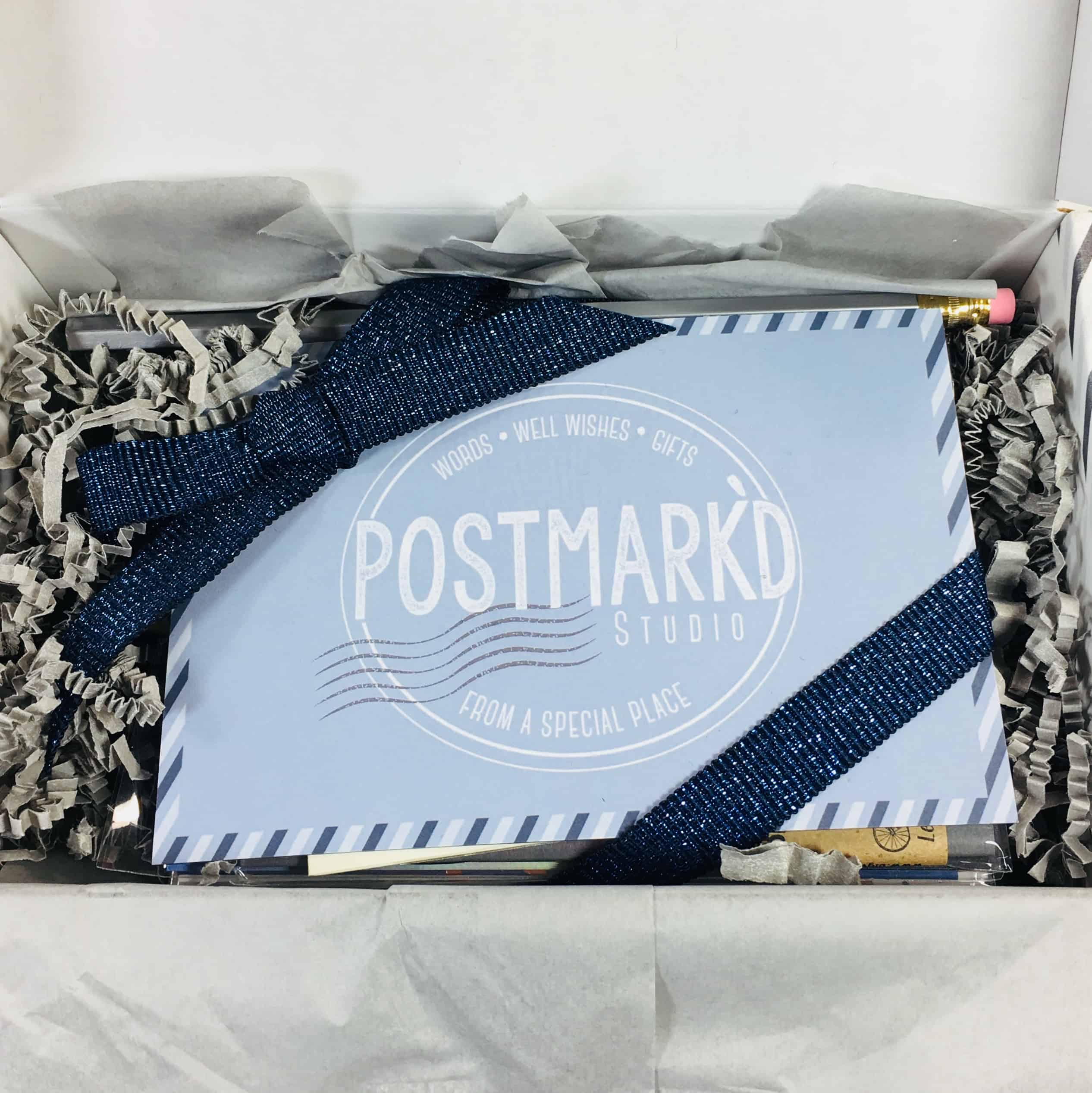 My products were wrapped with glittery blue-colored ribbon. It lifts out of the box in one piece but I also found another item in the box, too.
Everything in my box!
Marco Jumbo 5402 Colored Pencils ($5.87) came with a bonus sharpener.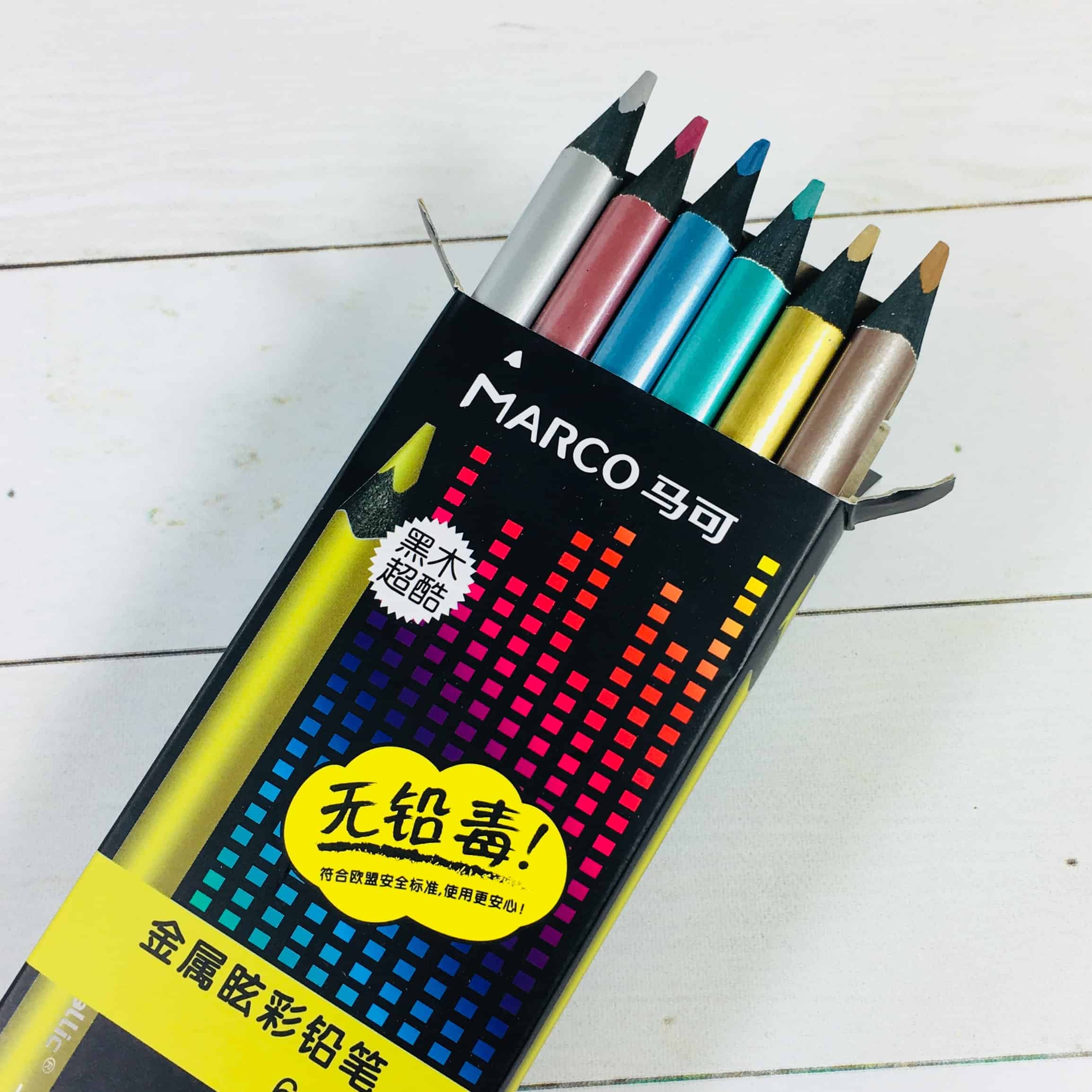 These are bigger than the usual pencil and feature metallic lead. They are kind of shaped like a triangle so they won't roll off the table or a desk.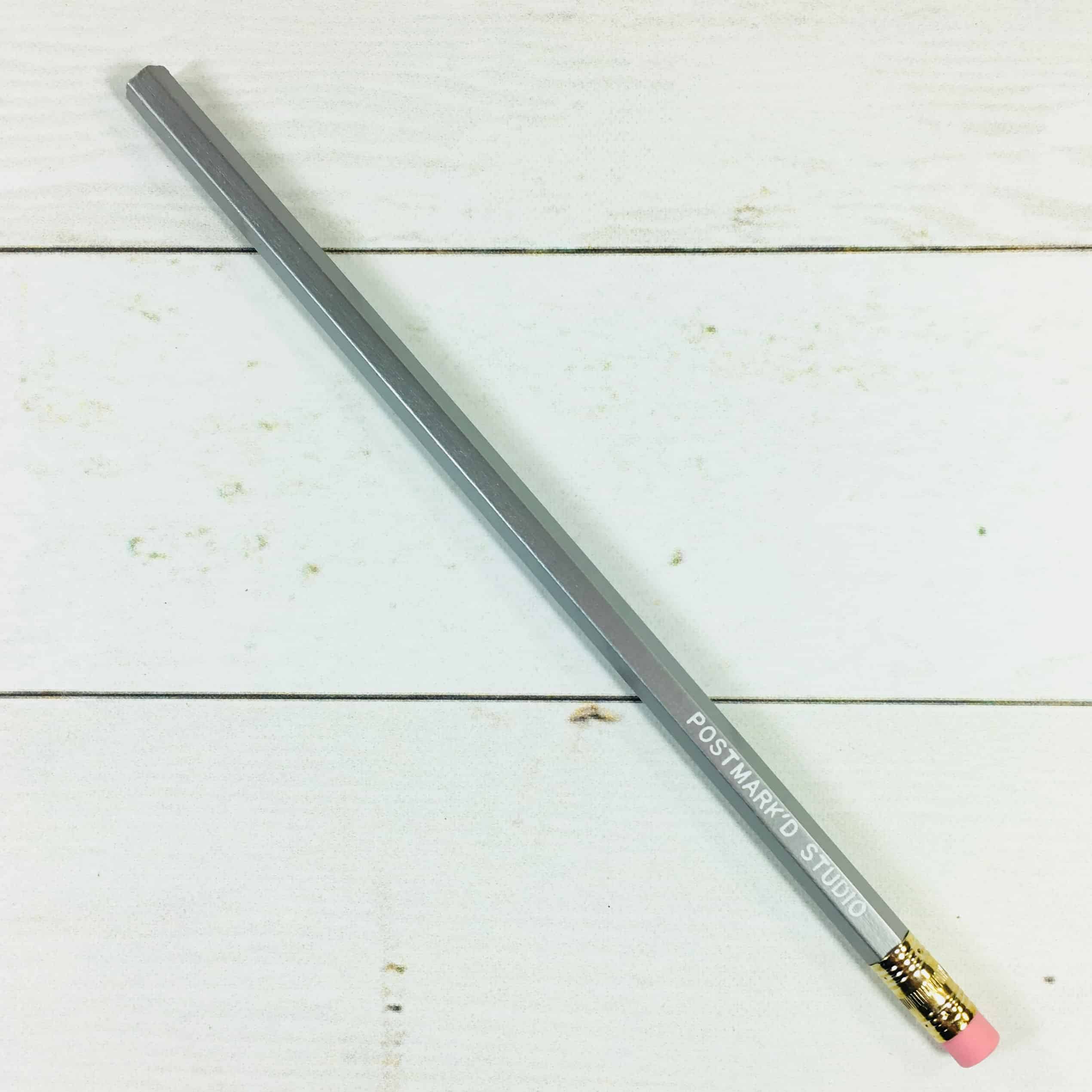 A Postmark'd Pencil is in every box.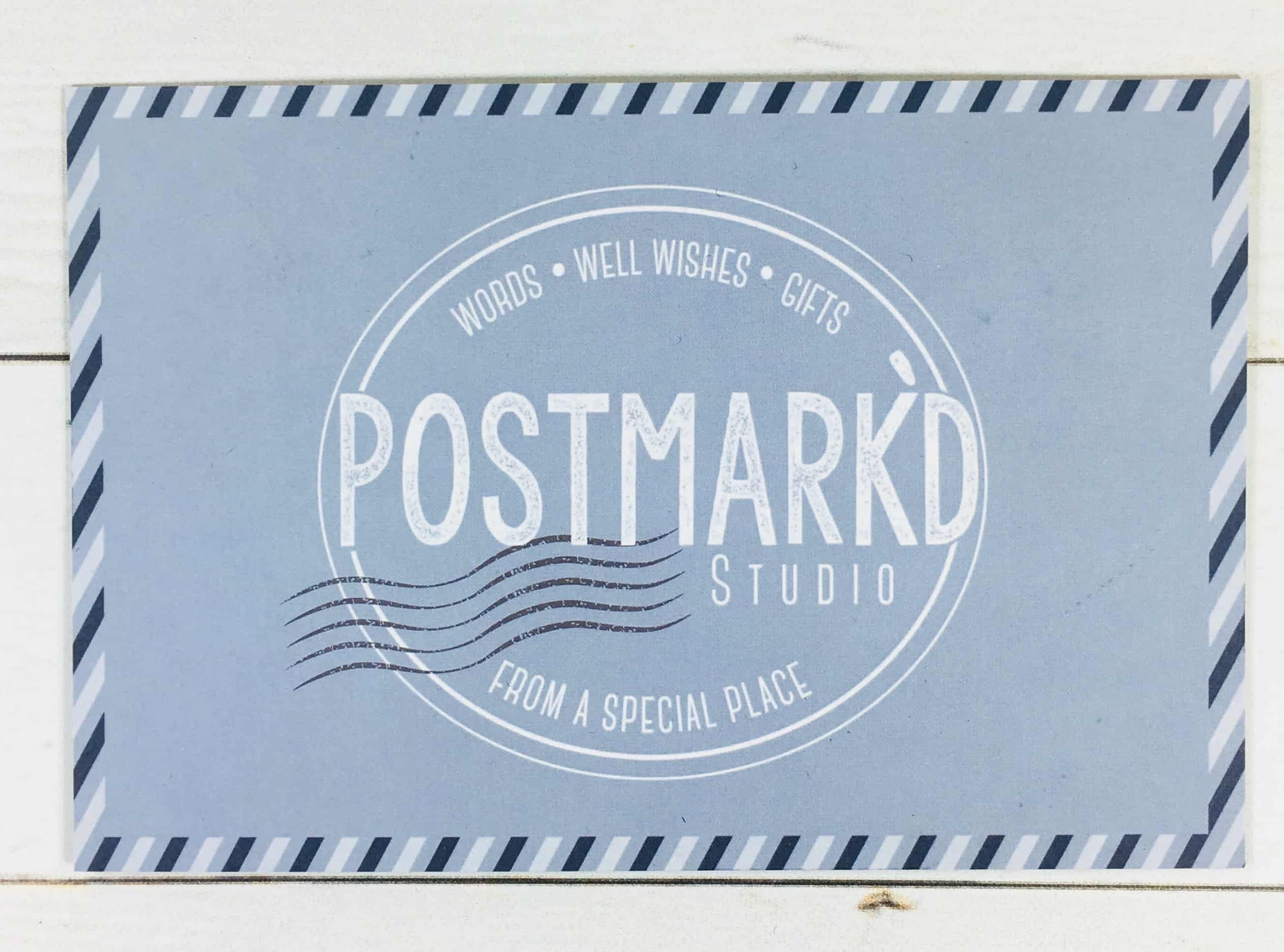 So is a Postmark'd Postcard.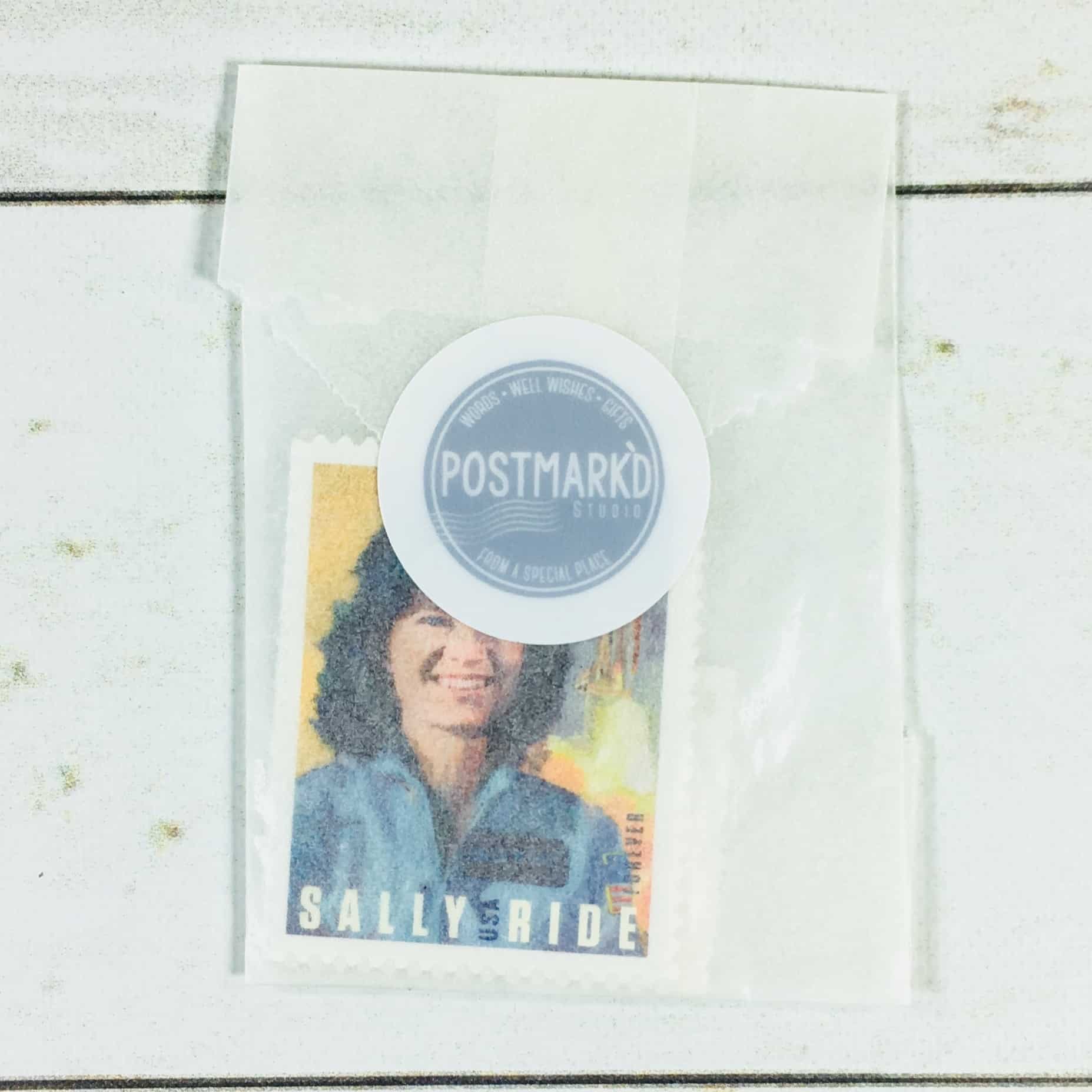 Postmark'd sends U.S.P.S. Postal Stamps ($2.50) to go along with the theme.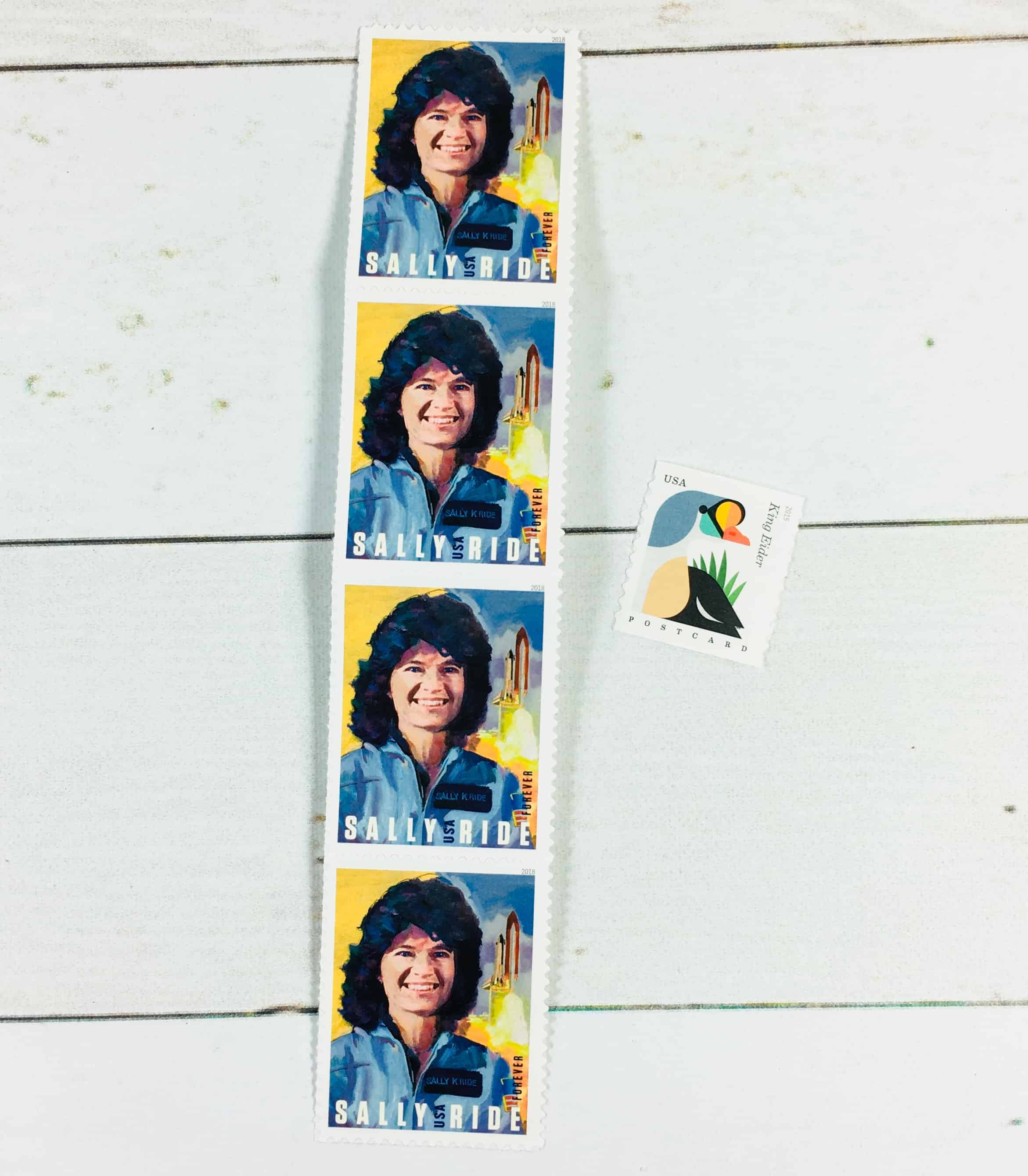 I received 5 stamps, including ones with Sally Ride, the first American woman in space.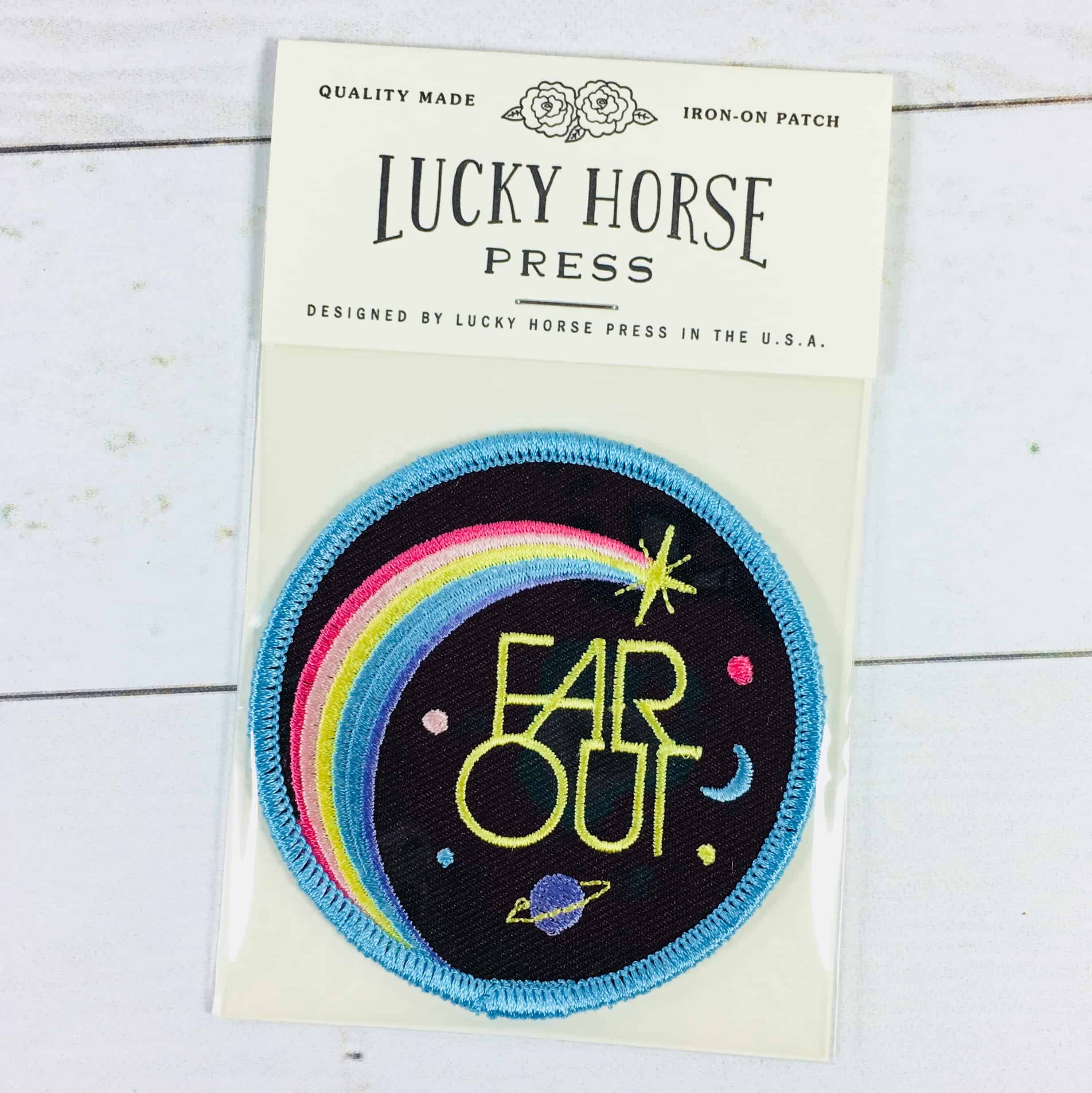 Lucky Horse Press Far Out Patch ($6) Lucky Horse Press makes some cool retro-looking items such as this iron-on patch. FYI – patches stay on longer if you stitch them on, either by hand or with a sewing machine.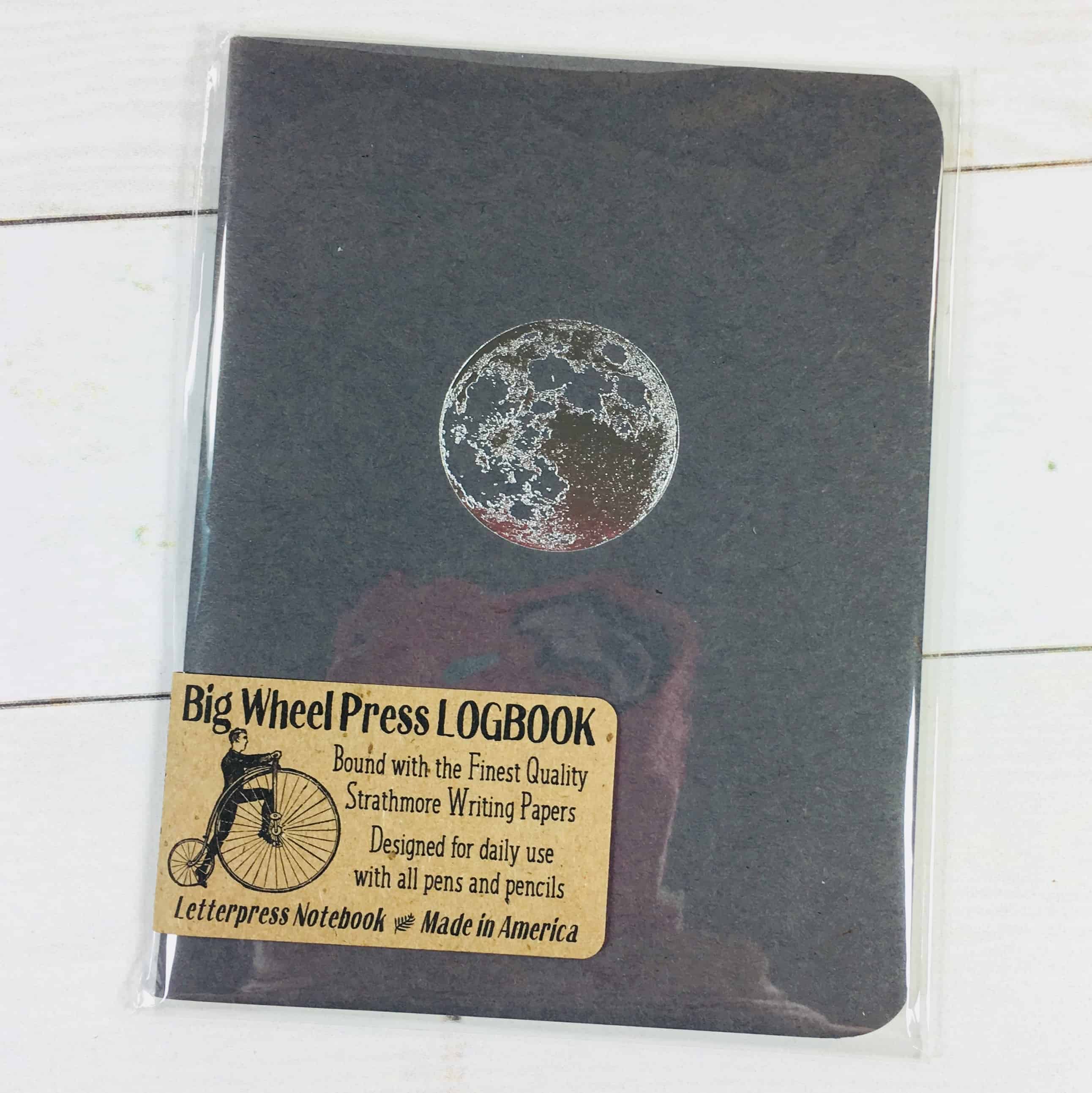 Big Wheel Press Moon Logbook ($5.50) has 32-pages and is roughly 4 x 5 so it will fit perfectly in a purse or bag.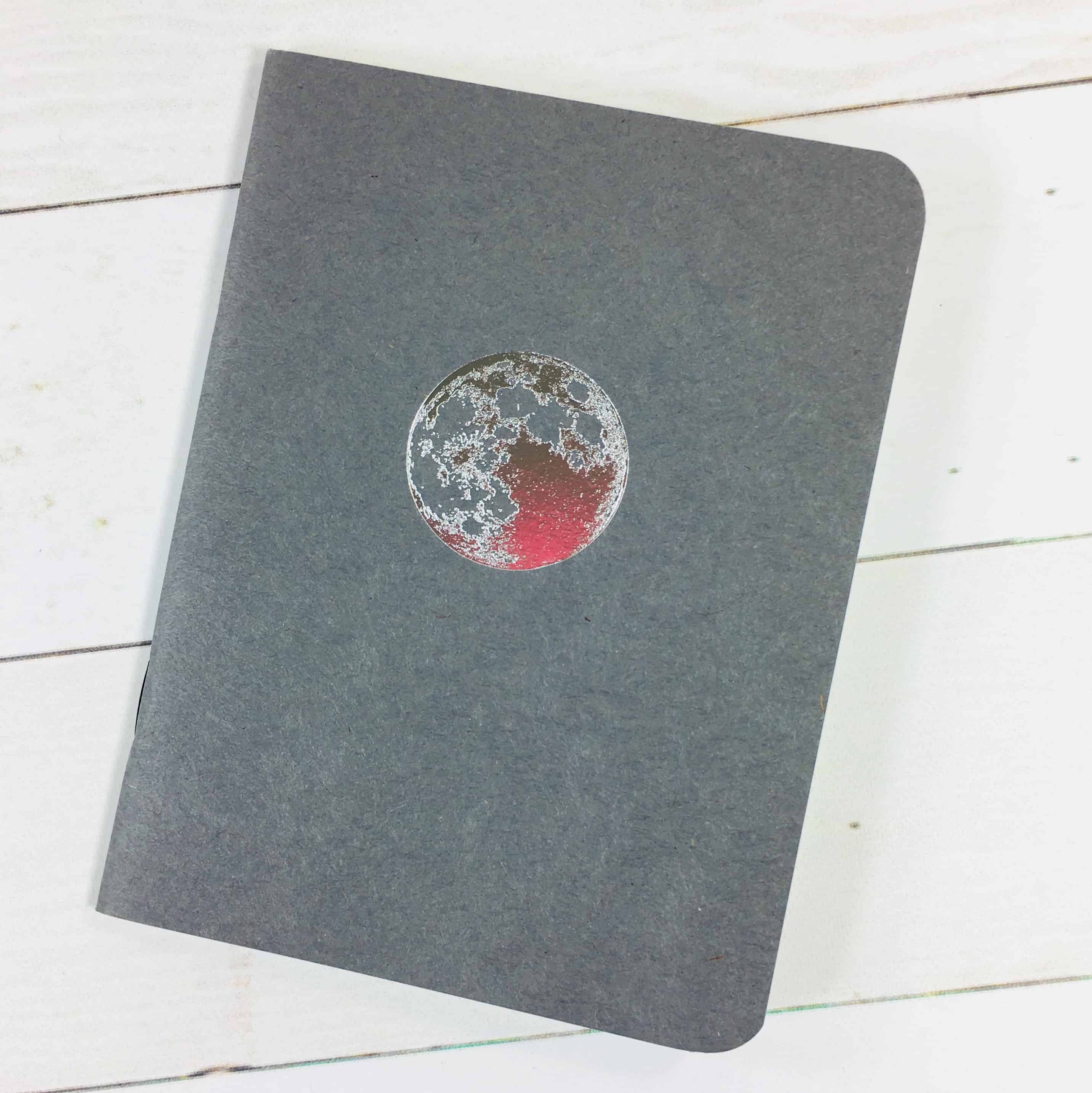 There is a silvery full moon stamped on the front.
The inside pages are plain and unlined.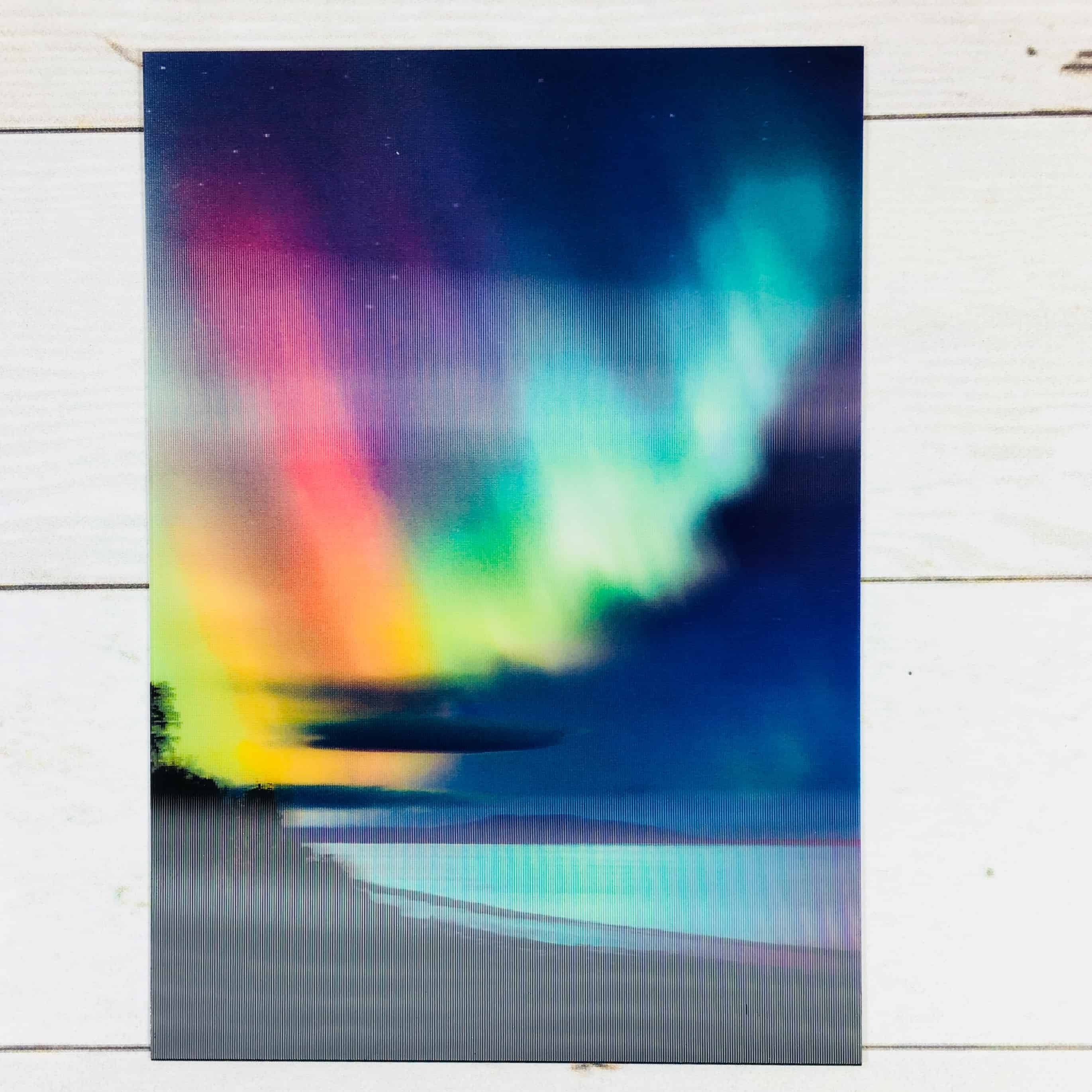 Authentic Company Aurora Borealis 3D Postcard ($3.95) I love lenticular cards, they look kind of 3-D.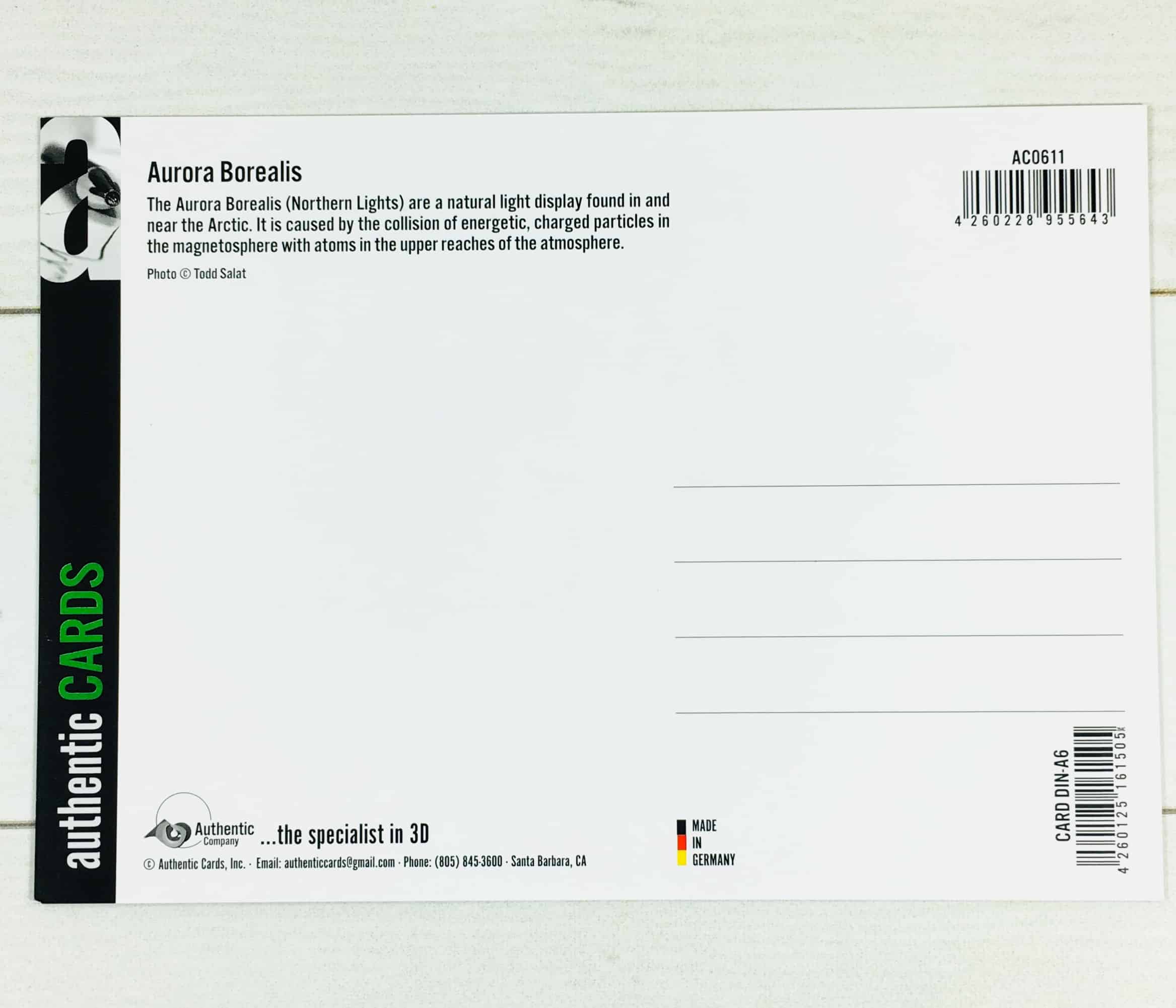 The back of the card has some info on the Aurora Borealis, AKA Northern Lights.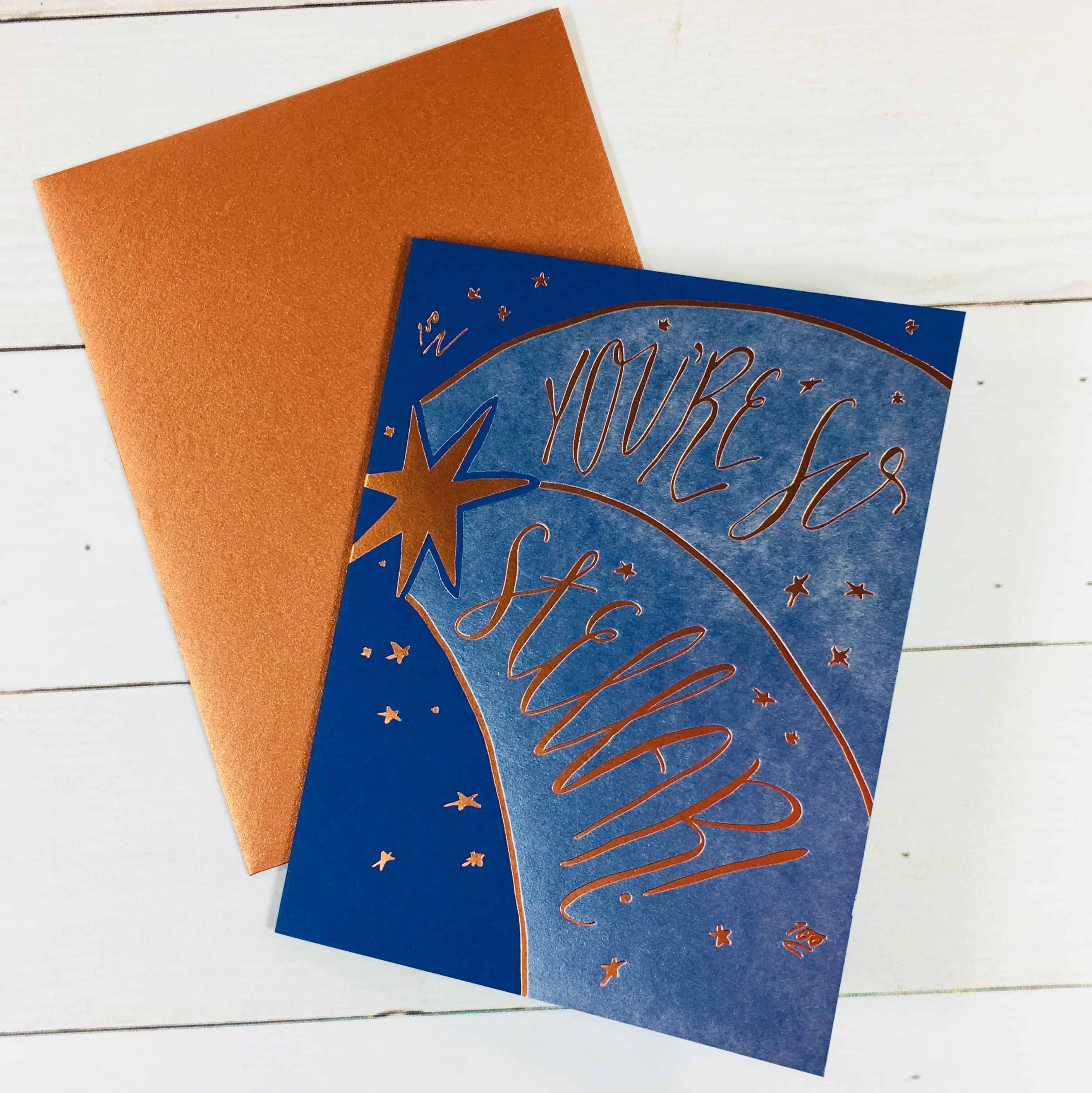 Wild Ink Press So Stellar Card ($5) This card is gorgeous, I love the colors and they make me think of fall colors. The blue is much darker than my picture shows, and the swatch in the middle is silver. The stars and letters are a beautiful bronze. Blank inside.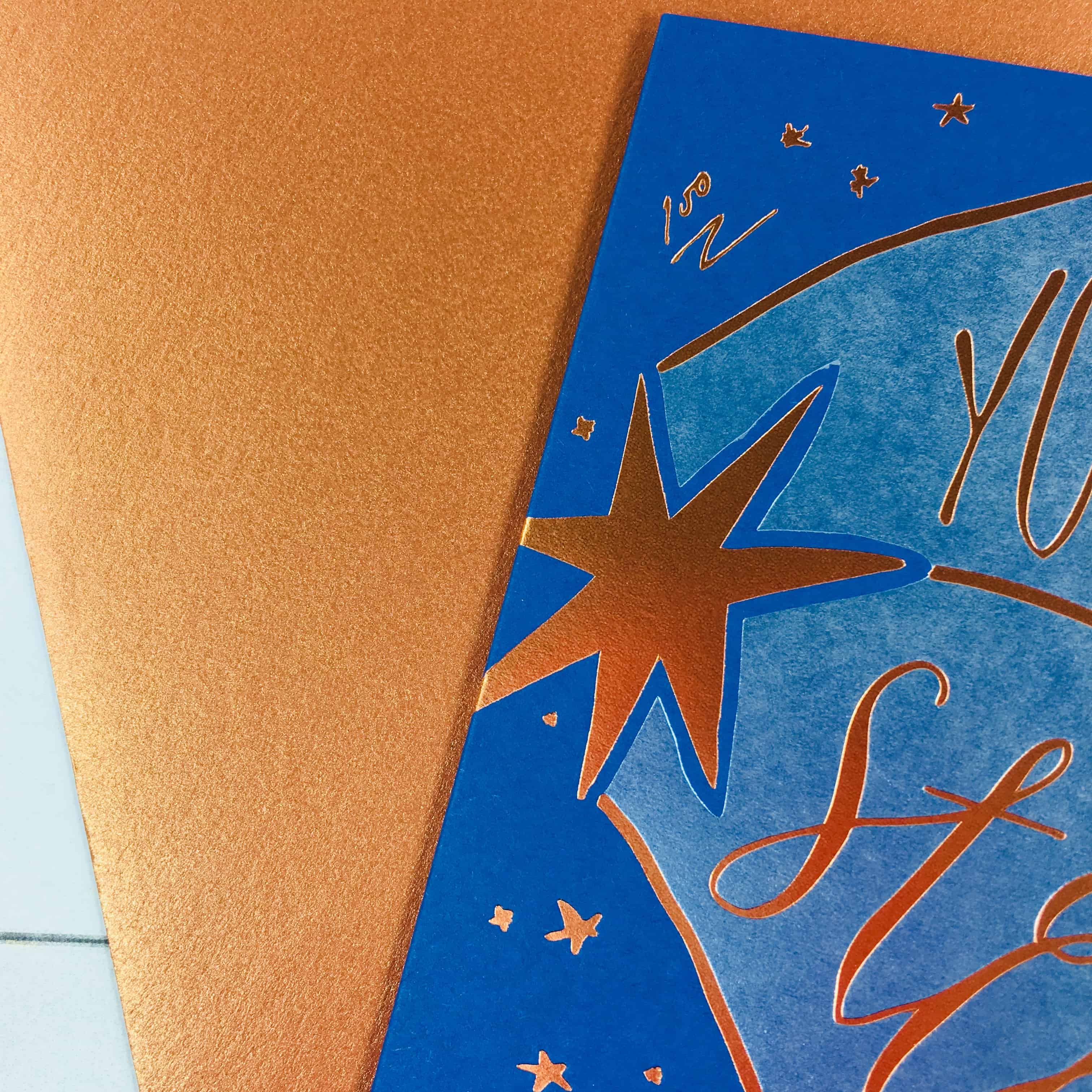 Even the envelope is amazing!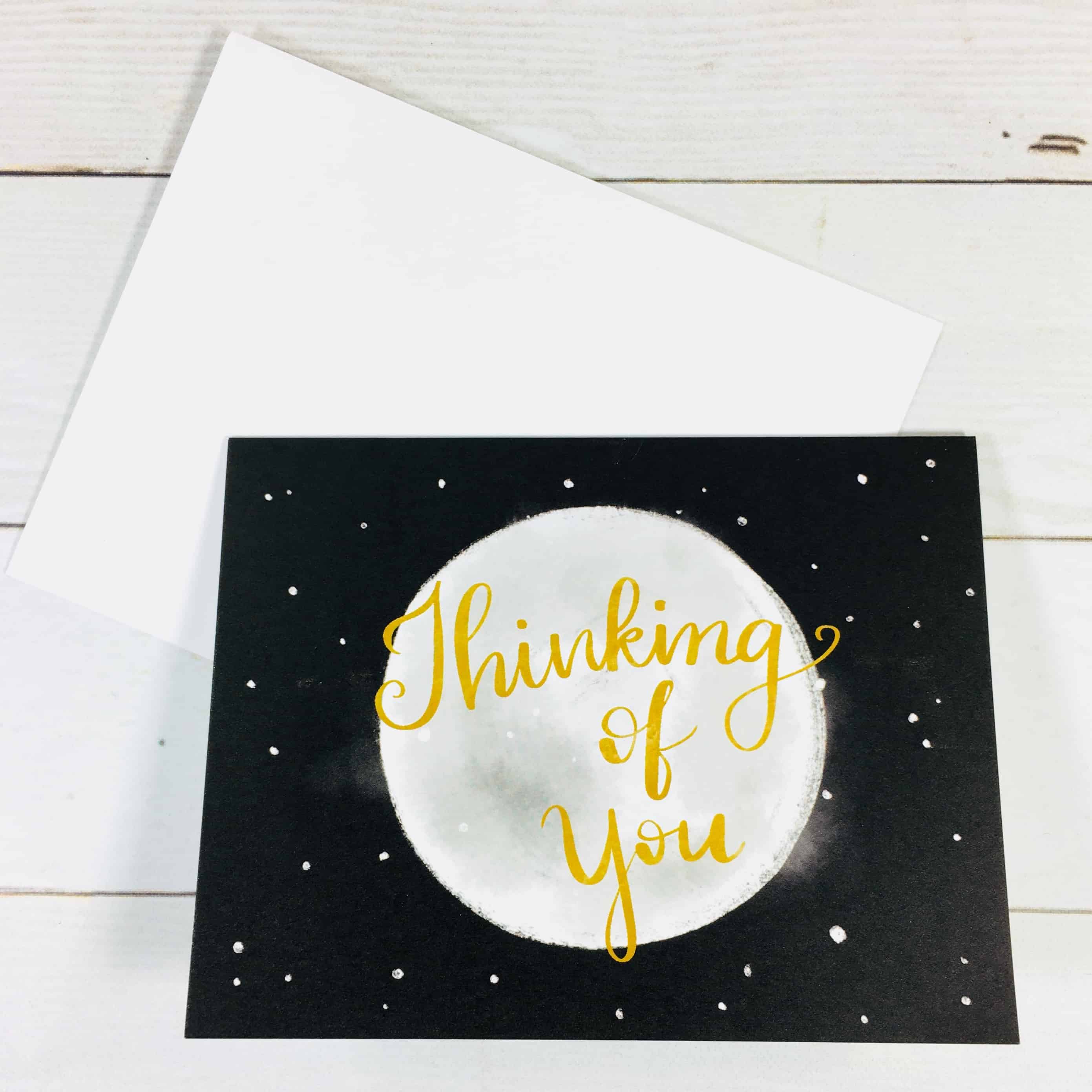 Inkerbell Thinking Of You Card ($4.50) What a lovely sentiment, this makes a nice note to jot a few lines to let someone know they have been on your mind. Blank on the inside.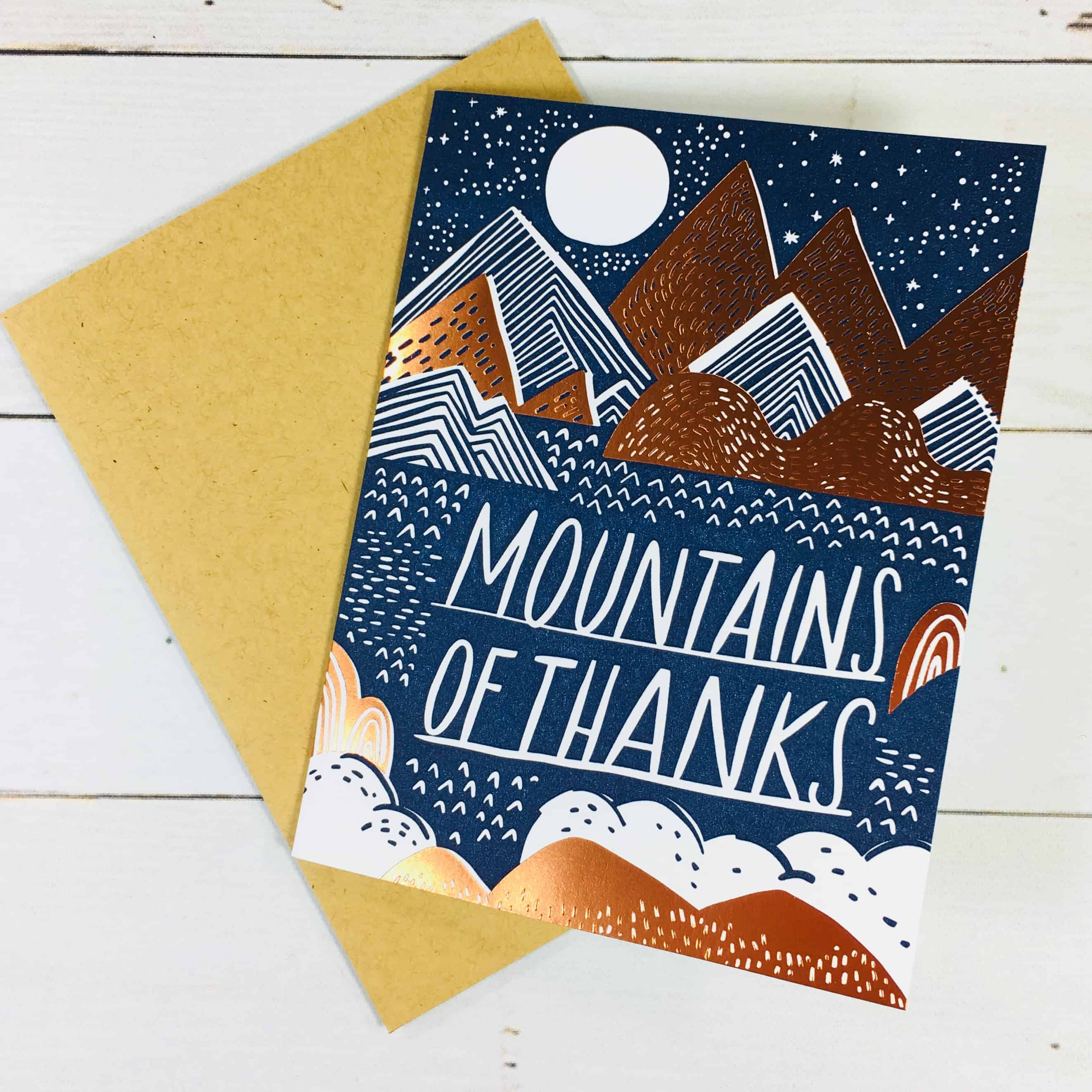 Hello Lucky Mountains Of Thanks Letterpress Card ($6) This is another card with copper-colored foil accents on the front. Blank on the inside with a kraft envelope.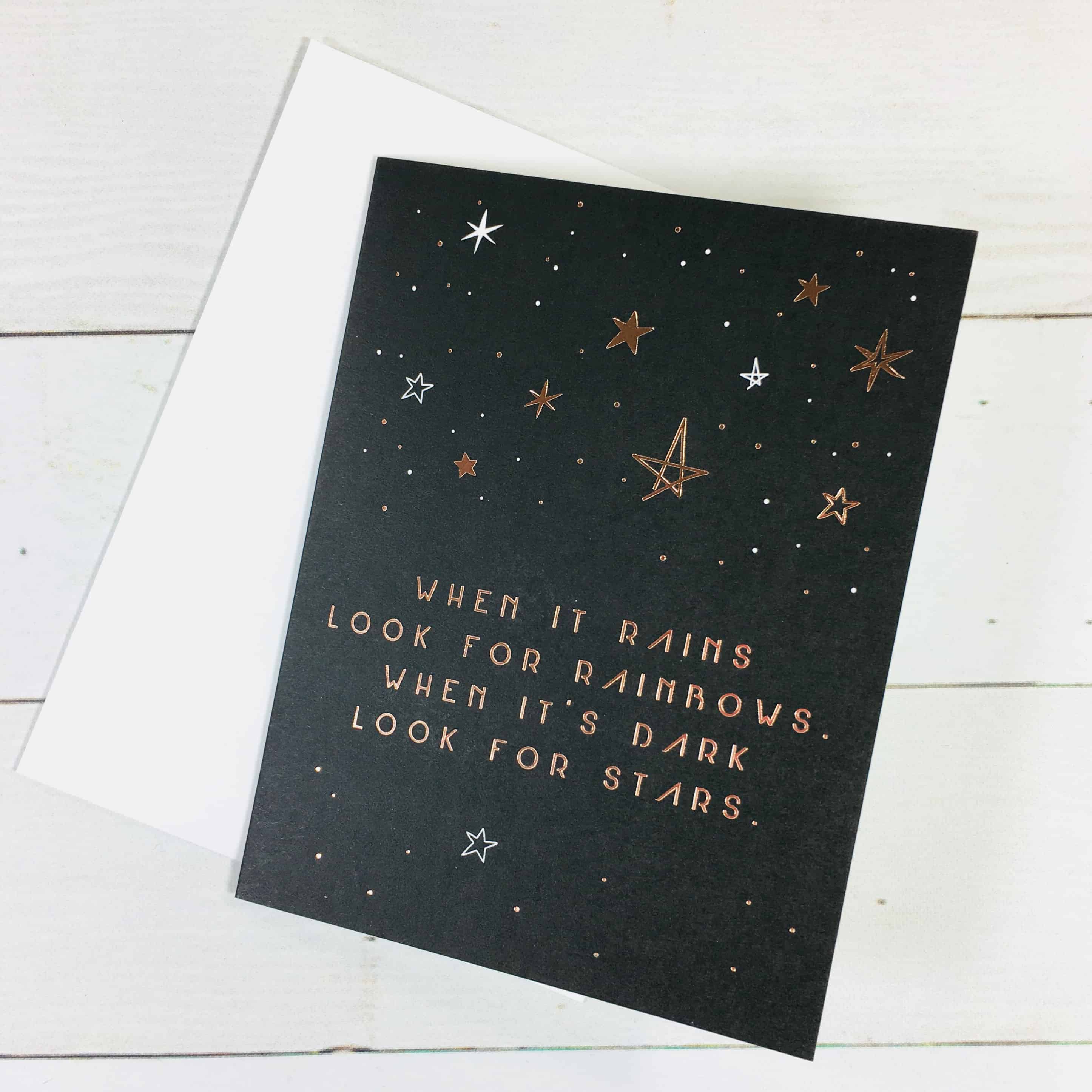 Ginger P Designs When It Rains Card ($2) More pretty shiny accents! Even the words are in rose gold on this card. Blank on the inside. Part of a set of 8 cards with astronomical designs.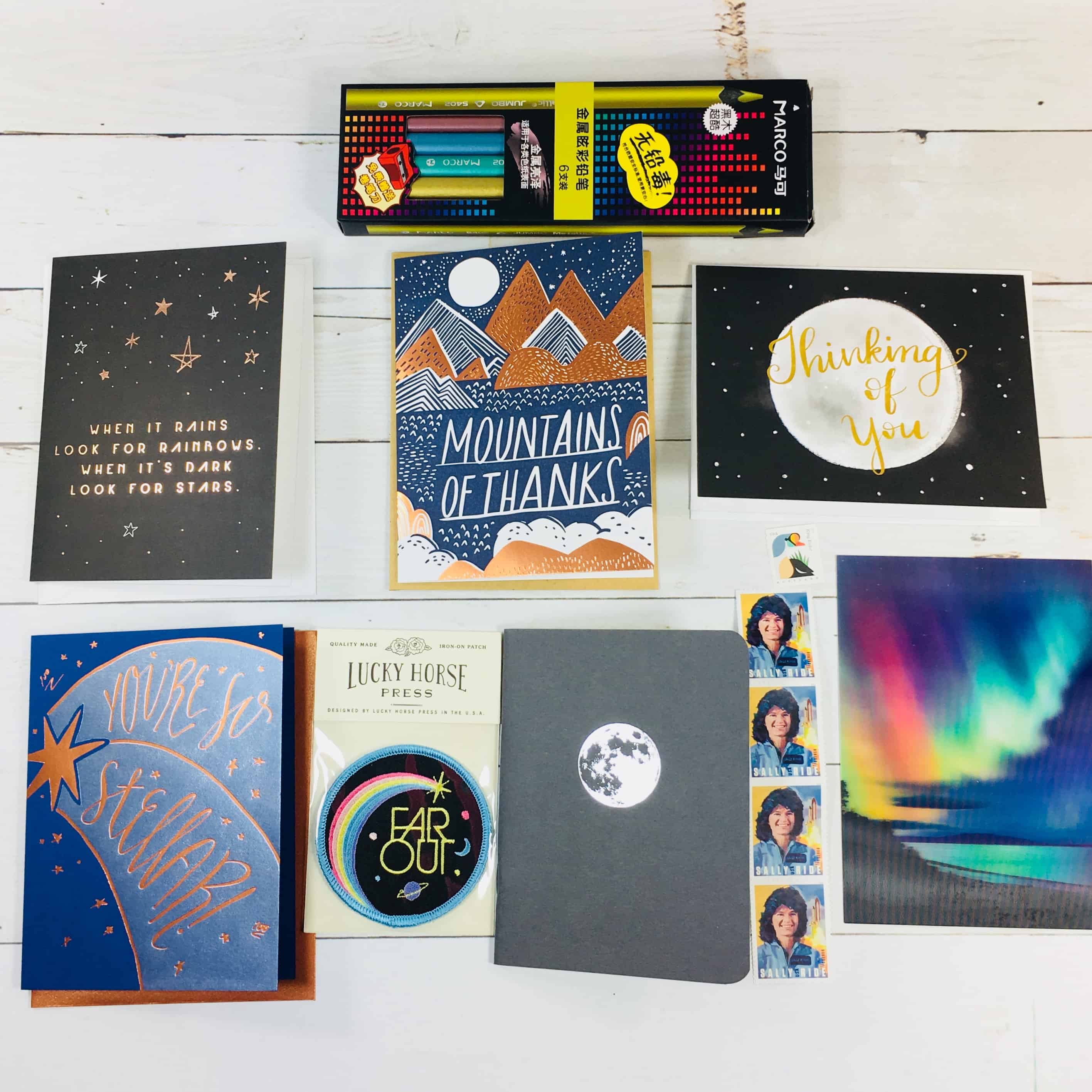 I love the unique cards Postmark'd sends in their PostBox every month! The themes are fun and unique, the extras are enjoyable, but the cards are just amazing. I especially admired the cards with the foil accents, they really give a card that something extra that makes it truly special. I also like looking at the lenticular aurora borealis card, the colors are lovely. I guess you could say this month's box was stellar!
What did you think of August's PostBox? Which card was your favorite?