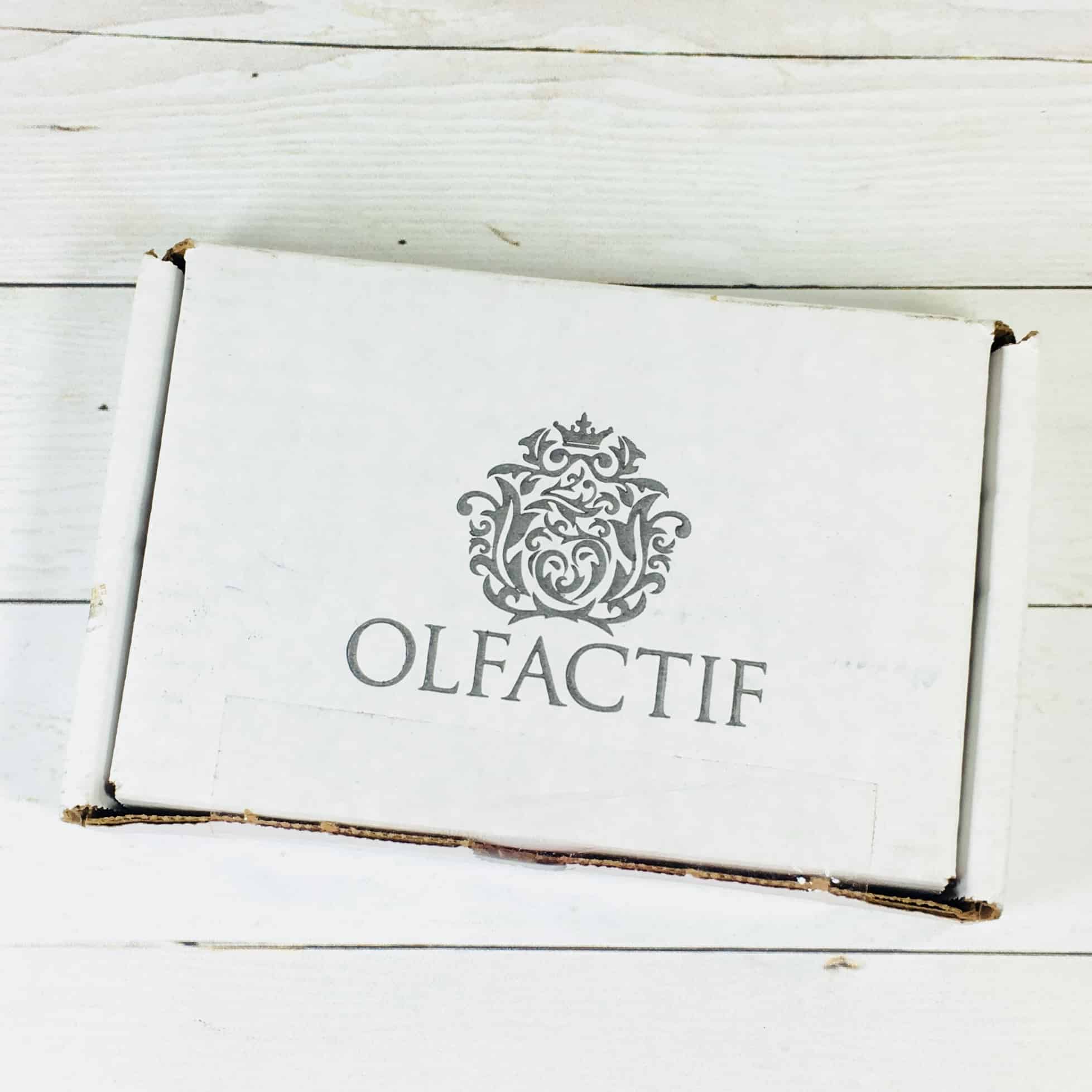 Olfactif is a monthly fragrance sampler subscription box that sends hard-to-find niche perfumes. Every month you'll receive 3 samples, each of which contains 2.5ml and gives around 40 applications of an independently designed perfume. Olfactif is $20 a month, or sign up for a longer subscription for a discount – prepay for a year and the price drops to $15 a box!
In addition to receiving a curated collection of 3 premium fragrances from around the world, members also receive: 20% off full bottles of every featured scent, 10% off all other full bottles, 10% off all à la carte samples, and earn free stuff with rewards points.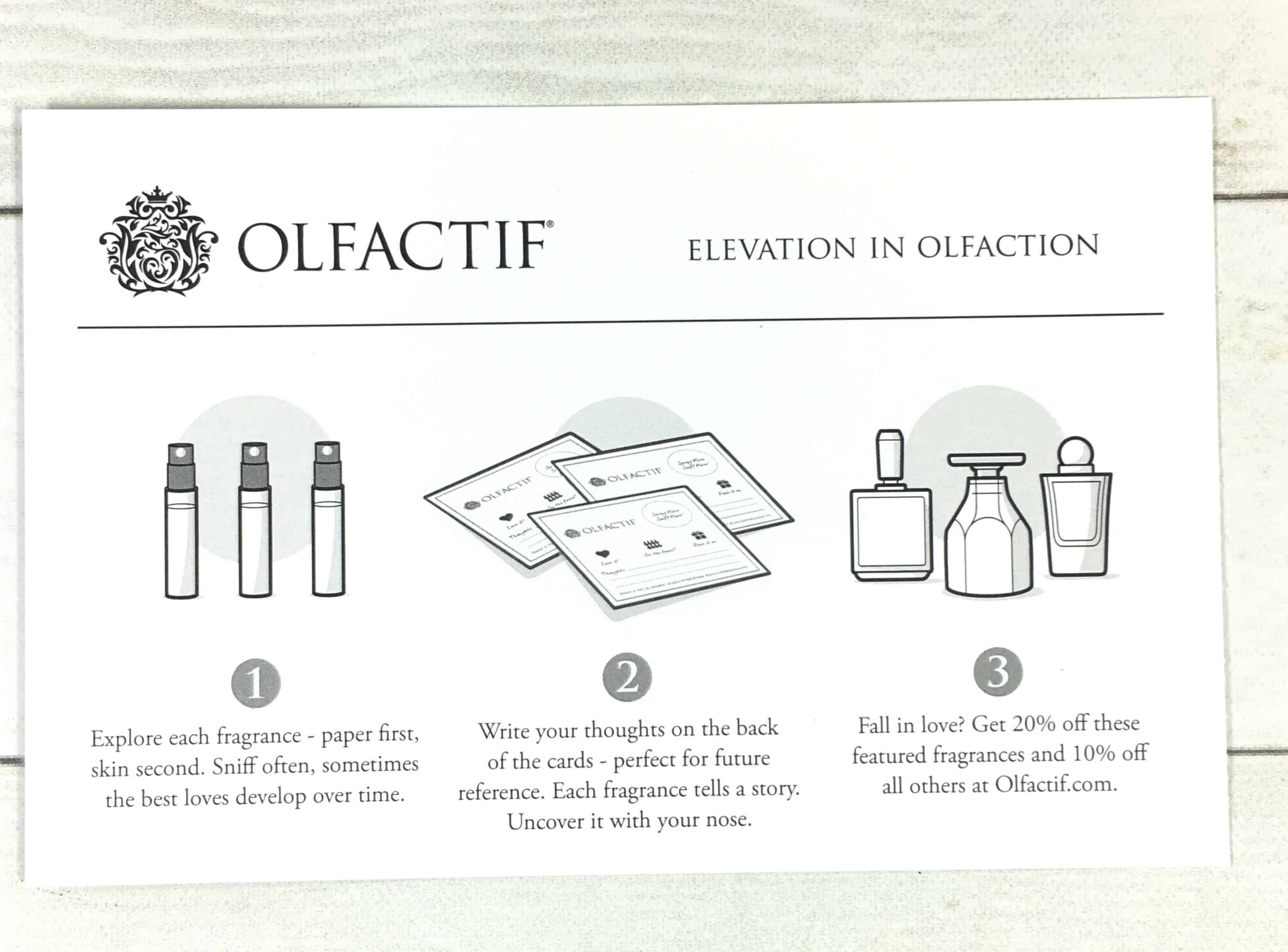 There was a card with a little info on the subscription.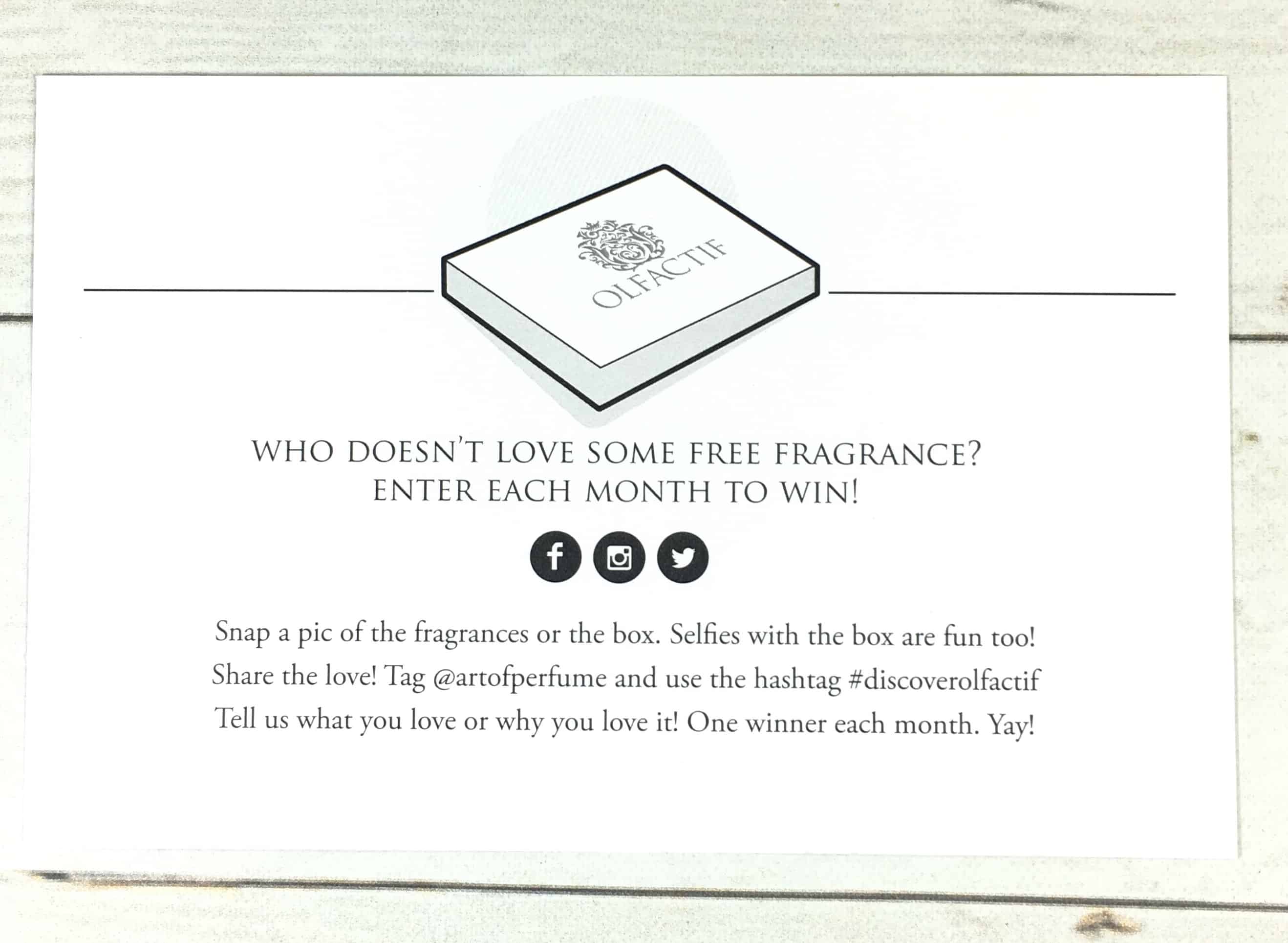 The back told how you could win some free fragrance.
Olfactif sends their scents in a black box with a magnetic closure. Very classy. It's like the little black dress of the fragrance world.
Olfactif focuses on niche fragrances – unique scents produced with higher quality and harder-to-find ingredients than you would encounter in a department store. When you subscribe you can choose from the Women's or Men's box. You can check out our reviews of Olfactif Men here.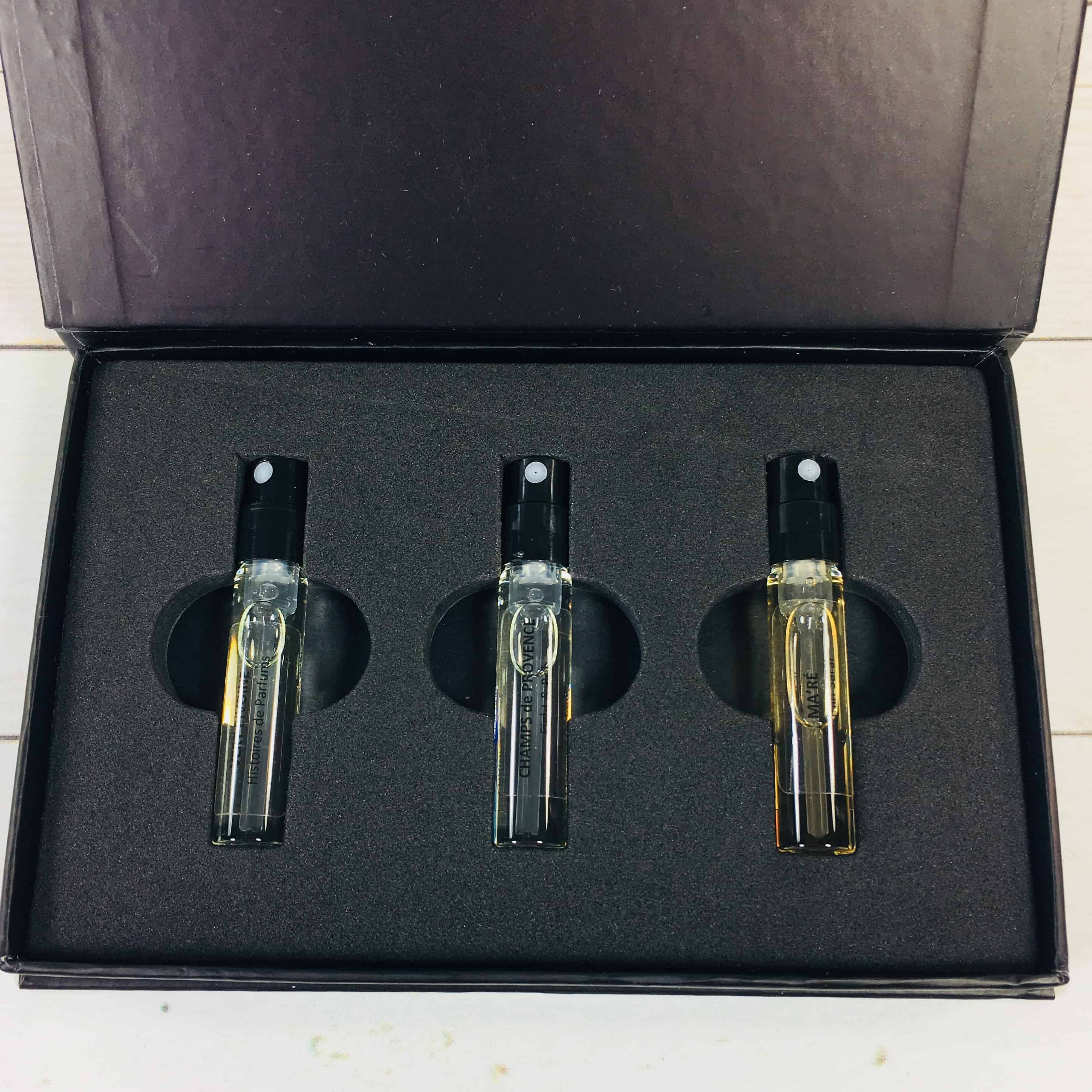 Opening my Olfactif box is like opening a special present: the presentation is simple and elegant. Members save 20% off of a full-sized monthly featured fragrance, 10% off all other full-sized fragrances, and 10% off all samples. Olfactif has also introduced a rewards program so you can earn points when you review your scents, refer a friend, or make a purchase.
Olfactif now offers atomizers with samples, similar to other to-go fragrance subscriptions out there, but with a limited selection of niche fragrances, most of which are not available in other subscriptions. Prices vary depending on the scent chosen and you can choose from two colors of case – either Rosé or Stone. Each of those samples are 5ml.
I received four cards in a black envelope. Something new this month is that Olfactif no longer sends test strips – instead, you test your scents directly on the back of each scent's cards. There's even space to write notes on what you thought of the fragrance.
The theme for August's box is Walk With Me. One of the cards described what Olfactif had in mind when choosing this month's scents.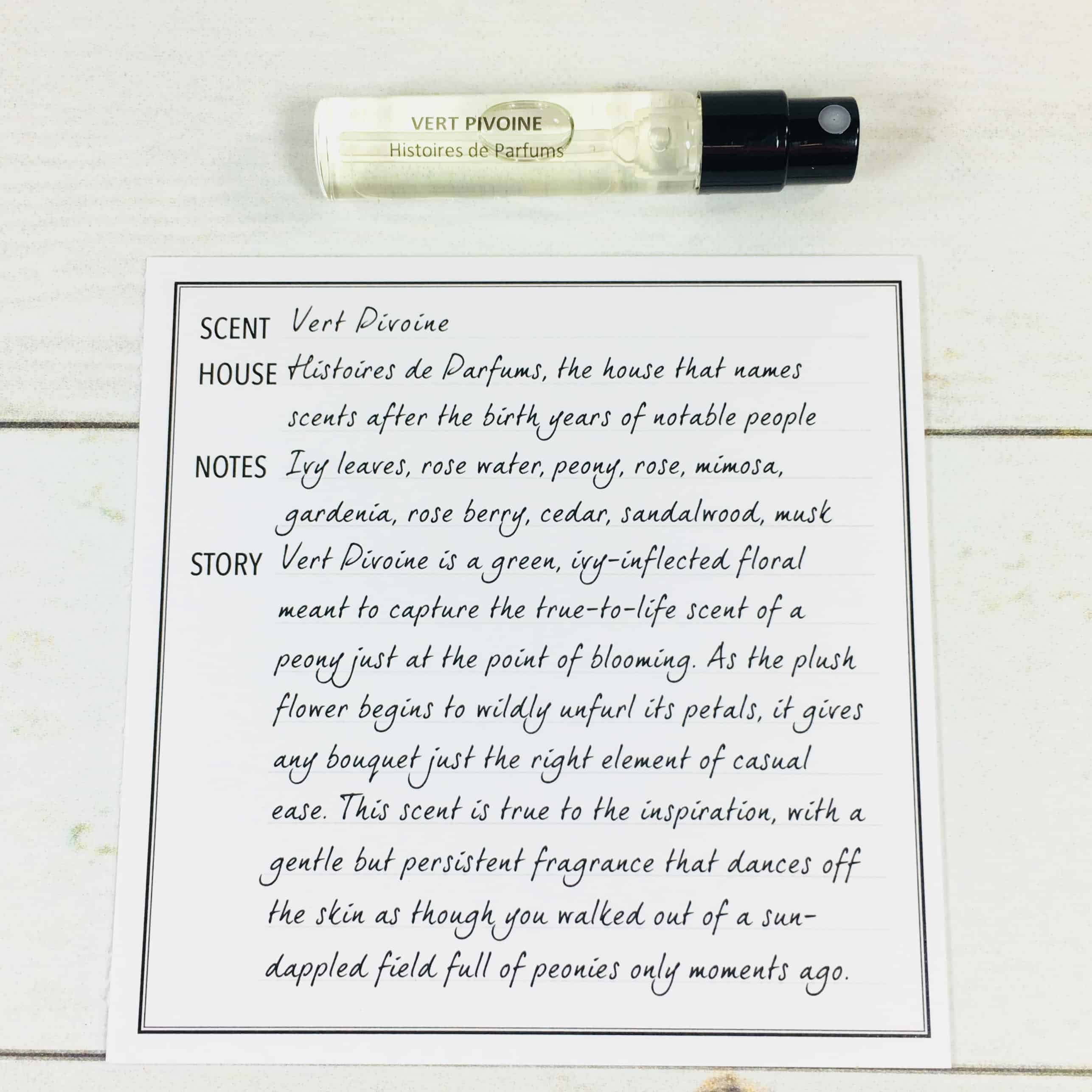 Vert Pivione Histoires de Parfums ($4 Sample Size, $105 for 2 ounces) is a floral fragrance and it transported me back in time y'all! When I was around 18 I received my first "adult" perfume, Paris by Yves Saint Laurent (not to be confused with the currently popular Mon Paris also by YSL). The notes for Vert Pivione include peony, rose, and ivy with some base notes of musk and sandalwood. My nose is only picking up the floral notes and I don't know that it smells particularly "green", at least not in the way I interpret it. Very feminine.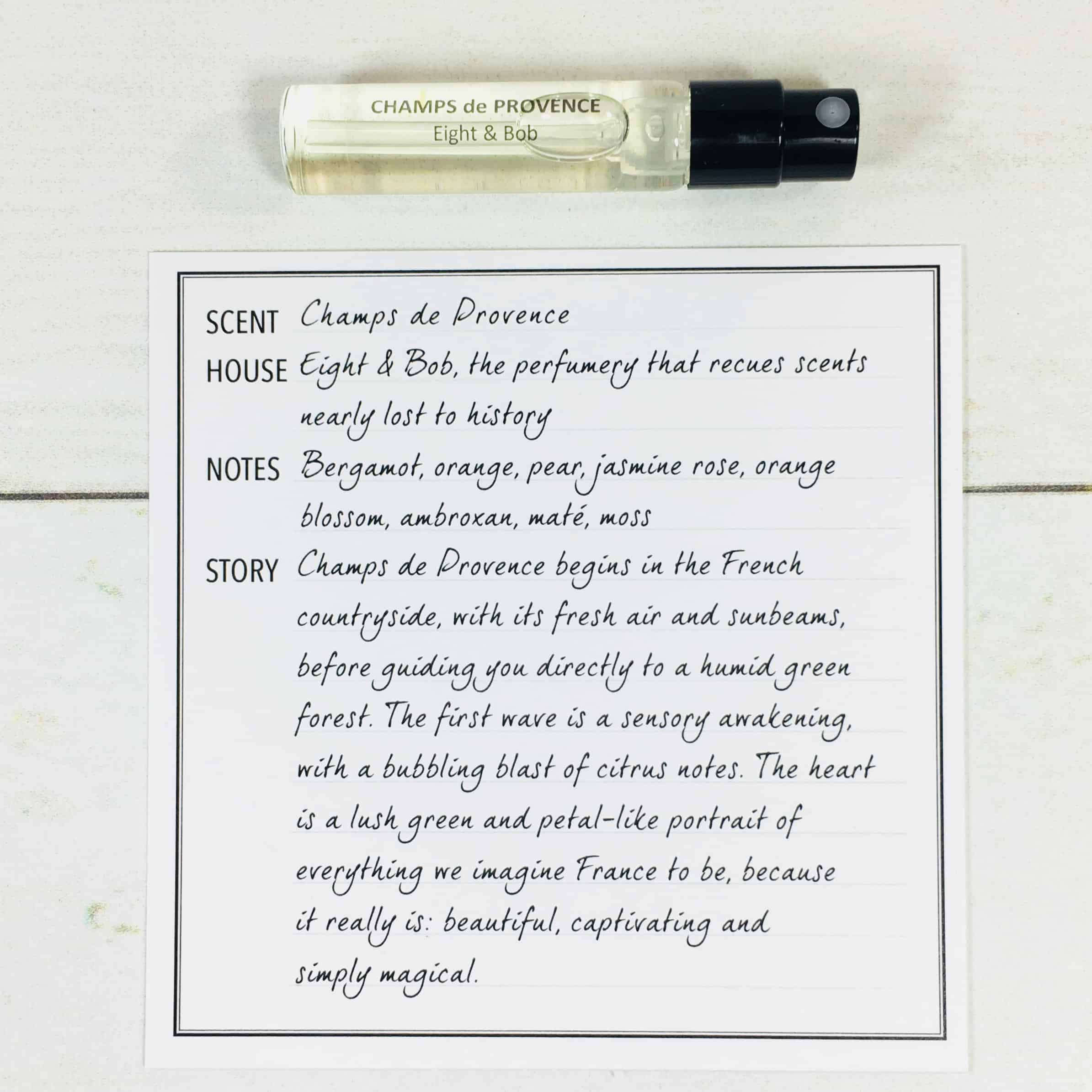 Champs de Provence Eight & Bob ($183.60 Full-Size 100mL) is a floral scent and all the notes sound wonderful for this scent and upon first spritz I caught bright orange notes as well as vibrant green leaves. But then something happened and when I sniffed very closely on my arm I was kind of repulsed. My nose picks up a note that I can't identify and really don't like. I'm not sure why this happens at times, and I'm sure it doesn't do it for everyone. In fact, I immediately asked my husband to sniff my arm and he said he liked it. I made him smell it several times and he said the same thing each time, it smelled good. Aren't our bodies and brains funny? NOTE: I didn't detect the weird scent when I sprayed it on the card, so it's definitely something to do with the chemistry of my skin. I tried again after a few days, skipping lotion and oils on my skin in case they had something to do with it but nope, it still stank.
Ma'Ré Jazmin Saraï ($45 Full-Size 10mL) Green, spicy, and maybe a touch citrusy are the notes I picked up from this scent inspired by the song of a singer from Lebanon. I think it is unique and also unisex. It is supposed to smell like Lebanon, with those lemons, the sea, and cedar trees. There was a warm woody scent that remained after drydown and I really thought this one smelled good.
I think Olfactif is a fun and interesting subscription and I look forward to finding it in my mailbox! The scents are always unique and sometimes exotic but always amazing. I think the themes are fun too. Plus, you can get discounts on products from their online shop!
Have you tried Olfactif? Let me know what you think of this subscription in the comments!