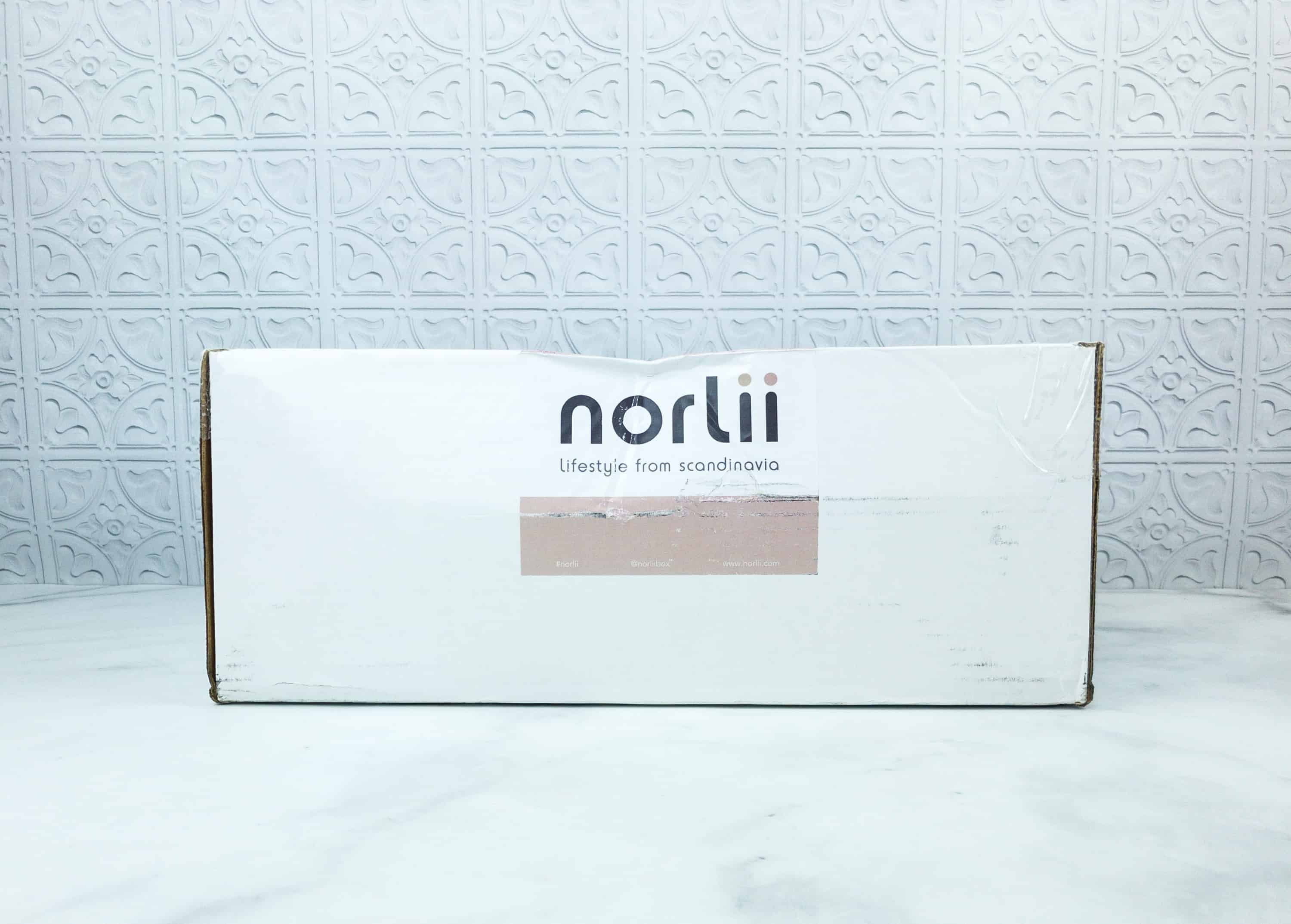 Norlii is a bimonthly subscription of Scandinavian housewares and accessories. You can subscribe to this box for $89.00 with a $7.00 flat rate shipping. Each box contains carefully curated housewares and accessories that show off Scandinavian designs that are perfect for mixing and matching with your current home décor. Brands included in this subscription include Normann, Ittala, Bloomingville, Ferm Living, and Royal Copenhagen. You may also receive other items from different countries if the designs are related to Nordic theme.
This box covers the months of July and August.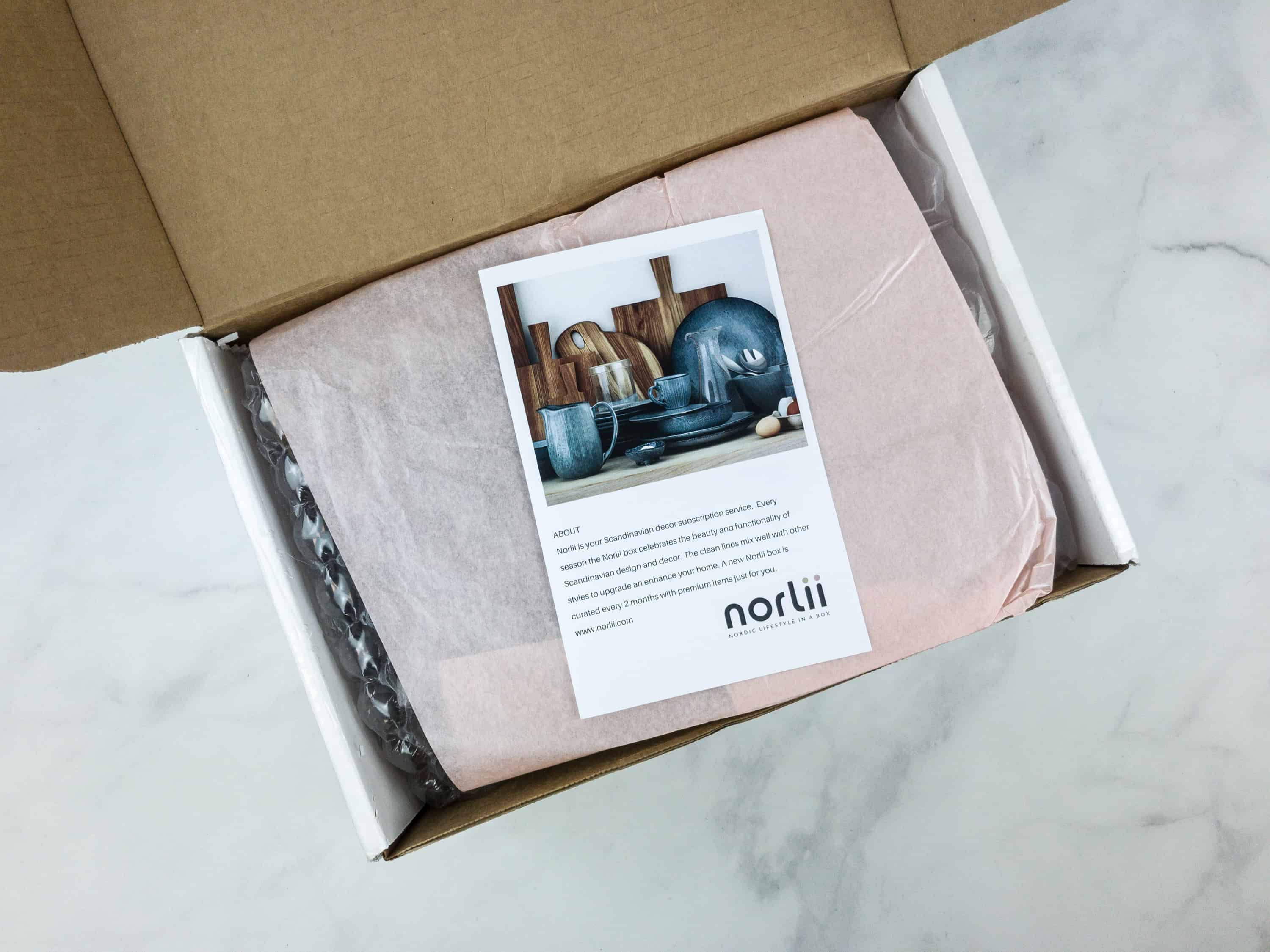 The contents of this box are wrapped in pink tissue with an information card from Norlii at the top.
I can see a beautiful bowl here with cardboard wrapper to prevent it from being jostled around and fillers too. The rest are packed neatly and deserves careful unveiling.
The information card provides some useful information about Norlii and what its main objective is all about.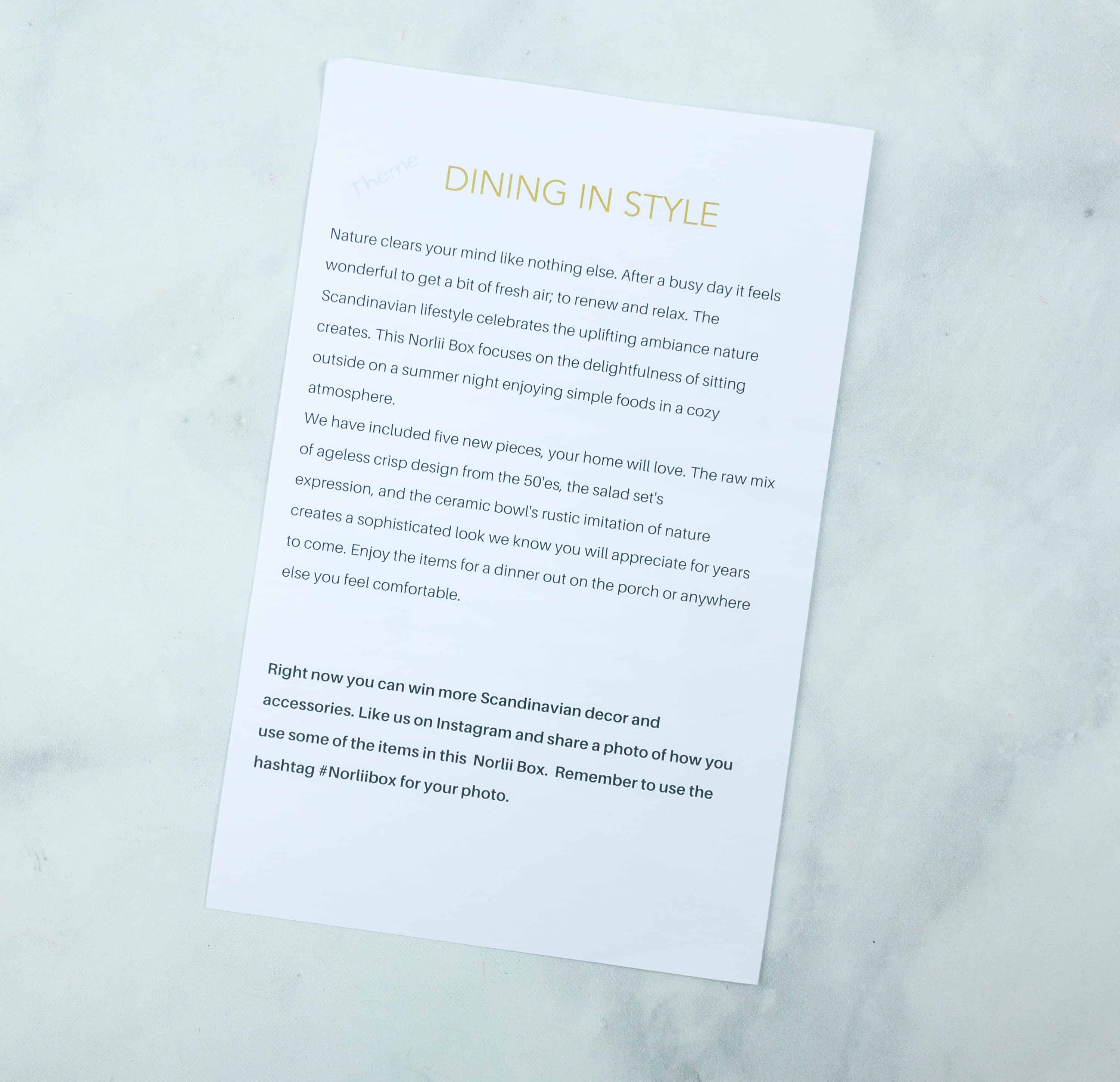 This box is all about the Scandinavian way of dining in style.
The card lists all the items that are included in this box as well as some short descriptions about them.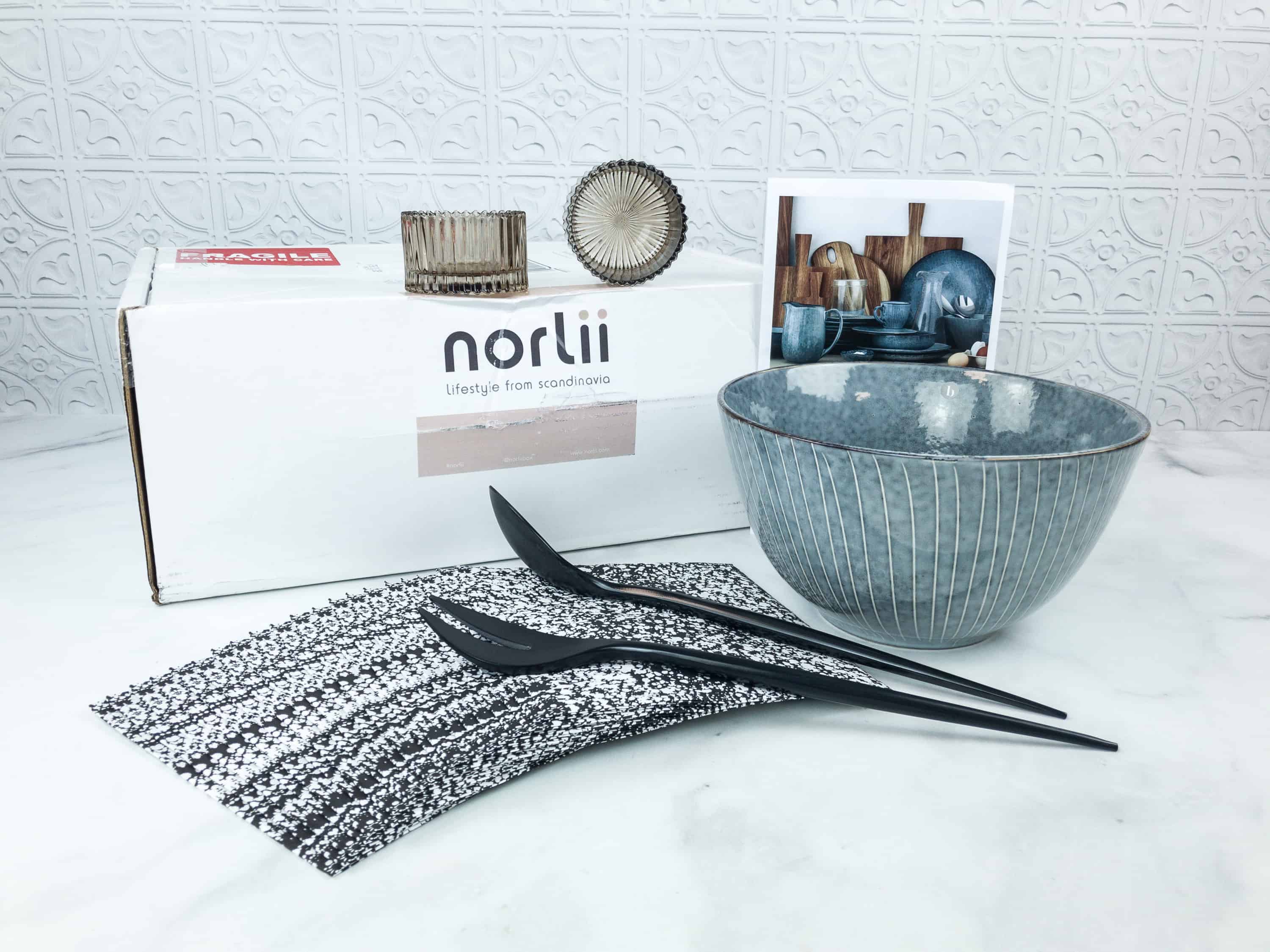 Everything in my box!
Broste Copenhagen The Nordic Sea Bowl ($42) The bowl's color reminds me of the sea. It has bluish gray tones and the glazed finish adds to its beautiful look.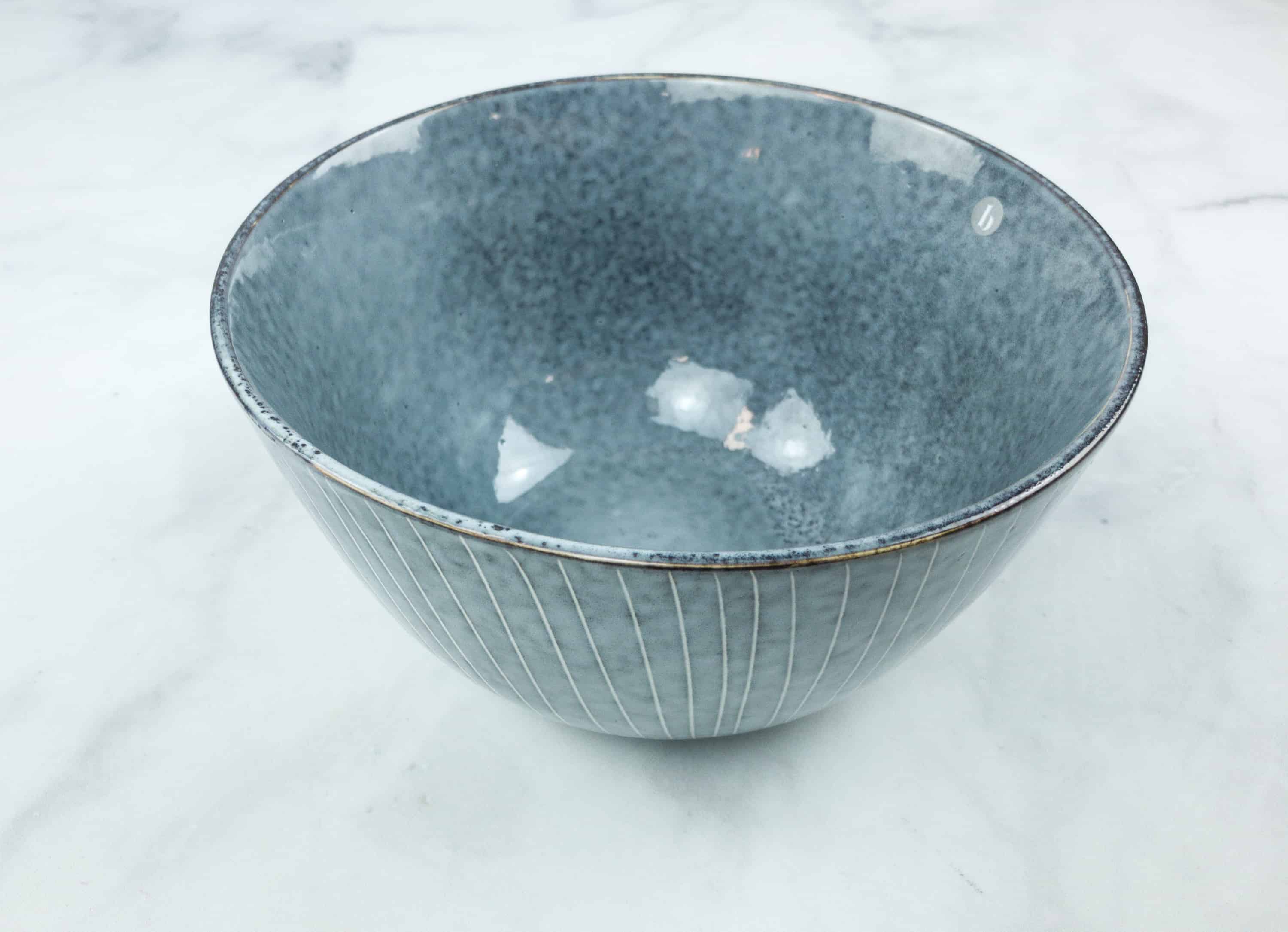 Those subtle stripes that you see on the outer portion complete the elegance of this Nordic sea-inspired bowl.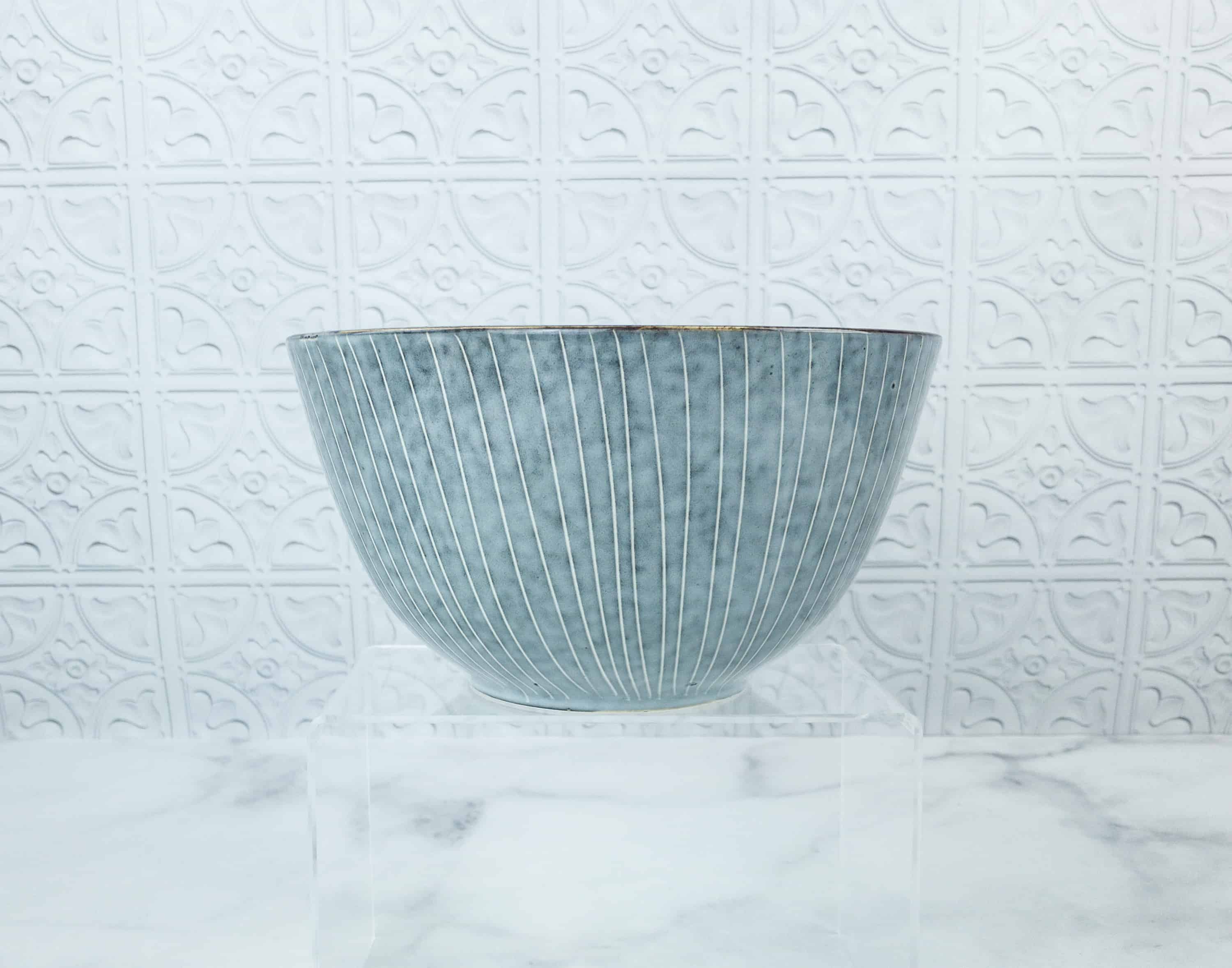 This is going to be quite an eye-catcher when used to serve soups and salads on our table.
Normann CPH The Kermit Salad Set ($25) Who would have thought that tossing salad could be done in an elegant way? Made of melamine, this modern-classic salad set is composed of a salad spoon and a salad fork.
The set arrived in a sturdy box.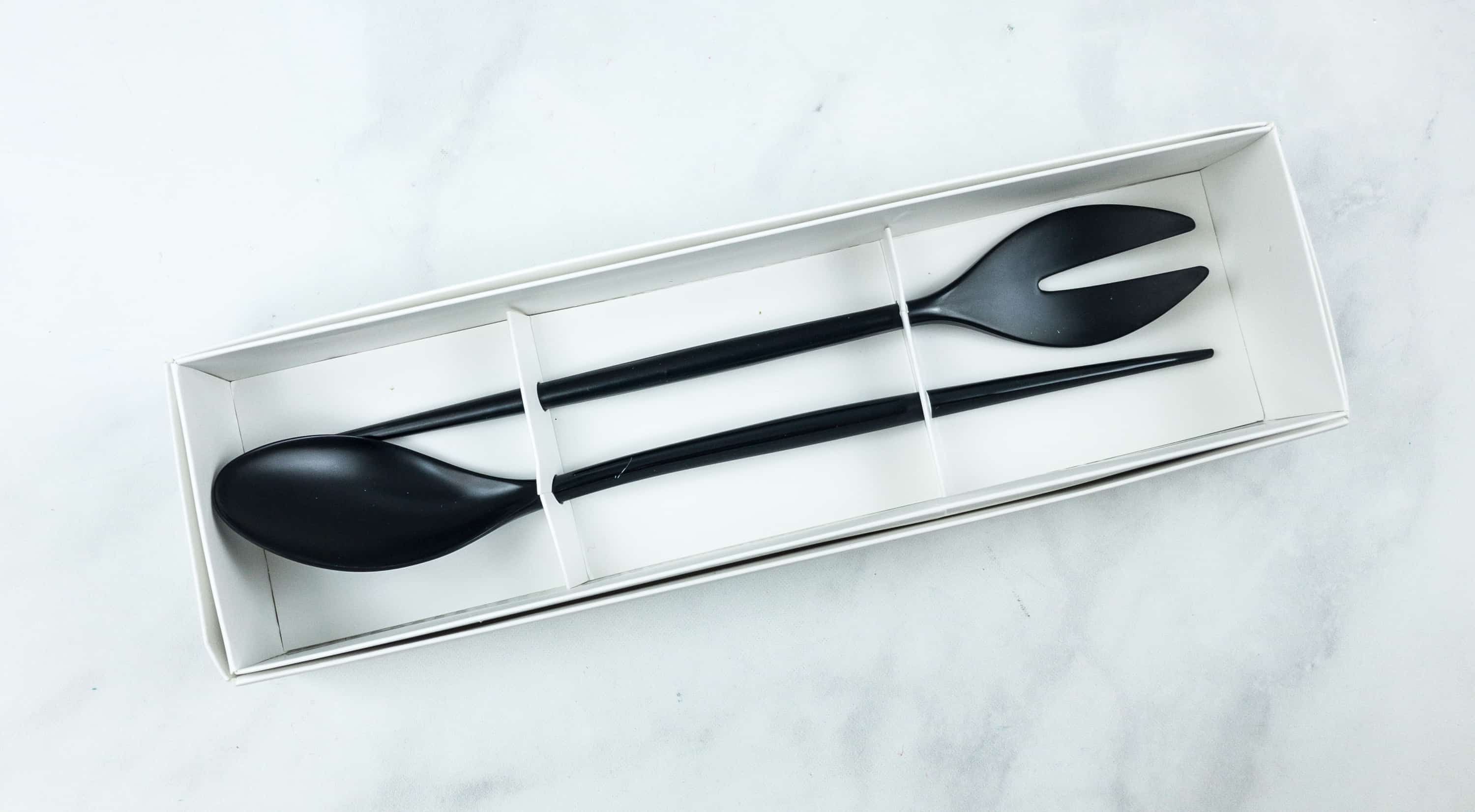 The handles are long and thin. The spoon itself has enough curve that allows you to scoop up the dressing as you toss the salad.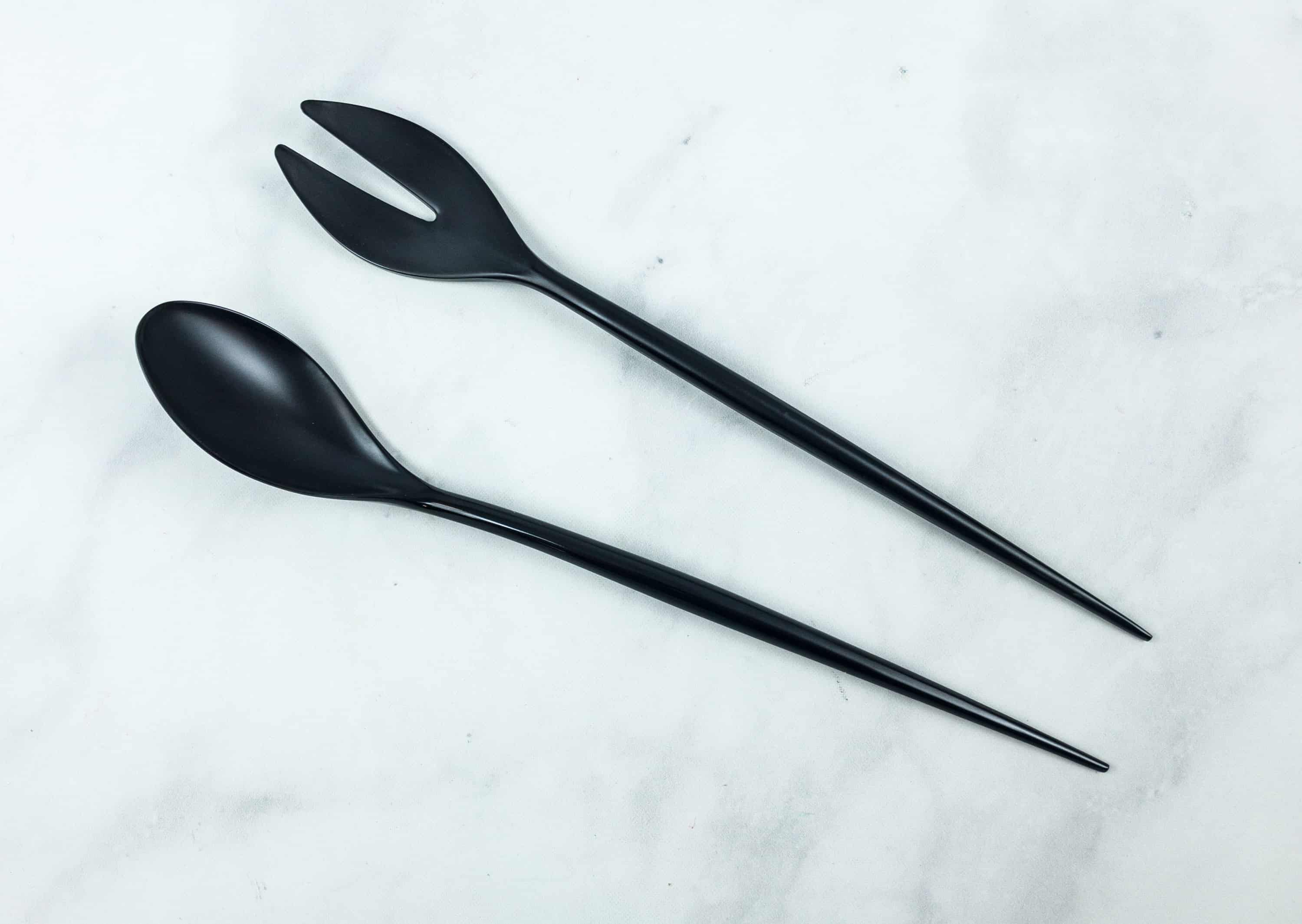 They are sleek, stylish, and quite easy to handle. The fork is beautifully done too and I think that it will not bruise the leaves of the vegetables or slices of fruits on the bowl easily.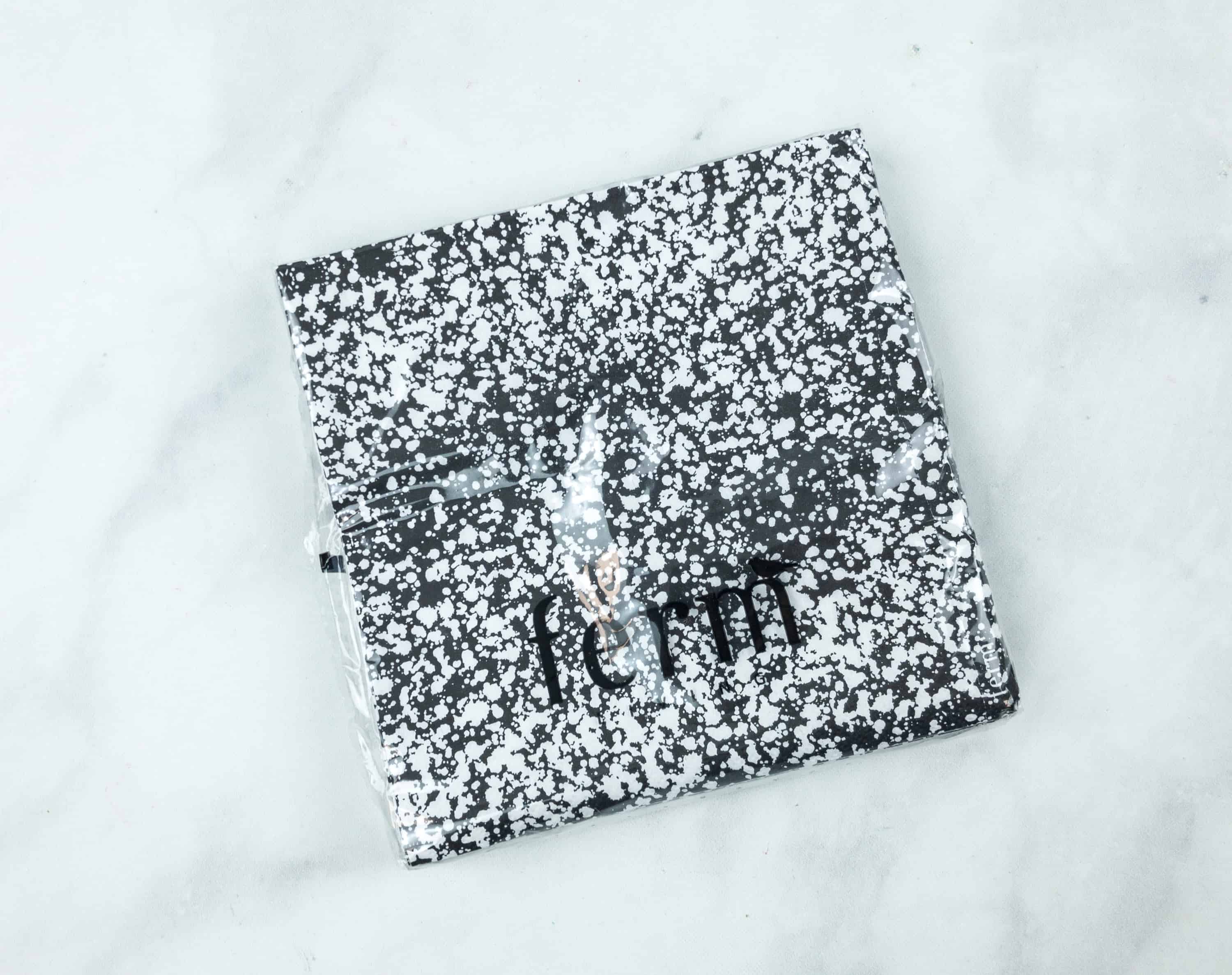 Ferm Living Paper Napkins ($9.95; $8 on the card) Although the paper napkins are in black and white, its splash pattern makes it really stand out.
There are 20 paper napkins in this set and they make quite a stunning visual display.
It's a three-ply tissue which means that it won't get shredded or dissolve so easily. If you want to add a touch of elegance to your dinner table, I think this one will do it nicely for you.
Bloomingville Candle Holders ($16) Accessorizing the living room or bedroom with candles does create a cozier place for me to relax and unwind. These candle holders look like they can take my rest and relaxation to a whole new level as they make the flickering lights even more dramatic.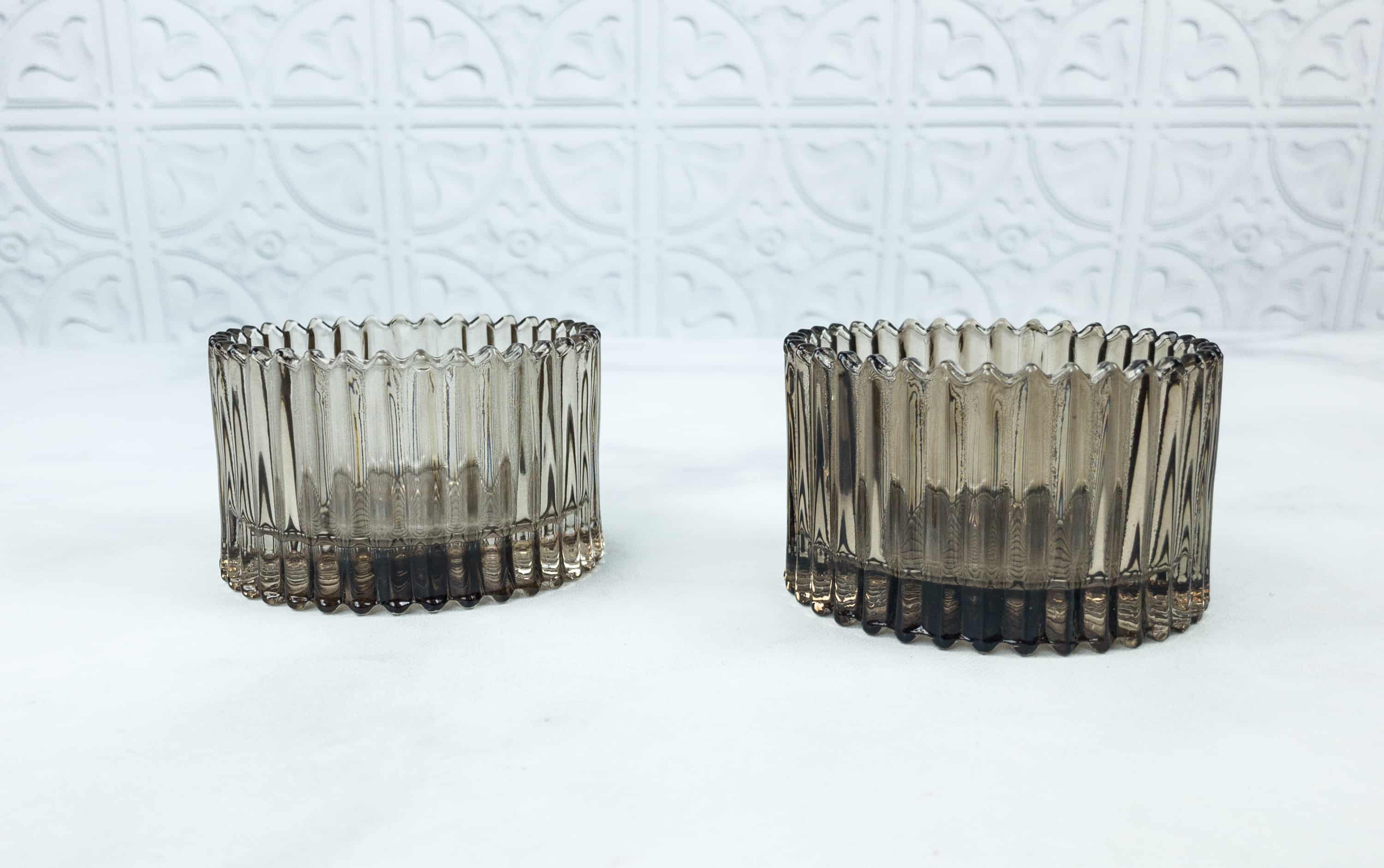 The ruffled design of these candle holders allows the light coming from the tealights to be dispersed beautifully. This is truly a sight to see and it does give that Nordic vibe to your place too. After all, Scandinavians love lighting candles at home as they lend warmth to their hearth and home.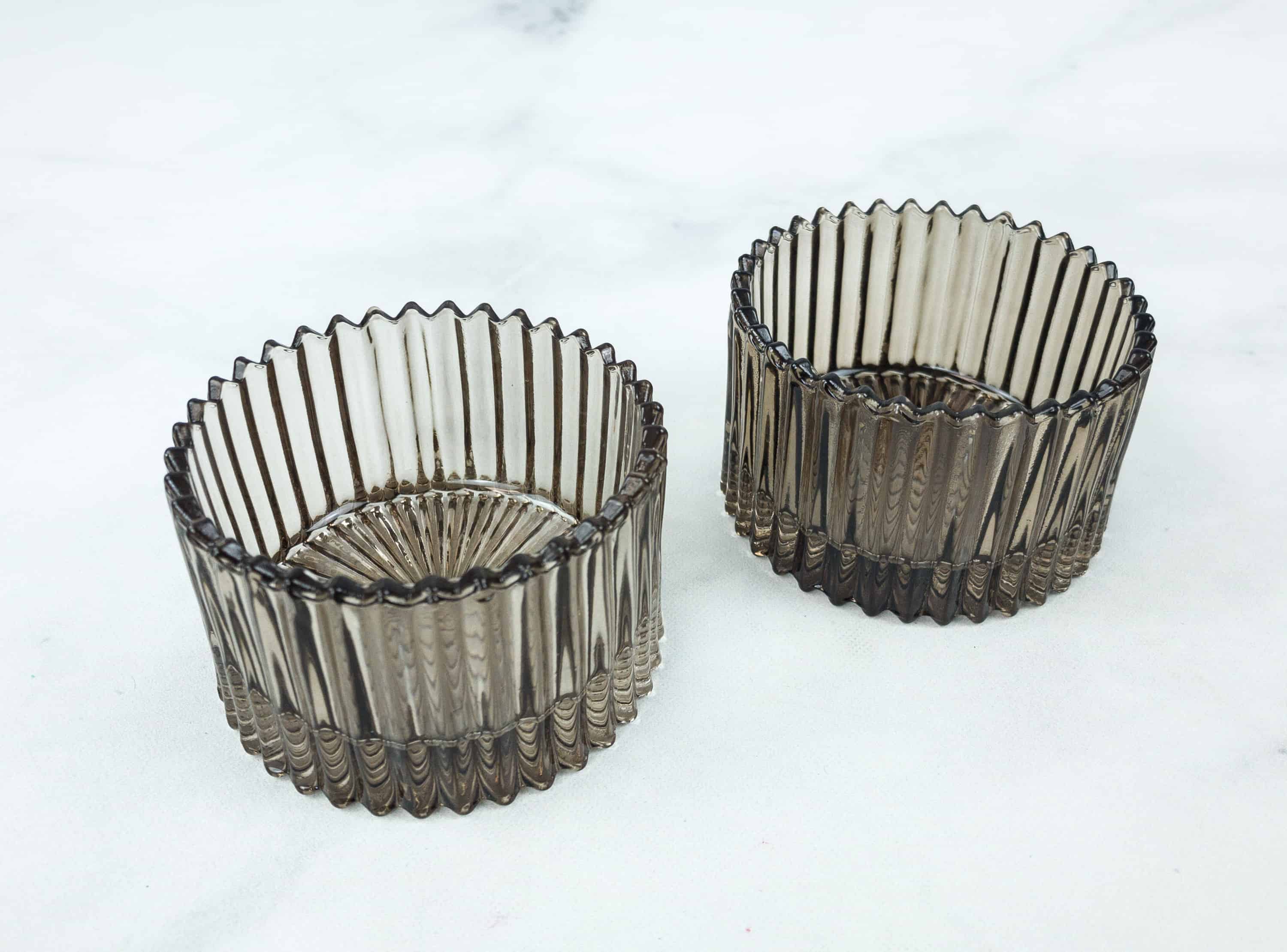 I love having these candle holders on hand as the rim of the holders is not small. I won't get myself burned when lighting my tea light candles in them. You can tell that careful thought has been given to this pair.
The Scandinavian housewares and accessories in this box are all impressive. As expected of Scandinavian home items, they're simple yet stunning and high-quality. Every piece is a beautiful revelation of the life of Scandinavians and the beauty that they enjoy in their homes. It's nice to have these pieces in my own home, I'm sure they'll become the talk of our future guests too!
Did you like this month's Norlii Box?