My Stylish French Box is a quarterly lifestyle box that sends authentic and stylish items from France! The box is curated by Sharon Santoni, an author and the blogger behind My French Country Home. This box is based in France and they work directly with highly coveted and timeless French brands to create a box that will help chic up your home.
Our choices are carefully made; high quality, distinctly French and designed to encourage you to take your time and enjoy the small pleasures in life. Each box contains four full-sized hero gifts, four smaller indulgences and a limited edition print of an original watercolor for you to collect throughout the year. Each box follows a seasonal theme based around tenets of authentic French living.
I found a white box inside. The box has a hidden magnetic closure and I plan on using it to store things (my previous box holds stationery!). It's simple and I like that I can reuse it.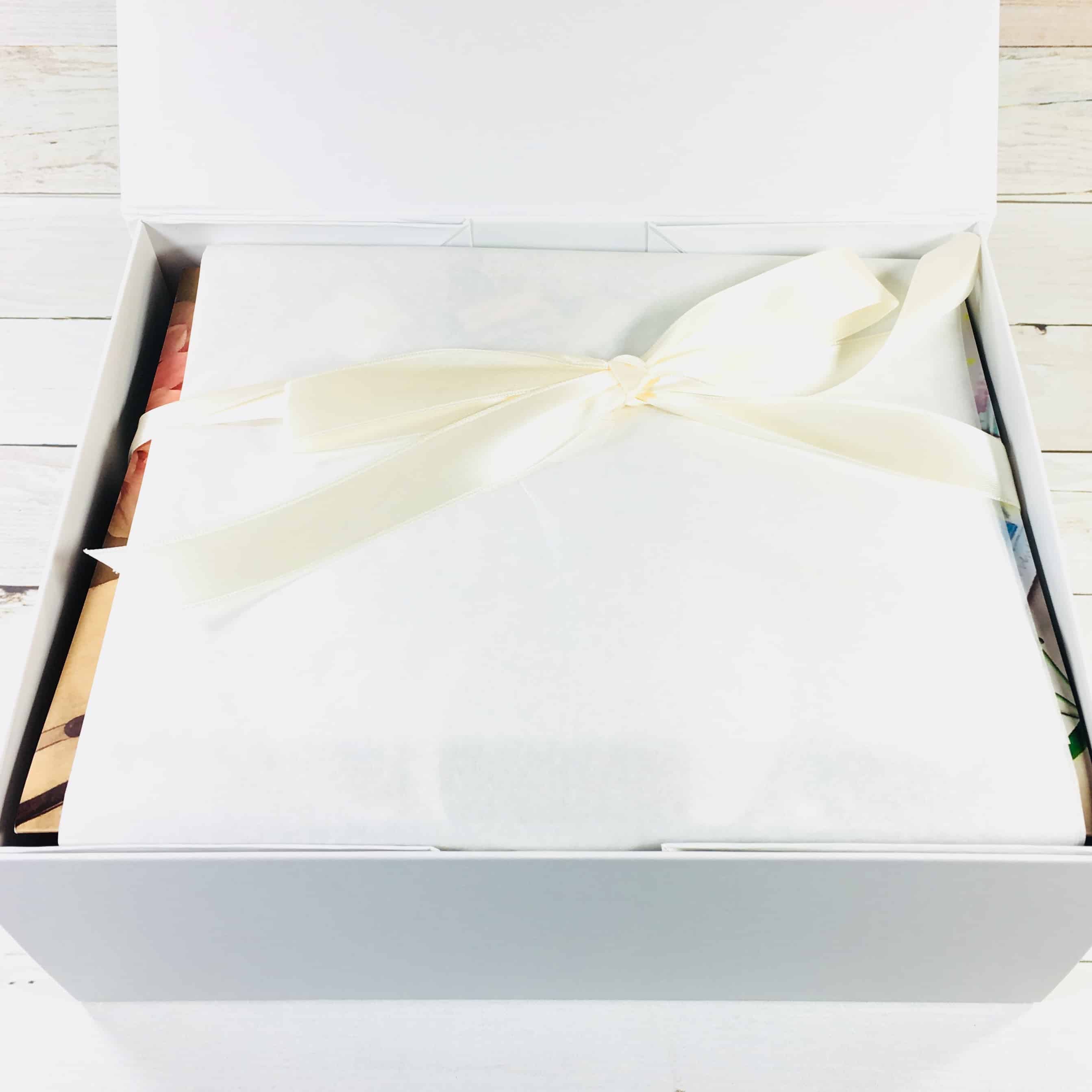 I opened it up to find my products wrapped in tissue paper with a satin ribbon around the parcel. My Stylish French Box is $255 a quarter and ships directly from Normandy, France. A one-time, non-recurring gift box shipment is $265, while a year's prepaid subscription brings the price down to $245 a box. Shipping is free to the USA but expect to pay extra for shipping to other parts of the world.
Underneath the ribbon, there was a sticker.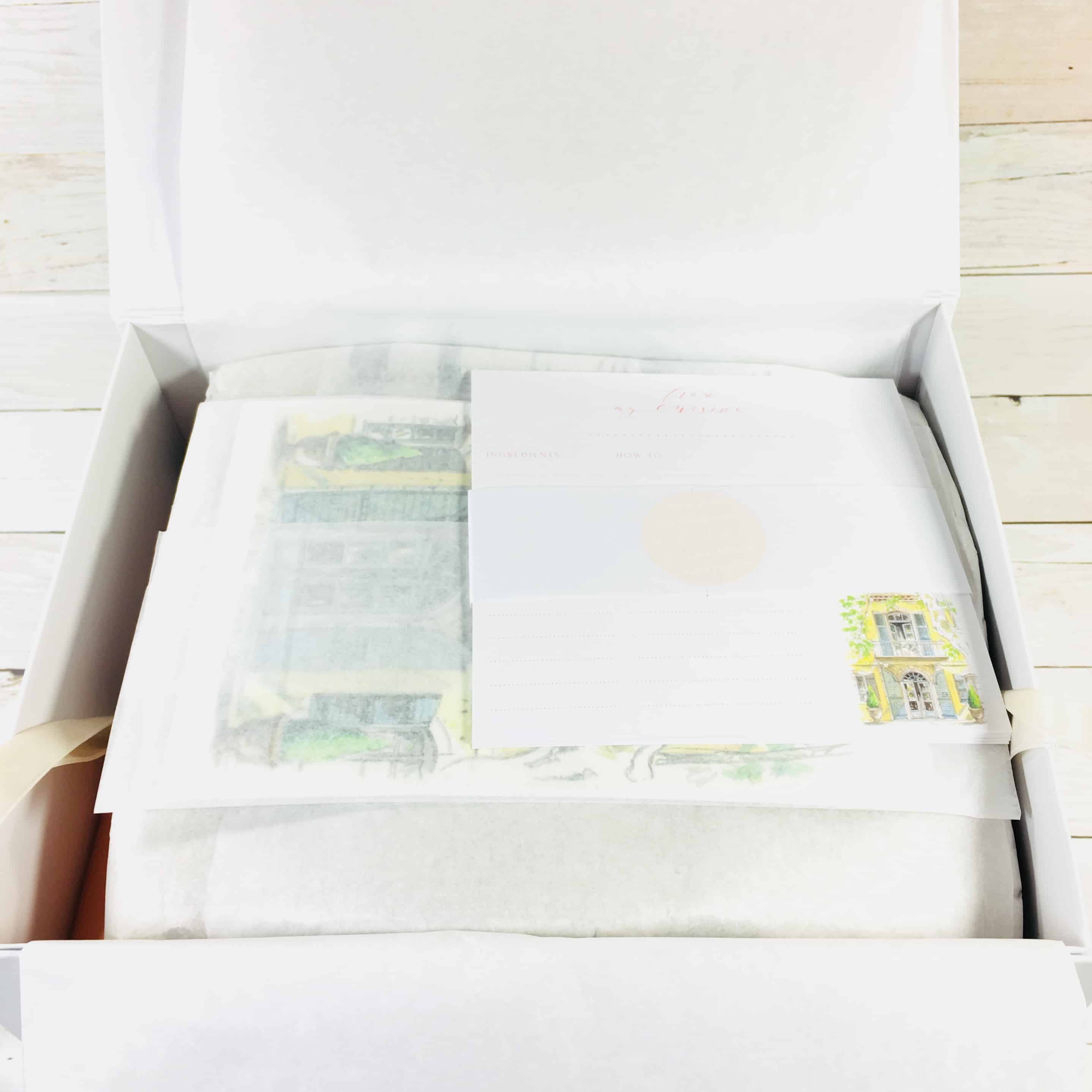 This time around my products were packed in layers. It was like opening one present after another!
I am already loving it!

I found a big brochure inside. This was similar to a magazine and an upscale touch.
I was so excited when I learned about the theme – La Cuisine Française – French Cuisine!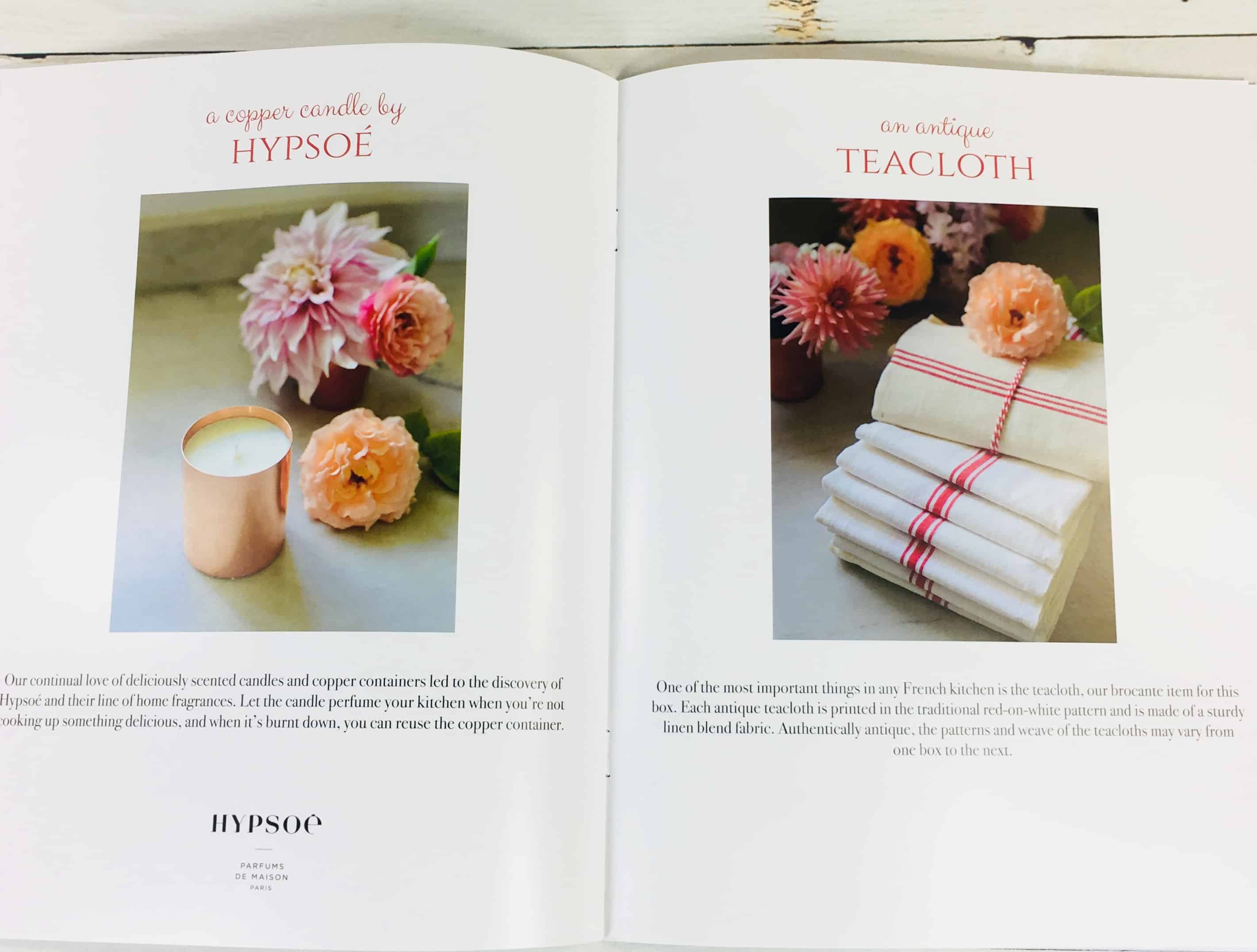 Each page described the items and there was info on their ambassador program.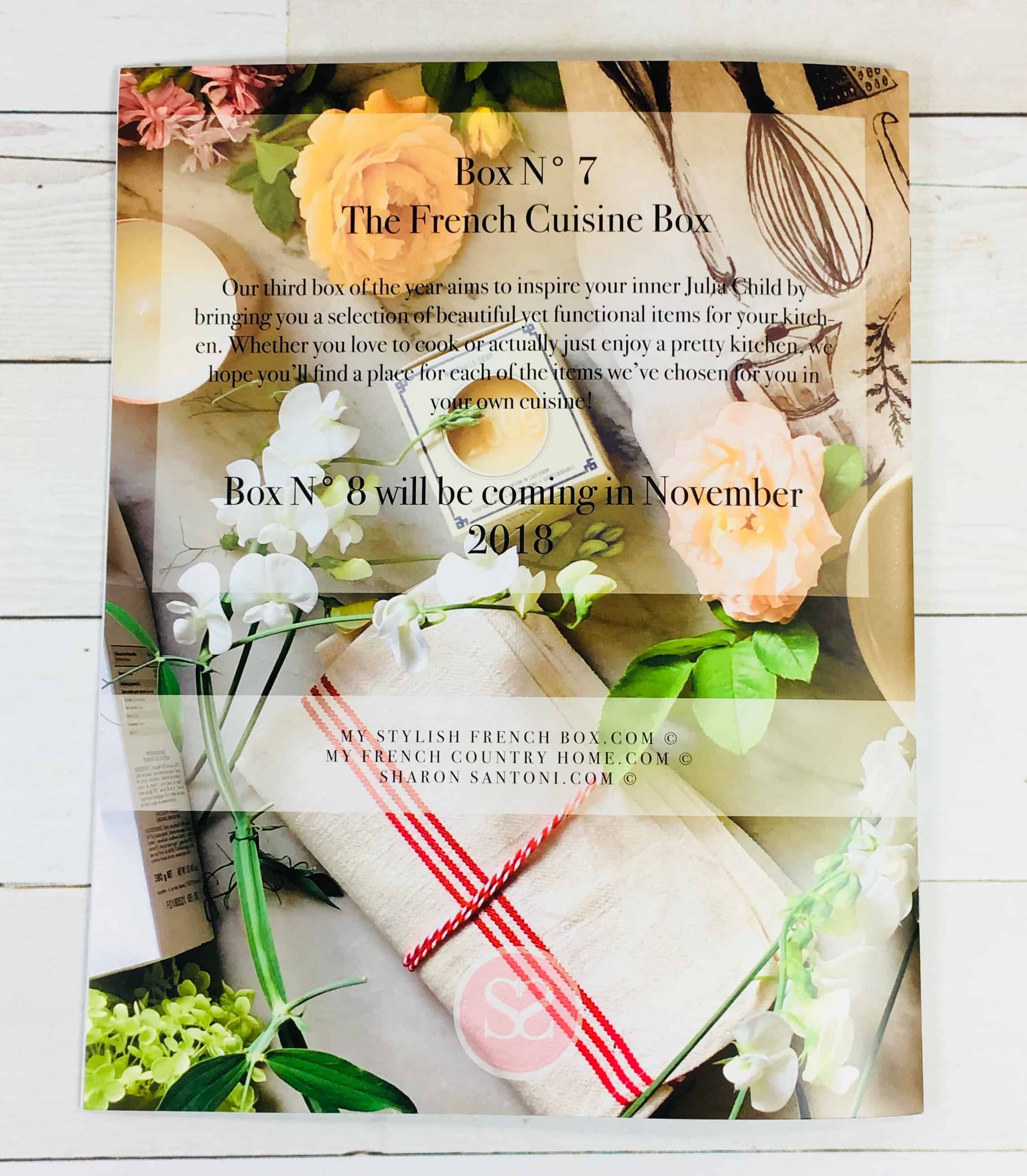 The August box is already sold out, so you need to sign up now to get November's box.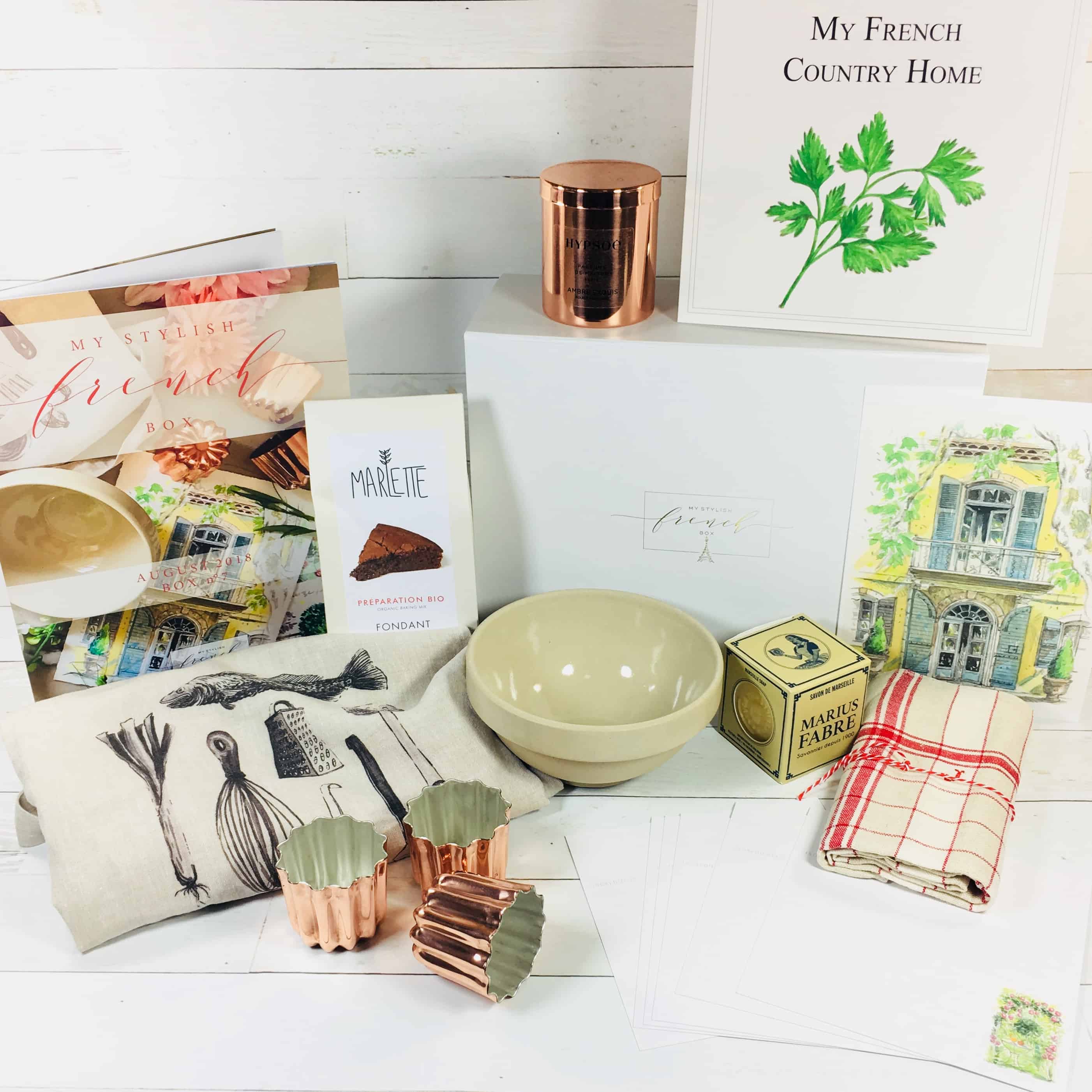 Everything in my box!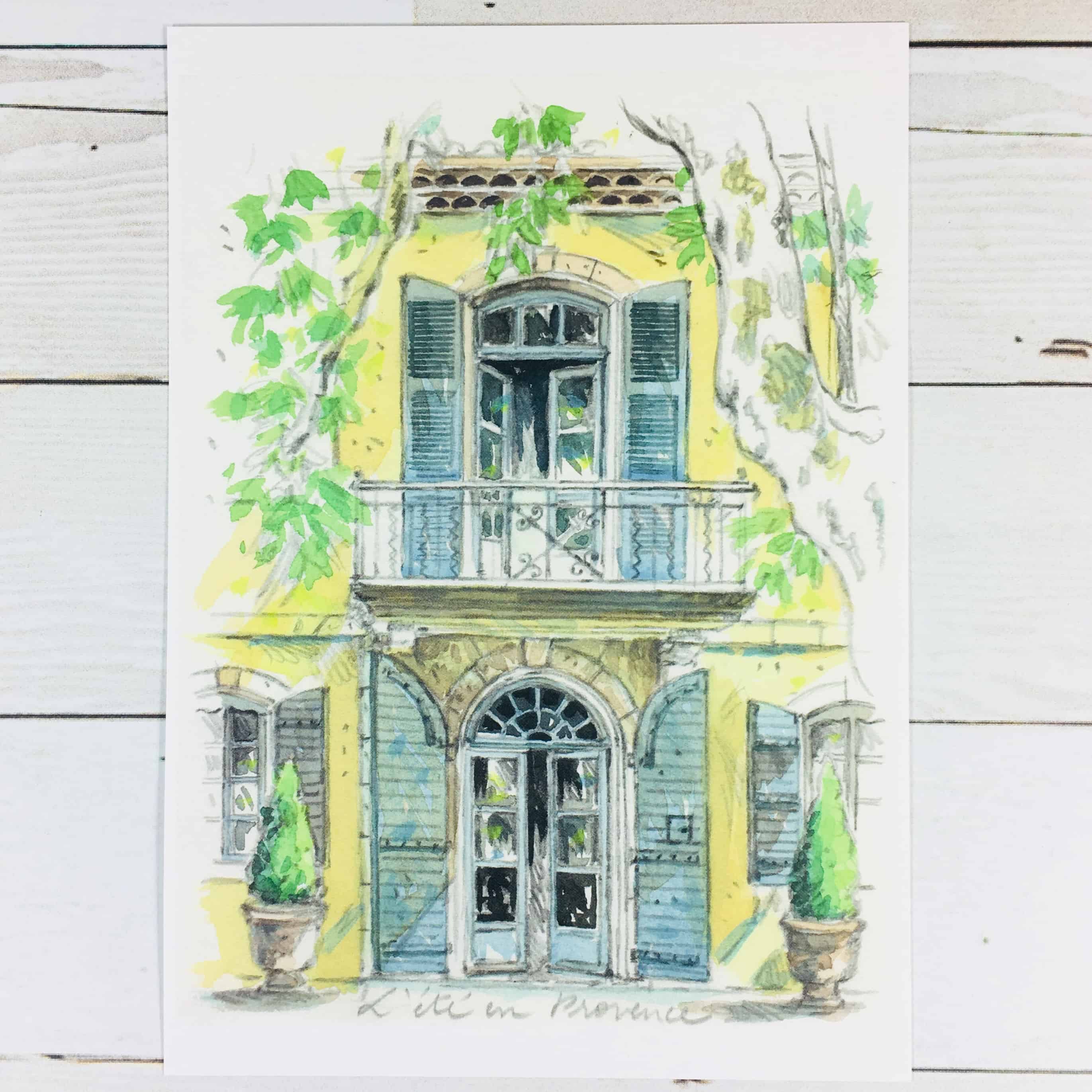 Each shipment comes with a watercolor print from featured artist Céline Chollet. I received a print of a blue-shuttered house in the south of France. The print is 6″ x 8″ and is printed on watercolor paper.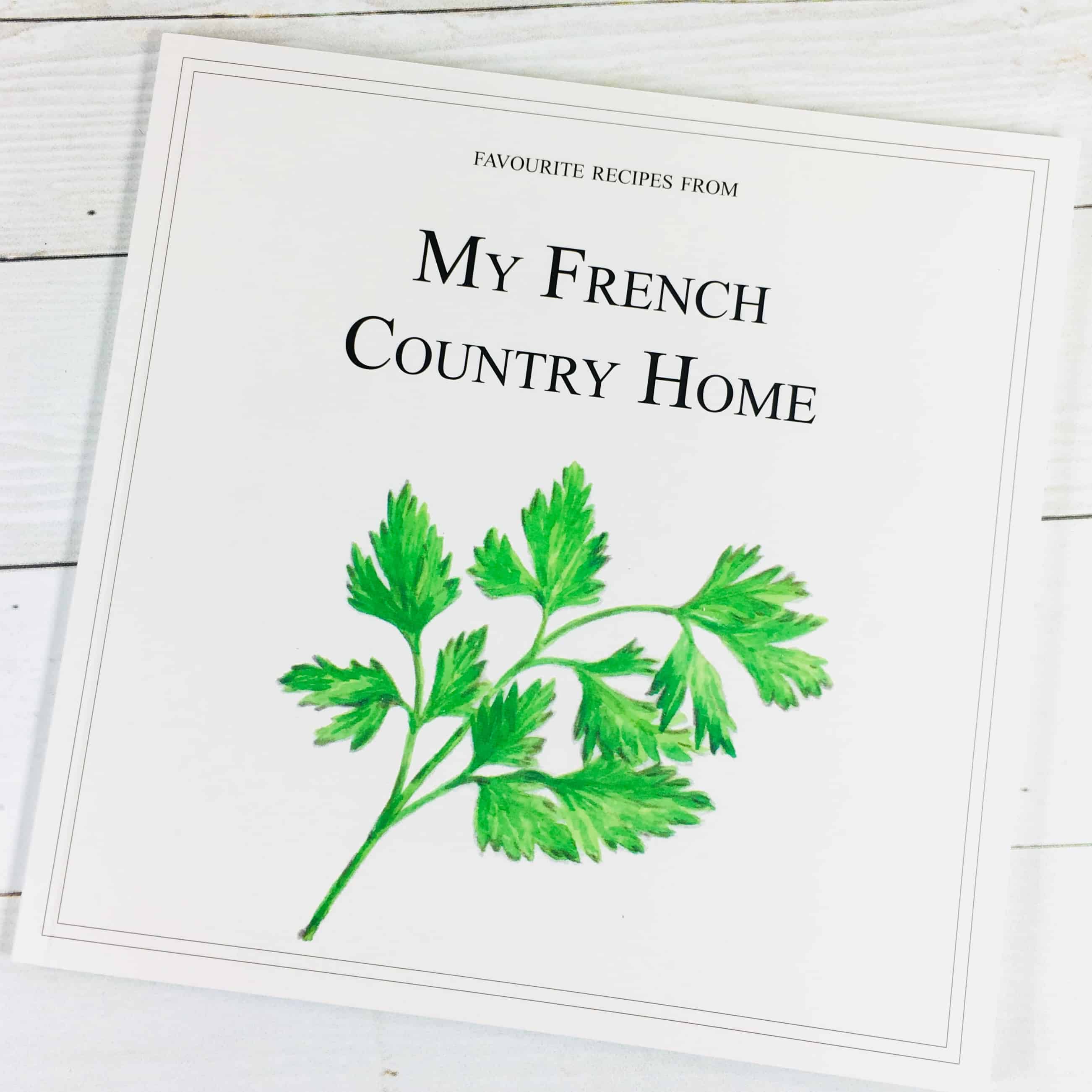 Since this is a box related to cooking, it included a My French Country Home Cookbook!
There are recipes for 4 entrees, 4 main dishes, and 4 desserts. I always thought an entree was the main dish but in this book, it is considered a starter.
HYPSOE Parfums De Maison Candle in Ambre Exquis ($83) What an exquisite candle indeed! It comes in a copper canister that you can reuse when you finish burning your candle, which should last about 40 hours. You can even remove the label from this seamless container. The lid acts as a heat-resistant tray when placed under the candle.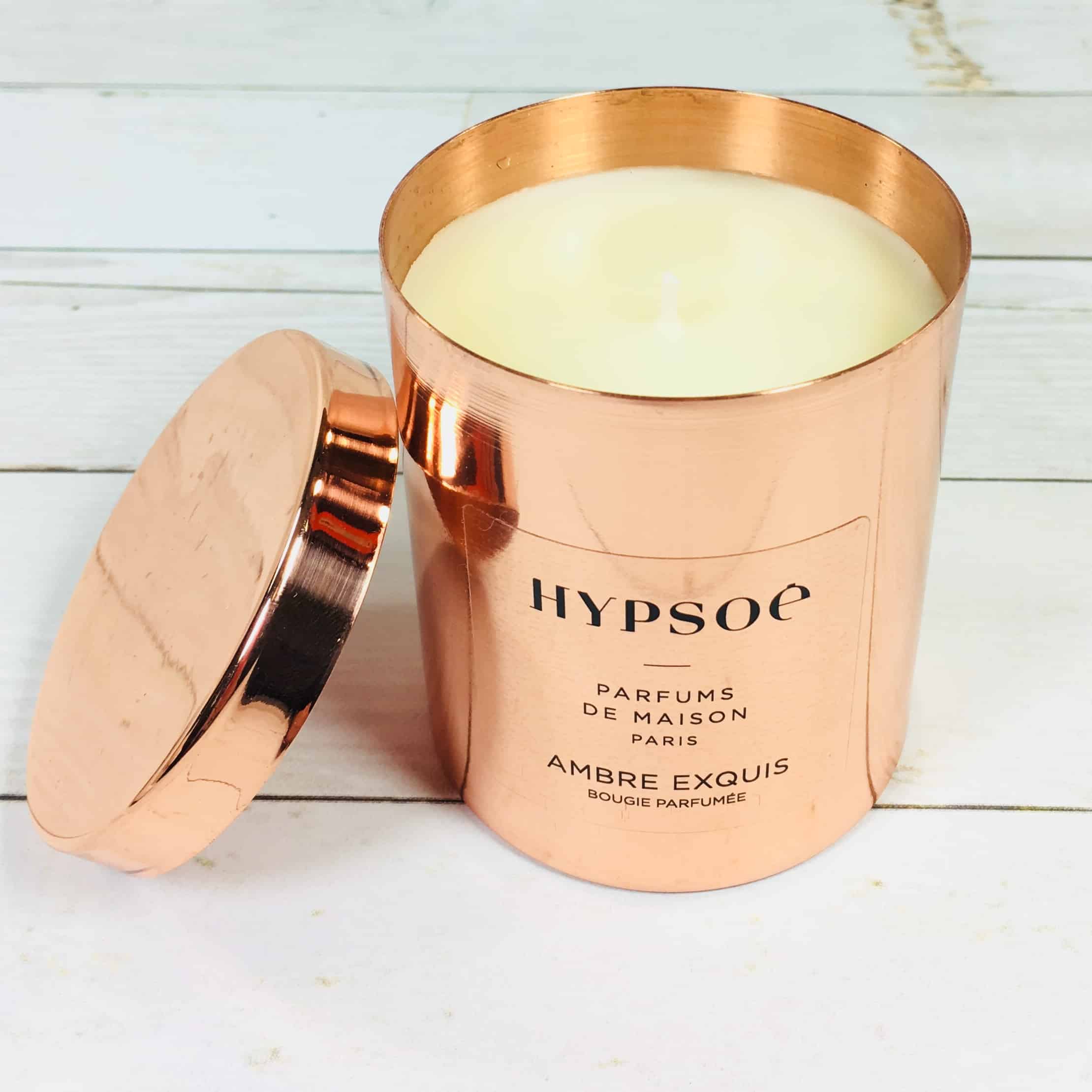 The scent has notes of amber, orange blossom, and vanilla. I especially enjoyed its warm, sweet scent, which promoted a cozy atmosphere.
Marius Fabre Savon de Marseille ($8.95) started out as laundry soap but since its ingredients are all-natural it can also be used on your body or hands.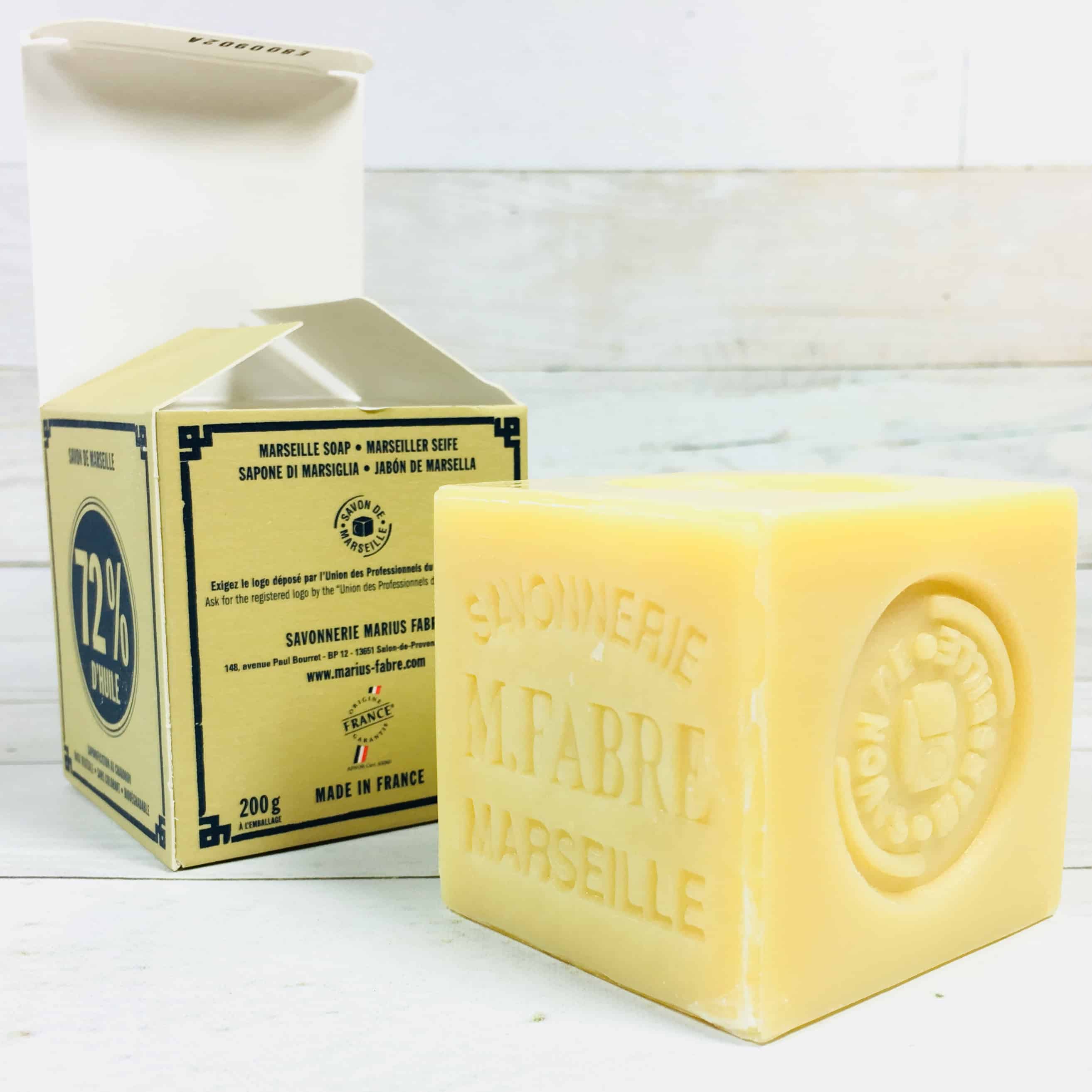 You can wet it and rub it over oily stains before placing in the washing machine. I plan on placing it on a pretty dish next to my kitchen sink since the mild scent won't interfere when I'm cooking.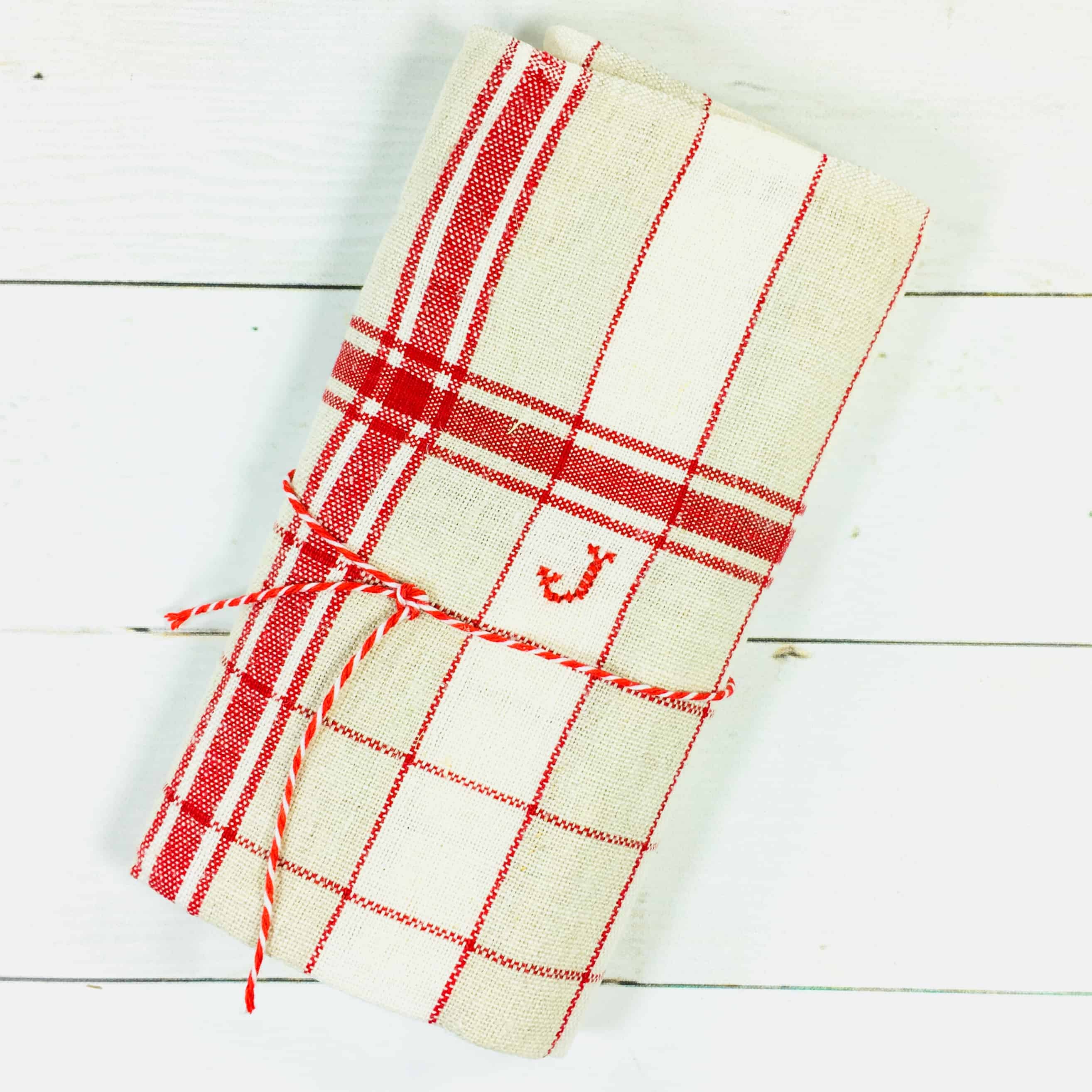 Antique Tea Cloth (find similar item here, $15) Each box includes a brocante (antique) item. This time it was a traditional linen tea towel.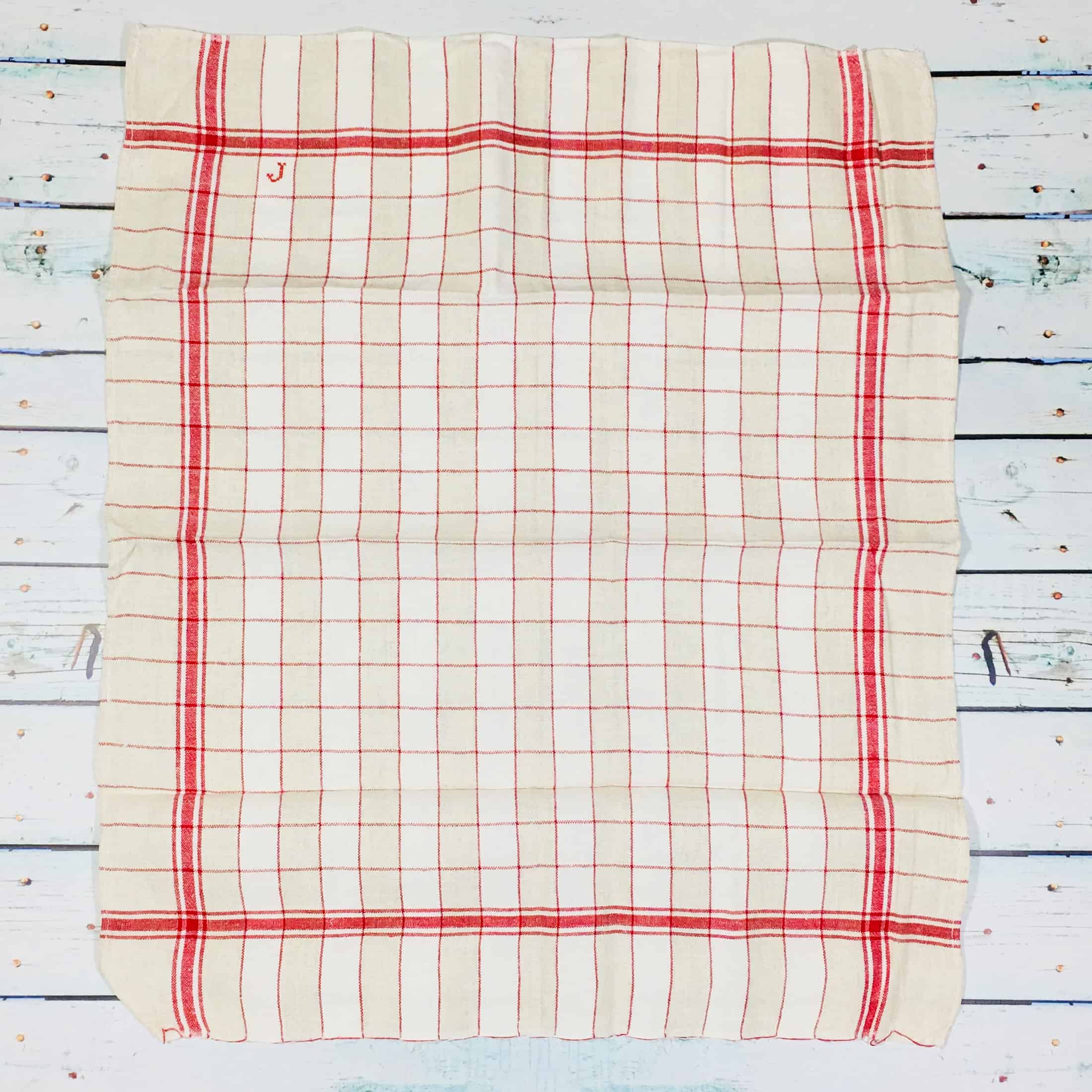 There were no tags on here but I believe this is made of linen and there is a little monogram in the upper left hand corner. I think this will look lovely on my oven door handle.
Marlette Fondant au Chocolat Cake Mix (8,90€, around $10.13) Have you ever had a molten chocolate lava cake? I believe this is the French version, and it's in a convenient mix!
There were instructions on the back, in English, to make this lovely dessert, and it only calls for butter and eggs. It is currently 100+ degrees where I live so my oven is on vacation until October, but the first cool day that hits will have me opening this one up.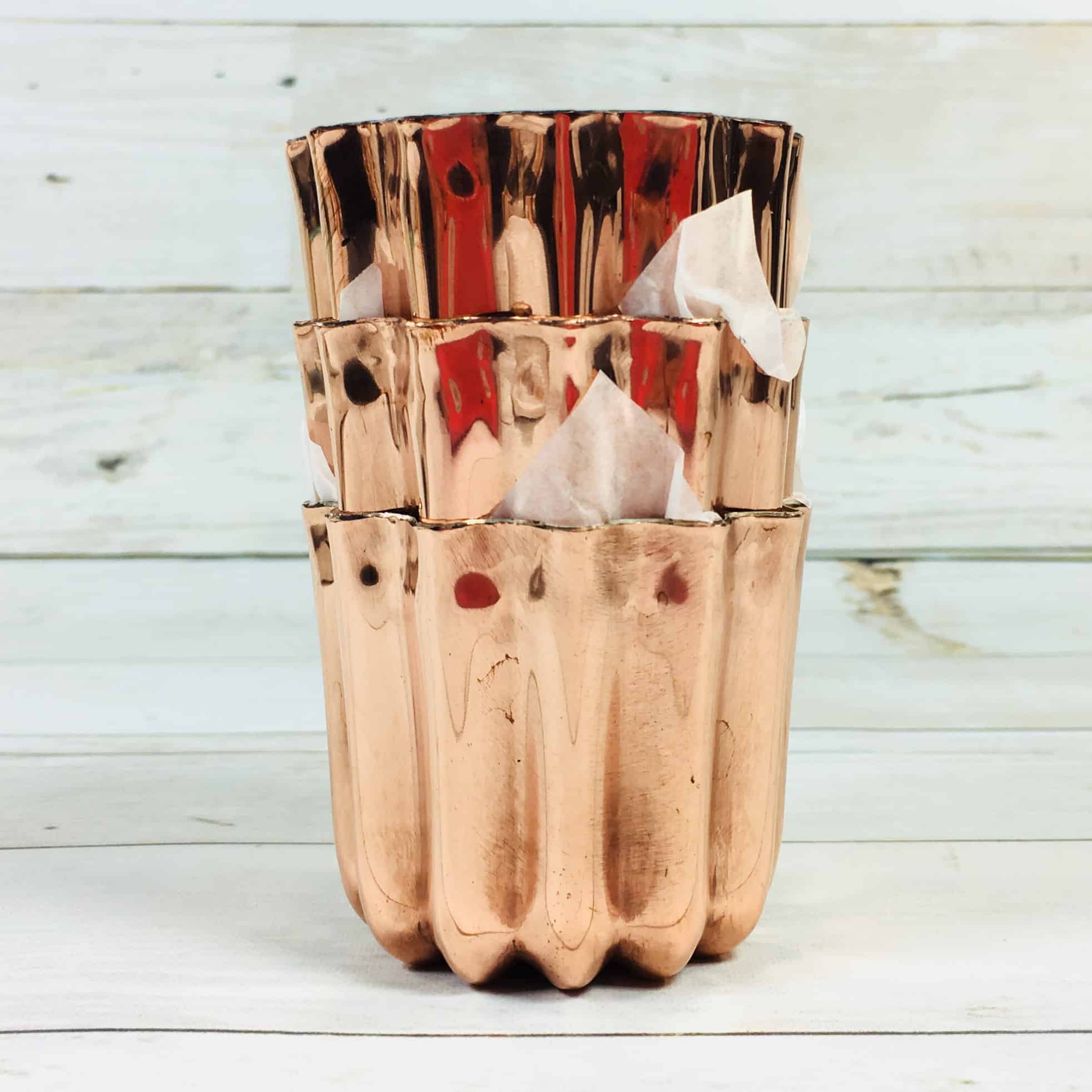 Three Copper Canele Molds (find similar item here, $71.97) I've never heard of canele before but it is a type of dessert from France, made with rum, butter, and eggs. It bakes into a pastry with a caramelized crust and a custard interior.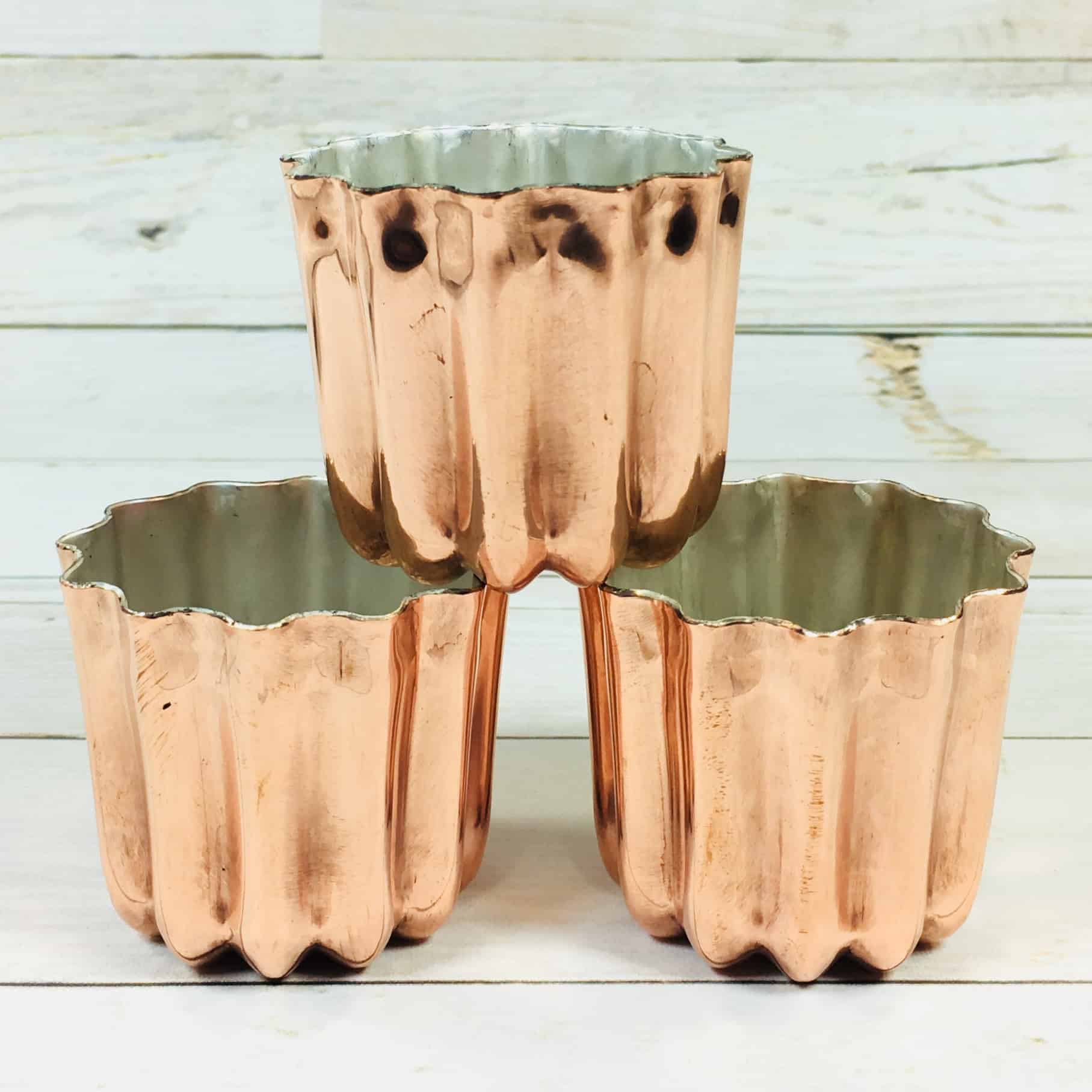 These are the traditional molds used to bake the dessert. They are made of copper with an interior lined with tin. Copper is an expensive metal! If you have no plans to try baking this specialty then you could use the molds to hold tea candles.
Manufacture de Digoin Stoneware Pottery Bowl (find similar item here, $35.32) It looks like this is a traditional bowl that would be at home in any French kitchen, whether for cooking or holding fresh fruit.
The inside is glazed, as it the outside upper rim, but the top edge and the part below the rim are unglazed. The bottom is stamped with the number "60". Just a simple, everyday kind of bowl.
Série Louise Limitée Printed Apron (find similar item here, $40.03) is a limited-edition item printed in Paris.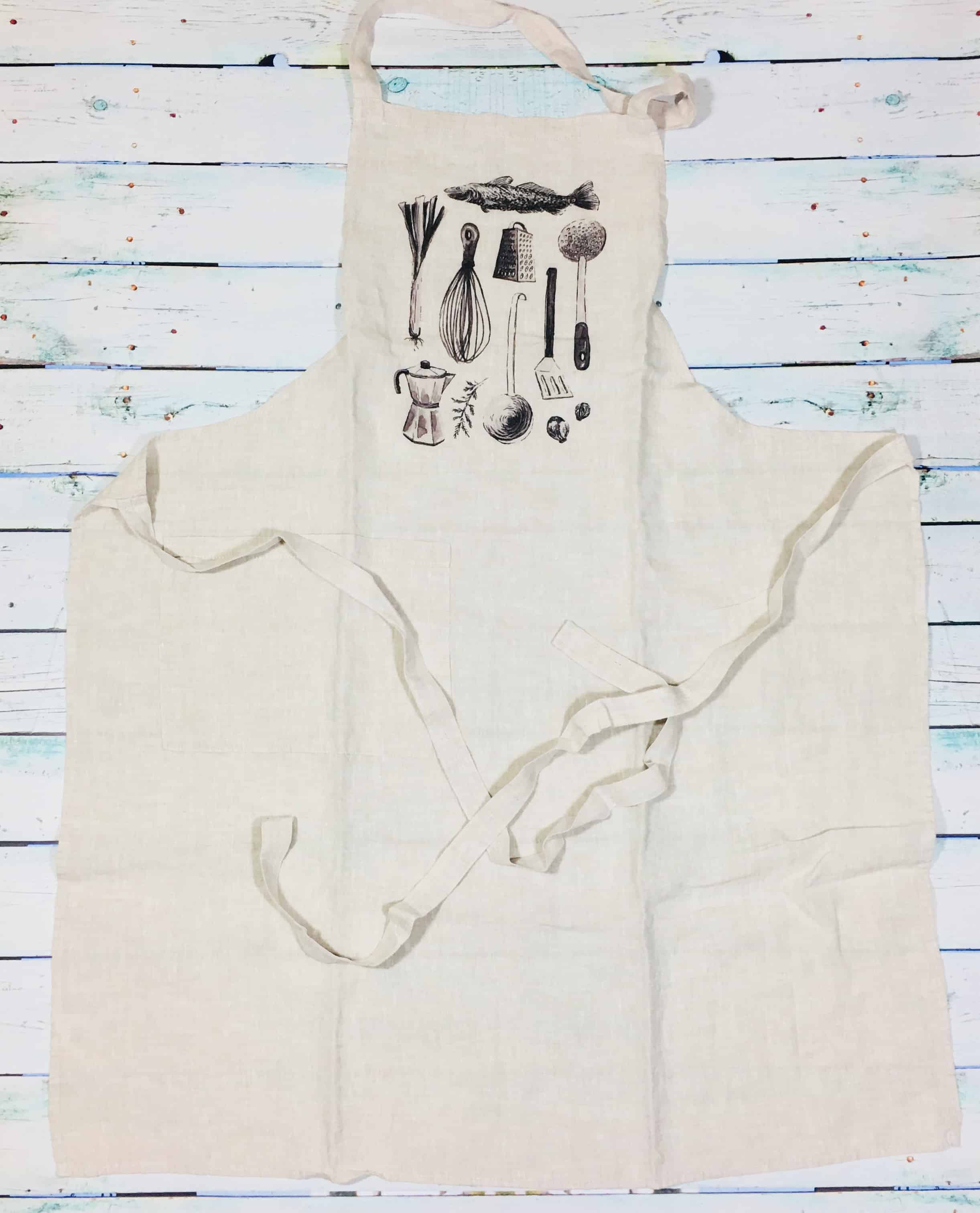 It is a very generously sized full apron. It is made of stone-washed linen.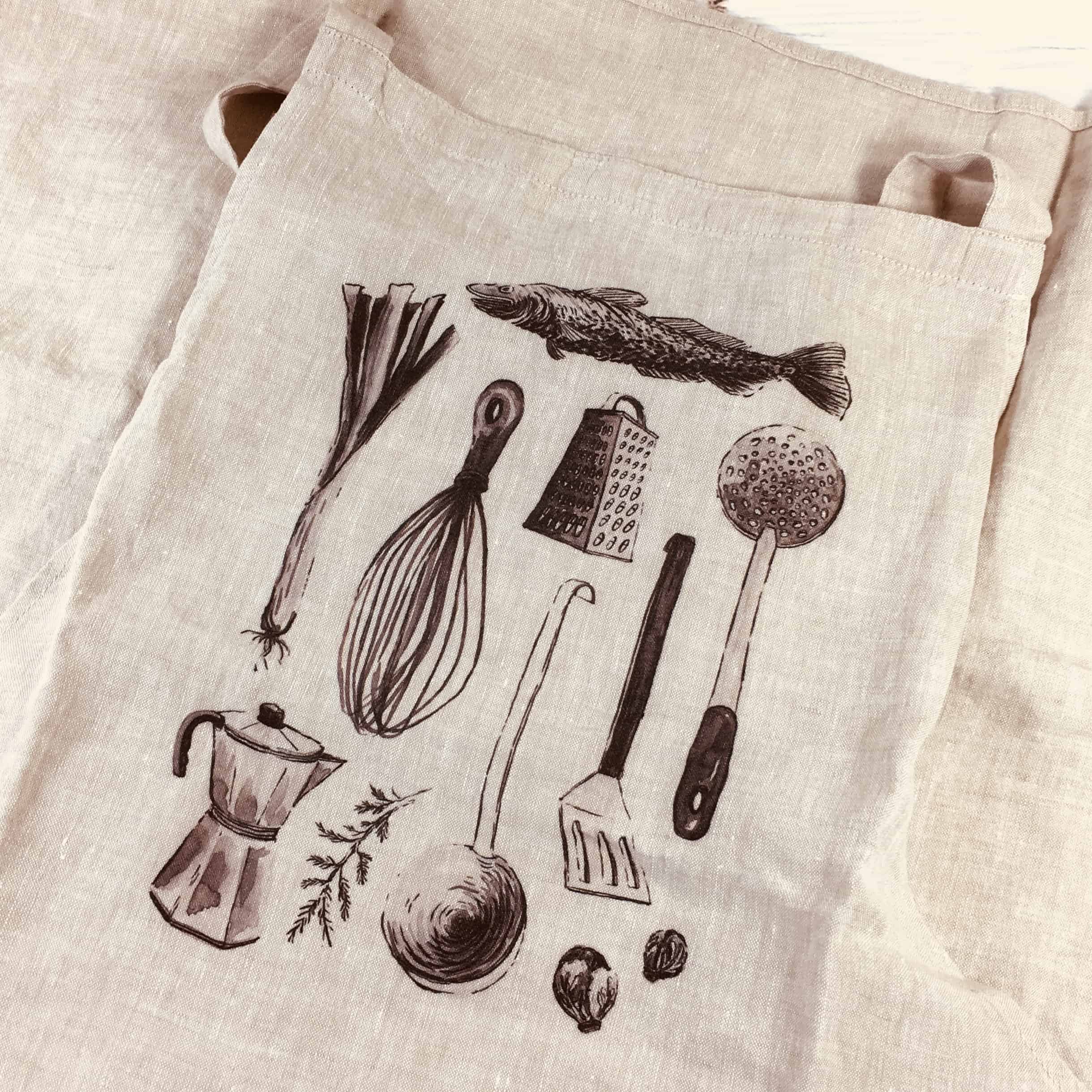 The print on the front is of kitchen utensils and food items.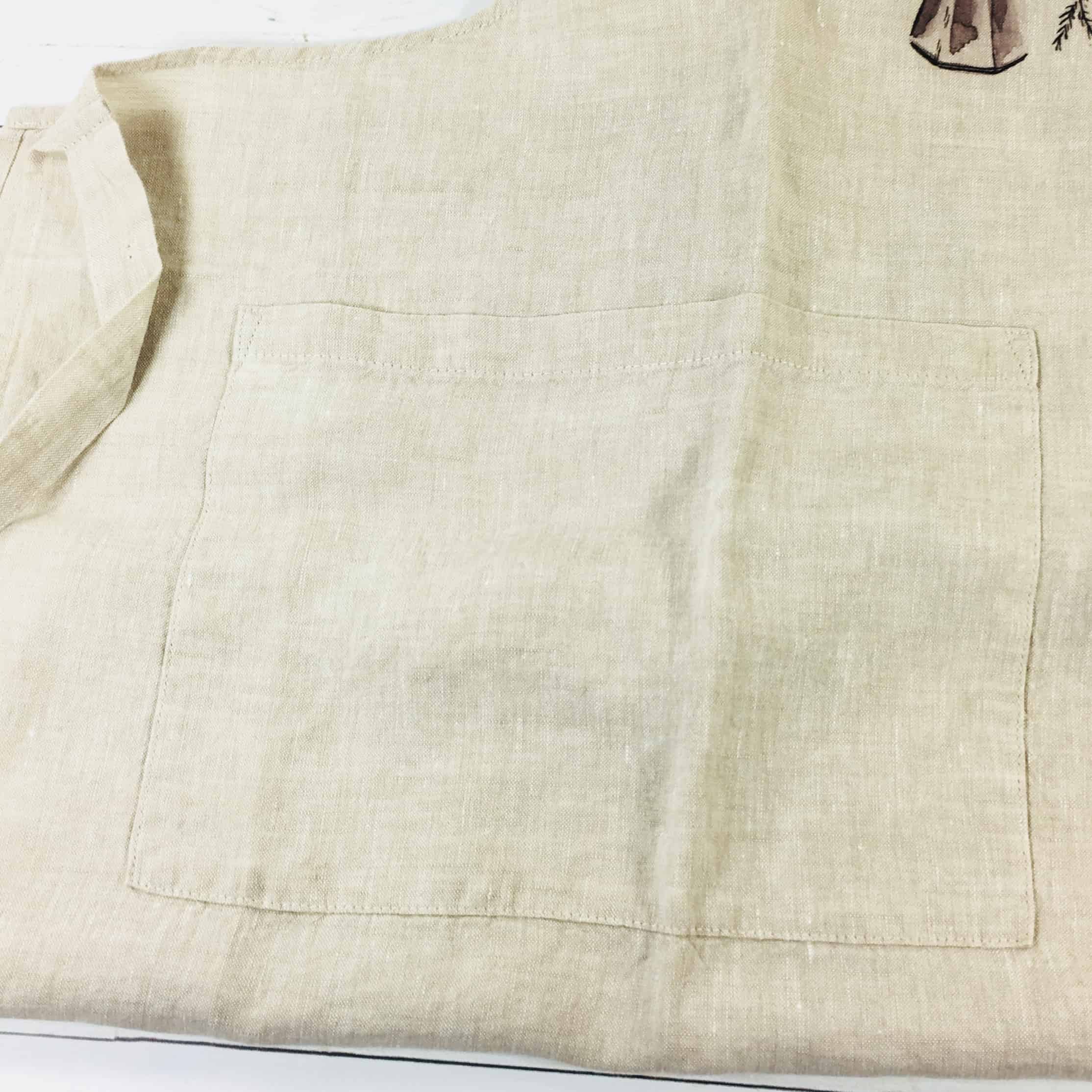 There is a large pocket in the front. I would call the color of the apron "natural" and I think this will be perfect for keeping stains from my clothes.
My Stylish French Box sends a bonus item each shipment for those with an annual subscription. This quarter they sent a set of Recipe Cards!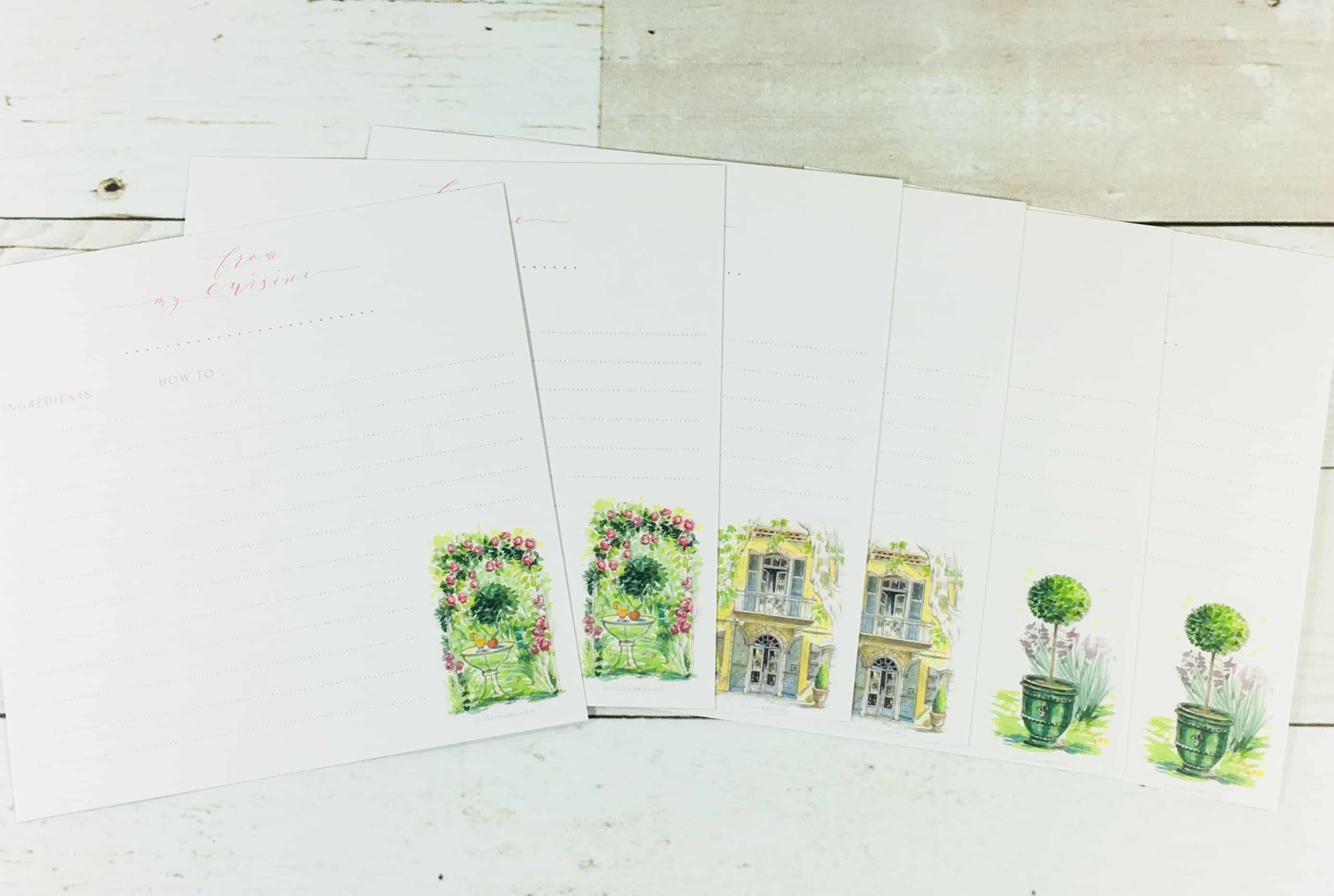 There were 6 cards included, two of each design. The designer is the same one who did the print shown earlier in this review. There is space on the front for ingredients and instructions.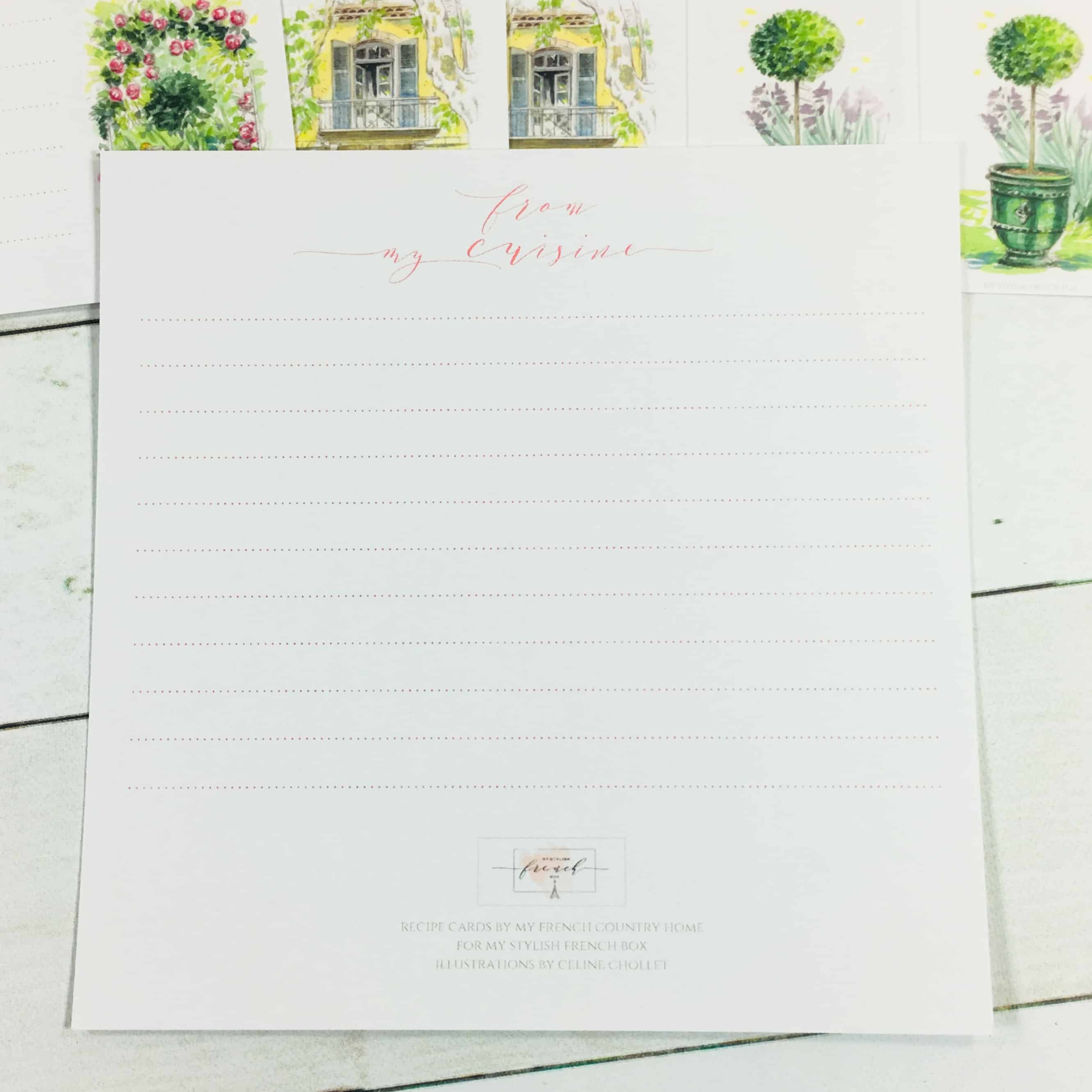 There is space on the back for even more instructions or other notes.
I am absolutely enchanted by the items found in My Stylish French Box! I adored the theme and each item fit perfectly. The craftsmanship is stellar and of excellent quality. I found the value to be around $264.40, not including the print, recipe cards, or cookbook. That places it above the price paid for the subscription, but I also want to mention that most of these items are exclusive to France so you would pay extra for shipping to the U.S., if they able to be shipped here. Most of the items I found were similar but not exact.
Any thoughts about My Stylish French Box? Let me know what you think of the August La Cuisine Française box!